Traditional Indian design is essentially forged in the crucible of multiple regional cultures. It's diverse, multi-faceted, but full of colours. However, you cannot model traditional Indian home design based on temples, palaces and other monuments. Imagine what would happen if you try to fit the design of a grand Haveli into your compact apartment? There is a huge mismatch in scale. Which is why, using Indian decor ideas to add those desi touches to your home is much more workable, affordable and doable!
For a realistic picture of how Indian decor comes together, you can check out some of our Livspace homes.
#Inspiration from #LivspaceHomes
#1. A rich blue hue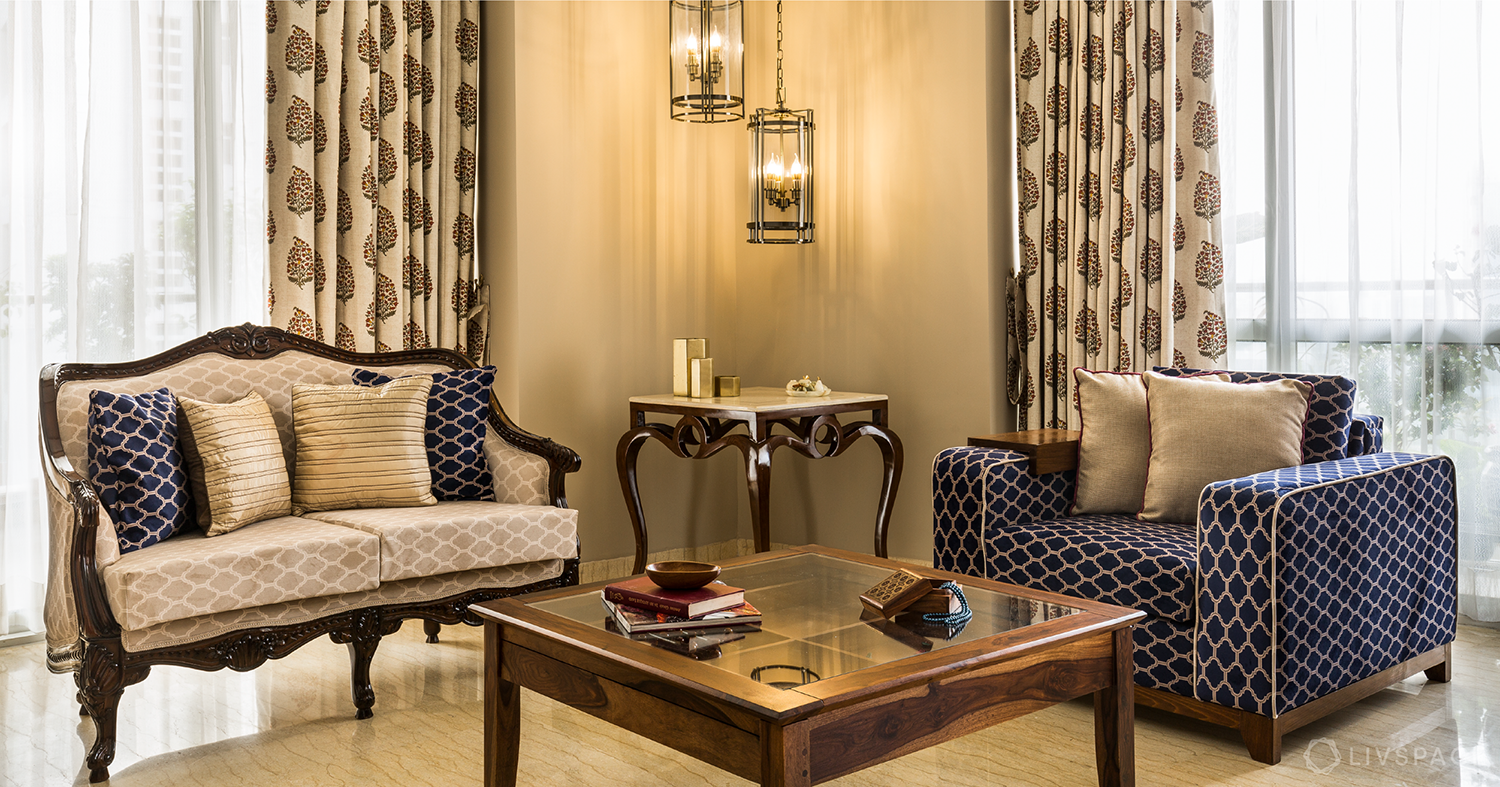 What's more Indian than a room full of wooden furniture? But don't miss the silk upholstery because it adds a royal touch to this home. The curtains also do their bit by pitching in with quintessentially Indian patterns. Click here for images!
#2. Swing away into paradise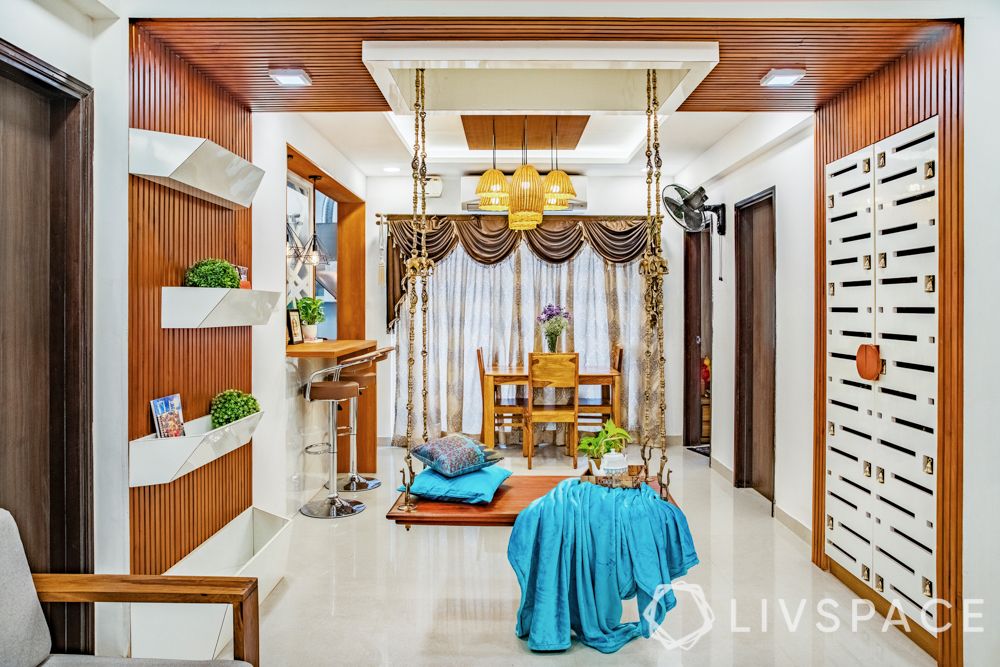 The colours in this room will leave you star struck! A beautiful amalgamation of brass accents, browns and blues brings in personality to this space. The wooden swing adds an effortless element of charm while separating the dining and the living areas from each other. Note the vibrant cushions and throw placed on the swing. The real takeaway here is the valance drapes on the window that dates back to the era of havelis. Guess some ideas just need a little creativity and effort! Well, we've decided our chai point. Have you?
View this beautiful home here.
#3. Carved brilliance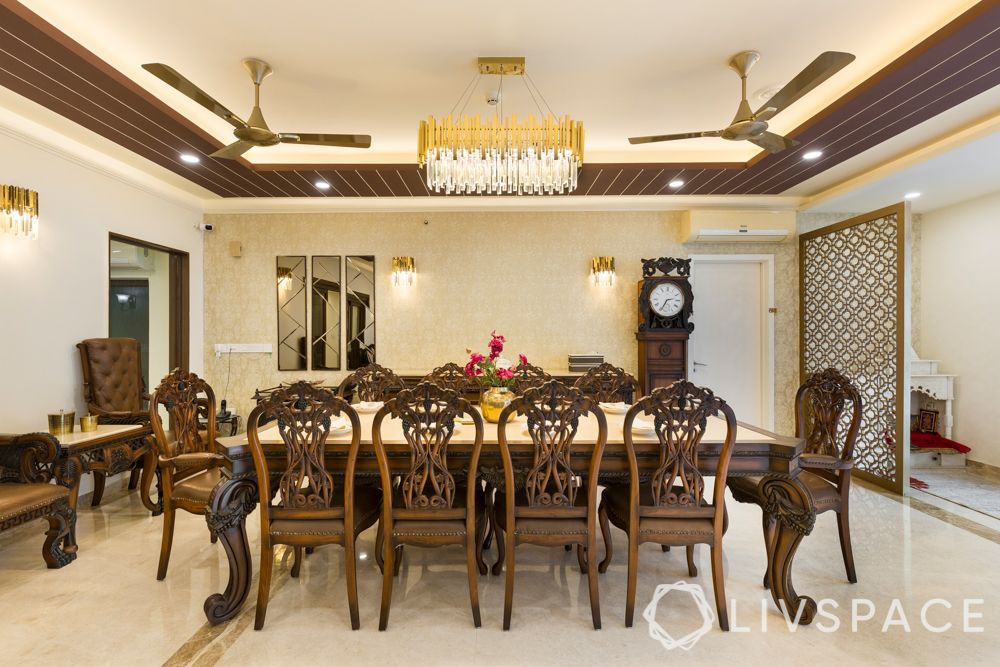 Anything catch your eye? The sheer opulence of this dining room most definitely caught ours! A room carved in solid wood, with a timeless grandfather clock in the corner adding to an all round Indian heritage. The Indian decor in this room is tastefully extravagant with warm gold highlights complimenting the wooden earthy tones. The gold chandelier and wall sconces add a certain luxury to the room. Additionally, sleek diamond shaped mirrors adorn the cream patterned walls; that is a contemporary touch to this otherwise dated space. Have a complete look at this luxury home here.
#4. Indian decor central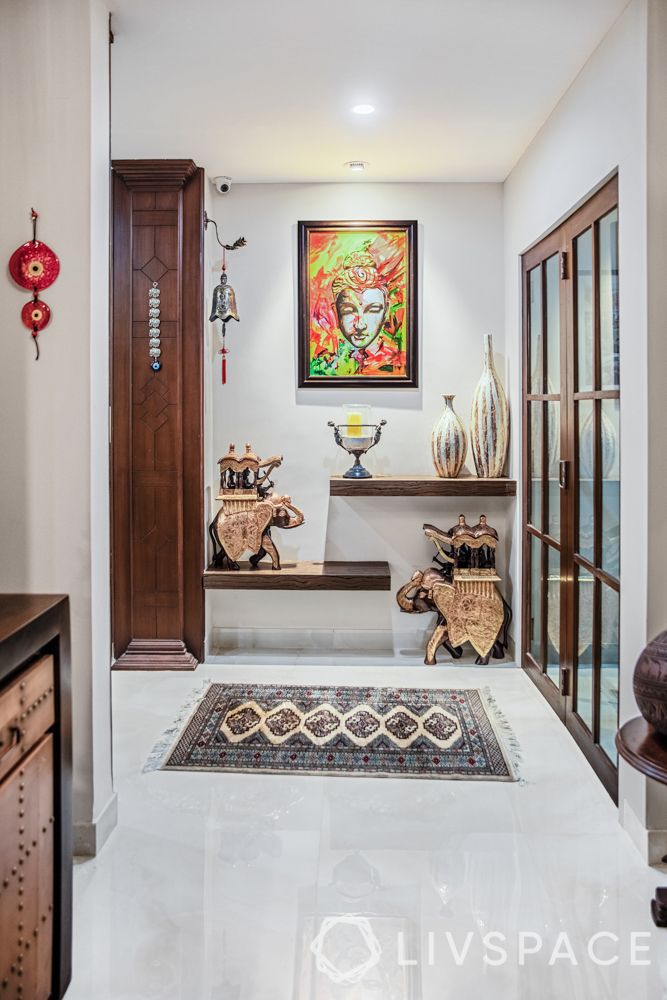 The very basics of Indian decor are colour and craftsmanship. This beautiful corner is decked with artefacts and curios inspired from different regions of India. The vintage Ambabari elephants with its intricate carvings and hathi howda (the carriage positioned on the back of the elephant) is something straight out of ancient Indian folklore! We must say that we almost saw Jodhaa coming out of one of them!
The Kashmiri carpet adds a pop of colour to the swanky marble flooring. Wooden textures add accents to this white room, while the Buddha painting with a burst of colours on the wall is an absolute delight to look at. This room has so many tiny pieces of Indian decor coming together as one that we can't take our eyes away!
Peek into this vintage wonder.
Need some more decor tips? Have a look at more tips for your home here.
#5. Warli wall wonders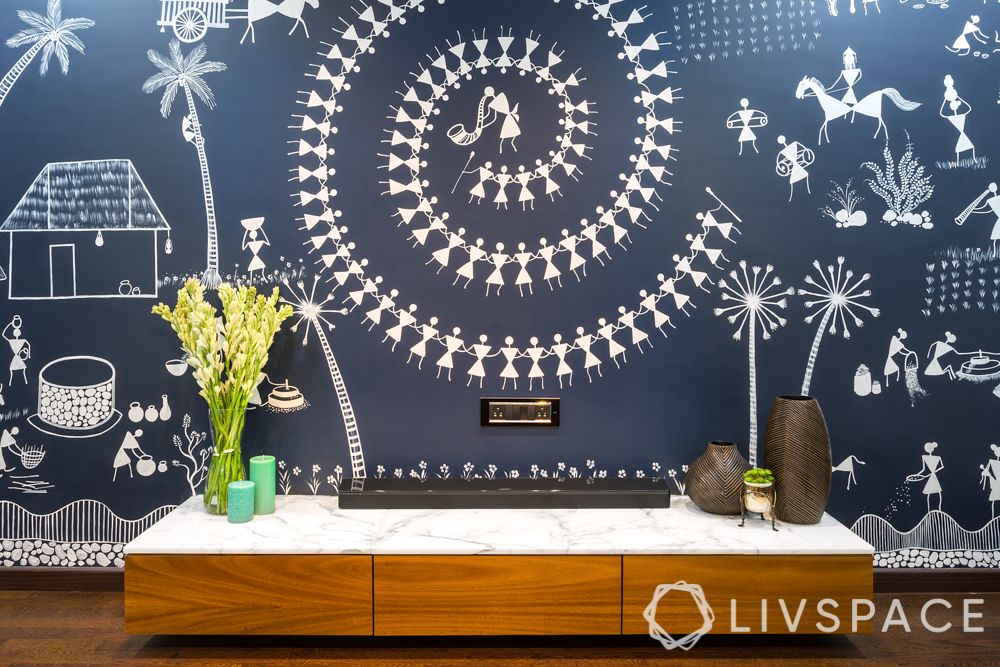 Warli art work is a traditional tribal art hailing from Maharashtra. Maharashtra's warli art work has been depicted beautifully on this accent wall. With subtle interiors, it really is the signature statement of this room. You can also find this folk art work on paintings, bedspreads, and cushion covers in a wide range of colours. Or if you have an artist's soul in you, get your paints out and get to work on those walls.
Take a look at some thumb rules for interior design.
What and Where to Buy Indian Decor Items
Now that you have a dose of inspiration from our homes, lets help you get these looks with some DIY buying online!
#1. Carpets/Rugs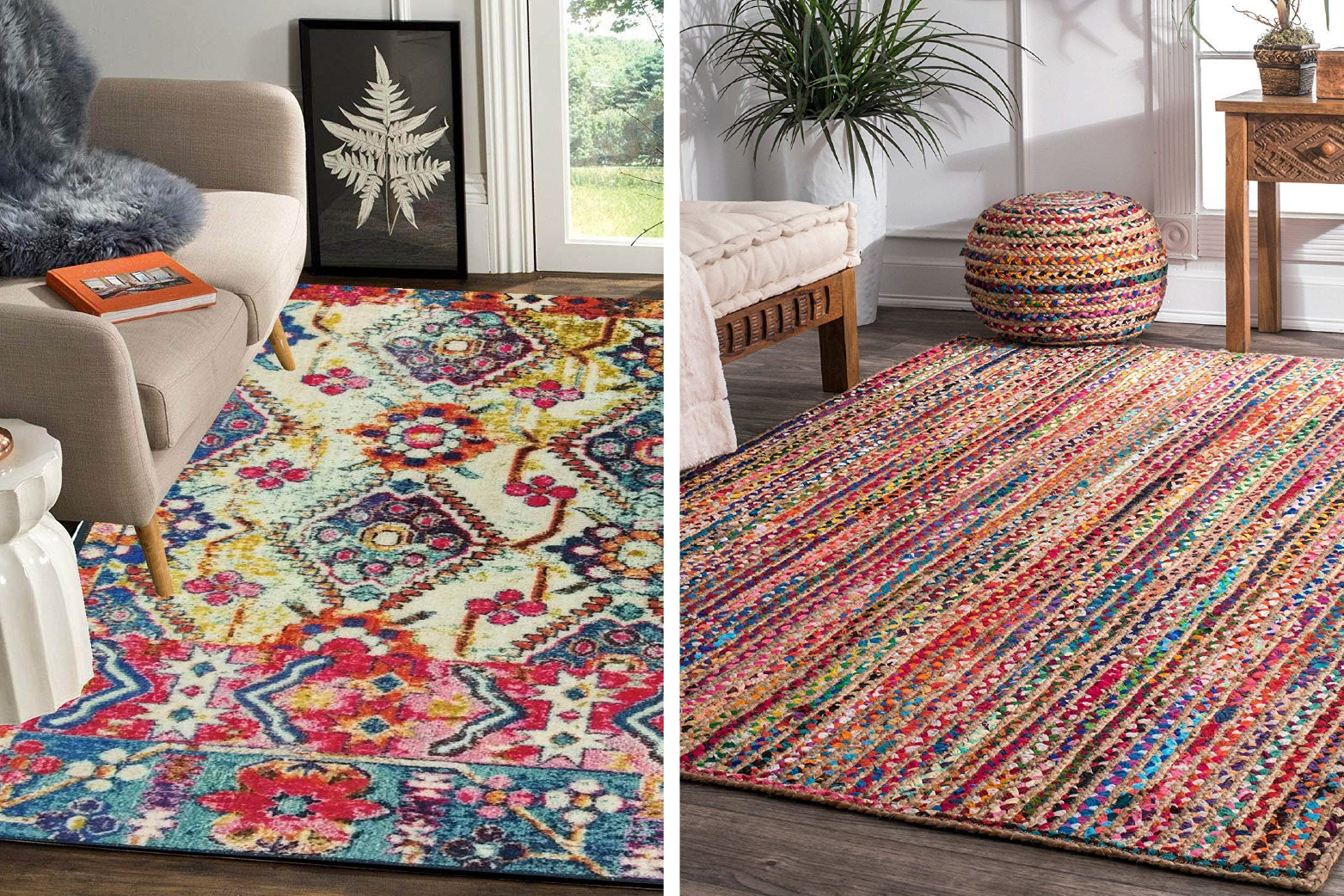 Source: Amazon
What is this?
3D printed Persian carpet and a braided reversible jute rug. The jute rug is reversible and both of them come in 4 different dimensions.
Where to use it?
Lay it in your subtle living room or bedroom to add vibrant colours to these spaces.
Cost
3D Printed carpet – ₹ 1,149
Jute Rug – ₹ 1,708
#2. Ethnic Indian patchwork quilts and wall hangings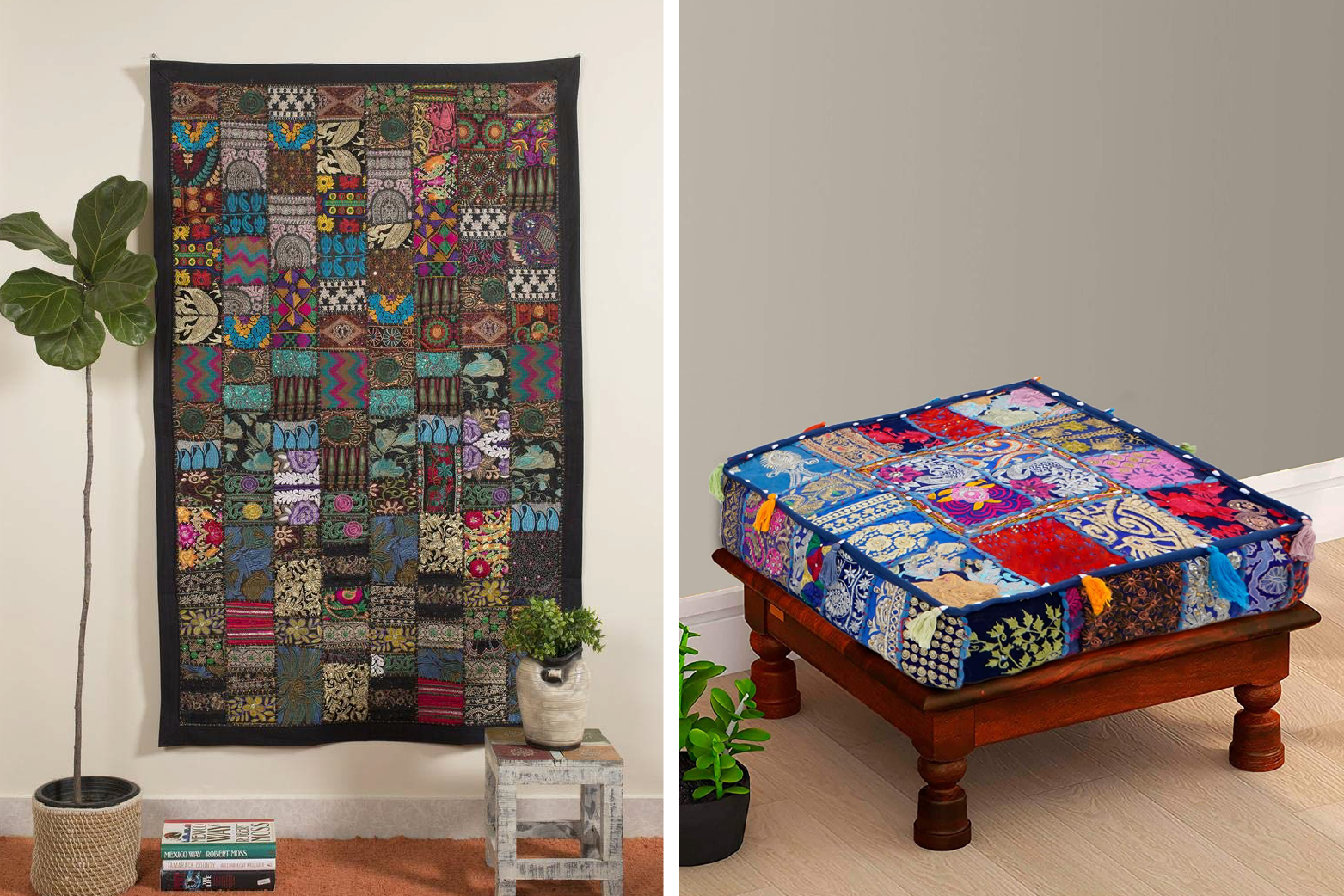 Source: Amazon
What is this?
Patchwork wall hanging and cushion cover. The cushion covers are handmade with tiny tassels on the sides.
Where to use it?
The wall hanging can be used for your walls, a table cover, or even a single bed sheet. The cushion cover is best used for any kinds of cushions, from foot stools to cushions on the sofa or even a floor pillow for a wooden floor.
Cost
Patchwork tapestry – ₹5000
Box Cushion Cover – ₹ 709
#3. Block printed bedspreads and table runners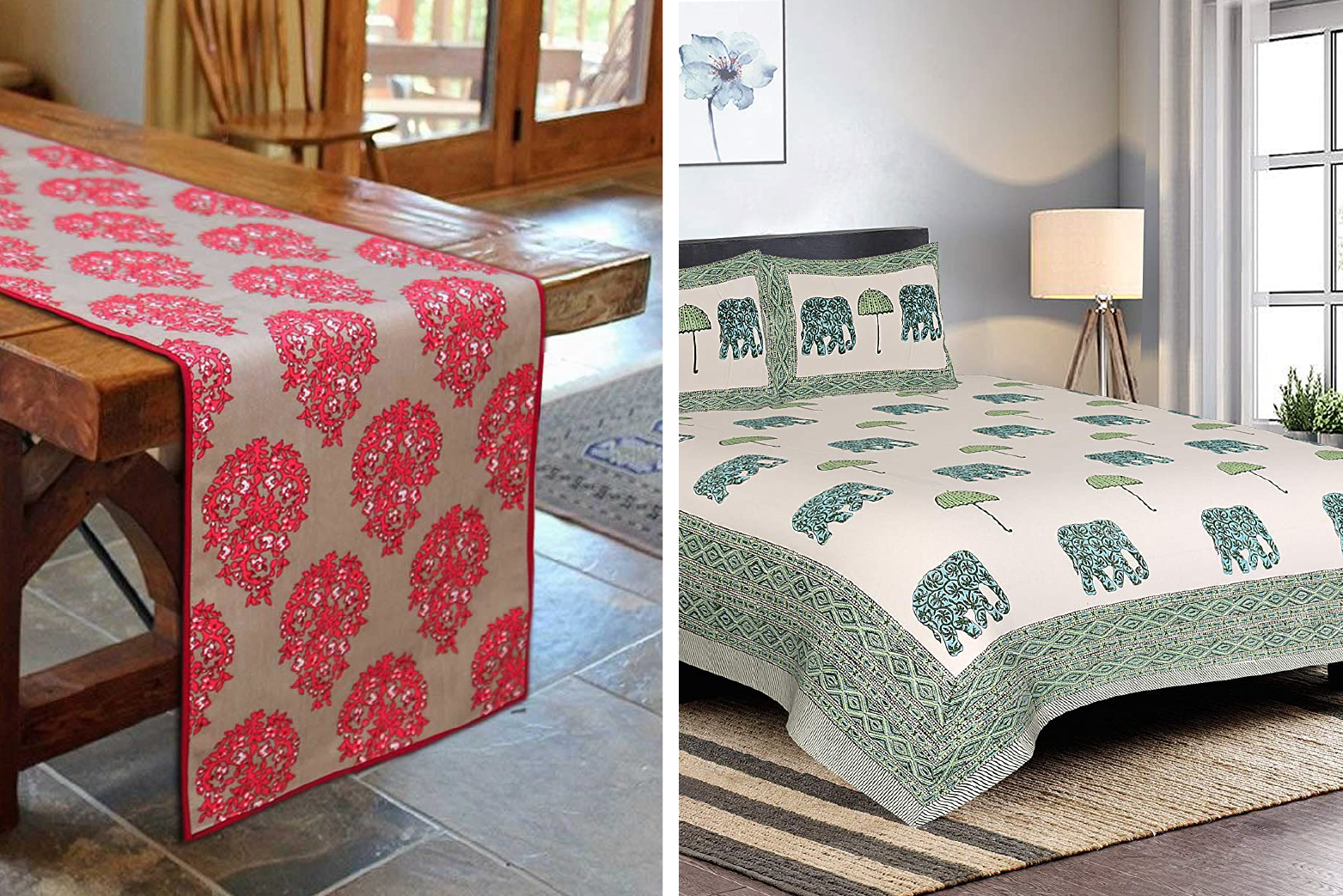 Source: Amazon
What is this?
A cotton paisley table runner and hand block printed elephant and umbrella print. These are definite must have soft furnishings for your Amazon list.
Where to use it?
To keep things interesting, use the table runner on a contrasting table colour for your dining table. The hand block printed bedspread can ideally be used for a king-size bed.
Cost
Paisley table runner – ₹449
Block print bedsheet – ₹1299
#4. Wall art – stencils/stickers/paintings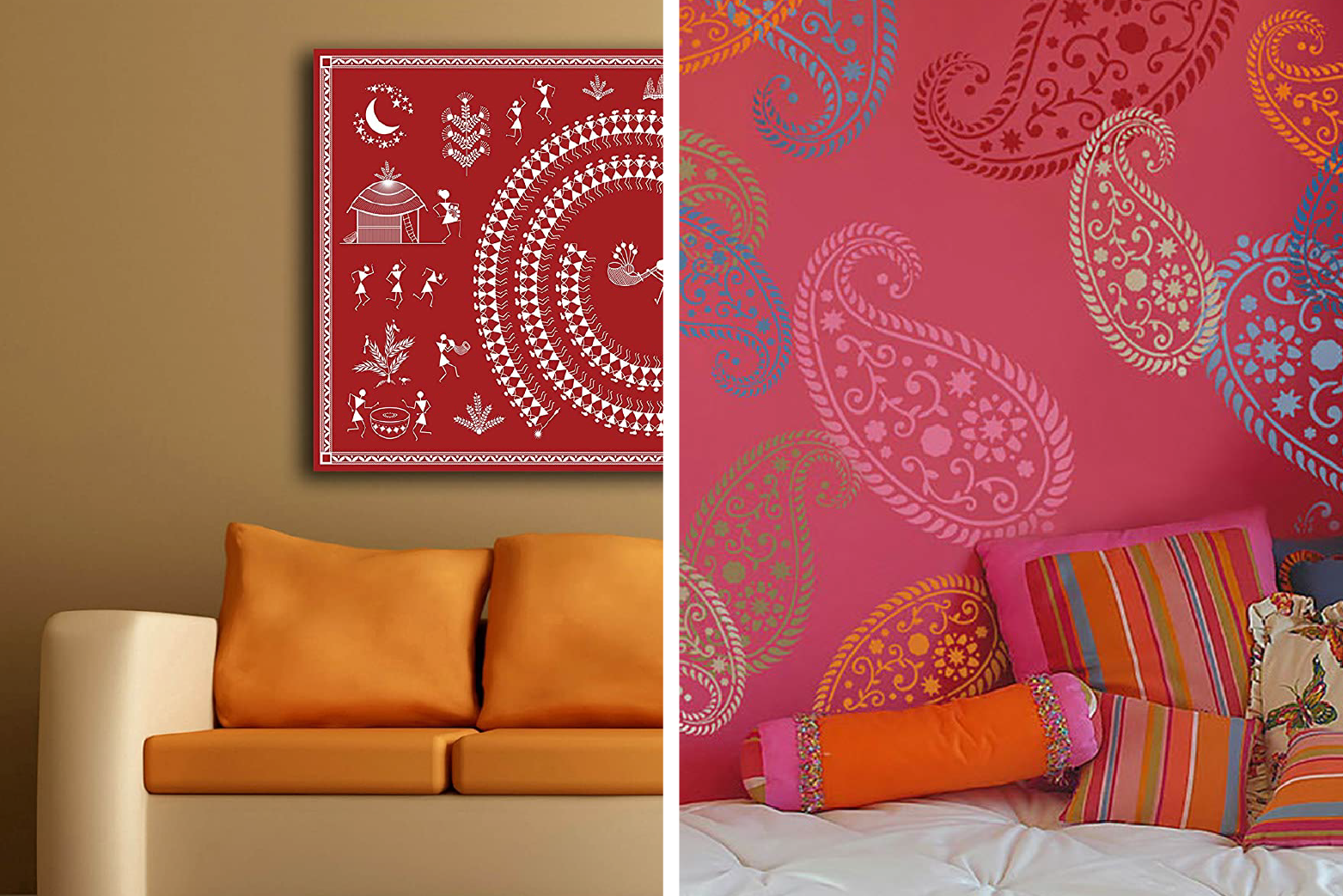 Source: Amazon
What is this?
Traditional Warli canvas art oil painting and paisley stencils. The stencils come in two different sizes: small and large.
Where to use it?
Jazz up your subtle walls with these bursts of colour. The stencils can also be used to paint plain fabrics on cushions and sheets. These can bring character to your living and dining rooms as DIY projects.
Cost
Warli wall art – ₹ 376
Paisley Stencil – ₹ 549
#5. Tapestry – prints and fabrics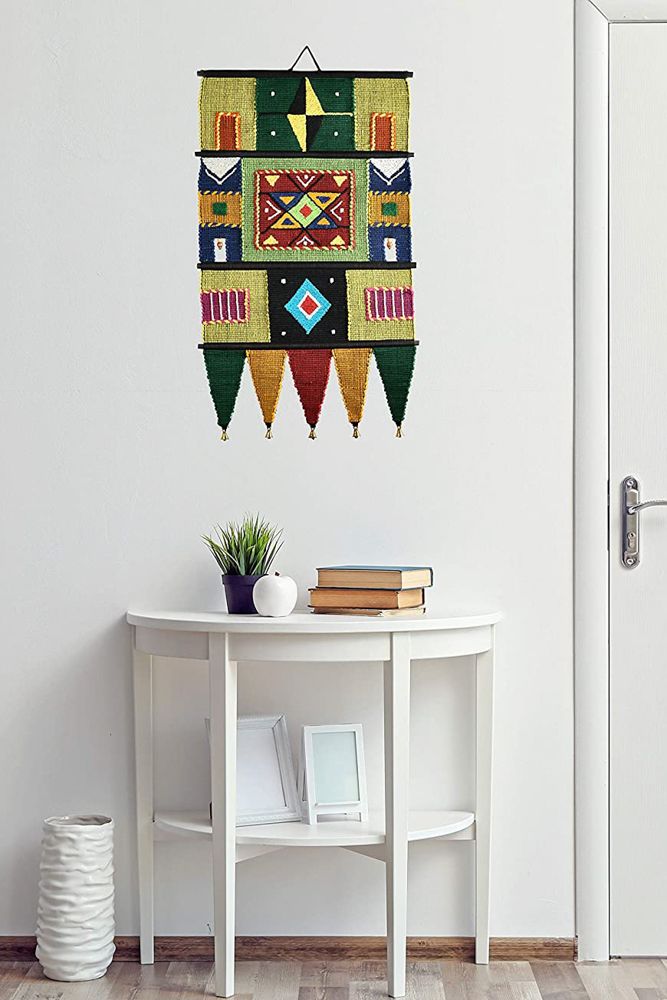 Source: Amazon
What is this?
Traditional handloom wall hangings for your essential wall decor. These pieces are 100% handmade and cotton.
Where to use it?
Doll up your bedroom walls with these heritage pieces from Jaipur. You can even use these to add that touch of ethnicity to your home office.
Cost
Handloom wall hanging – ₹1299
#6: Lighting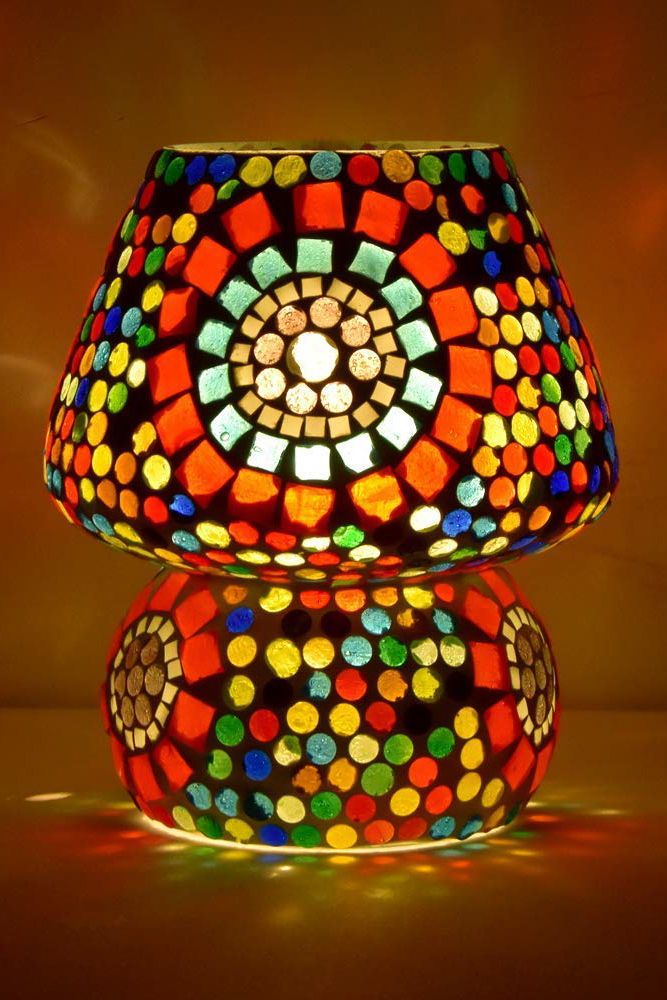 Source: Amazon
What is this?
A mosaic table lamp made of stained glass with a warm yellow lighting.
Where to use it?
Best used for a bedside table or nooks and crannies along the walls of your staircase.
Cost
Mosaic Table Lamp: ₹349
#7: Cushion covers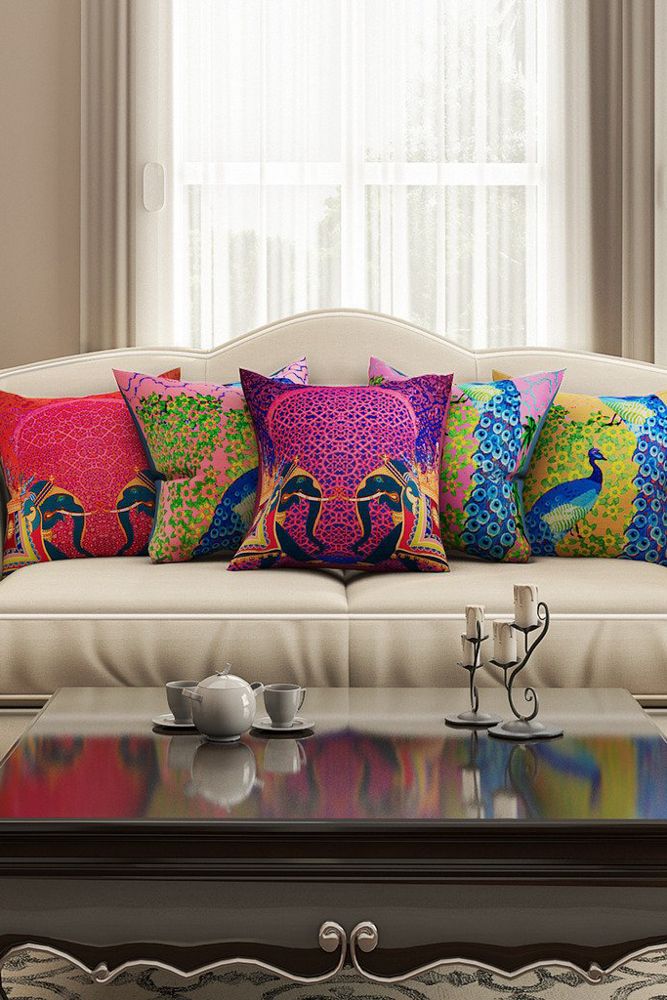 Source: Amazon
What is this?
Colourful cushion covers with HD digital print. They have images of multicoloured peacocks and elephants printed on one side.
Where to use it?
These can brighten up practically any room and any furniture. From the sofa sets in your living room to the children's bedroom, they have you covered for any part of your home.
Cost
Cotton HD Cushion covers ₹899
#8: Mandala art on throws/ blankets/ bed cover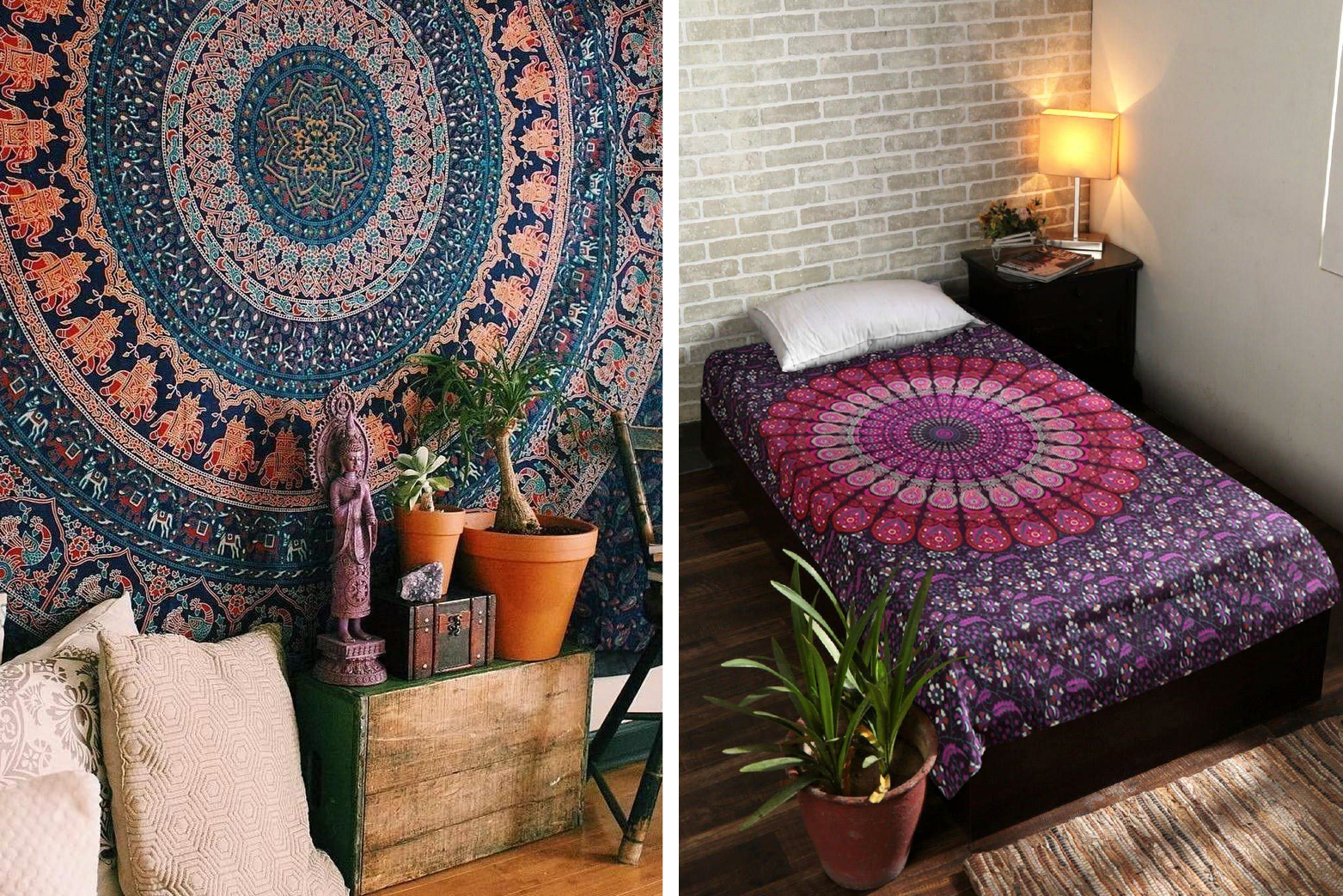 Source: Amazon
What is this?
Blue elephant and peacock printed Mandala tapestry and purple peacock winged mandala designs.
Where to use it?
They can be used to cover up an entire wall as a wall hanging, besides doubling up as bed sheets. You can also use these as room dividers. Drapes is another feasible option for these designs.
Cost
Elephant Mandala Tapestry – ₹320
Peacock Wing Tapestry – ₹449