Keeping the traditional essence intact, this stunning design employs vibrant colours and patterns.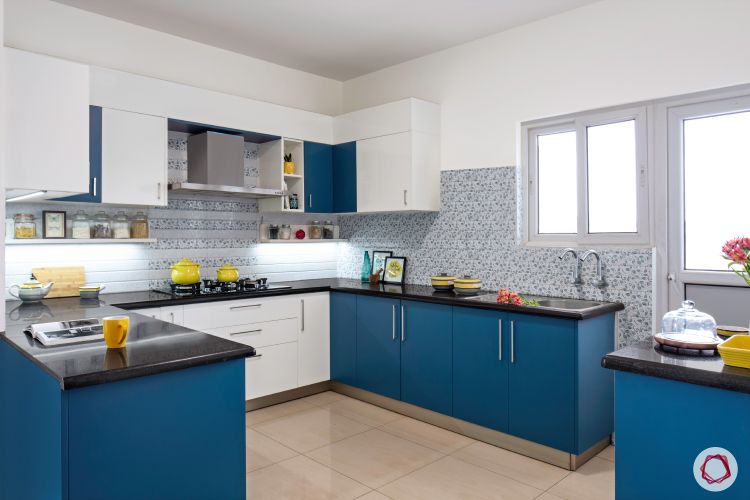 ---
Who livs here: Deepak Ganesan with his wife Charanya Nagaraj
Location: Sumadhura Pranavam, Hoodi Junction, Bangalore
Size: 3 BHK spanning 1,670 sqft approx.
Design team: Interior Designer Hamsa Ganesan and Quality Manager Rajkiran P
Livspace service: Modular Kitchen and Wardrobes
Budget: ₹₹₹₹₹
---
Deepak Ganesan and his wife Charanya Nagaraj are a vivacious couple who take pride in their tradition and culture. Thus, it would only be fitting for their home to have a traditional theme with an inviting look. Their home is a 3BHK in Sumadhura Pranavam which surrounded by lush greens and little water bodies. It makes for a refreshing place to walk around in.
The couple believes that high-rise apartments are mostly standard and lack a cosy and personal touch. We couldn't agree more as the setting is a perfect respite from the chaotic city life. Encouraged by a friend's recommendation, they visited Livspace and met their designer Hamsa Ganesan who also hailed from the same traditional background. This proved to be the bonding factor, making it easy to narrow down on the right colour palettes and designs.
A Traditional Welcome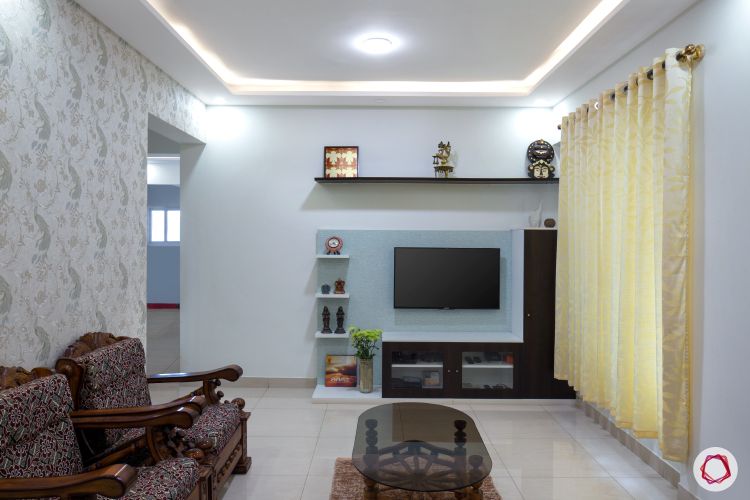 Deepak was upfront that this was the first time his family had engaged with a designer to do up their interiors. He had a rigid notion that an aesthetically appealing home design required a compromise on functionality. However, Hamsa offered stylish designs which were practical too.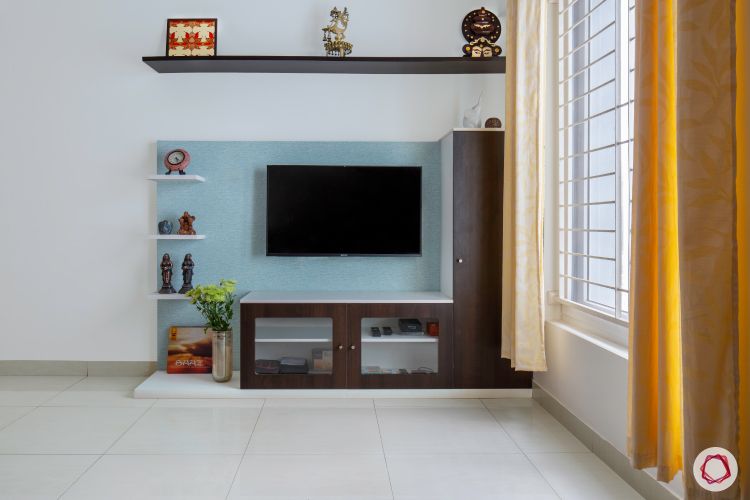 The duo was intent on retaining a classic sofa set and to match it, a peacock-printed wallpaper was introduced. The wall panelling behind the TV unit took colour inspiration from the blue hues of the print and conceals the wires and electrical points. A mix of open and closed storage gives it an airy look while offering ample space to stack books and knick-knacks.
An Ounce of Modern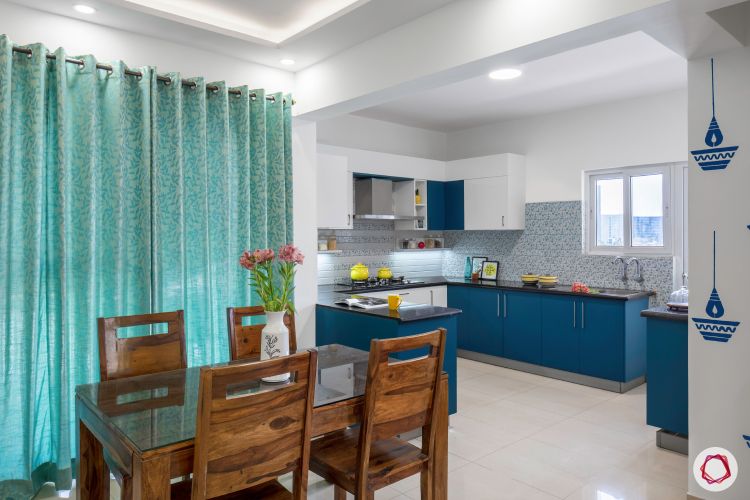 "When I take a vacation, I want to feel the difference between the hotel ambience and my home. Hence, I didn't want my home interiors to be very fancy," says Deepak. Thus, recessed lights in a simple false ceiling design took shape.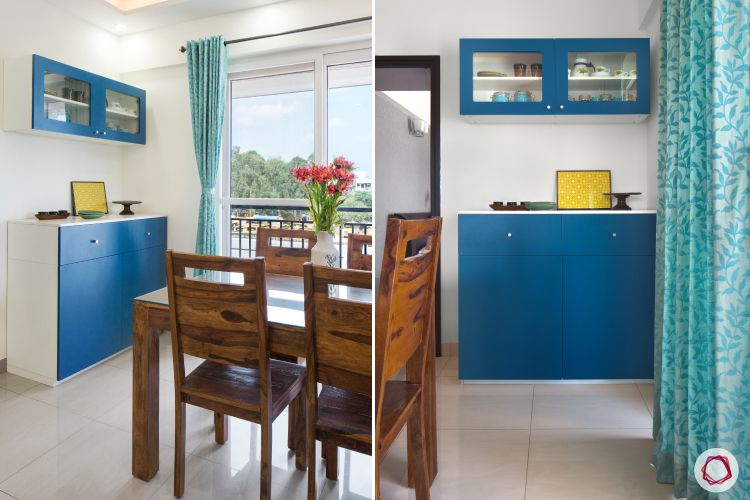 The dining room also houses a stylish crockery unit. To be honest, the base units mostly act as a bookshelf to store their fine collection. The Rama green finish is rich and luxuriant in its appearance making it the show stealer.
Bow with Reverence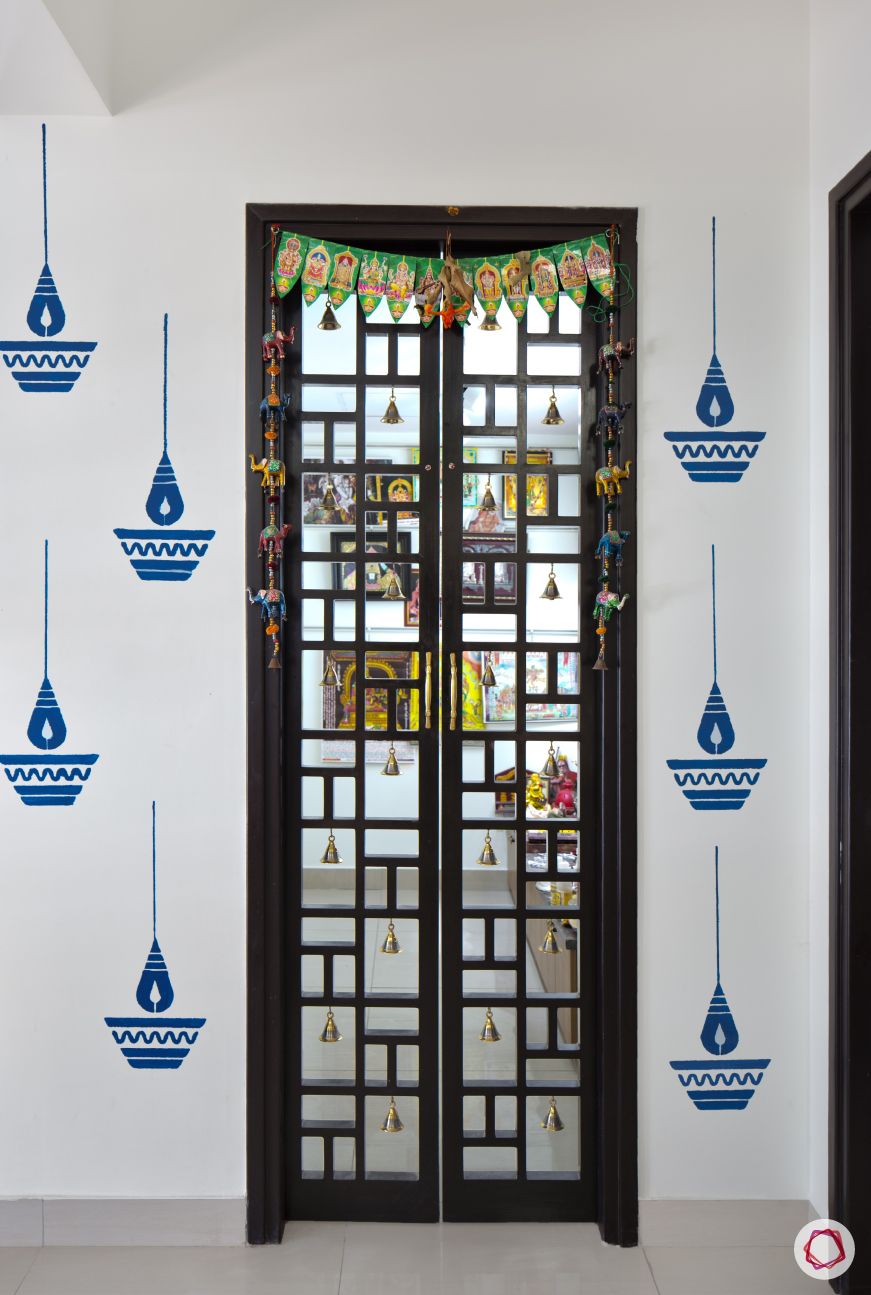 The apartment initially was designed with three bathrooms, which the pair felt unnecessary. Thus, the third bathroom was requested as an empty space which then got converted into a pooja room. Stunning lamp decals matching the kitchen cabinet colours adorn the wall beside its entrance.
A Trending Colour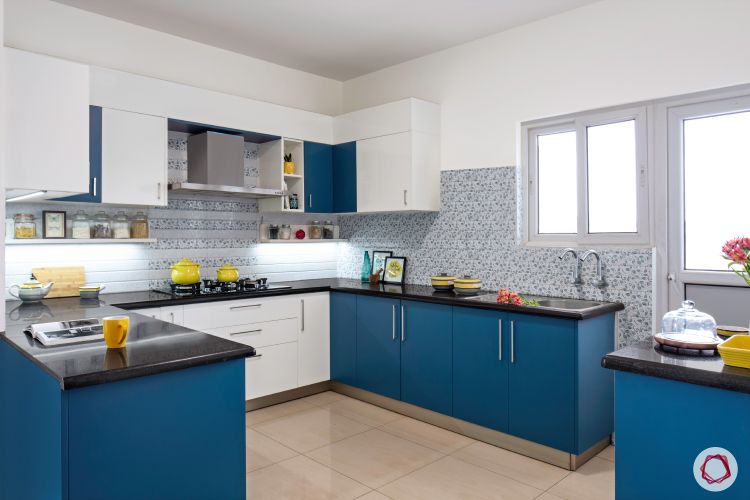 The kitchen is dressed in an empowering colour combination of white and Rama green. An intriguing design that is definitely a showstopper in terms of functionality as well. The L-shaped kitchen was given an extension to form a U-shape which added storage and counter space for ease in cooking.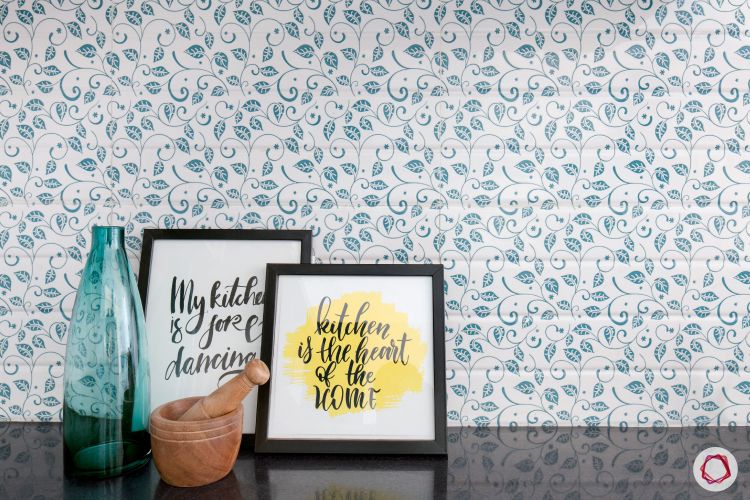 This enticing backsplash brings together the white wall units with the Rama green base storage. The delicate floral pattern adds grace and charm to the setting.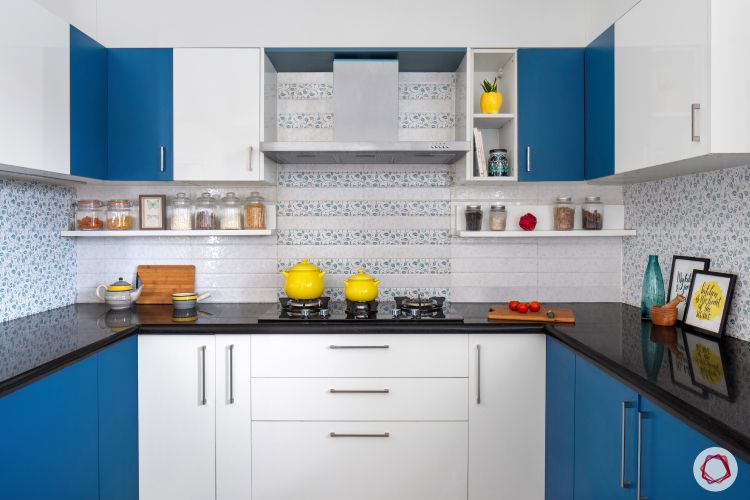 From drawers to shelves, the kitchen is packed with storage options to render cooking a simple task. The designer mindfully provided open shelves below the wall modules to access frequently-used masalas easily. There is also a separate utility area which has a double sink and a washing machine designed to suit the wife's preference.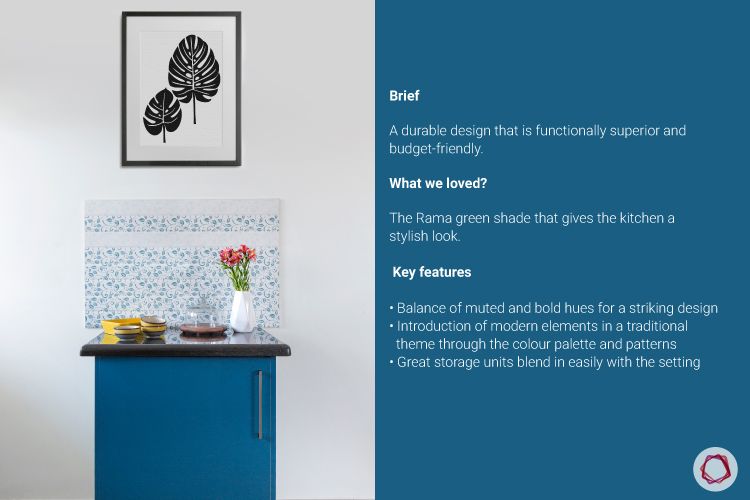 The grinder finds refuge in a separate place beside the refrigerator with a strip of backsplash tiles and a stand-alone module. This makes using and storing the appliance effortless.
Balance of Hues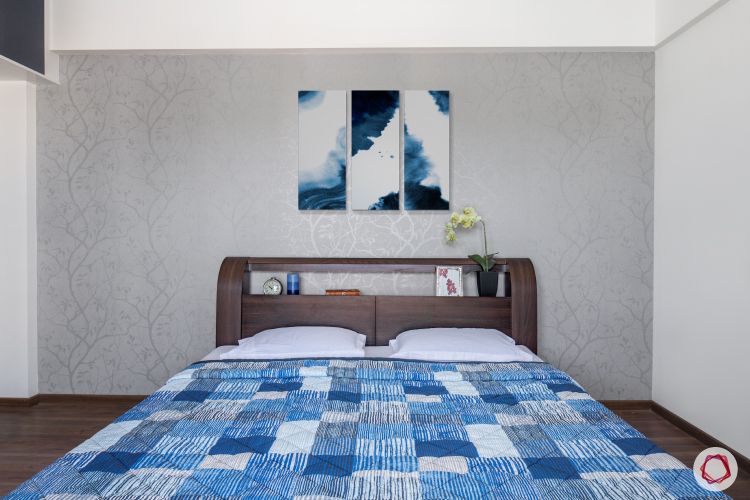 The master bedroom takes on a navy blue and grey combination. The subtle wallpaper offers a relaxing vibe with pretty floral patterns that are easy on the eyes.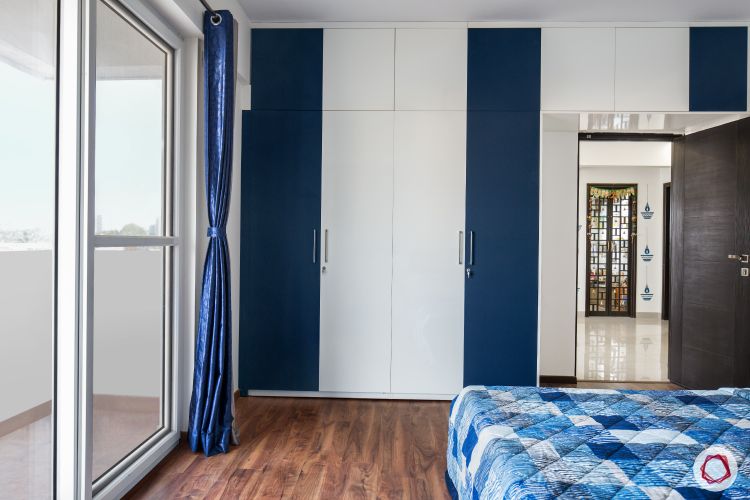 The wardrobe here is a navy blue and white mix. "We ensured we planned the shutter colours so that it doesn't replicate a piano design," says Hamsa. Since, the duo is used to folding their clothes, more shelves were provided as opposed to hanging units.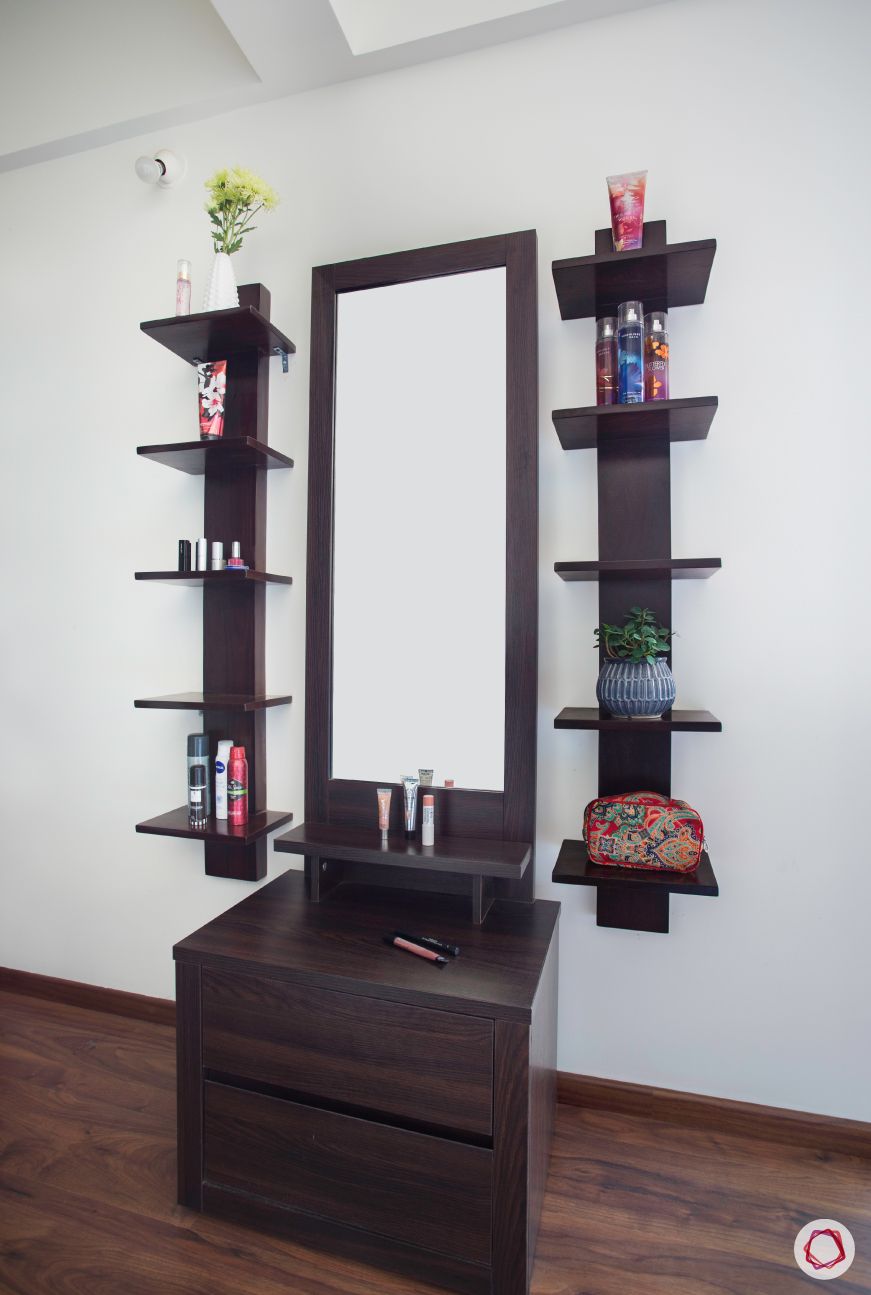 A dresser also shares the space flanked by two stylish shelves. This makes storing cosmetics and accessories effortless for Charanya.
Soothing and Snug
The parents' bedroom is simple with a traditional wooden bed and grey-yellow accent wall. Also, to highlight the wall, shelves have been added.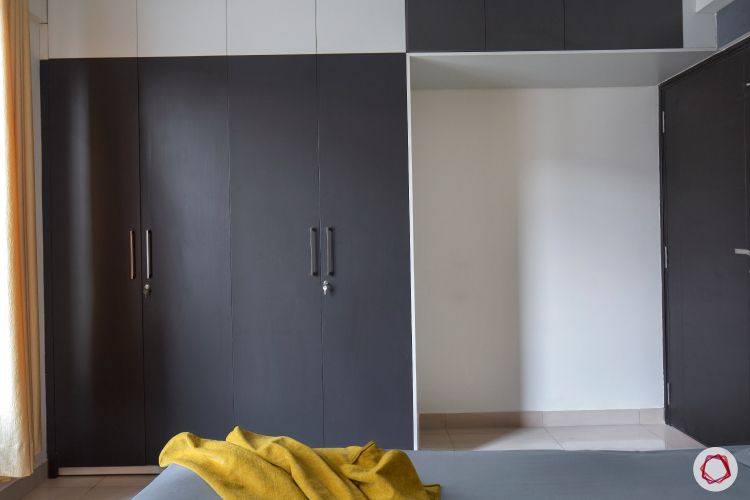 A super functional wardrobe with lofts holds not just their apparels, but also heavy luggage and suitcases. Grey and ivory blend well and give it an elegant look. The designer maintained enough gap between the door and wardrobe for two reasons — space to open the door and make the room appear visually light upon entering it.
Playful Vibes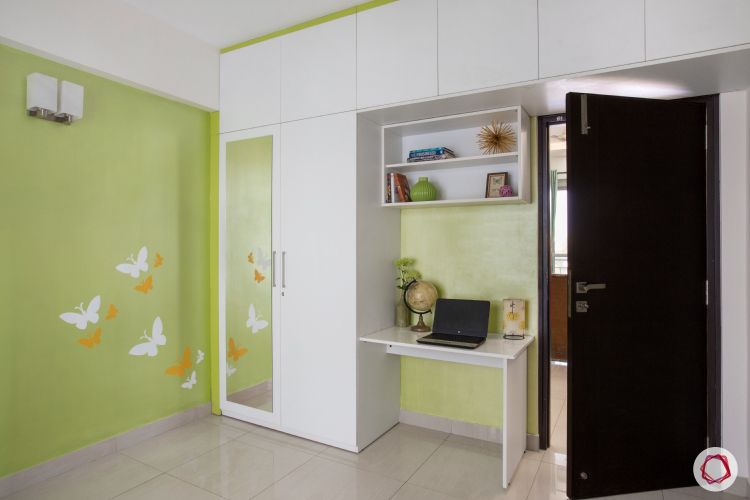 Potentially meant to be a kids room in the future, the third room is dyed in lime green colour. The colour is not just refreshing but also gives it a playful vibe. A white wardrobe is just the right balance it needs to make it appealing and visually light. However, the sleek study is Deepak's workspace currently.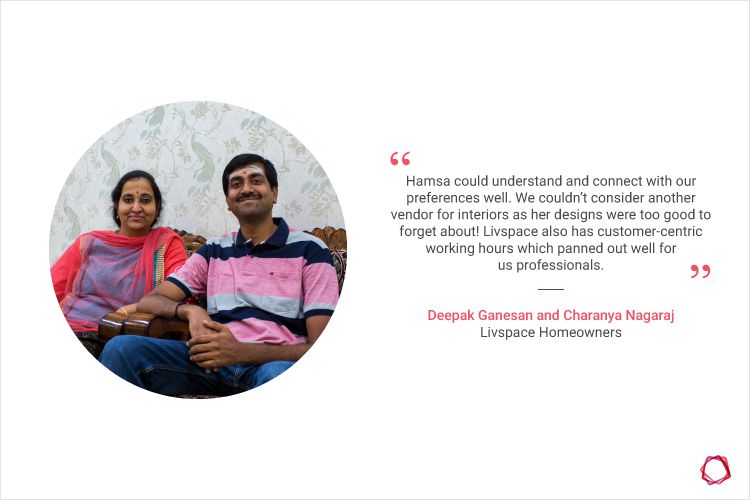 "It was a smooth process working with the couple as we were on the same page in terms of choices and preferences. Rama green is an unusual colour which I wanted to highlight by giving the right mix of colours in the kitchen."

— Hamsa Ganesan, Livspace Interior Designer
Love how vibrant the look is? Check out this home which has a colourful mix.