Your almirah is more than just a storage space to keep your clothes. It is a multifunctional unit that forms a part of your bedroom decor while also keeping your personal sanctuary uncluttered. When it comes to almirah design ideas, we have endless options for you to choose from! From a wooden almirah design to MDF, laminate to membrane, wall almirah design ideas to stand-alone—there is something for everyone!
However, with so many options, choosing the right cupboard can be an exhausting task. That's why we've put together this holistic guide on everything related to the best and latest bedroom almirah designs.
P.S. You'll want to bookmark this!
Types of Almirah Designs
#1: A Wall Almirah Design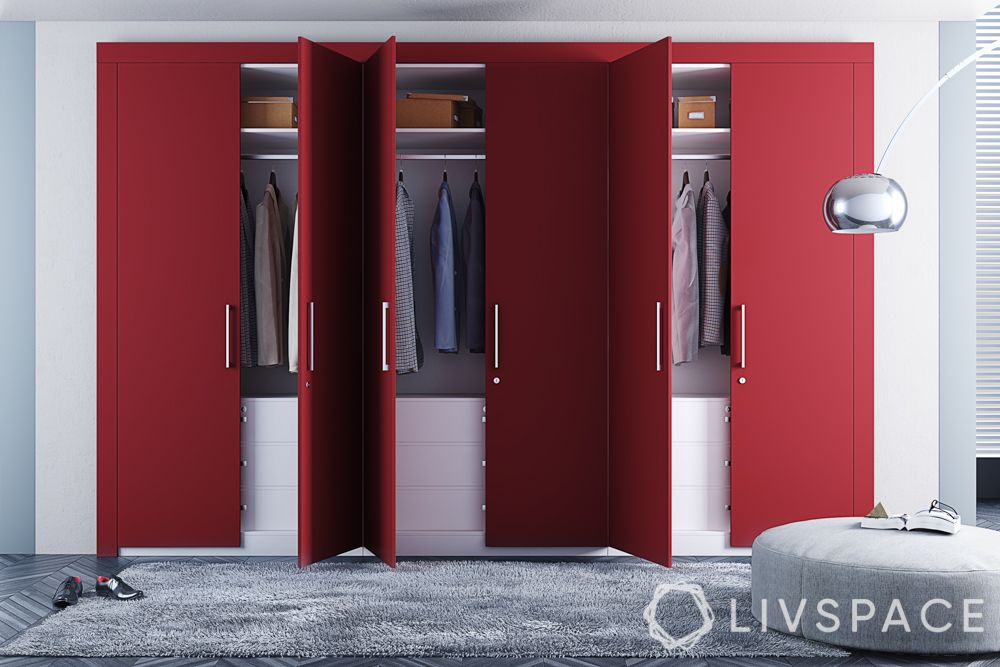 If you are looking for a bedroom almirah design that's both space-efficient and makes a style statement, fitted or wall almirah designs might just be perfect for you! This is an alternative favoured by homeowners, especially from big cities where space is at a premium. The biggest reason for this is that a built-in almirah design maximises the vertical space available. Also, they can help make good use of those awkward corners in your bedroom.
#2: Latest Freestanding Bedroom Almirah Design Options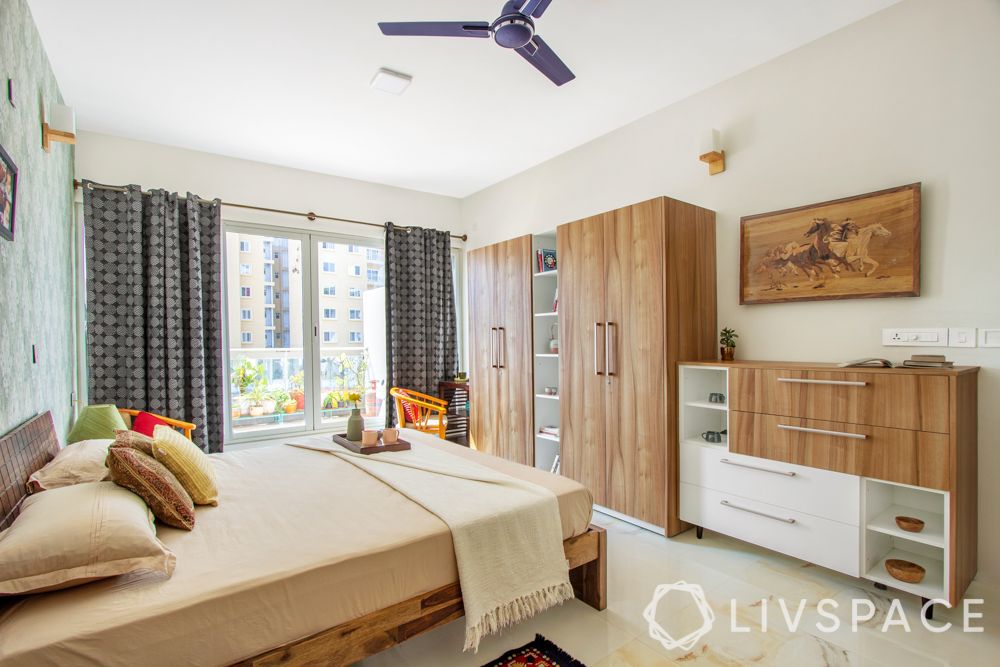 Although they have been around for a while, freestanding almirahs for your rooms are making a comeback. You'll find many bedrooms use this latest almirah design to work into their private space. These conventional cupboards are available in a wide variety of styles that can complement your bedroom decor while still being convenient to use. Therefore, if you are someone who loves to move around furniture to create different looks, go for a stand-alone or freestanding almirah design.
#3: A Walk-In Almirah With Aluminium Frames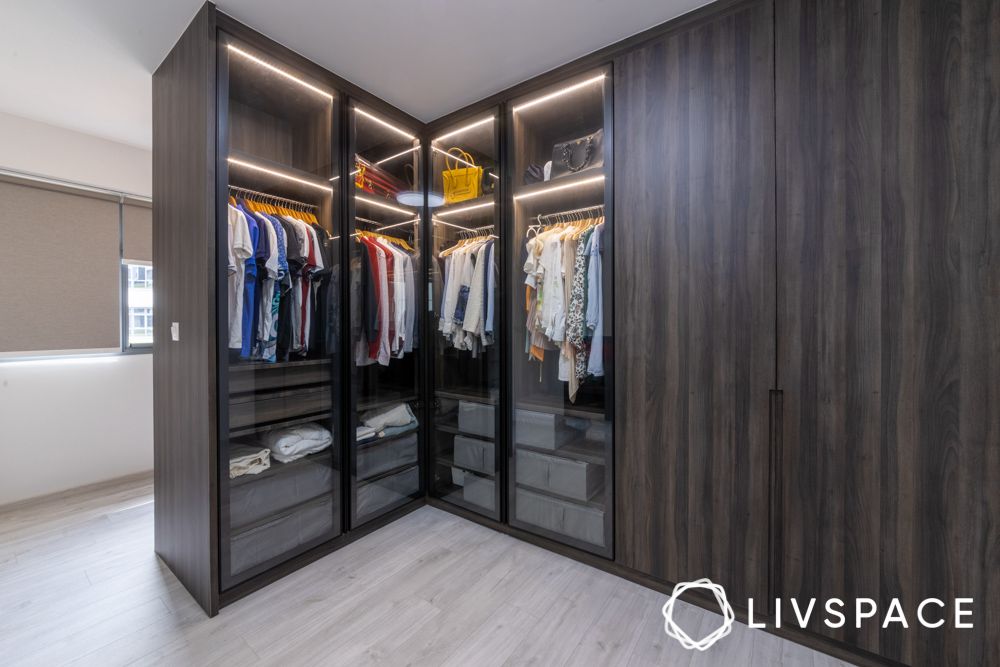 Walk-in wardrobes are among the latest bedroom almirah designs that are becoming immensely popular in modern homes. To get the best-looking yet durable wardrobe design for your home, you can choose a walk-in wardrobe with aluminium frames. Aluminium provides strength to your almirah design and can ensure you have a wardrobe that's durable and long-lasting.
#4: A Sliding Almirah Made of Aluminium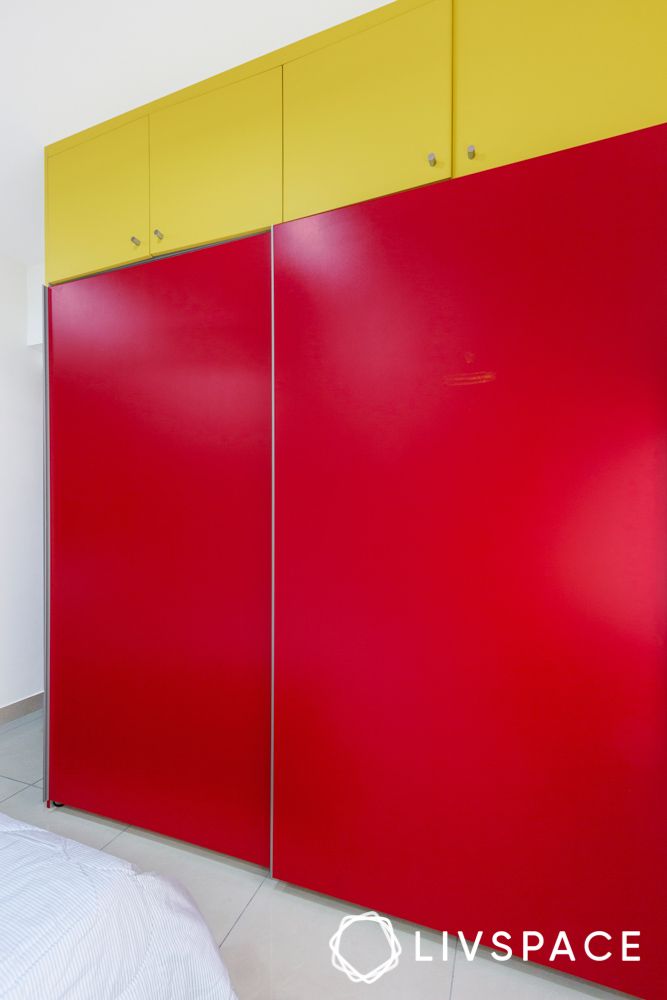 Sliding wardrobes are preferable for compact homes as they help in saving space. In addition, by choosing aluminium, you get the benefit of its flexibility and your almirah can be done up in different colours.
#5: A Brown and White Almirah Design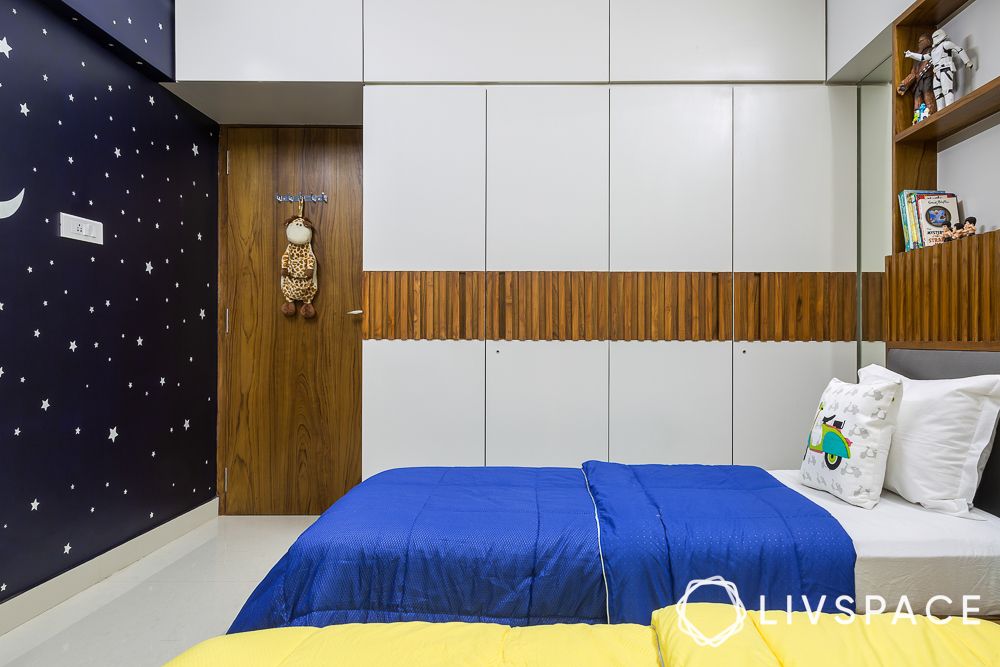 Want to amp up the style quotient of your room? Go for a dual-coloured almirah. This modern almirah design in white and brown gives a soothing touch to the interiors.
Also Read: 15 Stunning Wardrobes With Lofts That Are Perfect for Small Bedrooms
Types of Almirah Doors
#1: A Sliding Door Wall Almirah Design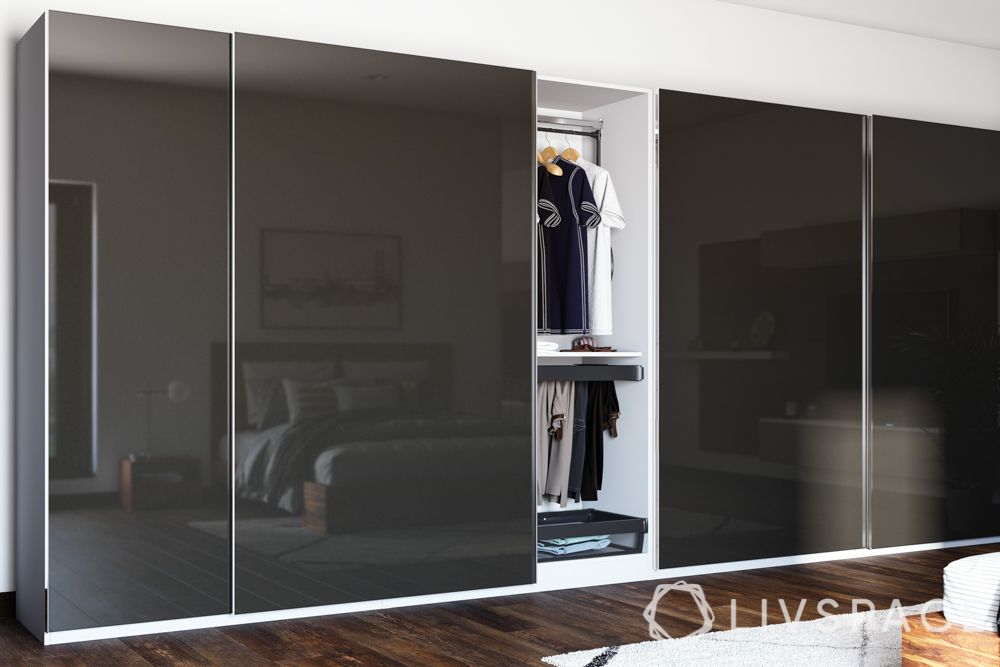 If you are considering the latest bedroom almirah designs, an almirah with a sliding door is a must! A wall almirah design with sliding doors looks sleek and contemporary, making it a perfect choice for urban homes. In addition, sliding almirah designs usually come with an extensive amount of space for all your clothes, shoes and accessories. Then there's the fact that they also takes up less space in the room that a swing-door cupboard would!
There's more where that came from too! Just check out these stylish sliding almirahs for more inspiration.
#2: A Hinged Almirah for the Bedroom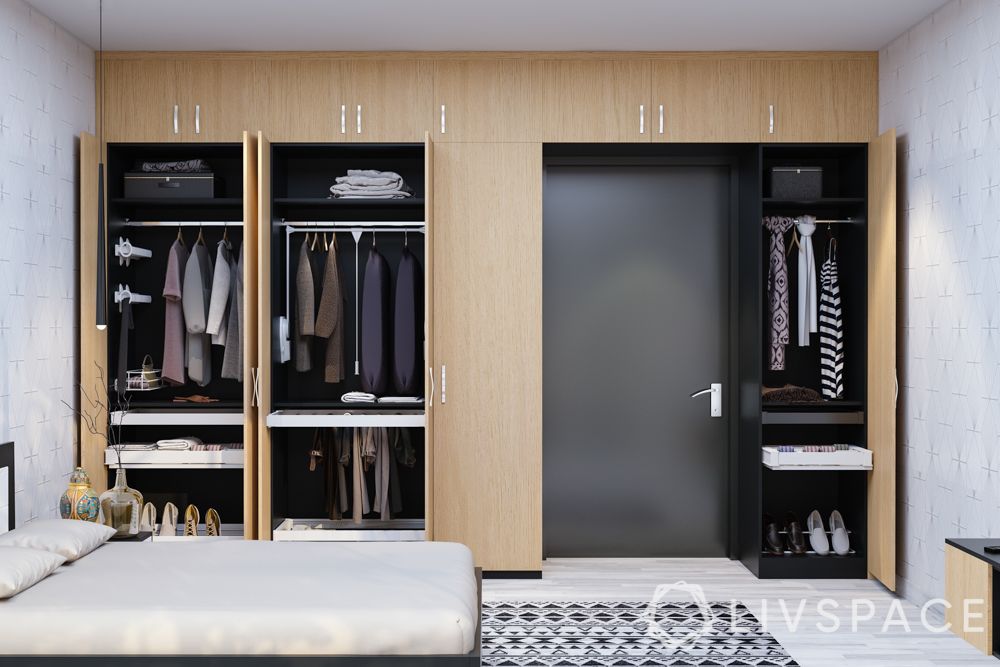 On the other hand, if you want to go traditional, a hinged almirah is the best option for you. A hinged almirah for your bedroom is one of those timeless pieces of furniture that will never go out of fashion. These conventional doors look great with any type of wardrobe you might have and are available in a variety of colours and finishes. For a classic look, you can opt for a wooden almirah design with swing doors.
Confused between hinged or sliding? Find out the best fit for you here!
Materials for the Almirah to Enhance Your Interior Design
#1: Latest Almirah Designs in Wood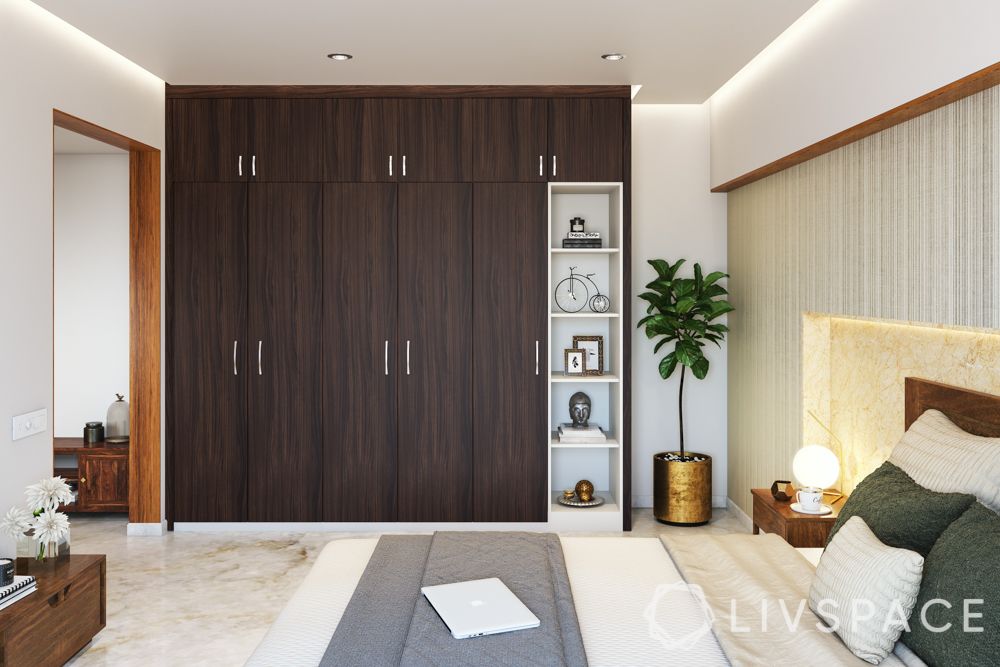 Wood is among the most common and widely used almirah materials. In addition to being durable, a wooden almirah design for your bedroom can create a warm and rustic look.
Additionally, these cupboards complement all bedroom styles, making them the go-to option for most people. You can pick between different grains and colours among wooden almirah designs to suit your decor.
Among the variety of options you might find in a wooden almirah design catalogue, consider going for one with a built-in display space, in order to showcase your pretty decor items. If you have a small bedroom, wall fixing your almirah design is a great space saver.
Pros and Cons of a Wooden Almirah Design
| | |
| --- | --- |
| Pros | Cons |
| Durable and long-lasting | Can be prone to pest infestations if not treated |
| Ecologically sustainable | Can be prone to warping if not maintained well |
| Looks good in any setting | Needs to be protected against moisture |
#2: Glass Almirah Design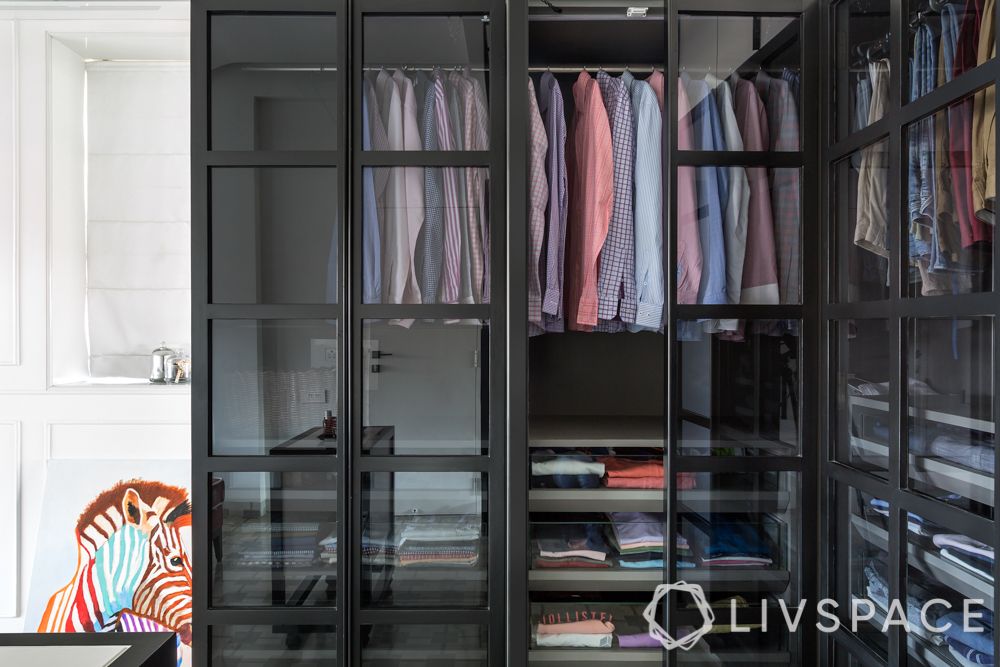 When it comes to the latest bedroom almirah designs, glass almirahs top our list for their aesthetic value! Contemporary and stylish, a glass almirah design can elevate the entire look of your bedroom. So if you are a fashionista with some trendy clothing items, go ahead and display them in a glass almirah design.
Pros and Cons of a Glass Almirah Design
| | |
| --- | --- |
| Pros | Cons |
| Can make compact rooms look bigger | Are fragile |
| Easy to clean and maintain | Glass can get discoloured over time |
| Showcasing your trendy clothes is easy | Clutter, if any, is easily visible |
#3: MDF Almirah Design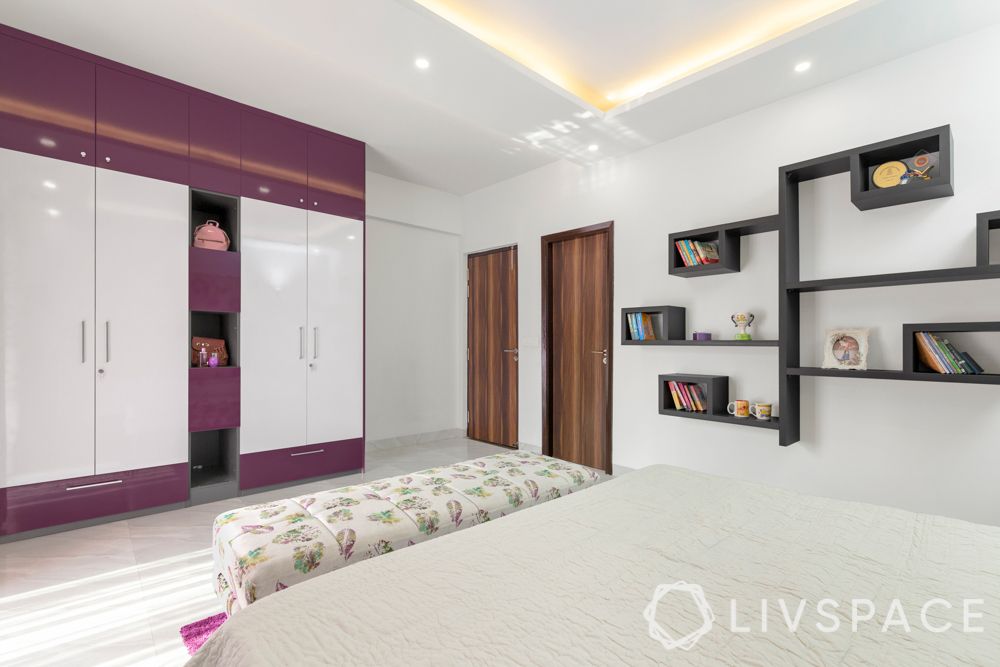 MDF or medium-density fibreboard is a form of engineered wood material. This is a great alternative to a wooden almirah design, as it is more resistant to temperature fluctuations and humidity, which can cause normal wood to warp.
As it is more resistant to changes in the weather, you do not have to worry about any damage to your bedroom almirah design. If you have a simple and basic bedroom, go for a bright-coloured MDF design for your almirah fixed to the wall.
Pros and Cons of an MDF Almirah Design
| | |
| --- | --- |
| Pros | Cons |
| Does not warp | Not moisture-resistant |
| Affordable option | Cannot be repaired |
| Allows quick and easy installation | Emits VOCs |
#4: Plywood Almirah for the Interior Design of Your Bedroom
Another alternative to a wooden almirah design is plywood. It is manufactured by using small wood chippings, sheets of wood etc. Due to its durability, plywood is one of the most preferred materials for modern almirah designs.
Pros and Cons of a Plywood Almirah Design
| | |
| --- | --- |
| Pros | Cons |
| Water-Resistant | Requires add-ons like polish |
| Affordable | Cannot be carved like wood |
| Durable | Requires quality assessment |
Finishes for Almirah Design
#1: Laminate for Almirah Designs Fixed to the Wall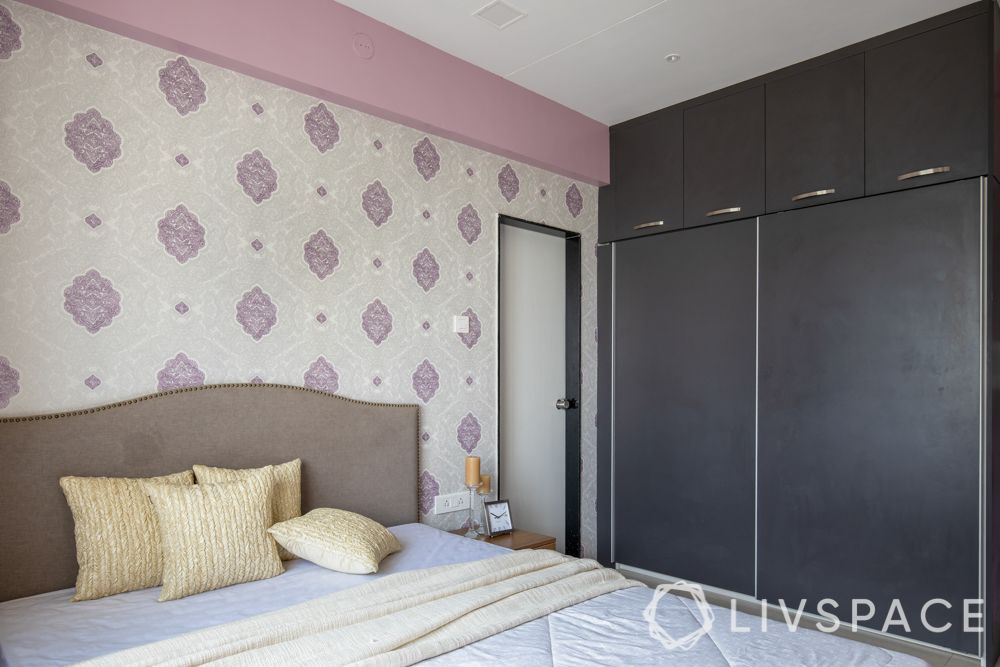 If you are looking for a cost-effective finish for your almirah design, laminate is the best choice for you. This is because laminate finishes come in a variety of styles and are scratch-resistant. Therefore, they are great options for high-usage units like almirahs.
While generally having a glossy look, you can even opt for a floor-to-ceiling matte-finish almirah design, as seen in the home above. Moreover, you can also go for a wood-like laminate almirah design for your bedroom instead of choosing a wooden almirah design in order to reduce the cost.
Find out which finish is the best option for you.
#2: A Membrane Almirah Design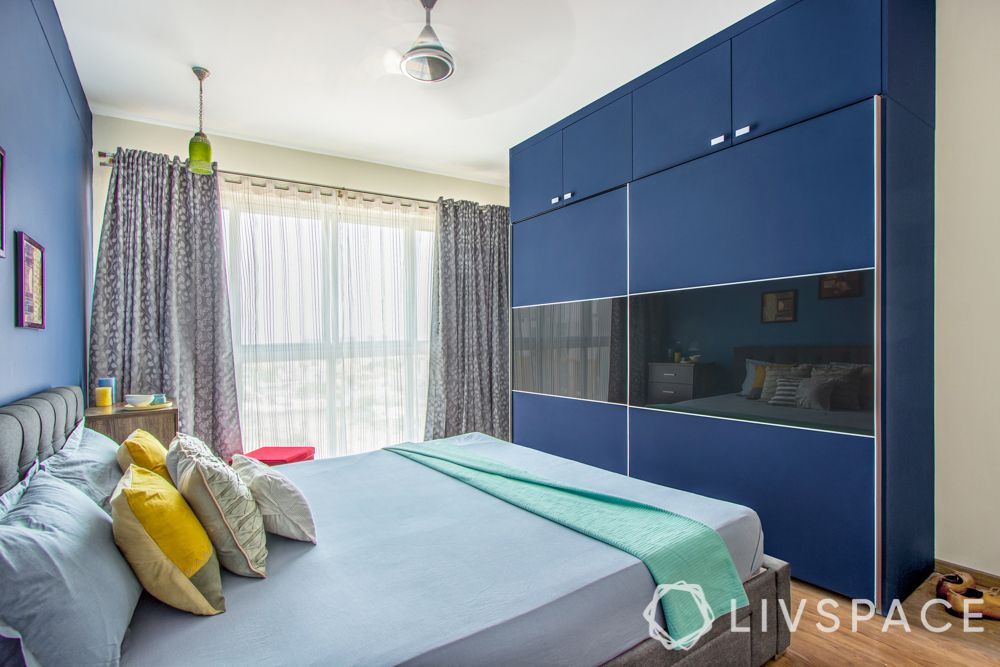 Membrane is a PVC foil which is fast gaining popularity as a finish for bedroom cupboards. The main advantages that membrane has over other finishes include its reasonable price point and high durability. Moreover, this weather- and water-resistant material is available in glossy, matte and wooden styles.
#3: A Matte Almirah Design for the Bedroom With a Mirror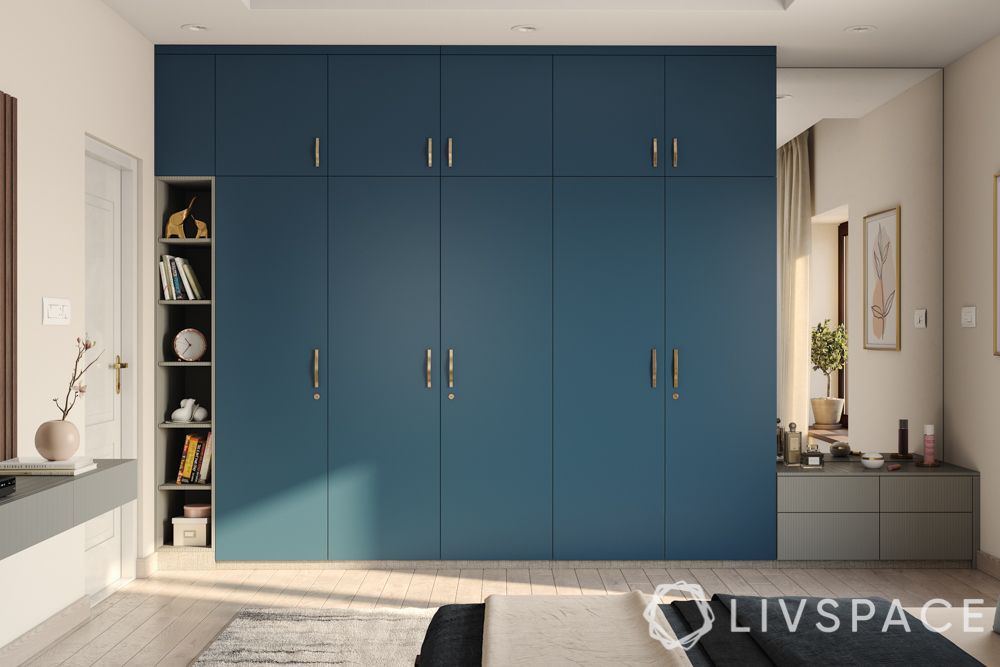 There is probably nothing as classy or sophisticated as a matte-finish almirah design with a mirror. While glossy finish has always been the norm, people are experimenting with different finishes for their wardrobes, like matte.
Matte-finish almirahs diffuse light, thereby enhancing the colour consistency. Another benefit of matte is that scratches and imperfections are less visible. This makes it perfect for high-touch surfaces like almirah designs.
Find out the pros and cons of matte and glossy finishes.
#4: High-Gloss Wall Almirah Designs for Indian Bedrooms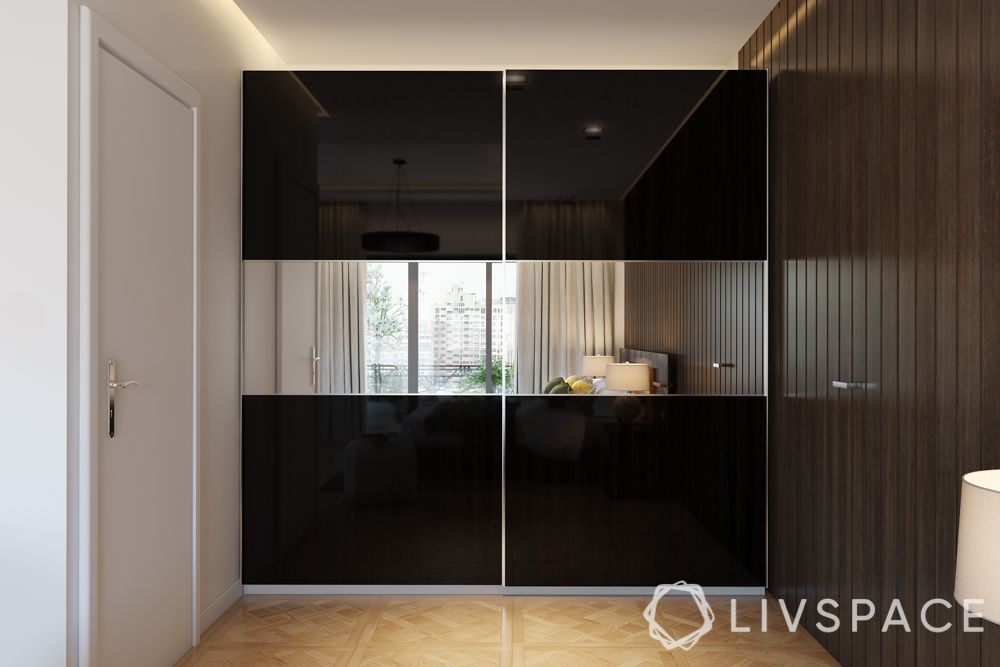 Traditional and dependable, a high-gloss almirah design for the wall is a failsafe choice! That's because gloss-finished bedroom almirah designs fixed to the wall are easy to clean and maintain. Also, there is possibly nothing quite as vibrant or eye-catching as an almirah design in a bold colour and glossy finish in your bedroom.
For instance, this high-gloss almirah design in an elegant black colour with a mirror can revamp the look of any room! What an unconventional choice for a wardrobe!
#5: A Veneer Almirah Design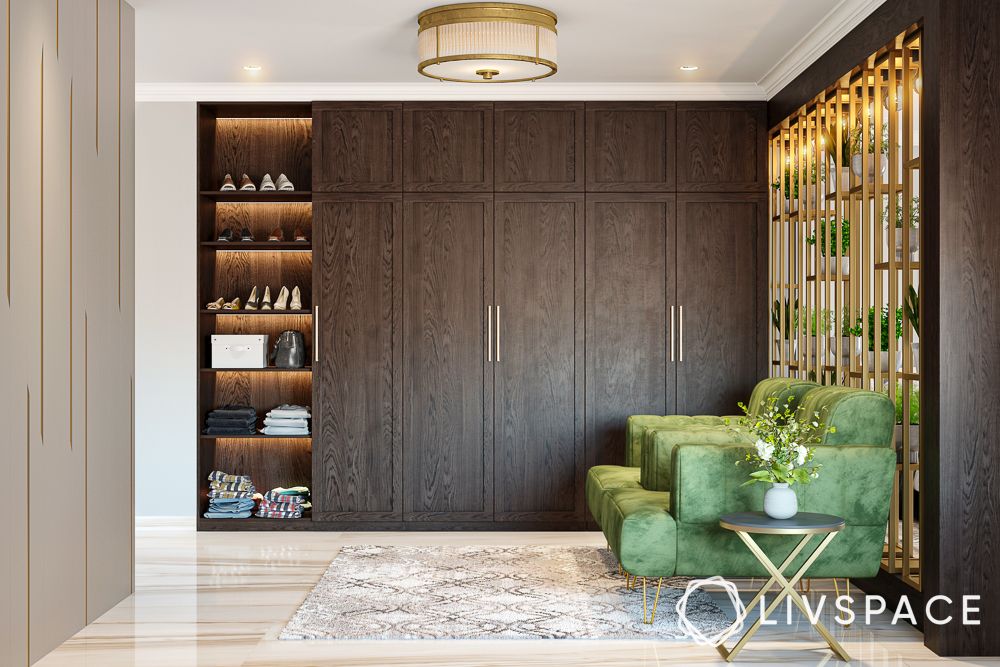 Nowadays, a lot of homeowners are opting for veneer wall almirah designs due to its natural-looking, wood-like finish. It offers a rich and luxurious vibe to your space. You can opt for some open storage racks with your veneer wardrobe for extra space.
#6: Frosted-Glass Wall Almirah Design Ideas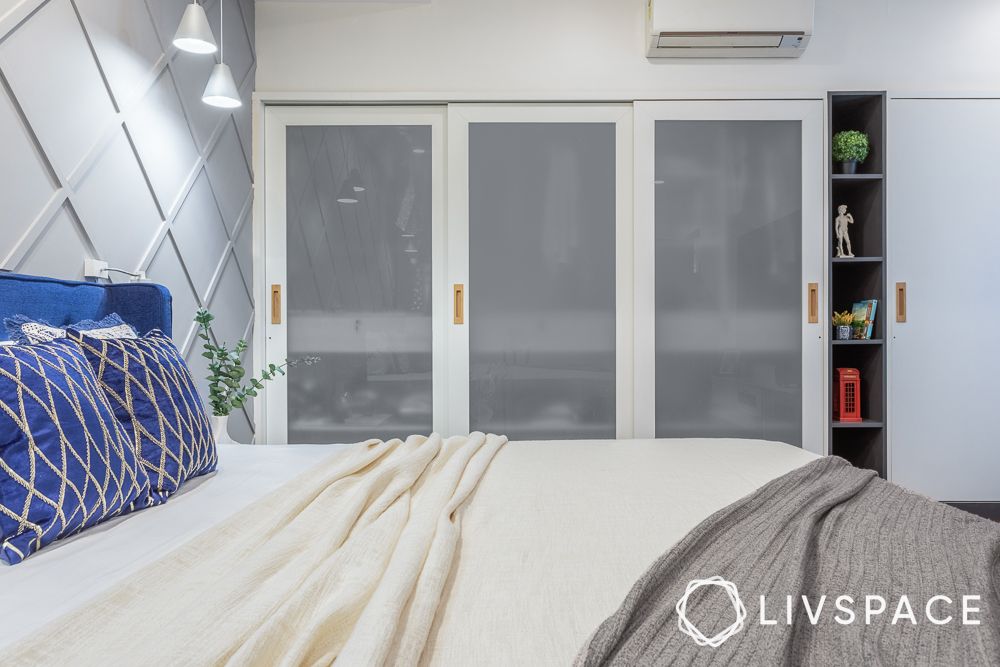 Looking for unique almirah design ideas? Opt for a frosted finish for your wardrobe. This type of finish helps you maintain your privacy, while also offering a hint of what's inside. Moreover, frosted-glass wardrobes are a good idea for small spaces as they can make your bedroom look more spacious.
Latest Bedroom Almirah Designs
#1: Almirah Design Ideas With a Mirror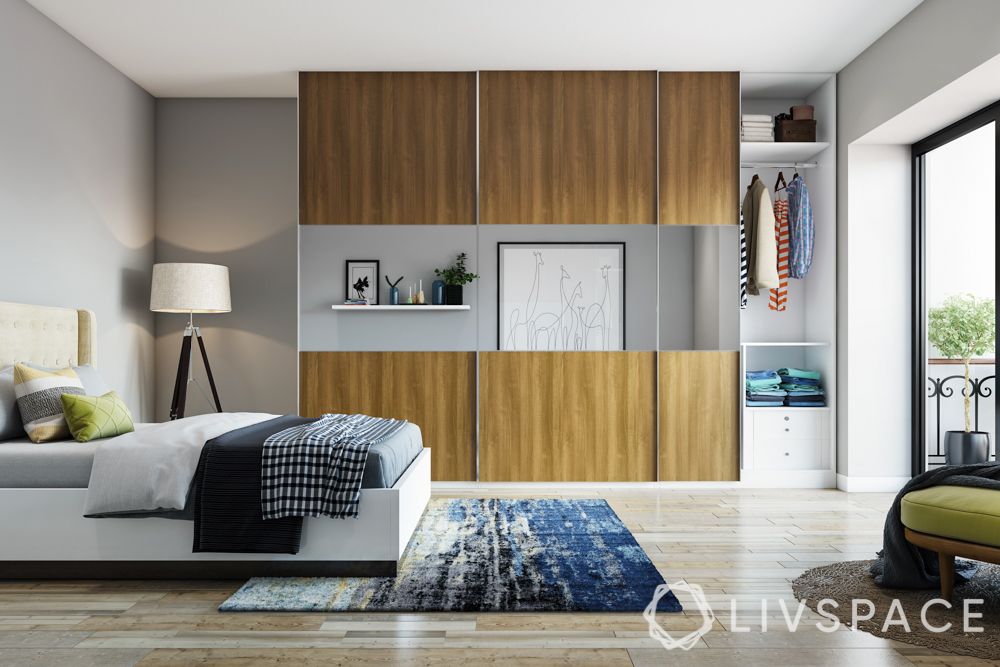 Apartments in cities like Mumbai and Bengaluru do not have a lot of space. As a result, designers are coming up with new and innovative ways to save space. One such idea is to go for an almirah design with a mirror. IIt not only looks stylish but also saves space in the bedroom.
#2: An Almirah With a Dressing Table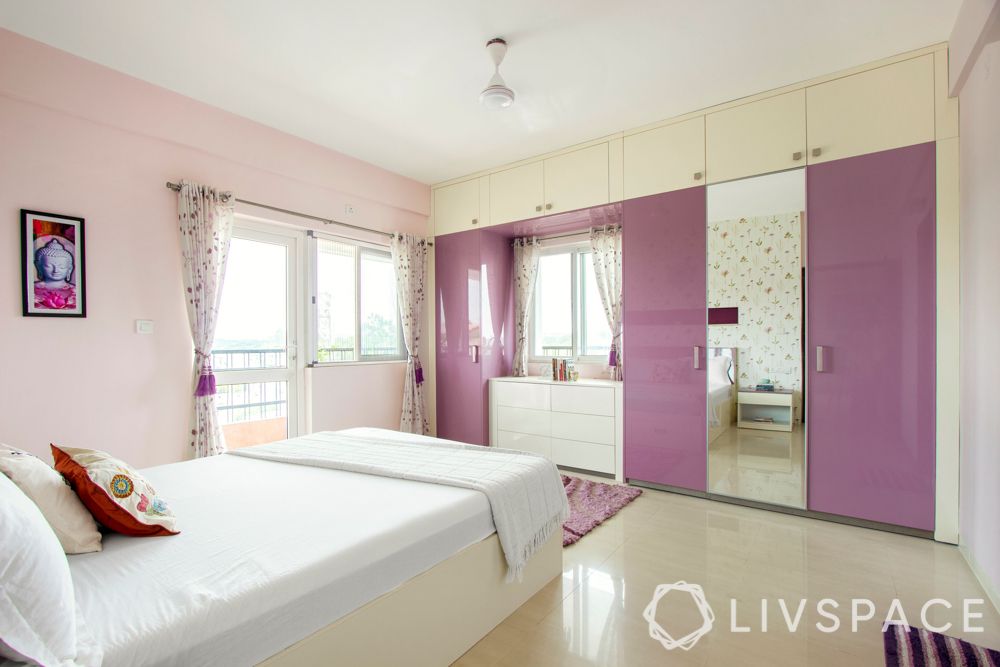 Another smart space-saving option for your bedroom is to choose an almirah with a dressing table. If you have a compact bedroom, almirah design with a dressing table for the room can help you make the most of the space available. You can also go all out, as in the above bedroom, by opting for an almirah with a dressing table and a mirror.
#3: Almirah Design With Open Storage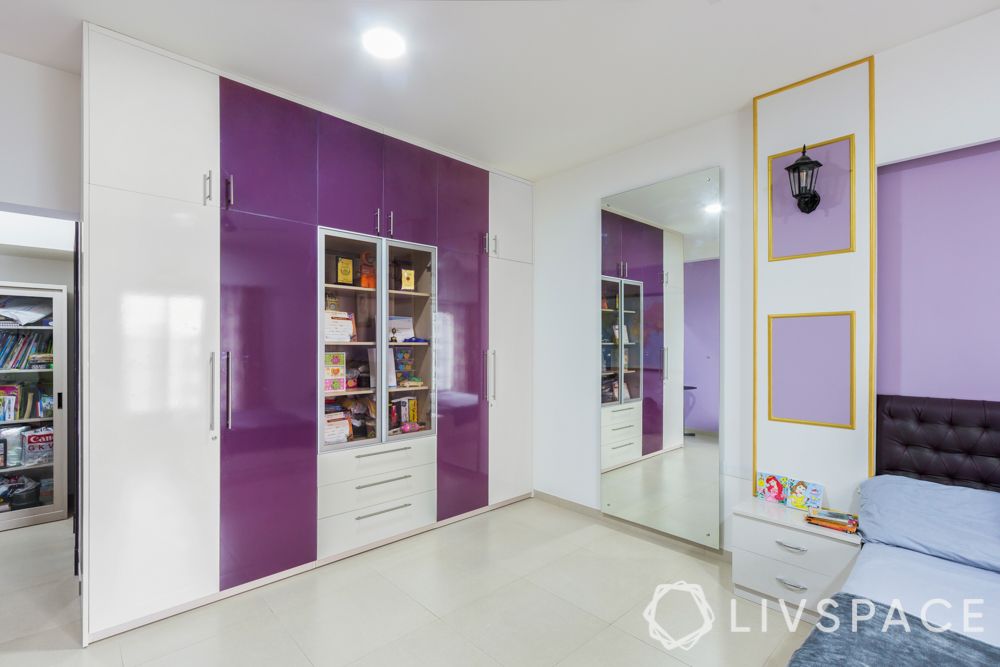 Do you love collecting souvenirs and memorabilia but lack the space to display them? Then you can consider investing in an almirah with open storage, like the one above. This type of wardrobe can effectively display your knick-knacks without taking up too much space.
#4: Jaali Almirah Design Ideas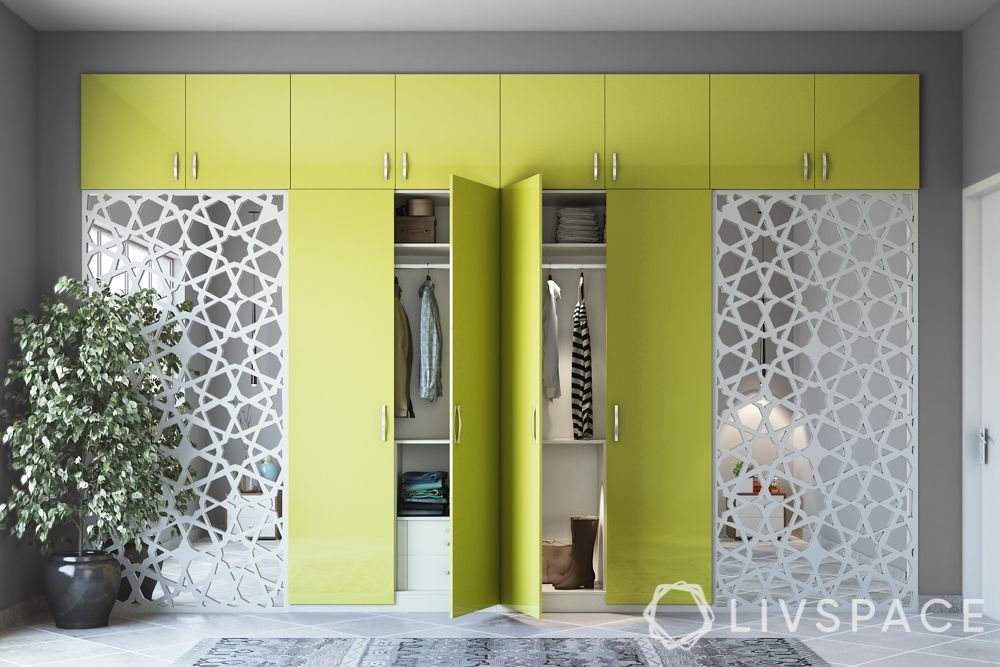 If you think that jaali can only be used as a partition or in pooja rooms, think again! A wooden almirah design with elaborate jaali work on the doors is a simple way to add an ethnic touch to your bedroom.
Also Read: Wardrobe Designs for Compact Rooms
#5: A Minimal Almirah Design in Your Room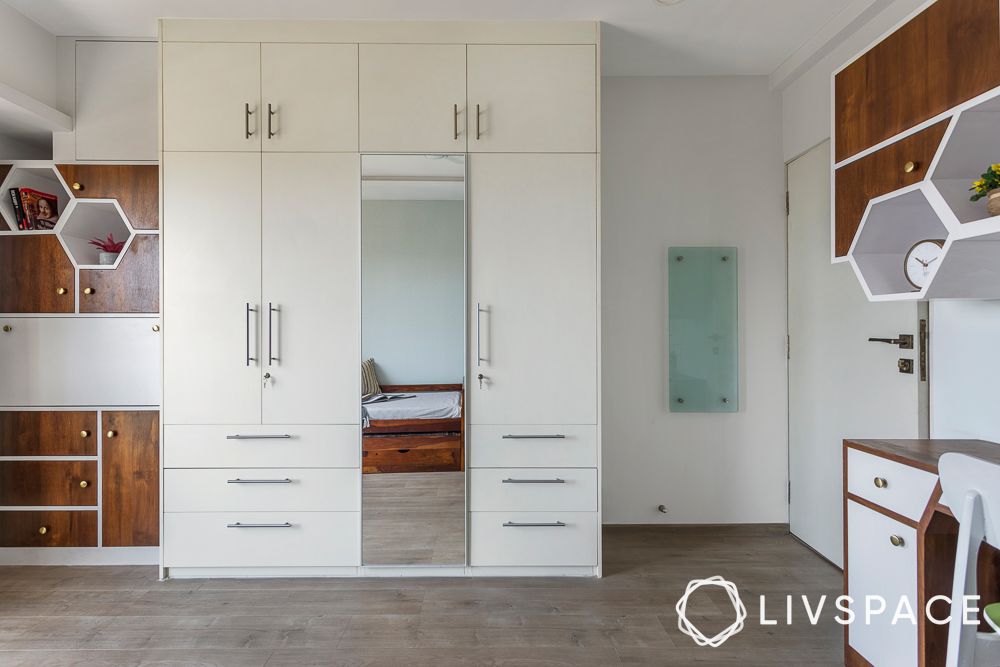 In small homes, minimal almirah designs are always popular. Opt for something in a neutral colour like white or beige with a mirror. This can not only open up your room but also act as an alternative to a dressing unit mirror.
#6: Almirah Design With Open Racks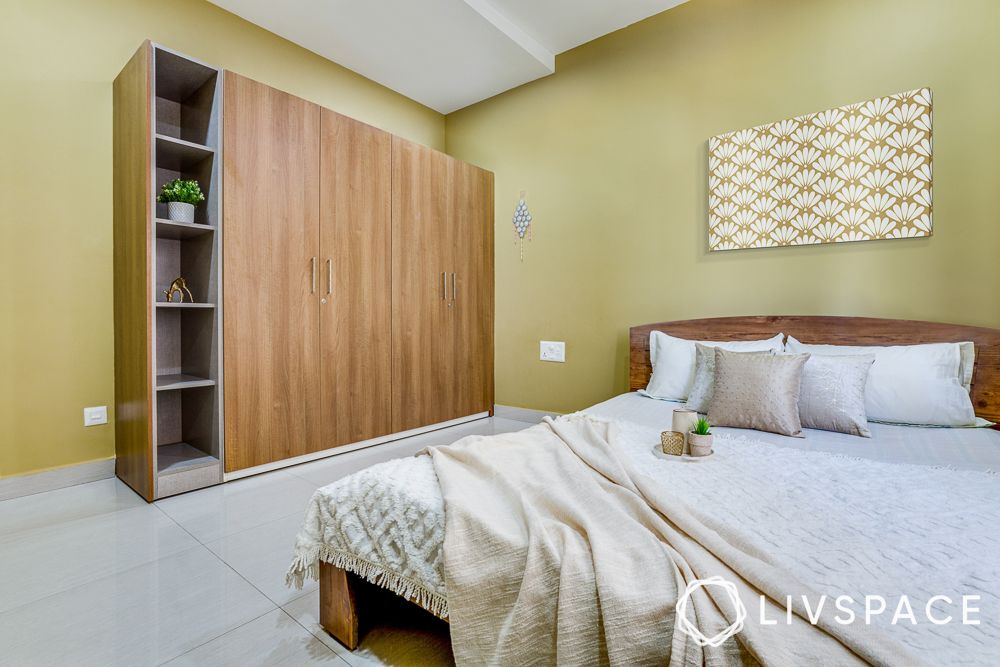 Whether you have a compact home or a large one, storage is always a concern. A great way that you can add some extra storage space to your wardrobe is by installing some open racks. You can use this space to either store your regular-use items or to display your decor.
Accessories for Your Almirah
You can make organising all your clothes, accessories and knick-knacks a dream by getting the right internal accessories fitted into your cupboard. Here's our selection of essential accessories for his and her wardrobes.
#1: Saree Rack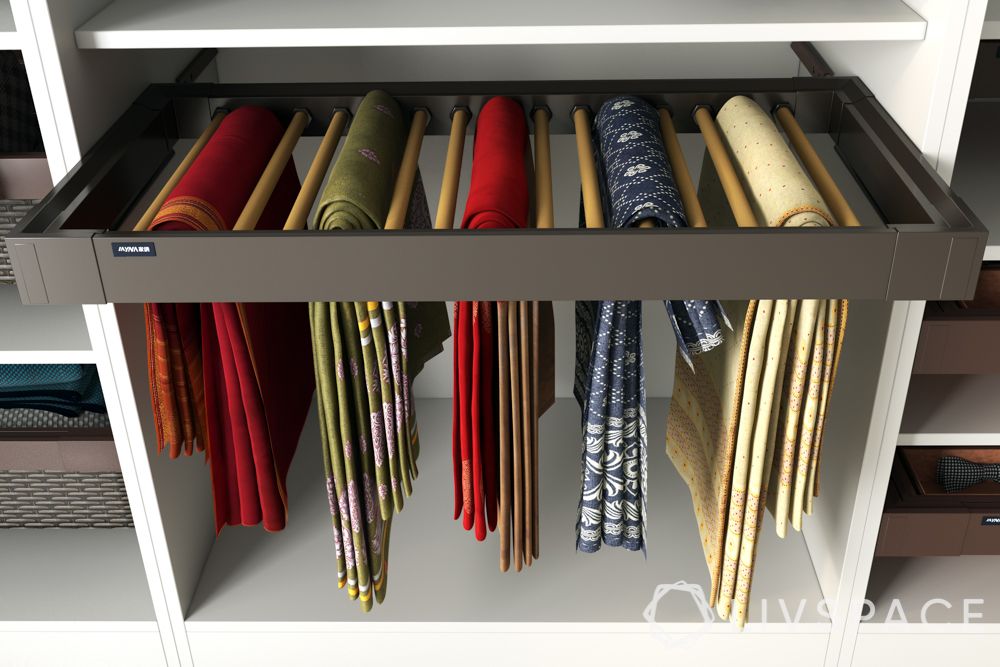 Most women will certainly have a collection of sarees that they consider precious. Thus, it's obvious that you would want to protect them all!
Folding and stacking your sarees can result in wrinkles and even damage delicate fabrics. In order to avoid this, add a functional saree rack like this one into your almirah. It will help you arrange your sarees in an organised manner in your wardrobe while also saving space.
#2: Shoe Organiser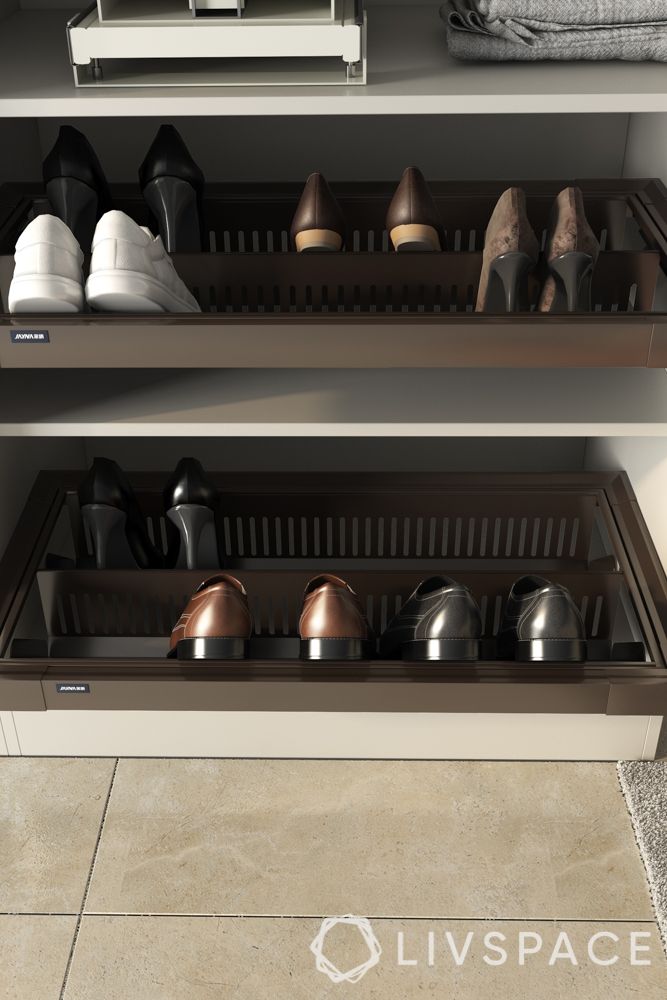 When you have a liking for gorgeous party shoes, a shoe organiser is a must-have! This shoe organiser will ensure that your expensive stilettos and sneakers remain clean and dust-free. Moreover, the best part of this organiser is that it has been designed in a way that allows mud and grime to fall through the racks.
#3: Wicker Baskets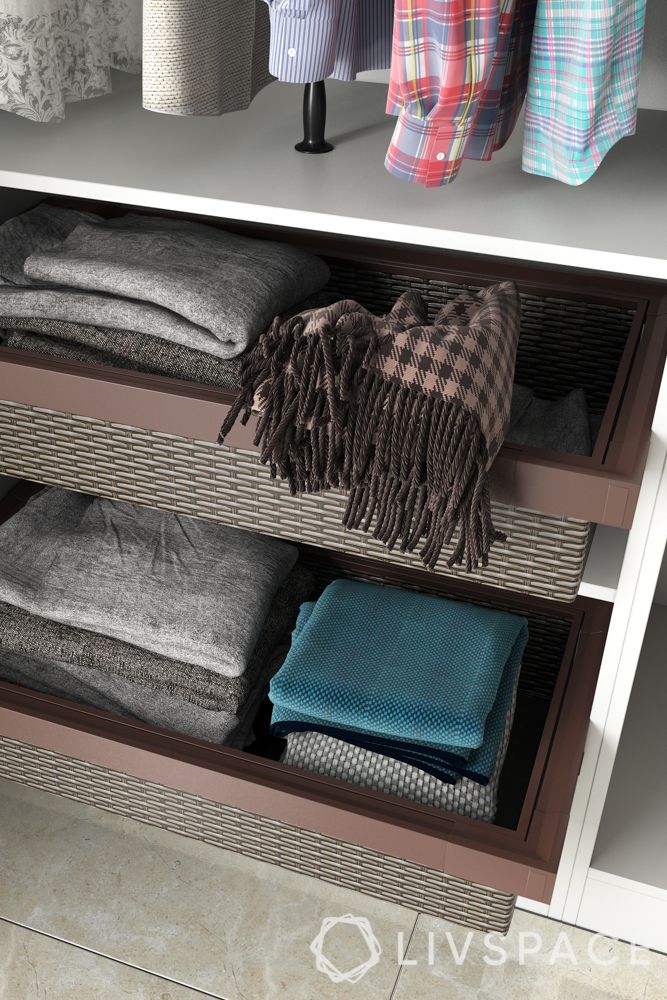 Often, almirahs lack the space to store small items like dupattas, lingerie or scarves. Hence, wicker baskets are a great space-saving option for your almirah. These baskets can easily fit into your wardrobe and store anything and everything!
#4: Drawers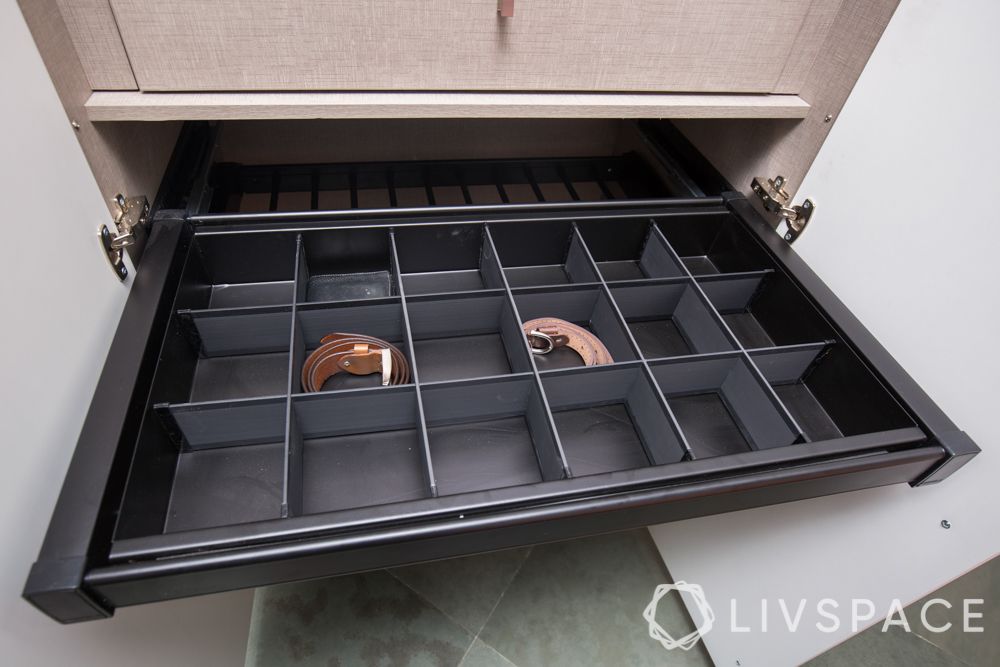 Your wardrobe is incomplete without some drawers for small items. Consider opting for a pull-out drawer, as seen in the image above, which can store your ties, belts and handkerchiefs. If you are one of those people who can never find their socks or ties, a drawer in your cupboard is the best option for you!
#5: Semi-Open Storage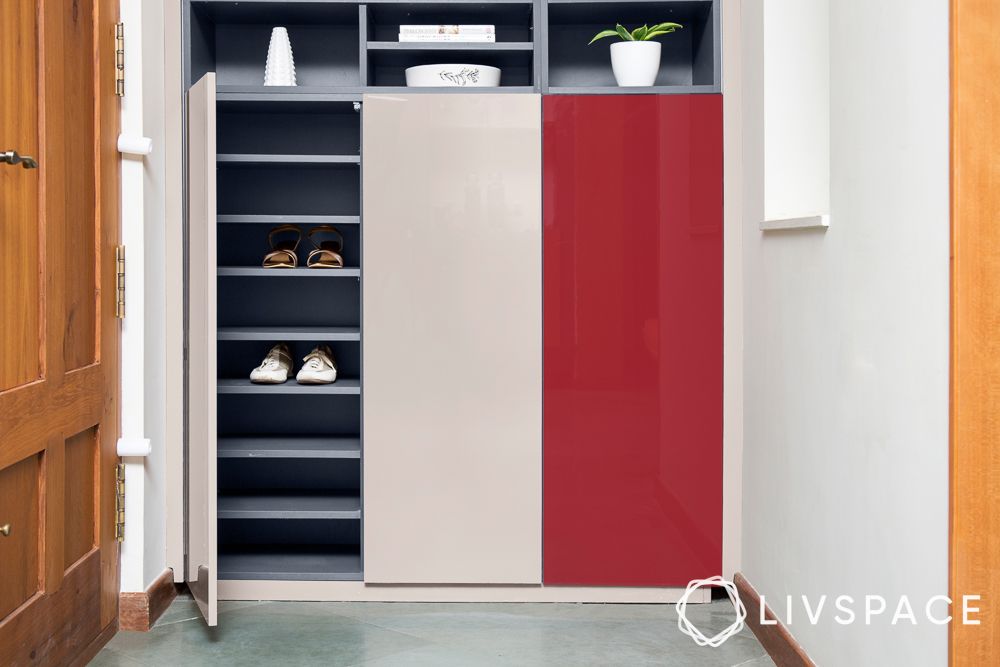 Keep losing your socks? Opt for some semi-open storage inside your wardrobe. These help in organising small items, when you don't have drawers inside your almirah.
#6: Trouser Pull-Outs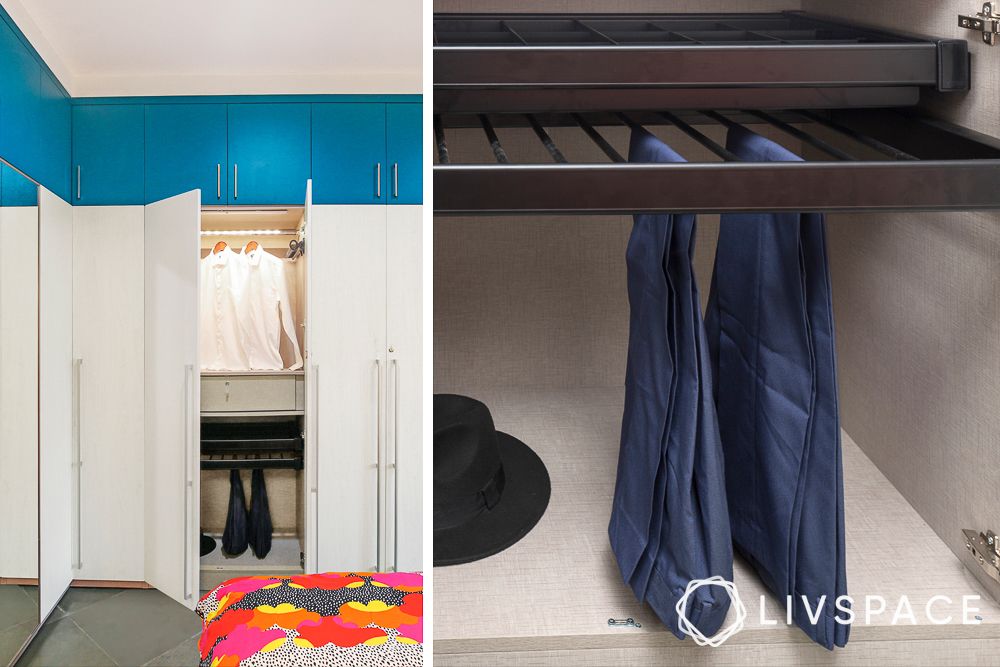 Just like sarees, trousers must also be kept in an organised manner. Thus, a trouser pull-out is an essential wardrobe accessory that you must invest in. In addition to organising your trousers, these also help in eliminating the need to iron your trousers multiple times.
#7: Vastu Rules for Almirah Placement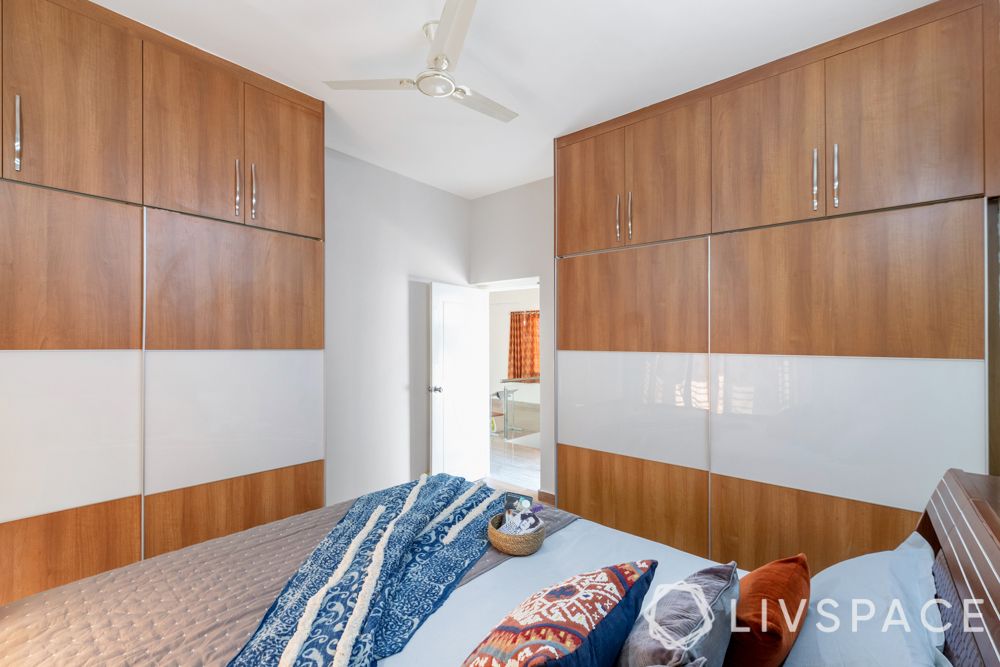 Vastu plays a vital role in harnessing positivity in your home. Consequently, you need to ensure that your almirah placement follows vastu principles. According to wardrobe Vastu Shastra, you should place your almirah in the north-west or south-west part of your room. The doors of your almirah should open in the east or south directions. Moreover, if your almirah has a mirror, place the wardrobe in such a way that it does not face the bed.
Now that you can take an informed decision about your almirah design, check out these exquisite bedroom wardrobe colour combinations.
#8: Advantages of Having an Organised Almirah at Home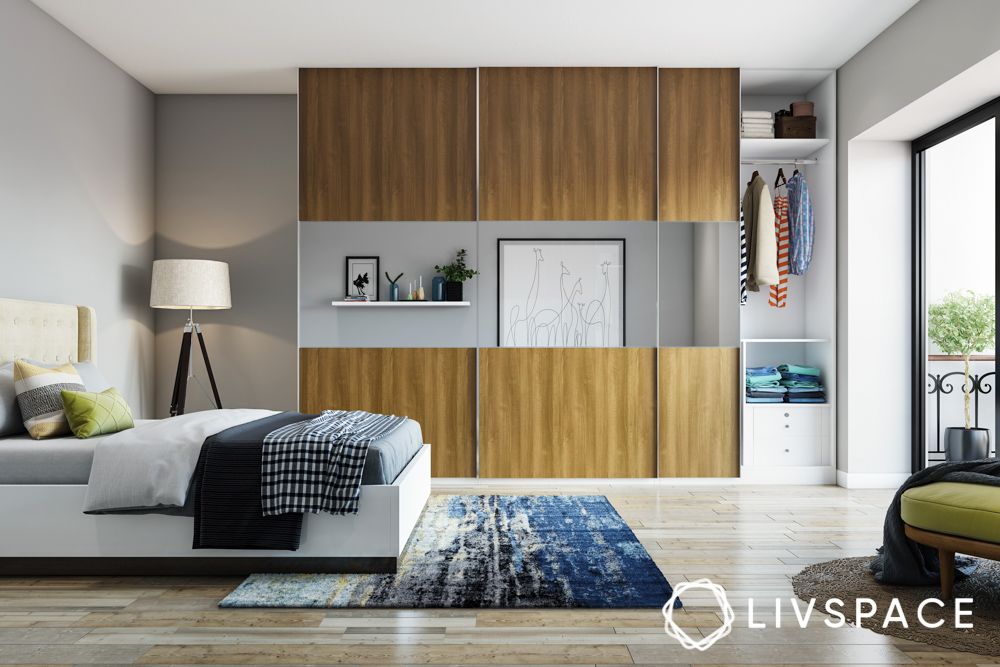 a. Clearing Up Space
Wall almirahs clear up the floor space in compact homes and help organise your belongings. Moreover, by providing enough space for everything in the room, it makes the space appear more organised and planned.
b. Better Arrangement of Belongings
All of your possessions, including clothing and other objects, can be stored in a way that makes finding and using them easier if you have an integrated wall cupboard. You can have customisable cabinets for storing various items, like documents, innerwear, clothes and jewellery, separately in an organised way.
c. Adds to the Aesthetic Value
Wardrobes can already have an inherent old-world charm, which you can accentuate by picking the right material. Make sure the hues and patterns of your wall almirah complement the bedroom's overall style. Moreover, consider going for aluminium almirahs for easy maintenance and design flexibility. Additionally, you could even paint the almirah with some lovely artwork or just some bright colours.
d. Makes Finding Things Easy
Are you always looking for that elusive sock in your wardrobe? Proper organisation can help in ensuring that everything is kept where they are supposed to. Therefore, you do not have to waste time searching for things.
Want more almirah design inspiration? Check this out:
How Can Livspace Help You?
We hope you found our ideas useful! If you want beautiful interiors for your home, then look no further. Book an online consultation with Livspace today. To know how our customers feel about working with us, check out these Livspace reviews for more details!
Have any thoughts or suggestions you'd like to share with us? We're all ears! Drop us a line at editor@livspace.com.

Disclaimer: All contents of the story are specific to the time of publication. Mentions of costs, budget, materials, finishes, and products from the Livspace catalogue can vary with reference to current rates. Talk to our designer for more details on pricing and availability.
---
Popular Services:
Modular Kitchen Designs | Wardrobe Designs | Bathroom Designs | Master Bedroom Designs | Living Room Designs | Pooja Room Designs | TV Unit Designs | False Ceiling Designs | Kids Bedroom Designs | Balcony Designs | Dining Room Designs | Foyer Designs | Guest Bedroom Designs | Window Designs | Flooring Designs | Wall Decor Designs | Wall Paint Designs | Home Wallpaper Designs | Tile Designs | Kitchen Cabinet | Home Office & Study Room | Home Interior Designs
Popular Locations:
Interior Designer Bangalore | Interior Designer Mumbai | Interior Designer Pune | Interior Designer Chennai | Interior Designer Hyderabad | Interior Designer Gurgaon | Interior Designer Delhi | Interior Designer Ahmedabad | Interior Designer Vadodara | Interior Designer Kolkata | Interior Designer Thane | Interior Designer Navi Mumbai | Interior Designer Coimbatore | Interior Designer Lucknow | Interior Designer Patna | Interior Designer Nagpur | Interior Designer Chandigarh
Popular Stories:
2 BHK Interior Design | 3 BHK Interior Design | 1 BHK Interior Design | Interior Design Cost In India | Painting Cost Per Square Foot | False Ceiling Cost | Bathroom Renovation | Sofa Design Ideas | POP Design for Hall | House Paint Colours | Main Door Design | Granite Countertops | Vastu For Home | Cool Wallpapers | Types of Kitchen Layout | Types of Flooring | What Is Plywood | Pooja Room Vastu | South Facing House Vastu | Which Plants Are Good for Home Vastu | Vastu Tips for Home