Other than your bed, wardrobes are often the biggest pieces of furniture in your bedroom. Since wardrobes can take up a fair amount of space, their placement may impact the flow of traffic, energy, and harmony within the room. In fact, if you're keen on going by the principles of vastu, it's all the more important to know where to place your wardrobe in the bedroom. Using Vastu Shastra, we can tell you the best wardrobe direction as per vastu, as well as the ideal wardrobe colours as per vastu.
So, ready to have a vastu-compliant bedroom? Because we've got all the details you need to lock in your wardrobe position in bedrooms as per vastu.
What's the Best Wardrobe Placement According to Vastu?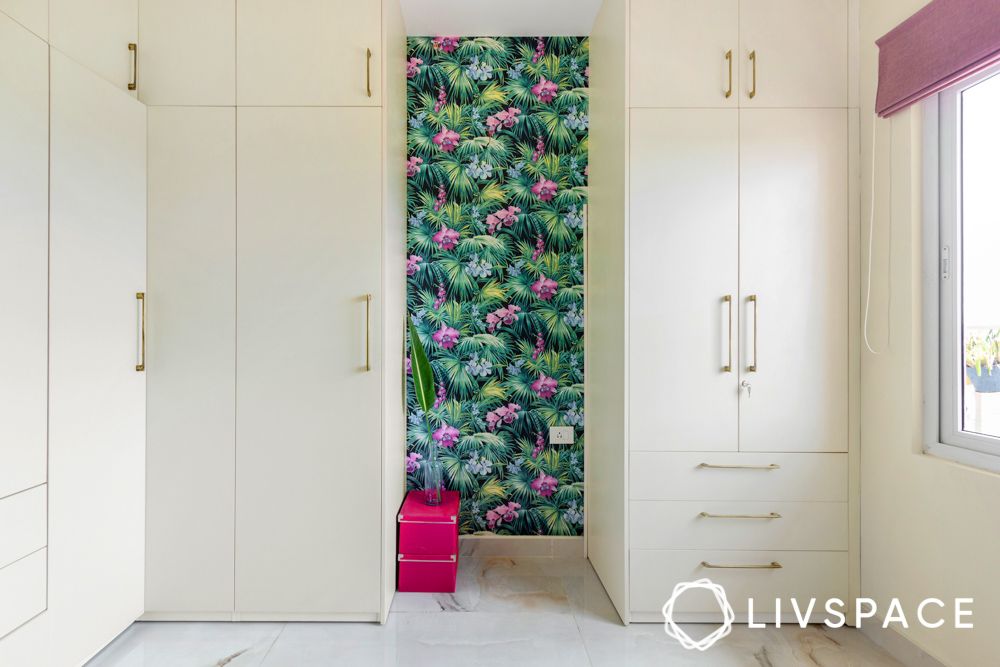 If you've ever googled the question "where to put a wardrobe in a bedroom?", we sympathise with your struggle. With so many sources citing different information, it can be hard to know what to follow when it comes to your wardrobe direction as per vastu. So, let's make it easy for you: the ideal wardrobe placement in bedrooms is the south-west.
If you're particular on following wardrobe placement according to vastu, try to stick to the south-west direction. However, if this is not an option, the north-west can also be a good wardrobe direction as per vastu.
How to Maintain Good Vastu for Wardrobes in Master Bedrooms?
Besides knowing where to position your walk-in wardrobe or regular wardrobe as per vastu, it's good to know the other aspects of maintaining good wardrobe vastu. Here are a few things you should know about:
#1: Ensure That Your Wardrobe Is Well-Maintained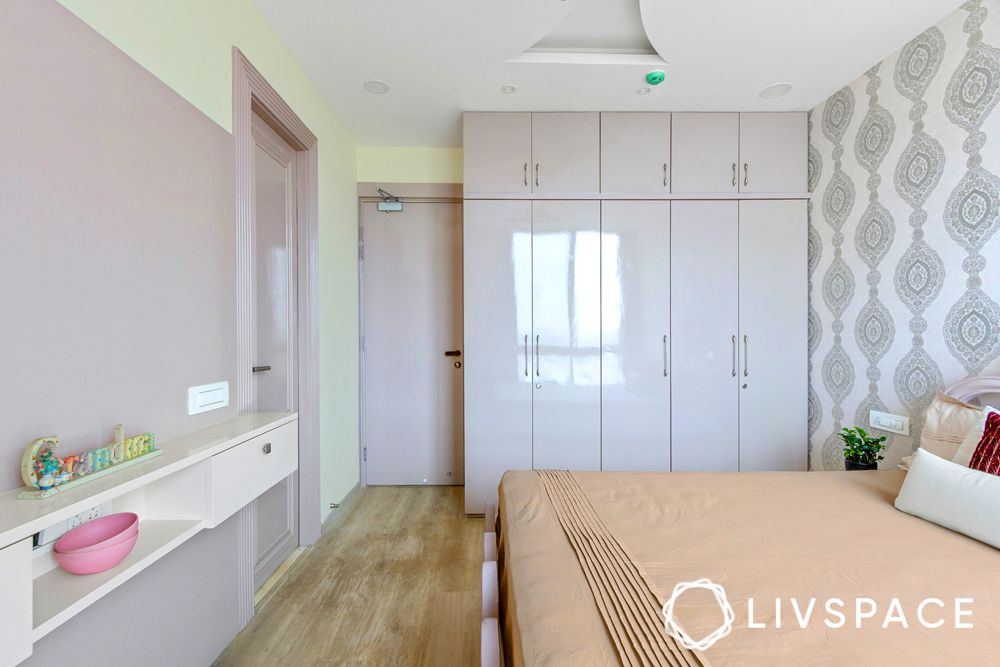 Having the right wardrobe direction as per vastu is not the only thing that helps create a positive environment. In fact, a well-maintained wardrobe is just as crucial to sustaining harmonious energies throughout the bedroom.
You might already know that clutter is one of the main issues that affects good vastu. A poorly maintained wardrobe can look messy from both the outside and the inside, so try to keep it clean. Squeaky hinges are also considered inauspicious, be sure to stay on track with maintenance now and then.
Pro Tip:
#2: Natural Finishes Help Improve Vastu for Wardrobes
Although contemporary materials are quite tempting, natural finishes are recommended for good wardrobe vastu. This is because they help ground the room and connect it to natural elements, in a way, bringing the outdoors inside.
Lighter wood tones and textures are preferable, as they are light and easy on the eyes, creating visual harmony. So, besides focusing on your wardrobe direction as per vastu, also be mindful of what materials you use.
Pro Tip:
Also Read: 10+ Easy Bedroom Vastu Tips for a Peaceful and Relaxing Space
#3: Keep Valuables in the South-West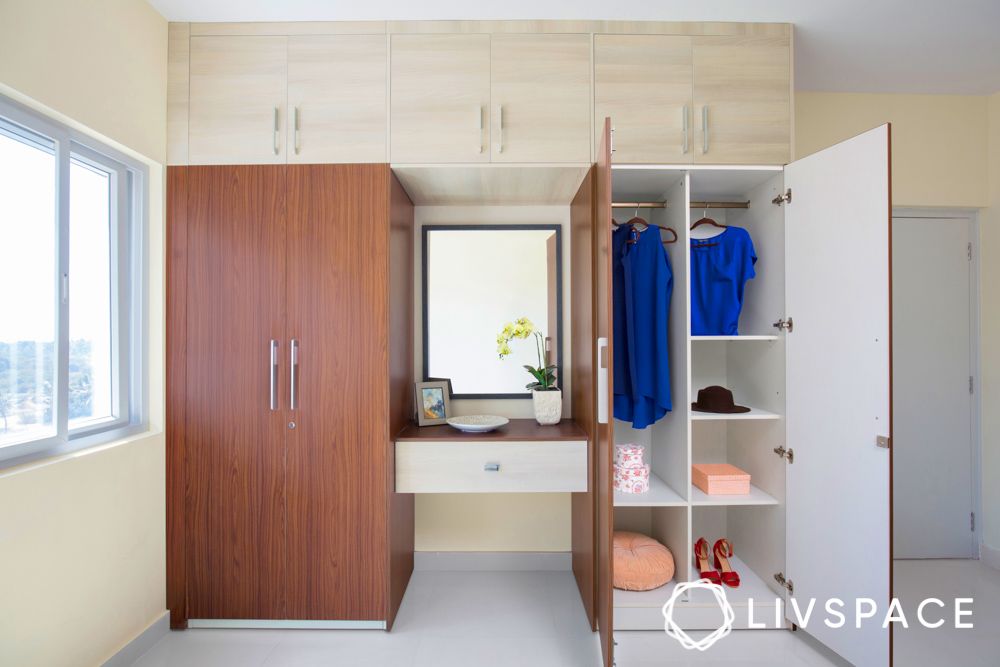 If you keep valuables and money in a safe in your wardrobe, consider placing your safe in the south-west direction. This 'earth corner' is auspicious according to the rules that accompany your wardrobe position as per vastu. Moreover, it also helps multiply wealth and wouldn't hurt to try!  
Pro Tip:
#4: Avoid Wardrobe Designs With Mirrors on the Facade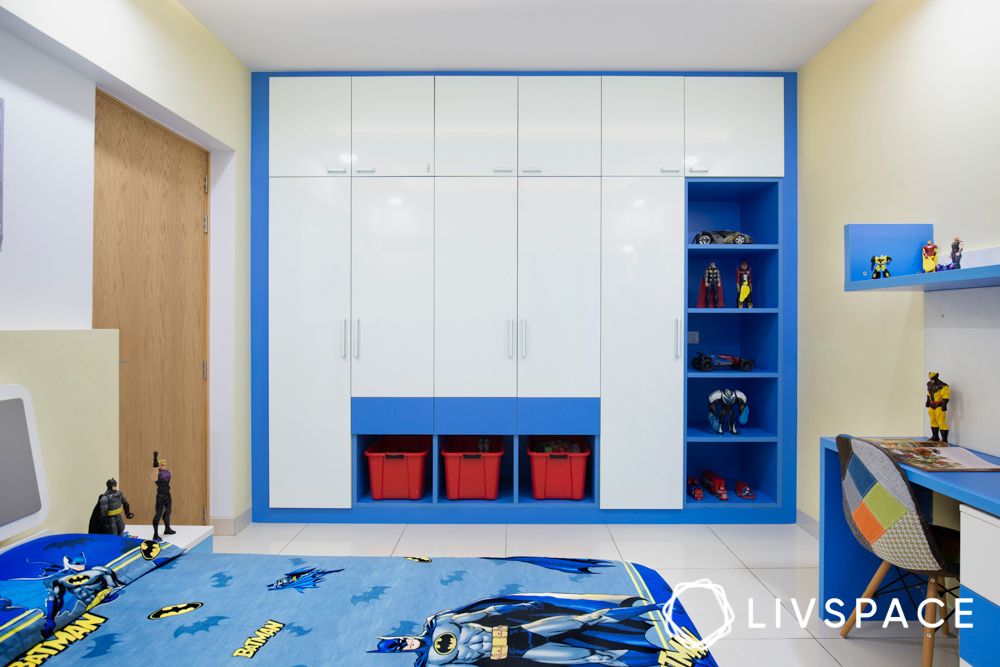 Almost any horror movie you watch has something to do with mirrors. While some of these sinister tropes are a bit farfetched, they actually do hold cultural significance in certain societies. For example, according to Vastu Shastra, wardrobes must not have mirrors on their doors as it may reflect negative energy or cause arguments within the family.
However, in the case of compact spaces, mirrors can be used in a way that doesn't reflect the bed. It's best to avoid reflecting the bed, as this might bring ill fortune upon the person in the reflection.
Pro Tip:
Check out these wardrobe designs for more ideas and inspiration:
#5: Best Direction for Wardrobe Placement According to Vastu is the South-West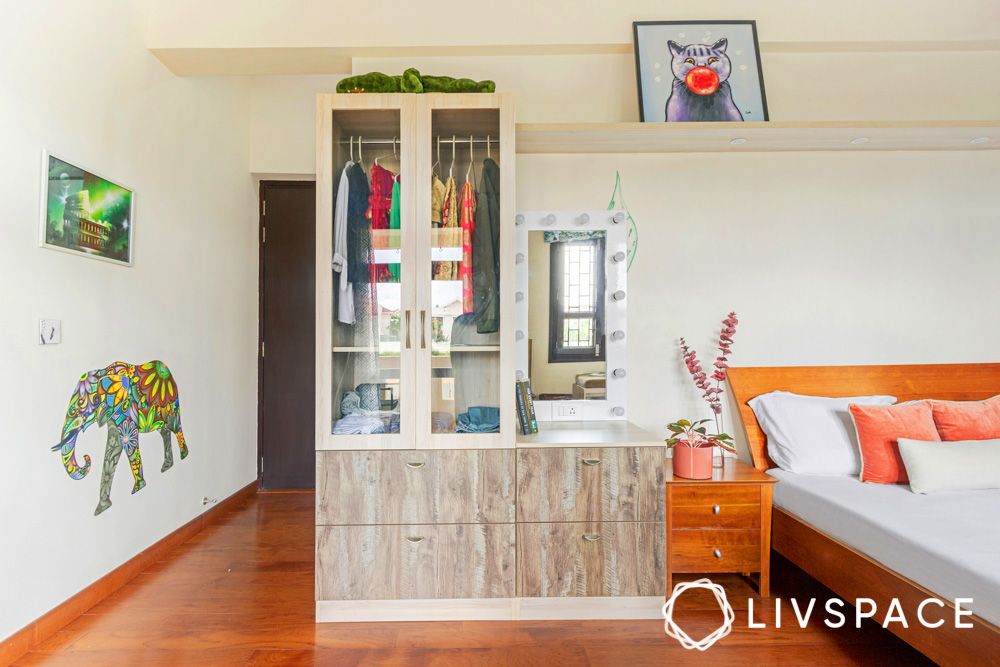 The south-west direction is the ideal wardrobe position as per vastu. This is because it helps increase the flow of positive energy. Moreover, the doors of your wardrobe also play a role in harmonising energy. They should ideally open out towards the north or the east in line with your wardrobe direction as per vastu.
Pro Tip:
Also Read: 8 Vastu for Home Entrance Tips That Will Help You Welcome Good Vibes
#6: What Are the Best Wardrobe Colours As per Vastu?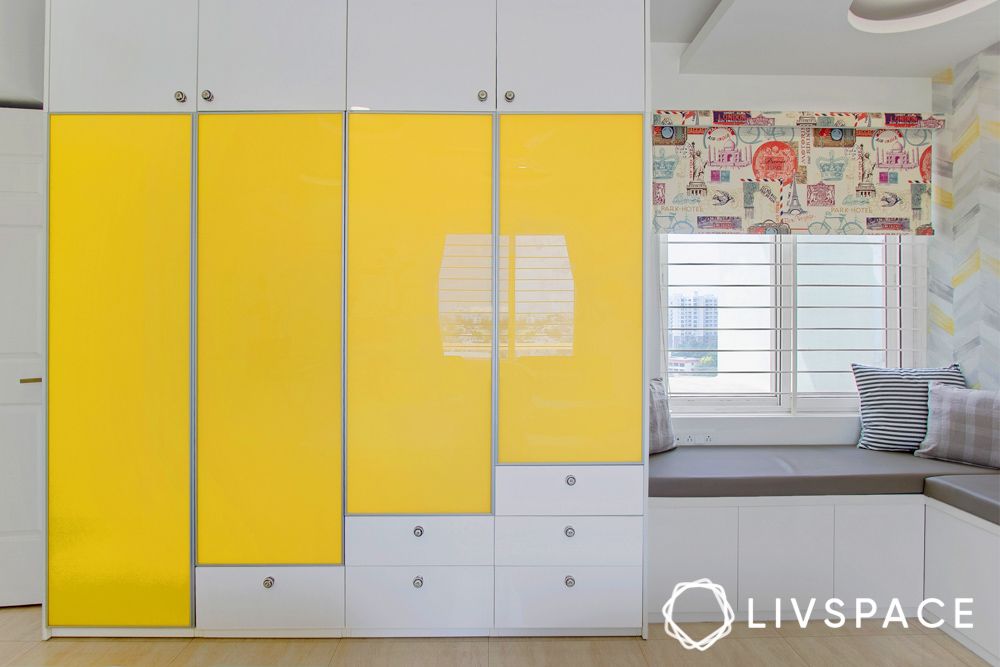 Light, neutral colours are ideal for wardrobe vastu as they elevate the space and create a neat look. Go for pastels or colours like white, cream, or beige if you want a peaceful vibe in your bedroom. Besides these, you can also consider shades like yellow and light grey to throw in some colour.
Since natural materials and wooden finishes are ideal for wardrobe vastu, you can even use their original colours. Blue is another hue that promotes peace and tranquillity in bedrooms.
Check out wardrobe designs:
How Can Livspace Help You? 
We hope you found our ideas useful! If you want beautiful interiors for your home, then look no further. Book an online consultation with Livspace today.
Have any thoughts or suggestions you'd like to share with us? We're all ears! Drop us a line at editor@livspace.com.
Disclaimer: All contents of the story are specific to the time of publication. Mentions of costs, budget, materials, finishes, and products from the Livspace catalogue can vary with reference to current rates. Talk to our designer for more details on pricing and availability.
FAQs
1. Can Your Wardrobe Face the South Direction?
The ideal wardrobe direction as per vastu is the south-west. However, your wardrobe doors can open out to face the east or south directions.
2. Can Your Wardrobes Face the Bedroom Door?
If you're using a mirrored wardrobe, it's best to avoid facing it towards your doors and windows.
3. Where Should You Face Your Almirah?
The south-west is the best direction to face your almirah. If this isn't possible, you can also settle for facing the almirah in the north-west direction.
4. Where Is the Best Position to Place Wardrobes?
The best wardrobe position as per vastu is the south-west direction.