While most companies are gradually making the transition towards working from office, the option to work from home, albeit occasionally, is still available to most people. But to ensure productivity, you need a proper workspace in your home — be it a separate room or a corner in your bedroom. And if you have a home office, you must also follow some basic vastu guidelines to attract good vibes. Here are all the essential vastu tips for the home office, including the vastu direction for work desk at home, that you must keep in mind.
#1: Direction of Your Home Office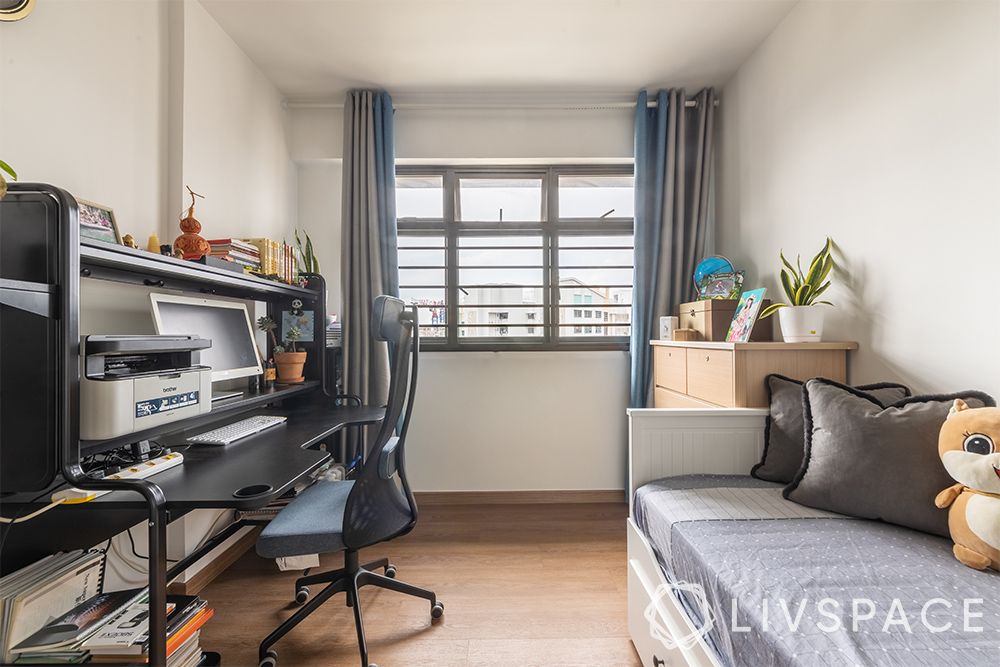 First and foremost is the direction of your home office. This is for all the people who have a separate room where they plan to set up their workstations. The best direction to work as per vastu is west or south-west. However, this depends to a great extent on the kind of work you are doing. The south is supposed to make people more assertive. Thus, if you work in fields like law, sales, property development etc, this direction is perfect for you. On the other hand, the west enhances creativity, making it a good choice for those in the creative field such as designers. You can even set up your home office in the north and east directions. If you work in fields like finance, banking, insurance etc, north is the right option for you whereas the east is a good choice for people working in social work, administration and marketing.
#2: Colours for Your Home Office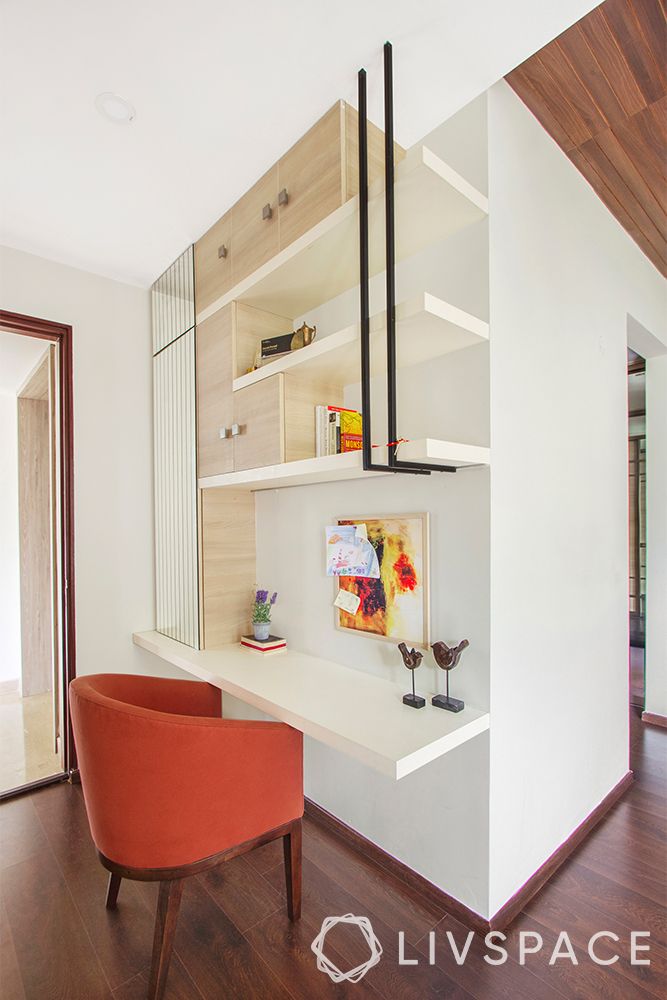 Colours play a vital role in stimulating brain activity and creating a conducive environment for work. While the vastu direction for work desk at home and other home office vastu rules are obviously important, the colour is essential in maximising your productivity.
According to vastu, you should paint your home office in neutrals like cream, beige and white. A pastel yellow office at home will promote good health and prosperity. Light shades of green and gold also help in keeping you balanced and in helping to attract wealth. Avoid dark colours like black.
Here are some unique home office design ideas for more inspiration:
#3: Vastu Direction for Work Desk at Home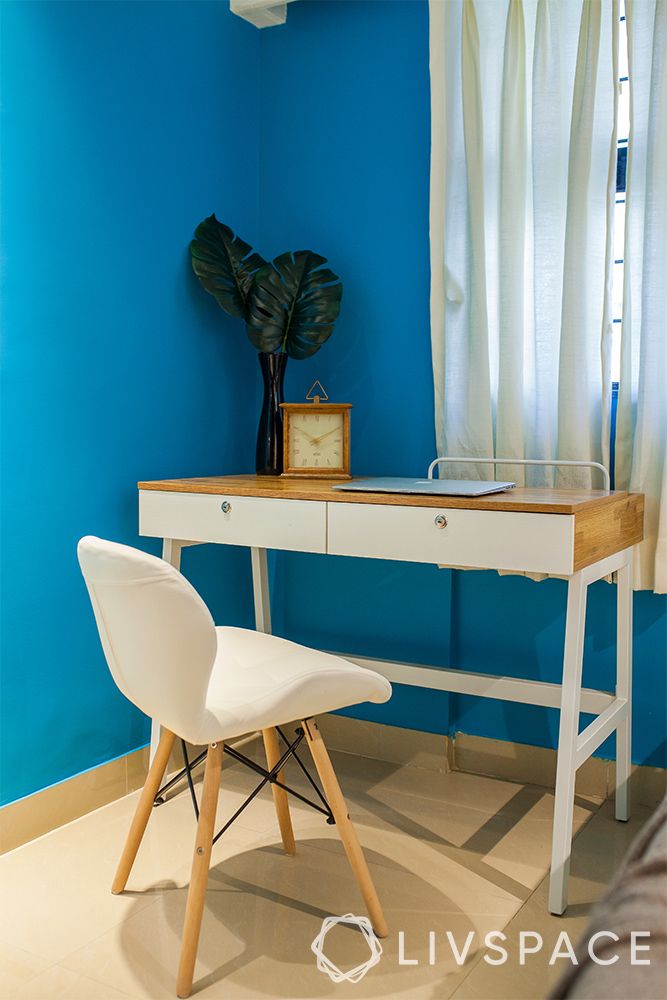 Not all of us have the space for a separate office room at home. Most of us have to make do with a segregated corner in the bedroom or living room with a table and chair. The vastu direction for work desk at home is south, west or south-west. At the same time, your desk should be angled in such a manner so that you face the north-east while working. Ensure there is no obstruction so that sunlight can flow in and enhance the workspace and keep you refreshed.
#4: Vastu Guidelines for Your Home Office Chair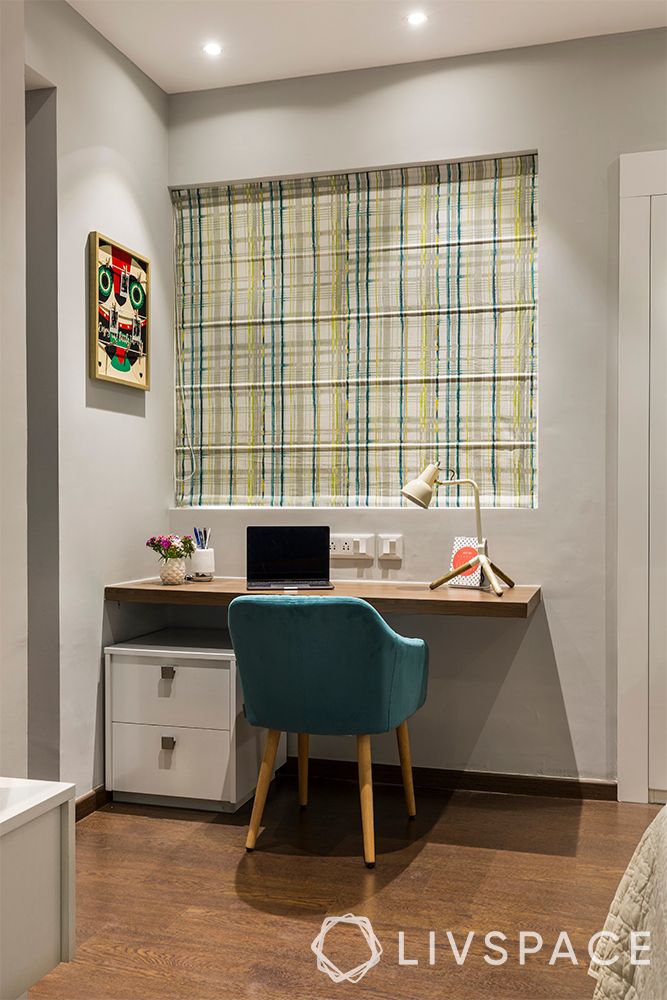 In addition to the vastu direction for work desk at home, vastu shastra also has some guidelines for your work chair. Your chair should be of good quality. Avoid using chairs that make a creaky sound when you move. Make sure to place your chair at an angle so that you face the north-east while working. It is also important to ensure the ergonomic efficiency of your chair. So be sure to invest in a sturdy and spacious chair that offers proper support to your head as this will boost your concentration and help you avoid health issues.
#5: Furniture Arrangement in Your Home Office as per Vastu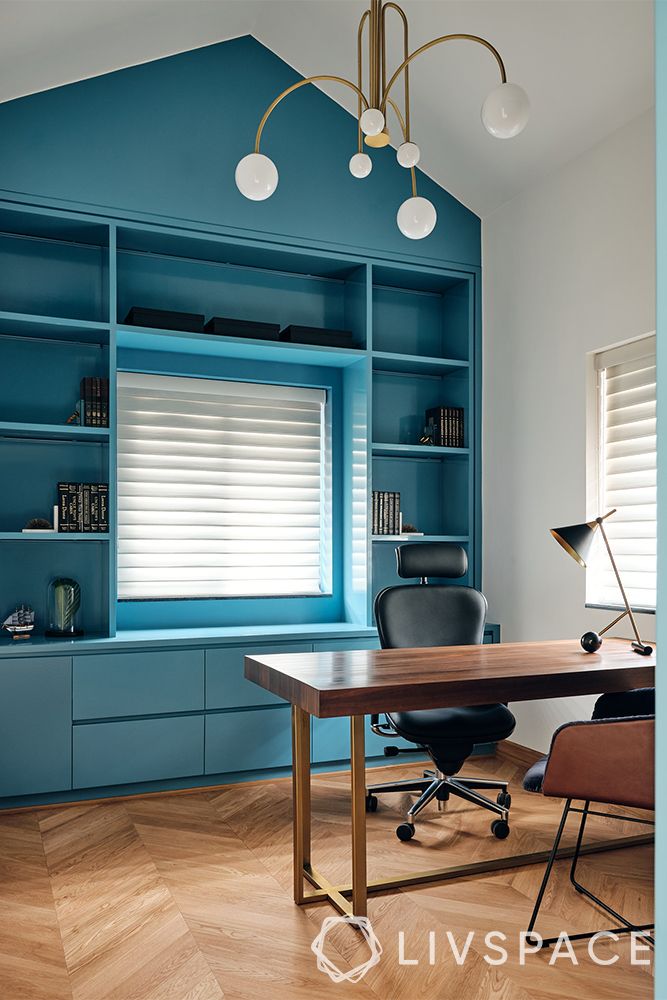 We have already mentioned the vastu direction for work desk at home. But apart from the desk and chair, your home office will have several other pieces of furniture. In case of cabinets in your home office, make sure that they face the south, west or south-west directions. This also goes for drawers, wardrobes and other storage units that have important documents. If you have any windows in your home office, ensure that they are on the east or north sides to allow sunlight to flow in.
#6: Other Vastu Tips to Consider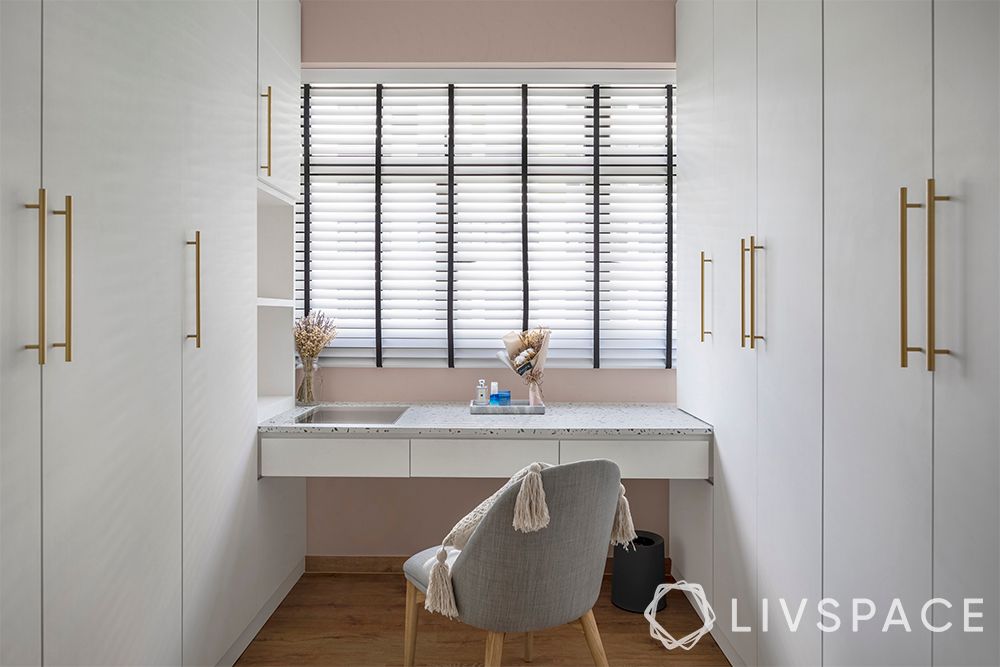 Apart from the above-mentioned points, there are several other vastu rules for the home office that you must keep in mind. First, your home office should be clean and clutter-free as this will boost productivity. Use your storage units to keep important documents and discard unwanted papers and other stationery. Place all electronic gadgets in the south-east direction and keep all lighting systems away from your work desk. Some items that you can place in your home office to boost productivity and wealth include a water jug in the north-east for positive energies, a globe on the north-west side of your work desk for international work opportunities and a lamp in the south-east for productivity.
These vastu rules for your home office are sure to help with your concentration and productivity. Also, check out the 5 important vastu rules for your bedroom wardrobe.
How Can Livspace Help You?
We hope you found our ideas useful! If you want stunning interiors, then look no further. Book an online consultation with Livspace today. Delivering safe home interiors has been our No. 1 priority. Click here to find out how interiors are being delivered following all safety protocols.
Wondering how our customers feel about working with Livspace? You can check out the Livspace reviews here!
We love hearing from you! Write to us with your comments and suggestions at editor@livspace.com