Vastu Shastra is something most of us consider when buying and designing our homes. In addition to the basic home-buying criteria we look into, considering the position of the home is also critical. However, with a south-facing house, you might run a bit weary. This is where a south-facing house vastu plan can be quite handy. A south-facing house might lack favour among the best of us. However, these misconceptions can easily be debunked with the right south-facing house vastu tips.
So, though buyers may not favour a south-facing house, that doesn't mean it can't be made auspicious with the right house plan. Here are some vastu tips for a south-facing house plan that you can consider for your home:
1. Who Is a South-Facing House Good for?
While some might think buying a south-facing home should be avoided altogether, it isn't the case for all people. In fact, a south-facing home can even have the capacity to be beneficial to certain types of professions! This is because such homes are high on energy, making them a perfect fit for people who work in fields related to media and communications.
Alternatively, a south-facing house can also be good for people who have a lot of Mars energy in their birth chart. The vigorous and productive energy derived from a south-facing home can further complement people with Mars placements, helping you achieve more.
2. What Is South-Facing House Vastu All About?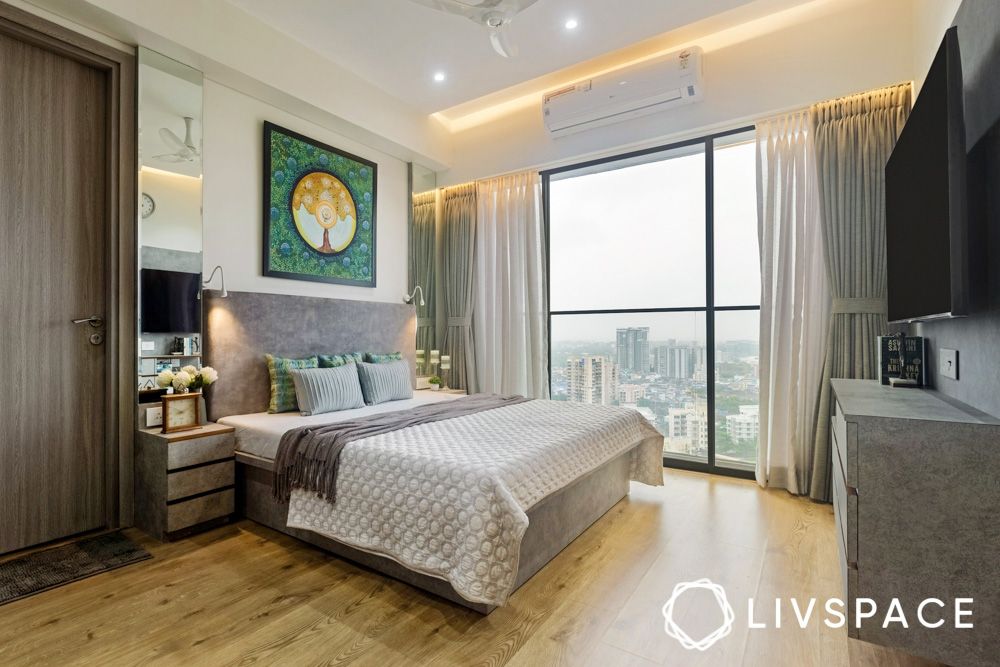 Curious to know how to identify the direction of your home? The answer is simple. All you need to do is look at the direction you point towards as you exit your main door. If you point towards the south, that's the direction of your home.
If you find yourself placed in the south, you need not worry. Though south-facing houses garner a lot of caution in terms of vastu, there is no such thing as an unlucky direction. After all, with the right vastu tips, any home's orientation can be made auspicious.
3. What Are Some South-Facing House Vastu Myths You Might Hear?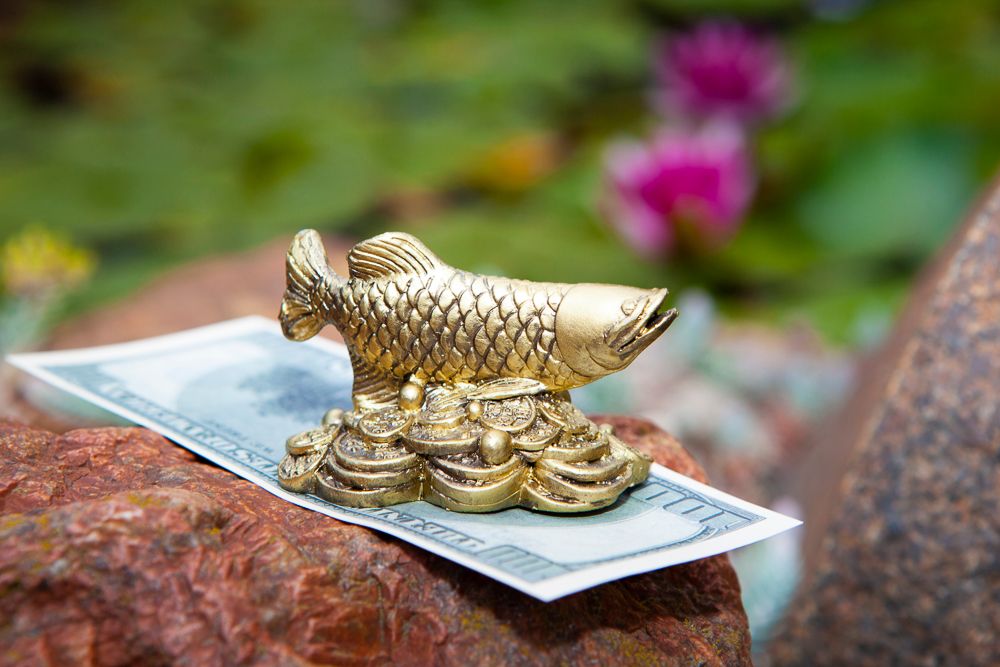 If there's one thing that's synonymous with vastu, it's the myths that accompany it. Whether you debunk them or not, myths are still something most of us prefer to approach with caution. After all, it's better to stay safe than sorry. So, when it comes to south-facing house vastu, here are some of the common myths you're most likely to hear:
Meeting an ill-fated demise
Running into severe financial loss or misfortune
Experiencing illness, ailments, or sudden disabilities
Though these myths can sound scary, you need not worry about them as they are unfounded. If these myths still concern you, you can always seek professional support from a vastu expert before purchasing your new home.
4. Advantages of a South-Facing House
A. Enjoy More Sunlight
A south-facing home will receive increased sunlight throughout the day; this directly translates to good health, positivity and liveliness in your home. Plus, this is very helpful for families living in colder regions.
B. Less Power Consumption
When you enjoy extended hours of natural light, you're bound to save on power consumption. As ventilation is also good in a south-facing home, you'll not feel stuffy and overwhelmed.
C. More Scope for Gardening
If you or your family happen to be gardening enthusiasts, a south-facing home is good news for all of you! As it receives more sunlight, your plants will prosper and your flowers will bloom.
5. Disadvantages of a South-Facing House As Per Vastu
A. Hot Environment
As your home will receive increased sunlight, it can increase the heat your walls receive, especially in a humid and tropical environment. Balance it by opting for open rooms, bigger windows and keeping ample shade options.
B. Myths Can Make Reselling Hard
If you're trying to resell a south-facing property, you might face difficulty because a south-facing house has many vastu myths attached to it. Some of them include increased chances of accidents, health problems and financial difficulties.
However, all of these doshas can be remedied with the right tips.
6. Tips for South-Facing House Plans As per Vastu
Now that you know the basics of a south-facing house and its background in vastu, you might be curious about how to remedy it. Here are some simple remedies for a south-facing house that you can try:
A: South-Facing Main Door Vastu – Position the Main Door to the Centre of the South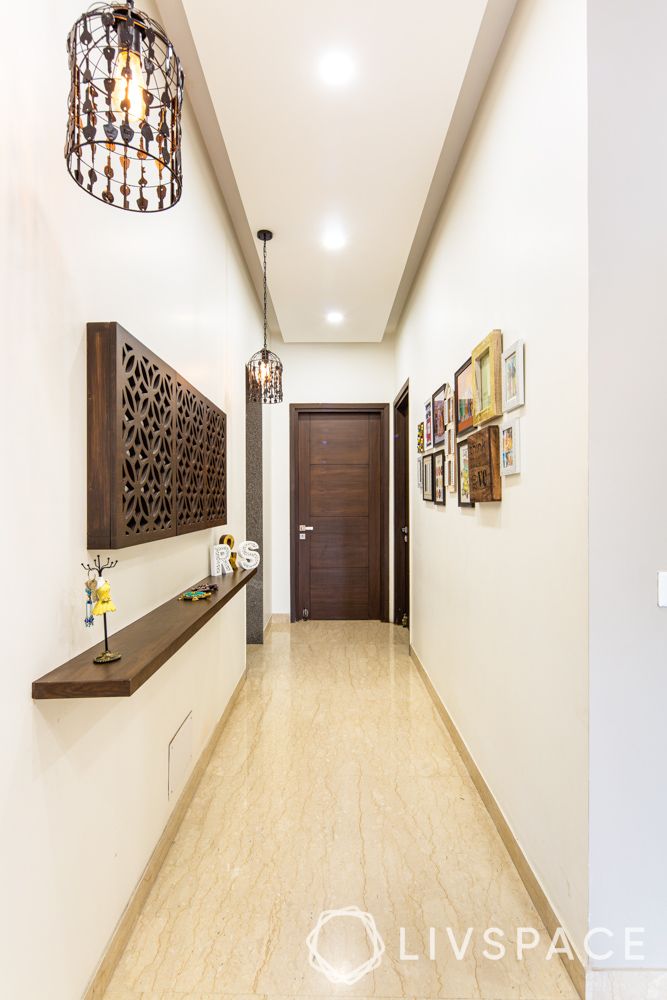 According to south-facing house vastu principles, main doors or entrances of a south-facing house plan must be placed in the centre of a south-facing wall or area. This is done to ensure that the energies of the home line up.
Entrances towards the left of the middle point of a south-facing house vastu plan are also generally good. However, try to avoid creating an entrance to the right of the central point of a wall that faces the south. Doing so is considered inauspicious, as per south entrance vastu.
Also Read: Vastu for Doors and Windows: Top 8 Tips From Experts
B: Every South-Facing House Vastu Plan Recommends a Large Main Door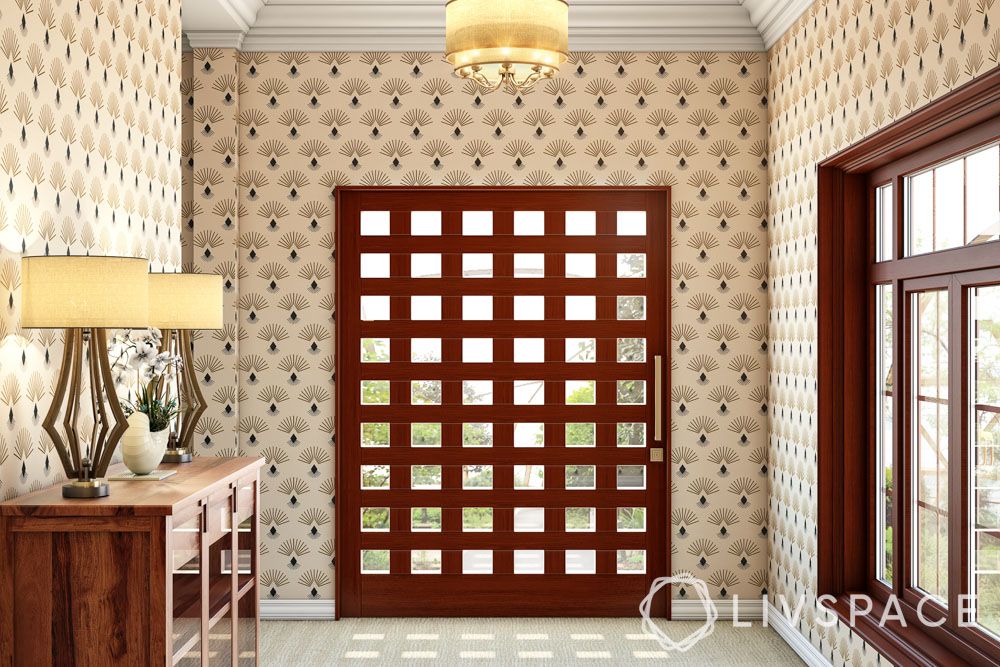 In addition to the position of your door, you must also ensure that the main door is the largest door in your home, as per south-facing entrance vastu. This brings in the most welcoming energy and, at the same time, quickly diverts negative energy.
The main door must also open inwards in a clockwise fashion. Adding a threshold will increase positive energy, as will be keeping the area well lit. What's more, these vastu tips for a south-facing house are also logical, as you want to avoid tripping at the entrance of your home!
C: The Master Bedroom of a South-Facing House As per Vastu Should Be in the South-West Direction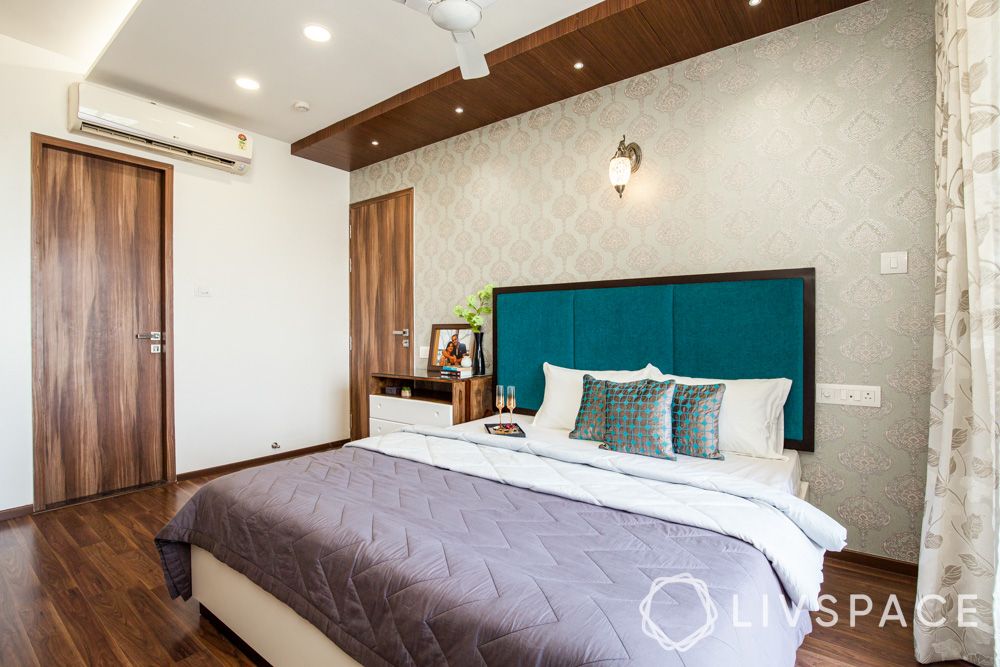 The south and west are the ideal directions for master bedrooms in a south-facing house, as per vastu. This direction is said to generate positive energy and make the bedroom a relaxing and inviting space.
When applying south-facing house vastu tips in an apartment, this is the tip that largely governs the positioning of the bed. However, for remedies for a south-facing house with multiple floors, the master bedroom must always be located on the highest level.
D: Position Other Bedrooms in the North-West Direction of Your South-Facing House Plan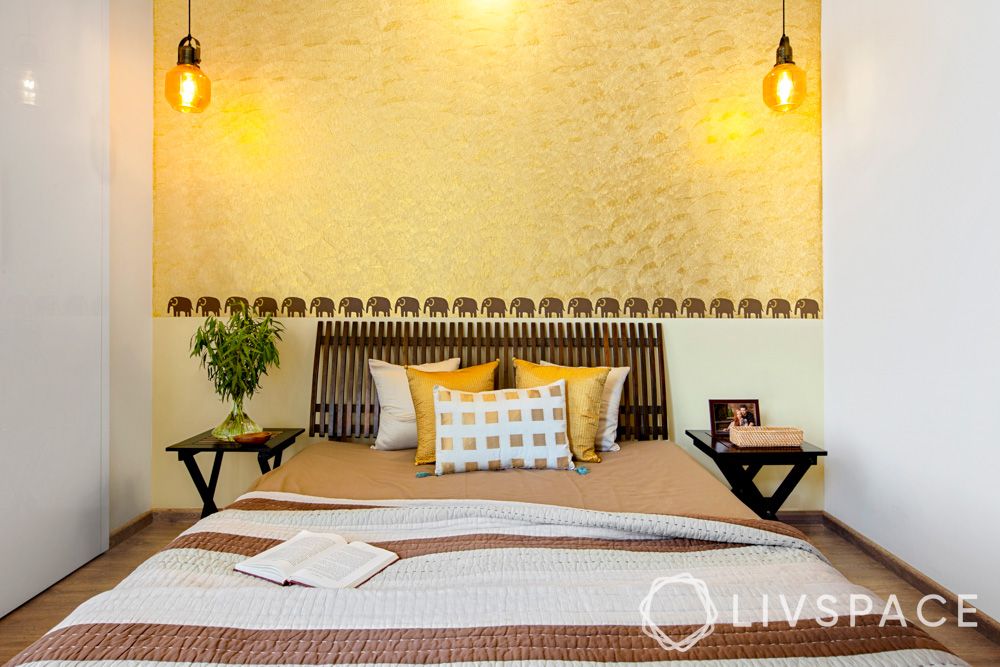 According to vastu principles, it is best to position kids' bedrooms and guest bedrooms in the north-west part of a home. For kids' bedrooms, this rule can also be relaxed to include southern or western directions, even though north-west is ideal.
E: Kitchen Vastu for a South-Facing House Is Just As Important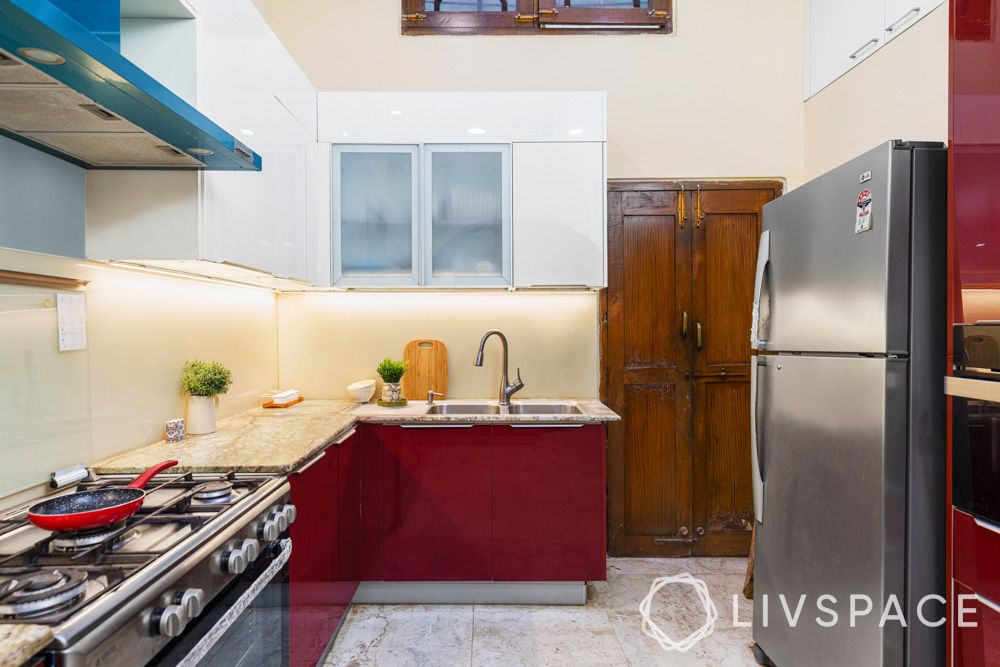 Vastu principles that govern the use of kitchens in south-facing homes vary based on the placement of the kitchen itself. According to the kitchen vastu for a south-facing house, if the kitchen is to the south-east of the house, you must cook facing the east.
This direction also helps provide maximum sunlight. Similarly, when cooking in a kitchen that faces the north-west, you must ideally face the west.
Pro Tip:
South-facing house principles also outline the ideal colour palette for such houses. Browns, oranges and reds are auspicious for the facade, while blues and black are better avoided. You can choose similar colours for the interiors of the house to ensure cohesiveness in energy and colour palettes.
F: Tips for a South-Facing House Vastu Plan With a Pooja Room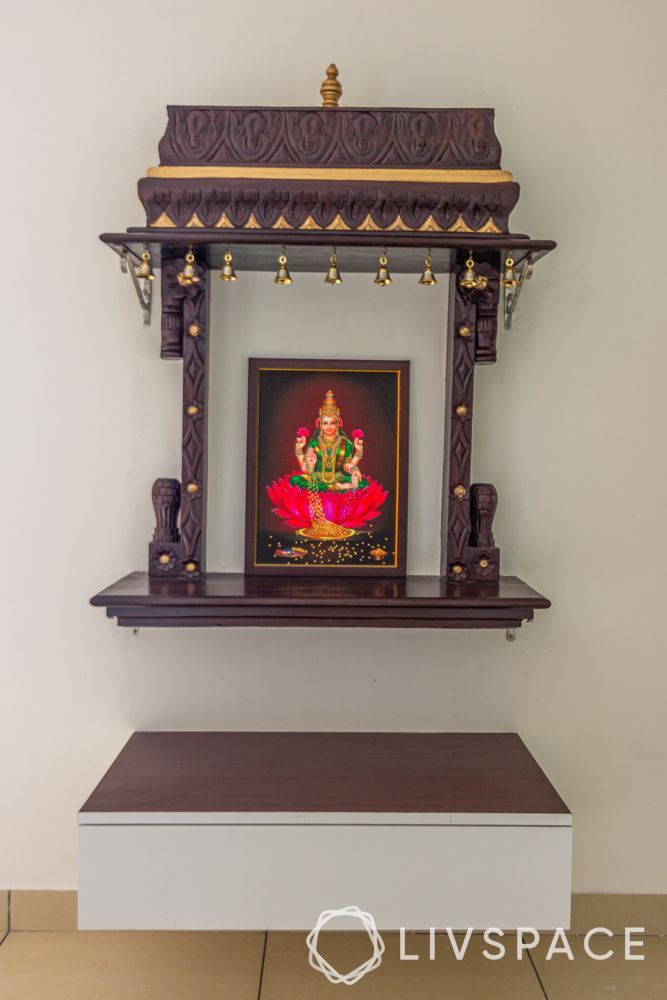 Typically, a south-facing house vastu plan with a pooja room dictates that the north-east and west directions are ideal for your pooja room placement. Besides the location, there are a few other important factors to consider while setting up your pooja room in a south-facing house.
When it comes to materials, opt for wood over metal and stone for your mandir. Similarly, go for metals like copper and brass for your pooja room utensils over silverware. Also, be sure not to place your pooja room in an area that shares a wall with the bathroom.
G: Let's Not Forget Bathroom Vastu for a South-Facing House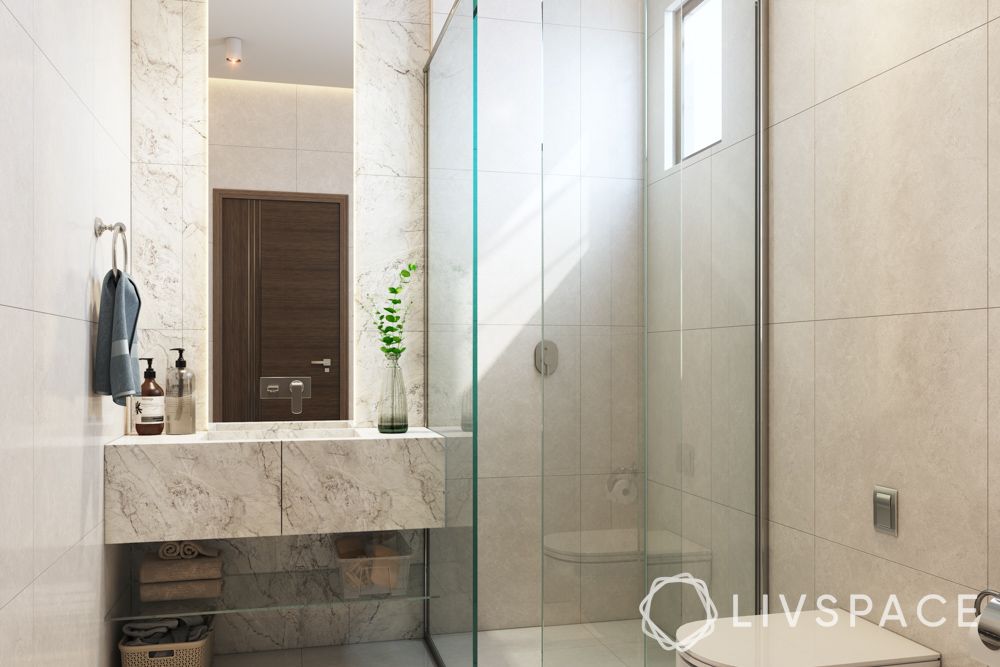 As per Vastu Shastra, the direction you place your bathroom in is just as important as the other rooms in your home. Some of the best directions to consider while planning the bathroom vastu for a south-facing house are the east or north sides of a bedroom.
Alternatively, be sure to select the right colours for your bathroom, as they are equally important. If your bathroom zone is extended, you can select a range of neutrals for the space. For symmetrical and balanced bathrooms, you can also consider shades of red, orange, pink, and violet that aren't too bright.
Also Read: Vastu for Home: 8 Vastu Shastra for Home Secrets You Should Know
H. What Are the Right Colours for a South-Facing House?
The direction South is governed by the planet Mars, who's associated with number 9 and the red colour. Hence, the right colours for a south-facing house is red or related hues like brown, orange and yellow.
To maintain a consistent colour theme, you can use these hues in the exteriors as well as the interiors. You can pair these bright colours with neutral shades and white to bring in a balanced look for your interiors.
I. What Are the Best Plants Suited for a South Garden?
As south-facing homes receive ample sunlight, they're most suited for maintaining a home garden. Here are the plants you can consider for a south-facing home garden:
Hibiscus
Oleander
Jasmine
Daisy
Bougainvillea
Chamomile
J. Car Parking Direction for South-Facing Home
If you've a south-facing house vastu plan, place your garage in the southwest corner of your home. It's recommended that you avoid the north and east directions.
K. What's the Remedy for South-East Entrance?
If you've a south-east entrance, don't worry. Follow these remedies to fix common vastu doshas:
Opt for curtains in bright shades like red and brown to align with the ruling planet Mars
Place traditional symptoms of the Swastika or the Om to keep bad luck away
You can also place red carnelian gemstones at the entrance to remove dosh
For your main door, use good quality material and ensure that it's the biggest door in your home without any defects
You can also try placing a vastu pyramid at the entrance
How Can Livspace Help You?
We hope you enjoyed this guide on vastu plans for your home. If you want beautiful vastu-approved interiors for your home, then look no further. Book an online consultation with Livspace today.
Wondering how our customers feel about working with Livspace? You can check out the Livspace reviews here.
Have any thoughts or suggestions you'd like to share with us? We're all ears! Drop us a line at editor@livspace.com.