Many of us want a vastu-approved pooja room but shy away from taking active measures to implement the same. Often, this is because we are under the impression that major fixes will be required, and we are not in a position to make extensive changes to our mandir design. But what if we told you that your pooja room vastu could be fixed in a few simple steps, all of which take very little time and effort?
If you're intrigued, read on and find out how you can have a vastu-approved pooja room with ease!
#1: What directions should your idols face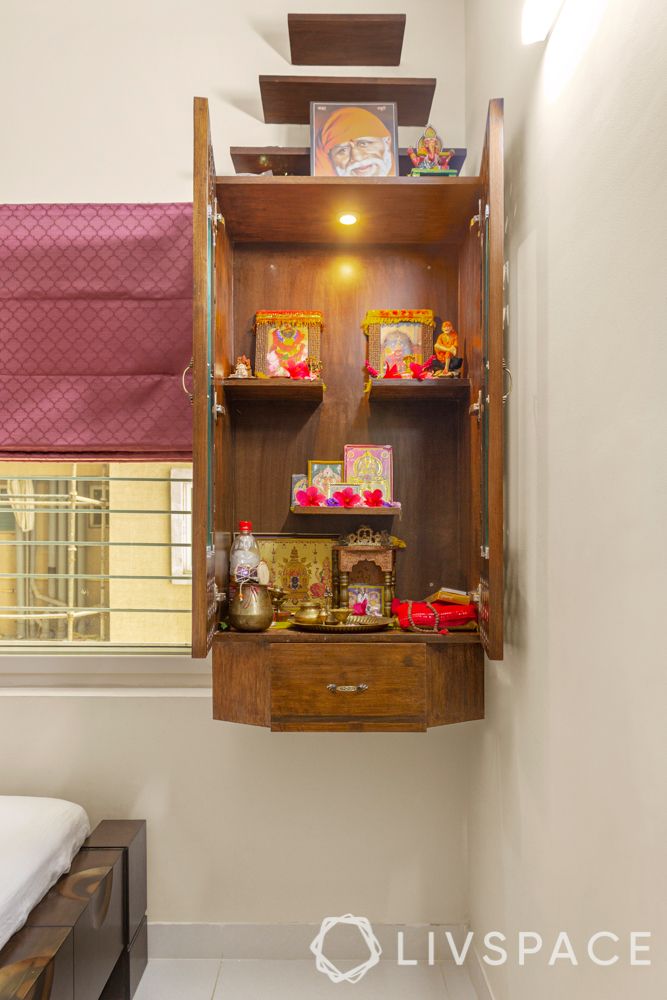 If you remember the mandir in your grandmother's home, you will be able to vividly picture rows of idols, neatly arranged and worshipped with care. Did you ever wonder why our elders arranged the gods in a row? This is because pooja room vastu dictates that your idols should never face each other!
Regardless of which direction your pooja room is in, the god face direction should be towards the north-east. While praying, it is considered auspicious to face the north-east, north or east— – so place your idols accordingly.
#2: What's the best colour for your pooja room?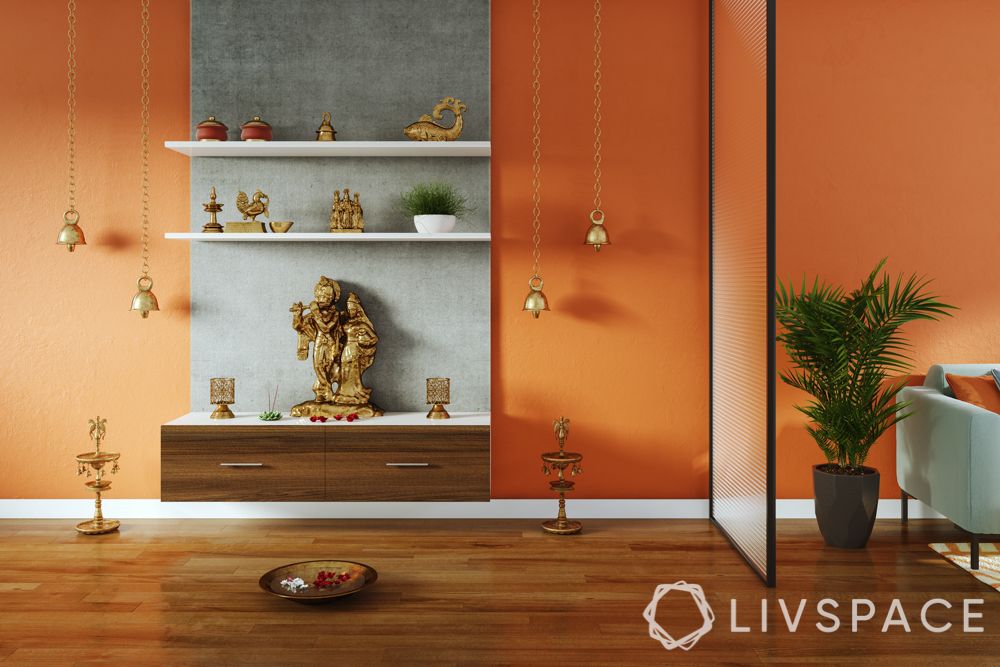 Your pooja room is a serene space, so it should have a serene colour. Choose from the ever-popular white, cool blues, or softer shades of yellow and orange. Experts suggest using delicate and soothing colours in your mandir to augment the sanctity of the space. You can also check out the vastu-approved colour guide for your home.
#3: Where to keep your gods?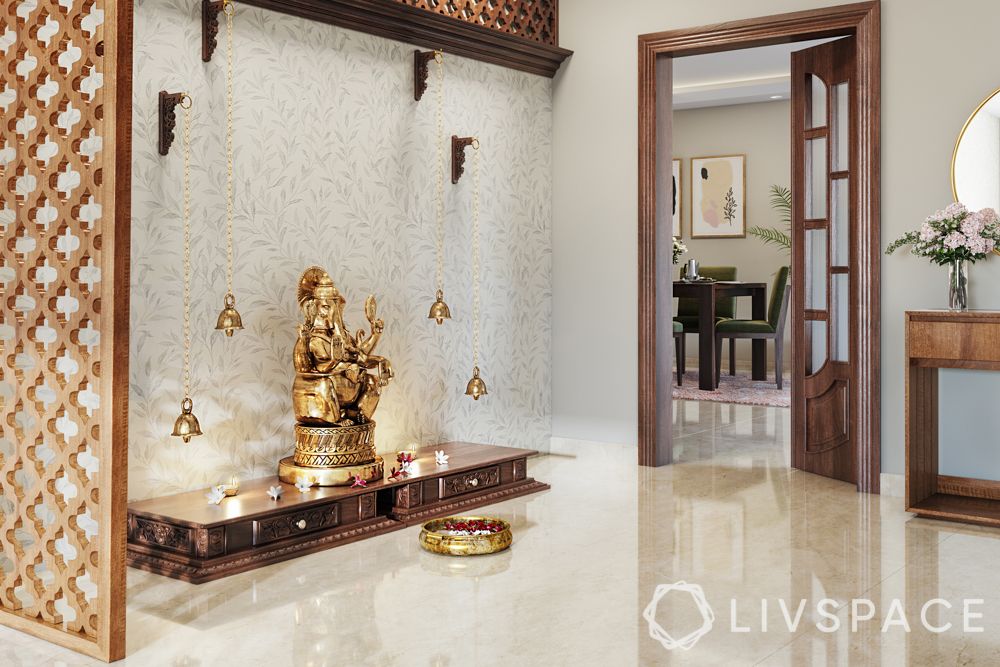 If you want a vastu-approved pooja room, set aside space for the divine on the ground floor of your apartment. This space should preferably be away from the bathroom and staircases, but our expert has a way out in case it's not possible.
#4: Can you keep your idols directly in front of the walls?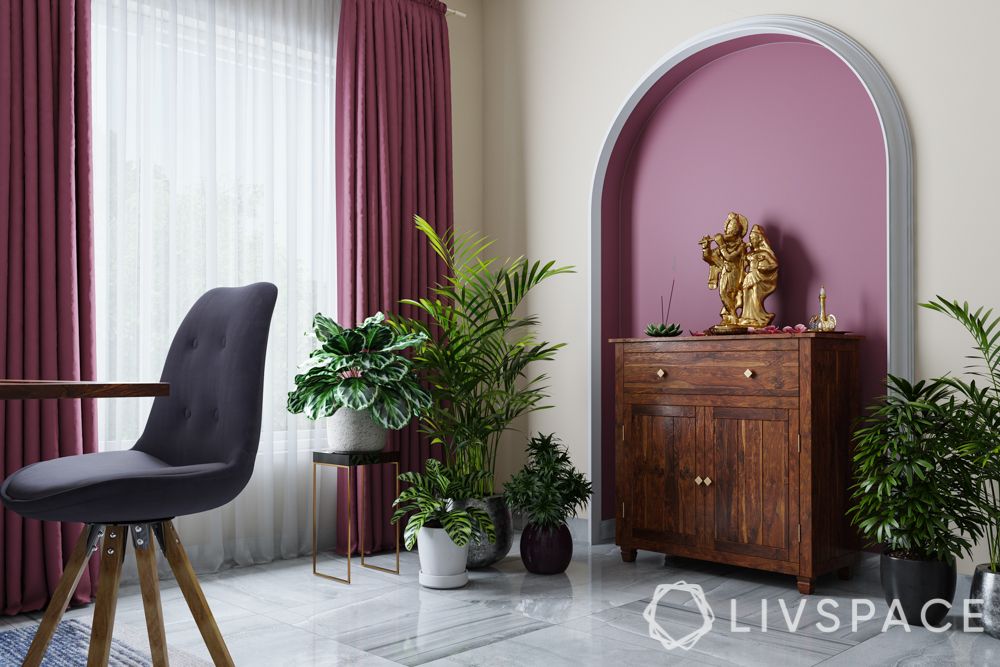 Vastu experts advise us against keeping our idols leaning against the wall in the pooja room. You can accomplish this without bringing in major changes to your mandir design. Simply leave an inch and half of space between your idols and the wall. With this, the incense can spread across the room, making it smell fragrant.
#5: Where to place candles and lamps?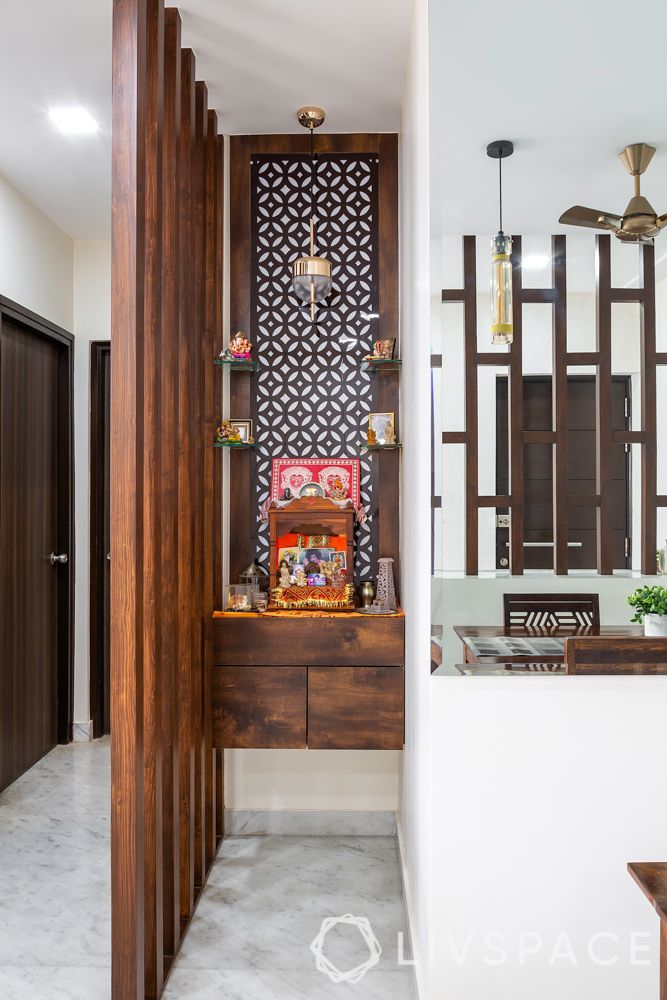 Lighting lamps and candles in the pooja room has been an unquestioned tradition. According to pooja room vastu, this wards off negative energies. So, place your lamps in front of the idols in the south-east. Find lamps that tie in with your decor, and you're good to go!
#6: Ensure that you have no broken idols
As per vastu, keeping broken or cracked idols of gods and offering prayers to the same is inauspicious. This can cause vastu doshas. However, do not get rid of them in a hurry! Experts suggest that damaged idols should be immersed in the holy rivers or placed under a peepal tree. Ensure that all the idols in your pooja room are in top shape.
#7: What should you not keep in your pooja?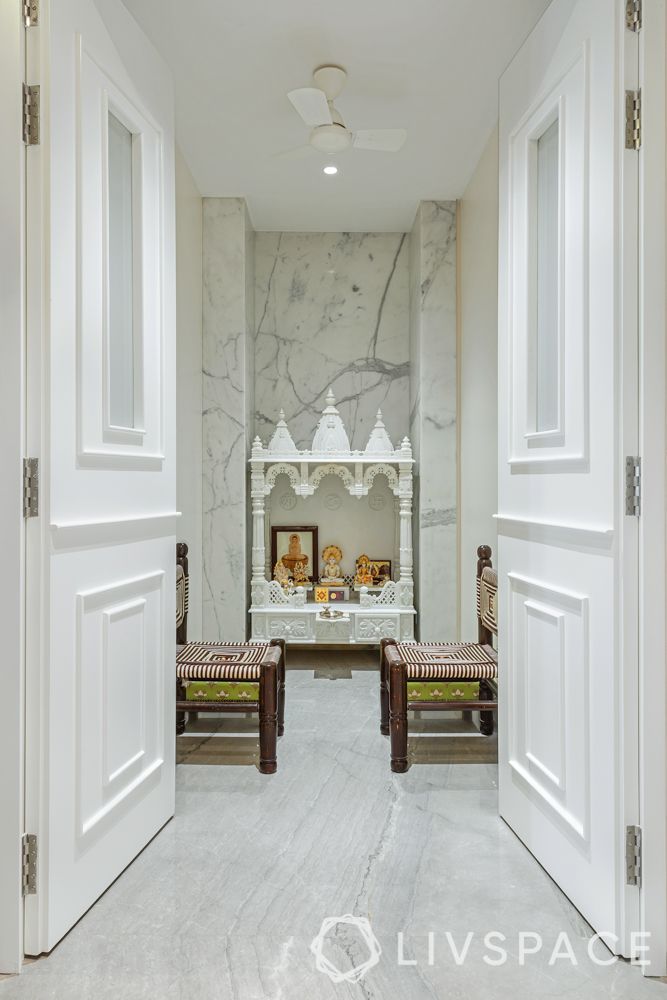 In many Indian homes, it is a common practice to keep garlanded pictures of deceased relatives in the pooja room. However, did you know that this is against pooja room vastu recommendations? While you can offer prayers to your ancestors in the pooja room, avoid keeping pictures of them in this space. Experts recommend that such photographs be placed in the south or south-western part of your home instead.
Moreover, since the home mandir is a sanctified space, vastu directs us to keep only soothing pictures in this room to add to its sanctity. So steer clear of pictures of war and strife. Opt for soothing photographs instead, if you must.
#8: Should your pooja room have doors?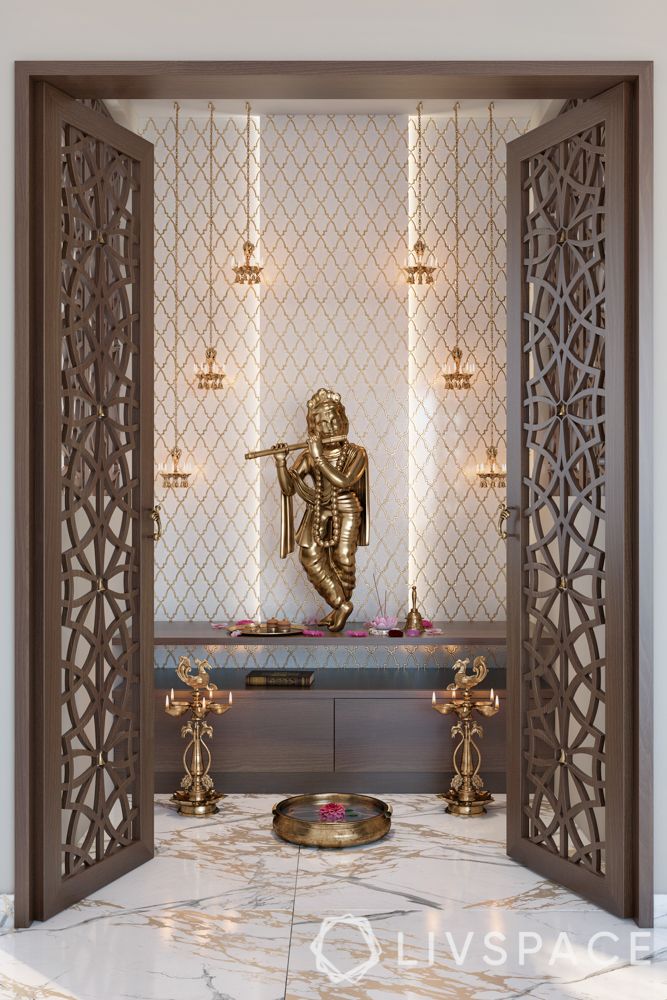 A separate pooja room should ideally have doors to ensure privacy for you when you are in prayer and to prevent insects from entering this sacred space. The door should be against the north or east wall of your mandir. You can also choose to get double doors.
If you enjoyed reading this article, also check out 5 Time-tested Ways to Boost Your Luck.
Wondering how our customers feel about working with Livspace? You can check out the Livspace reviews here!
Send your thoughts and suggestions to editor@livspace.com.