No matter how amazing your pooja room looks, you might not feel like it's complete without making it vastu-compliant. Moreover, nobody likes worrying about the implications certain vastu doshas might bring, so it's always best to safeguard against them. But, how do you ensure your mandir is safe from these vastu doshas without redesigning the entire space? Here's where we'd like to step in and tell you that your pooja room vastu can actually be fixed in a few simple steps. All of which take very little time and effort, no less!
Take a look at the best vastu tips for pooja room below:
1. Your Idols Should Face the North-East Direction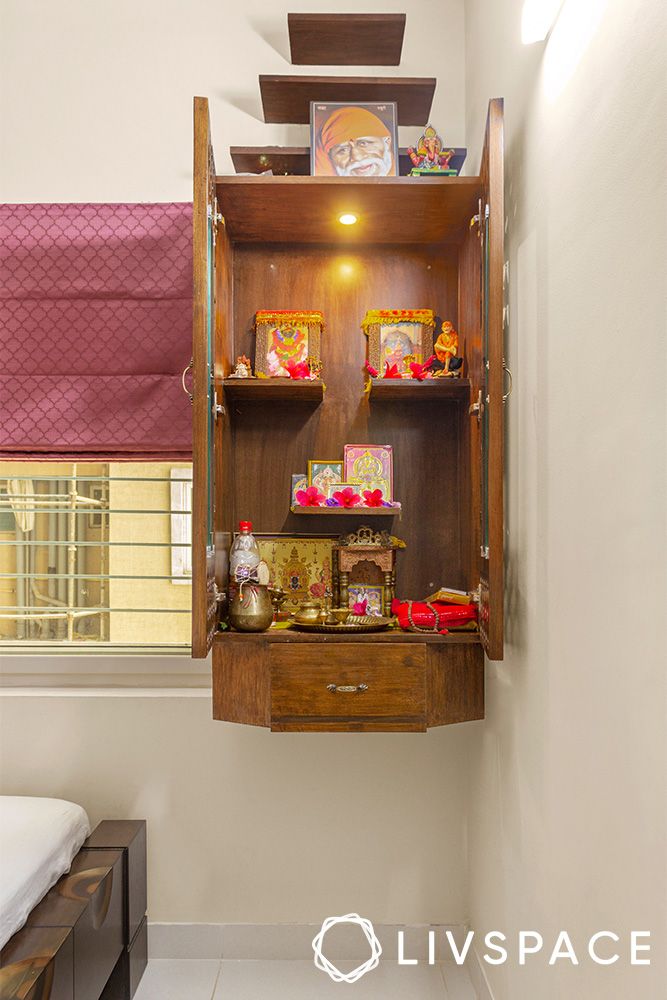 If you've ever wondered about which direction should gods face in your pooja room, you're at the right place. According to pooja room vastu, your idols should never face each other. Instead, remember: the preferred god facing direction is the north-east.
2. Soft Shades Like Yellow and White Are Ideal for Your Pooja Room as Per Vastu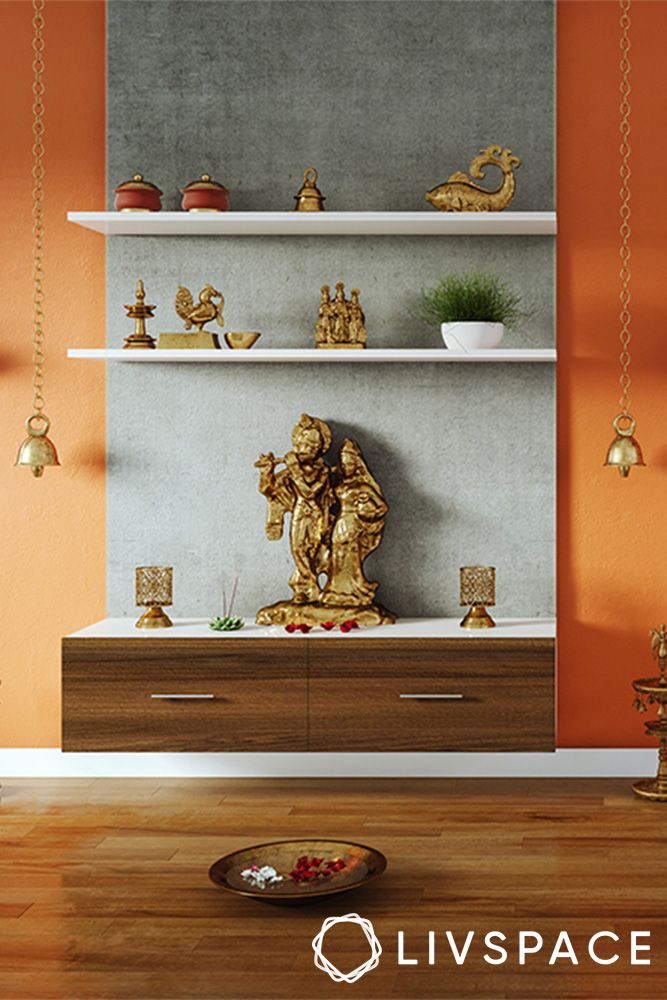 Knowing what your mandir direction should be as per vastu is not the only thing that makes your pooja room vastu-compliant. Colours pay just as important a role, so you want to be certain that you're picking the right shades.
For a vastu-compliant pooja room, you can choose shades like white, cool blues, or softer shades of yellow and orange. Similarly, experts suggest using delicate and soothing colours in your mandir to augment the sanctity of the space.
Also Read: Top 5 Colours That Will Bring Good Vastu Vibes to Your Pooja Room
3. Keep Your Pooja Room at Ground Level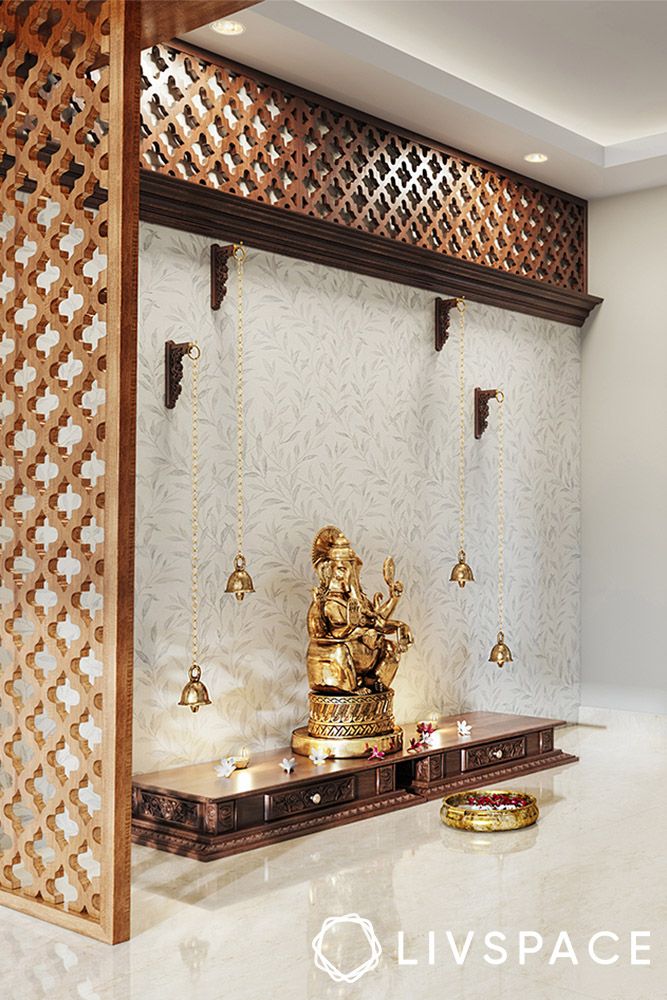 According to vastu, the ground floor of your home or apartment is ideal for situating your pooja room. However, your mandir position as per vastu, should be away from the bathroom or the staircase.
While this may not be possible always with space constraints, you need not fret. Let our Livspace designers answer all your questions on setting up a mandir at home.
Bring in a platform for your idols and keep your gods above the ground level. Look no further for useful vastu tips for mandir in your flat. Use an elaborately carved wooden platform, or even a simple bench, to situate your idols.
4. Avoid Keeping Your Idols Against the Wall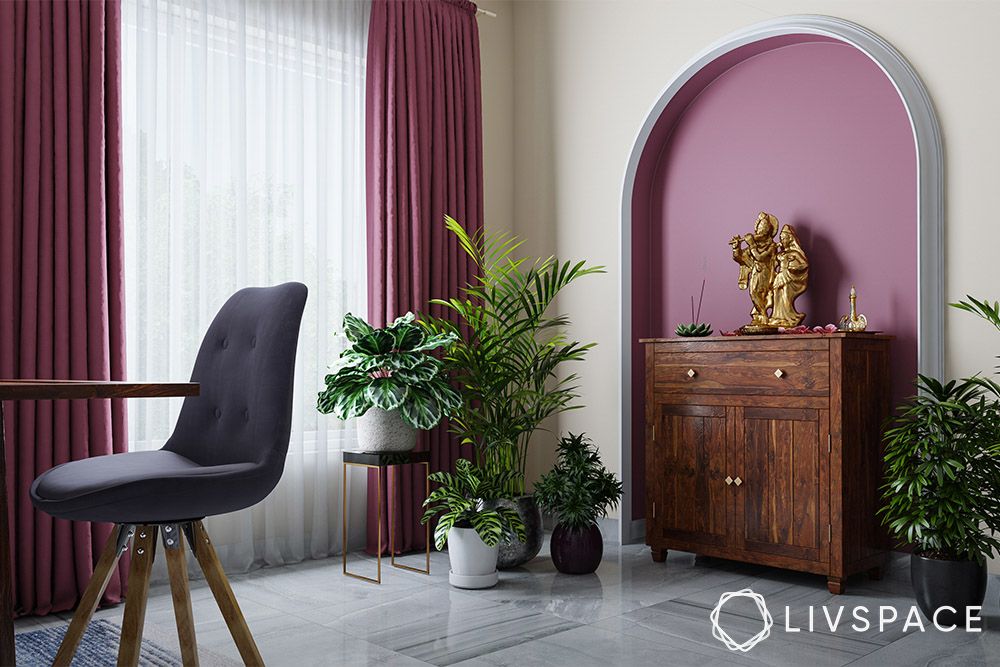 Ever wondered, "Which direction your Gods should not face?" Vastu experts advise against keeping your idols against the wall in your pooja room. That's because it's essential to allow the flow of air around your idols.
Simply leave an inch and a half between your idols and the wall. With this, the incense can spread across the room, making it smell fragrant.
5. Candles and Lamps Can Help Ward Off Negative Energies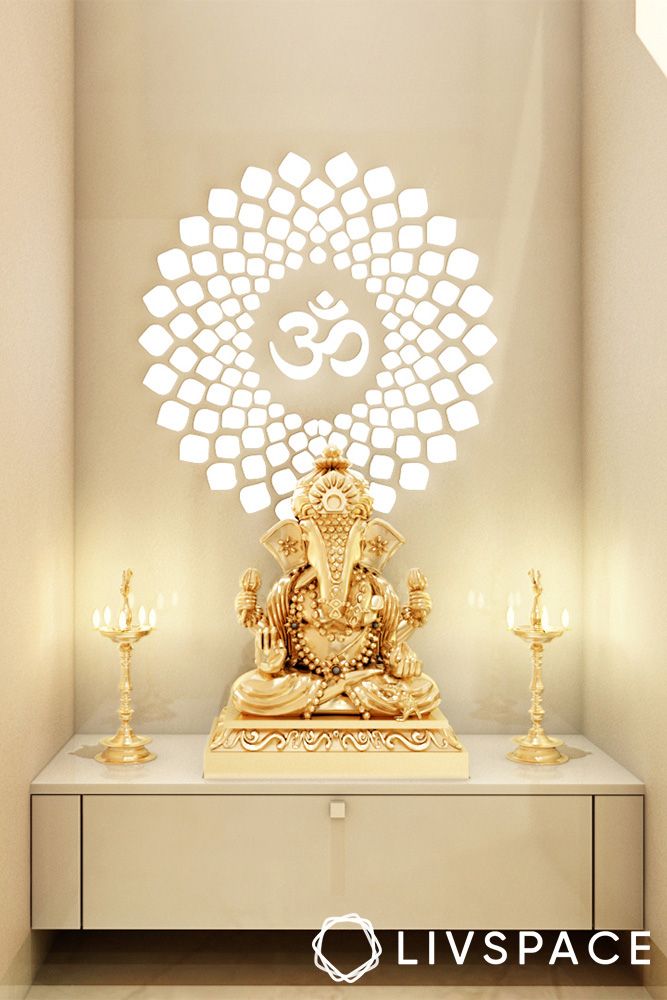 Lighting lamps and candles in the pooja room has been an age-old tradition. According to pooja room vastu principles, this helps ward off negative energies.
So, place your lamps in front of the idols in the south-east direction. You can also look for lamps that complement your decor if you're a stickler for uniformity.
6. Broken Idols Are Inauspicious, So Avoid Keeping Them at Home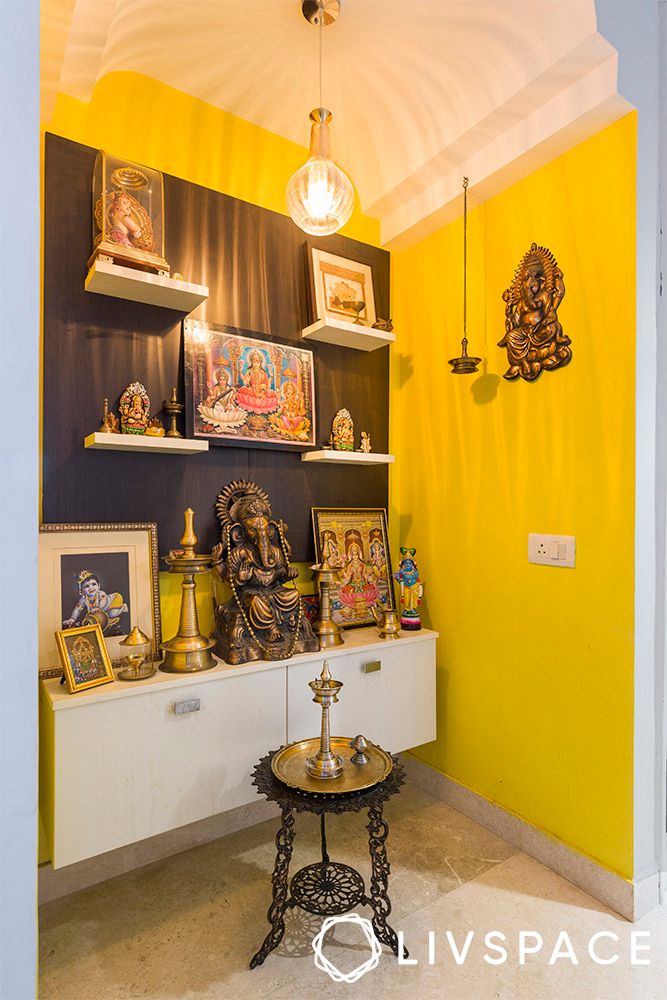 As per vastu standards, keeping broken or cracked idols of gods and offering prayers to the same is considered inauspicious. Indulging in this can cause vastu doshas in your pooja room. However, try not to get rid of them in haste!
Experts suggest that damaged idols should be immersed in the holy rivers or placed under a peepul tree. As a part of routine maintenance, be sure to check that all the idols in your pooja room are in top shape.
7. Do Not Place Photographs of the Deceased in Your Pooja Room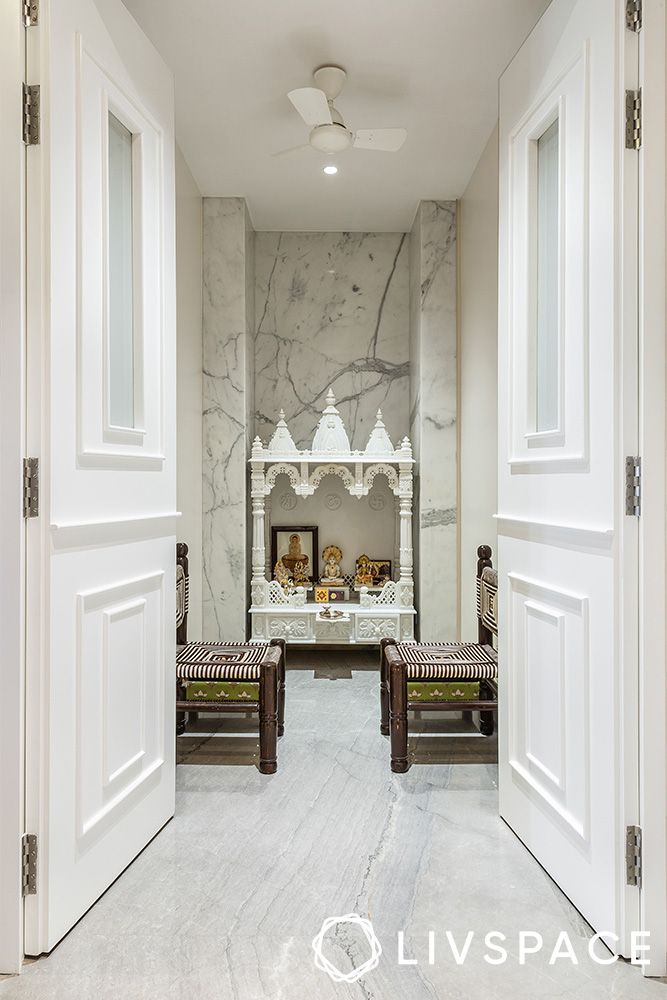 It's a common practice to keep garlanded pictures of deceased relatives in the pooja room facing direction, in Indian homes. However, did you know that this is against pooja room vastu recommendations?
While you can offer prayers to your ancestors in the pooja room, avoid keeping pictures of them in this space. Experts recommend that such photographs should be placed in the south or south-western part of your home instead.
Moreover, since the mandir is a sanctified space, vastu directs us to keep only soothing pictures in this room to add to its sanctity. So, steer clear of pictures of war and strife. Opt for soothing photographs of flowing water or nature instead.
Also Read: 14 Beautiful Indian Style Pooja Room Designs Under ₹1 Lakh to Bring You Prosperity
8. Add Some Doors to Your Pooja Room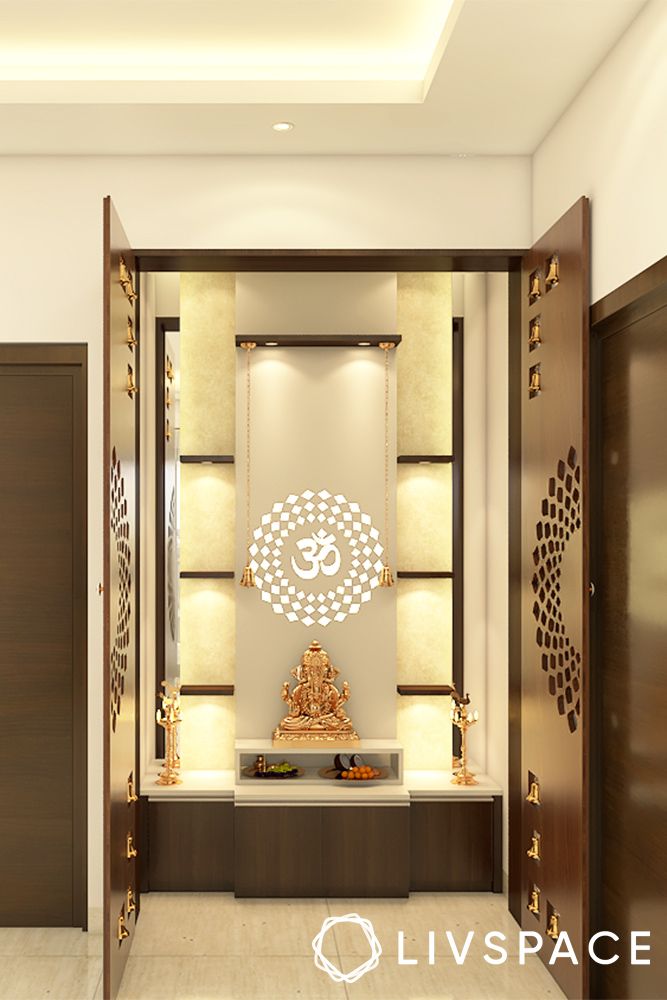 Depending on the design of your pooja room, you may or may not be able to add doors to it. However, if you have a standalone pooja room, you should ideally consider adding doors to it to ensure privacy during prayers.
Additionally, doors and a threshold can also help prevent insects from entering this sacred space. In terms of your door direction for your mandir design, it should be positioned against the north or east wall of your mandir.
9. The Living Room Is a Good Location for Your Mandir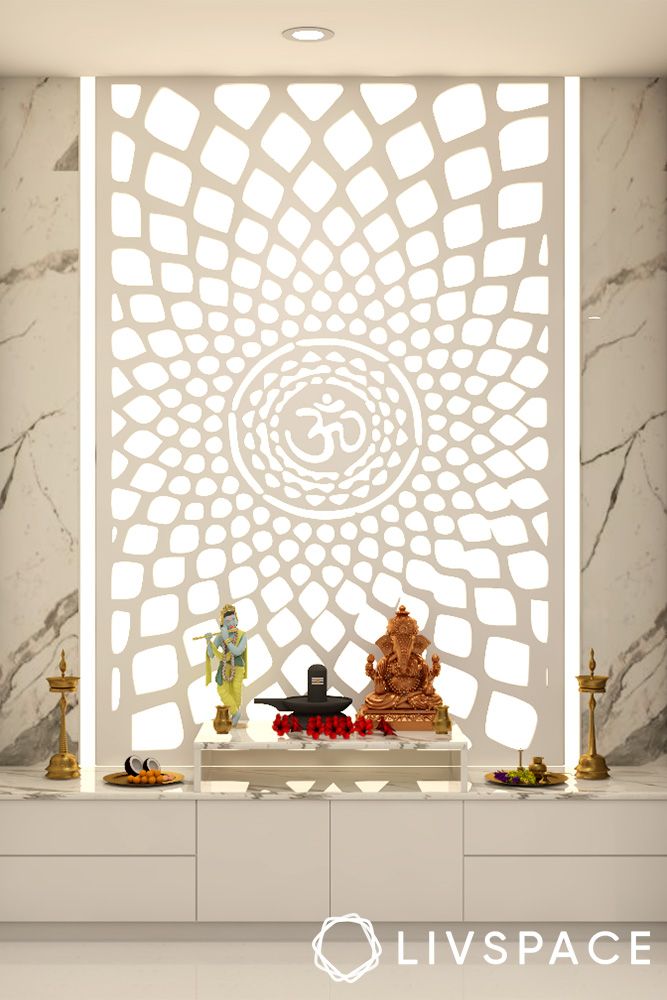 The north-east is considered to be the most ideal mandir direction as per vastu. But apart from the direction, it also helps to know where to place your pooja rooms at home.
From all the rooms to consider, the living room is ideal, with the kitchen being a secondary option (if it faces the north-east direction). Ideally, you want to place your pooja room in a space that's well-lit and well-ventilated for the best results.
10. Face the East While You Pray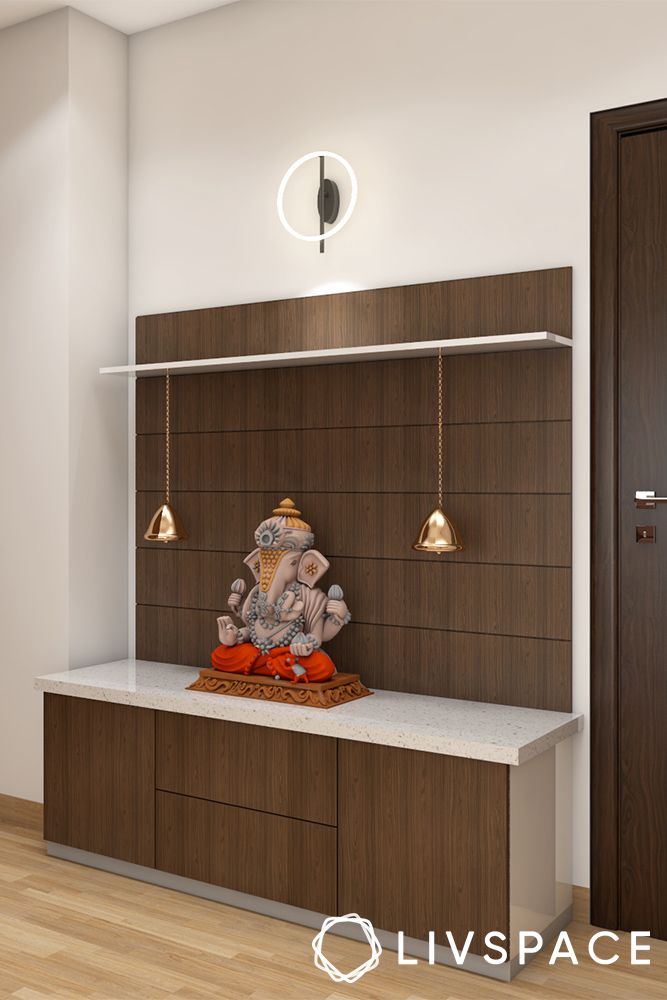 We already know that your idols need to face the north-east direction in your pooja room, but which direction should we face while praying? The answer lies in the east. You can also pray facing the west if the east is not an option, but avoid facing the south, as it's generally considered inauspicious.
11. Use Lamps, Natural Light, and LEDs to Brighten Your Pooja Room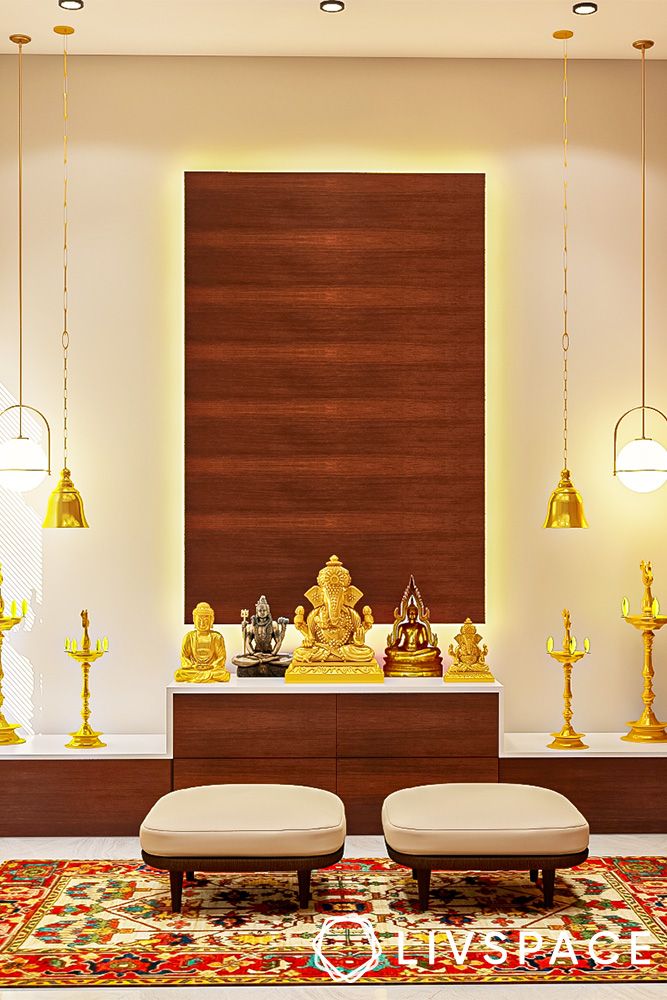 While following the principles of vastu, you'll notice that lighting plays a crucial role. Natural light is an important factor in keeping your home well-lit and free from the bacteria and germs that grow in cold and damp places. So, if you have the option, try to include a window in your pooja room to ensure that it stays well-lit during the day.
In addition to a window, you can also use lamps and LED lights to illuminate the space when the sun goes down. In fact, LED lights can be relatively cost-effective to use as well.
Also Read: 25+ Beautiful Small Pooja Room Designs for Your Homes
12. Metallic Accessories Are Ideal for Pooja Rooms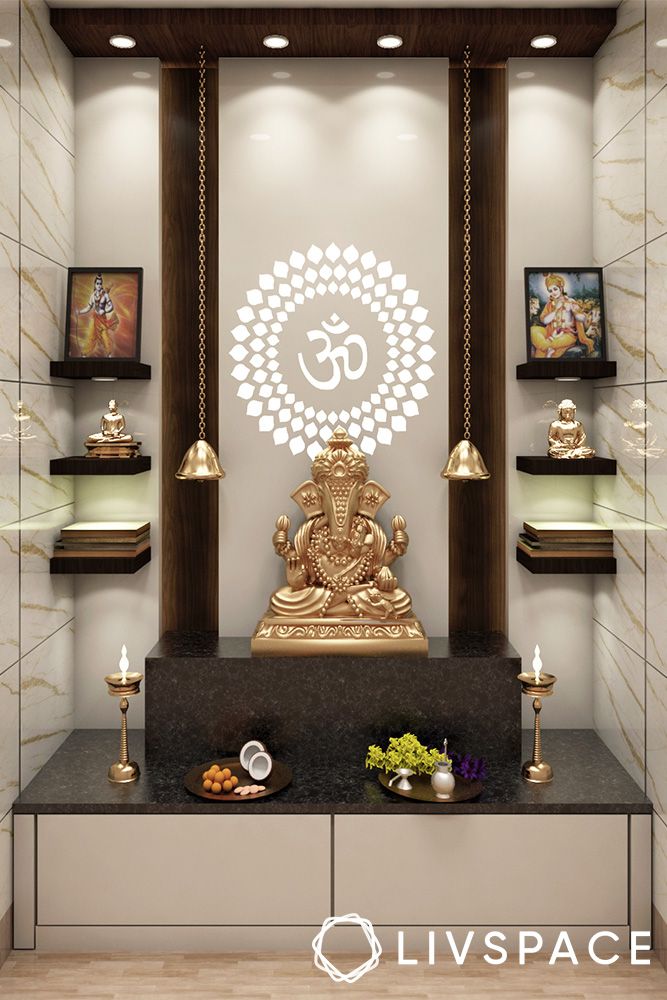 Since metals are sonorous, the sounds they produce are known to dispel negative energy, as per vastu recommendations. While picking out accessories for your pooja room vastu, go for metallic materials. Additionally, having a water body at home is good for vastu, so bring in a small water bowl with flowers and diyas for added luck.
A few other pooja room accessories you can consider include – incense stick holders, bells, framed images of idols, hanging lamps and flower garlands.
How Can Livspace Help You?
We hope you found these vastu-approved pooja room ideas useful! If you want beautiful, vastu-compliant interiors for your home, then look no further. Book an online consultation with Livspace today.
Have any thoughts or suggestions you'd like to share with us? We're all ears! Drop us a line at editor@livspace.com.
Disclaimer: All contents of the story are specific to the time of publication. Mentions of costs, budget, materials, finishes, and products from the Livspace catalogue can vary with reference to current rates. Talk to our designer for more details on pricing and availability.