A pooja room is often a place for deep reflection and peaceful prayer. While older homes and independent villas may have a dedicated pooja room, newer apartments and compact homes may not have that option. Therefore, these homes can transform a wall niche, a quaint corner in a room or even utilize free space on a wall to find their new mandir design. But how does one do that?
Our talented interior designer, Shamala K R takes us through the process of designing a new mandir at home. Having designed more than 30 homes in Bengaluru, her creative design solutions are perfect for big and small metropolitan city homes.
Here, Shamala has answered some of the most frequently asked questions on setting up a pooja room or unit from scratch.
#1: What essential items do you need to set up a mandir at home?
The pooja room is one space that can be designed independent from the rest of the home. It can be basic and minimal or elaborate and grand. However, every pooja room must have these items to complete it.
In conversation with Shamala, we find out that every new mandir design should focus on functionality to accommodate diyas and should have sufficient space for idols and photos. Moreover, you can consider keeping space for incense sticks, bells, utensils, flowers, fruits, kumkum and even a chowki.
#2: What are the vastu compliant directions for a mandir?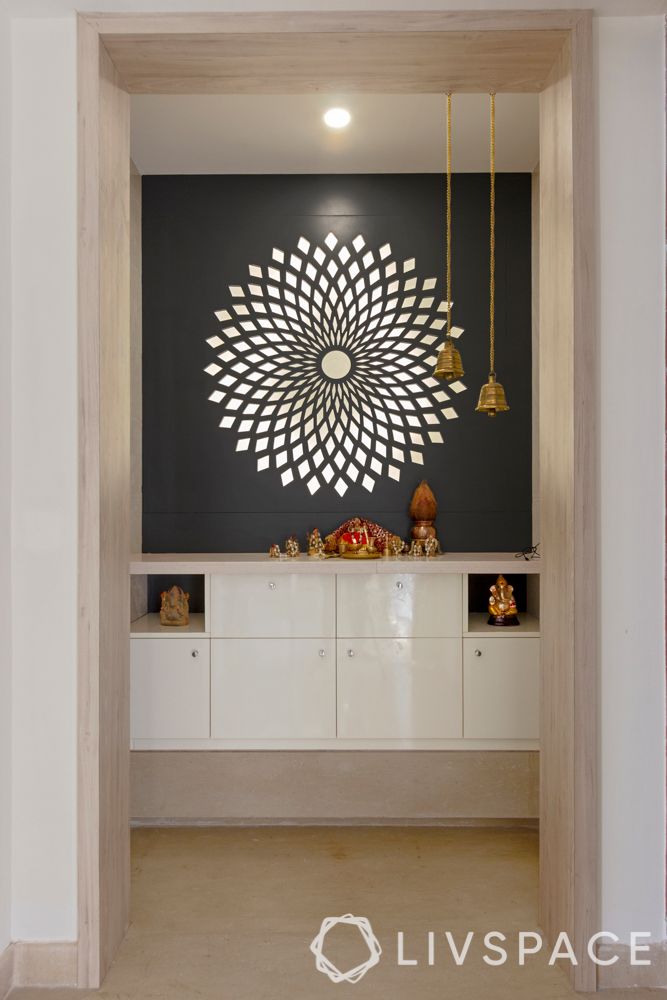 The ideal direction for a pooja unit should be north east as it is the most auspicious direction. However, your second best bet would be an east or north facing mandir. Vastu states that a low ceiling and a two-door entry for a pooja room can do wonders.
These 6 Simple Vastu Tips to Design Your Pooja Room will help you figure it out.
"The idols should be places at the level of your stomach. If there is seating, the idols should be placed at 18″ from the floor," Shamala explains.
Furthermore, if you have Ganesha idols in your mandir, take a look at Vastu Tips to Place Ganesha at Home.
#3: What should you avoid when getting a new mandir design for home?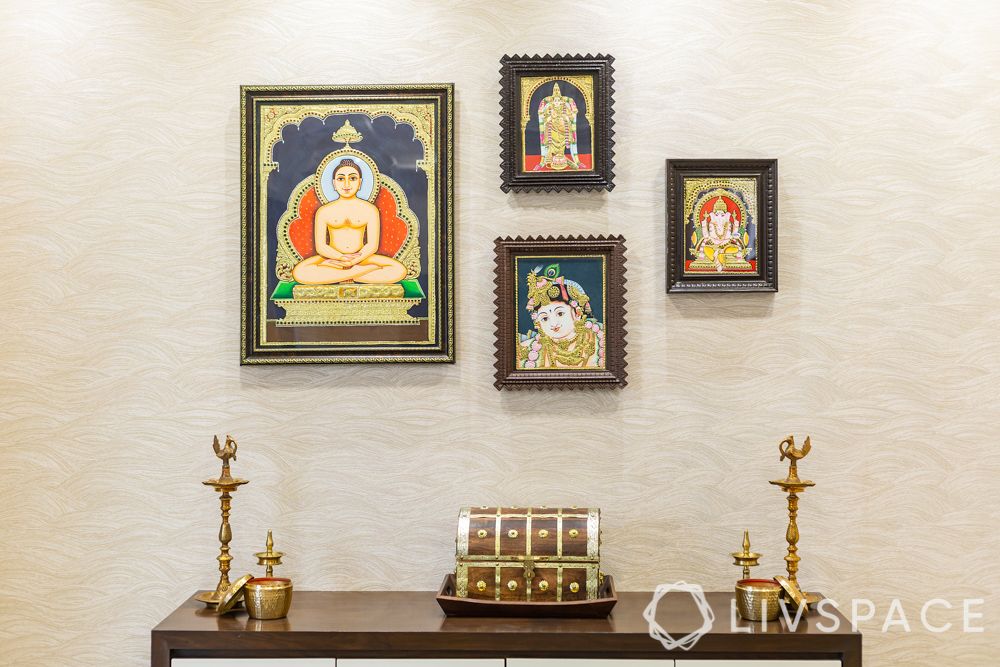 If you are setting up a mandir at home, there are a few points to keep in mind to make the most of the space and attract the right kind of energy.
Do not store any items that are not considered pooja samagri in the unit
Avoid positioning your pooja unit in the south direction as it is considered inauspicious
Avoid setting it up in a store room, kitchen or bathroom zone
Do not place a dustbin in the room as it reduces positive energy
Avoid placing damaged idols and photos in the unit
Moreover, Shamala points out that new mandir designs with diyas should avoid having too much fabric as it can be a safety hazard.
#4: What material should it be made of?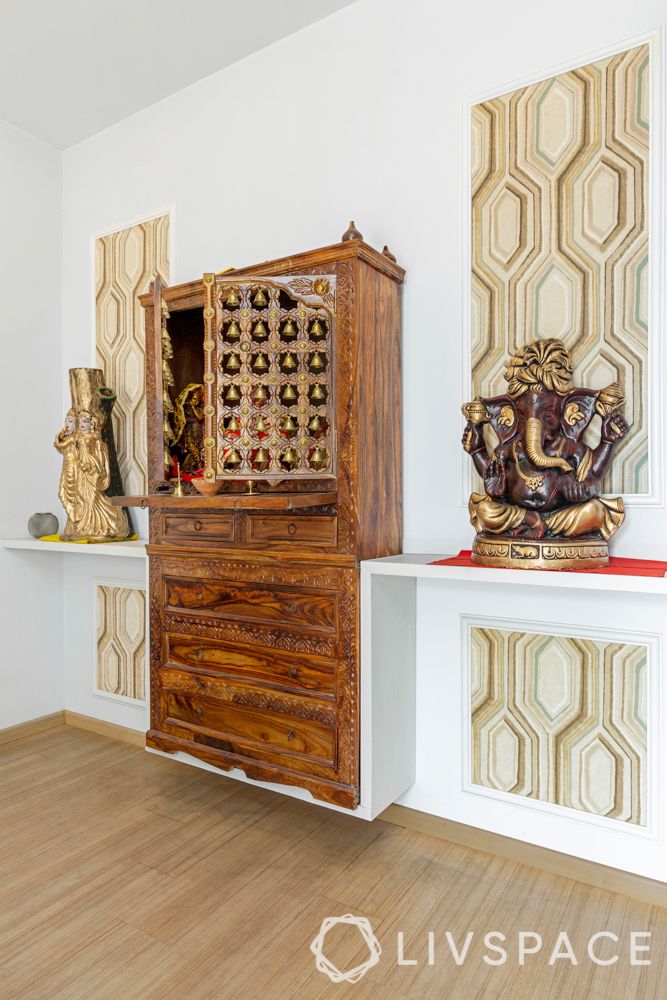 According to vastu, a pooja unit should be made of wood as it is considered auspicious.
From a design standpoint, Shamala explains that it is always better to have a surface that is easy to clean and maintain. Preferably solid woods and stone surfaces like granite, marble, quartz or even stone. Other material finishes can be given a contemporary touch by adding glass. Take a look at 4 Materials That Are Ideal For Your Pooja Room.
#5: Which colour should you paint your pooja room?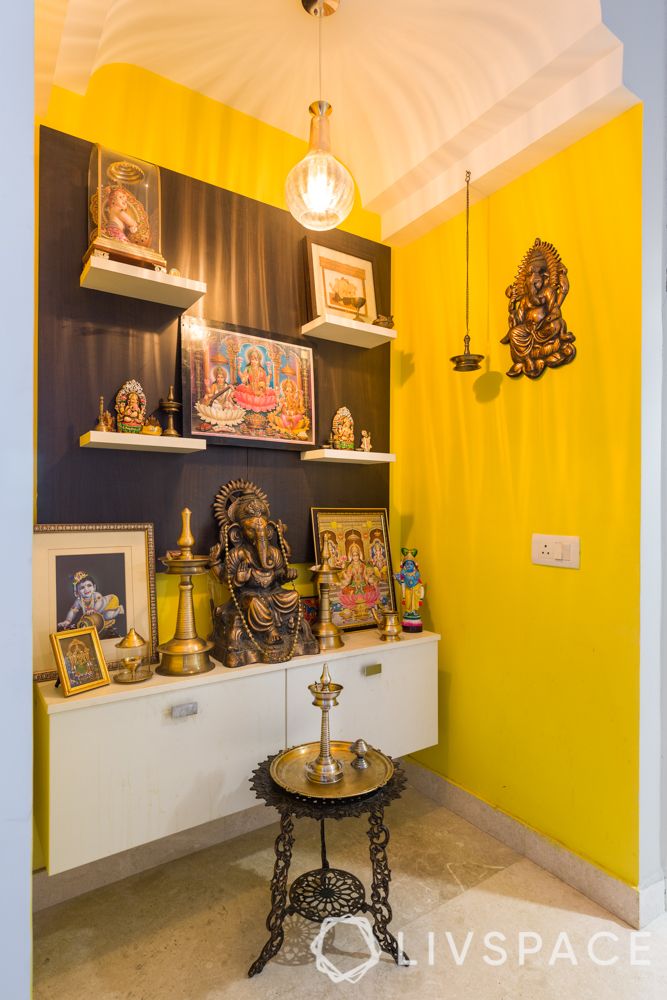 Colour plays a major role in every design. A simple temple design for home with the correct colours can also bring in a positive and calm vibe to any room. For a room where prayers and poojas take place, make an informed decision with our colour guide: Pooja Room Colours by Vastu Experts.
Here are some of your best options:
Yellow: Ideal to set the meditative tone in a pooja room, it propagates happiness, optimism and self-definition.

Orange: A radiant orange signifies power and courage while a more muted brick tone exudes energy and provides stimulation for prayer.

White: Shamala recommends white as the ideal colour for a pooja room in order to have the calmness that it requires.

Green: This is symbolic of life, nature and harmony which are all favourable elements to channel into such a sacred space.
#6: Can you place a mandir on a wall with plumbing or outside a bathroom wall?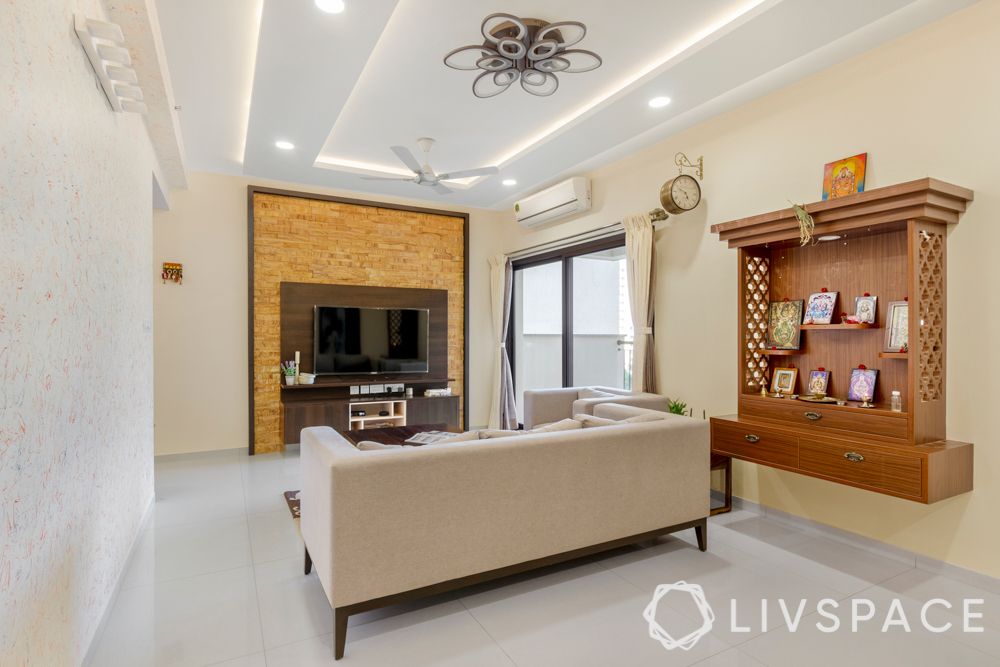 According to vastu principles, having a pooja unit in the bathroom zone is said to create an imbalance in energy. Moreover, a pooja room that shares a wall with a bathroom can cause the plumbing noises to distract people while they pray or meditate which is the main purpose of having a dedicated prayer space.
However, when it comes to wall mounts in a room with an open space such as the living room or bedroom, a small design change can solve this problem. If a pooja unit must be mounted here, it should have a solid background to ensure that none of the idols, frames and ornaments touch the shared wall. This will eliminate any detrimental effects and balance the energy.
#7: How to pack storage into a new mandir design?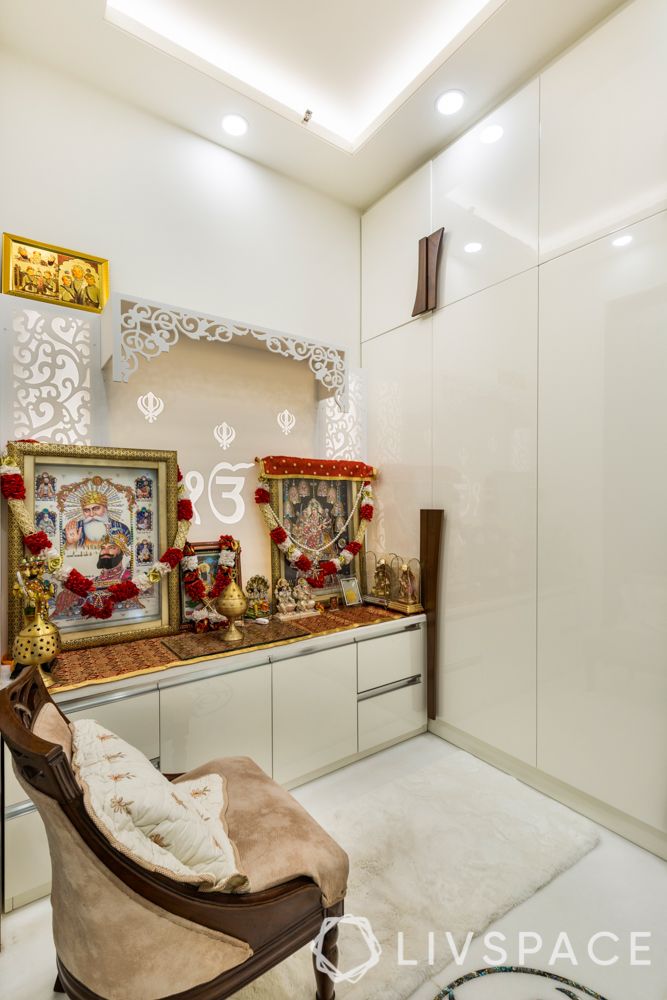 Cleanliness and orderliness are an absolute must when it comes to the prayer room. Drawers are so easy to operate that your everyday pooja will become much more organised. Opt for ornate metal handles if your home has a traditional design, or go for simple ones, but make sure it matches with the design of your room. This will ensure that your platform steers clear of clutter!
Moreover, storage should face the south-east to ensure there's nothing obstructing sunlight.
Here's how to create Pooja Rooms that Pack Storage!
#8: Can you get a pooja unit if you don't have a pooja room?
With the size of apartments and living spaces shrinking, you may not have that much space for your new mandir design. However, you don't have to compromise on your prayer space anymore. Our Space-Saving Ideas to Set Up Your Pooja Room has got you covered!
By transforming a niche into a pooja room or even creating one with partitions, we can turn any space into a prayer space. These Pooja Units That Can Fit Into Any Nook & Corner will prove just that!
However, if you have a compact home and no dedicated space for a pooja room, your best bet is to attach a wall mount unit. A wall-mounted unit can come in every shape, material and design to suit your taste and space. Moreover, they can be custom-made by Livspace to give you exactly what you want. Take a look at Compact Mandir Designs for Home for more ideas!
#9: What kind of lighting and decor should you opt for?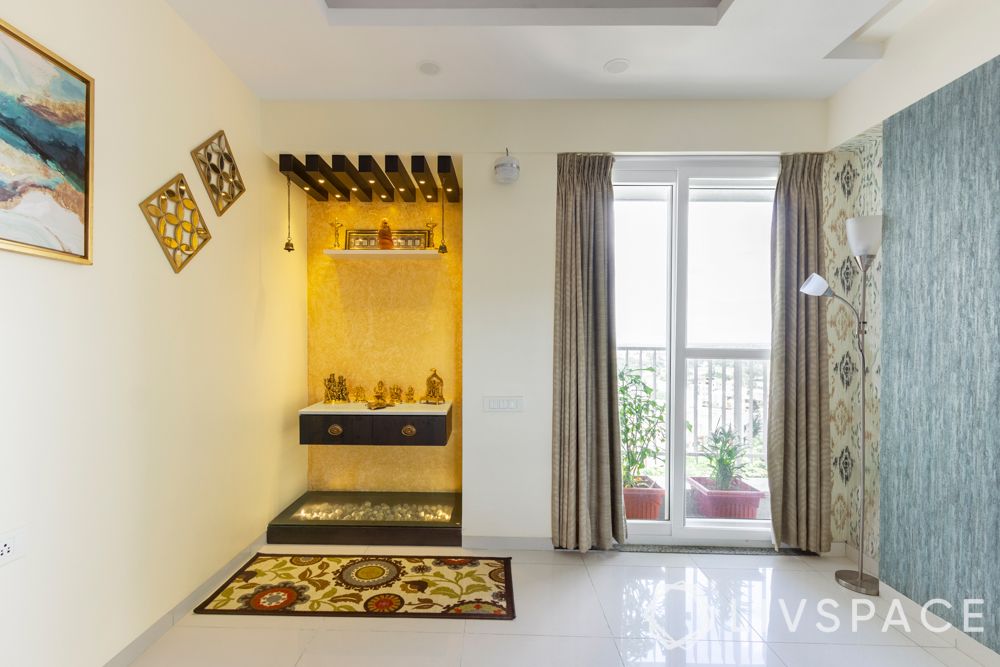 You can always spruce up your prayer room with bright colours, rich ornaments and lighting. A great way to do this is to add a bright background and bells! They are available in various finishes and materials. Pick from brass, silver or copper ones to match or complement your idols or overall setup. For new mandir design decor, take a look at 7 Simple Ways To Beautify Your Pooja Room.
Moreover, Shamala suggests opting for warm white light "It gives a dramatic look to the mandir and also adds up to aesthetics," she says. Here are some more ideas for Pooja Room Lights that are Gloriously Divine.
#10: How to cleverly conceal your new mandir design?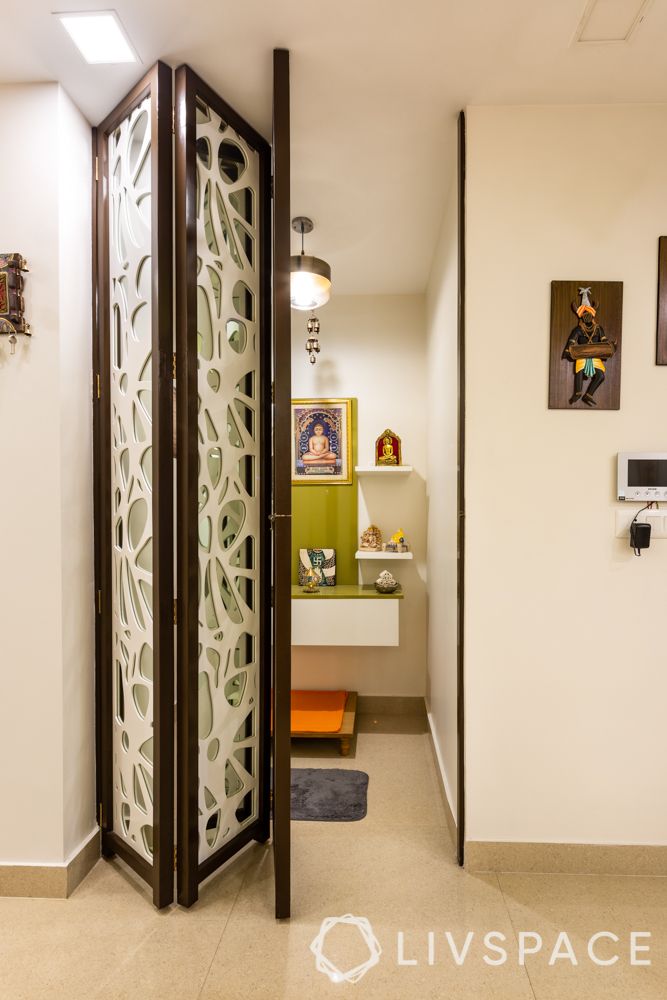 The pooja space in a home is a peaceful zone that inspires divinity. Having a dedicated space for this is a luxury in itself. However, for most people this space is preferably kept away or concealed when it's not in use.This is done to avoid kids from knocking items over, people accidentally stepping in with footware or too much footfall in general.
There are a few ways to tackle these problems if you don't have a makeshift pooja room. Consequently, a great way to do this is to opt for a wall-mounted pooja unit with doors for your new mandir design. Another option is to install folding doors or sliding doors as shown in the above image. You can turn any niche into a room by fixing a folding door that has a jaali design for a stylish look.
If you found this article helpful, You'll Wish You Knew All This Before Designing Your Pooja Room
Check out pooja room designs:
Send in your comments and suggestions.