While designing the interiors for your urban home, finding the perfect spot for your mandir or pooja room can be a bit challenging. At Livspace, we acknowledge that while space can be a constraint in urban homes, that should not get in the way of meeting your lifestyle needs. If you're looking for the right pooja room design – be it modern, traditional, or transitional, your search ends here! No matter what your design aesthetic may be, we have a pooja room that suits your requirement perfectly! Let's start by taking a look at how you can design your pooja room.
Now that you know how to make your mandir an ocean of calm, check out our favourite pooja rooms, made especially for our clients to suit their needs and home interiors. Take a look at our collection to be inspired with a fresh outlook for your mandir design.
Your pooja room design depends on its location
#1: Pooja room that fits into a niche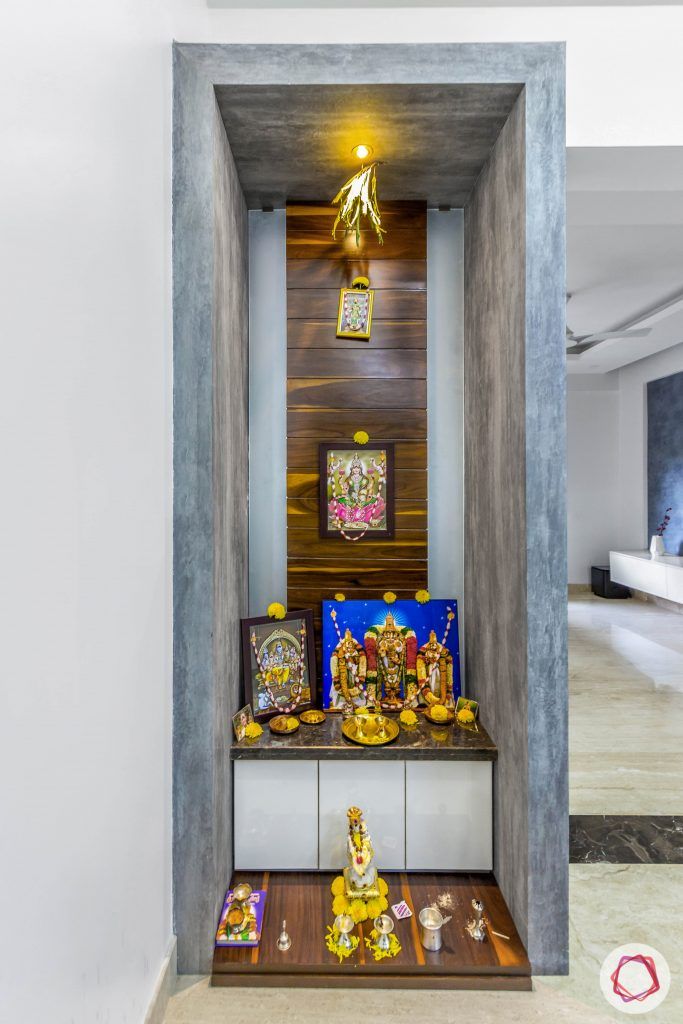 Niches can get a designer touch too! Take a look at this stone-finish grey laminate that adorns the walls of this niche. Such units blends seamlessly into the home that's done up in grey and white. This way, a design can be customised to blend with your home decor. And they fit in almost anywhere!
#2: Pooja room inside kitchen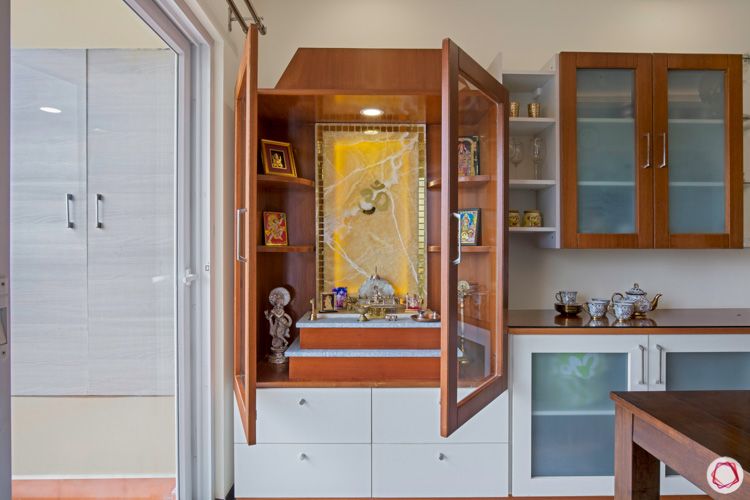 Vastu shastra recommendations suggest that we avoid having a mandir in the kitchen. At the same time, it is advisable to keep the pooja unit in the kitchen when the only alternative is to place it in an inauspicious direction or a wall adjoining the bathroom. So, what's the ideal position to keep this unit inside the kitchen? Consider having a pooja room design facing the north-east or east. Also, vastu recommends that the pooja unit should be to the left or right of the stove. Avoid keeping the unit above the hob or the sink!
So, for your kitchen mandir, look for an elegant but minimal unit that fits right into the space and usher positivity into your family!
#3: Mandir unit in the bedroom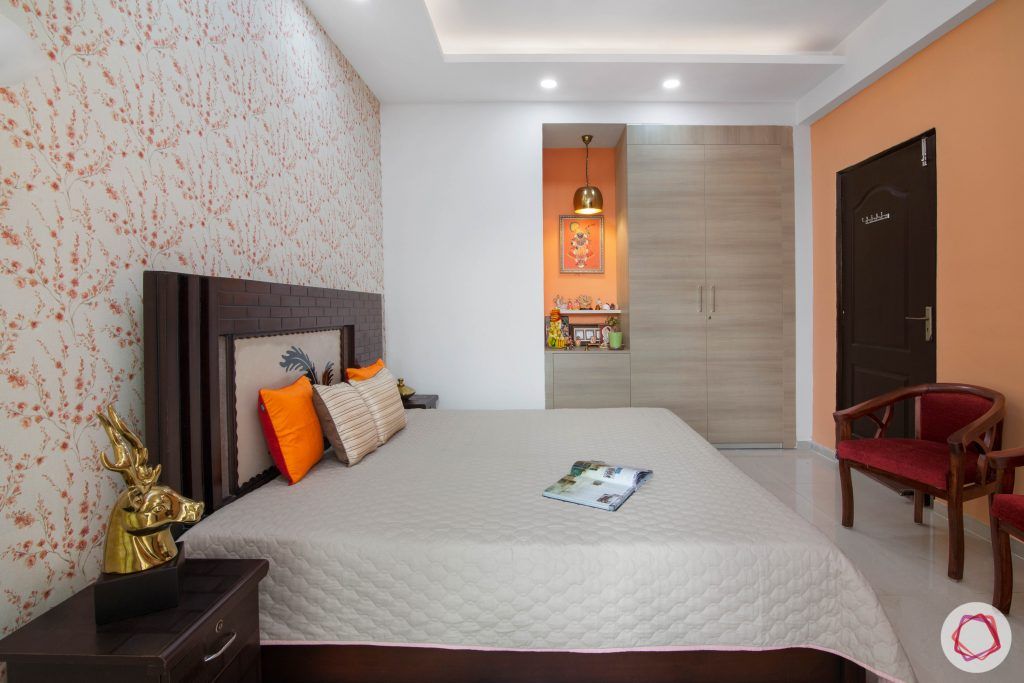 Oftentimes, space is the biggest constraint in having a dedicated space for prayer. In such cases, take your cue from this design and demarcate a space for your pooja room in the bedroom. Vastu recommendations suggest that your pooja room should face the north-east or east. In addition, ensure that your feet do not face this space while you sleep!
Wondering how to give your sacred space the right vibes? Choose the right background for it! You can choose auspicious colours like white or light shades of yellow, orange, green and blue to usher in positivity while blending with your bedroom decor. Add a platform to keep your idols, and find the right pendant light for the space. And watch your pooja space be transformed!
And the right material
#1: Small glass mandir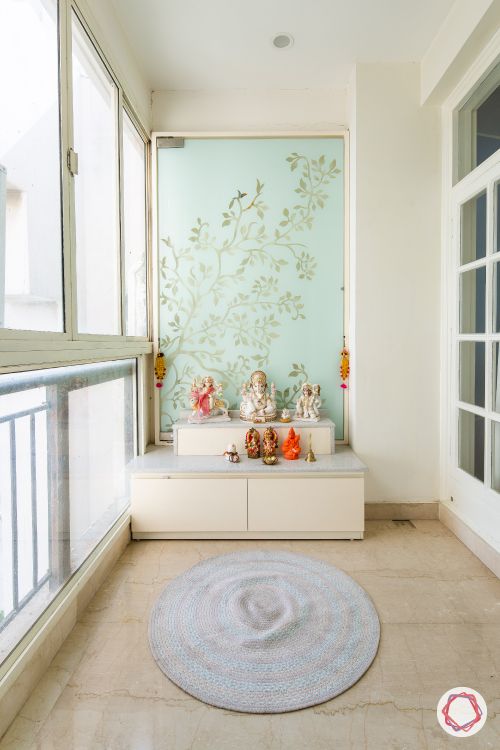 A backlit frosted glass panel can turn an unused corner into a beautiful pooja room. With dainty floral carvings offset by a white pooja unit in quartz, your place of worship becomes the perfect balance of traditional and modern design aesthetics!
#2: Carved wooden unit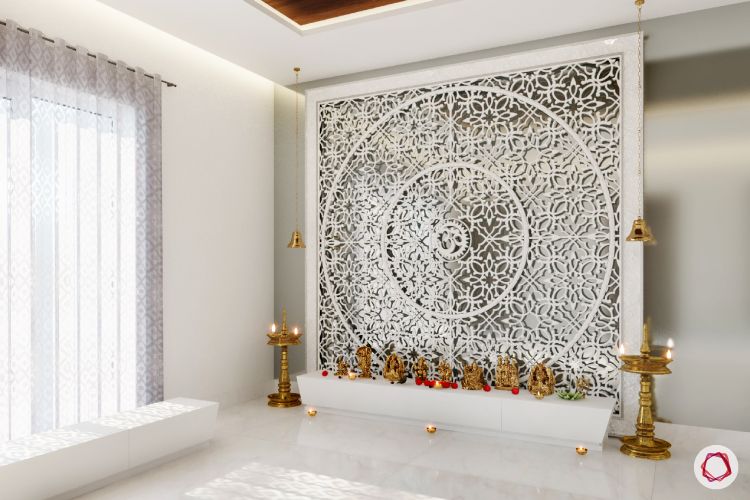 Nothing can be as evocative of tradition as carved wood. So if you want your prayer space to be a reminder of your rich heritage, look for a carved wooden design. To complete the look, add metal lamps and bells that complement the unit. Such an awe-inspiring pooja room design will effortlessly set the mood for prayer.

#3: Plywood mandir design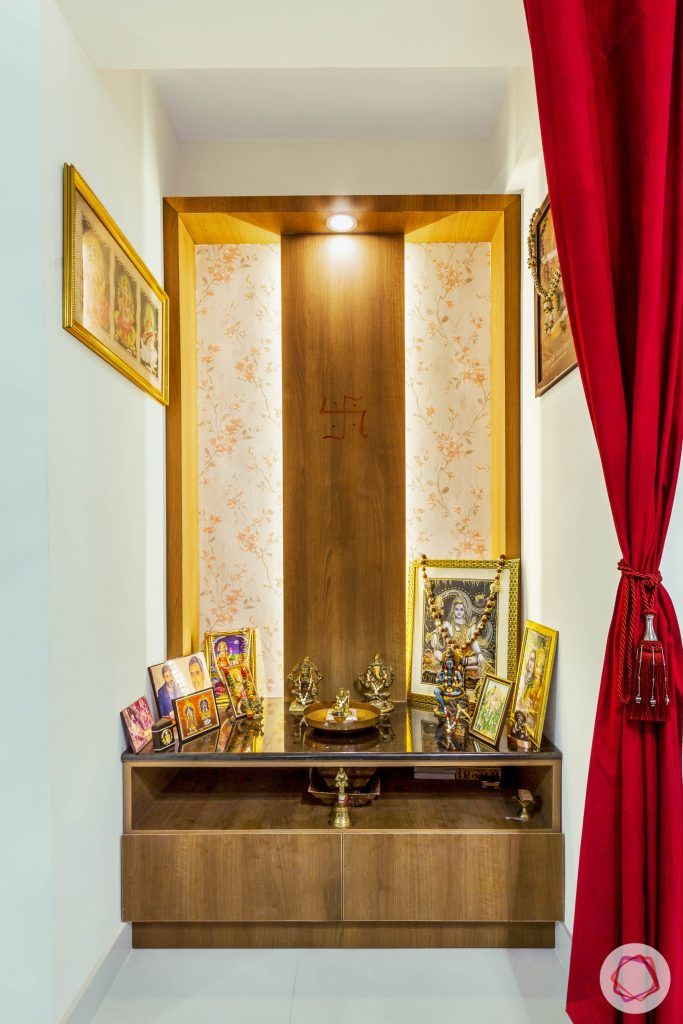 If you want to replicate the look of wood but want something more pocket-friendly, look no further than plywood! Consider a simple and compact design that's built into a niche. To amp it up, you can add some floral wallpaper and make the background prettier! Also, don't forget to add a focus light for the deities. This simple, compact design can be replicated in most urban homes.
#4: Serene ceramic tiles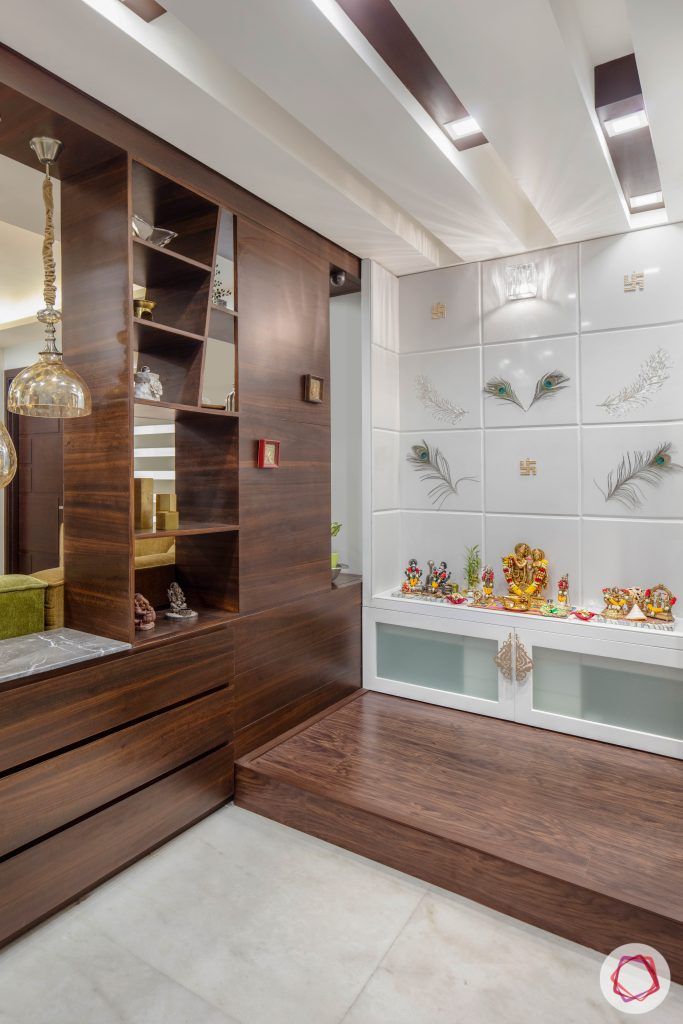 If you have a lot of room in your home, then opt for this flamboyant pooja room design. With printed ceramic tiles for a backdrop, a frosted shutter cabinet for samagri and a simple display, it's a divine corner your guests will be jealous of.
Maintain the sanctity of the space
#1: Keep it behind closed doors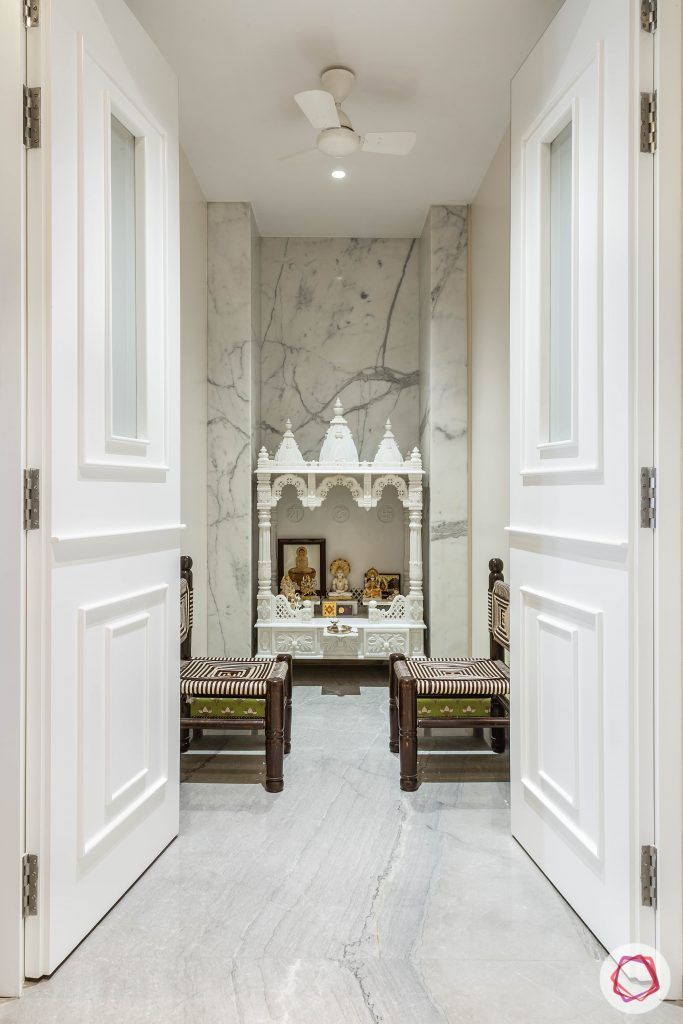 Ornate, whimsically white and set apart, this pooja room is every devotee's dream. The white carved centre unit in a temple style is perfect for a home with traditional decor. By keeping it behind closed doors, you demarcate the space for prayer. And if you want to avoid sitting on the floor while praying, consider using low stools or chairs in the room!
#2: Behind a curtain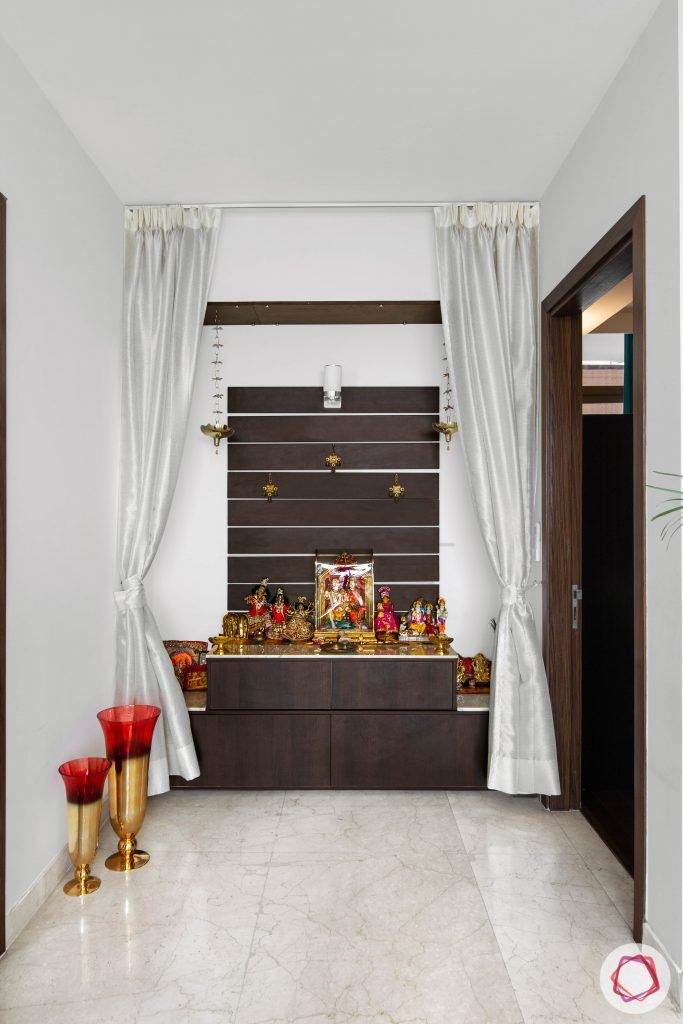 Vastu experts recommend setting your place of prayer apart from the rest of your home. But what if you cannot have a dedicated pooja room? Consider setting the space apart with curtains or a jaali panel. Your modern pooja room would look elegant against a background of dark wooden laminate. Consider a design that comes equipped with ample storage for pooja samagri. You can further decorate it with lamps and drapes in gold and copper tones to embellish the zone. Don't forget to add curtains to preserve the divinity of the space!
Find something that matches your home decor
#1: Traditional with a backlit jaali panel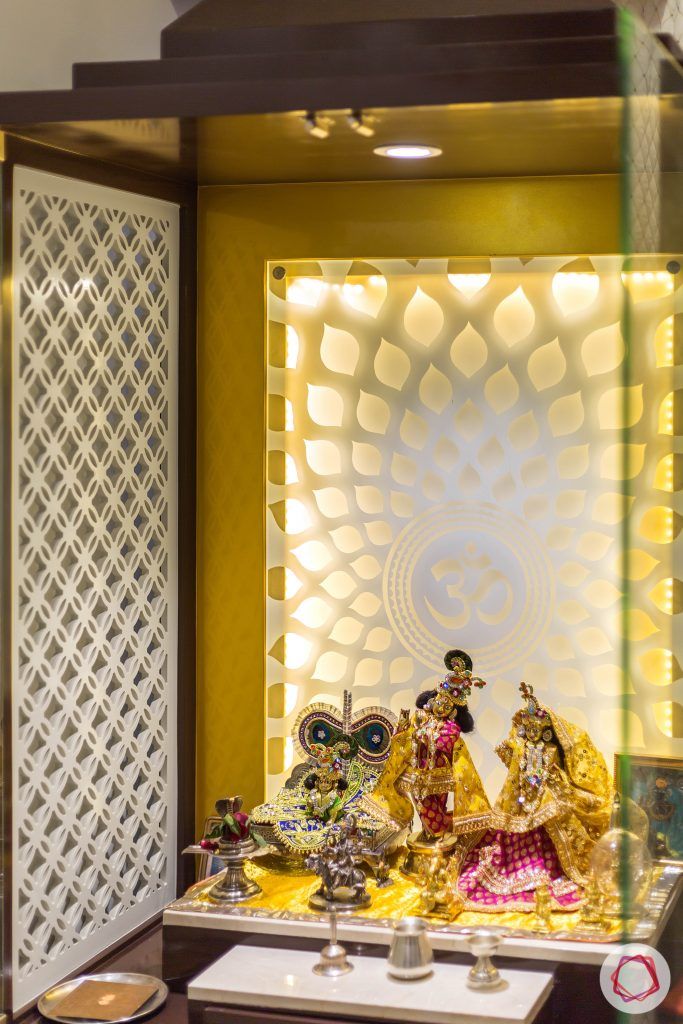 A backlit jaali panel adds a traditional touch to your place of prayer. It amps up even a simple mandir unit with a platform for your gods. This could be all you need to make your pooja room complete!
#2: Chic and modern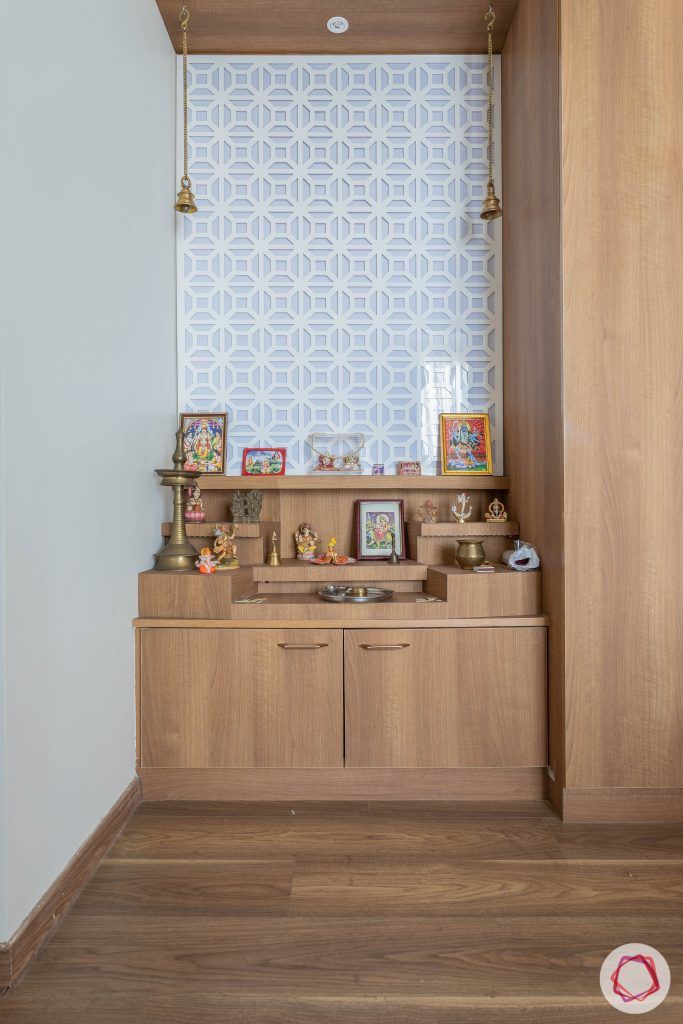 Want to keep it basic and modern? Opt for a wooden facade and combine it with a white jaali background. Additionally, brass bells and lamps have been added for embellishment.
Need something more compact, without compromising on style?
#1: Fit it into a nook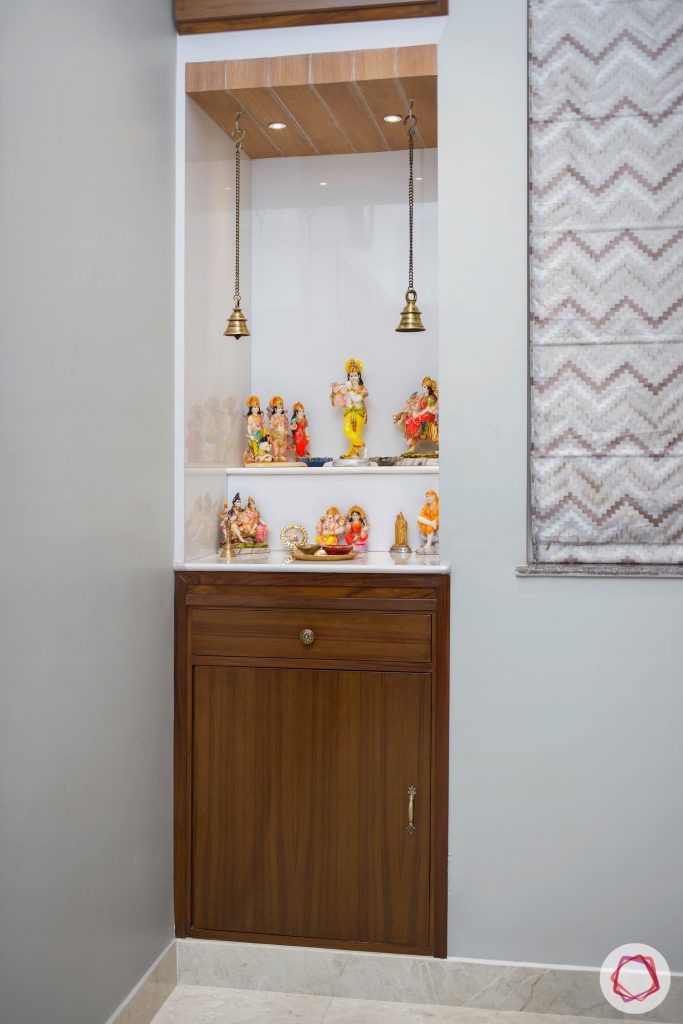 Don't have a lot of space to spare? Then this pooja room design is best for your home. It fits perfectly into a little niche while looking elegant.
#2: Get an elegant wall-mounted design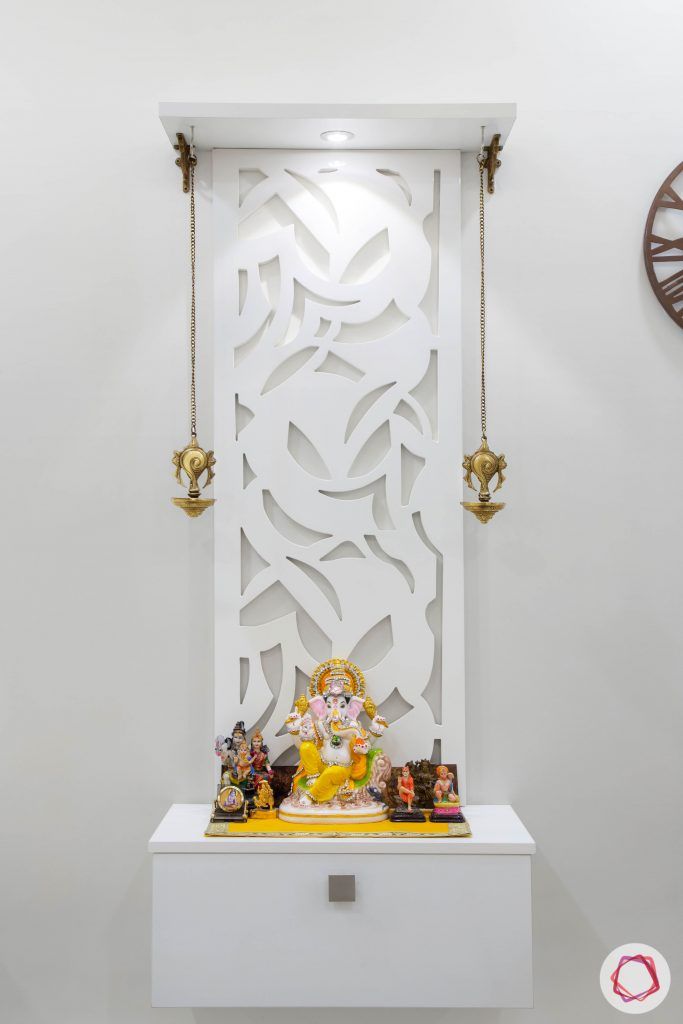 This design is the most compact one of the collection. With a small cabinet and a jaali background, it can be mounted on any available wall space. You do not have to compromise on storing your samagri, either! Add a couple of hanging brass lamps to add to the holy vibes.
We hope this brand new collection has inspired you. Still setting up your pooja room? Livspace Designers Answer All Your Questions on Setting Up a Mandir at Home. Check it out today!
Send in your comments and suggestions.