We all crave peace and serenity, especially considering our busy lifestyles and challenges that we face everyday. No wonder that you, our readers, love reading about pooja room designs. A well-designed mandir at home can attract and retain peaceful vibes in your home. Here are our favourite pooja room designs that you loved!
#1: A Jaali Pooja Room for the Perfect Desi Touch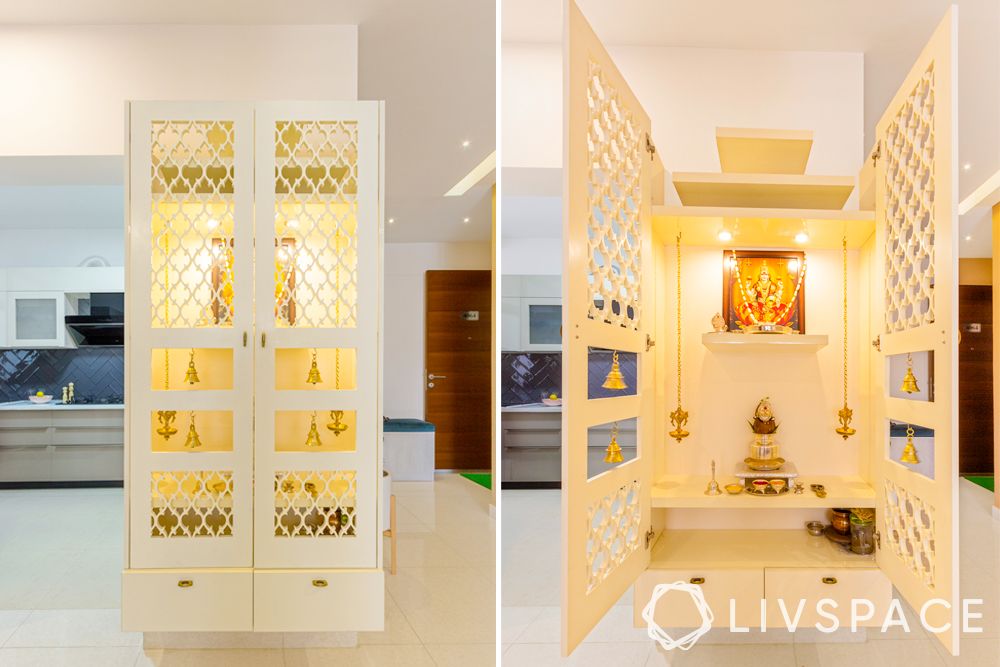 What we love: The pure white jaali doors offer privacy when this modern mandir design is not in use. At the same time, the use of jaali instead of a solid material ensures the view of the mandir isn't blocked.
#2: Traditional South Indian-style Home Temple Design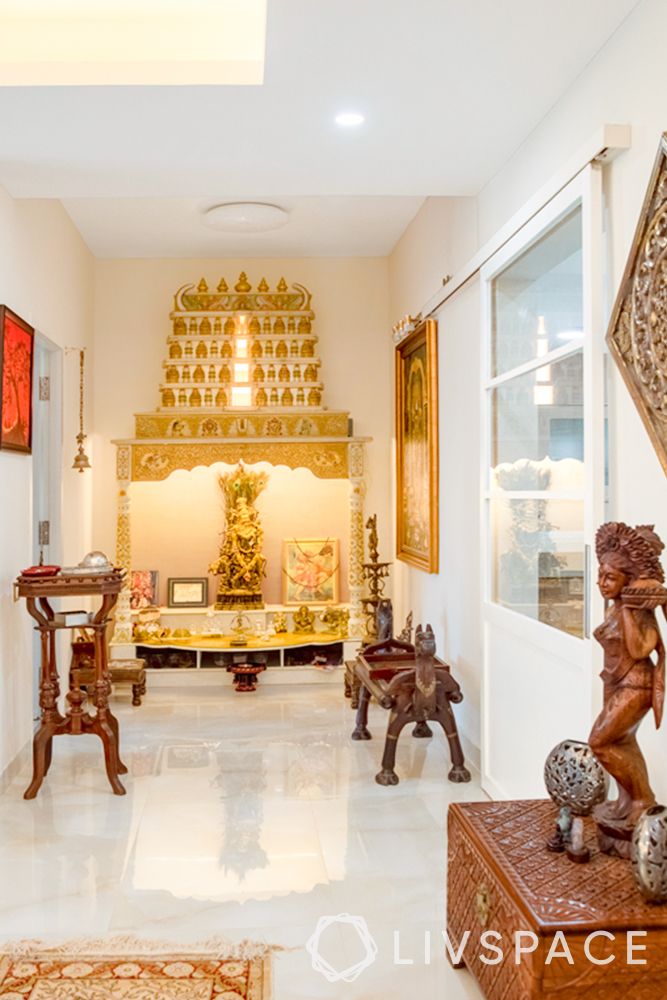 What we love: This traditional mandir design is reminiscent of temples in South India. The ornate gopura roof not only looks stunning but is also vastu-friendly, making it one of the best pooja room designs.
#3: One That Fits Into Your Wardrobe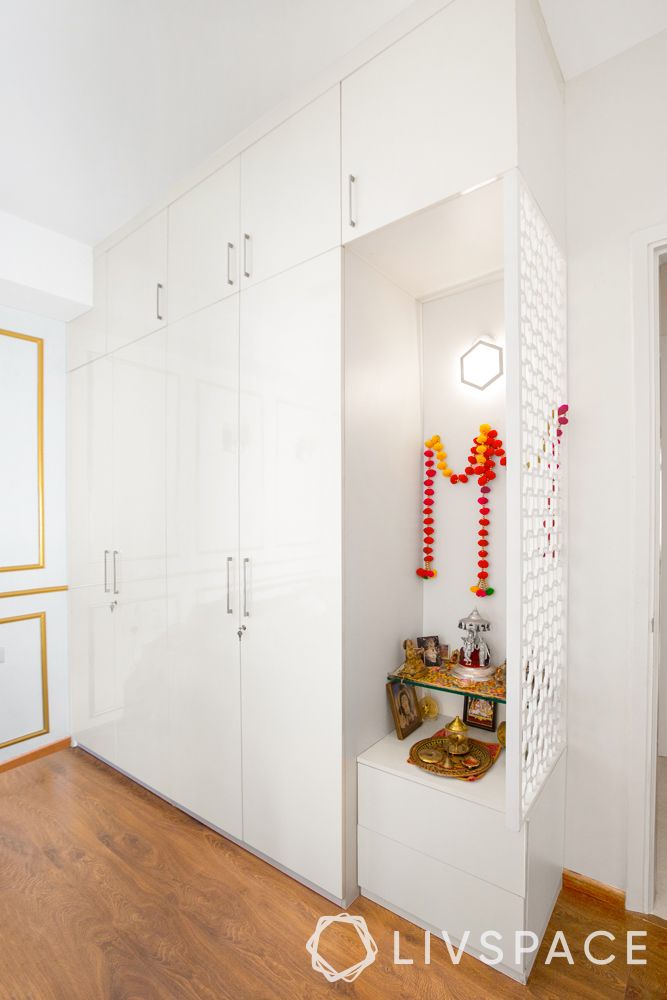 What we love: This modern mandir design is perfect for small apartments when you just don't have the extra space for a separate unit. We can never have enough of multifunctional furniture like this one!
#4: A Private Glass Pooja Room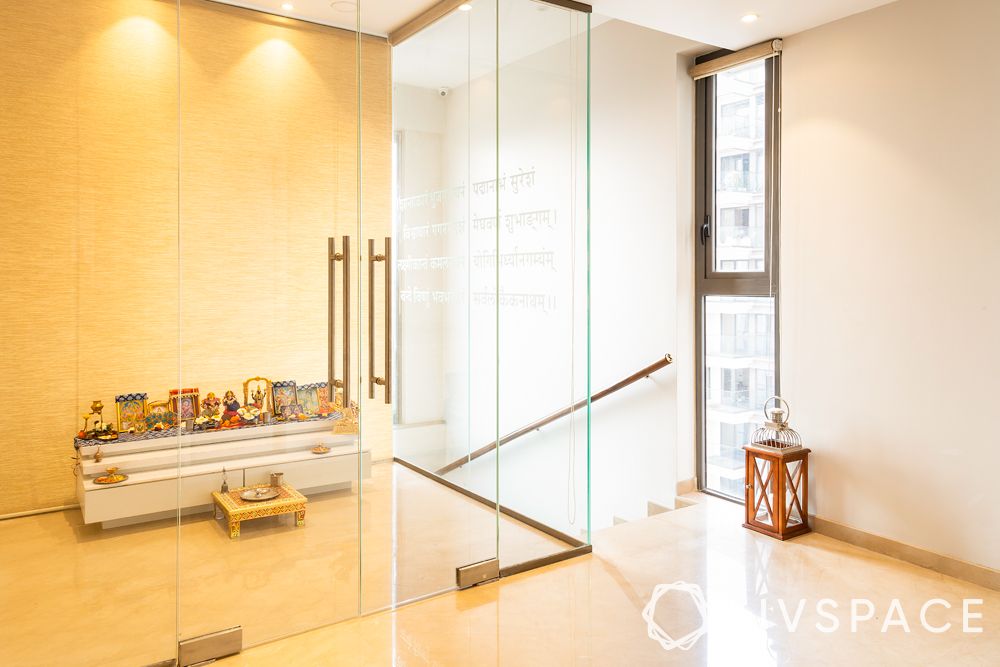 What we love: A glass pooja room can be very versatile, giving you the look you desire, be it modern or traditional. This mandir is a cut above the rest as it gives absolute privacy along with space where you can sit and meditate.
#5: Stunning Pooja Room Designs That Fit Into a Niche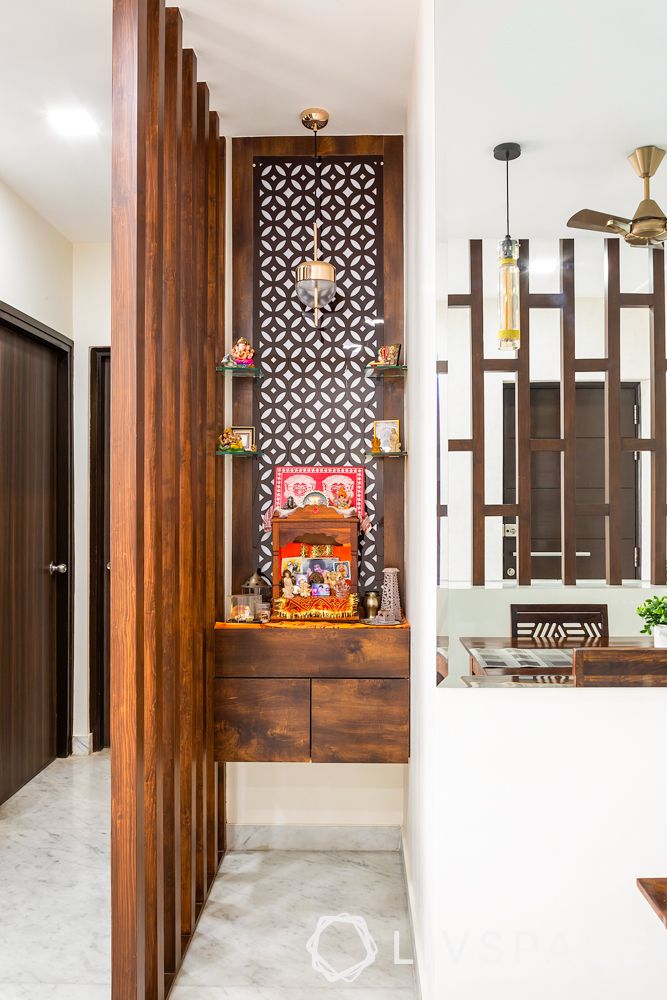 What we love: Have you ever seen a mandir unit that takes up so little space? A pooja unit in a niche is perfect for small apartments. This makes it to the list of best pooja room designs for one big reason — the partition. The wooden partition maintains design continuity with the mandir while also providing some privacy.
#6: A Pooja Room With a Collapsible Partition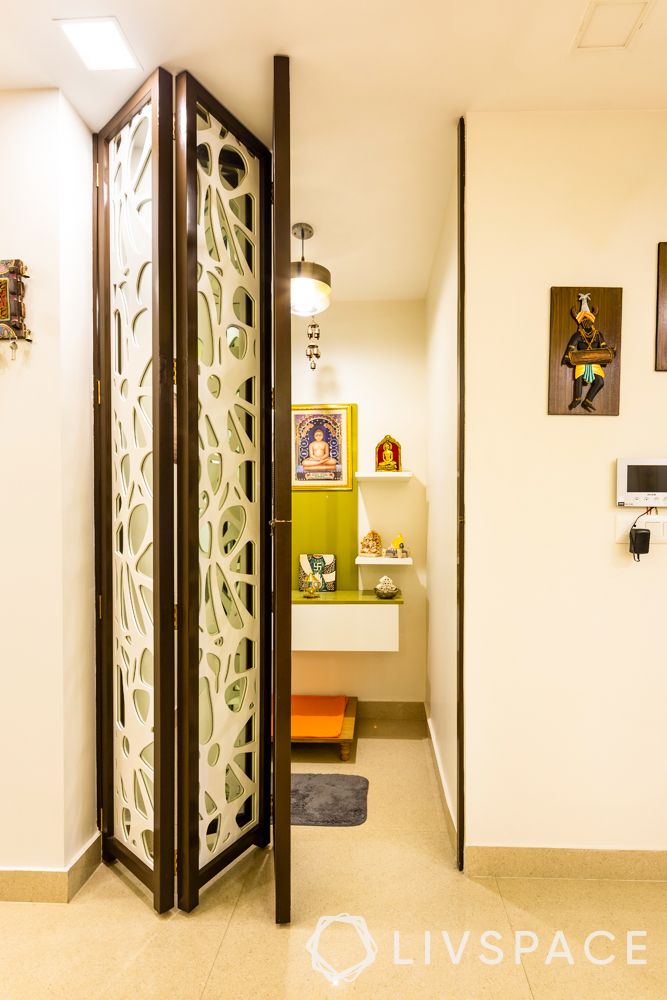 What we love: The collapsible partition ensures absolute privacy while the jaali design adds a desi touch. This pooja room design is perfect for homeowners who want a private pooja room but don't have the space for a door.
#7: A Wooden Pooja Room Will Always be a Winner!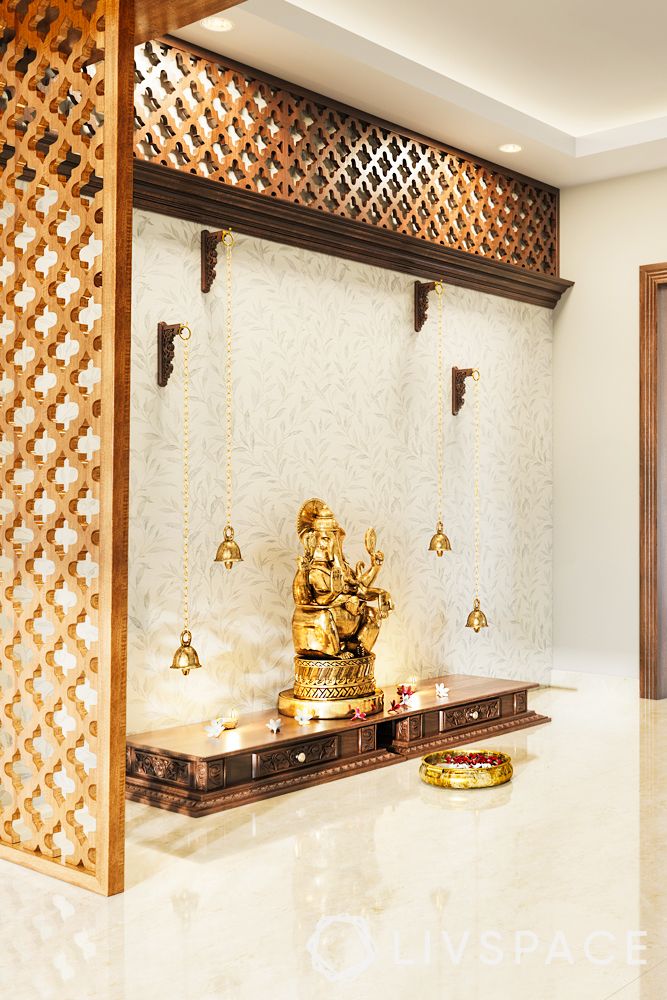 What we love: Wooden pooja room designs usually look quite traditional but we love the modern design of this one. The sleek and intricate jaali design gives this unit a minimal and elegant look. Hanging bells add an aura of divinity.
#8: A Pristine White Mandir Unit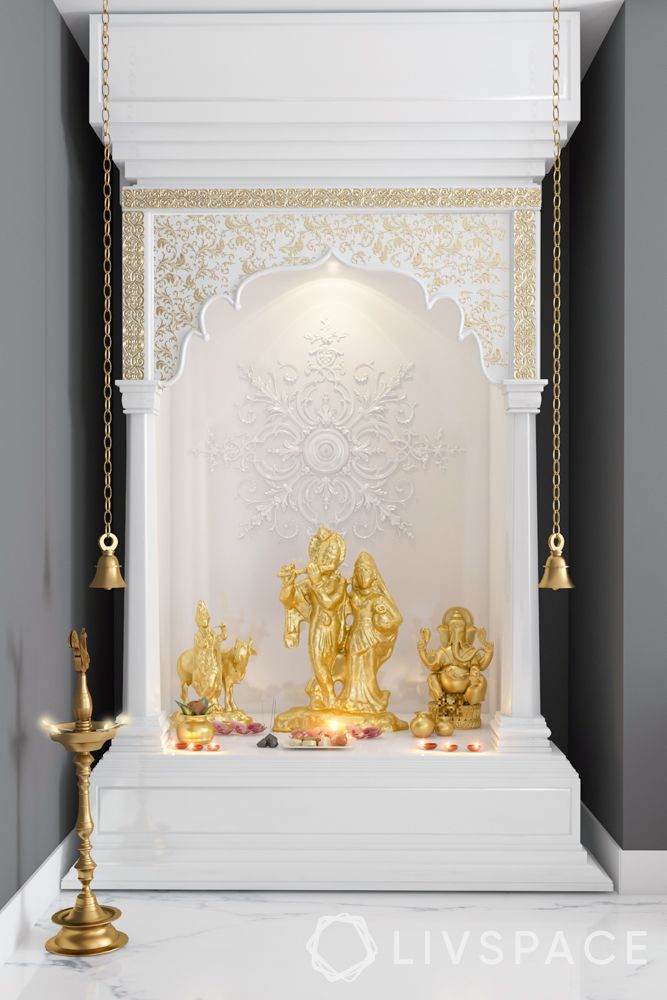 What we love: Pearly white pooja rooms attract positive energy and this one is as divine as it gets! This pure white mandir design for home with intricate gold mouldings and glitter enhance the design while keeping the entire look classic.
#9: Wall-mounted Pooja Units That are Perfect for Small Apartments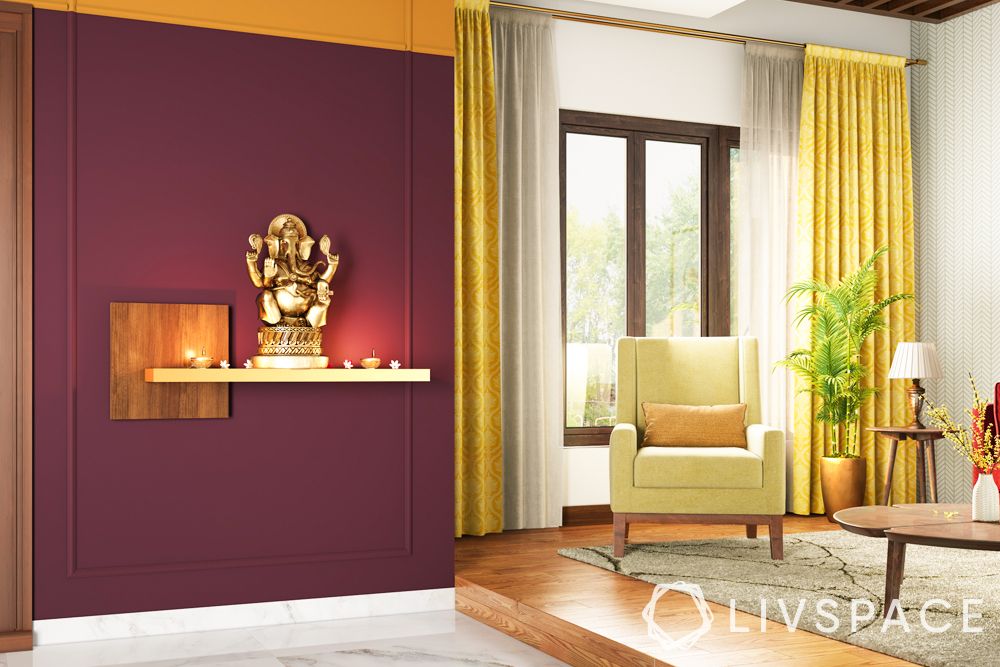 What we love: Space should never be a concern in getting the mandir unit of your dreams! This sleek wall-mounted pooja unit is the best solution for small apartments where there is no extra space for a pooja room. We love how the burgundy accent wall makes the gold mandir unit pop.
#10: A Separate Space for Your Pooja Room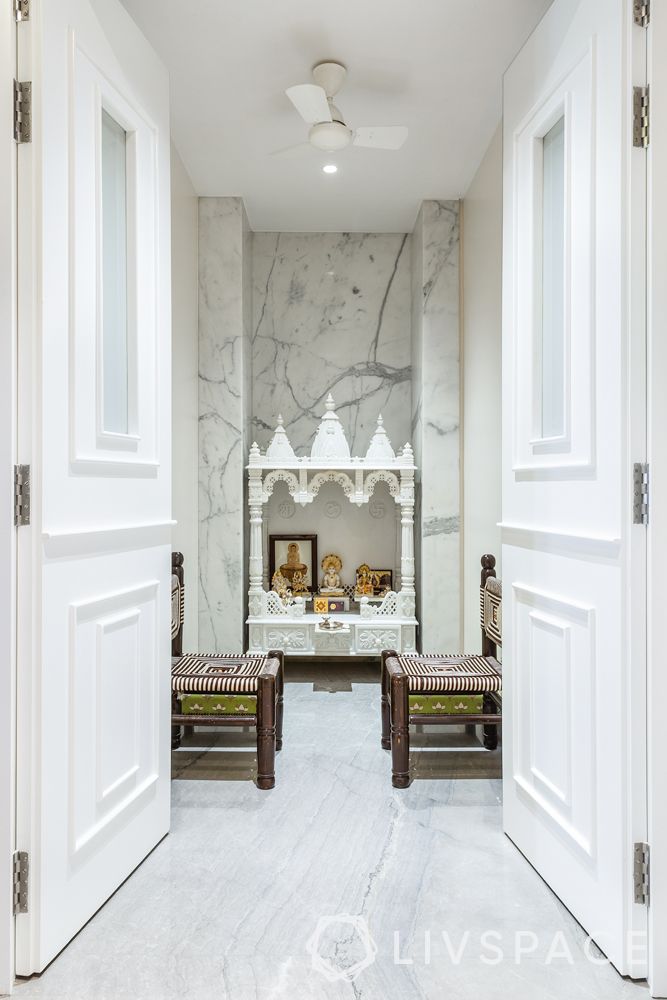 What we love: Some of us are lucky enough to have a separate space for a pooja room. This pristine white mandir is classy, traditional and elegant. If you have a separate pooja room, ensure you have a set of doors, which is a vastu mandate for pooja room designs.
#11: Mandir Unit in the Vastu-approved Colour Green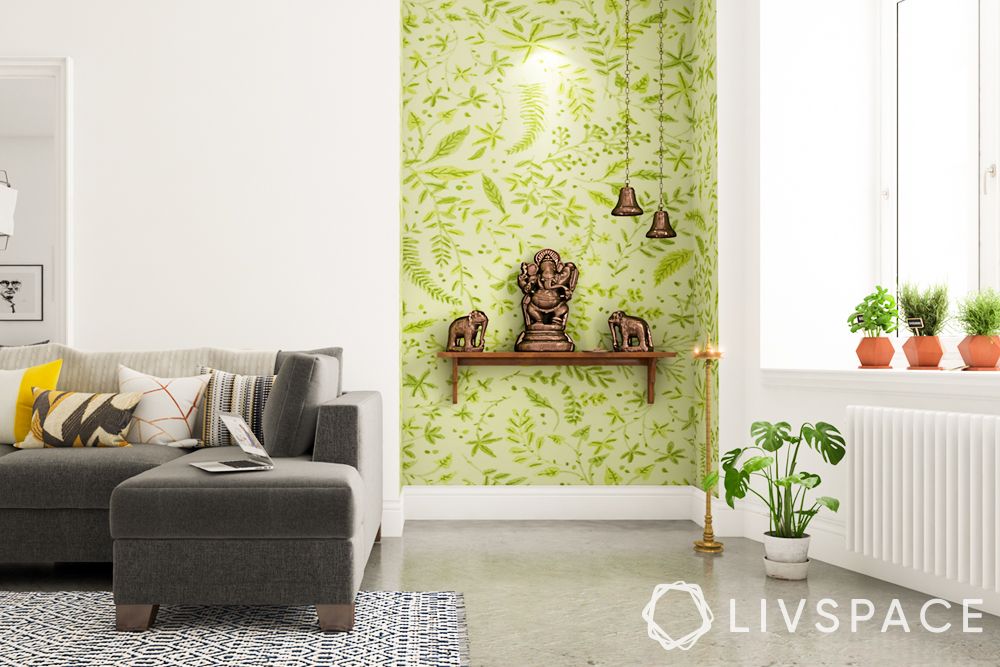 What we love: Green symbolises life, nature and harmony. Moreover, green is a vastu-approved colour for the pooja room. The soothing green wallpaper creates a peaceful aura around this home temple design. The addition of plants adds to the look.
#12: Minimal Pooja Room Designs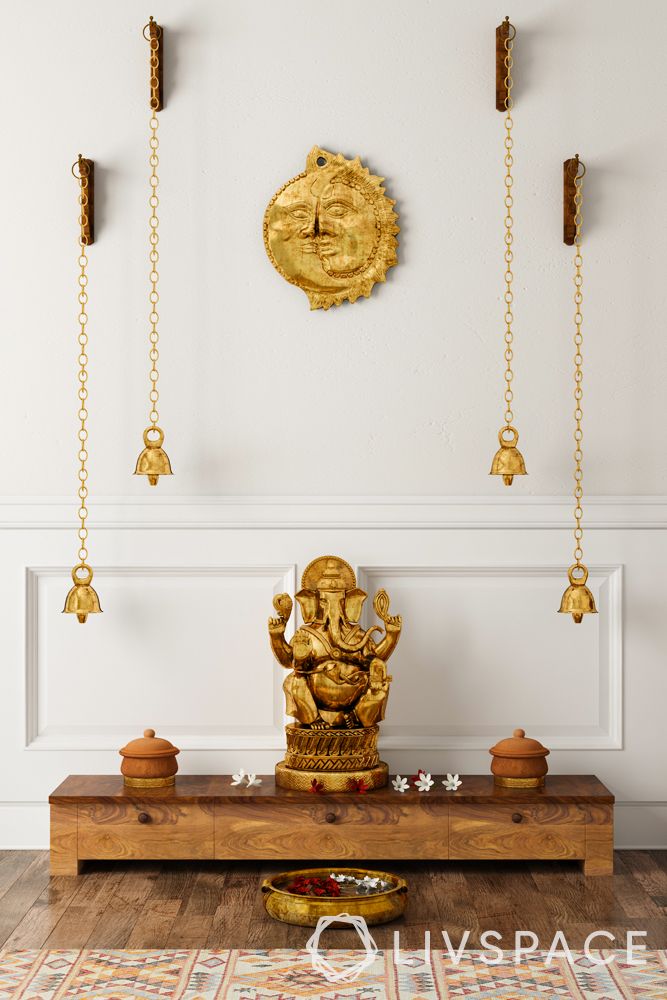 What we love: Minimal pooja room designs are all the rage these days! We love that this simple and sleek design can fit in anywhere in your home. While the design in itself is quite minimal, the ornate hanging bells add a temple-like touch.
#13: A Modern Mandir Design for Contemporary Homes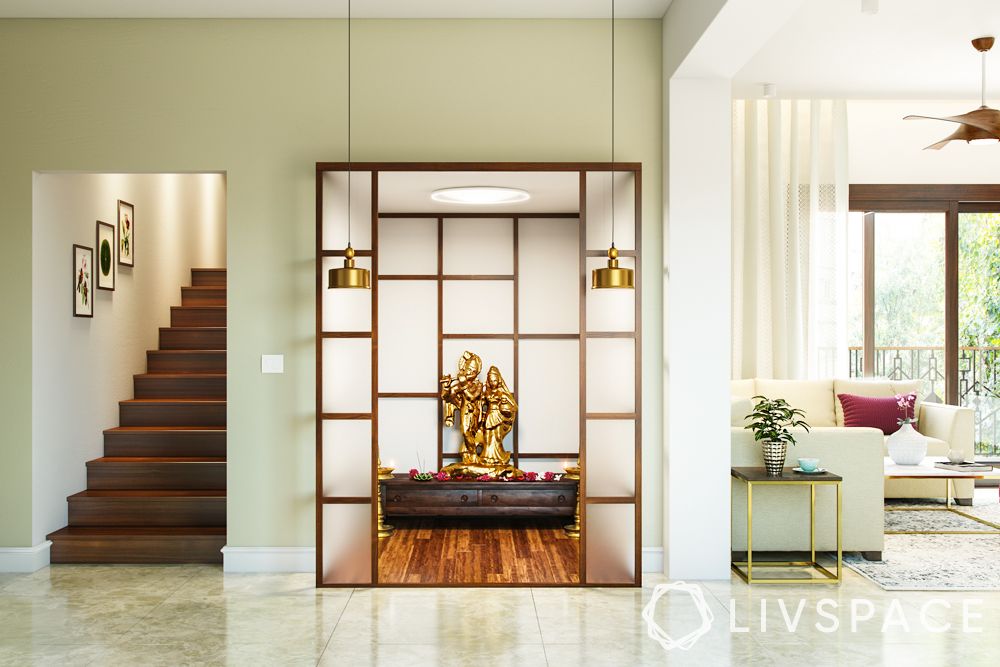 What we love: Most of us live in modern apartments and want a mandir design that fits in with the rest of the home. The glass and grid-like pattern make this a contemporary pooja room design that will look great in urban apartments.
#14: A Marble Pooja Room That is Rooted in Tradition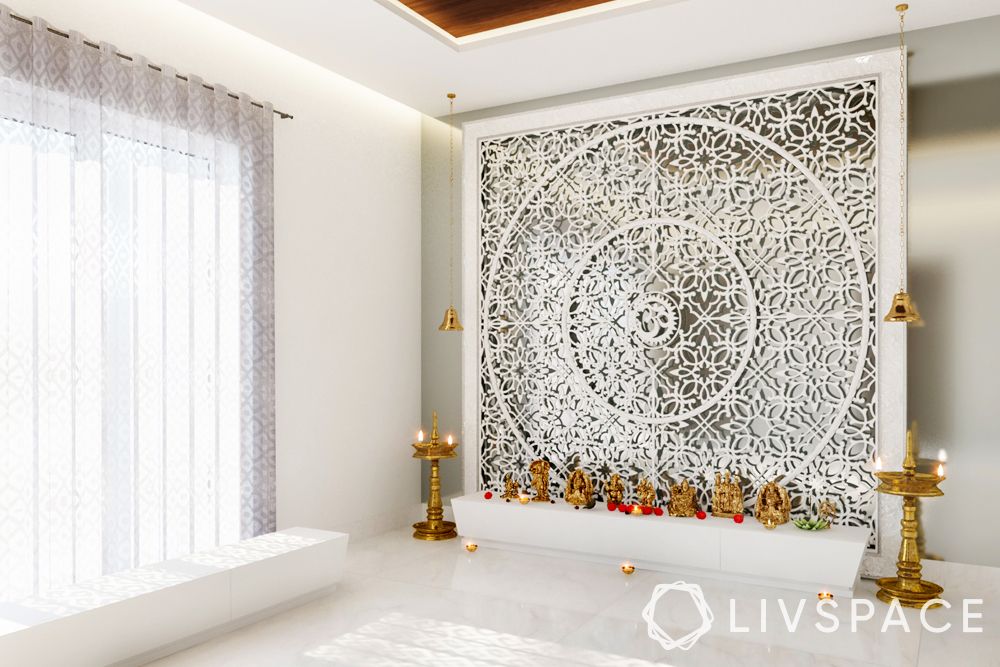 What we love: You can never go wrong with a marble mandir unit! Here, we love how the backdrop, and not the pooja unit, is the star of the show. The intricate jaali backdrop with 'Om' etched on it looks perfect with the minimal marble pooja counter and frame.
#15: The One Reminiscent of a Temple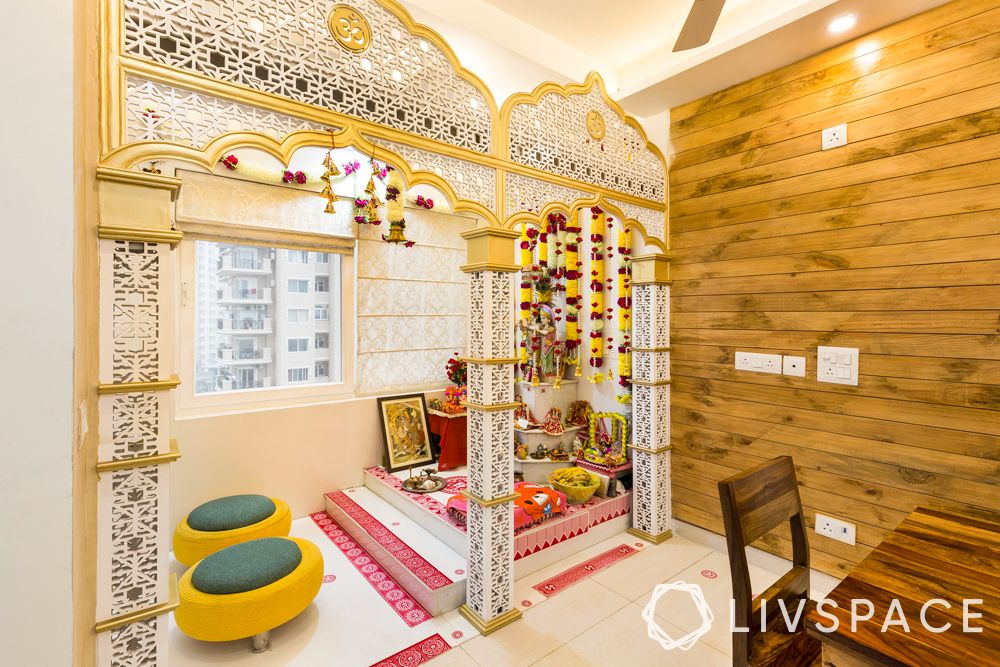 What we love: A home temple design rooted in tradition, this mandir is for those who love all things traditional. While the jaali doorway makes this pooja room look like a grand temple, the floral decor just adds to the beauty. Also, notice the unique low seating tools.
#16: A Mandir Unit With Kashmiri Motifs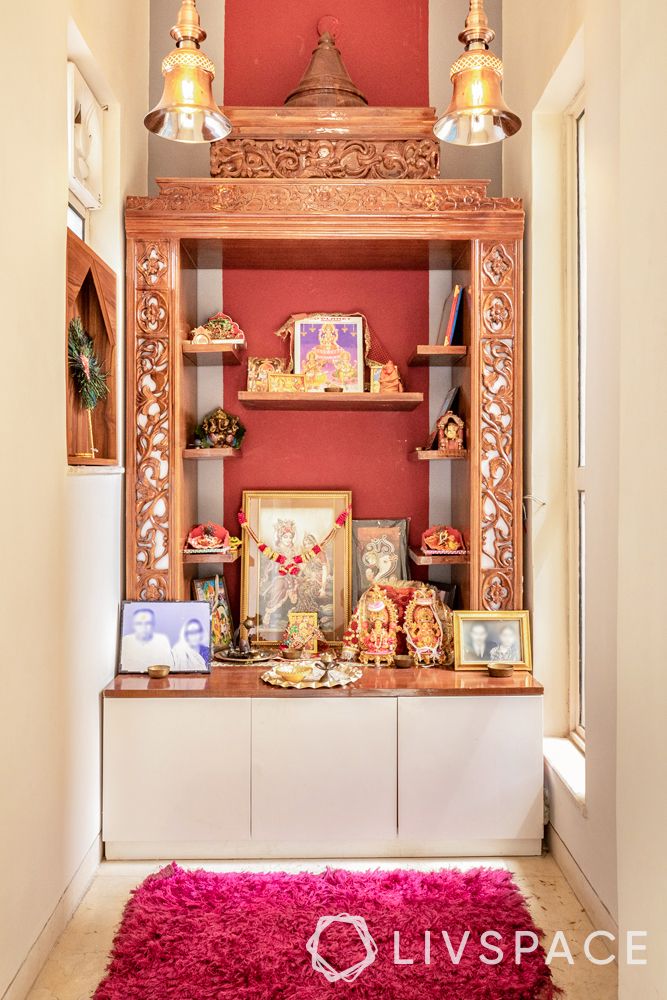 What we love: We showed you a South Indian-style temple and now it's time for a gorgeous Kashmiri design! This is one of our favourite pooja room designs as it fits into a corner and takes up minimum space. The Kashmiri-style motifs around the frame are not only unique but also look elegant and refined.
#17: Serene Outdoor Mandir Units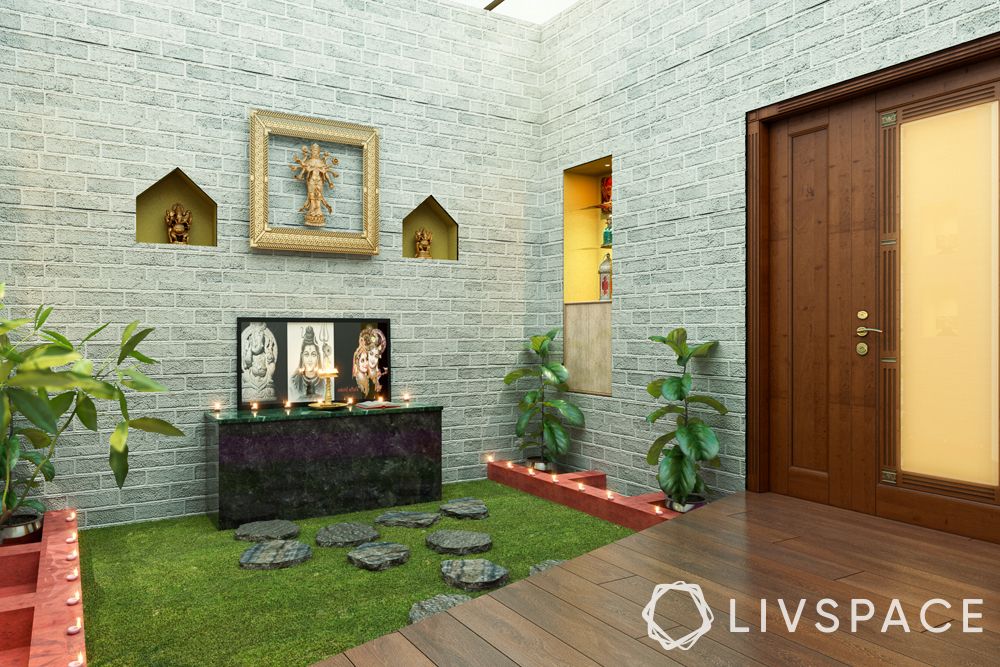 What we love: We can't get over this outdoor mandir unit, something we have rarely come across! While the pooja unit is quite simple, the surrounding stone walls with niches, greenery and cobblestones create a zen aura.
#18: A Pooja Unit in the Kitchen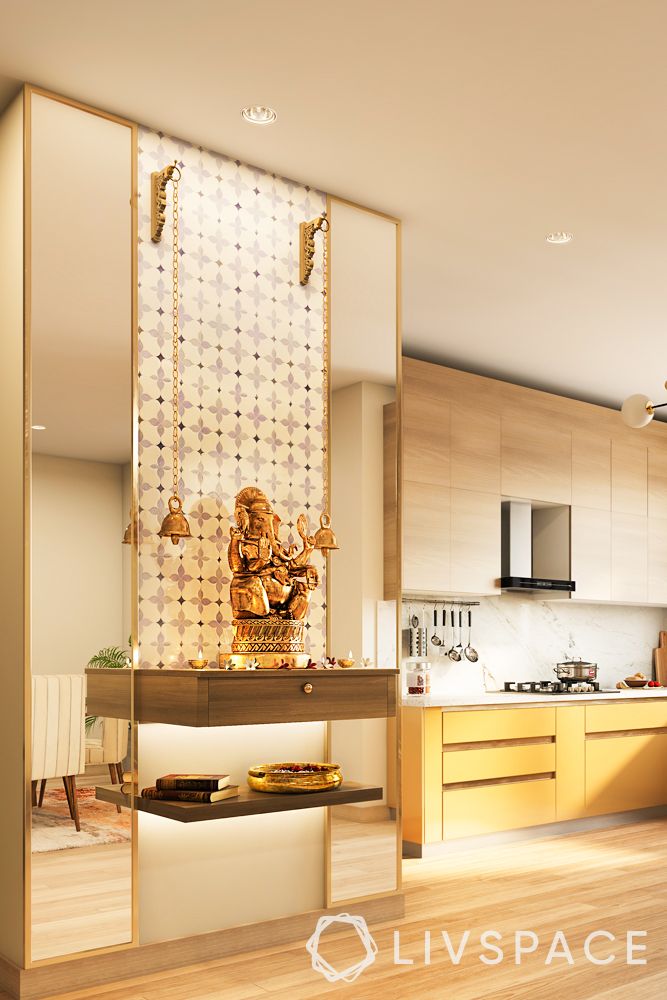 What we love: Pooja room designs that are meant for the kitchen are not a very common sight. But believe it or not, vastu rules allow placing your pooja unit in the kitchen. The special thing about this pooja unit is how it blends in with the rest of the kitchen, the colour palette matching the upper cabinets. The side mirrors not only add to the aesthetics but also make the space look bigger.
#19: Home Temple Design With an Ornate Set of Doors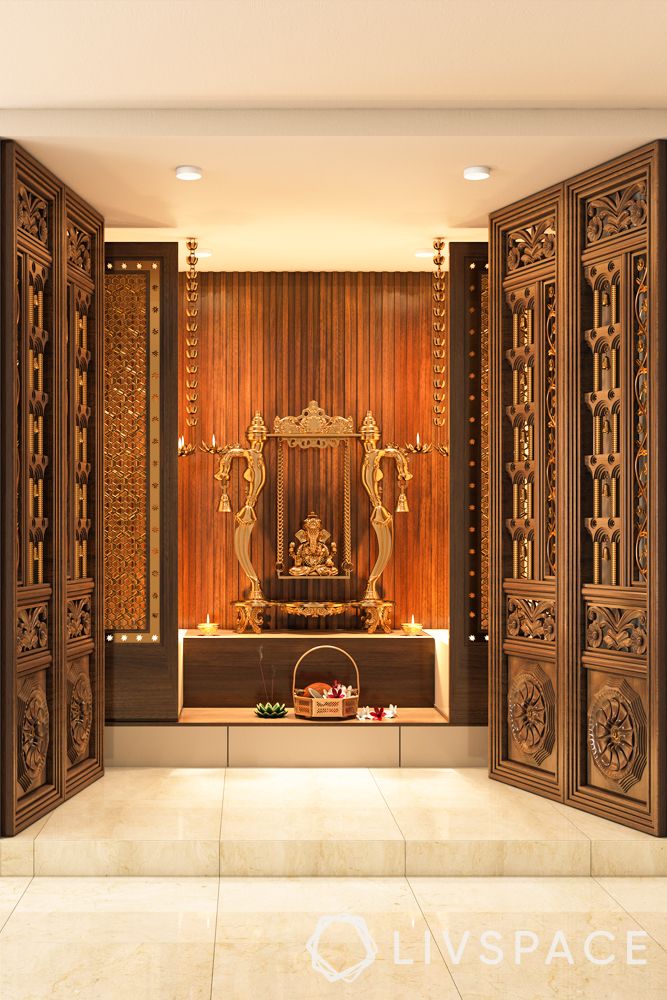 What we love: As per vastu, your home temple design needs a door to maintain privacy and keep out impurities. This mandir door design is intricate and captivating! The double set of doors ensures the sacred space remains private. The ornate designs are reminiscent of traditional Indian temples.
#20: A Pooja Unit That Doubles as a Display Shelf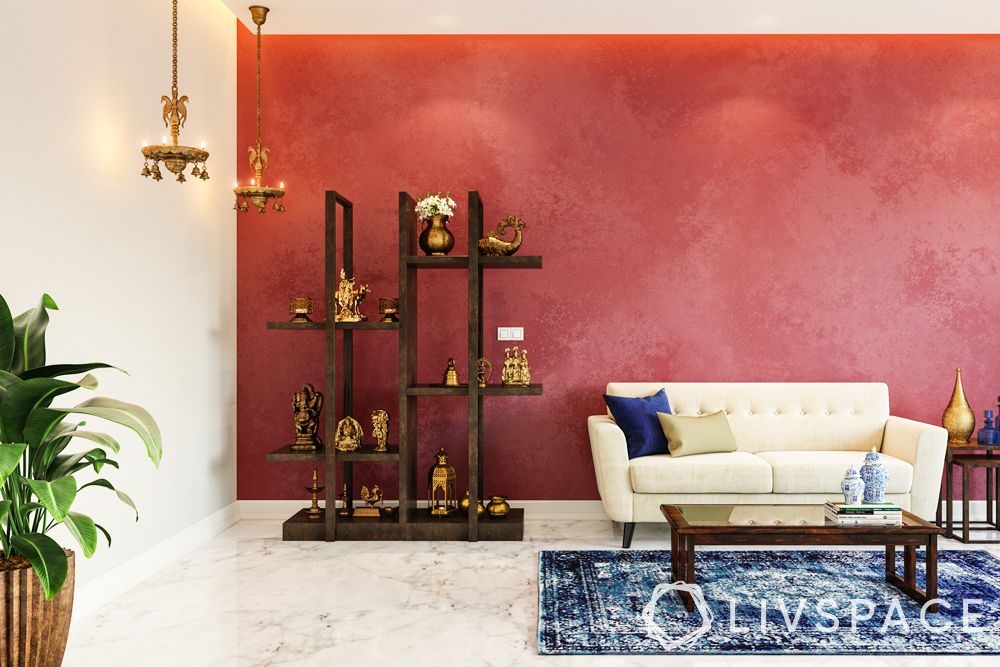 What we love: It's amazing what can be achieved when good design meets smart solutions! This unit is actually a display shelf. However, instead of just using it for displaying your mementoes, you can also use all or part of it as a mandir unit. Such pooja room designs are a very effective solution for compact apartments.
#21: A Mandir Unit With Storage for the Holy Samagri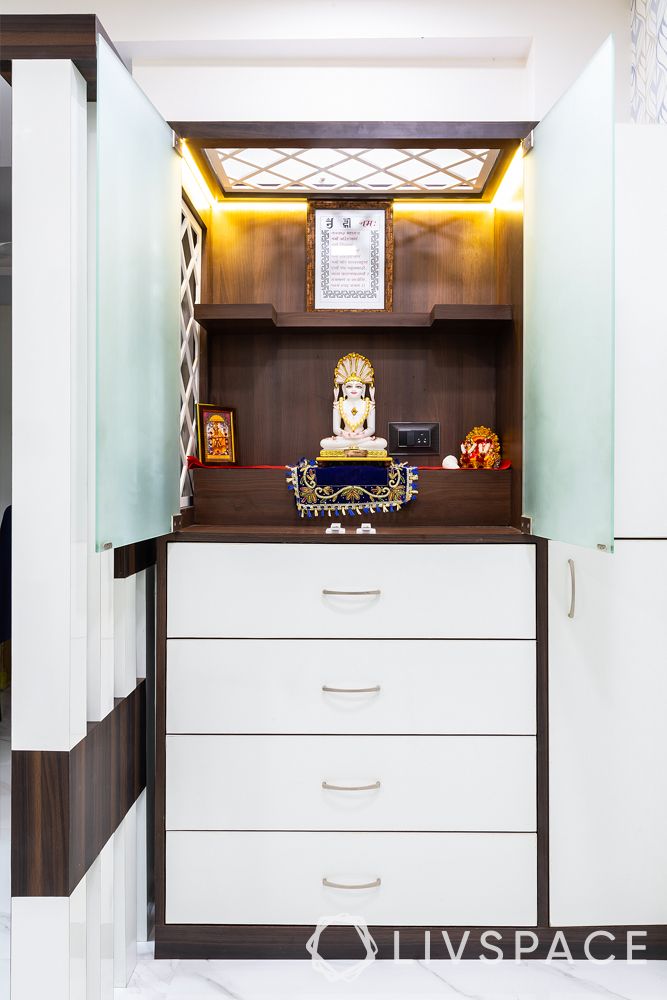 What we love: This modern mandir design comes with ample storage to store all the samagri and the frosted-glass shutters ensure privacy. However, the genius of the design is the jaali on the sides and top, which allow the fumes of the akhandjyoth to escape and not get trapped in the interiors.
#22: A Highly Customised Pooja Unit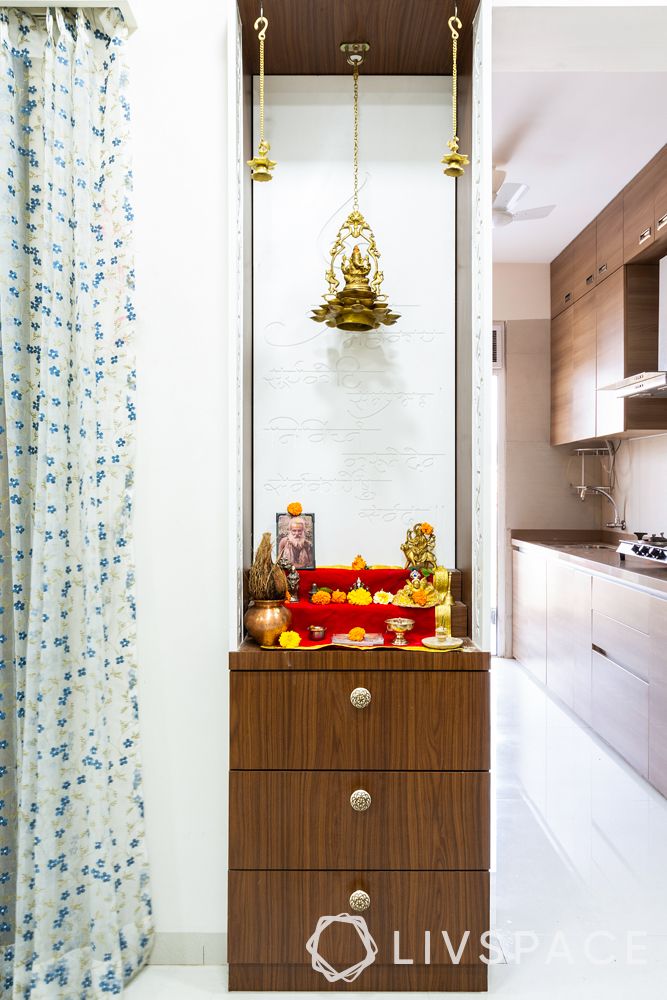 What we love: This sleek mandir unit is part of a Mumbai home that is only 500 sq. ft. big. In order to make the most of the compact space, our designer had to completely customise the design. A kitchen wall was knocked off to create a niche for this unit. Also, the vertical height ensured that the mandir ceiling reached the beam on top, which was required to hang the heavy Tibetan brass lamp.
These were the top pooja room designs of the year, and we hope they inspired you! If you want to look at more mandir unit designs, check out these 35+ serene pooja room designs.
How Can Livspace Help You?
We hope you found our ideas useful! If you want beautiful interiors for your home, then look no further. Book an online consultation with Livspace today. Delivering safe home interiors has been our No. 1 priority. Click here to find out how interiors are being delivered following all safety protocols.
Wondering how our customers feel about working with Livspace? You can check out the Livspace reviews here!
We love hearing from you! Write to us with your comments and suggestions at editor@livspace.com