There are a plethora of pooja room designs in the market today, each prettier than the last. But to channel warm undertones and bring in a bit of nature to this spiritual area, there's no material better than wood. Whether you're going for an elaborate wooden temple structure or just converting a small niche into a prayer nook, wood is an ergonomic and functional way to check all the right boxes in your design wish list.
Wooden Temple Idea #1: A Jaali Structure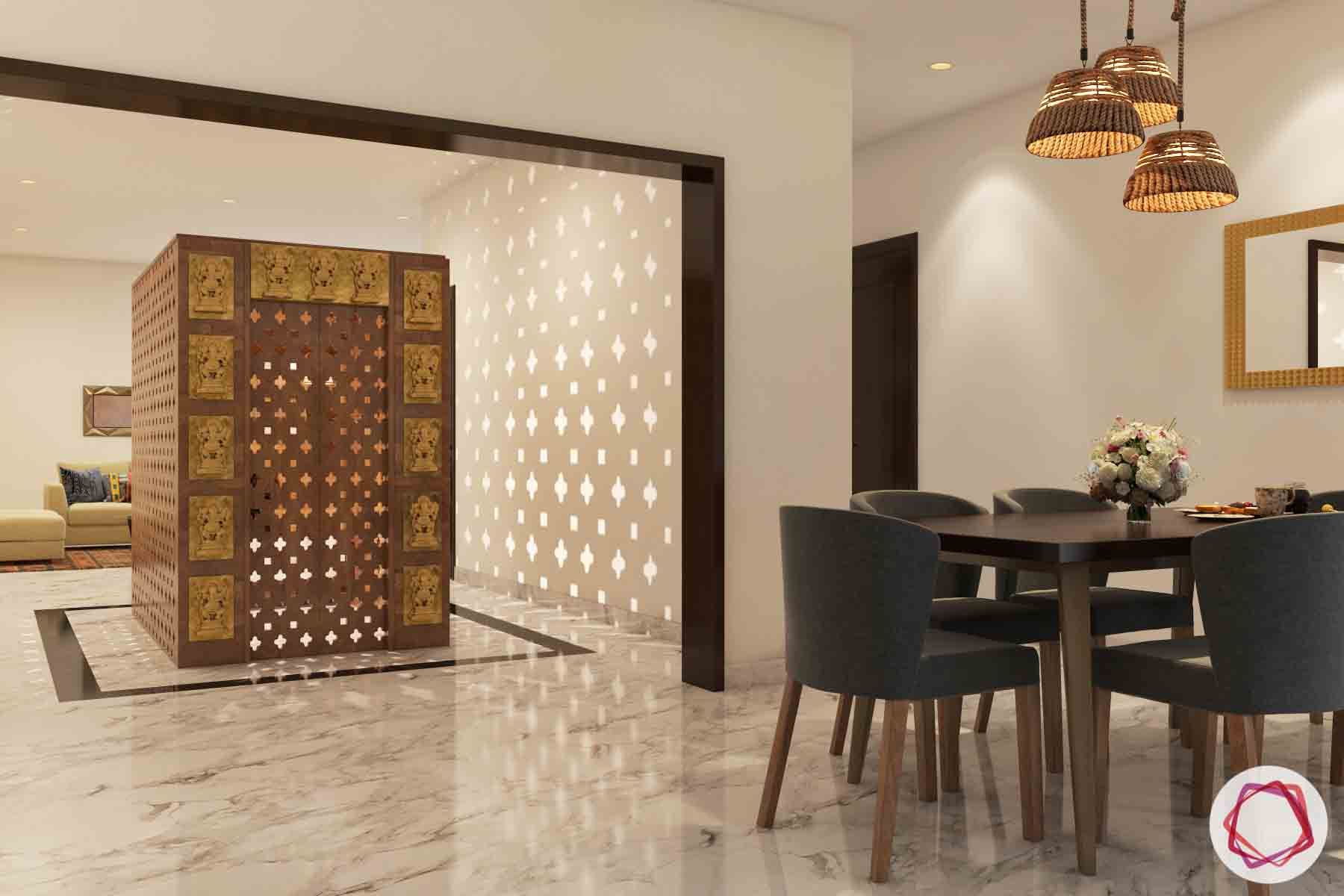 To section off the pooja room without making the space cramped, a wooden jaali is ideal. It also adds a decorative feature to the room that doesn't take away from the functionality but draws the eye. Consider matching the colour of the wood to the other furniture in the home for an overall cohesive look.
Wooden Temple Idea #2: A Wooden Entrance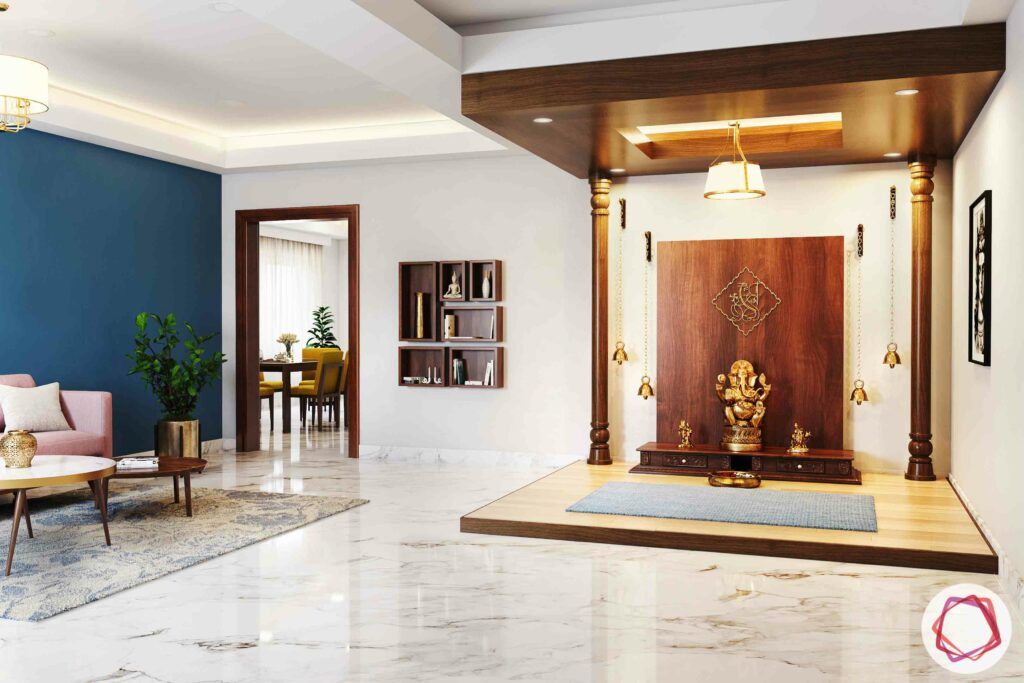 To really make your pooja room look like a wooden temple, consider fitting an entrance arch and frame made of wood. Even without a door, this entrance arch sections off the nook from the rest of the space its in. It also adds interest to the visual height and draws focus to the prayer setup in the centre. Your wooden entrance can be solid or can incorporate patterns like a jaali for more intricacy.
Wooden Temple Idea #3: A Makeshift Temple Room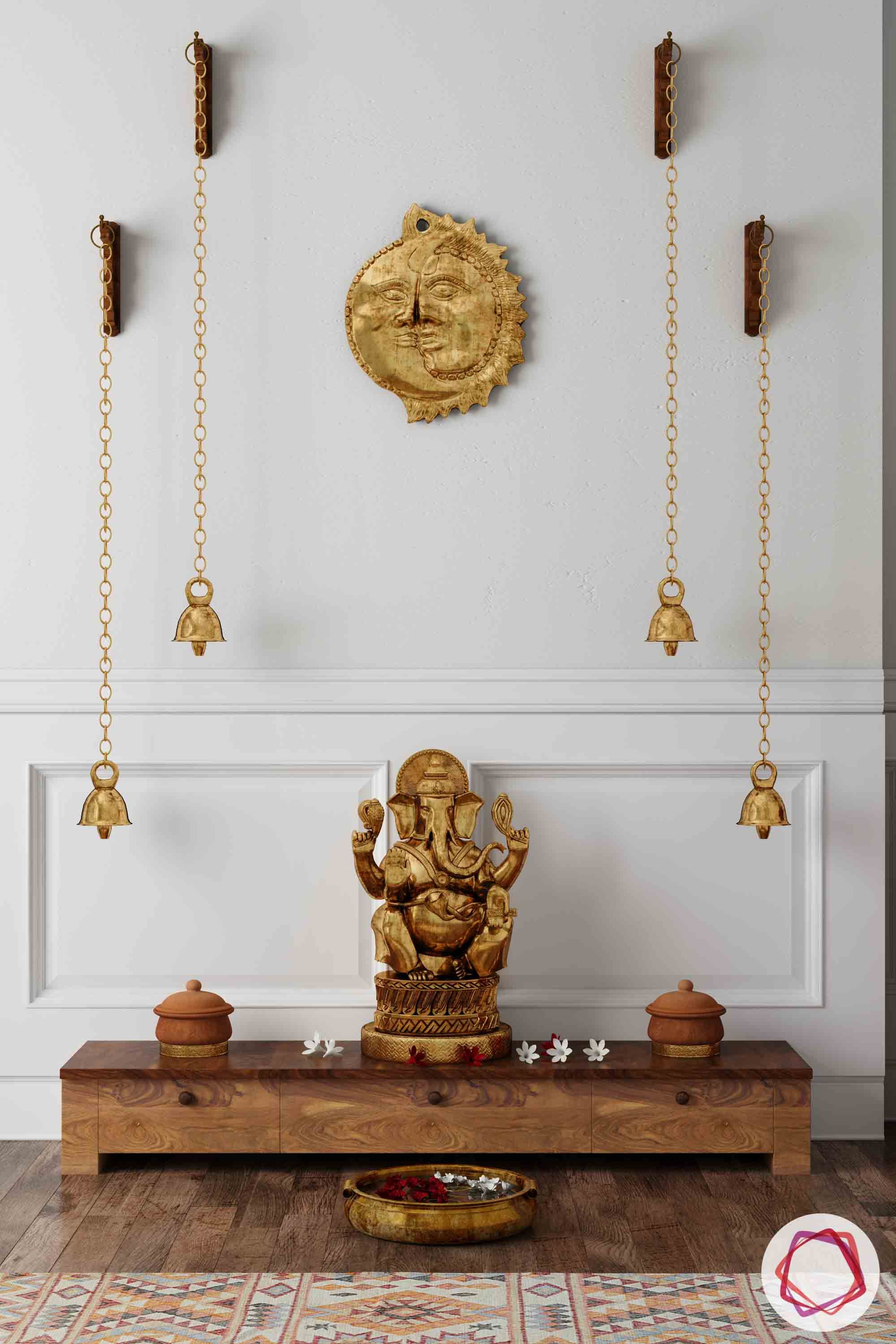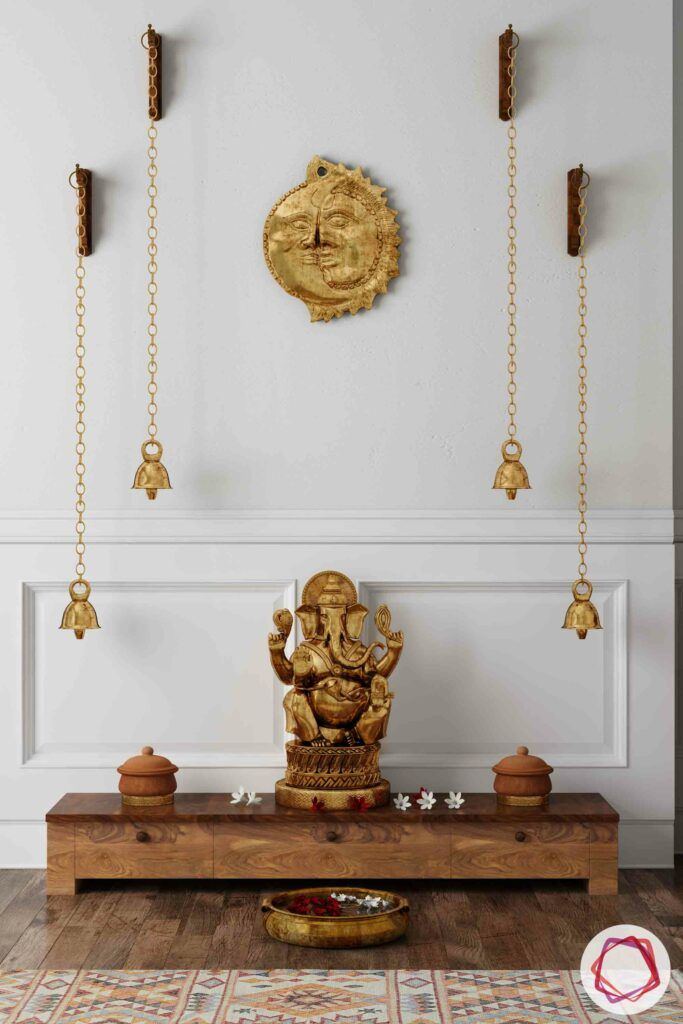 If your home doesn't come with a pre-designed pooja room or niche, don't fret. you can easily create a wooden temple room by using wood panels to cut off one section of a room exclusively for this purpose. This actually gives you more control over the design, size and depth of the pooja room, unlike pre-built niches where you have to make do with what's given!
Wooden Temple Idea #4: With Glass Doors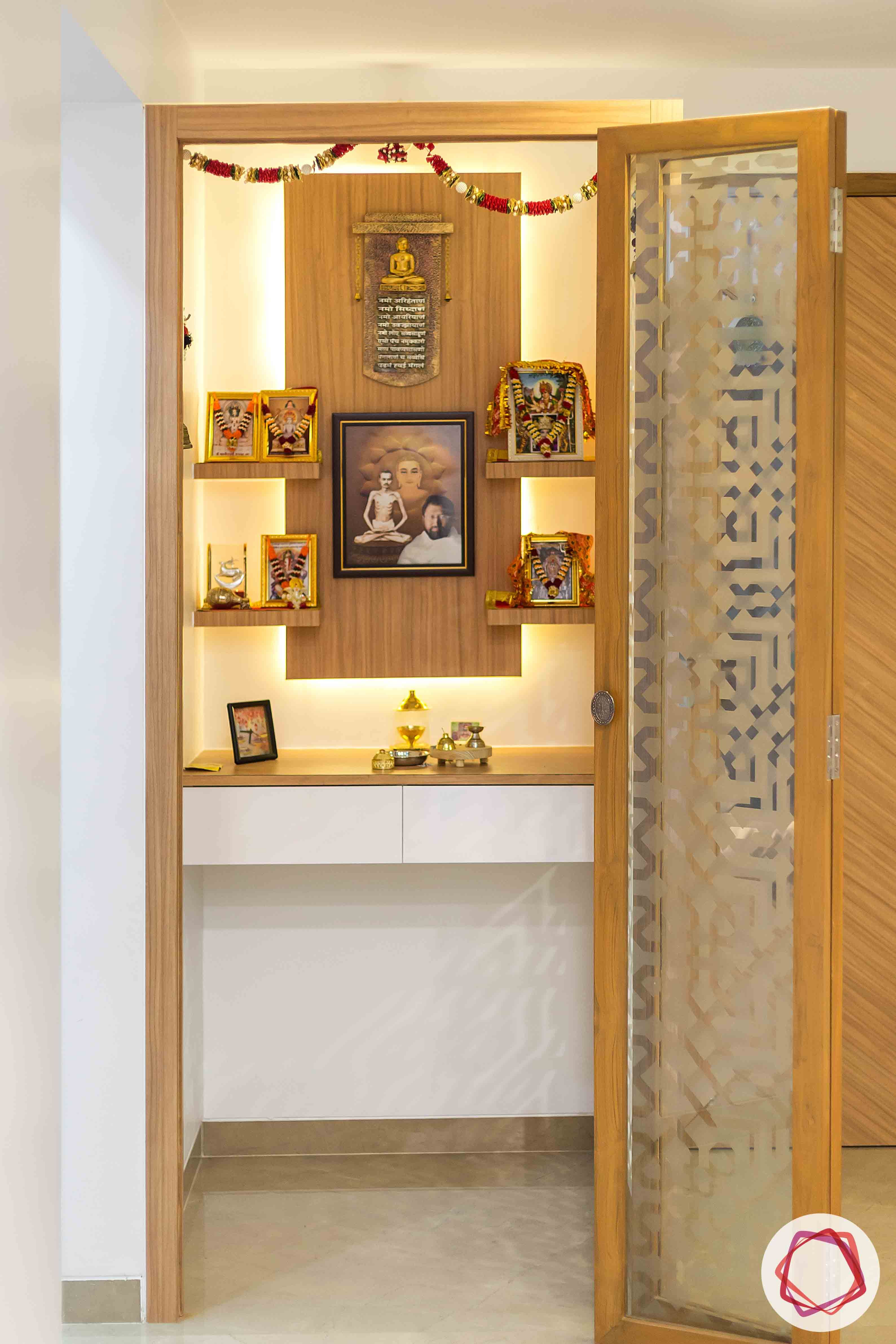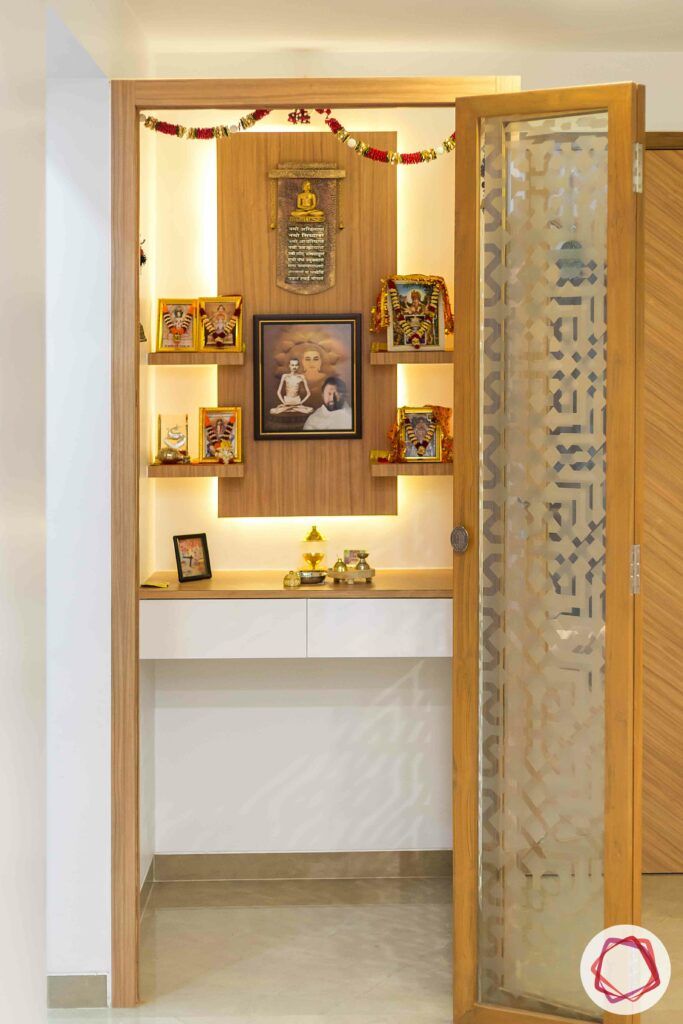 If you want your pooja room to function as a closed space, perhaps for meditation or time alone, consider adding glass doors to the frame. This is quite similar to the wooden temple doors in large-scale temple complexes. It separates the spiritual area from the rest of the home, making it a private and cosy space. This is a crafty trick for pooja rooms in loud or busy households as it also indicates when the room is in use or not to be used!
Wooden Temple Idea #5: An Elaborate Mantap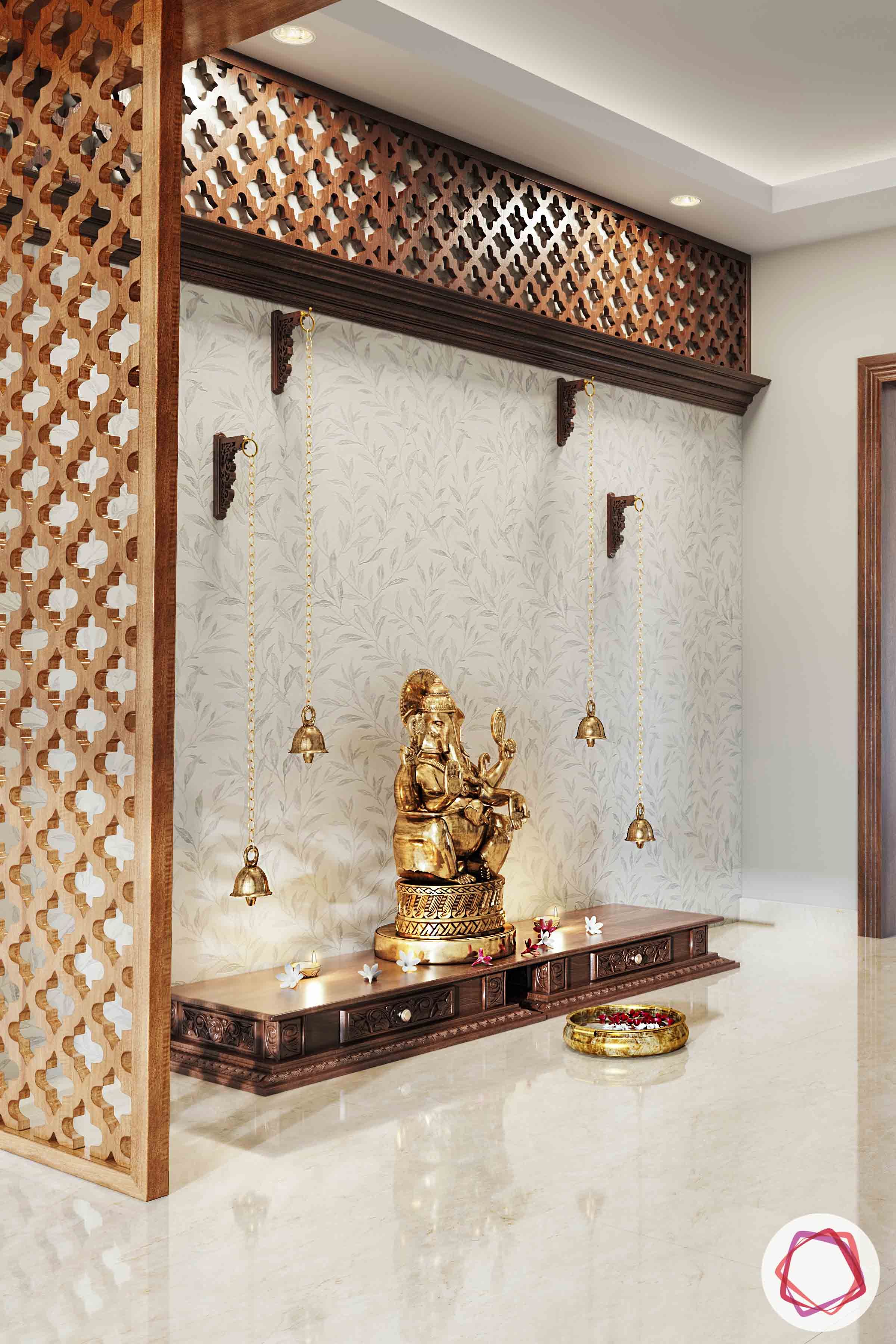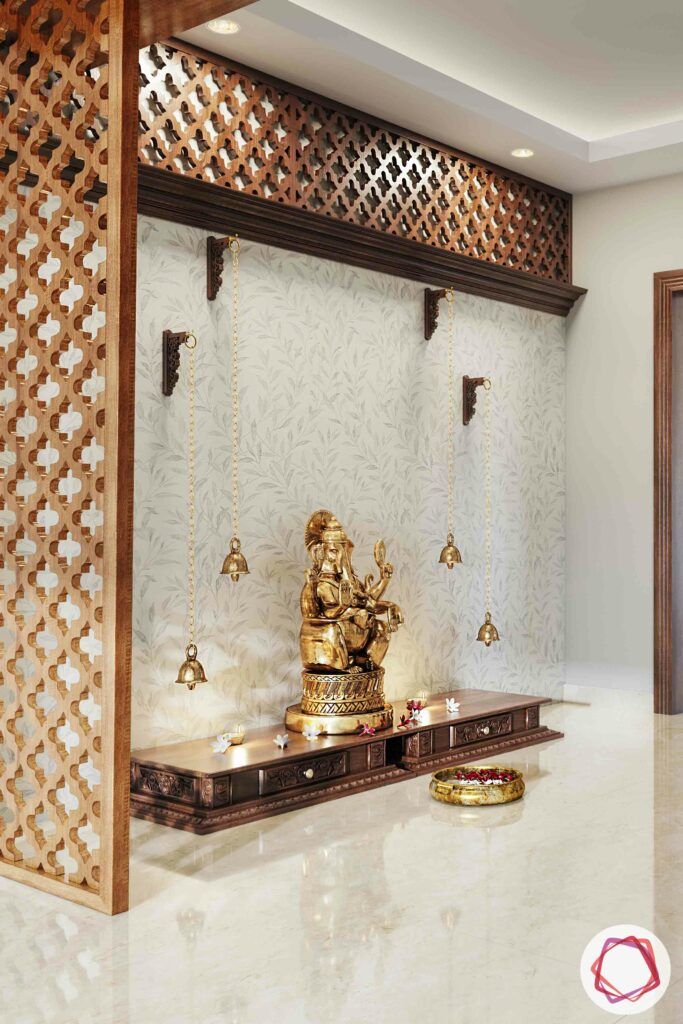 This tip is perfect for homes without a pooja niche or homes with deep niches and room to play. Subsequently, you can install an elaborate wooden temple mantap to up the ante on grandeur. Since wood is a more cost-effective option than, say, marble or granite. A wooden mantap will match their scale but without breaking the bank. You can choose to carve designs out of the wood or using the wood, like lattices, jaalis and pillars. If your mantap is a simple one, it's easily bedecked with bells and handles in gold, which matches well with wood of any tone.
The next time you think of re-designing your pooja corner or making a new one, use these wooden temple ideas to channel warmth and peace without compromising on grandeur and style.
Take a look at this too: 6 Pretty Mandir Designs for Your Home.
Send in your comments and suggestions.
— editor@livspace.com