Prayer and faith are part of an extremely personal journey. Agree? But, the space constraint in our homes prevents us from having a traditional pooja room to facilitate spiritual growth. However, we say all you need is a small nook or room to accommodate a traditional design. Don't believe us? Take a look at these top traditional pooja mandir designs from Livspace homes.
#1: Pooja Mandir design with wooden carvings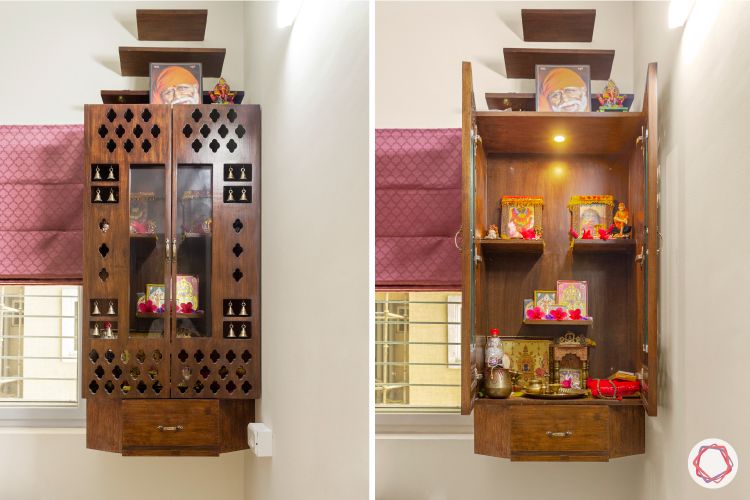 Indian pooja mandir designs commonly have wooden carvings on the door. These intricately chiselled spaces on the pooja mandir door give you a sneak peek into the mandir, without compromising on privacy. Additionally, it allows for the divine fragrance of the incense sticks or cones to waft into the house, or the glow of the lamp to light up the space. In these pooja room images, there are two types of wooden carving designs to give the space an extra dimension.
#2: Temple Bells for a Traditional Mandir at Home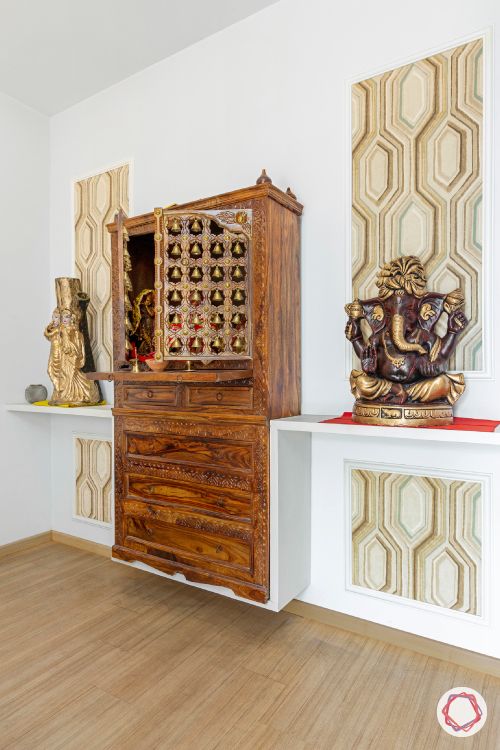 Any temple in India, big or small, will feature at least one towering bell in front of the main deity. When little bells are introduced in a pooja unit design, it adds a divine touch to the mandir, and makes you fondly reminisce about your favourite temple. In these pooja room images, the combination of stained wood, brass bells and sculptures enhance the aesthetic appeal of your home.
#3: Om Inlay With Backlighting for Indian Home Mandir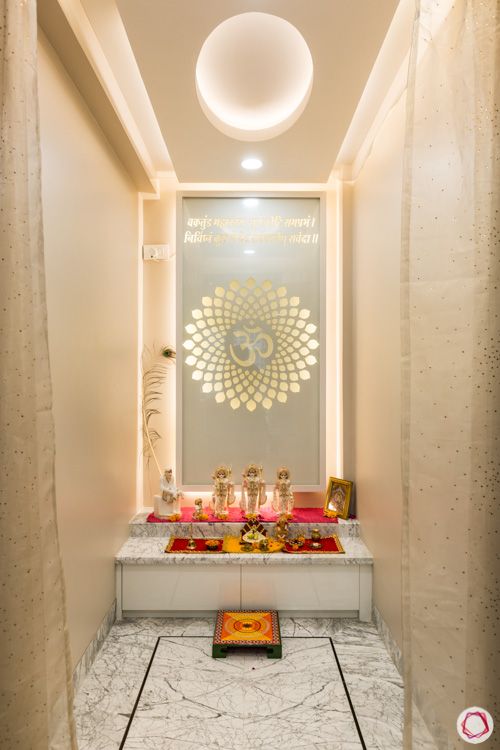 If you are looking for pooja mandir designs for home that can also transition into warm and meditative spaces, try incorporating an 'Om' inlay. The Om design for mandir on the glass background exudes a calming vibe. While there are several types of inlays for you to choose from, in this case, we have used a golden motif in the middle of an intricate mandala design on a backlit glass panel.
#4: A Customised Marble Pooja Unit for a Plush Look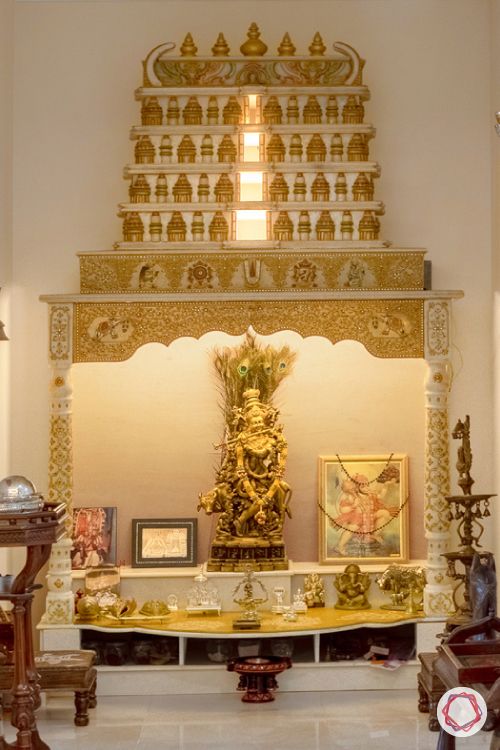 While marble mandir designs are more popular in North Indian homes, they feature in several homes down south as well! The material offers a clean and classic aesthetic and is incredibly easy to clean and maintain. These pooja room images feature a light coloured marble base that enhances the hue of brass statues.
#5: A Pooja Unit Design Made of Rosewood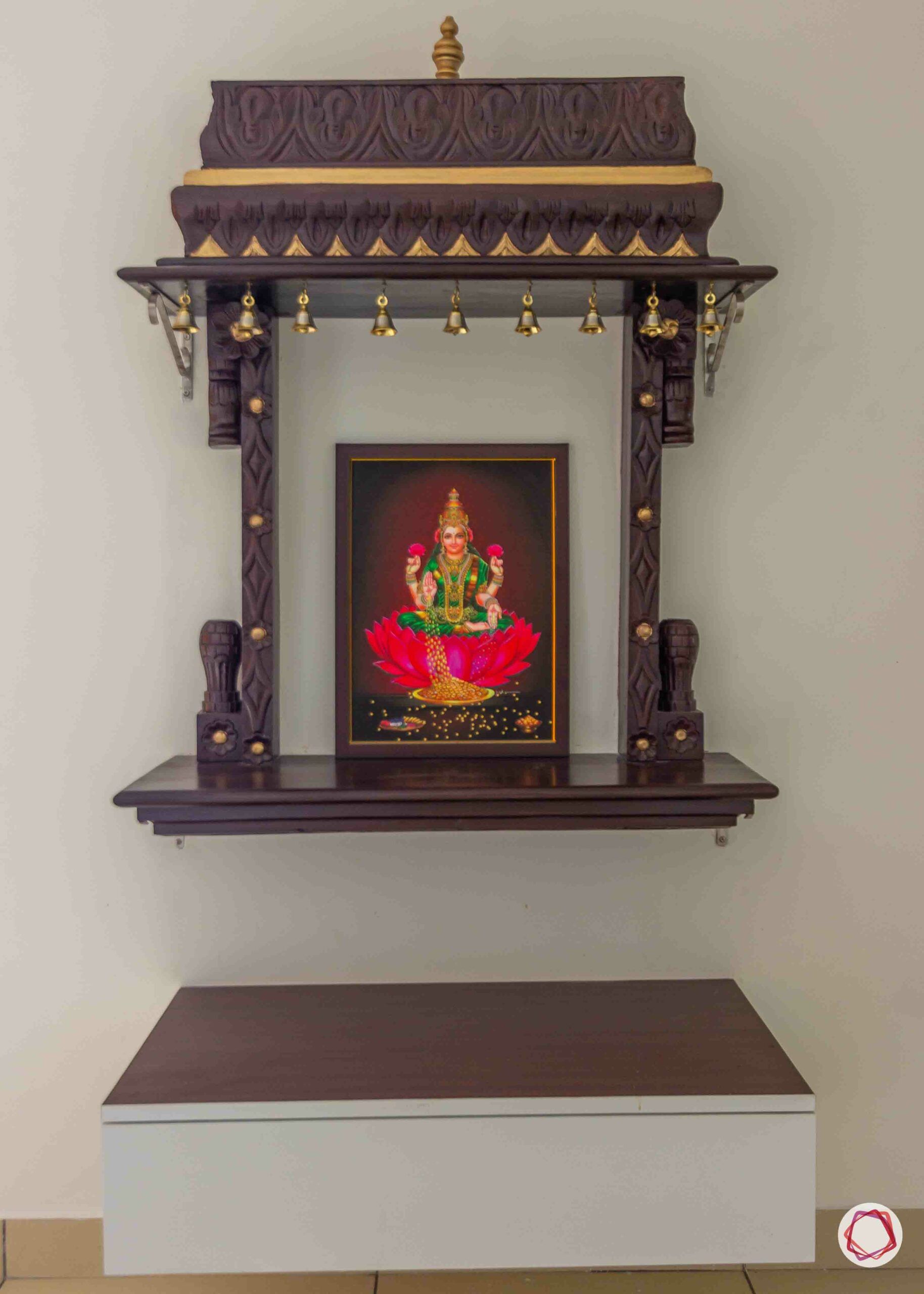 Create a dedicated and open pooja unit by opting for a rosewood mandir. You could enhance the look of your mandir by using intricately carved columns on either side or small brass bells. Take inspiration from this readymade modular pooja room to create a quiet nook for prayers in your home.
#6: A Floating Mandir With Jaali Panels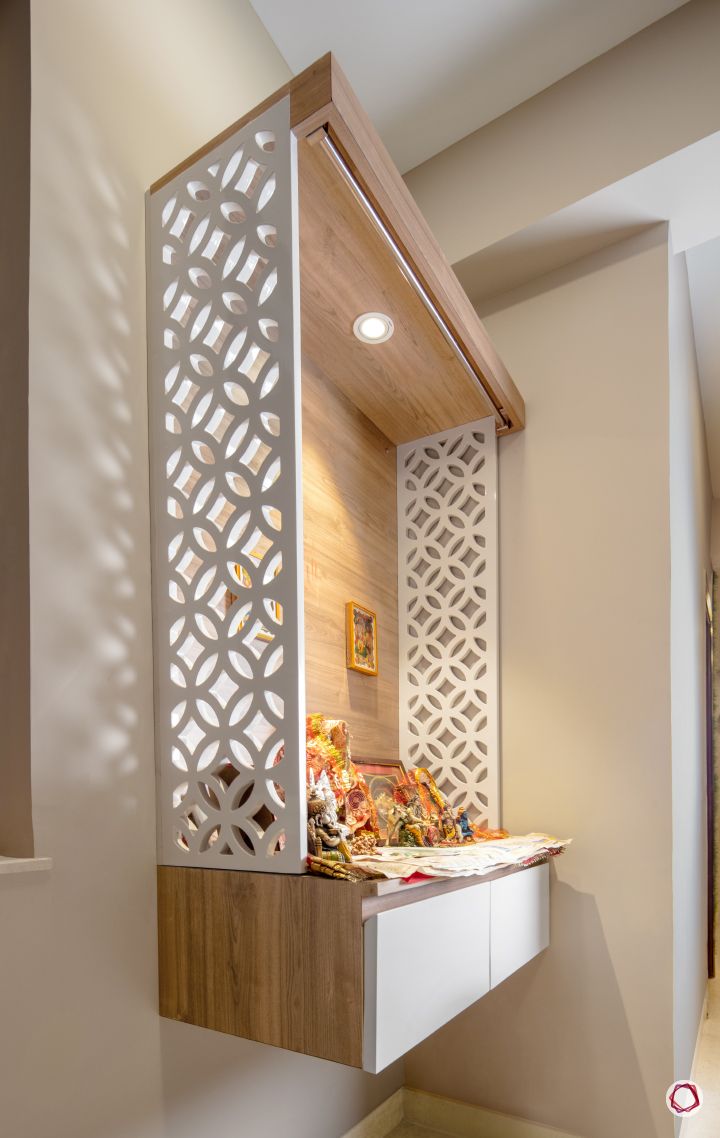 Don't let the lack of space get in the way of ideal mandir designs. You can make the best of your walls by installing a jaali. You can add open shelving to display your religious artifacts. Modular pooja room jaalis are often characterized by carved wooden panels on either side. Make your space appear bigger by opting for lighter colours.
#7: A Completely Carved Pooja Mandir Design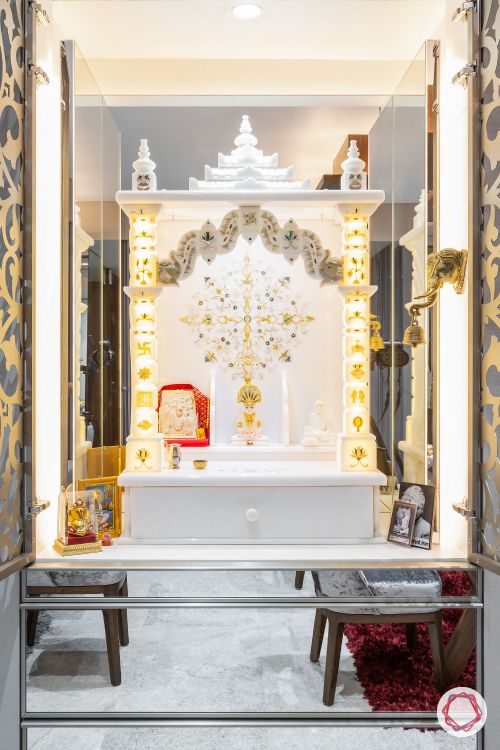 Personalise your prayer corner with intricately carved pooja units. While there are several ready-made options in the market to choose from, you could also get a custom-made mandir. Take a leaf out of these pooja room images and play with the combination of light-coloured carved mandir and deep-toned wallpaper.
How can Livspace help you?
We hope you like our collection. If you want such beautiful designs for your home, then consult the experts at Livspace.
Make your pooja mandir design vastu-complaint as well. Here are the Top 5 Colors That Will Bring Good Vastu Vibes to Your Pooja Rooms.
Send in your comments and suggestions.