Carved wood is unique as it offers a traditional look with contemporary make. It is classic, elegant, and lends itself to intricate artwork gracefully, which makes it ideal for pooja mandir designs. From jaali dividers to borders, here are some inspiring wooden mandir design ideas for your pooja room.
Wooden Mandir Design #1: Carved Jaali With Golden Trims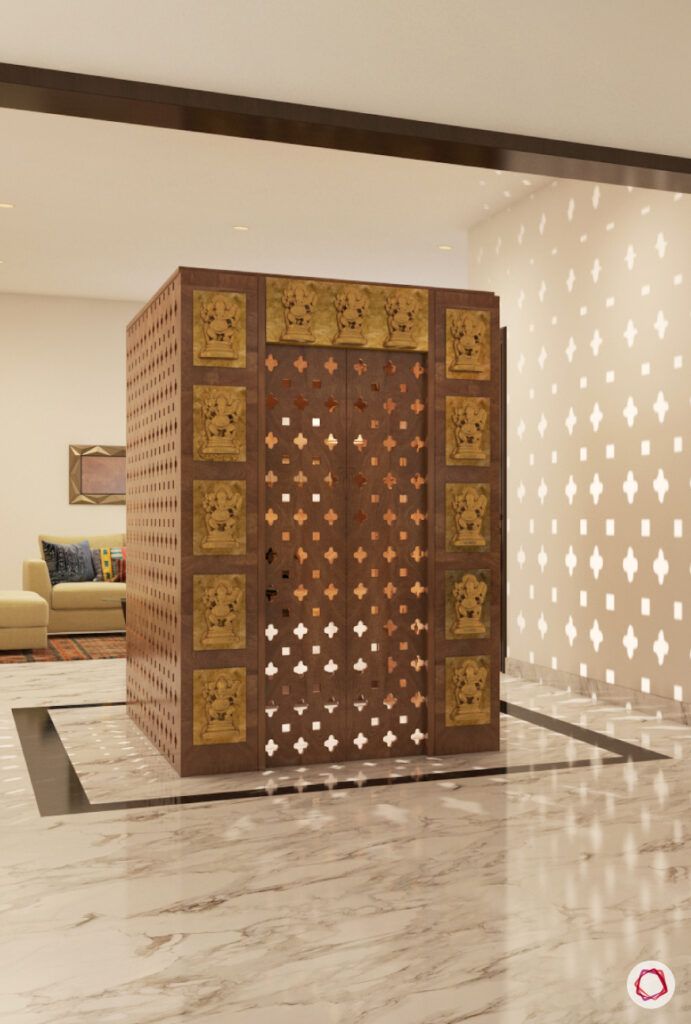 If you don't have a designated room or wall niche for the pooja room, you can use jaali units to create a pooja room enclosure. The carved jaali with golden trims in this #LivspaceHome is reminiscent of the shapes and sculptures we see in temples. The structure creates a private space while also allowing a view of the divine visage. The play of light on the surrounding space is also a visual treat in itself. In addition, this wooden mandir design is easy to move around, as per your convenience.
Wooden Mandir Design #2: Carved Wooden Doors
A classic way to enhance the aesthetic appeal of pooja mandir designs is by fitting it with carved wooden doors, laid with intricate patterns and paneling. The doors serve to contour and define the space, if the pooja room is built into a deep wall niche. The wooden step-style structure and false ceiling complement the doors, creating a homogenous look. You can set up statement yellow lighting and hang up brass metal bells, to emphasize and complete the traditional look.
Wooden Mandir Design #3: Carved Wooden Borders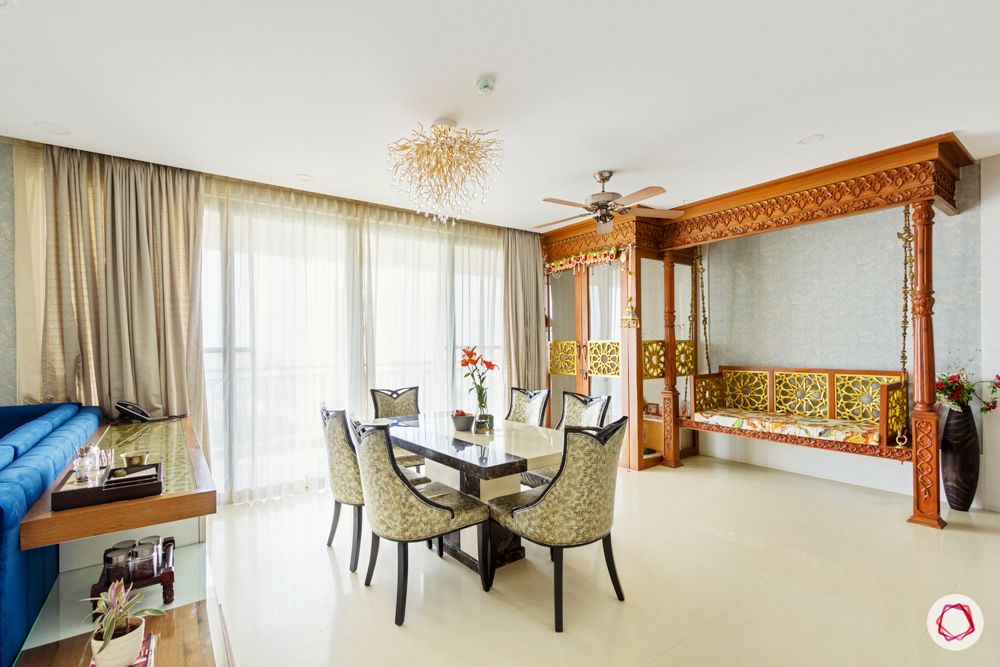 This is an inventive way to fashion your pooja mandir design if you don't have sufficient space for an exclusive pooja room. Carved wooden borders frame and embellish the space, packing both function and form. It is also essential that the wooden borders tie in seamlessly with the design aesthetics of the rest of the room. In this #LivspaceHome, the wooden sofa with traditional pillars and intricate canopy complement the traditional vibe, making way for a space that is cohesive and rich.

Wooden Mandir Design #4: Carved Wooden Partition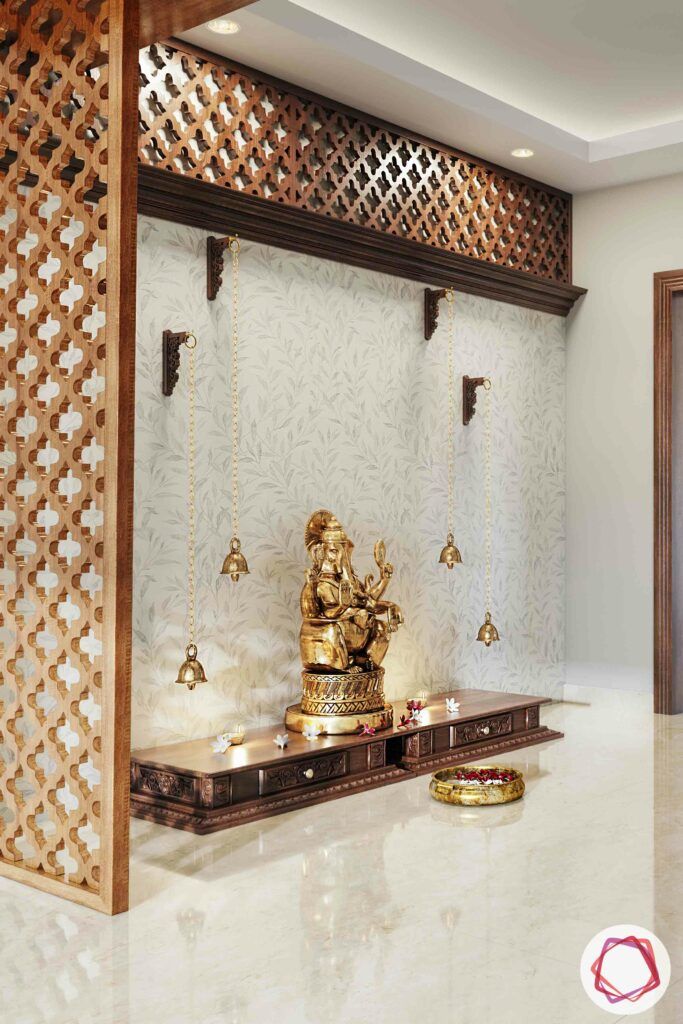 This wooden mandir design with carved wooden partition ticks all the right boxes, and stands out in creative splendour. While a divider may serve the purpose of cordoning off the pooja space, a little bit of creativity can bring forth a space that is truly unique and impressive. Accessorize the space with engraved wooden handles and brass bells, and add a ceiling backdrop that mirrors the carved wooden partition. Prop up your idols on a wooden platform etched with traditional patterns. You could also include built-in enclosures for storing your pooja paraphernalia. Install spot lights to rev up the sacred aura.
Wooden Mandir Design #5: Carved Wooden Mandir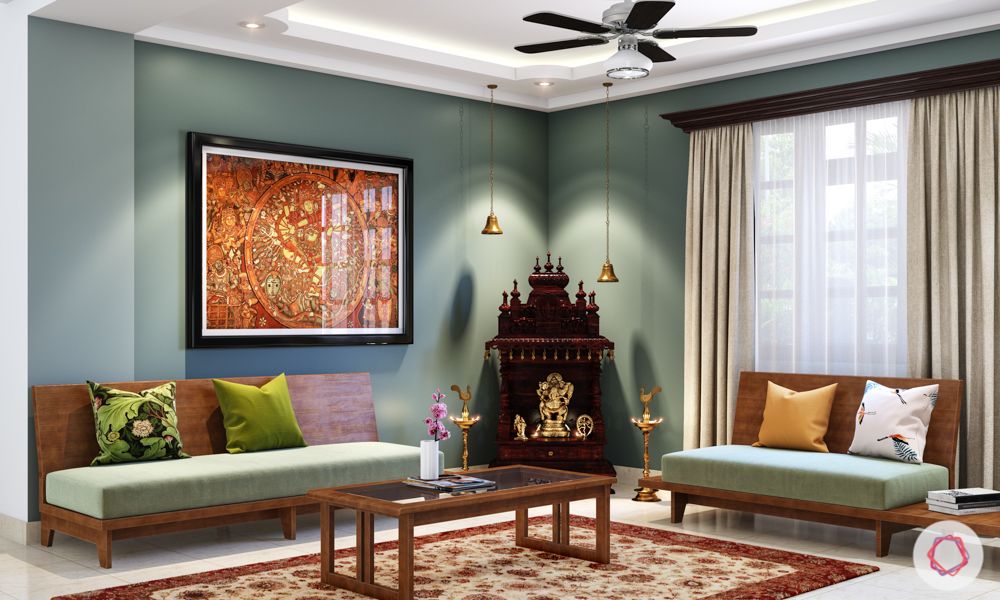 One of the artistic pooja mandir designs, a carved wooden mandir is a temple unto itself. Moreover, it is a standalone décor piece that can define the design language of your interiors. With ornate temple-style carvings, and structures such as pillars, spires, and bells, the wooden mandir design is a beautiful masterpiece. It also comes with drawers for storage, and can be moved around the house as the occasion demands.
If you want a gorgeous pooja room, but space becomes a constraint, check this out: Create a Compact Mandir in Your Flat.
Send in your comments and suggestions.