If you're looking for a unique home temple design, you've come to the right place. From intricate jaali designs to modern pooja mandir ideas made to fit compact spaces, we have it all. Whether you like simple divine corners or ornate ones, your home can accommodate them quite tastefully. Take a look at some of the best and stunning mandir decoration ideas!
Home Temple Design #1: Mandir Corner With Jaali Panels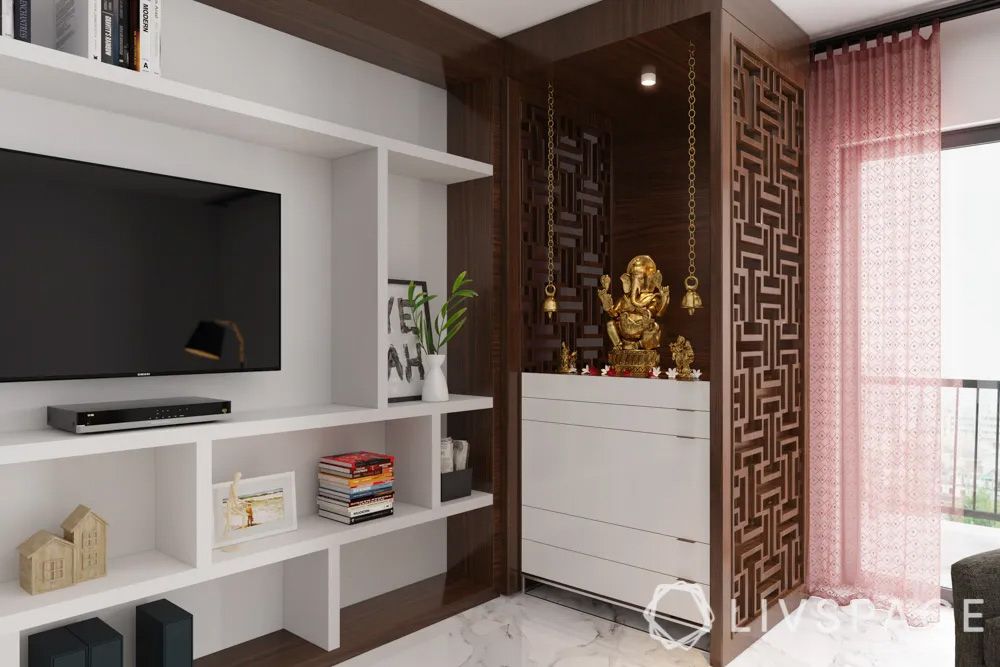 Do you love the idea of having jaali panels for your home temple design? Then this home mandir design idea is perfect for you. While this design fits seamlessly into any living room, it is ideal for people who have a wood-finished TV unit. Since lattice looks best in laminate or wood, this white-and-wood pooja unit is high on aesthetic value. The drawers can be utilised to store pooja samagri as well.
Also Read: 25+ Beautiful Mandir Designs That Will Fit Right Into Your Living Room
Pooja Mandir Ideas #2: Carved Wooden Home Temple Design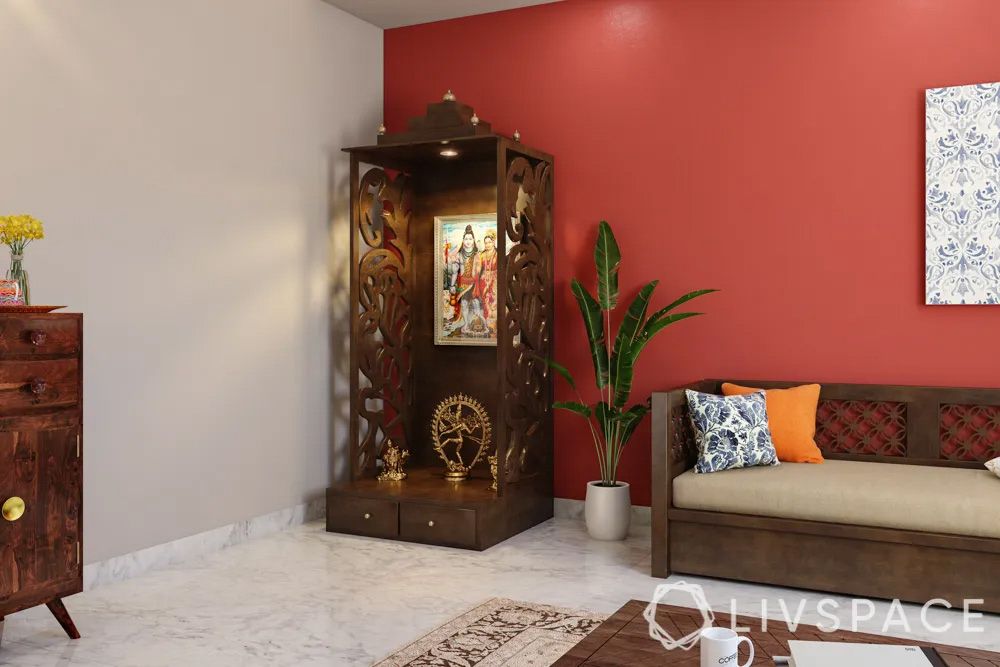 If you have a corner in your living room that is lying empty, then it's time to utilise that space. Place a compact pooja corner unit with beautiful jaali work and a traditional dome. Make sure you have a soft-focus light inside that illuminates the corner and you will be surprised by the transformation.
Home Temple Design #3: Sleek Pooja Room in an Open Living Area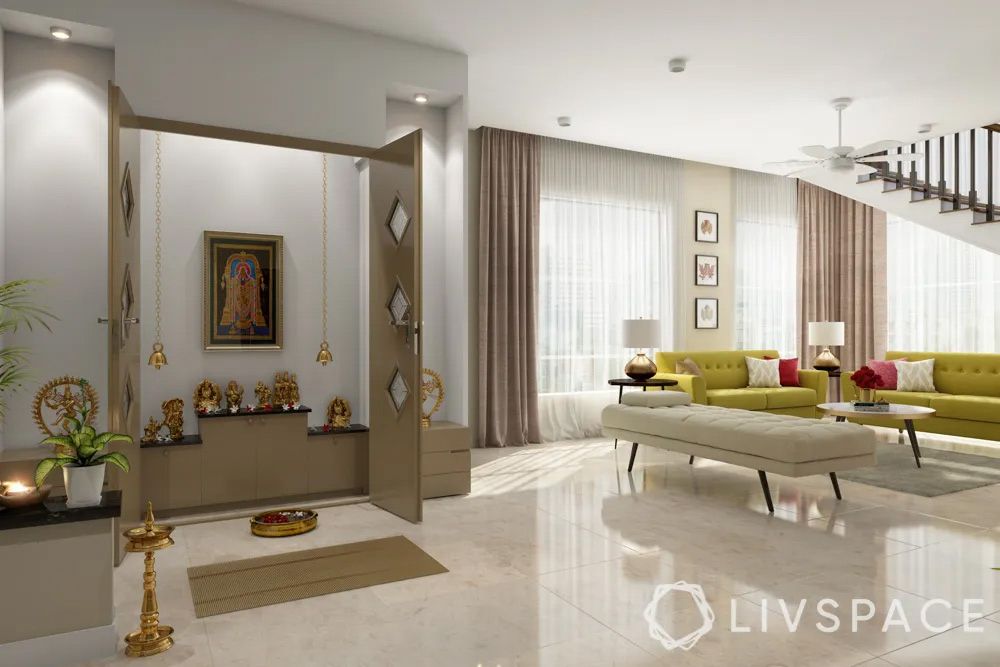 So, you think Indian home temple ideas might not work well in your modern living room with Scandinavian design and sleek furniture? Well, think again! You can turn a wall niche into a small mandir, with a base unit and pretty lights like this one. Make sure you stick to clean lines, and choose neutral colours so that it complements the modern design aesthetic.
Home Mandir Ideas #4: Go Compact With a Mandir on the Wall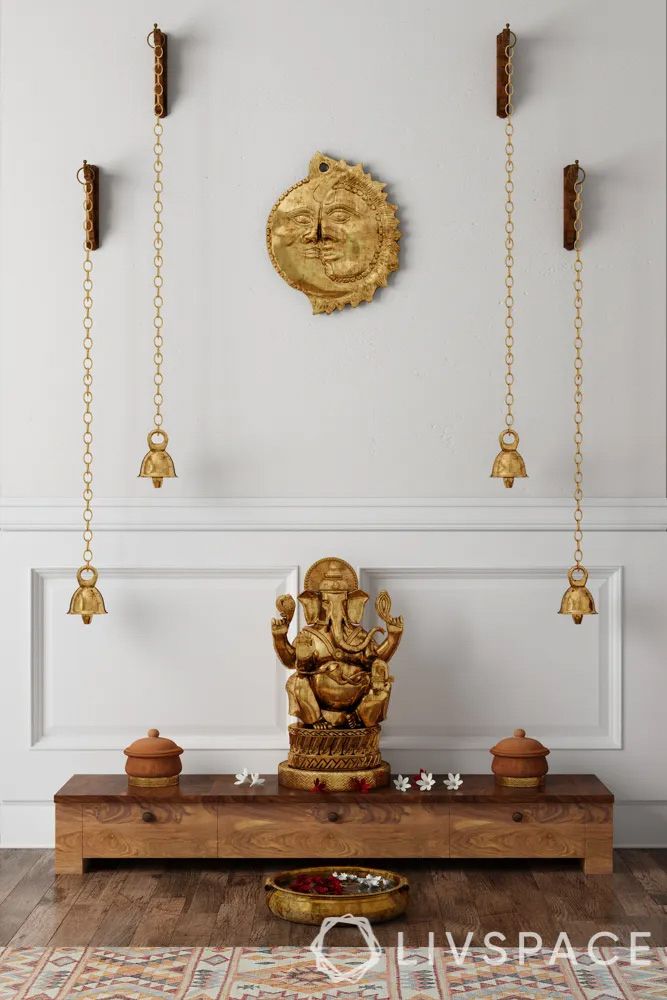 More often than not, we all have at least one wall in the living room that is not being utilised. This is a great spot to place your deity. Take a look at this wonderful home temple design that has a simple, low-height base unit with drawers and brass bells that add glitter to this otherwise neglected corner.
Home Temple Design #5: Create a Corner for Your Mandir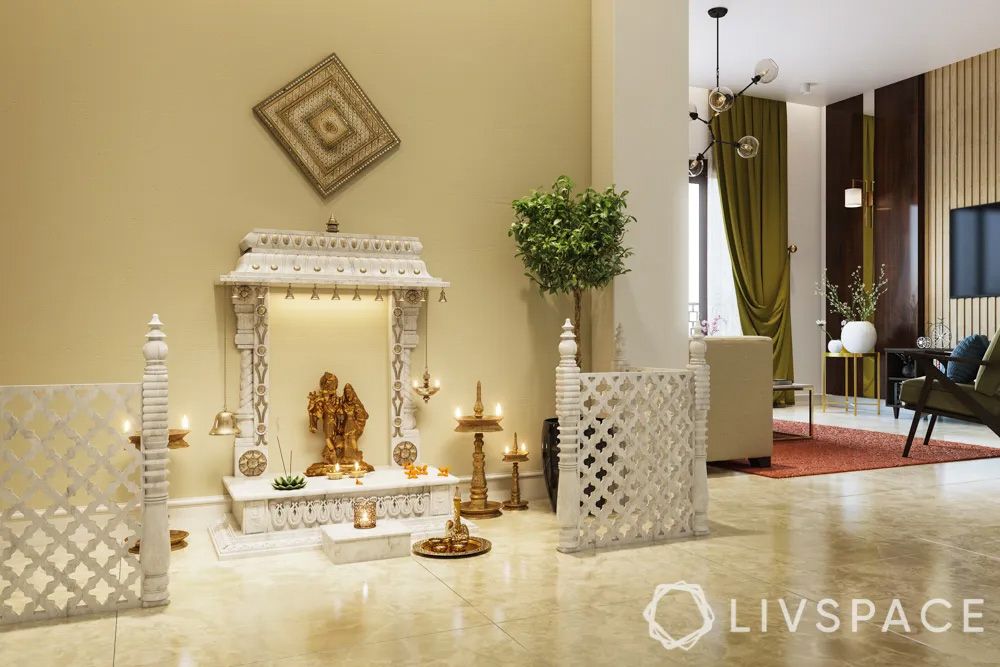 A home temple design inside the living room, anyone? If you have a separate section in your living room that you can convert into a mandir, then you're in luck. Beautiful carved marble home mandir ideas with matching dividers, like this one, are perfect for this setting. They will give you the feeling of having a full-fledged pooja room, while still having an open design.
Home Mandir Ideas #6: Get a Traditional Wooden Pooja Unit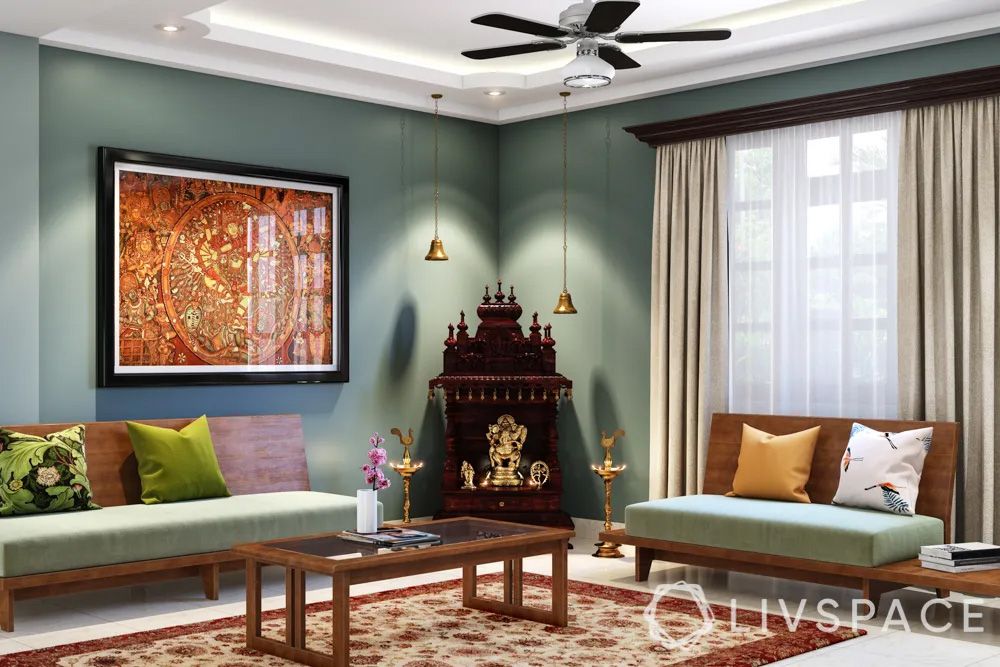 Looking for mandir decoration ideas? You can use a living room corner to set up a home temple design. Get an ornate, traditionally carved pooja unit in wood to adorn this space. Additionally, do not forget to highlight this area with focus lights and lovely bells suspended from the wall over the unit. You will soon have compliments pouring in from friends and family for this one.
Home Temple Design #7: Add Little Decor Details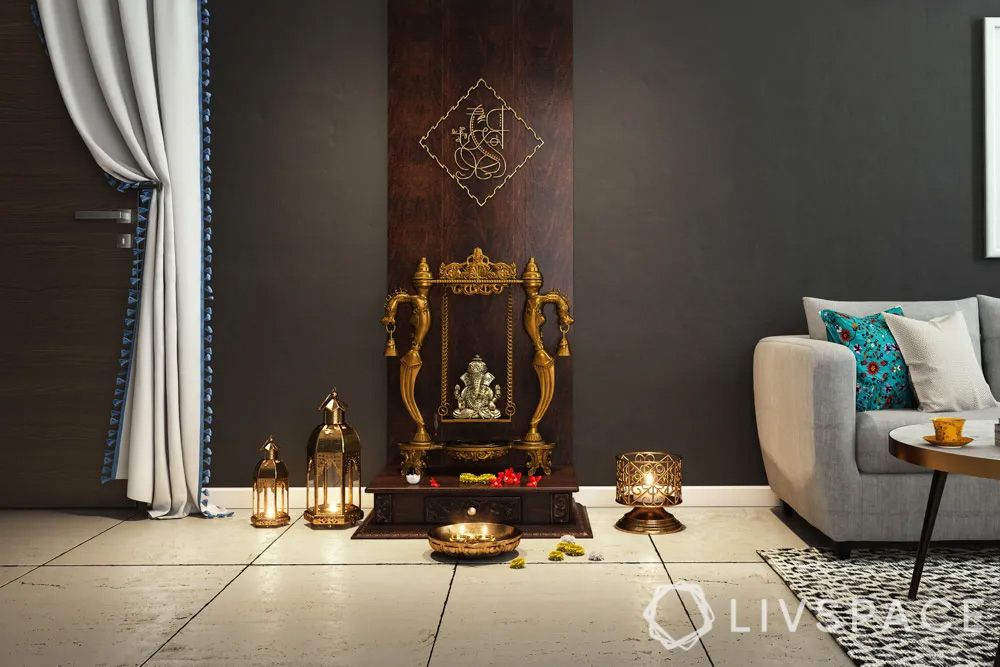 Home mandir decoration does not have to be fancy and intricate. A pooja corner that's minimal and simple is suitable for any kind of living room aesthetic. However, if you want to place your mandir against a plain wall, consider adding a veneer panel as the background with a matching wooden base unit to create an interesting visual. Complete the look with shimmering lamps on either side and light candles around the unit to add to the effect.
Home Temple Ideas #8: How About a Half-Open Mandir?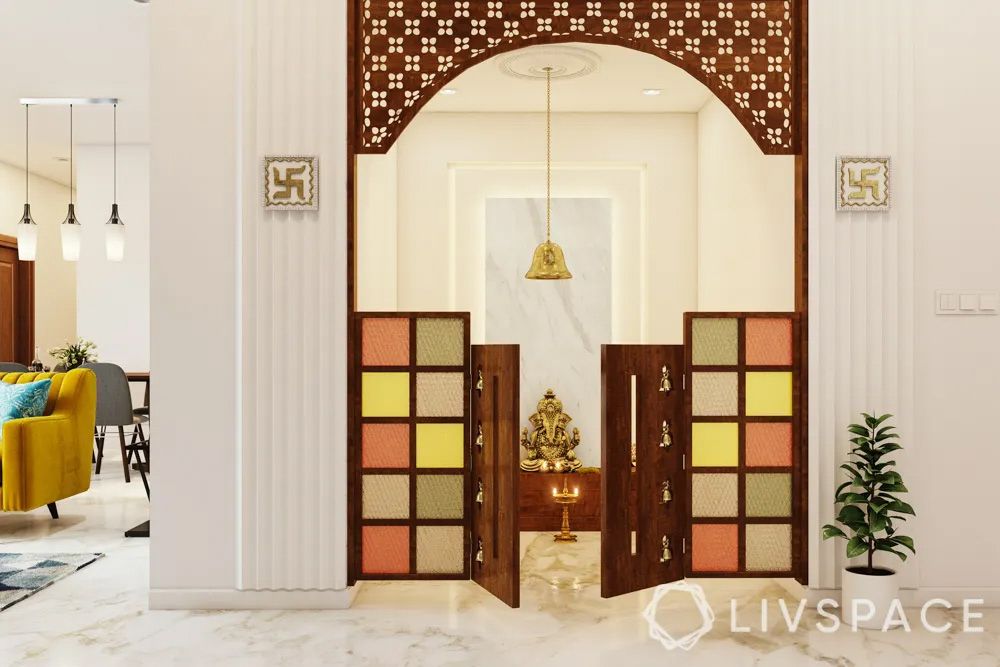 The pooja corner in your living room does not need to be open at all times. However, this is a wonderful idea for everyone who likes to have an elaborate home temple design. You can add colourful glass doors along with a wooden door with bells to complete the look.
Home Temple Design #9: When Your Display Unit Doubles Up as a Mandir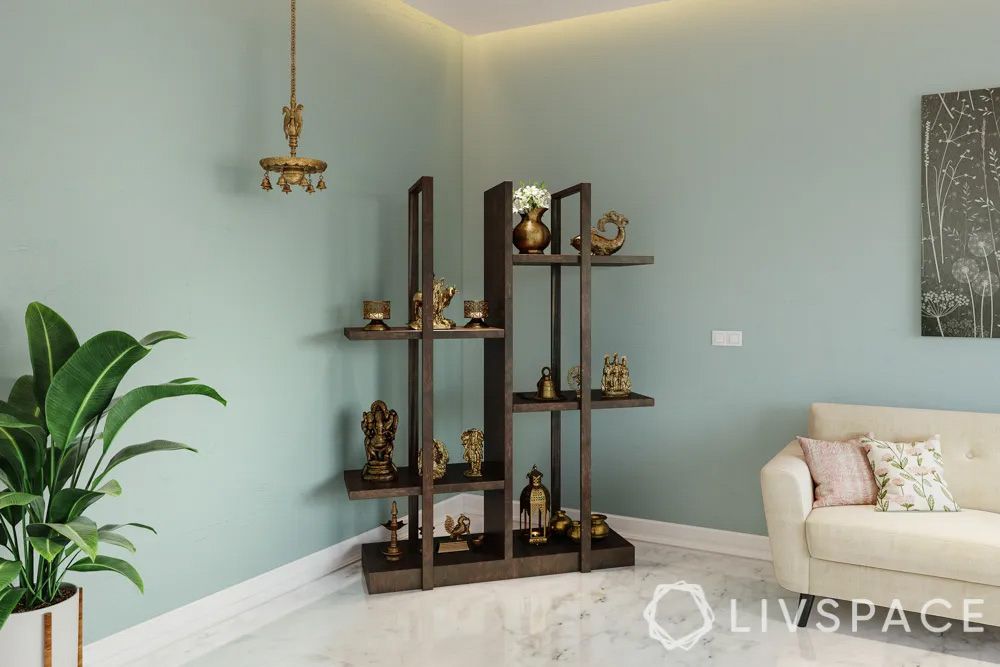 This is a simple home mandir idea for people who are not very religious but like having a few idols placed in their living room. Subsequently, a display-cum-pooja-unit like this one is ideal for placing beautiful idols with similar decorative items alongside.
Home Mandir Design Ideas #10: Clever Use of Space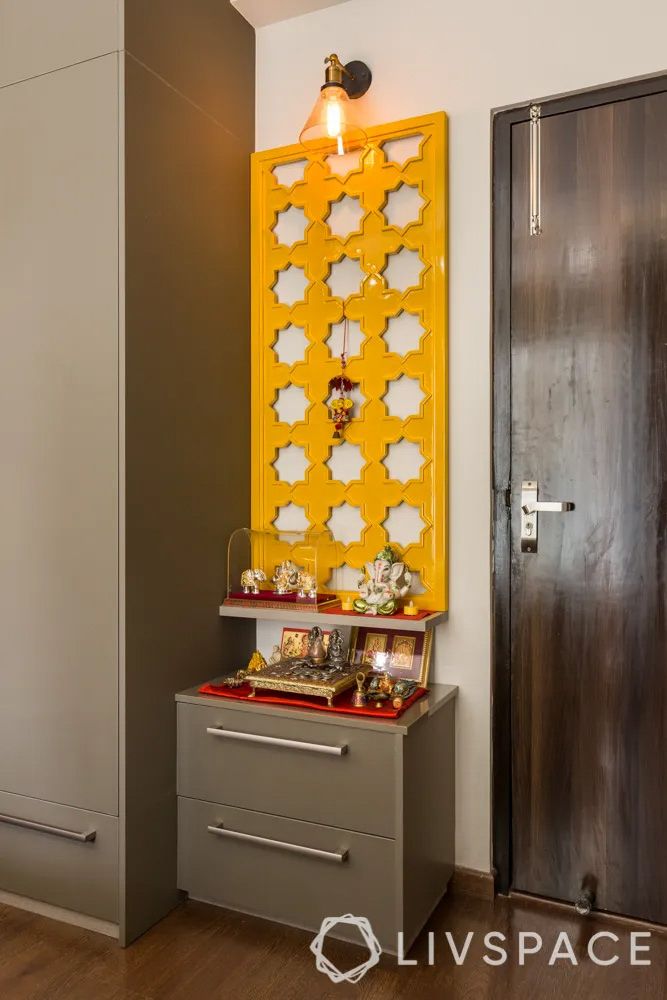 This space-saving home temple decoration idea has a very modern vibe. The laser-cut acrylic panel pops with its vibrant yellow colour. And the modular unit effectively utilises space between the door and wardrobe.
Home Temple Design #11: Glass Pooja Room Designs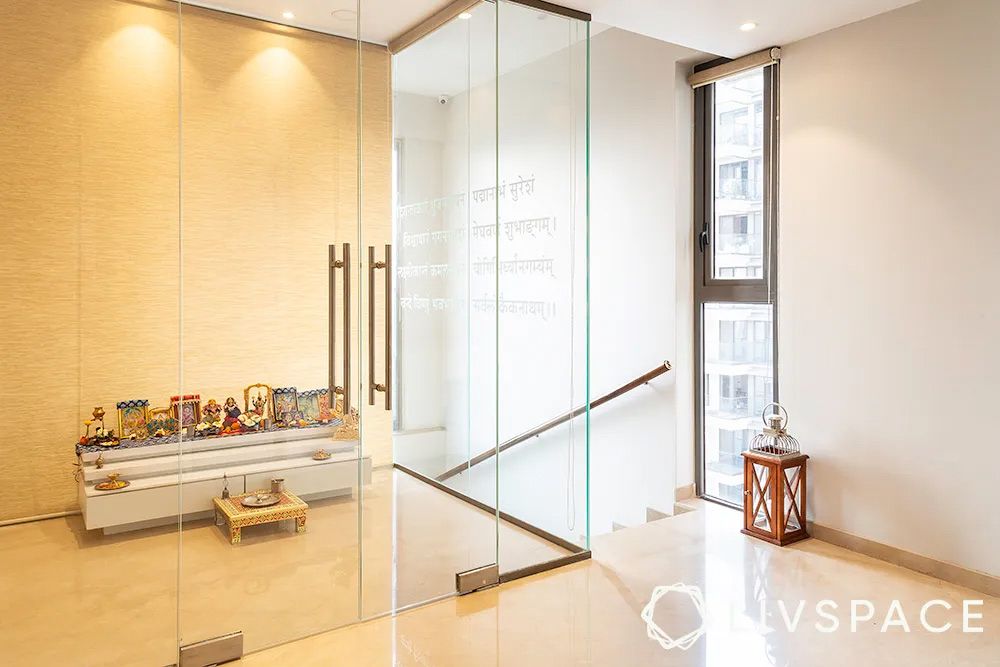 Glass pooja rooms are quite the trend, like this mandir, neatly placed on a staircase landing. This pooja room has good space-utilisation with religious Sanskrit writings on the glass panel.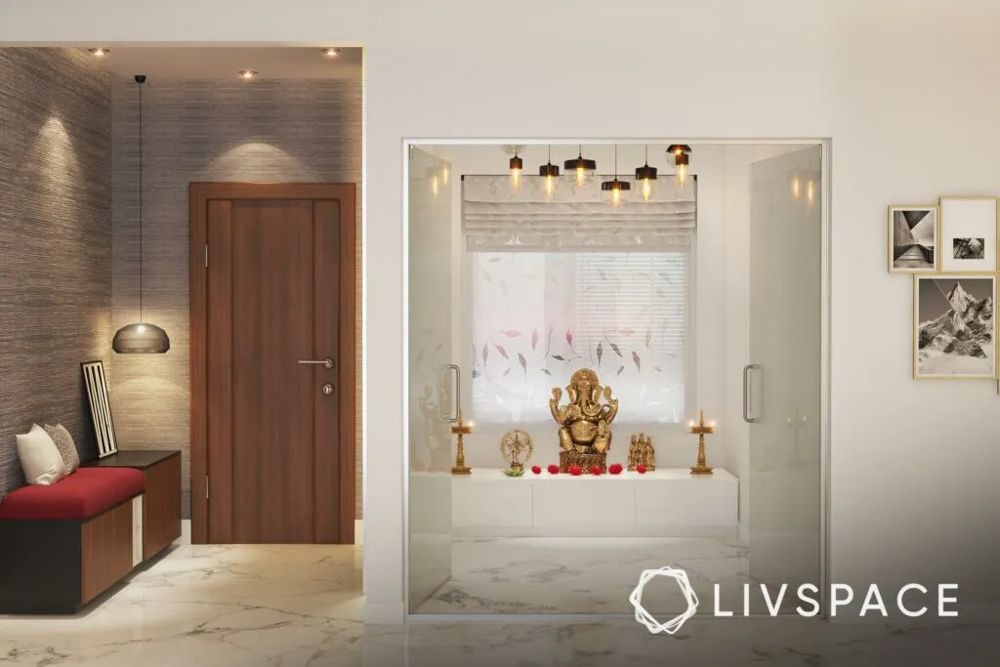 Glass pooja rooms give you complete connectivity with your deity even when you are not praying inside the mandir. Plus, those doors for your pooja rooms keep the sanctity of the room intact, like this home temple design with its double glass doors and a frosted-glass backdrop.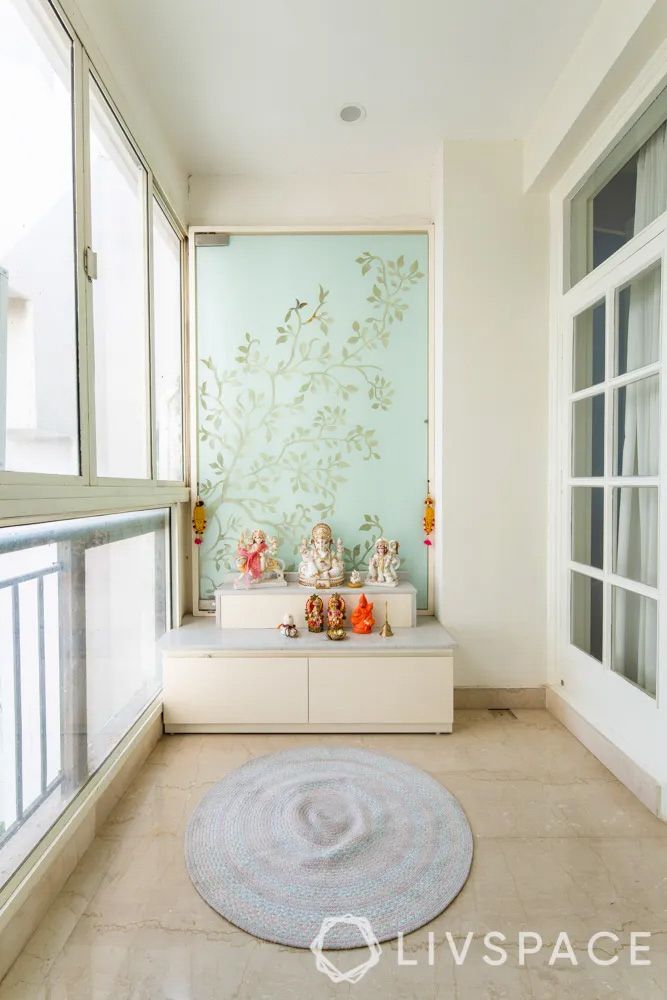 This elegant open pooja unit has a backlit glass panel placed behind the idols, the perfect amalgamation of modern and traditional aesthetics for your home. Since the balcony is a fairly open space, it lets in sufficient amount of sunlight as well.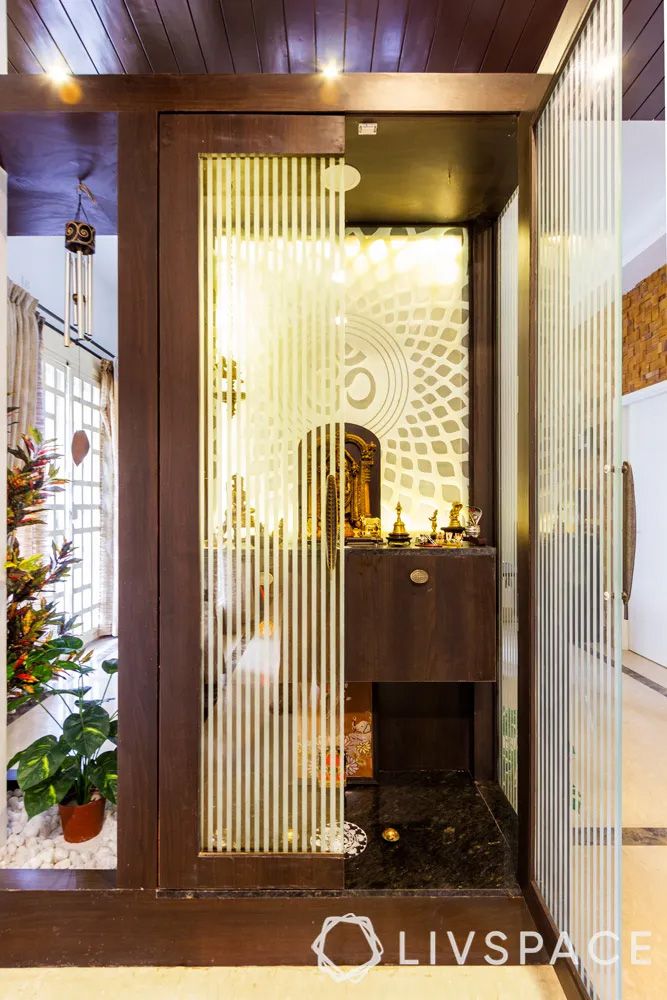 These versatile glass doors incorporated with wood frames are perfect for a semi-private home temple design. The doors are ribbed with etched glass and one can get a nice peek into this pooja room. These semi-private pooja rooms can be placed just about anywhere in your home.
Pooja Mandir Ideas #12: Portable Unit for Your Home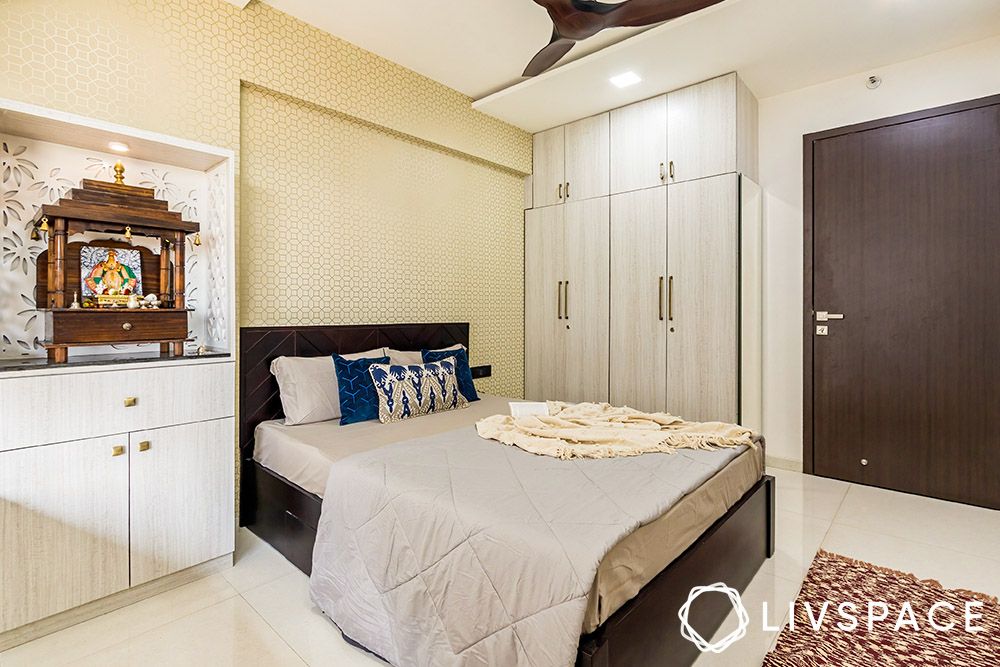 It can be tough to have a pooja unit if you have a compact home, or a massive mandir in rented accommodation. In such cases, a compact, portable mandir is the best option. You can choose a small, wooden mandir like this one and place it on any free surface, like a cabinet. In addition, you can use the cabinet to store your pooja samagri.
Home Temple Design #13: Mandir Design in Marble and Wood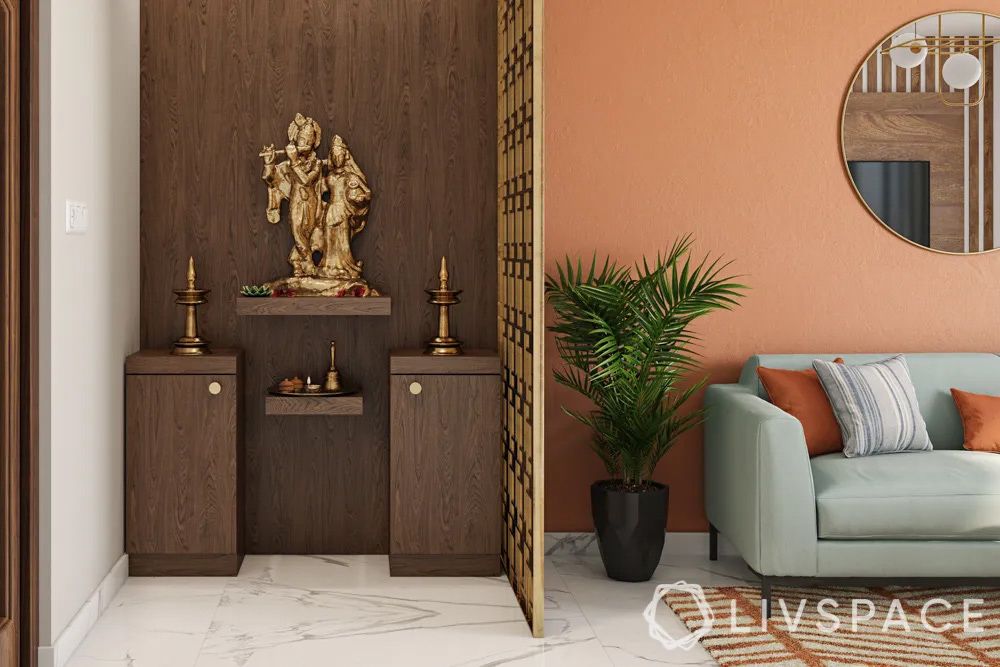 Wooden pooja rooms add to the aesthetic of your home. This pooja unit comes packed with storage space and a wooden backdrop. Perfect to fit extra space in any room and can effectively be demarcated with a partition.
This elaborate mandap evokes heritage with its wooden doors. The intricate carvings on these double doors are sure to give you a sense of walking into their own private temple.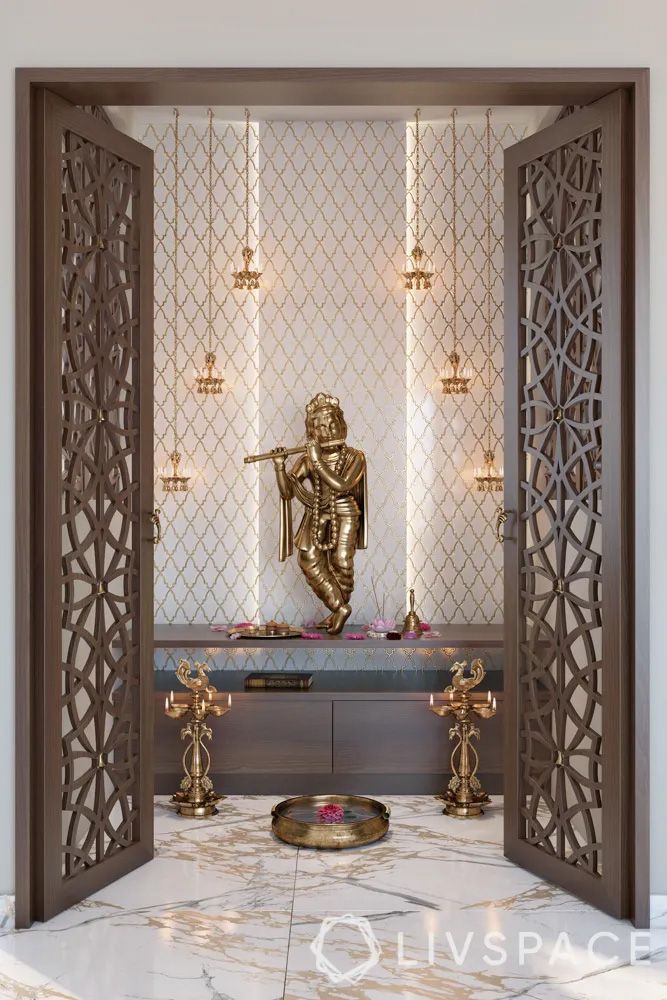 Jaali doors can add an element of privacy to your pooja room. In addition to this, wooden jaali doors are vastu compliant and therefore act as a great addition for any section of a mandir.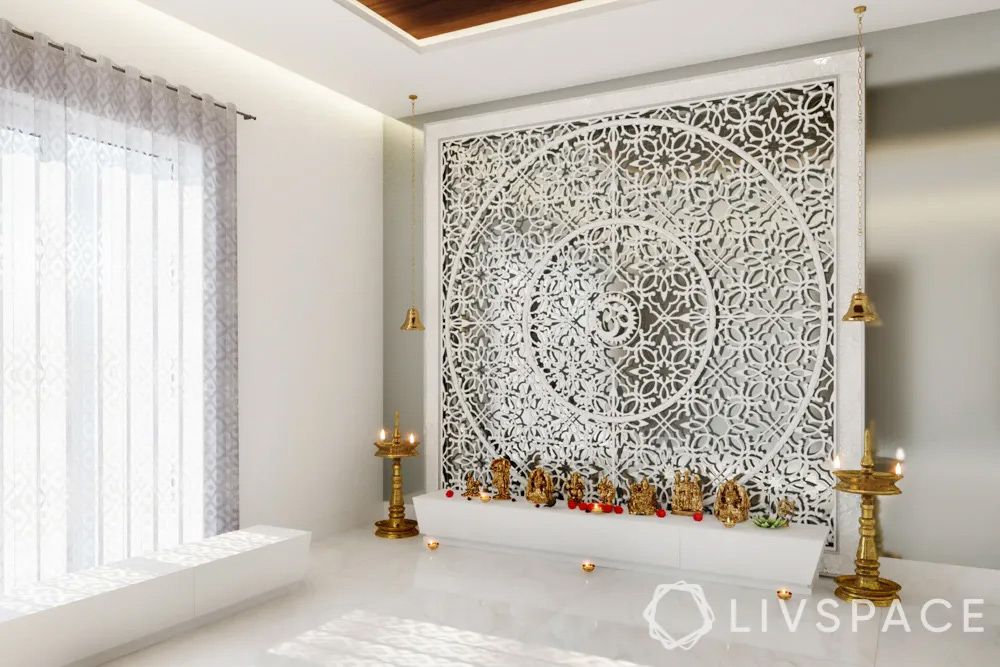 A mix of materials, this home temple design has it all—marble flooring, a carved wooden design for a backdrop, and metal lamps and bells. Notice how subtly the 'om' is neatly placed, almost camouflaged amongst the intricacies of the panel. The purity of white in this room easily sets the mood for prayer.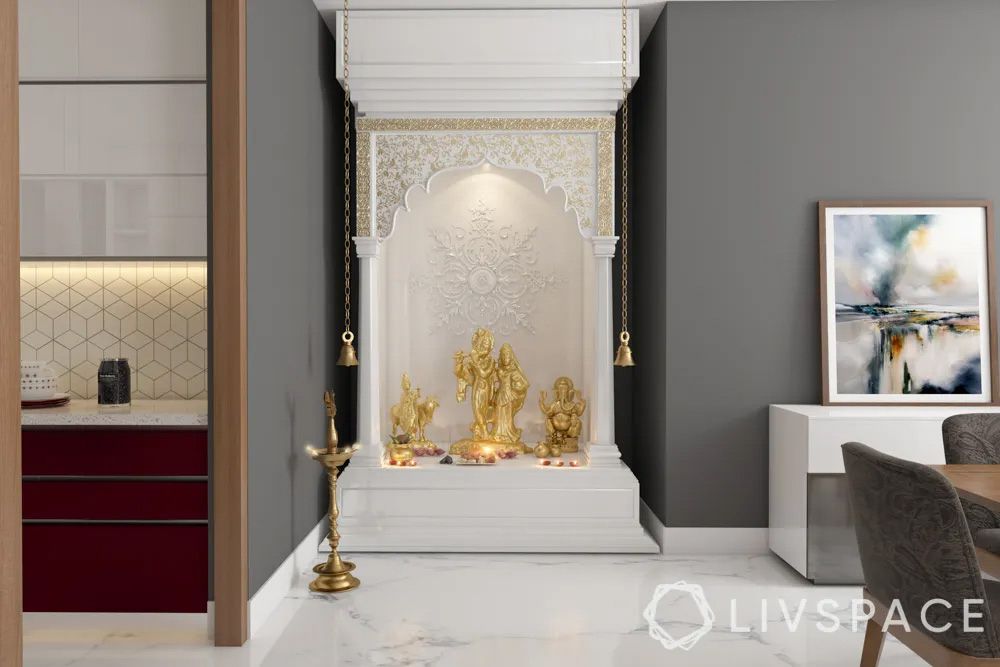 White is an ideal colour for a pooja room setup. And what better material to use for it than marble. The gold detailing easily complements the pillars for this mandir, thereby creating a beautiful tranquil aesthetic.
Home Temple Ideas #14: Vintage Style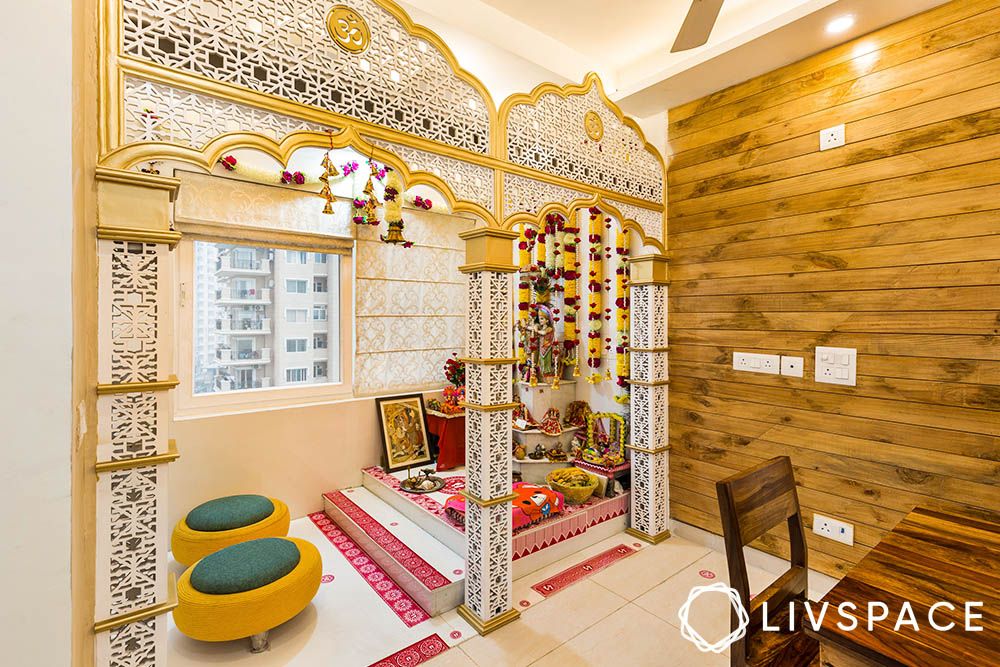 For your divine corner, vintage and traditional works best! While designing a traditional home temple, go all out with bells, diyas, flowers and jaali. Also, don't forget to add some seating where you can sit and meditate without any disturbance.
Home Temple Design #15: A Mandir With Wallpaper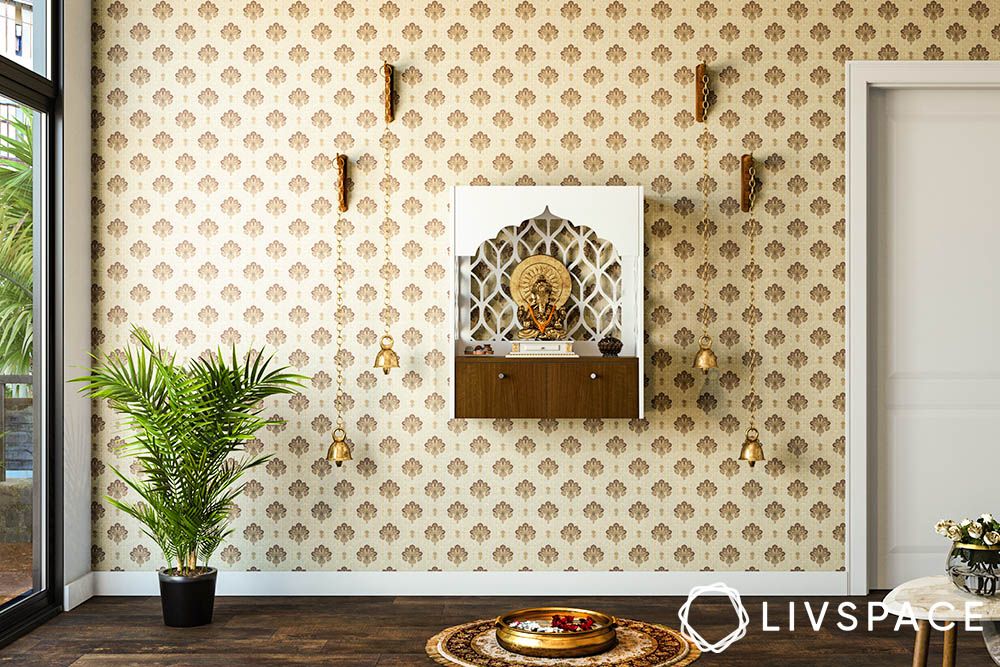 If you are looking for home mandir decoration tips, you should bookmark this one! Add a lovely floral wallpaper to elevate the look of your wall-mounted pooja unit. This is especially helpful if you lack the space to add extra decor items.
Vastu Tips for Your Mandir Design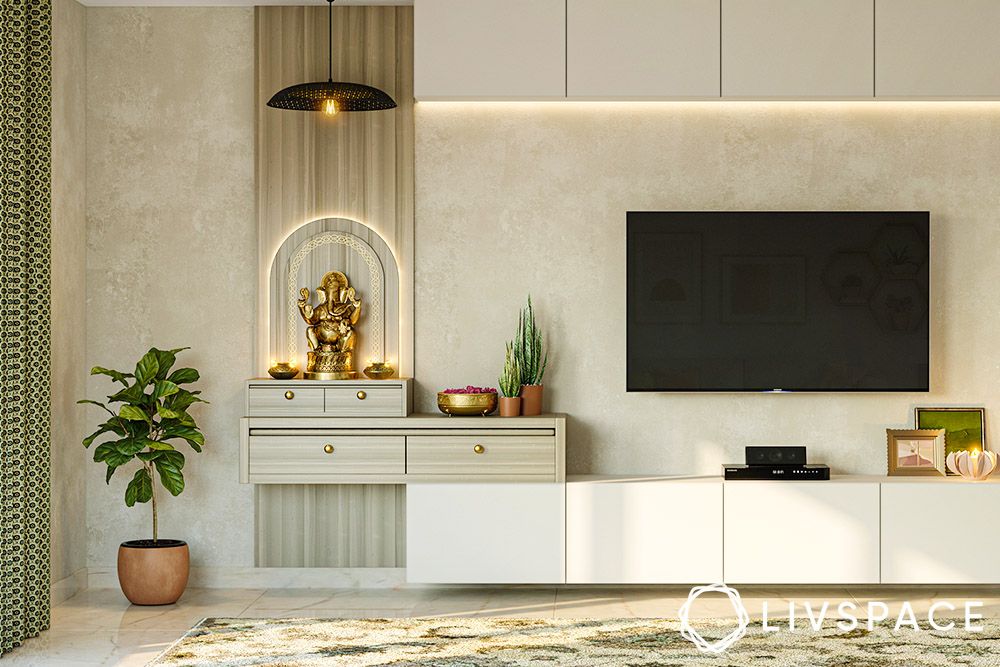 To make the most of your home temple design, here are the pooja room vastu tips that you should follow:
Ensure your mandir faces the north-east, east or north
Your pooja room should have a low ceiling, preferable a pyramid or gopura-shaped top
Add a threshold to your mandir
Place your idol a few inches away from the wall and six inches above the ground
Choose light colours to create a serene ambience
Add doors to your pooja room
Tips to Maintain Your Home Temple Design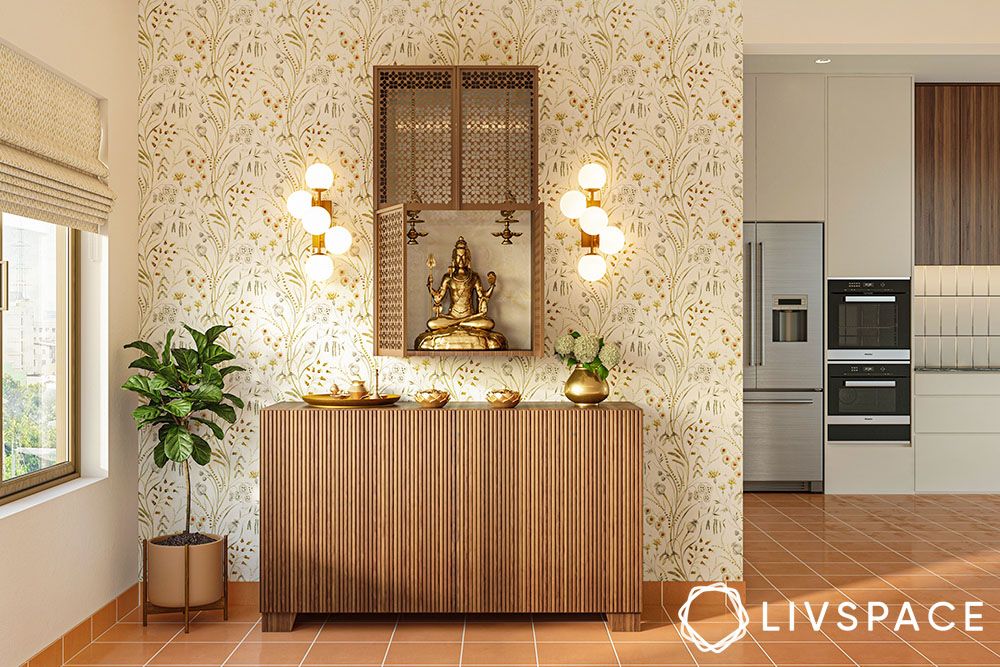 Here are some simple tips to maintain your home temple design:
Choose easy-to-clean materials
Clean your pooja room every day
Regularly wash your deities and your pooja samagri that can be washed
Replace flowers everyday
Also Read: 15 Simple Mandir Design in Wall Ideas That Are Perfect for Indian Homes
Wondering how our customers feel about working with Livspace? You can check out the Livspace reviews here!
How Can Livspace Help You?
We hope you found our ideas useful! If you want interior design experts for your home to be just as beautiful, then look no further. Book an online consultation with Livspace today.
Disclaimer: All contents of the story are specific to the time of publication. Mentions of costs, budget, materials, finishes, and products from the Livspace catalogue can vary with reference to current rates. Talk to our designer for more details on pricing and availability.