Traditional wood may have its charm, but nothing beats a solid marble mandir design. Marble pooja room designs not only exude luxury and sophistication, but can also be a durable, vastu-compliant option that can last you a lifetime. Though marble can be slightly heavy on the pocket, it's worth the investment if you want to curate a unique space.
How about taking a look at some exquisite marble mandir designs to show you what we mean? Let's get into them!
Here Are Some Unique Marble Pooja Room Designs You Can Explore for Your Home
#1: Head to Toe in Marble for a Cohesive Mandir Design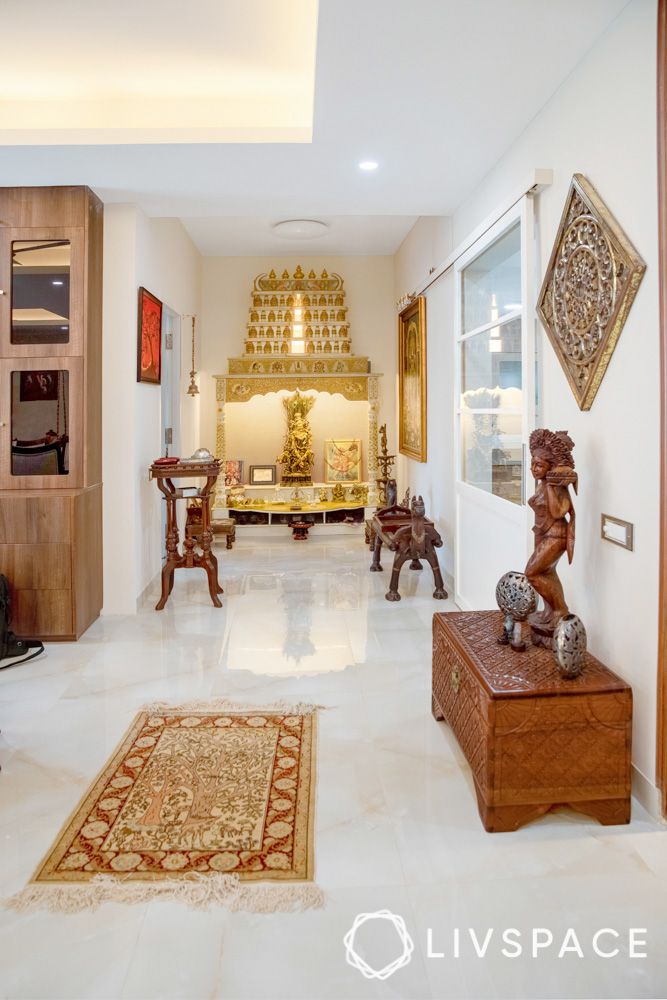 While marble can either be used sparingly or in excess, you can create a stronger visual by doing up your entire mandir with it. A complete marble temple for home interiors not only looks brilliant, but makes for a nice statement piece as well.
To create a full marble mandir design, consider using a mix of motifs, pillars, and shelves for a curated look.
#2: Illuminate Your Marble Pooja Room Design With LED Lights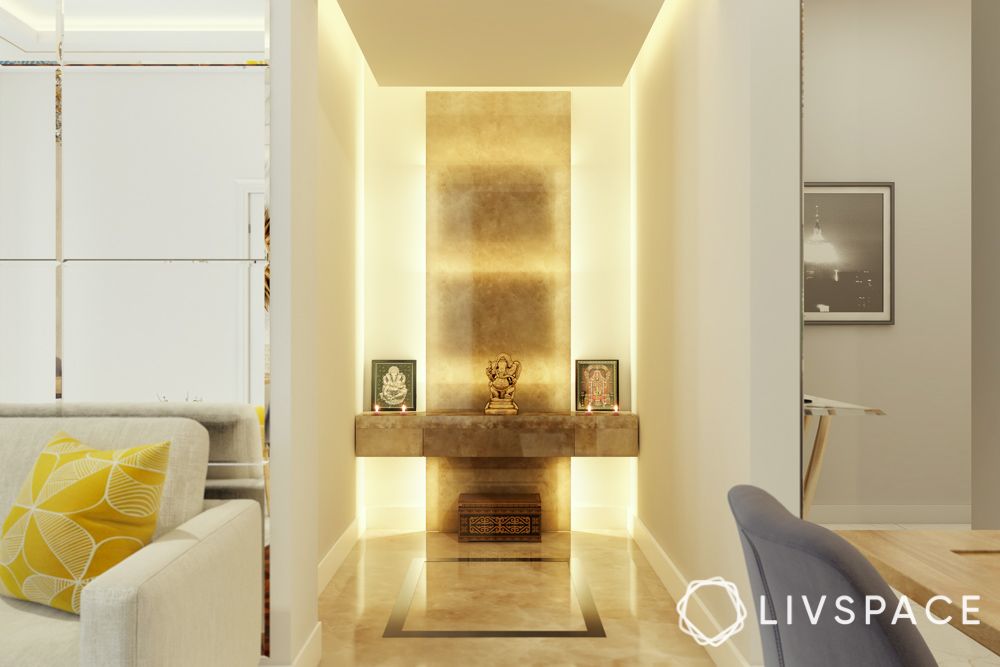 If you already have a marble mandir at home, but feel like it lacks something, we might have a solution for you. Though marble comes with its own lustrous shine, you can further complement it with the right lighting.
You can either opt for a chic false ceiling above your pooja room, or use a backlit panel to bring in some additional light. This is especially handy if your pooja room is in a niche in the wall.
#3: Keep It Light With a Marble Altar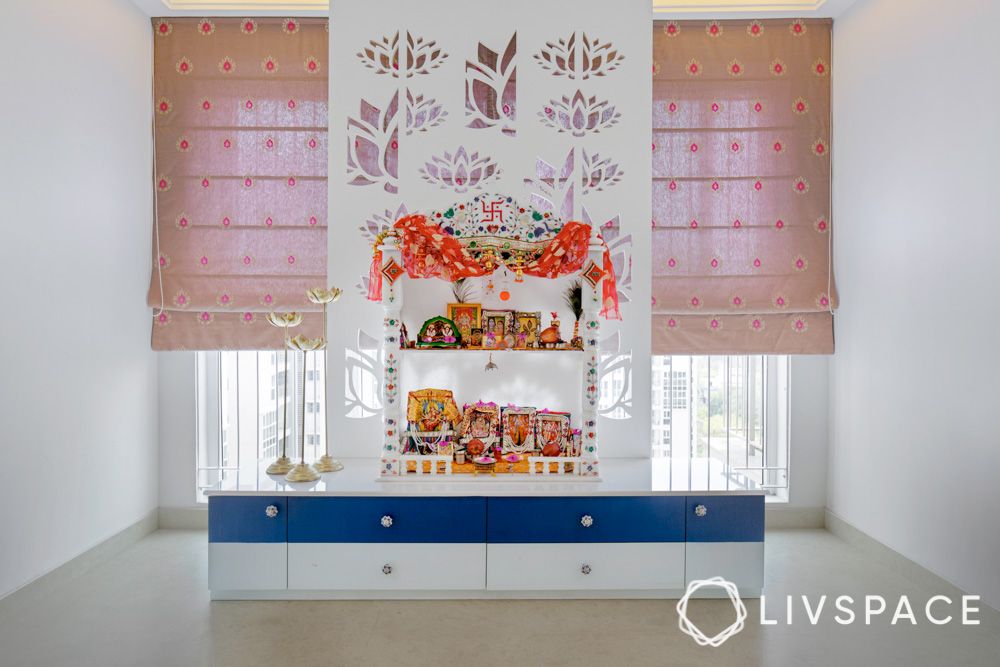 If your budget doesn't allow a complete overhaul in marble, then consider getting just a marble countertop for your marble mandir design. Besides being aesthetically appealing, this style can also be a low-maintenance marble pooja room design for your home.
#4: Marble Flooring Can Double Up as a Makeshift Red Carpet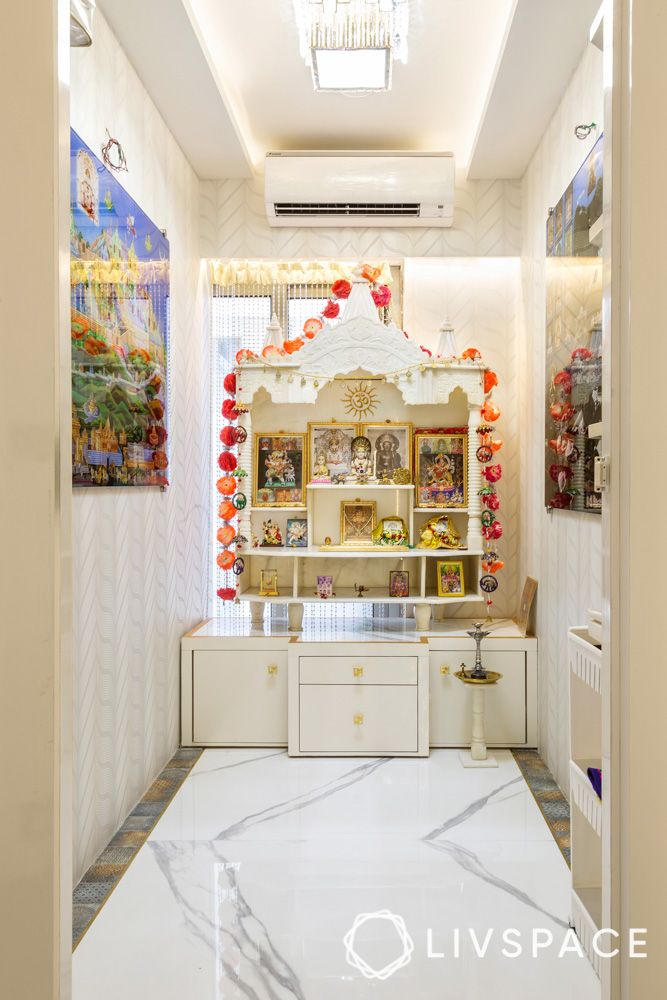 Give your pooja room some A-list celebrity treatment with lush marble flooring that leads up to the altar. To take things a step further, you can also go for a marble temple design to pair with it.
A false ceiling and backlighting can add to the effect and make your marble mandir design look and feel heavenly.
#5: Accentuate Your Marble Temple Design With a Jaali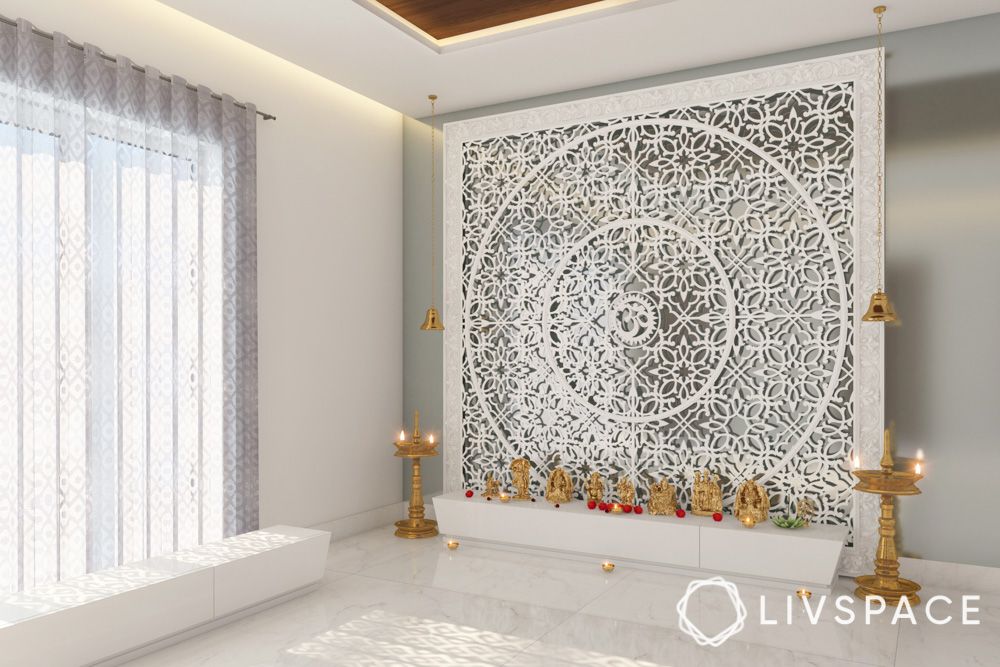 If you have elaborate plans for your marble mandir design, then you should consider installing this celestial jaali as a backdrop. The intricate carvings paired with the Om are perfect for a marble pooja room design.
Also Read: 6 Stunning Mandir Designs for the Style-Conscious
#6: How Much Marble Is Too Much Marble? That's a Trick Question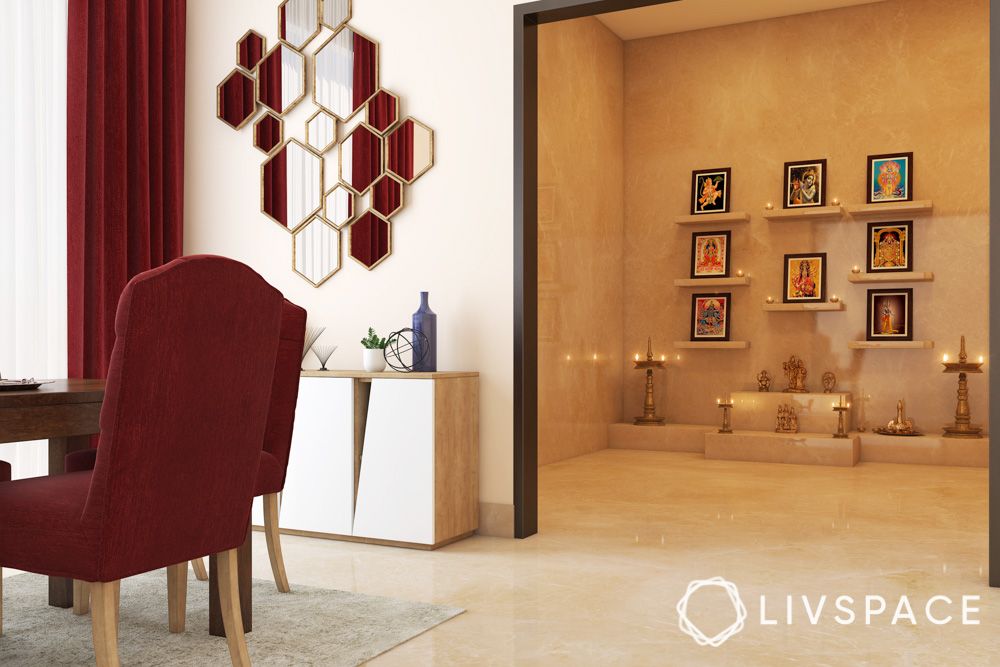 Who said your marble mandir design has to end at just the mandir? If you have uniformity in design on your mind (and a sizeable budget to boot), how about going all out with this material?
Uniformity is an underrated element that can do wonders to any room, even more so for your marble mandir design. You can consider curating the entire space under one theme: marble.
With some marble wall shelves, a marble platform, and marble floors, your entire space can come together cohesively.
#7: Let Tradition and Modernity Intertwine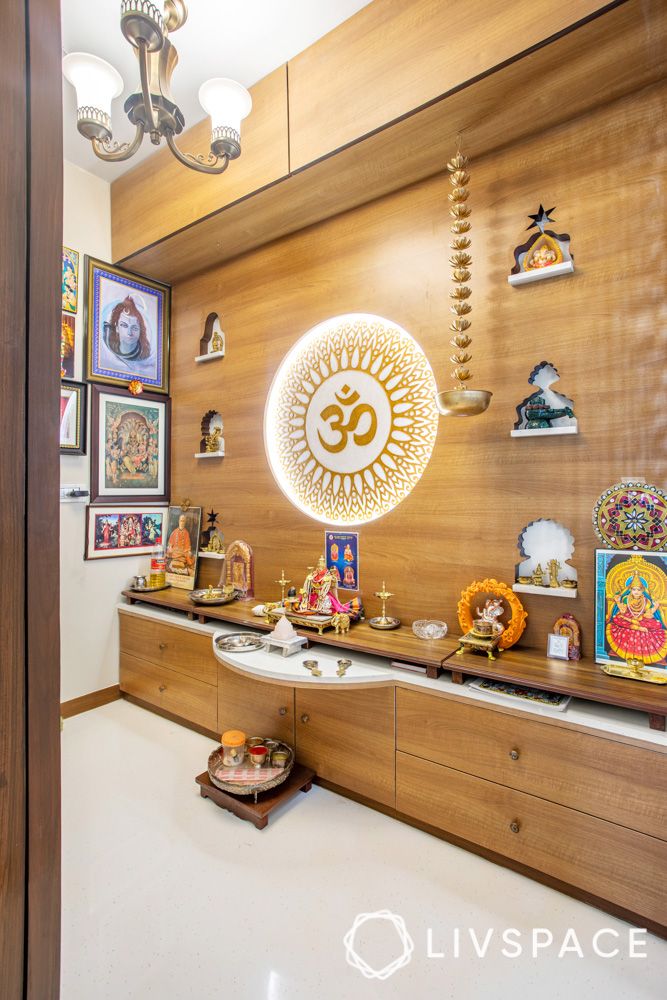 Wood and marble are both popular materials when it comes to creating a vastu-compliant pooja room. However, a full wooden mandir leans more towards a traditional aesthetic and may not match the interiors of all modern homes. So, how about adding some marble to the mix to create an ensemble look?
Consider going for a wooden pooja unit with a backlit marble inlay. You can also add a bit of marble to detail your countertop. Unique, isn't it?
Also Read: 17 Wooden Mandir Designs for Homes That You Can Fit on One Wall
#8: Mirror, Mirror on the Wall, Is This Marble Mandir Design the Best of All?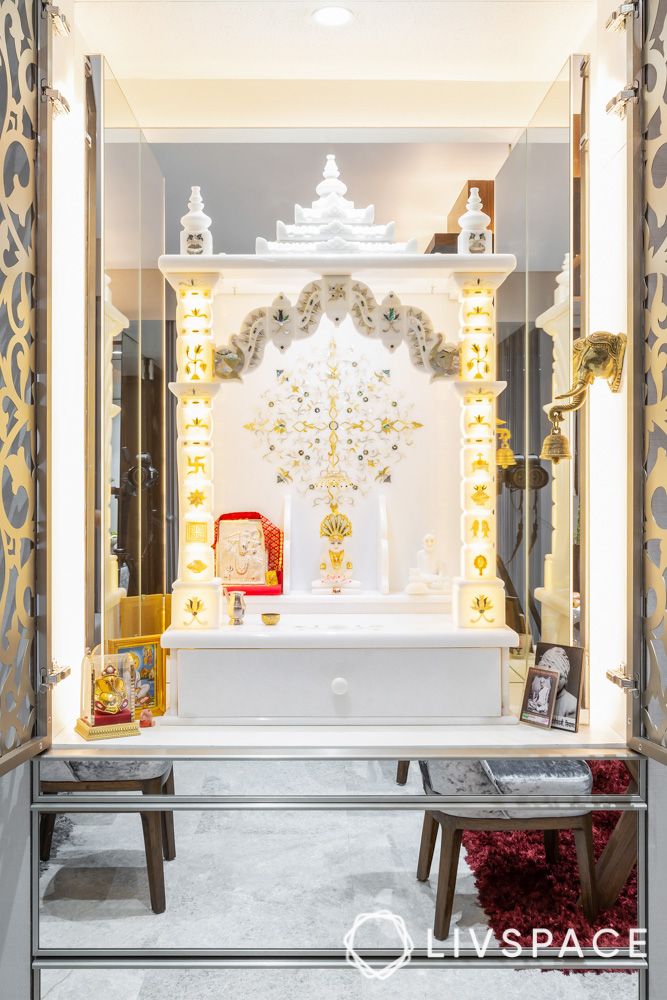 Did you know that mirrors can be the perfect answer to all your compact space woes? If your pooja room is on the smaller side, there are some neat illusions you can create using both marble and mirrors!
Choose white marble for your mandir and highlight it with mirrors and reflective surfaces in the doors and background. Light colours like white can create an expansive effect, while mirrors help create depth.
Together, these elements can give off a spacious look even in the smallest of pooja rooms.
#9: Modern and Minimal, the Perfect Combination for New-Age Pooja Rooms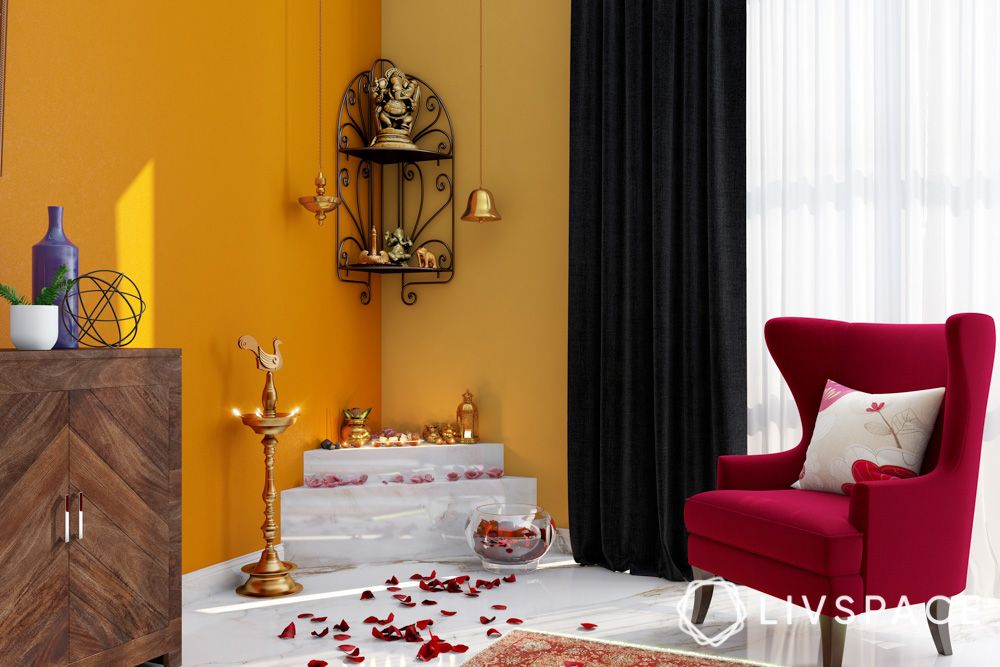 No designated space for your pooja room? No problem! All you need is a wall corner and an eye for detail. With the help of an iron shelf and some sleek marble steps, you can transform any plain wall corner into the perfect pooja room.
In fact, this can be a great way to make use of dead corners at home. Though the entire unit is not made of marble, this can still count as a new-age marble mandir design for modern homes.
#10: Low on Space? Consider a Wall-Mounted Marble Mandir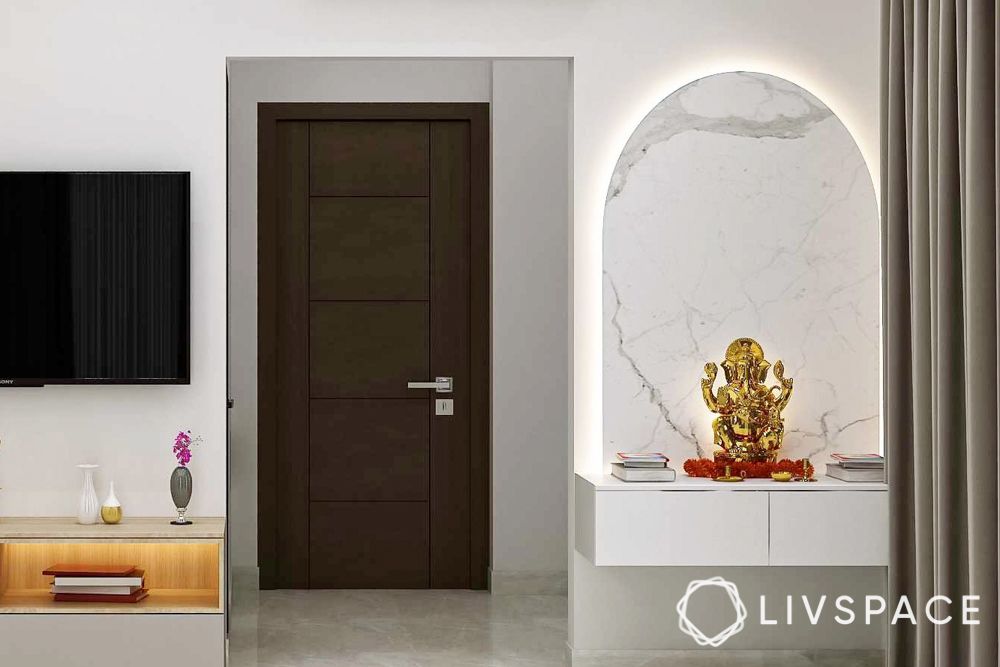 Having a small home doesn't have to mean compromising on the marble mandir design of your dreams. If you have some leftover wall space, we have a solution for you. Just prop your mandir up on your walls, so you don't have to worry about eating into precious floor space!
Since this type of marble mandir design is going up on your walls, you can either choose to keep it simple, or let it be the highlight of your room. For a simple marble mandir design, stick to the basics such as: a platform with storage and lighting.
Why Is a Marble Temple Better for Your Home, As per Vastu?
Long-lasting: Marble is a durable material that can last decades with the right care and maintenance. This means the likelihood of having to replace or upgrade your marble mandir design is fairly low, making it a great long-term investment
Aesthetic: The lustre and colour of marble is one in a million and helps curate the most divine space. While looking at marble interiors, you're bound to feel a sense of calm and positivity
Luck and Fortune: According to both Vastu Shastra and Feng Shui, marble is said to attract good fortune and success
How Do You Maintain Your Marble Temple?
Use a soft cloth with mild detergent to wipe down your mandir and prevent the build up of soot and smoke to spoil your marble mandir design. Be sure not to use abrasive materials and cleaners, as they can scratch the surface and damage the marble.
You can also consider sealing your marble regularly to ensure it stays safe from moisture and discolouration.
How Can Livspace Help You?
We hope you enjoyed going through these marble pooja room designs! If you want beautiful interiors for your home, then look no further. Book an online consultation with Livspace today.
Have any thoughts or suggestions you'd like to share with us? We're all ears! Drop us a line at editor@livspace.com.
To know how our customers feel about working with us, check out these Livspace reviews for more details!
Disclaimer: All contents of the story are specific to the time of publication. Mentions of costs, budget, materials, finishes, and products from the Livspace catalogue can vary with reference to current rates. Talk to our designer for more details on pricing and availability.