Pooja rooms in apartments are an integral part of an Indian home design given the deeply spiritual nature of the country. In contemporary apartment designs, the space for a dedicated pooja room is often overlooked. We have rounded up different ideas for small flat mandir design so you can optimize your space, and create a sanctuary in any home.
Small Flat Mandir Design #1: Utilising Corner Space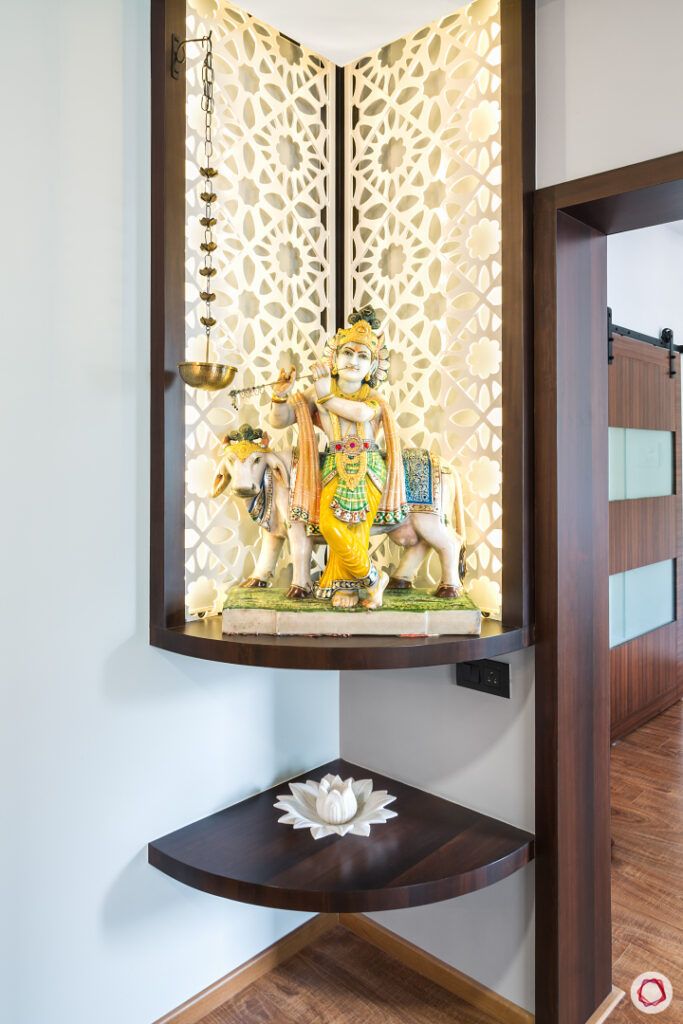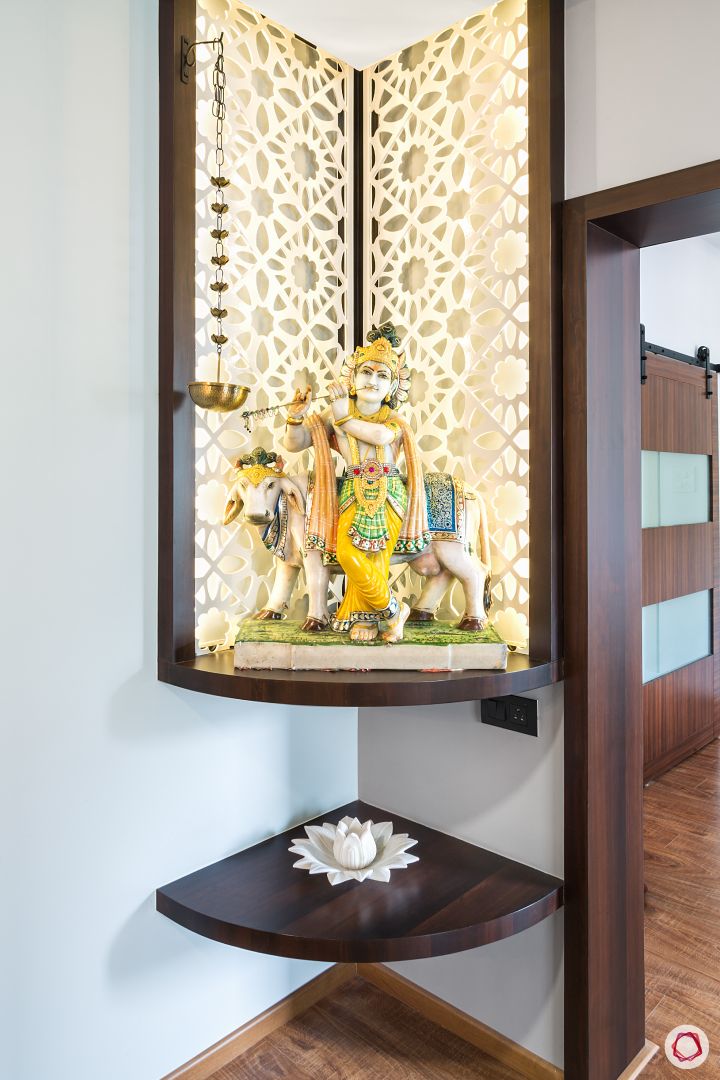 One way of incorporating pooja room designs in apartments is to make use of any vacant and unused space, such as this corner. A stunning mandir design was created using floating shelves and a hanging lamp. In addition, the textured backdrop behind the idol complements the light pastel hues.
Small Flat Mandir Design #2: Jaali Partitions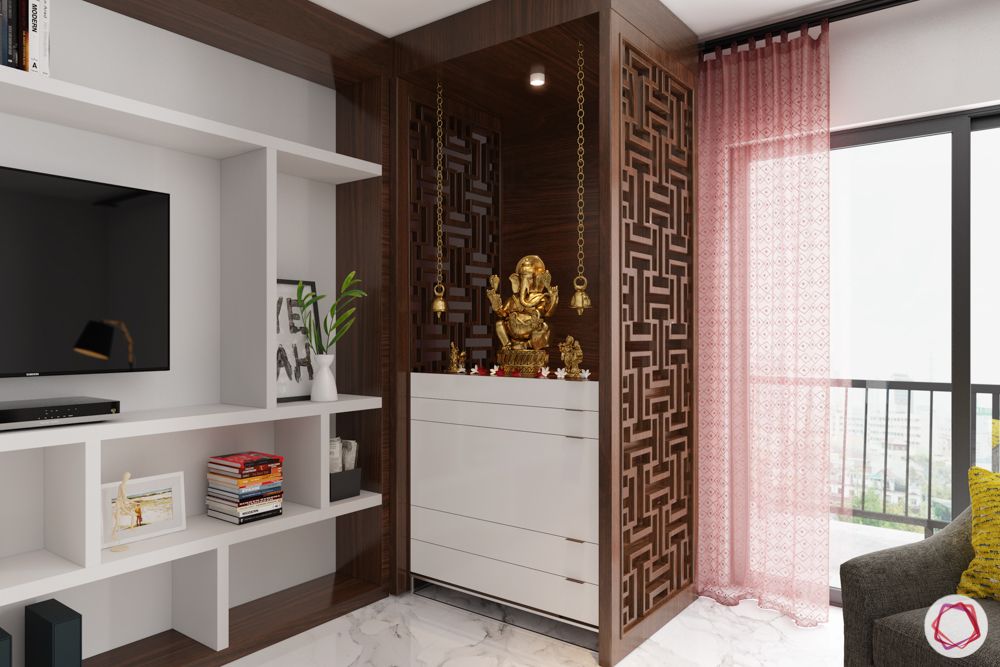 When thinking of pooja room designs in apartments, consider installing jaali partitions for much needed privacy. Here, a patterned jaali distinguishes the pooja space from the living room and balcony. Moreover, the picturesque decor element elevates the lighting in the room, and sets the right tone for the pooja room.
Small Flat Mandir Design #3: Glass Panels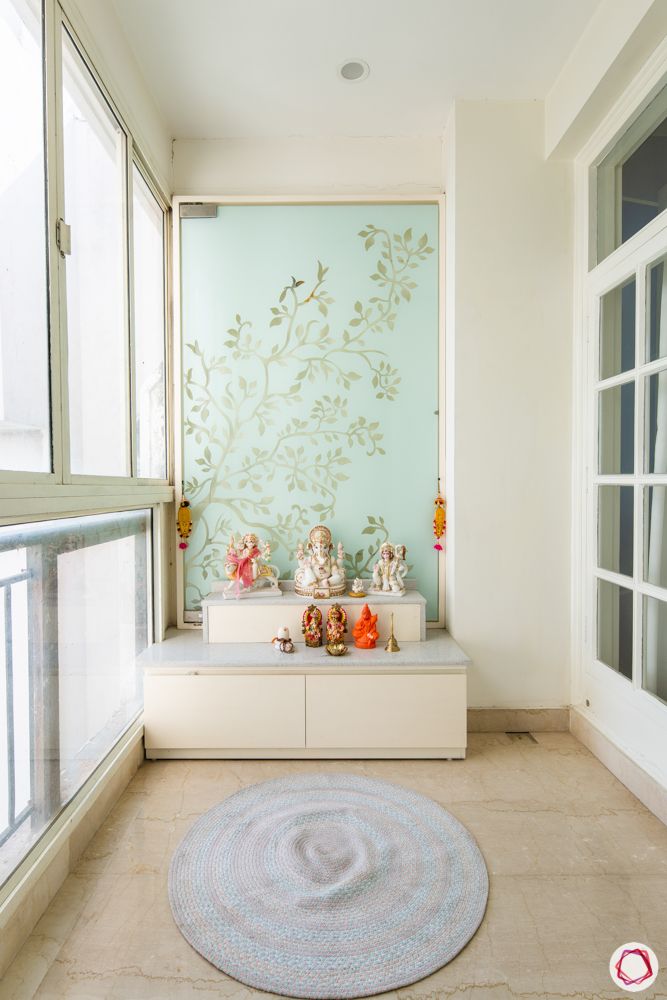 Apartments having a dedicated mandir often use glass panels to distinguish the space. For example, this apartment uses a large glass backdrop to add aesthetic appeal without major renovations to the closed balcony. The glass and beige tile combination in this #LivspaceHome makes the space appear light, airy and luxurious.

Small Flat Mandir Design #4: Standing Units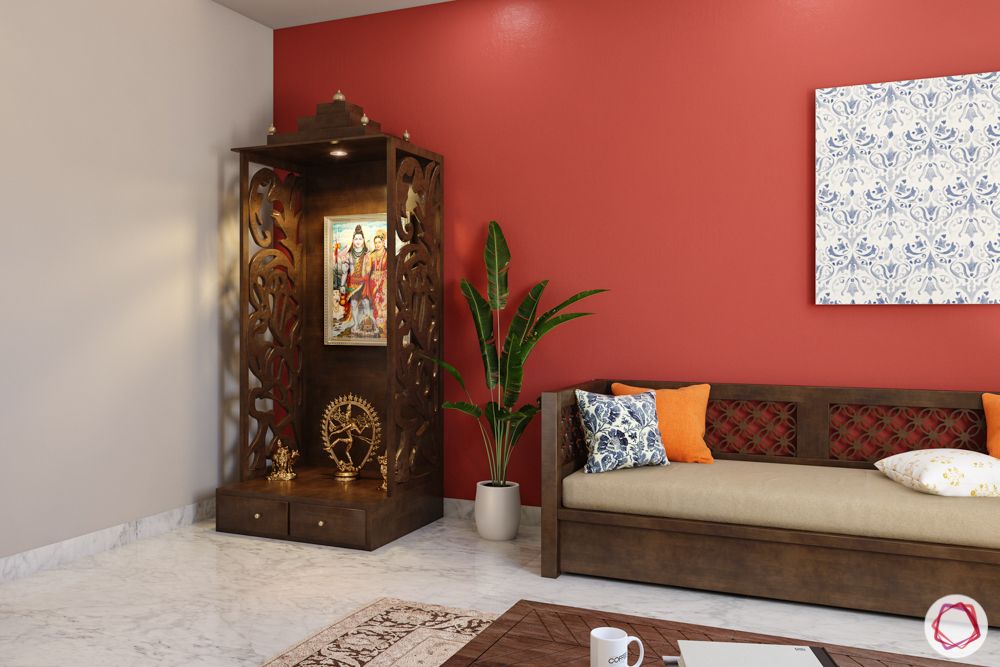 You can have a designated space for prayer in your apartment by installing a standing pooja unit. In this open shelved standing unit, the material and finish of the cabinet complements the woodwork and decor in the room. This unit has been artfully placed in a corner that is visible, yet has a degree of seclusion.
Small Flat Mandir Design #5: Wall-mounted Units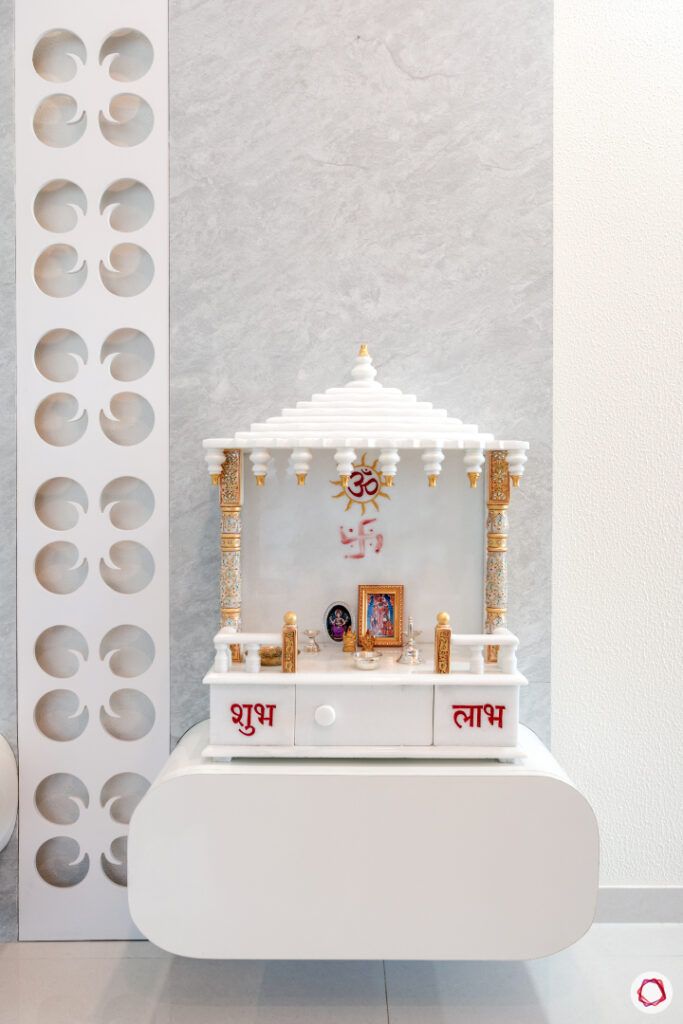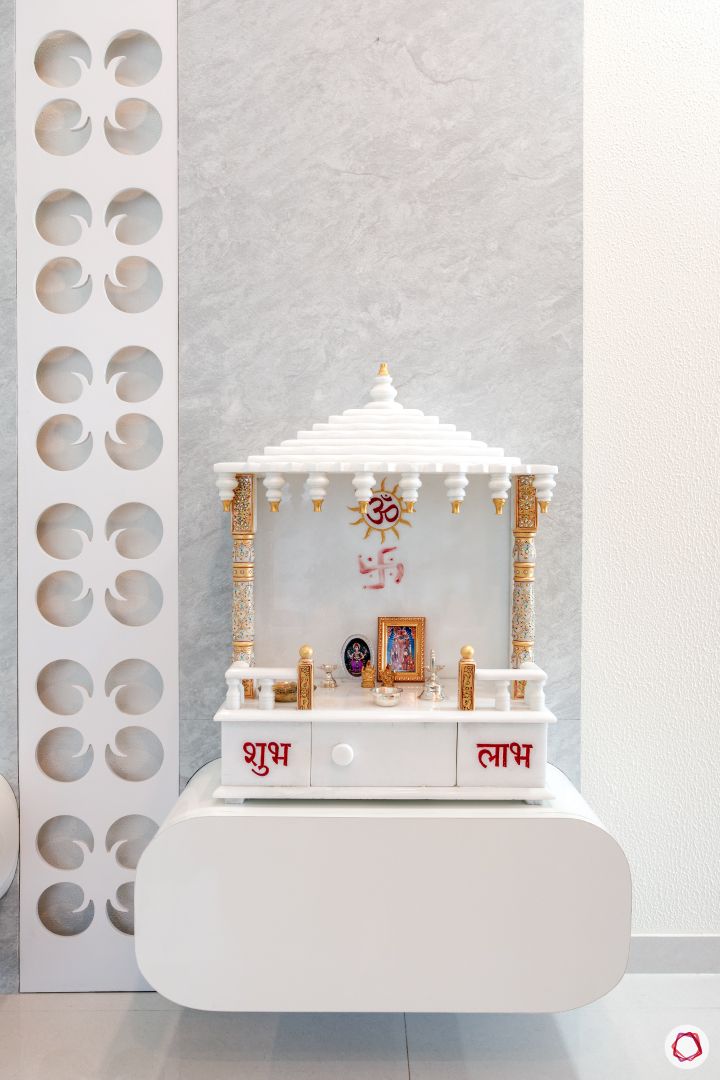 Bare walls are a great place for a mandir in a small flat. So this #LivspaceHome has an ornate mandap on a wall-mounted shelf. In addition, the patterned wallpaper enhances the visual appeal of this all-white divine space. This pooja room also has an intricately carved wooden panel to house lamps or bells in the corner.
Small Flat Mandir Design #6: Convenient Niches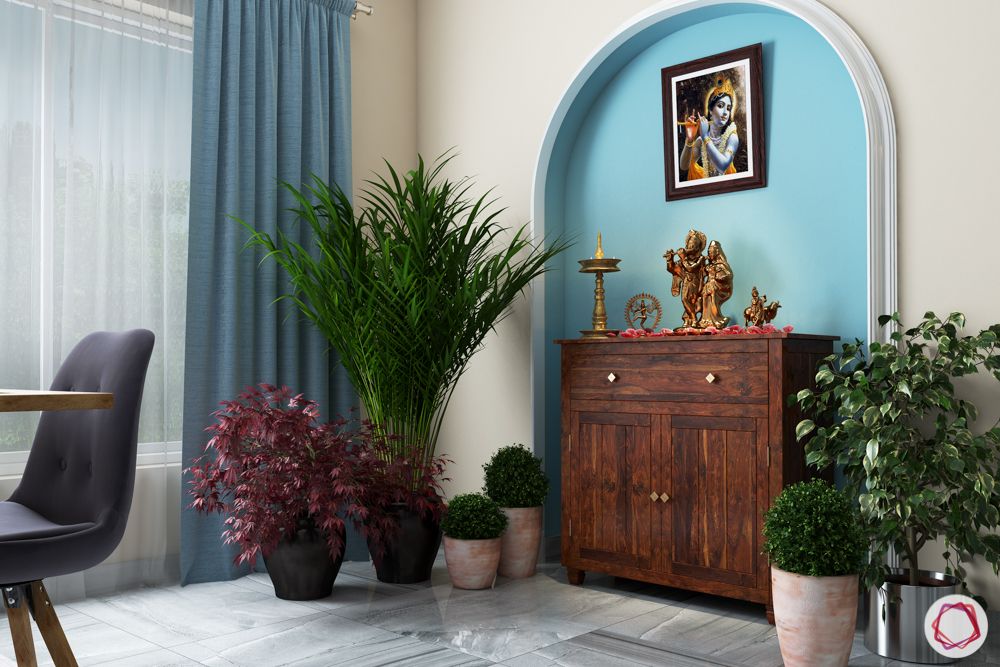 If you are pressed for space for your pooja room designs in apartments, every niche counts. In this image, the light blue wall acts as the background. So it brings the bronze idols and lamps, the Krishna painting, and the dark cabinet to life. As the niche is in a fairly accessible part of the house, large potted plants give an illusion of privacy to your daily prayers.
If you enjoyed reading this article, also check out Unique Prayer Room Door Options.
Send in your comments and suggestions.