Looking for small pooja room designs in apartment interiors that can be accommodated without taking much floor space? Mandir designs for small flats are becoming more and more popular given the space constraints in urban cities. Thus, we have rounded up different ideas for small flat mandir design so you can optimise your space and create that much-desired spiritual sanctuary in any home.
#1: Utilise That Corner Space for a Small Flat Mandir Design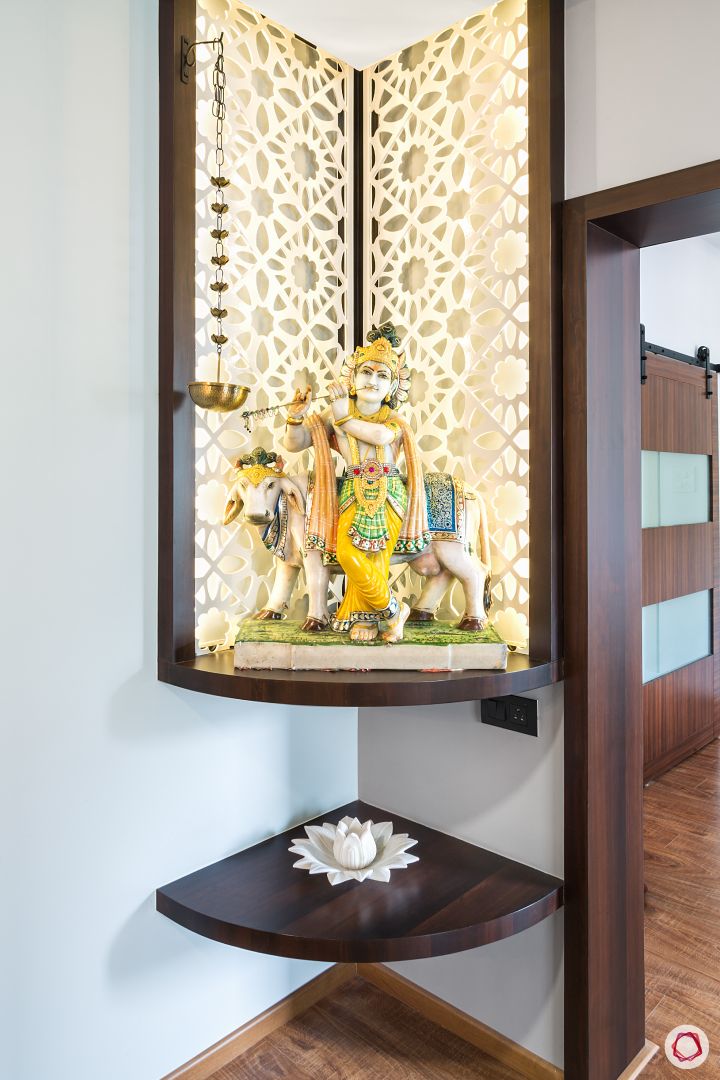 One way of ensuring small pooja room designs for home interiors is to make use of any vacant and unused space, such as this corner. A stunning mandir design for small space apartments can be created using floating shelves and a hanging lamp. In addition, the textured backdrop behind the idol complements the light pastel hues.
#2: Consider Jaali Partitions for Small Puja Room Designs in Apartment Interiors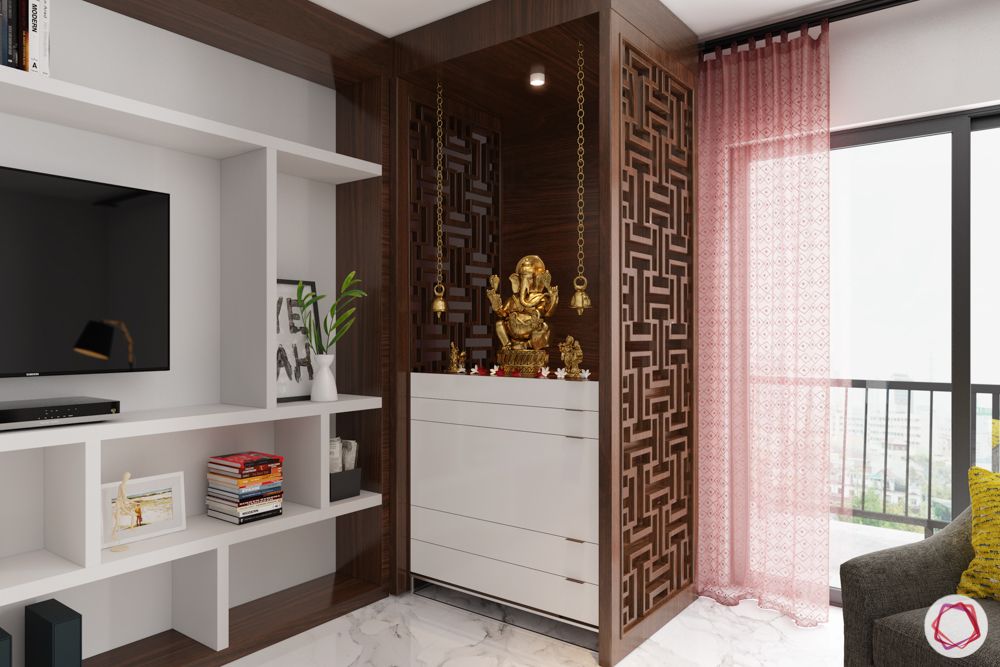 When thinking of mandir designs for small flats, consider installing jaali partitions to establish privacy during prayers. One of the more popular puja room ideas for small flats, a patterned jaali distinguishes the pooja space from the living room and balcony. Moreover, in the above example, the picturesque decor element elevates the lighting in the room and sets the right tone for this small flat mandir design.
#3: Install Glass Panels in Mandir Designs for Flats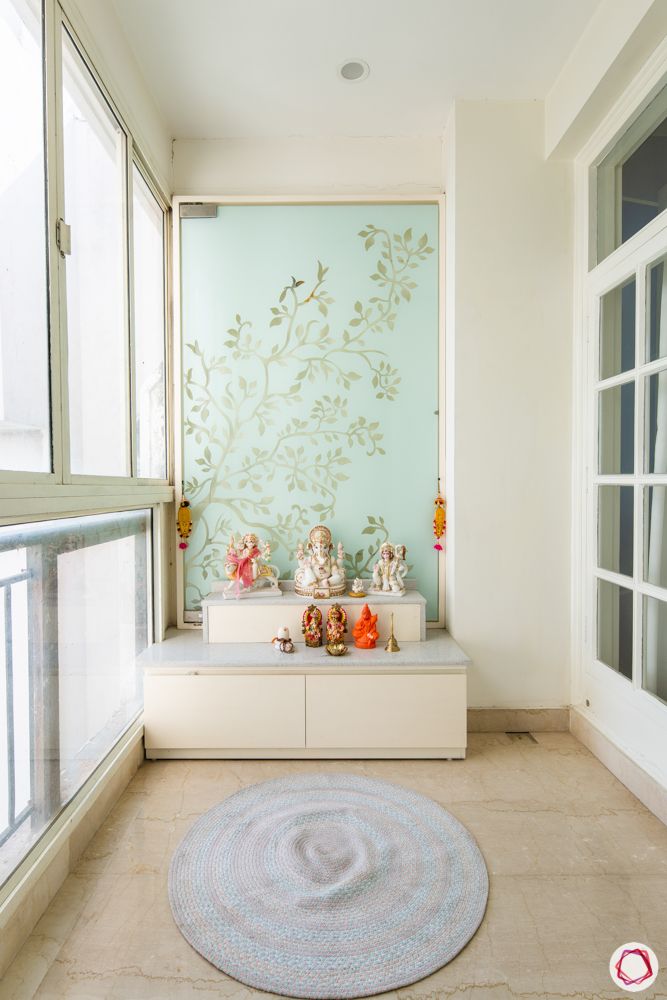 Using glass panels in puja room ideas for small flats creates a separate space for the mandir. For example, this apartment uses a large glass backdrop to add aesthetic appeal without major renovations to the closed balcony. The glass, along with the beige tiles in this puja room unit design in apartment makes the space appear light, airy and luxurious.
#4: Keep a Standing Mandir Design in Flats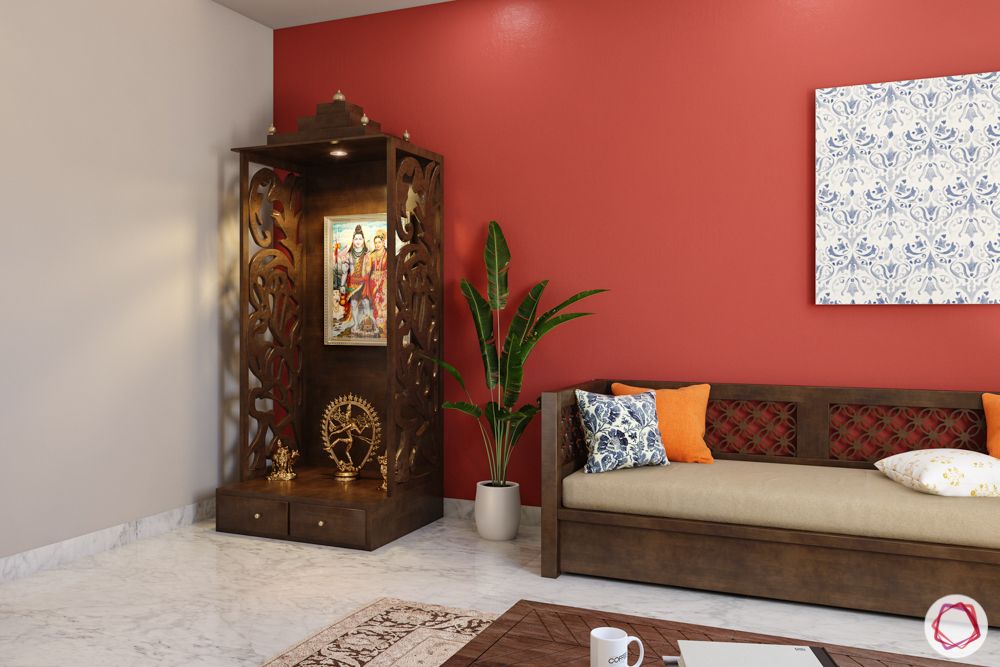 You can have a designated space for prayer in your apartment by installing standing mandir designs for small flats. For instance, this mandir design for a small space, the material and finish of the cabinet complements the woodwork and decor in the room. This unit has been artfully placed in a corner and while it is visible, it still retains a degree of seclusion.
#5: Get Wall-Mounted Mandir Designs for Flats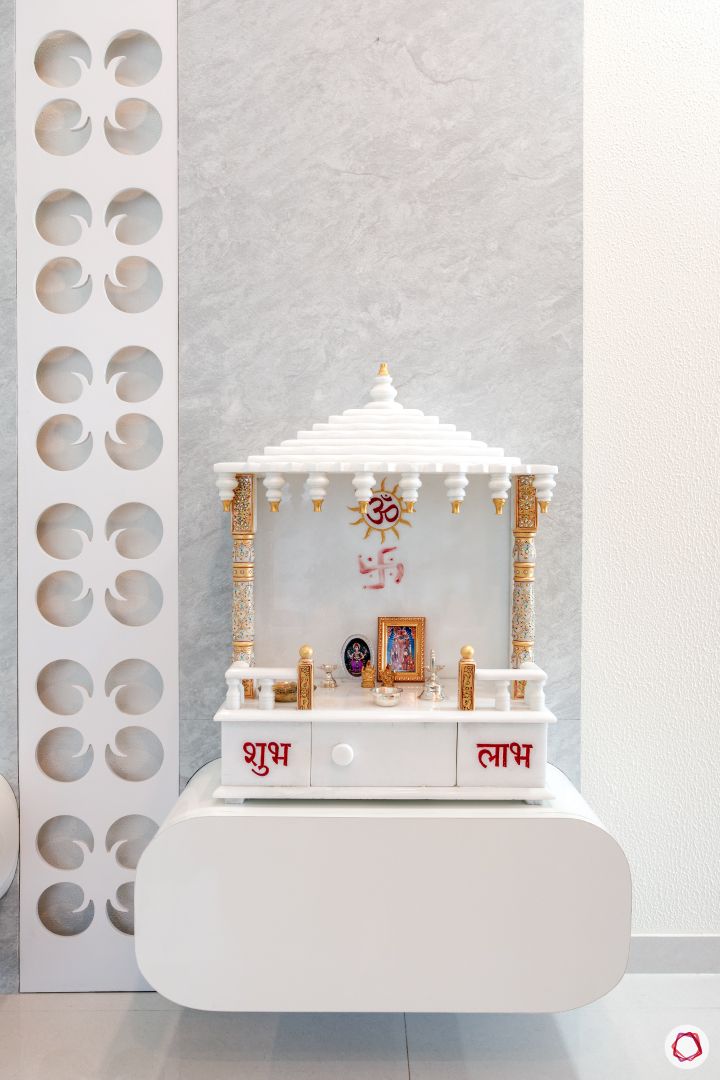 Bare walls make for a good small flat mandir design. How? Take the example of this #LivspaceHome mandir design in flat. It has an ornate mandap on a wall-mounted shelf. In addition, the patterned wallpaper enhances the visual appeal of this all-white divine space. This pooja room also has an intricately carved wooden panel to house lamps or bells in the corner.
#6: Carve Out Convenient Niches to Fit Mandir Designs for Small Flats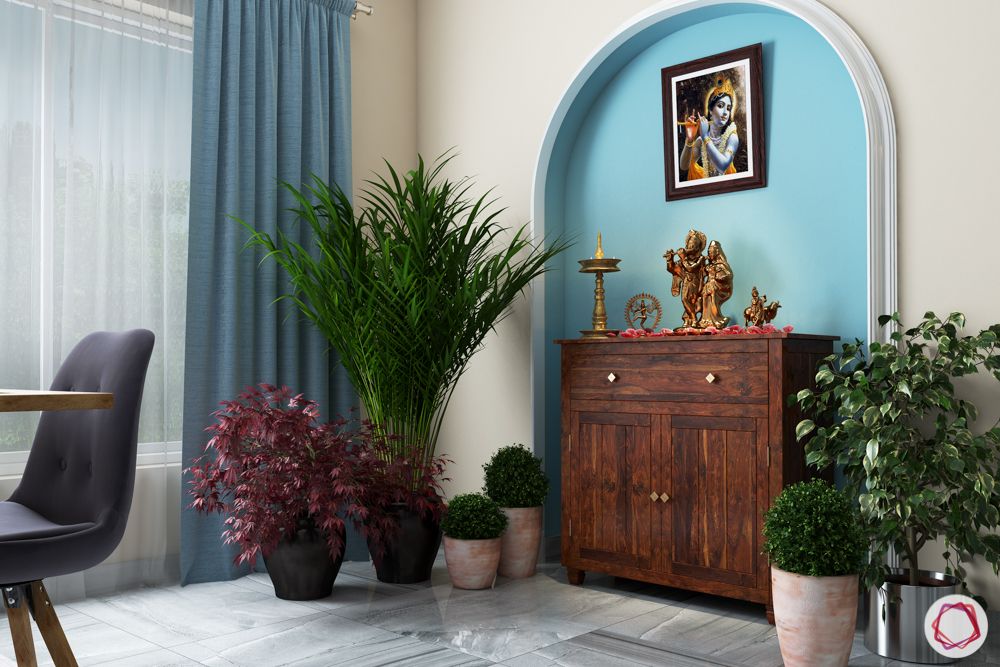 If you are pressed for space, know that every niche can accommodate small puja room designs for home interiors. In this image, the light blue wall acts as the background. This helps bring to life the bronze idols and lamps, the Krishna painting, and the dark cabinet. As the niche is in a fairly accessible part of the house, large potted plants give an illusion of privacy to your daily prayers.
If you enjoyed reading this article, also check out Unique Prayer Room Door Options.Wondering how our customers feel about working with Livspace? You can check out the Livspace reviews here! Send in your comments and suggestions to— editor@livspace.com.
How Can Livspace Help You?
We hope you found our ideas useful! If you want your home to be just as beautiful, then look no further. Book an online consultation with Livspace today. Delivering safe home interiors has been our No. 1 priority. Click here to find out how interiors are being delivered following all safety protocols.