Pooja shelf designs are a boon, given the shrinking sizes of Indian homes today. Not everyone has the luxury of owning a dedicated pooja room and so, coming up with shelf design ideas on walls and corners are the way to go.
Before we look at some stylish pooja shelf designs, let's deep dive into the importance of pooja rooms in Indian homes.
What Is a Pooja Room?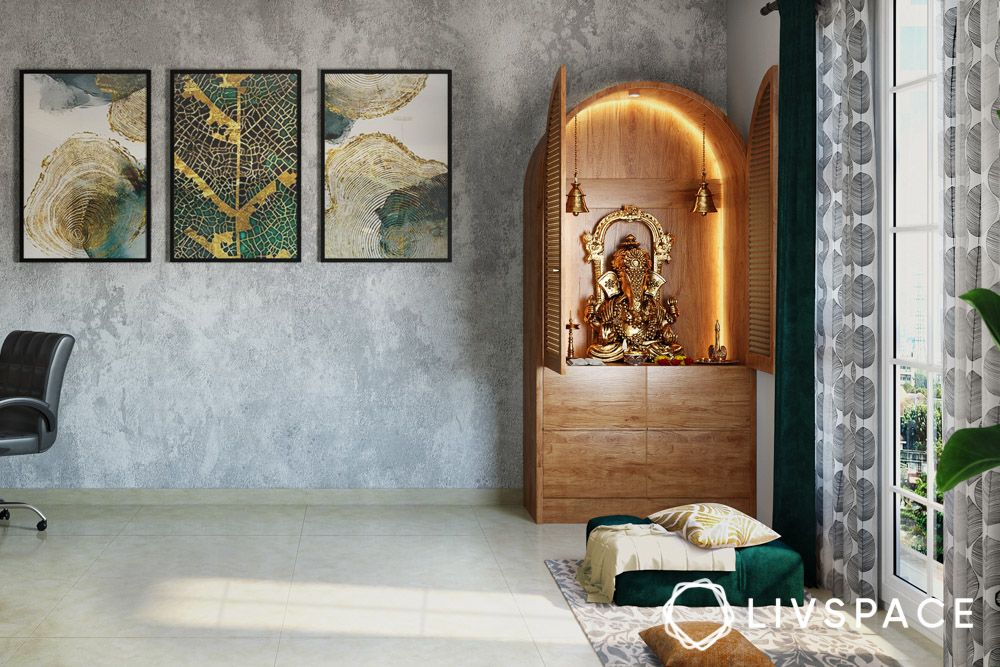 A pooja room is one of the most essential spaces in Indian homes. As a space dedicated to God, Indian homeowners consider this a mandatory addition to their homes, irrespective of the space available. However, since most flats are quite compact (especially in cities like Mumbai), pooja rooms are gradually turning into wall-mounted pooja units that help to save space. A pooja shelf design on the wall is the perfect way to welcome the divine into a compact home.
How Important Is a Pooja Room in an Indian Household?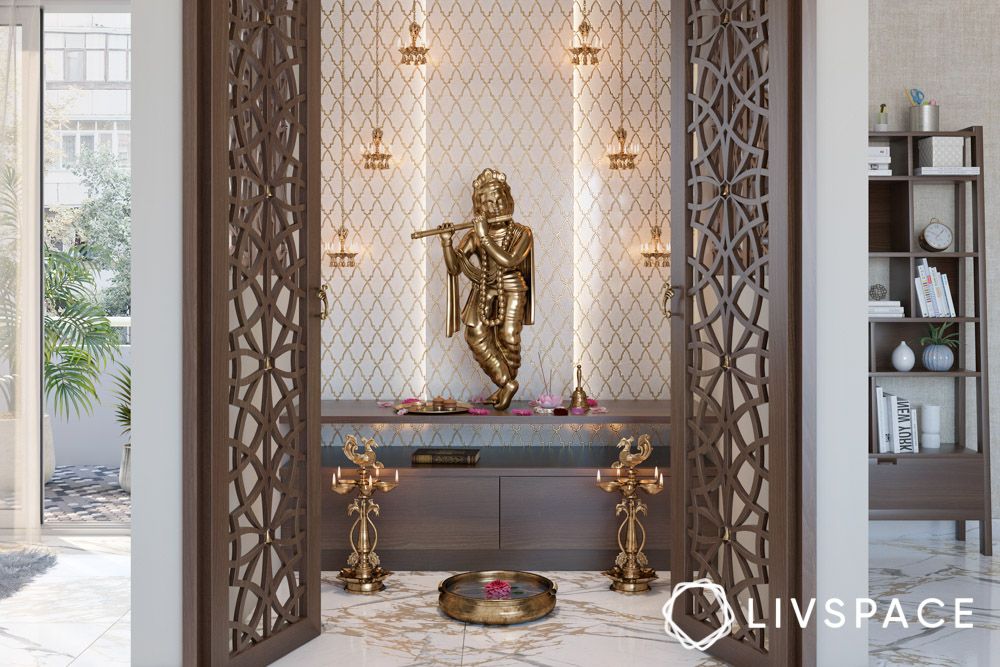 When it comes to an Indian home, the kitchen and the pooja room are the two rooms that are the most important. Where there is no space for a separate pooja room, people opt for pooja shelf designs. While designing a pooja room, it's important to pay attention to pooja room vastu rules to ensure that only positive energies flow into your home.
Also Read: 10 Beautiful Livspace Pooja Room Designs Under ₹1 Lakh That You'll Love
Let's look at some stunning pooja shelves design ideas:
#1: Minimal Pooja Rack Design Against an Accent Wall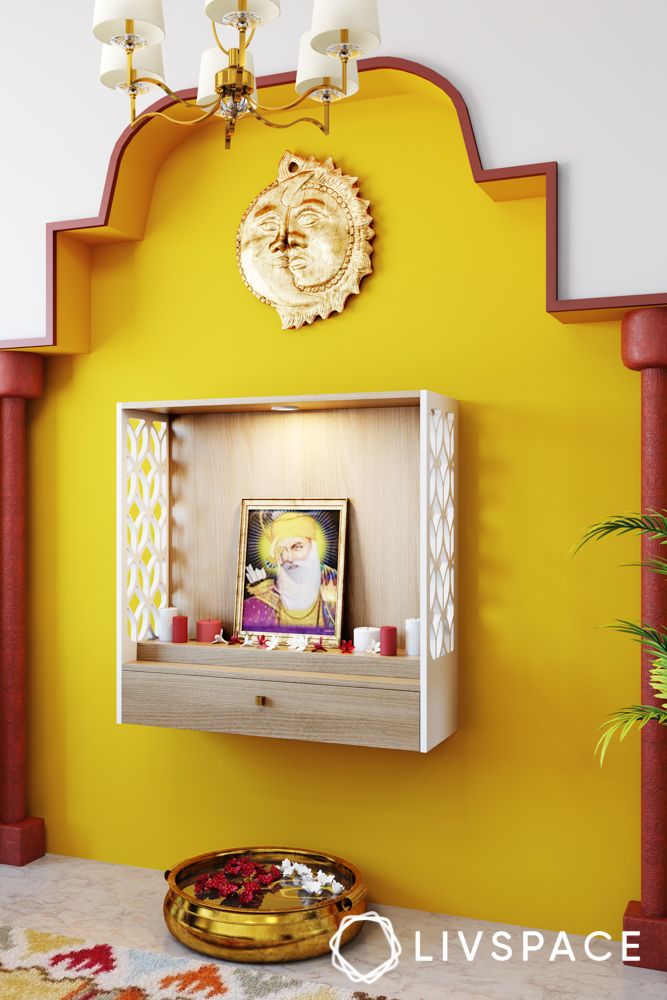 If you are looking for pooja shelf ideas, you must bookmark this one! All you need is a minimal pooja room rack design and an accent wall. Placing the pooja unit against an accent wall will elevate the look of the space.
#2: Multiple Pooja Shelf Designs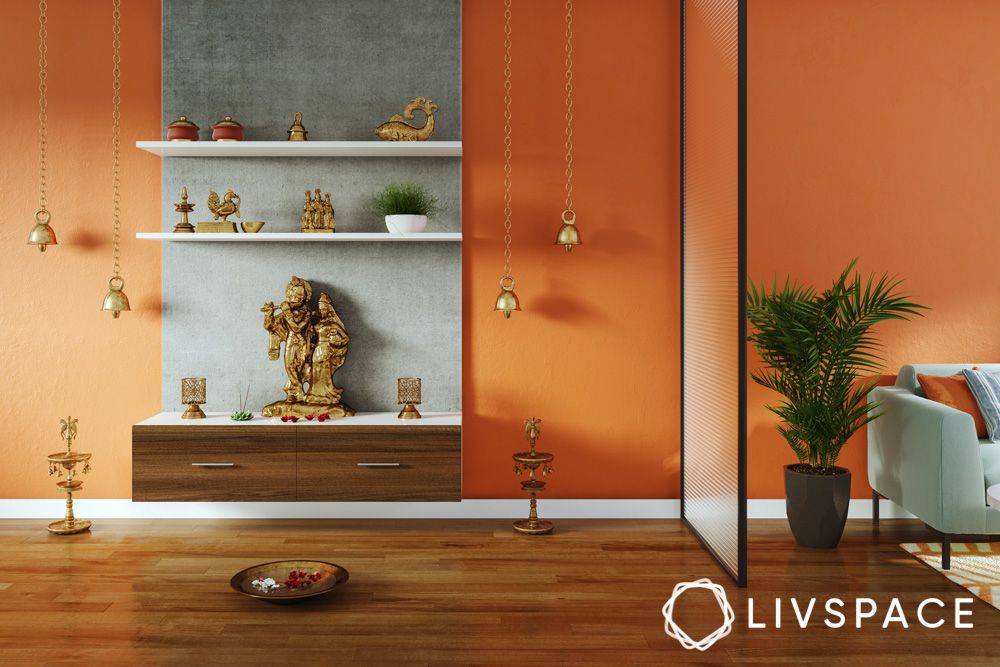 Have a wide range of idols you want to display in your pooja corner? This wall-mounted pooja shelf design is just right for you.
Place multiple floating shelves in a pattern that you like best and according to your room's orientation. This way you have ample space for all your deities and your little pooja corner looks stylish as well.
#3: Pooja Shelf Idea With Stylish Doors in Your Living Room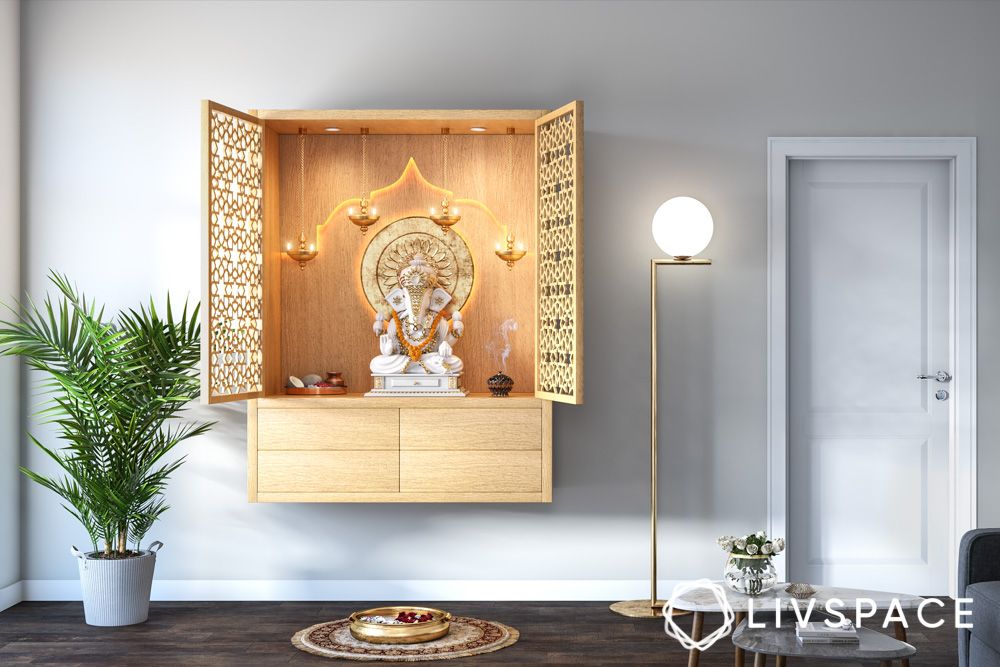 If you don't like the idea of having an open pooja unit in your home's living or dining area, then go for pooja shelf designs with doors. Small pooja shelf designs with beautifully carved doors provide privacy when the unit is not in use.
#4: Pooja Room Shelf Ideas With Tiny Bells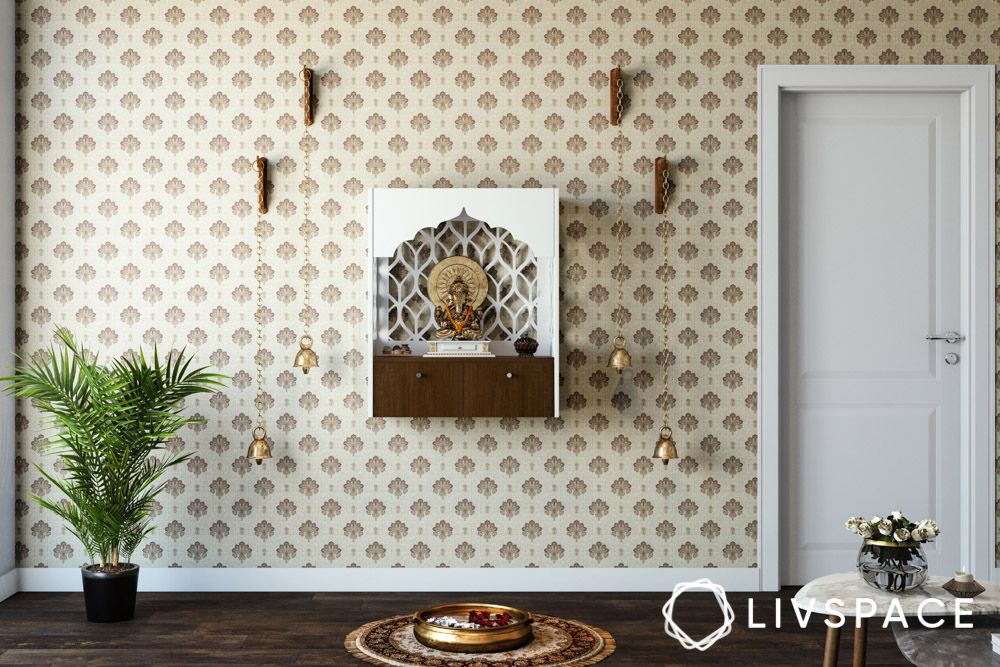 Bells and temples are synonymous and we are giving you the perfect idea for your pooja shelf designs. Decorate your pooja room shelf design with numerous tiny bells and create an alluring design. Hang them on top and on either side of your pooja shelves design to create an aura of purity and divinity.
#5: Simple Pooja Shelf Designs With Lattice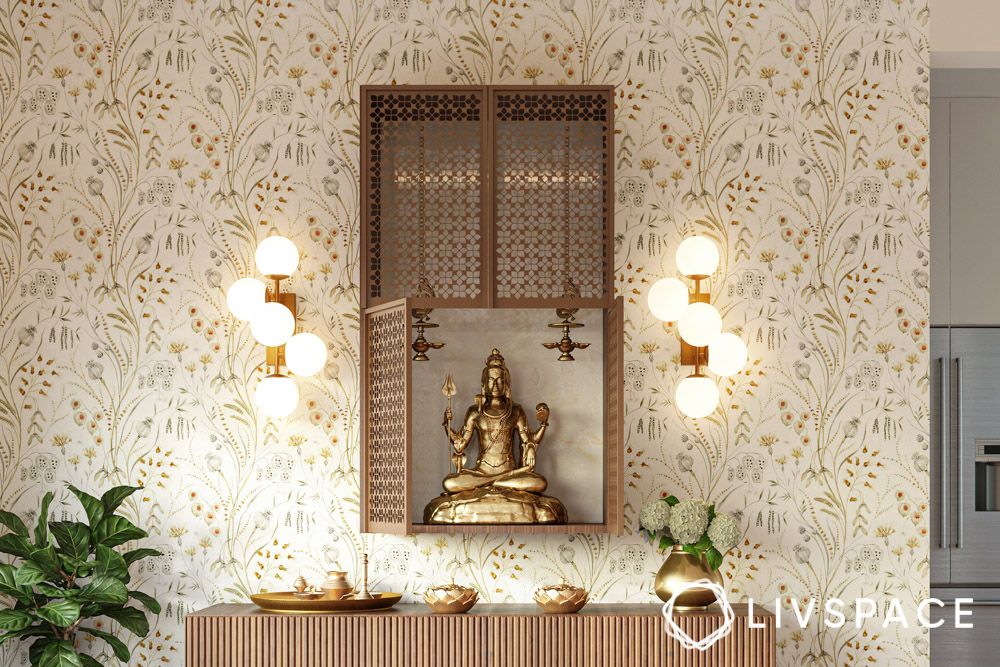 If you are looking for pooja shelf ideas, bookmark this! Simple wall-mounted pooja shelf designs with lattice are sure to make a statement in your home. This lattice shelf will give you ample space to keep all your idols, pooja items, and other essentials. Considering how the lattice framework itself works as a design focal point, you can up the ante by getting it made from different materials or finishes.
#6: Pooja Shelf Designs With Storage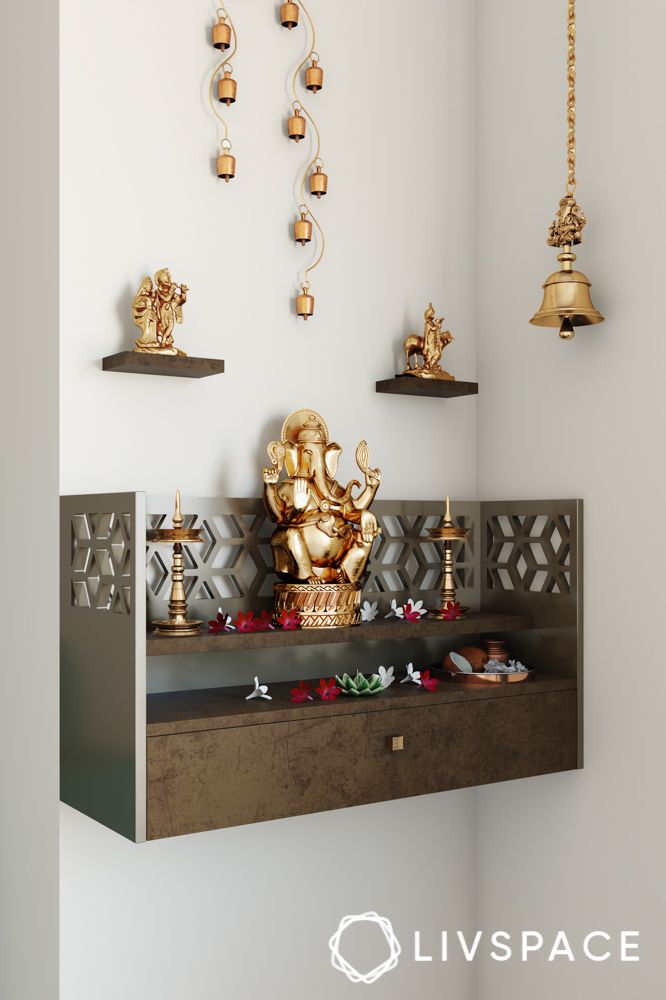 If you need some space to store your pooja samagri, opt for pooja shelves design ideas that come with a storage unit. All you need to do is ask your designer to install a drawer below your pooja shelf that can serve as storage.
#7: Single Pooja Room Shelf Design With a Partition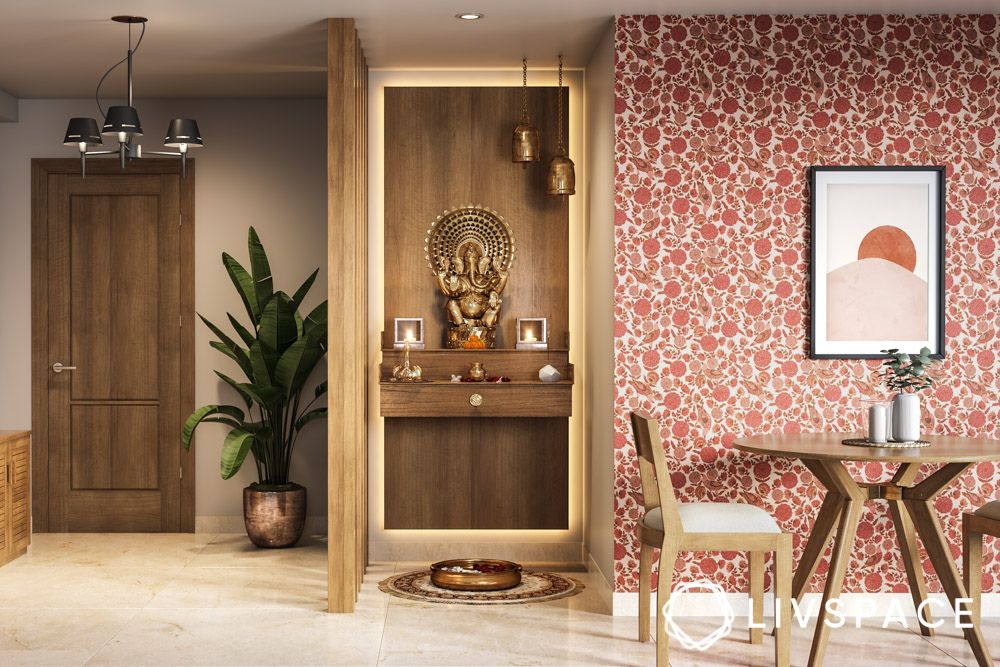 Pooja shelf designs can be as simple or intricate as you want. To add some privacy to the space, consider mandir design ideas with a minimal partition. Choose the same material for the pooja unit and partition to maintain design continuity.
#8: Vibrant, Small Pooja Shelf Design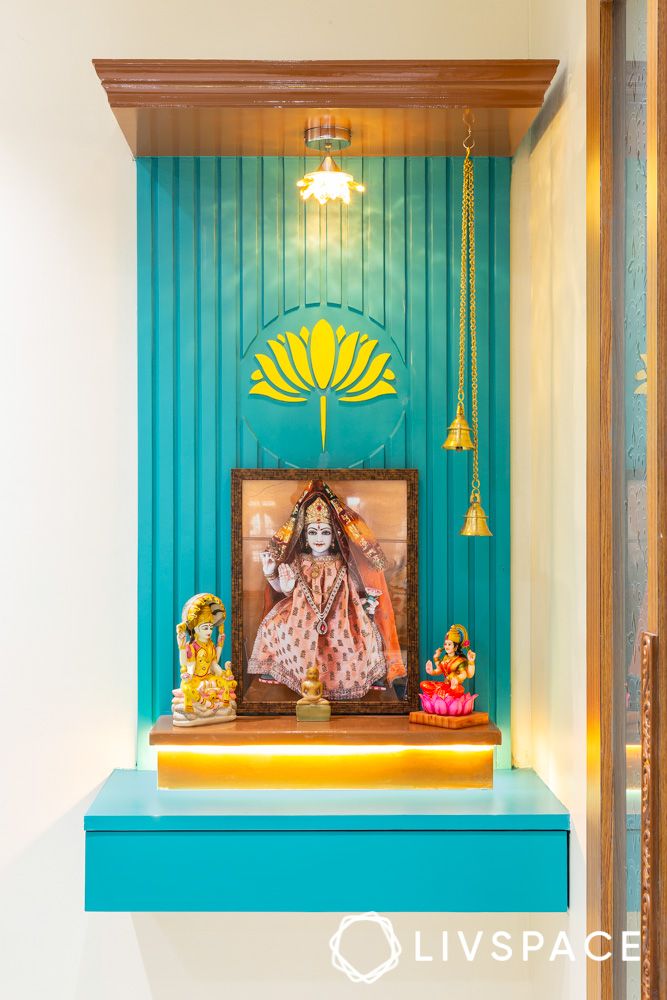 Pooja shelf designs in vibrant colours are always a winner! If you have neutral interiors, you can opt for a wall-mounted pooja unit in a bold shade. Also, use profile lighting to amp up the look.
#9: Simple Wall-Mounted Pooja Shelf Design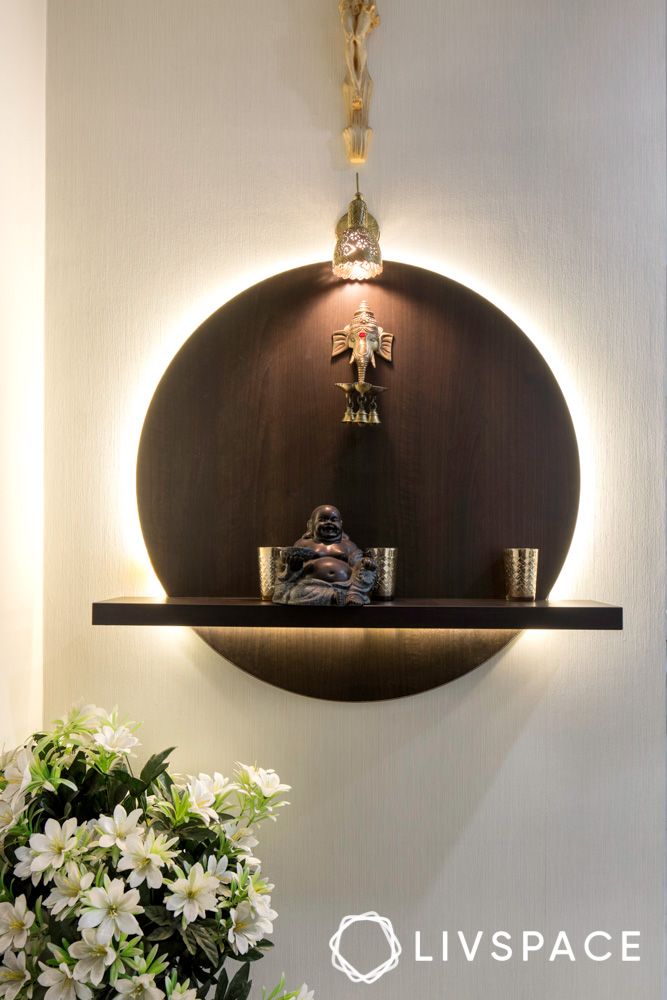 If you have a compact flat, it's always best to go for simple and minimal pooja shelf designs. This basic pooja unit in dark wood does not take up too much space and the backlighting gives it a contemporary vibe.
Multifunctional Pooja Shelf Design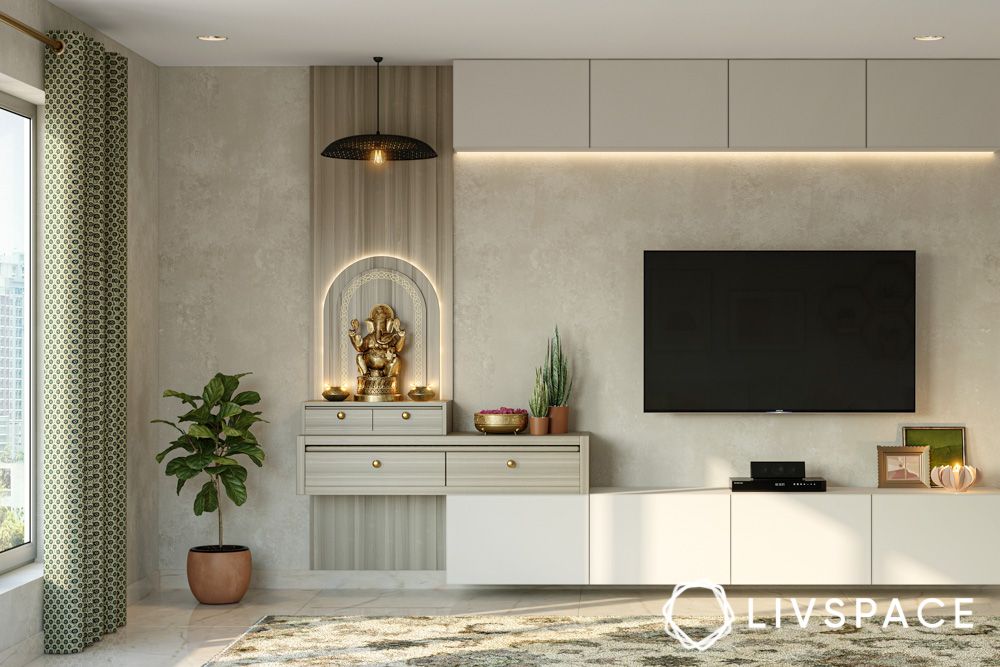 One of the best space-saving solutions is to opt for multifunctional furniture. Whether it's a TV unit with a mandir or a wardrobe-cum-pooja-unit, multifunctional furniture is a great way to have a pooja space in a small flat.
How to Decorate Your Pooja Room?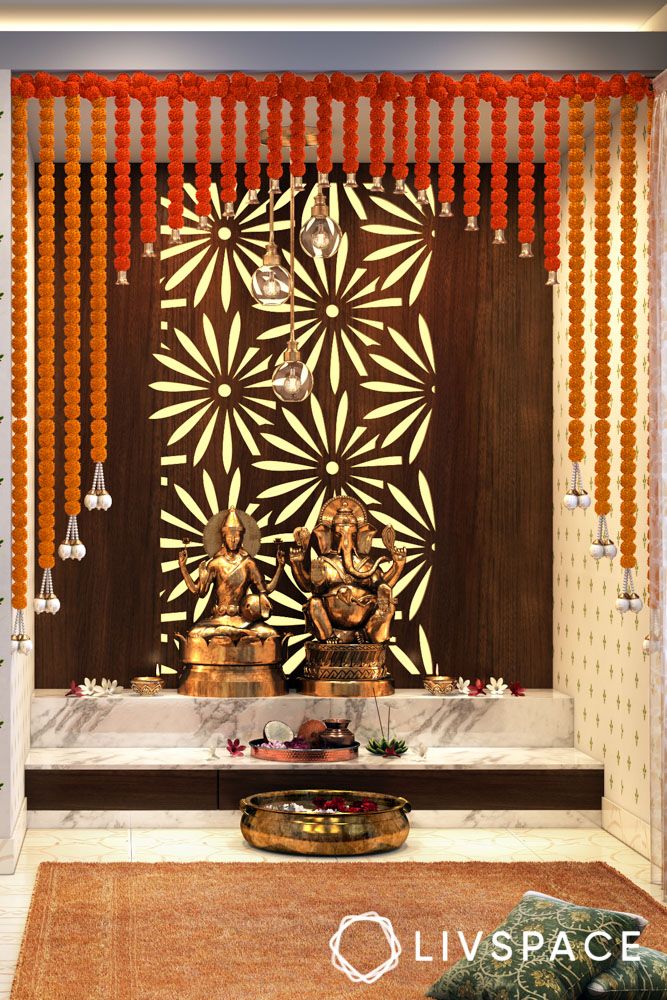 To welcome divinity into your home, your pooja room should be clean and beautifully decorated. To decorate your mandir, use lamps, diyas, and flowers. You can also hang small bells around your space.
How to Choose the Perfect Mandir for Your Home?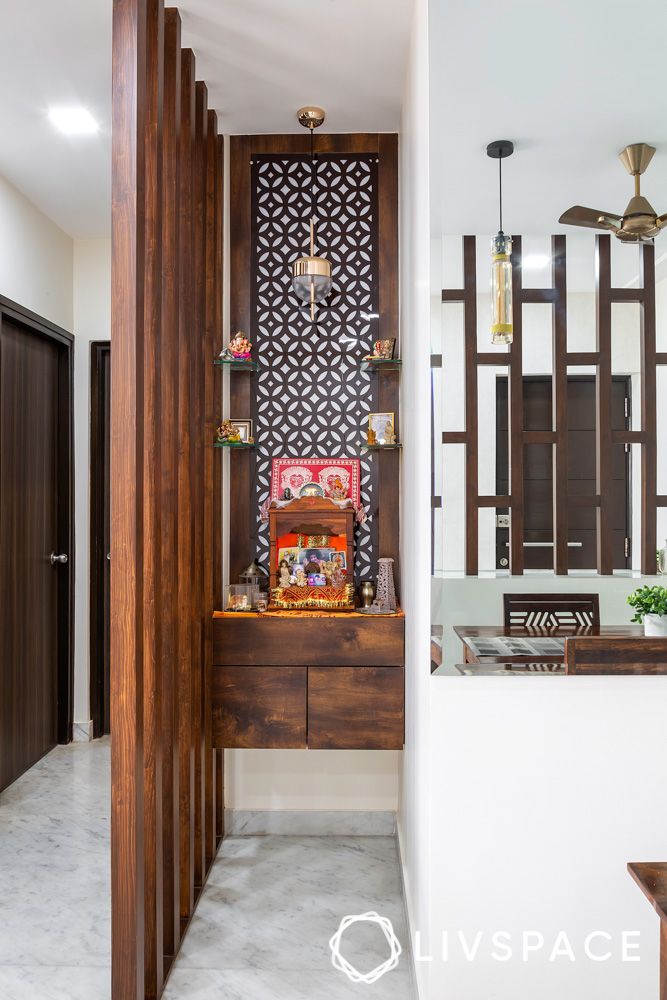 Before you choose the perfect pooja unit for your home, there are two things you must consider – the space available and your budget. When space is scarce, opt for designs like wall-mounted units, multifunctional pooja mandirs, and mandir units that fit into a niche or nook. For a low-budget design, consider cost-effective materials like laminate.
Also Read: 20+ Best Pooja Room Designs of 2022 to Evoke Divine Vibes in Your Home
Check out pooja room designs:
How Can Livspace Help You?
We hope you found our ideas useful! If you want your home to be just as beautiful, then look no further. Book an online consultation with Livspace today.