If you've always looked at wooden mandir designs but steered clear of them because you wanted something you could maintain more easily, then pooja room designs in plywood fit your requirements! Additionally, it adds the quintessential desi touch, and you can play around with the design. So, let's check out these designs together!
#1: Pooja room designs in plywood and frosted glass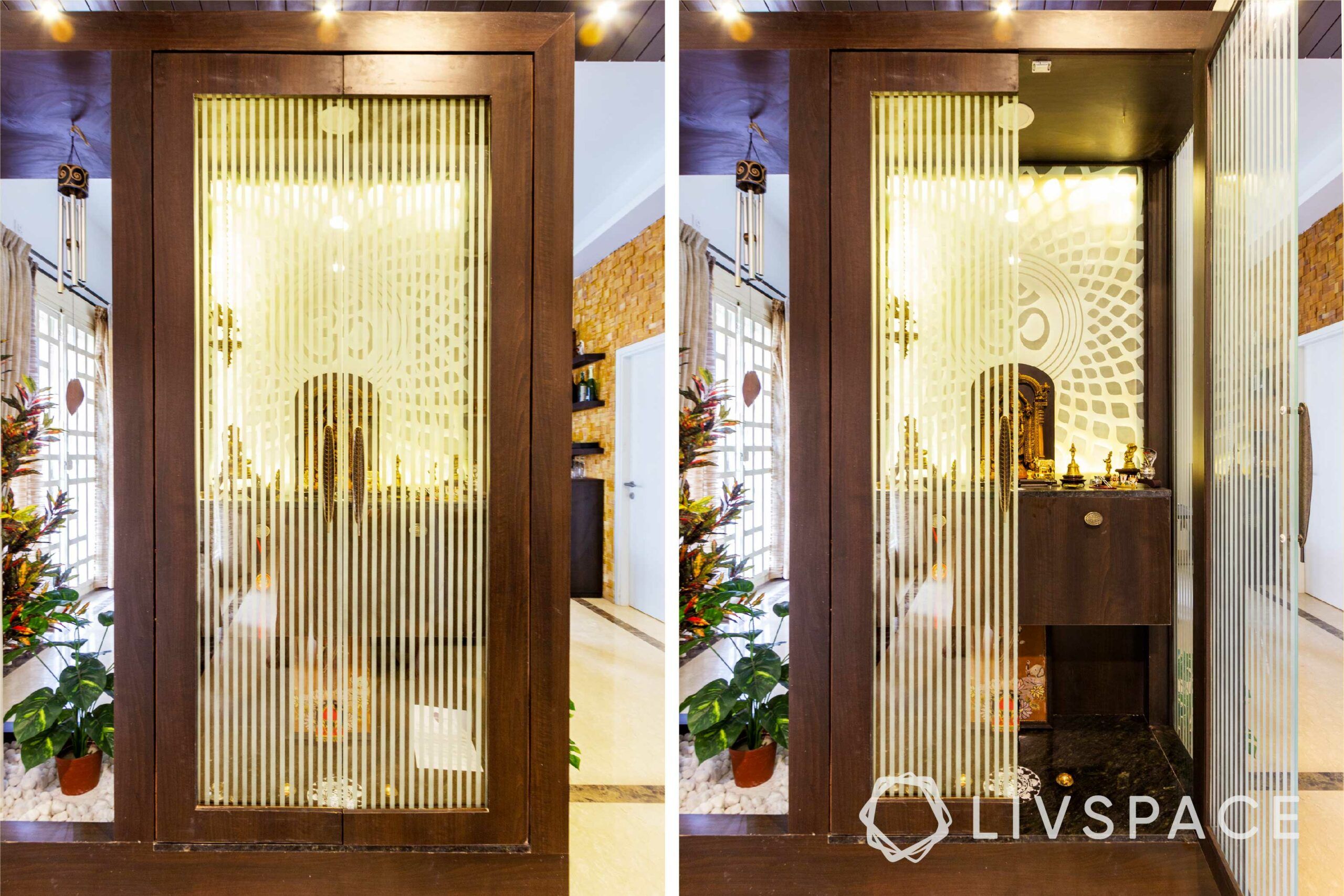 This custom pooja room will add a dash of drama to any home! Crafted in plywood with frosted glass shutters and a backlit panel with an etched 'om' incantation, this plywood mandir design sets the mood for prayer.

#2: Wall-mounted plywood mandir design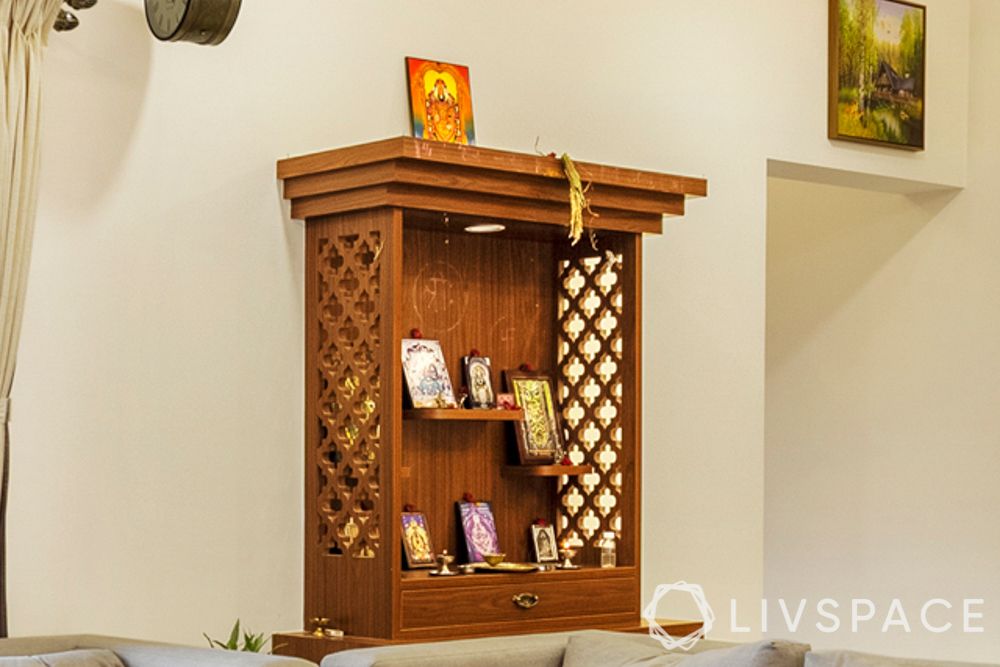 Such tiny wall-mounted pooja room designs in plywood can be custom-made to suit your requirements. With jaali designs and ample storage, such pooja rooms fit comfortably into compact homes.
#3: Plywood panelling around CNC-cut pooja room doors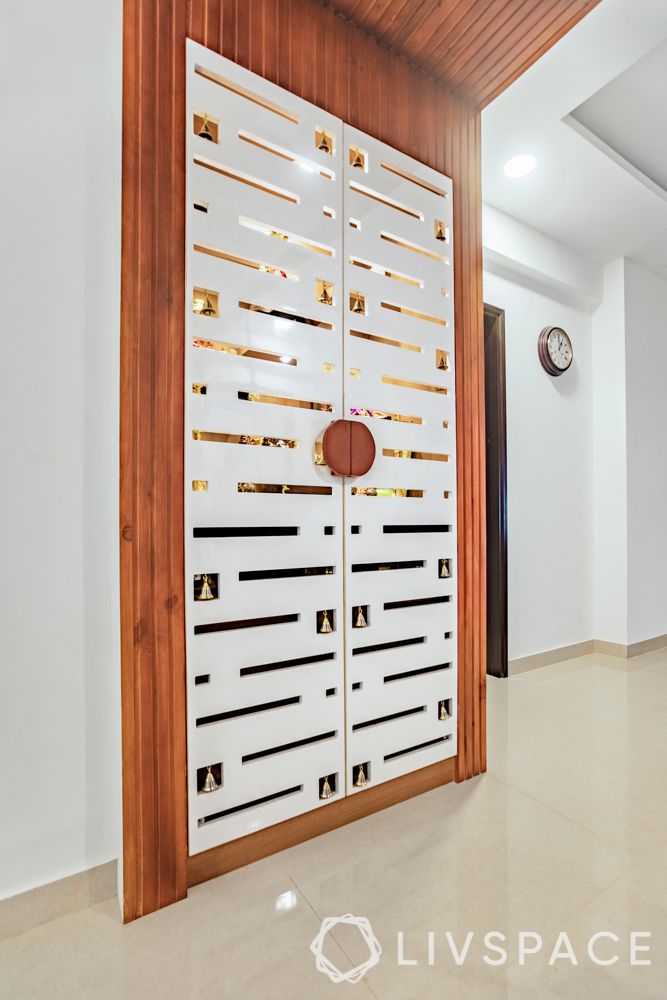 Mounted within a plywood frame, these CNC-cut doors allow a brief glimpse of the divine to passers-by. You can also choose to continue the plywood panel onto the ceiling and the opposite wall to distinguish spaces without taking up space.
#4: Plywood mandir design with jaali doors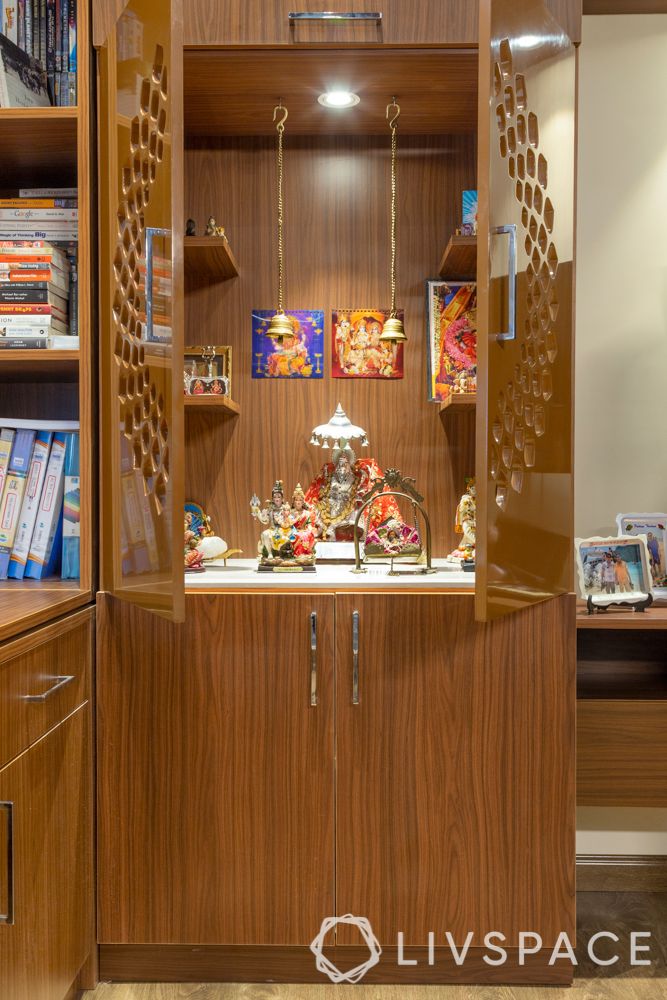 Vastu experts suggest that your place of prayer should have doors to maintain the sanctity of the space. So that's how this plywood mandir design came about. Also, this unit has ample storage space to keep your pooja essentials.
#5: Simple plywood pooja unit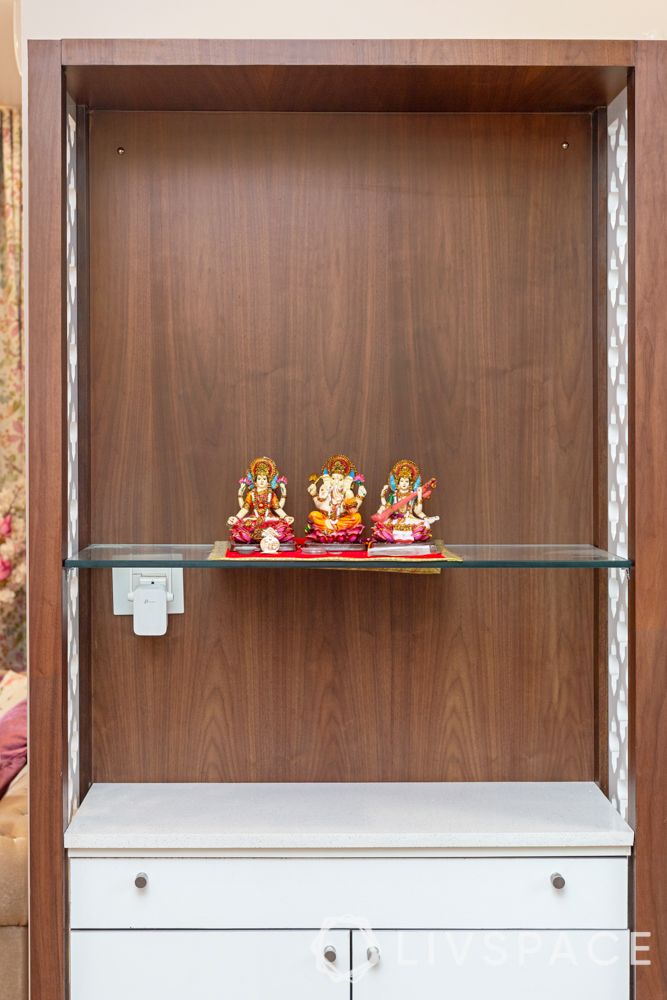 If you're short on space but still want a pooja unit in your home, check out this traditional classic with a plywood frame and back panel. A simple glass slab ensures that your idols can be arranged in style as well!
#6: Vastu-approved wall colour with a plywood pooja unit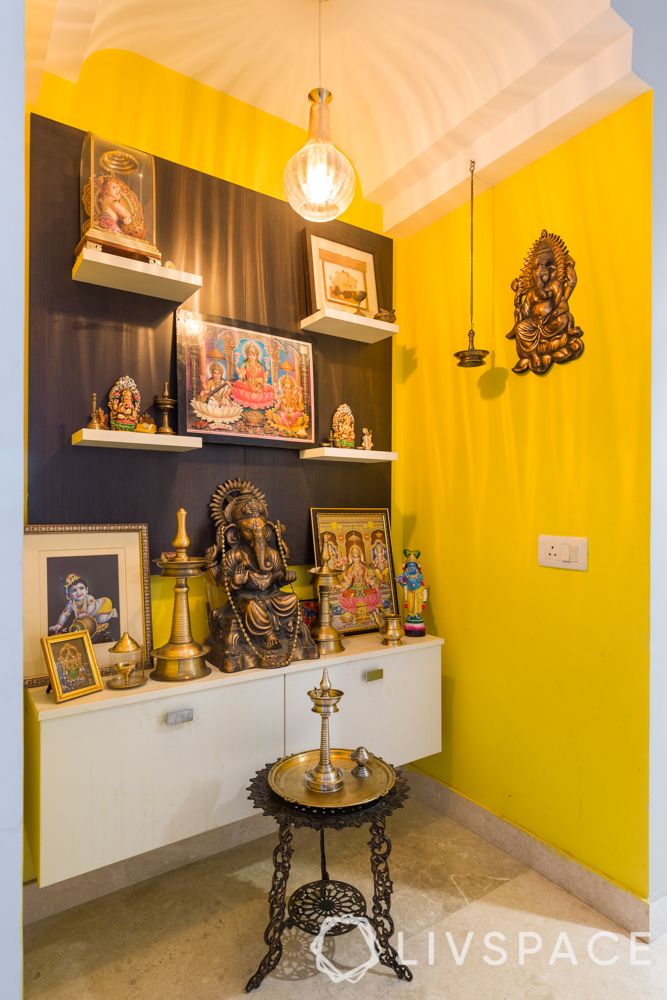 If you have a simple and traditional mandir in your home but want to add some charm to it, why not incorporate a vastu-approved colour in your pooja room? Take your cue from this pooja room with a plywood back panel, soft lighting, ample storage space, and a yellow accent wall!
#7: Plywood mandir design with ample storage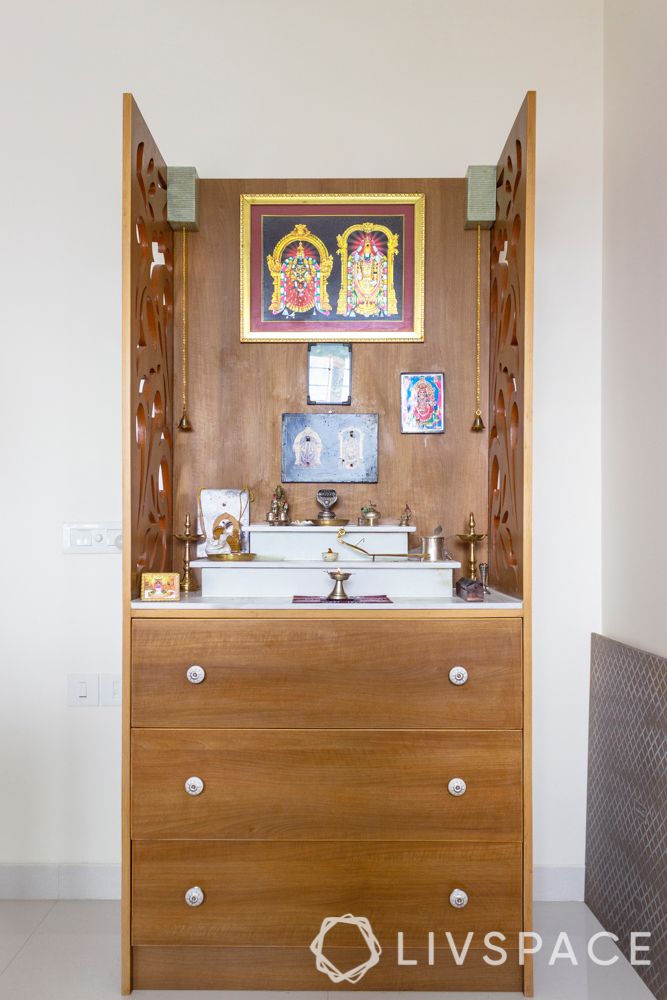 If you want space for storing your pooja essentials as well as your collection of lamps for the gods, check out this classic unit! While the jaali doors add a traditional touch, the simple design with plenty of drawers ensure that you never run out of space!
#8: Plywood pooja with geometric partitions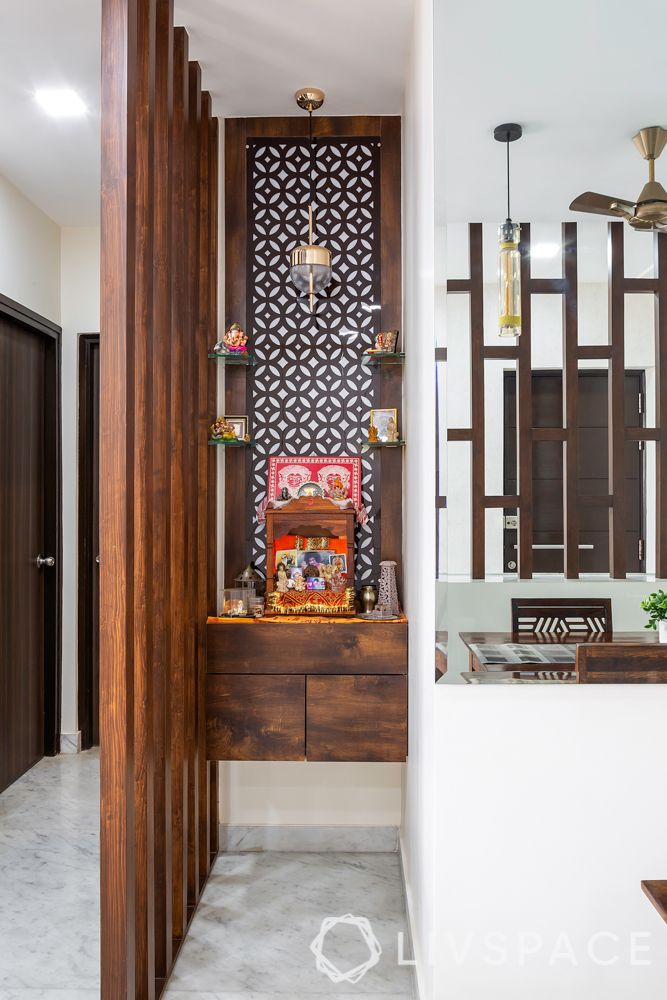 Add a plywood partition to your entryway, and make a snug space for such pooja room designs in plywood! With a pretty jaali panel and plywood drawers, your prayer nook is all set!
#9: Minimalist plywood mandir design with bells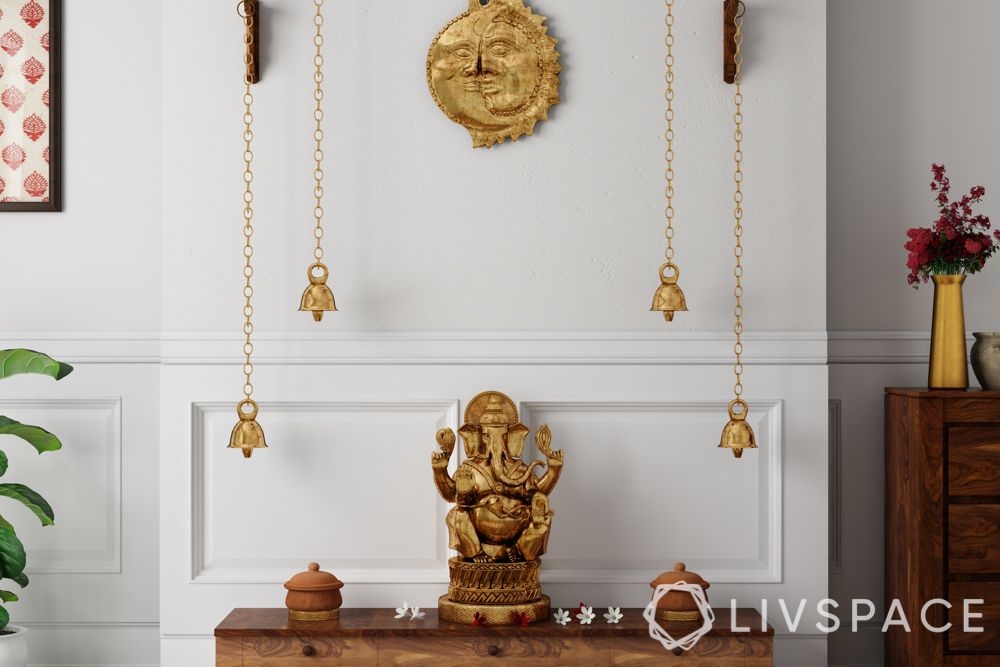 If you think this pooja unit could fit in just about anywhere, you're absolutely right! With a sleek plywood bench for your idols surrounded by overhanging bells, this mandir unit is the perfect fit for a compact apartment or a large and spacious home!
#10: Classic plywood pooja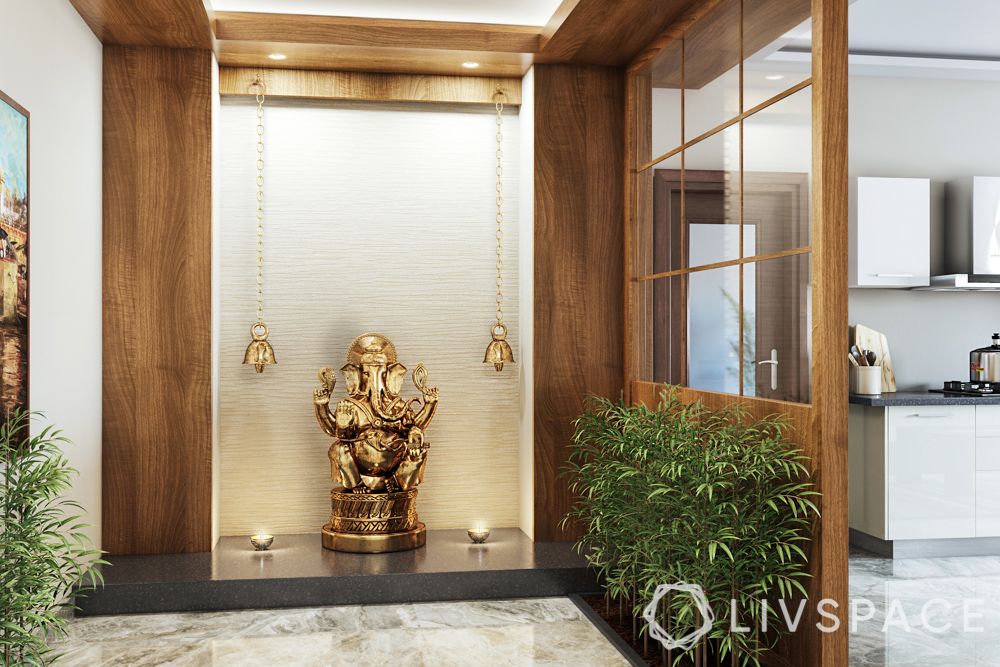 Simple but imposing, such plywood mandir designs set your place of worship apart from the rest of the home. Rustic elegance adds to the charm of your in-house temple!
If you've enjoyed looking through our favourite plywood mandir designs, also check out Pooja Units With Classic Cues for more desi designs!
Send in your comments and suggestions.