While most of us have pooja rooms or units at home, many of us do not have the luxury to dedicate an entire room for this purpose. If you are someone who doesn't like to pray in confined walls, then we have the perfect idea for you — open pooja rooms. Are you wondering what we mean? The following read will tell you how you can have simple pooja mandir designs for walls in the common areas at home. Read on and find out more.
Simple pooja mandir designs for walls #1: Use wood and stone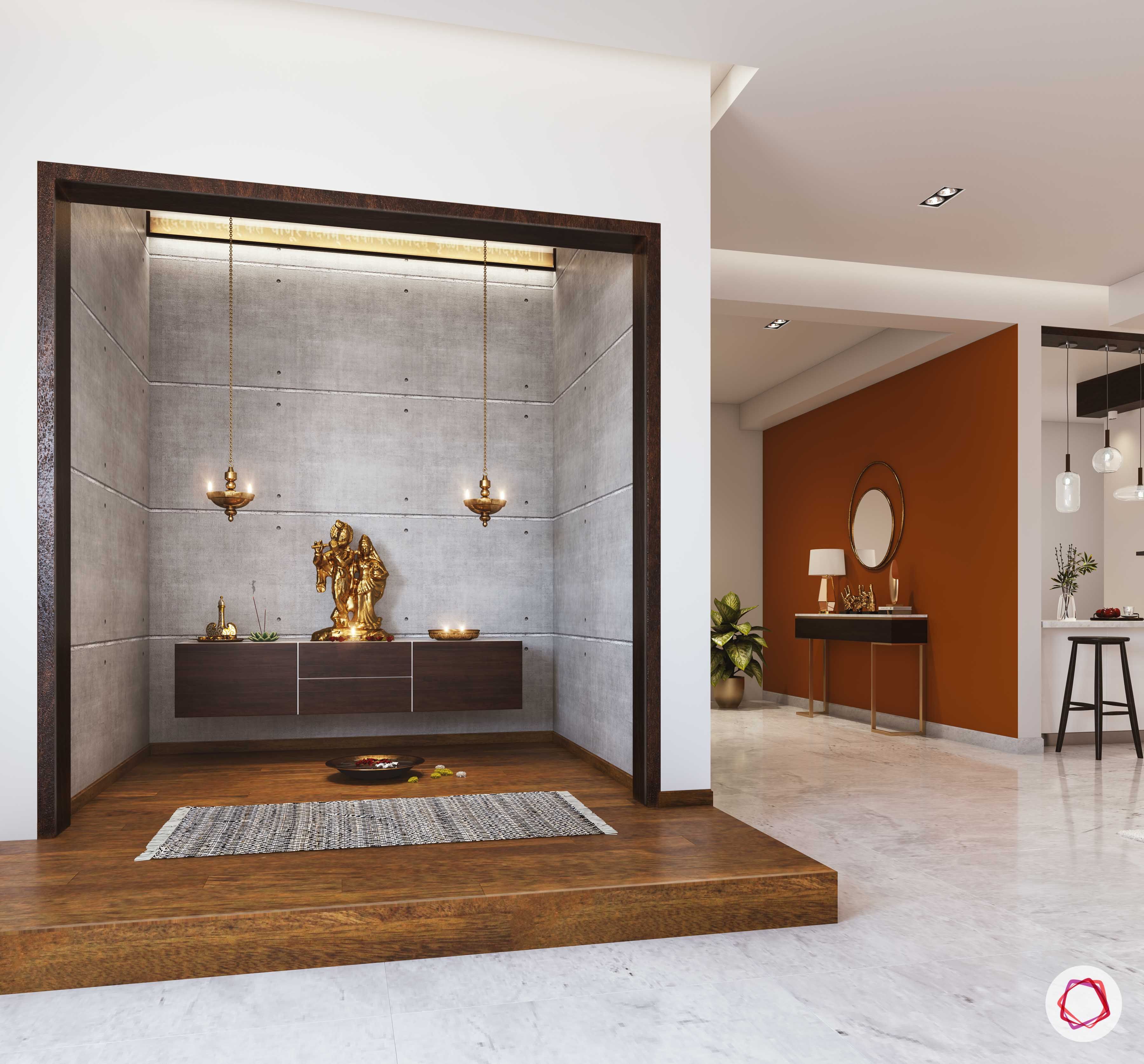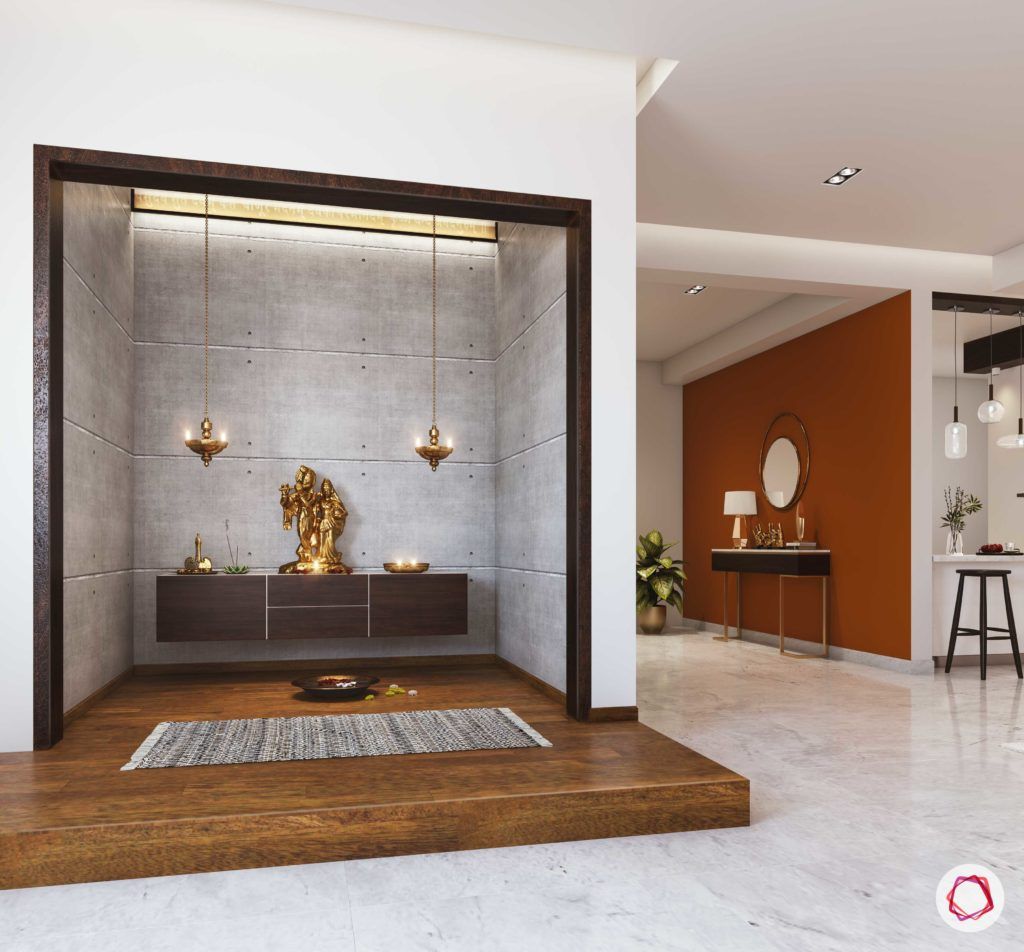 Who said rustic finishes cannot be used in pooja rooms? This one flaunts natural stone-finish walls that look so quirky and unique. Set in the common area at home, this pooja corner marks its territory by incorporating an elevated wooden floor. A wooden frame around the cavity completes the look. This idea is perfect to have those family prayers in the morning.
Simple pooja mandir designs for walls #2: Jaali always works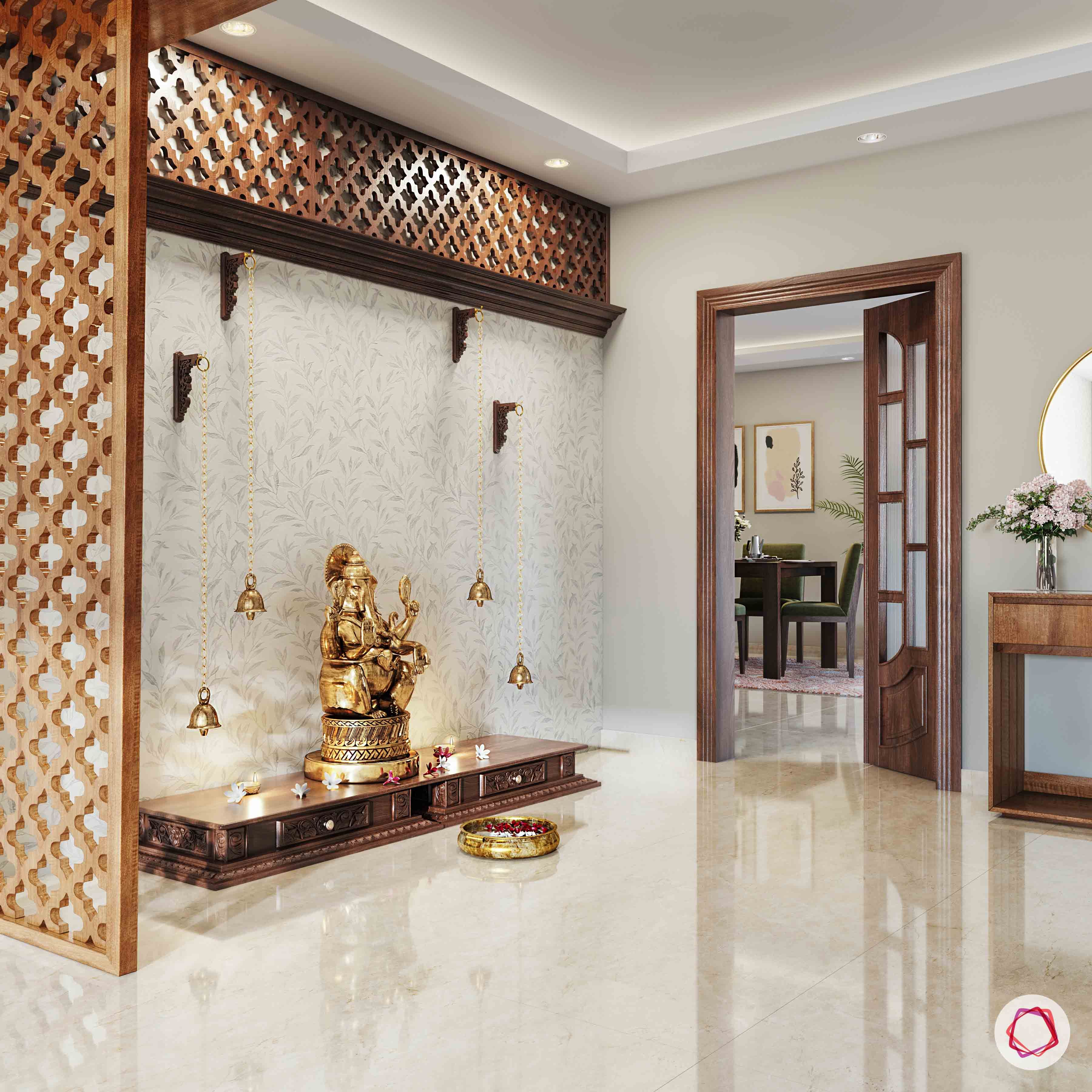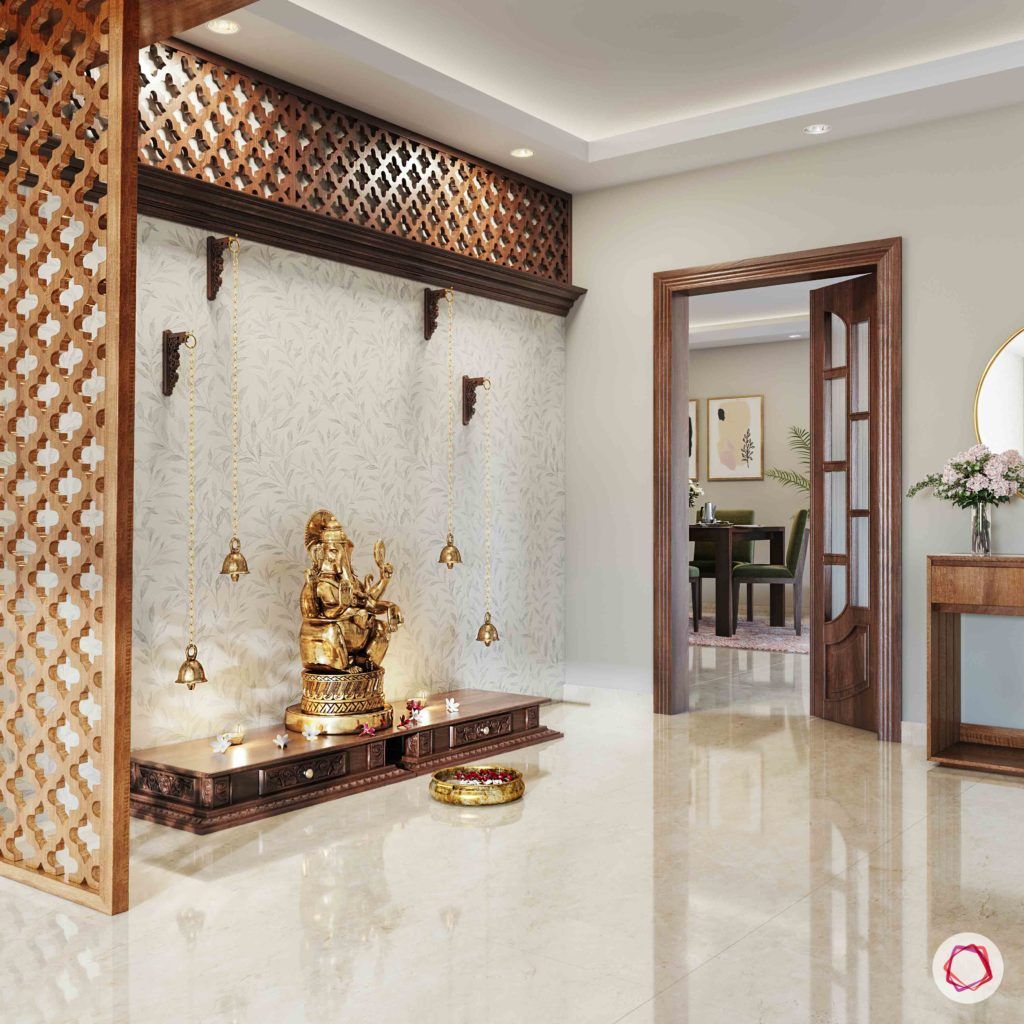 If there's something that differentiates a divine corner effortlessly then it is definitely a pretty jaali panel. When you have an open layout like this, all you need to do is place a lattice divider and create a separate zone. To make things more interesting, you can also add a jaali panel on the top. Soften the zone with a neutral floral background and add pretty bells.
Simple pooja mandir designs for walls #3: Make use of the sunroof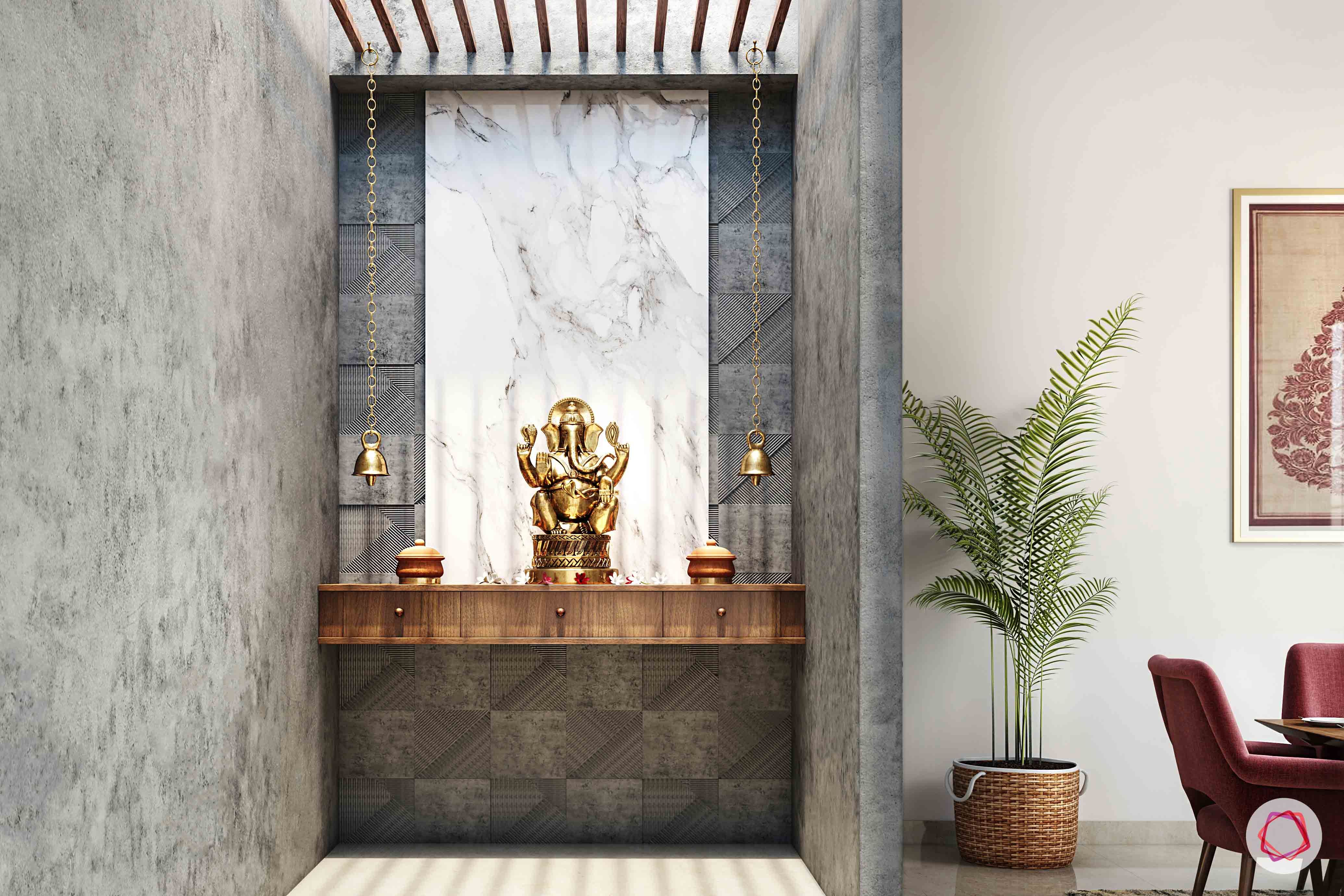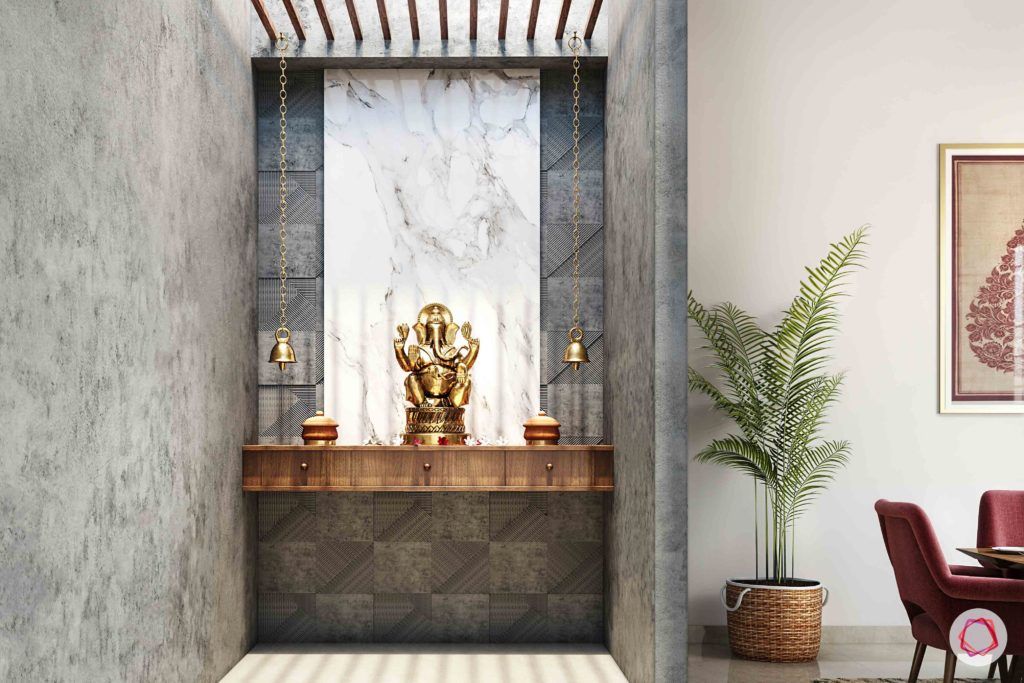 If you are lucky to have any one corner at home that has a sunroof then you know you already have THE spot for your altar. But you obviously cannot build a room there. This is where this idea can help you. Erect an MDF or wooden partition and match it up with the rest of space. The partition will help separate this pooja corner from the home.
Simple pooja mandir designs for walls #4: Frosted glass niche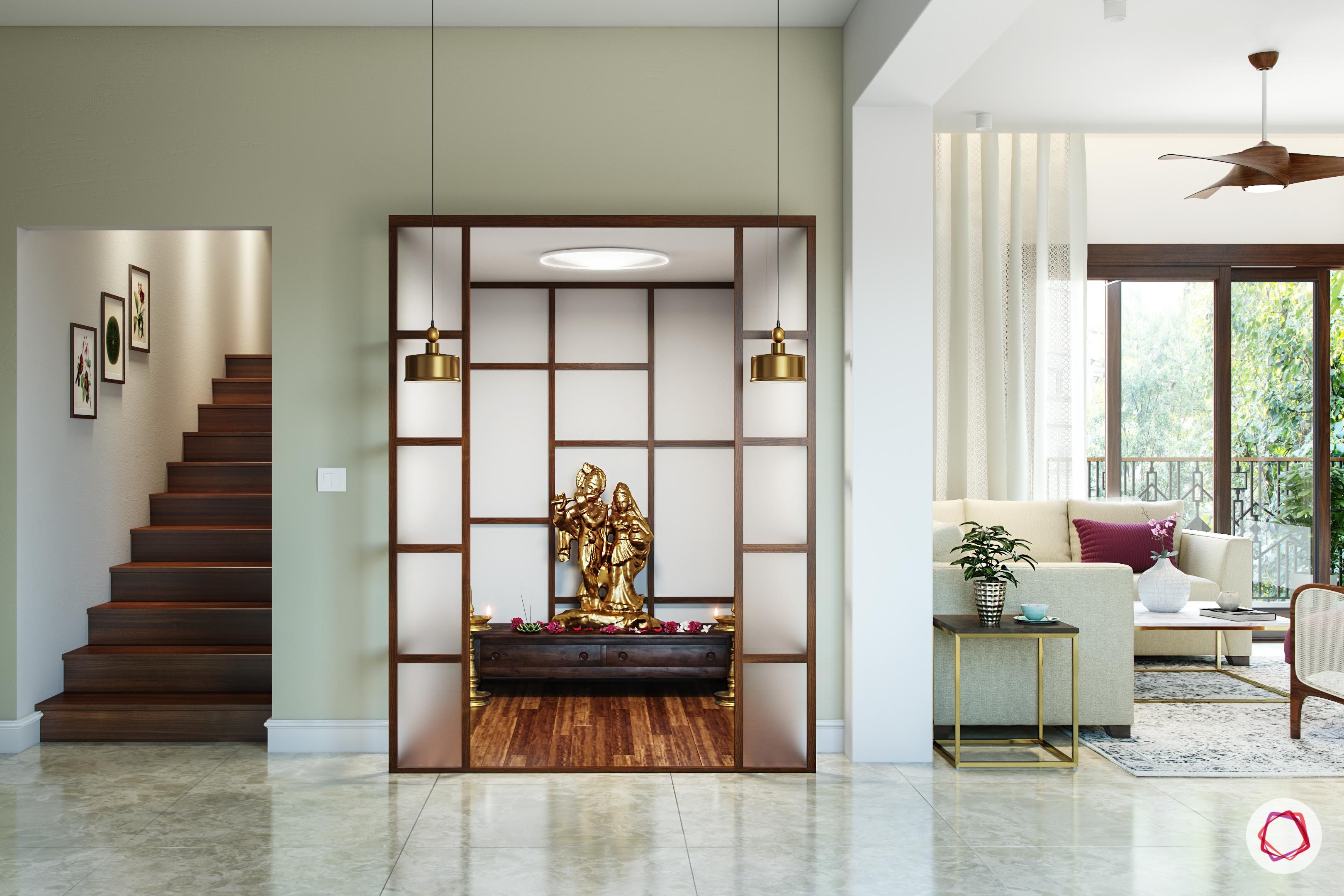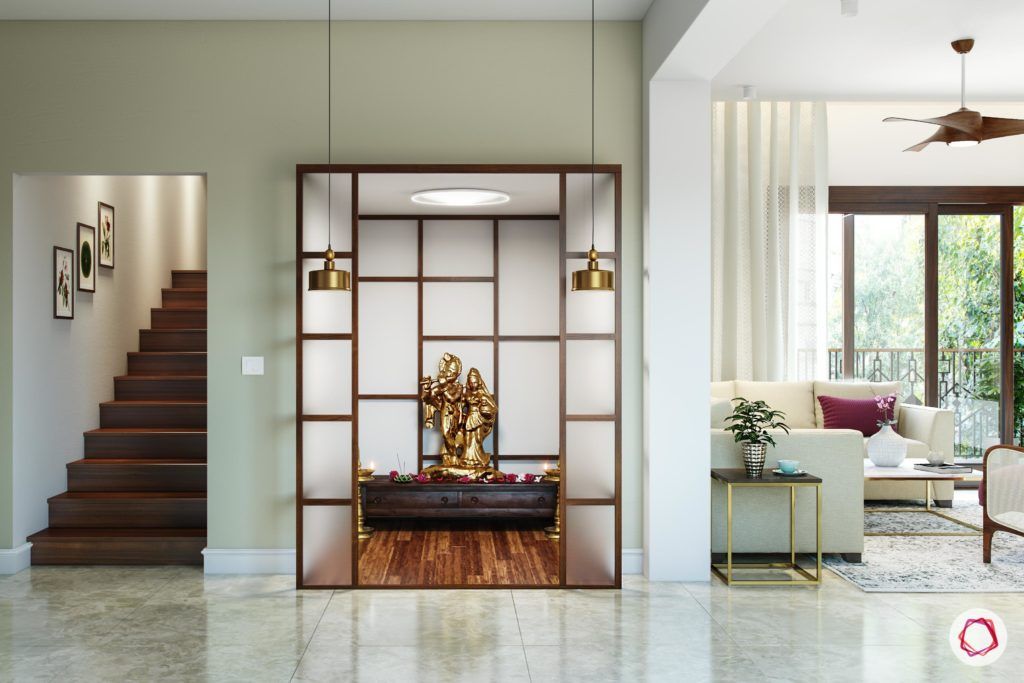 What is the best quality of frosted glass? It helps to keep things transparent but also maintains a level of privacy. If you are someone who likes open layouts but still wants to demarcate zones, then you can use frosted glass for the frame and leave the centre cavity open. If you have a wall niche you can have the seamless combination of an open yet concealed pooja corner.
Simple pooja mandir designs for walls #5: Striking wooden open unit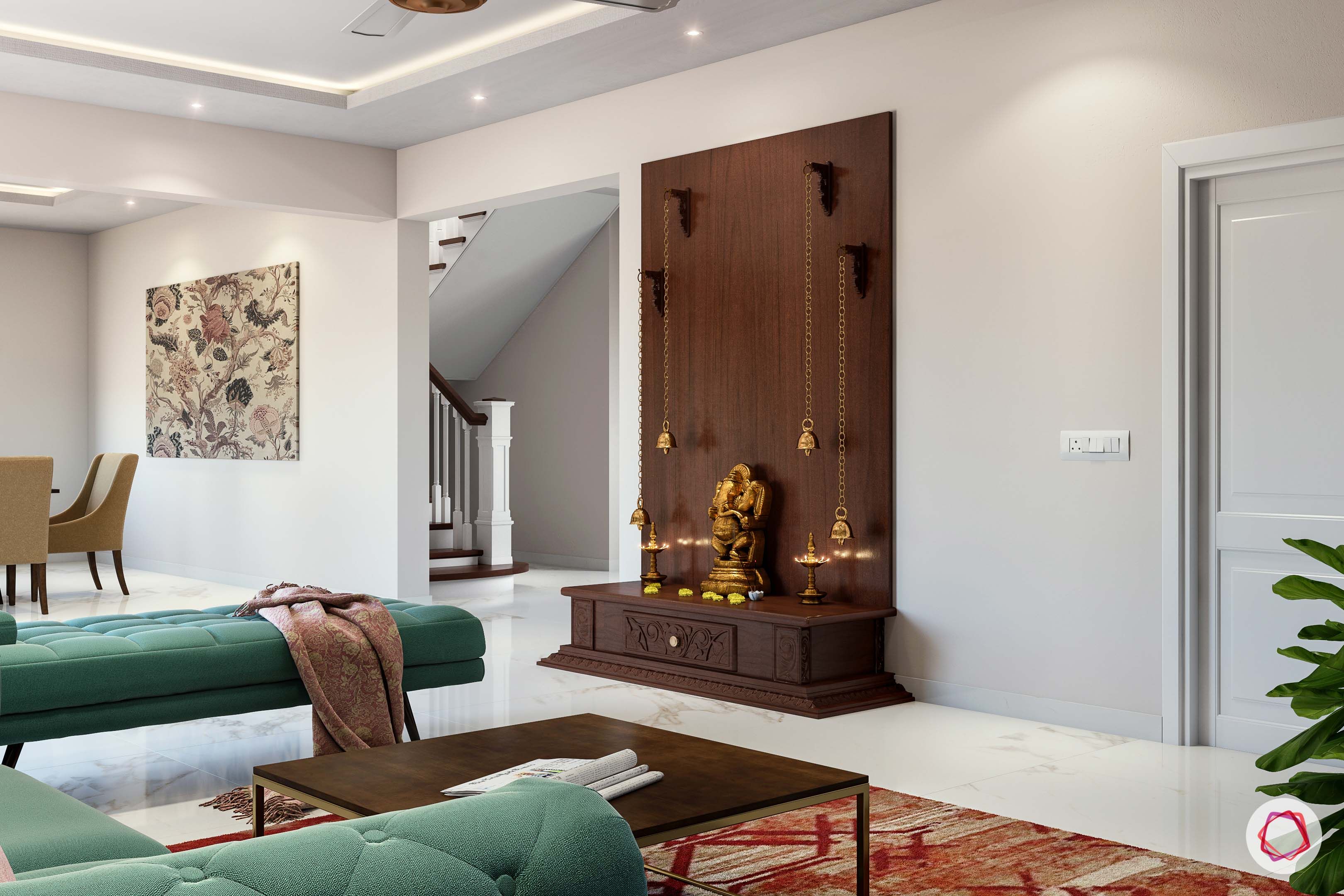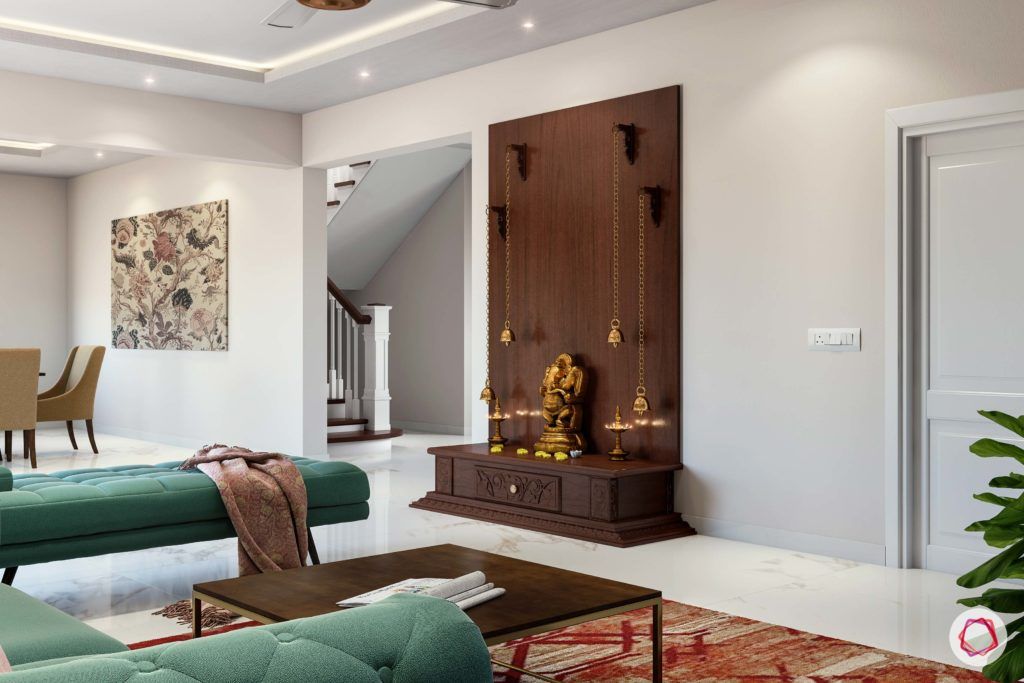 We are in love with this simple yet striking pooja unit. The glittering Ganesha idol and bells against the dark wooden panel looks stunning and catches your attention the moment you step in. If you like putting your prayer room out in the open and hold numerous bhajan nights at home then this idea might just be right for you. There's ample space in front of the idol to seat you, your family and anyone who wants to participate in the community pooja.
Simple pooja mandir designs for walls #6: A little privacy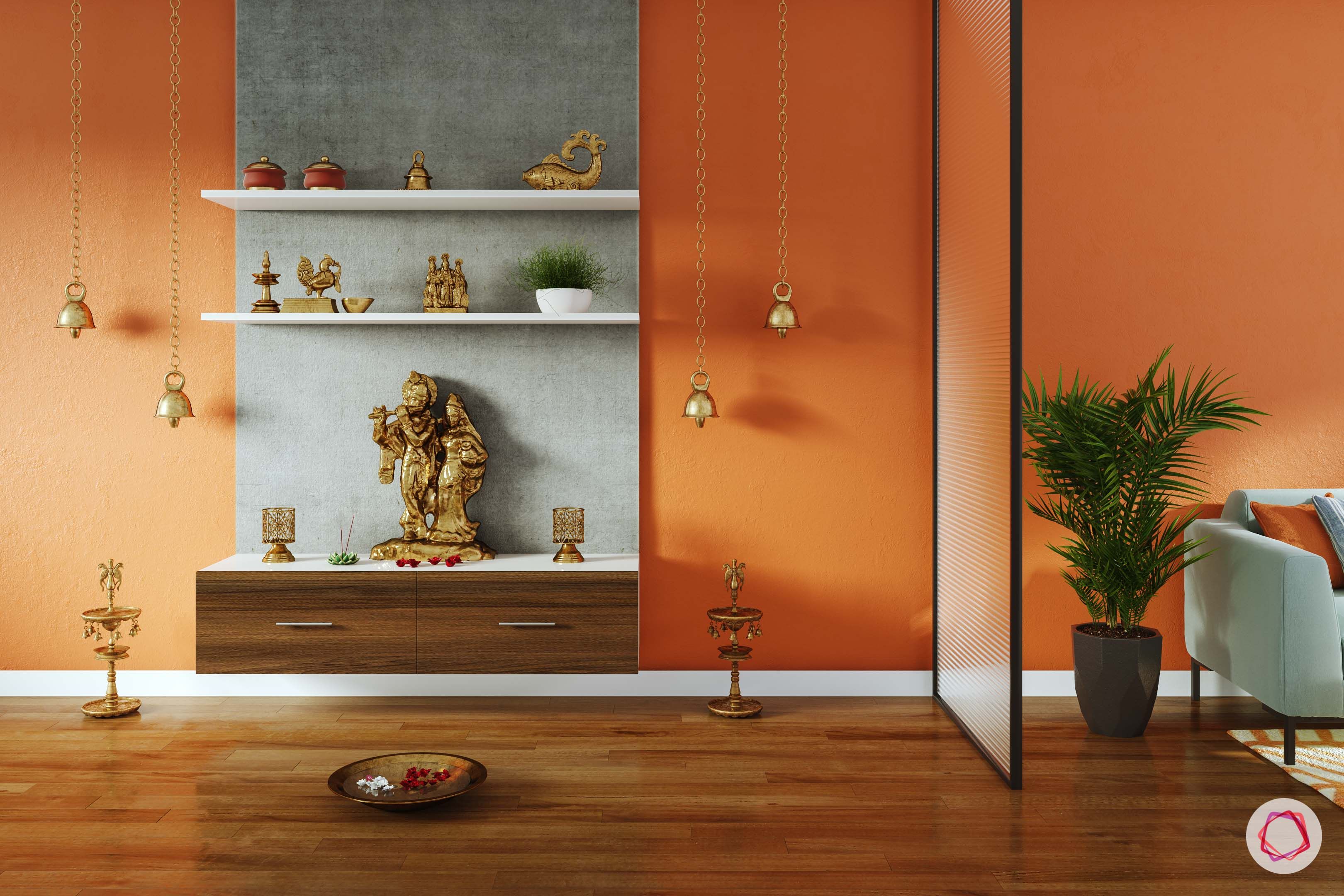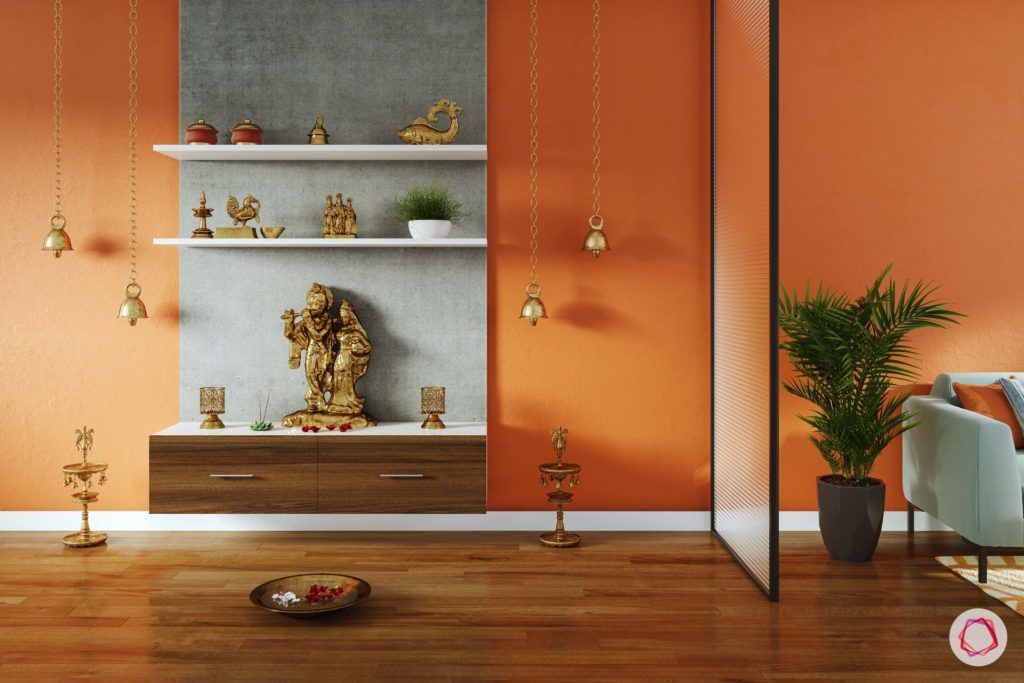 So you like the idea of having an open pooja unit but despise the fact that your God gets no quiet? We suggest you opt for a textured glass screen to separate the common areas from your pooja corner. You could also go for a collapsible screen which you can use as and when required. We simply love the colours and simplicity of this space right here!
We also have some amazing Space-Saving Mandir Designs for Home that you might want to check out!
Send in your comments and suggestions.