Our homes are getting smaller and with limited space, accommodating a pooja corner can be quite a challenge. More often than not, we have columns and beams projecting from the walls that finally end up becoming dead space. Today, everything is about space optimisation and we thought these modern pooja room designs that fit into wall niches could be very useful to you. Read on to find out how you can incorporate these at home.
#1: Modern Pooja Room Designs Idea in White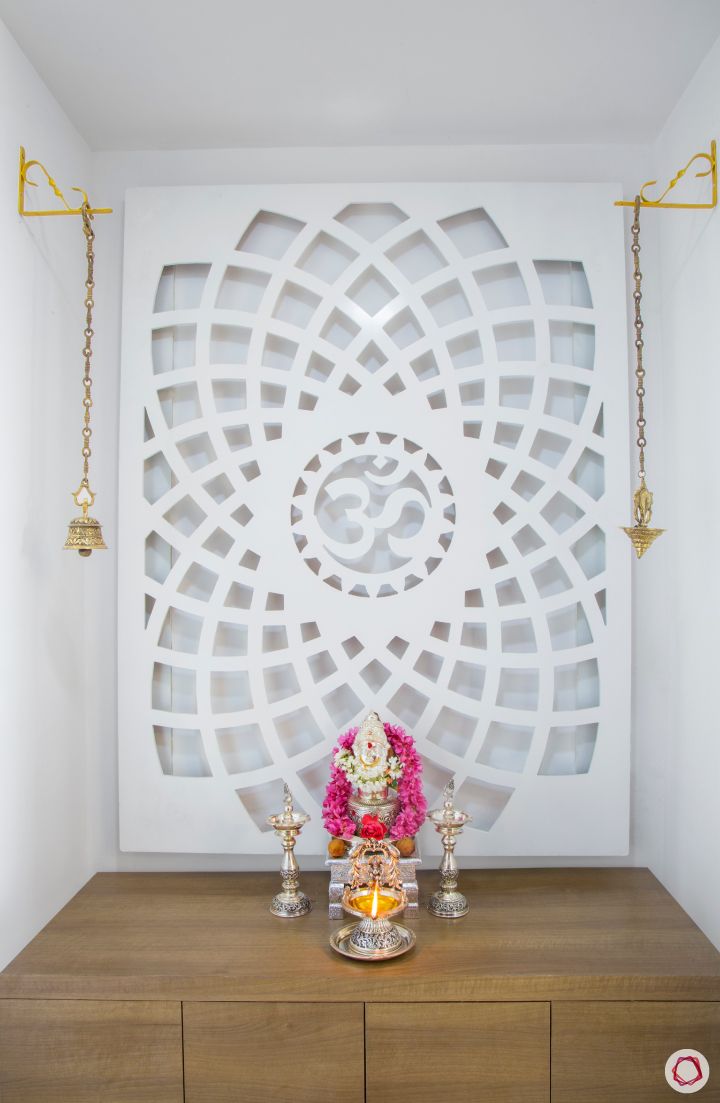 If you have a niche that can be converted into a compact pooja corner, just create a base with storage and a beautiful jaali panel on the wall behind. If the niche extends further, create boundaries by hanging pretty bells and decorate as you see fit and your small pooja unit design is ready!
#2: Pooja Room Designs for Indian Homes in Wall Niche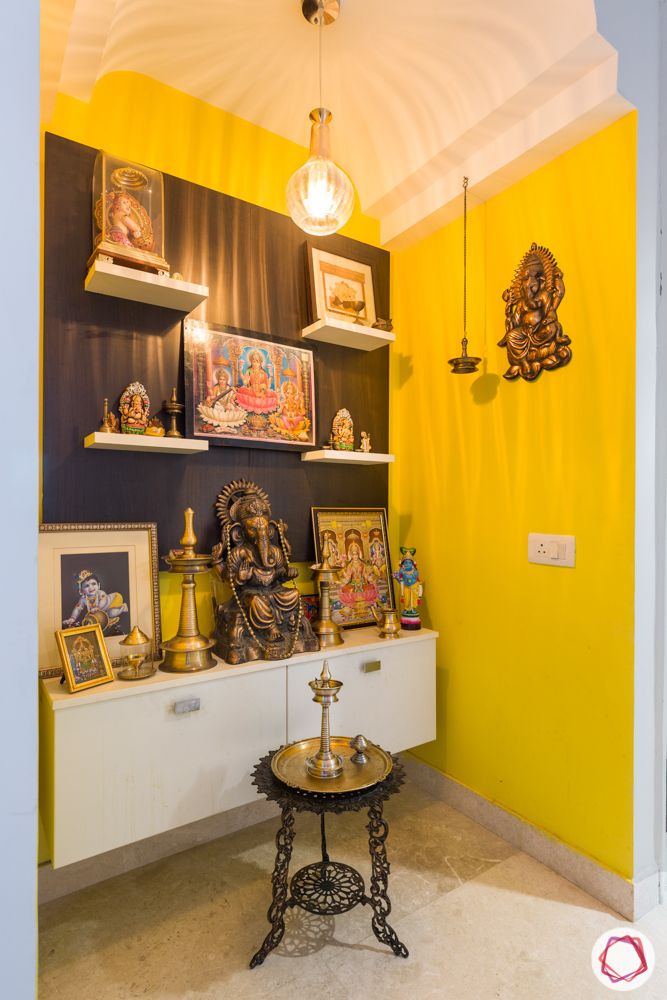 This idea is perfect for those that have a deep wall niche that can almost pass off as a room. Place a step-style pooja unit to create visual height and make it easy to place the idols on top and the samagri at the bottom. Make sure you create an entrance to demarcate the space.
#3: Modern Pooja Room Designs Idea With Jaali Panels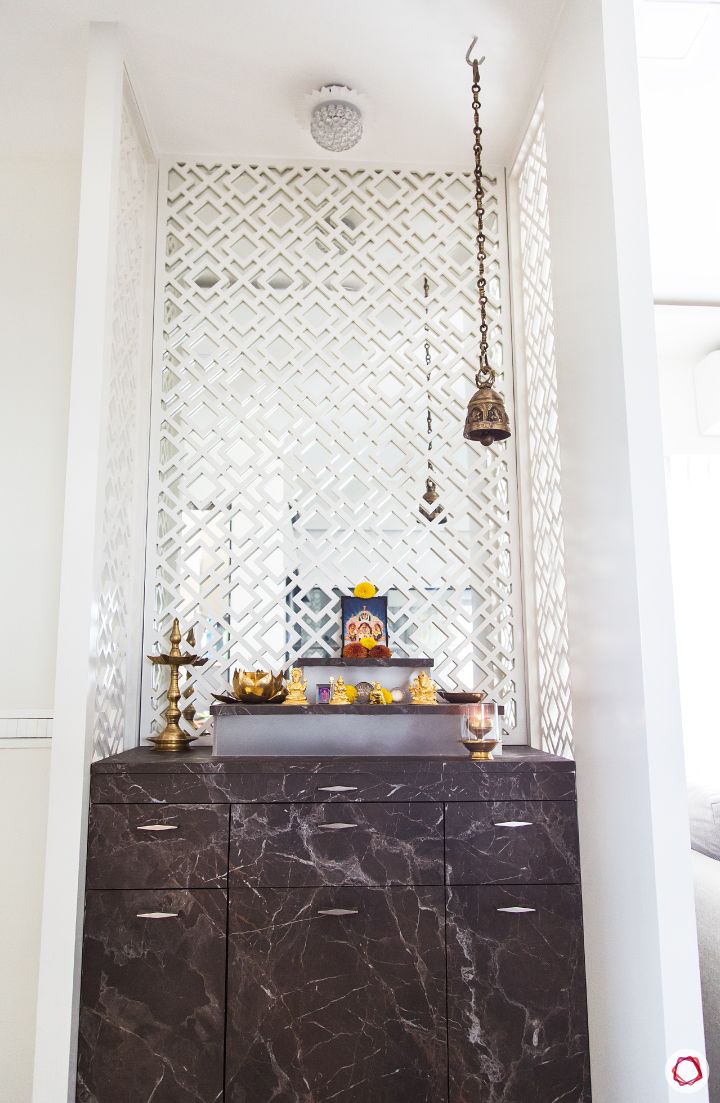 This corner pooja shelf was created in a niche just behind the sitting area of a living room. Our designer came up with the idea of having jaali panels on either side. Painted in white to merge with the wall and give it a neat look, this space spells divinity in a minimalistic manner.
#4: Faux Pooja Room Designs for Indian Homes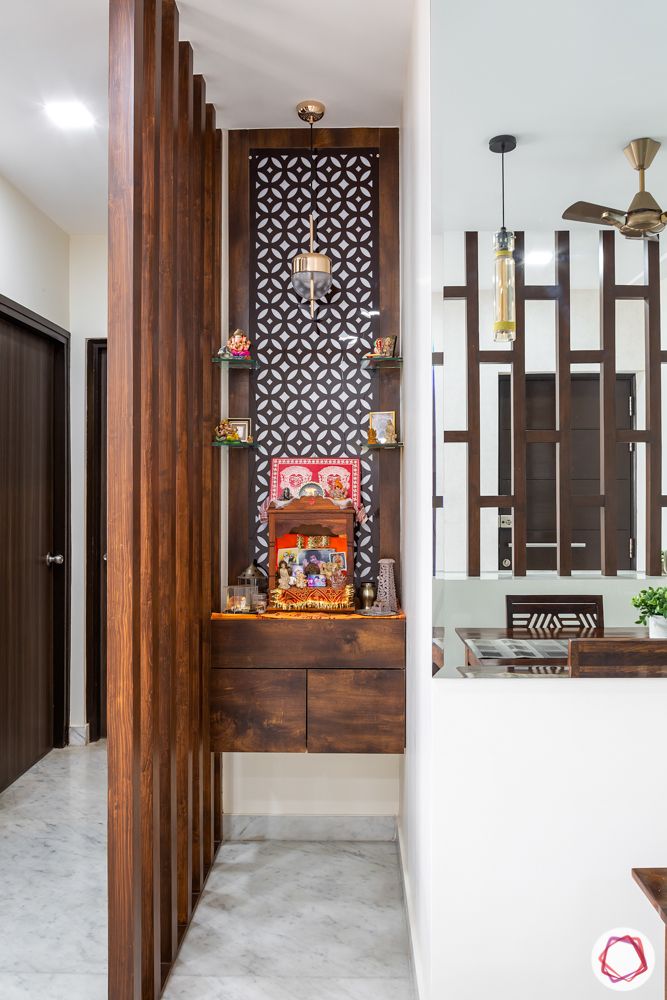 Don't have a wall niche? Fake it! All you need to create corner pooja room designs is a wall corner and you can actually fake a niche by using wooden panels on either side to create a cavity. Perfect for a compact unit with a spotlight above, this space looks complete and heavenly.
#5: Modern Pooja Room Designs Using Traditional Ideas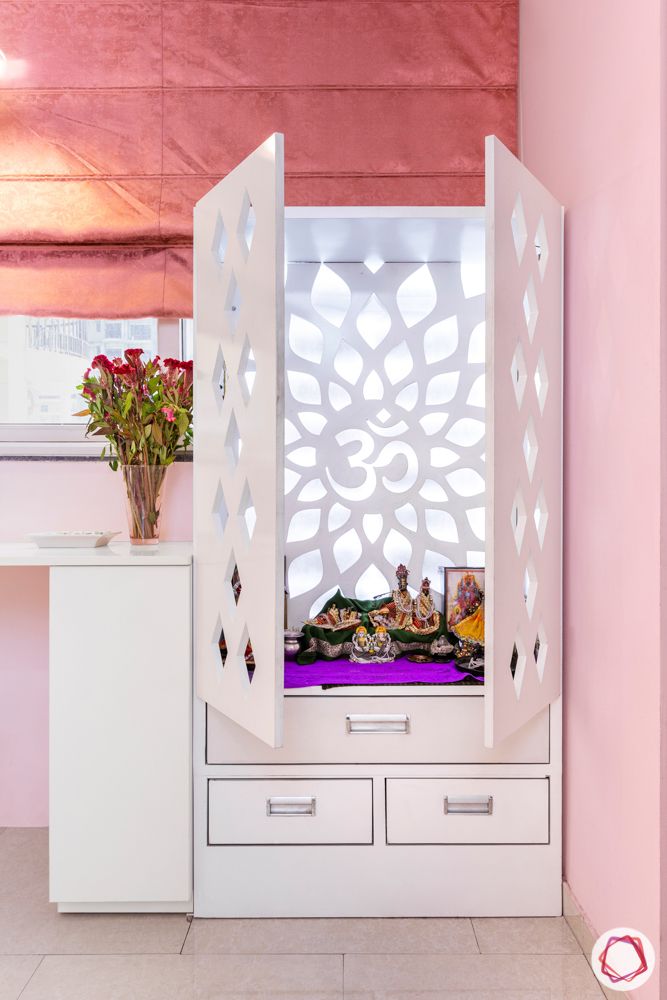 You do not need floor to ceiling space to place your pooja unit or create a pooja corner. Your small pooja unit design can be as compact as this one right here. Using only about a quarter of the height of your wall, this pooja unit features a traditional dome and lattice doors that add to its appeal.
#6: Pooja Room Designs With Fitted Units in a Kitchen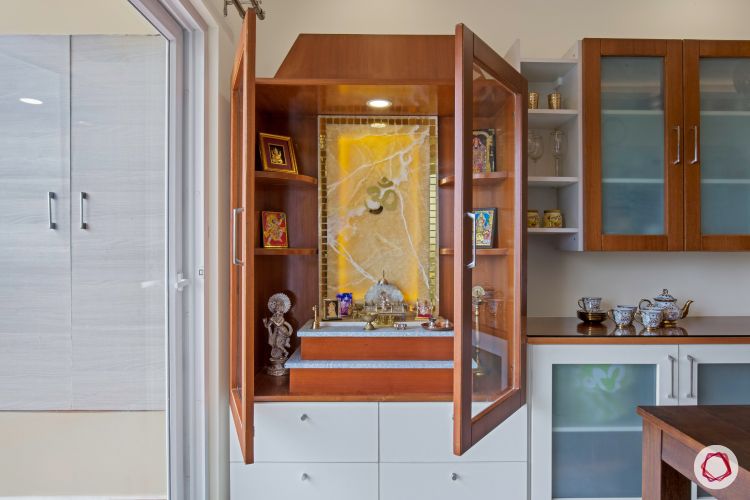 Pooja units placed in the kitchen are an age-old practice, and even vastu experts say that having a closed pooja unit here is a good practice. Just keep in mind that you do not place it under any cabinets. A small space above the cabinets or in a wall is sufficient to accommodate this pooja unit.
#7: Modern Pooja Room Designs Idea With Unique Backdrops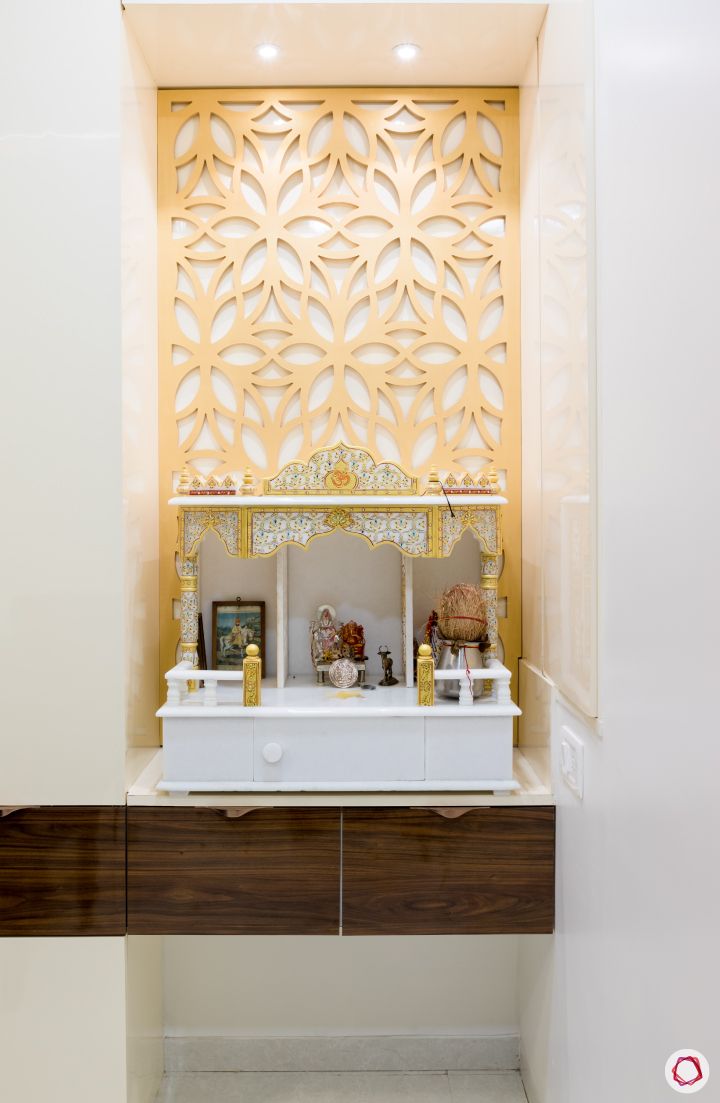 You already signed up for a compact prayer space when you decided to get it in a wall niche. But you do not have to compromise on the design. Get a nice jaali panel in a metallic finish as the backdrop for your modern pooja unit design and complete the look.
#8: Glam Pooja Room Designs Using Wallpaper and Wooden Rafters
This is such a great idea if you have sufficient space in between two walls. Put a pretty wallpaper and highlight the area with a soft focus light. Your very own pooja room is ready. Here we have opted for a yellow wallpaper with wooden rafters and spot lights.
So, now you know, no matter how compact your home is, as long as you have a niche in your walls, you can have a pooja unit right there.
Need more inspiration? Check out these unique pooja room designs.
More pooja room designs:
How can Livspace Help You?
We hope you found our ideas useful! If you want your home to be just as beautiful, then look no further. Book an online consultation with Livspace today. Delivering safe home interiors has been our No. 1 priority. Click here to find out how interiors are being delivered following all safety protocols.
Send in your comments and suggestions at editor@livspace.com