There's only one place in our home that can calm us in any storm, keeping us rooted and humble in our chaotic lives, and that is the divine corner. Each one of us yearns for some peaceful self-reflection, and this space is ideal for that. Thus, while selecting materials for your prayer room, be careful and select only the best!
Read on to find out which are the ideal materials to build your prayer room.
Materials for pooja room #1: Wooden Wonder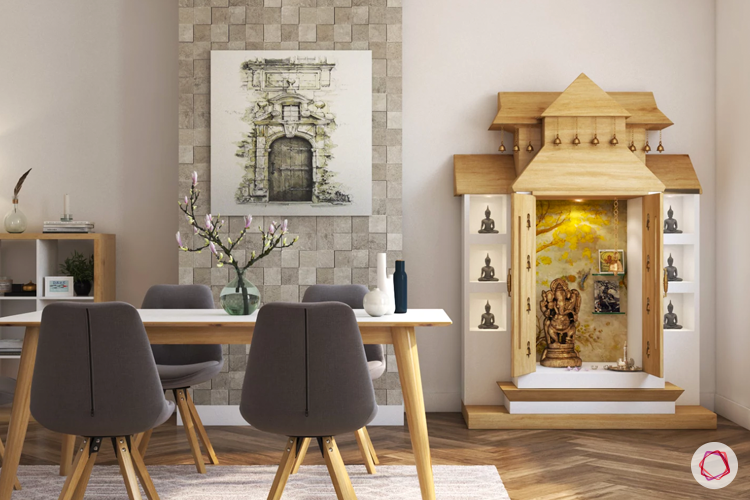 Atypical of Hindu shrines, the wooden altar is unique and the most common material for pooja rooms. In essence, the use of wood in prayer rooms or corners seem to reflect on staying grounded in spirituality and lends an elegance. An altar with a wooden structure and niches can look beautiful.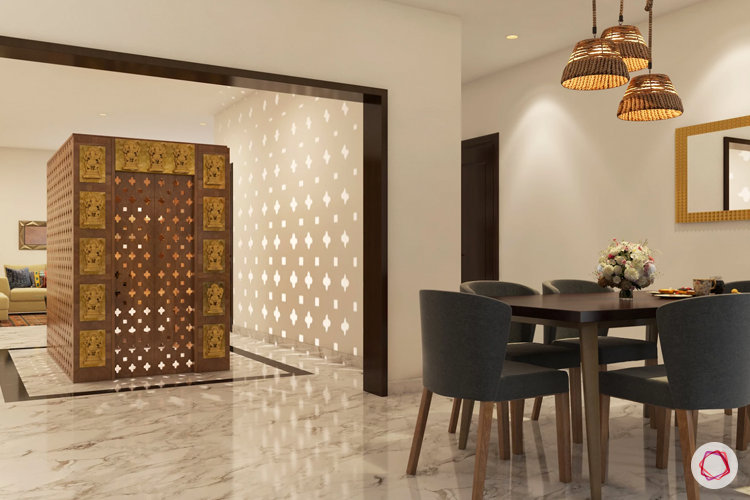 Intricately carved wooden panels on each side of a prayer room creates an atmosphere of divinity and spirituality. Light from diyas, candles and lamps filter through to set off a beautiful design on external walls, which will also be a treat for the eyes.
Materials for pooja room #2: Holy Marble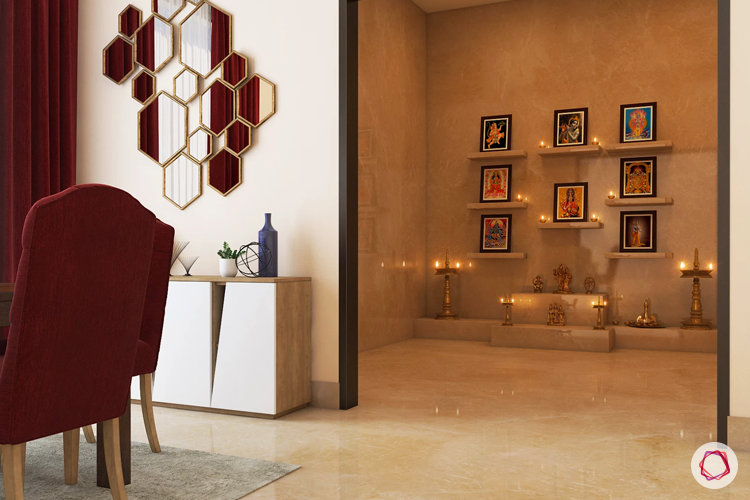 There is no doubt about the fact that marble is the go-to material for prayer rooms if you have the right kind of space and budget, given that it is a relatively expensive material. Extensively used in Jain and Christian households, marble adds unmatched grace to this corner. Go for a complete marble look complete with marble flooring, walls and wall-mounted shelves to create the perfect altar!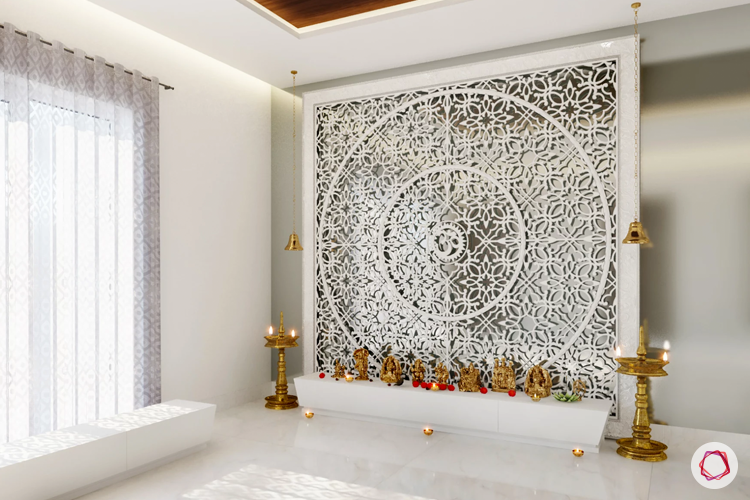 Ever wondered how graceful a beautifully carved panel would look behind your deity? You can create a centre for concentration and meditation by installing a marble panel behind the altar and forget the worries of the world!
Materials for pooja room #3: Back To The Basics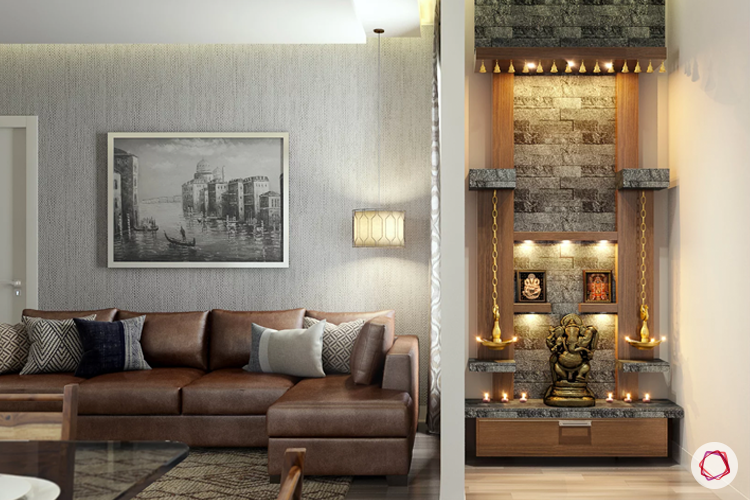 One would think twice while using this material to build a pooja corner, but we say, go for it! Altars built in stone look earthy and beautiful. Pair it with wood to get a striking combination that works like magic!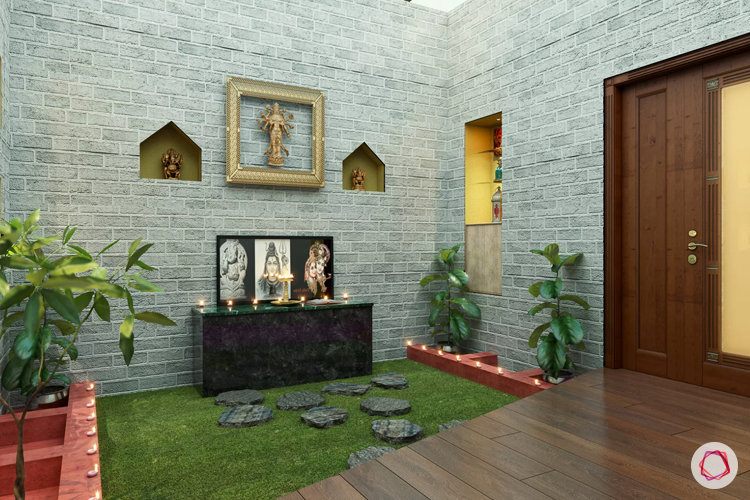 Want to include more natural elements in your prayer zone? If you have no space constraints, we recommend you use more natural light and plants. Such prayer corners are best built in stone to withstand all weather conditions. Build niches and place the idols in them, to protect them!
Materials for pooja room #4: Go Granite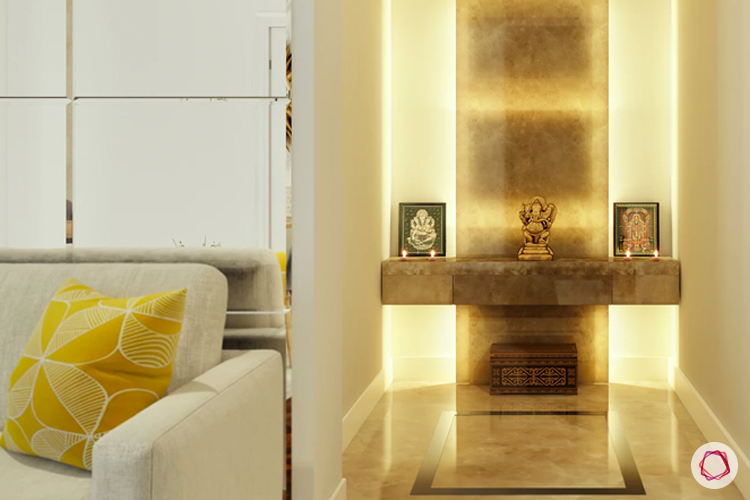 Granite is a very easy to maintain and can be re-polished to get the shine back. It is durable and you will not need to worry about your pooja room once you build it in granite! Make a simple pooja corner with granite stone and make it the centre of attraction at home.
Check out pooja room designs:
So, if you're contemplating building a prayer/meditation room, keep these materials in mind; they are your best bet. Take our word for it!