Did you know that your house colour combination serves multiple functions other than just aesthetics? The house colours inside your home can represent moods, emotions, social contexts and so much more. Though silent, your house colour combination speaks louder than words. After all, the house paint colours inside your space is what defines Indian homes the most. Interior house paint colours are not only an integral part of the design process for any home, they are something you will come back to every time you repaint.
So, if you're moving into a new home or getting it painted, let these trending house colour ideas guide your way!
#1: Dark Purple
Dark colours aren't as common in Indian homes, but there are several ways to weave them into your house colour combination. The obvious way to use this wall paint colour would be to opt for furnishings in the same shade. In fact, if you love layering different shades of the same colour, it can even be one of the best interior house paint colours to experiment with.
#2: Dark Blue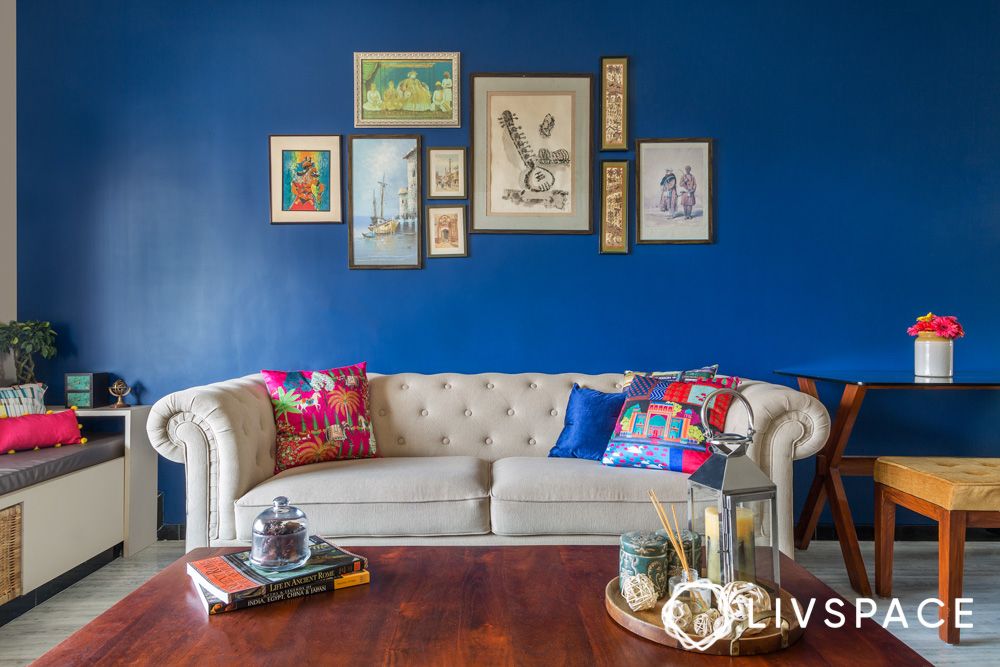 Among the darker house colour combinations contending for your interiors, we have deep sea blue. Though purple is known to be a regal colour, rich shades of dark blue can work just as well. You can go for dark blue house colours inside your living room, as a feature wall. Finish the look with some wall art, and you're good to go!
#3: Red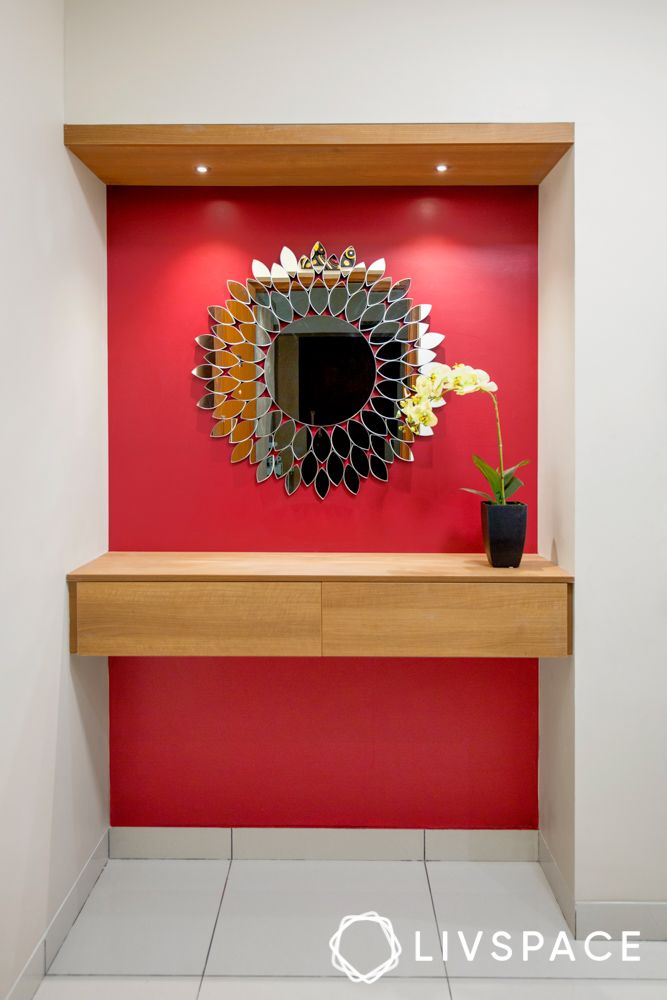 Although the colour is often synonymous with fast food chains to help stimulate hunger, it can work just as well in a house colour combination. However, while choosing house colours inside your home, avoid using bright red in bedrooms. This is because red is a stimulant that does not pair well in places that are meant for rest.
Instead, use it as a home colour inside your living room. House paint colours inside your living room can be energetic and eye-catching, as this space is used recreationally.
#4: Pastels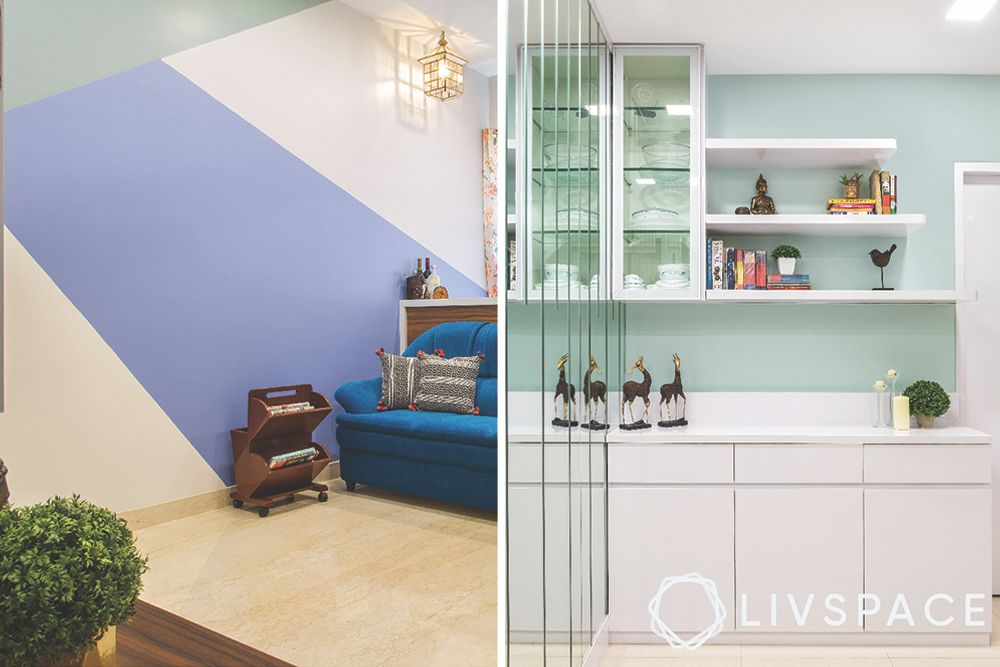 Moving on from the darker house paint colours inside your home, pastels are miracle workers for calming interiors. You can pair multiple of these shades together to form the ultimate house colour combination. What's more, they don't overpower the other home colours inside your room.
You can use these home colours inside your bedroom, living room, or even your bathroom. Better yet, you can also create colour-blocked patterns with them to add subtle visual interest.
#5. Light Blue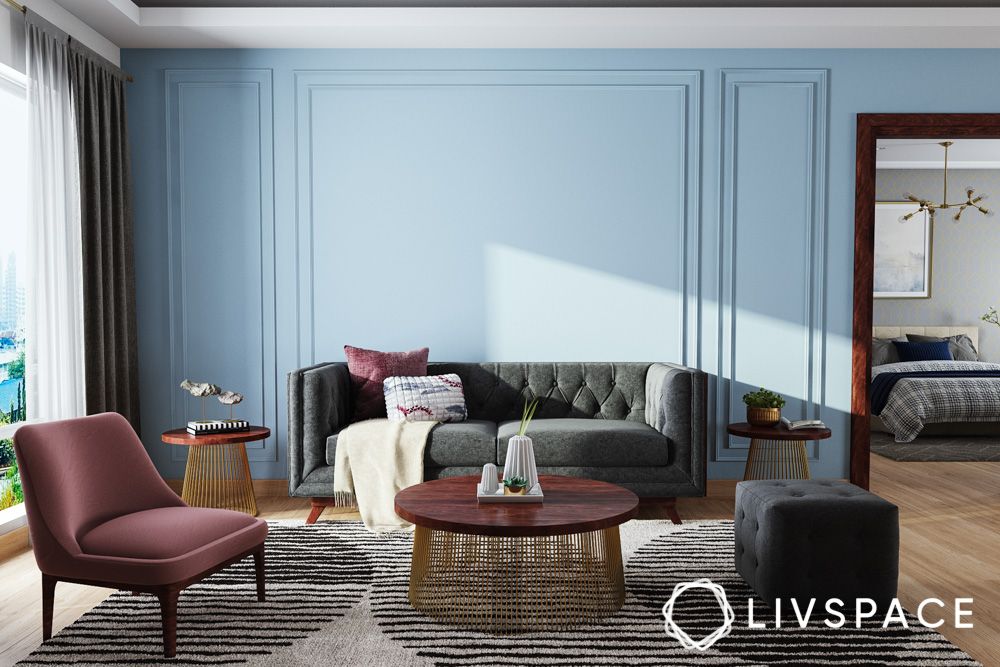 In line with calming pastel colours, light blue blesses the list of house colour combination ideas. Being a tranquil shade, it's best suited for spaces you'd like to unwind in. As a house interior colour option, it can help open up the space and make it feel more spacious than it really is.
Also Read: 20 Great Bedroom Colours That Work for All Room Sizes
#6. Light Purple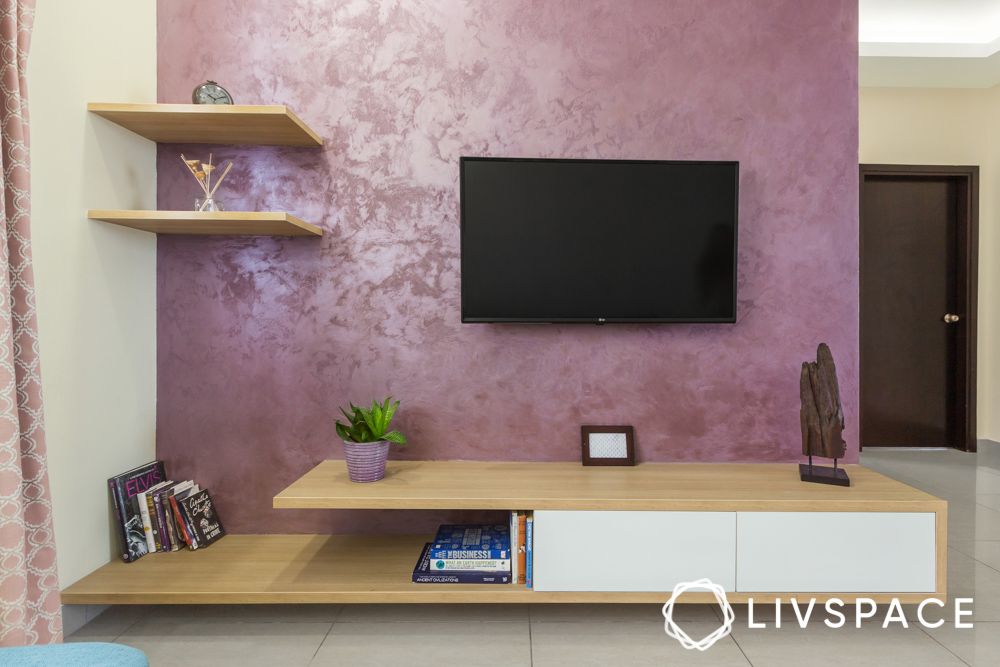 If dark purple as a house colour combination isn't to your liking, why not go a shade lighter? Take a cue from the way this home makes use of its house interior colour. Instead of playing it safe with a basic feature wall in a solid colour, it uses metallic paint.
The glimmer and sheen from the metallic paint transforms the light purple, making it a must-have house interior colour. You can either leave this as the statement piece in your room, or add more drama to the space with accent furniture.
#7. Greenish Yellow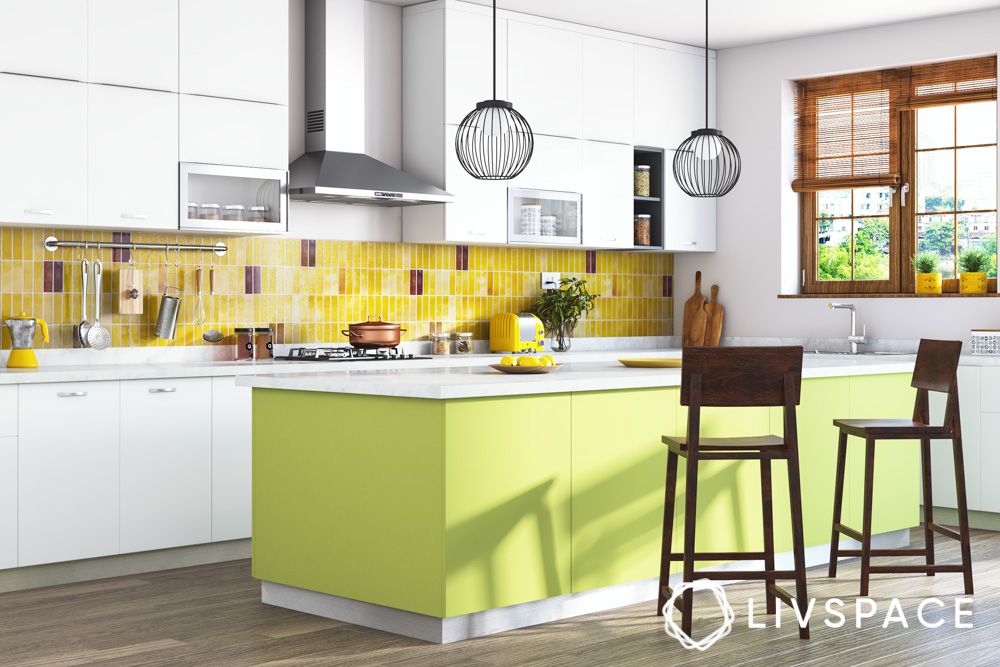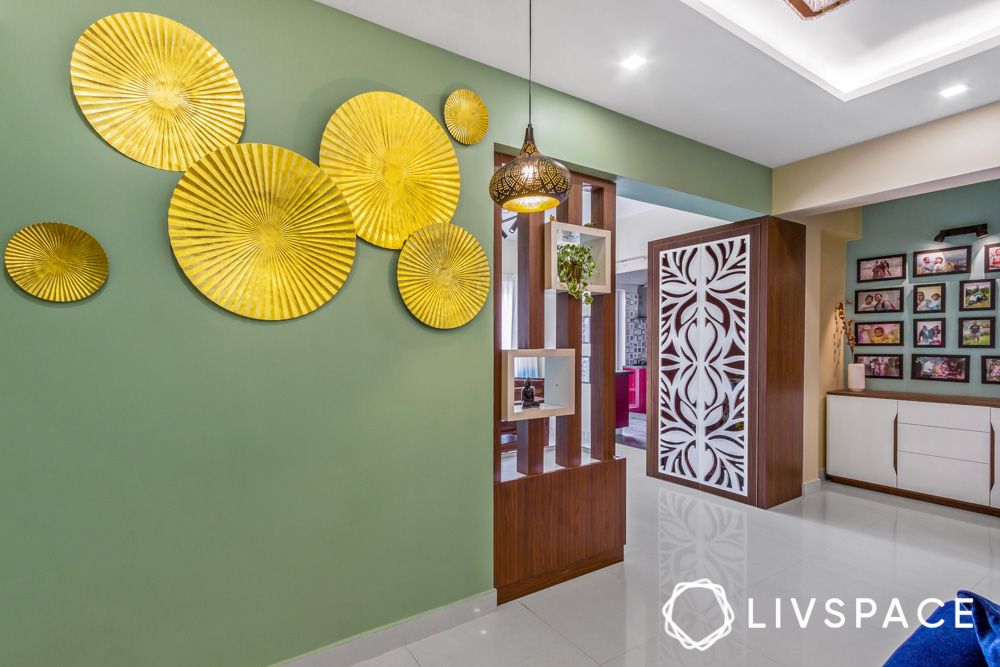 Who doesn't love a hint of greenery in house colour combination palettes? Green has a nurturing element in it that makes your home feel like a safe and peaceful haven. When paired with a tinge of yellow, you get a taste of both nature and sunlight in one shade. What's more, you can also paint your kitchen island in this shade and allow it to add some contrast.
To jazz up the look of greenish yellow walls, pair it with terrazzo texture floors and tall plants like monstera or fig. Home interior colours in greenish yellow look best with a rustic finish. Rattan cane or woven furniture can further amplify the style.
#8. Bright Yellow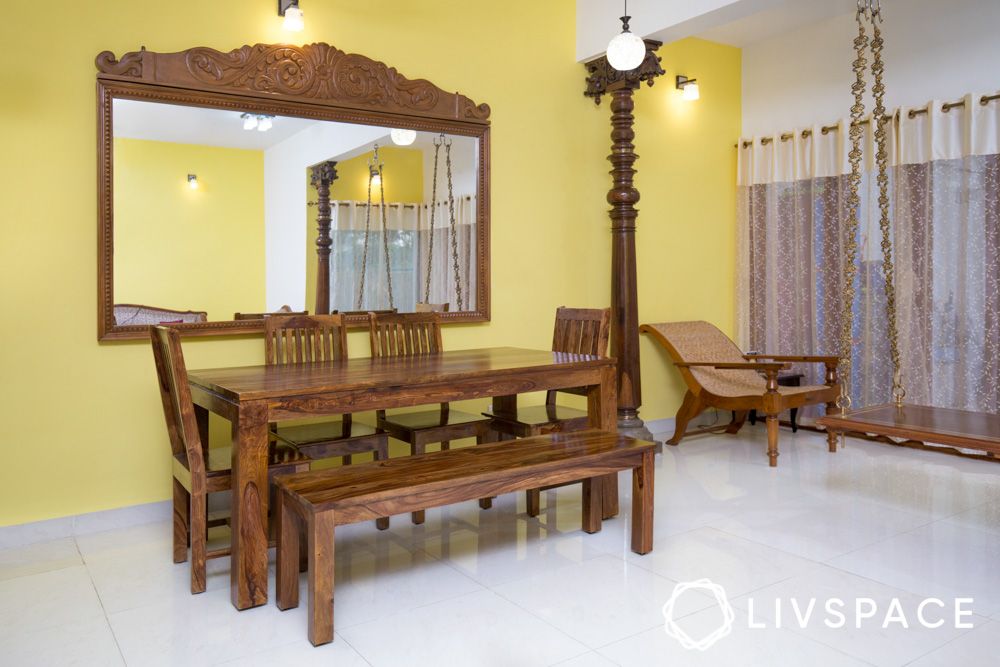 If you live in a home that does not receive a lot of sunlight, chances are you could use some brightness. A good way to incorporate it at home is in your house colour combination. With a nice shade of bright yellow for your home interior colour, you're sure to form a sunny disposition, too! Pair it with traditional wooden furniture or colour-blocked palettes for best results.
#9. Mustard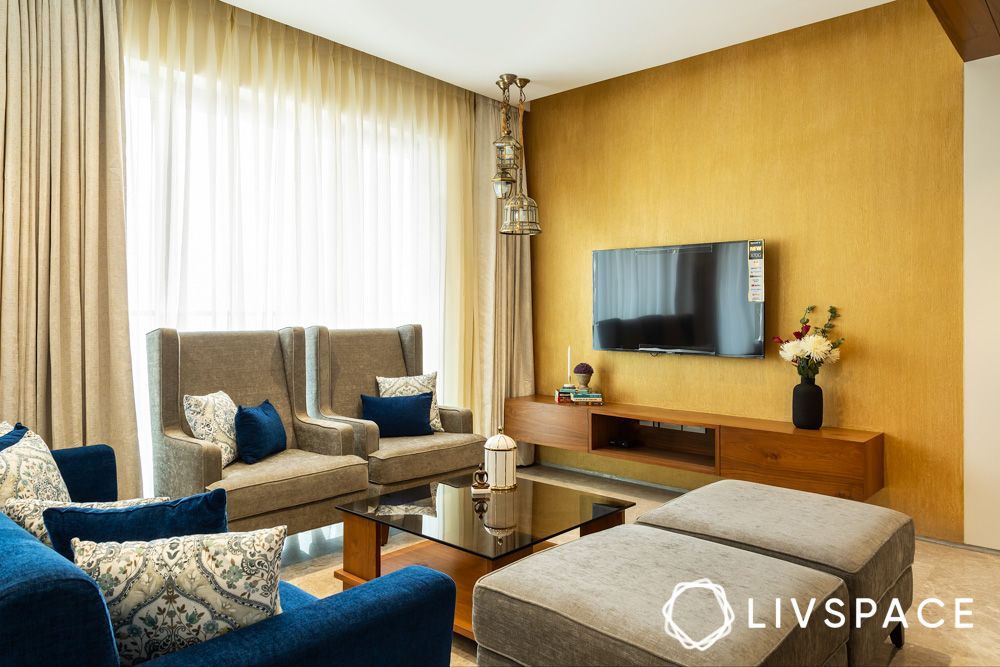 Mustard might not be everybody's first choice for a house colour combination. Much like the delicious condiment, mustard as a colour packs quite a punch and can be overpowering. That is, only if you don't know how to pair it.
If you decide to use it as a home interior colour, be sure to let it stand as a statement piece. Adding too many colours can overwhelm the space and make it look congested. So, you can introduce contrasting furniture and accent pieces to create a strong house colour combination.
#10. Orange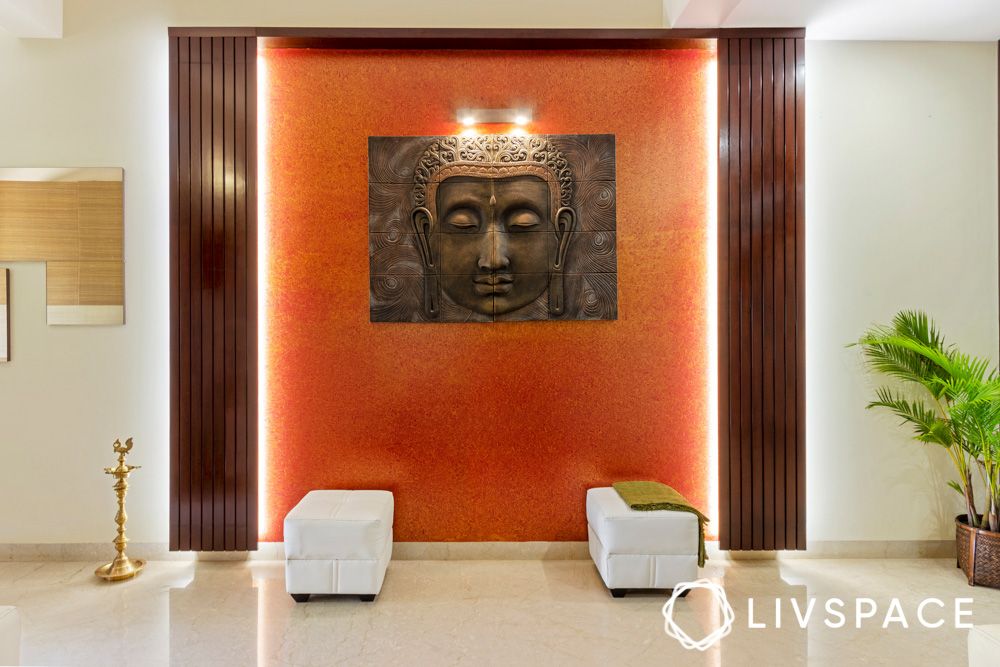 Similar to yellow and mustard shades, orange is one colour that can lend warmth to a space. In fact, it's also a common house colour combination in mid-century modern and contemporary homes.
You can make it work with rustic decor if you're using a darker shade of orange. Be sure to use darker shades in social areas as it has an invigorating effect, perfect for entertainment spaces. Similarly, lighter shades can be used in the bedroom or other private areas for a more rejuvenating feel.
Also Read: Colour Palette for Home: Single or Multiple Shades?
#11. Pastel Blue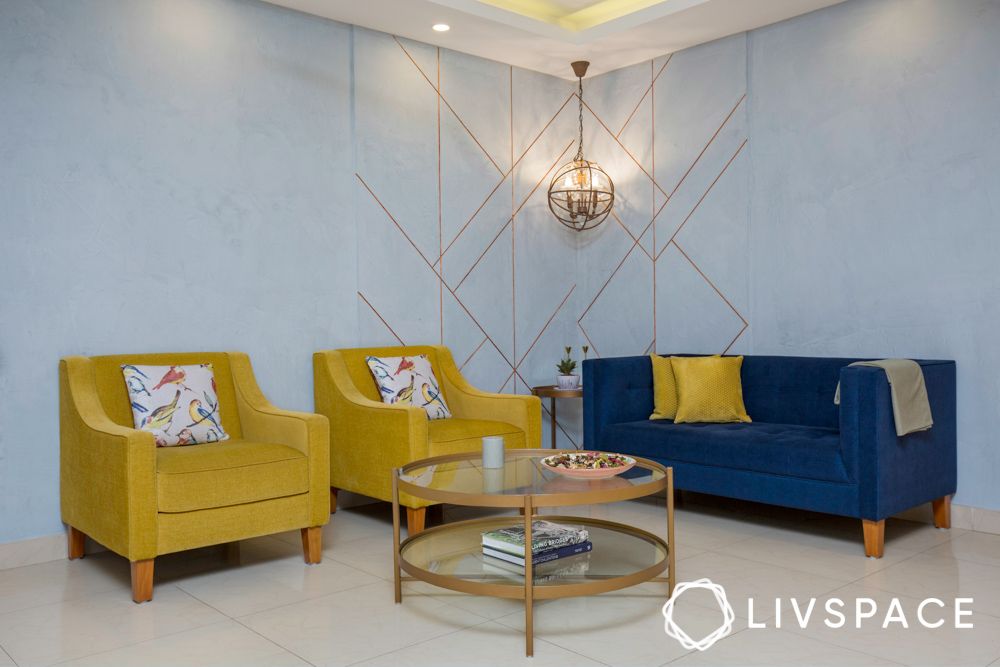 If you prefer the look and convenience of neutral shades, but still want some element of colour, pastel blue is the choice for you. Pastel blue is a great option when it comes to softening your house colour combination. You can easily use it as a background to draw more focus on statement furniture or accent pieces. Moreover, it won't overpower the other colour palettes in your home, unlike stronger shades of blue.
#12. Grey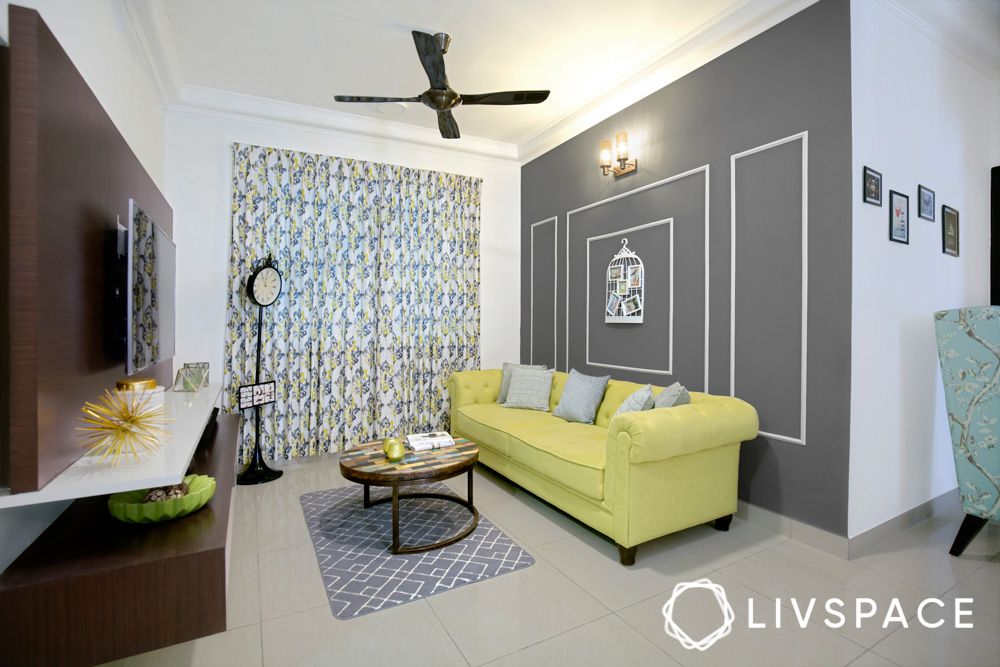 Grey is probably one of the most misunderstood colours out there when it comes to selecting a house colour combination. Owing to its cold tones and dreary appearance, we're often deterred by using it in our interiors. Now's the time to break these stereotypes, as grey can be just as inviting and chic as other colours.
With grey, you can either choose warm or cool toned greys depending on the look you're going for. You can highlight this colour with bright, contrasting decor items to strengthen the design.
#13. Magenta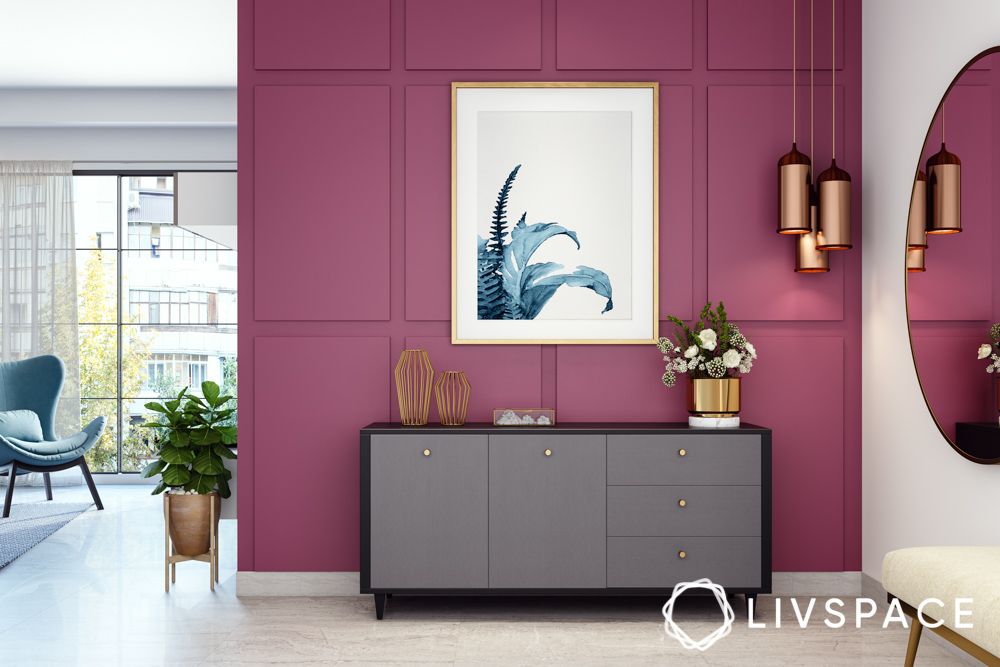 Looking for a bold, dramatic house colour combination to spice up your walls? If yes, you don't want to overlook magenta as an option. With a flair for elegance, this enchanting shade can take your interiors from plain to chic in seconds. Use plants and greenery along with brass accents to balance it out.
#14. Crimson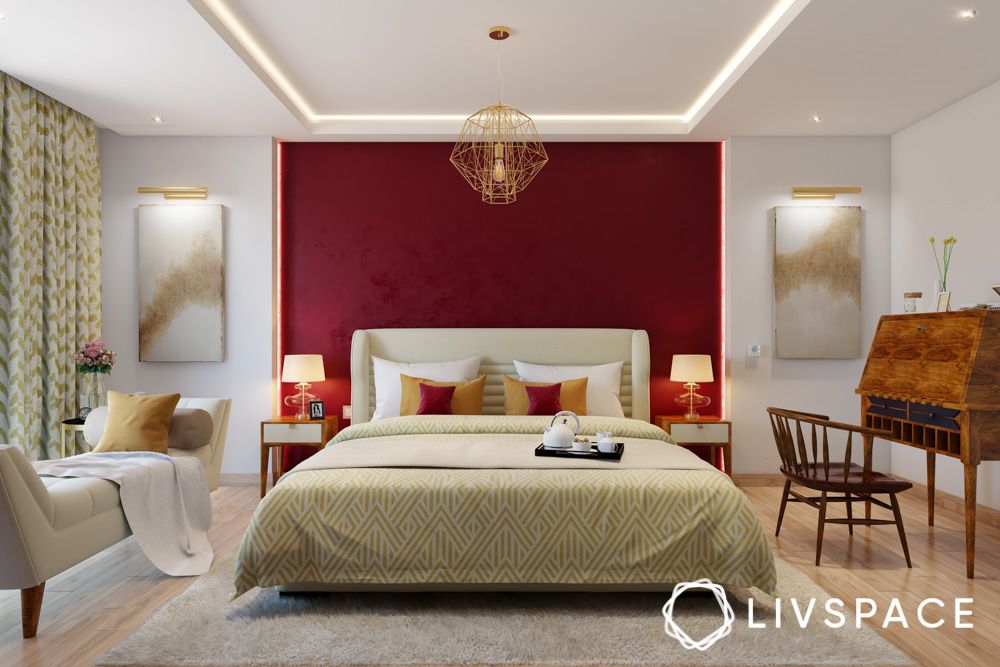 Did you know that certain colours can help create the illusion of depth in your room? Crimson and white as a house colour combination achieve just that. If you have a room that's entirely neutral, consider adding depth with a crimson feature wall.
Here, the crimson feature wall frames the bed and elongates the room. This visual illusion is helpful in making smaller spaces appear bigger than they are.
#15. Avocado Green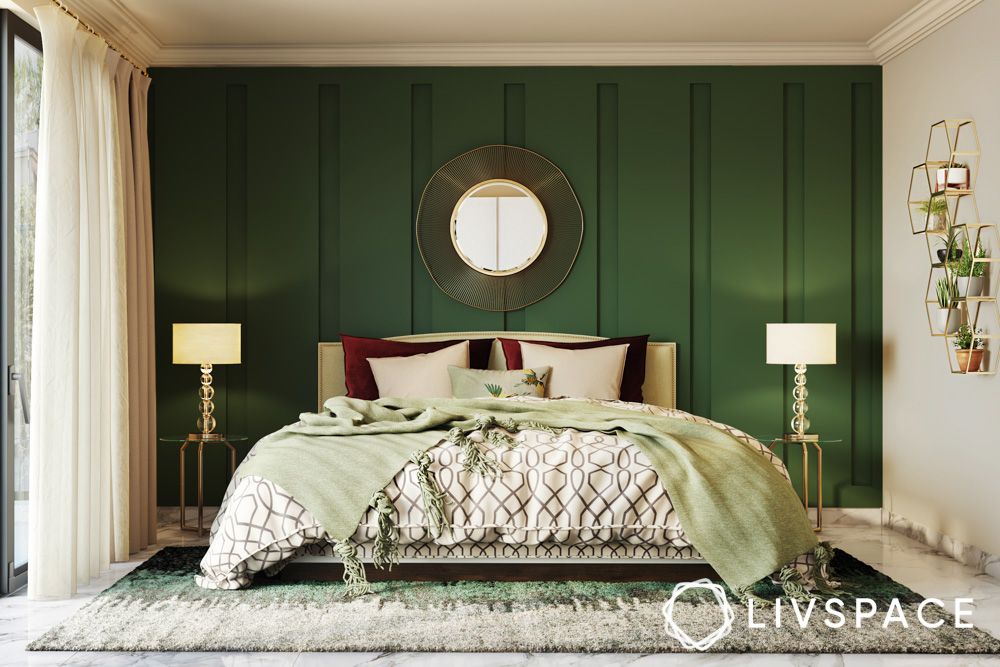 Avocado green is a yellowish green shade that pairs well with other shades of green. To further accentuate the colour, play with gold and brass accents to create a jewel-toned theme. Also, be sure to light up your space with ambient and task lighting if you're using this colour.
Now that you know what house colour combination styles to try out, you can also look at the cost of painting your home per sq. ft.
How Can Livspace Help You?
We hope you found these house colour ideas useful! If you want beautiful interiors for your home, then look no further. Book an online consultation with Livspace today. Wondering how our customers feel about working with us? You can check out the Livspace reviews here.
Have any thoughts or suggestions you'd like to share with us? We're all ears! Drop us a line at editor@livspace.com.