If there's one decor idea that suits everyone, it's this – gallery walls. It can be a conversation starter, an exhibition of things you love most, a collection of memories, a bunch of travel souvenirs, poignant moments captured of your family, a hobby on display, and so much more! Here, we show you 15 different ideas of how to do up a blank wall at home. These wall decor ideas are sure to inspire you to give a room the pick-me-up it deserves. Take a look:
1. Hang Your Family Photos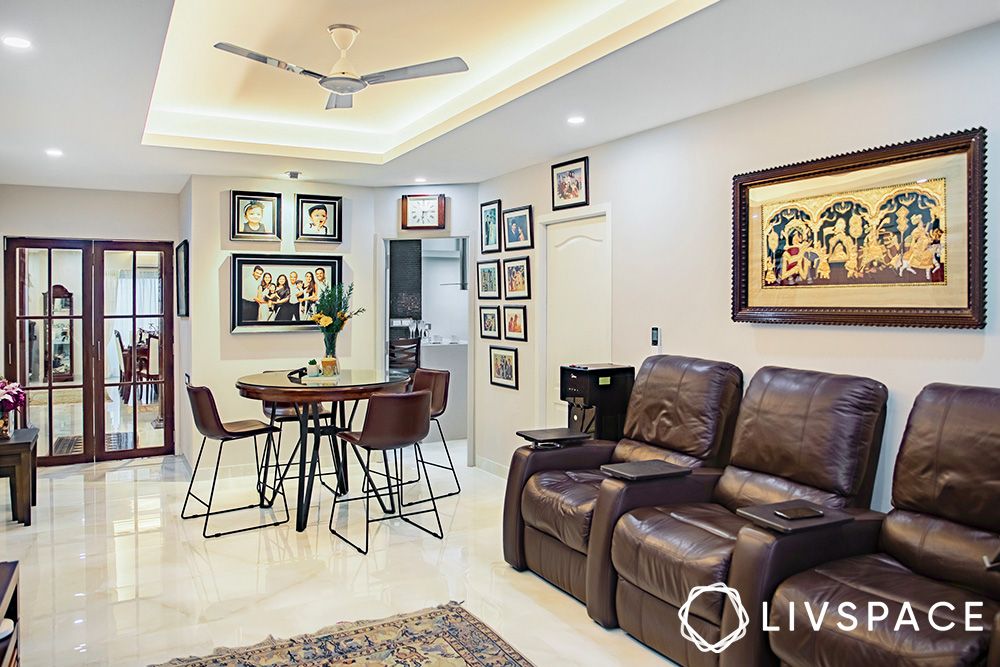 A gallery wall doesn't have to be just your art collection too, a haphazard collection of paintings, plates, masks and more. While all of these are great wall decoration ideas in themselves, nothing beats a gallery wall of family photographs! Try a stunning mix of photos placed in an asymmetric pattern to give the blank wall an elegant boost.
2. Add Texture to Your Home Wall Decor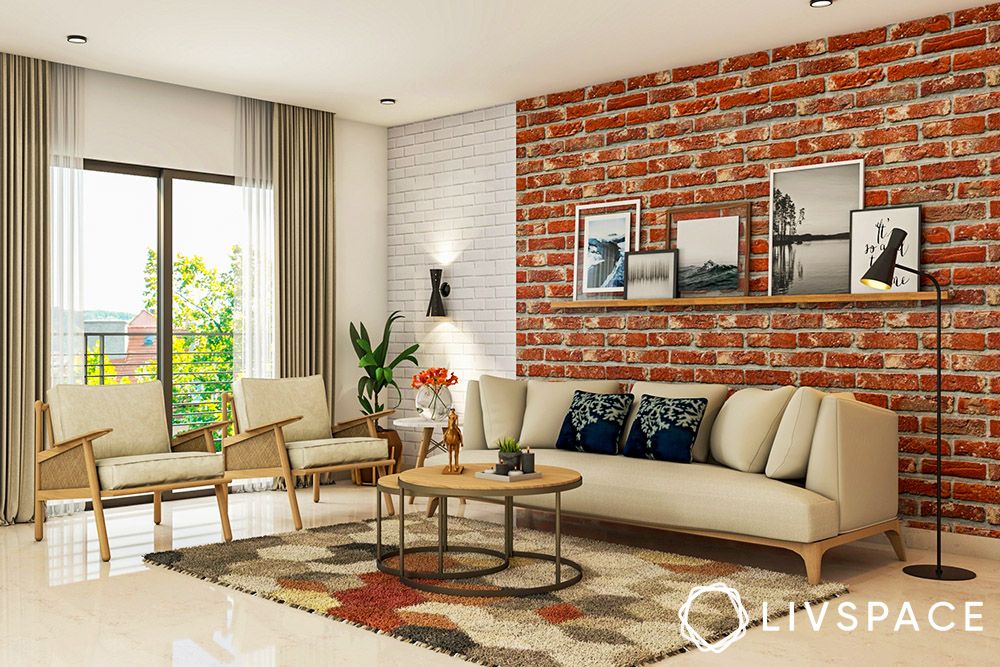 This eclectic room comes to life with a lot of colours, and a brick wall in red and white balances the effect while adding a luxurious touch. If you notice, all the frames are different. This mix matches the quirky tempo of the room.
3. Design With Furniture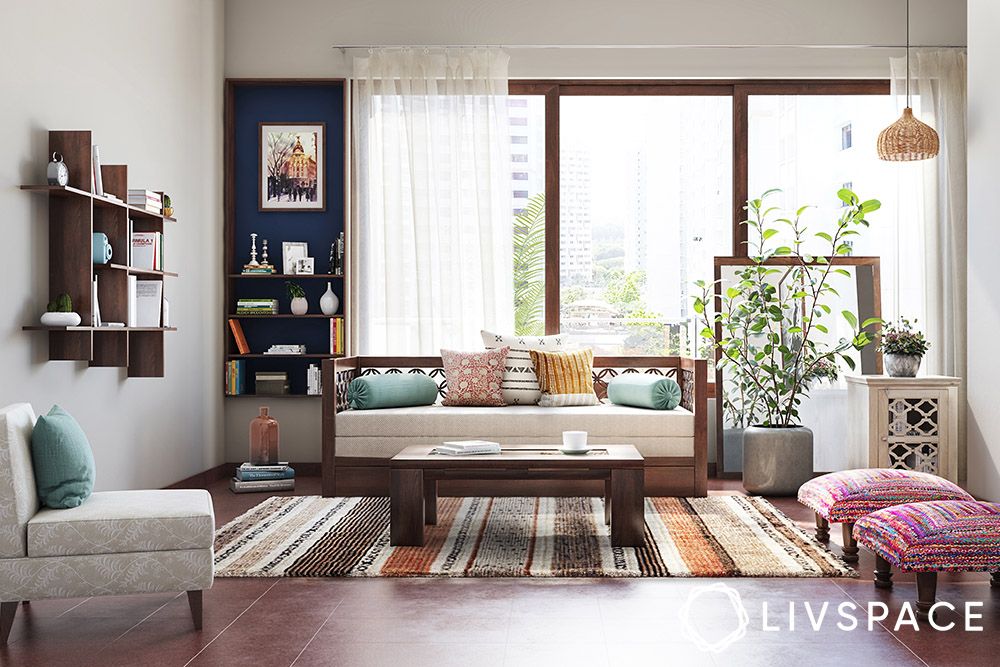 One of the wall decor ideas we recommend is going simple. Efficiency meets elegance in this living room wall decor design featuring floating shelves that house a mix of memorabilia, artwork and books!
Also Read: All About Laminates: Types, Finishes, Maintenance & Tips to Choose
4. Use Decorative Mirrors in Different Shapes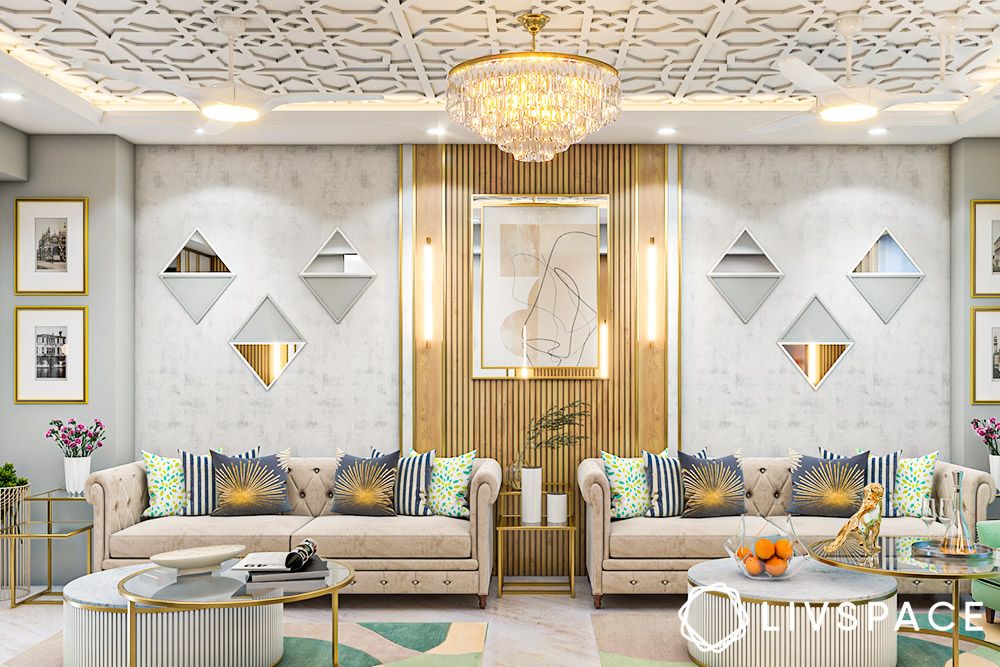 Mirrors have been all the rage now and this wall decor idea takes it to the next level! If you want to make your walls shine, have a metallic moment as this one. Incorporate symmetry to add tons of personality to your space.
5. Never Go Wrong With Colour Theory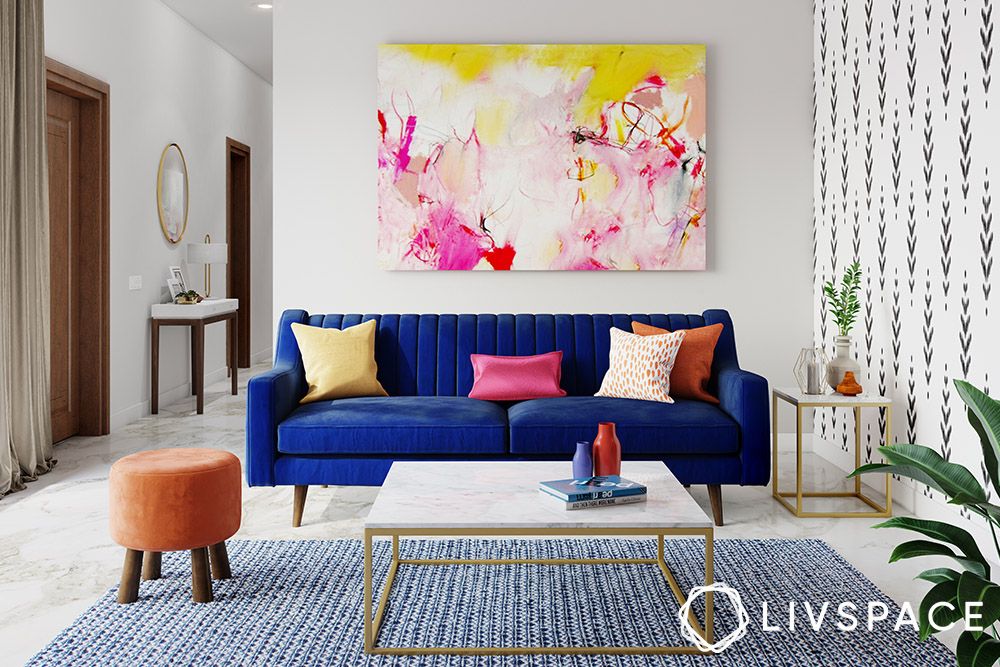 If simple wall decor ideas is not your thing, try this wall decor idea that builds graphic interest at once. It gives the space a sense of wonder while bringing out the creative genius in you.
6. Try Some Stencilled Style Design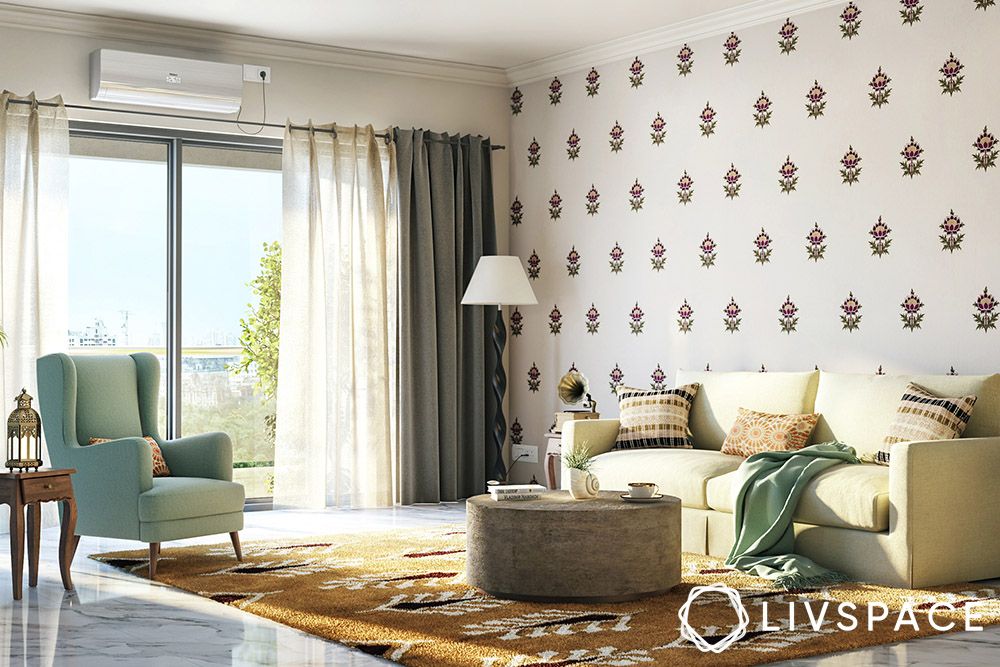 The idea is creating a wall space that you would enjoy looking at day after day. Adding stencilled designs for wall decor design will infuse character and colour into your room without sacrificing the clean look.
7. Mix and Match With Tiles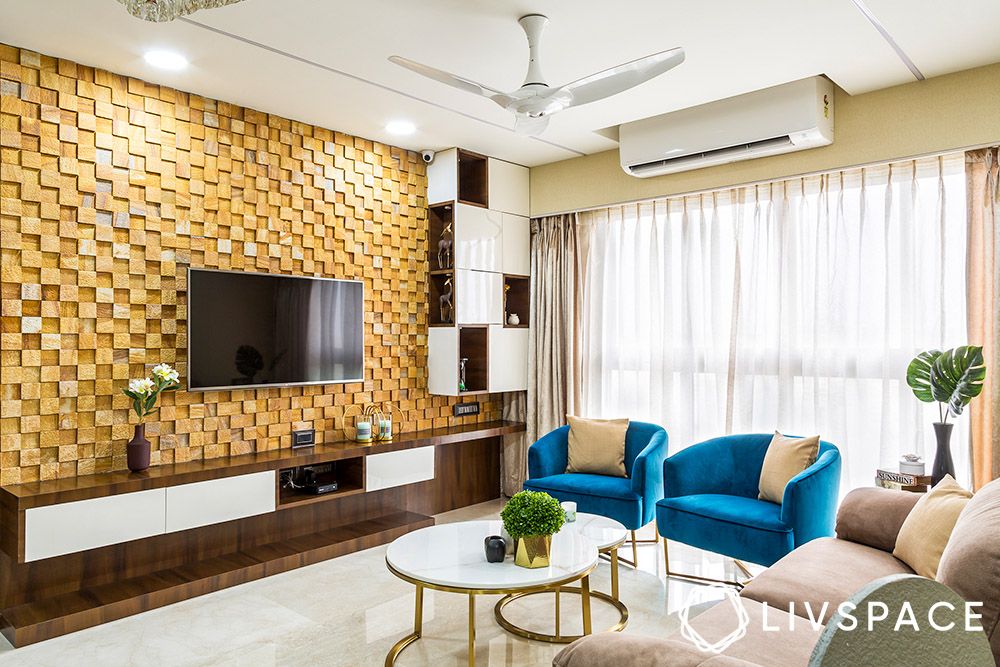 Love quirky wall decor ideas and yet don't want to go out of your comfort zone? Go for tiles, add a consistent theme. Turn it into an accent wall of sorts! The idea here is to infuse colour.
8. Go Bold With a Sculpture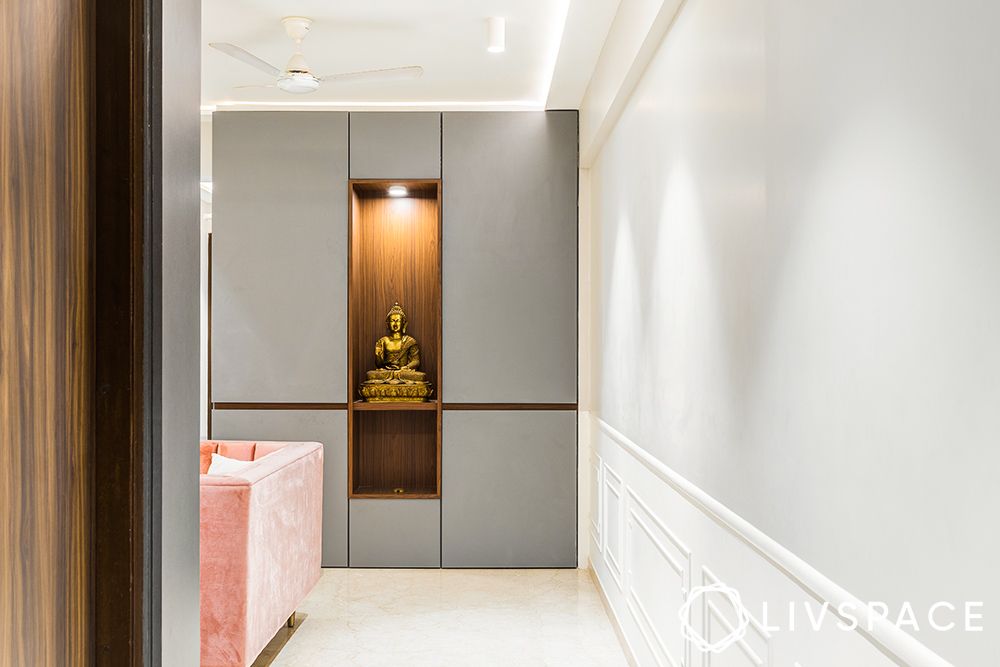 If you love streamlined wall decor designs, then this one's for you! Add opulent accents to your once-bare walls and get ready to wow your guests!
9. Make Your Guests Green With Envy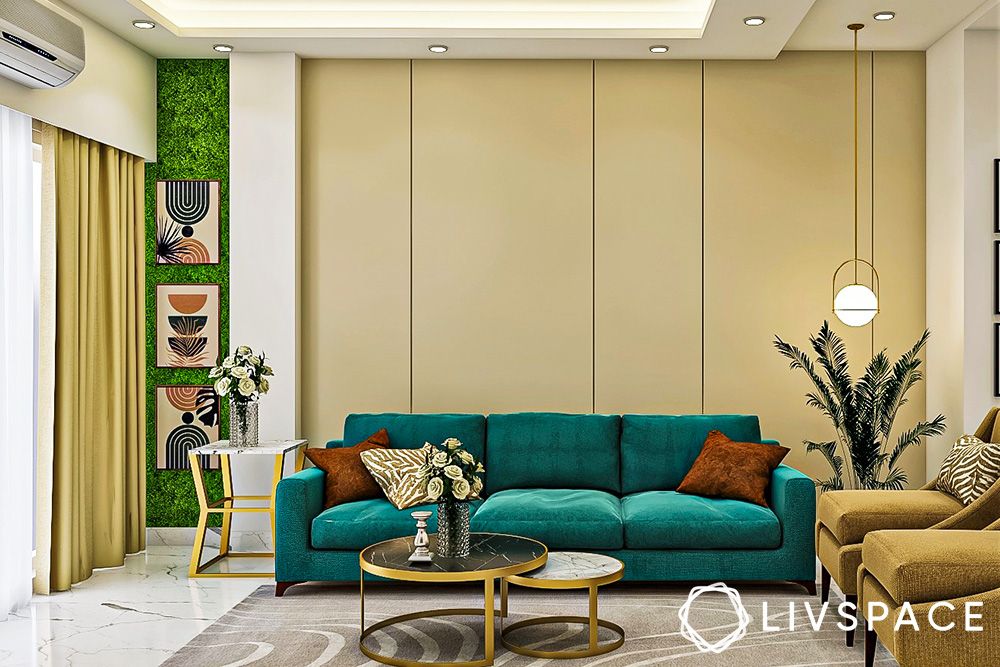 Here's another wonderful wall decor idea for the adventurous souls out there. Quench your thirst for biophilic design with greenery. If you're feeling adventurous, go a little overboard. You can't go wrong with green.
10. Consider Cabinets for Wall Decor Design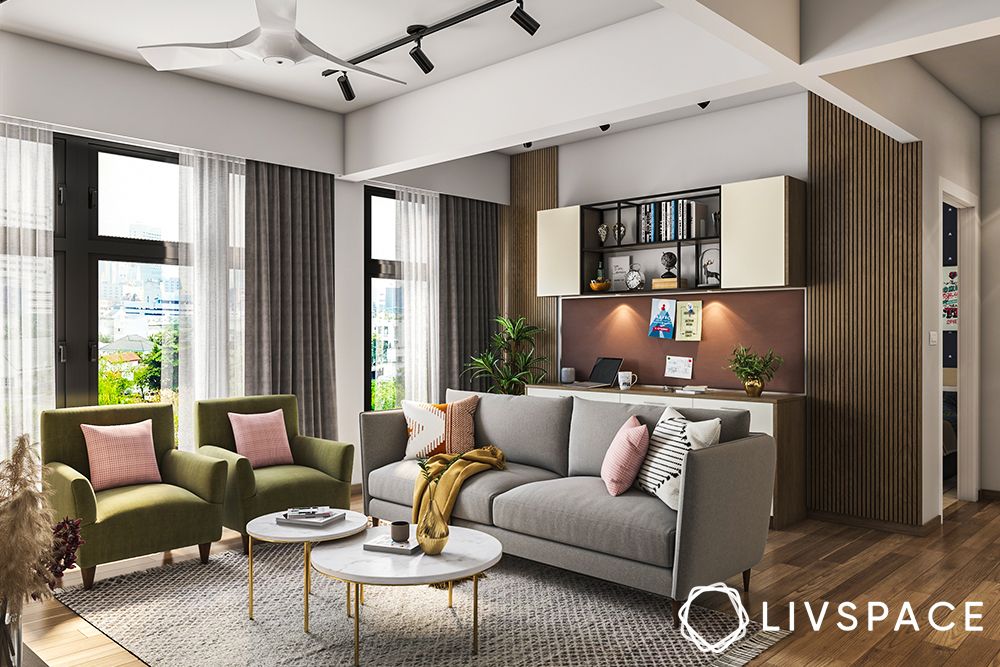 What's the best way to welcome guests home, you ask? Give them a sneak peek into your lives by putting up your most cherished moments on the foyer wall. Get a mix of closed and open cabinets to make your life storage-intensive.
11. Go the Antique Way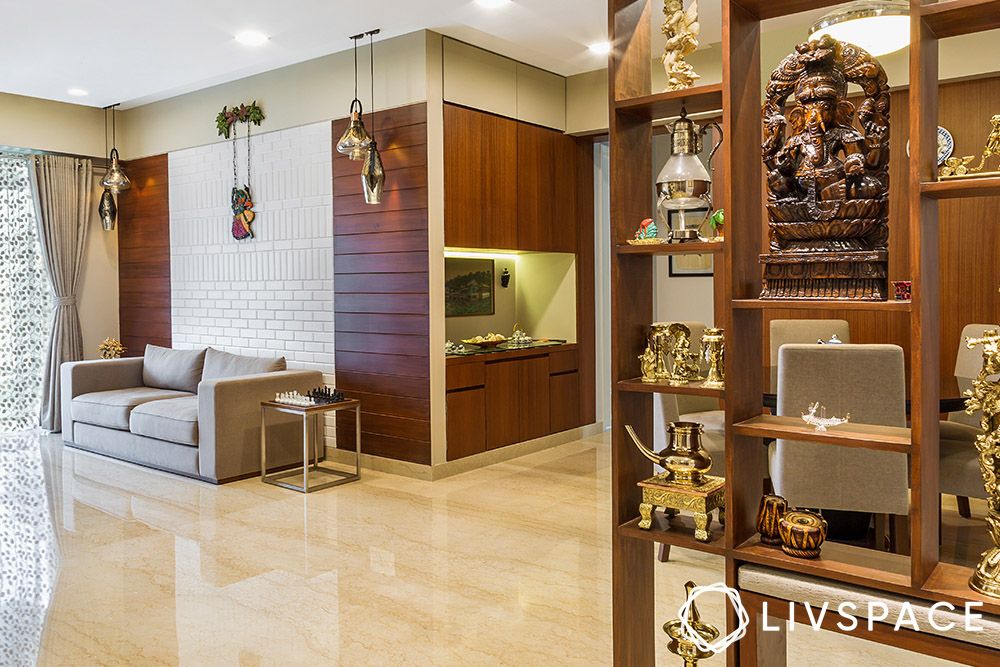 Wall decor ideas should make your wall a spot to pause and reminisce, even while giving guests a tour of the house. Why not fill your wall with displays of antiques and go the maximalist way?
Also Read: How to Clean Distemper Painted Walls
12. Style Your Wall With Bookshelves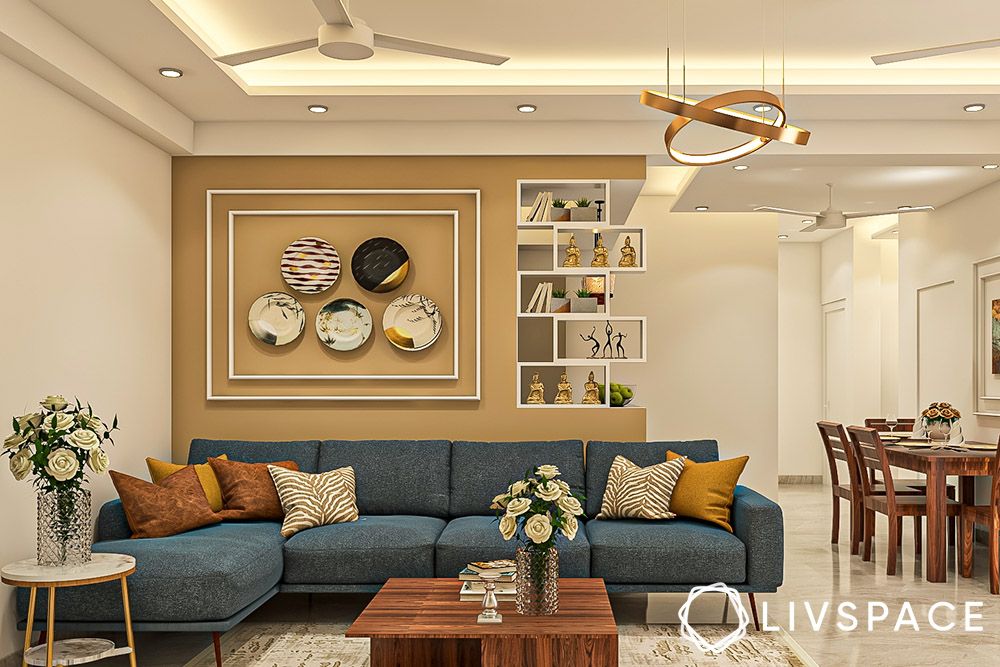 Get ready to be inspired for your next book organising endeavour! There's no better way to enliven your blank wall than with bookshelves. If you're not much of a reader, you can keep it simple and mix things up with sculptures, antiques and artwork.
13. Embrace Embroidery or Textile Wall Art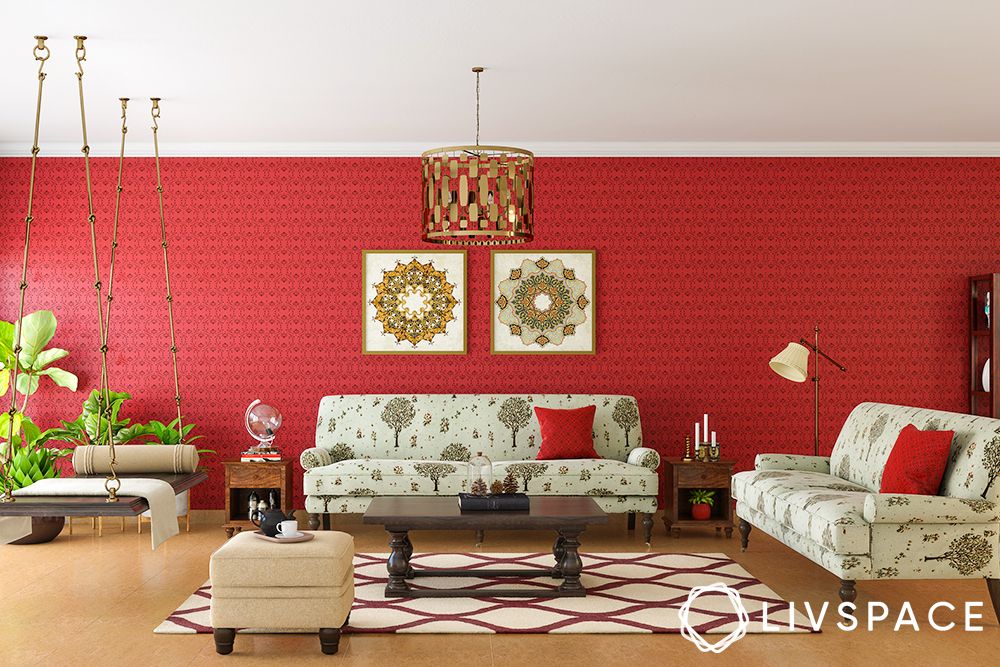 This wall design takes inspiration from the decor of the room and plays to the ethnic Indian art sensibility. Filled with graphic imagery and paintings, it's a showstopper, this one! In fact, you can try your hand at wall decoration ideas (like this) at home.
14. Bring A Hint of Texture With Rustic Reclaimed Wood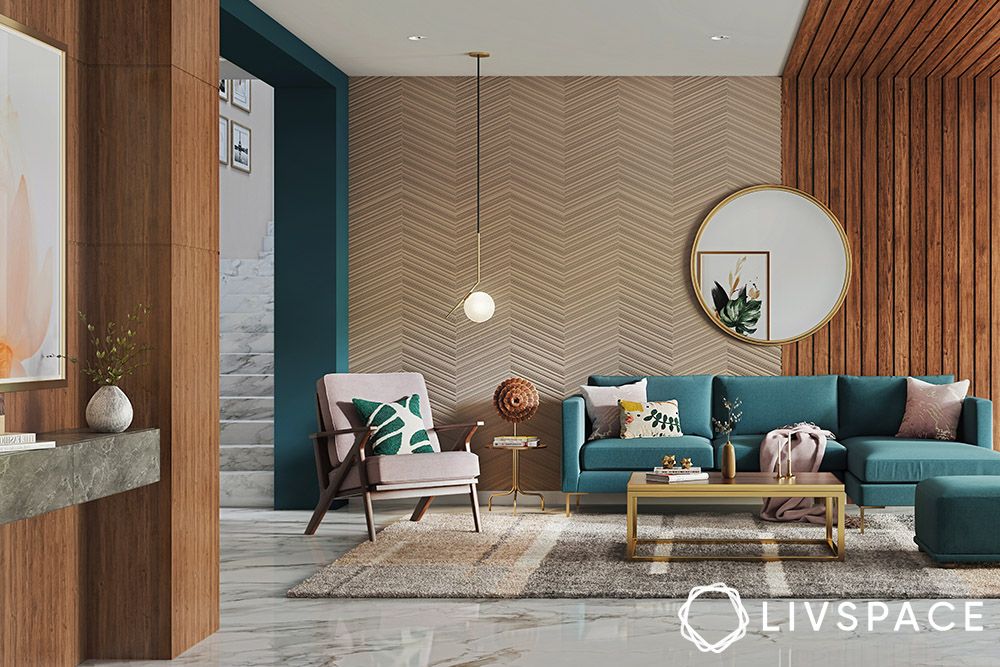 Create a mix of textures and see your wall decor designs come to life. Let them be a conversation starter when you lead the way with beige and go for the textured treatment.
How Can Livspace Help You? 
We hope you found our wall decor ideas useful! If you want beautiful interiors for your home, then look no further. Book an online consultation with Livspace today. If you have any thoughts and suggestions you'd like to share with us, we're all ears! Drop us a line at editor@livspace.com.
FAQs
1. What Decor Can I Put on the Wall?
You can hang family pictures, add antiques or add bookshelves and cabinets. In fact, you can also create magic with mirrors. DIY some colour theory for the best wall decor ideas, too!
2. What Are the Best Wall Decor Ideas for Your Home?
The best wall decor ideas for home can be framing your forever moments and having a gallery wall. If that idea's too simple, go for a rustic yet luxe look with reclaimed wall. Hang some art, add some mirrors in different shapes or add some texture.
3. How Do You Make Plain Walls Look Good?
Making plain walls look good isn't a lot of work. You can hang abstract artwork, geometric prints or go for moody wallpapers that jazz things up.
4. What Can I Put on a Blank Wall?
You can put the memories that are closest to you. Are you a photographer? Add some prints and add an optical illusion or design your blank wall with textures, tiles and wall hangings.