What's one of your most favourite childhood memories? While trying to narrow down on an answer, you might recall the days when you'd play interior design and decorate your own bedroom. After all, those were the days when even the smallest change to our kids' room design made us feel like entirely new people! Now, as homeowners, you might want to share these memories with your kids and give them their own space to adore and enjoy. Here's where you might be on the lookout for kids' bedroom design ideas for a touch of inspiration.
From cartoon-inspired spaces to fun play zones, from sober teen rooms to lively nurseries, we have some beautiful kids' room designs to suit you. Take a look at these 50+ creative ideas!
Kids' Room Design Ideas for Tiny Tots
Are your kids too young for elaborate kids' bedroom interiors? Perhaps safety and practicality is also a concern at this stage. Let us dust off all your worries with some simple yet stunning kids' room interior design ideas!
#1: Pretty in Pink for Kids That Love Colour
Does your child have a favourite colour? How about dousing the kids' room design in a subtle shade of pink to show it off?
#2: Spice Up a Plain Room With an Accent Colour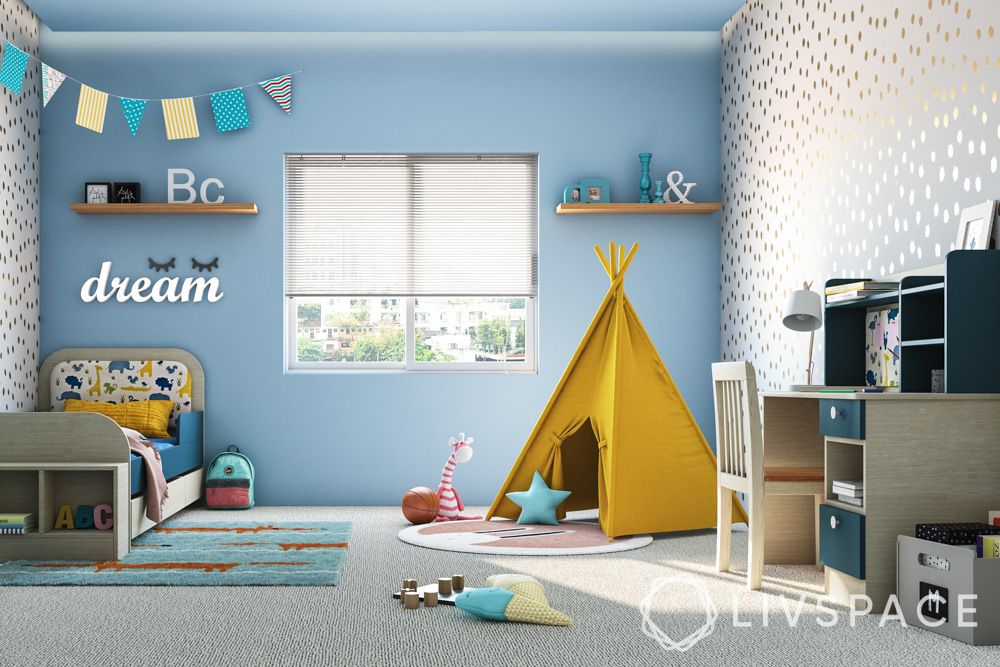 So, have you decided to keep your kids' room design subtle but don't want it to look too plain? Looks like you're in need of some kids' room ideas that can bring in some fun. Go for an accent wall to add a splash of colour to neutral kids' room interiors.
#3: Pink Meets Purple in This Cosy Kids' Bedroom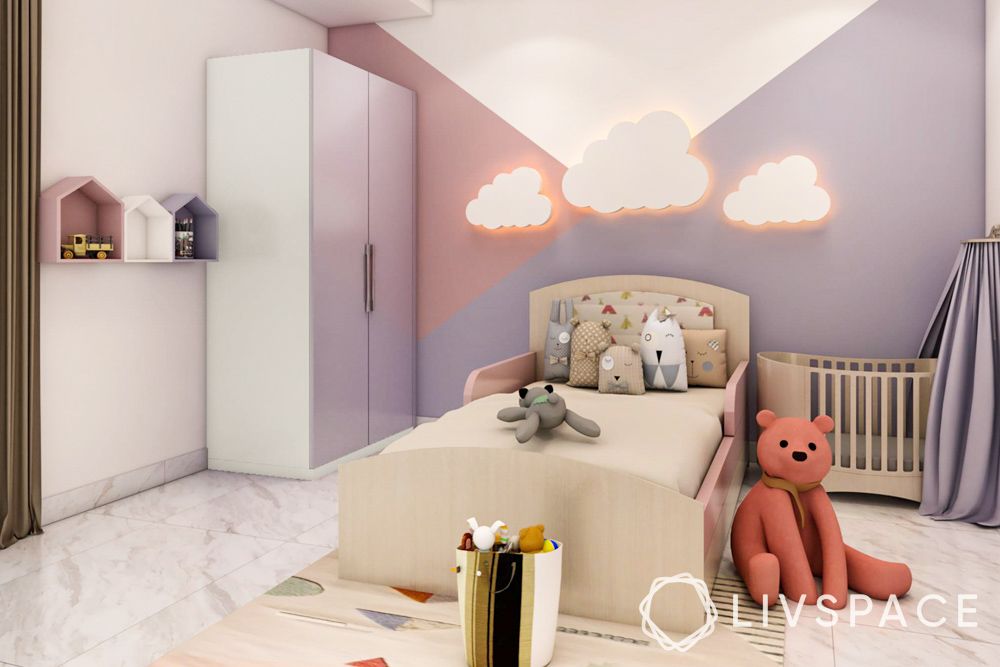 If you thought geometric wall patterns are too much for a kids' room interior design, let this room be your guide. All you need are complementary colours like pink and purple to make a statement in your kids' room design!
#4: Kids' Room Ideas Featuring Confetti-Style Walls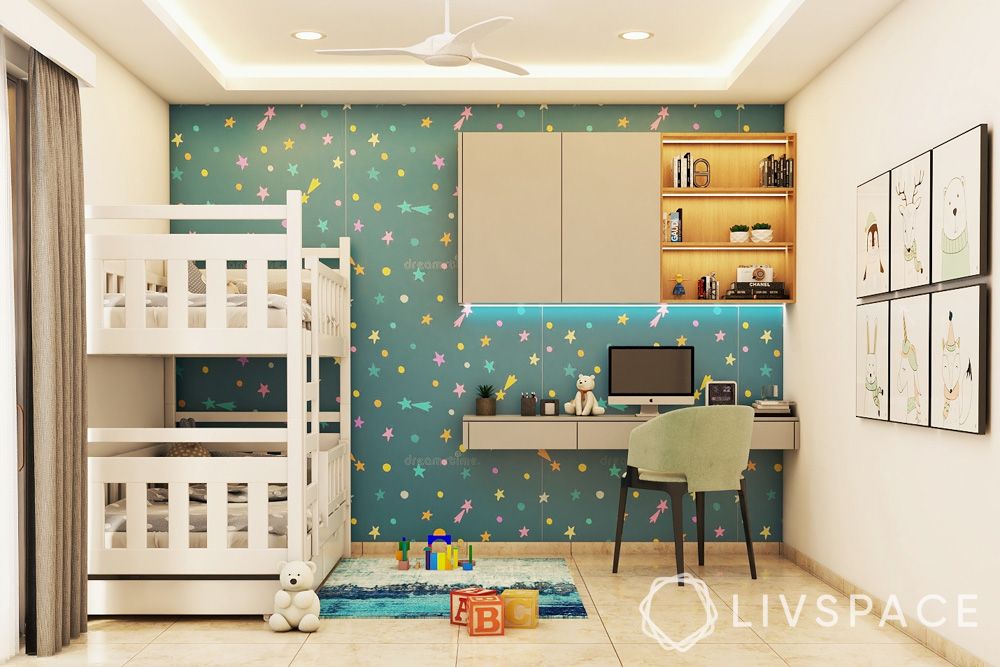 Confetti helps us celebrate and mark joyous occasions with some fun and colour. So, it's only fitting to include it as a part of your kids' room design. However, actual confetti can get messy.
Instead, you can recreate the look with any pattern in different colours for your walls. Take these shooting star designs as an example!
#5: Small Kids' Room Designs for Younger Kids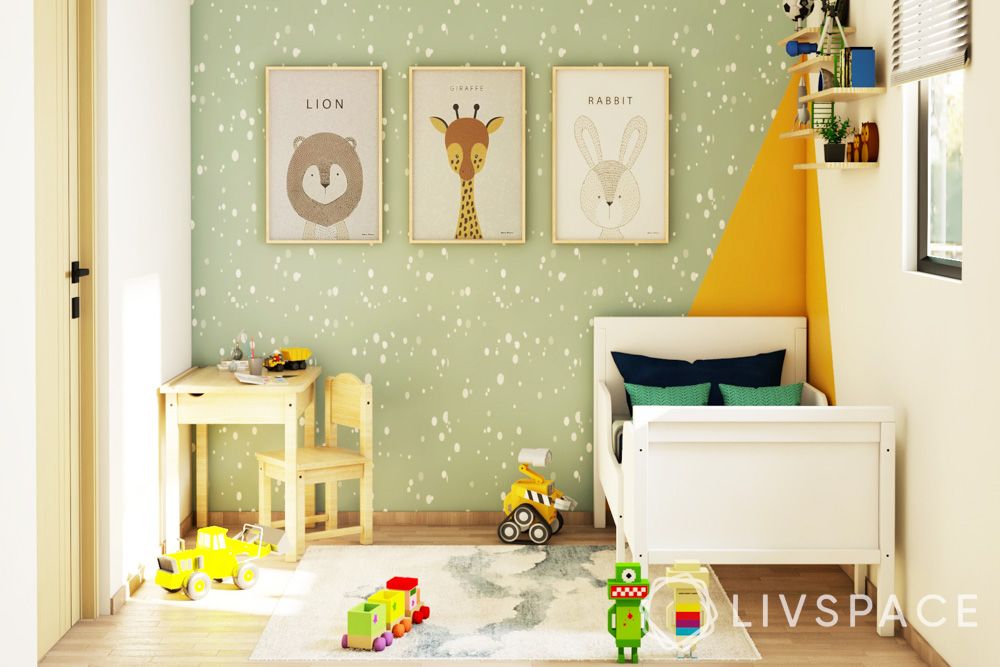 Even the smallest of spaces can make for the cosiest of kids' rooms in design. Use soft colours like mint green, white, and wooden tones to dress up the space.
#6: Here's a Layout That Opens Up Space to Play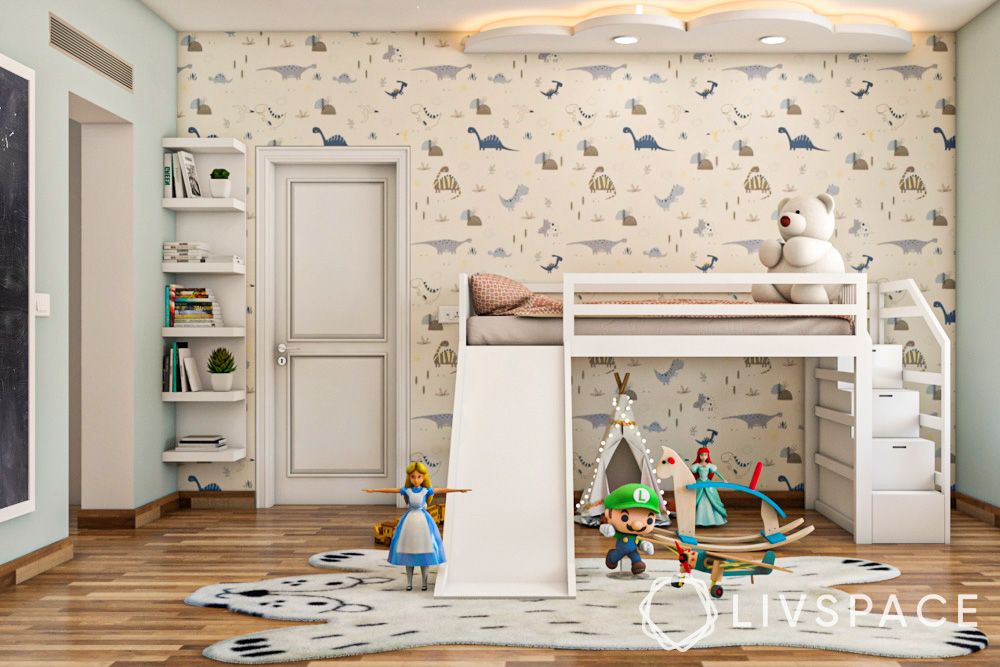 Need kids' room ideas that are perfect for growing kids? This layout can help. Opt for a loft bed that keeps the floor space below it empty. This type of kids' room design can allow your child more room to play on the floor without rearranging furniture.
#7: How About Some Comforting Florals?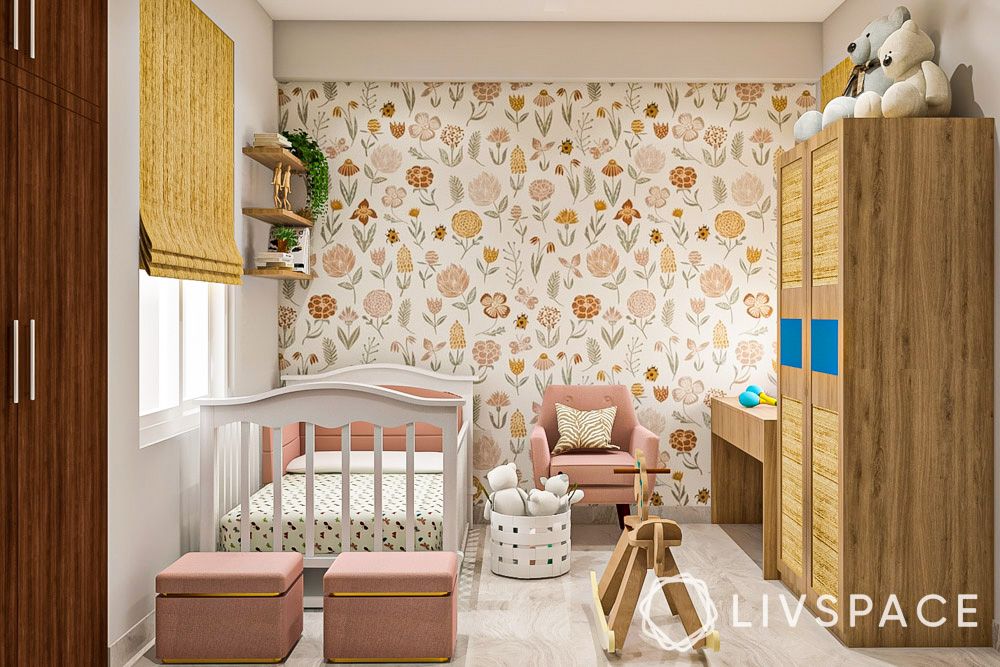 Floral wallpaper with soft rose-coloured furniture is a picture-perfect match for kids' bedroom ideas. Throw in some wooden accents to complete the look of this floral kids' room design.
#8: Create Separate Zones for Double Occupancy Kids' Room Designs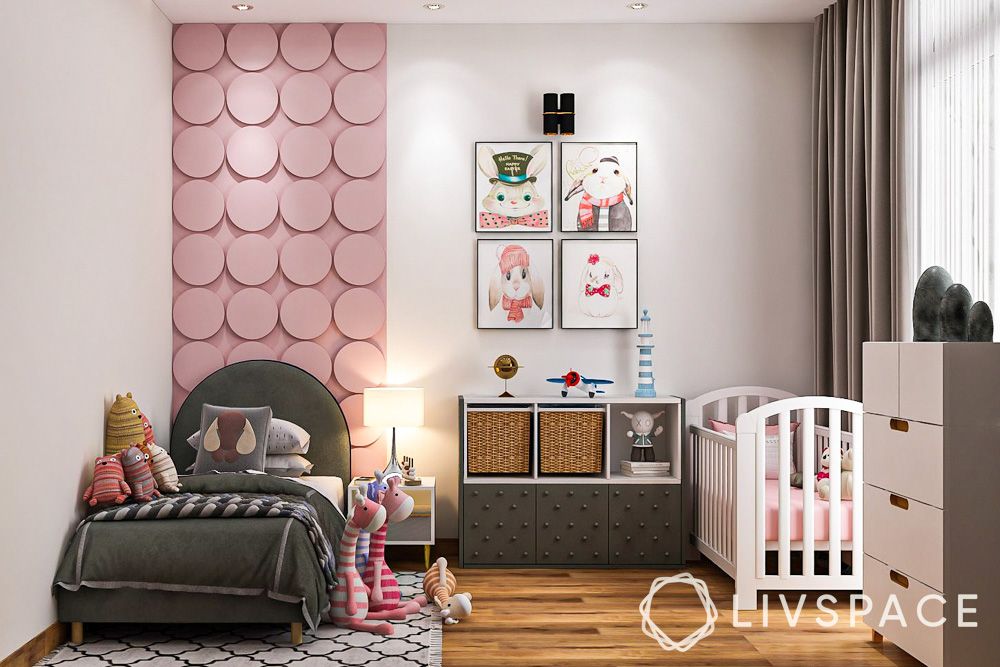 Two kids sharing a room can get messy. It helps to section off the kids' room design into different zones for each child. To further detail your kids' room interior design, go for accent walls to highlight each child's space, like this Legos-themed wall.
#9: Is It a Park? Is It a Playground? No, It's Your Kids' Bedroom!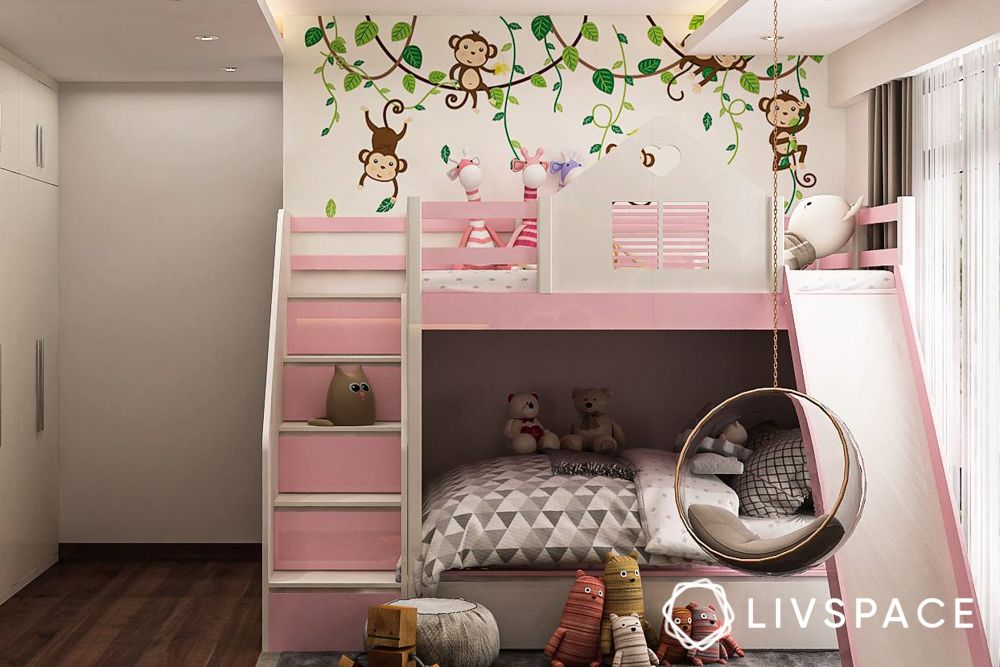 Do you have a busy schedule that prevents you from taking your kids to the park? What if we told you there's a kids' room design that can drum up park vibes? All you need is a bunk bed with a slide on one side to recreate those park times!
#10: Some Neon Signage for Trendy Kids
Looking for a creative way to add some interest to your kids' room design? How about some neon signs to spice up your kids' bedroom interior? What's more, you can buy them ready-made or even go so far as to customise them!
Also Read: 7 Tips and Tricks for Decorating Your Kid's Bedroom
#11: The Sky's the Limit When It Comes to Kids' Room Wardrobe Colours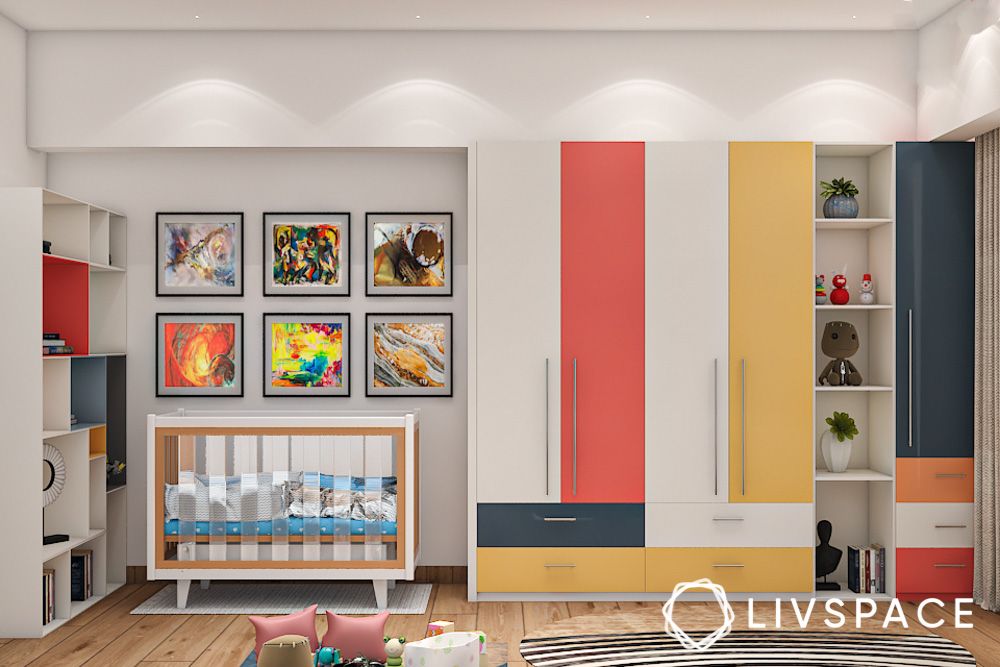 Colour man, colour man, which colour do you choose? If you can't decide with just one, how about going in for a mixed palette? However, remember to only pick complementary colours to avoid a clash. Orange, yellow, and blue can be some good colours to start with.
Bedroom Interior Design for School Age Kids
If you have kids that are school-going or in the early teenage stages, you're bound to know how important their rooms are to them. The same kids' room interior design that works for toddlers might not work for older kids. Here's where exploring different styles of kids' bedroom design can help you create the perfect space for your growing kids. Check out some of these designs below:
#12: Forest-Themed Kids' Room Design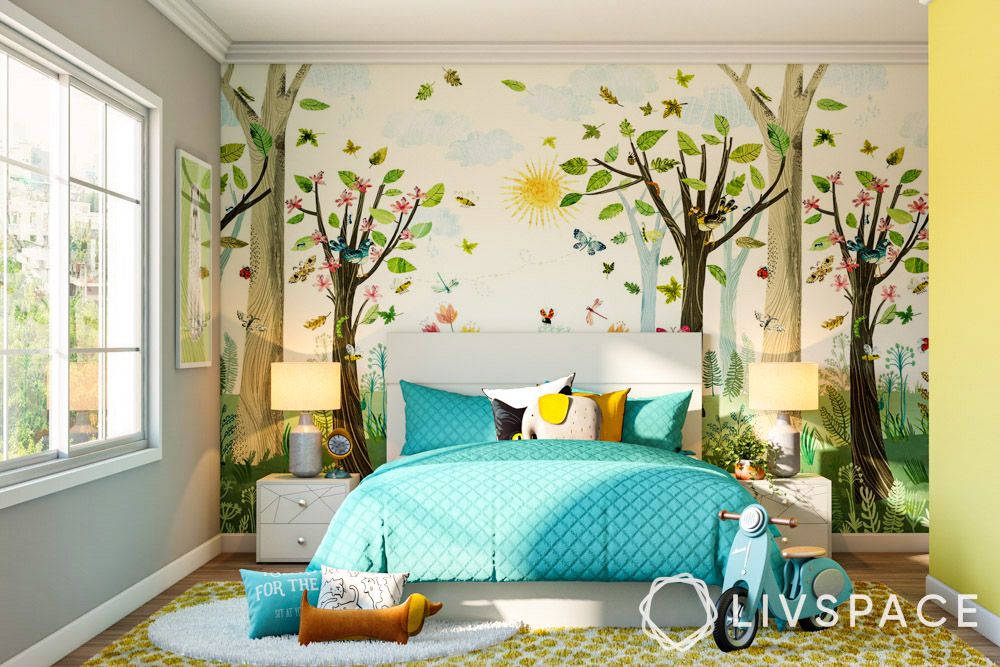 With a kids' room design like this, it's adventure time, come rain or shine. This kids' bedroom design theme is especially handy to have, if you live in a home that doesn't have a backyard.
#13: A Kid's Room Design That Suits All Ages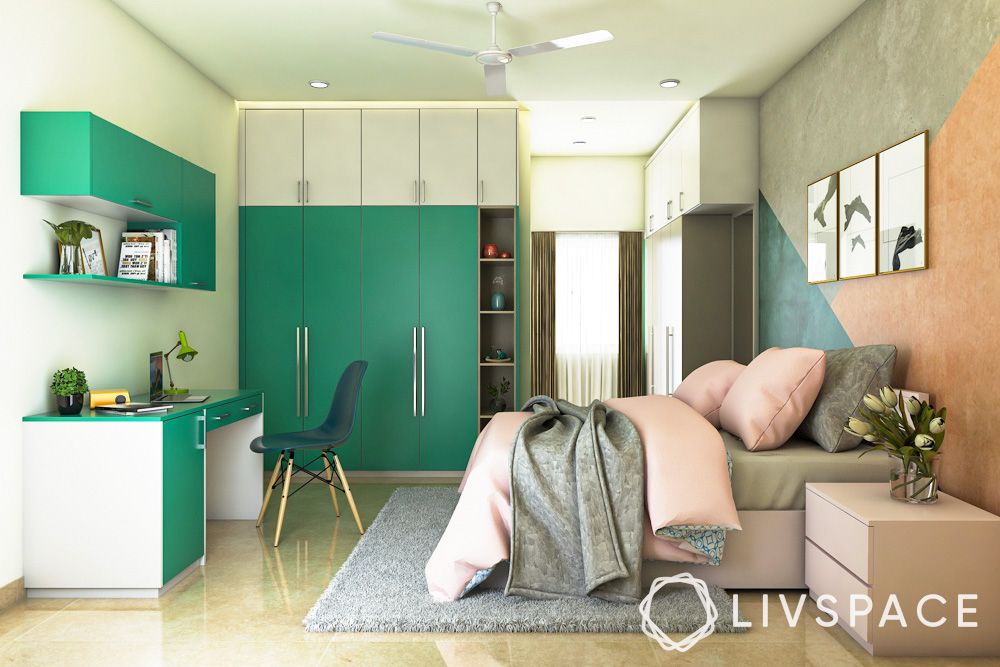 Not all kids are into cartoon themes and bright colours. In fact, some kids might lean more towards a dynamic style. Think a timeless kids' room design that can grow with their tastes. This style of children's bedroom design is one such example you can experiment with.
#14: A Spot of Yellow for a Happy Child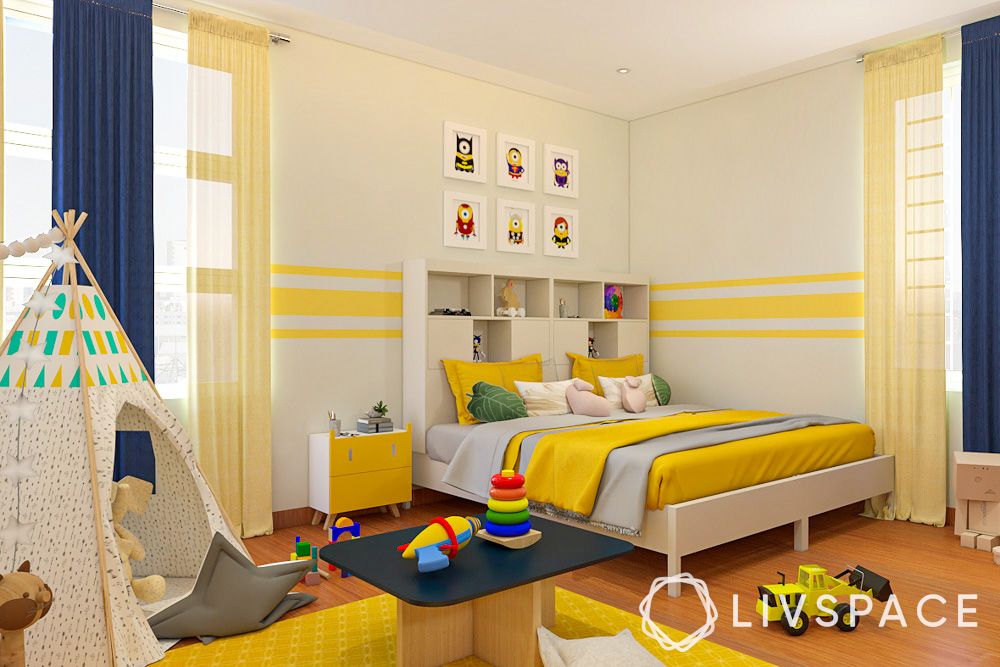 Keep your child's room positive and bright with hints of yellow on the walls and decor. Who knows, this might also be one way to influence a sunny disposition for your child.
#15: Step Into Dreamland With This Children's Bedroom Design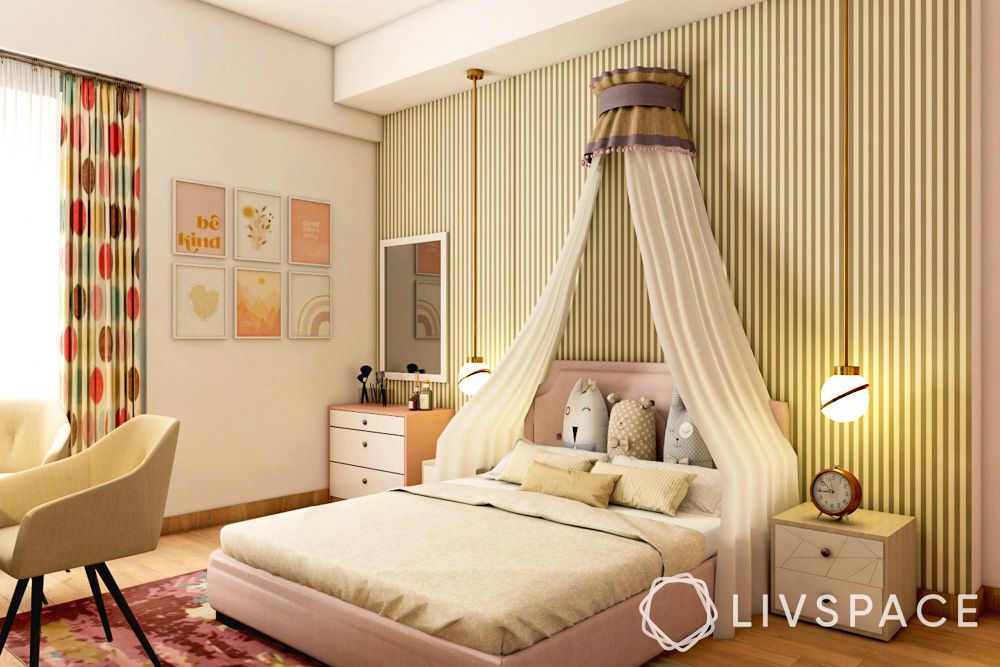 Pelmet treatments aren't just restricted to your windows. You can even get one placed above your child's bed for a curtain canopy. Such a children's room design is sure to lull your little (or big) ones to sleep.
#16: Nifty Storage Secrets for Extra Space in Your Child's Room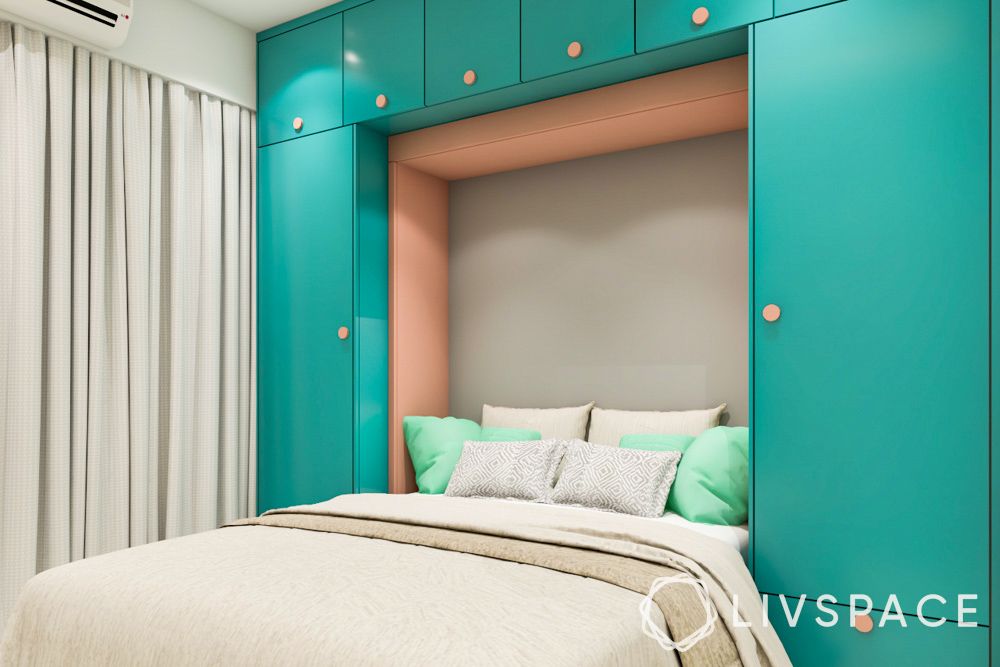 What's one thing that goes hand in hand with a growing child? If you guessed storage, you're absolutely right! As kids grow, they're going to need more storage space to hold their things. Prevent your kids' room design from getting cluttered by using a pull-down bed that merges into your wardrobes.
#17: Clever Design for a Shared Room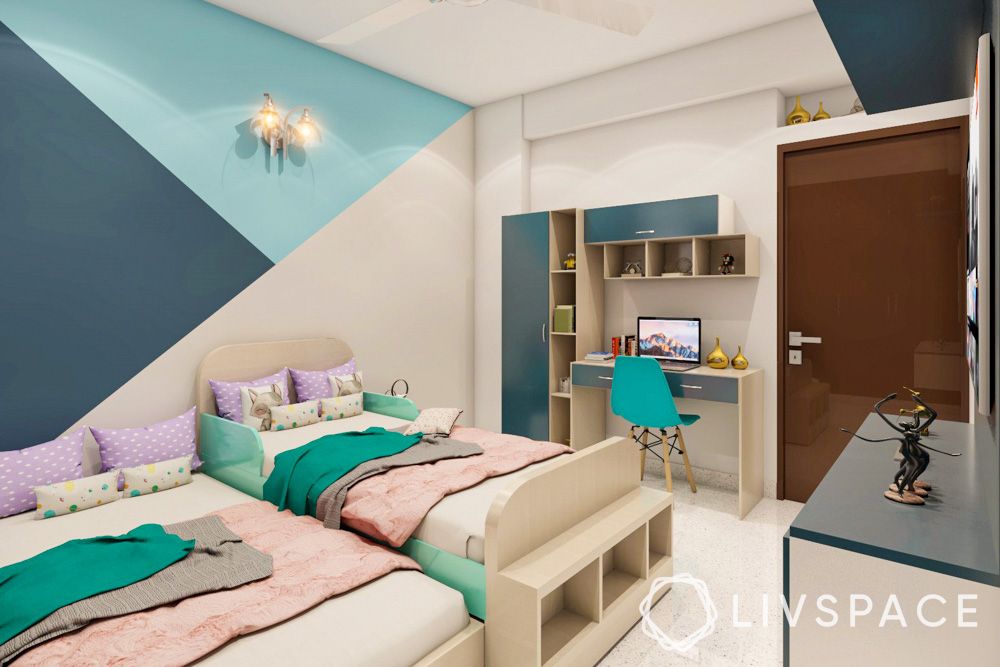 If more than two kids are sharing the same space, you're probably going to need a bigger bed. And a lot of creativity! Moreover, if the kids are of different ages, the little ones might need to be watched over by the older ones. Use a bed that offers safety features and keeps your little one from rolling off it.
#18: Here's a Design for Kids That Like to Keep It Simple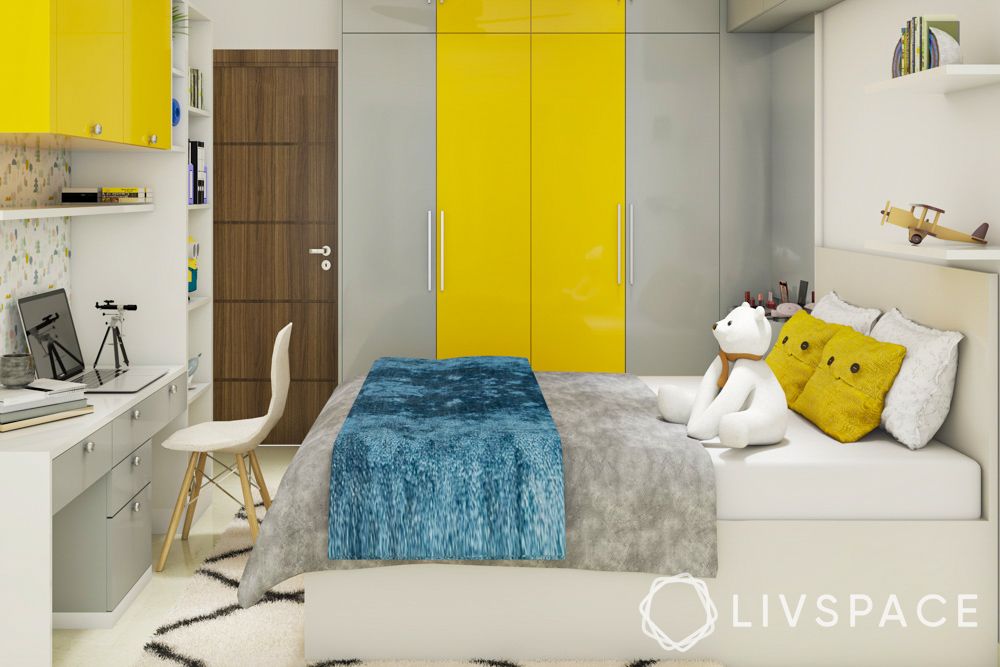 Monochromes might not be your go-to palette for your kids' room design. However, that doesn't mean they're completely off the table, either. To make this palette more kid-friendly, opt for a bright pop of colour like yellow.
#19: This One's for All the Speed Racers Out There!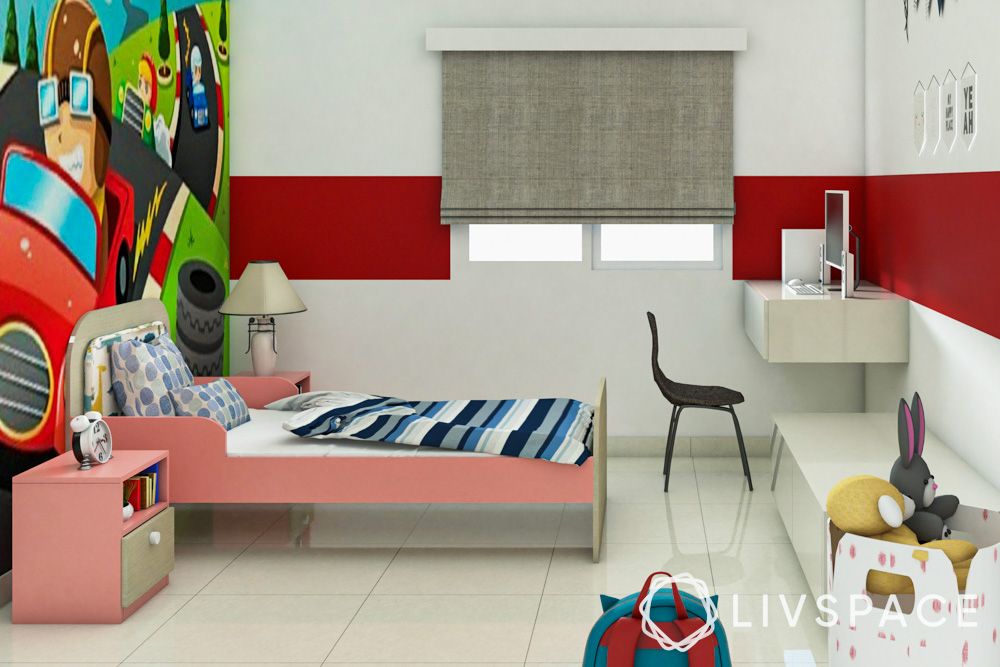 Among all the children's room design ideas out there, a car-themed room is probably one of the most common. After all, it's hard to not enjoy a space that's centred around race cars and bright colours like red.
#20: A Starry Night That's Just As Nice As Van Gogh's Art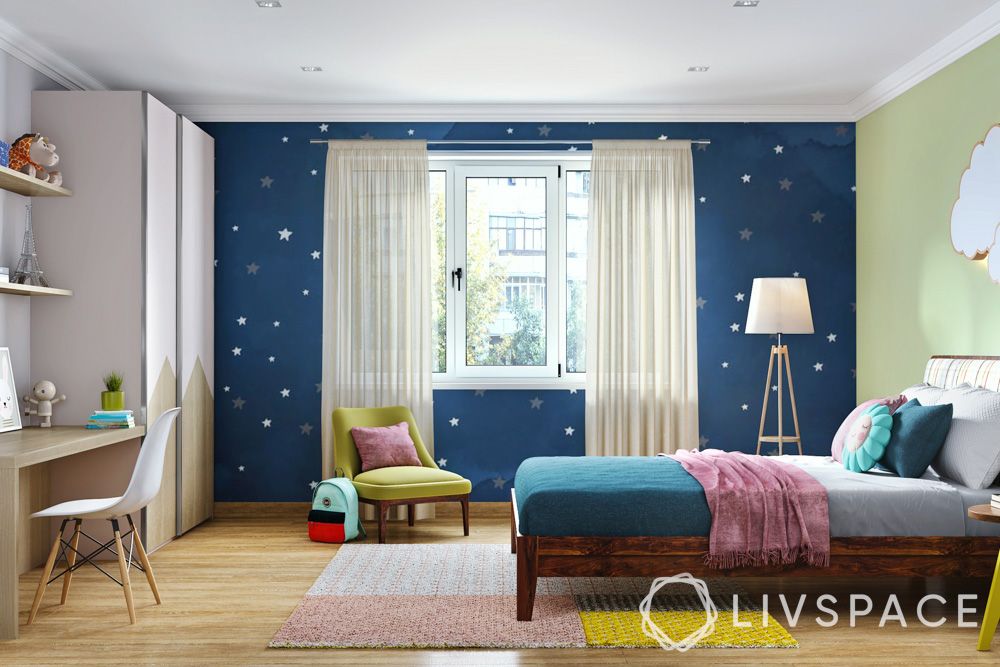 There's something calming about looking at the night sky and watching millions of stars twinkle. Though we might not be able to do this as much in the city, you can still give your child the opportunity to stargaze with this kids' room design.
#21: Children's Room Design Has Never Been This Easy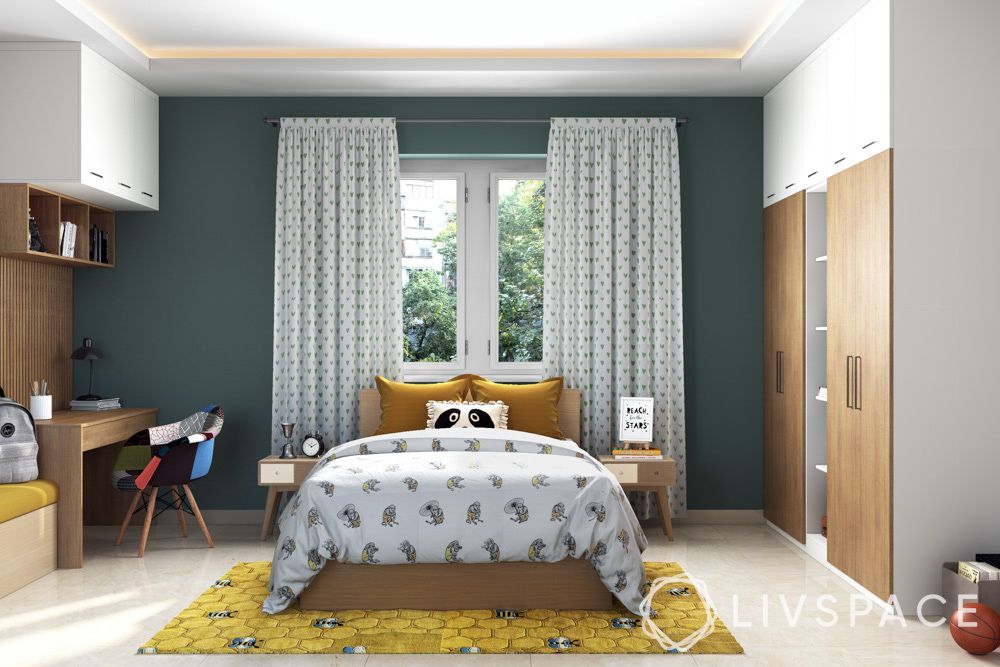 Sometimes, you don't even need to redesign your child's room. Instead, you can make the space more interesting with suitable bedding and soft furnishings. Go for colours and patterns that add visual intrigue, especially if the rest of your kids' room design is plain.
#22: Got Two Kids Sharing a Room? Let's Help You Give Them Space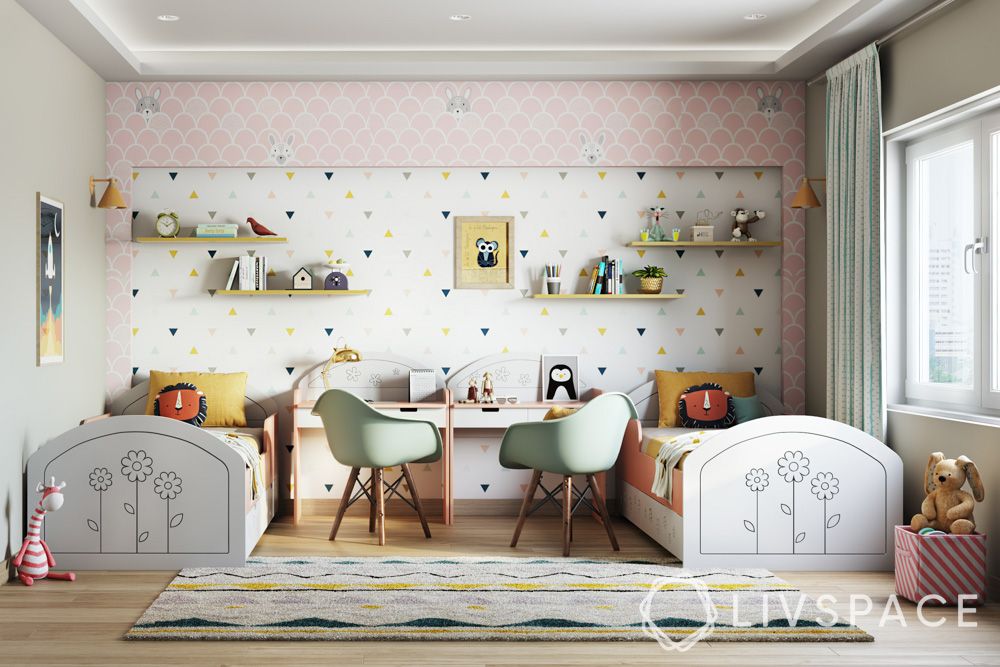 Though sharing is caring, it can be something that can kick off a fight between kids. To prevent this, give kids in shared rooms their own space for their things. Place the beds, study tables, and wardrobes separately to keep the peace.
#23: This Bedroom Is Sure to Stoke a Sense of Adventure in Your Child's Heart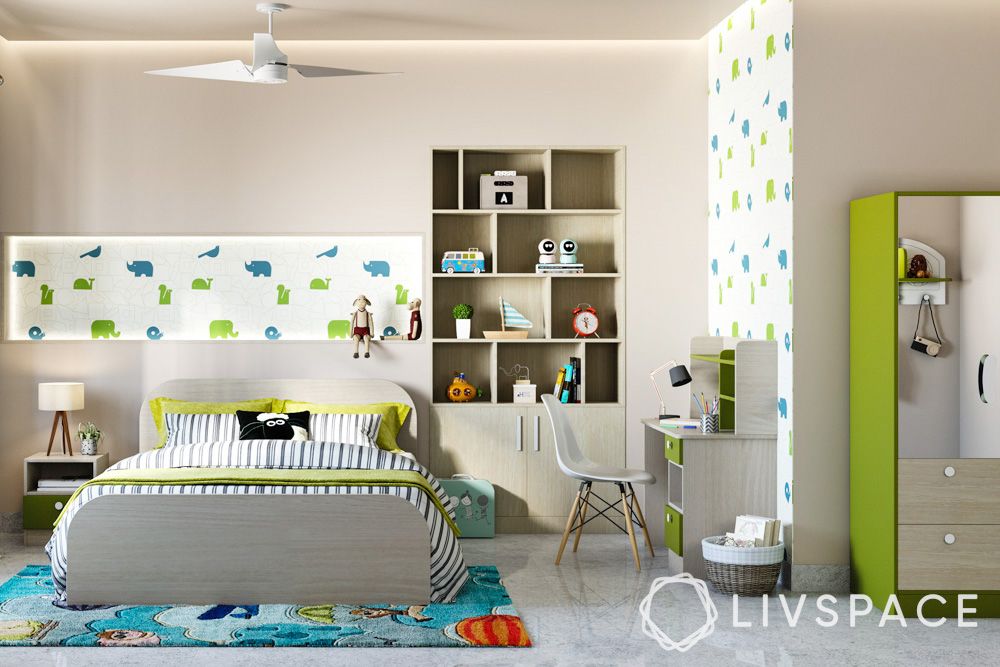 Dora the Explorer won't be the only one going on adventures with a kids' bedroom design like this! Natural colours like blue and green stay close to nature, while the rest of the theme instils a need for adventure.
#24: Climb Up the Ladder of Success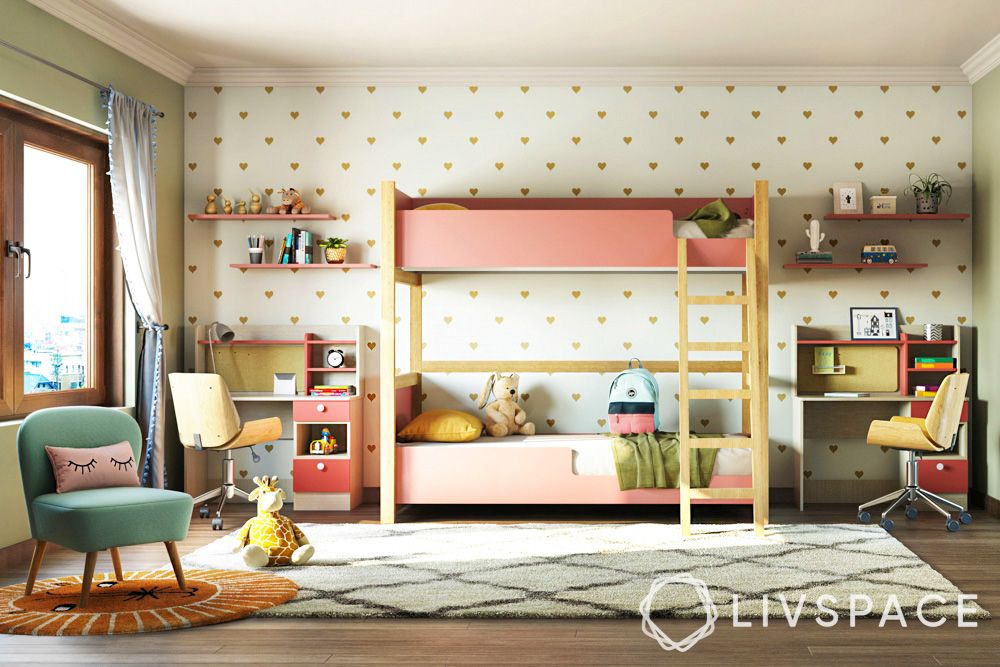 A bunk bed is a great way to save space in compact homes. Use a sturdy ladder to ensure your kids' safety while they're climbing up and down the beds.
#25: Wall Niches Aren't Just for a Living Room Highlight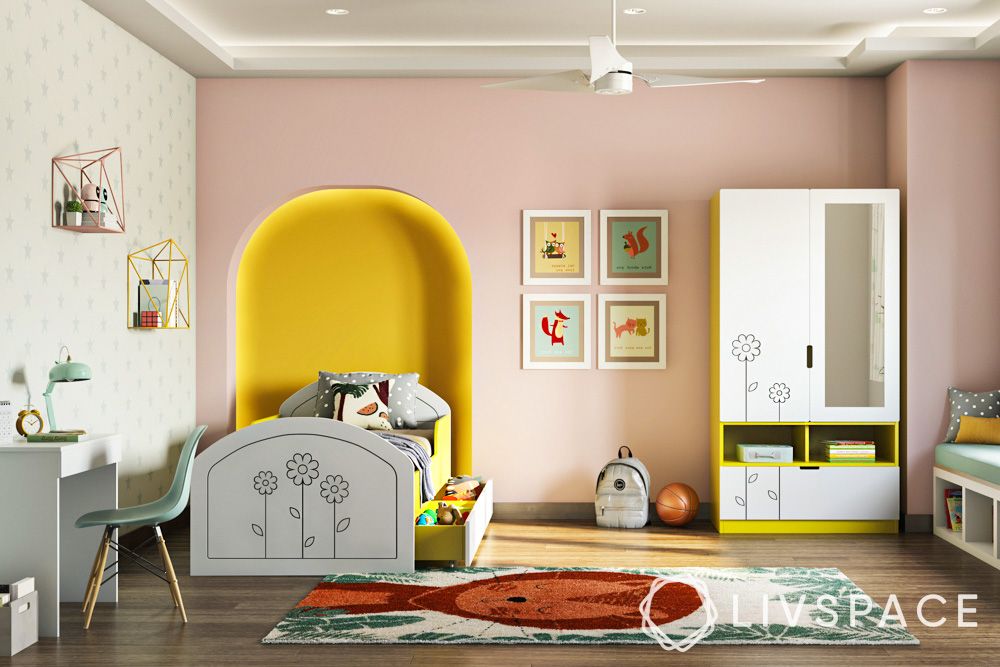 You'd probably see wall niches and arches decorate living rooms more often than a kids' room design. However, it's hard to disagree that they make the space look special.
#26: Concealed Storage Options Makes It Easier to Tidy Up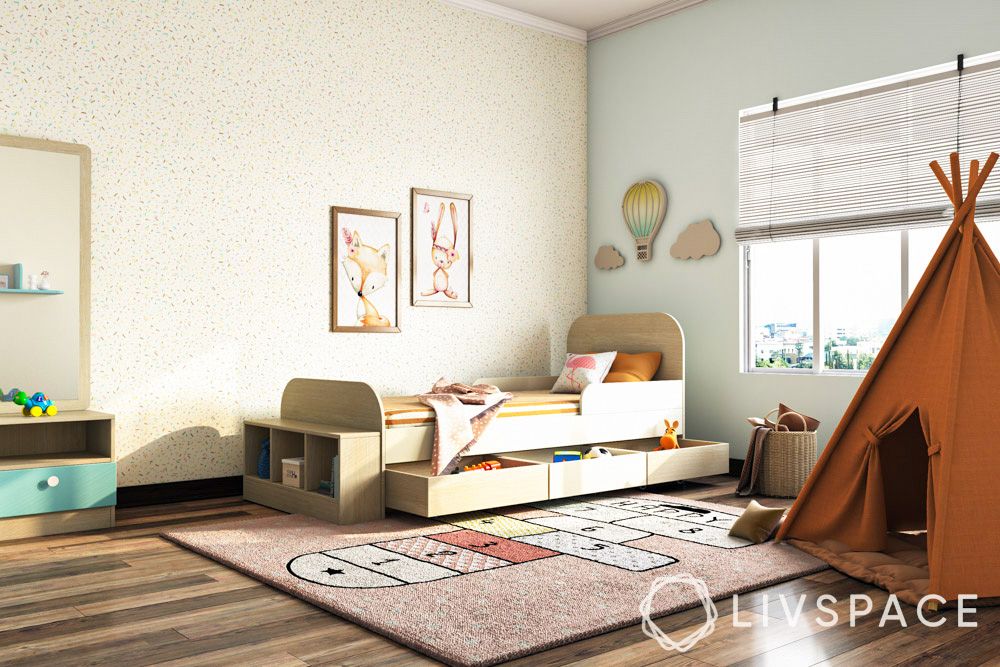 No matter the age of your child, chasing them to pick up after themselves is always a chore. Moreover, even when organised your kids' room can end up looking messy if you use visible storage bins. Instead, opt for concealed storage options across your kids' room design.
#27: Let the Morning Sun Wake Your Child Up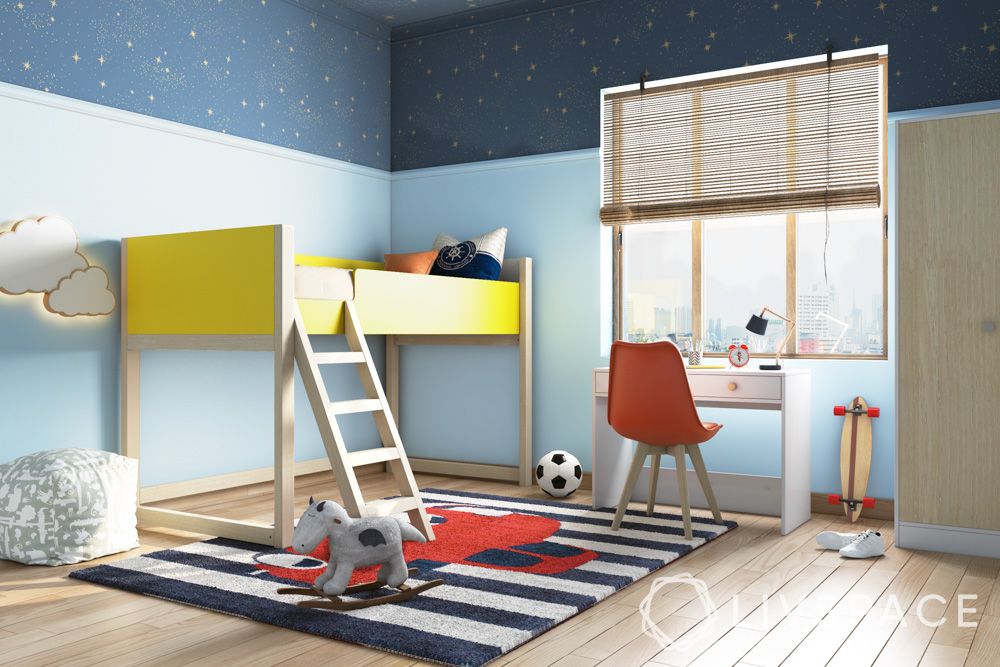 Tired of yelling across the house to wake your child up for school? By placing their bed right by the window, you won't have to!
#28: A Few Earthy Shades Never Hurt Anyone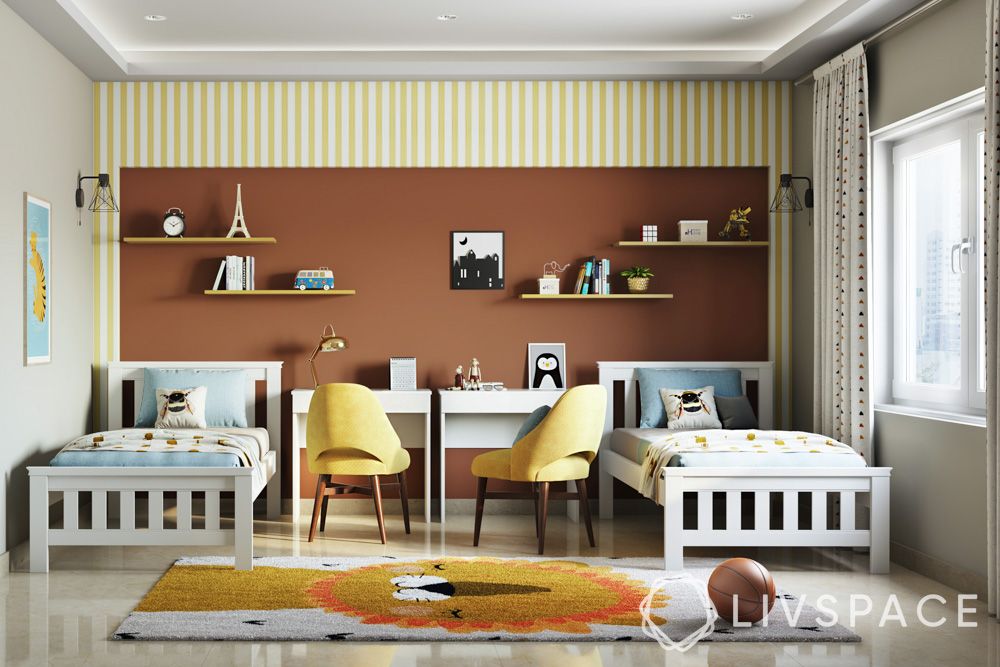 Would you ever consider painting your kids' room in shades of brown? If yes, some yellow and white pinstripes can help you accentuate the look.
#29: Can You Spot All the Themes Going On in This Bedroom?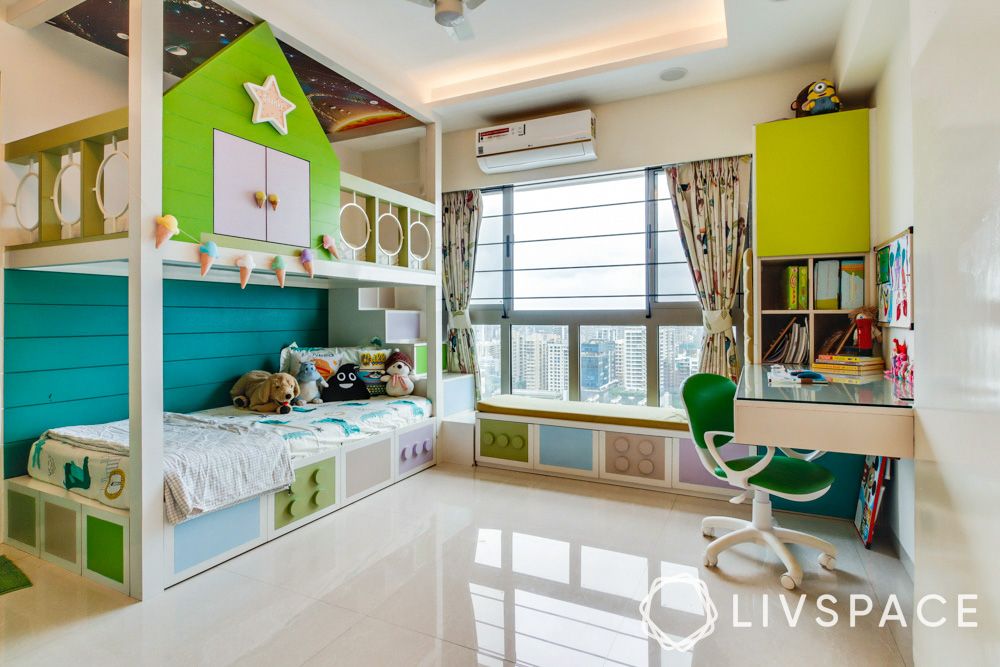 From the pretty colour palettes to the intricate design, there's so much to explore in this kids' room design. We love the ice cream cone wall hangers draped above the bed. What's your favourite element?
#30: Nothing But International Space Station Vibes in This Bedroom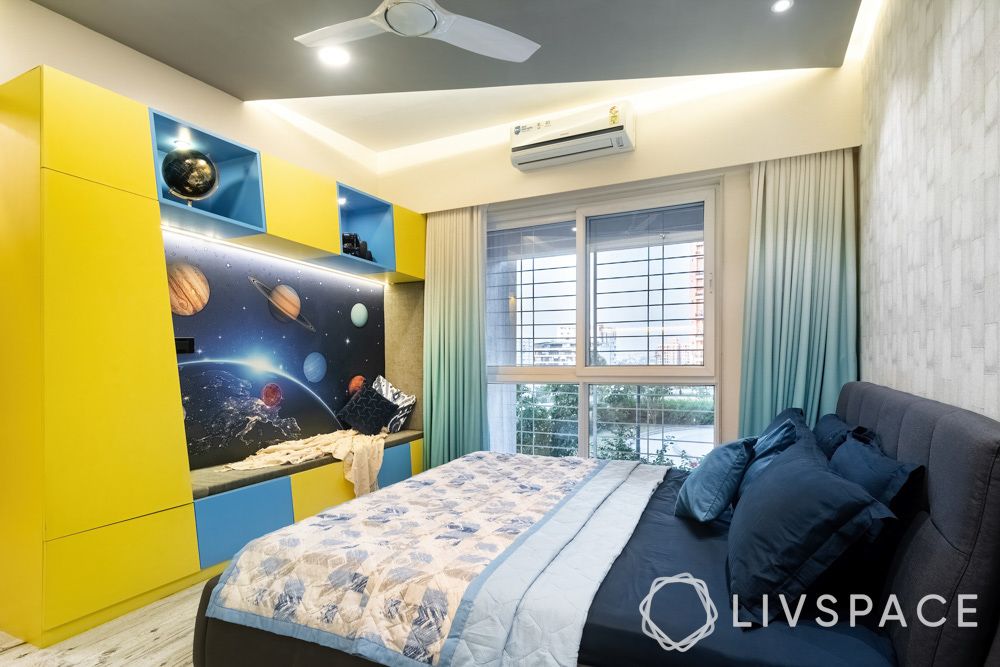 Did you know that NASA gives you the option of tracking the International Space Station's location, so you can try and catch a glimpse of it when it's over your city? While this can take time to see, your little ones can enjoy an interstellar view of the cosmos from their bedroom meanwhile.
#31: Frosty Blues and Greys for an Arctic-Themed Bedroom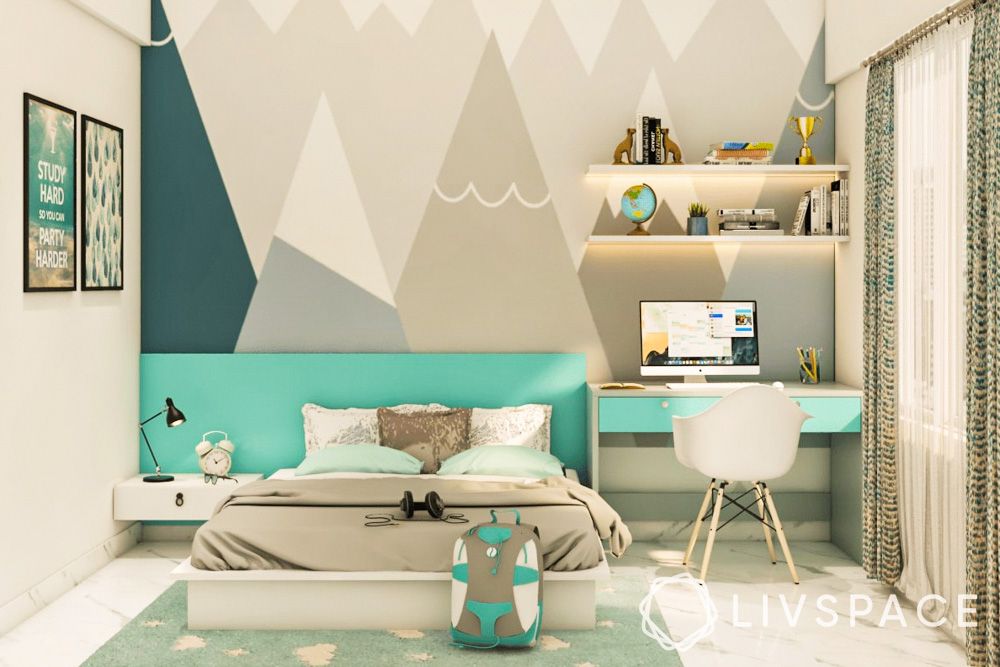 Depending on where you live in India, snow might not be something you see often. Give your kids a chance to experience the wonders of snowy hillsides with a frosty themed kids' room design.
#32: Ace Compact Room Design With Clever Space-Planning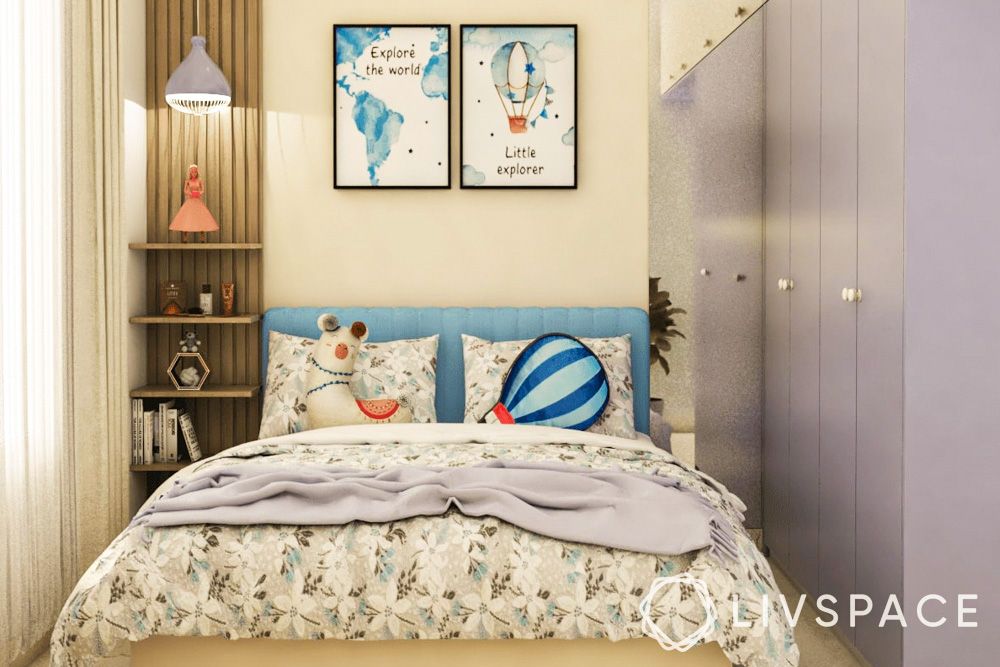 Low on space? No problem! All you need is the right approach to space planning, and you're all set. Our designers can show you how.
#33: A Kids Room With a Study Table and Minimalist Wardrobe Design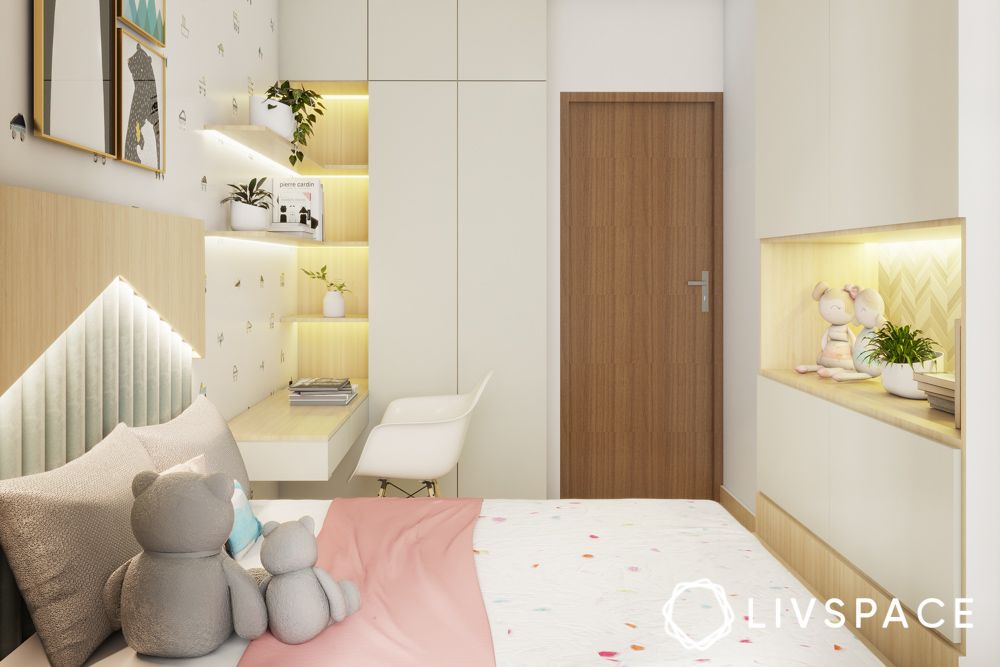 Less can certainly be more, depending on how you choose to look at it. If you have plenty of nooks and crannies in your kids' room design, be sure to use the right lighting to brighten the space. Profile lights can be great options.
#34: Lime Green for a Unique Look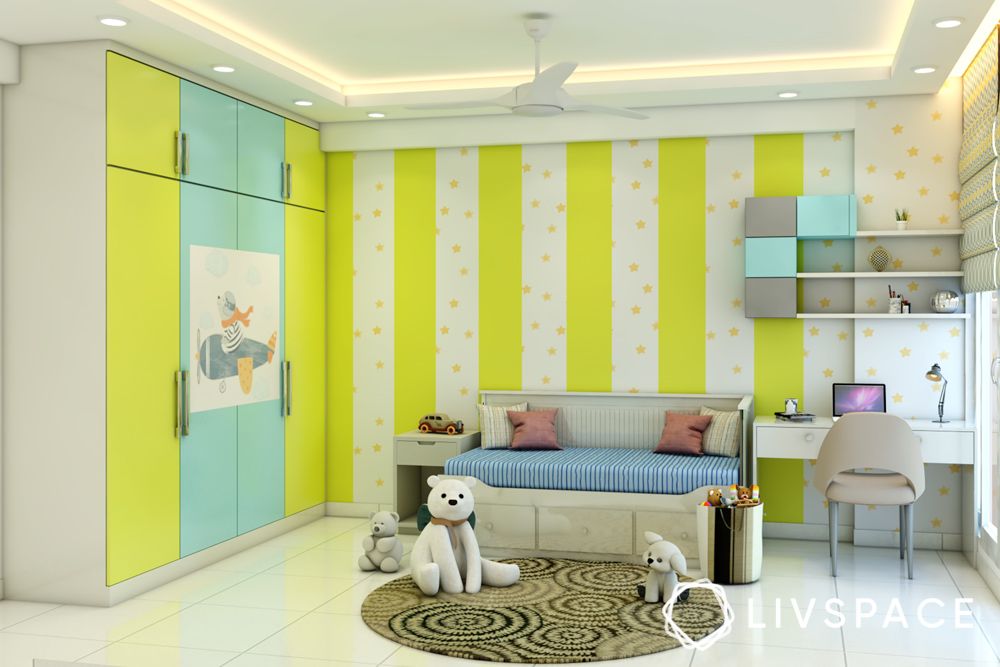 Step away from the unconventional with some bright lime green hues for your kids' room design. You can even use some cyan for contrast.
#35: Opt for Fun Shaped Shelves to Make Your Kid's Room More Interesting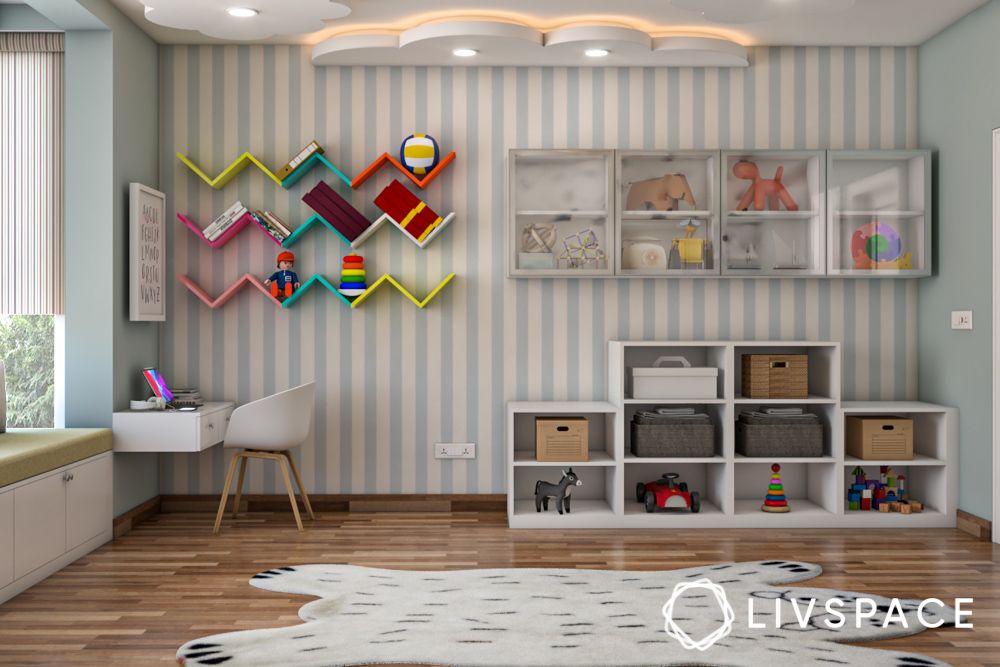 Besides adding colourful paints and decor to your kids' room design, you can also do the same with your furniture. Play around with shelf designs and colours for a perfect fit.
#36: Only Have One Side of the Room to Spare?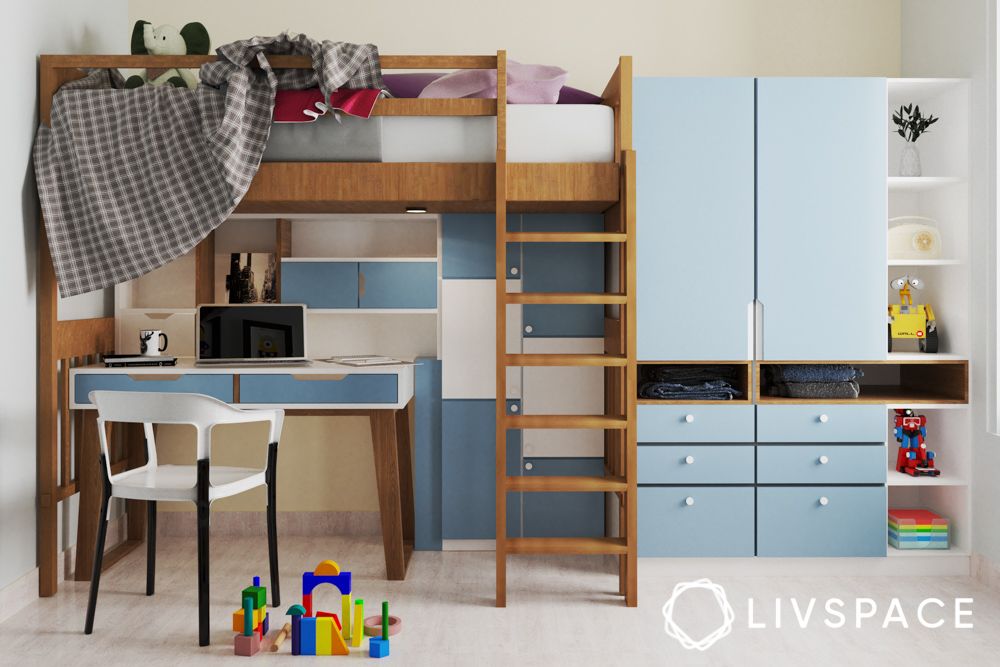 You've heard of one wall kitchens, but now get ready for one wall kids' room designs. If you have to restrict most of the design to one side of the room, use a loft bed to make more space for storing things under it, like a study area.
#37: Always Make Use of Available Vertical Space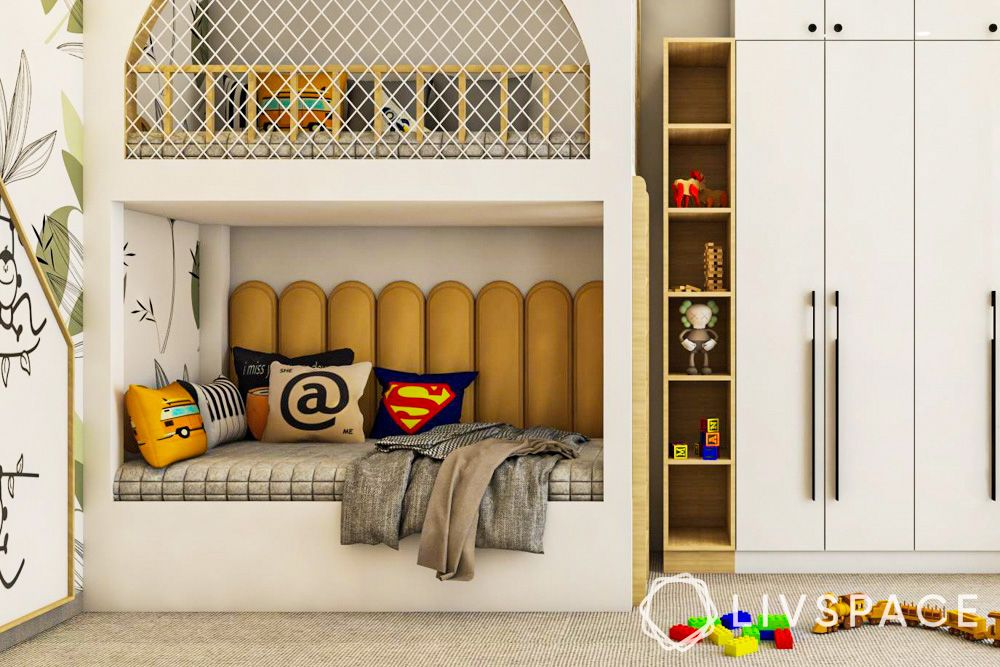 If you're using a bunk bed in your kids' room design, safety might be on your mind. To ensure the top bunk is safe for a young child, you can secure it with a railing and net.
#38: A Dreamy Bedpost for a Child That Loves to Dream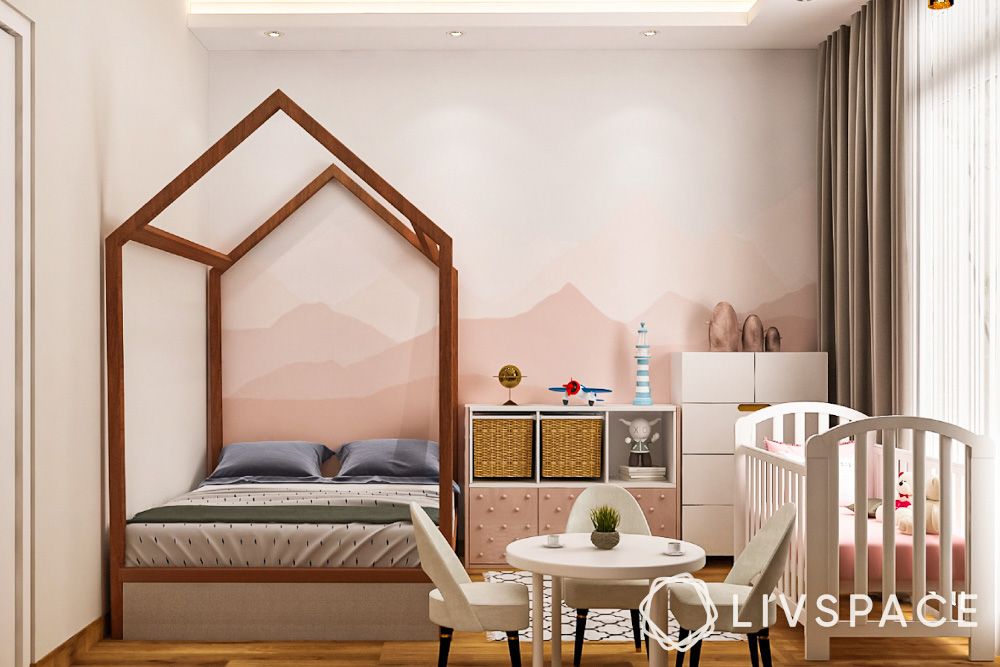 There's a stage in life where almost every child is obsessed with canopy style bedposts. Invest in one for your kids' room design and thank us later!
#39: Big or Little, There's Enough Room for All Your Kids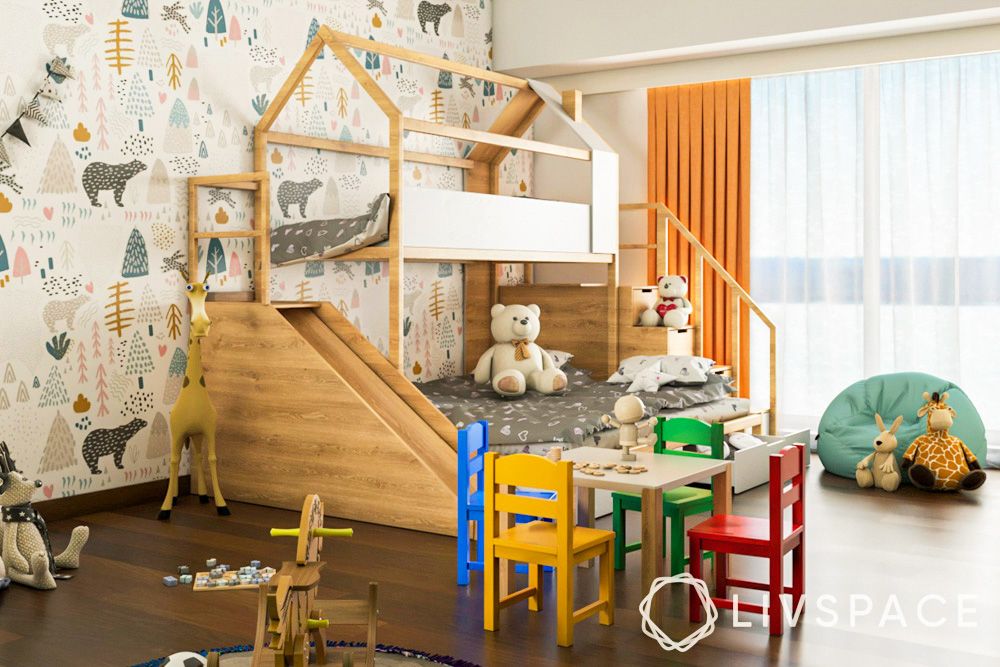 If kids of different ages share a room, it helps to have a special add-on to their bed. A layered bed just might do the trick!
#40: Do You Believe in Disney Magic?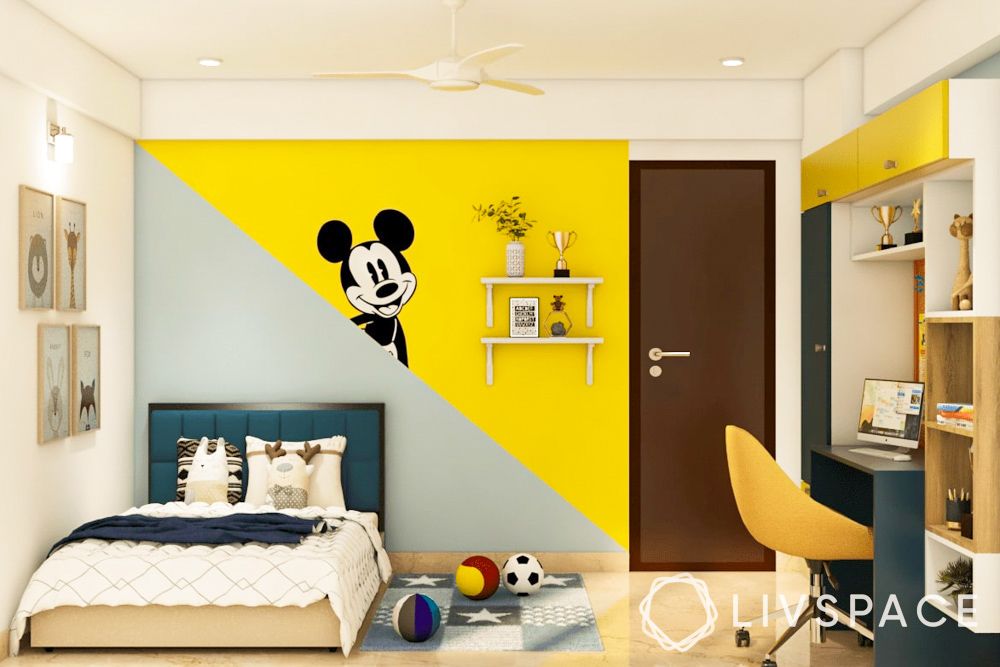 Dress up a plain kids' room design with some fun Disney themed stickers on the walls. If you have a penchant for art, you can even DIY this design to keep it cost-effective.
Also Read: 25 Girls Bedroom Ideas That Are Playful, Fun and Apt for All Age Groups
#41: A Child With a Play Area Is a Happy Child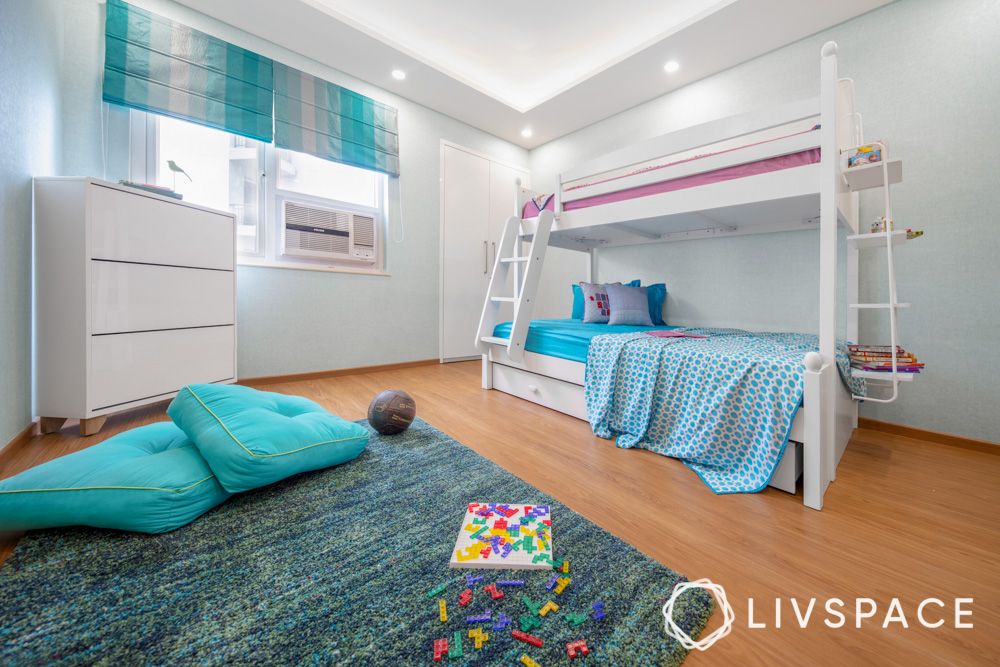 Kids need a lot of space to run around and play as they age. So apart from getting them the right bedding and furniture, it's also important to design a room that offers a play area.
#42: Here's Some Geometric Madness for Visual Stimuli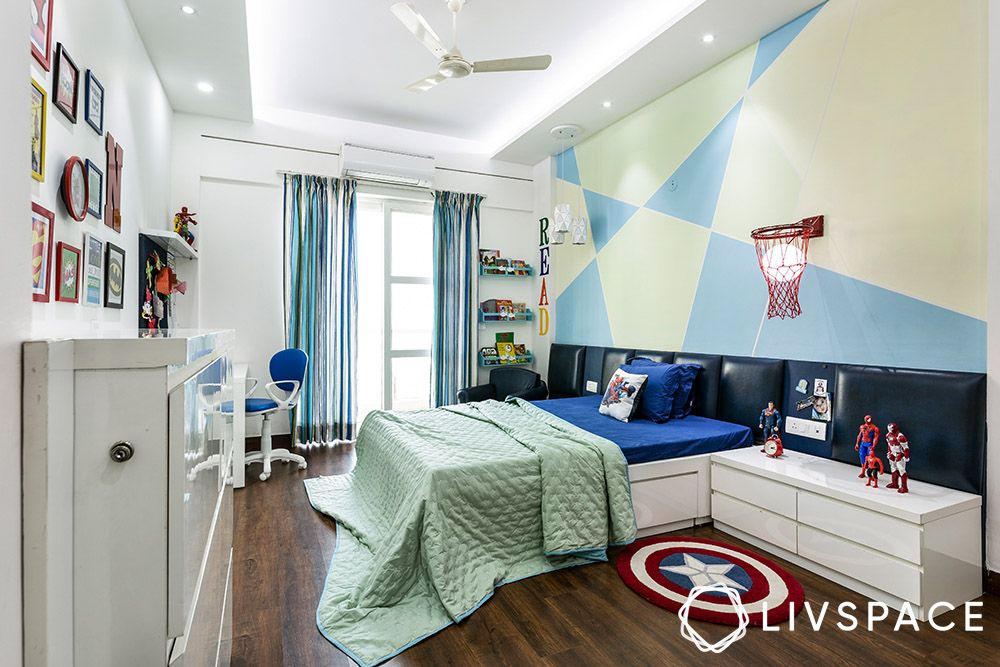 Shapes and colours can be pretty simulating for kids. So, why not get them a colourful geometric wall that can catch their attention?
#43: Anna and Elsa Approve of This Kids' Room Design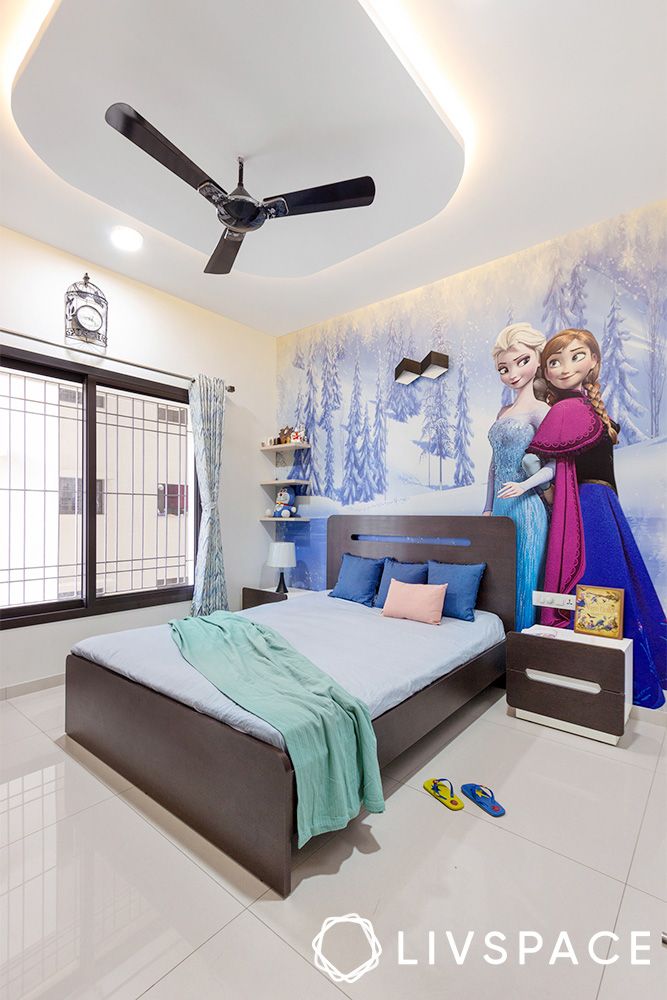 If there's one way to get a specific theme going in your kids' bedroom design, it's with wallpaper. Here's one from the movie Frozen that's a perfect fit for this space.
#44: Flowers or Clouds, What Do You See?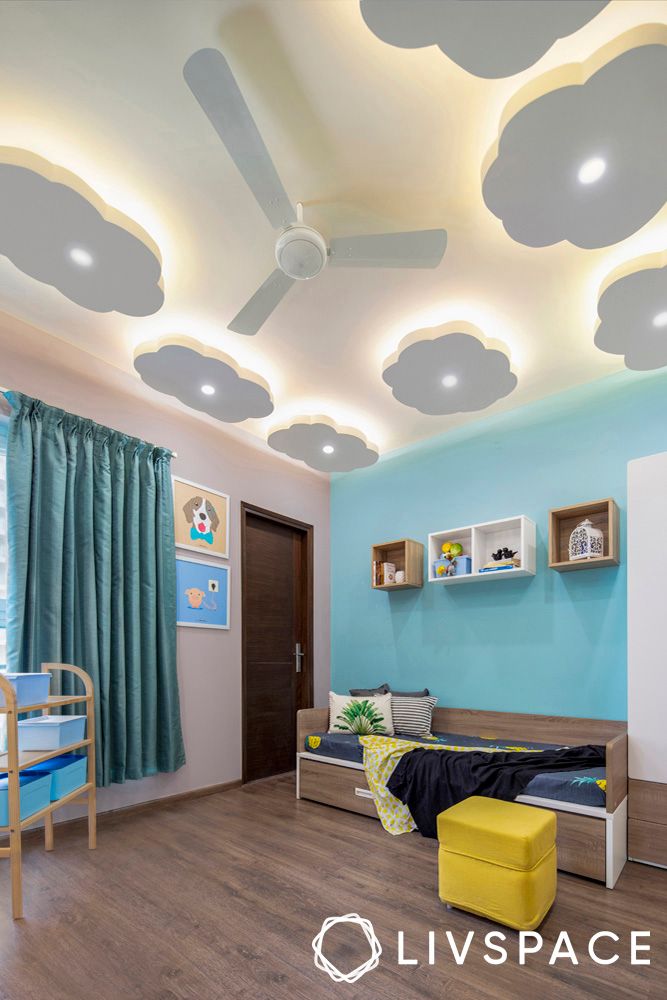 False ceilings are a great way to customise a kids' room design in a way that's special to them. From butterflies, clouds, flowers, and stars, the shapes you can choose are endless!
#45: Play Around With Different Headboard Designs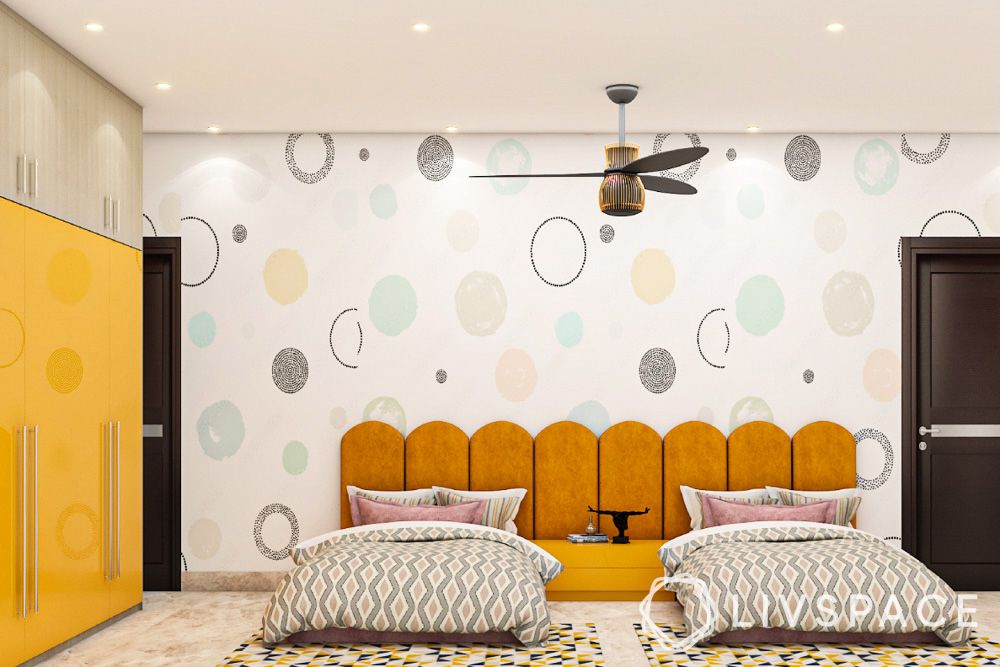 False ceilings aren't the only way to personalise your kids' room design. You can even curate a unique look with your headboard.
#46: Nurture a Love for Books With a Junior Library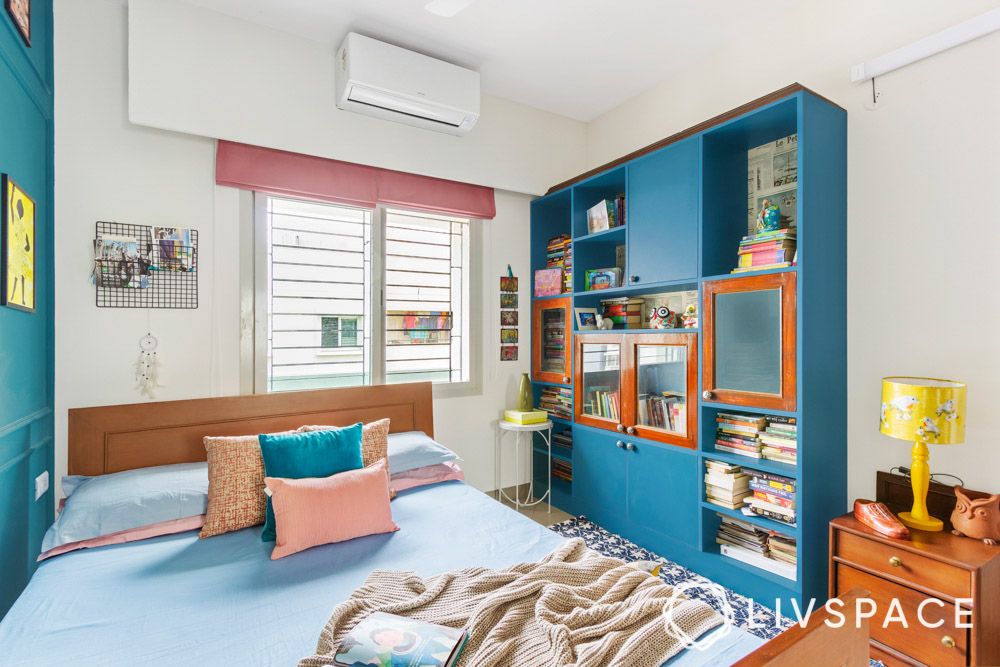 An open and closed bookcase is a great way to put books on display and keep other items tidy. You might just like it more than a designated entertainment area in your kids' room design.
#47: Can You Spot the Different Zones in This Bedroom?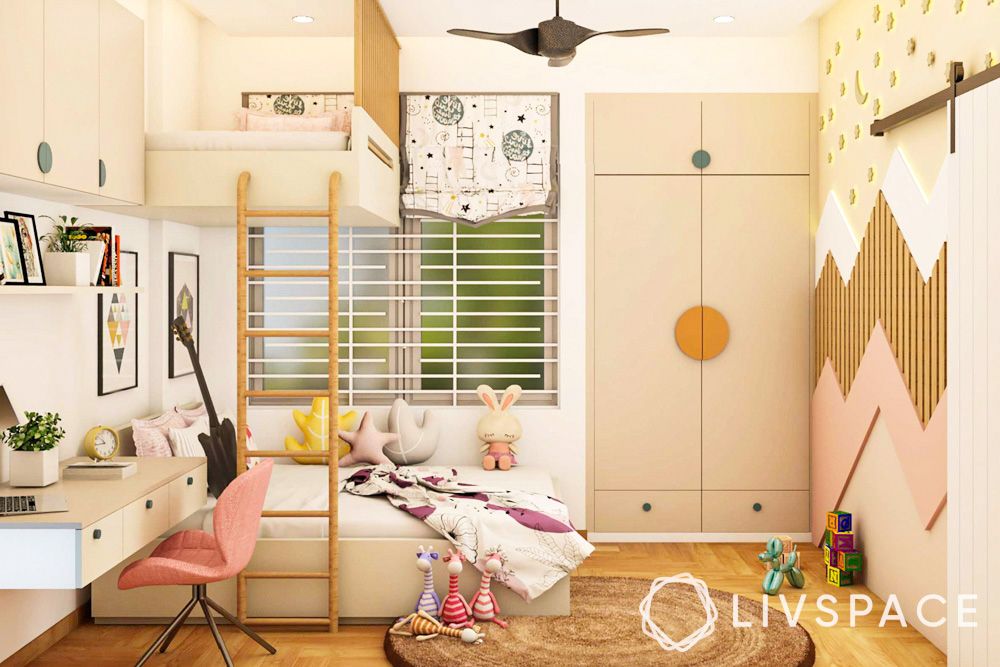 Each quadrant of the room has been divided to offer its own unique functionality. The study area is for studying and reading, while the bunker bed zone is great for unwinding by the window, especially during summer. The in-built kids' wardrobe design gives the kids some space to get ready for the day.
#48: Are You a Whovian? If So, You'd Love This Seating Area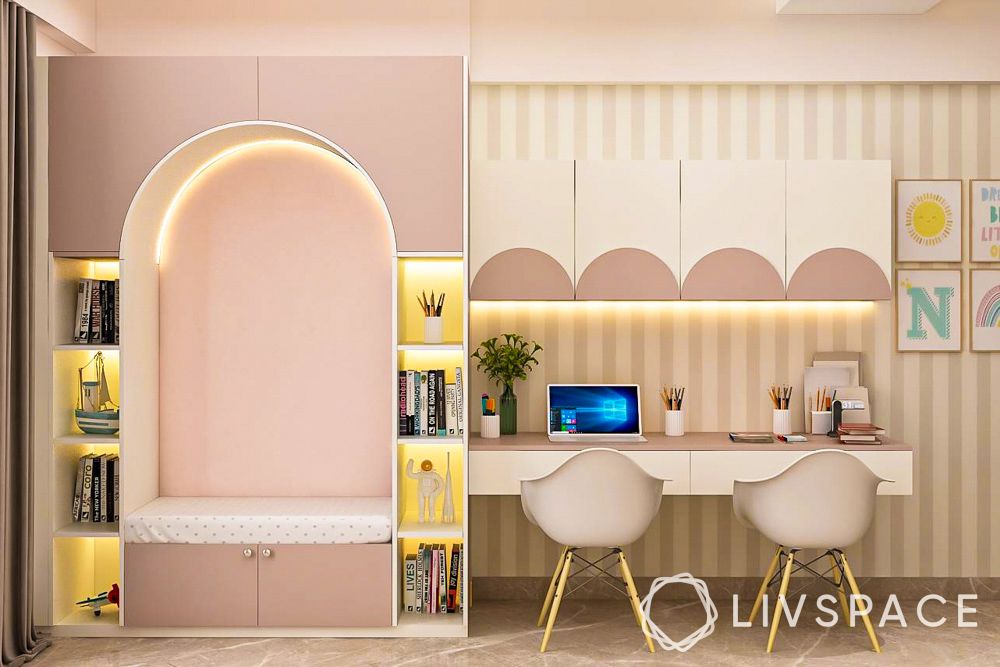 If you've watched Doctor Who, you'd be all too familiar with his travelling companion: TARDIS. While recreating it can be a feat, we can give you a seating area that can offer the same vibe. With an arched seating zone paired with profile lights all around it, you're bound to feel like you're travelling through time in this kids' room design.
#49: Contemporary and Classy Kids' Room Designs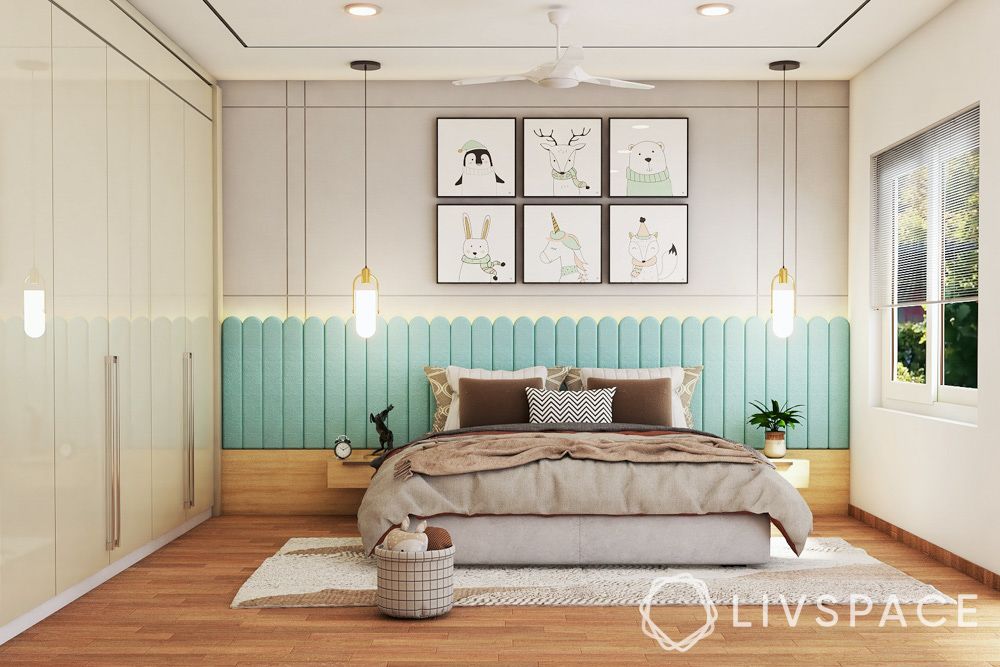 Want your kids' room design to match the rest of your home? Considering using similar themes across each room that are subtle. To add in that child-friendly element, play up the space with cartoon art and vibrant colours.
#50: Continue Your Wall Design Into the Ceiling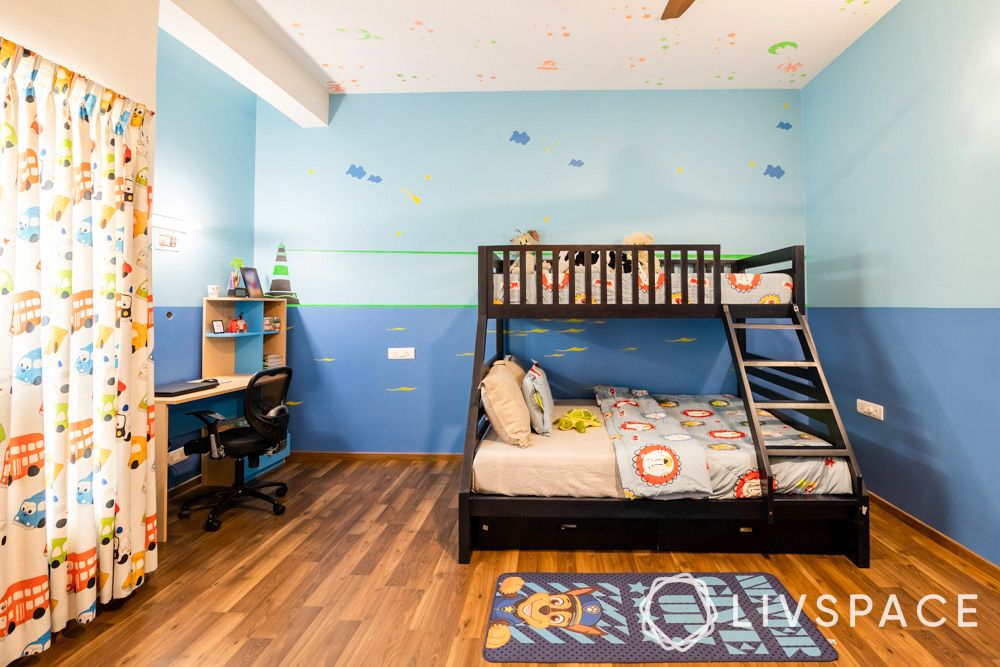 The fun doesn't have to end on your walls. If you have a specific theme going, you can even extend your wall art up to your ceiling for a unique look.
#51: This Kids' Room Design Shows You What It's Like to Sleep in a Rocket Ship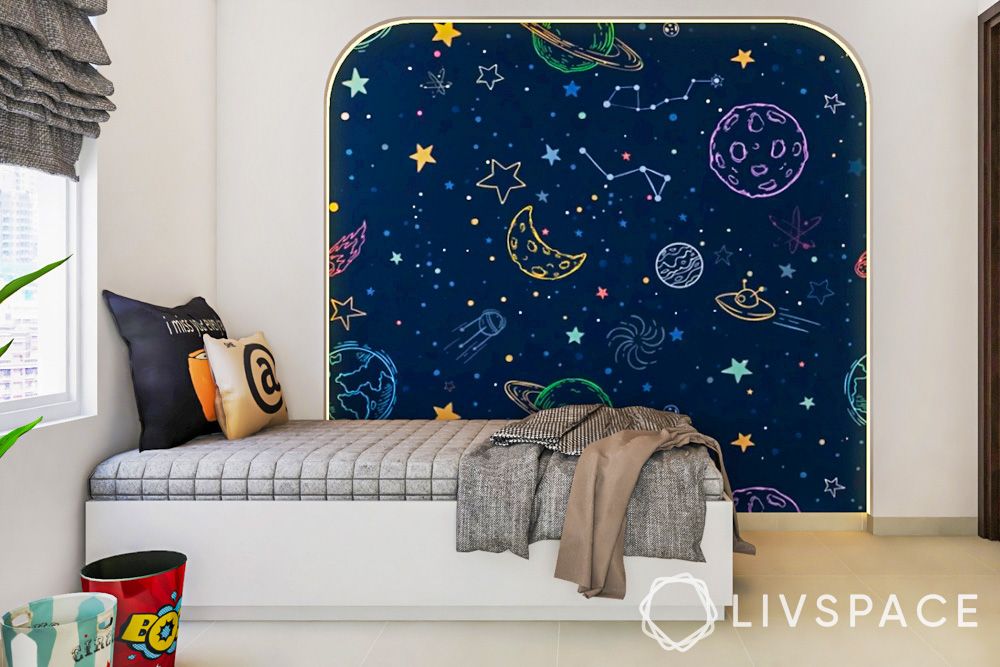 Let's face it, we've all been curious to know what the actual view from space is like. And with this space-themed wall design, your kids can get a taste of it without even leaving Earth!
#52: Kids Room Designs That Are a Timeless Beauty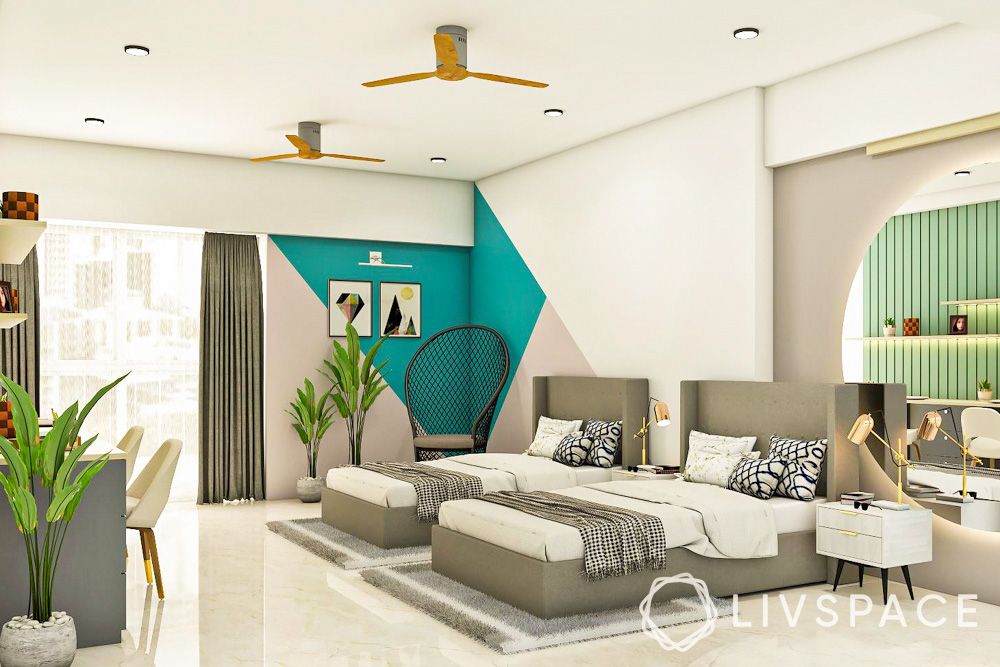 Slightly older kids might want a room that looks more mature and less childish. So, why not give them a space they can Instagram about, like this stunning kids' room design?
#53: It's Raining Pastels!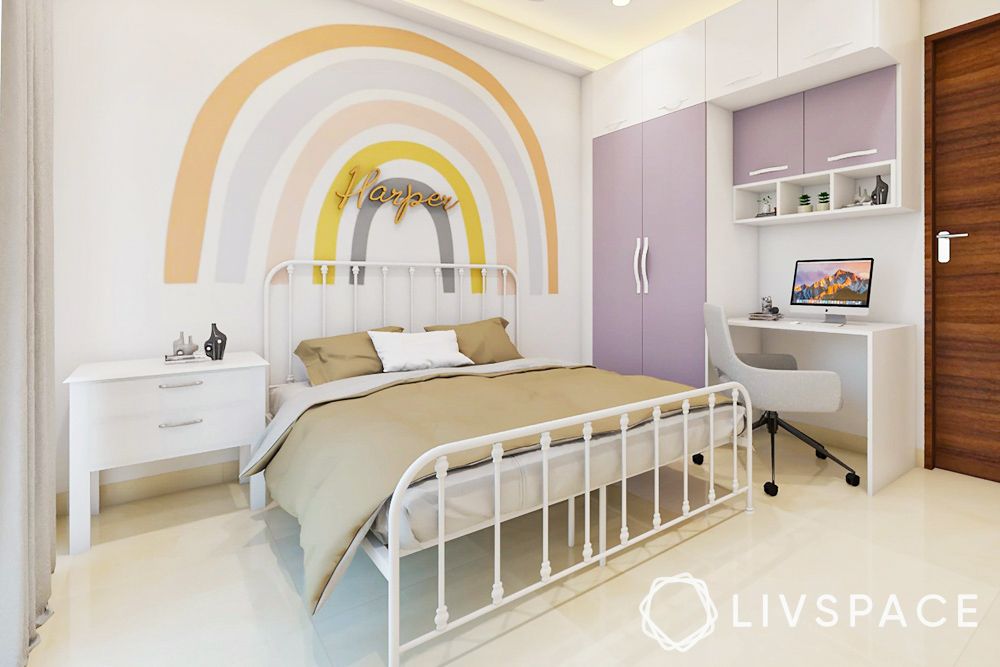 Pastels are both calming and beautiful to look at. Use them in your kids' room design for a chic yet fun space for kids.
#54: A Celestial Themed Room That's Perfect for Teens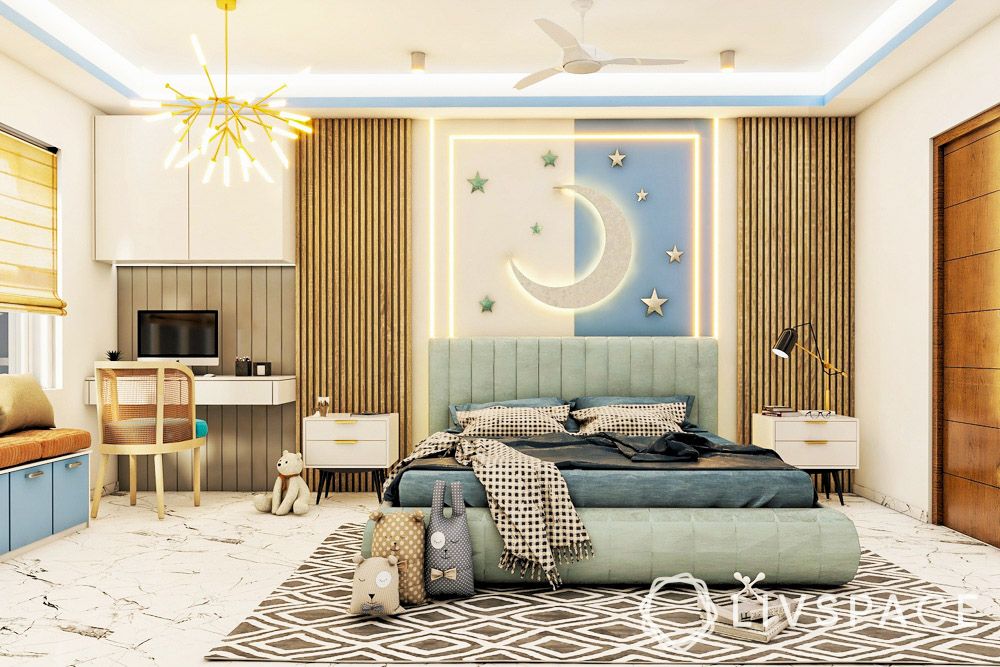 This sleek space looks so good that even adults would want to live in here! Imagine how breathtaking the backlit wall design would look as a night light.
#55: Not All Kids' Furniture Is Plastic and Plain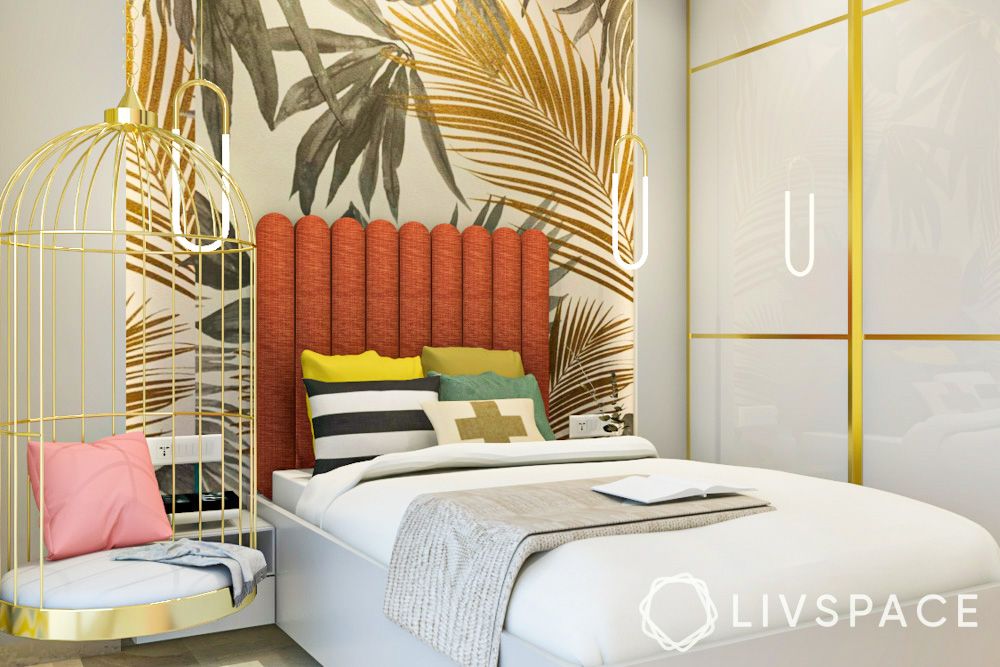 Here's a slightly more unconventional take on the hanging basket chair. This beautiful cage like design is the perfect match for resort-style kids' room interiors.
#56: This Kids' Bedroom Design Makes the Best Use of Storage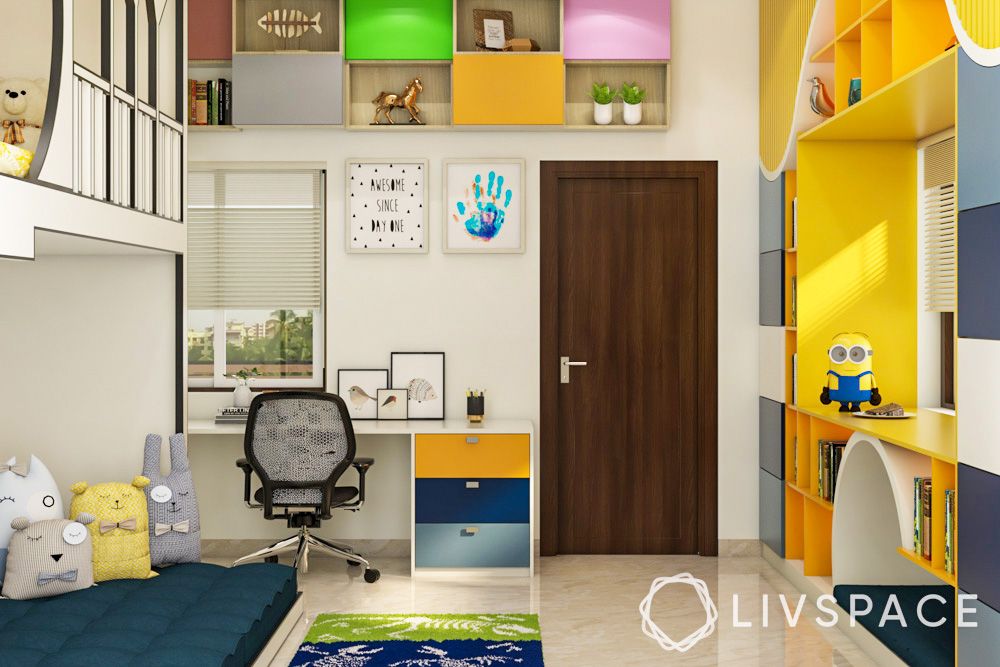 No matter where you look in this kids' room design, you're bound to spot some storage unit or the other. We love how this space has made use of its loft storage, ensuring that every bit of square footage has been put to good use.
Check out more kids' room ideas here:
How About Some Vastu Ideas for Your Child's Room?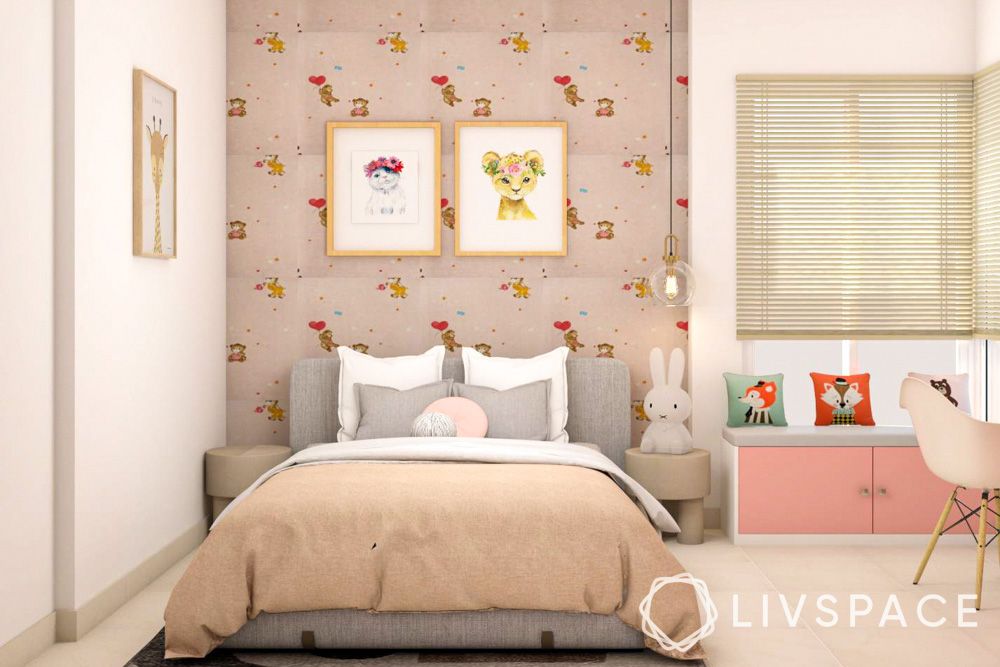 The best placement for your kids' room is in the east, northeast, or north direction
Ensure your kids' room design allows the flow of natural light and is well lit
Do not position your child's bed opposite the bathroom door as it can have negative effects
Green and blue are known to be good colours for vastu-approved bedrooms
Avoid clutter and the installation of multiple gadgets in your child's room
How Can Livspace Help You?
We hope you found our ideas useful! If you want beautiful interiors for your home, then look no further. Book an online consultation with Livspace today. Have any thoughts or suggestions you'd like to share with us? We're all ears! Drop us a line at editor@livspace.com.
Disclaimer: All contents of the story are specific to the time of publication. Mentions of costs, budget, materials, finishes, and products from the Livspace catalogue can vary with reference to current rates. Talk to our designer for more details on pricing and availability.