Scattered toys, dripping paints and a smattering of random things are a common sight in most homes that have spirited kids. The mess they make is inevitable. Of course, to curb it would be a crime! But there is no harm in restricting the mess that children make while playing in a special room, the playroom.
This is a dedicated space where kids can be themselves without the fear of being reprimanded. Having a room for kids to play also helps to make children independent; they can do as they please while they play but the responsibility to clean up also falls upon them. It is their room after all!
The following is a pick of the best playrooms from #LivspaceHomes and each one has something special in it. Scroll on and be inspired.
Kids' Playroom Ideas #1: Keep it Simple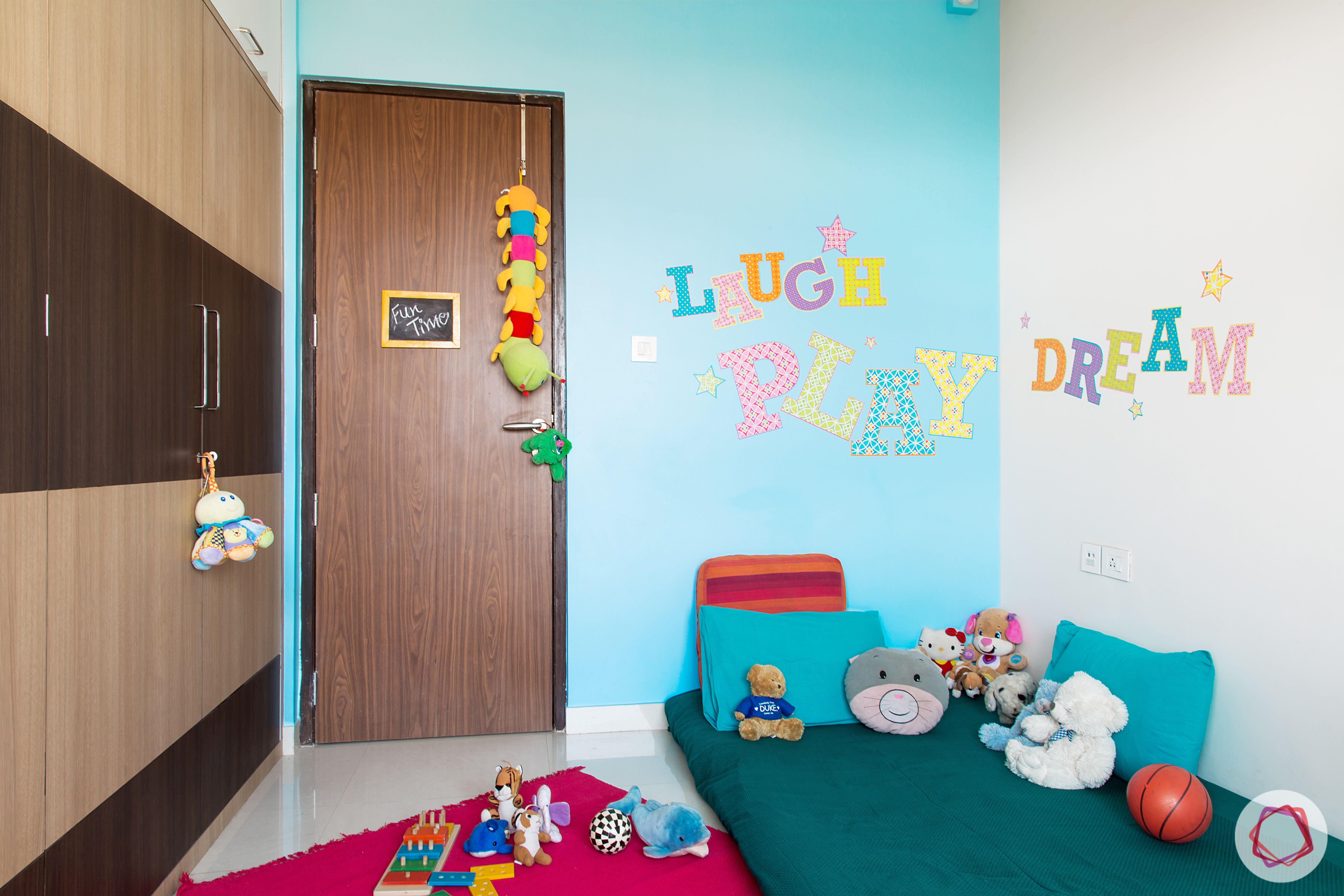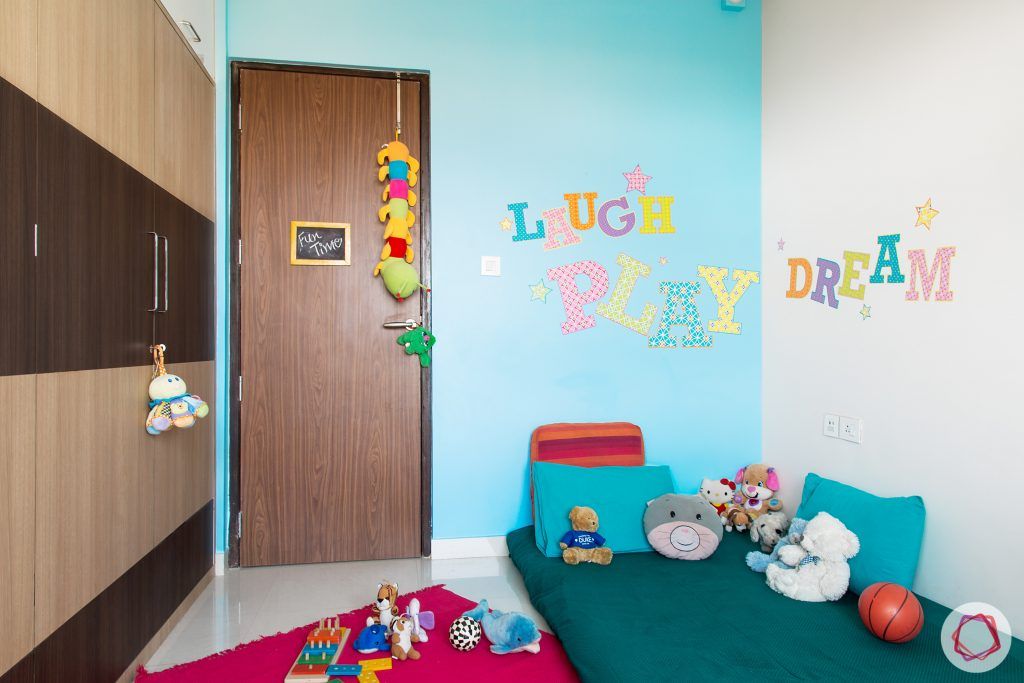 The advantage of going basic is that it never really goes out of fashion. A room like this has no fancy installations or cool gadgets, yet it exudes the warmth of home. We particularly like the mattress on the floor arrangement for kids to play.
Kids' Playroom Ideas #2: Get Woke With Gender Neutral Colours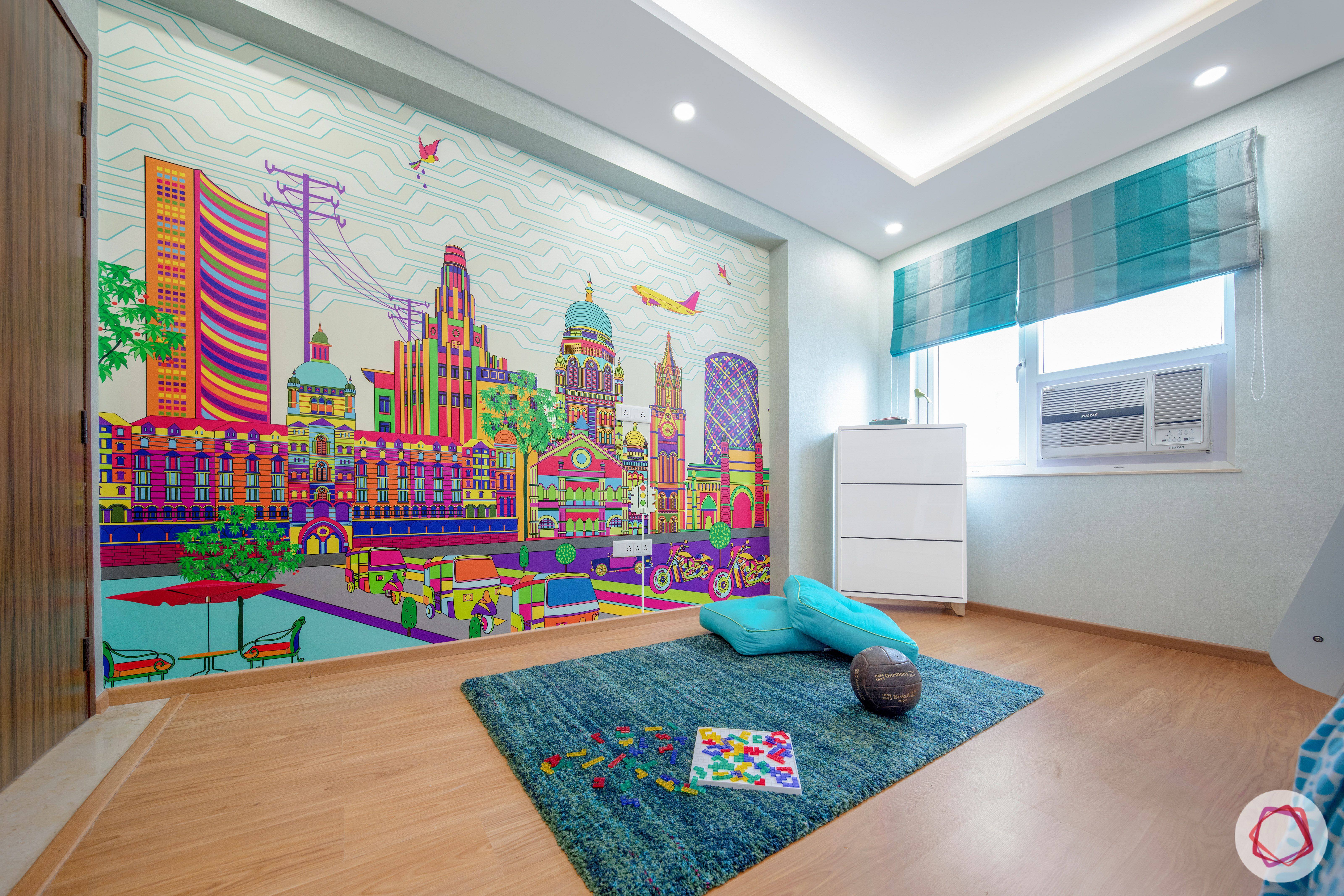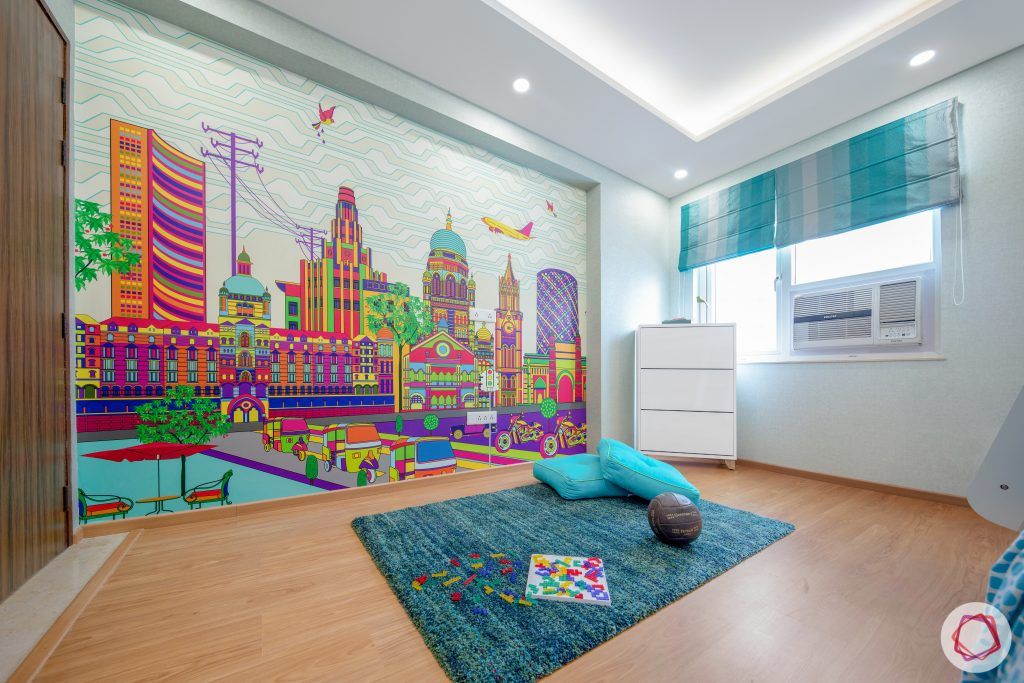 As responsible parents, we do not want to propagate any kind of stereotypes to our kids, especially if they happen to be gender stereotypes. So it is better to avoid typical pink (for girls) or blue (for boys) and pick gender neutral colours like green, yellow or multiple colours for your kids' play area.
Kids' Playroom Ideas #3: Add a Wall of Art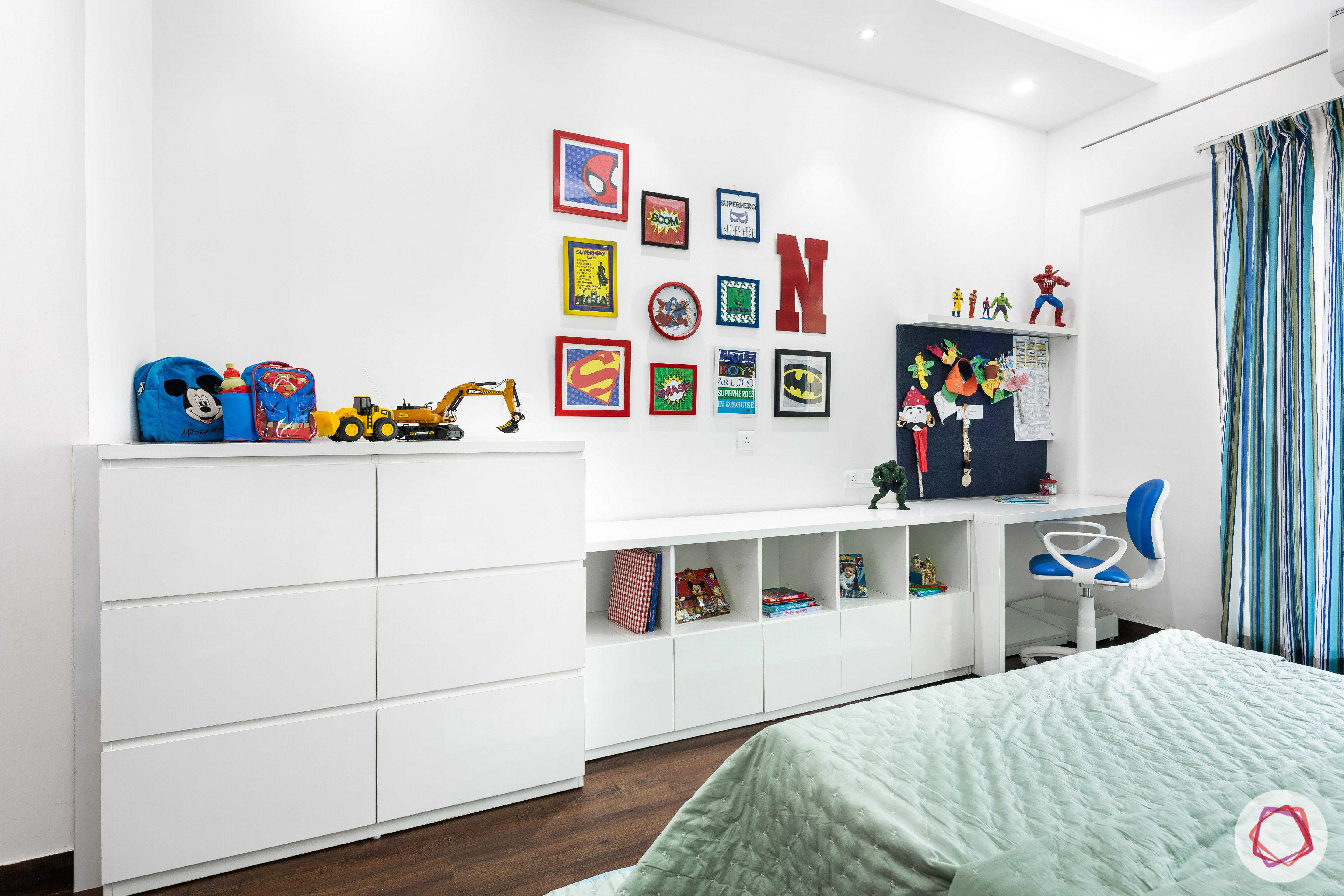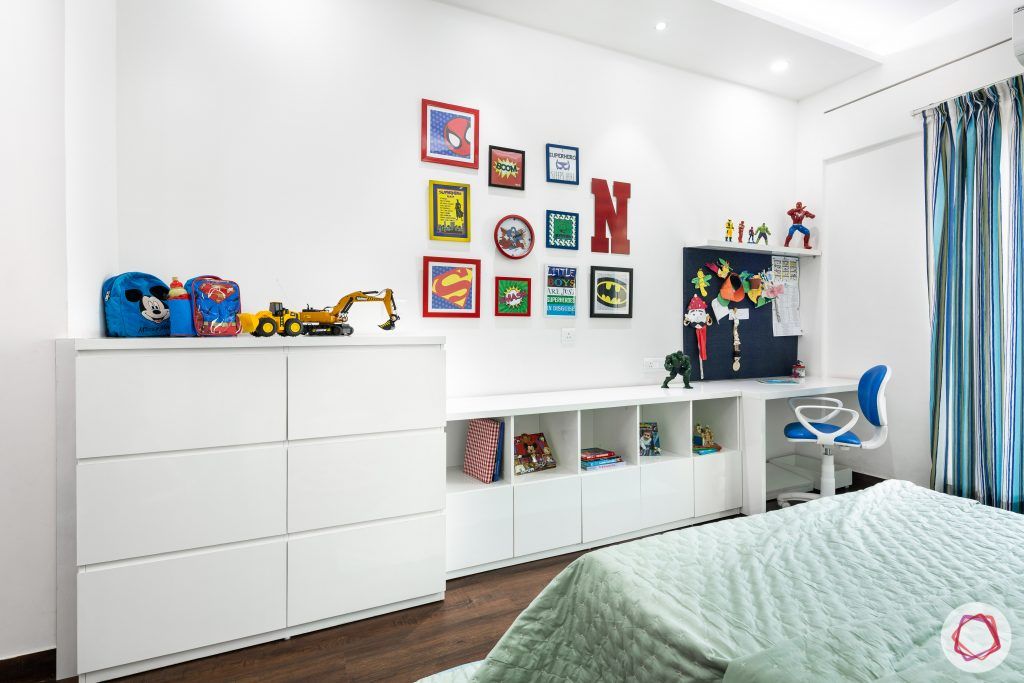 A gallery wall could include art that you would like to acquaint your child with and evolve to display the art that she/he learns along the way. From your child's first palm print to the doodles he/she will create, it is a growing process that spans years. All this art could be used to make a creative timeline. Moreover, you can also put up pop art, cartoon characters and comic book heroes on this wall of art.

Kids' Playroom Ideas #4: Call Dibs on the Window Seats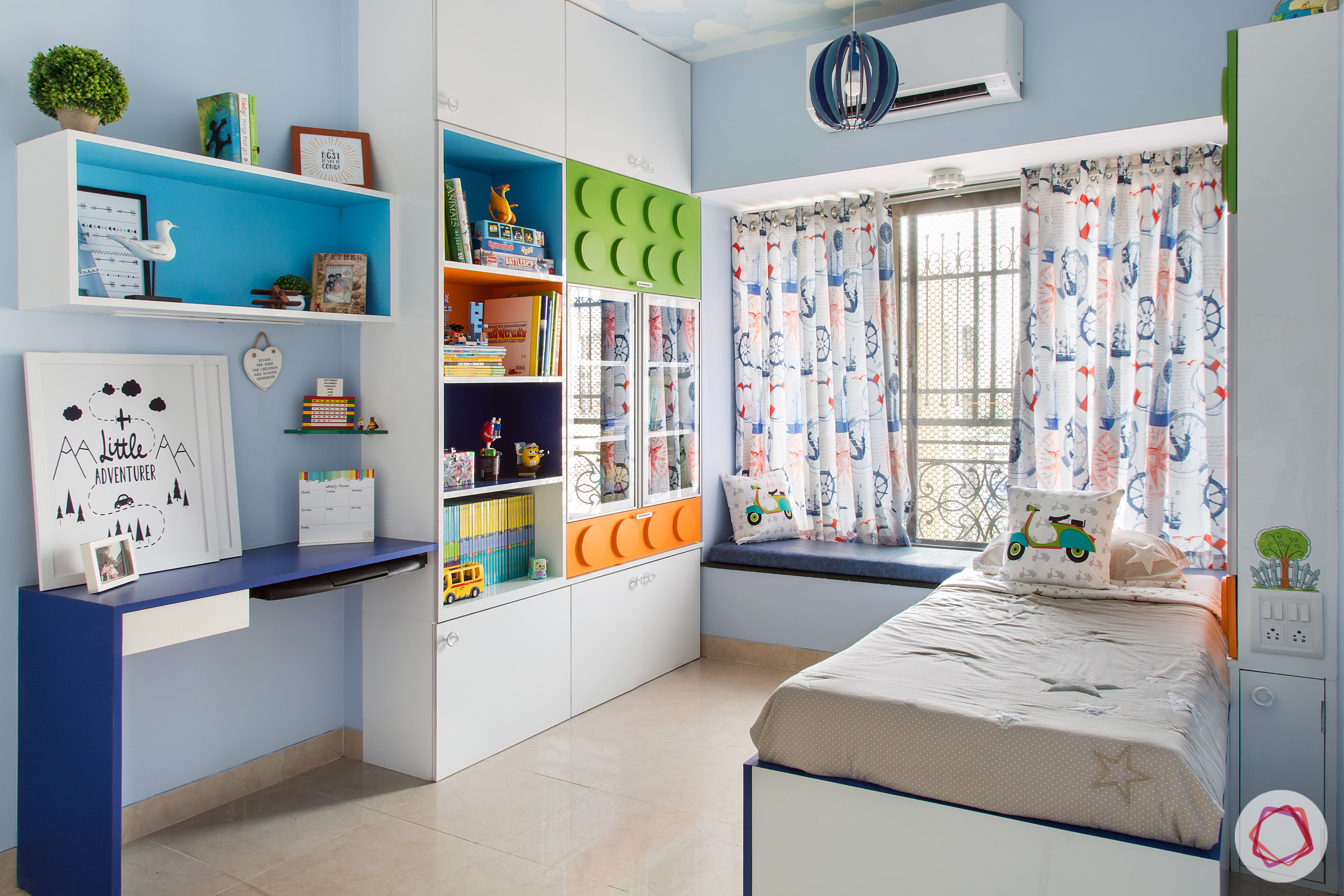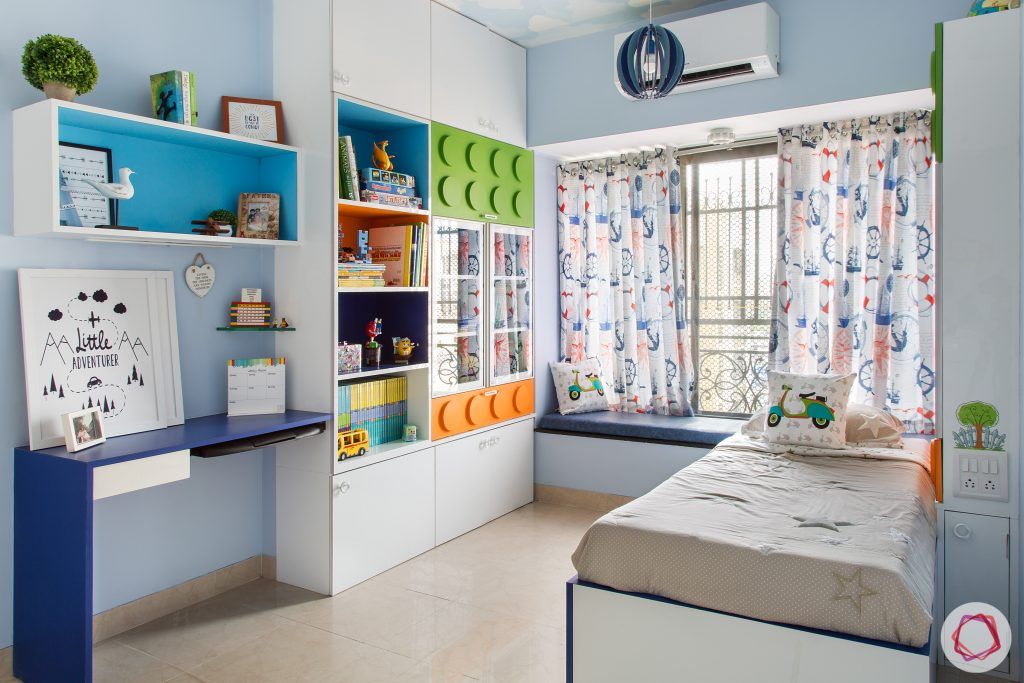 This playroom is perfect for newbie book lovers! Your kid will especially enjoy the comfy cushioned window seat to sit down with their favourite storybook or maybe play with toys. The floor to ceiling cabinet with colourful open shelves can stash several books, toys, and clothes as well. Brownie points for the colourful Lego-inspired inserts as well!
Kids' Playroom Ideas #5: A Reading Nook for a Little Bibliophile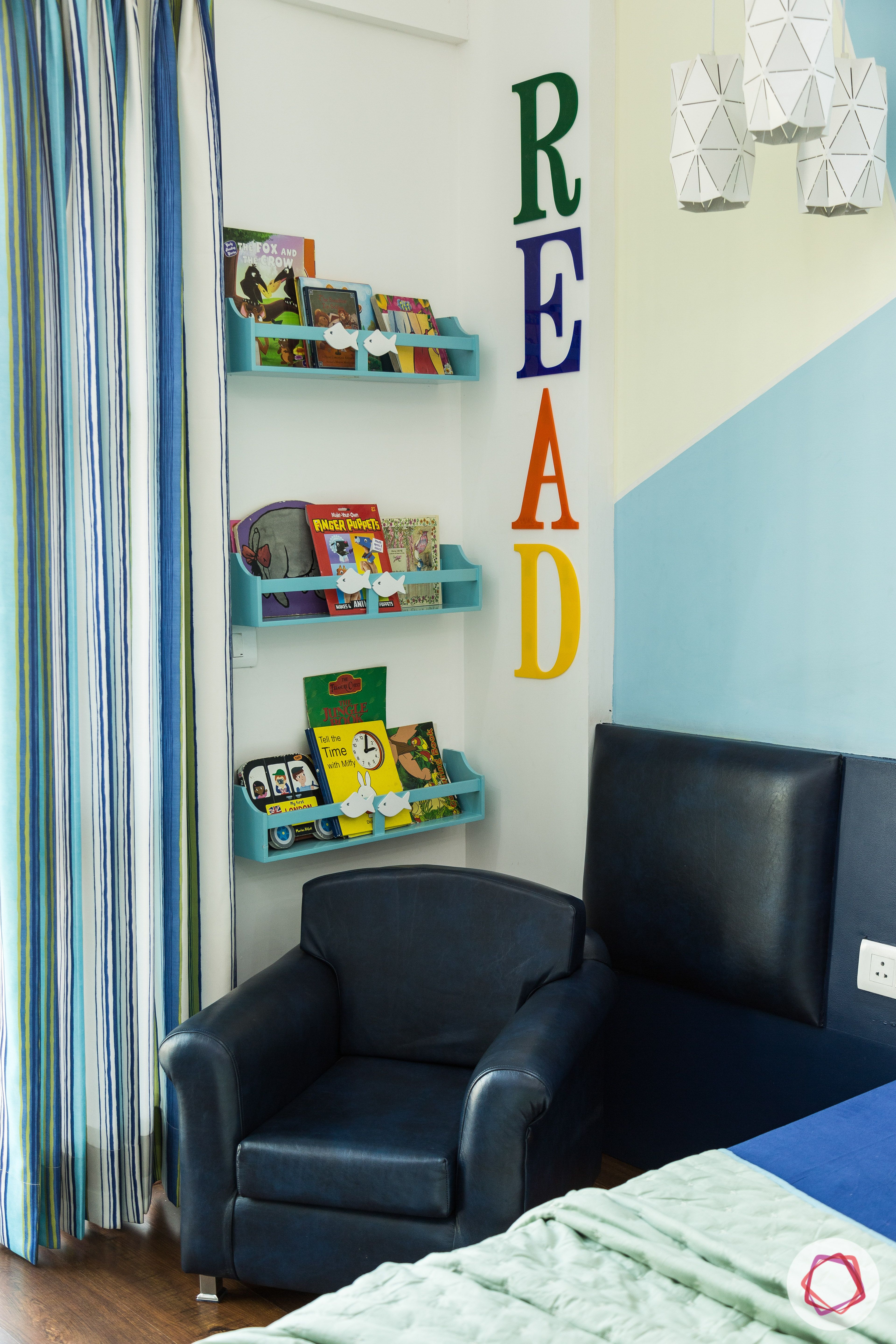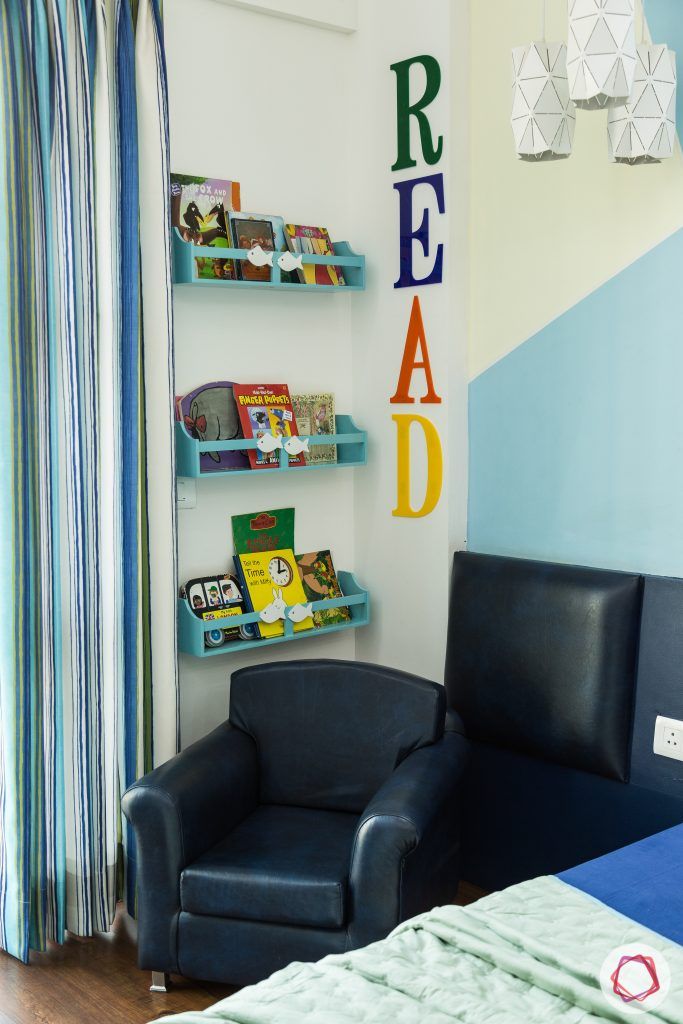 Here's a quick fix to squeeze in a reading corner for you and your tiny tot. Pull up an uber comfy armchair next to the bed and mount ledges on the wall above to store fairy tales and storybooks. Sprinkle in a dash of playfulness with wall decal letters as well.
Kids' Playroom Ideas #6: A Playroom for Super Active Kids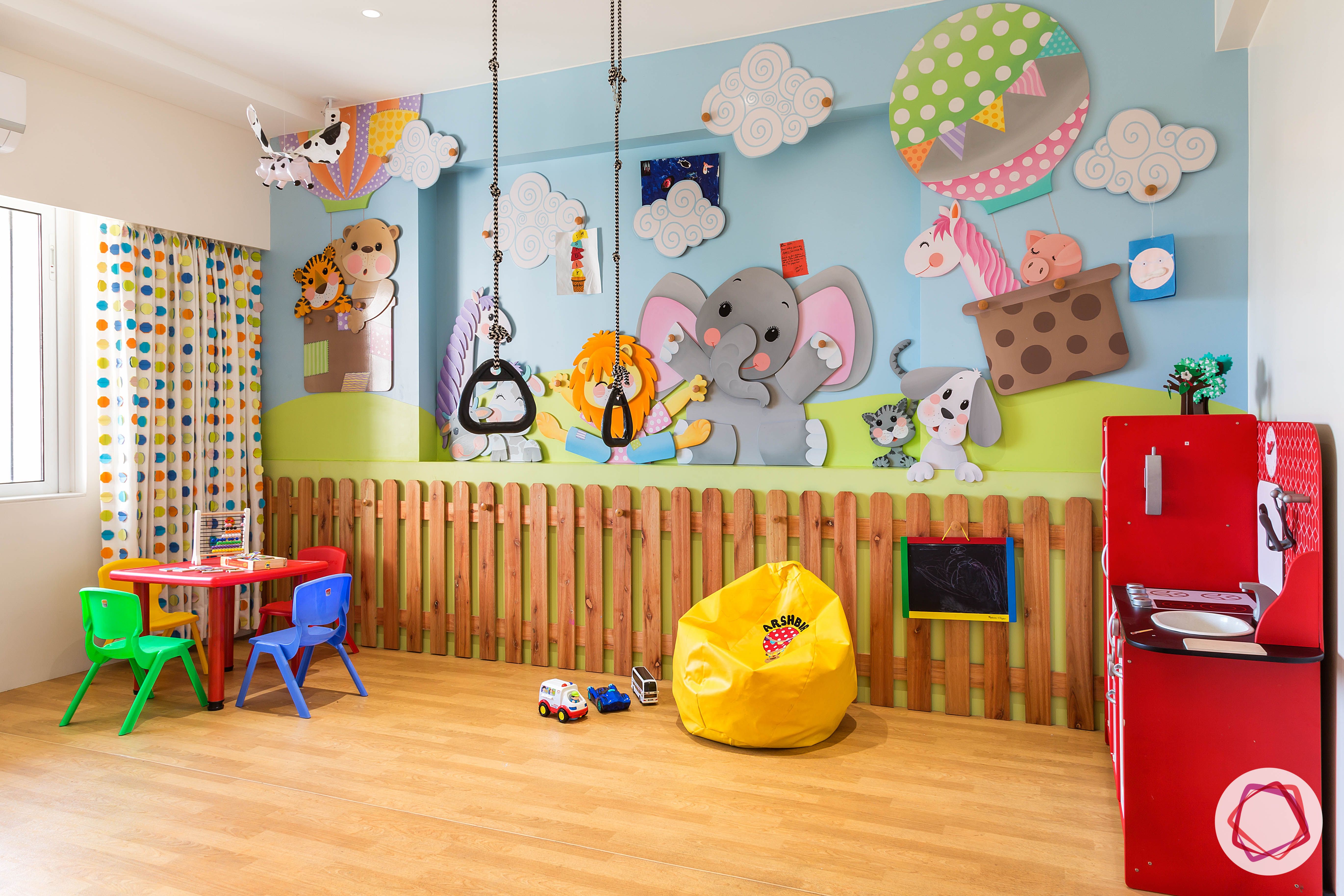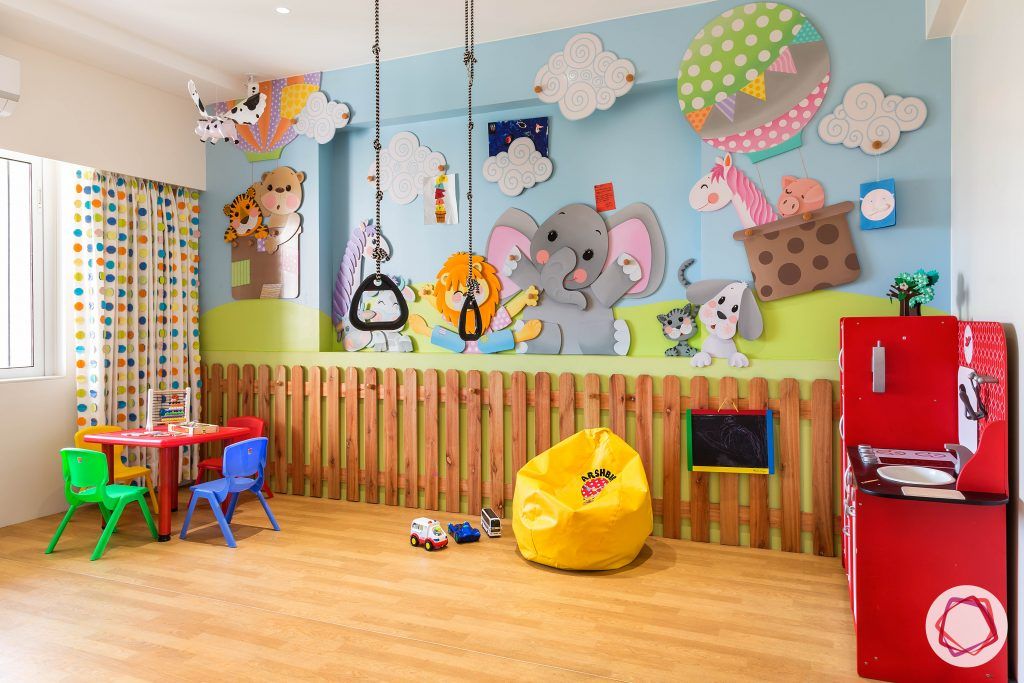 A full room to play in. That's the dream for any super active kid! While in one corner, your child can play host to their friends, the other corner flaunts a striking kitchen set. They will also love the gymnastic hanging ropes and you will love the faux wooden flooring that is actually baby safe rubber flooring.
Kids' Playroom Ideas #7: Toy Storage for a Clutter-free Playroom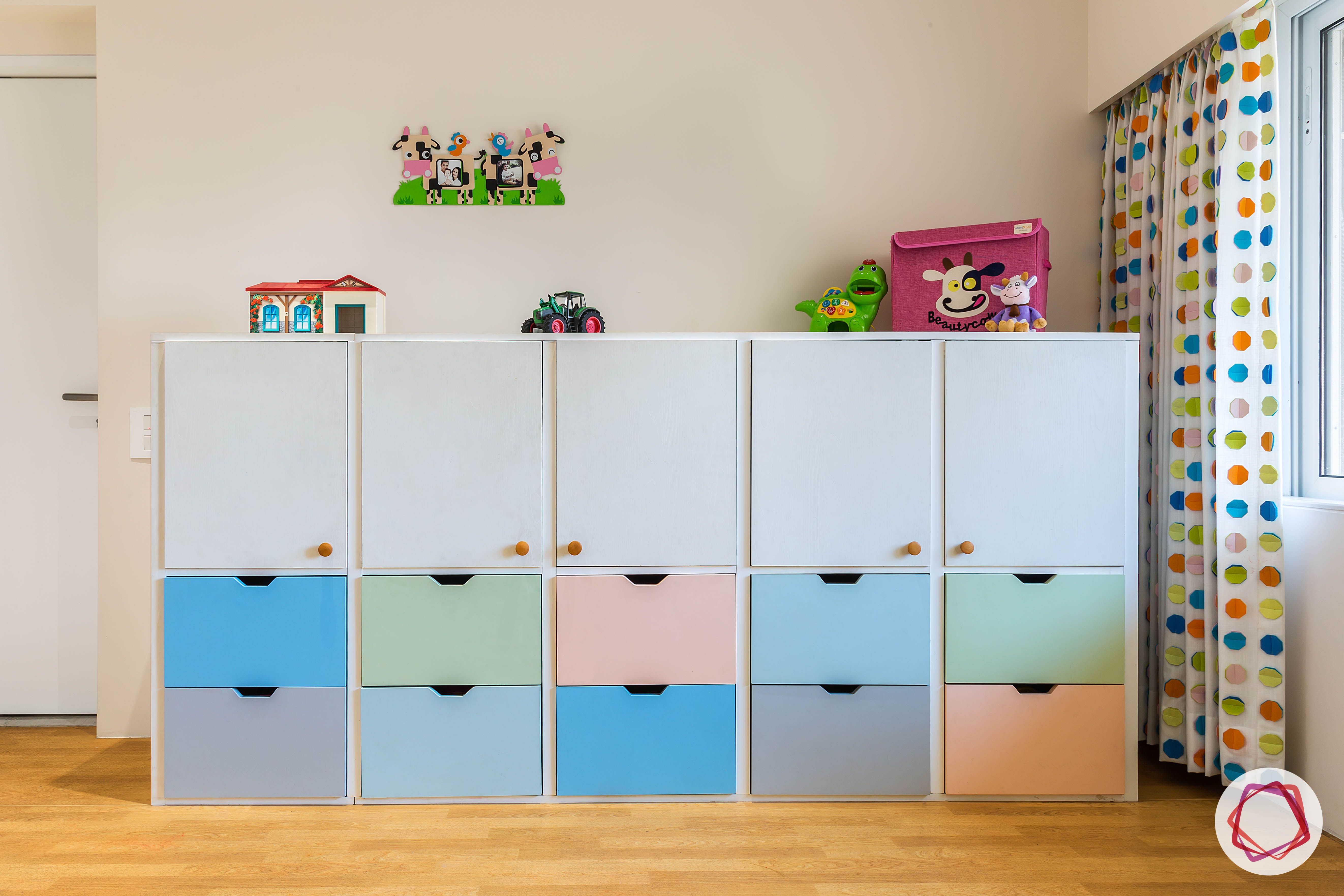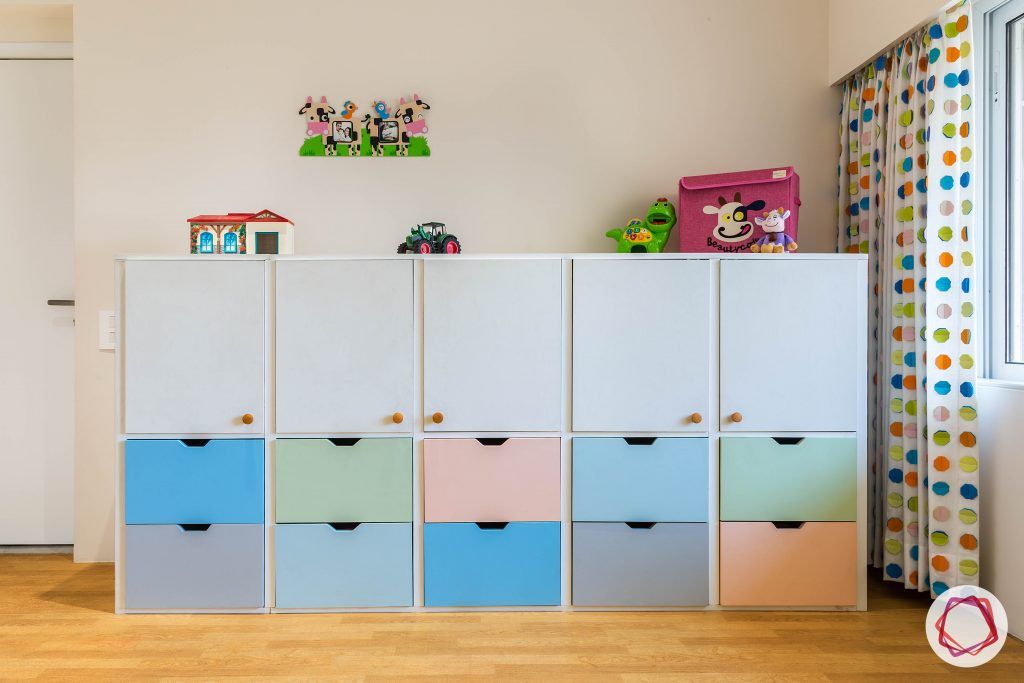 Who says storage cabinets need to be boring? This soft-hued cabinet will surely be the centre of attention of any playroom. It is purposely built low so that your children can safely keep their toys back into the cabinet.
Kids' Playroom Ideas #8: Keep Things Exciting with Tools & Tents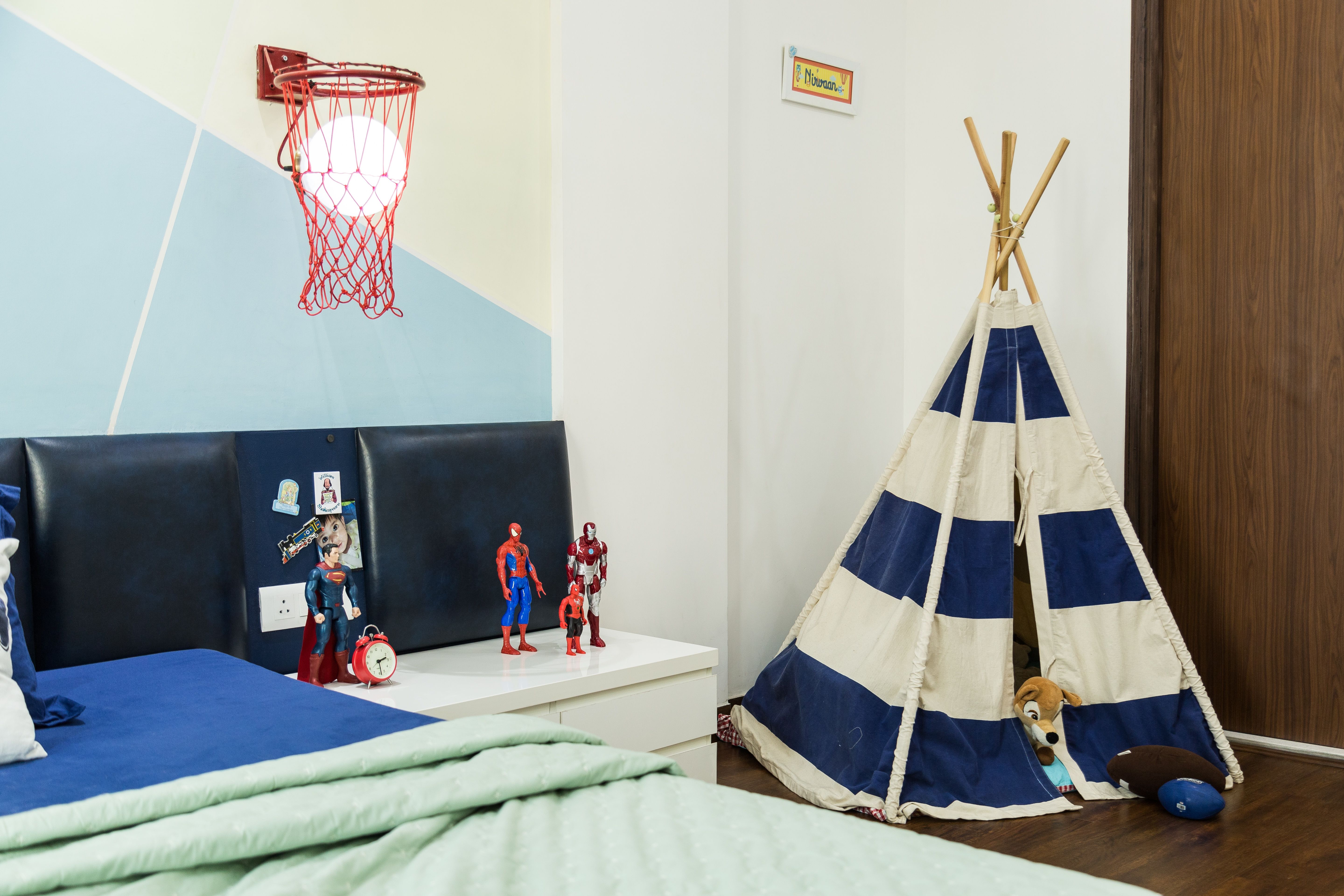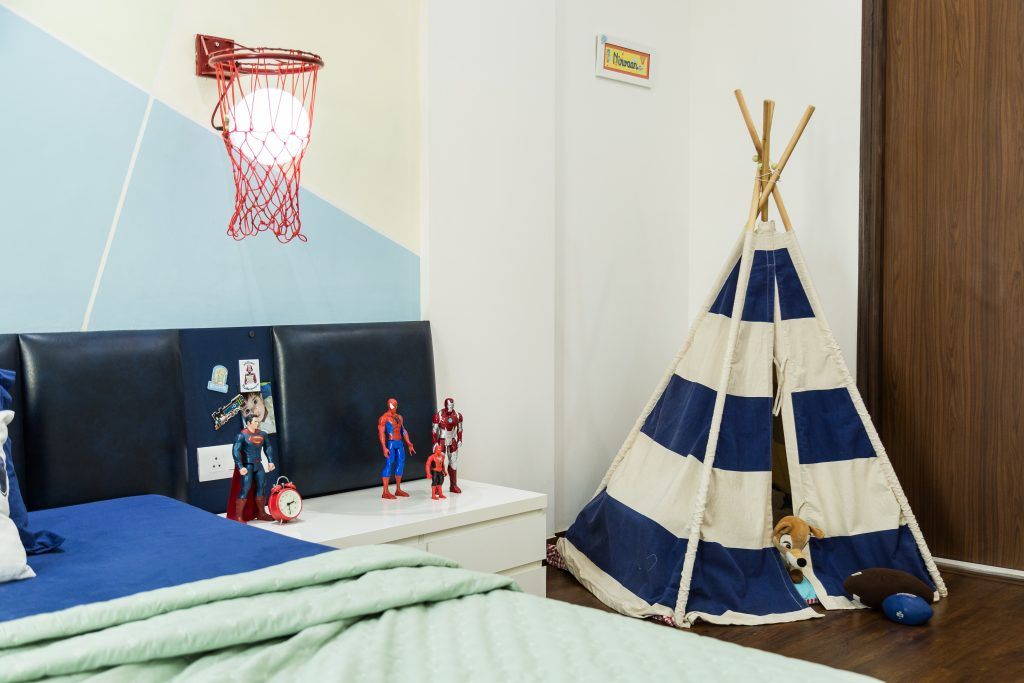 Build your kids a makeshift tent and give them camping feels at home. You just need a DIY tent kit, a corner to place the tent in and you're good to go!

Kids' Playroom Ideas #9: Bask in the Sunny Corner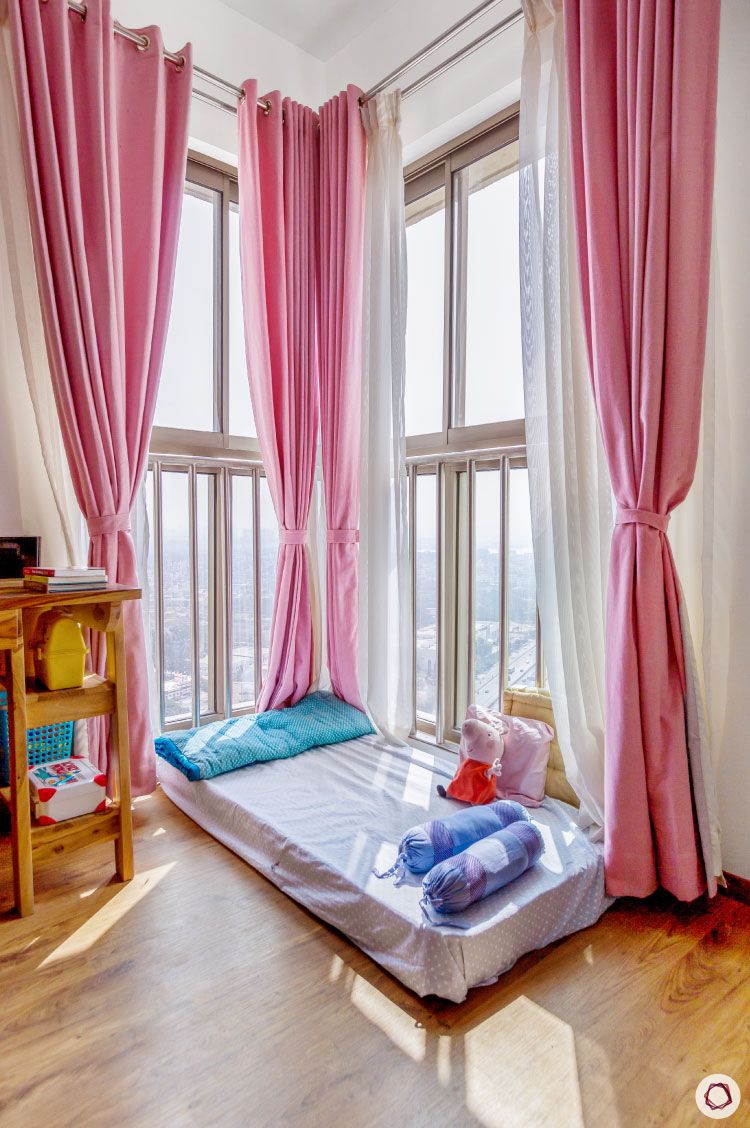 What a wonderful idea for kids growing up in concrete jungles. If your home enjoys the luxury of receiving ample sunlight then your kid's room deserves to have a play-corner next to French windows.
Kids' Playroom Ideas #10: Host a Tea Party for Tiny Tots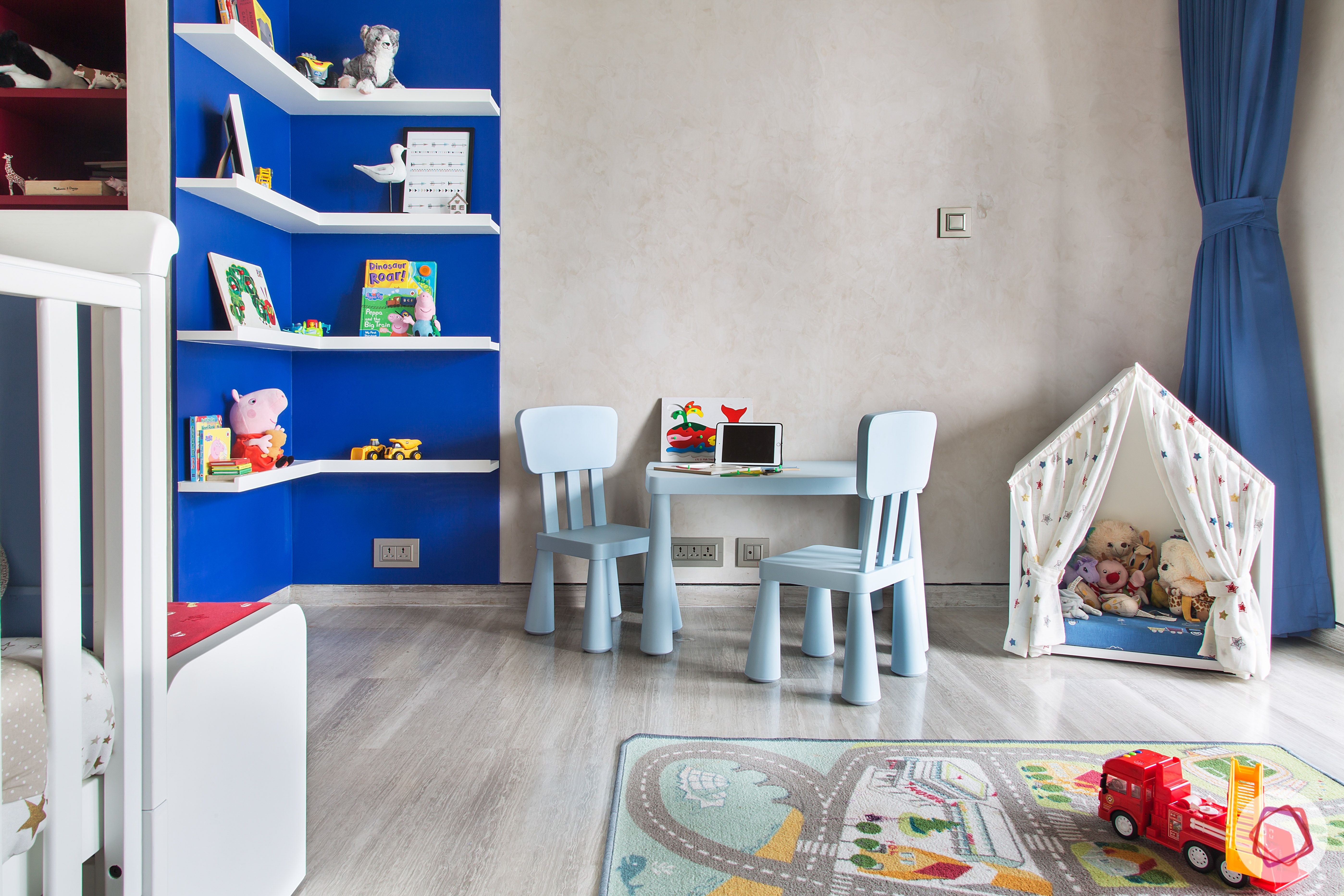 If your kids have grown up playing with barbie dolls, then gift them their own tiny tea table set. You can teach them table manners right there while they enjoy the party.
Kids' Playroom Ideas #11: Create a Modern Fantasy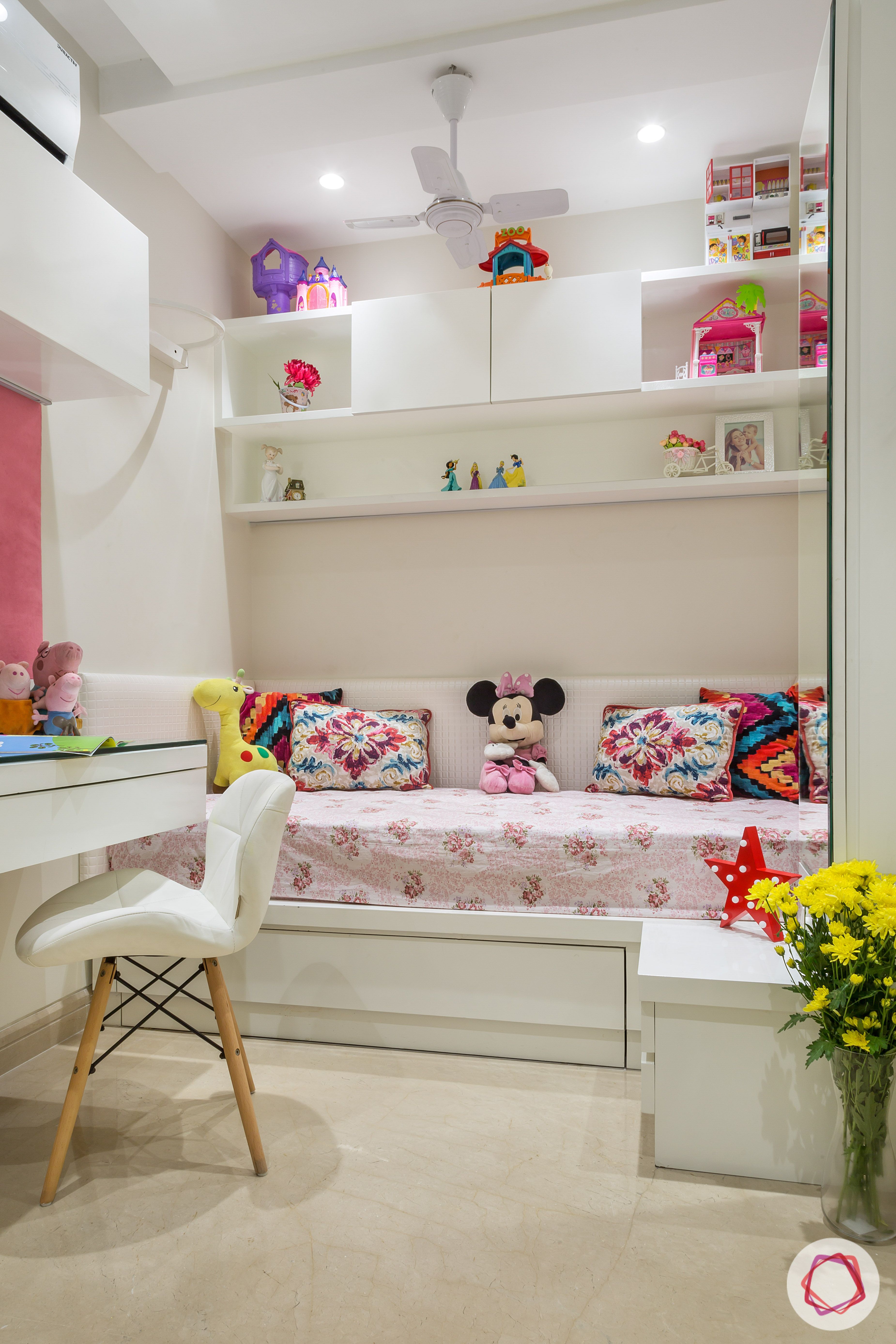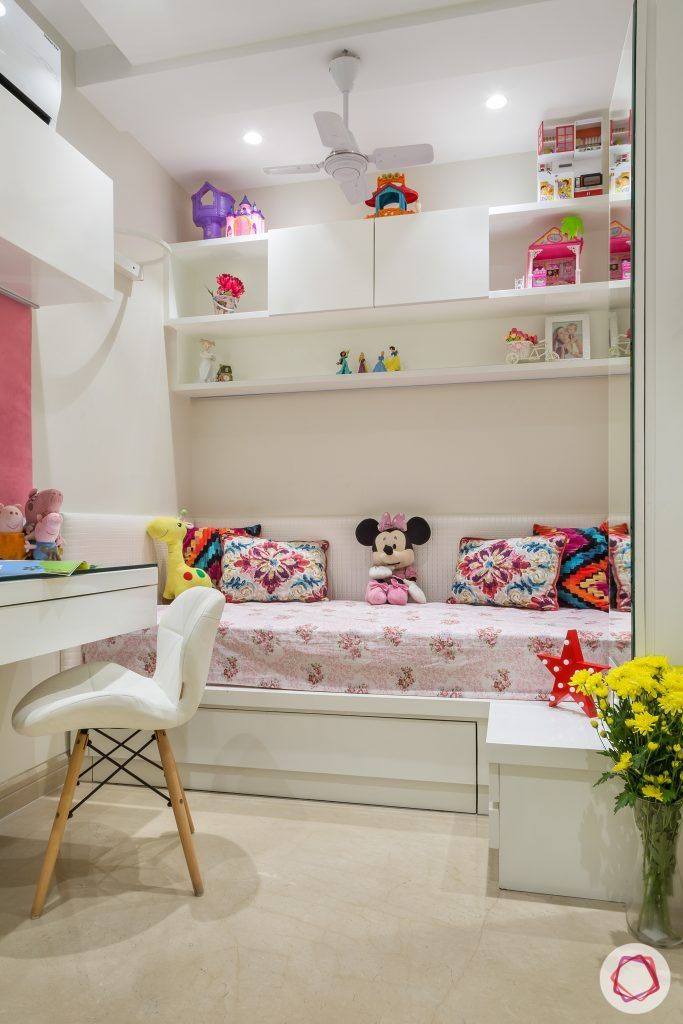 What's a playroom without well-stocked toys? Make your kid's playroom super functional be utilising wall space and building shelves where they can display their favourite toys!

Hope you enjoyed reading this and you will use some of these ideas to decorate your kids' room. Take a look at this for more inspiration: 50+ Stylish Kids Room Designs to Pick From.
Send in your comments and suggestions.