From baby showers to their apparel, pink is meant to be the colour for girls while blue is for boys. Yup, we know… pretty cliche. But when it comes to girls room designs, too much of it can make your child's room look more like a cotton candy factory!
With pretty pastels and bright pops of colour, here's an inspirational lookbook for the girls room designs that aren't pink.
#1: Mint greens and whites
Whoever said women are dainty beings, well, they were right! A subtle blend of pastels is always a good idea. Take a look at how this room exhales a feminine and classy touch – the brown undertones of wood for the tufted headboard complements the overall minimalist look of this room. The bulbs along the side give an elegance to the room. Also, notice how the turquoise pouffe snugly fits in the space below the dresser.
#2: Warm tones of orange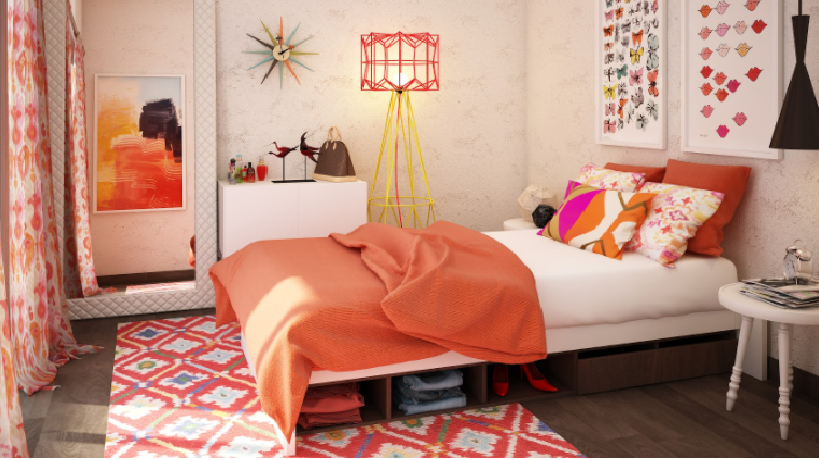 This contemporary bedroom is perfect for your growing child. Orange is a warm and earthy colour, and it brings about a cheerful mood for a girls room design. Unlike red, orange is not too overpowering. and the combination of orange and white splashed all over the room make it look vibrant. The inclusion of an aztec printed rug and printed cushions add a nice desi touch. There is also ample storage space below the bed in the form of drawers and shelves. Overall, the blend of the brown floor, white walls and orange pops make this room a space of warmth and comfort.
#3: Ocean theme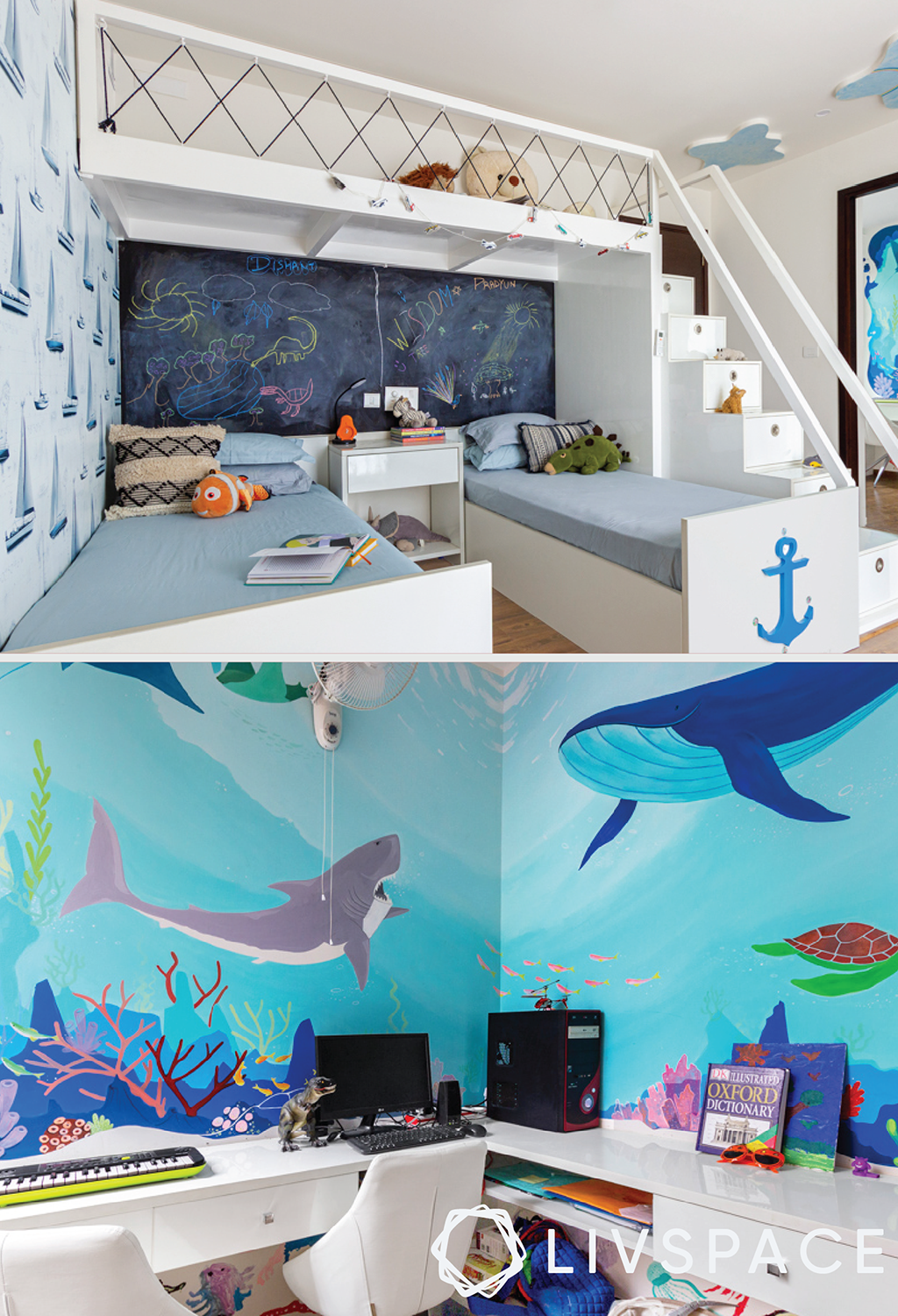 If your kid likes the underwater world, here's the perfect room design for you. Themed rooms can be customized from ceiling to floor – the POP ceiling here includes blue clouds which stand apart from the rest of the ceiling design. A nautical touch can be added by having murals on the walls of marine life with whales, turtles and maybe even a shipwreck. Additionally, custom boat-shaped beds, to feel like you're sailing calmly on the ocean, can be a fun element to incorporate.
#4: Hues of teal blue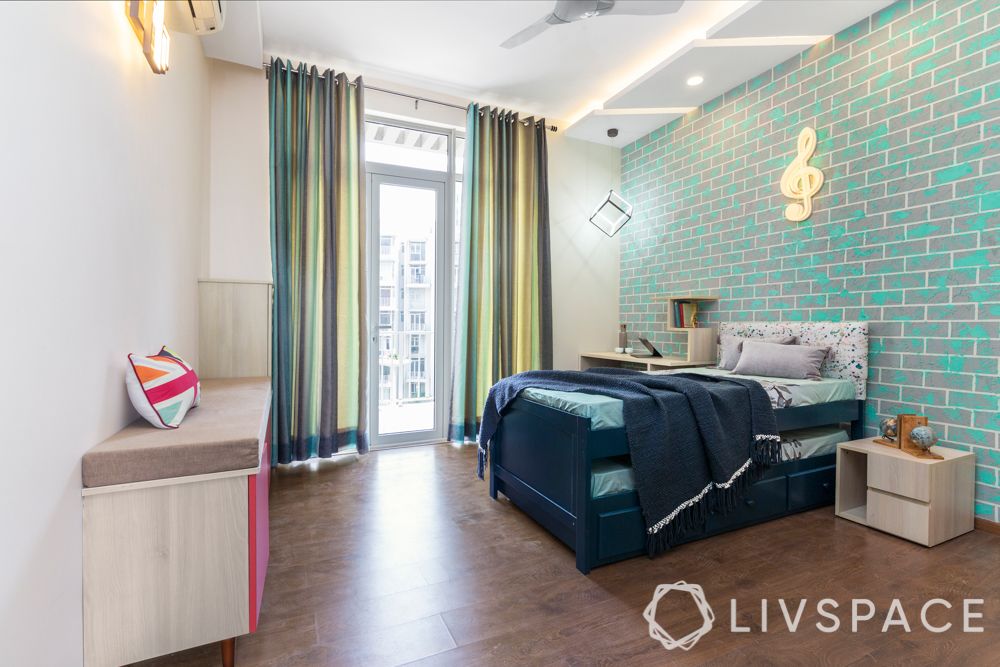 The perfect room for your teenager's artsy mind. If your daughter is a creative soul, then here are some steal-worthy ideas from this beautiful bedroom. There is a certain energy which emanates from the walls, and the colourful brick wall adds vibrancy to this room. Additionally, the lit up ampersand musical note enhances the wall dipped in teal blue. There is an efficient space utilization here with the addition of a pull-out bed. If your kids fancy having a sleepover with their besties, this would definitely come in handy. The paint-splattered white headboard makes a statement on the textured wall.
#5: A multicoloured fiesta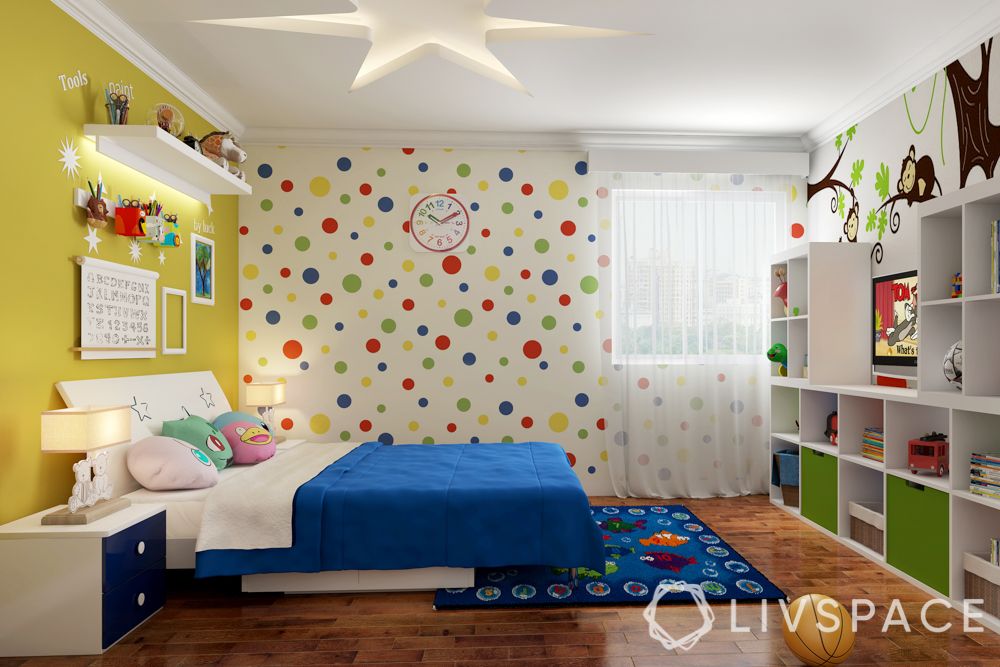 A multi-coloured room works perfectly for those girls who are a bit indecisive. You can indulge in as many colours as you want for your walls, lighting and decor. Here, 3 walls of the room are coloured differently: one with paintings of animals, a multi-coloured polka dotted wall and a burnt mustard wall behind the bed. The chestnut laminate wood flooring balances these colours perfectly. Since laminate wood flooring is easy to maintain, opt for this material for your kids' rooms. The false ceiling with cove lighting will add warmth to your daughter's bedroom.
TIP: Ensure you balance out the colours as the inclusion of a multitude of colours can make it look overwhelming. Choose complementary colours which balance each other out.
#6: Floral fantasies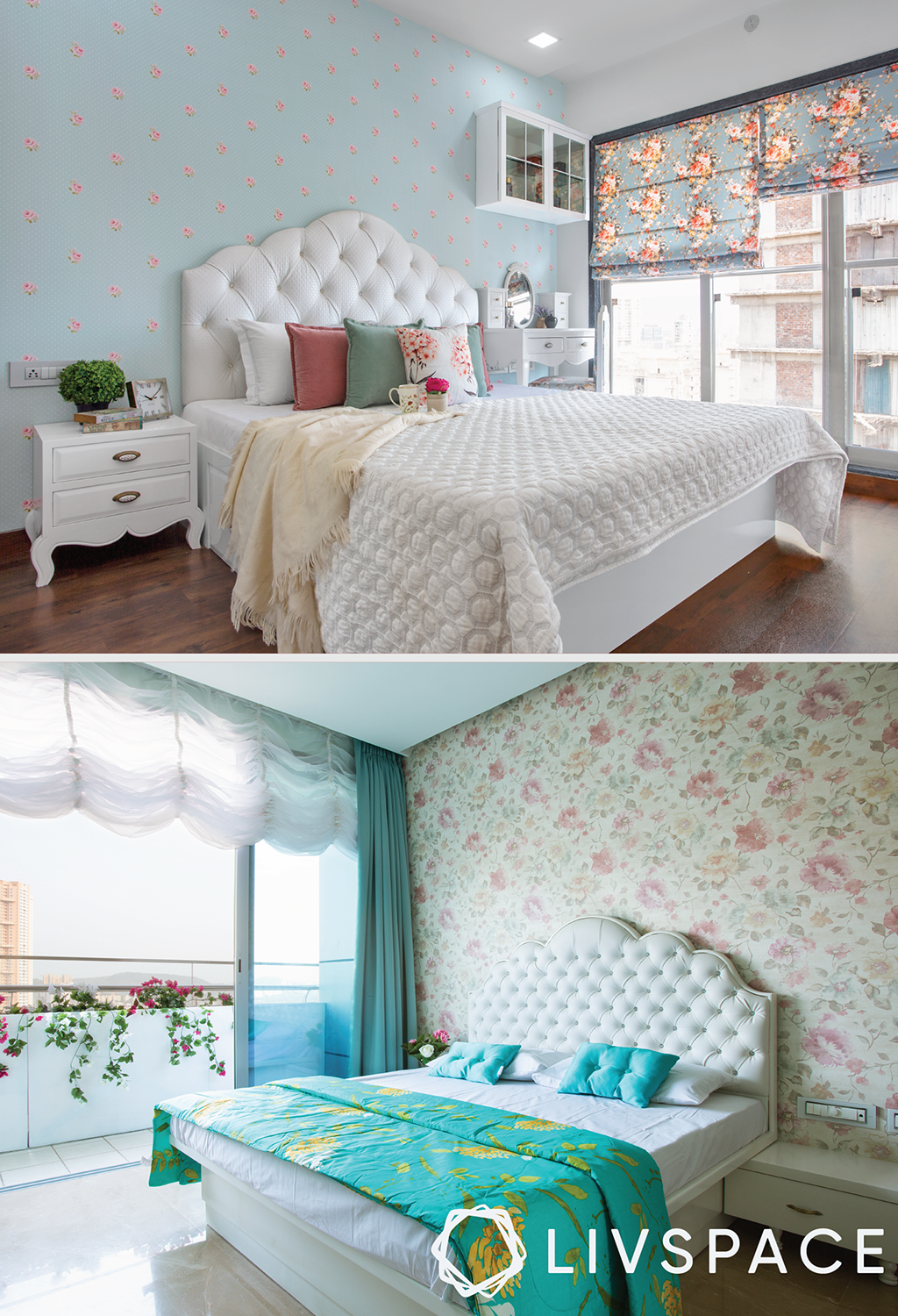 Go vintage with these floral bedroom designs for girls. For a retro theme, add velvet button tufted headboards, a floral wallpaper and some lacy curtains. The key here is to be as minimal and subtle-coloured as possible. You can create an accent wall with a floral wallpaper or add in classic white furniture with elegant cabriole legs. Keep an eye out for the white vanity beside the bed for a flawless makeup look before you step out. The addition of French windows with pastel lace curtains or even cloth blinds will give it that optimum feminine touch.
#7: Bring some nature into your room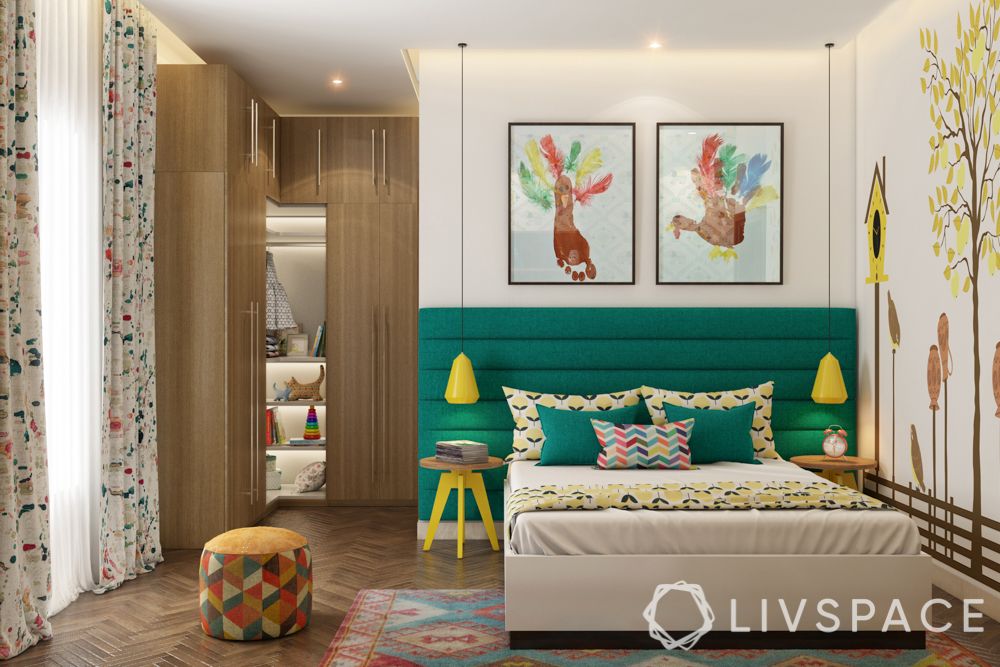 Welcome to Casa del Wild!
For the nature and adventure junkie in every girl, this room is just right for you. It looks like a scene out of Madagascar – with the greens, yellows and browns. You can go as funky as you want with abstract paintings of wildlife, jungle-themed curtains and wooden flooring. The herringbone tile wooden laminate flooring is the perfect match for this theme. The wooden wardrobe comfortably occupies the corner of the room. And the bottle green panelled headboard attached to the wall with yellow pendant lights hanging from the false ceiling just captures the eye.
#8: A melodious blend of blues and greys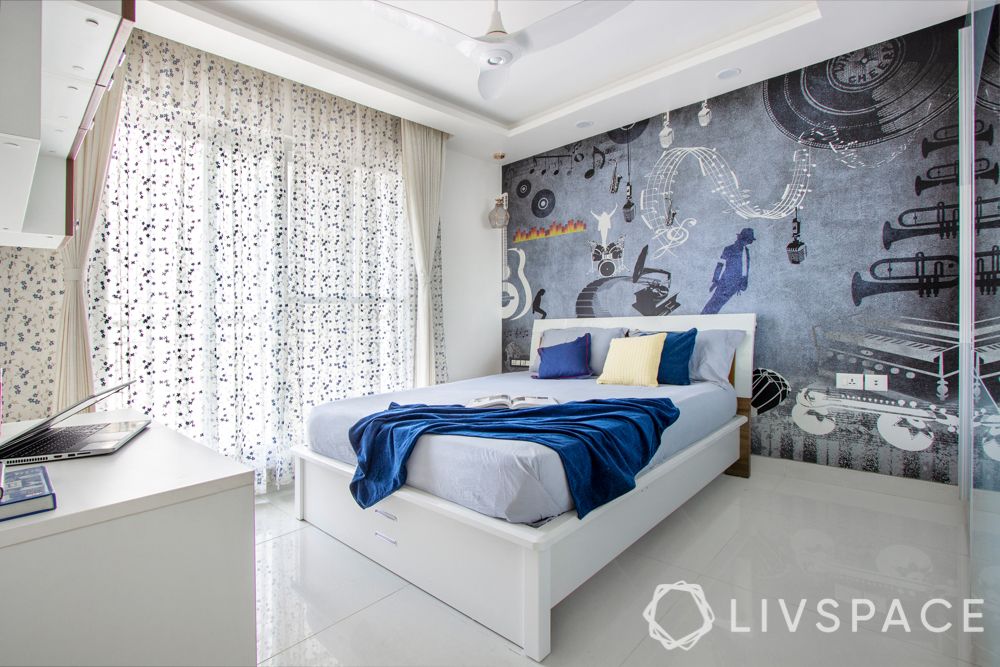 Well, we know a musician's den when we see one. In this case, we can hear the symphonies from this room. The use of cool blues and greys is a winner for this room. Our designer has created an accent wall with end to end wallpaper as a backdrop with elements of music on it including musical notes, musical instruments and eminent personalities like Michael Jackson. There are also pull-out drawers beneath the bed which provide the much needed storage space. The printed sheer curtains allow optimum light into the room, making it the perfect ambience for your budding rockstar.
#9: Simple elegance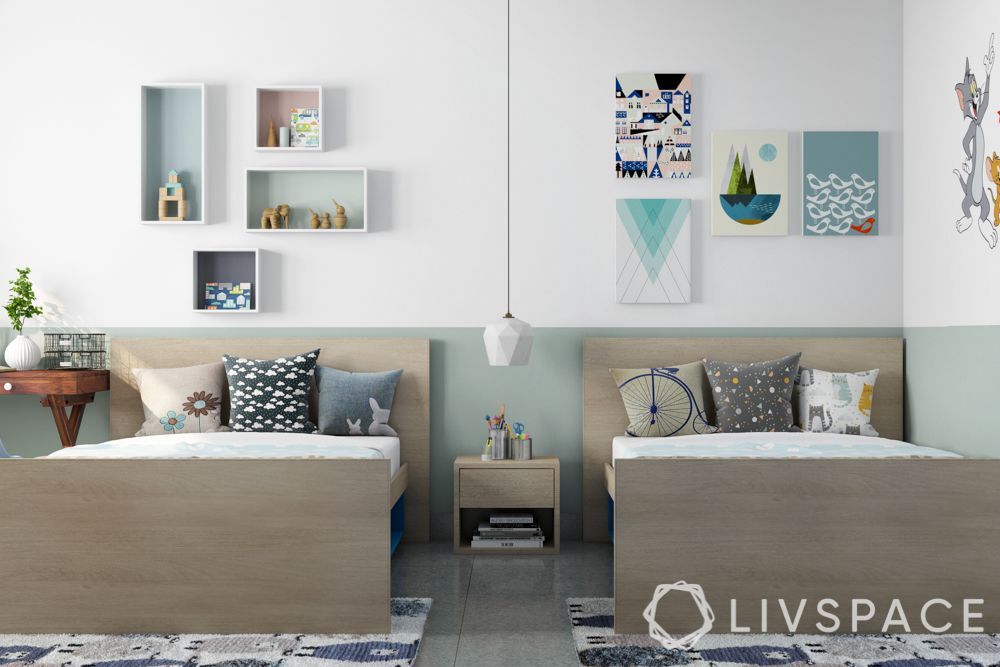 Being a minimalist can speak volumes. A minimalist's bedroom can be defined with clean lines, mellow colours and downright simplicity. Having fewer items in the room can make it more practical and easy to use. You can make your child's room clutter-free yet simple and elegant by having dual-coloured walls with toned down colours. To add a more rustic vibe, include some wooden furniture. Simple shapes can go a long way; put in geometric shaped pendant lighting or a hexagonal rug to compliment the rest of the room.
#10: Vibrant pops of colour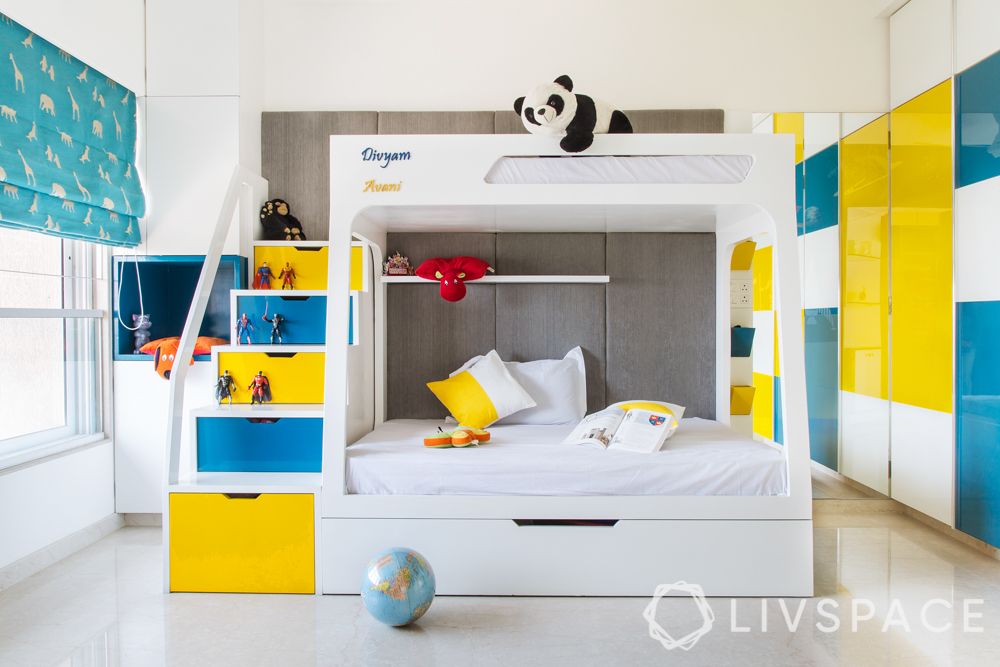 There are times when neutral colours just don't make the cut. Changing a subtle-coloured room into a bright popping one is not the hardest task. Some kids just need those vibrant bursts of colour to bring out their energies, don't they?
These bright colours can be incorporated in any part of the room. This room has bright yellows and beaming blues alternating on the cupboard doors. The whites have been strategically placed so that the bright colours don't overpower the whole room. The steps that lead to the upper bunk have been carefully doubled up into storage space to keep their toys and books. And these colours pull the white room together magnificently.
#11: Wooden elegance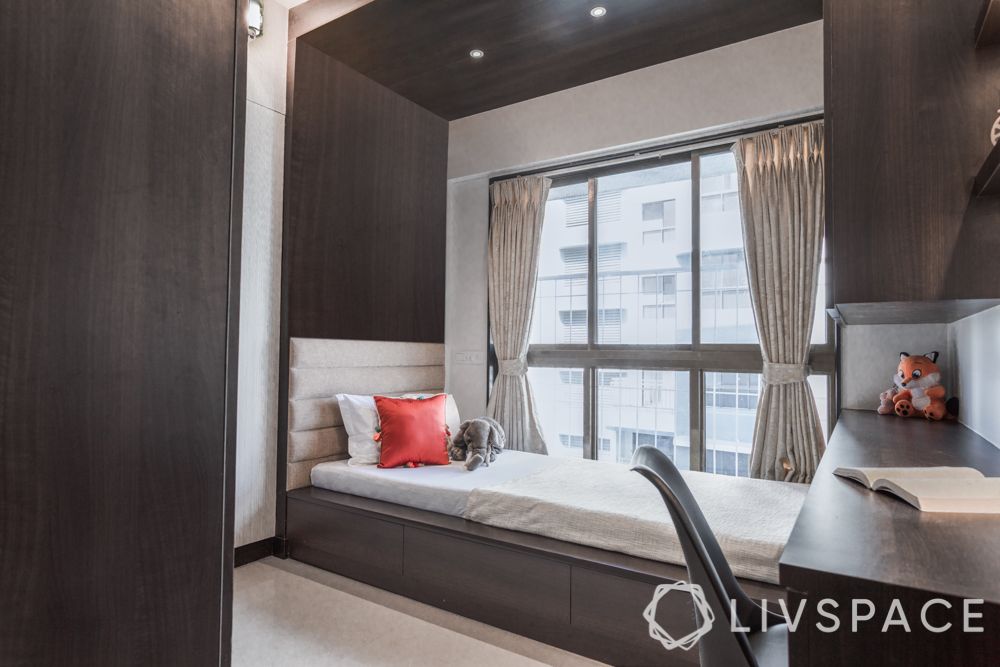 Windows connect the outside and inside worlds, thereby making it a good spot to place your bed right beside. The woodwork in this room is quite extensive with a wooden ceiling above the bed with spotlights. The headboard is a plush tufted panel headboard in beige complementing the brown tones of the room. The study table as well as the shelves and cupboards are doused in wood as well. Your child, in a room like this, would get a beautiful view when they wake up.
#12: Greens are goood!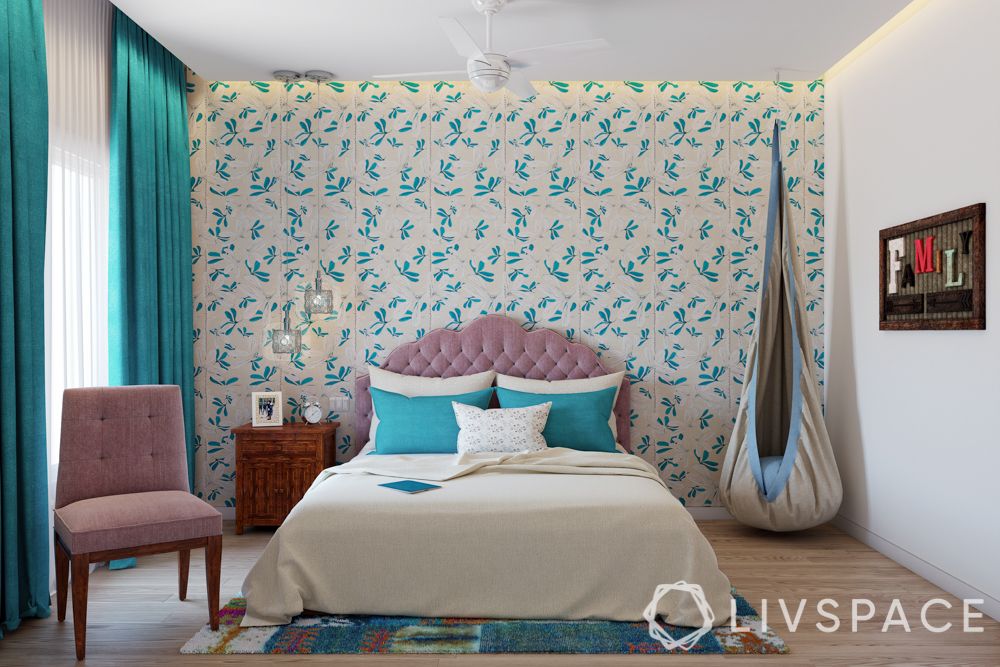 The jade green of this room is quite breathtaking. The shades of green in this room blend in flawlessly with each other. The floral wallpaper creates an accent wall for the rest of the room with its floating petal patterns. The white sheer curtains let in just the perfect amount of light into the room while the opaque green curtains, essentially, are an extension of the lovely green wallpaper. The blush pink accent chair matches the eccleston cut tufted velvet headboard.
The use of complementary colours and textures makes it a cosy nook for any modern lady. The cove light in the false ceiling further adds a touch of elegance to this room. Take note of the traditional wooden bedside table to store your night time essentials. What's more, the cosy cloth swing in the corner completes the look of this room creating a perfect reading corner for your Sunday afternoons.
#13: Tints of baby blue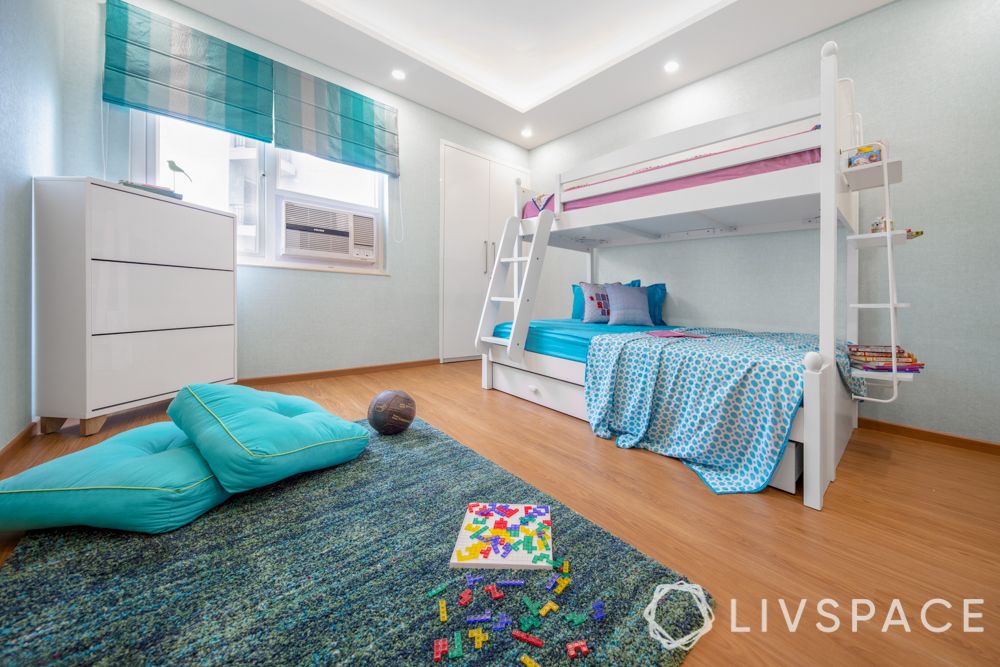 Certainly a sight for the eyes, this room is the right amalgamation of baby blues and pristine whites. While the bed frame is fully white, the soft furnishing used for this room is a mix of different shades of blues. The floor here is kept clear to free up space for the kids to indulge in playful activities. There is ample storage space with an open shelf attached to the bunk bed and as drawers below the bed. The room has neutral shades of colour as it can be altered as the kids grow.
If you liked these ideas useful, do explore 10 Room Designs That Your Kids Will Not Outgrow in a Hurry.
Send in your comments and suggestions to – editor@livspace.com