Change, they say, is the only constant in our lives. So, we must constantly adapt to change, both in our lives and homes. But when it comes to our children, the change is so very fast. Kids grow up quickly and how! And as they grow up, their tastes change rapidly, making the task to design kids room a really difficult one. After all, most of us do interiors for our homes just once in our lives. What if our kids don't like the rooms we design for them now in a couple of years?
To address this dilemma, let's first understand what elements of their rooms kids outgrow quickly.
What elements of design kids room do children outgrow at the earliest?
#1: Patterned wallpaper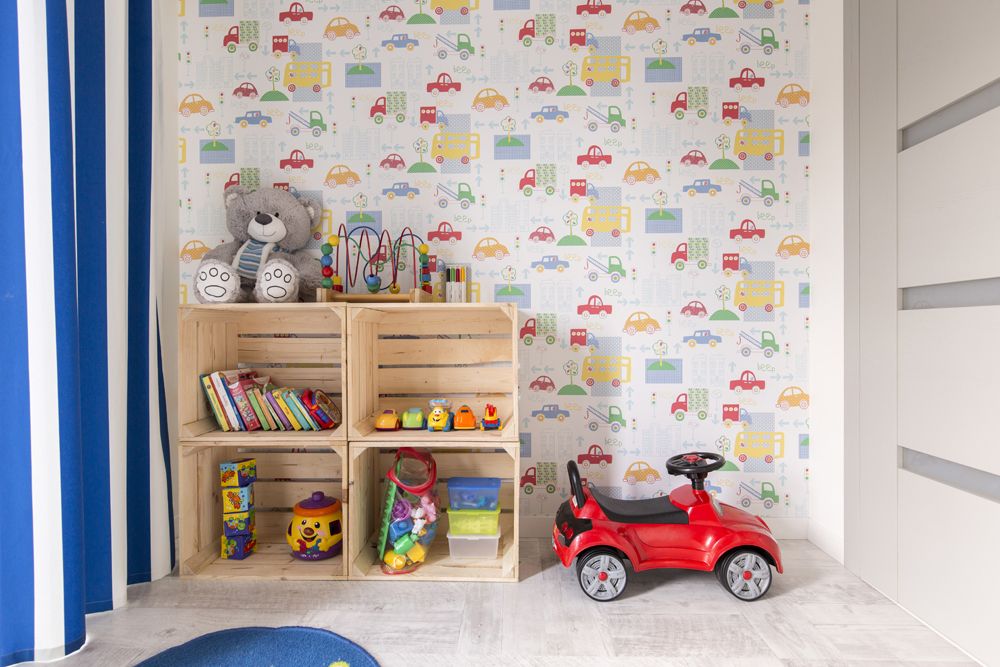 Your little boy may not outgrow his passion for cars in this lifetime but he surely will find those car prints on the wallpaper childish in a while. It is only a matter of time. The same applies to your little girl and her teddy bear prints. So, it is better to opt for wallpapers that are more gender neutral and devoid of too many prints.
#2: Too much colour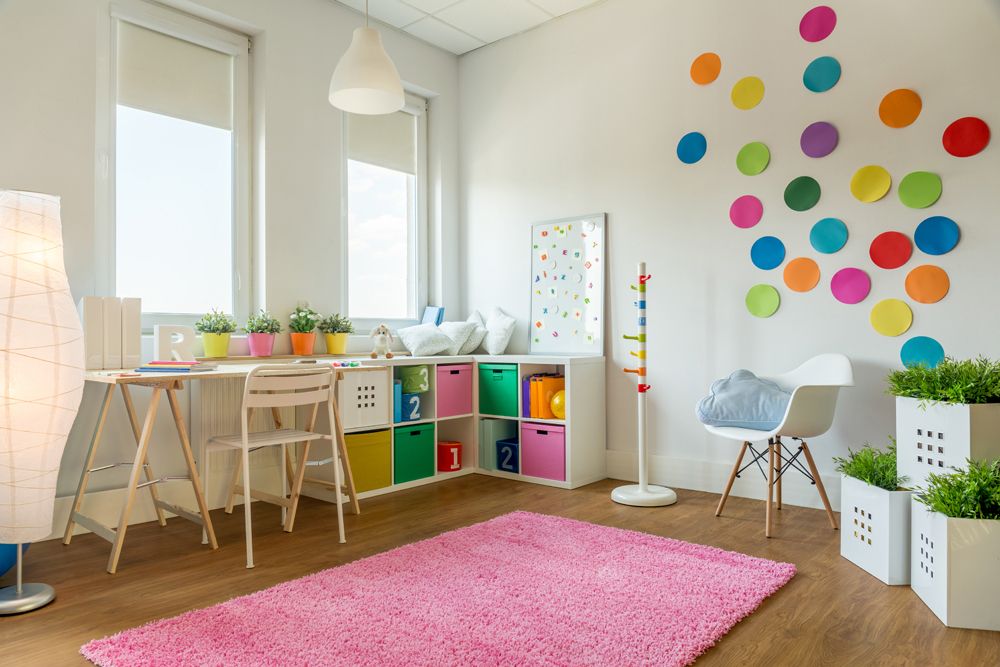 At 5 years, you kids will want to have all the colours in the rainbow in their room. But at 8, they will find the clutter of colours too kiddish. So, opt for neutral bases and use easily replaceable elements like cushions and soft furnishings to add colour.
#3: Cartoon character themes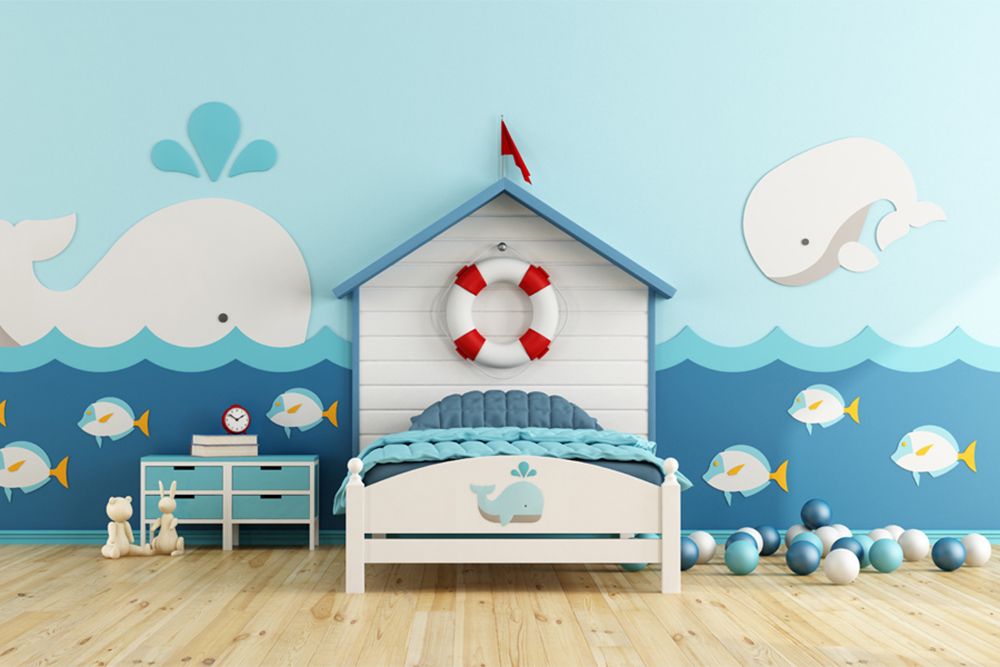 The Cinderella or Spiderman theme that your little one wants right now will be the very thing to make your kids' room obsolete in a couple of years. So, skip themes particularly in wallpapers and furniture. Your child will move on to different interests with age.
Now that we have outlined the elements of designing a kids room that children outgrow, let's get some inspiration underway.
Here are kids room designs that your kids will not outgrow in a hurry from Livspace
#1: Pull-outs and place to play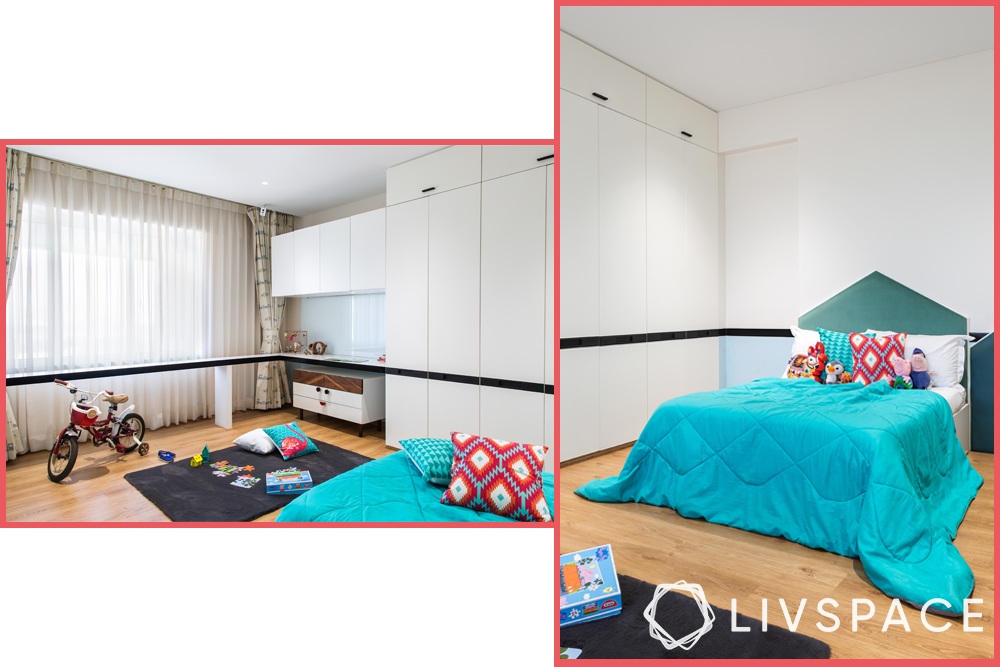 The basic requirement in any kids room is space to play. And with a huge bed in place, it doesn't seem possible. And that is where this design of this kids room strikes a balance.
Ideas to Steal
Firstly, opt for a pull-out bed (or trundle). Secondly, do you see the ledge here that runs throughout the room? It can be used as a study table or place for the little boy (whose room this is) to play with his cars.
#2: The boy zone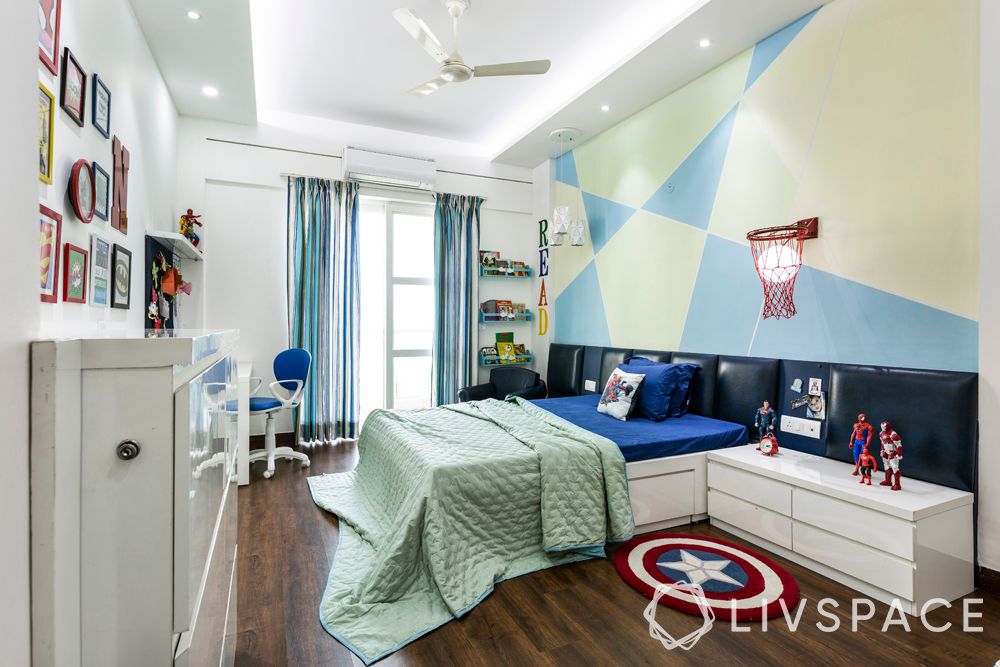 This room is an amalgam of everything that boys in an age group of 5 to 15 years like. But there is no aspect of childishness to it.
Ideas to Steal
Use framed posters and superhero merchandise to decorate the room instead of wallpapers or paint. The wooden floor here also balances out the element of colour.

#3: A space to create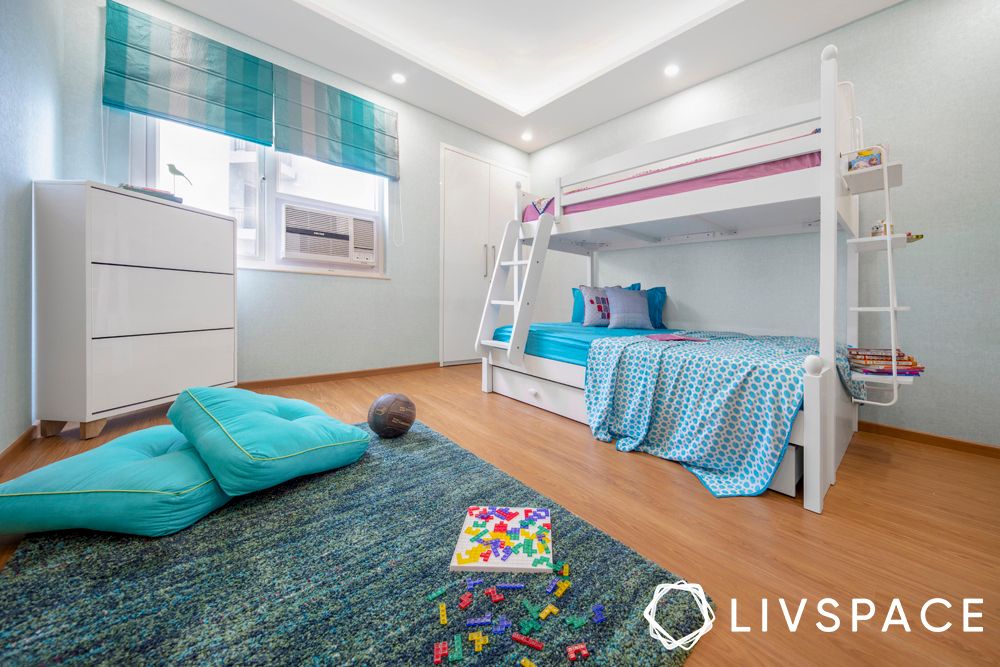 Did you know that your 'headspace', or 'bandwidth' as we call it in the age of the Internet, is directly proportional to the amount of empty space in your room? So, why not give your kid a wide berth to think and create?
Ideas to Steal
A bunk bed, in a simple design and neutral colour, allows you to have more floor space. Add a cabinet and some comfortable floor seating; you don't have to do much else. The room doesn't look cluttered and there is enough space for whatever hobbies you kid may want to pursue.
#4: The French connection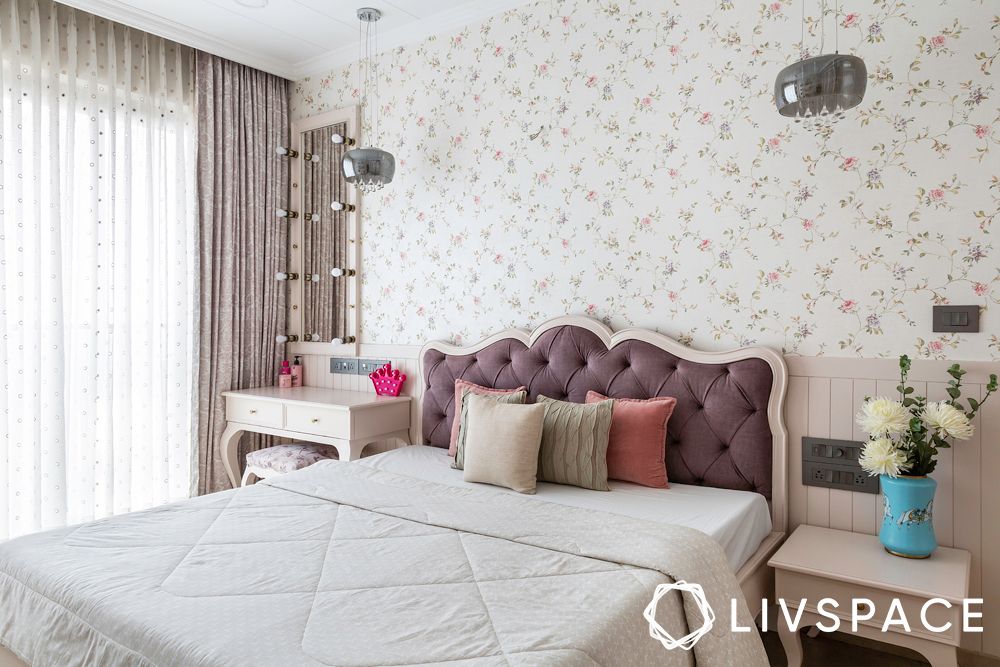 Little girls grow into young ladies almost at the speed of light. And what young lady would not want to have a dainty room like this one?
Ideas to Steal
The headboard with its shapely curves is a statement piece here. Also, don't miss the vanity mirror that will strike a chord with any teenager.
#5: Twin trouble turned to two for joy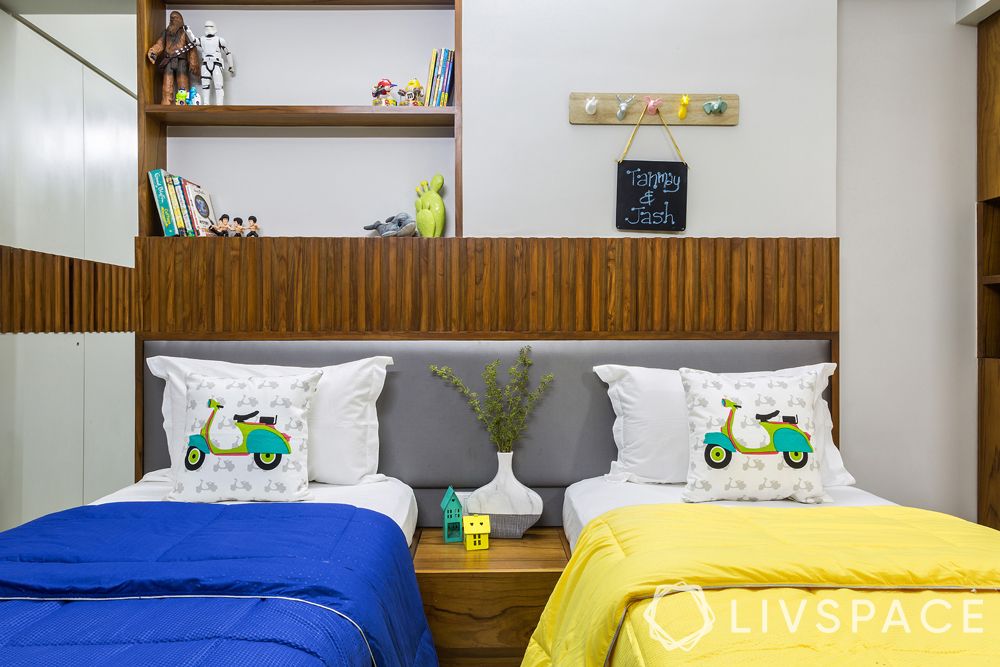 It is not easy for siblings to share space. But the way you design kids room can make it easier. The trick is to ensure there are two of everything.
Ideas to Steal
The beds in one frame make it easier for siblings to share space. Also, see how the wooden texture continues into the wardrobe, making the room look like a cohesive unit.
#6: Books, books and more books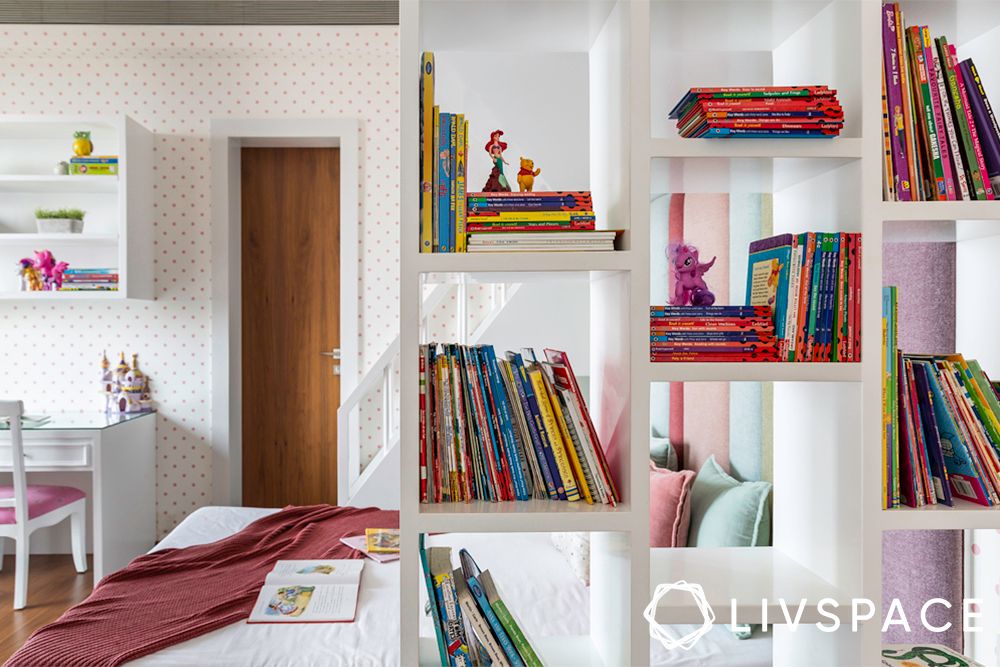 The books that your child needs will increase over the years. But space in his/her room will not increase magically. So, make provision for enough storage for books.
Ideas to Steal
If your child loves to read, that habit will last forever. So, best to add some smart storage in the form of bookshelves that can be filled up with these treasures over the years.
#7: Basic, not bare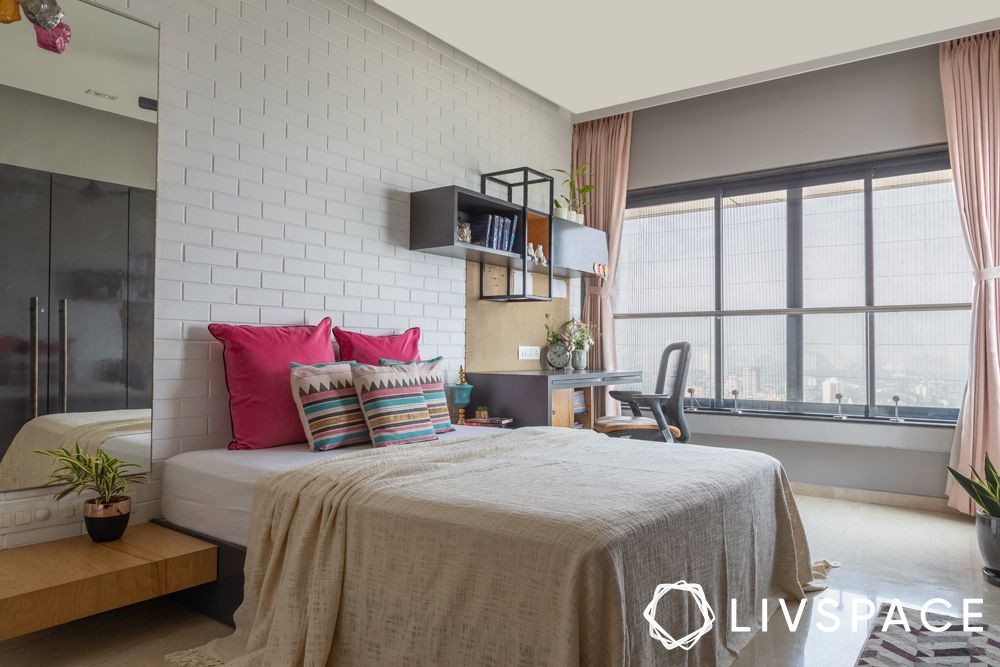 When in doubt, keep things basic. But basic doesn't have to be bare. Just stick with essentials and leave the rest of the decorating to your kids as they grow up.
Ideas to Steal
This room has the bare essentials like a bed, a story and dresser. The bed has no headboard, but your kid can add one of his/her choices when they grow up. There is plenty of room for creativity here so the room can grow with your children.
#8: The sound of music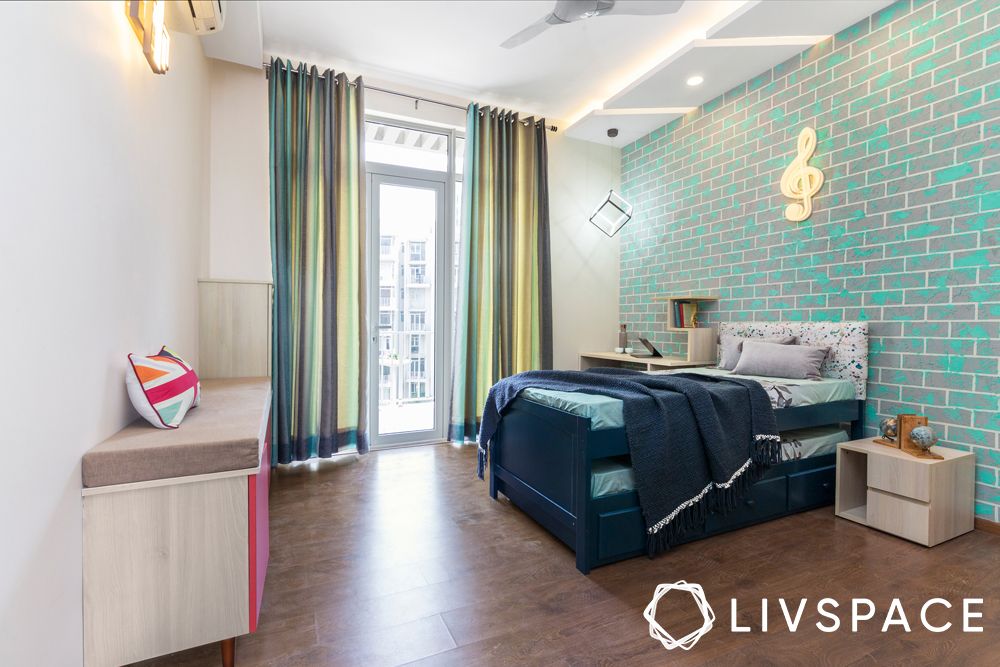 Colour can do wonders to your kid's room. Just make sure you stay ahead of the times!
Ideas to Steal
Pick a colour like teal or coral and use it youthfully with abstract textures. The chances are that your kid will love it even as he or she grows older!
#9: The rustic ruse
Some things never go out of fashion. Like rustic design elements. Paired with white, this room is an example of how to create a room that outgrows your kid's childhood.
Ideas to Steal
The exposed brick wall is a design element that has been in vogue for the last ten years. So, you can count on it to stay fashionable for a while longer. The added advantage here is that it hides flaws and stains (that are part of the growing up trail) very nicely.
#10: A dreamy artsy space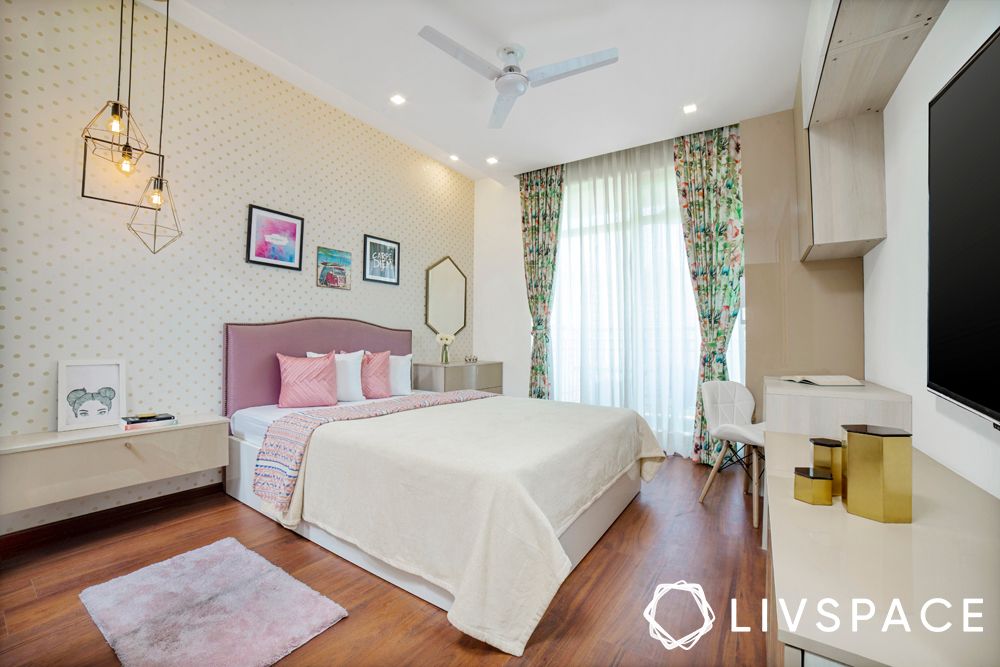 If your child has an artistic disposition, you must design a room to match it. Make it dreamy and surreal like this one!
Ideas to Steal
Use your child's own paintings and art to decorate the room. Use pastels for a dreamy vibe and pick a wallpaper that keeps things neutral.
If you found these ideas to design kids room useful, also explore how to design a room that siblings can share.
Send in your comments and suggestions.