The key to encouraging healthy study habits is to make the study fun, motivating, creative and fun—at least, that's what we firmly believe. After all, a study table for kids should work just as hard as your kids do, to keep them focused and prevent their playful minds from wandering. When choosing the best kids' study table design, here are some factors to keep in mind:
#1: Give Them (Creative) Space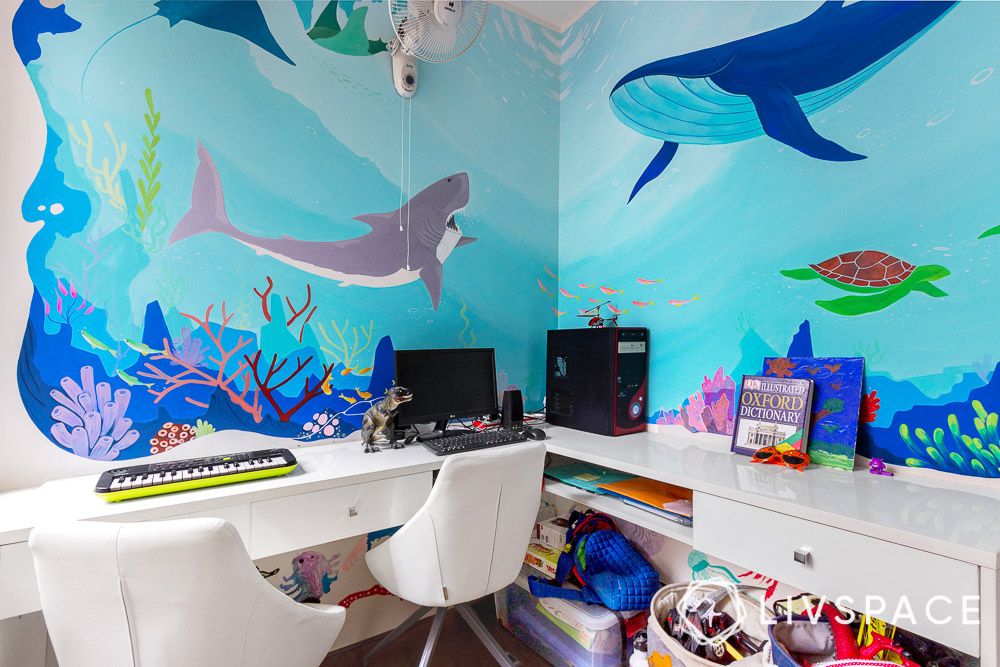 Space is everything when it comes to kids' study table design, given how soon they will be overrun with piles of books and papers. Consider how frequently your child will use the table and what they'll use it for. If it's only to solve a few math problems, chances are you can get away with a smaller table. If they need space to brainstorm, keep creative supplies and spread out their work, a study table for kids with more surface area is ideal.
#2: Make Sure There's Storage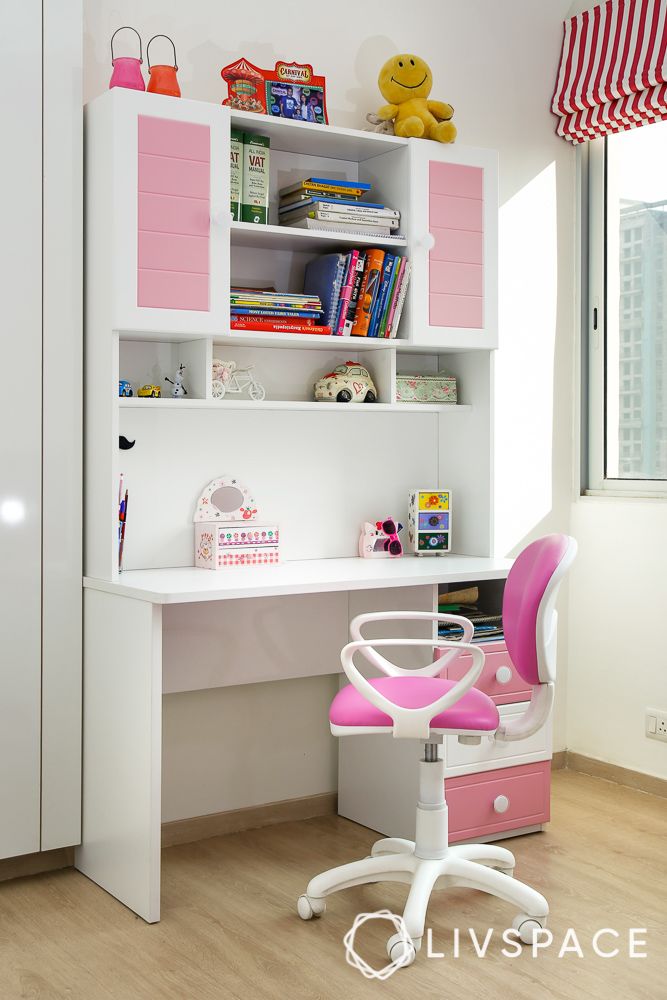 The logic is simple—if your child has to go to different corners of the room to collect their pens, notebooks, markers and such, they're probably not going to concentrate for very long. To help your child maximise the time spent at the desk, choose or design a study table for kids that has built-in storage like cubbyholes, drawers, pen stands and hinged cupboards. This way they can easily retrieve something they've forgotten without having to leave the table and go hunting.
#3: Look Only at Study Tables for Kids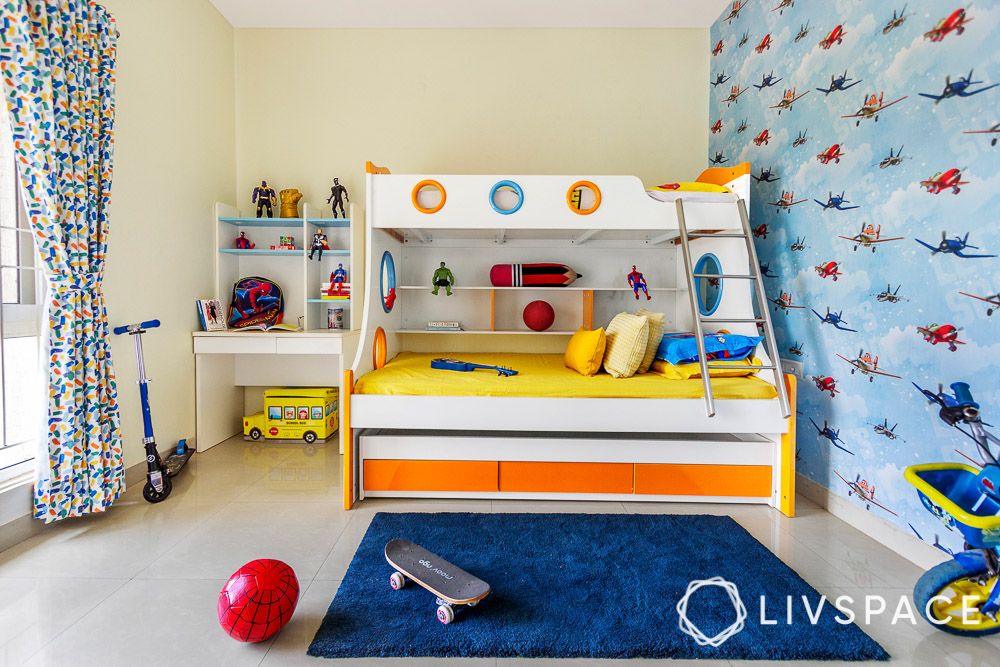 It may be a tad tempting to repurpose an adult-sized desk for children, but don't give in. A study table for kids is almost always designed optimally for their height, size and age. In the long run, going the extra mile to find a kids' study table design meant for growing children will improve their posture and concentration and give them a new space to call their own. As they grow older, they can graduate to larger, adult-like tables but for now, a kid-friendly study table is your safest bet!
#4: Get a Compatible Chair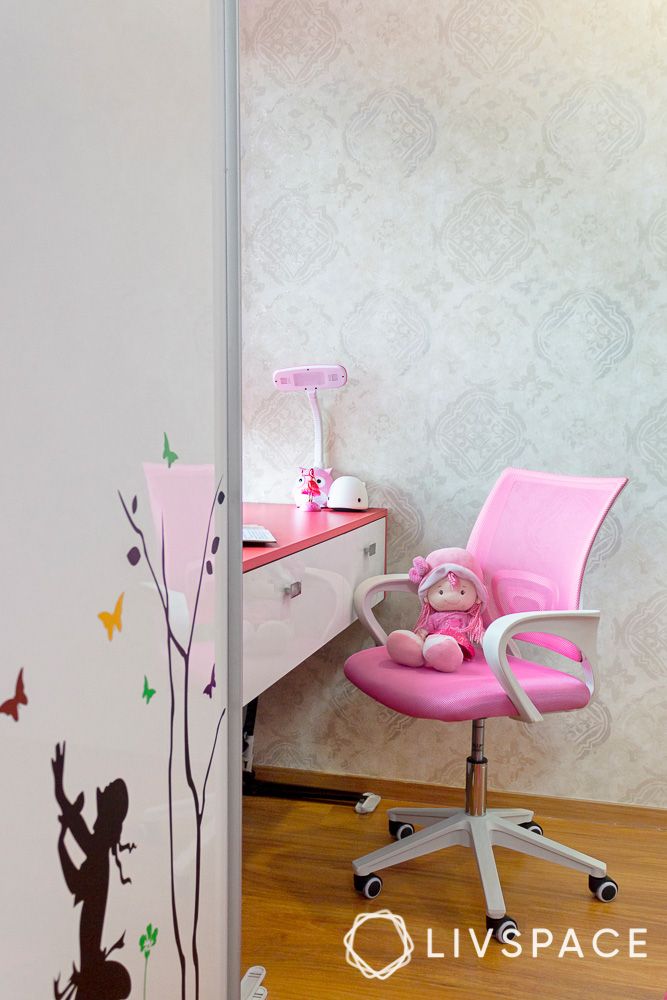 If you buy or design a study table for kids that's perfect for the space but plonk a regular computer chair in front of it, it negates the careful time and consideration you've spent making the choice! Instead, look out for kid-friendly chairs or, better still, narrow your search down to kids' study table designs that come with a chair. The complementary furniture will make the space look much more put-together. Furthermore, it'll save time and effort in adjusting a different chair to the height and incline of the table.
#5: Try It Before You Buy It!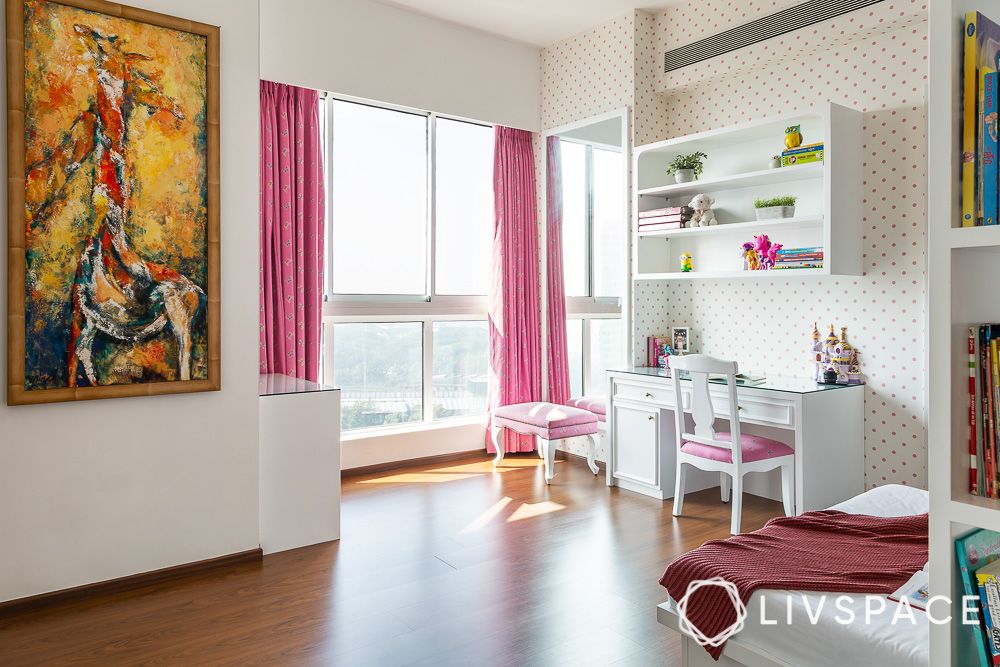 A kids' room study table design has more than just cosmetic purposes for your child. It needs to suit your child's height, posture and needs perfectly. So, the only way to be sure is to take your kid along when you go to choose the kids' study table design. Let your child sit on the chair at the desk and write or read for some time. This hands-on engagement with the study will help them decide if it's the right one!
#6: Choose Bright Stimulating Colours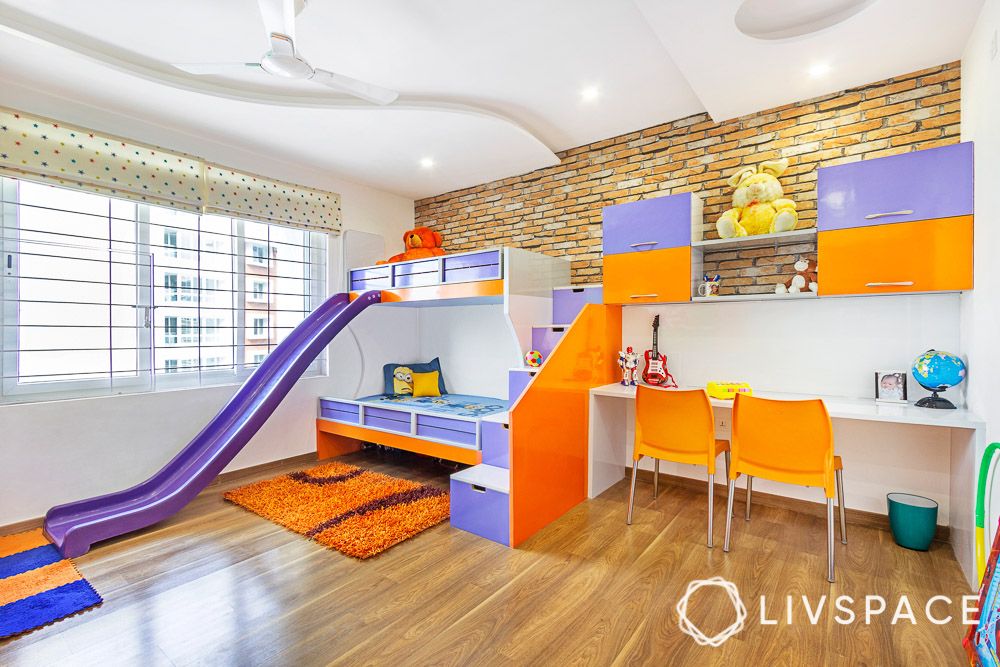 Children are quite sensitive to colours around them. Bright colours energise and excite the kids. Take this study table design for two kids for example. The orange colour used is a perfectly warm, youthful and friendly colour that can inspire communication. Blue, on the other hand, can calm your child and increase their confidence. We recommend that you don't underestimate the power of colours when you design a study table for your kids.
#7: Stick to Open Cabinets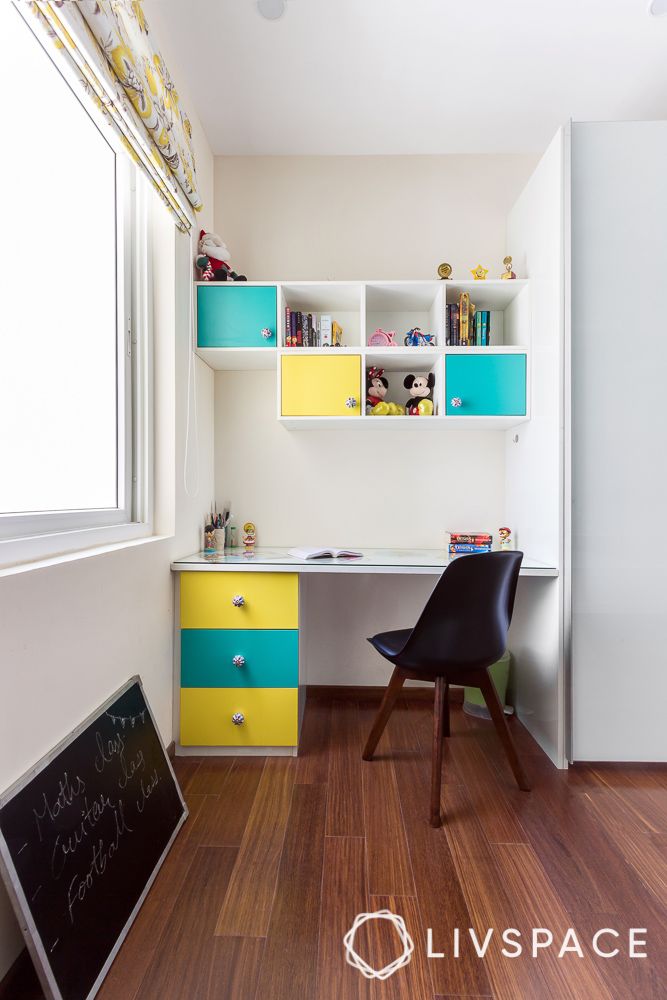 Open shelving in the study table for kids will go a long way in your kids' bedrooms. It serves as a multipurpose storage unit and more. Young minds take inspiration from their surroundings. Therefore, open shelves with toys, books and pictures in them can give your children more opportunity to imagine and build their ideas. These are also quite helpful when you are trying to keep their rooms organised.
#8: Innovative Kids' Study Table Designs
Creative layouts for your kids' room design are a great deal important as they can give them the space and freedom for movement and imagination. Here are some innovative space-saving kids' study table design ideas
Study Table Design for Two Kids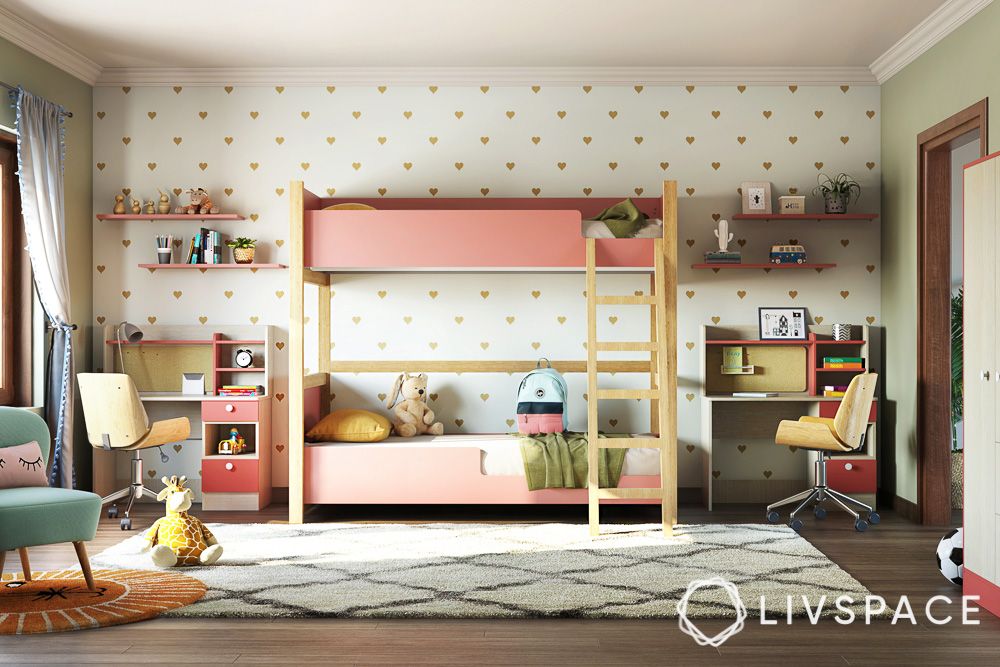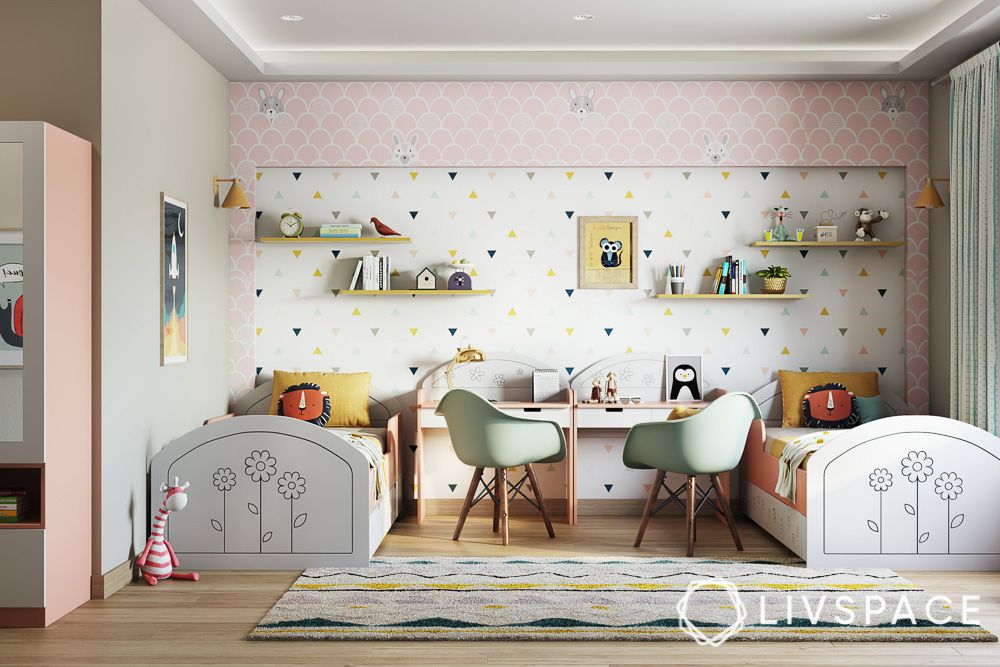 There are two ways to install a study table for 2 kids—you either place them together or place them apart. This mostly depends on the dynamics between your kids. Are they disruptive together? You might want to place the study tables for your kids apart in that case, so they can concentrate and do their individual work.
An Under-the-Bed Style Study Table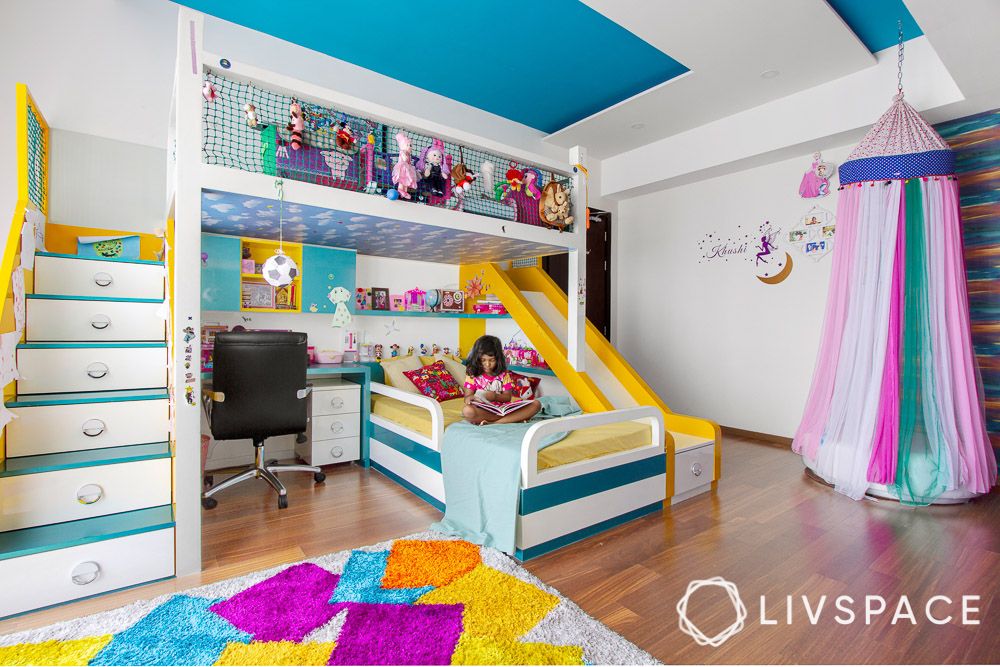 Space is the most important requirement in kids' bedrooms as it is vital for their growth. This is what all designers keep in mind when they design study tables for kids. This space-friendly study table for kids is storage-compliant, has enough desktop space and can fit into small spaces in your kids' bedrooms.
A Portable Study Table for Kids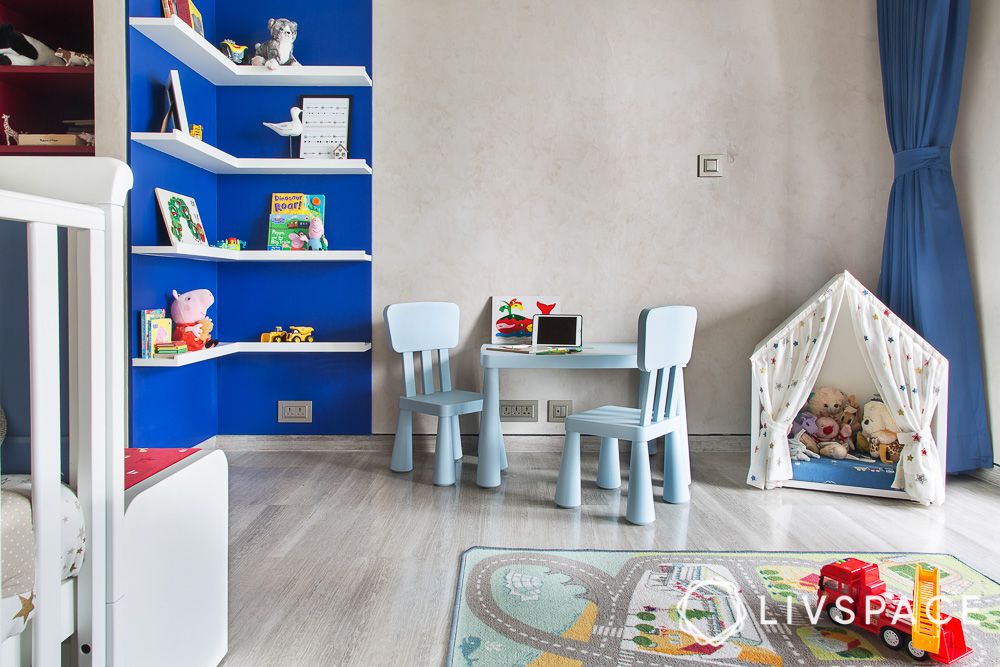 A portable study table makes more sense in bedrooms for younger kids. This is because they will have the freedom to move the table to their desired spot and do their work. This will also help you understand your child's comfort zones and you can choose a better layout for them.
A Retractable Study Table for Kids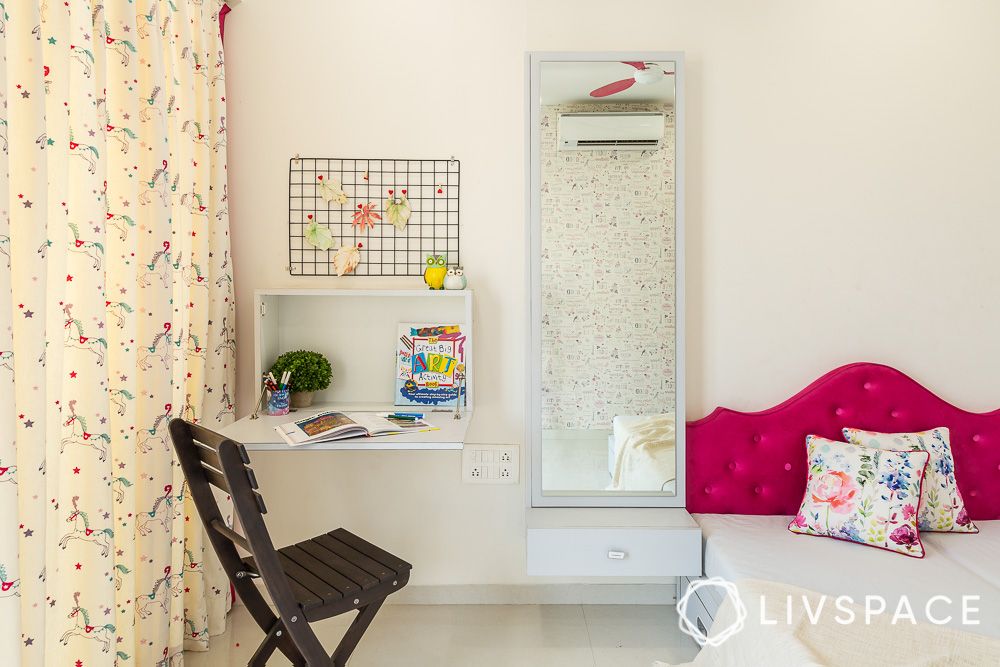 In compact kids' bedrooms where the need for free space is high but so is a study table, we offer an innovative solution—this retractable kids' study table design. This is best in small rooms and it even can be closed to store your table essentials out of sight.
A Wardrobe-Cum-Study Table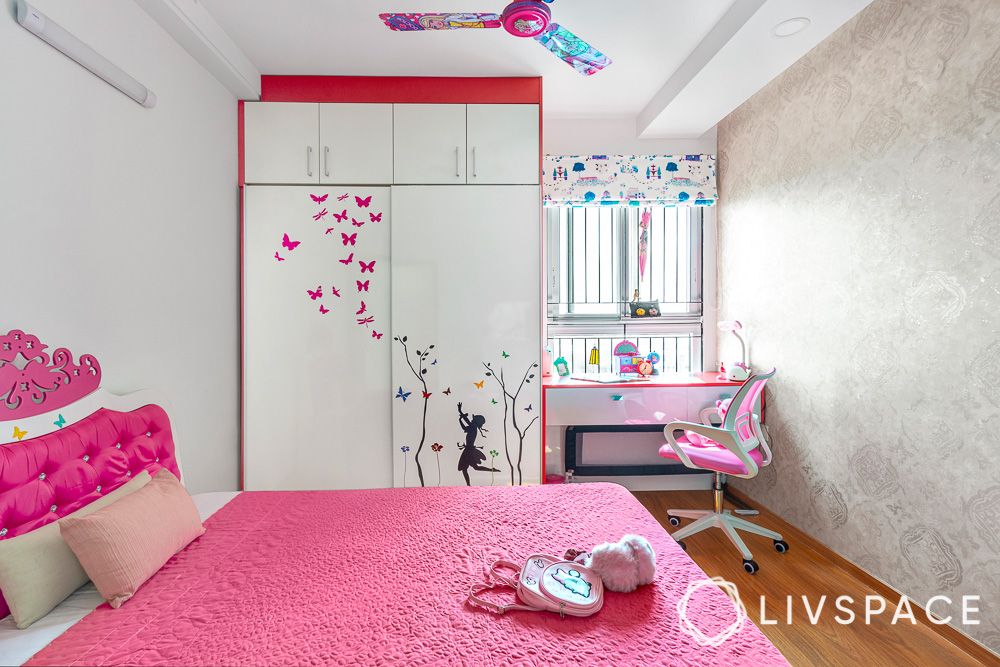 This is the best way to utilise the space in your kid's bedroom. Since they don't need a lot of storage space, attaching the study table for kids to the wardrobe unit will allow more space in the room.
A Wall Designated for the Study Table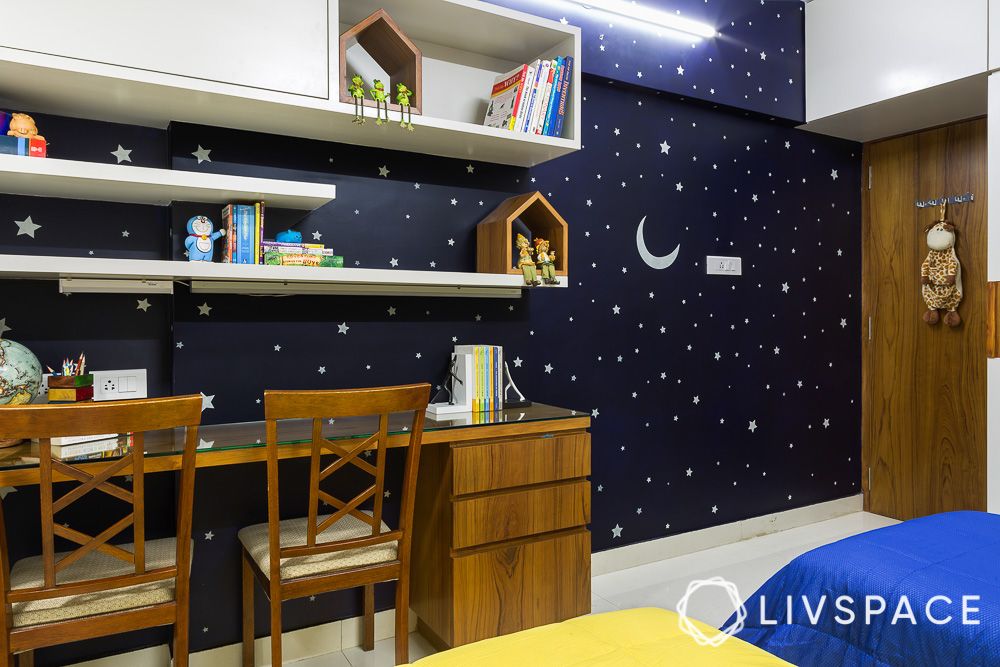 If you need a study table for 2 kids, use a full wall to design it because this way, both your kids will have enough space for themselves. This will promote their concentration and reduce the chances of getting distracted while working in close proximity to their sibling.
A Partition Wall Study Table
To separate study and sleeping areas like this is essentially an idea for adults, but it also a good way to encourage discipline in your kids.
Pro Tip: Once you've picked out the kids' study table design you want, the next conundrum is where to put it. If you're lucky enough to have space and sunlight to play with, position the desk near a window. You can also add some indoor plants to the setup; it will help boost your child's mood and help them focus much better.
A well-organised study table for kids in a room with plenty of space to frolic is the ideal balance of work and play! Also explore Go Beyond Basics to Light Up Kids Rooms.
Check out storage ideas for kids' room:
How Can Livspace Help You?
We hope you found our ideas useful! If you want beautiful interiors for your home, then look no further. Book an online consultation with Livspace today.
Send in your comments and suggestions to editor@livspace.com