Since is Raksha Bandhan and we are celebrating the relationship of siblings, let's do a simple analysis. What is it that siblings fight most about? One of the leading answers to this question will be 'space'. So what if we made this process of sharing space a lot more fun? With one of our kids room design ideas, we can do that.
Kids Room Design Idea #1: Interesting Themes
Hail Superheroes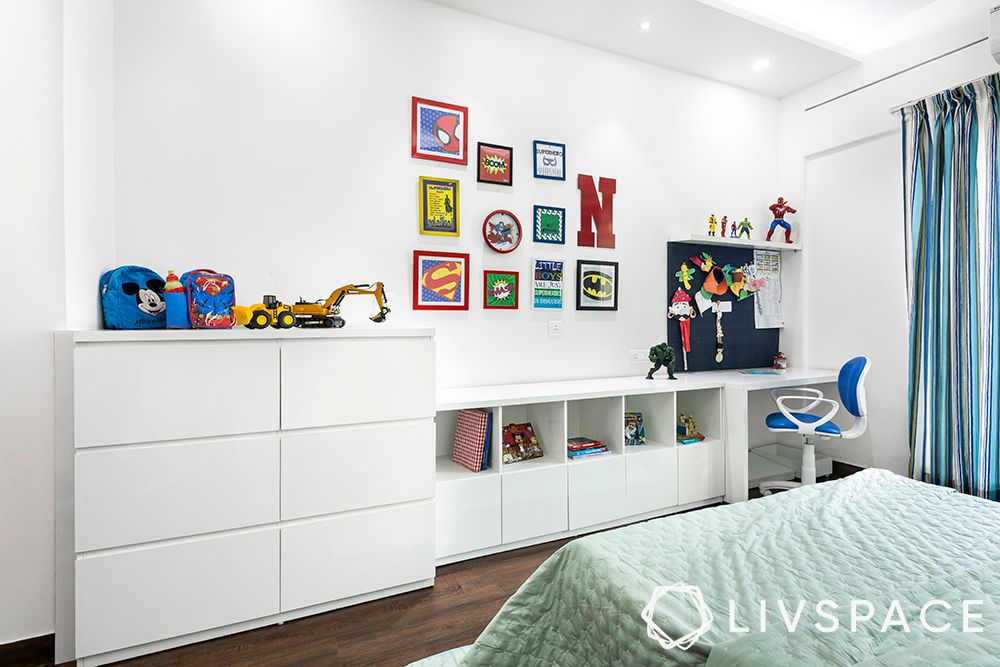 Most kids love cartoons, superheroes and games, don't they? Why don't we give them a room with one of their favourite themes? Kids rooms based on themes are on the rise today. Be it Batman, Superman, minions or LEGO, we have a design to suit every child.
Superheroes, anyone? Kids these days are obsessed with batman and superman. They want to be like them. Why don't we get them figures of their favourite characters and display them in their room for inspiration. You could also buy bed linen in the same theme and complete the look.
Go Lego!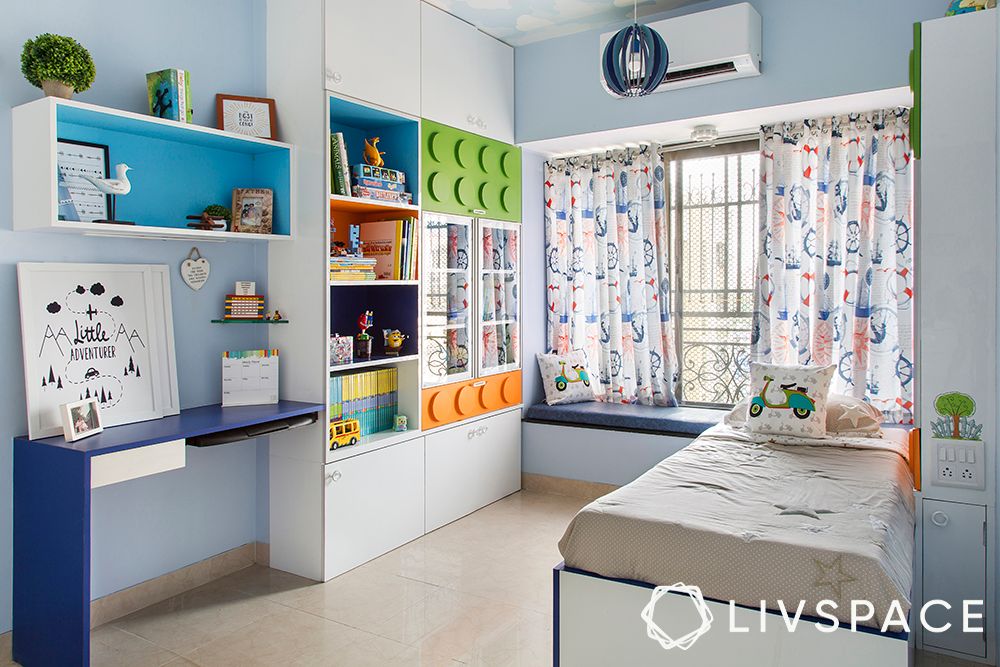 This lovely kids room design is based on LEGO, the famous block game from our childhood days. A bunk bed set against a geometric wallpaper makes sure this room is deemed fit for siblings who love playing with LEGO. Cozy niches for toys and cabinets complete the look of this one.
Setting Travel Goals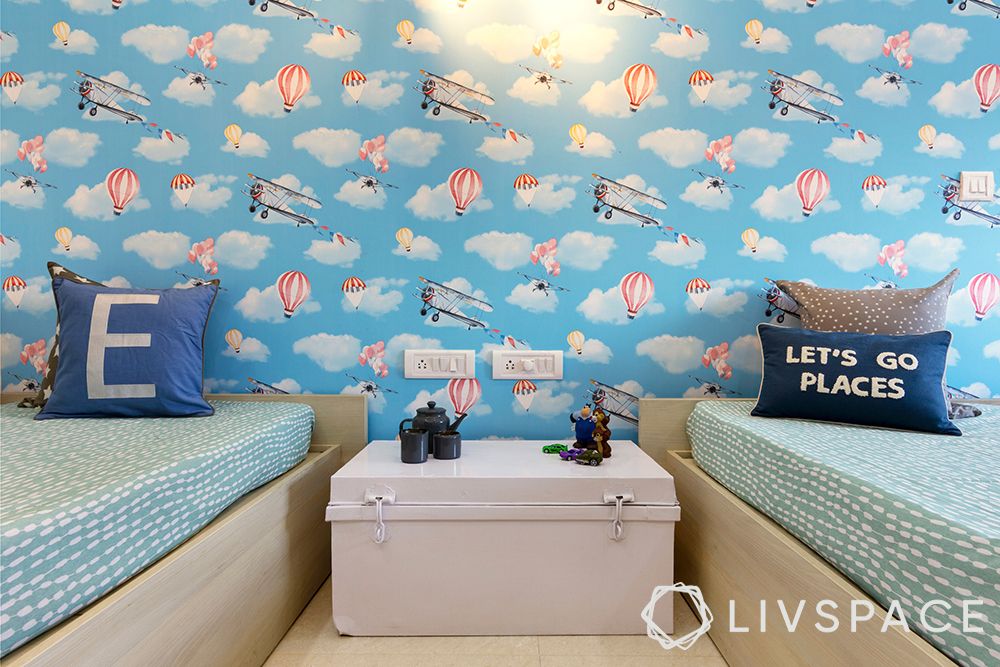 Up, up and away! This kids room is perfect for siblings who dream big and want to sleep under the skies. This fun and colourful wallpaper, complete with a travel theme i1s such a cheerful idea for a siblings who share dreams of traveling together
Kids Room Design Idea #2: Accommodating Beds
What is the first thing that comes to your mind when you want to design rooms for siblings? What sort of a bed will be suitable for kids, that make optimum use of available space? We suggest you get bunk beds for your kids, so that they do not have to fight for space and learn to value individuality early on.
Bunk Bed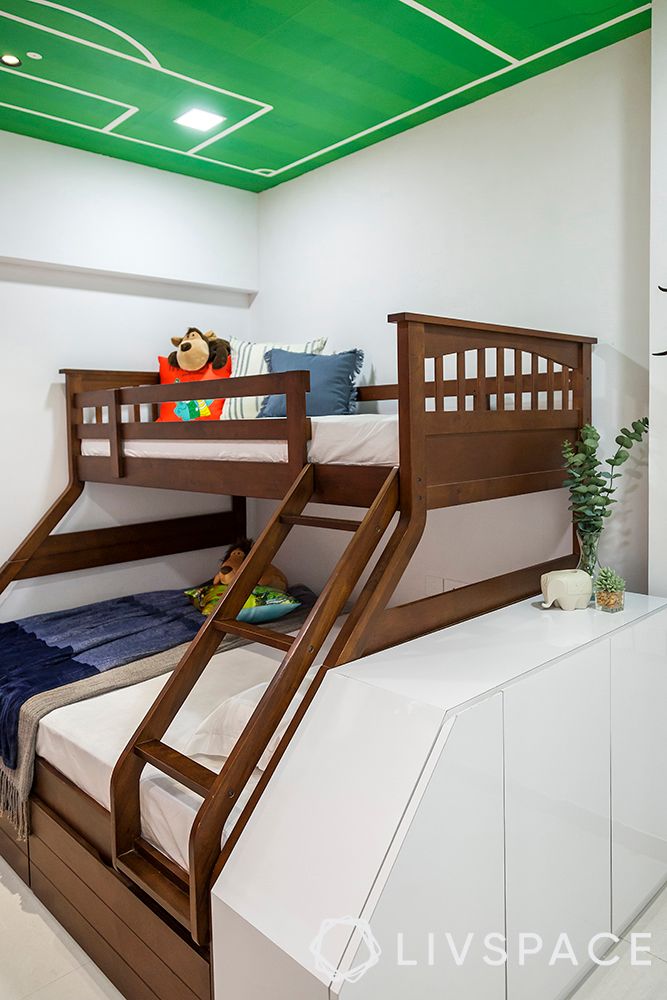 Are you someone who does not want to stereotype colours for kids? Then we suggest you opt for gender neutral colours like green, white and yellow for your kids bedroom. A bunk bed is ideal only for two kids, says who? Take a look at this one. It features a pull out bed underneath, to accommodate a third child.
Trundle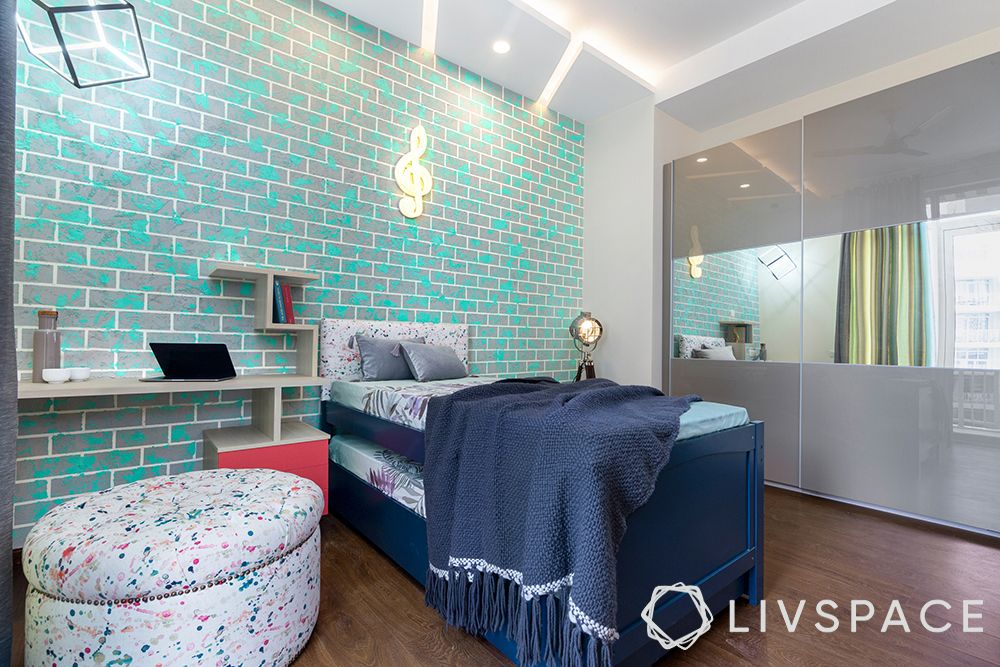 Do not have a corner in the room that be occupied by a bunk bed? Well, we have another idea for you. Get a bed with a pull out that can be used during snooze time. During the day, the floor space can be used as a play area.
Single Beds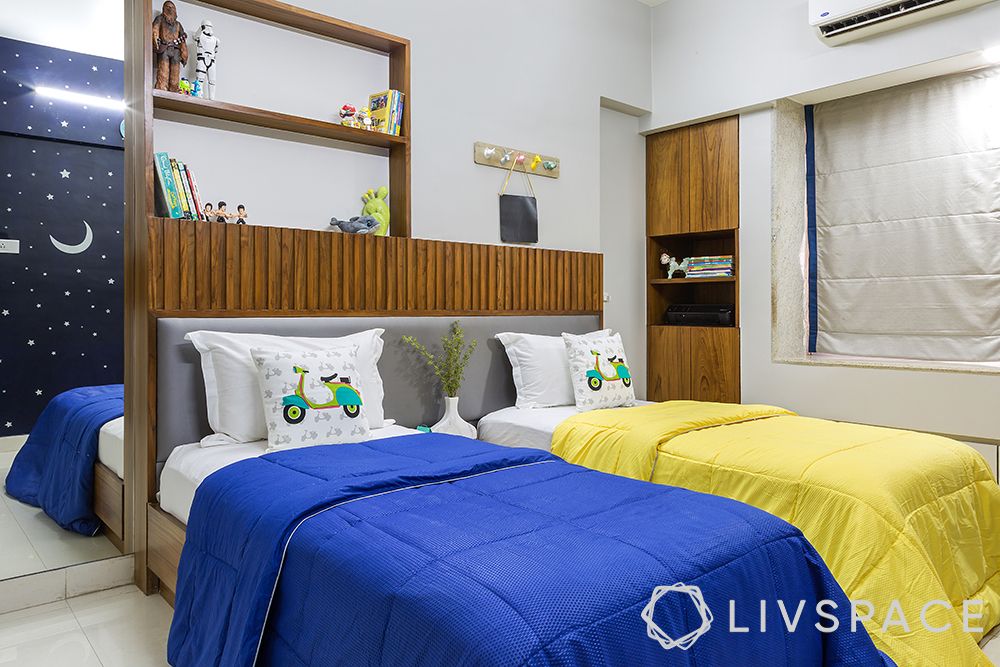 Kids Room Design Idea #3: Sufficient Storage
Under Bed Storage
There is nothing like sufficient storage for kids, isn't it? We understand how messy it can get with kids running around the house, to keep their room tidy. Get your organisation skills on point with extra storage options in their room.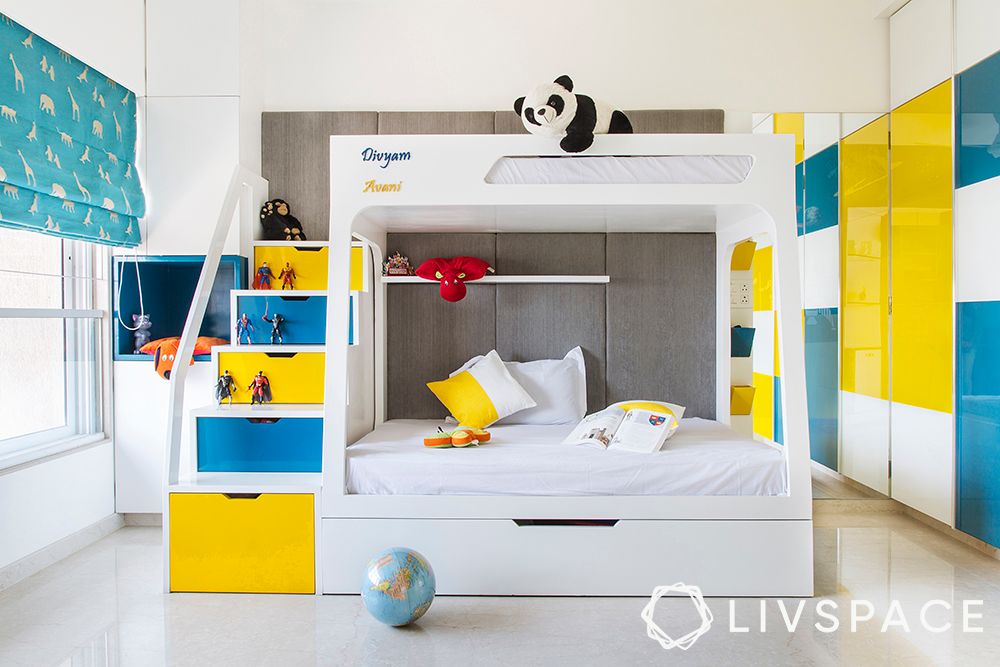 One look at this room and you know it's filled with storage options. Wardrobes and bed equipped with plenty of drawers and shelves are your answer to overflowing toys and books.
Personalised Storage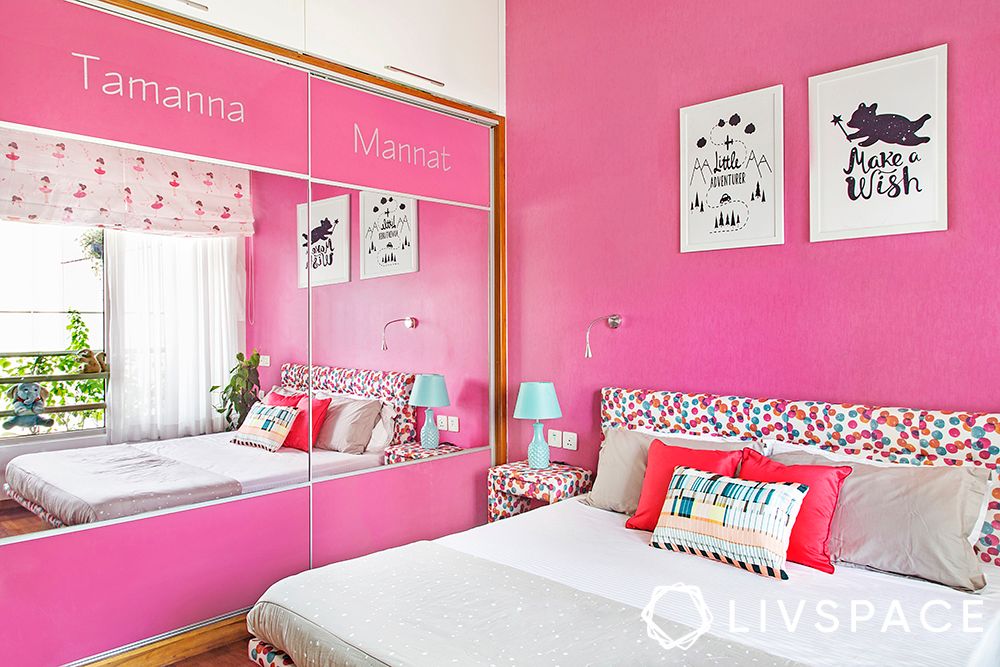 This sliding wardrobe in shocking pink set against a similarly painted wall is such a chirpy idea for a sibling room. Mirror panelling and names etched on the wardrobes is perfect for kids!
Integrated Furniture With Storage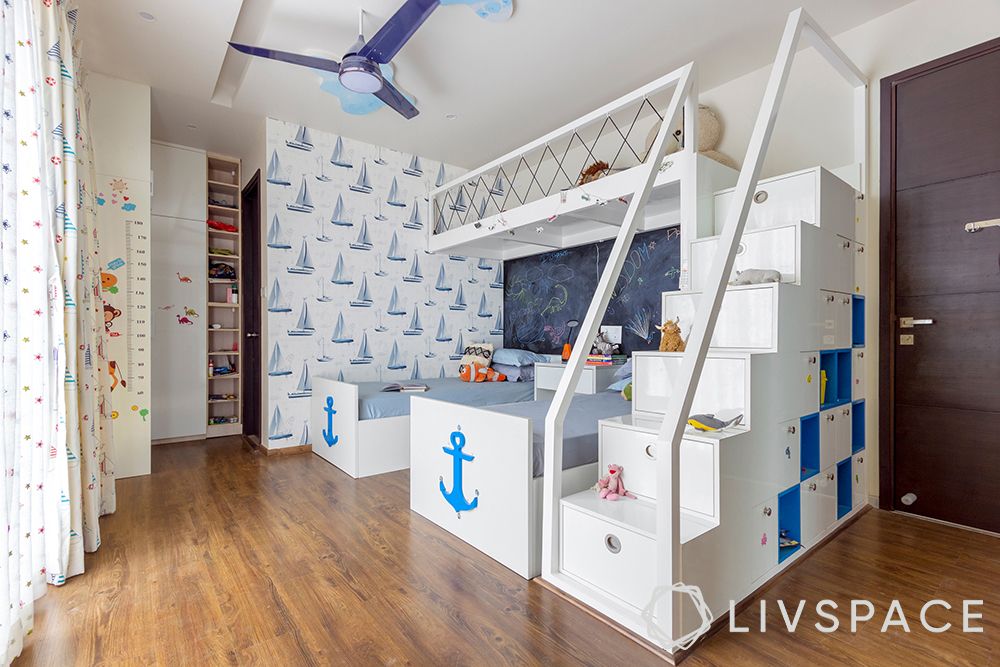 While toys can be stored in the bed drawers, the books can go in the study area. Equip your kids room with an elaborate study, if space permits, and your kid will never complain about less space.
Kids Room Design Idea #4: Side-by-side Study
While your children's room is a personal zone, adding a study is also essential to balance out their schedule. If you don't have a spare room, then make some space in the room itself. You can easily fit in a side-by-side study with enough storage the children can share.
Educational Themes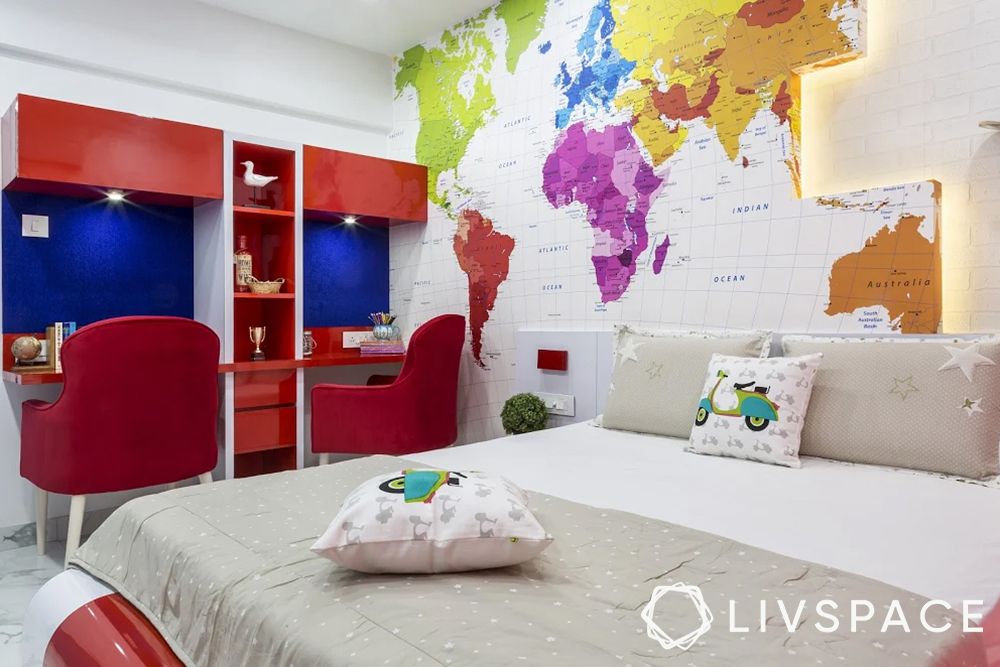 Bright colours of red and blue adorn this study space giving it a intriguing look. And there is a world map too to keep the siblings interested.
Floating Shelves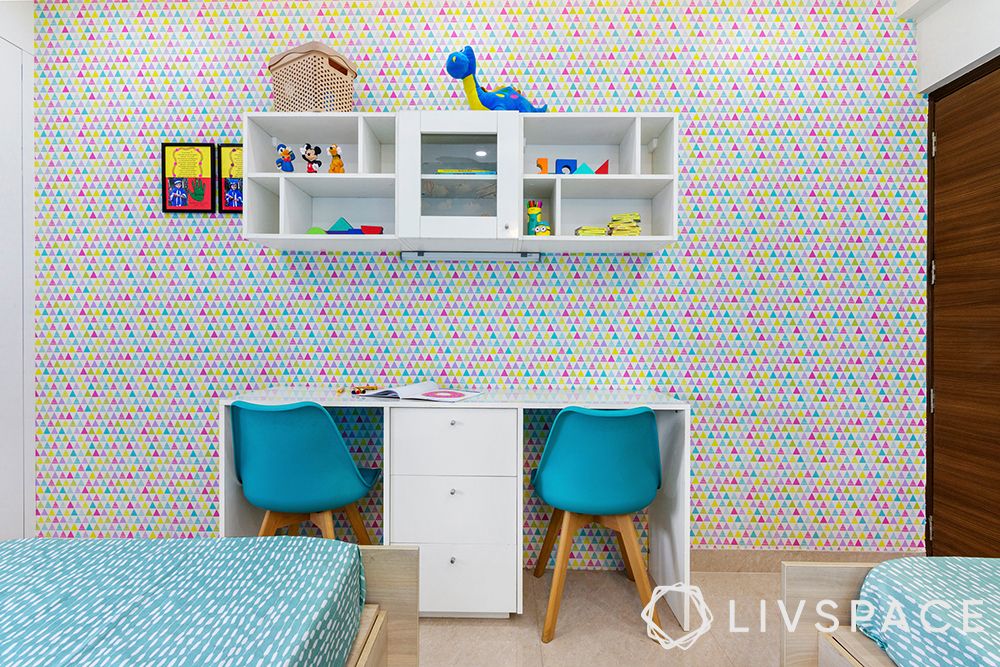 To add an element of interest, you can also go for a white study contrasted with a bright wallpaper. Keep it simple with a clean and contemporary design.
Ergonomous Chairs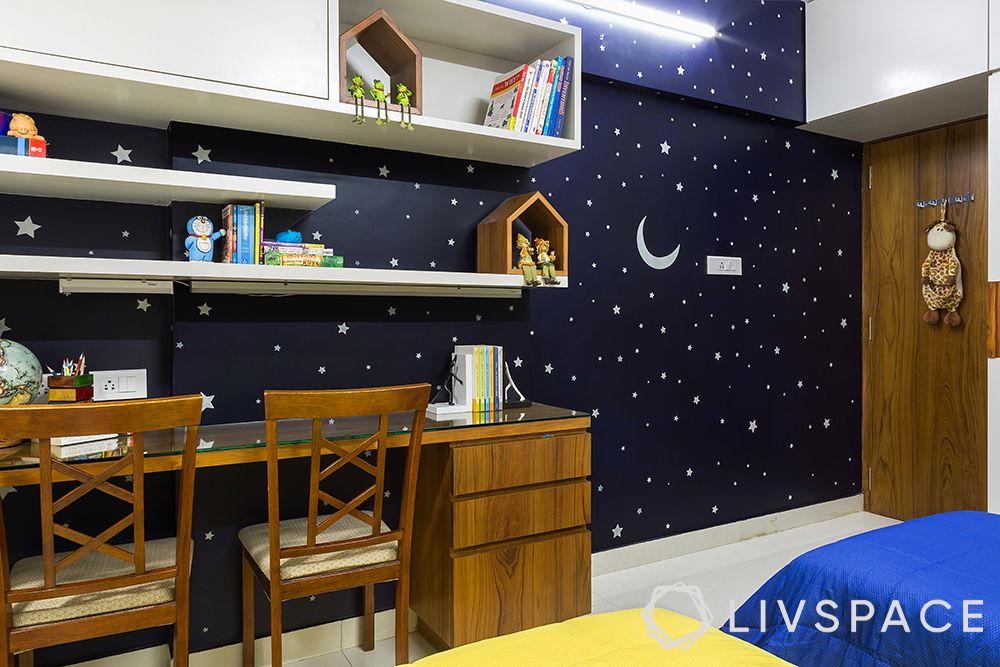 If you feel colour is a distraction, this simple study can suit your kids even when they grow up! Just don't forget to put in chairs of the appropriate height.
Kids Room Design Tip #5: A Dash Of Colour And Activities
A kids room is not like any regular bedroom; it has many functions. Often, kids play and study in this room. So a room for siblings should have some fun activities.
Slide Away
Having a slide in your kids' bedroom is a sure shot way to keep boredom at bay!
Swing It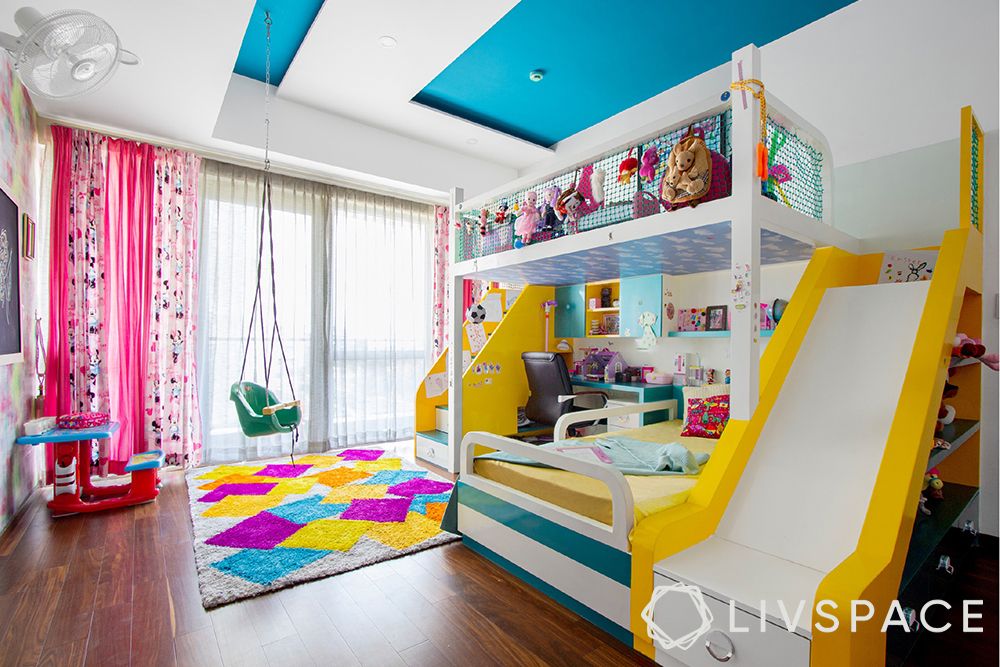 This room goes one step forward and adds a swing too. So while one kids swings, the other can slide.
Adding A Sport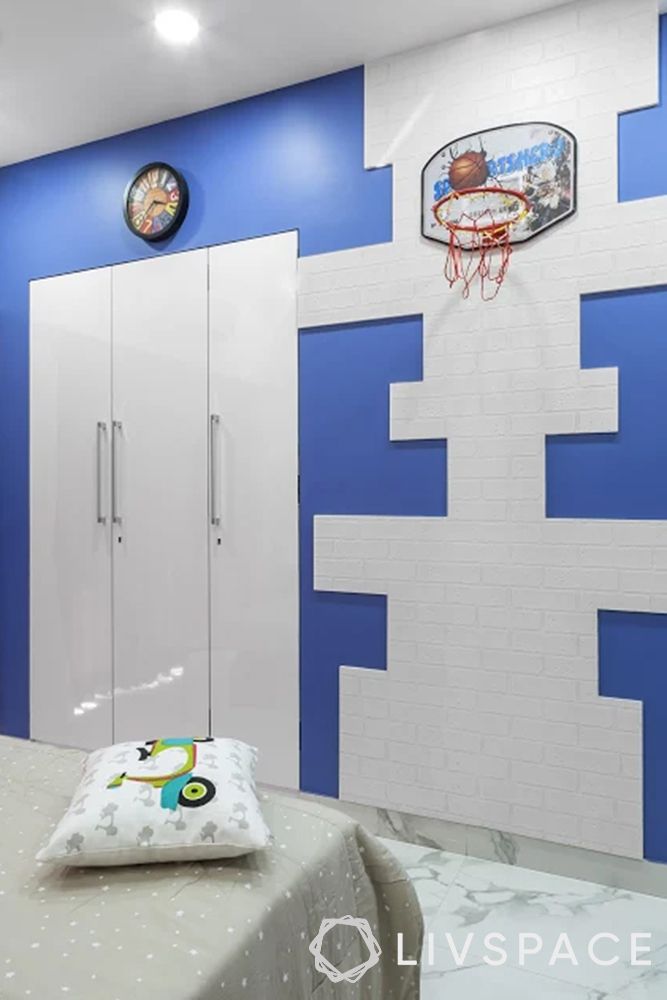 For the teenagers, of course, a basketball hoop or a decal with stumps can be fun for practice.
Give your little ones, whether toddlers or teenagers, a beautiful place to share with their sibling. Make sure you pay attention to their preferences to give it a personal feel. If you still want more ideas, we have 50+ designs you can recreate at home.
Send in your comments and suggestions!