A shared kids' bedroom is constantly buzzing with activity, reflecting their evolving personalities. It might seem like a daunting task to create a space that fosters bonding and also gives them privacy, but with a little bit of thought and effort, you can do just that. Here are some tips to help you create a harmonious shared space for both your kids.
1. Allow for privacy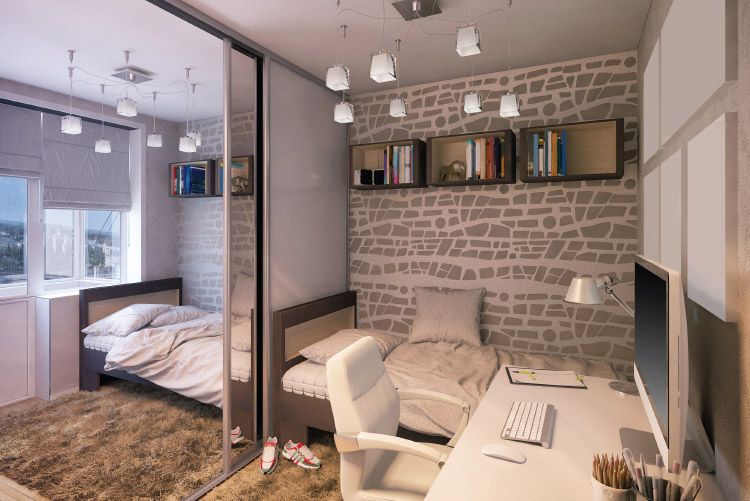 It is important for siblings to feel like they have their own space in a shared bedroom. The easiest way to do this is with curtains. Install them to separate beds or to separate the sleep area from the study or play area.
Even bunk beds can have curtains on each tier for privacy. If you want to infuse the room with a sense of adventure, go for canopied four-poster beds or install a small, make-shift teepee or playhouse that works as a reading nook.
An open shelf can also act as a divider. If the room is large enough, use bookshelves as partitions and paper one side to make it look like a wall.
However, if you want to create an effective sound barrier, opt for pocket or sliding doors.
2. Choose styles that last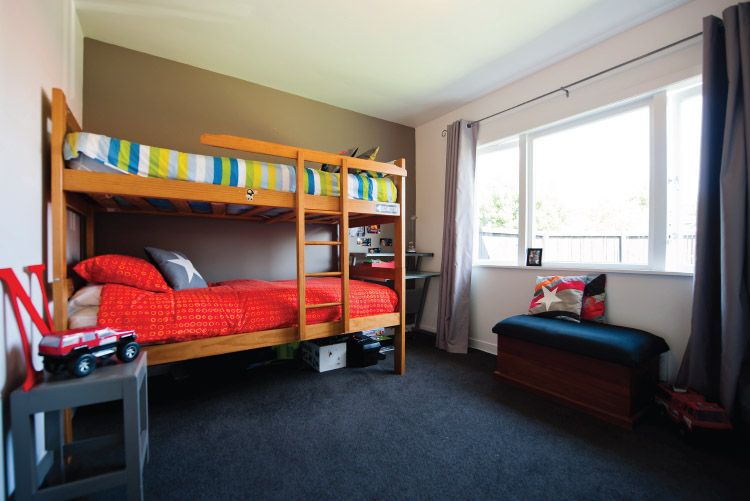 No matter what furniture or theme you choose, make sure it can grow with your child. Your children's tastes are bound to change with age so pick items that don't require you to completely rearrange the room.
For example, a neutral-hued room can be given a makeover with differently colored accent pieces every few years. But your kids might eventually outgrow bold colored walls like pink or orange and cartoon art.
3. Invest in storage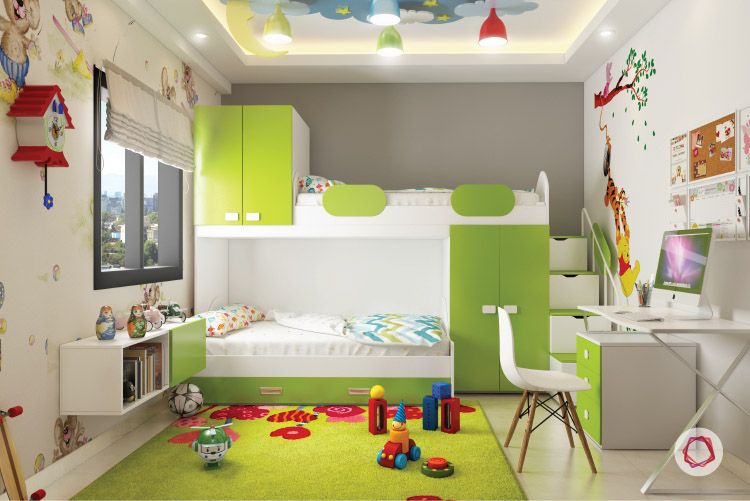 Since you need to accommodate twice the amount of stuff in one bedroom, have a place for everything – shelves for books, bins for large toys, wall or door hooks for hanging clothes, storage under the bed for blankets, quilts etc. This leaves plenty of floor space for clowning around.
Invest in space-saving, streamlined, light furniture such as bunk beds, see-through cabinets or open shelves to do away with clutter. This gives the room a light and airy look.
You can also make storage a decorative focal point. For example, have their initials tagged on drawers or get them painted to demarcate areas.
4. Make common areas accessible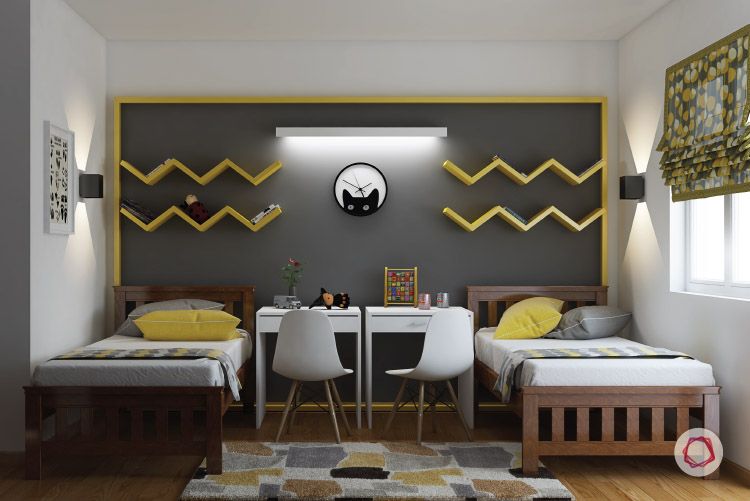 Before you start laying out the furniture in a room, ensure that both siblings have equal access to common areas such as the bathroom, balcony etc. The same principle applies if they are sharing the dressing table or a large bookshelf.
Having common areas is a good way for fostering bonding as well. For example, a perpendicular bed arrangement makes way for easy conversations. Add a nightstand in between to provide a surface for a lamp or storage for knick knacks for both siblings.
5. Pulling a theme together
When you are mixing up interior decor styles across age and genders, problems can arise.
Choose non-generic, gender-neutral color combinations like white and grey, turquoise and yellow etc. Alternatively, you can use the same colors across the bedroom and personalize corners with monogrammed pillows or reversible duvets of their favorite colors.
You could also have different accent walls or wallpapers. Mix furniture and showpieces to bring out each child's personality to create an eclectic look. Keep an eye out for items like mats, curtains, cushions, towels to work with the theme as well.
Lastly, since it's a shared bedroom, include photographs that show your kids growing up together or have a bulletin board where they can pin-up photographs and craftwork to unify the space. Also, don't forget to include them in the process. Their creativity can often lead to surprisingly beautiful results for the shared bedroom.