Picking out the furniture for your kid's room is always exciting! You've got a range of bright colours and fun designs to choose from. But what about storage space for all those clothes, toys and lots of other random objects that are typically scattered around the room? And what about those nights when it's your turn to host a slumber party for your kid's friends?
We have two words for you: creative furniture!
Here are ten of our latest innovative kids' furniture from the Livspace catalogue that are an answer to your storage woes!
Kids Room Furniture #1: Amelia Hydraulic Bed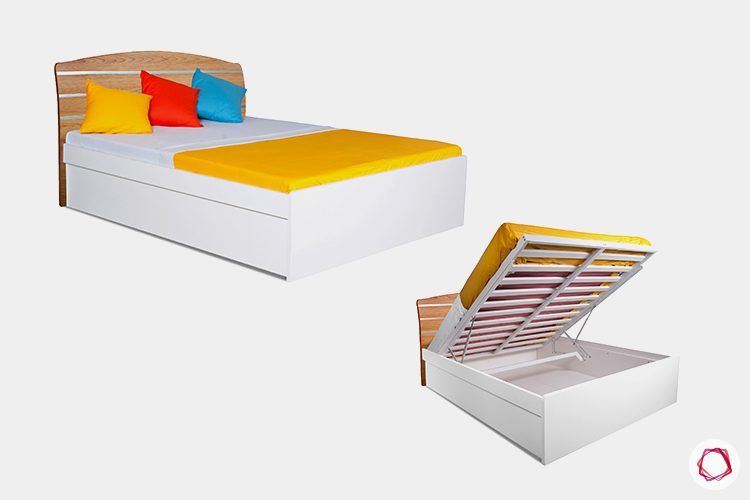 Lounge in the comfort of this inviting queen size bed! The raised slatted headboard ensures a firm and comfortable support to rest against during bedtime reading sessions. It comes with a hydraulic lift so you have a roomy storage compartment to tuck away blankets, linen and pillowcases. The bed also has no sharp edges – perfect for your kid to roll around in!
Kids Room Furniture #2: Orlando Bed with Trundle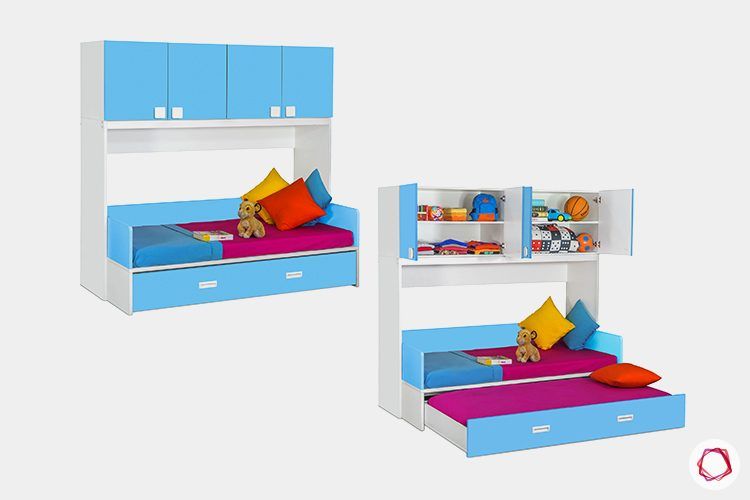 This space saving bed with a trundle conveniently pulls out and converts into another bed to accommodate your kid's slumber party friends as well. It also has storage on the top to keep their toys, clothes or books. This is a great option for cozy homes or if you're looking to squeeze in more space around your place.
Kids Room Furniture #3: French Collection Corner Study Table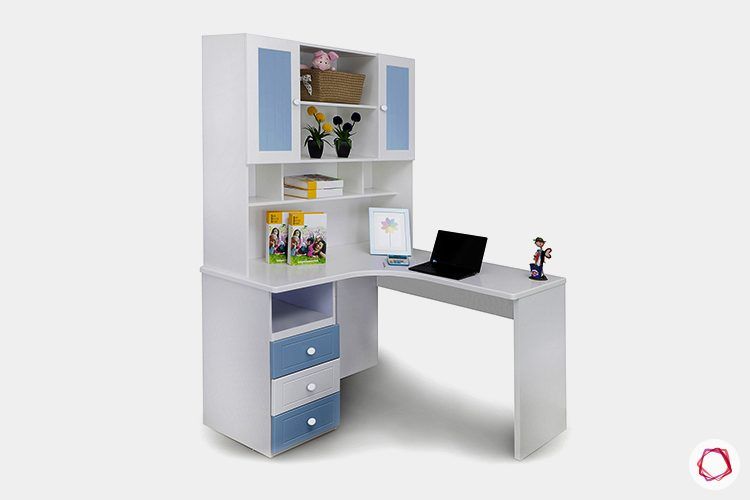 This blue and white study table makes a sleek addition to any kid's room. With cabinets, drawers and open shelves, it offers plenty of space for all your kid's workstation essentials. The table surface is also wide enough for all their colouring and crafting needs.
Kids Room Furniture #4: Milano Bunk Bed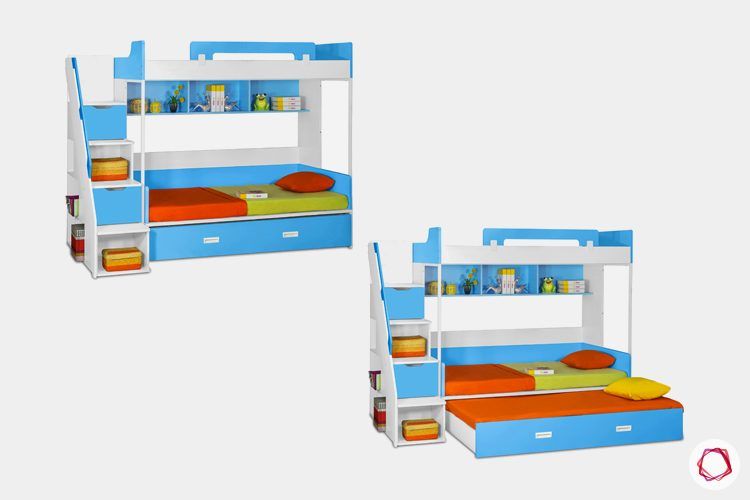 Looking for a three sleeper bunk bed for your kid's room? The Milano bunk bed is your answer! With its stylish four step storage staircase and plenty of built in shelves, this makes it an ideal space saver for your children. Also, you can easily transform the beds, trundle and staircase into separate units as well.
Kids Room Furniture #5: Elray Bunk Bed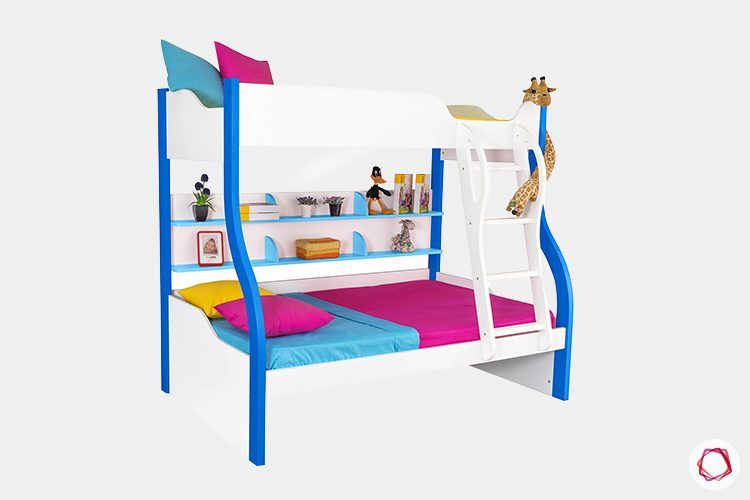 The colourful Elray bunk bed makes a cheerful sleep environment for your children. With lots of open shelves for your child's toys and other knick-knacks,this creative bed can easily perk up any room! It also has a ladder with two handles on either sides, so your children can safely climb up and tuck themselves into bed.
Kids Room Furniture #6: Montana Loft Bed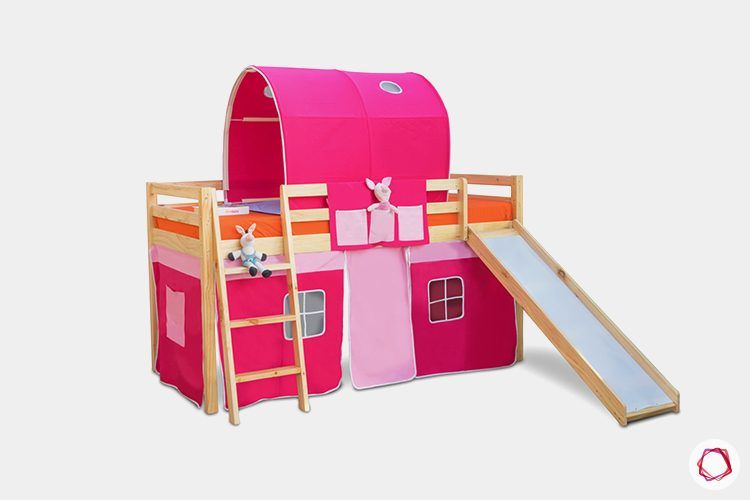 This bed works great for children who can't get enough of playtime. They get to climb into bed and slide right down! It features a loft bed with a tent, tower and a fun slide. he cozy tent area below the loft bed can be used for play time, or for storage or can even place another mattress over there for sleeping.
Kids Room Furniture #7: Milano Bunk Bed with Study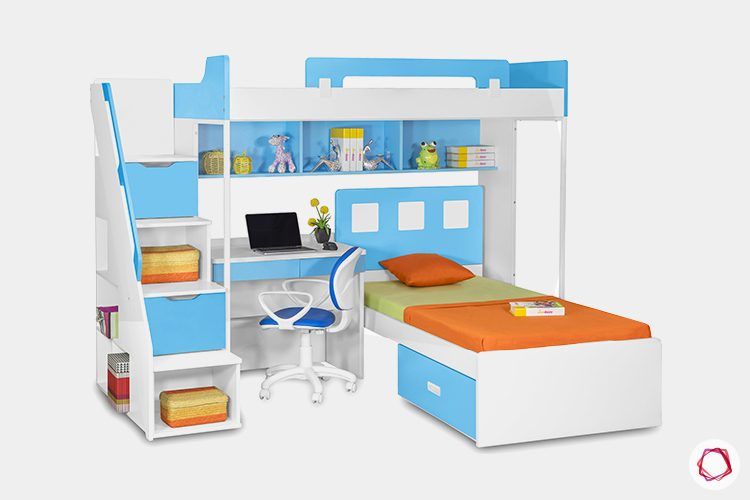 You can't go wrong with this all-in-one bunk bed set. With a bed on top and at the bottom and pull-out drawers, this makes it an ideal space saver for your children. Even the staircase has spacious drawers for you to keep essentials. It comes with a revolving chair that perfectly blends with the entire set.
Kids Room Furniture #8: Orlando Twin Bed with Drawers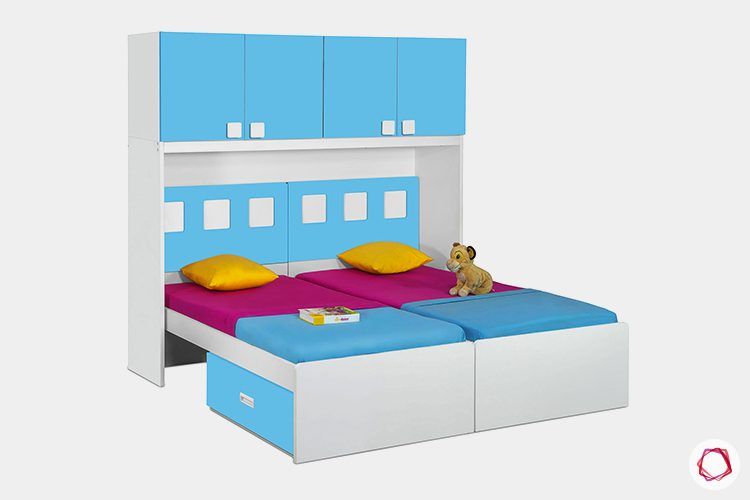 With pastel tones and comfy headboards, the Orlando dual bed will make a great addition to your kid's bedroom. Spacious pull-out drawers on both the sides provides ample storage for storing clothing, toys and other items. It also comes with huge storage on the top. You can separate the bed into two individual single beds from the storage cabinets.
Kids Room Furniture #9: Oslo Bunk Bed with Drawer Storage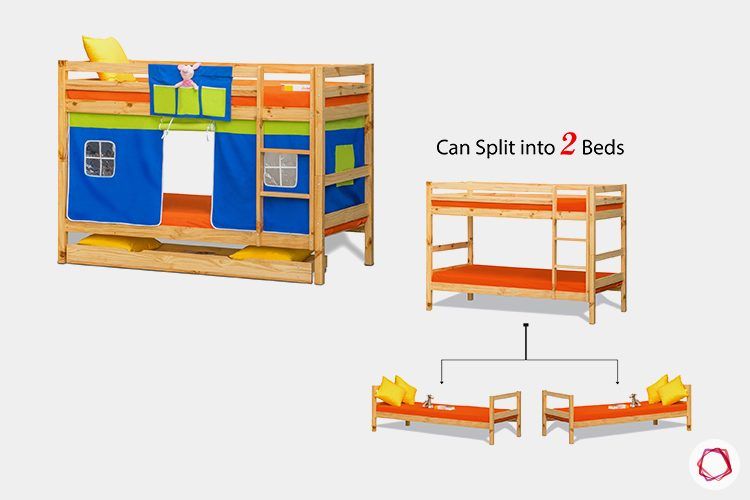 Here's a bunk bed that your kids will refuse to come out of! Furnished with colourful curtains and a Peakaboo window, the bed almost looks like a bright playhouse. And the best part is that you can easily separate the bunks into two individual beds. The sturdy ladder can be detached and fitted in any way to best suit your space.
Kids Room Furniture #10: Bailey Sliding Door Wardrobe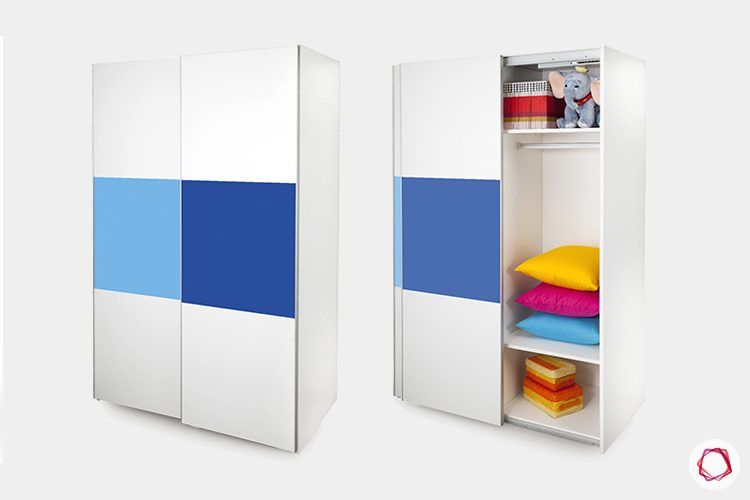 Here's a wardrobe that's got style and storage spot on! The Bailey wardrobe provides ample room to store and organize all your child's belongings — think clothes, toys and more. The distinct square pattern on the sliding doors, in an analogous color scheme, adds to a visually striking effect as well.
Like what you saw? You might want to look at these for inspiration as well: Shared Kids' Room Designs for Siblings
Keep your comments and suggestions coming in!