Bathroom ideas in terms of design are dependent on various factors such as the size, shape, location and function of the space. In fact, most of us place bathrooms into categories based on size; big and small bathrooms. Another way to classify them is by placement: attached or not attached bathrooms. However, if we were to categorise bathrooms by function, they fall under the following groups.
What are three different types of bathrooms
#1: Master Bathroom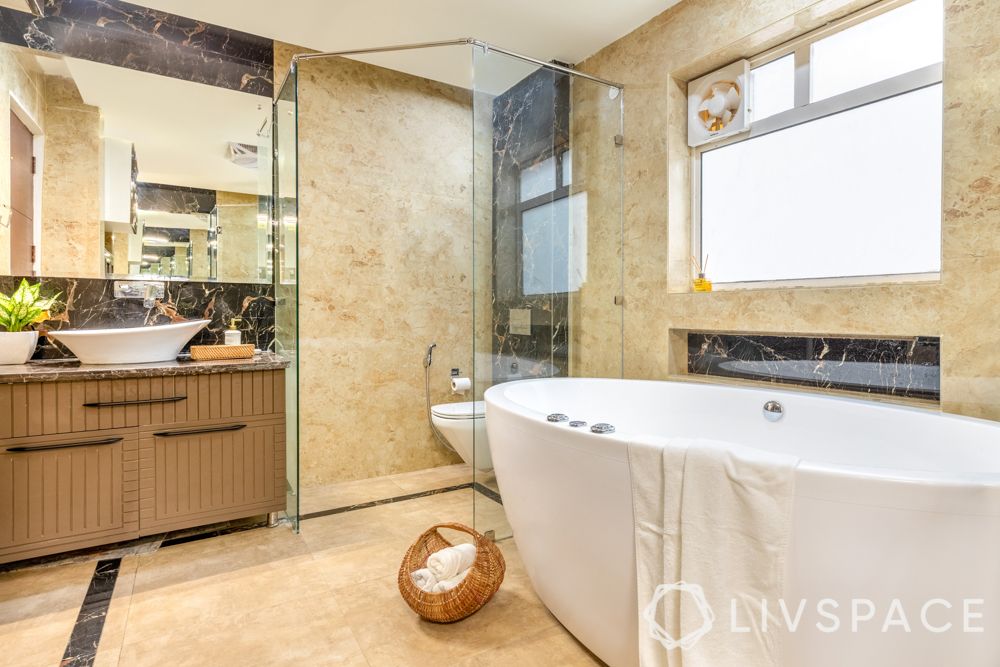 Location: It will be found attached to the master bedroom.
Function: It is meant for privacy and a certain measure of luxury since it is the largest bathroom in the house.
Scope: Typically, this would be the bathroom where you install a bathtub or a special shower cubicle. In fact, it would probably have two basins and storage for 'him' and 'her'. Moreover, most people invest in ambient lighting and special vanity counters for their master bathrooms.
#2: Secondary bathroom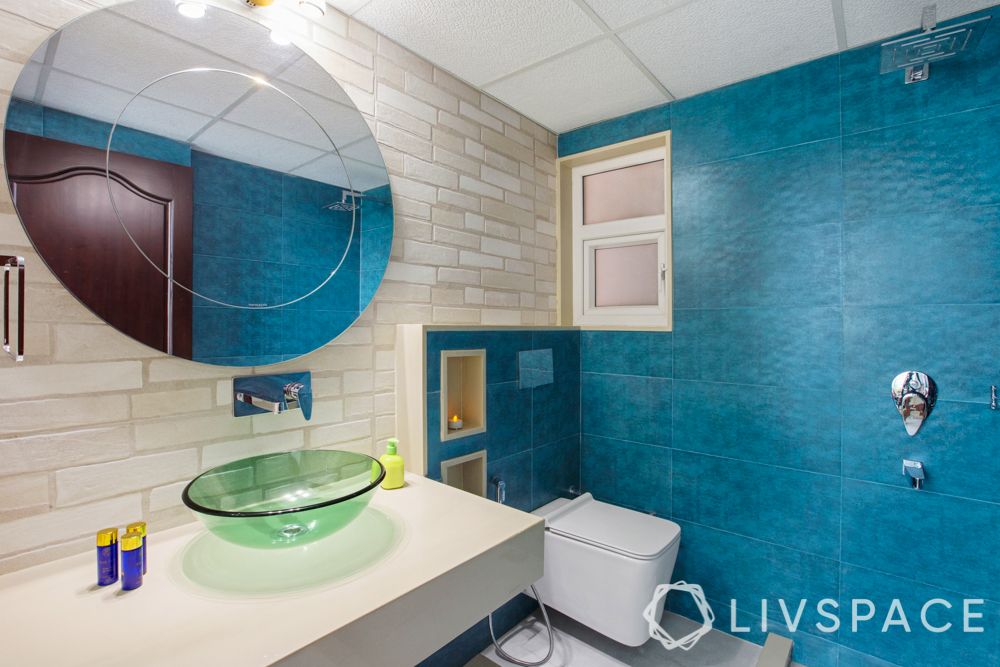 Location: It could be attached to the second bedroom (not the master bedroom).
Function: This bathroom is shared by kids or other family members. It is smaller than the master bathroom.
Scope: The scope of this type of bathroom depends on who is using it. If it is being shared by one or more kids, you could use bright colours, funky shower curtains and shelves that are reachable for children. However, if it is used by elderly members of the family, your bathroom ideas should include safety features like anti-skid tiles, handlebars and optimum lighting.
#3: Powder room/Half bathroom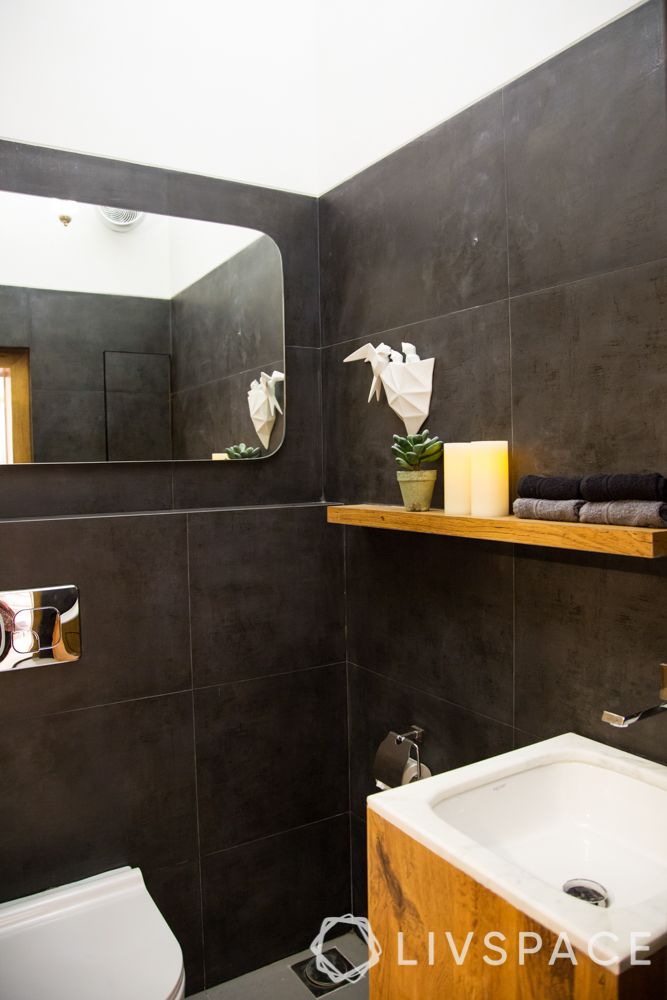 Location: This type of bathroom is located in the common areas of the house adjoining the living or dining room.
Function: It is meant to be used by guests to freshen up. Powder rooms are usually half the size of regular bathrooms.
Scope: A half-bathroom usually has an elaborate vanity unit complete with task lights. It also has a toilet pot. Showers or bathing areas are absent in these bathrooms because they don't serve any purpose here. Also, you might get to see fancy basins and plush tiles in powder rooms as they are meant to be used by guests.

Here are the best bathrooms designed by Livspace to inspire you…
#1: His and Her basin as well as storage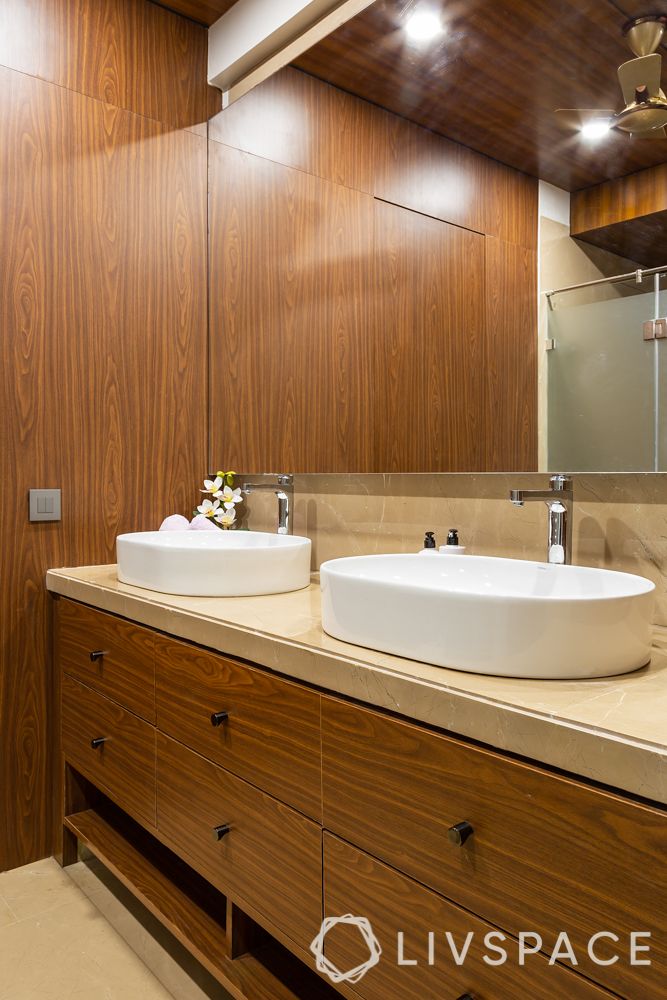 Type: Master bathroom
This dual 'his' and 'her' basin concept is one of the best bathroom ideas that fit into the scope of the master bathroom. It is designed for a couple who have their own basin and storage area underneath. In fact, the two sinks ensure that hurried mornings don't lead to a fight for the mirror.
#2: Accent wall behind basin
Type: Powder room
Powder rooms are usually designed to impress. So, don't be surprised if you find a snazzy statement wall with colourful patterned tiles on one of them. Moreover, the basin here is cut out of a single slab of rock. Impressive, isn't it!
#3: A marble basin with task lighting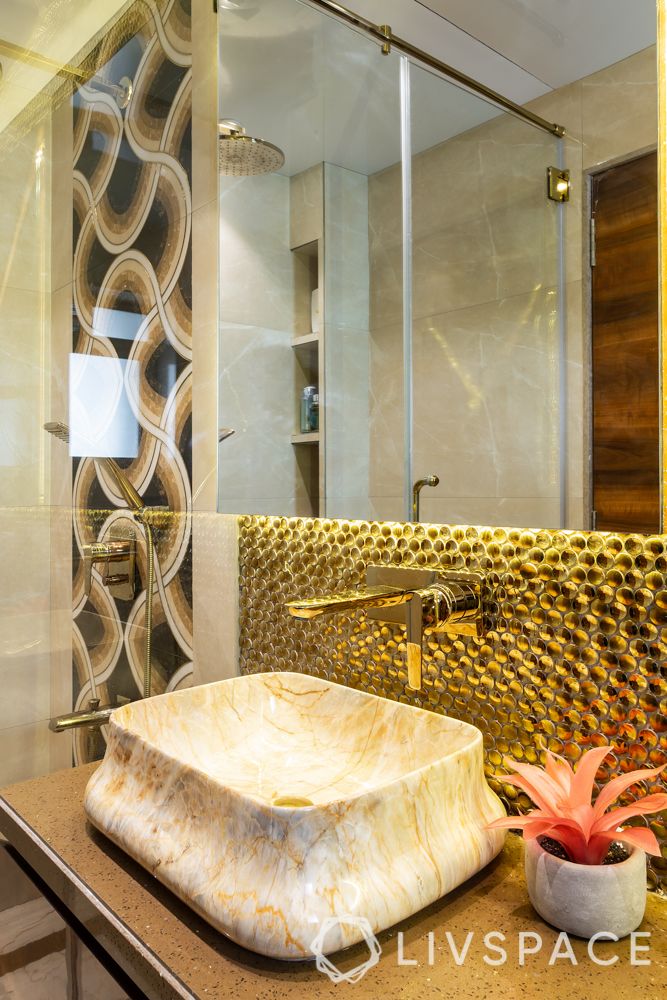 Type: Master bathroom
A plush marble basin like this one is definitely one of the most befitting master bathroom ideas. Most homeowners tend to spend the most time in the master bathroom. Naturally, they might want to incorporate a pretty basin like this one along with metallic tiles in their biggest bathroom.
#4: Storage carved out of the wall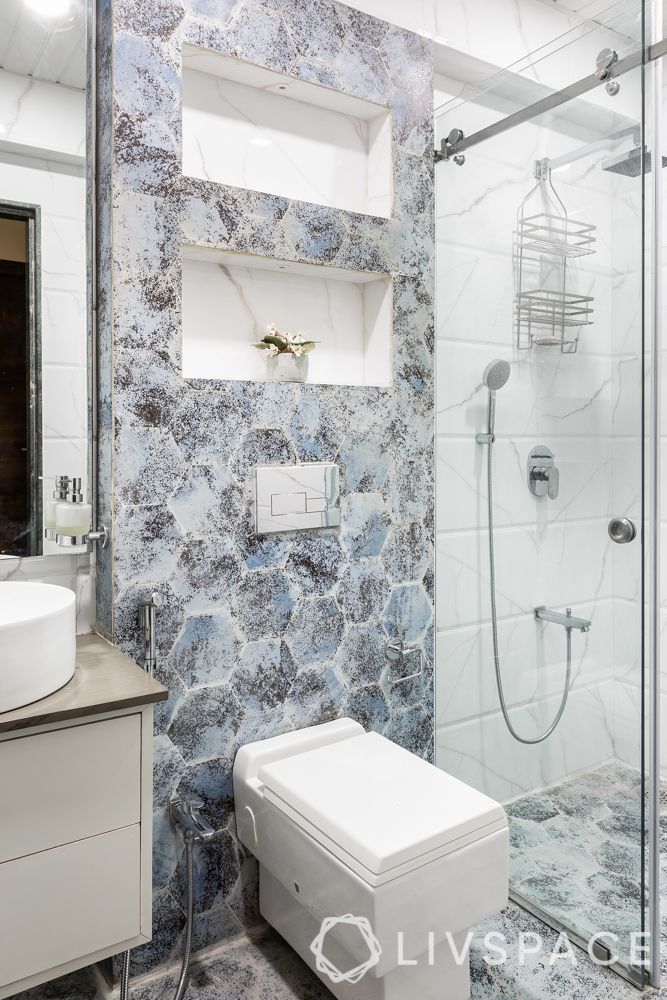 Type: Secondary bathroom
Secondary bathroom ideas are typically the most practical of the lot. So, a storage niche carved out of the wall, just above the toilet, is perfect for such bathrooms. You can also see this as a space-saving idea for compact bathrooms.
You can also explore how we at livspace design compact bathrooms differently, here.
#5: Big moon mirror with pendant light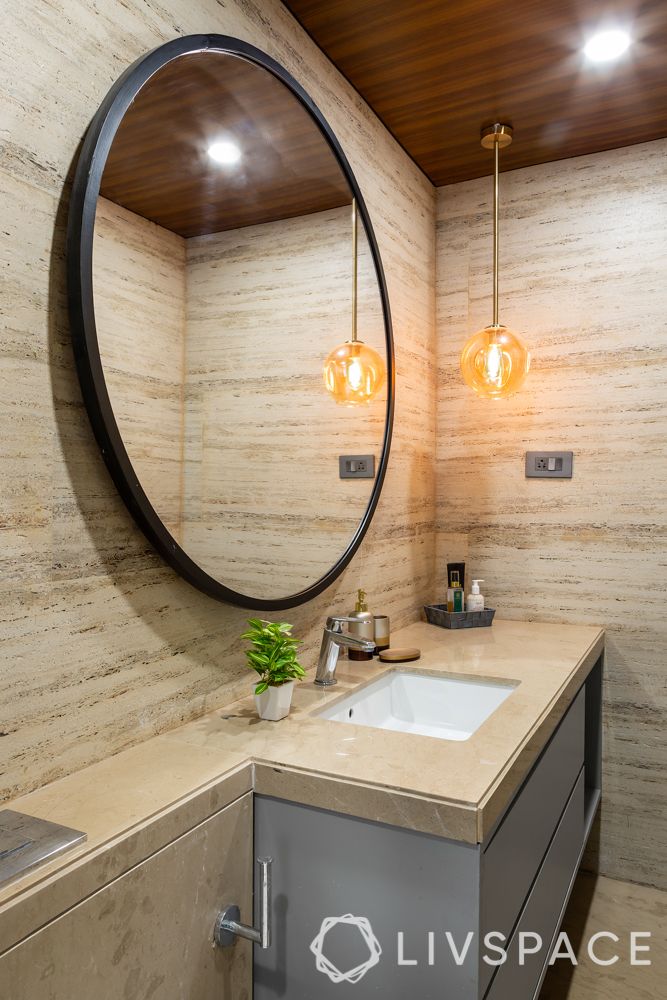 Type: Powder room
The main purpose of a powder room is freshening up. So a large round mirror like this one is perfect for a lady friend to retouch her makeup. Additionally, don't miss the pretty pendant light in the corner brightening things up!
#6: Display shelves with portrait lights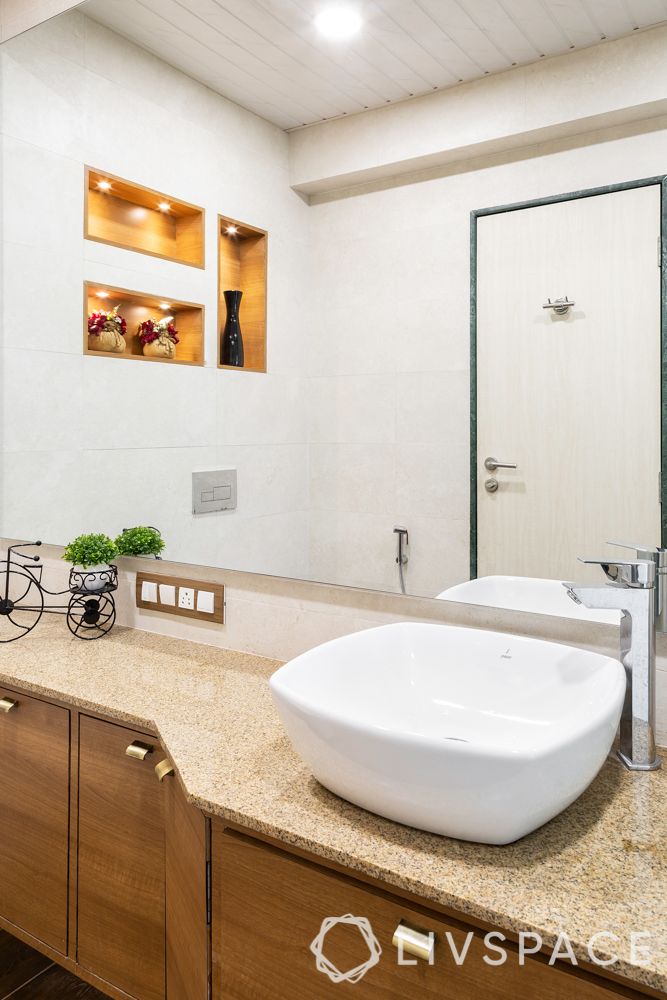 Type: Master bathroom
While we find these dainty scooped niches with portrait lighting in a master bathroom here, they will not be out of place in a powder room either. In fact, such spaces are excellent for keeping potted air-purifying plants or diffusers with aromatic oils.
#7: Backlit glass ceiling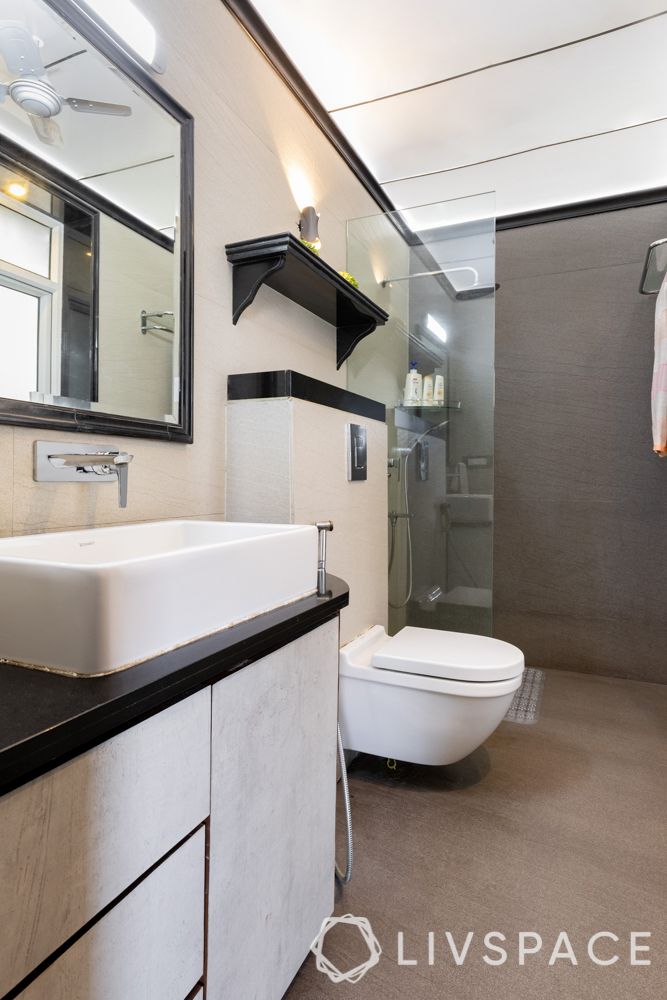 Type: Secondary bathroom
If the secondary bathroom is being used by elderly people, having extra light coming in from the ceiling is a great idea. A glass ceiling with backlighting brightens up the entire length of the bathroom at once. Also, don't miss the practical wedge shelves and the vanity counter with plenty of storage space.
#8: Profile lighting for vanity mirror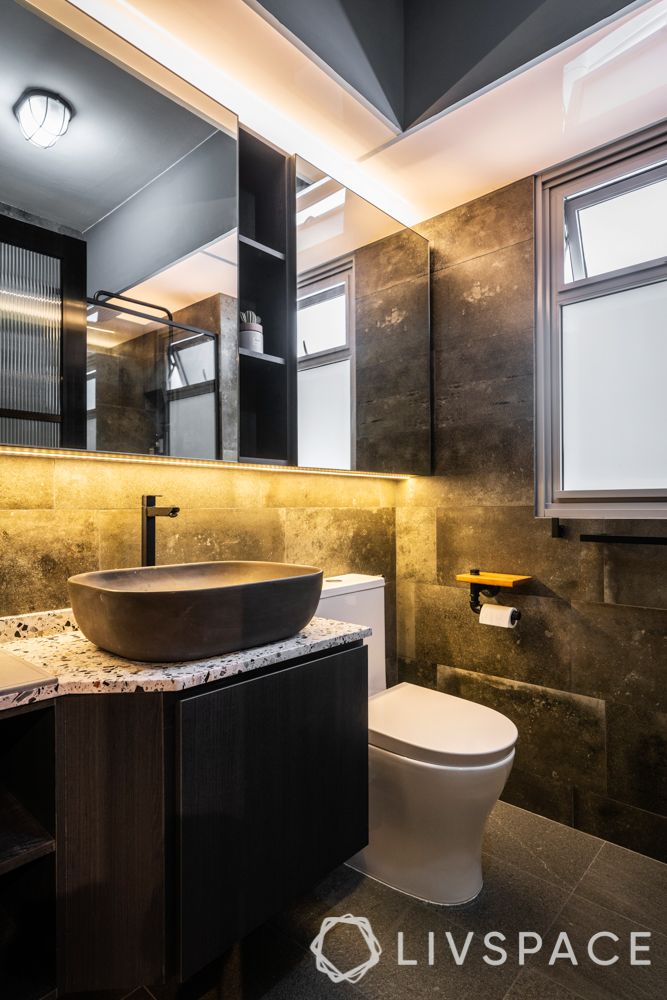 Type: Secondary bathroom
In case you haven't noticed, the long mirror frames you see here are actually shutters to a massive wall-mounted vanity unit. There is storage behind those mirrors that is carefully masked by the profile lighting. In addition, this could be one of the best bathroom ideas for a secondary bathroom.
Now that you know what are the different types of bathrooms, you can learn how to simplify bathroom design with these easy rules.
Send in your comments and suggestions.