Whether you have a spacious bathroom or a tiny room with barely enough space to scrub, a good design can make your mornings infinitely better. We have a collection of bathroom designs that ace in aesthetics and functionality with ample storage ideas for a stylish bathroom. Take a look at our collection!
Bathroom Designs #1: Aesthetics
A lot of people are opting for high-end interiors for their homes, and increasingly designing their bathrooms, too. Aesthetics are essential and having a bathroom that stands out, even more so!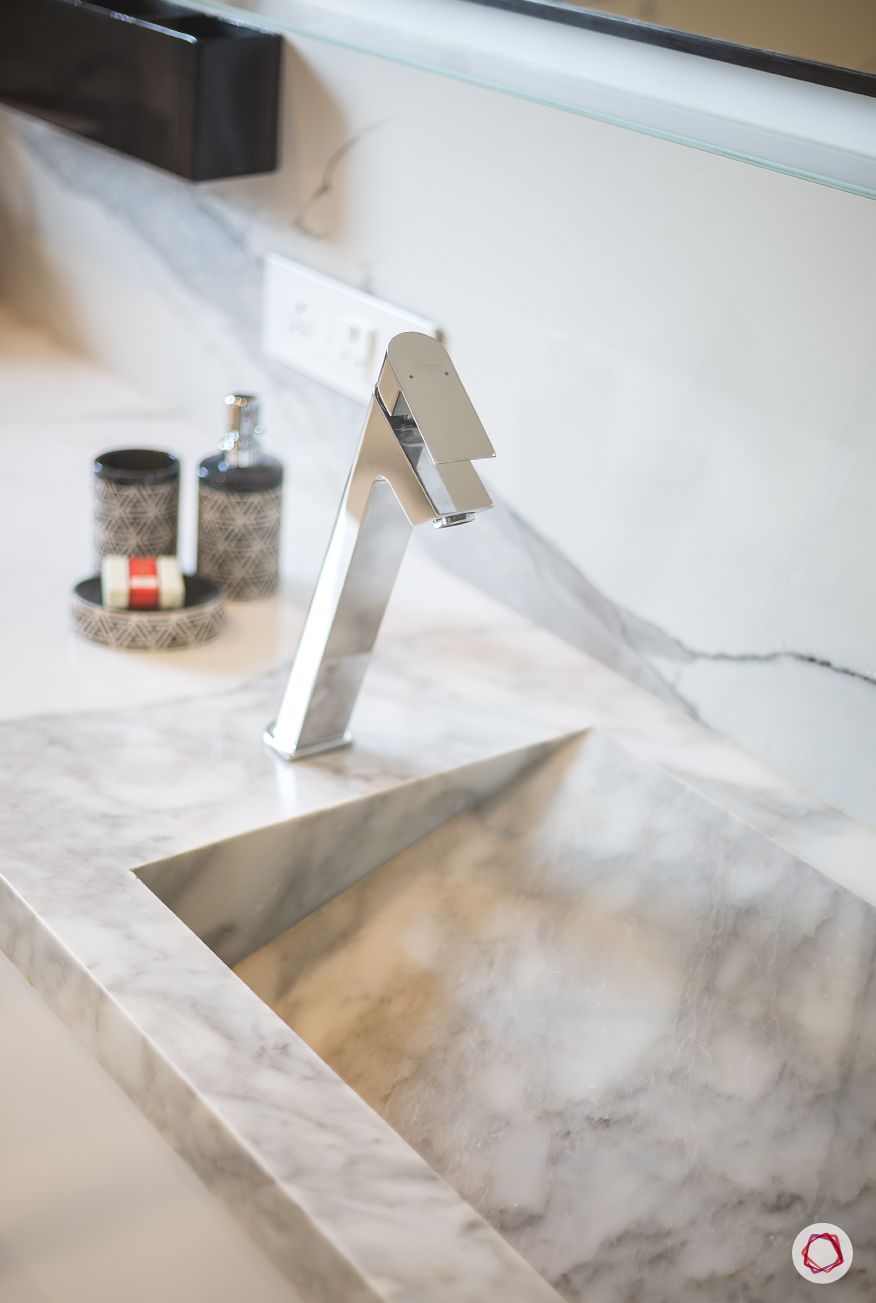 A stylish sink is a fool-proof method to amp up the style quotient. Bring in a contemporary faucet design to complete the look. Sleek and sophisticated, we're sure your guests will appreciate your taste even if they enter only to wash their hands.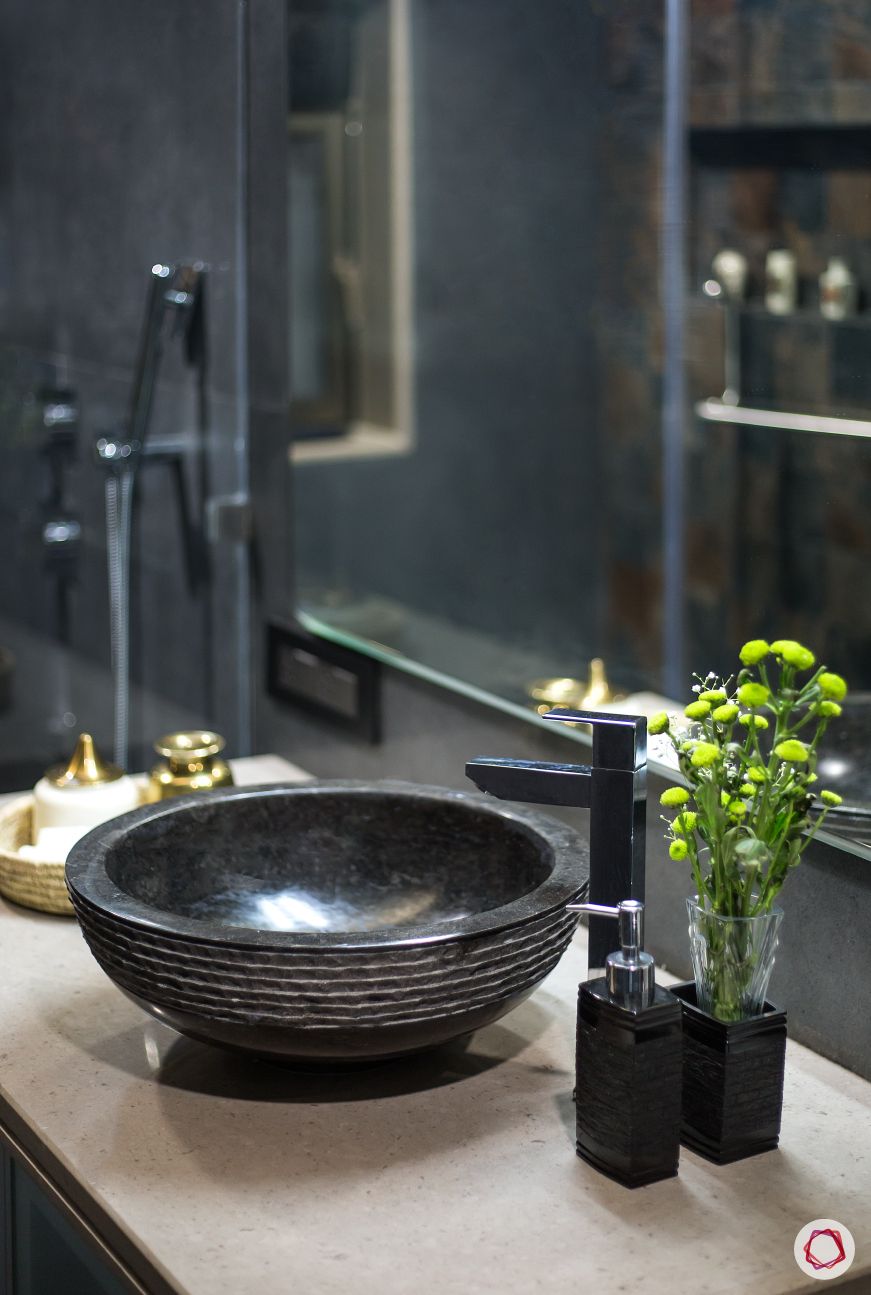 Vessel sinks give your bathroom a luxurious look. This bowl has a concrete finish in black making it blend perfectly with the overall look. With the right lighting option, your home can also pull-off this look.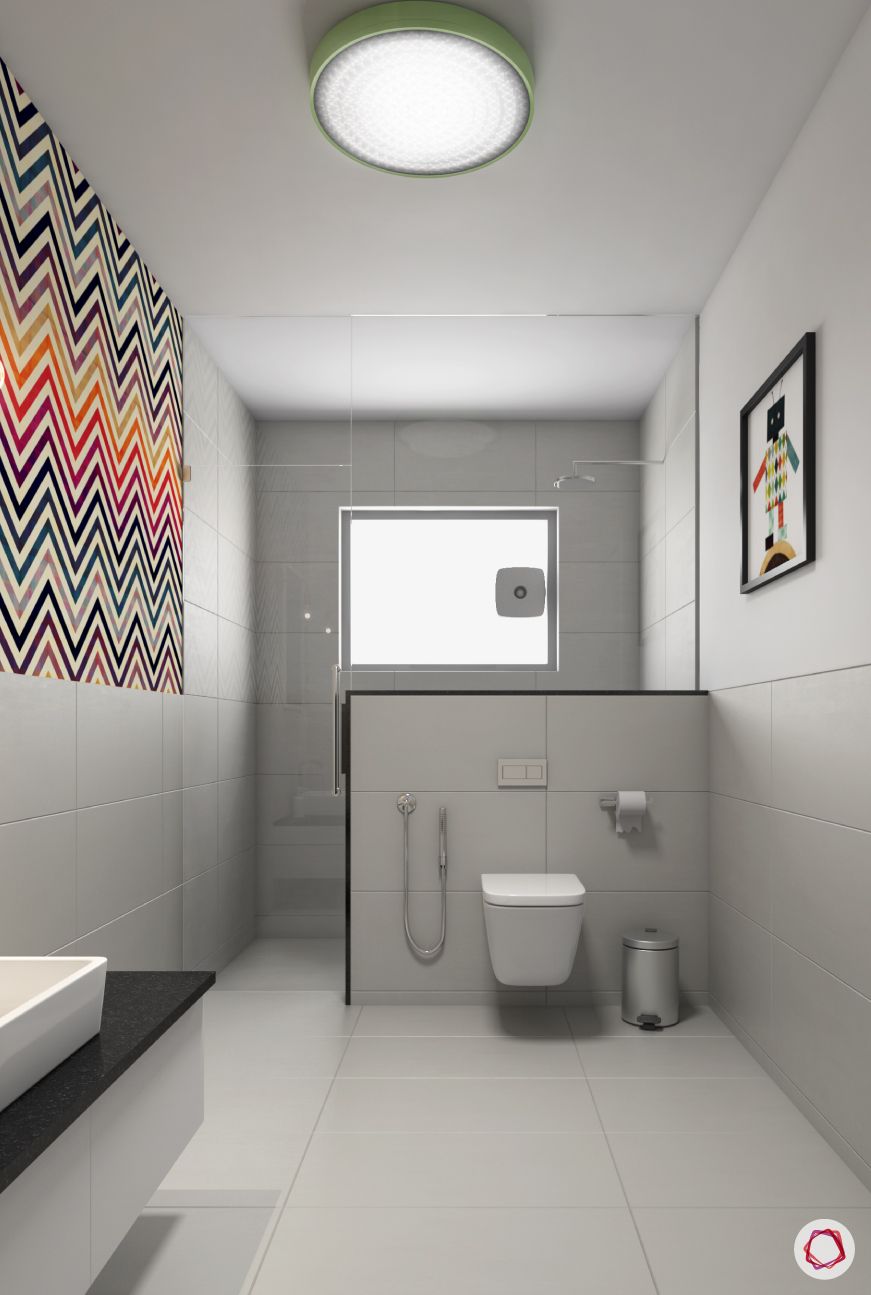 One smart way to create clean lines is to add a partition. Here, the design saves on space by attaching the toilet to the partition. A win-win situation when you add a multi-coloured abstract wallpaper to make the otherwise dull space pop.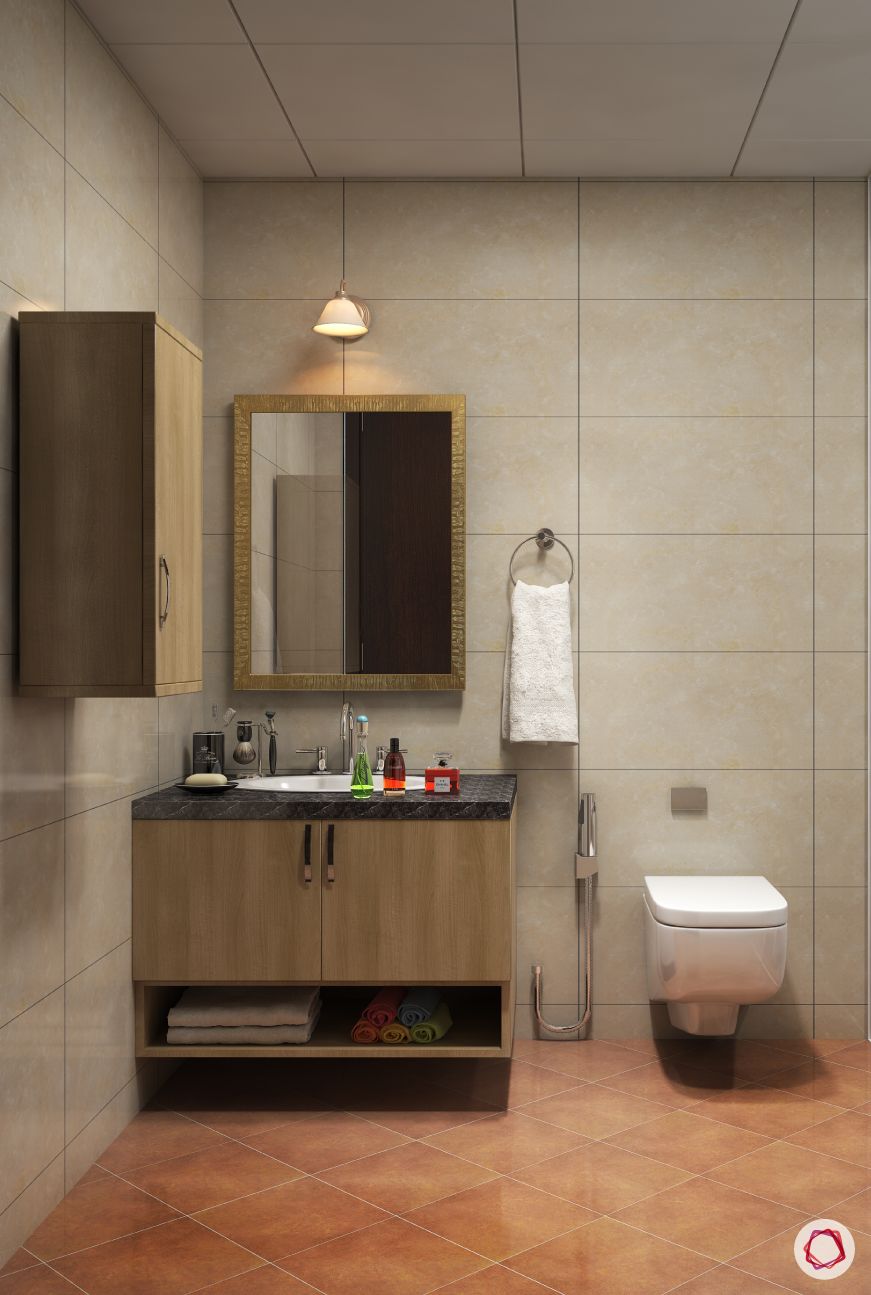 Storage also makes your life easier but don't just stick to vanities under the sink. Here, a wall-mounted unit offers more storage to hold your accessories and toiletries where as the sink unit can hold all the towels and bath apparels.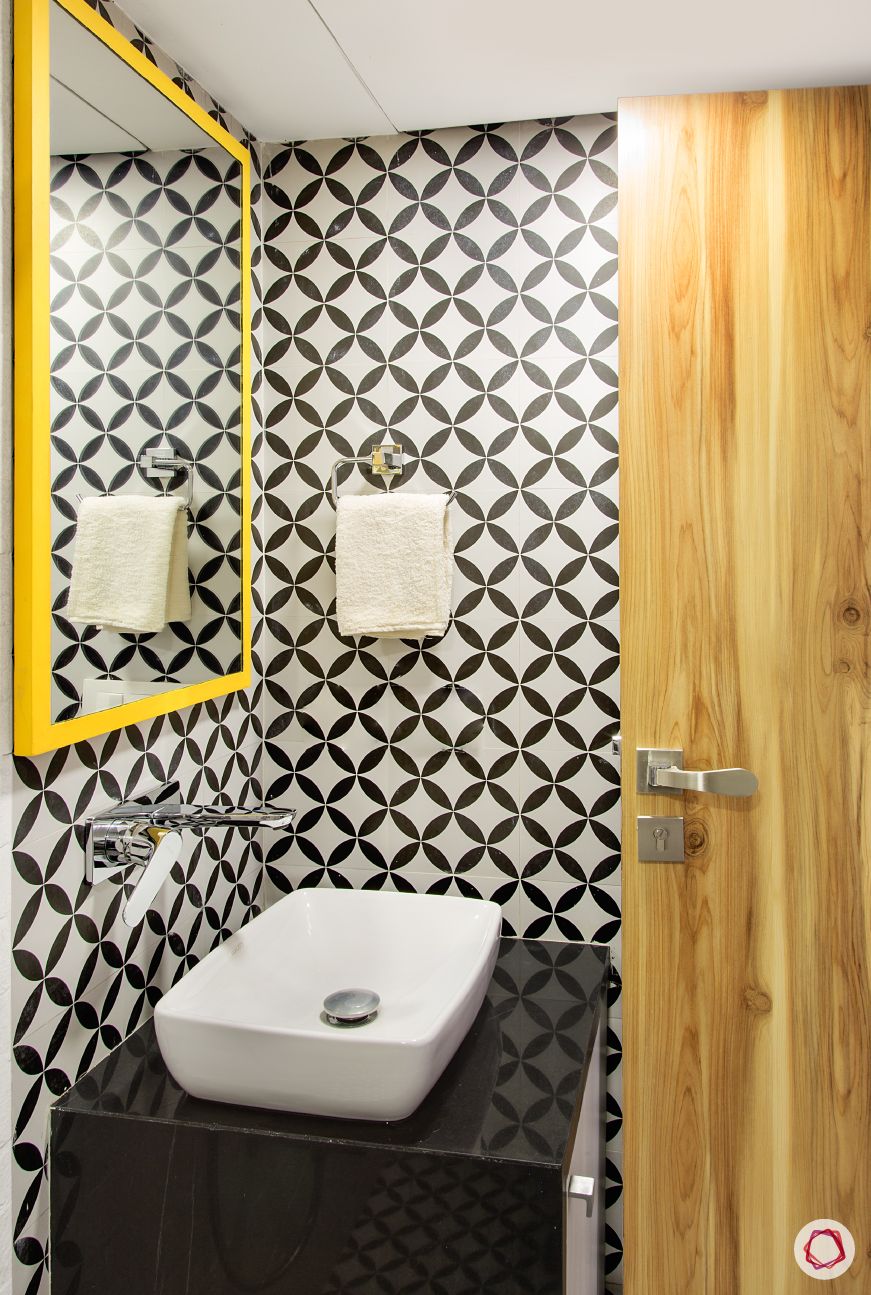 We love the marriage of colours and patterns used to create this intriguing look. Though short on space, this can uplift the look. A pop of yellow in the mirror frame adds to the visual effect.
Wallpaper in the bathroom? Yes, this colourful wall treatment that has a bewitching appearance is the right wake up call you need in the morning. While the bathroom takes on a neutral scheme, the introduction of pattern and colour makes all the difference.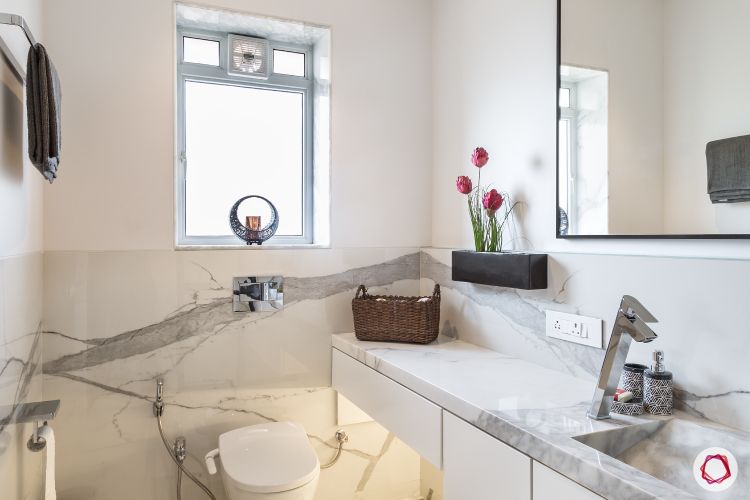 We all love how marble can help in creating a luxurious look. This stunning bathroom stands out despite its muted palette because of marble-printed tiles.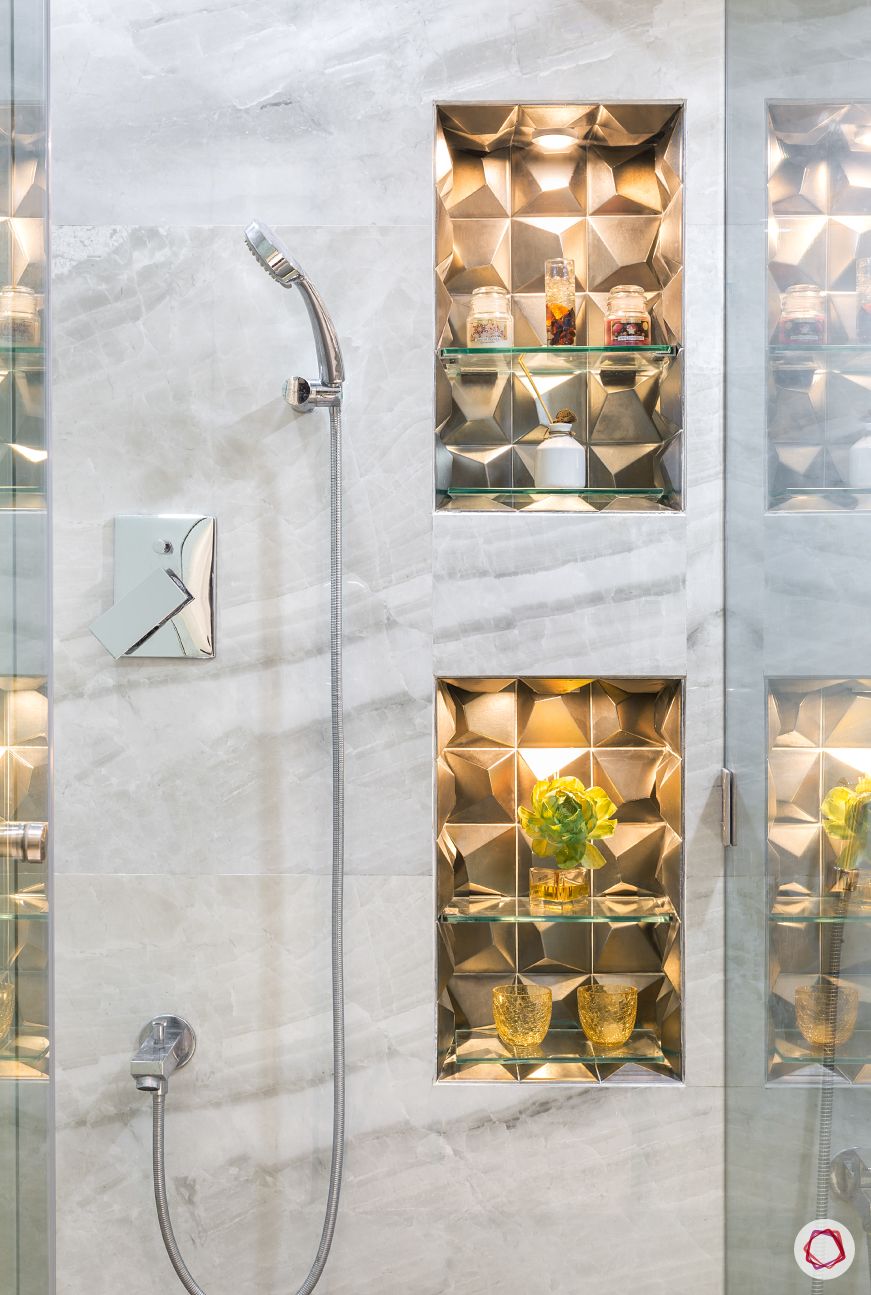 Often we miss out on the decor of the bathroom. But isn't this the spot that lets you relax and sometimes, even make important choices? So pamper yourself by adding some decor elements to the design.
Bathroom Designs #2: Functionality
Having a bathroom that is easy to use and has all the basic modules within arms reach, is necessary in today's fast paced world. Let's take a look at some of our bathroom designs that are high on functionality.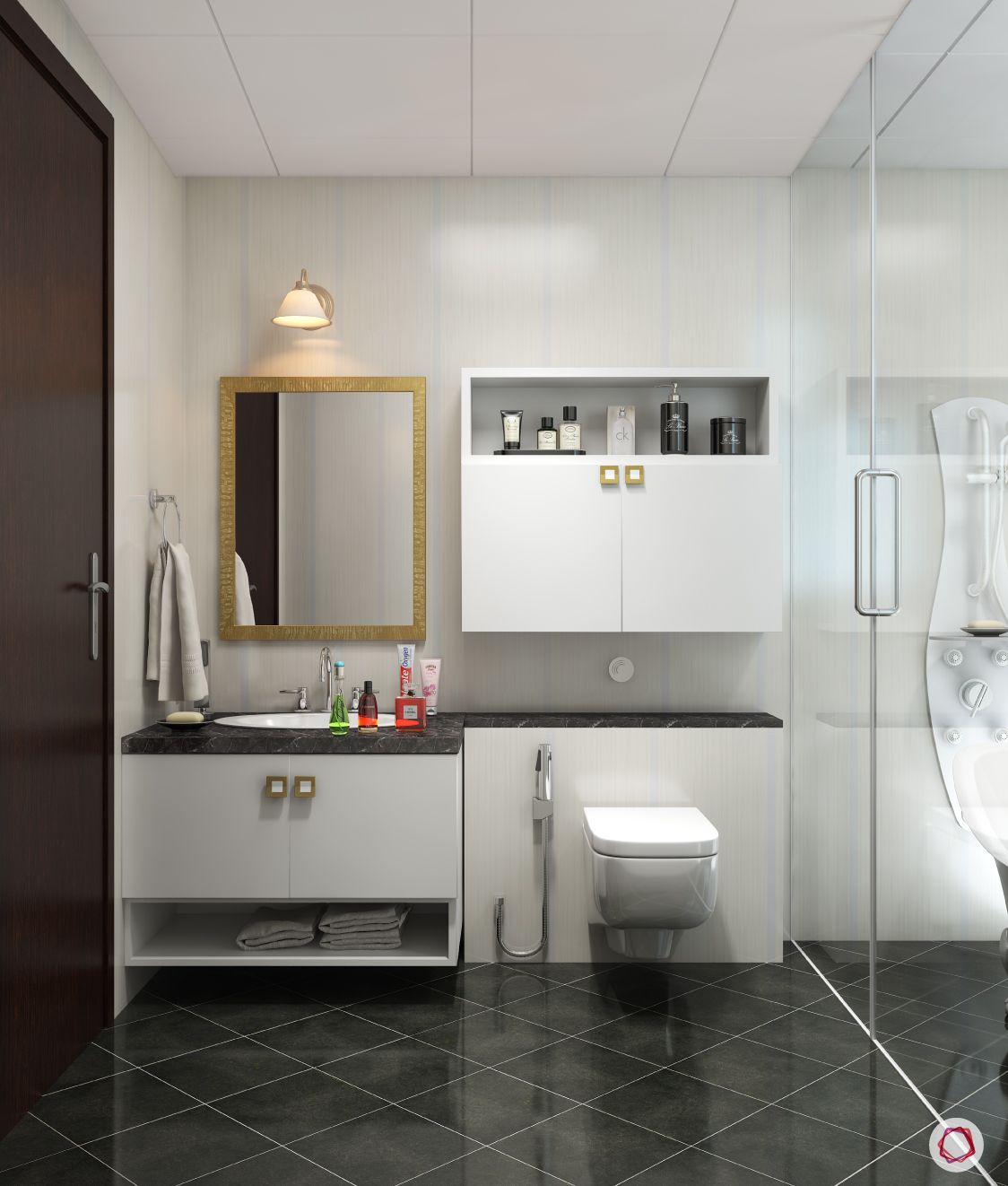 Enough space for movement, ample storage units, and still a clean and efficient design. This is a dream come true for most of us. The black tile flooring creates a lovely contrast with the pristine white palette.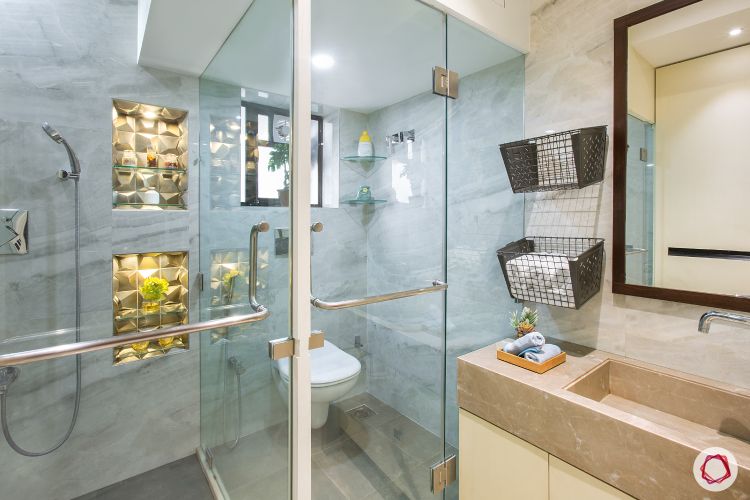 While many opt for shower cubicles, it's not a bad idea to have a cubicle for the toilet as well. This can keep the water from seeping into the whole bathroom. You have a dedicated wet area for your shower where as a dry area to groom and get ready.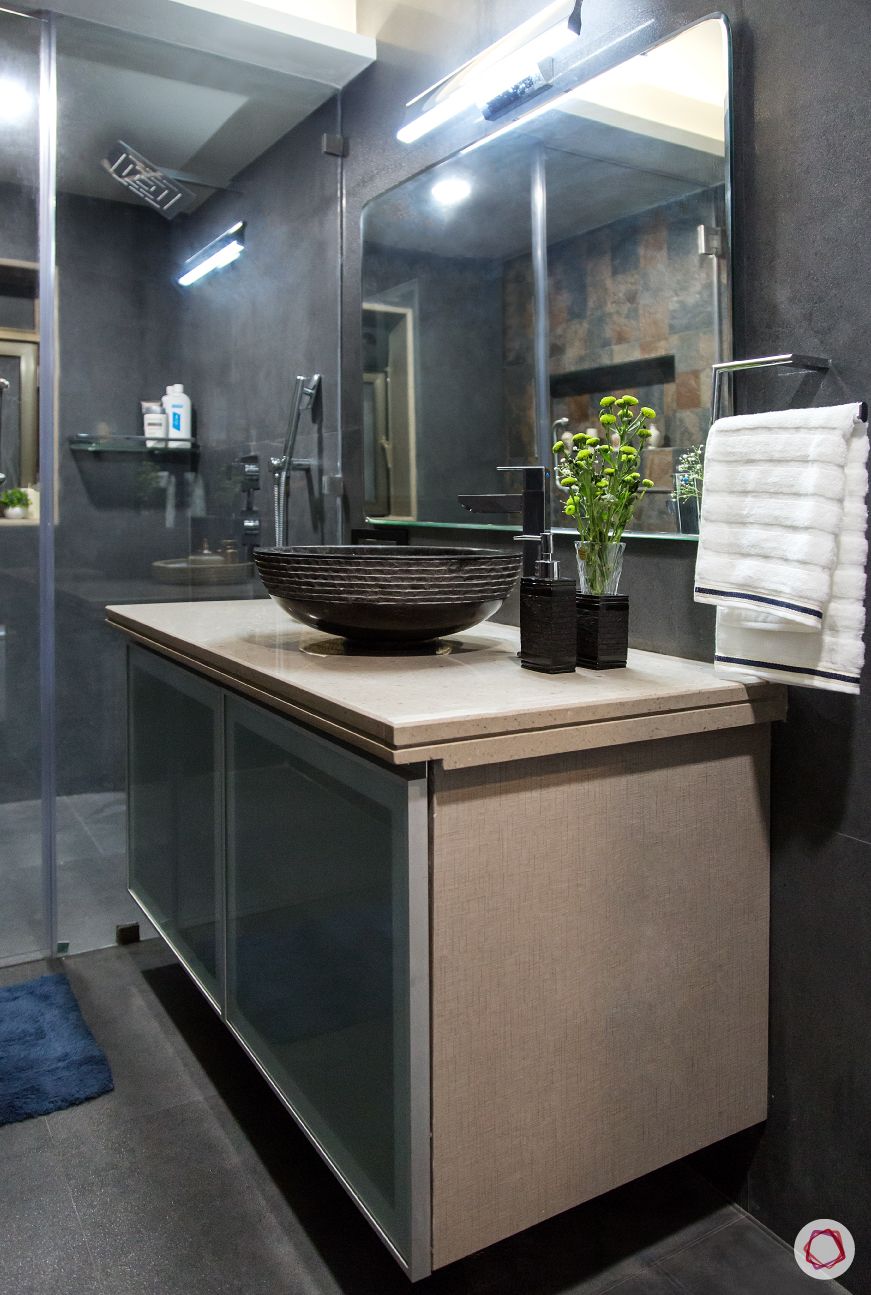 This bathroom nails the rustic look with a stone-like finish. White light just above the mirror makes it easier to groom and offers a brighter ambience to the design.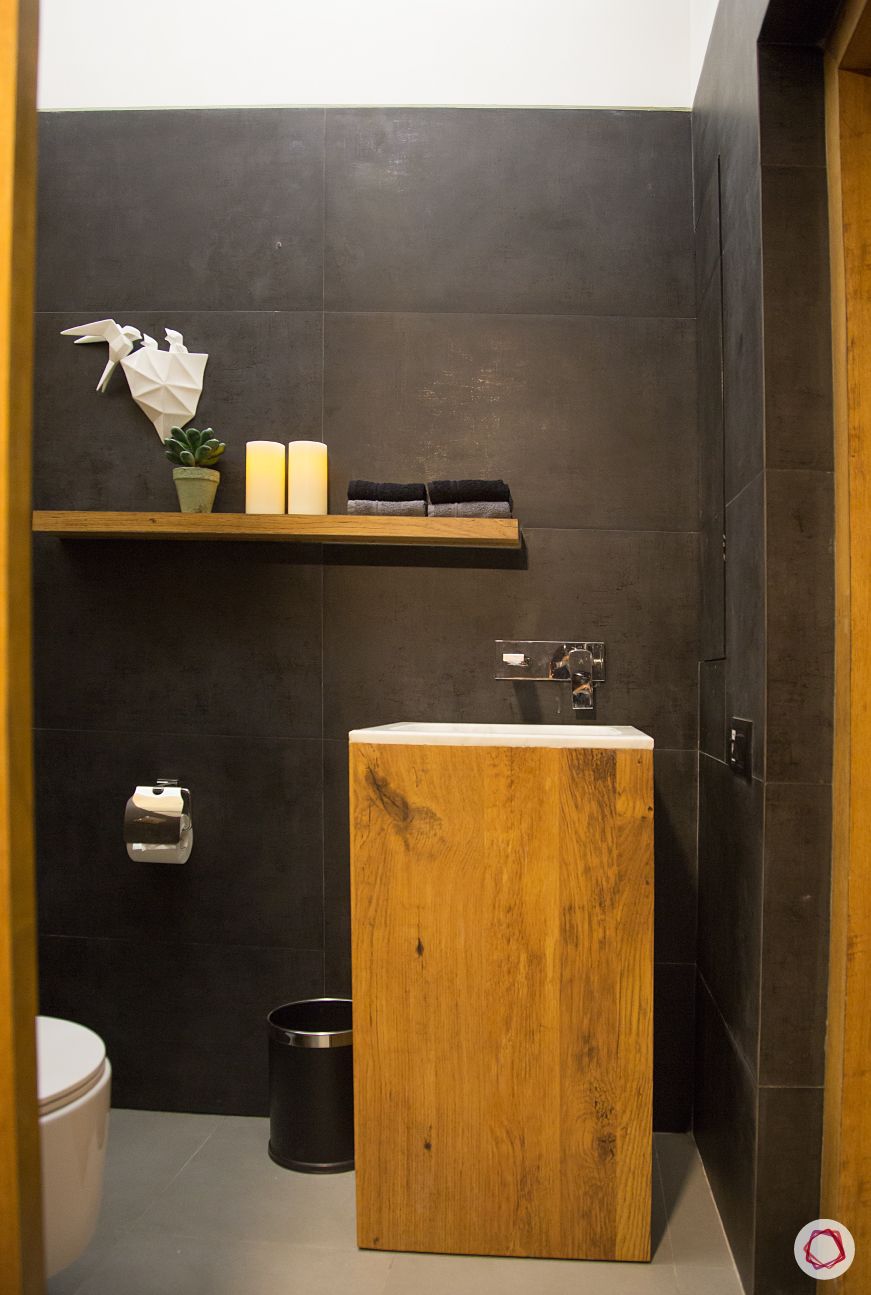 This compact restroom uses sleek shelves and a slim storage below the sink for storage without obstructing smooth movement. This design is ideal for small homes.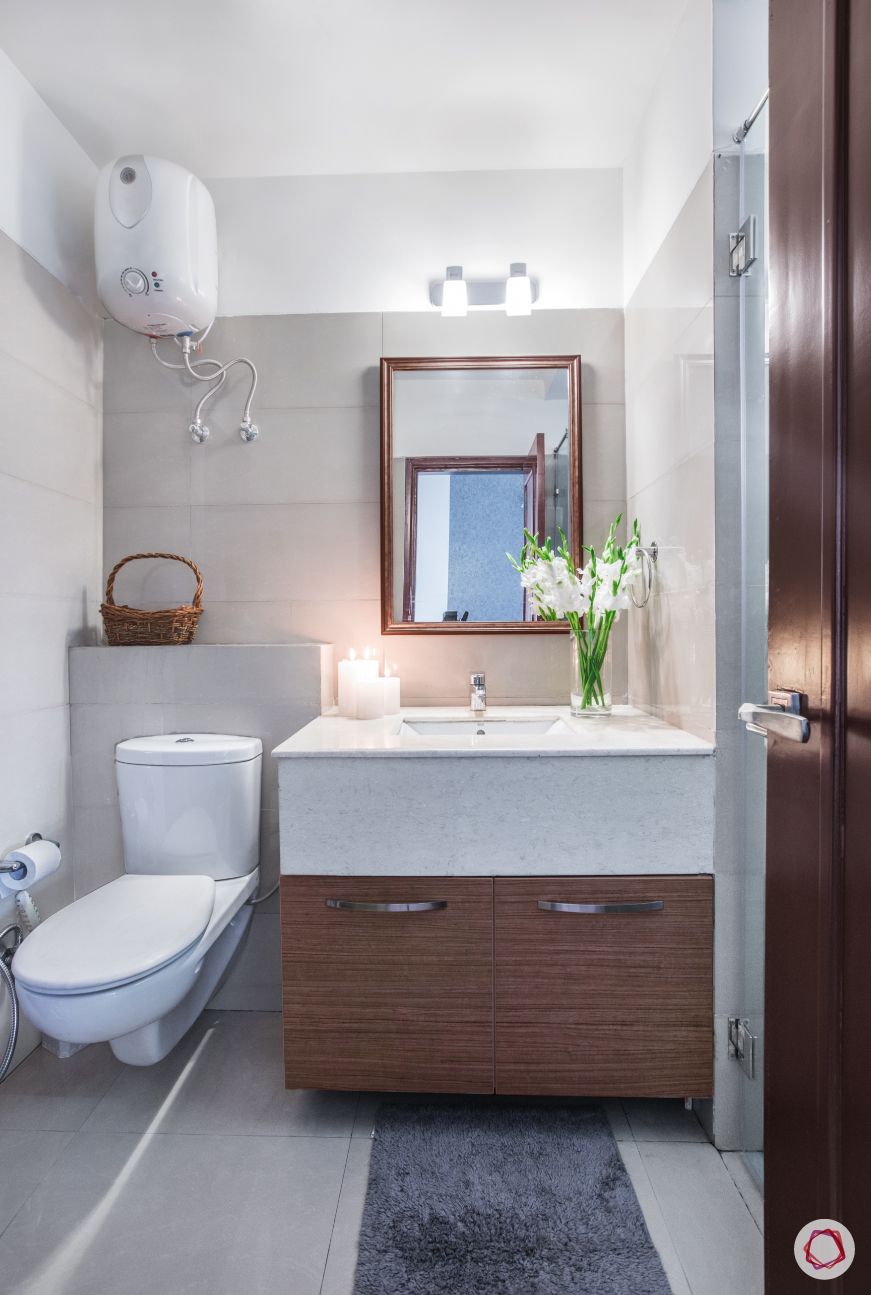 Making use of the space available, the room has clean lines though many elements have been added to it. The wooden cabinet adds to the warmth of the room.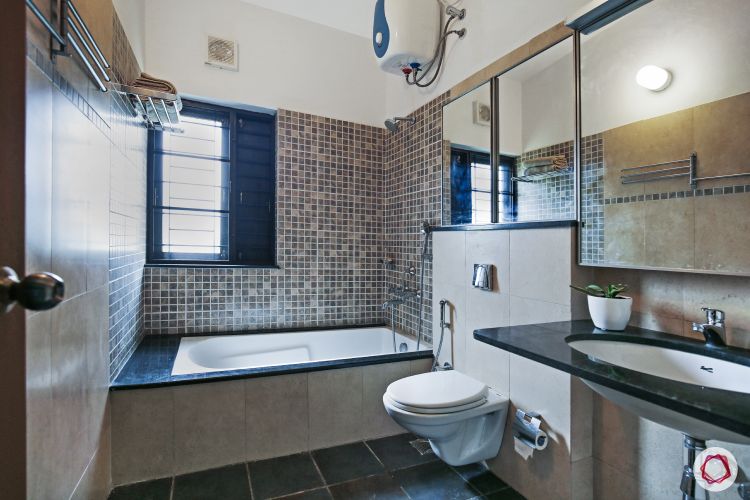 You can fit everything, if you do it right! Ample mirrors, a bathtub, wall-mounted toilet and a sleek sink. What more do you need for a functional bathroom?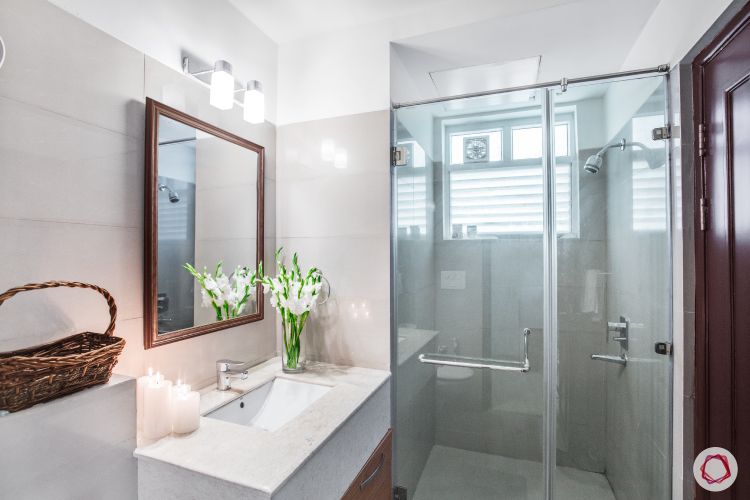 The shower cubicle ensures that water doesn't seep into the rest of the bathroom, giving ample space to groom and use electrical appliances. You can get ready without worrying about any hazards!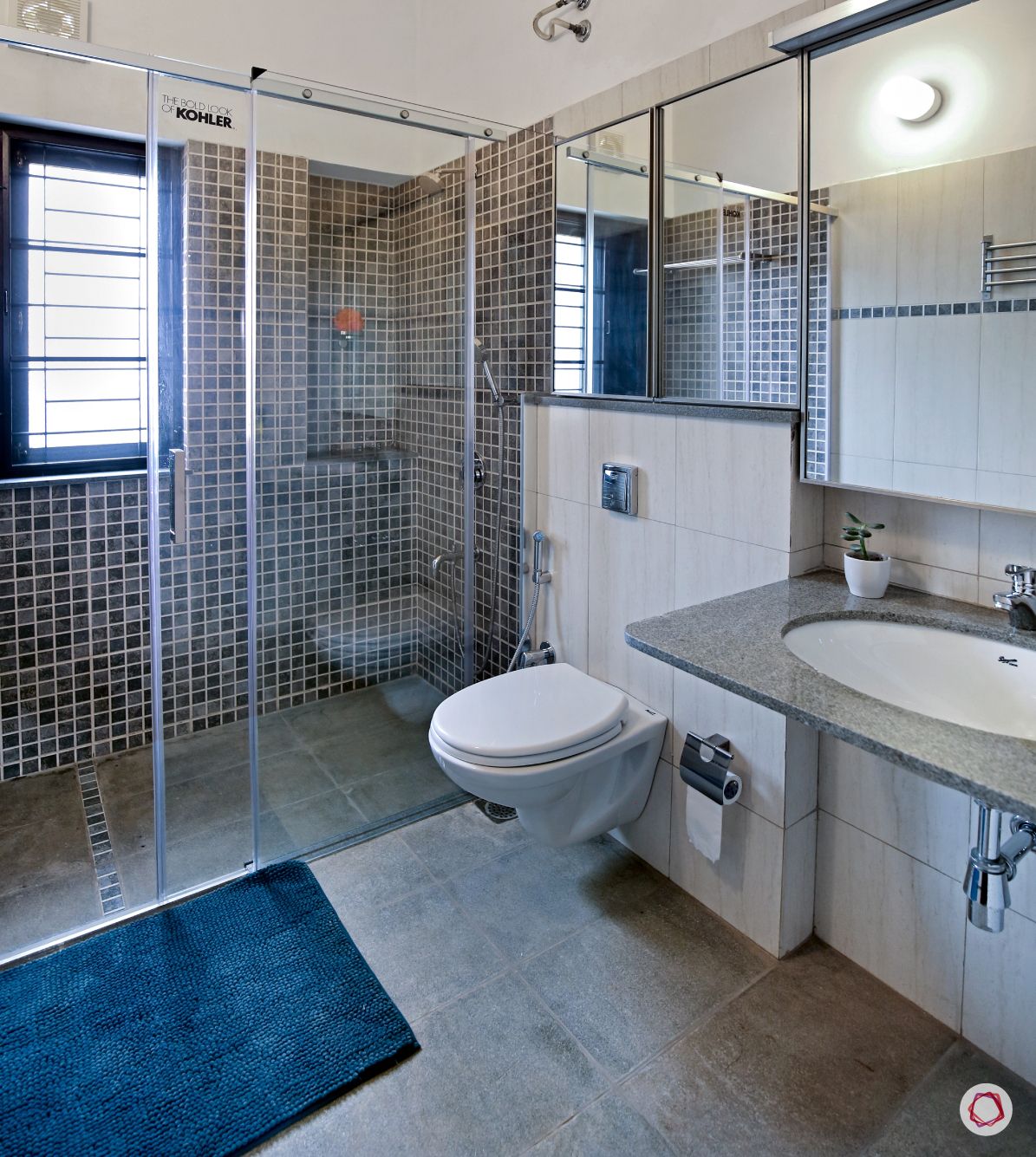 Compact and space saving is what we call this bathroom! Every sanitary essential is wall-mounted leaving enough floor space. The sliding doors in the shower cubicle also works well for small bathrooms.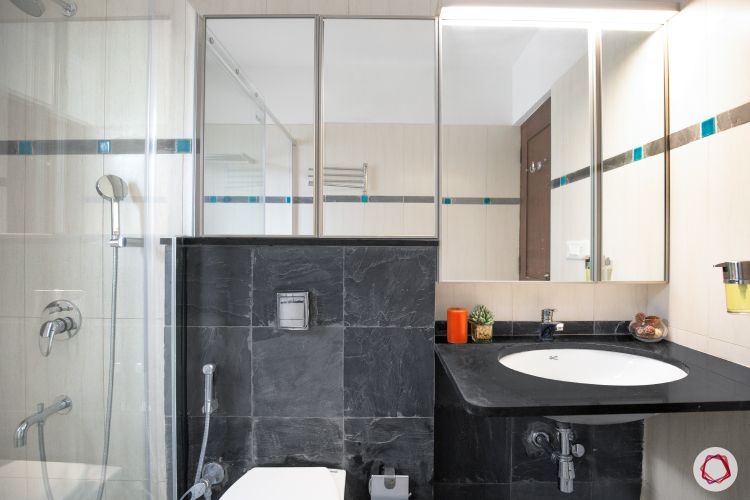 Mirror, mirror on the wall! There is nothing like enough mirrors in the bathroom. Install bright lights above your mirrors and make it a more functional space for yourself.
Bathroom Designs #3: Storage
Storage is high on the list of requirements today. Every individual has specific needs and hence, storage becomes an important aspect for bathrooms. You can maximise space utilisation using any one of our ideas below.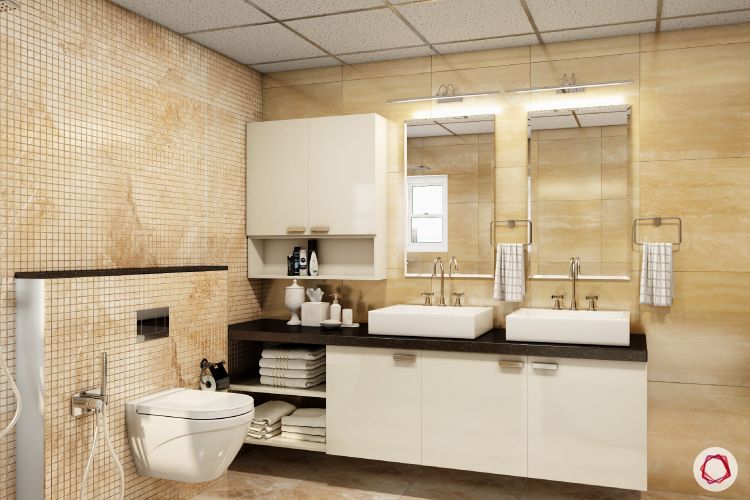 Almost every bathroom has space underneath the wash basin, and you can utilise that space by installing cabinets and shelves. A wall-mounted cabinet can take care of all your daily sanitary needs, while shelves can stack your towels.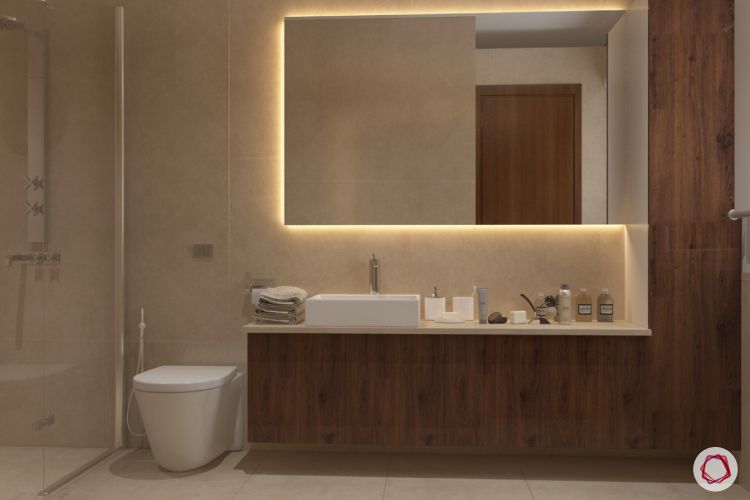 A cabinet that extends from underneath the wash basin to the adjacent wall, not only looks neat, but also utilises a lot more space than individual alternatives. The LED strip light behind the wall unit adds so much warmth to this storage-intensive bathroom.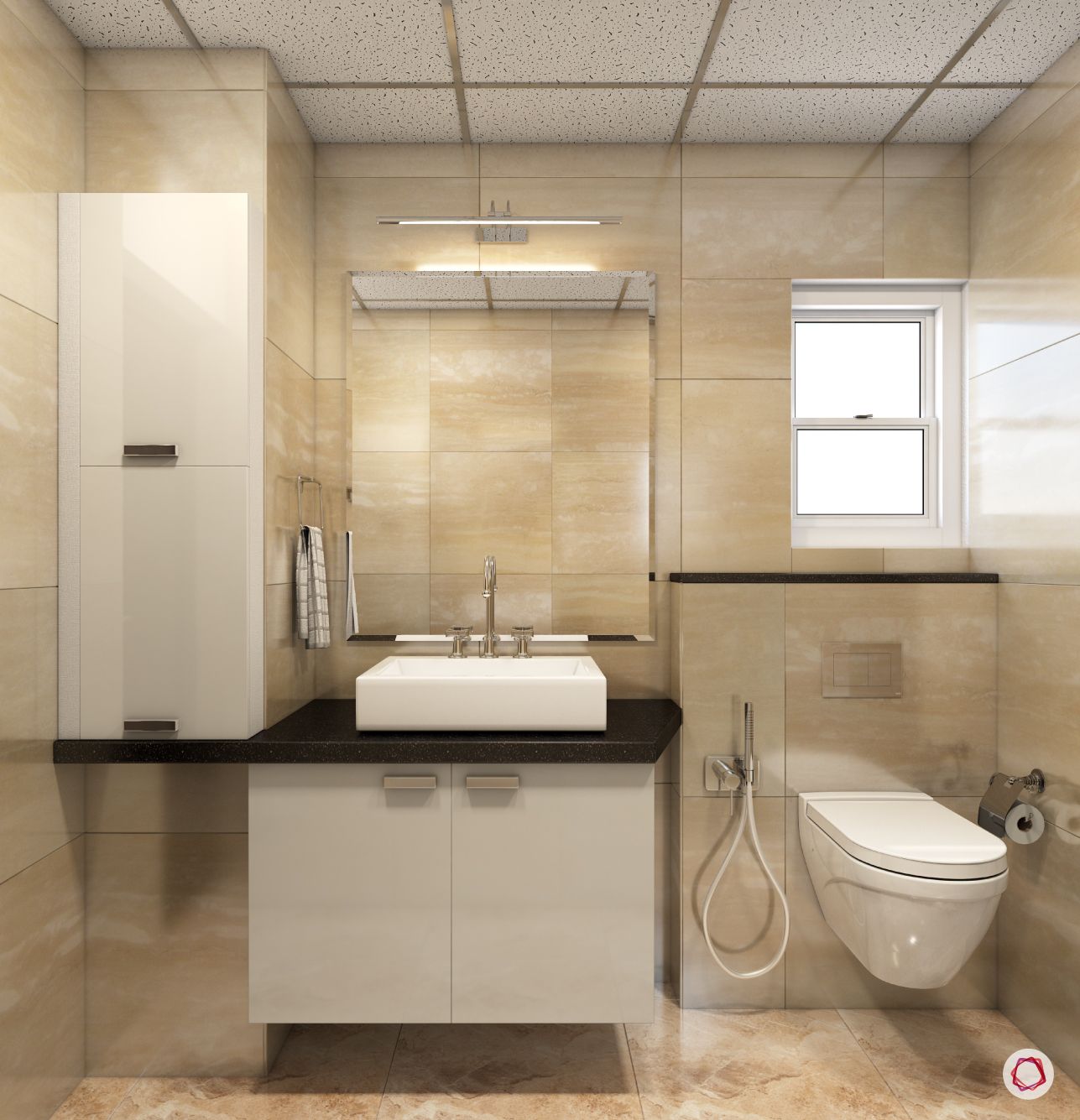 When you have a compact bathroom and like keeping your stuff behind closed doors, then you should opt for cabinetry like this one. It's perfect for people who appreciate privacy.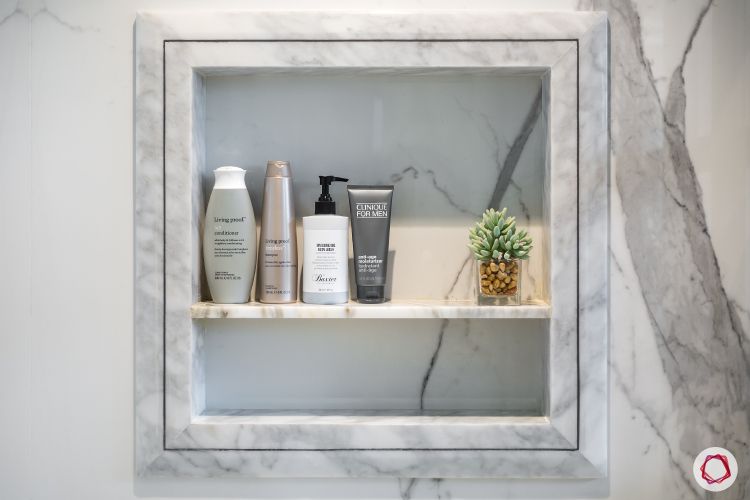 And you thought wall niche storage works only in bedrooms or living rooms? Well, rethink the niche and introduce it in your bathrooms. It is the perfect spot to display all your daily need items and also some pretty plants, if you like.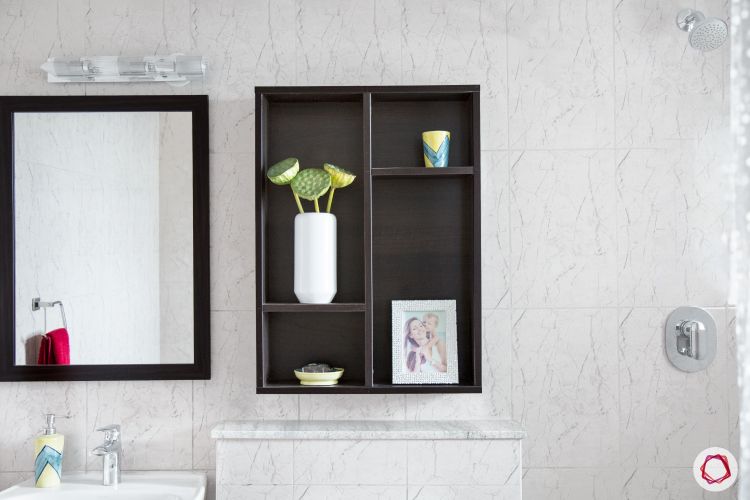 Another variant of the niche storage idea, this sort of a laminated shelf with compartments can accommodate various essentials. In addition, it's a good idea to use it for displaying tiny curios or pretty plants.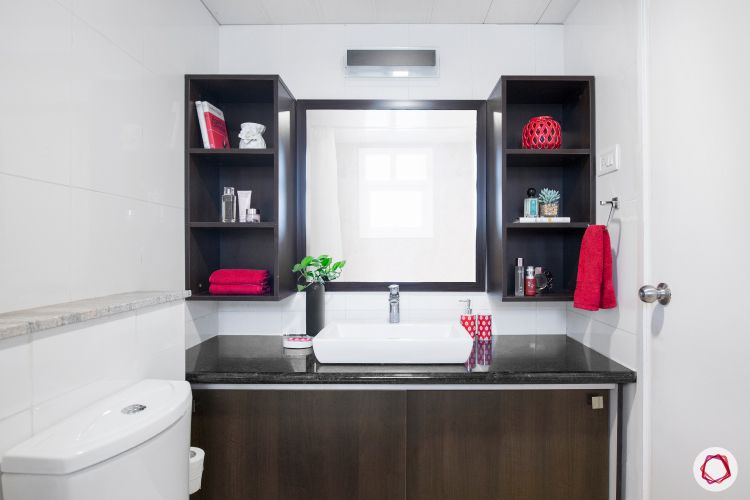 Shelves on either side of the mirror are a long lost concept that needs to come back to life! Moreover, it's such an old-school storage idea that makes the most of wall space. These shelves are easily accessible and provide ample space.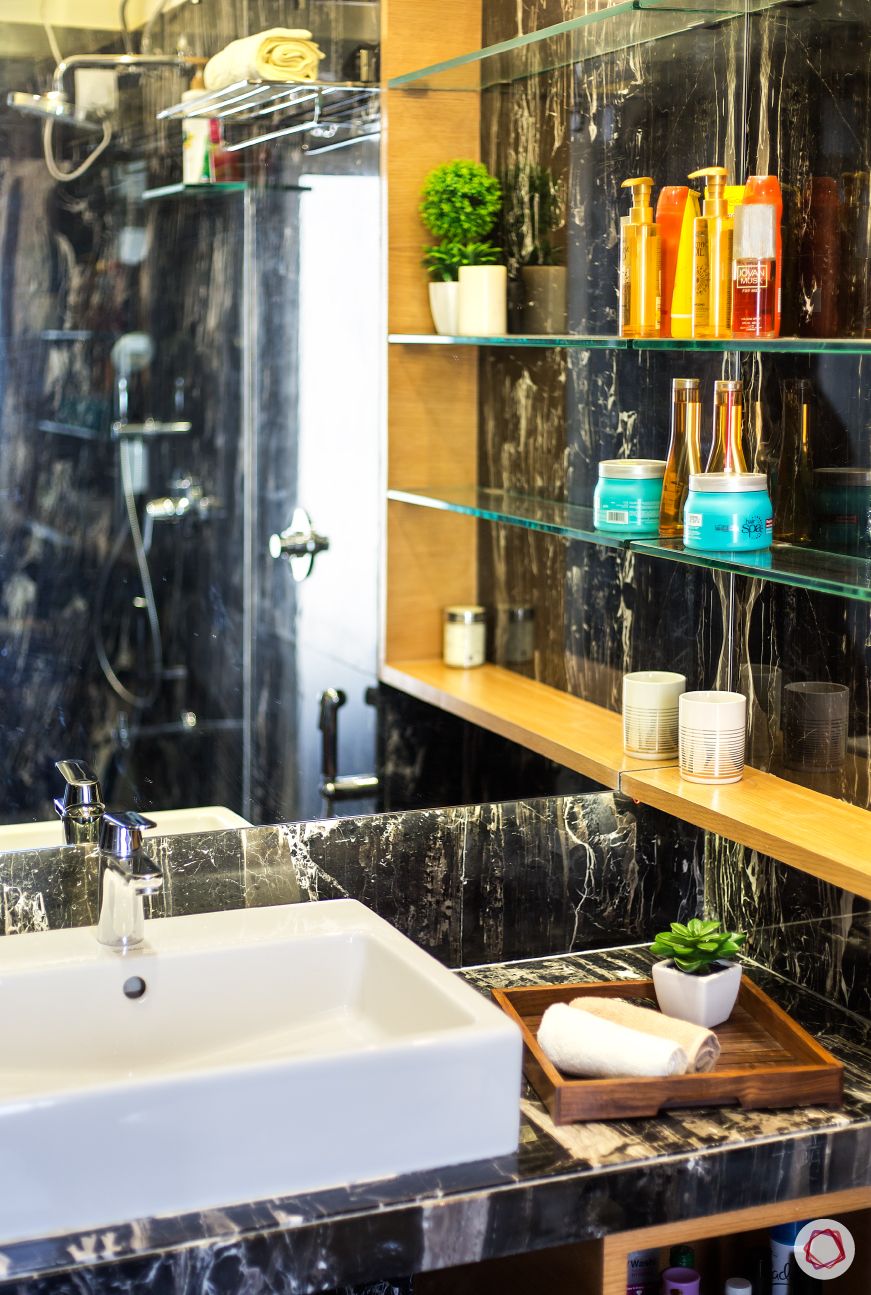 There's something about dark walls and glass shelves. It is such a beautiful contrast. The glass shelves look and feel dainty, but if fitted well, they can hold a lot of toiletries.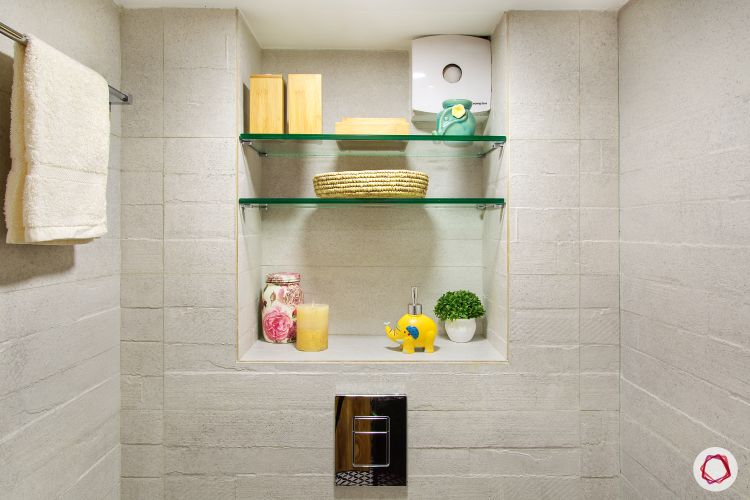 Another lovely way to utilise a niche in your bathroom. Store the heavy items on the concrete slab, while utilising the glass shelves for the lighter toiletries. Alternatively, you could use wooden shelving instead of glass.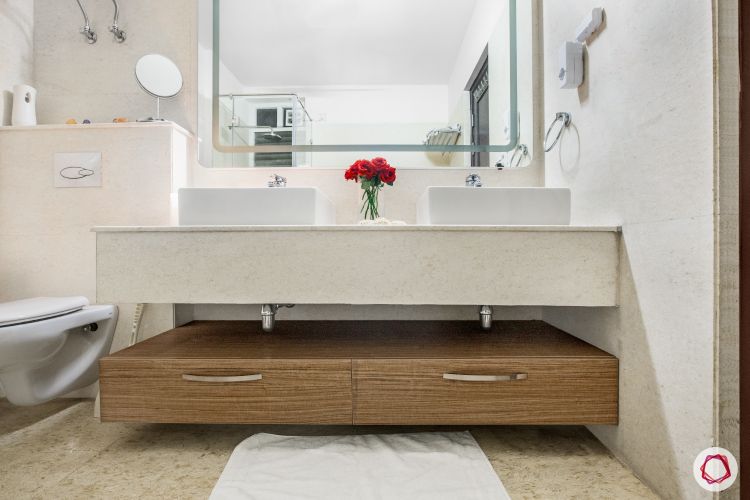 When it comes to storage, drawers are the first thing that comes to anyone's mind. Instead of having cabinets underneath the wash basins, try getting a couple of drawers. Very useful, we must say!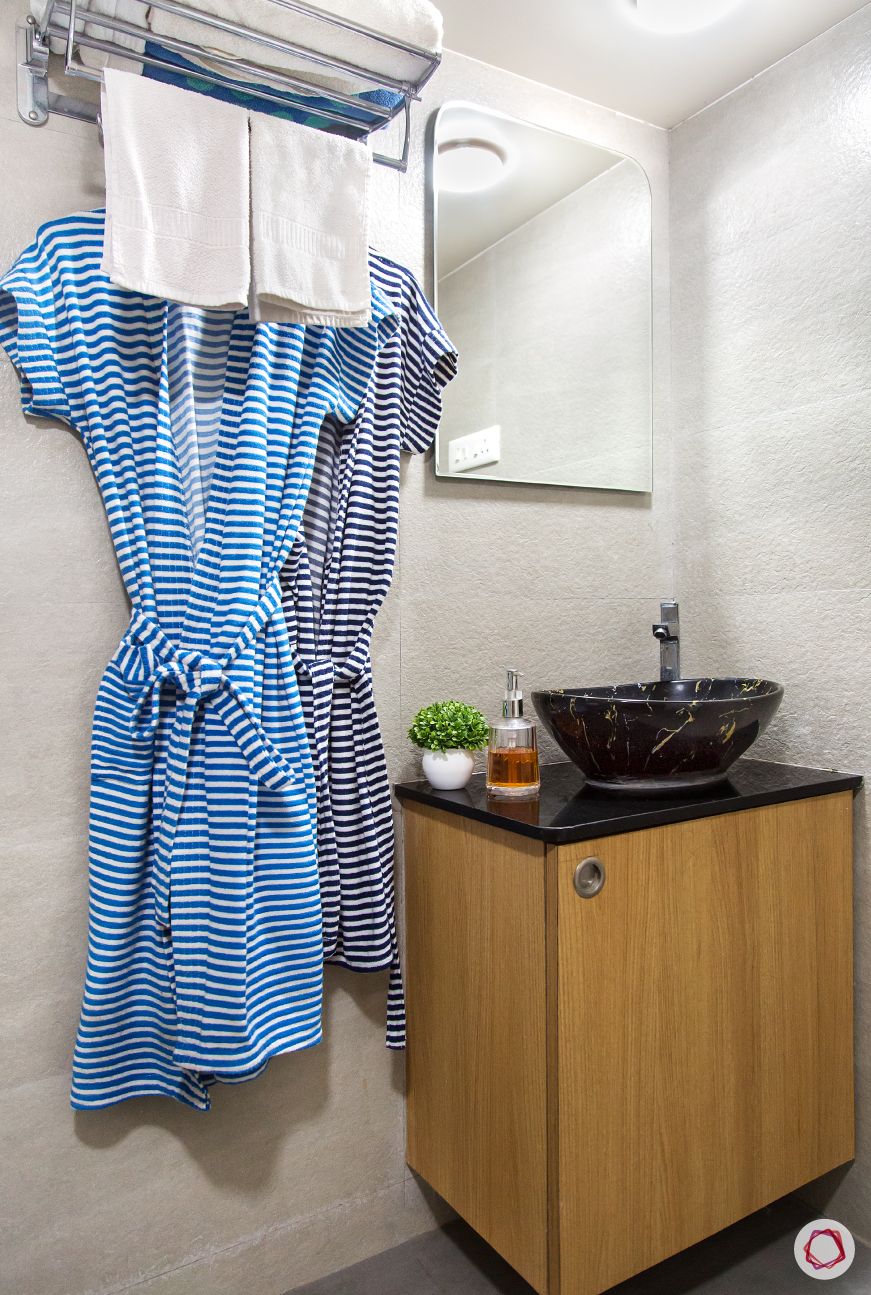 Storage not only comes in the form of drawers or cabinets. Racks and hangers also form a part of your bathroom storage. Your bathrobes need their own hangers and towels need their own racks. Make space for them, too.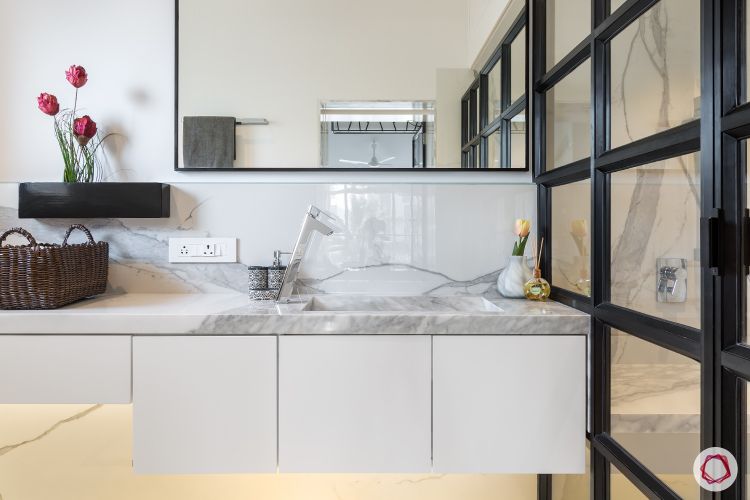 Seamless storage comes in all shapes and sizes, and when you have a modern contemporary bathroom, get storage to go with it. Install some soft push drawers like this to align it with the design of your bathroom.
We collated this gallery just for your viewing pleasure and we are sure this gave you some serious inspiration for your bathrooms. Additionally, you can look here, if you want to give your bathroom a facelift!
Check out small bathroom ideas:
Got something to say? Leave your comments and suggestions.