Choosing your bathroom tiles designs can alter the entire look and feel of your bathroom and one easy way to go about it is to find the design that appeals to you most. When it comes to deciding your bathroom wall tiles designs, the possibilities are endless. From an arena of colours to shapes, sizes and textures, your morning thinking space can get a complete makeover with some Livspace inspiration.
Read on to find out the trending bathroom tiles designs and which can best suit your dwelling.
1: Geometric Tiles Design for Bathrooms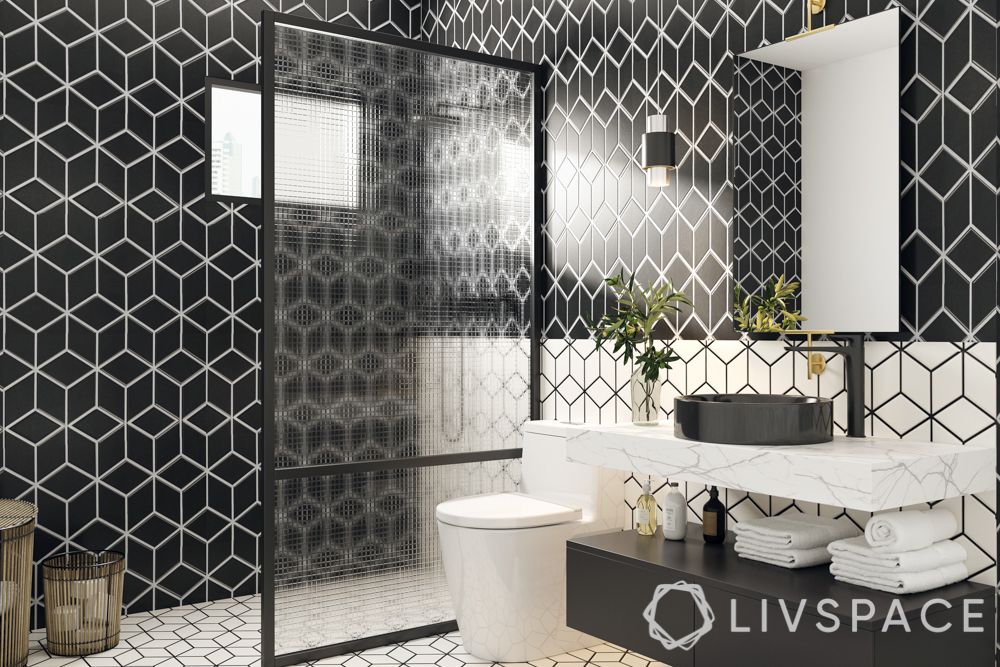 Check out this monochrome miracle; these classic elementary school shapes stand the test of time and never go out of style. They come in a wide array of materials, colours, shapes and sizes. You can mix and match colours for these bathroom floor tiles designs, or even have a single wall with the geometric tile design. Additionally, they are quite unique and bring out a contemporary element to your home. Your walls and floors will leave you feeling subtly luxurious.
Maintenance
Lucky for you, these tiles are quite durable and fairly easy to clean. Just use water, soap, and a sponge, and you're good to go.
2: Herringbone Bathroom Floor Tiles Design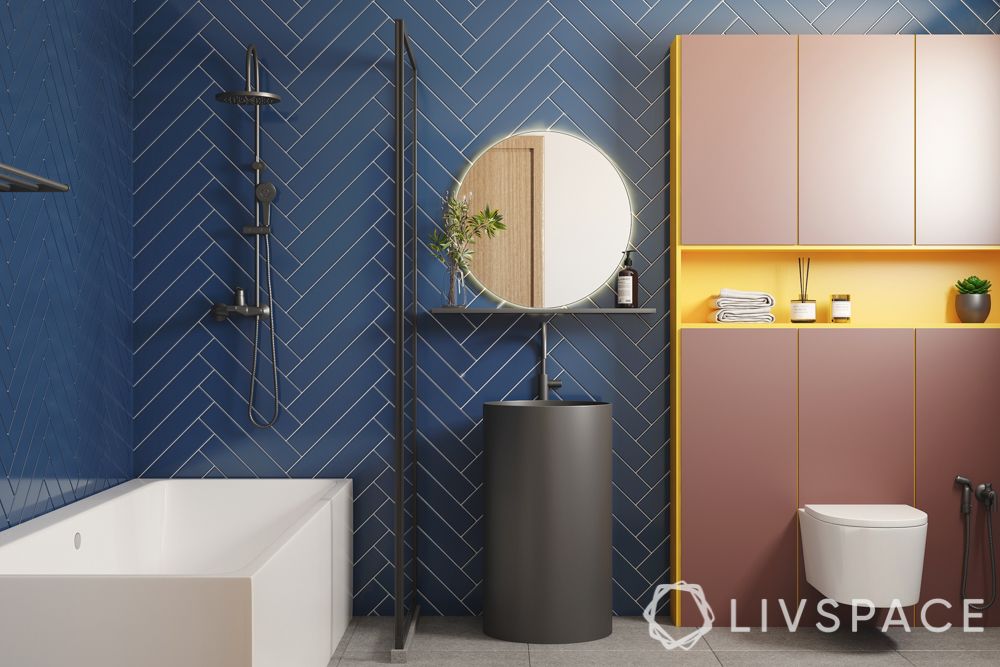 Asymmetrical and eye-catching, the Herringbone design adds a minimal yet classy look to your bathroom walls. What is considered as a popular design for backsplashes in kitchens, they work as great bathroom backsplashes, too. These standard subway tiles give an unmatched depth and variation while giving your bathroom a Scandinavian feel.
Maintenance
These tiles are an investment and won't go out of style anytime soon. You can clean away dust and dirt from the tiles and wipe them with clean water and a mild detergent. If required, you can also lightly polish them with a soft pad to retain its shine.
3: Moroccan Tiles Design for Bathrooms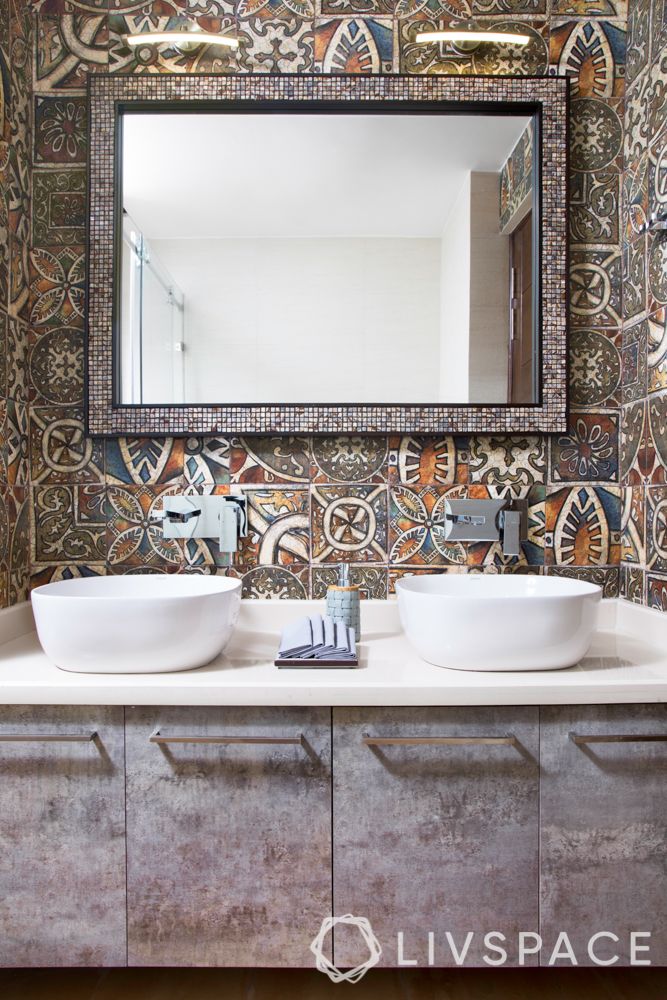 Your Insta-worthy bathroom is on the way if you choose these unique Morrocan bathroom wall tiles designs. Moreover, it's an extremely cost-effective way to revamp your bathroom. Inspired by Moorish art form with heavy detailing from Moroccan architecture, the striking designs and patterns of these tiles will make you go gaga. They come in wide varieties of colours, designs, and textures. Use them as bathroom wall tiles design or the bathroom floor tiles design to make a statement.
Maintenance
These tiles are not very hard to maintain. They require only water and a neutral cleaning agent. A mixture of vinegar and warm water with a soft cloth would be your go-to solution. For tougher stains, use water and bicarbonate soda.
Can't get enough of Moroccan tiles? Click here to find out more!
4: Terrazzo Bathroom Tiles Design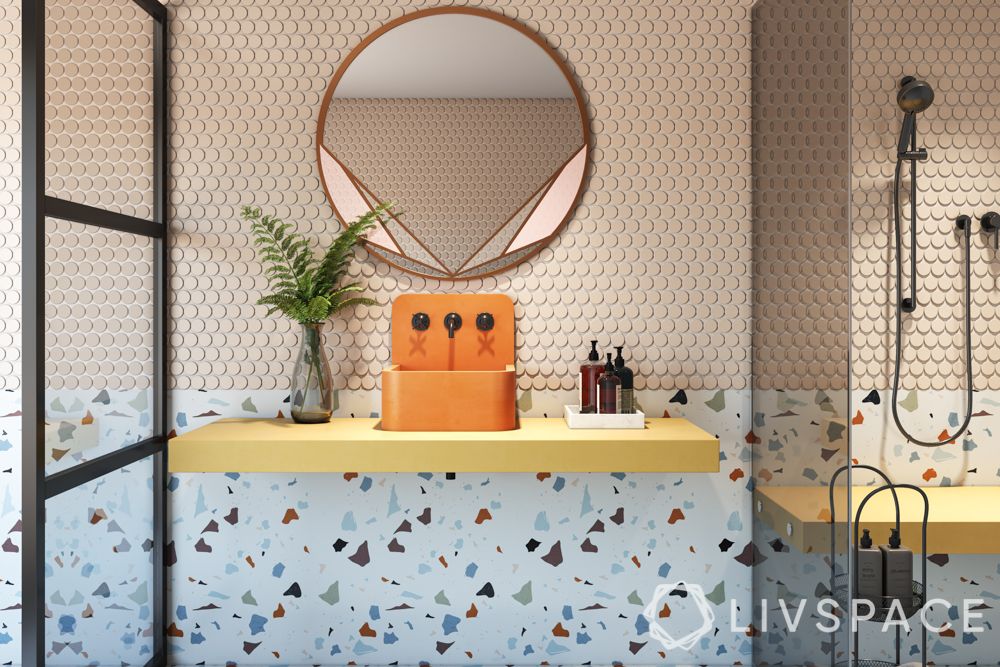 Marble, granite and everything nice… now you have terrazzo tiles. Terrazzo is essentially bits of marble, shell, glass, quartz and/or granite set into concrete and thereby giving it a smooth finish. In fact, terrazzo is so on the rise that it might just knock marble right off her throne and hence, is one of the best bathroom floor tile ideas. These are customisable to suit your needs, and come loaded with benefits as they are both durable and extremely long-lasting. Did we mention they provide an aesthetic luxury effect to your bathrooms as well?
If you need help selecting the best tiles for your home, never fear, click here!
Maintenance
Terrazzo floors are not difficult to maintain once they're properly grouted and sealed. With a damp mop and a neutral cleaning solution, cleaning these tiles can be an easy task.
Just make sure the solution stays on the surface for a few minutes for the dirt to fully dissolve.
5: Patterned Tiles Design for Bathrooms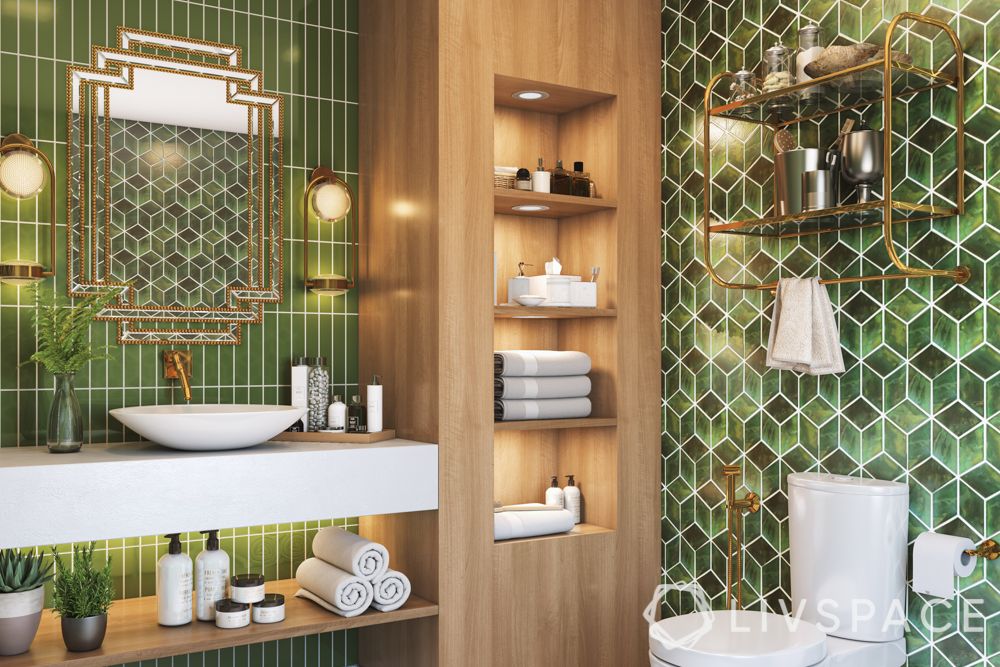 Love two different bathroom tiles designs but can't pick one? Yeah, we've been there, too, and our experts recommend going for both of them! We'll find a way to piece them together and make your bathroom look stylish. Here, two different gradients of green toilet tiles designs have been used. Generally, the usage of vertically stacked subway tiles visually adds to the height of the wall, making the bathroom look more spacious. The different shades of geometric tiles give an outdoorsy appearance making it the right choice for this bathroom. The addition of the wooden storage space completes this stylish bathroom.
Maintenance
Keep a mix of water and vinegar handy to spray on your subway tiles in case they accumulate dirt or grime. Also, you might need to reseal the grout once every few years to keep it protected. As for your geometric tiles, a simple formula of soap, water and your classic sponge should do the trick.
6: Hexagonal Tiles Design for Bathrooms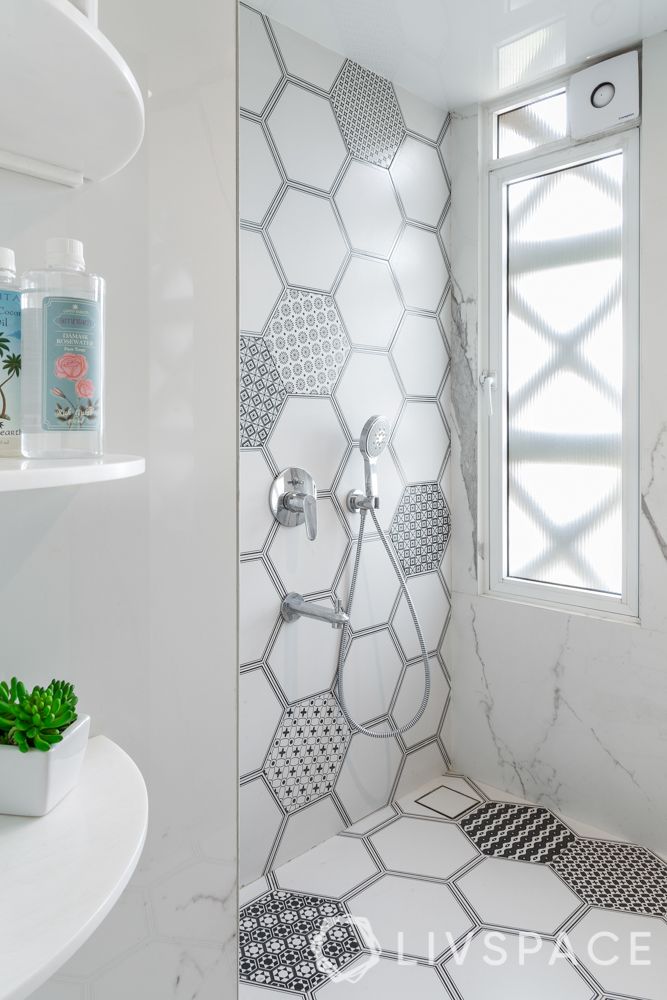 Commonly known as the honeycomb pattern for tiles, these bathroom tiles designs are trendy and come in a range of different sizes and colours. The design possibilities are infinite when it comes to mixing and matching these tiles. So, they are perfect for a backsplash and/or as bathroom floor tiles designs, and you can get as creative as you please. In fact, they're also well-suited for unconventional spaces (like alcoves or creative murals) as you have the liberty to experiment with three to four different colours. Just make sure that they are a harmonious combination of colour tones so it doesn't seem too overwhelming.
Maintenance
Cleaning the grout for these tiles is important as they will tend to gather dirt in the crevices. These are slightly harder to clean as they aren't laid out in a straight line. Essentially, the grout should be cleaned weekly or on a bi-weekly basis with water and baking soda paste. Ideally, a grout brush is used for this purpose, but any old toothbrush would do. As for the tile itself, warm water and a neutral cleaning agent should work the magic.
7: Patterned Tiles Design for Bathrooms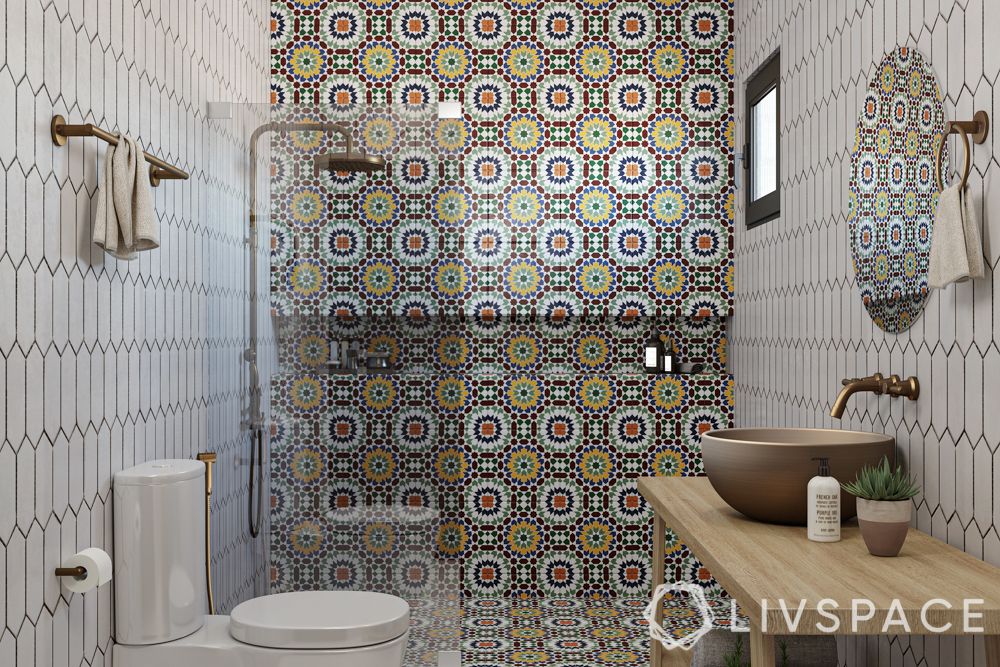 Bathrooms were once a fairly utilitarian space; but now, this utility has paved the way for personalisation. The inclusion of an accent wall in your bathroom with patterned toilet tiles designs gives it a more spa-like feel. Besides, who wouldn't want a touch of luxury in this everyday space? A layer of pretty printed porcelain tiles didn't hurt anyone! Additionally, it also helps in livening up a bathroom with a neutral palette. Notice the camouflaged space to hold your bathroom essentials? Phew! We almost missed it, too.
Maintenance
These tiles are quite easy to maintain as you can just clean the tile thoroughly with clear water. If required, you can use a mild cleaning solution to wipe off any residue.
If you need kitchen tile tips, Livspace gives you top tips to select your kitchen tiles.
8: Terracotta Tiles Design for Bathrooms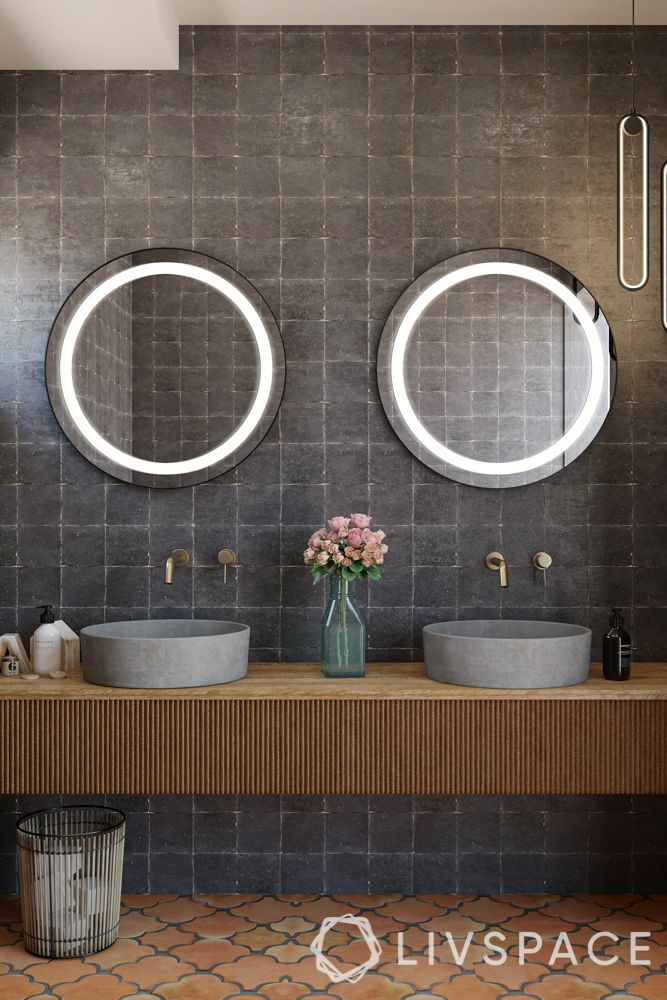 Terracotta tiles are the perfect choice when it comes to giving your bathroom that authentic and earthy look. This bathroom has used terracotta in two ways – the painted grey tiles for the walls and the original red for the flooring. Creative, don't you think? These tiles look rustic and provide pleasing aesthetics to your bathroom. They come in glazed and unglazed forms, so you can choose what suits your fancy. They come in pretty patterns and shapes and are eco-friendly, too.
Maintenance
Since terracotta tiles are porous in nature, they easily absorb water and other liquids. So, it is very important to ensure that they're installed properly. For routine cleaning, use a gentle floor cleaner.
9: Bathroom Tiles Design With Metallic Accents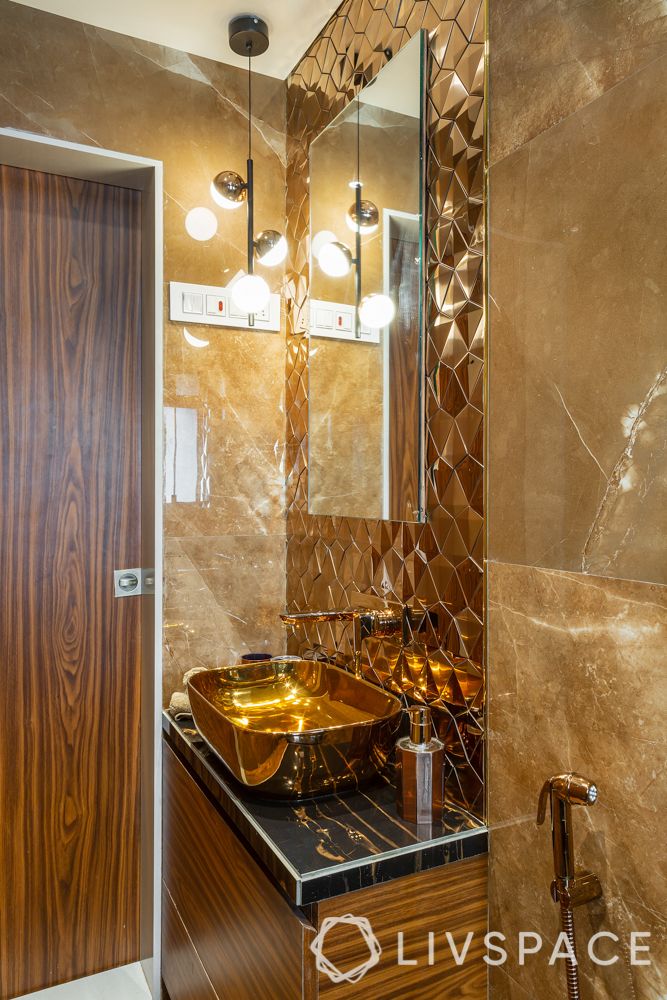 Give yourself a spa-like luxury experience everyday with stunning golds, stylish silvers, and bold bronzes. Or how about charming copper tones?
Gold, silver, copper and bronze tones make for excellent bathroom tile ideas to add a piece of luxury everyday experience. Metals are durable and resistant to high temperatures. So if you're planning a hot tub installation, then metals are the way to go. Tiling the walls or shower cubicles with metallic tiles will ensure you'll leave your guests in awe. Additionally, you can even bring in industrial accents with burnished copper tiles and industrial accessories for a fresh take on this trend.
Maintenance
Avoid using abrasive cleaners like bleach, ammonia or other polluting compounds. Do not use products like steel wool, sandpaper or scouring pads on metallic surfaces as these will leave scratches. They can be cleaned with warm soapy water or a dish washing agent.
10: Monochrome Tiles Design for Bathroom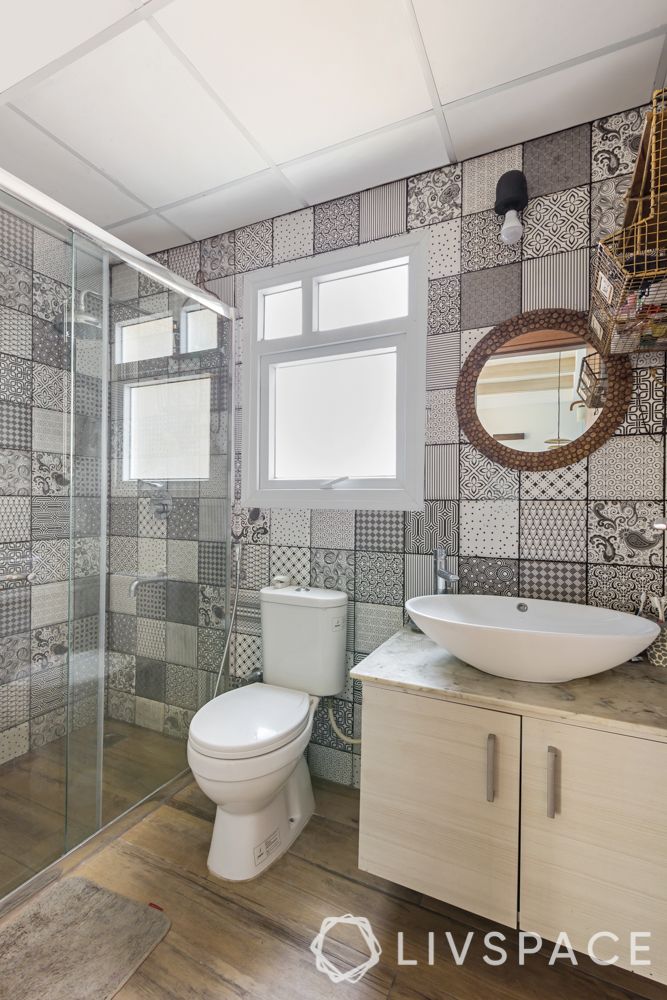 Monochrome tiles can be used to give your bathroom a sophisticated look. They can be used for floors, backsplashes or even shower cubicles. Our recommendation is to use different patterns and textures to create the perfect bathroom interior. Go for vinyl tiles as these have high durability, are easy to install and, of course, aesthetically pleasing.
Maintenance
Ensure that the vinyl tiles are properly sealed during installation to prevent debris and dirt from getting trapped in their seams. For regular maintenance, soap and warm water should do the trick.
If you are looking for vitrified tiles for your home, we're here to give you some advice.
11: Grid Stacked Bathroom Tiles Design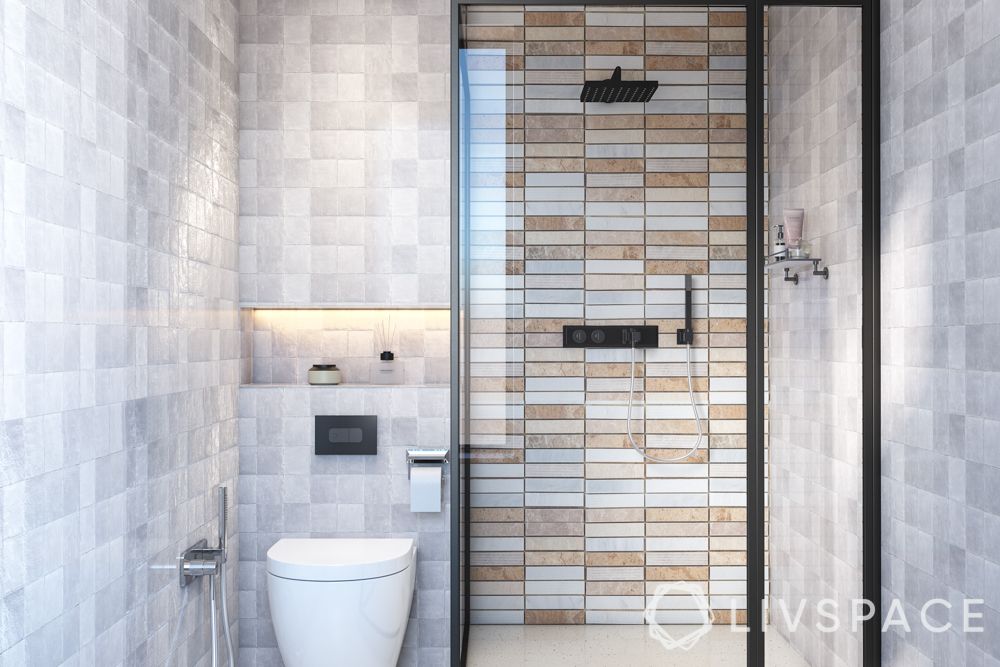 For a basic and elegant design, grid stacked bathroom tiles designs are your go-to option. Grid stacked tiles are a design pattern where the same tiles are set in straight lines to bring out a contemporary look. Generally, rectangular tiles of the same colour palette are used to create a timeless and modern look. For a more classic look, square tiles can also be used. Use bold prints or textured tiles to create a statement in your bathroom. To enhance your grid stacked walls, keep the colours in the rest of your bathroom neutral. The aspect of versatility can be enhanced based on the design style and tiles you pick.
Maintenance
These bathroom tiles designs options require very basic maintenance. Use a non acidic, non alkaline cleanser to keep your tiles clean. For regular cleaning, use warm soapy water and a sponge.
For expert advice on bathroom tiles, click here.
12. Polished Bathroom Tiles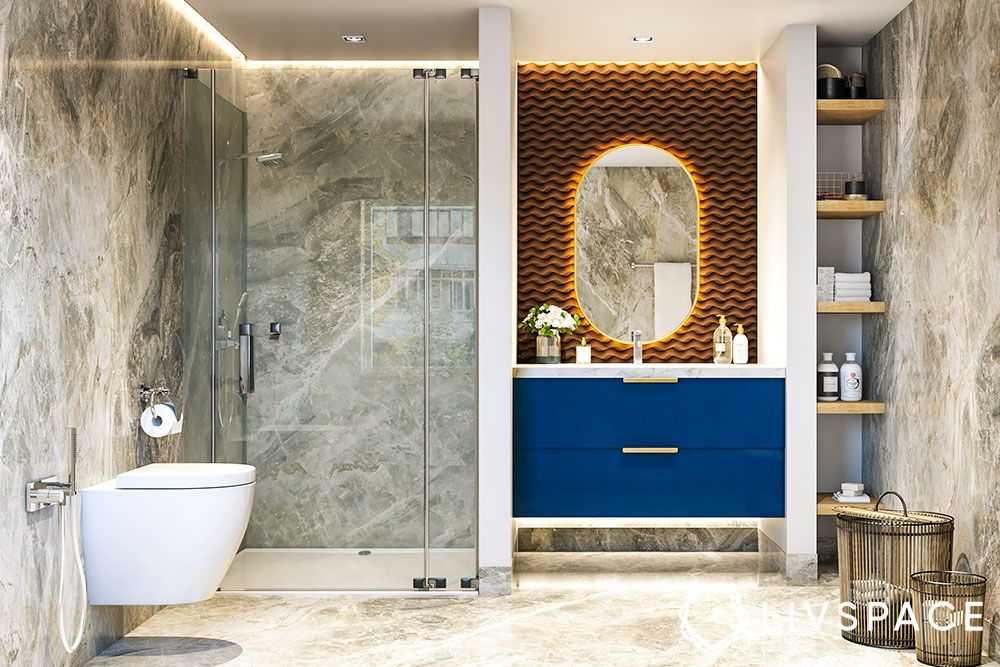 Polished bathroom tiles, or porcelain tiles, have a glossy look – thanks to the glazing and polishing that happens during manufacture. They are popular as they come with high durability, resistance to wear and tear, and are perfect for heavy usage in commercial and residential spaces.
Maintenance
You can use baking soda and water to make a bathroom tile cleaner to be applied to these tiles. Rub them down with a soft cloth.
13. Floral Bathroom Tile Ideas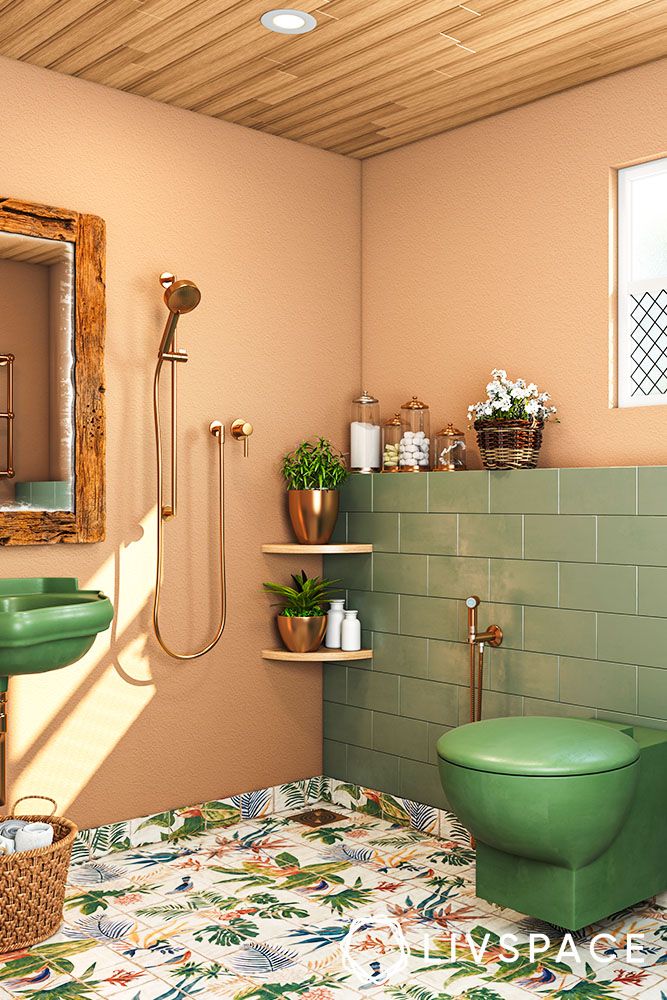 Adding floral designs to a space can help enliven it. In that way, floral bathroom tile ideas are elegant. In fact, they have a welcoming vibe and can provide a special touch to almost any design style – be it modern, Bohemian, rustic, contemporary or vintage.
Maintenance
Use a bathroom cleaner or liquid soap to clean floral tiles, and you'll be good to go!
14. Pebble Bathroom Floor Tiles Design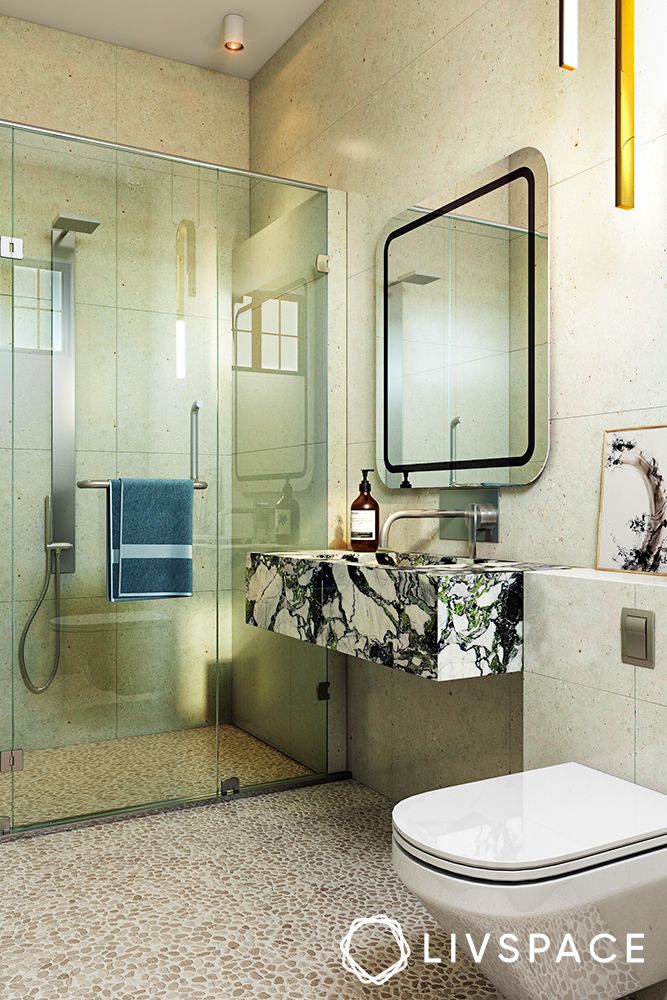 A pebble bathroom tile can be smooth or a little elevated – depending on the style you'd like. If you want a more rustic touch, opt for a rugged, elevated feel. Many people use pebble bathroom floor tile designs to induce a closeness to nature.
Maintenance
Deep clean pebble floor tiles once a month, especially if they are rugged and elevated, with appropriate cleansers.
15. Mirror Frame Bathroom Tiles Design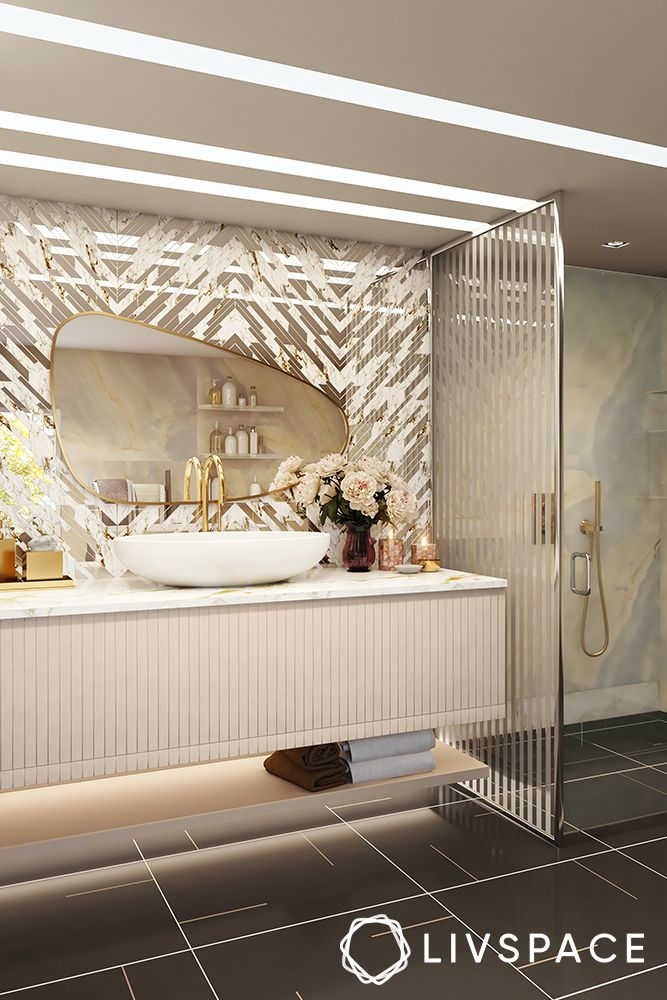 Mirrors provide an edge to luxury bathroom tiles design, and they're the latest bathroom tiles design, if you'd like a trendy look! Use them for giving an extraordinary accent to a mundane space and get a spa-like feel.
Maintenance
You can clean mirror frame tiles design with a solution of vinegar, baking soda and water. In fact, you can also opt for a modern-day bathroom cleanser and spray the solution for the best results.
Bathroom Tiles Design: 6 Best Colour Schemes for Different Moods
A fresh colour scheme can completely transform the look of your bathrooms. So, here's what's trending:
1. Neutral Colour Schemes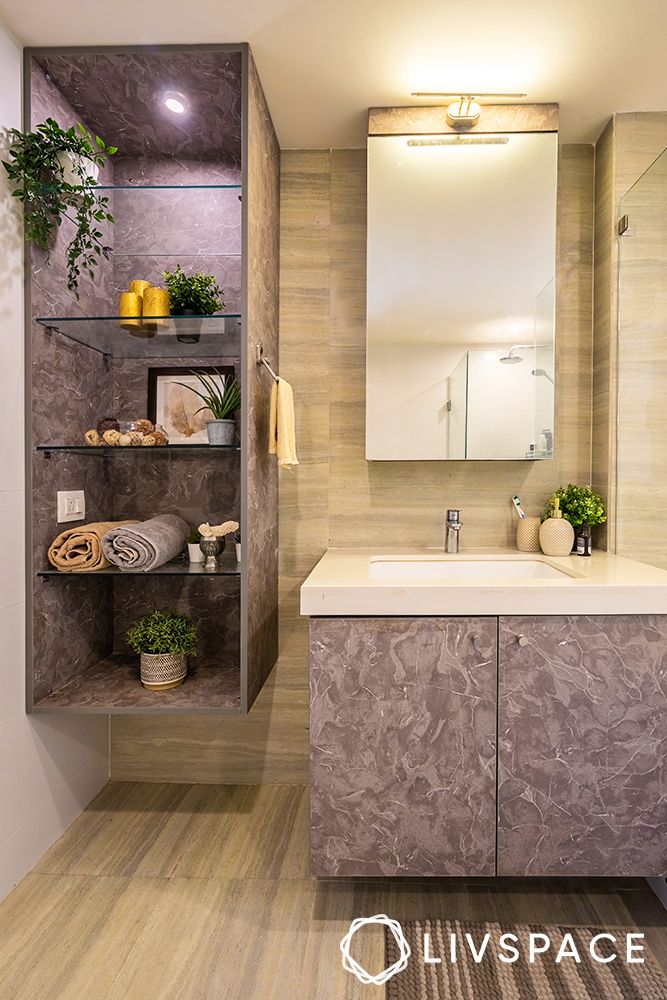 Neutrals are a forever favourite in small bathroom design ideas. When combined with the best bathroom tile designs, they help create spaces that are inviting, welcoming and warm.
2. Black-White Colour Schemes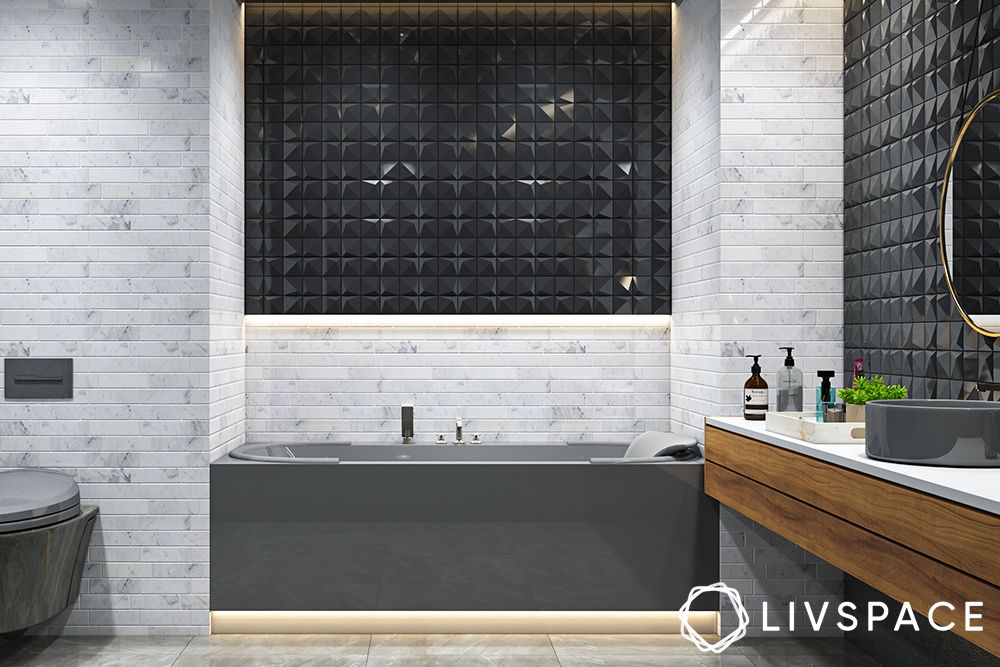 For a modern bathroom, a lot of designers are opting for monochromatic bathrooms. In fact, they are always in fashion, and they have the capacity to give a bathroom a luxe makeover. When combined with luxury bathroom tiles design, they can make your bathroom look like a personal oasis of luxurious living.
3. Verdant Colour Schemes for Bathrooms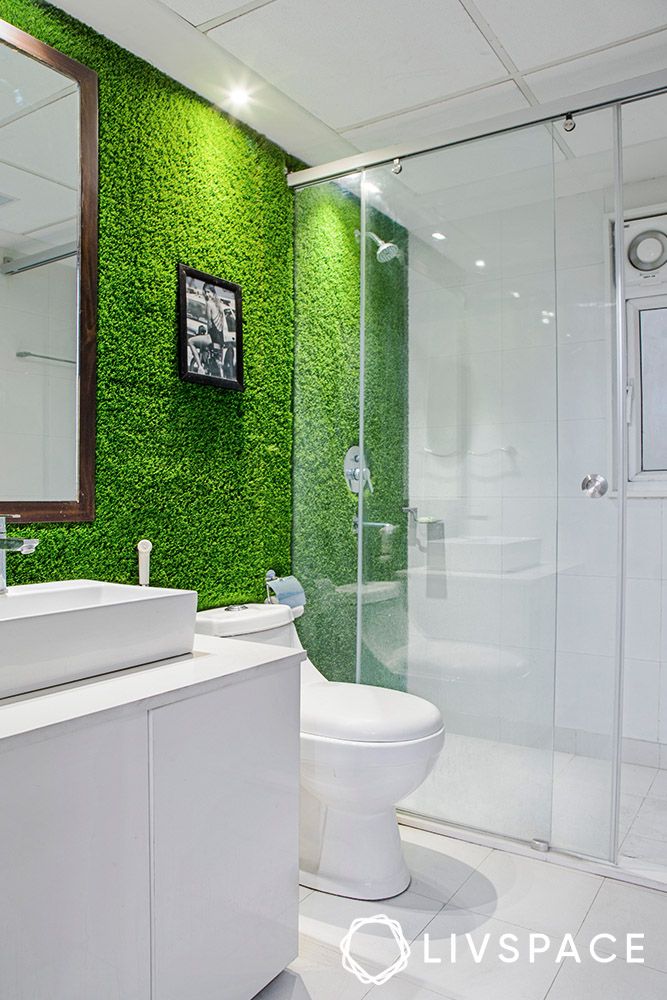 Inspire relaxation with verdant colour schemes for bathroom that almost always mix green and white to give a calming feel. The colour is commonly associated with peace, growth and prosperity. Hence, it won't be so bad for your Vastu needs as well.
4. Watery Colour Schemes for Bathrooms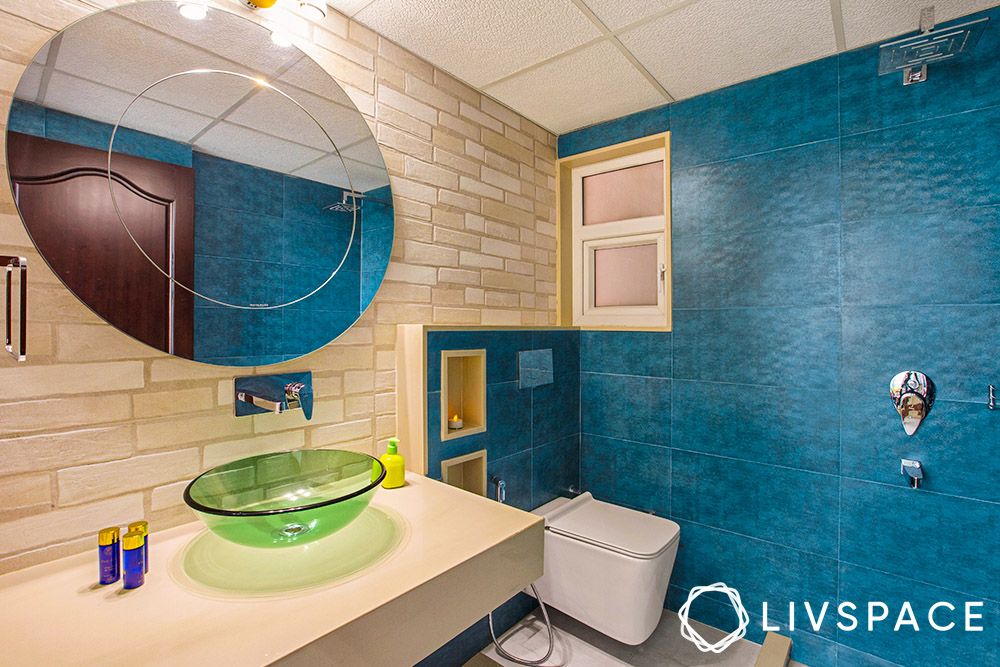 Why watery, you ask? Watery is a gorgeous blue that'll change colours for you throughout the day. Yes! You heard that right. Moreover, opting for a watery blue bathroom can help you create a stress-free zone with a soothing vibe.
5. Brown-White Bathrooms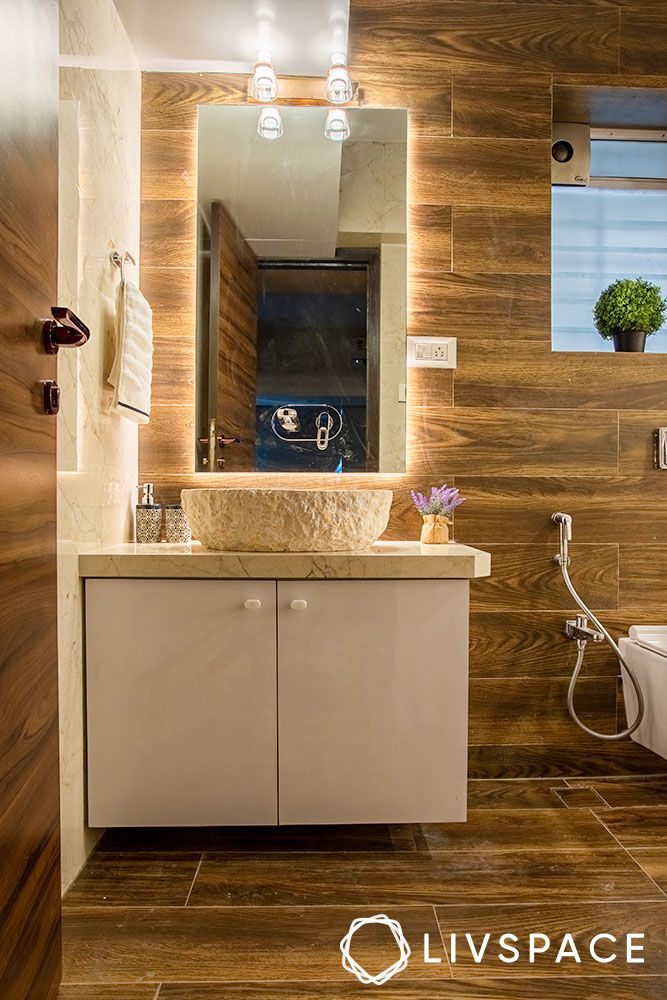 When it comes to brown-white bathrooms, they're extremely popular. That's because white offers a neutral offset to brown so that it doesn't become overwhelming. In fact, if you want a wood-like feel in your bathroom, this colour scheme should work out the best.
6. Earth-Toned Colour Schemes for Bathrooms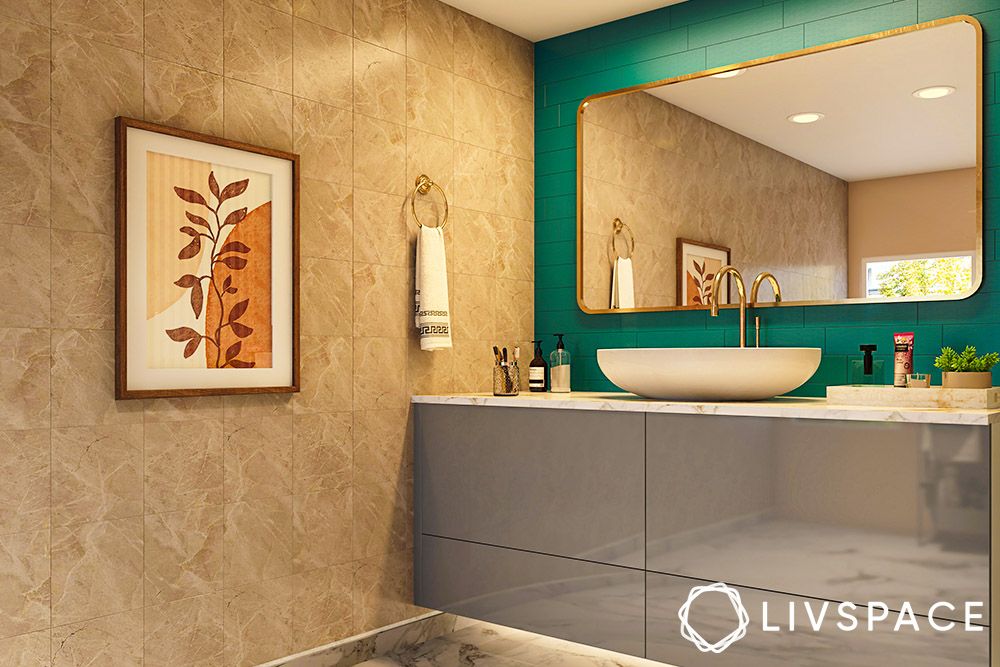 Earth-toned colours aren't too far from neutral colour schemes, but they're so versatile that they complement a wide range of colours. They're effortlessly elegant and give a chic look to your space.
Check out more bathroom design ideas here:
How Can Livspace Help You?
We hope you found our ideas on bathroom tiles designs and colours useful! If you want your home to be just as beautiful, then look no further. Book an online consultation with Livspace today. Delivering safe home interiors has been our No. 1 priority. Click here to find out how interiors are being delivered following all safety protocols.
Send in your comments and suggestions at editor@livspace.com