The kitchen is the hub of your home, and it sees daily action and a regular inflow of people. The heavy foot traffic demands sturdy kitchen tiles that can also withstand dropped objects and nasty spills. Therefore it's important to infuse your kitchen with both style and practicality by picking the right material for the floor. We have some tips that'll help you choose the right one.Keep these factors in mind while picking out your kitchen floor tiles:
Keep these factors in mind while picking out flooring tiles:
Choose tiles that complement your kitchen decor.
Consider the amount of time you're going to spend in the kitchen and the amount of foot traffic it's going to see.
Pick sturdy, non-skid floor tiles that ensure safety and comfort.
Choose a material that is water and stain resistant, and is easy to maintain.
If you're planning a remodel, your budget is probably divided among countertops, cabinetry and more. Once you've determined your flooring budget, measure the kitchen to get an idea of square footage. Remember that additional costs may apply, including underlayment, delivery, installation, and removal and disposal of your previous floor.
Keeping those factors in mind, let's move onto popular tiling materials: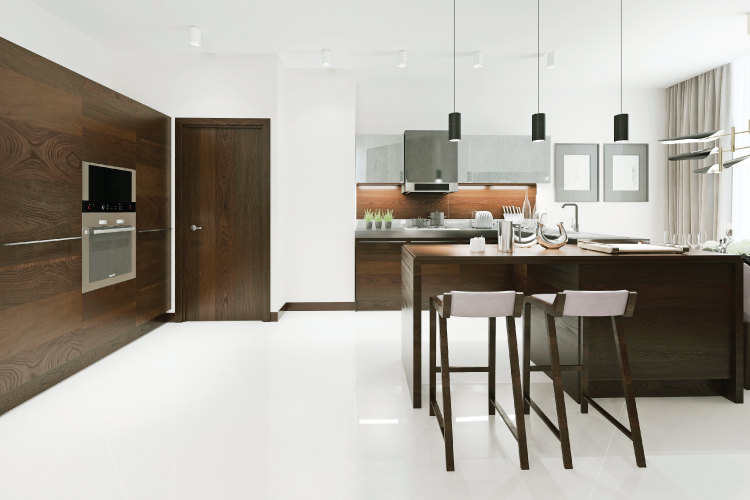 Ceramic and Porcelain Tiles
Both these tiles are made from clay and apart from being durable, ceramic and porcelain tiles are scratch, and stain-resistant and come in a huge selection of colours, shapes, and sizes.
Maintenance: Sweep the tiles regularly using a damp mop with a mild detergent or floor cleaning liquid. Pay attention to grout lines too, which can collect dirt and grime over time.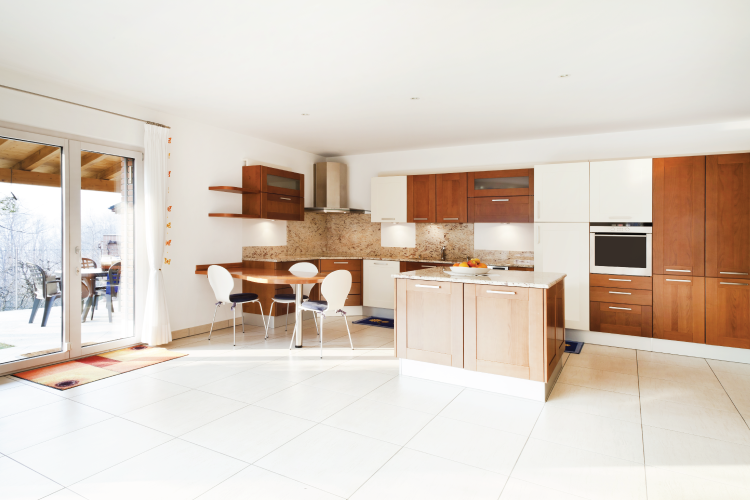 Vitrified Tiles
Vitrified tiles are made with a mixture of clay and silica in a process known as vitrification and are famous for being water resistant due to its low porosity.
Maintenance: These tiles are low maintenance and only require regular sweeping.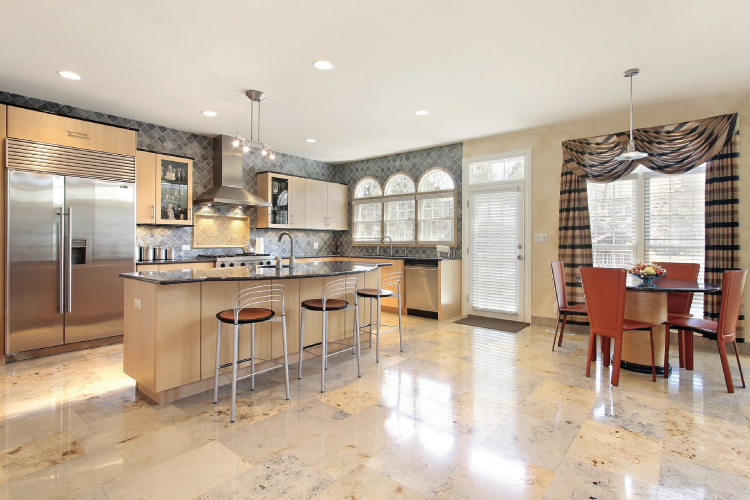 Natural Stone Tiles
Marble and granite tiles are two popular natural stone tiles that can add elegance to your kitchen floors. They're beautiful, unique, and are famous for their durability. However, dark granite is more commonly used because stains don't show up on it, unlike light marble.
Maintenance: These two stone are prone to scratches, and should be cleaned regularly with a mild detergent solution. They are porous by nature; therefore it's important to apply a sealant and to reseal it every few years.
We hope these suggestions will help you choose the right kitchen tiles. The ones mentioned above are some of the popular options in the market, but you can use unconventional materials such as terracotta tiles, pebbles, slate and faux wood depending on your decor. Check out our other kitchen articles for more useful tips.