Kitchen backsplashes have become the hottest new focal point of kitchens—and we love indulging in them too! And why not? Not only do they safeguard your kitchen from splatters and splash, they can infuse new personality into your kitchen. Given the variety of kitchen tiles design out there, from porcelain to glass and tiles to wood, the options are plenty.
Let's take a look at some of our favourite kitchen wall tiles designs and backsplash kitchen cabinet combinations. You can opt for those that are complementary or contrasting in colour or design. Whatever the case, however, you can be sure that the effect you get is stunning each time.
Also explore: Where to use marble at home?
How to Choose the Best Kitchen Tiles
The problem here is one of abundance of choice; there are way too many options available in the market. So, how do you embark on getting the perfect kitchen tiles design for your home? Here are a few steps to follow:
Determine the location: If you live in a rather dusty area, getting finishes that are low maintenance like glass or ceramic makes sense.
Budget it properly: Before getting sold on looks, it is important to consider your budget for the backsplash. A marble backsplash is costlier than ceramic, for example. Thus, do not make this decision without fixing your budget.
Pay attention to colour: This goes without saying. To create colour continuity, you need to consider the rest of your house too. If you are too confused, you can opt for universal colours like white, blacks or reds.
Consider your lifestyle: This is absolutely essential. If you are making a show kitchen, luxe elements can be preserved for a longer duration. However, in heavy-duty kitchens, try to opt for more durable materials.
Also Read: How to pick the perfect bathroom tile for your home?
Best Backsplash Trends in 2022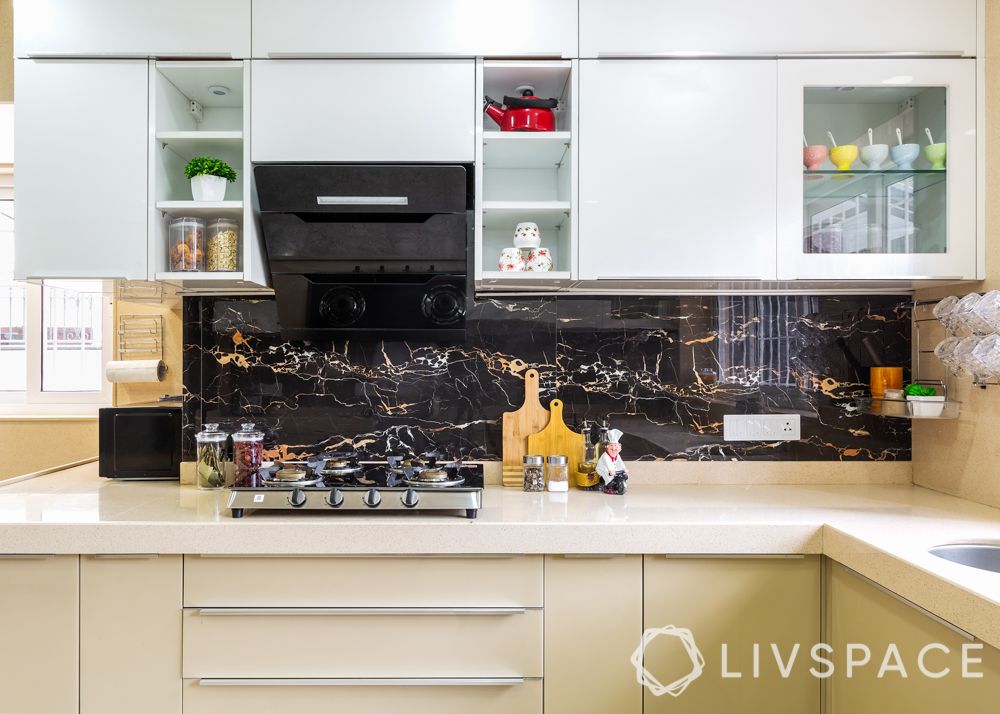 In 2022, Livspace homeowners have been going all out with their backsplash and kitchen tiles designs. This year, don't be afraid to experiment with types of tiles patterns, colours, and materials. Moreover, low-maintenance and sleek backsplashes are all the rage. This means that solid-slab wall kitchen tiles without tile lines and grout collecting in them are a great option.
Apart from marble and its classic appeal, here are some other backsplash alternatives that will inspire you to cook up a storm. Take a look at these kitchen wall tiles design ideas and you'll be sure to find one that suits your space and your needs:
1. Moroccan Tiles for Kitchen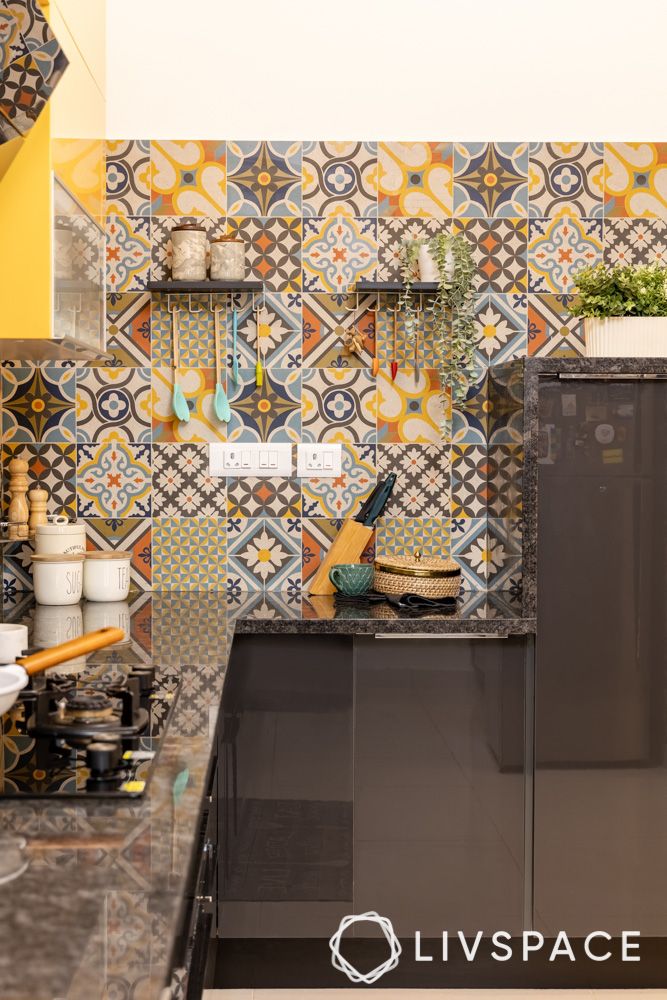 Wouldn't you just love to work in this kitchen with such gorgeous kitchen wall tiles? On gloomy days, this Moroccan-inspired tiles design in myriad hues will brighten your mood.
Here are 8 stunning ways to use Moroccan tiles.
2. Pastels and Patterns in Kitchen Wall Tiles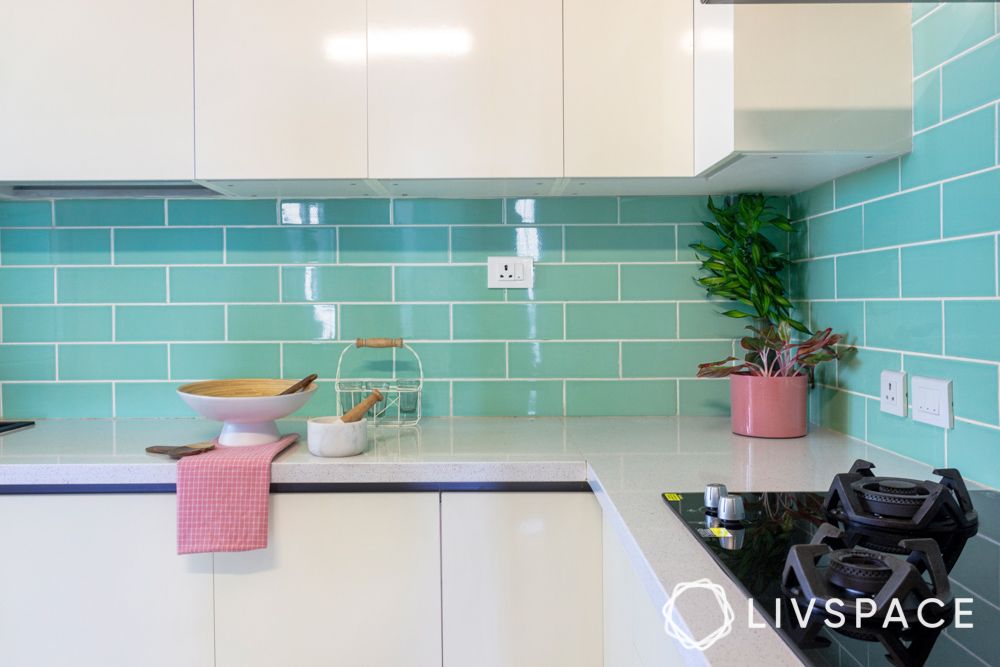 If your kitchen wears neutral colours on cabinets and walls, then the backsplash should stand out with kitchen tiles designs in stunning colours that complement the neutral shades. We're crushing on this unique modern kitchen wall tiles design combination.
3. Origami-Printed Tiles for Kitchen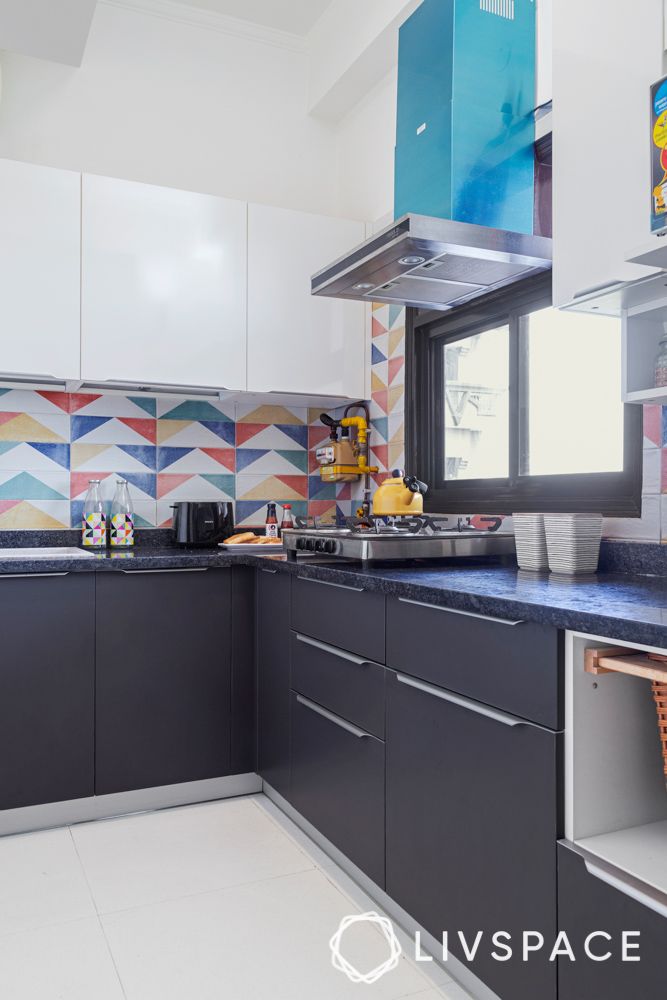 Origami tiles for the kitchen is such a fun idea for your backsplash. The colourful print in this kitchen wall tiles design complements the mix of black and white cabinets to paint a happy picture.
4. Modern Kitchen Tiles Design With Honeycomb Patterns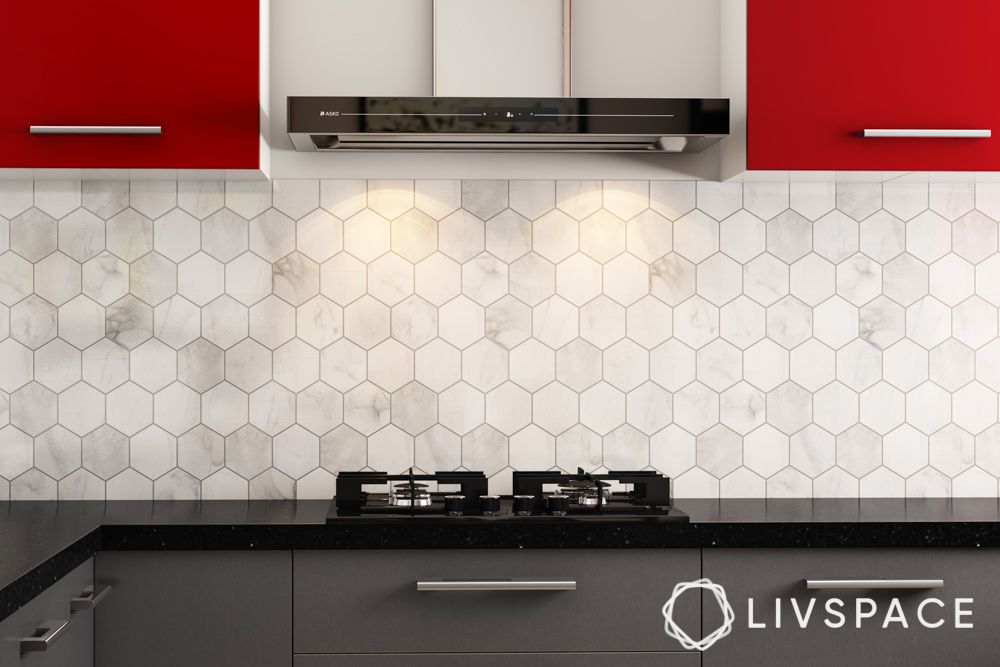 Kitchen tiles designs with a honeycomb pattern, anyone? This interesting pattern creates visual intrigue while white modern kitchen wall tiles make this space bright.
5. Copper-Coloured Tiles for Kitchen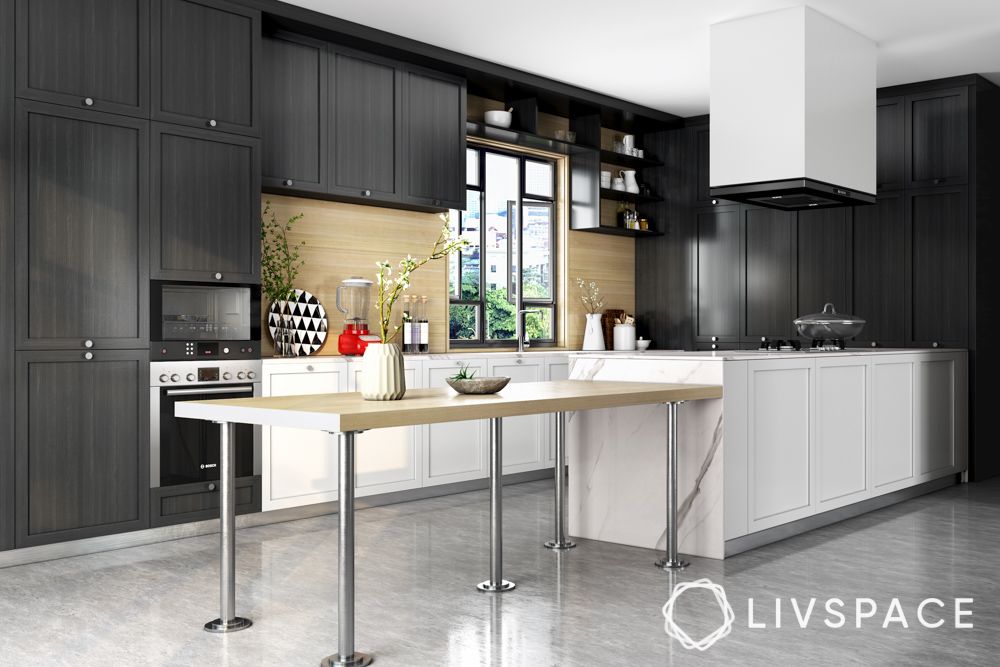 Infuse your kitchen design with some copper-focused magic by getting a backsplash in this rich colour. For a simple kitchen wall tiles design, match it with the wall cabinets that will also give it a seamless look.
You might also find this complete guide to kitchen tiles useful.
6. Mosaic Dado Tiles for the Kitchen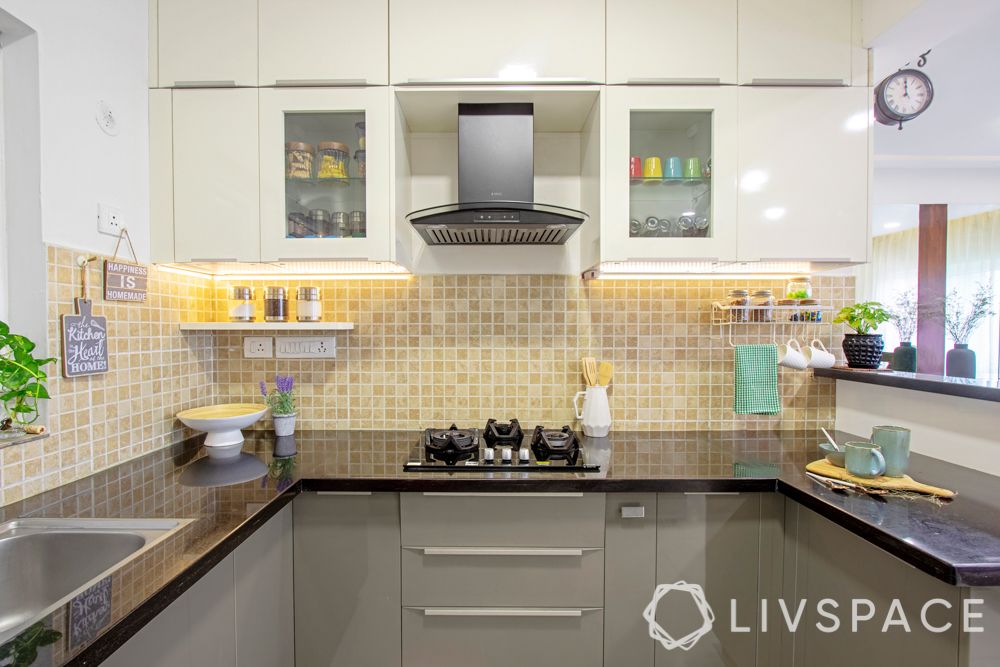 Introduce some mosaic magic in your kitchen with this subtle orange-tiled backsplash. Simple but elegant, these kitchen wall tiles will suit any personality.
7. Aqua-Coloured Tiles for the Kitchen Wall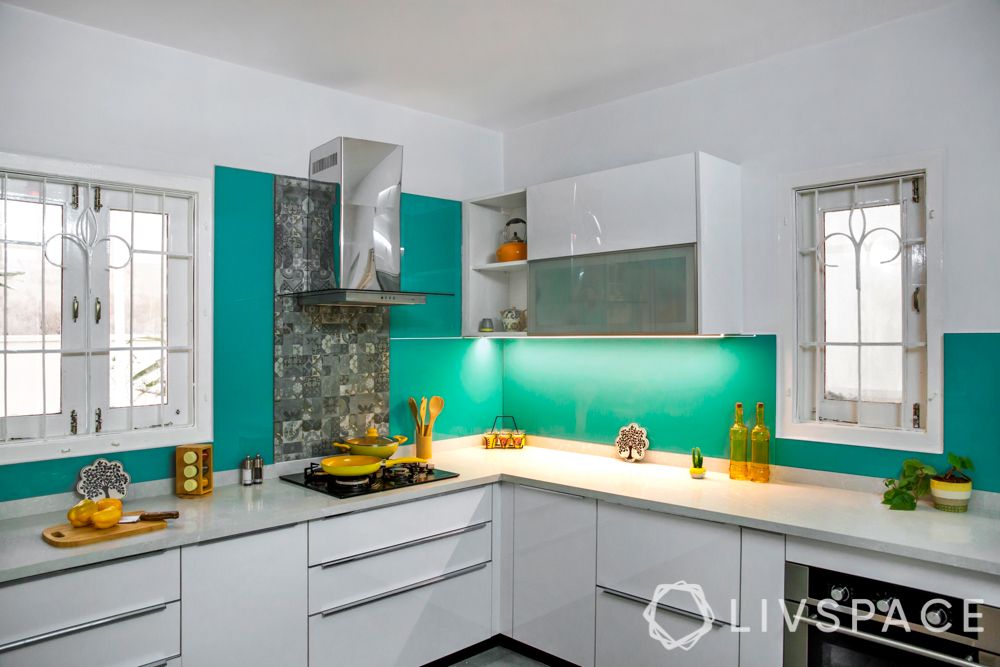 A perfect shade for light-coloured cabinets, this aqua-coloured kitchen tiles design is a visual treat. Give your kitchen a breezy appearance with this modern kitchen wall tiles combination.
8. Monochromatic Tiles for Kitchen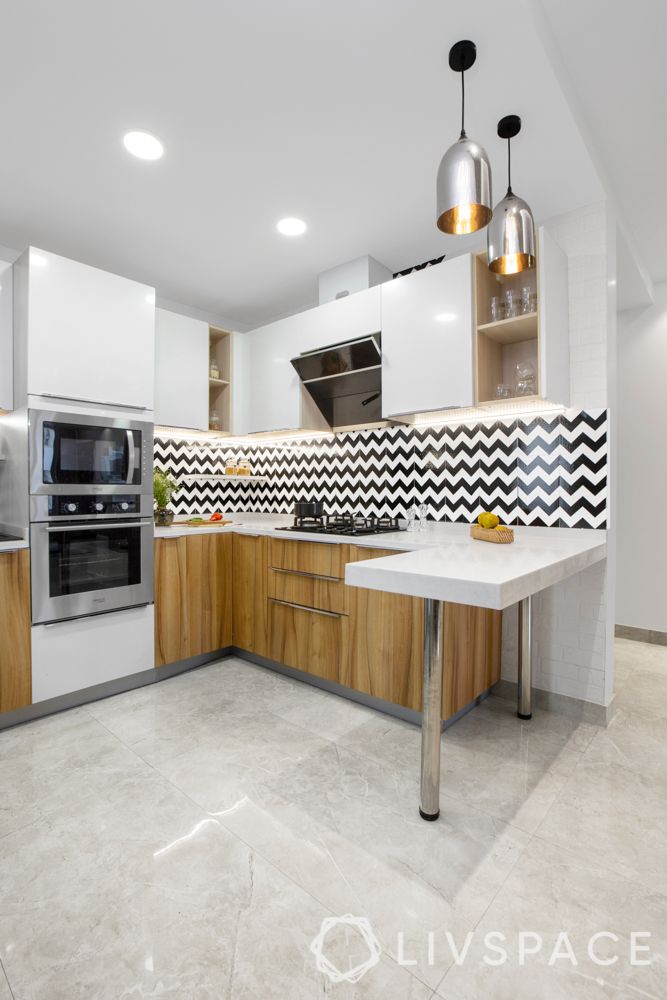 A monochrome kitchen wall tiles design with kaleidoscopic patterns is all you need to give your kitchen some character. Pair your kitchen tiles designs with wooden kitchen cabinets to turn your space into a stunner.
9. Geometric Patterns in Modern Kitchen Wall Tiles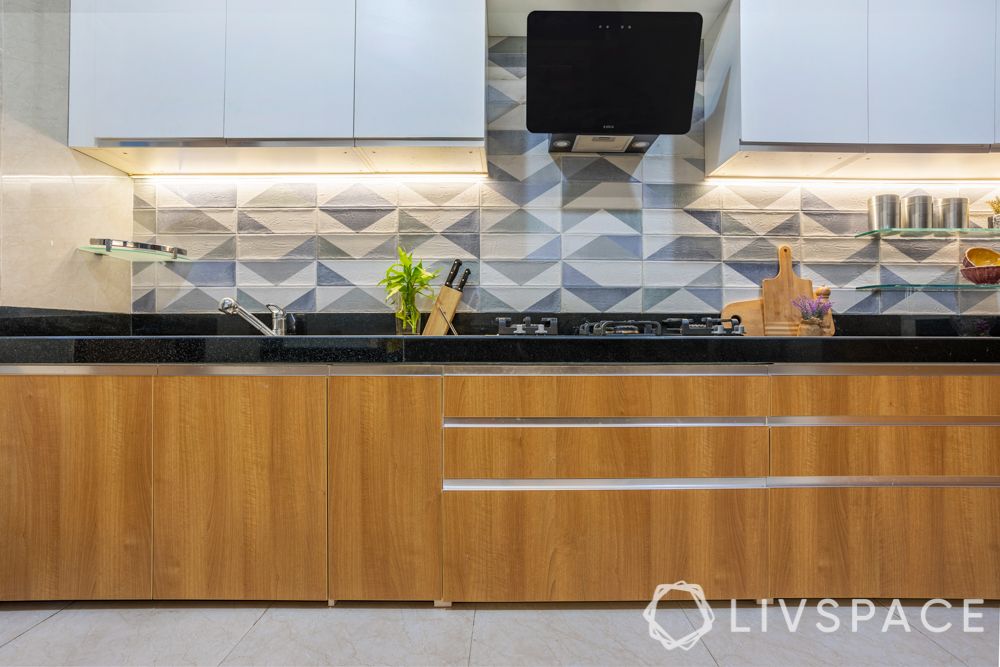 Catch up with the current kitchen tiles design trend and add some eye-catching geometric patterns to balance the neutral colour palette.
Did you know that backsplashes don't necessarily have to be made of kitchen tiles? Learn about the different types of backsplash materials you can use.
10. Granite Kitchen Backsplash Tiles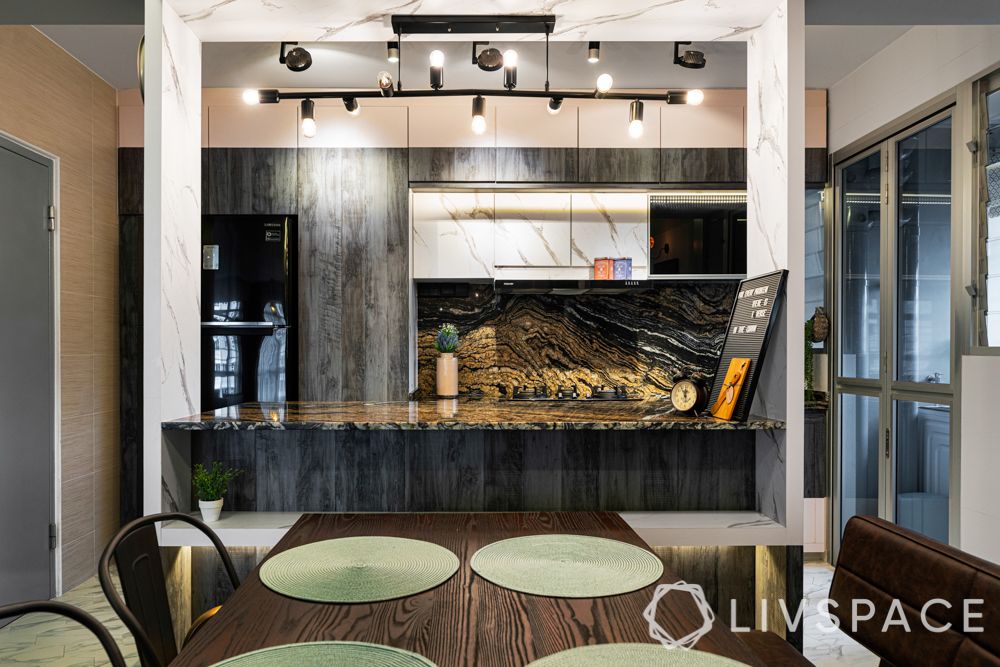 You don't have to stick to modern kitchen wall tiles but can also go for granite as a classy choice for a backsplash. It is just the balance that this dark-coloured kitchen needed.
11: Modern Kitchen Walls Design With Lacquered Glass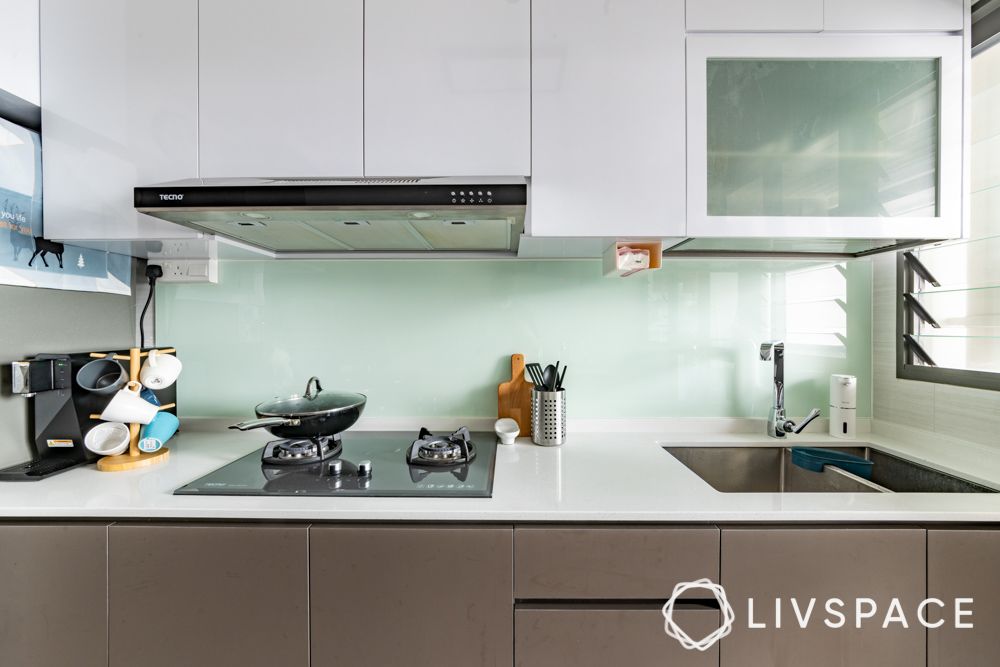 Take the backsplash game up a notch and add a pretty lacquered glass to your kitchen. This choice of green adds a chic look to the setting.
12. Chequered Tiles for the Kitchen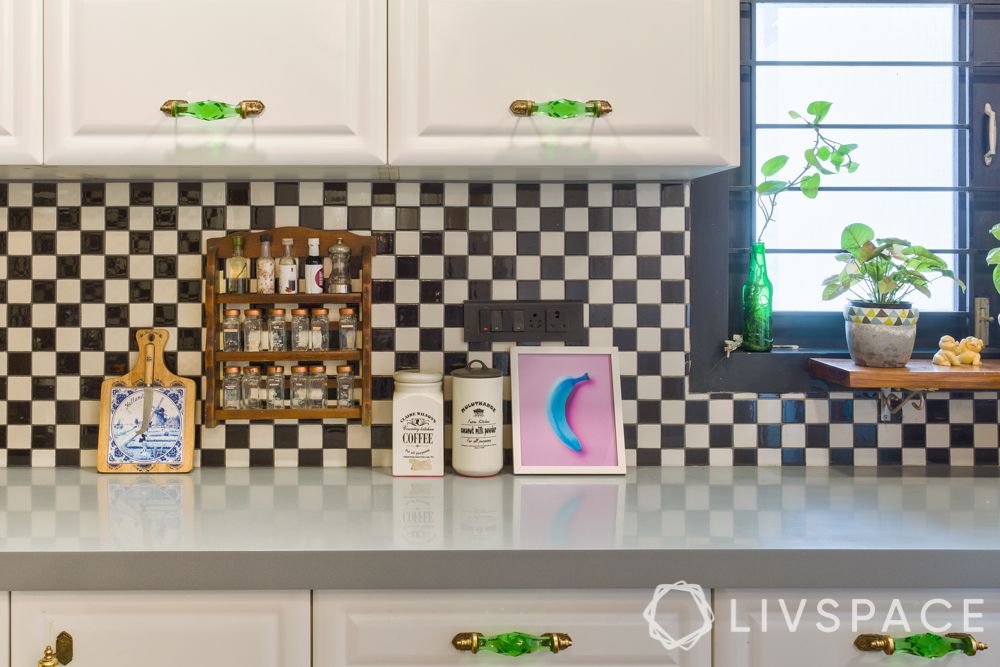 Ready for a game of chess? Chequered designs are visually appealing and pair well with white kitchens—especially a simple kitchen wall tiles design with a retro theme.
13: Hand-Painted Tiles for the Kitchen Wall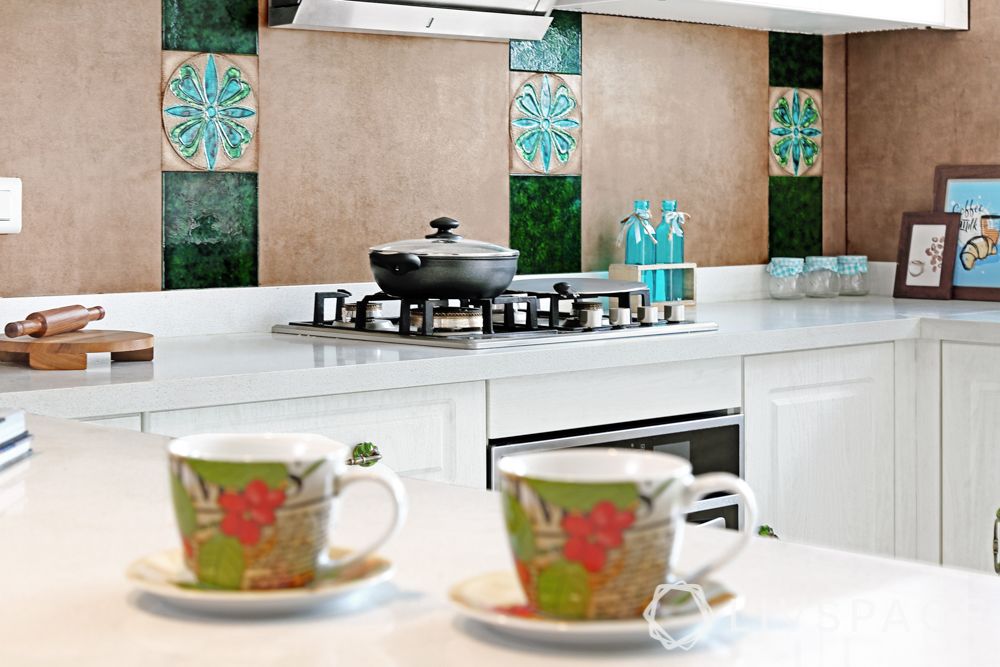 Have you considered hand-painted tiles for kitchen walls? Consider getting these beautiful patterns that add to the ambience of the space.
14: A Mix of Patterned Dado Tiles for Kitchen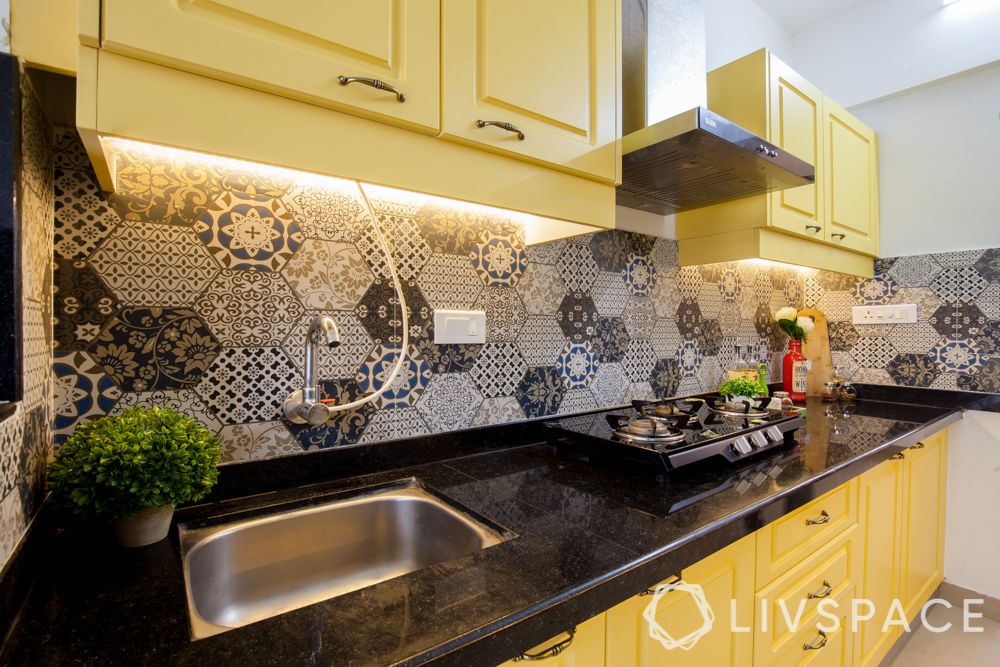 Go Moroccan with these stylish kitchen wall tiles. We love the way so many unique patterns combine to give the kitchen an eye-catching appearance.
15. Modern Kitchen Wall Tiles With Strip Designs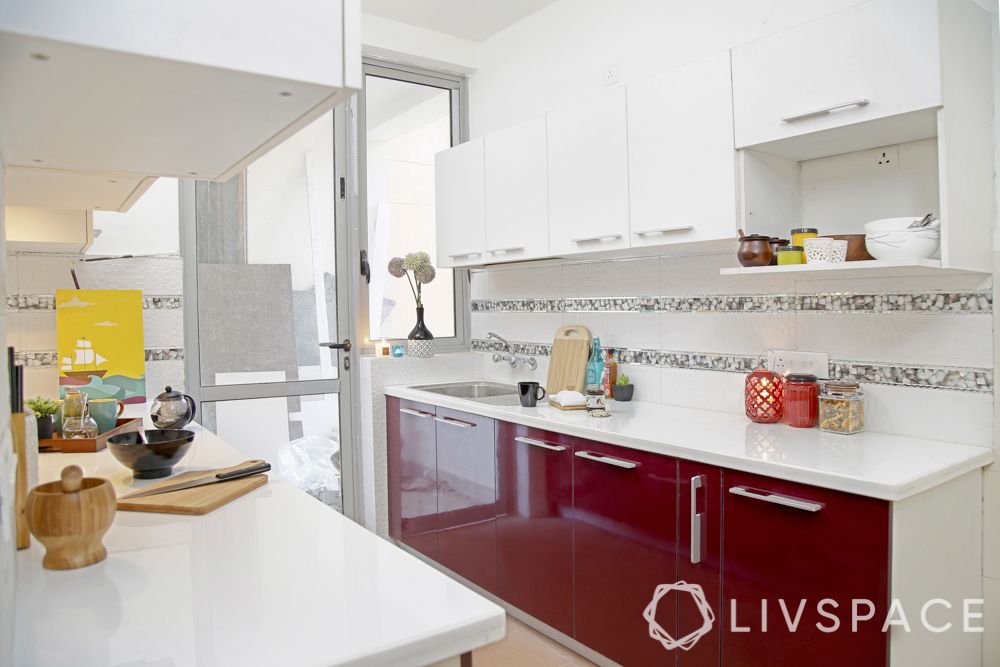 Shimmering strips may be a good idea to enhance the oomph factor of your kitchen! Don't you think this kitchen wall tiles design looks stunning against the white backdrop?
16: Glass Backsplash Kitchen Wall Tiles Design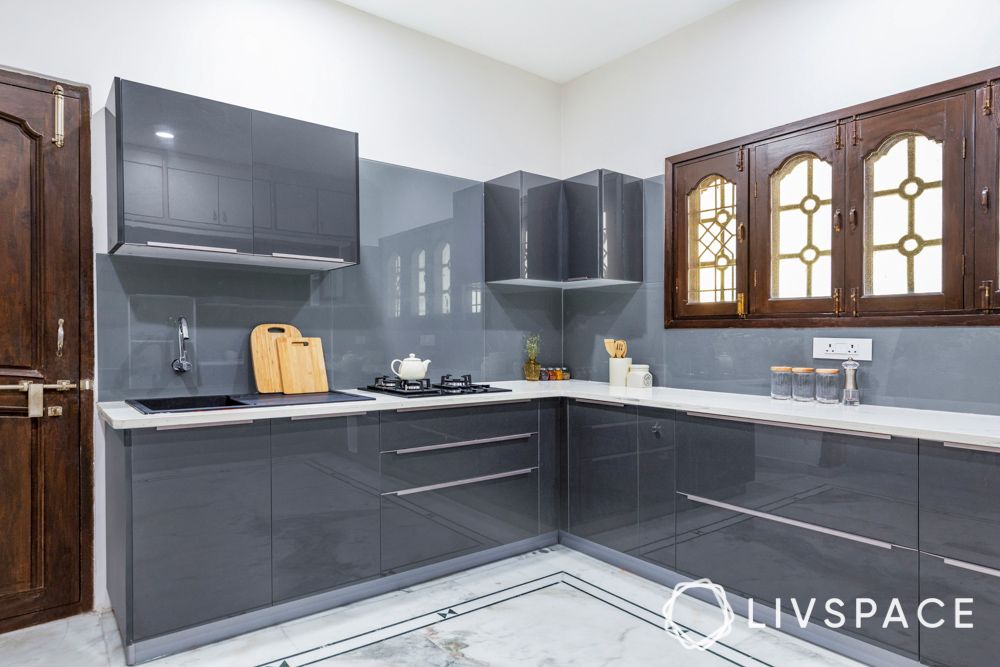 Another addition to the shimmering option, these glass tiles placed together are all you need to make your simple wall kitchen tiles design glamorous.
17: A Modern Kitchen Tiles Design With Marble Backsplash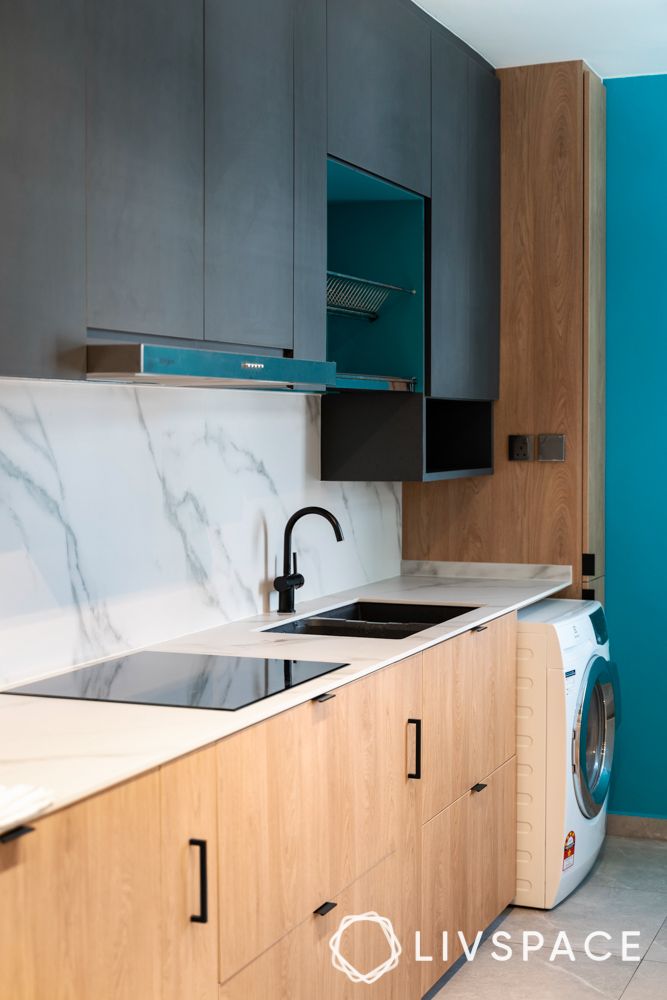 Want a luxe kitchen? The fastest way to add sophistication to any kitchen is to add a marble backsplash. Pair it with solid-coloured cabinets for an elegant finish.
18: A Subtle Kitchen Tiles Design for a Minimal Look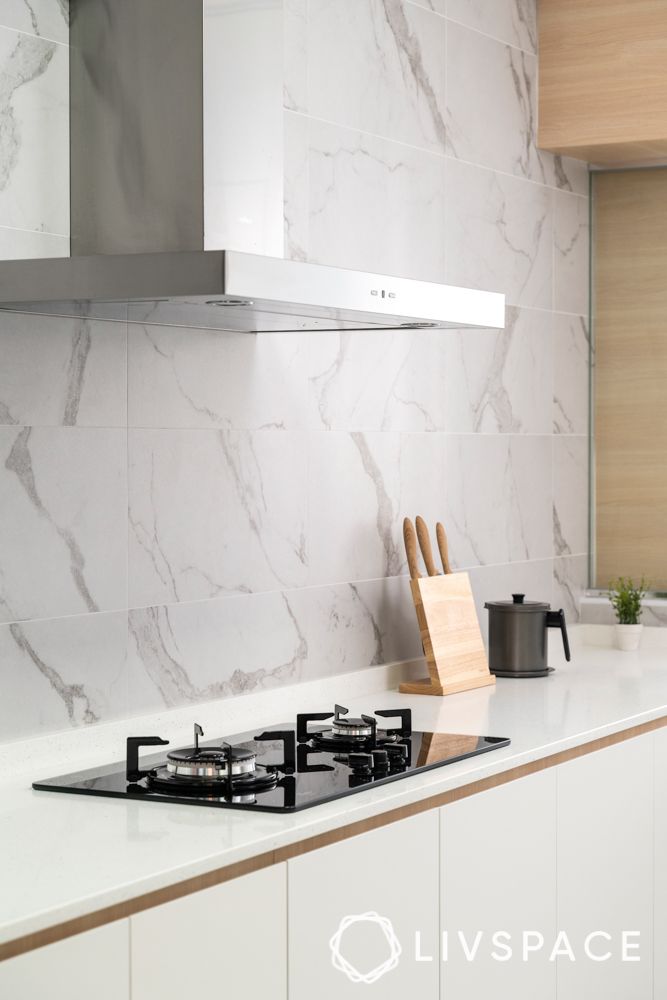 Some of us don't like kitchens with loud colours. In which case, a minimal kitchen tiles design is the best idea. Pair white on white to easily bring your minimal kitchen to life.
19: Decorative Kitchen Wall Tiles Design for A Striking Contrast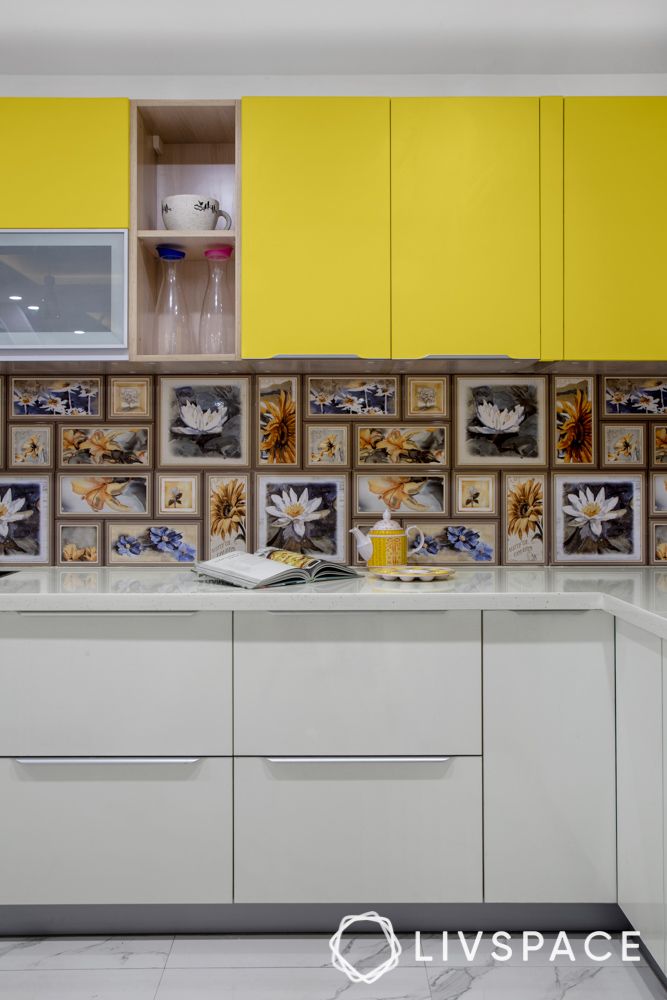 Indian kitchens can give you the best examples of trendy colours. Look at the above kitchen, for example. The yellow cabinets contrast with the hand-painted tiles with unique patterns. Absolutely eye-catching, right?
20: An Antique Yet Simple Kitchen Wall Tiles Design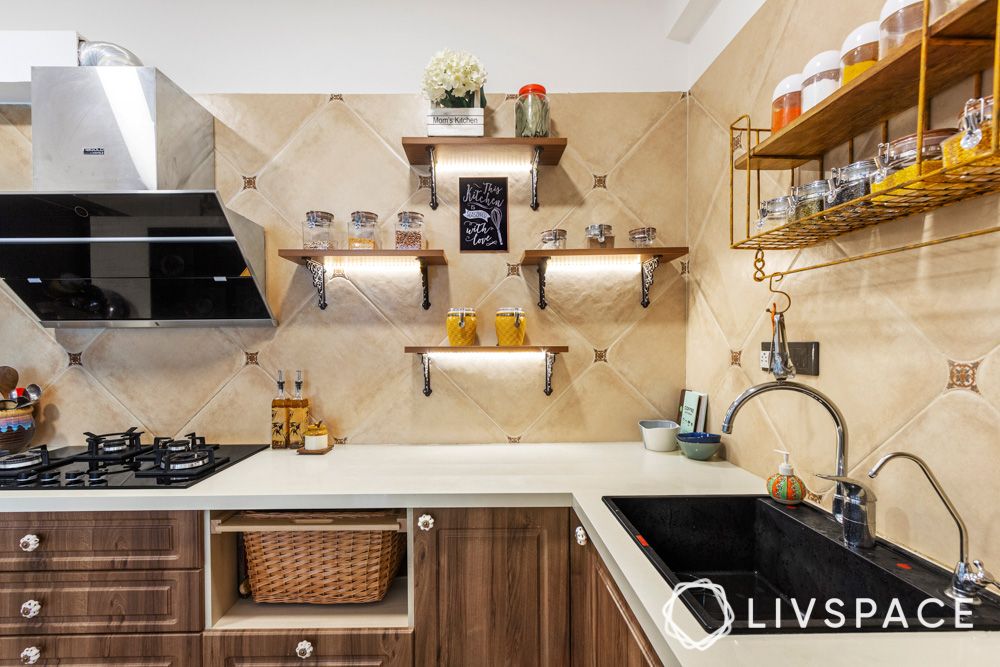 Modular kitchens can be adopted to any aesthetic. This membrane-finished kitchen screams vintage with its open shelves supported by Indian-style iron hooks. However, the backsplash steals the show with its Indian-inspired minimal design.
21: Modern Kitchen Wall Tiles in Earthy Neutrals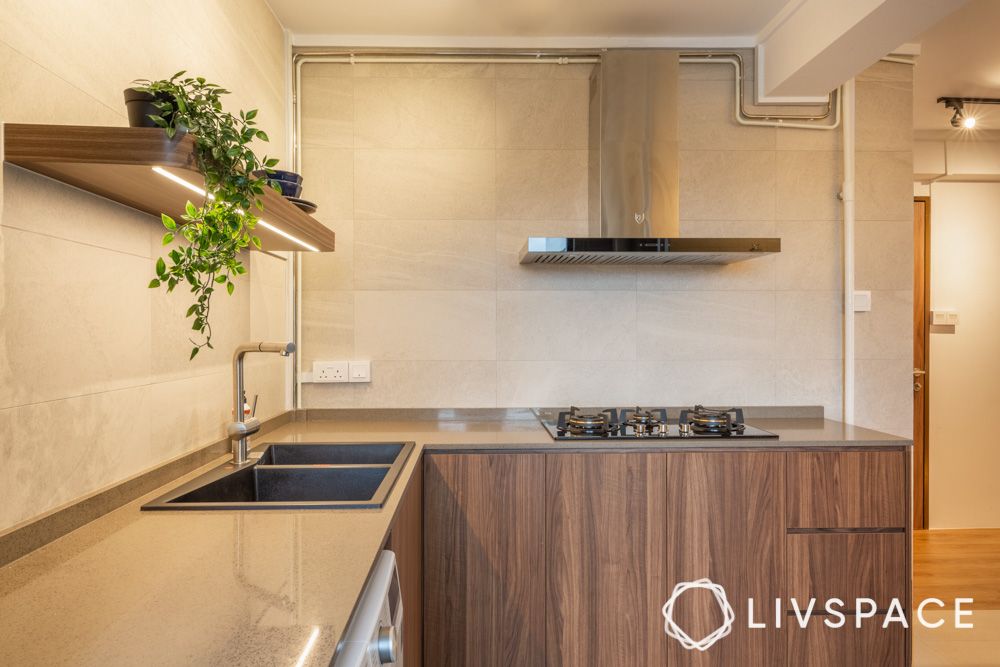 The secret to making a relaxing environment is out—and it lies in using earthy shades. Livspace designers have replicated the vibe perfectly in this kitchen by using earthy neutrals. The kitchen tiles design is a soft beige that blends in perfectly.
22: Go Classic With Subway Tiles for Kitchen Walls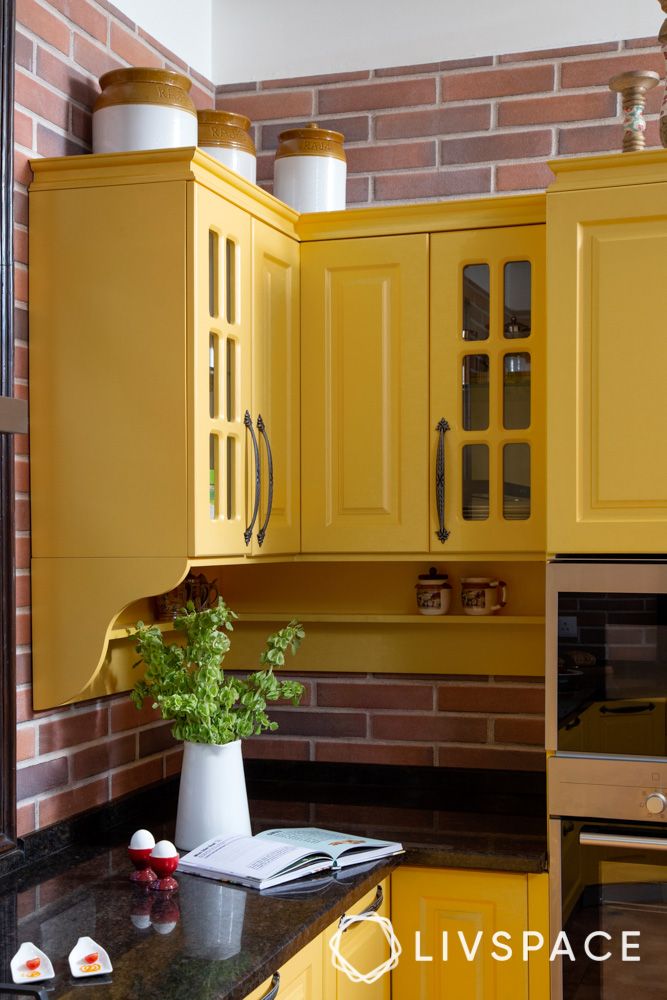 Subway tiles are the most timeless choice when it comes to the kitchen backsplash. They are versatile and easy to clean. This kitchen embodies all that with a red subway kitchen tiles design and contrasting yellow cabinets.
23: Use Terrazzo for a Modern Kitchen Tiles Design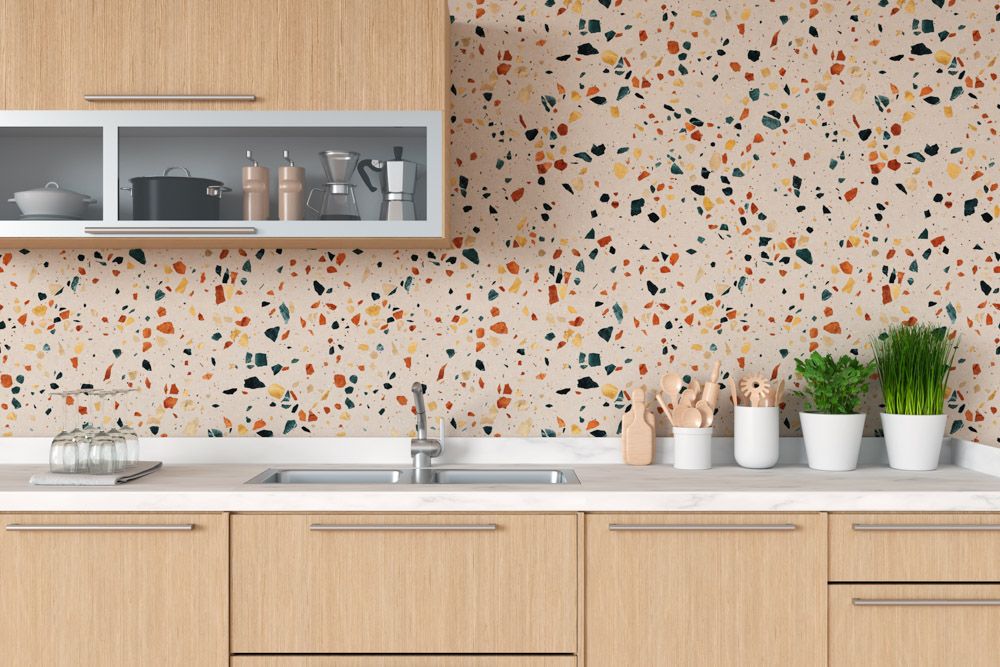 A terrazzo kitchen tiles design for a backsplash have made a comeback in recent years. They are trendy, low cost and low maintenance. Known for their quirky patterns, Terrazzo tiles make a strong statement in any kitchen.
24: Bring in Spanish Backsplash Tiles for Kitchen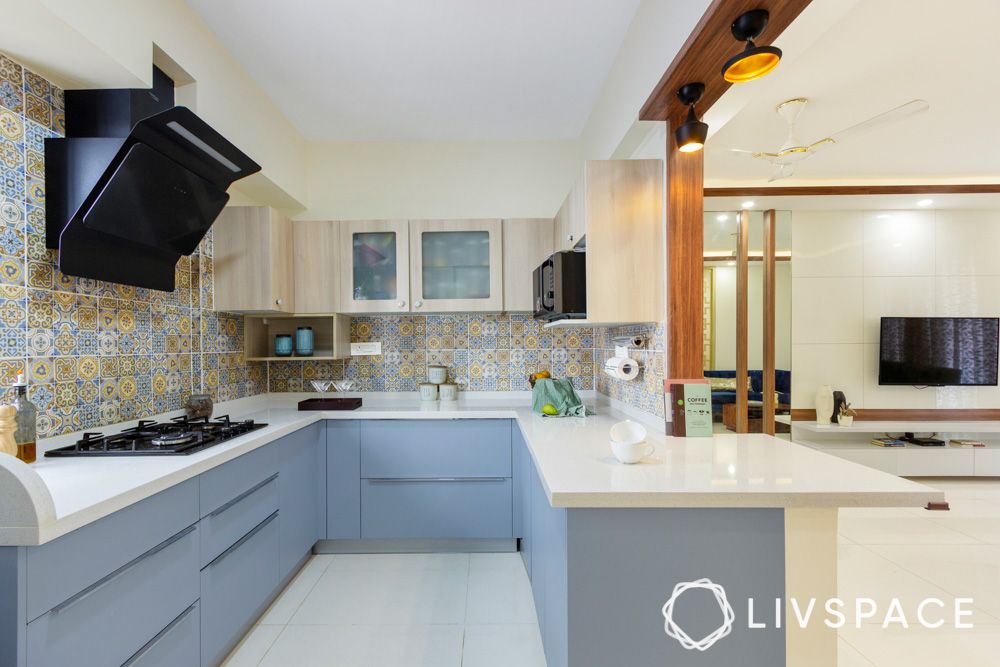 Spanish tiles are known for their quality and beautiful varieties. Thus, their patterns fit right into any Indian kitchen.
25: A Chevron-Patterned Kitchen Tiles Design in a Modern Indian Kitchen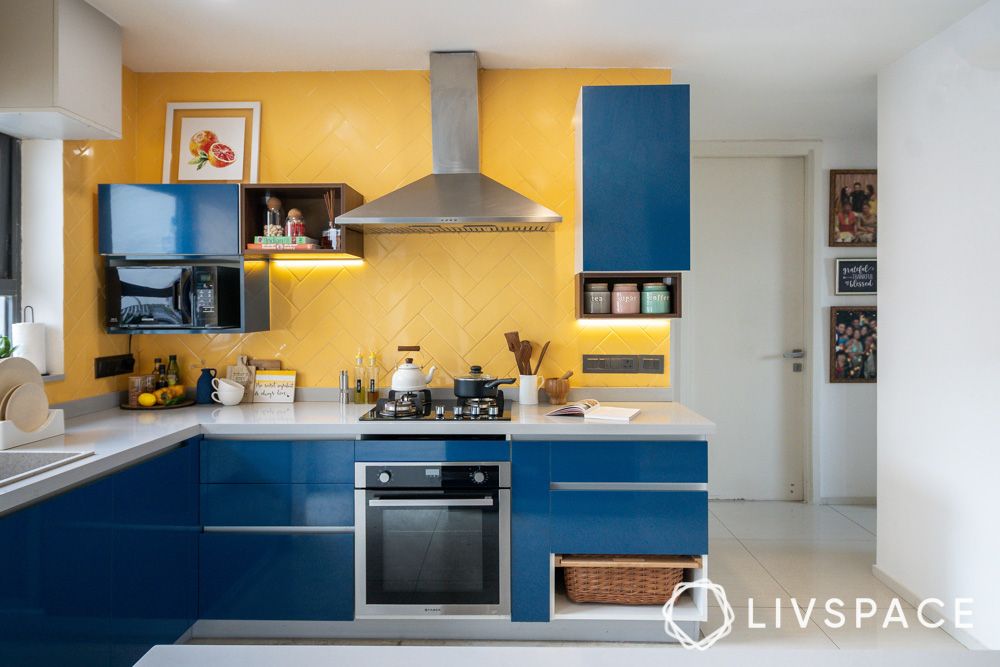 Chevron-patterned tiles are popular in any Indian kitchen. They can be made with ceramic, porcelain or vitrified tiles. Easy to maintain and available in a huge range of shades, they are well fit for any Indian kitchen.
26: A Kitchen Tiles Design With Penny-Style Tiles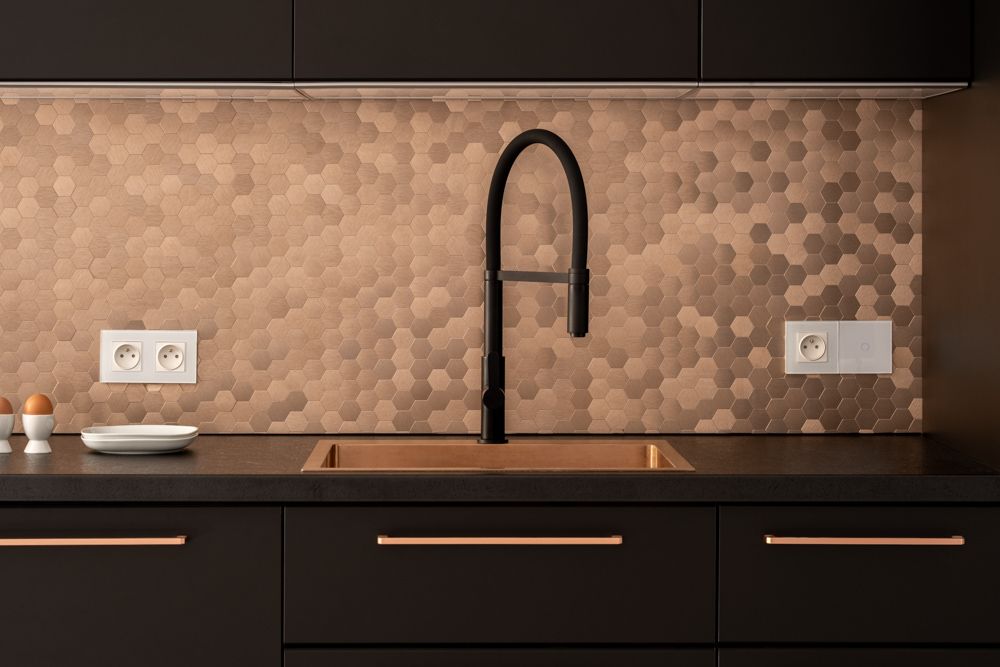 Penny tiles are a luxe choice for most Indian homes. They bring with them a rather contemporary touch. They have been used as accent finishes in most spaces and can do the same to your kitchen backsplash.
Can You Use Kitchen Backsplash Tiles as Floor Tiles?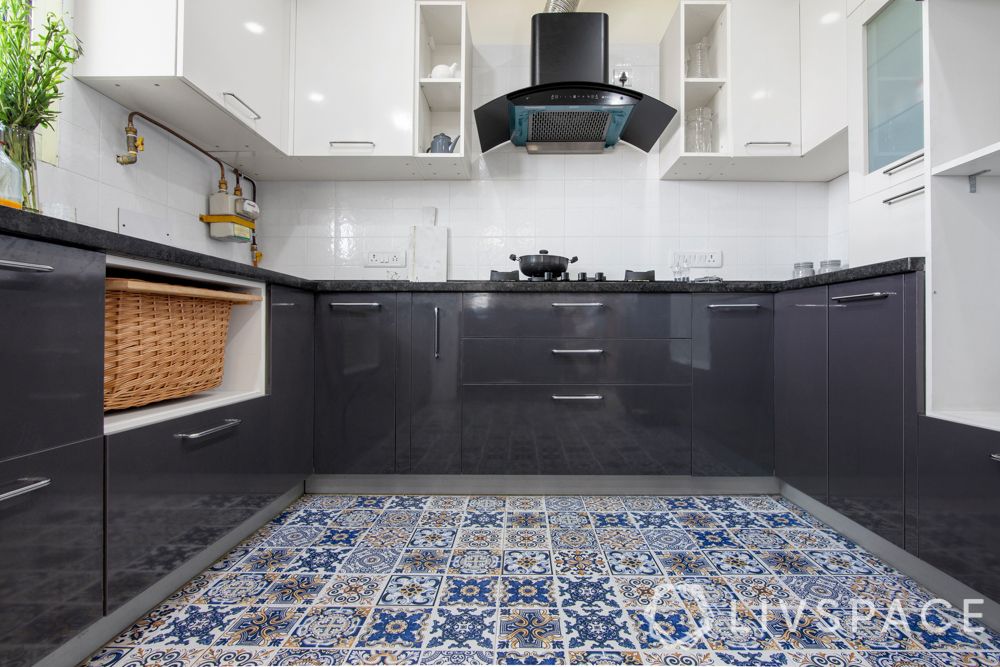 You can always lend a dash of colour to your floors and use the kitchen backsplashes as flooring. But before you use your kitchen backsplash tiles for flooring, here are a few points to keep in mind.
Wall tiles are thinner than floor tiles and can come in a high-gloss finish, making them slippery
Not all backsplash tiles can be used as floor tiles. However, floor tiles can be used as backsplash tiles.
Lacquered glass cannot be used as a flooring option as it can chip and break easily.
When you purchase tiles, make sure to check their grading. Tiles graded in group 1 can be used on walls, but not as flooring.
Tiles graded in group 3 and above can be used in kitchens and heavy traffic areas.
Also Read: Can you replace wall tiles with floor tiles?
Kitchen Tiles Design Maintenance Tips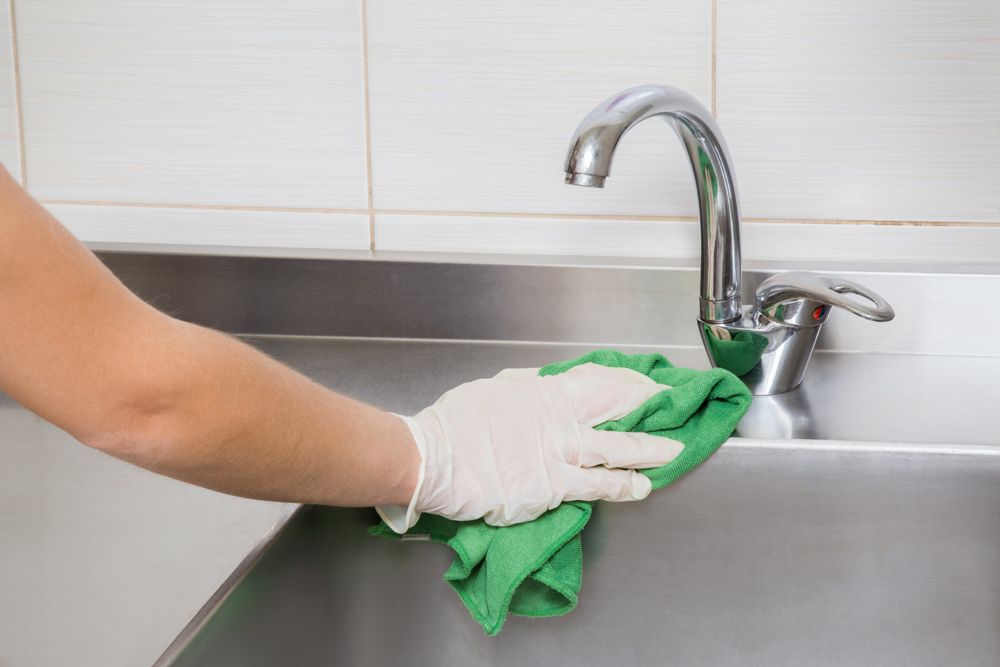 Kitchen backsplashes need regular maintenance too. Thus, here are some tips for maintaining tiles you should keep in mind:
Avoid stains and smudges by cleaning the kitchen tiles after each cooking session. You can use easily available disinfectants or water and sponge for the same.
For extra-stubborn stains, you can use an old toothbrush. Mix equal parts vinegar and baking soda to make a cleaning mixture. Use this on the stains and rub it with the toothbrush. However, for patterned tiles, switch the toothbrush for a soft sponge.
Vacuum the sides to get rid of any grout.
Deep-clean your kitchen once a month to avoid stains from sitting on the kitchen tiles.
Check out more modular kitchen designs:
Did you enjoy reading this article? Next, read about the 6 most popular countertop options that you must consider for your kitchen. We make beautiful kitchens. Reach out to us for your own kitchen!
How Can Livspace Help You?
If you want beautiful interiors for your home, book an online consultation with Livspace today.