Grey kitchen designs are the latest fad in contemporary Indian homes. Why? Grey kitchens are not only just as versatile as black or white but can also be easily adapted to a variety of styles and spaces.
In addition, in a warm climate like ours, grey kitchen ideas offer a pleasantly cool dimension to homes. For inspiration, check out our collection of Livspace grey modular kitchens that are currently in vogue:
#1: The Glossy Grey Kitchen Magic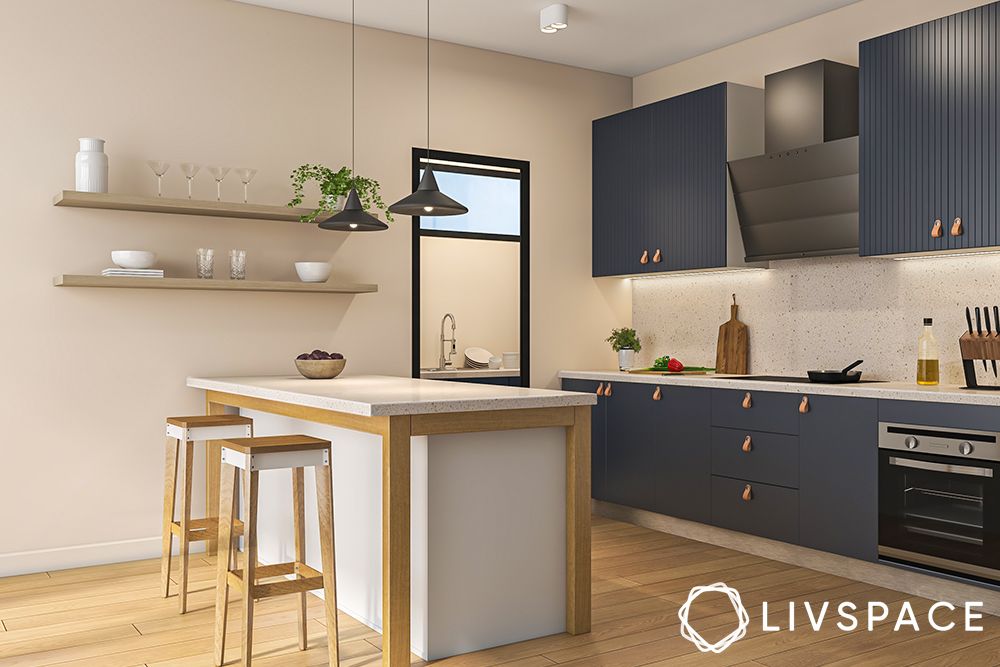 Glossy surfaces make any space appear larger than what it is, and that's exactly how the acrylic grey kitchen cabinets and island help beautify this small kitchen. A patterned backsplash complements the grey and white kitchen theme.
Light bounces off the glossy surfaces of this large grey colour kitchen and gives the space a fresh, clean look. Additionally, the modern grey kitchen cabinets are a pleasant balance between the wood panelled flooring and neutral backsplash.
#2: The Gorgeous Grey Kitchen With a Hint of White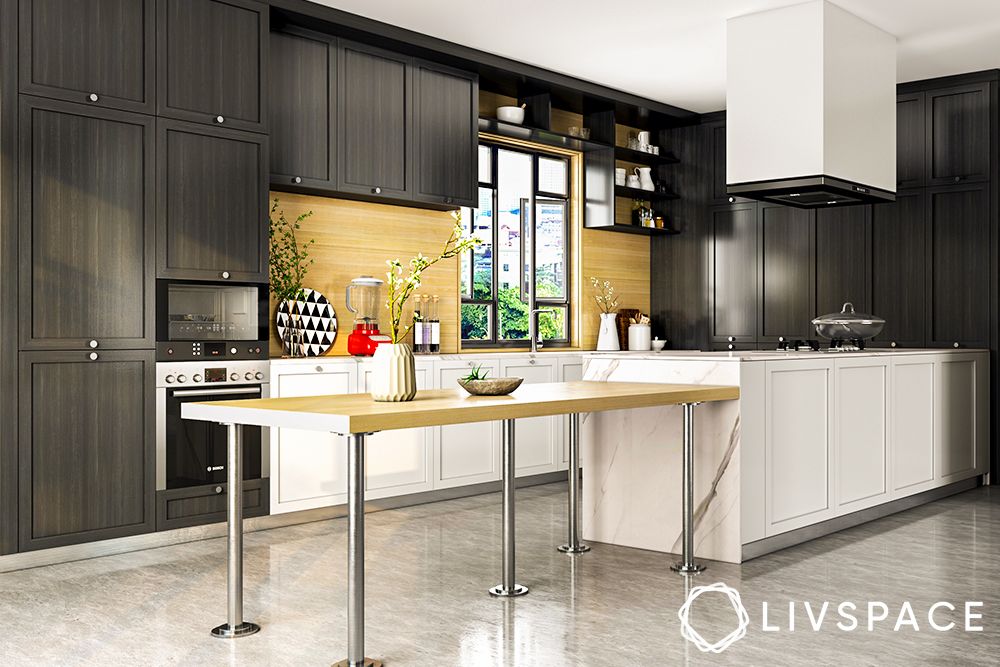 Even with its demure personality, white makes a huge impact in this predominantly grey modular kitchen. The grey kitchen colour combination uses a contrasting backsplash that adds visual appeal to the grey white kitchen design. Also, the modern grey cabinets work very well with the simple, pristine white cabinets.
With its soothing, matte grey backdrop, this kitchen instantly makes a sophisticated statement. White cabinets and shelves stand out beautifully while a pick of quaint furniture gives the space a relaxed, countryside feel.
#3. Dark Grey Kitchen Designs With Some Pattern Play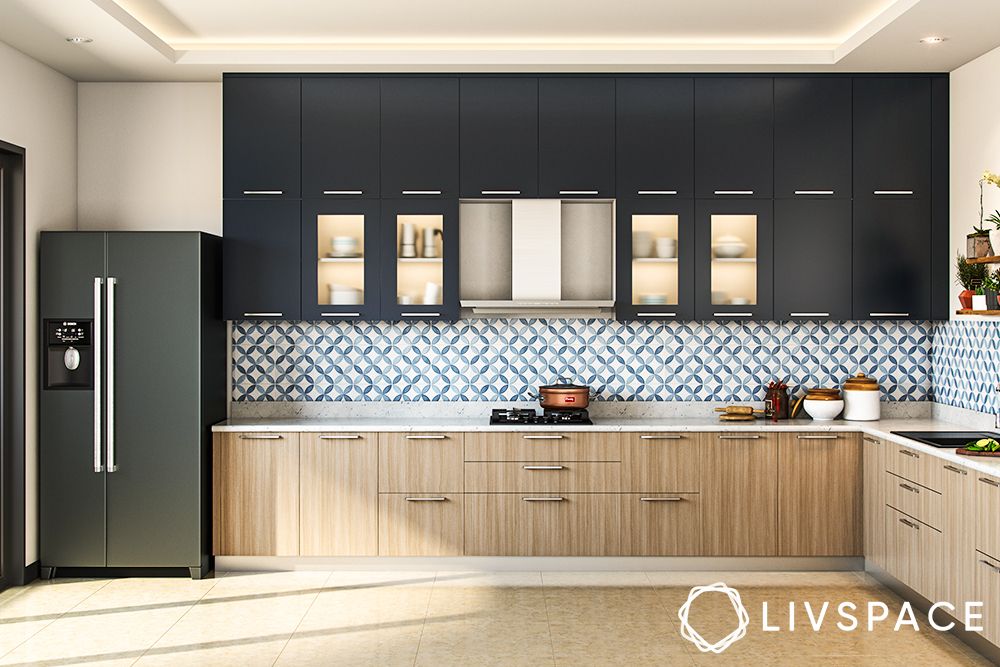 A mixture of shades and patterns gives this grey white kitchen a fresh, jazzed up look. The patterned backsplash and white countertop add a dynamic feel and beautifully complement the neutral cabinets.
An alluring, motifed backsplash becomes the focal point of this grey kitchen finished with cerused cabinets. In fact, the backsplash and lower cabinetry makes the dark grey upper cabinets really stand out!
#4: The Grey Kitchen of Your Dreams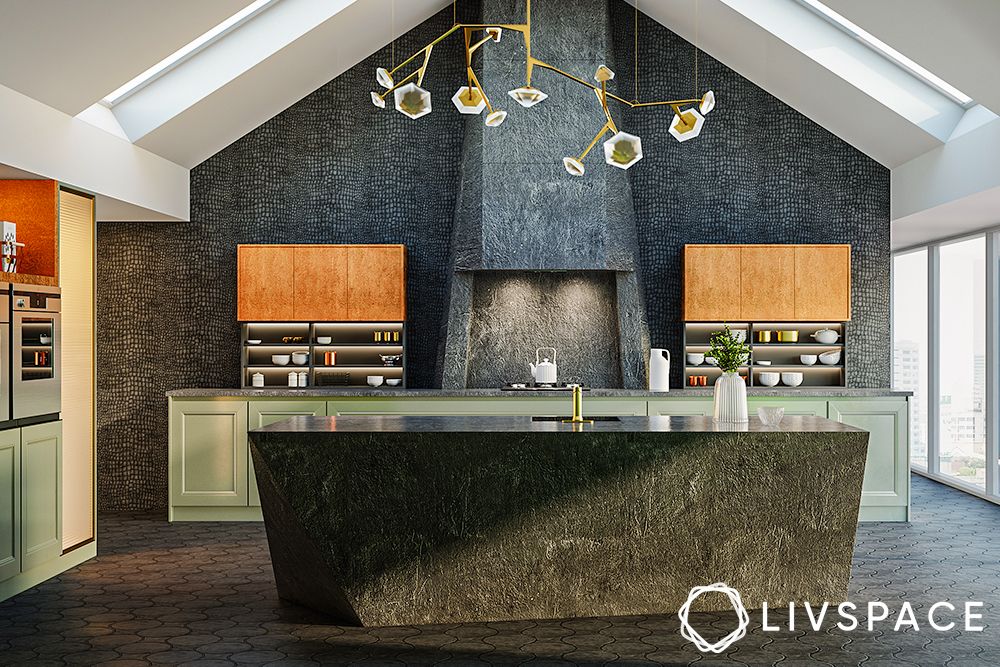 If bold colors are not your cup of tea, then you can opt for neutrals for your lower cabinets and overhead shelves. Pair it with dark grey on the walls, the island and the flooring. The effect is grand.
#5. The One With the Modern Grey Kitchen Cabinets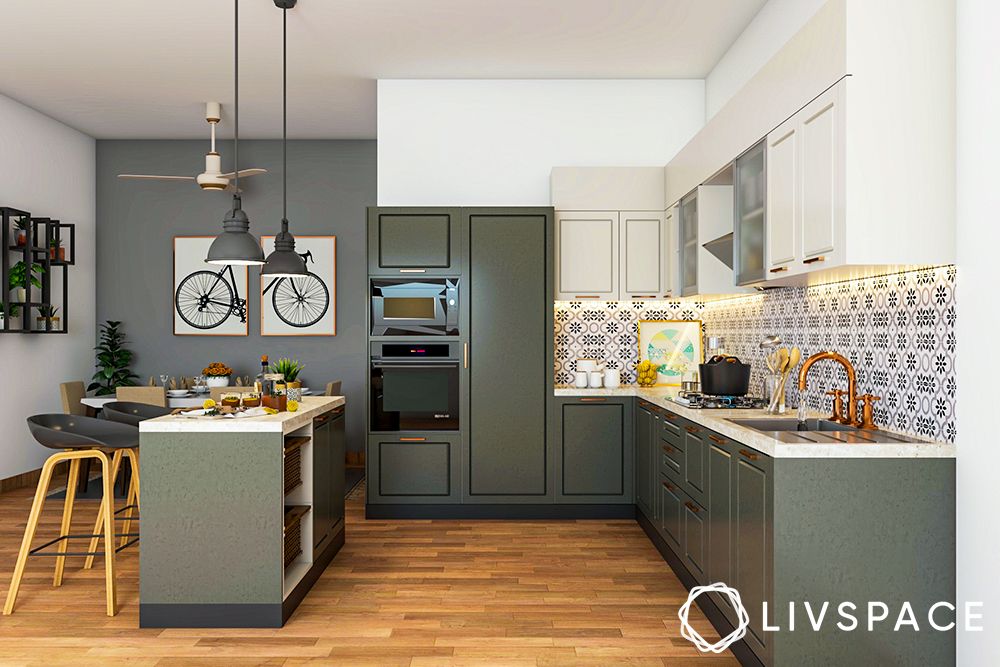 There's nothing more beautiful than gradation of a sophisticated color like grey. This traditional-inspired grey and white kitchen uses a light shade of grey in tandem with white and neutrals to keep things interesting.
#6: The Mix & Match Grey Kitchen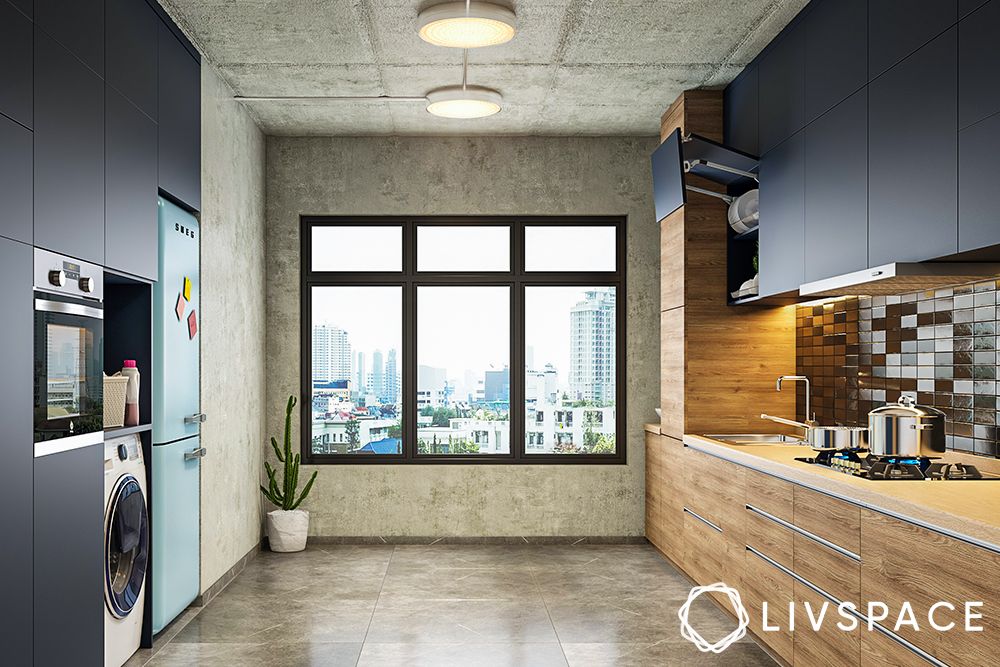 Being a versatile hue, grey pairs well with a variety of colours. With pops of appetite-stimulating neutrals and beige among a sea of greys, this modern grey kitchen makes a dashing impression.
This kitchen uses a combination of grey and wooden textures for a cosy yet crisp appearance.
#7: Chic and Modern Grey Kitchen Ideas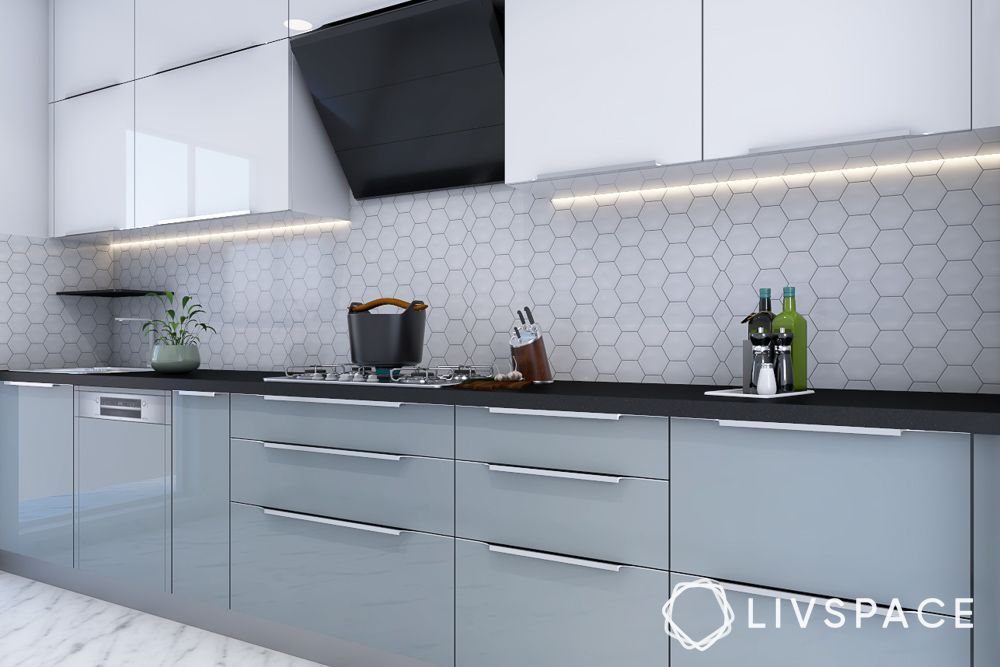 Love the hexagonal backsplash that plays perfectly with the grey colour palette? We do, too! It adds a much-needed visual relief and becomes the focal point of this modern, modular grey kitchen which boasts handleless cabinets!
#8: Small Grey Kitchens That Start With YO(U)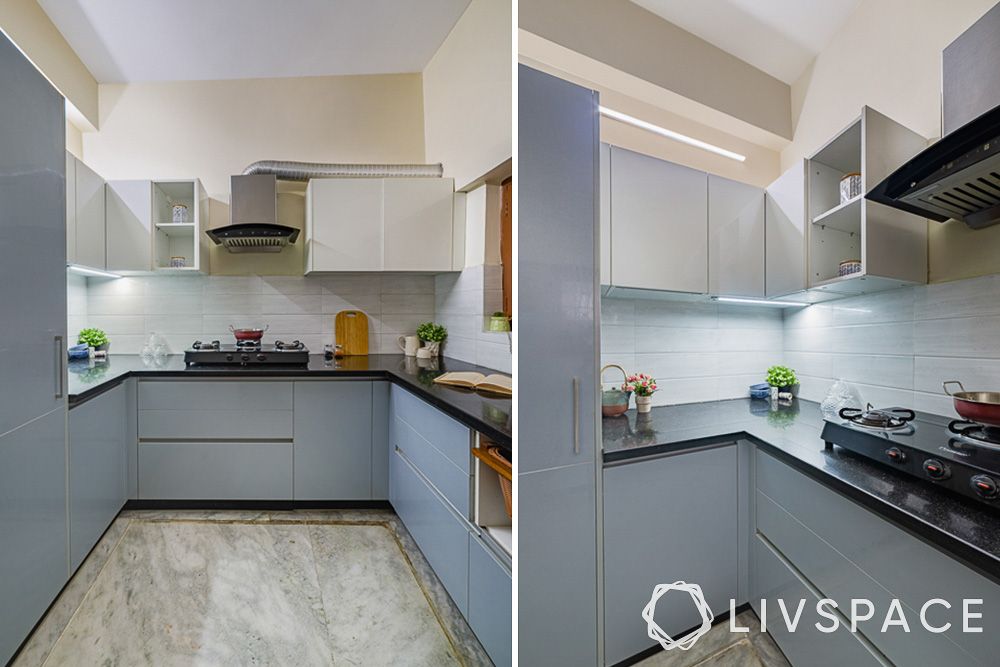 One of the biggest struggles of modern-day living is fitting all our knick-knacks in our little kitchens, and having them appear clean and uncluttered all day, every day!
It's not hard to achieve this when you opt for a grey kitchen design like the one above. It fits everything (tall units for pantry/appliances, upper and lower cabinets for condiments and utensils, wicker baskets for vegetables, two countertops).
This U-shaped grey kitchen idea can really give you the inspiration your kitchen transformation deserves.
#9: Sleek and Compact Kitchen With Modern Cabinets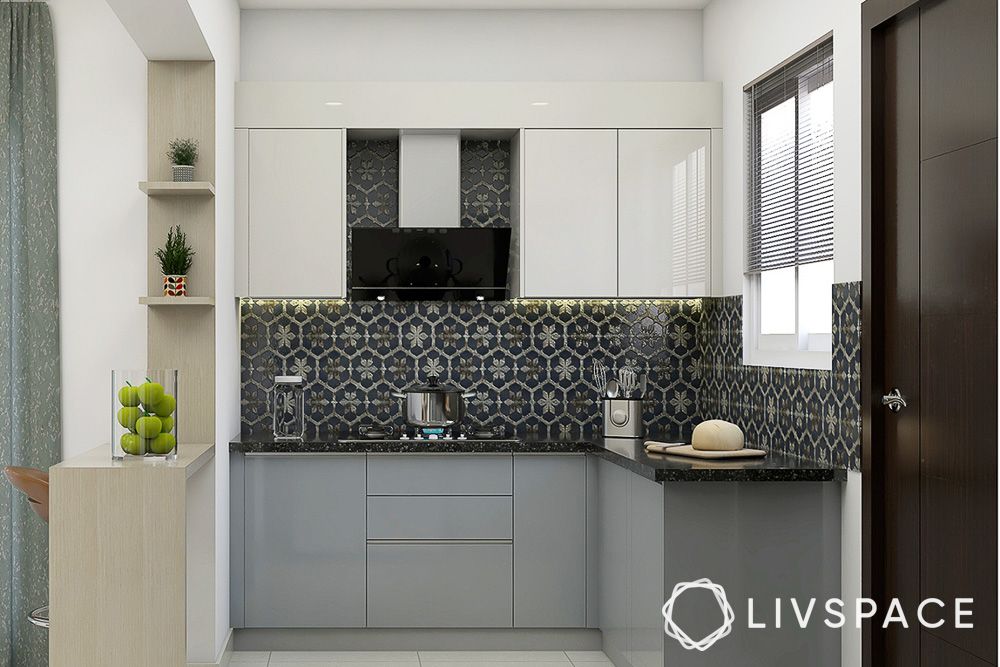 When it comes to modern grey kitchen cabinets, do you envision modular fittings that are seamless, handleless and gorgeous? Add the power of AntiBubble technology, AquaBloc and Durabuild to your cabinets with Livspace and make them stand the test of time.
Plus, small grey kitchen ideas like this one are sure to make your home stand out from the rest.
#10: Charcoal Grey Kitchen Ideas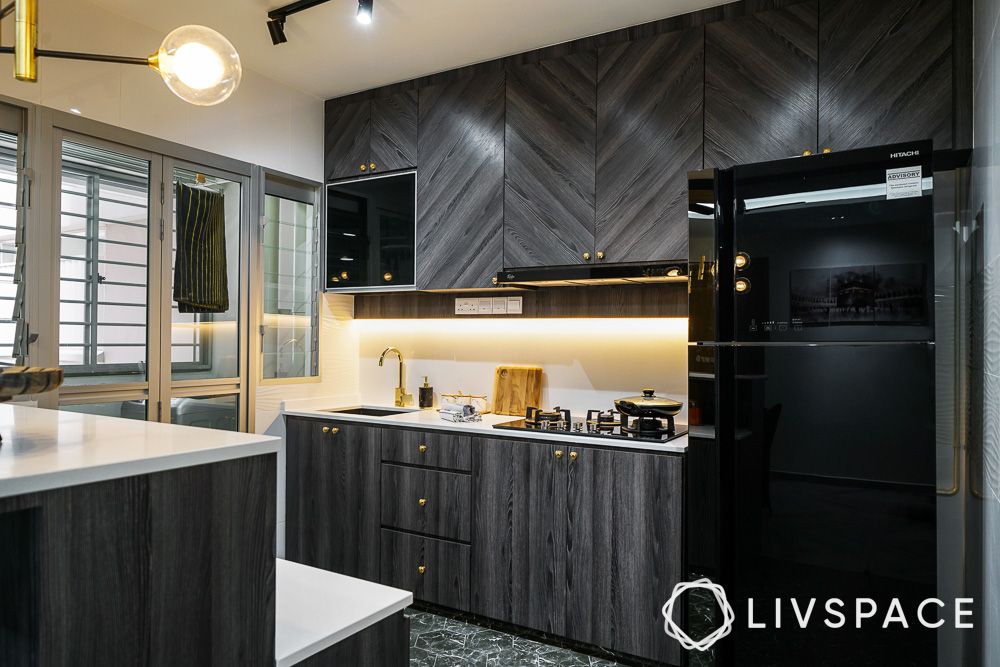 The charcoal hues give this kitchen a stylish and sophisticated look. Dark grey kitchen ideas can be hard to implement if not complemented by the right number of textures and colour breaks.
Beige and brass accents with the careful use of white has accentuated the look of this space, imparting a vibe that's almost regal in a modern world!
#11: Elevate the Smallest Kitchens With One-Tone Touches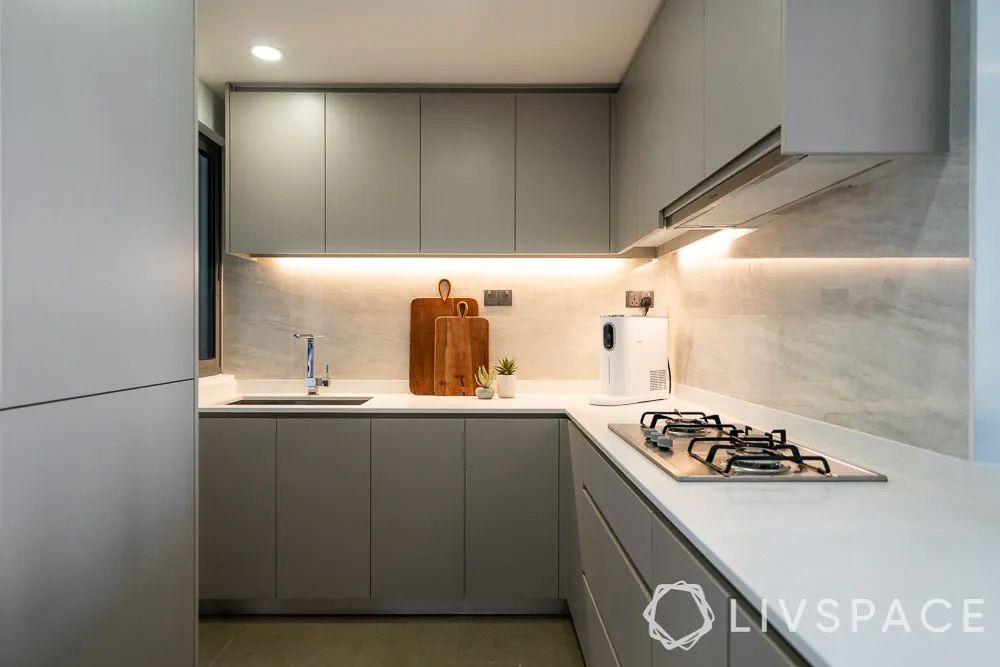 Small grey kitchen ideas may be hard to find, but not with us. Space is scarce, but your design choices don't have to be.
Following the same colour and tone, this grey kitchen has been designed with modern grey kitchen cabinets that lend a touch of personality to the space!
#12: Timeless Grey Kitchen Designs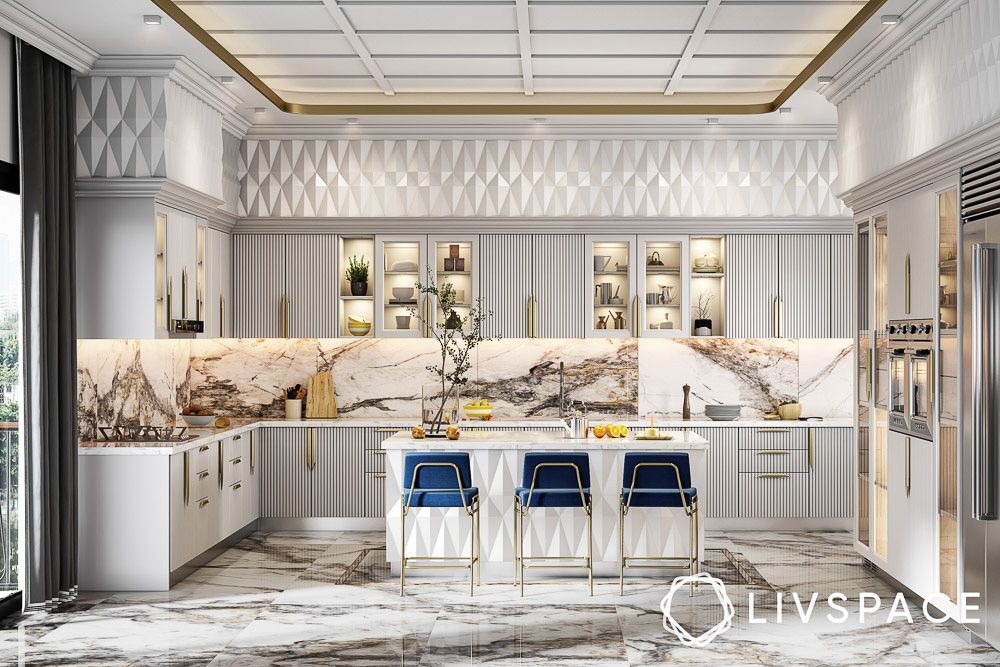 This luxury light grey kitchen only uses textures to achieve a stunning, sophisticated look. With the blue chairs being the only colour apart from the neutral/greyish palette, this kitchen boasts clean lines and an even cleaner look!
Brass accents, granite patterned backsplash and warm lighting come together to finish this work of art!
When it comes to kitchen color schemes, black and white kitchens now seem like safe bets as neutrals and grey kitchens are quickly gaining popularity.  It's a great choice to consider as it magically transforms the look and feel of your kitchen.
#13: Metallic Radiance in This Grey Wall Kitchen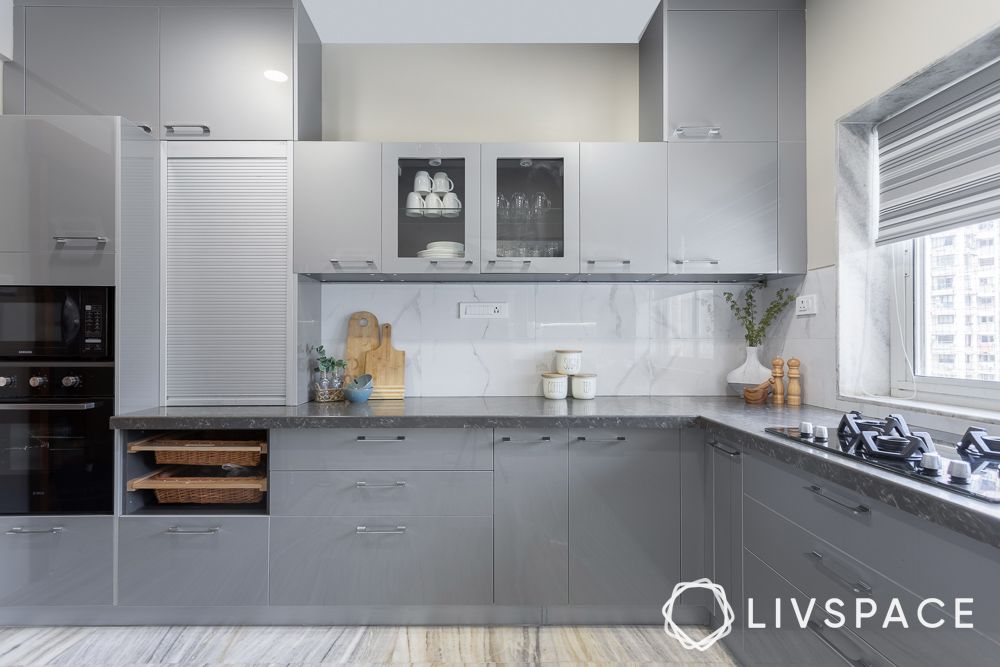 Grey has a distinctive advantage: it can be used as a warm colour, as well as a cool one. This modern grey kitchen is one such "cool" themed space that radiates a sense of calm with its steel-like finish.
#14: Sunshine State of Mind
Who could have thought that grey and yellow could come together so well? Modern grey kitchens are so much more than monotonous patches. They are a play of contrast, a game of subtlety and yet, a recipe of sophistication.
#15: Inviting Vibes With Dark Grey Kitchen Ideas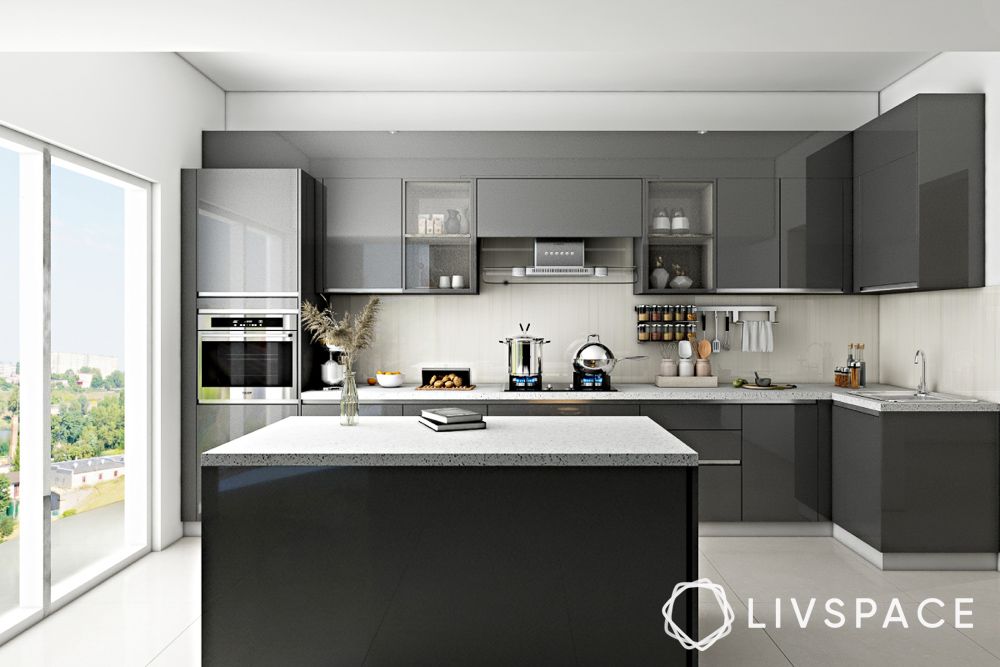 Going for dark grey kitchen designs isn't easy, but making such a daring choice definitely pays off in style! To add to the magic, use grey kitchen cabinets against a white/patterned countertop and a white backplash and top it up with modern grey kitchen cabinets again. You'll find a colour scheme that's consistent and stylish.
#16: A Kitchen That's Not Too Grey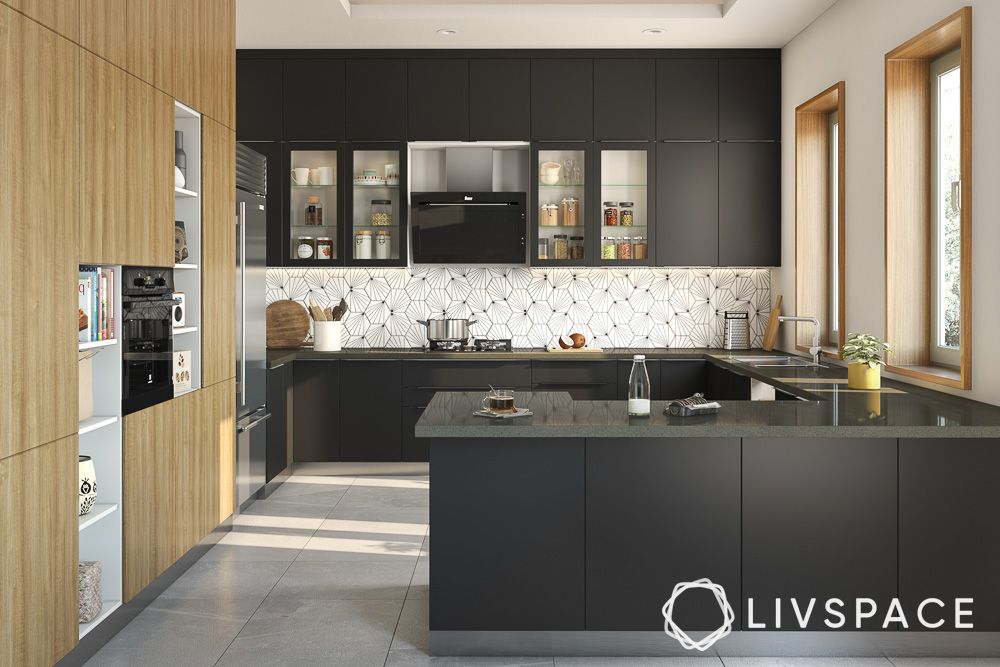 A mix of cool and warm, this not too grey kitchen design strikes the perfect balance required for bigger kitchens! The blue, floral backsplash adds a visual break while giving your eyes a cool focal point that adds to the look.
#17: Just a Splash of Grey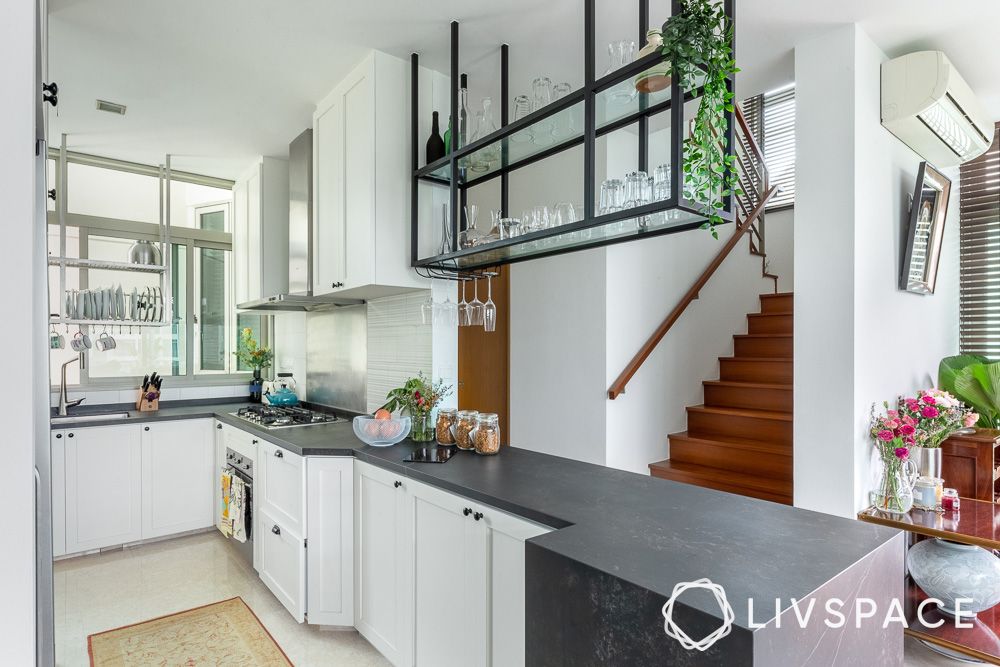 Why see in black and white when you can see in white and grey? With a hanging bar cabinet (that's also transparent) this mostly-white grey colour kitchen design is a masterstroke in design.
#18: A Greenish-Grey Coloured Kitchen Design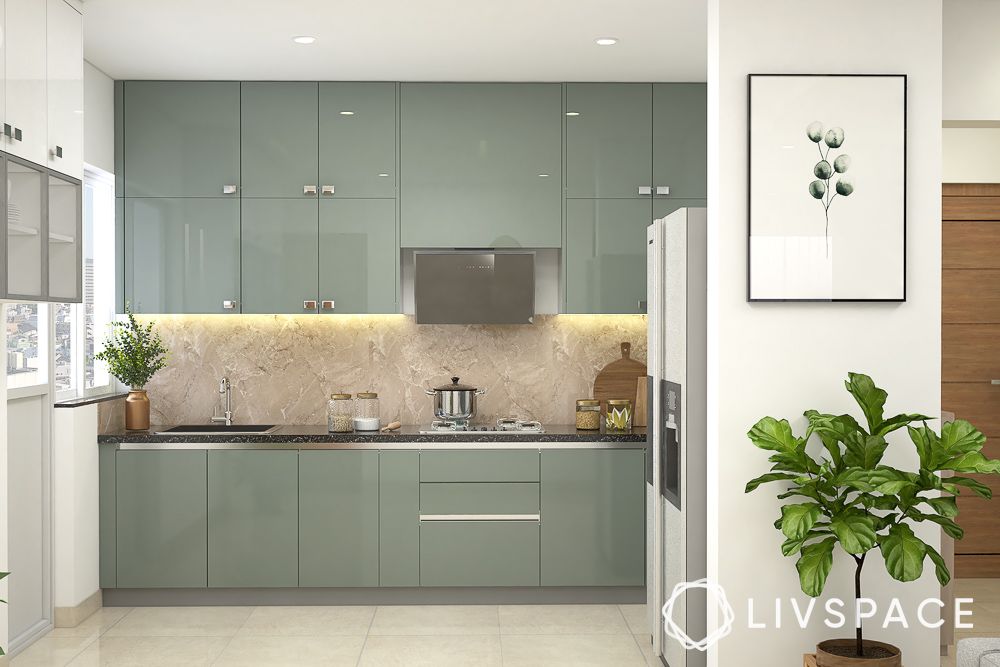 Greenish grey is quite a contemporary choice that has homeowners in its thrall! Plus, this one is one of our prized small grey kitchen ideas that seem to work very well for homes that are compact and have limited square footage to spare.
Also Read: 10 Trendy Kitchen Trolley Designs for Your Kitchen
#19: Simply Grey With a Tad Bit of Geometry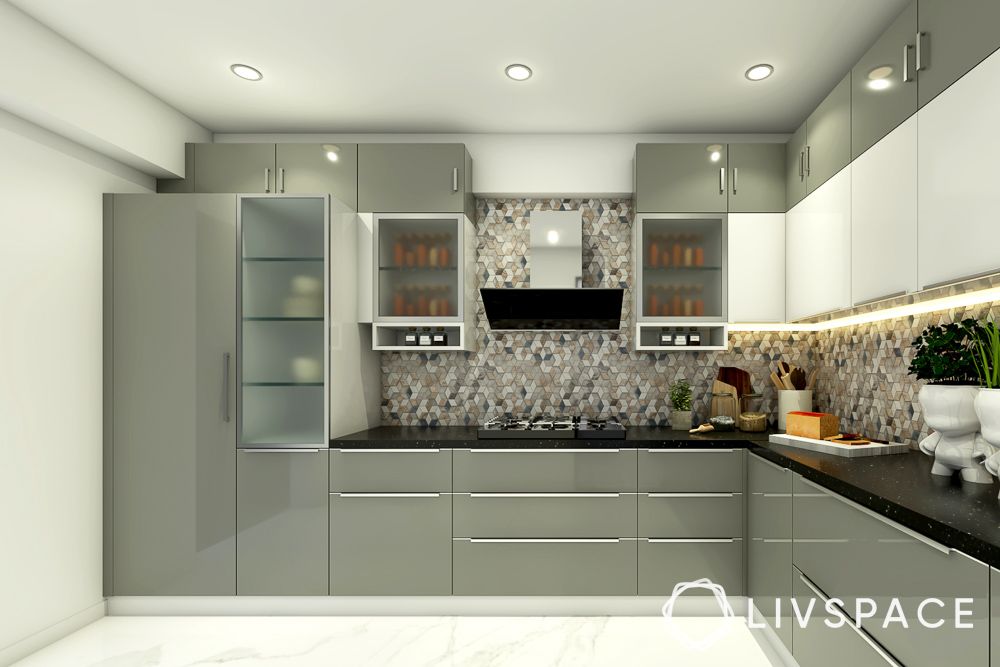 Geometric patterns can really lend a hand to modern grey kitchen cabinets and make them a showstopper in their own right!
#20: There's No Grey Area In This Kitchen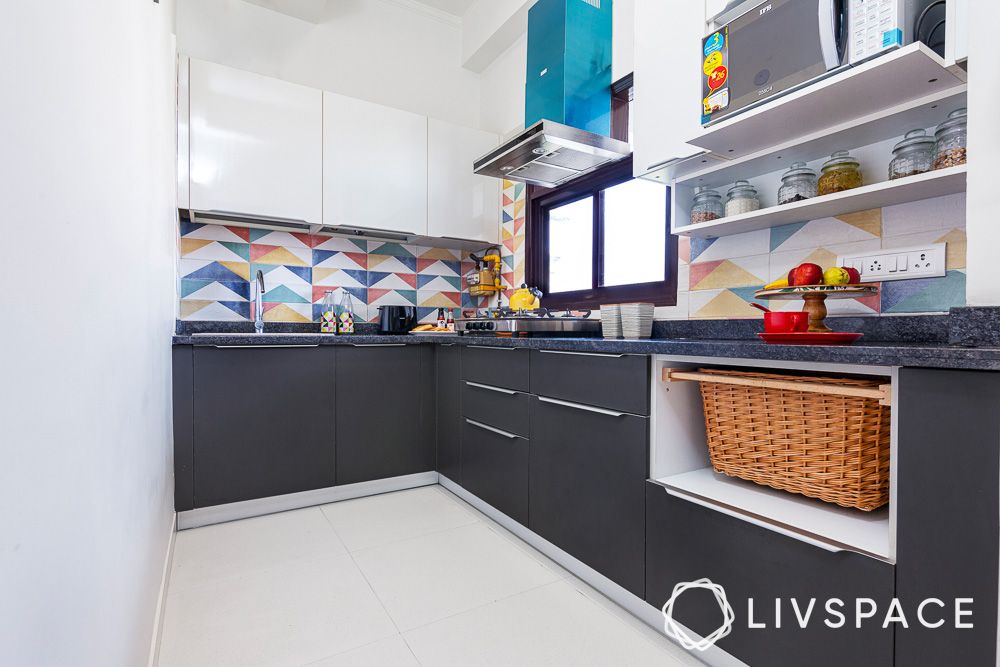 Add pops of colour to your grey kitchen designs with a backsplash that's vibrant and incorporates red, blue, yellow and green! The modern, grey kitchen cabinets stand out better in contrast to the colourful splashback.
Check out more kitchen designs:
How Can Livspace Help You? 
We hope you found our ideas useful! If you want beautiful interiors for your home, then look no further. Book an online consultation with Livspace today. If you have any thoughts and suggestions you'd like to share with us, we're all ears! Drop us a line at editor@livspace.com.