You can't have a great modular kitchen without a handful of equally great kitchen trolley design ideas. Not only do they form an important component of your modular set-up, but also help you keep everything organised and easily accessible.
Popularly known as kitchen accessories, kitchen trolleys can be of many types. Before we show you some brilliant kitchen trolley design ideas you can try for your own home, let's explain what a kitchen trolley really is.
I. What's a Kitchen Trolley Design?
A kitchen trolley design is one of the most underrated upgrades you can do to your kitchen, to make the workflow more efficient. Most kitchen trolley designs are already practical. However, you're free to add other accessories to make your workflow seamless and your small kitchen trolley design more effective.
II. What Are the Latest Kitchen Trolley Design Ideas?
Like we mentioned above, a kitchen trolley comes in many shapes, sizes and designs. Let's now take a quick look at what are the different types and designs available:
1. Kitchen Trolley Base Designs
A part of your base cabinets, base kitchen trolley designs help you store different utensils in your modular kitchen.
More often than not, they're made of stainless steel and the designs have perforated holes or gaps in them. That's because the holes allow water from the utensils to drop and helps them dry faster.
2. Corner Kitchen Trolley Design
When you've a small kitchen, you want to make sure that you use every nook and corner of it. Earlier, in semi-modular or traditional kitchens, a lot of our corner space would go to waste, but that's not the case with modular kitchen and small kitchen trolley designs!
All thanks to corner units that give you additional storage space, help you utilise empty space while giving a continuity of theme to your design. Similarly, you can use a corner unit to store spices and knick-knacks that come in handy!

3. Pull Out Small Kitchen Trolley Design or Spice Racks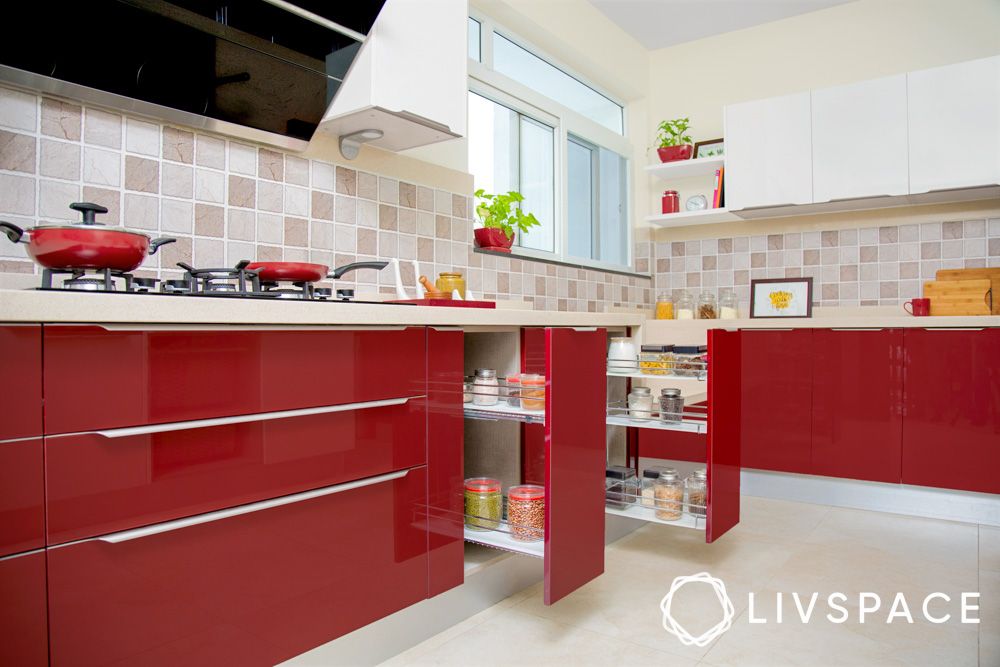 Quite popular as spice racks, these thin narrow pull-out small kitchen trolley designs maximise functionality, practicality and convenience.
In addition to allowing you to use a narrow space perfectly, the pull-out mechanism is aimed at making your cooking time easier. When you've all the spices and condiments within easy reach, you needn't move around a lot.
Also Read: An Ultimate List of Kitchen Cabinet Materials and How to Use Them Best
4. Multi Level Pull-Out Shelves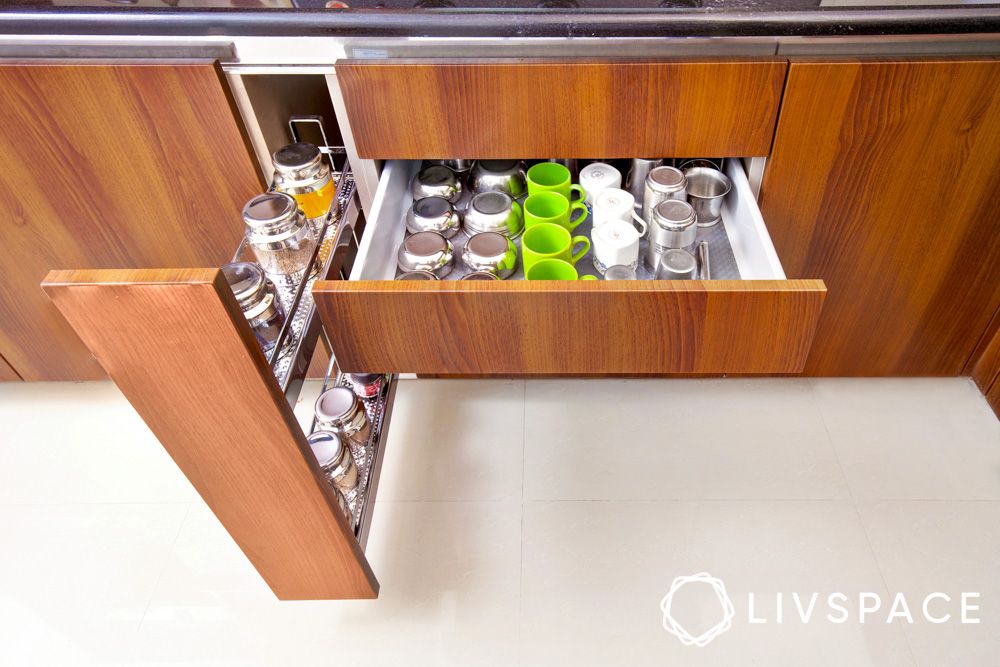 In addition to pull-out cabinets used as spice racks, a modular kitchen also needs a few pull-out shelves that are wider than the narrow spice racks we just showed you. These can be used to store cups, smaller utensils and items that you want within easy reach.
Please note that these cabinets can be customised as per your needs and the availability of space in your kitchen. Book a free consultation with us today to know how to utilise your L-shaped kitchen space the best.
5. Deep Base Modular Kitchen Trolley Design
To store away larger pots and pans, you can have multi-level base units. In fact, you can store cutlery items in one, and use the other(s) to store away utensils that are used often.
6. Plate Racks or Drawer Designs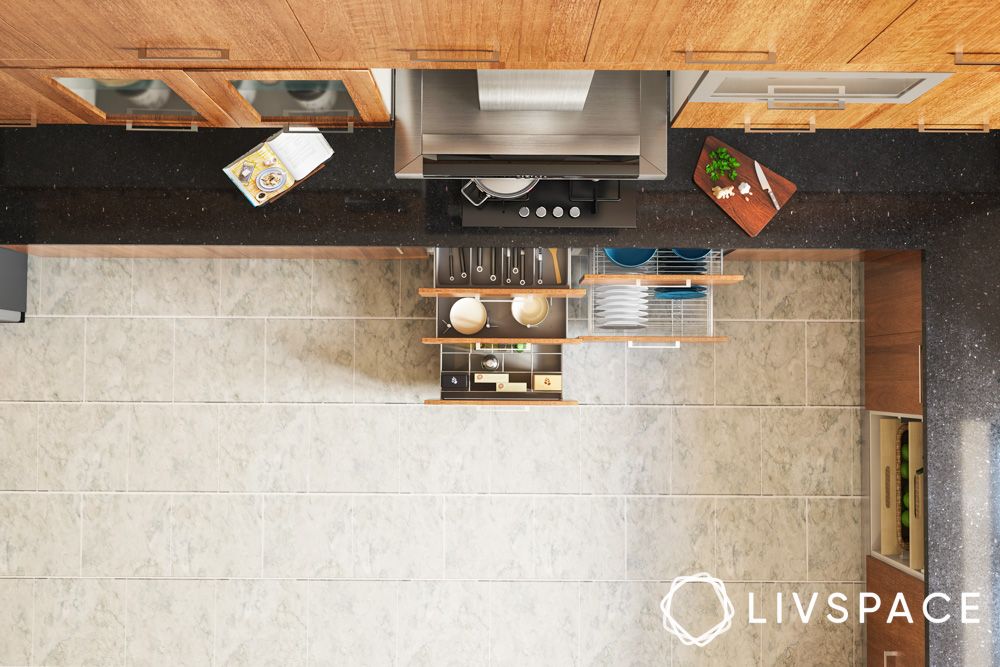 Now, depending upon your requirements and ease of availability, you can customise not only the kitchen trolley design colour but also where you'll place items. For example, you can have a plate rack as a part of your upper cabinets, or you can choose to use your base units as a plate rack.
In either case, you'll be adding a lot of convenience to your daily life. Some homeowners also choose to embody plate racks beside their dishwasher for added functionality.
7. Wicker Baskets As Part of Modern Kitchen Trolley Design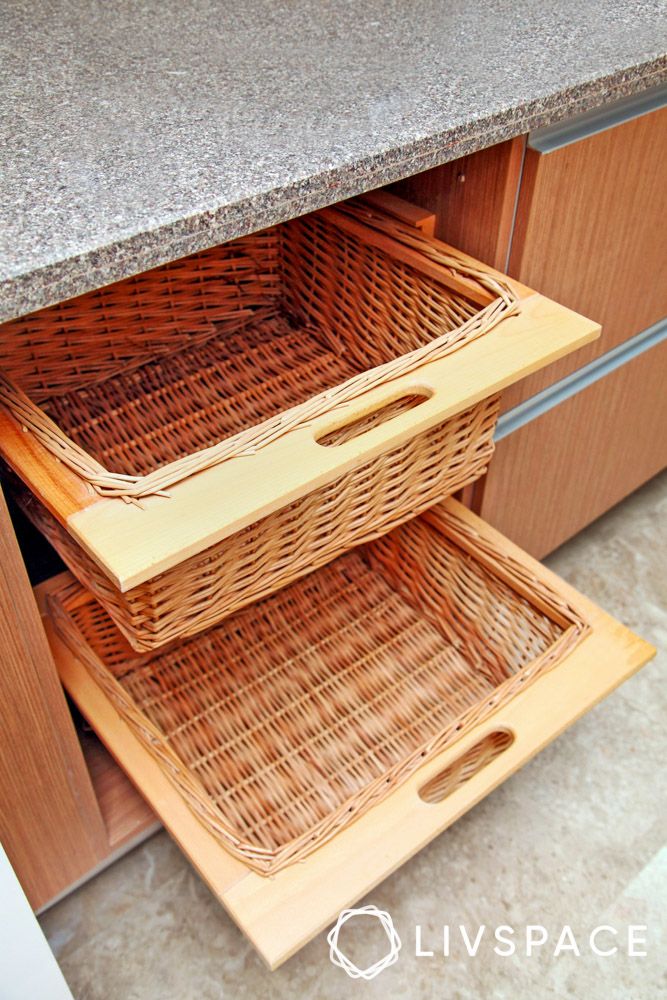 Kitchen accessories like wicker baskets have become increasingly popular in pantry units and different types of kitchens. You can choose wicker baskets in different sizes.
The bigger ones can be used for storing fruits, vegetables and other perishables, whereas the smaller ones can be used for storing snacks or smaller fruits and vegetables.
8. Pull-Out Racks Within Tall Units
No modular kitchen is complete without a modern kitchen trolley design, also known as a tall unit. In fact, you can use a tall unit to store appliances like an oven, dishwasher and utilise the other half to function as your pantry unit.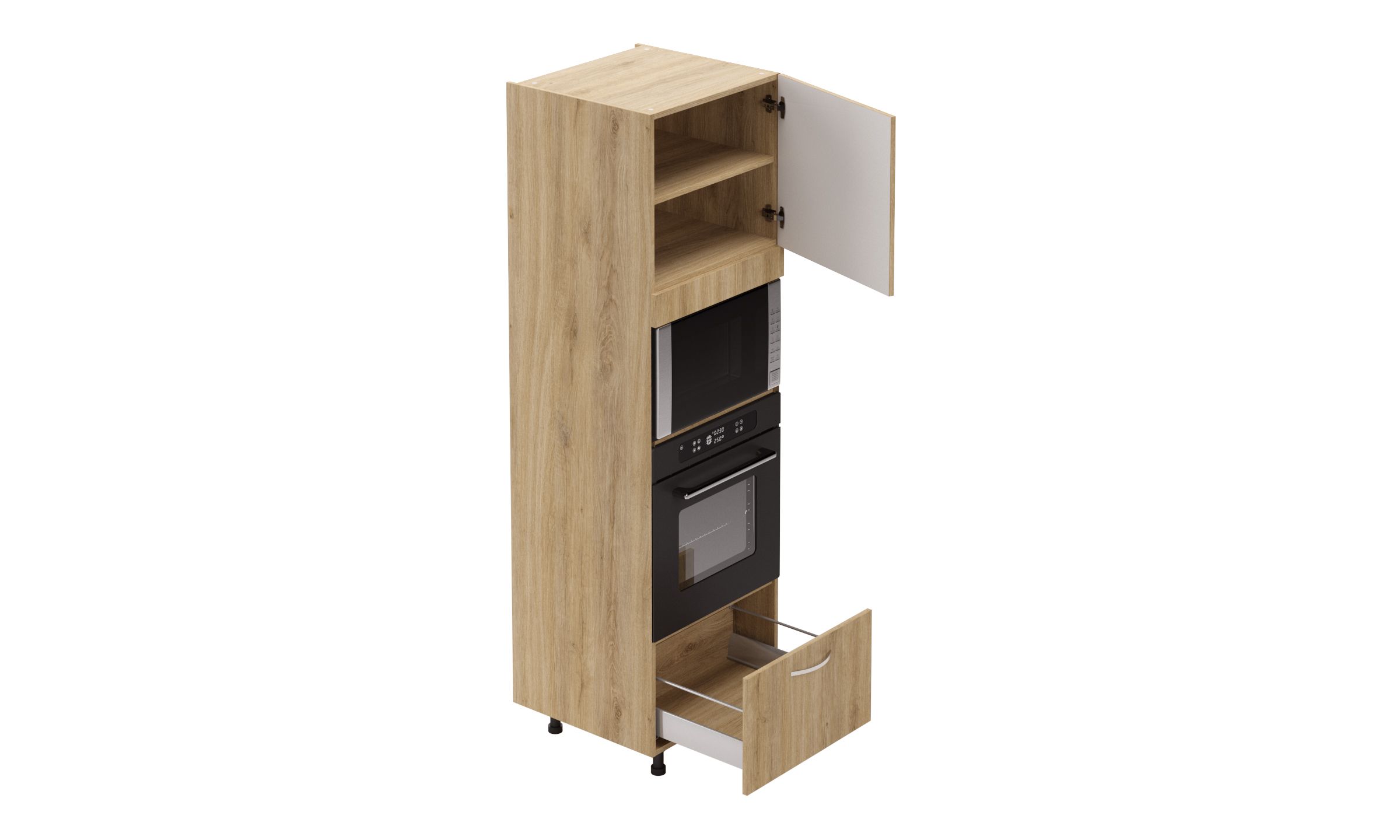 Use PVC kitchen cabinets to store spices, condiments, dry food items, perishables like fruits and vegetables and more.
9. PVC Kitchen Trolley Design With Rolling Shutters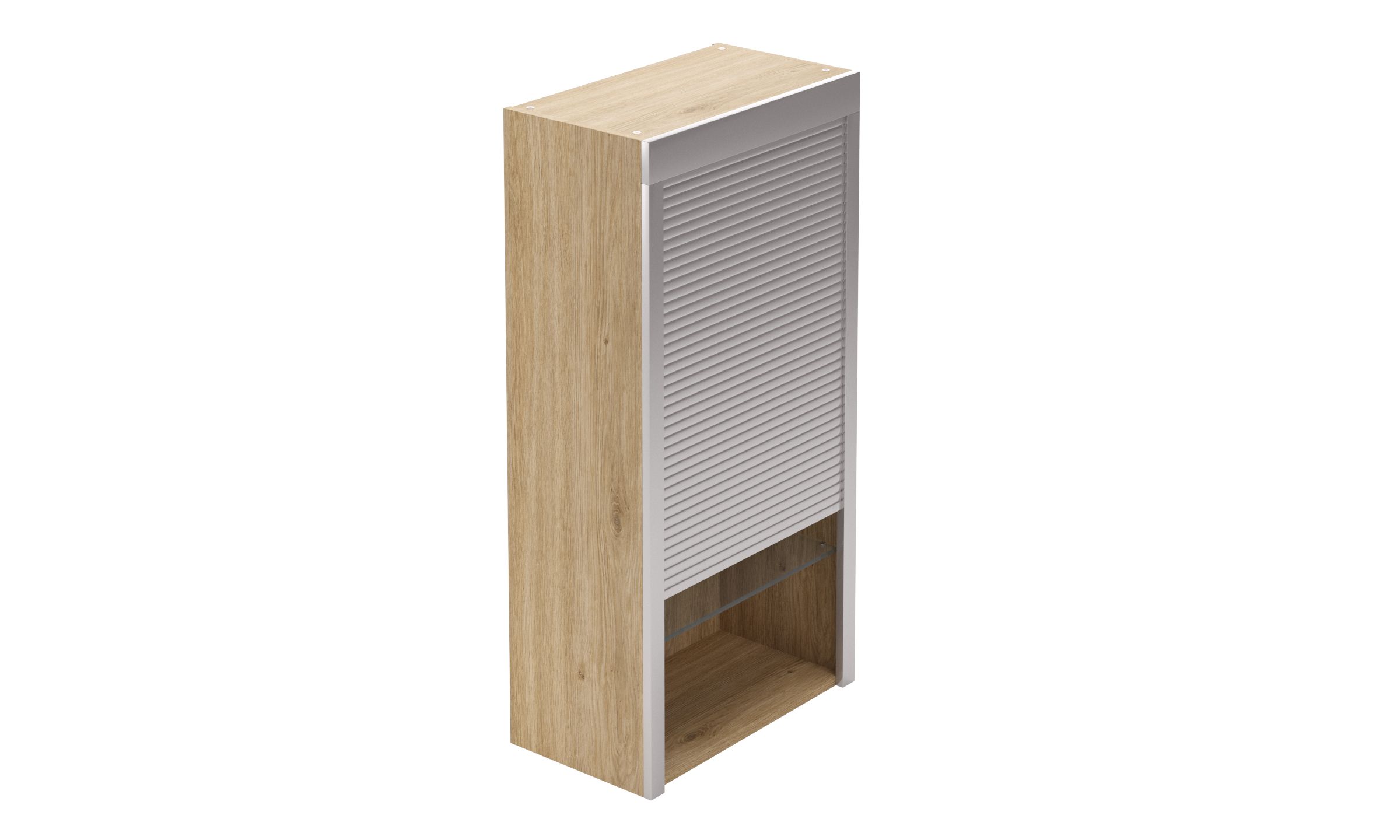 You can customise modular kitchen trolley designs as per your needs. Some homeowners prefer having PVC rolling shutters to hide away their utensils and appliances over open cabinets in their kitchen design.
Not only do these shuttered cabinets provide privacy to your home, but also help protect your appliances from UV ways.
10. Base Cabinets for Gas Cylinders
Modular kitchens are all about transforming your kitchen aesthetically and practically. They not only add convenience, but also hide away unseemly appliances and gas cylinders from plain sight to help maintain continuity in design and aesthetic.
Why put your gas cylinders in the open when you can tuck them away in a cabinet and have your kitchen look seamless?
III. What Are the Things to Keep in Mind for Kitchen Accessories?
While choosing kitchen accessories, here are the five things you need to remember:
Your Needs: You should always base what trolley designs to get on the needs you've. If you're someone who's more comfortable with a plate rack in your upper cabinets, don't go for a lower plate rack
Space in Your Kitchen: If you've a small kitchen, there are numerous small kitchen trolley designs that'll help you make the most out of every nook and corner you've. No kitchen is small if you utilise the space right
Your Working Style: Base your kitchen trolley designs on how you tend to use the kitchen for cooking. If you don't like moving around a lot, place cutlery and your spice racks closer rather than having your plate rack near them
Number of Cooks: You can plan your kitchen design based on the number of cooks that'll be occupying the kitchen at a given time. Don't place a spice rack and appliances close together if there'll be multiple cooks, so that each can use a different counter space and finish their designated tasks
Material: Whether PVC works for you or stainless steel will depend upon how you're planning to use the kitchen trolleys and your budget
Also Read: The 9 Best Kitchen Designs by Livspace Across all Budgets
IV. How to Choose the Colour for Your Kitchen Trolley?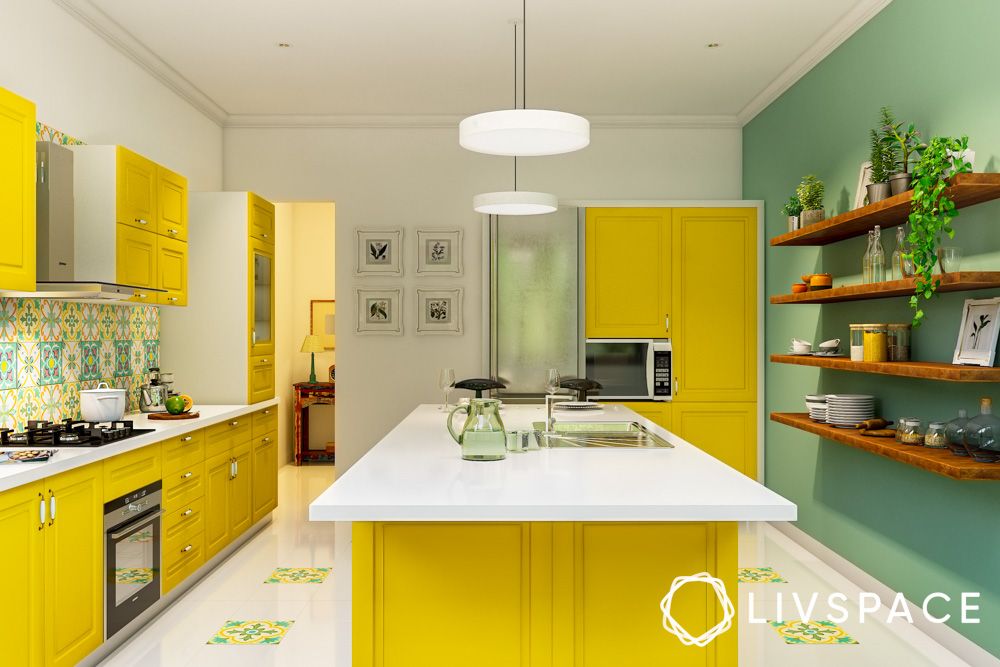 Earlier, the option to choose different colours for kitchen trolleys and accessories wasn't available. However, now, with modular kitchens, you can not only choose a kitchen trolley design colour but also the material and finish.
Now, kitchen trolley design colours like red, green, blue, brown, black are available. Think of any colour and it's possible!
V. How Can Livspace Help You?
All our modular products are precision-engineered and come with a flat 10-Year warranty*
A lot of our success in modular products comes from the 146 quality checks that all our modular products undergo
Our warranty is based on the success of our DuraBuild, AntiBubble & AquaBloc technologies
*For full scope of warranty, please visit livspace.com/in/service
If you want beautiful modular kitchens, book an online consultation with Livspace today.