One of the major concerns for any Indian home is the kitchen – how it looks and functions! When you decide to upgrade your kitchen to a modular one, there are plenty of questions to address – from kitchen materials to costing. We at Livspace hope to address this major issue and tell you more about modular kitchen designs and price. Read on.
What is a modular kitchen?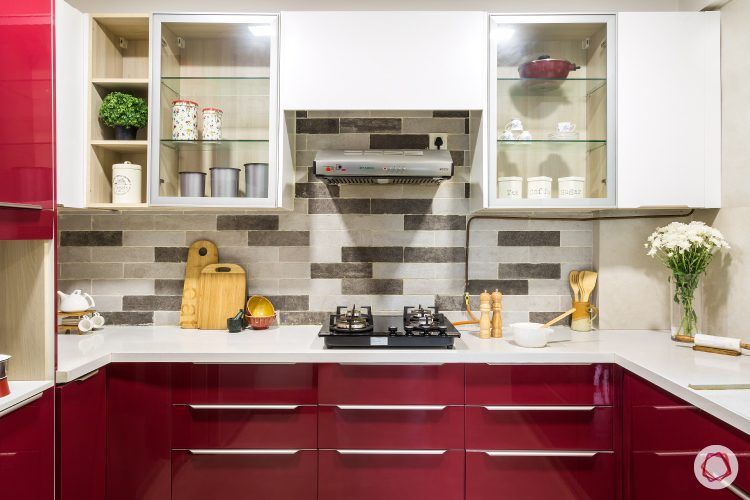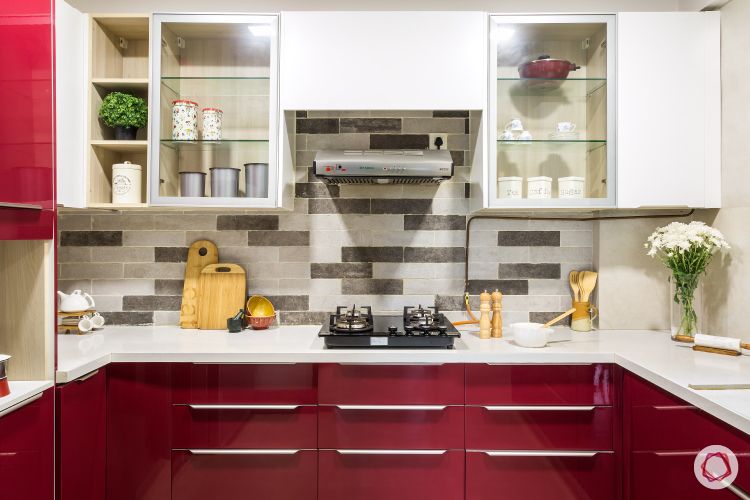 Modular kitchen is a new and innovative solution to the challenges posed by traditional kitchens. It's a solution that makes everyday kitchen tasks easy with its functionality and durability. It's a term used for a modern kitchen layout that consists of modular units/cabinets, made of various materials, which hold appropriate accessories inside.
How much will a modular kitchen cost you?
For starters, unlike designing interiors for the rest of your home, the cost of designing your modular kitchen does not depend on the square footage. While the size of your kitchen is a major determinant for cost, it isn't the only influencing factor. The type of modules, its complexity, size and depth of these modules, raw materials, finish of the body and shutters, and handles are some of the factors.
Carpenters may give you a per sq ft cost to build your kitchen. However, these are typically built in a traditional method and these aren't specific to your needs. It also doesn't come with warranty.
---
At Livspace, no matter what your budget is, we can design a modular kitchen that fits your budget, lifestyle and preferences. With our transparency, you will love the overall experience. A fully functional kitchen design can cost ₹1 lakh and more!
---
Advantages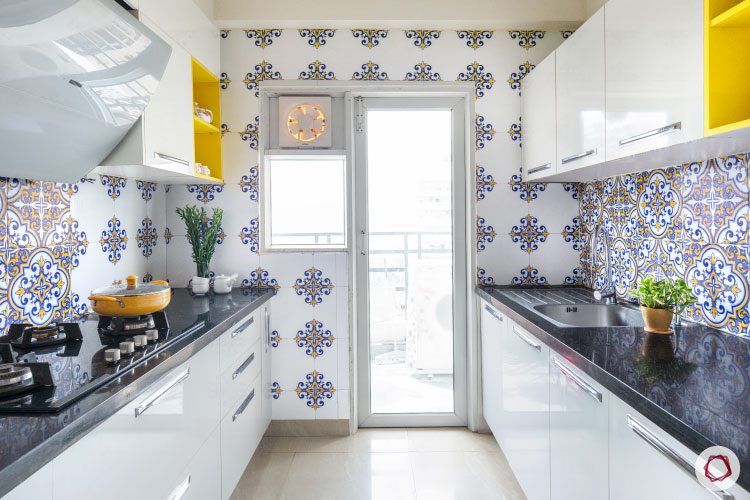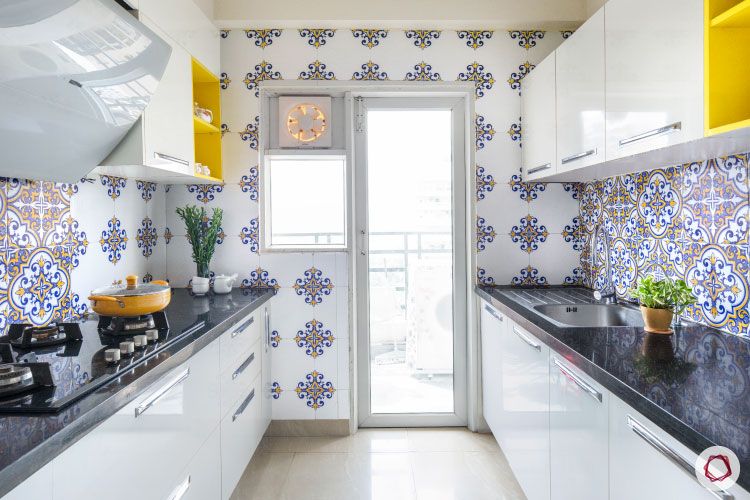 Modular kitchens enjoy a lot of advantages when it comes to functionality and aesthetics. But it's a lot more that that! Let's look at some of these:
Easy assembly: One of the best features of a modular kitchen is the fact that it is extremely easy to assemble. You spend a lot of time and effort to put together your modular kitchen, and it returns the favour by letting you carry it with you when you're shifting houses. Also, you can repair/replace individual parts of a modular kitchen whenever you want.
Customisation: You can built modular kitchens according to your individual requirements. Depending on your kitchen tasks,  you can choose specific modules, the colour scheme and a design that works best for you.
Best use of space: In traditional kitchens, a lot of your precious working space gets eaten up. You don't face this problem with modular kitchens. The modules are built in such a way that space is used efficiently and you can store a lot of things.
Efficient storage options: The shelves, cabinets and drawers in a modular kitchen are built for efficient storage. You will be surprised with the storage capacity that these modules can hold! You can store all that you want and maintain a clutter-free kitchen. To know about these modular kitchen storage options, read our Kitchens 101: Components of a Modular Kitchen
Convenient: With traditional kitchens, there is always the hassle of dealing with carpenters and contractors. Also, they build your kitchen on site and it's usually a mess till your kitchen is complete. But, with modular kitchens, you don't have to deal with such problems. The kitchen parts are made in the factory and just assembled at your place. Experts speak about the must-have kitchen accessories and read this to see what accessories that will make your life easy.
Disadvantages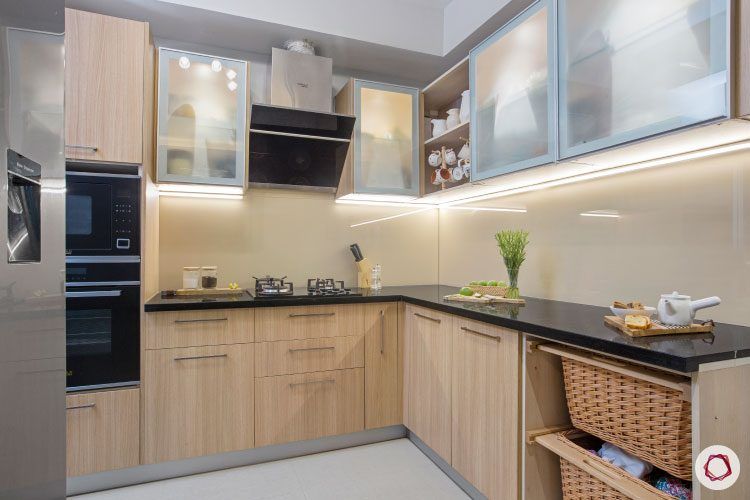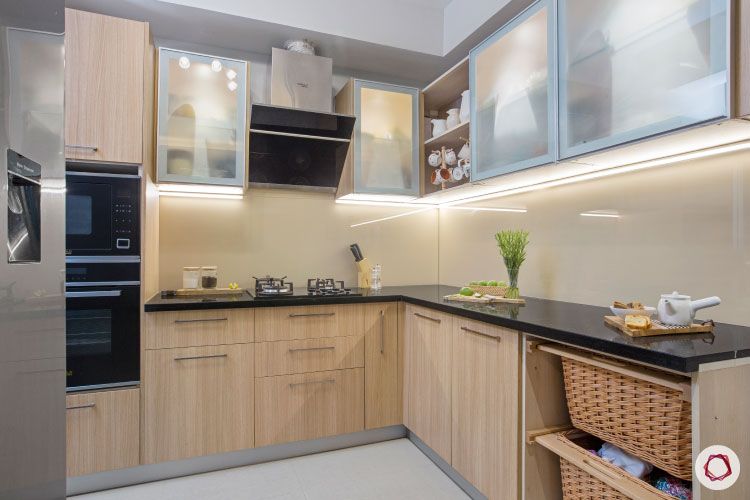 Although modular kitchens come with numerous advantages and benefits, you must know that everything has its downside. And, when you're taking a decision so big, you might as well know both, the pros and cons of it. Read on.
Cost factor: Modular kitchens come with a price tag that might burn a hole in your pocket if you are not ready for it. Getting a modular kitchen is a lot costlier than the conventional ones. While the cost is justified by the amazing benefits it comes with, not everyone is willing to spend so much.
High maintenance: Given that the surfaces in a modular kitchen are easy to clean, it can still prove to be a tough task to maintain on a regular basis. And, when you've spent so much on getting a modular kitchen, we are sure you would want it looking as good as new.
Require professionals: You might have seen modular kitchens in a lot of homes and thought that you can get your local carpenter to do the job for you. But, given the nature of the modules and the quality that should be maintained, it is best to approach professionals to install it for you.
Delicate usage: The kitchen is one room at home that is the hub of all activities whether you have friends and family over or just cooking for yourself. Modular kitchens might prove to be a little difficult for rough usage.
How do you buy one?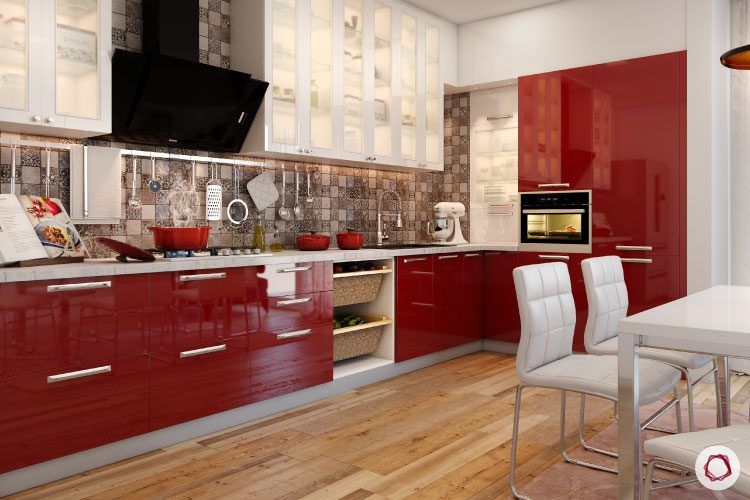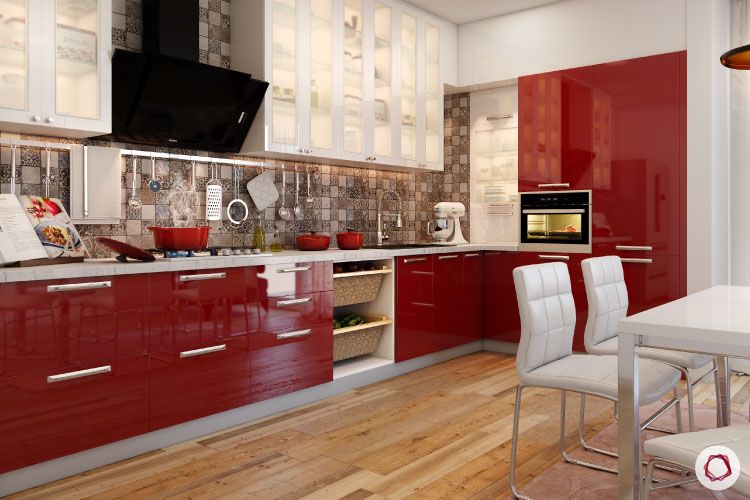 Modular kitchens require expertise and by now you must have understood that only a professional agency can help you get it. There are a lot of things that can go wrong if you do not choose the right materials or finish for your kitchens. At Livspace, we can help you get customised kitchens that suit your needs. But what are the things that you need to keep in mind before you get a modular kitchen?
Layout: The first step to getting your dream modular kitchen is measuring up your space. This is a major determinant for costs. You should opt for a layout that will facilitate smooth work. There are a couple of popular layouts out there that you could take a look at.
Straight kitchen: As the name suggests, a straight kitchen is one in which the cabinets are all in a single line. This design is best for people who like to keep everything handy while they are busy whipping up meals.
U-Shaped: You can invest in a U-shape kitchen to create more space than what already exists in the area. It is suitable for people who cannot do with less storage space in their kitchen.
L-shaped: One of the most practical and popular layouts for modular kitchens, this is sort after by most homeowners. It supports ergonomics and provides for an effective work triangle.
Parallel: With cabinets along two opposite walls, a parallel kitchen offers more storage space in terms of spread out shelves and drawers. This is your best bet if you typically have a lot of activities in the kitchen!
Island: If you have a straight, L-shaped or U-shaped kitchen layout, and have plenty of space for movement, you can add an island counter. This counter can serve as a prep-work station, a breakfast counter or even a counter to lay out your dishes. For more go to Basics of Kitchen Design: Popular Layouts.
Countertop material & cabinet finishes: While majority of the homes today have built-in countertops, you can still opt for getting a customised one with the desired material. From granite to marble and kalinga to quartz, there are multiple choices available in the market. And don't forget to look for options for finishes available for your cabinets, too. Read The Complete Guide to Modular Kitchen Materials and A Master Guide To Kitchen Cabinet Finishes, for more information.
Kinds of storage: While you are thinking about getting a modular kitchen, think about the kind of storage you'll need. What sort of an activity do you have there? Would you need more large drawers or numerous smaller ones? Here, we have some more Smart & Space-Saving Ways to Boost Kitchen Storage.
Golden triangle: Ergonomics form a very important part in the kitchen. If you want to have a pleasant cooking experience, you need to consider the golden triangle. You can easily Bank on the Golden Triangle for Modular Kitchen Design.
Colour scheme: Do you like contrasting blends of warm and cool colors? Or neutral palettes made adventurous with solid streaks? There are so many options for choosing the colour scheme for your kitchen. We have some Designer secrets for the perfect colour palettes for your kitchen.
Electrical & plumbing concerns: Slots for electrical and plumbing points need to be kept in mind before designing the space, especially for apartments. In case of an independent house, these can be planned in accordance to modular units.
What is the difference between a factory-made and a carpenter-made kitchen?
While the norm for years have been to reach out to a carpenter to build your kitchen, a factory-made kitchen is your go-to option for a modern one. As the name suggests, a carpenter-made kitchen is built from scratch by locally available carpenters. These are done in a traditional method, right from design to its execution. However, its factory counterpart comes in modules of neat cabinets that are made of a variety of materials. Read Factory-Made vs Civil Kitchens: A Comparison, for more information.
Now that you have a fair idea about what modular kitchens are, how much they will cost you and how you can get one for your home, we thought we should give you some information regarding efficiency and compact spaces, too.
How do I make a modular kitchen more efficient?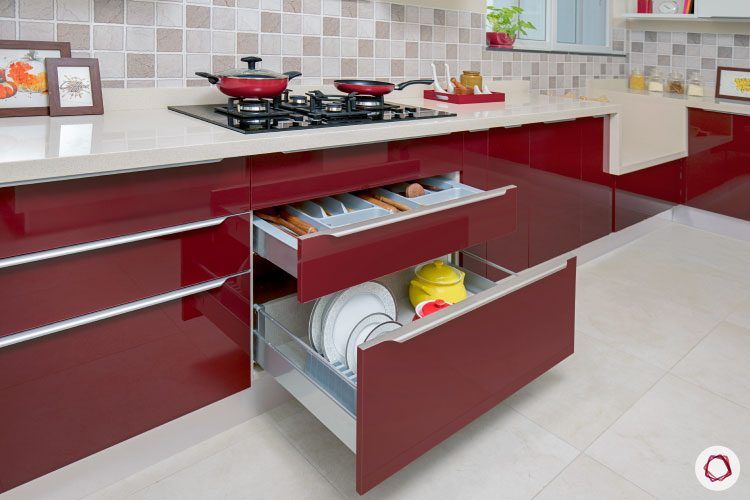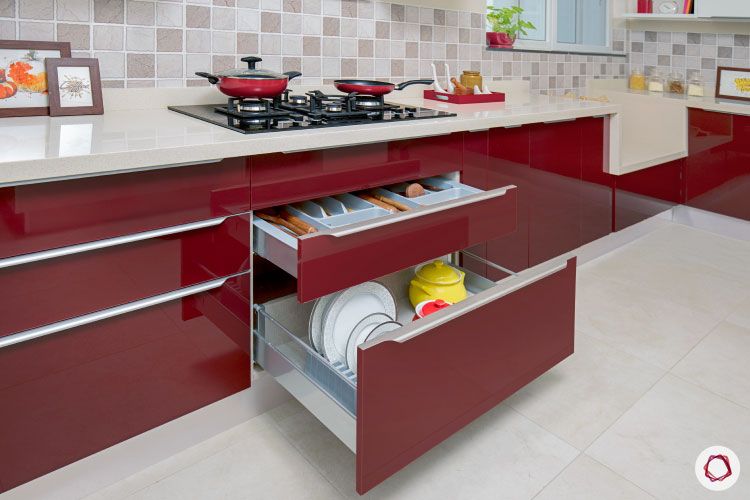 If you want to make sure your kitchen is spot-on in terms of functionality, invest in the golden triangle. This will ensure everything is at an accessible distance. While for your storage woes, pantry units work perfect to store your groceries in bulk. For more, read this.
Can I have a compact modular kitchen and how do I make it work?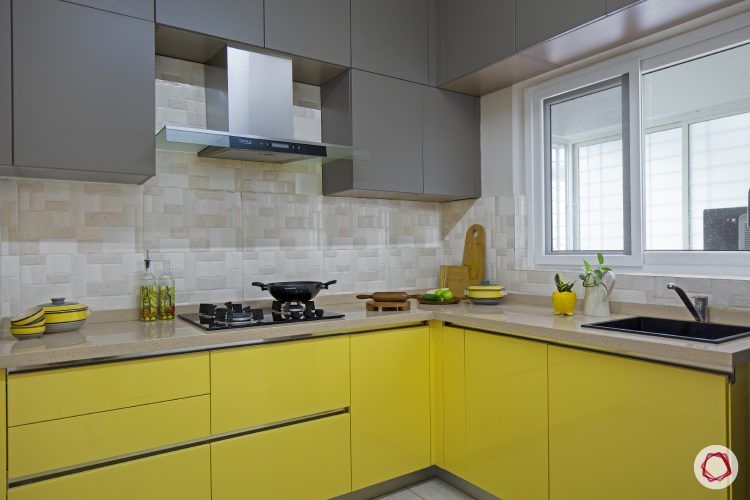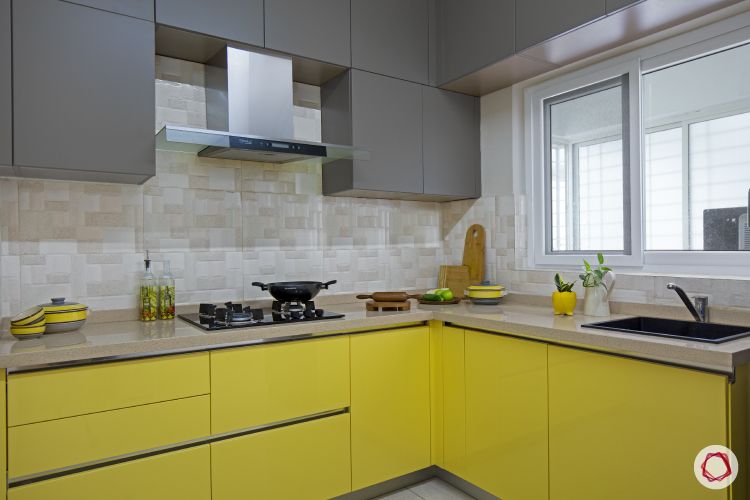 Do you have a compact kitchen and still want a fully functional modular kitchen that doesn't feel cluttered? Well we have some amazing tips for you.
Try neutral colours for your cabinets
Use up all that dead wall space
Le mans corner and magic corners will make sure that you make effective use of the corners.
Read these Design Choices To Transform Compact Kitchens and Compact Kitchens are the Next Big Thing for more ideas.
The next time you're thinking about modular kitchen designs and price, let this be your go-to place. We are sure you've found all your answers to all things kitchen modular here. We tried to address all concerns, be it big or small.
If you still have any queries, please feel free to send in your comments and suggestions.