The kitchen is one of the most important rooms in your home. From cooking to eating, we generally spend a lot of time in this space. An ideal kitchen is one that is comfortable, ergonomic and has everything that you require. Opting for a modular kitchen can ensure that you have the best space, within your budget. But before you go ahead, you should know more about a low cost modular kitchen price as well as other factors. At Livspace, we can provide you with the best-in-class low budget modular kitchen that will definitely make cooking fun and efficient. Read this guide to know more.
What Is a Modular Kitchen and Why Is It Popular?
A modular kitchen is one that consists of furniture that has been constructed in modules. When we say modules, we generally mean cabinetry. The main reason why this type of kitchen is popular among homeowners is due to the convenience it offers. Modular kitchens are designed to fit the needs of the people using it.
Why Do You Need an Expertly Designed Kitchen?
To be able to enjoy the experience of cooking and not worry about the hassles of cleaning and storage, you need an expert to guide you. An expert who would know every nuance of how you use your kitchen and be able to provide you with the best solutions that are tailor-made for you.
Also Read: A Comprehensive & Easy Guide to Modular Kitchen Designs and Price
Cost of a Modular Kitchen
When it comes to the price of a modular kitchen, there is no straightforward answer. This is because the price is a function of the size of the kitchen, materials used, and choice of kitchen accessories. Majorly, there are two types of modular kitchens:
Wood Kitchen
Steel Kitchen
Wood kitchens offer a strong core material like BWR, BWP, etc. On the other hand, steel kitchens are made by adding chromium to the steel, making it highly corrosion-resistant. In general, wood kitchens are the most cost-effective, followed by mild steel kitchens, and the costliest being steel kitchens.
Offering the same durability and longevity as steel kitchens but at half the price, Livspace modular kitchens come with a 10-year warranty. Visit livspace.com/in/service to read the full scope of our warranty.
Cost of Livspace Kitchen: Starting at ₹1.3 lakh onwards
Cost of Steel Kitchen: Starting at ₹3 lakh onwards
What Are the Essential Modules Required in a Kitchen No Matter Its Shape/Size?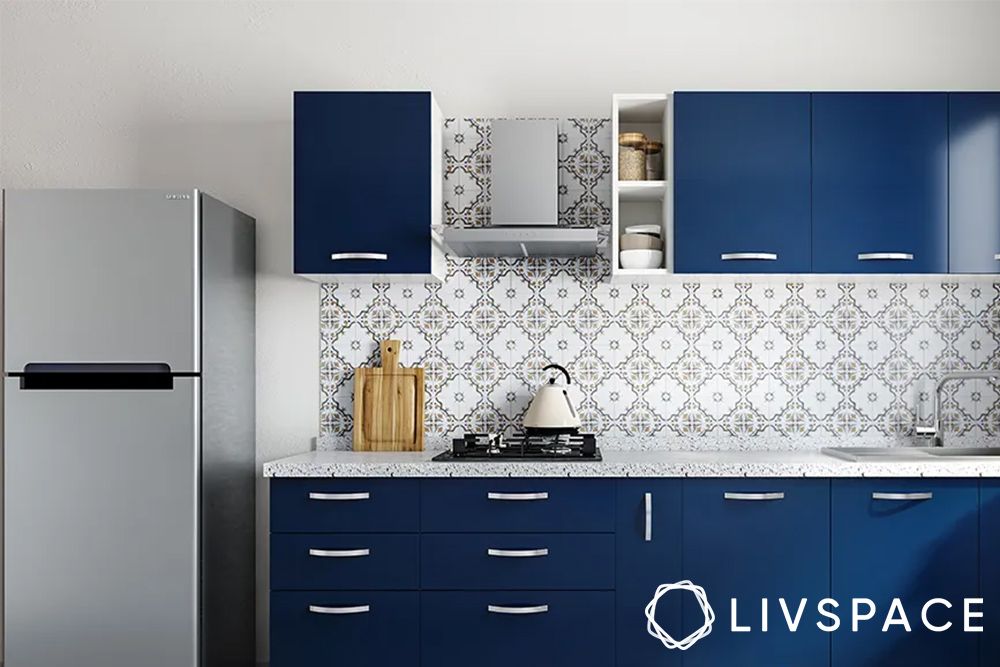 A low budget low cost modular kitchen without the most essential modules is like an empty box. To ensure your low cost modular kitchen price is within your budget, we want to inform you about some of the must-haves for a modular kitchen. These modules will ensure that your cooking and cleaning experience is comfortable and efficient.
#1: For Cooking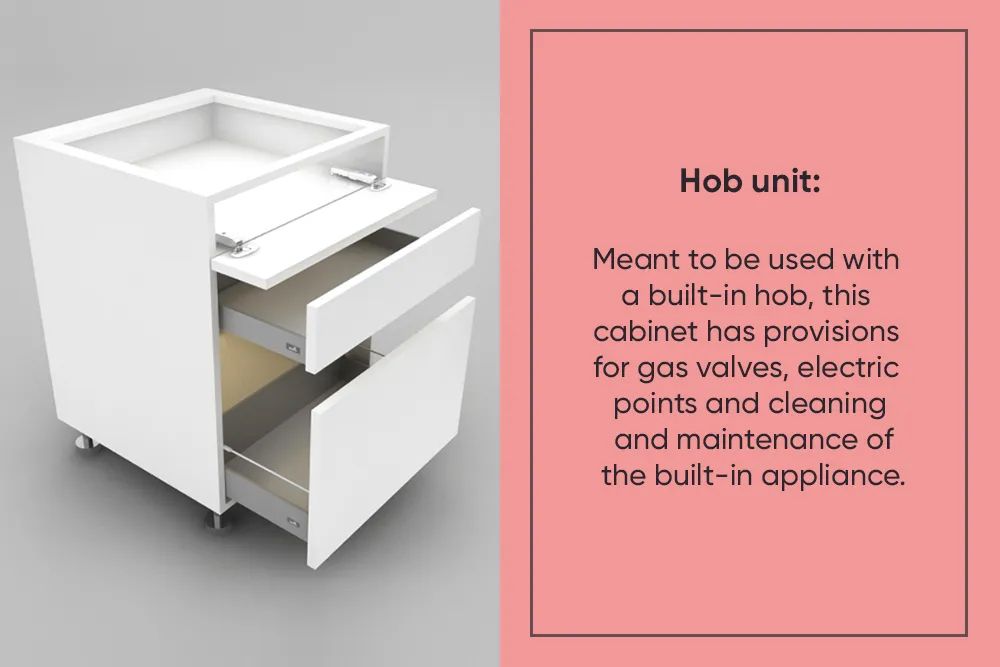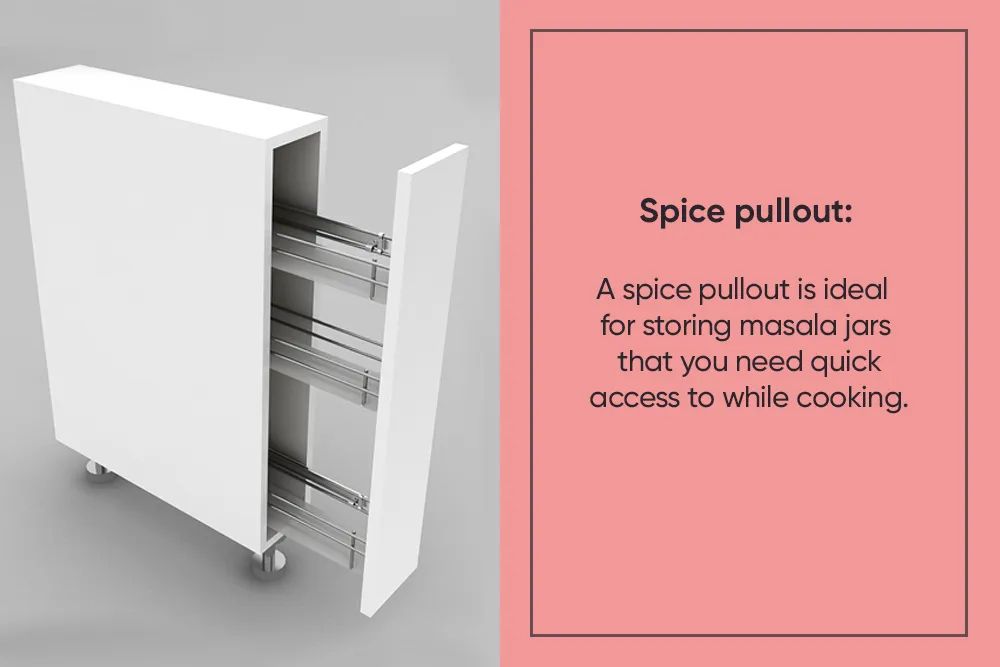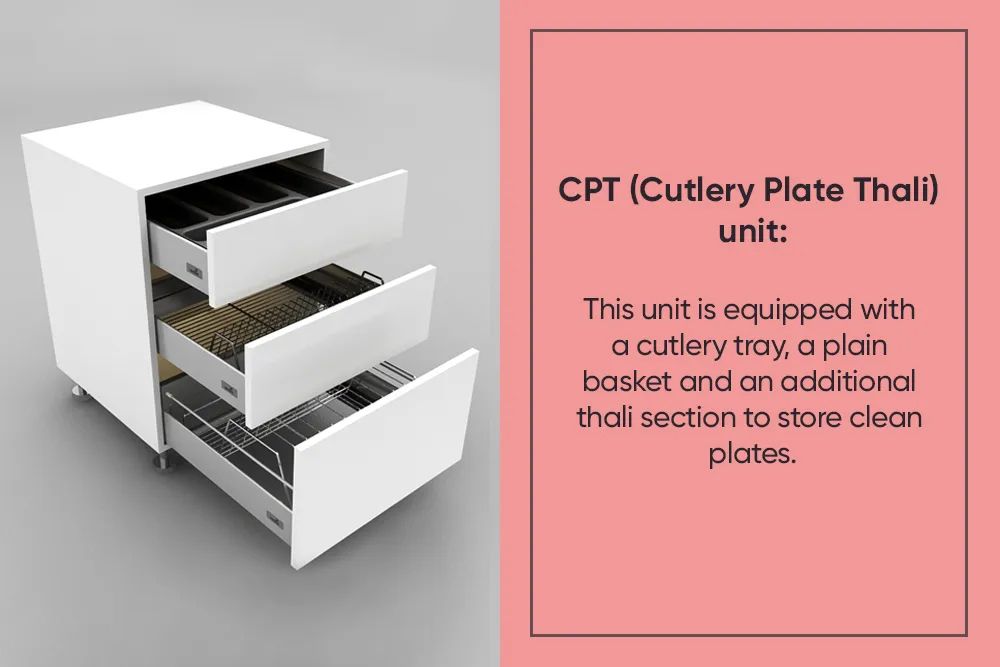 #2: For Cleaning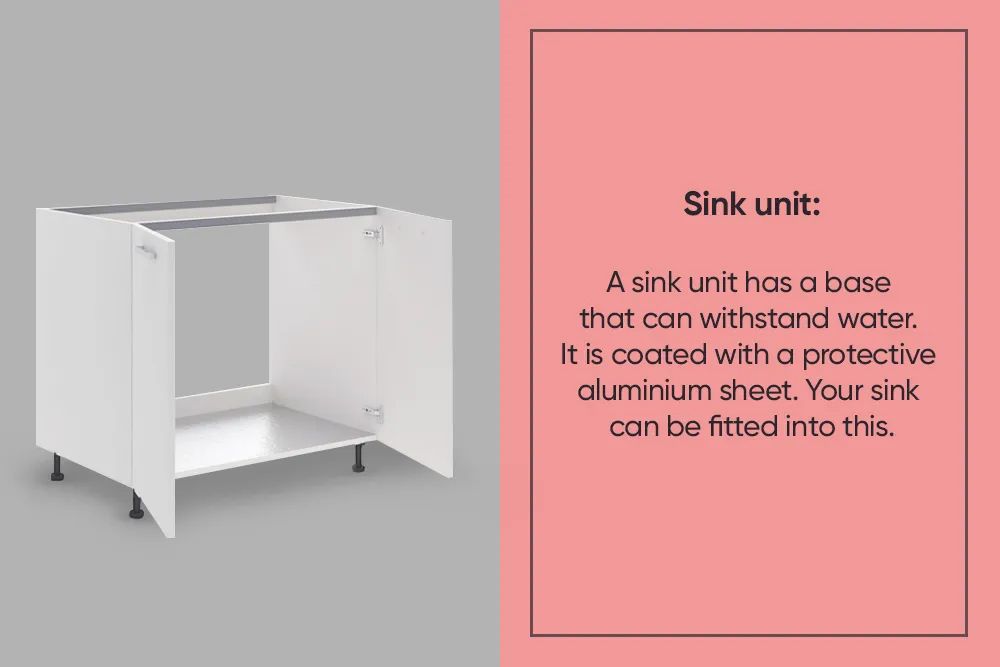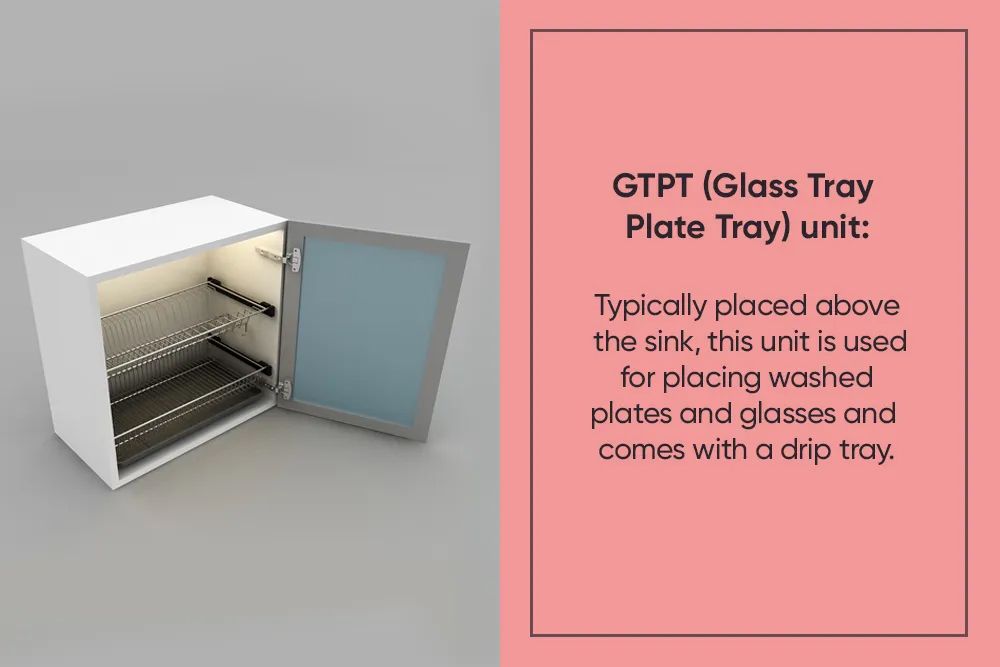 How Can Livspace Help You With Your Low Budget Modular Kitchen?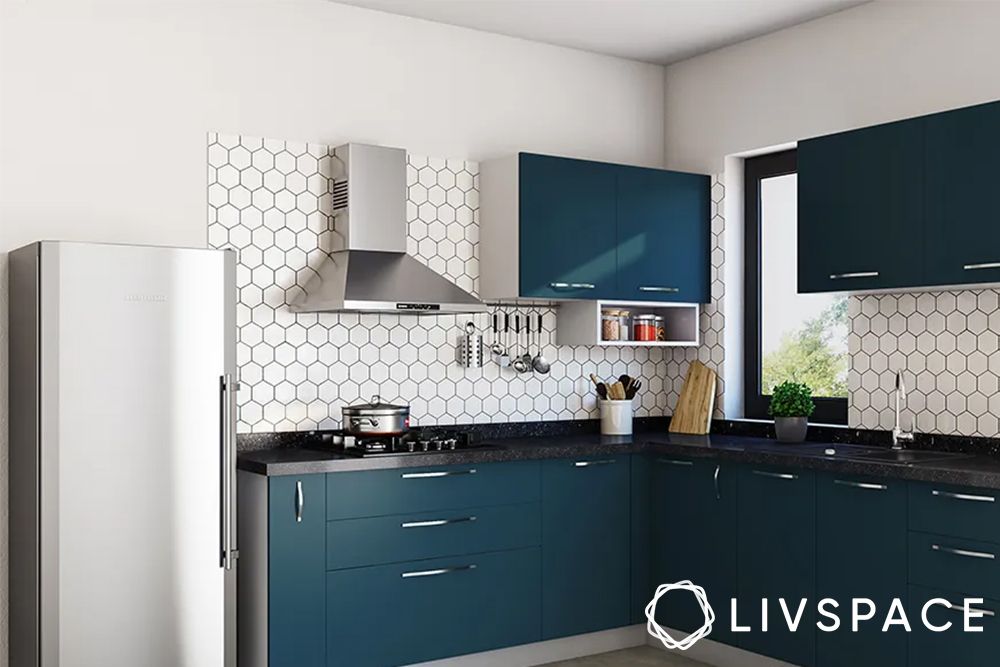 At Livspace, we understand that each requirement is unique and every individual's spending habits are different. That is why we are here to cater to every kind of low budget low cost modular kitchen need. We can give you a host of benefits and financing options that are competitive. If you think that you have to delay your low cost kitchen design renovation plan, then you might want to reconsider. Let us tell you why. Here are some benefits you get when you design your kitchen with Livspace:
Warranty – We've got you covered. And we mean it when we say it. Our warranty assures you do not have to keep worrying about your modular furniture. We promise to have your back when you need us. Livspace modular kitchens come with a 10-year warranty.
No cost EMI – In the age of credit cards and loans, we all know that dreaded time of the month when we have to pay our dues. We do not want you to pay anything extra if you want to opt for EMI payments. Homeowners can avail the option of paying 0% EMI for tenures of 3, 6 and 9 months on the down payment of a principal amount for 3 or 6 months. Get your brand new kitchen at a down payment and pay monthly EMIs after that, without incurring any extra cost.
So, for a 10 X 10 sq. ft. L-shaped kitchen that has the basic modules mentioned above, all you have to do is book your design with us and get started. Our kitchens start from ₹1 lakh. However, this price does not include appliances and countertops. Please note: This is our starting range and the price goes up with the number of modules, material and finish you choose.
Things To Consider During Installation of a Modular Kitchen Design Low Budget
#1: Low Cost Kitchen Design Materials and Finishes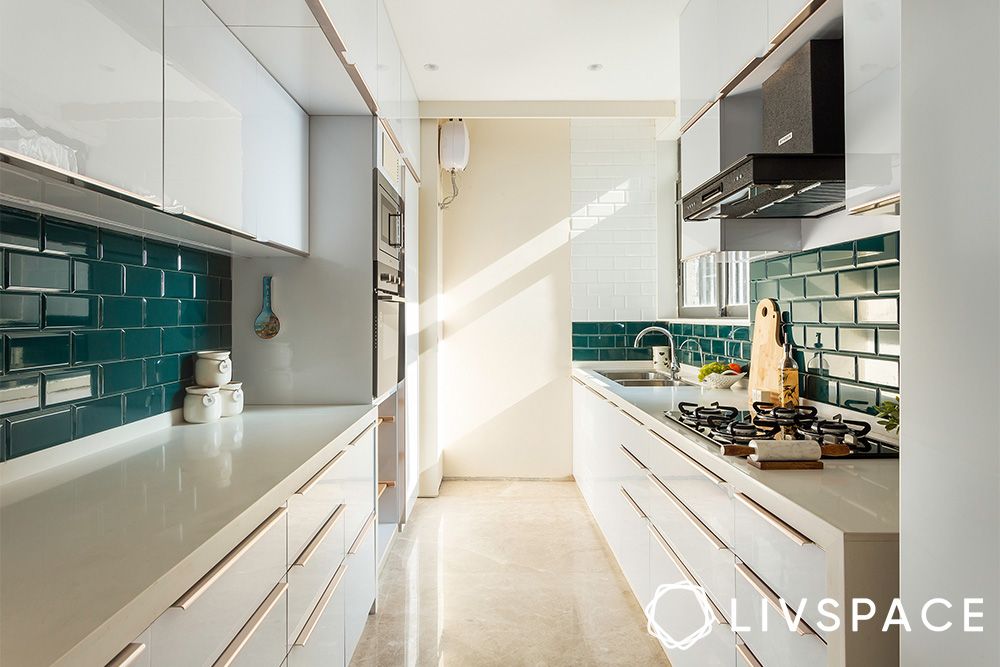 While selecting modular kitchen designs in low budget, you need to first choose the materials and finishes.
These are the main materials that you can see in a low cost kitchen design:
Here are the main finishes of a low cost modular kitchen design:
Veneer
Laminate
Lacquer
Acrylic
#2: Low Budget Low Cost Modular Kitchen Design Countertop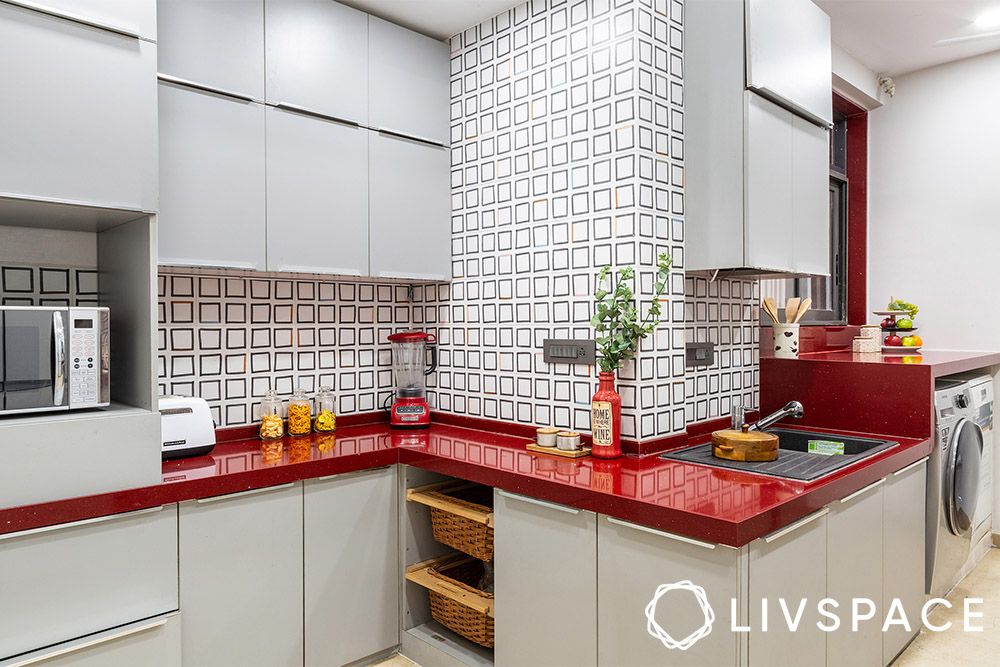 While looking at low cost modular kitchen designs and price, you must pay significant attention to the countertop. Your countertop is the place where you do all the prepping, chopping and cooking. As such, it should be sturdy and long-lasting. Also, the colour you select is important from the point of view of kitchen vastu. Common countertop materials include:
Granite
Soapstone
Marble
Quartz or engineered stone
Ceramic tiles
Laminate
Wood
Stainless steel
Concrete
#3: Modular Kitchen Layout: The Golden Work Triangle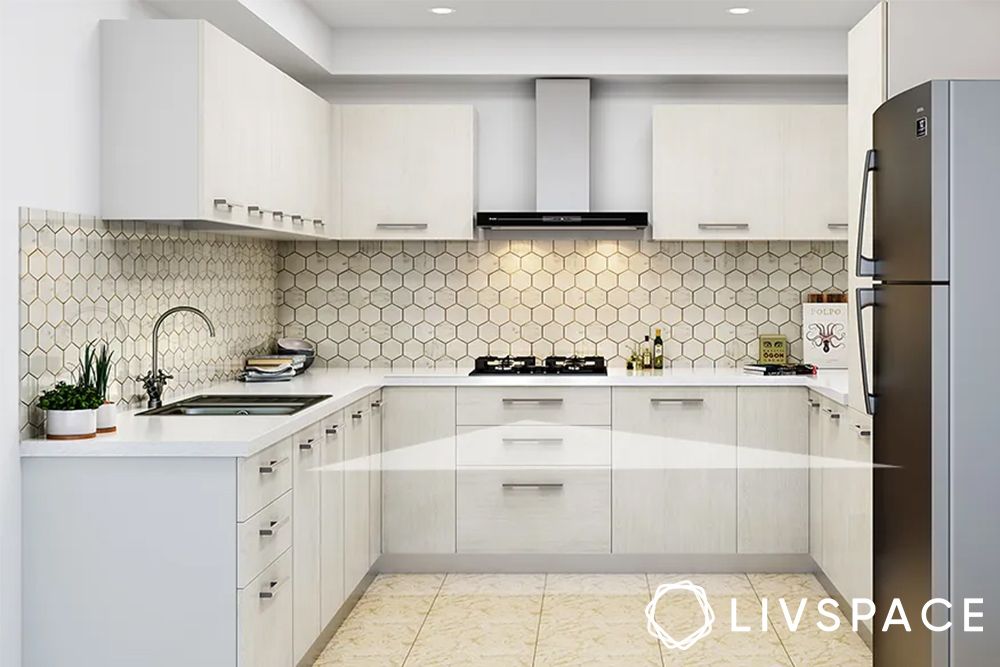 So, what is the kitchen golden triangle? Developed in the early 20th century, this concept states that the three primary work areas of the kitchen—the cooktop, sink and refrigerator—should form a triangle. The hob, sink and refrigerator are the most frequently used areas in the kitchen. Placing them in a triangle allows you to freely move between these areas; there will be nothing to block your flow as you cook (on the stove), peel or chop (by the sink) and retrieve things (from the fridge). With some modifications, your designer can incorporate the golden triangle in every layout to make your kitchen ergonomic and efficient. Thus, while deciding on low cost modular kitchen designs and price, never ignore the golden triangle.
#4: Modular Kitchen Ventilation and Lighting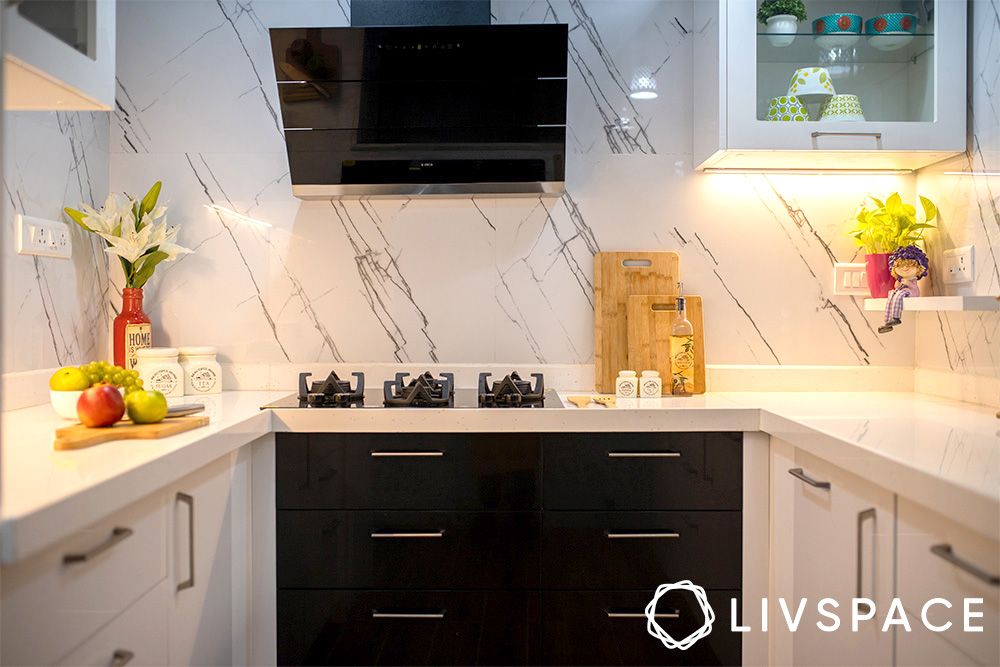 A kitchen that is dim and congested can be impossible to work in! So, while designing your modular kitchen, you also need to consider ventilation and lighting. If you have ample natural lighting flowing into your kitchen, you are one of the lucky ones. However, if this is not the case, opt for task lighting and spotlights to illuminate the space.
Ergonomics in Your Modular Kitchen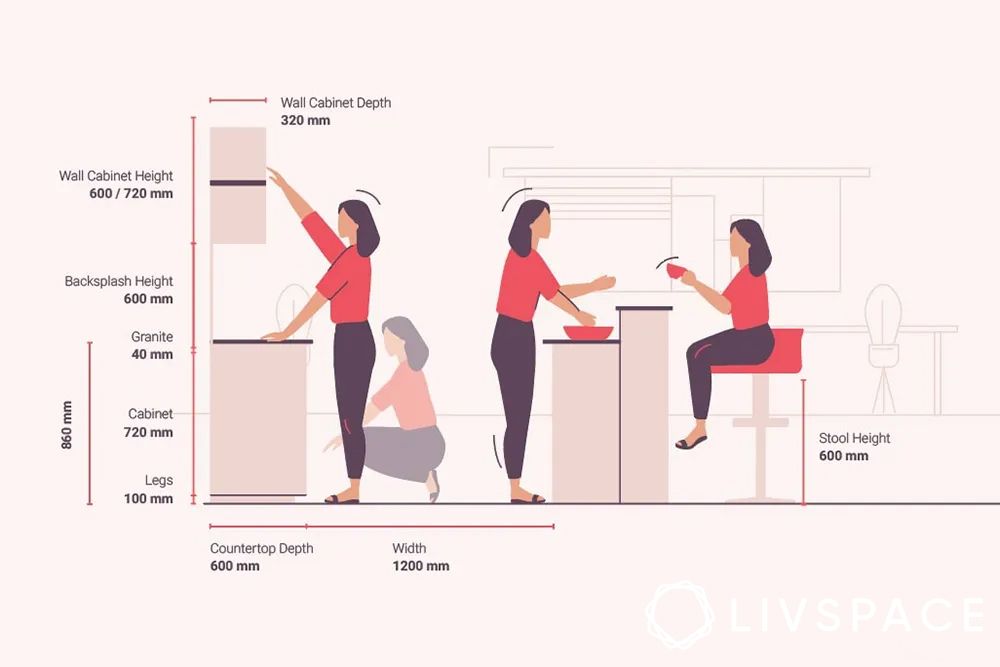 Because just like you, we care for your health. Did you know that the wrong height of kitchen cabinets can severely affect your backbone? Or the wrong placement of wall cabinets can compromise your cooking efficiency? An expert will measure each corner of your kitchen to tell you the exact dimensions of every cabinet that can be installed in the available space. So you can say goodbye to back pain with counters and cabinet heights that are made for you!
#5: Division of Work Zones in Your Modular Kitchen Design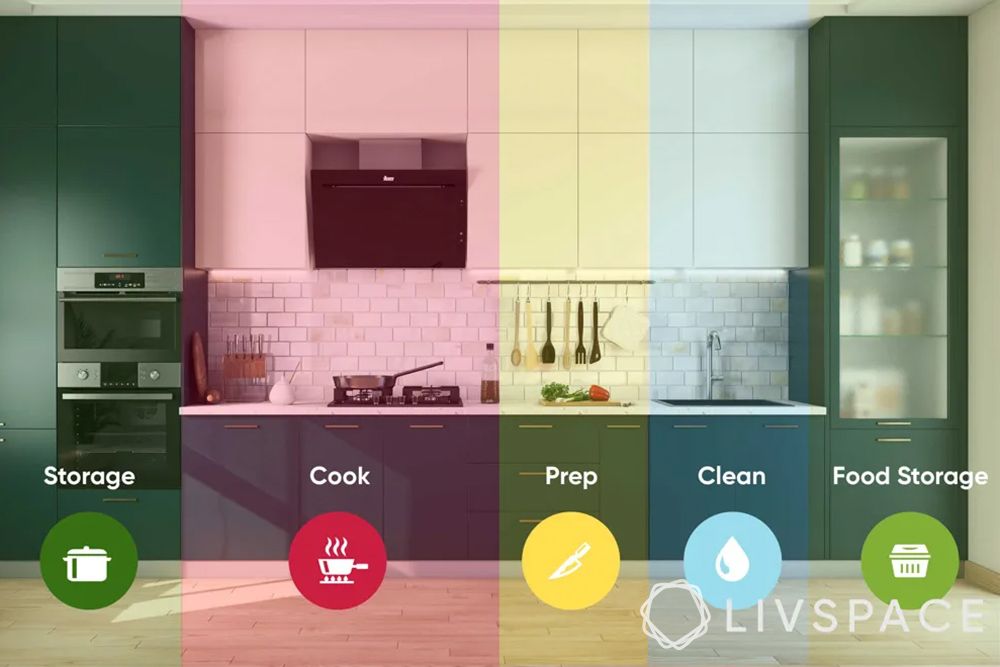 Experts go beyond the golden triangle and demarcate work zones—for storage, prepping, cooking and finally cleaning. Breaking up your kitchen into different work sites will allow you to maximise the space and its efficiency while customising the design as per your kitchen's restrictions and your lifestyle. So if you have dedicated zones for each type of activity, you will notice that you are automatically faster and more sorted in your kitchen.
Modular Kitchen Design for a Small Space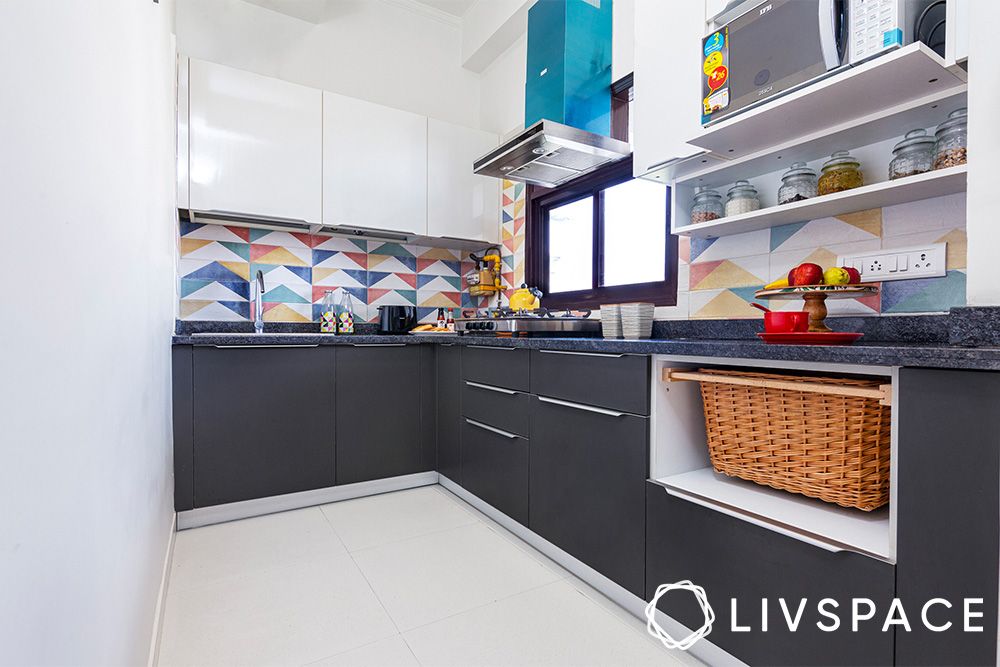 Flats in metro cities are getting smaller and smaller. However, this does not mean that you have to compromise on comfort and efficiency. A modular kitchen is designed to suit your requirements, based on the space available and your budget. A compact kitchen can easily have everything that makes a kitchen efficient—designated work zones, the golden work triangle, lighting, ventilation and the necessary kitchen accessories.
You can also think beyond just kitchens and opt for basic interiors for ready-to-move-in homes. Check out How to Get the Essentials for a New Home With the Livspace Advantage.
Also Read: What Affects Your Modular Kitchen Price?
Disclaimer: All costs included in the story are specific to the time of publishing. Mentions of costs, budget, materials, finishes, and products can vary based on multiple factors. Please get in touch with a designer for more details on pricing and availability.
How Can Livspace Help You?
We hope you found our ideas useful! If you want your home to be just as beautiful, then look no further. Book an online consultation with Livspace today.