For most of us, a home is an investment that we make. However, as all things age, so do our homes, which leads us to renovate it every few years. During these renovations, the first room you'd consider paying attention to is undoubtedly the kitchen. Being a room that receives the maximum amount of traffic, regular maintenance and renovation is a must. By now, the question of what your modular kitchen cost per sq. ft. can amount to is probably on your mind.
So, if you've spent many a sleepless night frantically googling "modular kitchen per sq ft cost", we can help put you at ease. Here's a simple break up of elements and their costs that can go into renovating your old kitchen.
A Quick Summary of the Estimated Modular Kitchen Price per Square Foot
| | |
| --- | --- |
| Element | Price |
| Premium emulsion paint | Starts from ₹22 to ₹32 per sq. ft. |
| Wood laminate cabinet with MDF substrate | ₹9,706 on average |
| Grey granite countertop | Starts at ₹570 per sq. ft. |
| Tiling | Starts at ₹150 per sq. ft. (minimum 50 sq. ft.) |
| Single bowl sink (533×437 mm) | ₹5,125 |
*The above prices are an estimate. Your kitchen design charges can vary depending on the city, labour charges, material and finish, design, and the size of your kitchen
To know the total modular kitchen cost per sq. ft. after renovation, just add the total of everything that we have mentioned and make changes as per your requirements.
Please note that these costs can vary based on different factors. Be sure to go through the points below for more detailed information on pricing.
What Are the Primary Elements That Can Affect Your Modular Kitchen Rate per Sq. Ft.?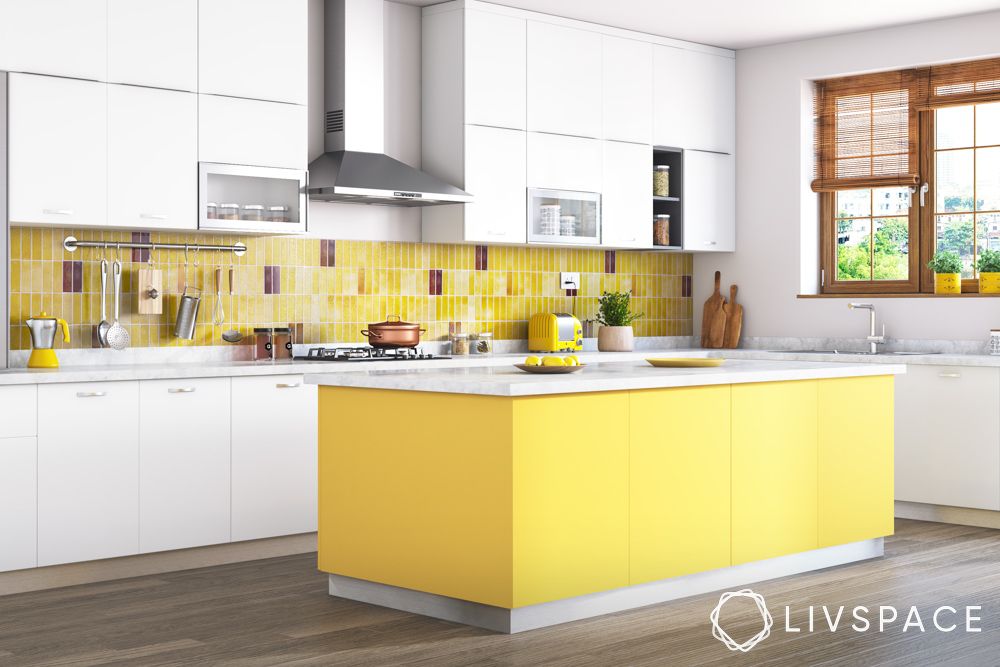 Design and Layout: Your kitchen's design and layout (L-shape, U-shape, and parallel kitchen, for example) can influence your modular kitchen cost per sq. ft.
Paint: The type of paint you choose is important, as not all of them are priced equally. Simple emulsion paint can be more economical for budget renovations. However, acrylic emulsion paint is considered premium and may work better for bigger budgets.
Cabinet Carcass/Core Material: Your taste and preferences for cabinet materials can dictate your modular kitchen rate per sq. ft. For example, plywood is a more traditional option that not only looks premium, but is also expensive. Whereas, MDF is a new-age core material that's both cost-effective and versatile.
Functionality and Accessibility: How many doors and drawers will you need to make your kitchen accessible? Your choice of shutters, drawers, and other additions like lift-up cabinets can add to your overall modular kitchen cost per sq. ft.
Countertops: Your modular kitchen square feet rate for countertops entirely depends on your choice of material selection. For example, quartz can be pricier than granite.
Tiling: Are you tiling your entire kitchen or just the floors? If you opt for tiling your floor tiles and wall tiles, you can anticipate a higher modular kitchen price per square feet while renovating.
Hardware: There are multiple pieces of hardware and accessories you may need to complete your kitchen design. You can choose from midway systems, drawer organisers, mats, and drawer systems to detail your kitchen. Depending on the mix of hardware solutions you choose, your kitchen renovation costs can vary.
Lighting and Electricals: Not all kitchens are designed the same way or have the same requirements. The same goes for the types of lighting options each kitchen design may use. The price of lighting and wiring can vary as per the renovation scope and lighting system used.
What Makes Up Your Total Modular Kitchen Cost per Sq. Ft.?
#1: Cost of Kitchen Tiling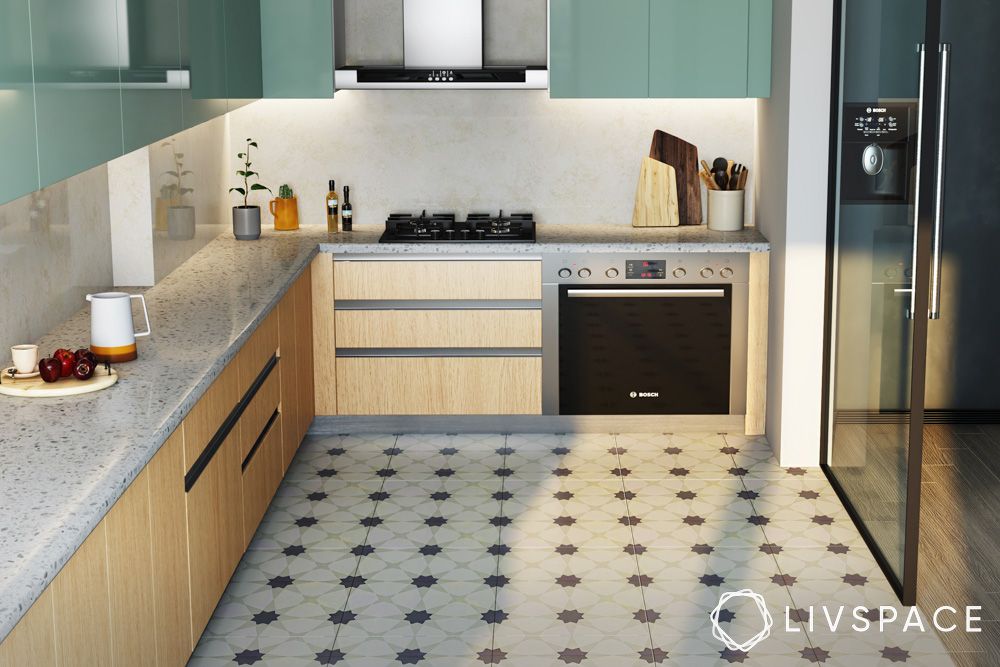 When we say tiling for your kitchen, we don't just mean the floor. Your walls will also require tiles for the backsplash. Before calculating the price of tiling, you need to first measure the floor area and length of the wall.
Measure the entire kitchen floor, both length and width, and add 5 to 10% extra for wastage of tiles during installation. Similarly, measure the length and height of the entire wall that will hold the backsplash, from the countertop to the upper cabinets. This will give you the total area required for tiling.
#2: Cost of Painting the Kitchen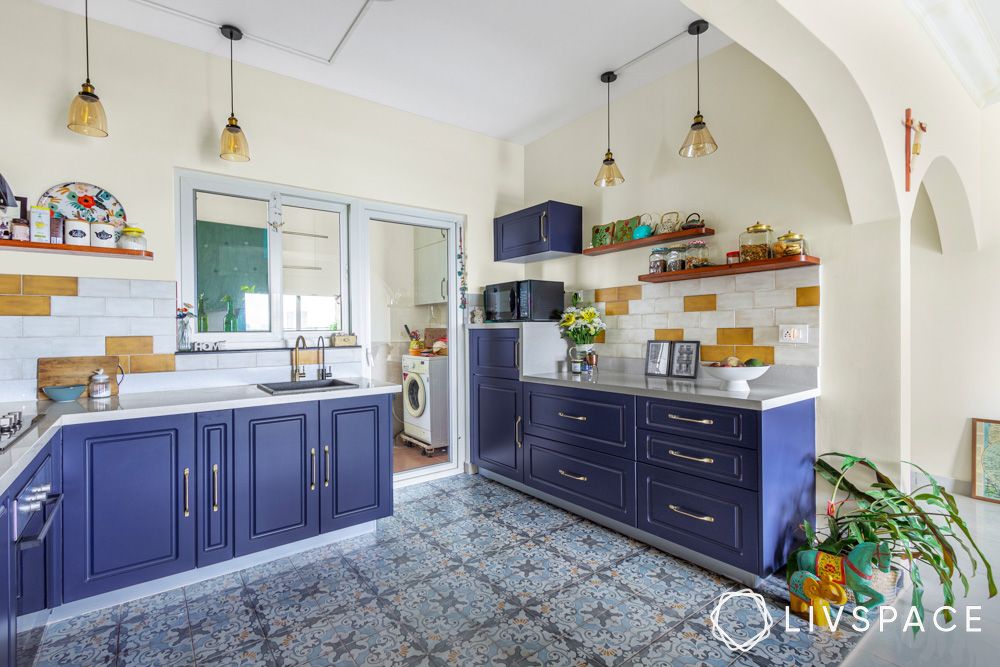 What's a home without some happy shades of paint? Depending on your tastes and preferences, you can choose from a variety of paint types to decorate your space.
You can paint your walls or your ceilings (or both!) to give the space a nice makeover. If you're on a budget, consider using emulsion paint to deck out your kitchen.
#3: Cost of Kitchen Cabinetry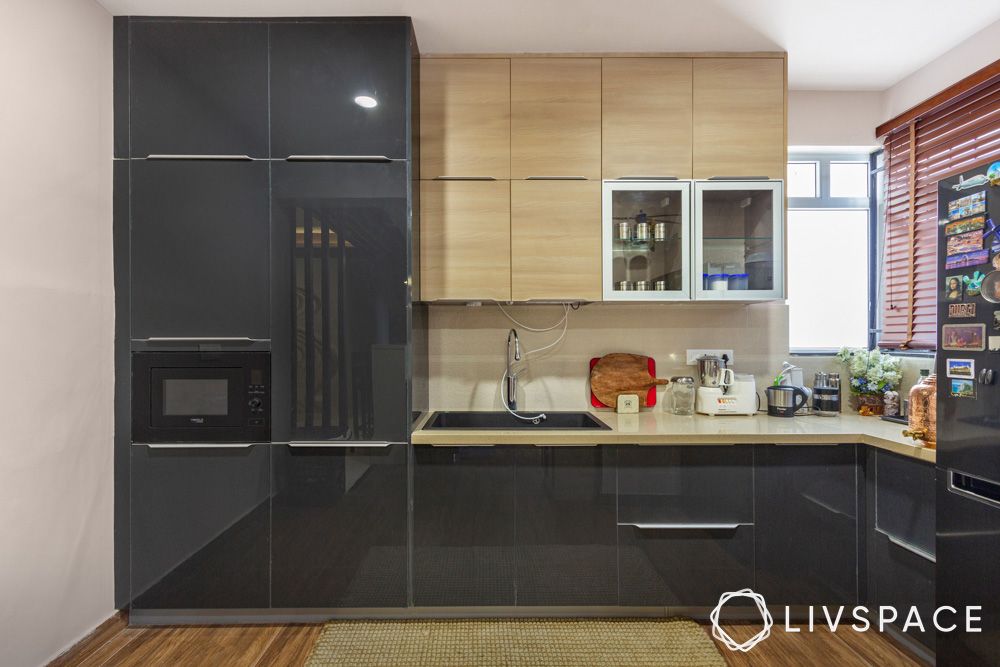 Probably the most important element in your kitchen is cabinetry. And when we say cabinets, we mean both the shutters and the carcass. Here, your cabinets can account for a major portion of the modular kitchen cost per sq. ft.
This includes lower cabinets, upper cabinets, drawers, tall units, tambour units and any other storage modules you might deem necessary. Similarly, not all these storage units are a must. It all varies based on your usage, requirement, and space.
The overall cost will depend on both the shutter and carcass pricing, as well as your choice of materials and finishes. For example, acrylic shutters for your cabinets can cost you more than laminate.
Also Read: 9 Must-Have Modular Kitchen Fittings With Their Prices From Real Livspace Homes
#4: Cost of Kitchen Countertops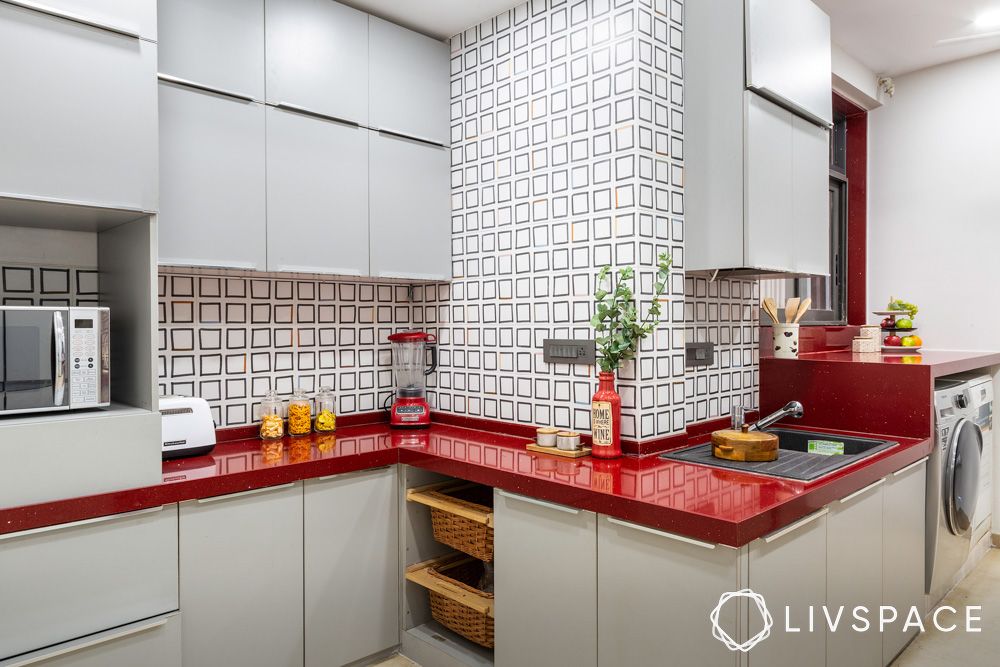 When it comes to Indian kitchens and cooking, you need sturdy countertops to deal with the heat and stains. Based on your usage and requirement, you can choose from granite, quartz, marble, synthetic surface and more such options.
Accordingly, your modular kitchen cost per sq. ft. will depend on the countertop material you choose. Once you measure the length of your countertop along the wall, you can select your preferred material. Consider opting for countertops from Livspace if you're looking for assured quality, easy installation, and no worries of breakage.
#5: Cost of Kitchen Sink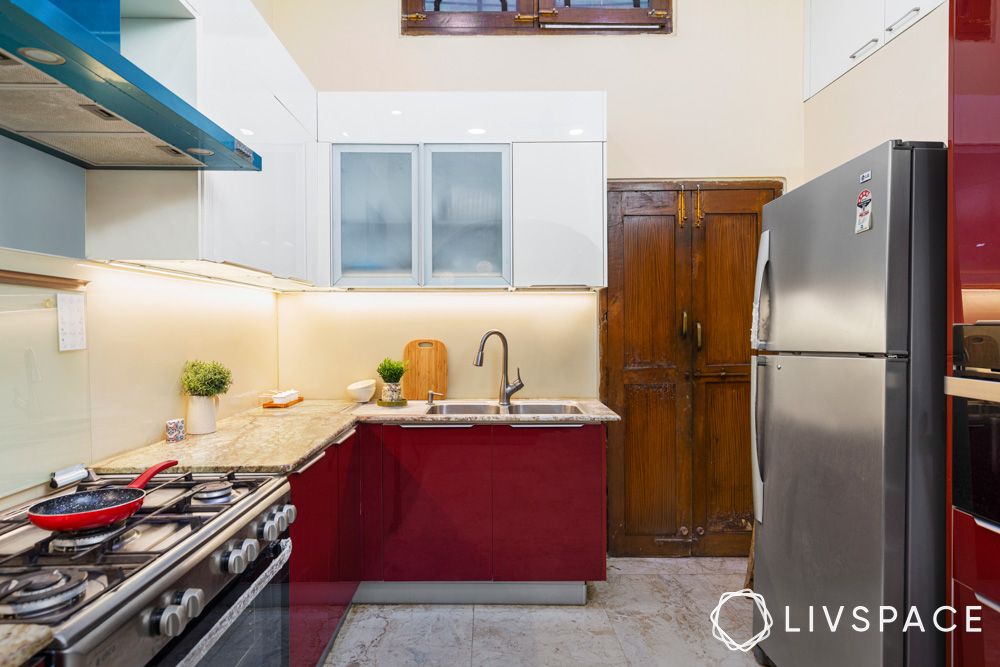 Whether you want a single sink or a dual one will depend on two factors: the available space and your usage. The same goes for the size of the sink. Some sinks even come with an attached vegetable bowl for washing your veggies! Here, your modular kitchen per square foot rate can include not only the sink itself, but also the faucet and plumbing.
#6: Cost of Electricals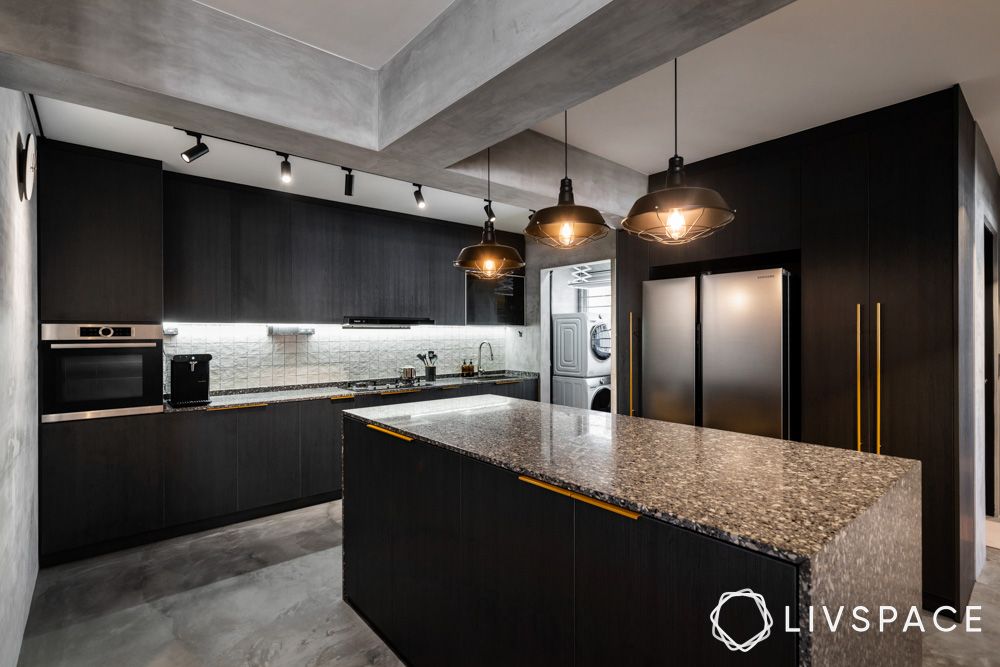 Your kitchen will require sturdy wiring to support all the electrical appliances you might place there, such as the refrigerator and microwave. Apart from this, you'll also require wiring for lighting, plug points, and exhaust fans. Together, all this electrical work can influence your modular kitchen cost per sq. ft.
You can either opt for normal LED lights or jazz up the space with ambient and profile lighting. Though lighting is an important part of your renovation, the total cost of lighting is hard to estimate.
This is because your overall modular kitchen price per sq. ft. will entirely depend on the types of lighting solutions you choose. Moreover, these costs will also vary as per your location and the scope of your kitchen renovation.
#7: Modular Kitchen Accessories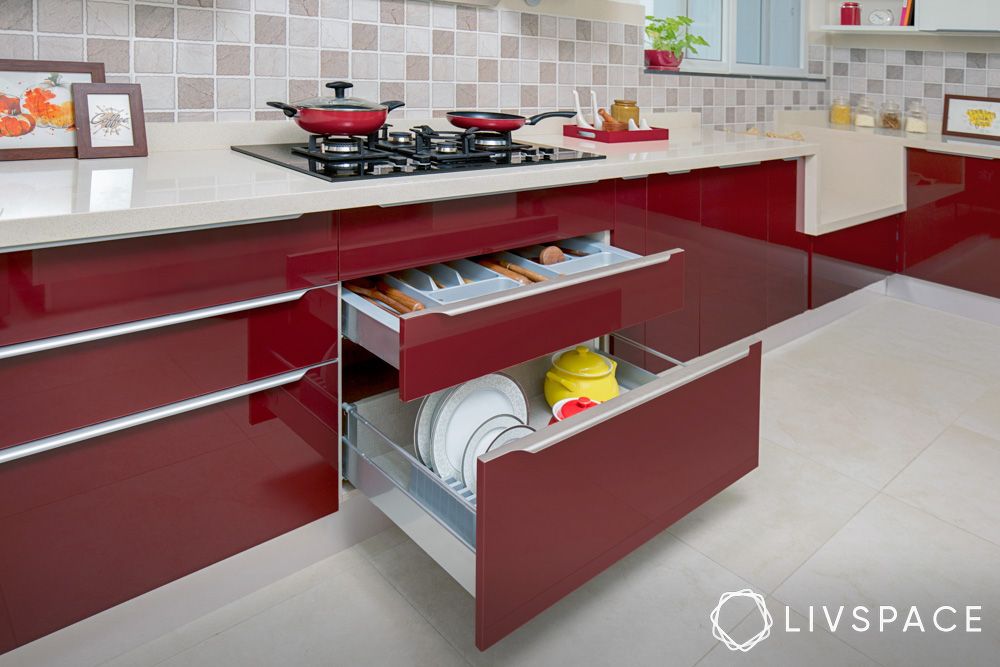 Considering the amount of time we spend in the kitchen, it goes without saying that this room should be as comfortable and well-designed as possible. To accomplish this, you'd need some handy modular accessories to improve the overall functionality of your space. Here are some of the main modular kitchen accessories that can add to your convenience and comfort:
Drawers
Cutlery trays
Thali baskets
Spice pull-outs
Corner solutions
Dustbins
Detergent racks
Also Read: 8 Must-Have and Useful Modular Kitchen Accessories That You Need
How Can You Reduce the per Square Foot Rate for Modular Kitchens?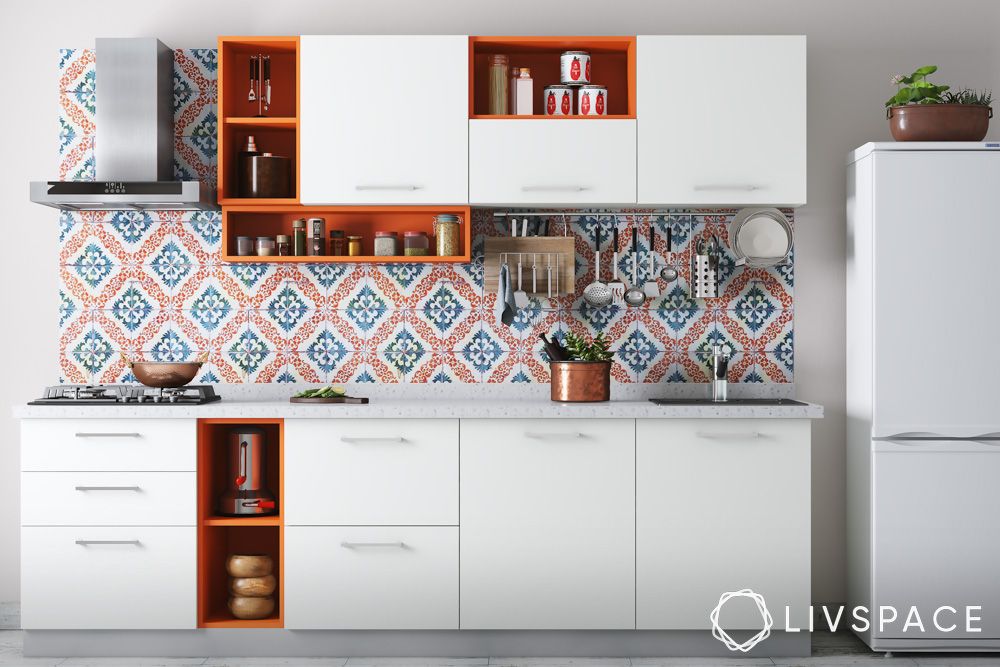 If your existing set-up is semi-modular with the necessary civil elements in place, the same elements can be reused to cut down costs. However, doing so still would not make your kitchen fully modular in nature.
This is why we do not recommend reusing an existing set-up and converting it to a modular kitchen. For long term benefits, consider investing in a fully modular kitchen that has a better payout.
Check out kitchen design ideas:
What Are Some Popular Layouts for Modular Kitchens?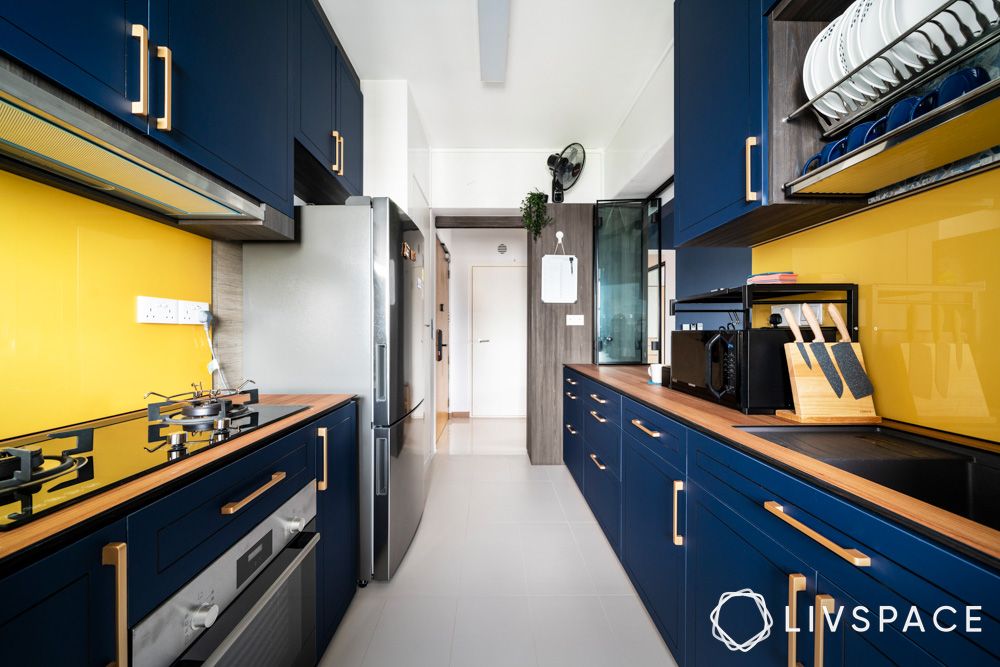 Parallel or Galley Layout: Has the counters sit at opposite sides that are parallel to each other, with a walkway in the middle.
U-Shaped Layout: Places all cabinets and counters on three adjacent walls in the shape of a U. This is a great layout for incorporating the golden triangle rule.
L-Shaped Layout: Aligns cabinets along two walls that are perpendicular to each other. It follows the shape of an L.
G-Shaped Layout: Similar to the U-shaped layout, these kitchens have an extended counter on one side that's often referred to as a peninsula. You can use this peninsula as a breakfast bar or added counter space.
Island Kitchen Layout: Commonly found in open layout homes, an island kitchen is nothing but an open-concept kitchen that uses an island to bring in extra counter space. The island is typically spaced in the centre of the kitchen to allow movement around it.
What Are the Pros and Cons of a Modular Kitchen?
| | |
| --- | --- |
| Advantages | Disadvantages |
| Helps in space optimisation, especially in smaller kitchens | Can be an expensive investment depending on the materials and finishes you desire |
| Available in a range of finishes that can be customised to your needs and preferences | Maintenance costs can add up if you choose light-coloured finishes that are not stain-resistant |
| Offers ergonomic design using the golden work triangle | Might be difficult to find the exact replacement to fix a damaged cabinet, depending on the availability of matching materials and finishes |
| Designed to fit your exact requirements | Can run the risk of looking commonplace or lack uniqueness |
How Can Livspace Help You?
We hope you found this guide on modular kitchen cost per sq. ft. insightful. If you want beautiful interiors for your home, then look no further. Book an online consultation with Livspace today.
Have any thoughts or suggestions you'd like to share with us? We're all ears! Drop us a line at editor@livspace.com.
Disclaimer: All contents of the story are specific to the time of publication. Mentions of costs, budget, materials, finishes, and products from the Livspace catalogue can vary with reference to current rates. Talk to our designer for more details on pricing and availability.