Whether you are a gourmet home chef or someone who can barely make Maggi, nobody can do without a well-designed kitchen! But when it comes to a good design, there are two main problems, the size of a small kitchen design and the cost.
In this guide, we will help you calculate the cost of designing your kitchen. Additionally, if you have a small kitchen design, we've got tips on how to make it look more spacious along with stunning compact kitchens designed by Livspace.
How Is a Modular Kitchen Cost Calculated?
As with anything else, when it comes to your interiors, outlining a budget for your small kitchen design is the first thing you should do before you get started. There are multiple factors that can affect the cost of your kitchen, some of which we have mentioned below:
Size of the kitchen
Scope of work
Materials used
Additional kitchen accessories
The following table will help you ascertain the main components that go into a kitchen design cost, as well as the estimated prices.
Scope of Work
Cost Range*
Notes
Modular
₹1,60,000 to ₹1,76,000
Parallel kitchen design
with modular cabinets
and fittings
Flooring
₹130 to ₹250 per sq. ft.
Flooring will be present
beforehand
in most cases.
The price
mentioned is for
a renovation done
with cost-effective
options like tiles
instead of something
expensive like marble

Ceiling
Paint – ₹22 to ₹30 per sq. ft.
Gypsum – ₹180 to ₹250 per sq. ft.
Gypsum false
ceiling including
electricals
Backsplash/Dado
Tile Base Price – ₹60 to ₹250 per sq. ft.
Imported Tiles – Upto ₹1000 per sq. ft.
Installation Charges – ₹120 to ₹200 per sq. ft.
Backpainted Glass – ₹600 to ₹950 per sq. ft.
Imported tiles come
with special finishes.
Installation charges
will vary based
on size and
pattern of tiles.
Granite and quartz
are other
backsplash material
options
Countertop
Quartz of Brand
Kalinga Stone – ₹48,000 to ₹1,08,000 per slab
Granite – ₹750 to ₹900 per sq. ft.
For quartz, the size
dimensions are
3.15m x 1.45m.
Cost for both
includes transportation
and installation.
Cost varies due to
material cost
Electricals
₹12,000 to ₹18,000
Includes electrical points
for hob, chimney,
Aquaguard, OTG, fridge,
microwave and light
points, if needed
*All prices mentioned above are excluding 18% GST
The above prices are an estimate. Your kitchen design charges can vary depending on the city, labour charges, material and finish, design, and the size of your kitchen
Cost Estimates Based Upon the Size of Your Kitchen
The size of your kitchen is one of the primary factors that will affect the cost. Here are some estimated price ranges of kitchens of different sizes.
| | |
| --- | --- |
| Kitchen Size | Cost Range* |
| Small (6ft by 8ft) | ₹1,32,174 to ₹1,53,458 |
| Medium (8ft by 10ft) | ₹1,69,200 to ₹1,99,253 |
| Large (10ft by 16ft) | ₹2,36,580 to ₹2,75,454 |
*The above prices are starting price estimates for only modular cabinets and fittings, exclusive of 18% GST and handing fees. Your kitchen design charges can vary depending on the city, labour charges, material and finish, design, and the size of your kitchen
Cost Estimates Based Upon the Layout of Your Kitchen
There are 4 main types of kitchen layouts that you can choose from. Among these, the L-shaped layout is the most popular in India. Additionally, if you want extra storage or countertop space, you can opt for a peninsula or an island in your kitchen.
| | |
| --- | --- |
| Kitchen Layout | Cost Range* |
| One Wall | ₹1,57,691 to ₹1,73,460 |
| Parallel | ₹1,60,000 to ₹1,76,000 |
| L-Shaped | ₹1,44,256 to ₹1,58,682 |
| U-Shaped | ₹1,66,519 to ₹1,83,170 |
*The above prices are starting price estimates for only modular cabinets and fittings, exclusive of 18% GST and handing fees. Your kitchen design charges can vary depending on the city, labour charges, material and finish, design, and the size of your kitchen
How to Reduce the Cost of Your Small Kitchen Design?
Everybody has a vision with regards to how they want their kitchen to look. However, your budget acts as the main obstacle between you and your dream kitchen. To help you, we have some amazing low-budget option that you should opt for if you have a tight budget. Additionally, also check out some high-cost investments that will make your life so much easier!
Budget Finish
Laminate
Cost-Effective Countertop Material
Granite*
Economical Backsplash Material
Tiles**
Economical Investments
Basic shelf and
drawer units
High-Cost Smart Investments
Specialised units like
pantry unit, tambour unit, magic
corner units and wicker baskets
*Jet black granite is a feasible option as it is easy-to-maintain
**1×1 or 2×2 square-patterned tiles are the most economical
How to Make a Small Modular Kitchen Design Look Spacious?
A small kitchen interior is generally the norm in most modern flats. But with some smart hacks, you can make your small kitchen design look spacious.
Neutral Colours – Light colours like white, beige and create can create a bright and airy appearance, making a small kitchen look spacious

Reflective Finishes – Glossy and reflective finishes create the illusion of space in a small room

Mix of Open and Closed Cabinetry – While closed cabinets are a necessity in your kitchen, mix them up with open shelves to make the area look more spacious

Simple Dado Design – Bold designs are a big no in small kitchens. Instead, opt for simple backsplash designs in neutral colours

Maximum Lighting – Apart from natural lighting, install different types of artificial lighting like spotlights and under-cabinet lights in your kitchen
10 Small Kitchen Design Ideas Under 100 Sq. Ft.
If you are looking for small kitchen ideas, here are some stunning Livspace designs for spaces under 100 sq. ft.
#1: L-Shaped to C-Shaped Small Modular Kitchen Design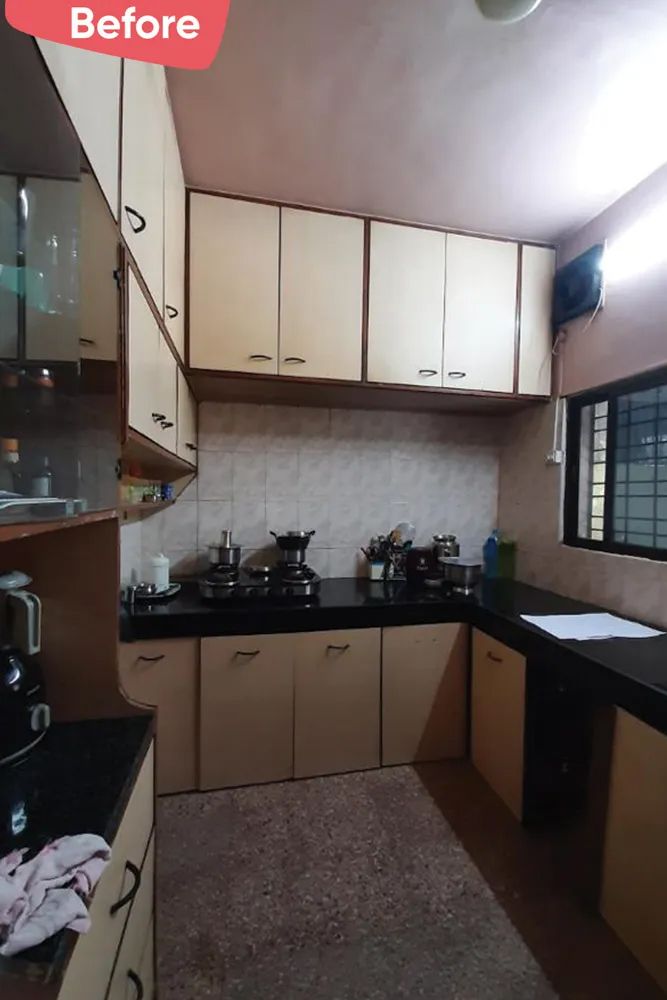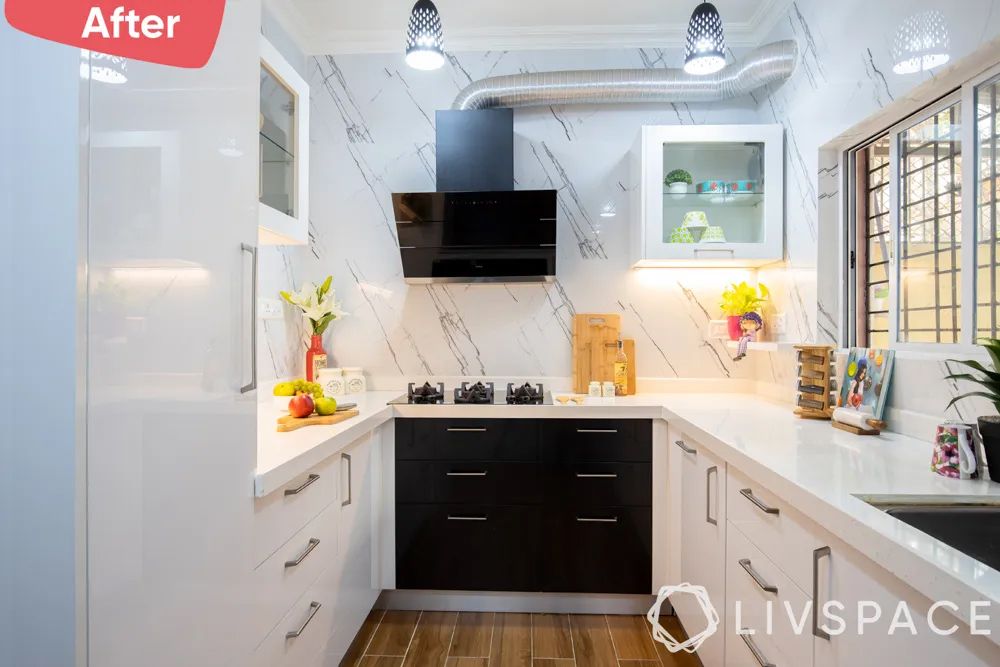 Size: 100 sq. ft. approx.
The existing reinforced cement concrete (RCC) lofts were broken down to create more space in this small kitchen design
Moreover, the existing L-shaped counters were removed to create space for C-shaped counters that increases the work area
#2: A Small Kitchen Design With Extra Countertop Space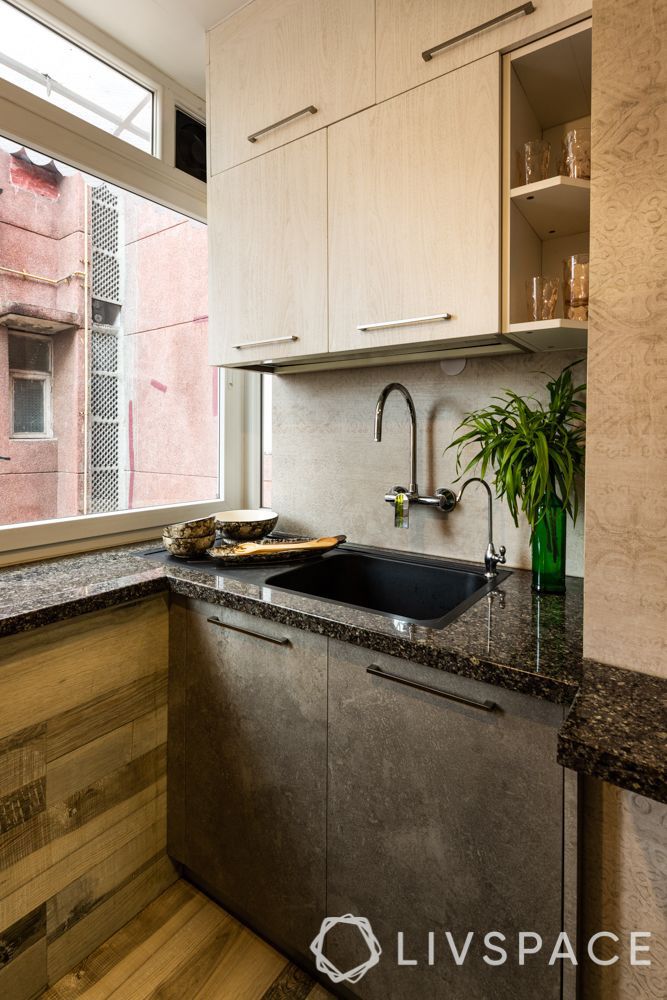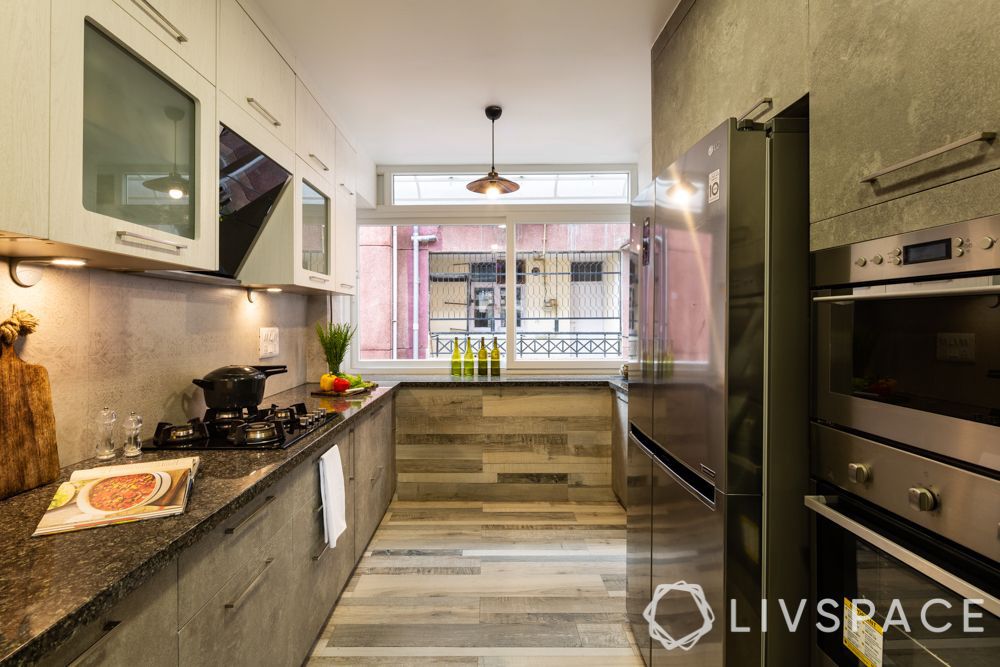 Size: 100 sq. ft. approx.
An extra counter near the windowsill creates ample space for three cooks in this Indian-style small kitchen design
The parallel layout is a good fit for the longish aisle-like space
#3: A 65 Sq. Ft. Small Modular Kitchen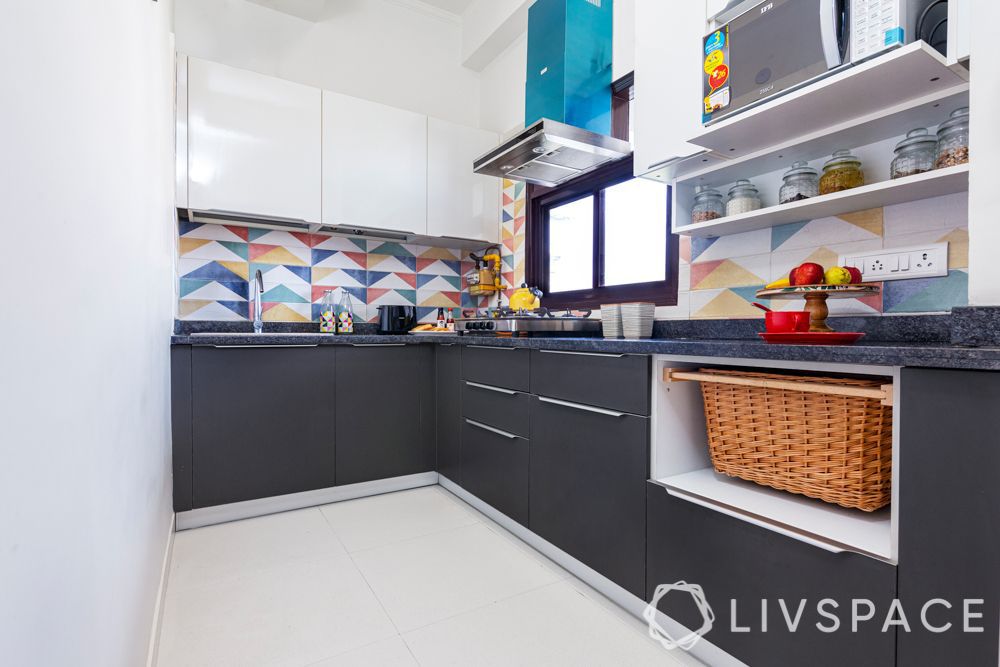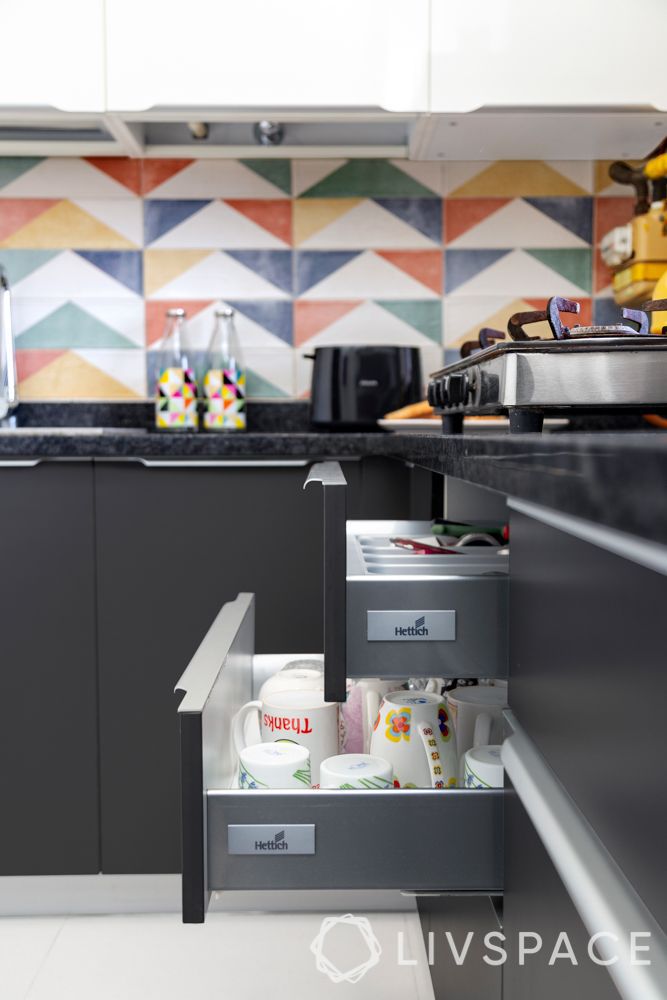 Size: 65 sq. ft. approx.
The light colour palette opens up the kitchen and makes it look spacious
Also, ample use of white on the counters and floor also adds to the open look
For storage, our designer fit in open and closed storage racks, wicker baskets and spice racks
We had a very smooth sailing experience with the Livspace design team. Our designer Sakshi did a deep analysis of our requirements and redesigned the kitchen from scratch. The project was delivered before time and we had no hiccups at all.

—Subhash Sikka, Livspace Homeowner
Also Read: 20 Open Kitchens That are Perfect for Small Indian Apartments
#4: A Small Kitchen Design Idea With Extra Utility Area
Size: 100 sq. ft. approx.
Our designer retained the parallel layout of this Indian style small kitchen design while adding an extra utility area at one end
This added more length and created more functional area for prepping and cooking
#5: A Modular Kitchen That Makes Maximum Use of the Walls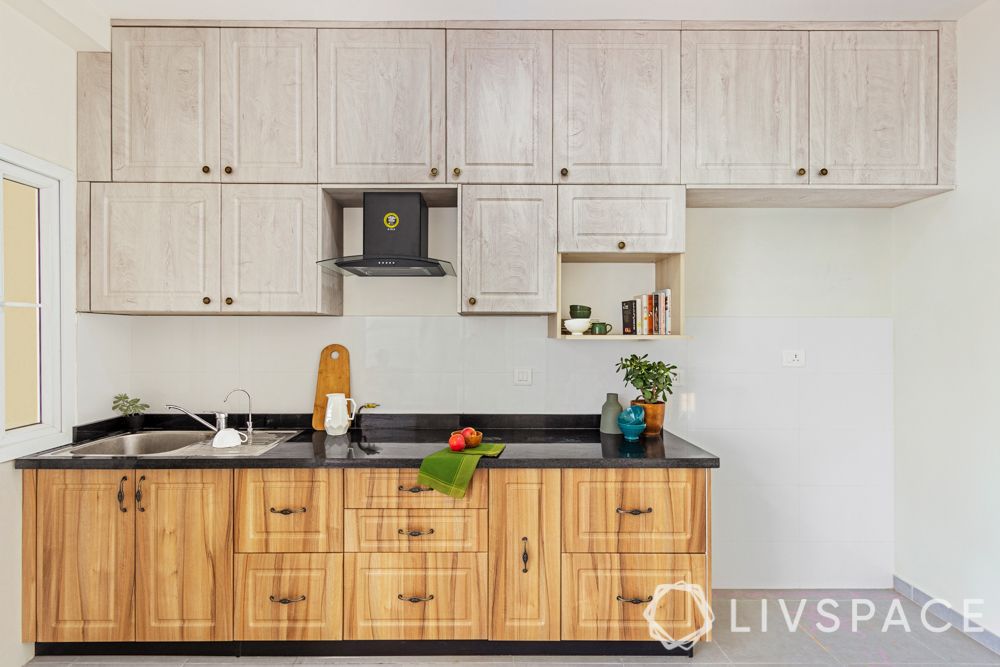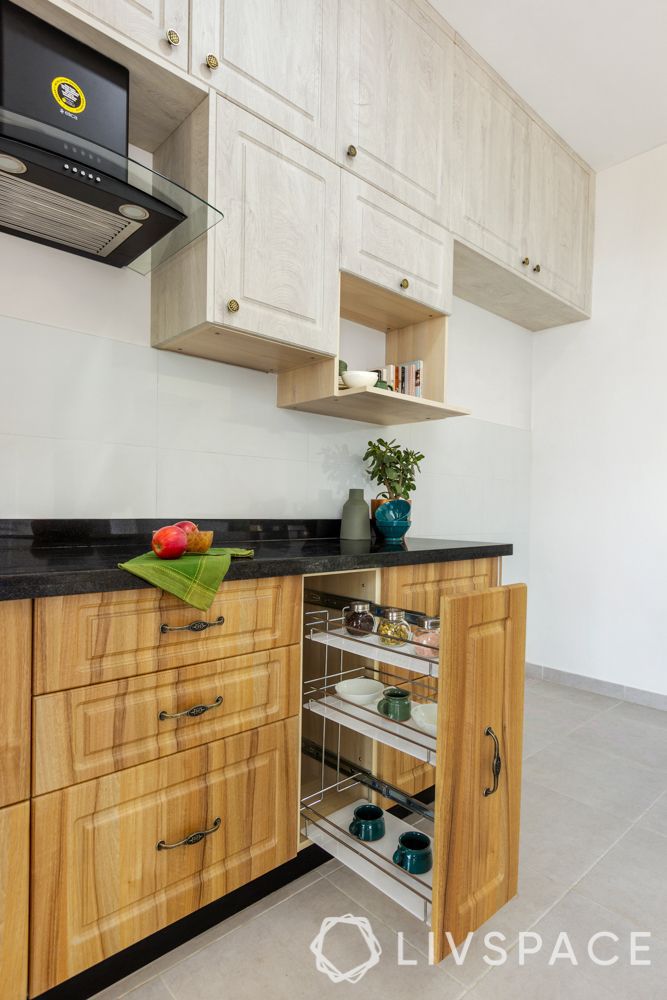 Size: 70 sq. ft. approx.
The entire wall in this small kitchen interior has been used for cabinetry, creating the illusion of a higher ceiling
Additionally, the light and dark wood colour combination opens up the space
#6: An Elder-Friendly Kitchen Design for Small Spaces
Size: 75 sq. ft. approx.
Cabinetry with easy-to-use grip handles are perfect for the usage of elders
The floor is anti-skid to avoid any nasty kitchen accidents
We really like our new kitchen. We were impressed with the Experience Center and decided to go ahead with Livspace and we are glad we did! All our requirements have been met.

—Sumathi, Livspace Homeowner
#7: A Small Kitchen Design That's Customised for Heavy Indian Cooking
Size: 100 sq. ft. approx.
This small kitchen design is customised for Indian-style cooking
The white colour palette makes the kitchen look big while the dark lower cabinets act as a preventive measure against Indian curry stains and oil spills
Anti-scratch acrylic cabinetry is easy-to-clean and the Moroccan tile backsplash protects against oil stains
Also, the quartz countertop, despite being white, is easy-to-maintain as it is non-porous and resistant to stains
Also Read: 25+ Kitchen Designs in India and Why They Are Best For Indian Homes
#8: Making the Most Out of a Parallel Kitchen Design for a Small Space
Size: 100 sq. ft. approx.
Indian-style modular kitchen design ideas in a parallel layout provide more working space
This small kitchen is packed with storage and also follows the golden triangle rule of kitchens
Kanwaldeep, our designer, was able to provide ample colour and storage options to match my tastes and needs. This was the main reason why we chose Livspace, as no other vendor was able to offer this!

—Bhavya Sachin Nambiar, Livspace Homeowner
#9: A Vastu-Compliant Small Modular Kitchen Design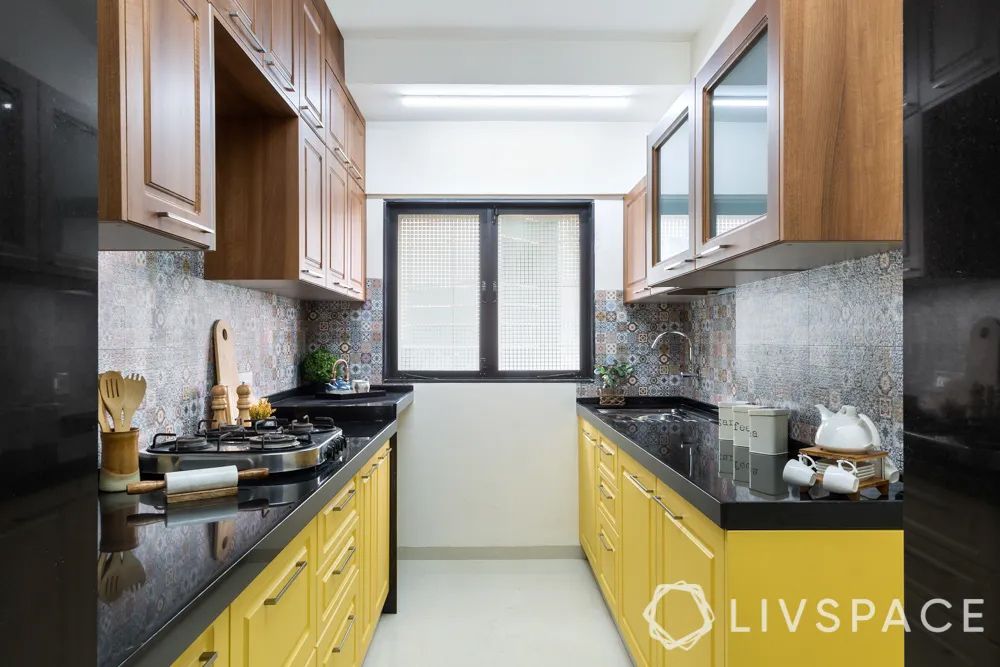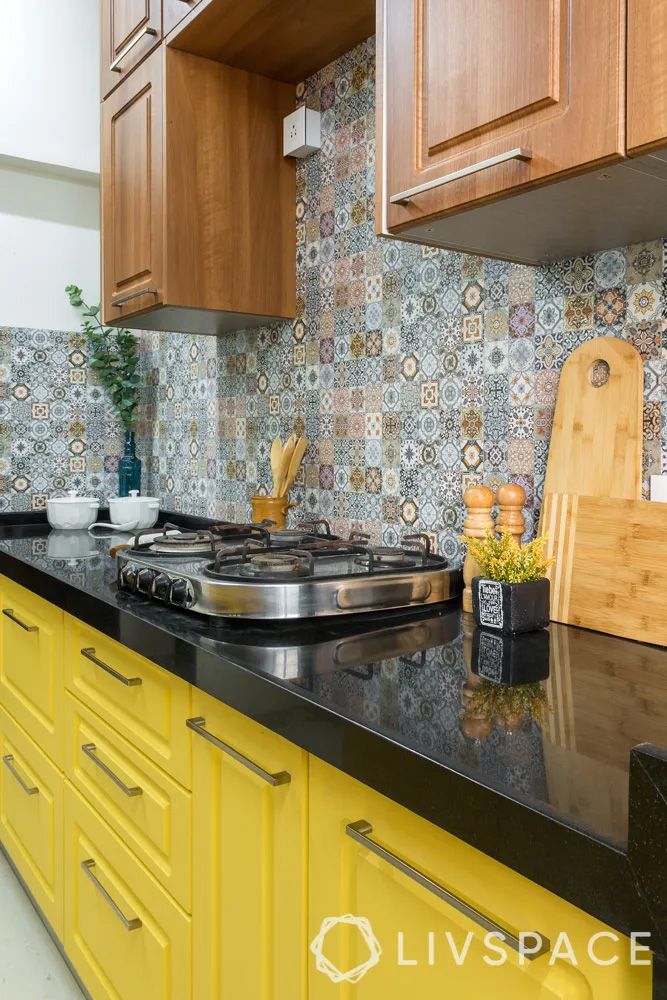 Size: 90 sq. ft. approx.
The yellow colour symbolises sunlight/fire, making this Indian kitchen design vastu- compliant
Additionally, the hob and sink are placed on separate counters as per vastu rules for fire and water
#10: Low-Maintenance Small Kitchen Interiors in White
Size: 100 sq. ft. approx.
The all-white cabinetry makes this small kitchen design look spacious
The countertop made of G4 stone is anti-stain. Moreover, the acrylic cabinets are anti-scratch, ensuring the kitchen is easy to maintain and clean
I had a clear idea of what my kitchen makeover needs to have. Sapna, my designer, put it together beautifully! The kitchen is exactly what I wanted and the process smooth.

—Persis Chhapkhanawalla, Livspace Homeowner
Get Inspired By These Stunning Small Modular Kitchen Designs
Loved the above small kitchen designs? Keep scrolling as we have more stunning kitchen inspiration for you!
Want more? We've got stunning modular kitchen design ideas for you!
If you're planning on renovating your kitchen, check out this video for inspiration:
How Can Livspace Help You?
Livspace kitchens come with DuraBuild cabinets, AquaBloc and AntiBubble technologies and precision-engineered manufacturing
Our wide range of kitchen designs have a flat 10-year warranty* on them (modular and semi-modular products)
With 146 quality checks, we ensure our kitchens are of superior quality
*For select finishes on modular products. For full scope of warranty, please visit livspace.com/in/service
If you want a stunning kitchen design, then look no further. Book an online consultation with Livspace today. To know how our customers feel about working with us, check out these Livspace reviews for more details!
Have any thoughts or suggestions you'd like to share with us? We're all ears! Drop us a line at editor@livspace.com.
Disclaimer: All contents of the story are specific to the time of publication. Mentions of costs, budget, materials, finishes, and products from the Livspace catalogue can vary with reference to current rates. In addition, the designs showcased within the story are subject to availability and will vary based on the year the homes were designed in. Talk to our designer for more details on pricing, availability and latest designs.
---
Popular Services:
Modular Kitchen Designs | Wardrobe Designs | Bathroom Designs | Master Bedroom Designs | Living Room Designs | Pooja Room Designs | TV Unit Designs | False Ceiling Designs | Kids Bedroom Designs | Balcony Designs | Dining Room Designs | Foyer Designs | Guest Bedroom Designs | Window Designs | Flooring Designs | Wall Decor Designs | Wall Paint Designs | Home Wallpaper Designs | Tile Designs | Kitchen Cabinet | Home Office & Study Room | Home Interior Designs
Popular Locations:
Interior Designer Bangalore | Interior Designer Mumbai | Interior Designer Pune | Interior Designer Chennai | Interior Designer Hyderabad | Interior Designer Gurgaon | Interior Designer Delhi | Interior Designer Ahmedabad | Interior Designer Vadodara | Interior Designer Kolkata | Interior Designer Thane | Interior Designer Navi Mumbai | Interior Designer Coimbatore | Interior Designer Lucknow | Interior Designer Patna | Interior Designer Nagpur | Interior Designer Chandigarh
Popular Stories:
2 BHK Interior Design | 3 BHK Interior Design | 1 BHK Interior Design | Interior Design Cost In India | Painting Cost Per Square Foot | False Ceiling Cost | Bathroom Renovation | Sofa Design Ideas | POP Design for Hall | House Paint Colours | Main Door Design | Granite Countertops | Vastu For Home | Cool Wallpapers | Types of Kitchen Layout | Types of Flooring | What Is Plywood | Pooja Room Vastu | South Facing House Vastu | Which Plants Are Good for Home Vastu | Vastu Tips for Home