When it comes to types of flooring available in India, you might think of either marble or tiles. However, there are a number of options out there that you can choose from. Some of them are common, while others are lesser known. Each of these flooring alternatives have their own merits in terms of aesthetics, cost, durability, and maintenance.
So, let's demystify the various types of flooring materials to help you find which option works best for your home and budget. And let's start at the beginning!
What Is Flooring?
Flooring refers to the finished covering that's installed above your structural floor. This helps provide your space with a uniform walking surface, where different types of flooring can offer different benefits.
For example, the type of flooring material you choose can have a different feeling underfoot. Some materials can be harder than others, while materials like stone can help keep your floors cooler in hot summers.
What Are the Different Types of Flooring Materials Available in India?
There are many interesting flooring options to choose from to help you find the best flooring material for your space. Take a look at each of them in detail:
#1: Marble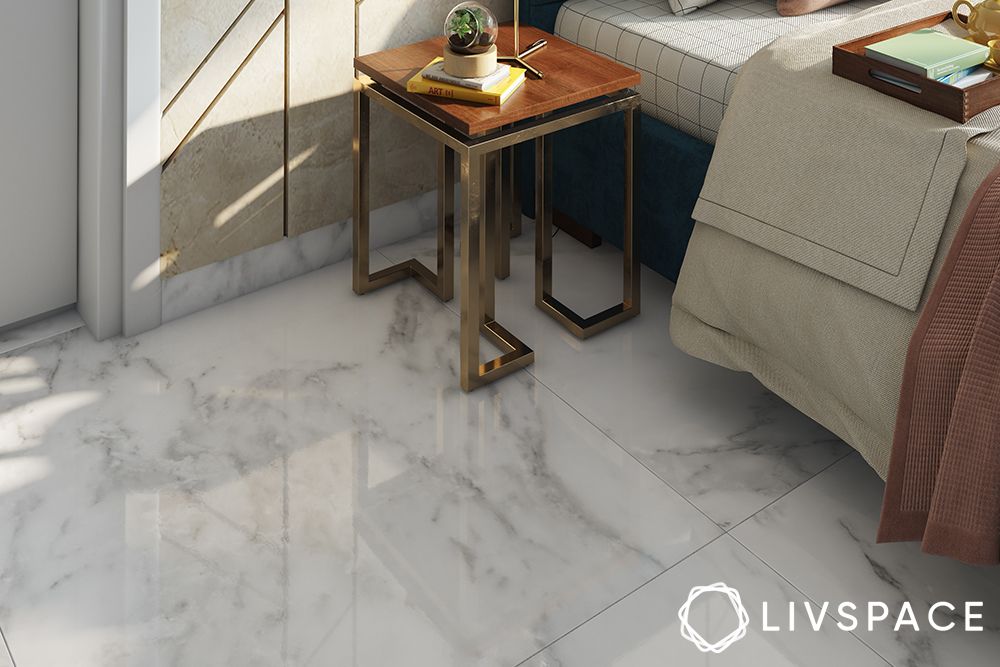 Marble is available in a variety of colours, including pink, grey, and white, making it one of the more popular types of flooring for Indian homes. It's highly porous and fairly easy to maintain, sometimes lasting more than 25 years.
However, low-quality stones may turn yellowish over the years, as marble is not stain-resistant and requires proper sealing. Due to its natural occurrence and limited availability compared to other types of flooring, marble may be priced steeply.
#2: Vitrified Tile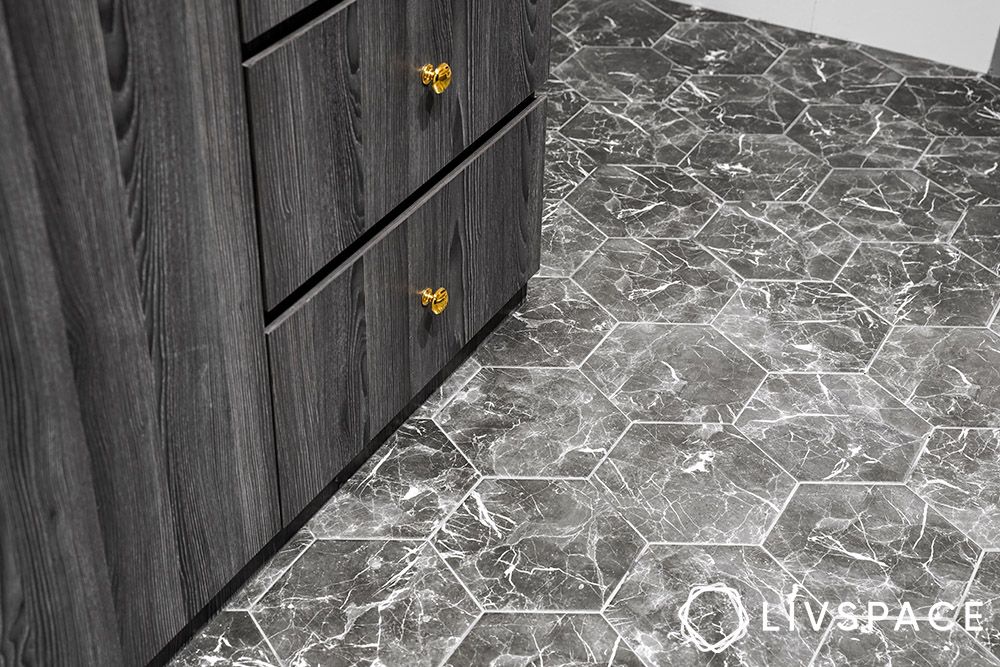 Vitrified tiles are one of the most popular types of flooring in India, as they are affordable and suitable for both interior and exterior use. Generally coated with an external glaze, these tiles have a low water-absorption rate and are durable.
They come in a large variety of designs, colours, prints, and textures that can simulate natural materials such as wood, bamboo, and even marble. Additionally, vitrified tiles are available in glossy, matte, and anti-skid finishes.
#3: Vinyl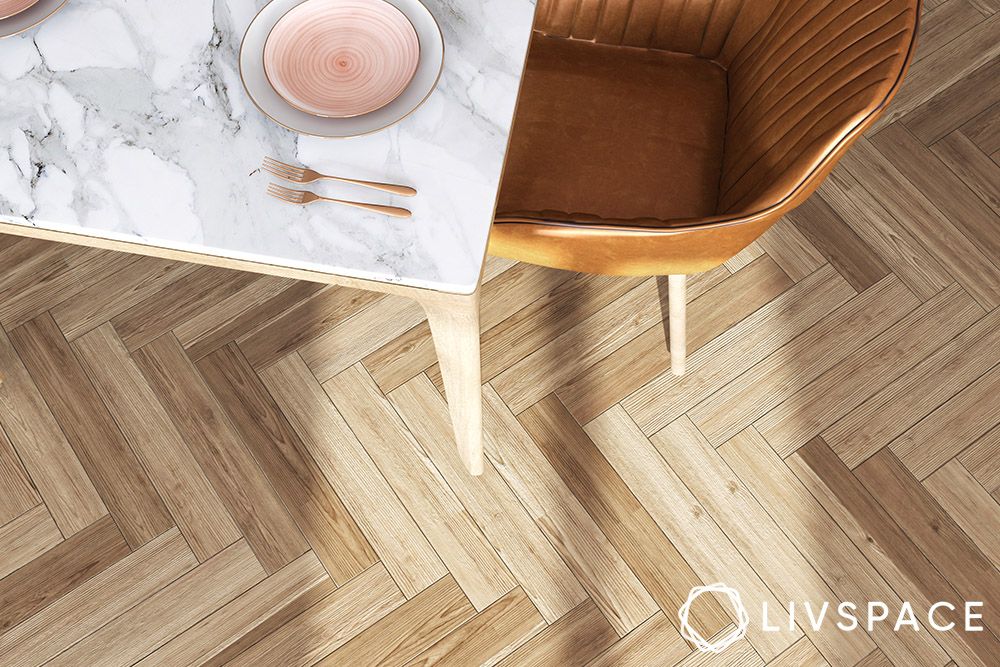 Vinyl flooring is one of the most durable types of flooring in India, as it offers stylish alternatives that are cost-effective, water-resistant, and stain-resistant. Available in versatile designs that simulate hardwood and stone finishes, vinyl can be a relatively inexpensive option to consider.
While vinyl can be one of the best flooring materials to choose for your home, it requires special care to guard against scratches. One drawback, however, is its susceptibility to discolouration when it comes into contact with rubber.
Also Read: What's the Best Flooring to Use at Home? Ultimate Guide
#4: Hardwood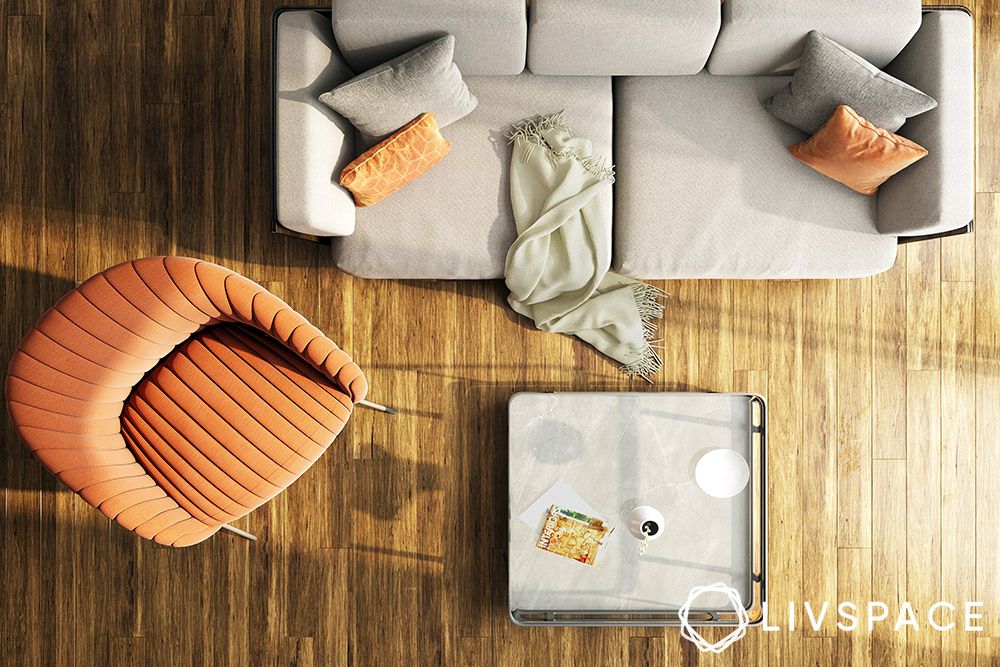 Hardwood is among the few different types of flooring that's made from natural materials. A high-maintenance but durable option, hardwood flooring is available in strips, planks, and parquet patterns. You can also get it in different shades, like walnut and cherry, to complement your interior theme.
While hardwood flooring options can be relatively more expensive in comparison to other alternatives, it's still a popular aesthetic choice. Do be aware, though, that wear and tear can sometimes cause noises, creaks, and squeaking in these types of floors.
#5: Granite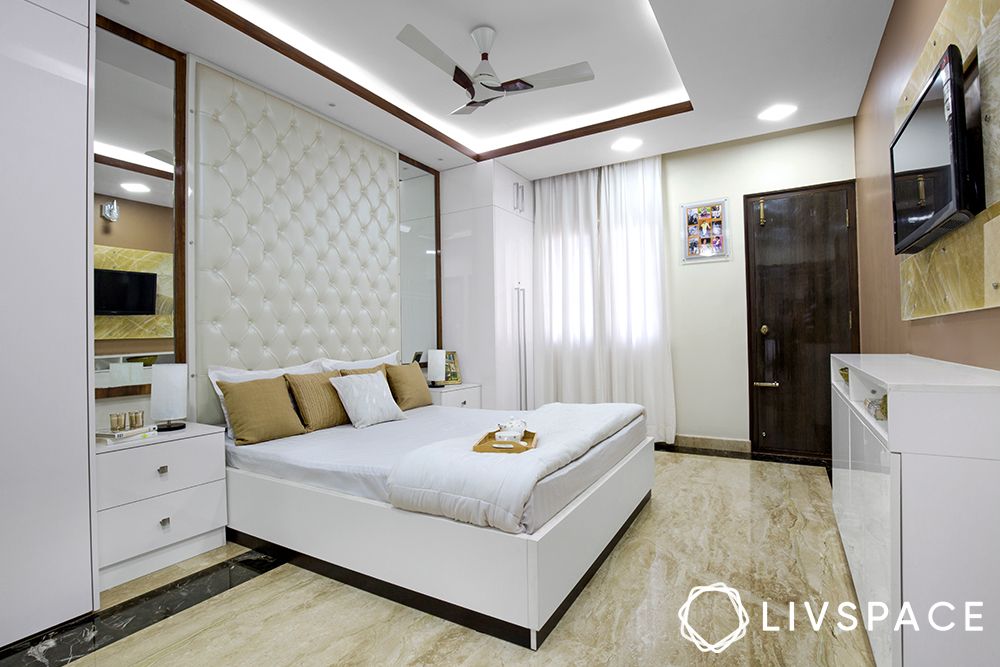 When it comes to finding the best flooring types for your home, granite can be an elegant option. Due to its high stain-resistance and durability, this is a type of flooring that's fairly easy to maintain.
In fact, you only need to protect it from scratches. The stone keeps cool for most parts of the year, making it one of the best flooring options for homes in hotter parts of India.
#6: Bamboo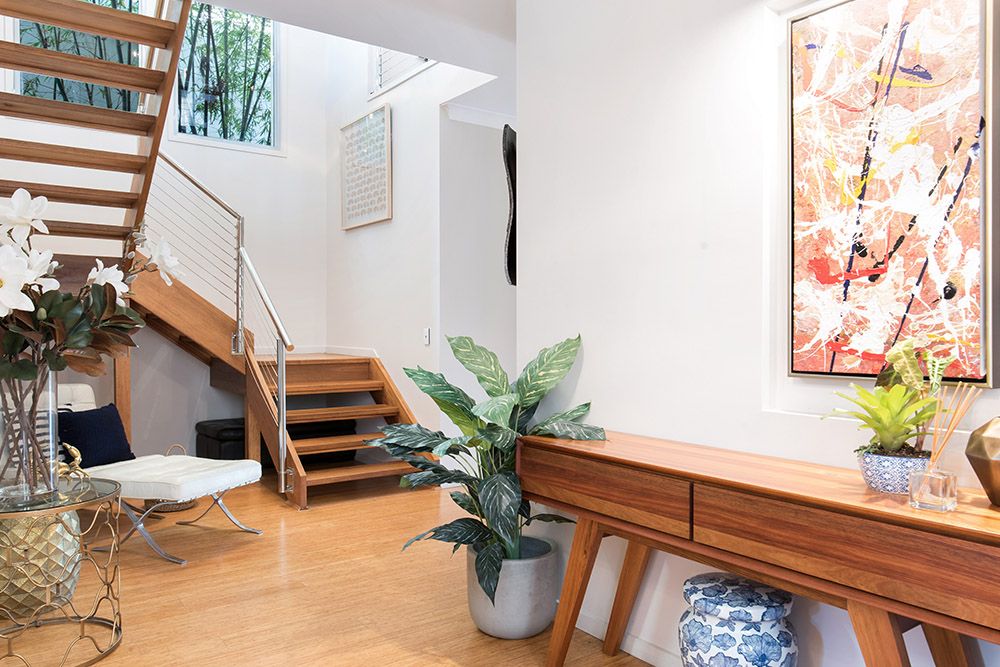 Bamboo is a naturally occurring material, and the types of floors made with it resemble hardwood floors. This is another flooring option that's fairly easy to maintain, as it is water- and stain-resistant.
However, scratches can be a concern with bamboo floors. Similarly, humid weather can cause the bamboo planks to swell, so this flooring type is best used in moderately dry climates.
#7: Concrete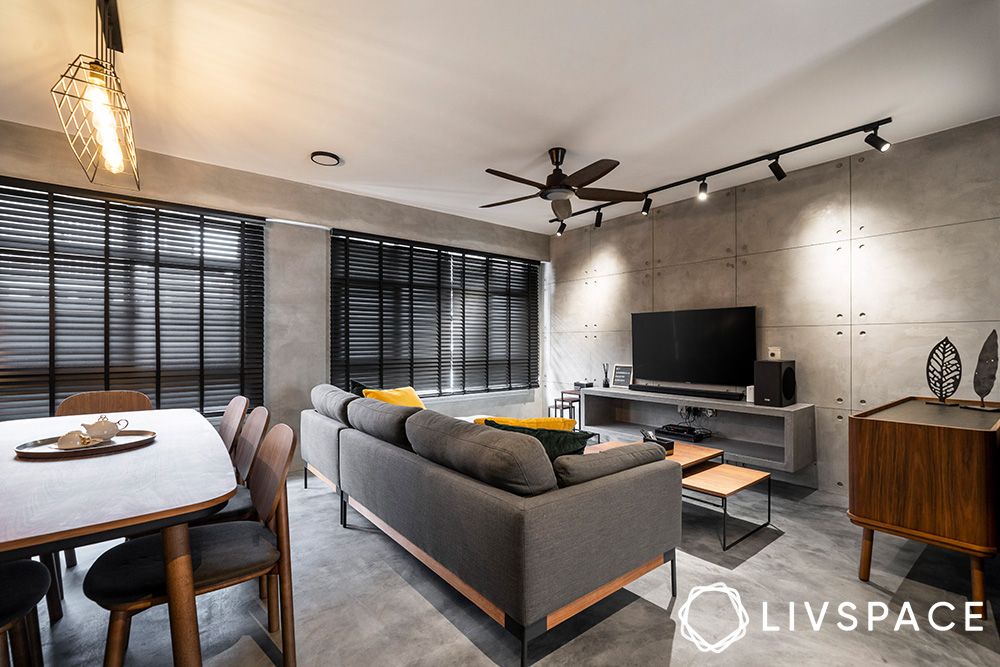 Concrete is another one of the most common types of flooring in India. It is a man-made concoction of cement, rocks, granite chips, and other materials, making it strong and durable.
Concrete flooring is largely damage-resistant, except for slight chipping and scratching due to wear and tear. However, moisture can adversely affect these types of floors with cracks and craters.
#8: Laminate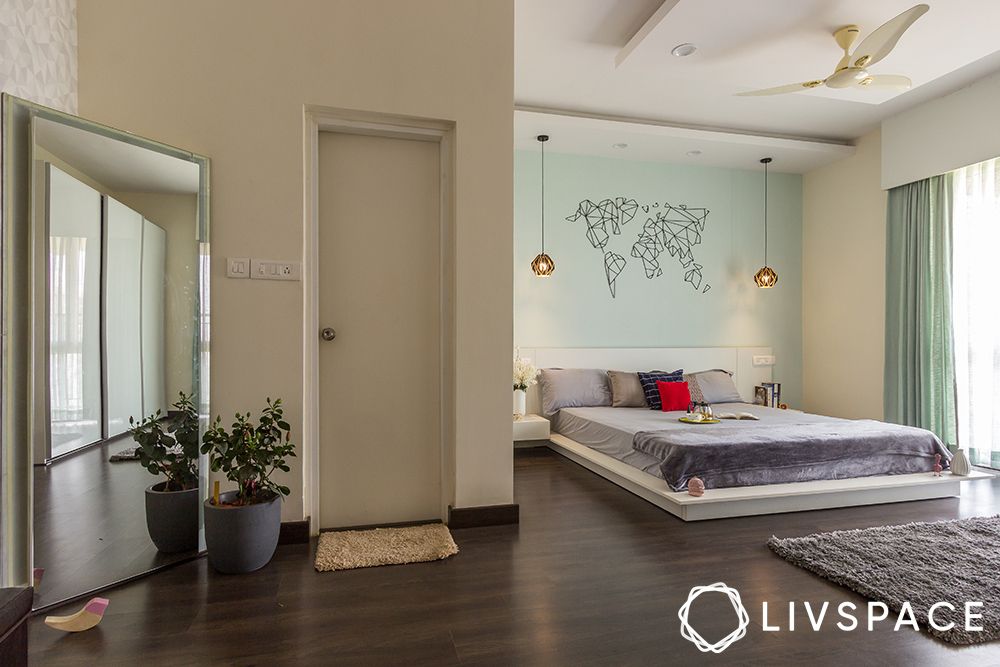 If you're looking for affordable flooring options in India that mimic the look of wood, laminate can be a great choice. Laminate flooring is steadily gaining popularity as it's durable, sturdy, easy to install, and fairly resistant to stains and water damage. However, damage may require complete replacement, as it cannot be repolished or redone.
The diversity in the range of patterns and finishes makes this one of the best types of flooring materials for your interiors. While shopping for laminate flooring, make sure to check for slip-resistant options to keep your homes accident-free.
#9: Linoleum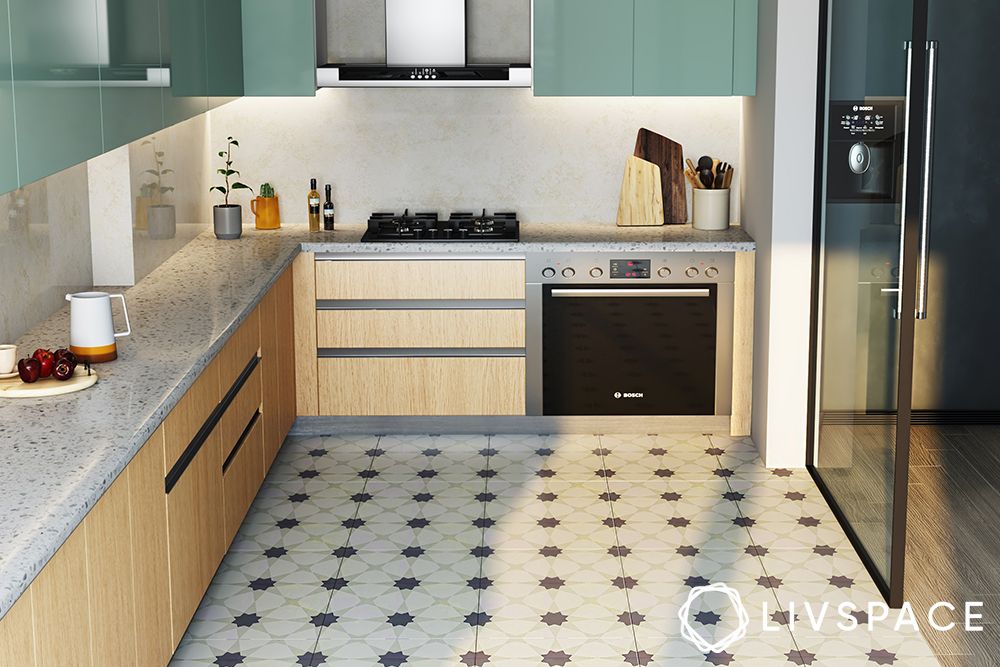 Linoleum is a relatively eco-friendly option among the different types of flooring, as it's produced from raw materials like linseed oil, cork, dust, and resin. Being a cost-effective and highly versatile (in terms of design) flooring option, it's very popular in Indian homes.
However, its soft surface can be prone to dents and scratches from careless usage. It is therefore best to only use these types of flooring in low-traffic areas of the house.
Also Read: Which Flooring Is Best for the Kitchen? 10 Durable Kitchen Flooring Options to Consider
#10: Terrazzo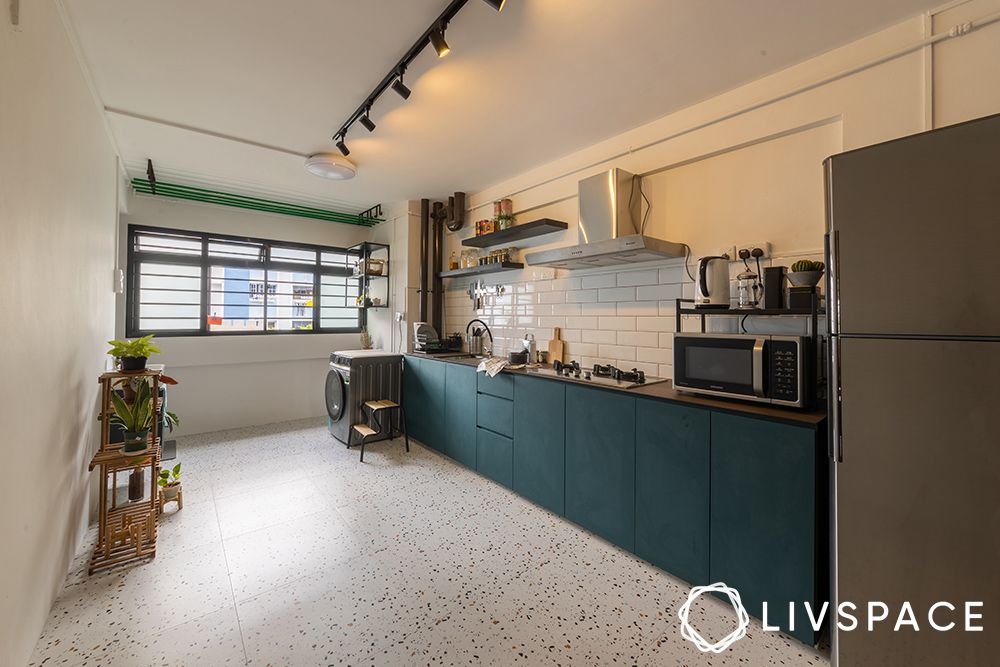 Among the different flooring types worth checking out, terrazzo is a strong contender. It consists of chips of granite and marble placed in concrete or similar materials to create a speckled look.
Commonly called mosaic flooring, these types of flooring are durable enough to stand the test of time. Though they have a retro look, these tiles have been reinvented and are now stain-resistant and easy to maintain.
#11: Red Oxide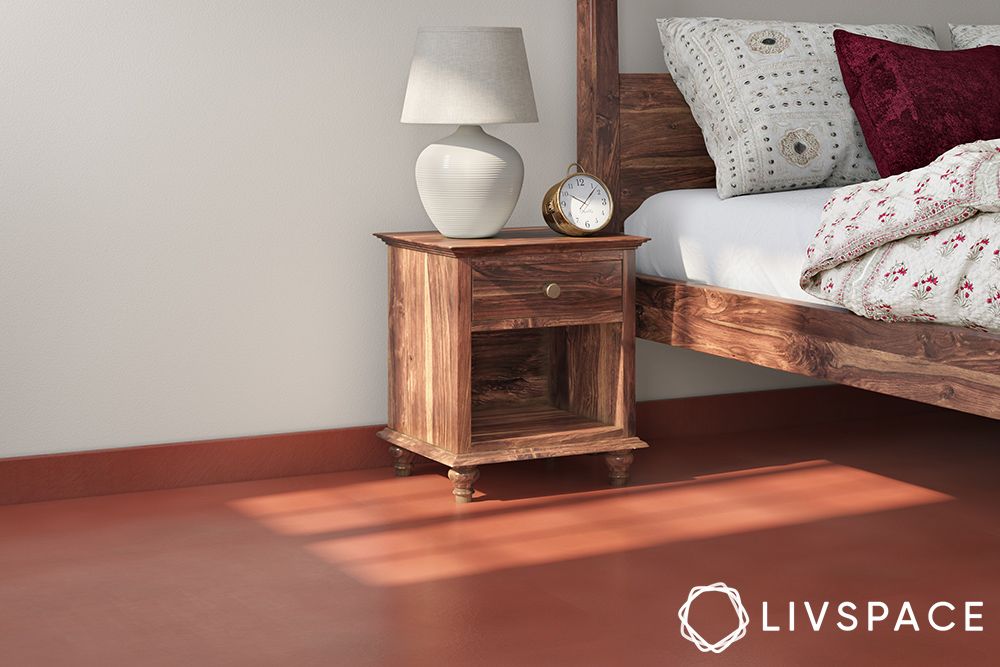 Red oxide flooring is much loved due to its timeless and elegant look. As red oxide is easy to maintain and cost-effective, it's a popular option in warm and tropical climates.
In recent years, other shades of red oxide like green, blue, yellow, and black are gaining popularity. However, these types of flooring can be quite difficult to lay and may require skilled masons.
#12: Brick
Due to its cost-effectiveness, brick flooring is widely popular in different parts of India. Known for their extraordinary strength, fire-resistance, and extensive durability, bricks are also easy to clean. However, brick is also highly porous and can chip off easily without proper care and maintenance.
Brick is one of the types of flooring that can be laid in different patterns, including staggered, basket weave, and other arrangements. This is one of the best options if you're looking for flooring ideas that maintain a moderate temperature and add a hint of rustic style to your home.
How Much Does Each Flooring Material Cost?
Now that you know what your options are, it helps to know how much each flooring type can cost you. Let's take a look at some of the costs for each material:
Material
Estimated Price
Range per Sq. Ft.*
Installation
Charges
Notes
Marble
₹200 to ₹800 per sq. ft.
₹150 to ₹250 per sq. ft.
The estimated price range
depends on the type of
marble you want.
Polish costs between
₹60 to ₹100 per sq. ft.

Vitrified Tile
₹40 to ₹150 per sq. ft.
₹90 to ₹150 per sq. ft.
₹20 to ₹40 per area ft.
for grouting
Vinyl
₹70 to ₹150 per sq. ft.
₹30 to ₹50 per sq. ft.
Hardwood
₹400 to ₹1,500 per sq. ft.
₹200 to ₹500 per sq. ft.
The estimated price range
depends on the type of
wood used. Sanding and
polishing costs between
₹80 to ₹250 per sq. ft.
Granite
₹150 to ₹400 per sq. ft.
₹120 to ₹200 sq. ft
Bamboo
₹150 to ₹300 per sq. ft.
₹80 to ₹100 per sq. ft
Concrete
₹30 to ₹250 per sq. ft.
₹35 to ₹50 per sq. ft
The cost largely depends
on the thickness, finish,
and material composition
Laminate
₹80 to ₹300 per sq. ft.
₹40 to ₹50 per sq. ft.
Linoleum
₹80 to ₹300 per sq. ft.
₹70 to ₹100 per sq. ft.
Terrazzo
₹150 to ₹300 per sq. ft.
₹100 to ₹150 per sq. ft.
Red Oxide
₹100 to ₹150 per sq. ft.
₹30 to ₹50 per sq. ft
Brick
₹20 to ₹60 per sq. ft.
₹60 to ₹100 per sq. ft
₹30 to ₹60 per area ft.
for grouting
*Please note that the estimated price ranges above are exclusive of GST, which is levied at 18%. Additionally, labour charges can vary by 10% to 15% depending on the city.
What Are the Best Types of Flooring Options for Each Room?
Marble for Living Rooms: Since this is the space that creates the first impression of your home, it helps to pick types of flooring that are aesthetically pleasing, like marble. If you can't afford marble, you can opt for granite or vitrified tiles instead.
Quartz for Kitchen Floors: Quartz is a great flooring option for kitchens because this non-porous material resists staining, keeping your kitchen clean. Similarly, quartz doesn't chip or crack easily, ensuring durability in a high-traffic area. You can also consider linoleum or granite as other types of flooring options for the kitchen.
Laminate for Bedroom Flooring: Laminates do not expand or contract with temperature changes, making them a functional option for Indian homes. Additionally, laminate is relatively inexpensive and easy to maintain. However, do note that laminate flooring has an HDF (High Density Fibreboard) base, which may get ruined upon continuous exposure to water.
Tiles for Bathroom Floors: Opt for glazed ceramic tiles to prevent water damage and staining. If you're looking for low-cost options, vinyl tiles are another alternative to consider. Be sure to look at non-slip tiling options such as homogeneous tiles if you have elderly family members at home.
How Does Each Material Differ in Terms of Durability and Maintenance?
| Type | Durability | Easy to Maintain |
| --- | --- | --- |
| Marble | High | Yes |
| Vitrified | High | Yes |
| Vinyl | High | No |
| Hardwood | Medium | No |
| Granite | High | Yes |
| Bamboo | High | Yes |
| Concrete | High | Yes |
| Laminate | Medium | Yes |
| Linoleum | High | No |
| Terrazzo | High | Yes |
| Brick | High | No |
| Red Oxide | High | Yes |
What Are the Latest Flooring Designs?
Patterned Wood: This refers to the laying pattern of your wooden floor tiles to help create visual interest. You can choose from mixed wood patterns, herringbone patterns, and chevron patterns to give your space a stylised revamp.
Chequerboard Design: As the name suggests, this flooring style uses white and black tiles that resemble a chessboard. This type of flooring design is great if you're going for a classic yet quirky look. You can also opt for different colours instead of black and white.
Basket Weave Pattern: Similar to the weave of a basket, this flooring design adds heaps of visual texture and interest to the space. It creates the appearance of woven tiles due to the way the pattern is laid, making an interesting style statement that's perfect for modern rustic-style homes.
Check out the Livspace modular journey:
How Can Livspace Help You?
We've given over 2,000 homes and homeowners their dream floors
We provide Luxury Vinyl Tiles (LVT), HDF laminated flooring, and Stone Polymer Composite flooring with high quality materials at attractive prices
Our flooring options come with a one-year warranty
Ready to put some of these flooring ideas to the test? Book an online consultation with Livspace today and get started.
Disclaimer: All contents of the story are specific to the time of publication. Mentions of costs, budget, materials, finishes, and products from the Livspace catalogue can vary with reference to current rates. Talk to our designer for more details on pricing and availability.
---
Popular Services:
Modular Kitchen Designs | Wardrobe Designs | Bathroom Designs | Master Bedroom Designs | Living Room Designs | Pooja Room Designs | TV Unit Designs | False Ceiling Designs | Kids Bedroom Designs | Balcony Designs | Dining Room Designs | Foyer Designs | Guest Bedroom Designs | Window Designs | Flooring Designs | Wall Decor Designs | Wall Paint Designs | Home Wallpaper Designs | Tile Designs | Kitchen Cabinet | Home Office & Study Room | Home Interior Designs
Popular Locations:
Interior Designer Bangalore | Interior Designer Mumbai | Interior Designer Pune | Interior Designer Chennai | Interior Designer Hyderabad | Interior Designer Gurgaon | Interior Designer Delhi | Interior Designer Ahmedabad | Interior Designer Vadodara | Interior Designer Kolkata | Interior Designer Thane | Interior Designer Navi Mumbai | Interior Designer Coimbatore | Interior Designer Lucknow | Interior Designer Patna | Interior Designer Nagpur | Interior Designer Chandigarh
Popular Stories:
2 BHK Interior Design | 3 BHK Interior Design | 1 BHK Interior Design | Interior Design Cost In India | Painting Cost Per Square Foot | False Ceiling Cost | Bathroom Renovation | Sofa Design Ideas | POP Design for Hall | House Paint Colours | Main Door Design | Granite Countertops | Vastu For Home | Cool Wallpapers | Types of Kitchen Layout | Types of Flooring | What Is Plywood | Pooja Room Vastu | South Facing House Vastu | Which Plants Are Good for Home Vastu | Vastu Tips for Home