When it comes to types of flooring, most Indian homeowners commonly think of either marble or tiles. However, there are a number of flooring options available out there. Some of them are common, while others are lesser known. Each of these options have their own merits in terms of aesthetics, cost, durability and other factors.
Here is a list of 12 of the most popular types of flooring:
Types of Flooring #1: Marble Flooring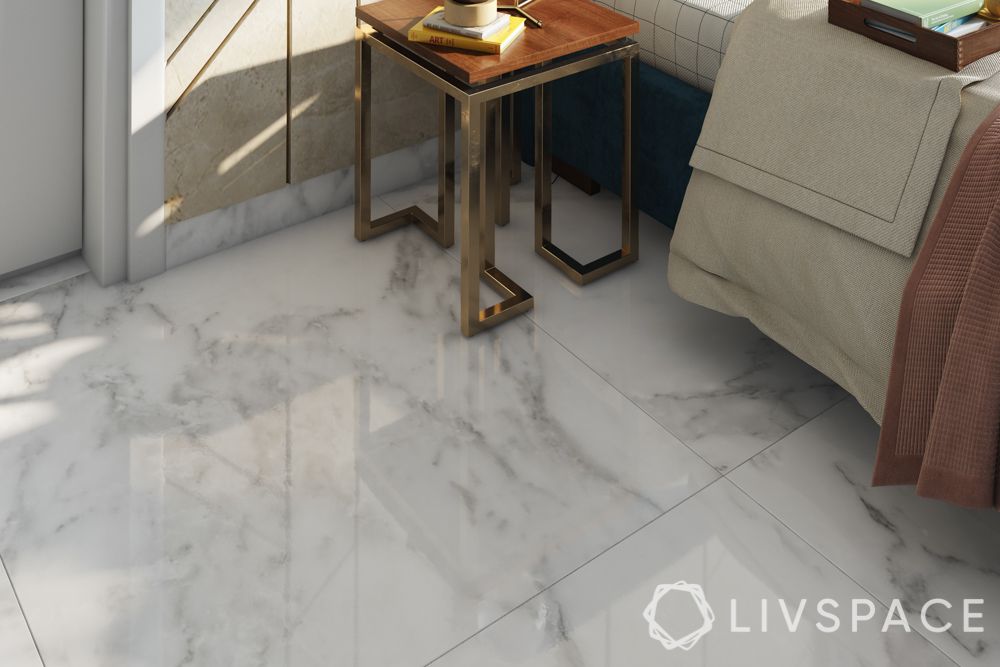 Marble is a naturally occurring material which you can find at various places throughout India. Associated with style and opulence, marble is available in a variety of colours including pink, grey and white. The material is highly porous and fairly easy to maintain, sometimes lasting more than 25 years, making it amongst the best flooring options. However, some low-quality stones tend to turn yellowish over the years. Because of its natural occurrence and limited availability, this one is priced steeply and hence serves as a sort of 'status symbol' for many Indian households.
Types of Flooring #2: Vitrified Tile Flooring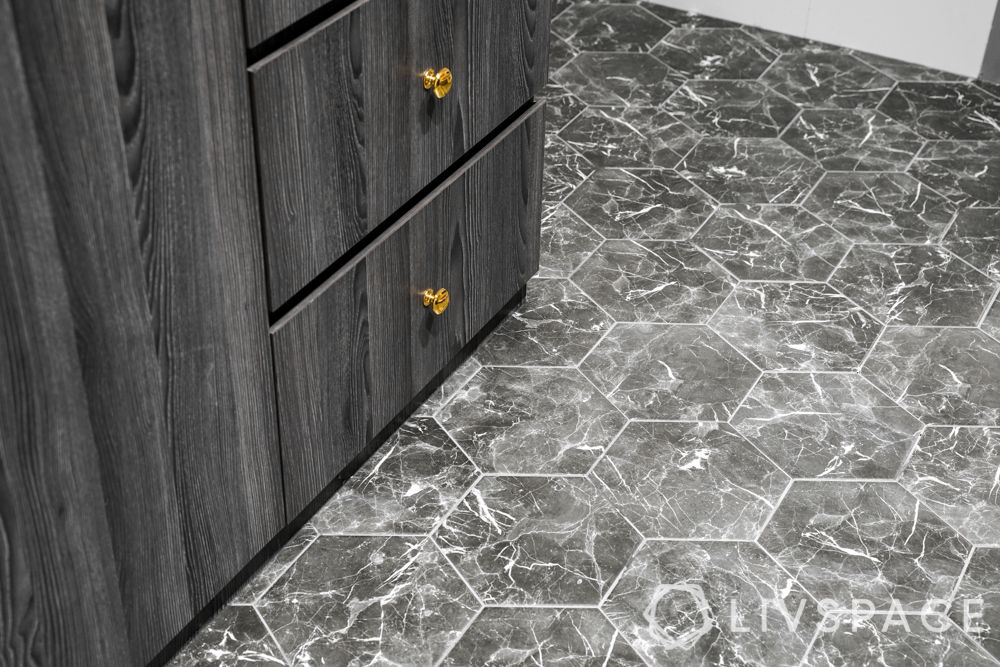 Vitrified flooring tiles are composed of a mixture of clay and other minerals like silica, quartz and feldspar baked at high temperatures. Generally coated with an external glaze, these tiles have a low water absorption rate and are durable. They come in a large variety of designs, colours, prints and textures. Tiles can also simulate natural materials such as wood, bamboo and even marble. An affordable option suitable for both interior and exterior use, vitrified tiles are available in glossy, matte and anti-skid finishes. You can also know more about the Differences Between Marble and Vitrified Tiles.
Types of Flooring #3: Vinyl Flooring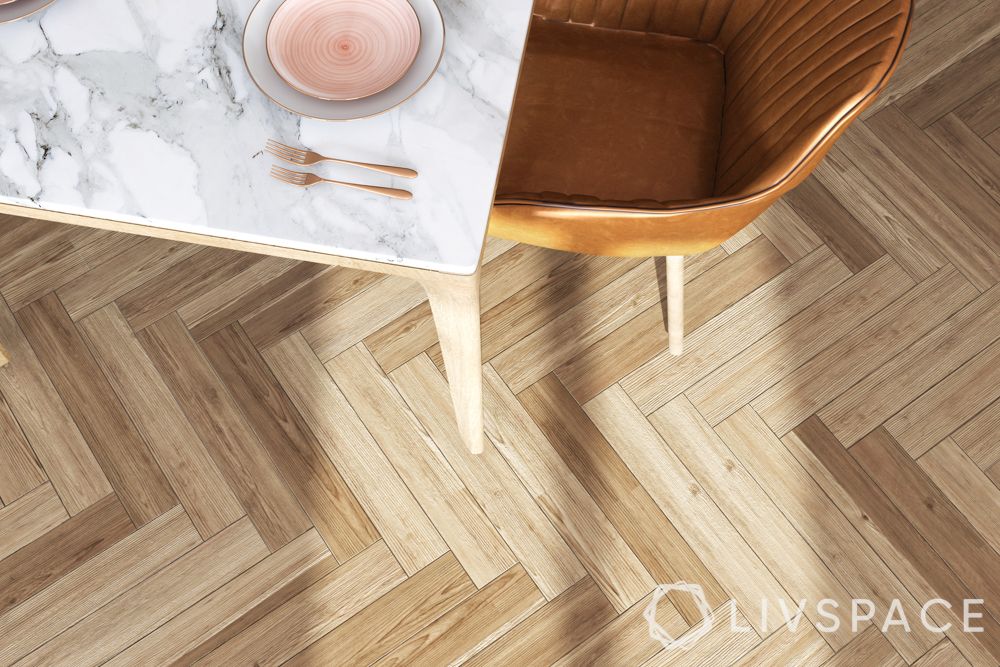 Vinyl Flooring is another versatile option that is available for people who want aesthetics at an efficient cost. Available in designs that simulate hardwood and stone finishes, vinyl is one of the relatively inexpensive options in India. Stain resistant and water resistant, these floors are quite durable. However, you will need to take special care to protect the floor from scratches. People looking for a warm material which replicates the appearance of cold flooring materials like hardwood and stone find this to be the ideal choice. One low point with vinyl is its susceptibility to discoloration when it comes in contact with rubber.
Types of Flooring #4: Hardwood Flooring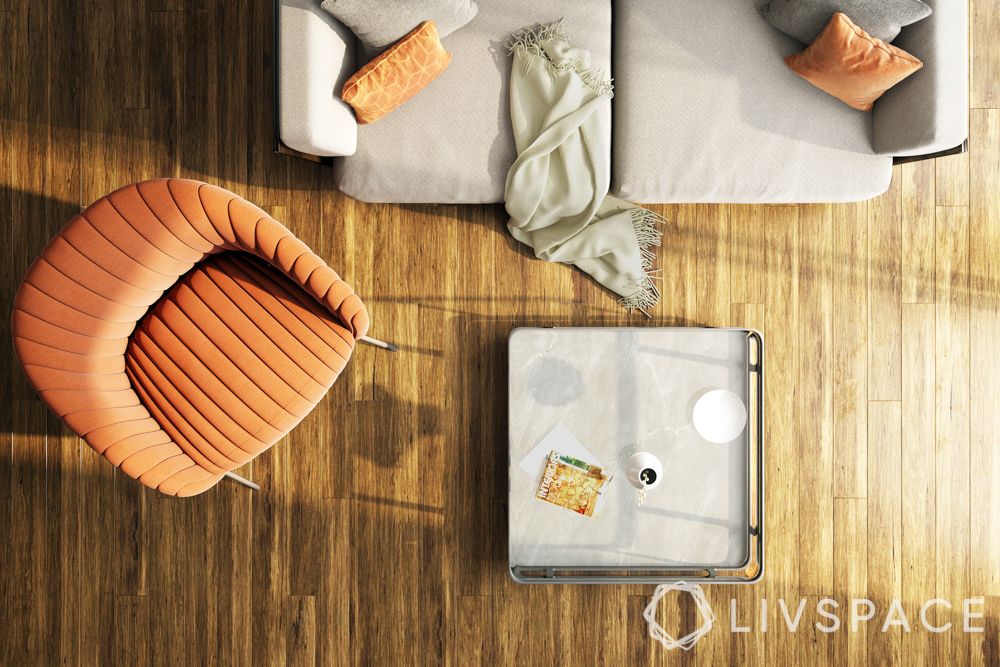 A high-maintenance but popular option, hardwood flooring is available in strips, planks and parquet patterns. These floors can be quite durable if you maintain them well. Hardwood floors are available in different natural shades like walnut and cherry, and can complement a variety of decor themes. While hardwood flooring is relatively expensive when compared to other options, it's still a popular choice in terms of aesthetics. Wear and tear can sometimes cause noises, creaks and squeaking.

Types of Flooring #5: Granite Flooring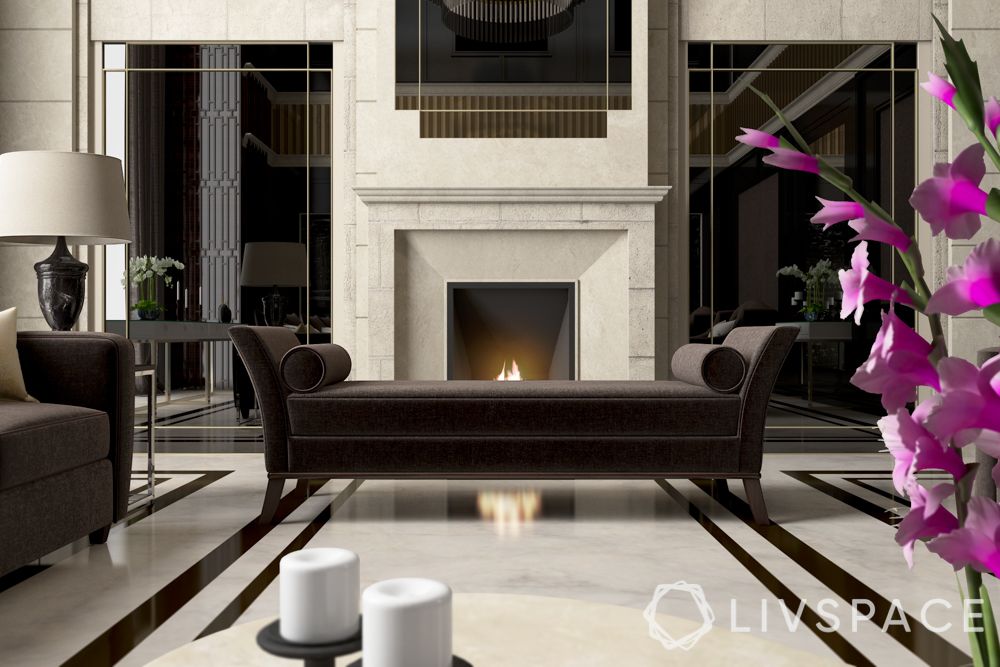 A naturally occurring stone available in a variety of colours in the Indian market, granite flooring can bring a note of sophistication to any setting. Due to its high stain resistance and durability, granite is fairly easy to maintain and only needs protection from scratches. The stone keeps cool for most parts of the year and hence is a good choice from the types of flooring in India.
Types of Flooring #6: Bamboo Flooring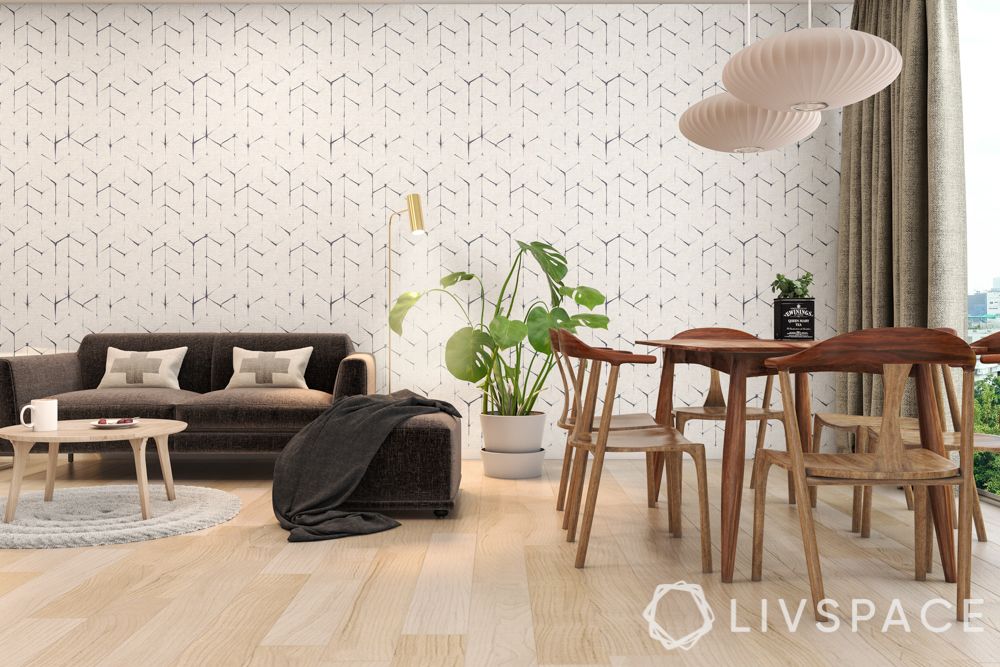 Bamboo is a naturally occurring material and the flooring done in this material resembles hardwood flooring. Bamboo flooring is fairly easy to maintain as it is water and stain-resistant and can bring a sophisticated feel to your home decor. The only factors that can mar the uber-chic look of a bamboo flooring are scratches which inevitably find a place on it. Humid weather can cause the Bamboo planks to plump up, so it's best used in moderately dry conditions.
Types of Flooring #7: Concrete Flooring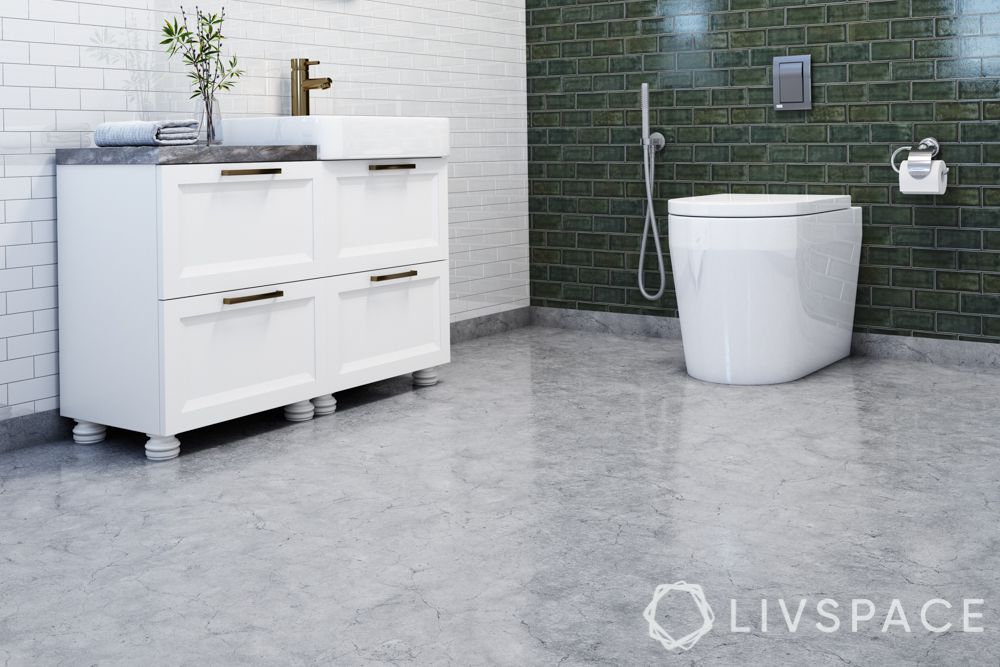 Concrete is a man-made concoction of cement, rocks, granite chips and other material. Flooring done in concrete is strong and probably among the most durable types of flooring. Concrete flooring is largely damage-resistant, except for slight chipping and scratching due to wear and tear. However, moisture can adversely affect this floor with cracks and craters. Today, concrete floors are found in a wide range of colours and textures in Indian homes.
Types of Flooring #8: Laminate Flooring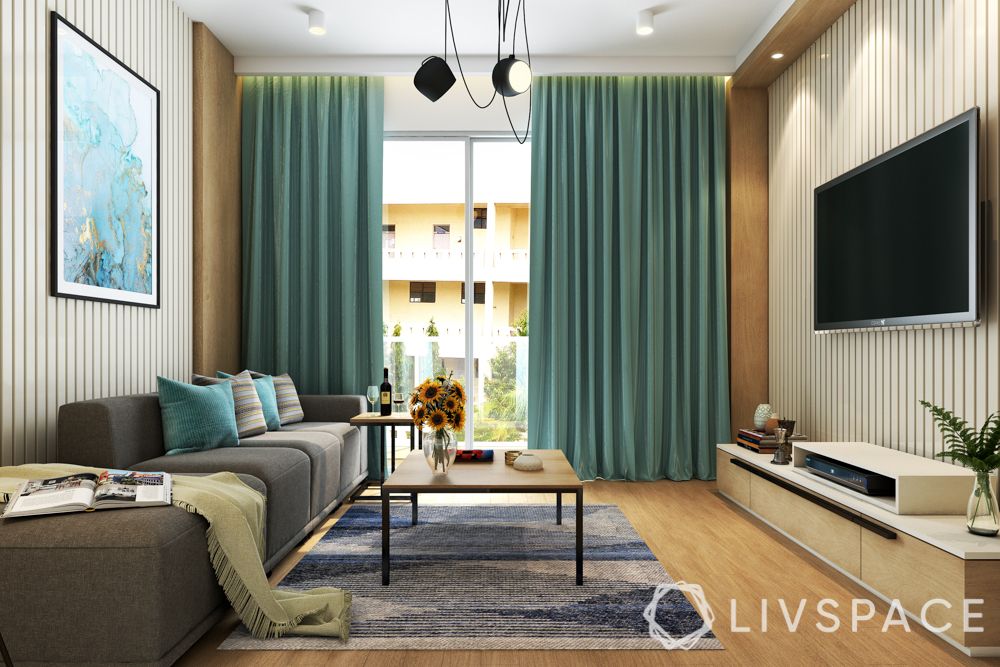 Laminate flooring is gaining popularity in India for its sheer durability and sturdiness. Easy to install, laminate flooring is fairly resistant to stains and water damage. However, leads to complete replacement as it cannot be re-polished or re-done. The diversity in the range of patterns and finishes makes it a good choice for various decor styles in Indian homes. While shopping for laminate flooring among other types of flooring, make sure you ask for the 'slip-resistant' kind.
Types of Flooring #9: Linoleum Flooring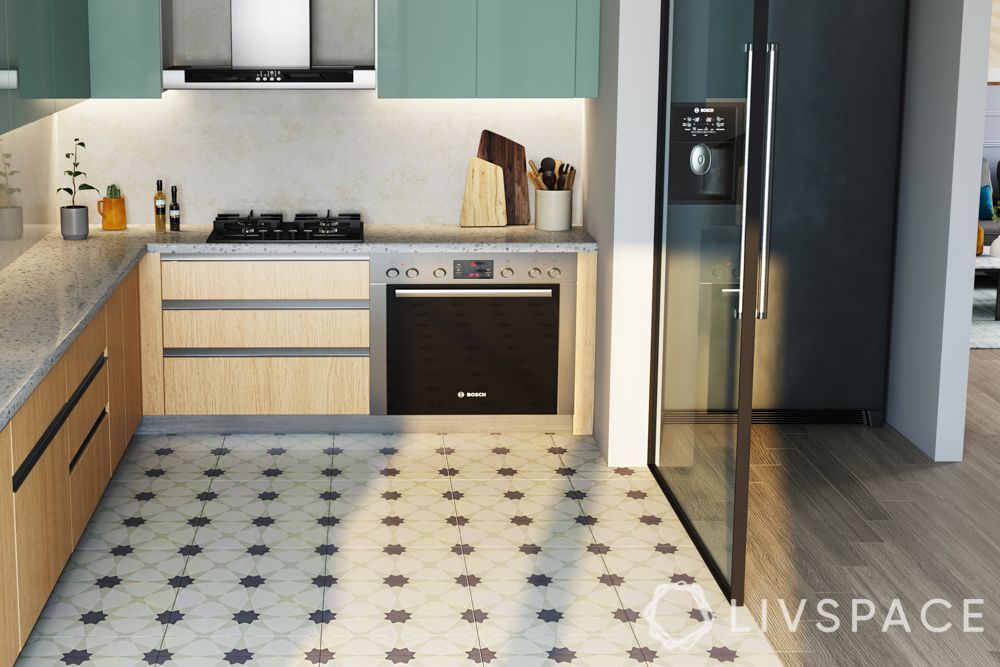 Linoleum is an eco-friendly flooring material produced from raw materials like linseed oil, cork, dust and resin. A cost efficient and highly versatile (in terms of design) flooring option, it's very popular in Indian homes. However, the soft surface is prone to dents and scratches from careless usage. For such reasons, one should use this type of flooring in areas of the house which see low traffic.
Types of Flooring #10: Terrazzo Flooring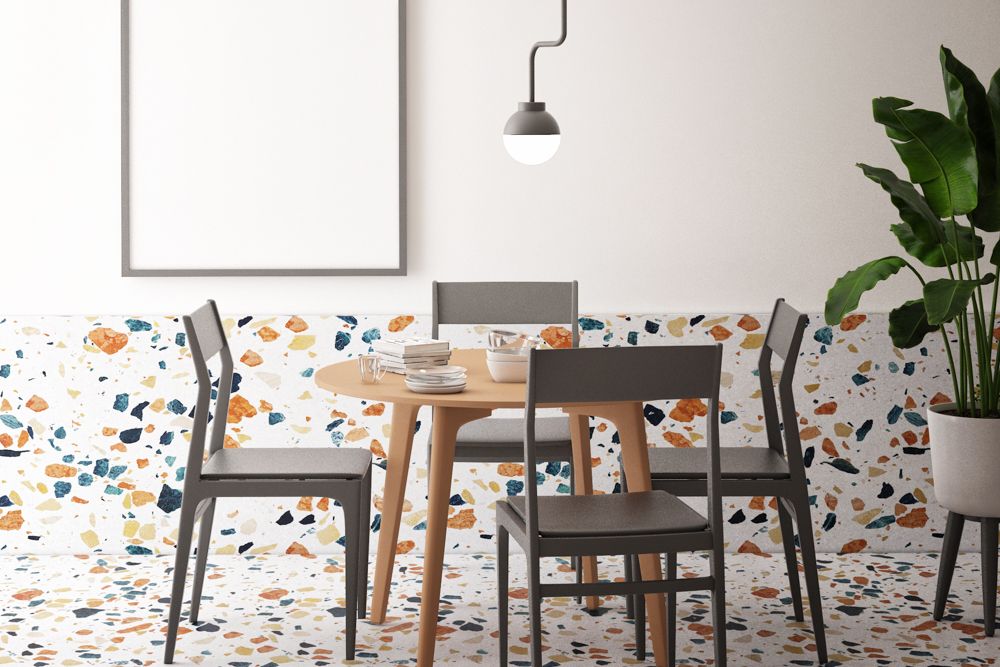 Terrazzo flooring is made up of chips of granite and marble placed in concrete or similar materials. Commonly called "mosaic flooring", these floors are durable enough to stand the test of time. You might remember them from your grandparent's home, as they were the norm in the decades gone by. Today, these traditional tiles have been re-invented and are now stain-resistant and easy to maintain.
Types of Flooring #11: Brick Flooring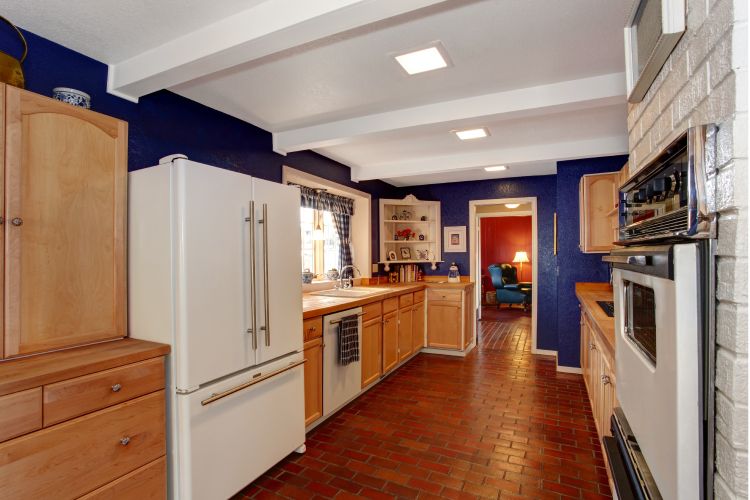 Due to its cost effectiveness, brick flooring is widely popular in most parts of India. Known for their extraordinary strength, fire resistance, and extensive durability, bricks are easy to clean. However, bricks are highly porous and can chip off easily. Aesthetically versatile, brick flooring can be laid out in different patterns including staggered, basket weave and other arrangements. This is one of the best options if you are looking for a floor which maintains a moderate temperature to add a hint of a rustic style to your home.
Types of Flooring #12: Red oxide flooring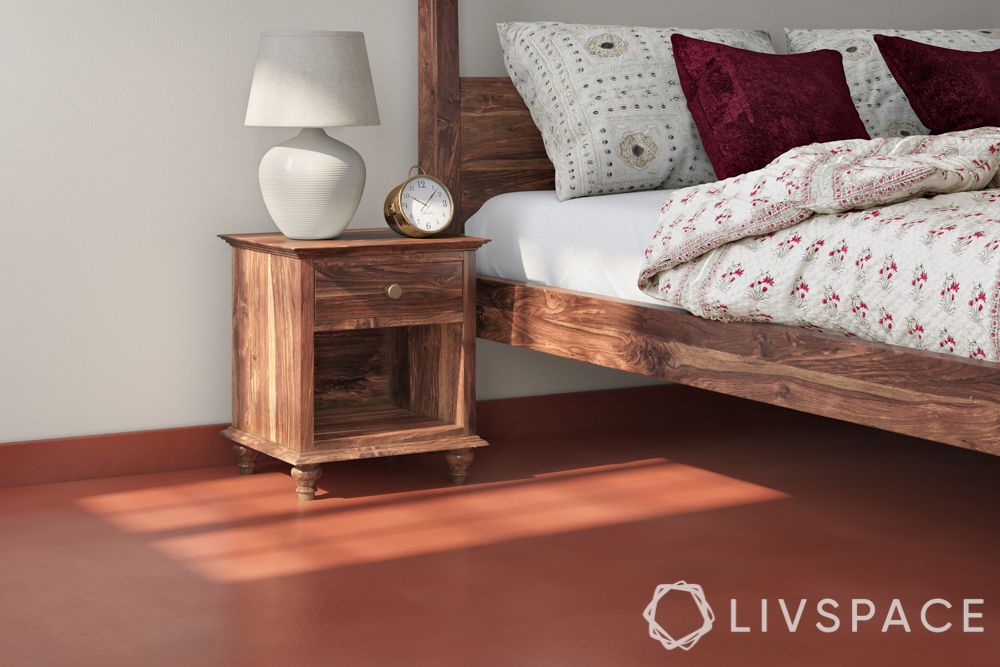 A cost-effective flooring option, red oxide flooring is much loved due to its timeless and elegant look. Easy-to-maintain, red oxide floors are most popular in warm and tropical climates. However, red oxide floors are quite difficult to lay and require skilled masons. In recent years, other shades of red oxide like green, blue, yellow and black are gaining popularity.
Room-Wise Flooring Suggestions
Living Area Tiling – Marble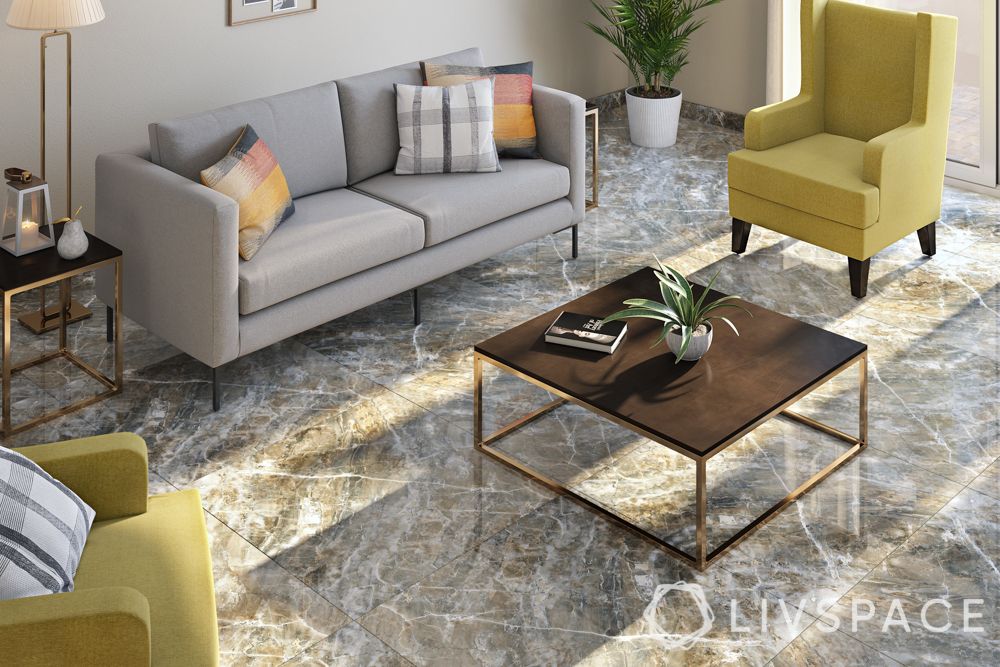 Multiple choices are available when it comes to flooring for your living room. Considering this is the space where you entertain friends and family, the flooring in this area should ideally be comfortable and aesthetically pleasing. Marble flooring is quite easy-to-maintain and looks stunning! If you can't afford marble, you can opt for onyx tiles that look like marble but are more affordable.
Kitchen Flooring – Quartz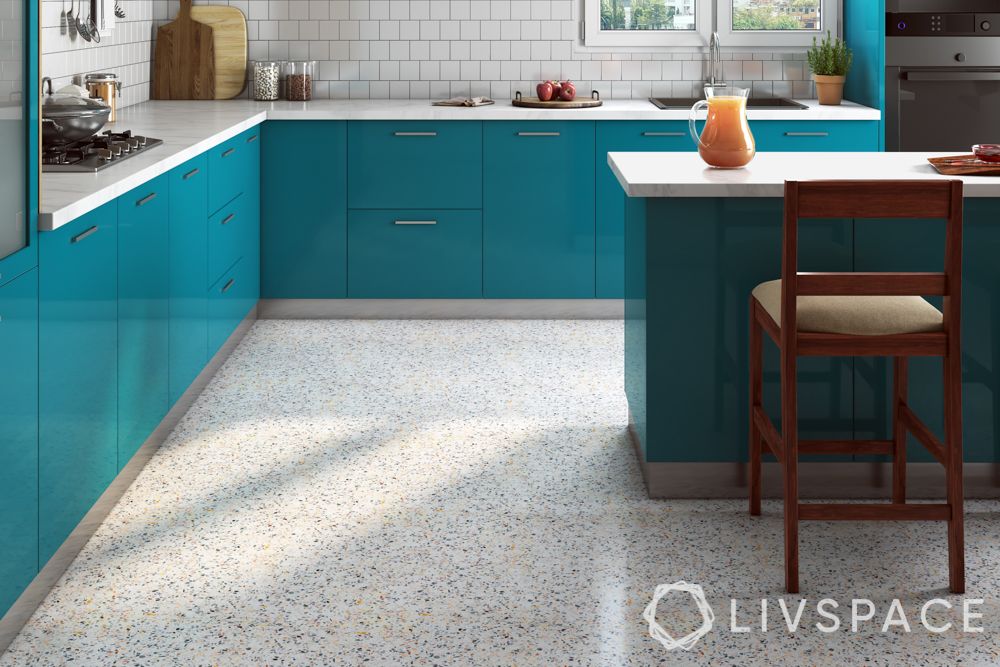 Kitchens are one of the most high-traffic zones in your home. Hence, your kitchen flooring should be durable and easy-to-maintain. Quartz is a great flooring choice for kitchens. This is mainly because this non-porous material resists staining, keeping your kitchen clean. Also, quartz doesn't chip or crack easily, ensuring durability. In the absence of quartz, linoleum or granite are good options for the kitchen.
Bedroom Flooring – Laminate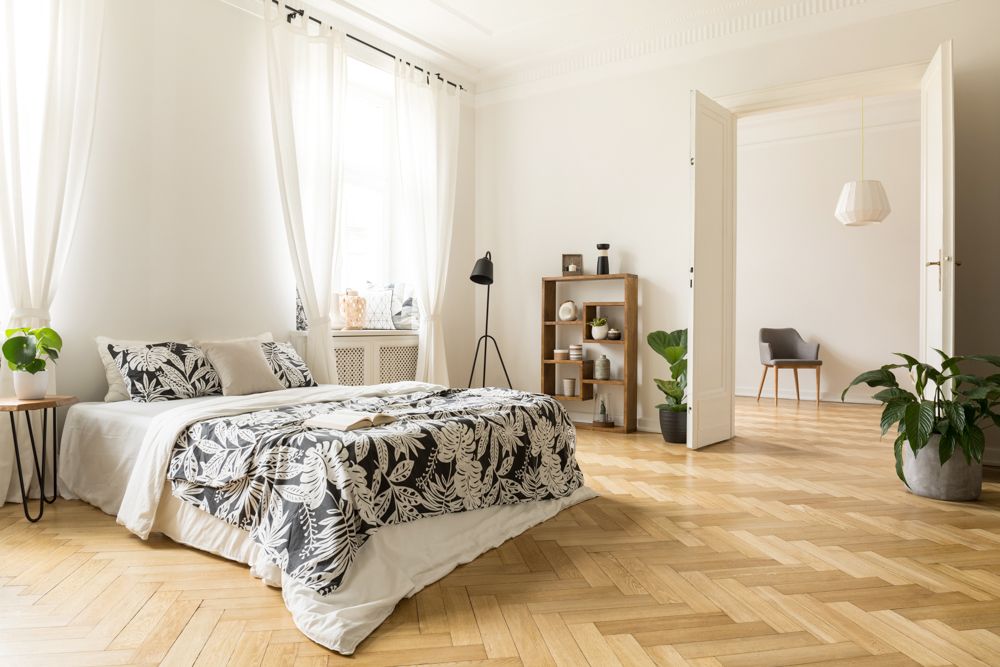 When it comes to your bedroom flooring, there are myriad options to choose from. Often, people prefer carpets or rugs in their bedroom for extra cosiness. However, if you want a functional option then laminate is the way to go! In India, where several places have extreme summers and winters, laminate is the best option as it does not expand or contract with temperatures. And the best part is that it is super inexpensive and easy-to-maintain.
Bathroom Flooring – Tiles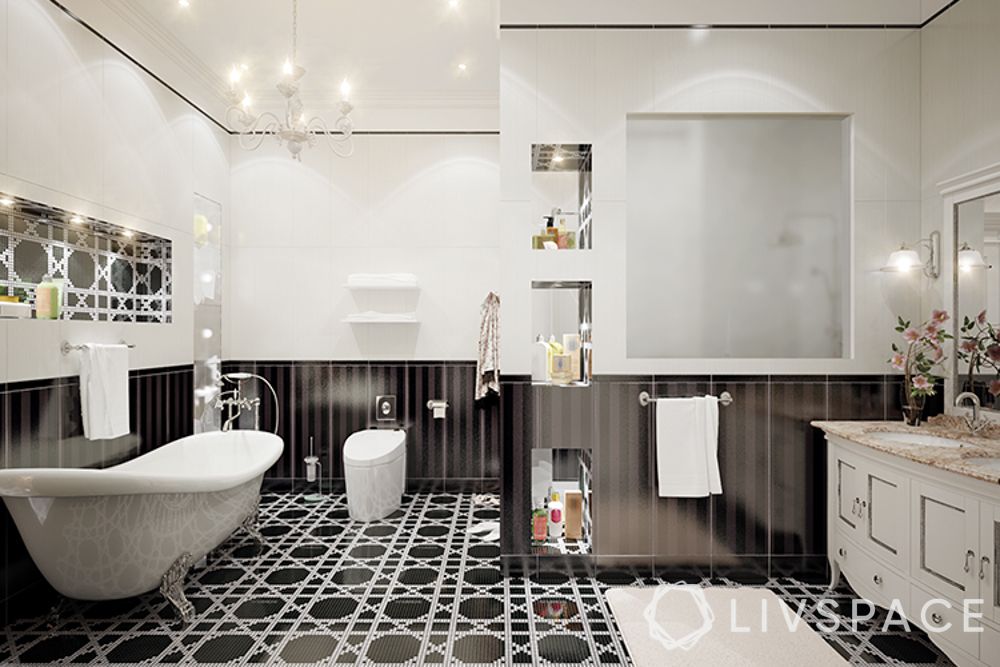 It goes without saying that your bathroom flooring should be water-resistant. As such, tiles are the best choice for bathrooms. You can opt for ceramic tiles with a glazed protective layer to protect against water damage. If you are looking for low-cost options, vinyl tiles are the best choice. If you have elderly people at home, you might consider getting an anti-skip layer on the tiles to prevent accidents.
Types of Flooring – A Summary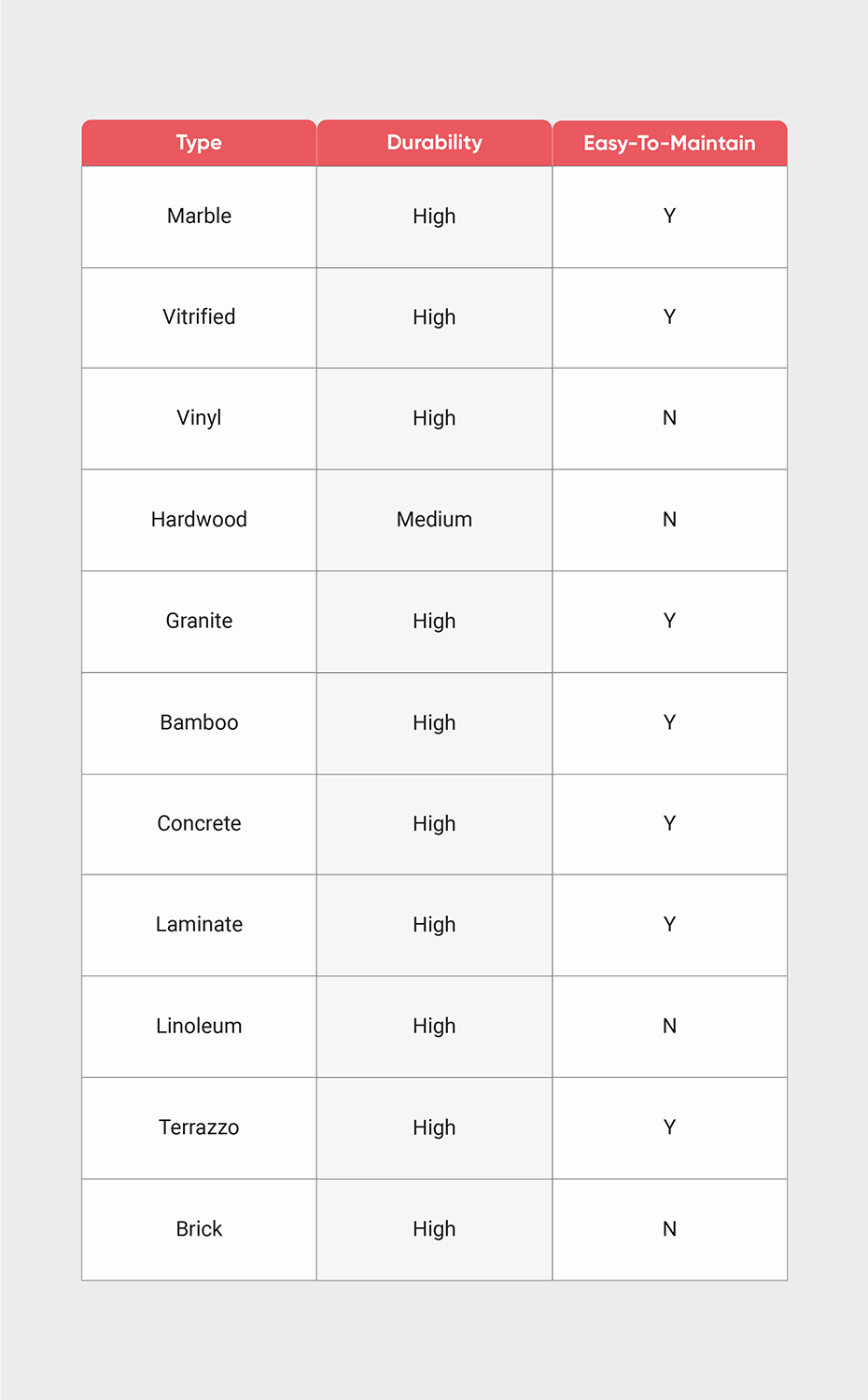 So the next time you decide to replace your flooring, consider all of these options!
Send in your comments and suggestions at editor@livspace.com