Many homeowners underestimate the importance of choosing the right flooring designs for their home. We in India have our traditional favourites, and why not! These time-tested options not only make the floors stand out, but also work perfectly in our climate. From the rustic red oxide to the elegant marble, these options are either those you have always dreamt of, or ones that transport you into a bygone era. Read on to find out the most popular flooring types in India.
#1: Tiles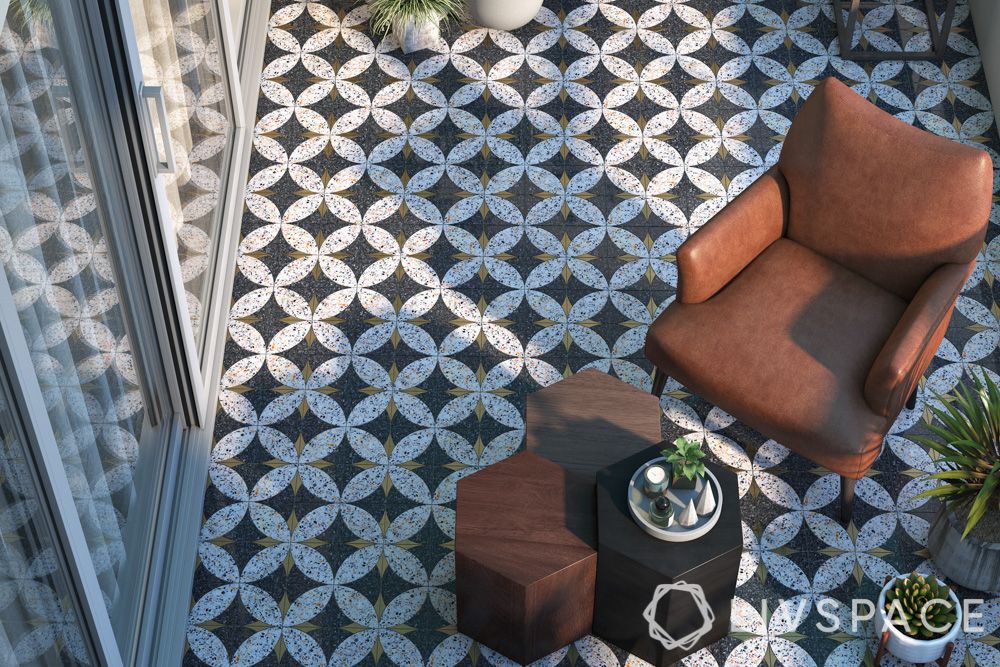 While the market is flooded with multiple flooring designs, the charm of a patterned tiled ground never really dies out. If you're looking for a subtle way to make a statement, tiles are your best bet! You can take your pick of colours and patterns even without splurging. This durable option is also super easy to clean.
Moreover, if you were having a hard time deciding on a flooring option due to possible allergens, we have some good news for you. This pretty flooring option is also non-allergenic.
Cost: ₹65 per sq ft
Pros: Easy to maintain, durable and water-resistant
Cons: Hard and slippery
Not recommended for: Bathroom
#2: White Marble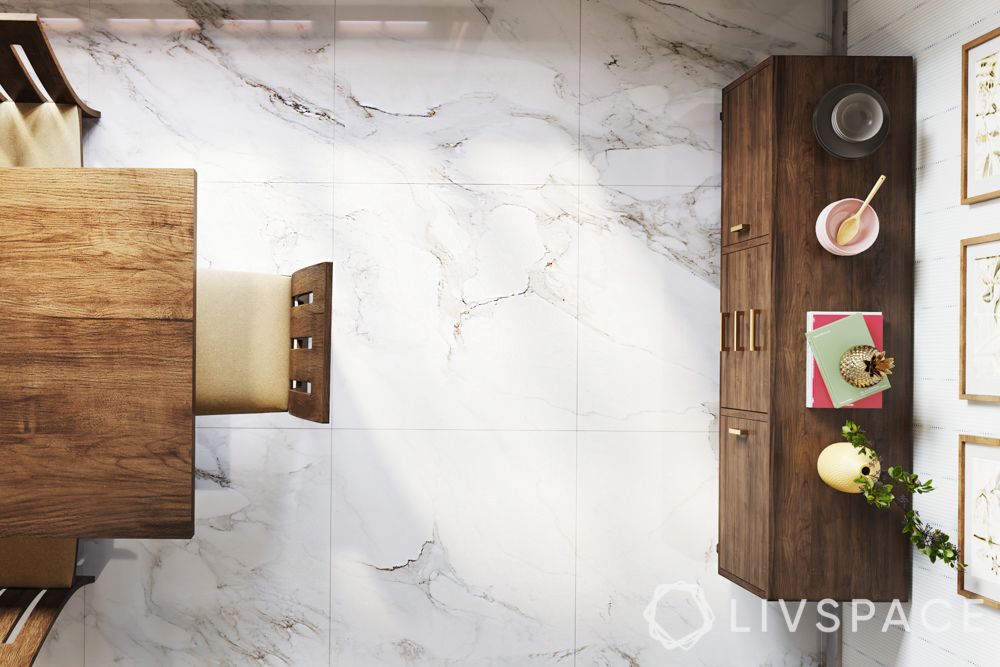 Marble has been the go-to flooring choice for many. White marble, with its subtle patterns of grey, has the ability to add a touch of elegance to any home. While it is available in multiple colours and patterns, white marble remains the most popular. This natural stone is highly porous and easy to maintain. In addition, white marble makes your home look luxurious and uber spacious! Check out more marble flooring designs here.
Cost: ₹300 per sq ft for Italian marble, ₹200 per sq ft for Indian marble
Pros: Durable, high resistance to fire and easy to clean
Cons: Expensive, gets stained easily and difficult to install
Not recommended for: Bathroom and kitchen
#3: Grey Marble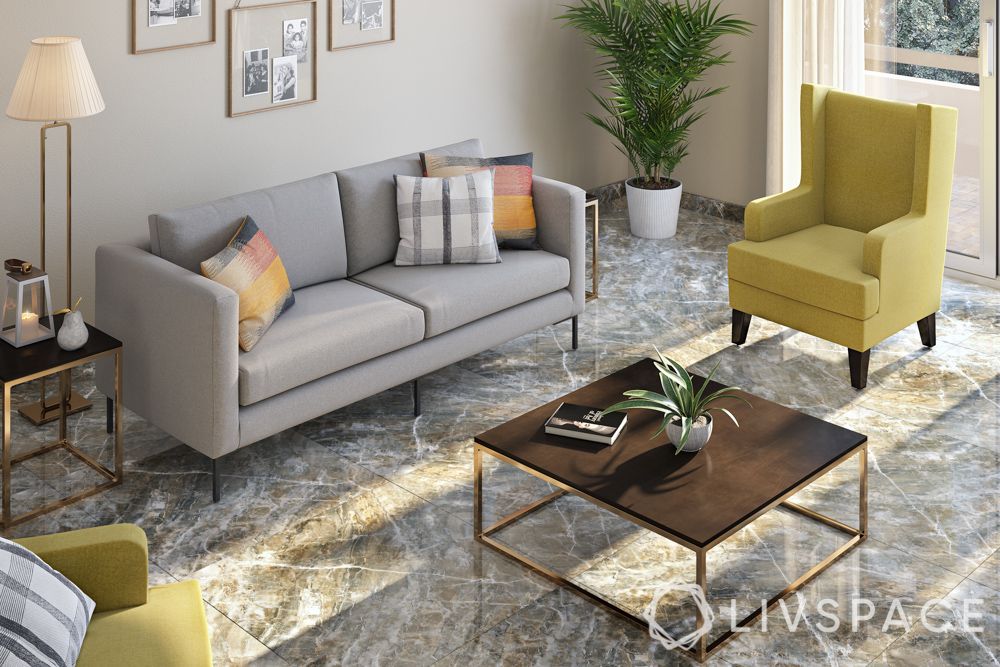 If you're shying away from the idea of white floors but love the natural elegance of marble, consider using grey marble instead! Homeowners love grey marble floors for their natural shine and durable nature. What's more, such flooring designs are also available in a variety of finishes:
Polished: High gloss reflective surface obtained by polishing marble with fine abrasives
Smooth or honed: Smooth matte finish flooring commonly recommended for indoor usage
Flamed: Made by exposing marble to hot flames when it's still wet
Chiselled: Finish appears similar to the texture of linen
Tumbled: Slightly rough texture with a worn look
Antique: Commonly made by acid-etching the surface of marble for a flooring finish that is popularly used outdoors, but can also be used indoors
Cost: ₹300 per sq ft for Italian marble, ₹200 per sq ft for Indian marble
Pros: Durable, high resistance to fire and easy to clean
Cons: Gets stained easily and difficult to install
Not recommended for: Bathroom and kitchen

#4: Quartz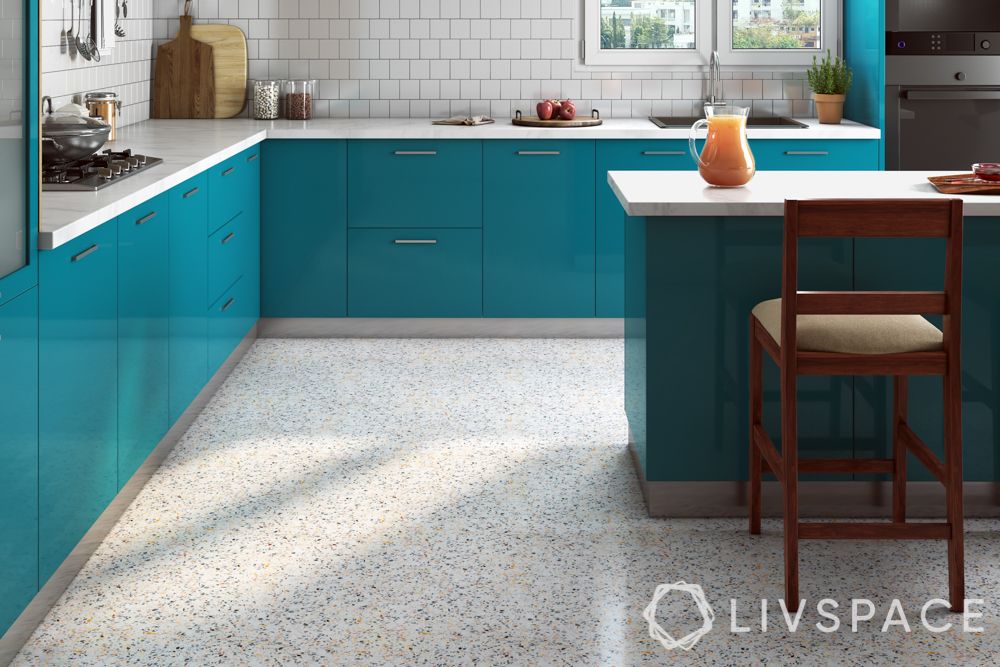 Quartz flooring has been gaining popularity due to its durability. Made of a mixture of quartz sand and calcium carbonate, this heat-resistant option is a popular choice for warm climates, since it's always cool to touch. By virtue of being non-porous, it does not get stained, and remains untarnished in the face of harsh cleaning products. With all these properties that make it a perfect fit for any home, is it a wonder that quartz is a high-end flooring option? Take your pick from a variety of colours and patterns, and keep your house looking brand new for years to come!
Cost: ₹80 per sq ft
Pros: Resistant to scratches, stains and heat, easy to maintain
Cons: Expensive
Recommended for: Can safely be used in every part of your home, especially areas with high footfall
#5: Wood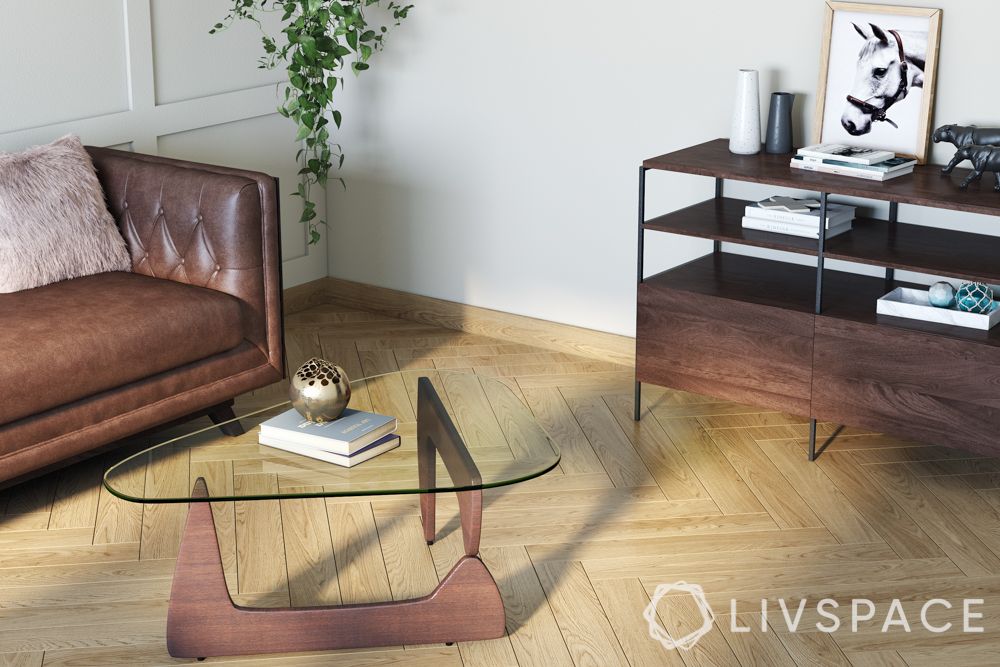 Who doesn't like the sheer elegance of wooden floors? Hardwood floors, which have always been a popular choice with pet-parents, are known for their durability. You can choose not only the tone of wood that compliments your decor but also lay it in strips, planks or parquet patterns.
Wooden floors can make your home look at once elegant and timeless. However, they can be expensive. If you were seeking a more pocket-friendly option, consider laminate flooring instead.
Cost: ₹150 per sq ft
Pros: Easy to maintain, resistant to liquid spills, good for children and pets
Cons: Expensive, prone to mould and termites
Not recommended for: Bathroom, kitchen and balcony
#6: Red Oxide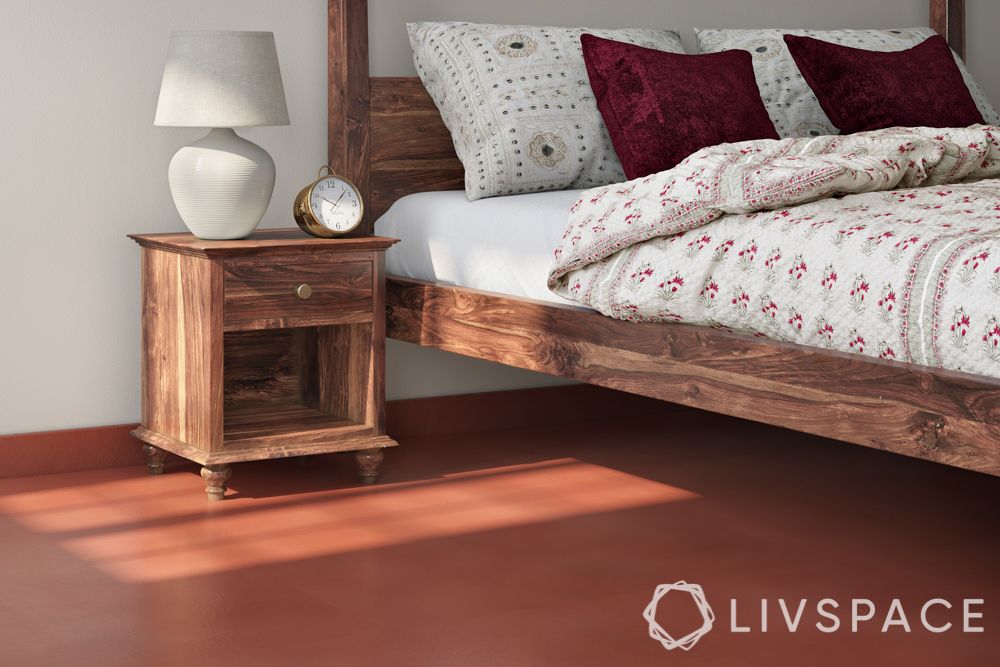 Red oxide flooring easily transports us back to childhood and the warmth of our grandparents' homes. Popularly found in traditional Kerala and Chettinad homes, this elegant flooring option is easy to clean. Further, it is a blessing for homes located in tropical climates, simply because it stays cool effortlessly.
Red oxide flooring is made by mixing dry cement and red oxide until the desired colour is achieved. However, did you know that this flooring does not need to be red in colour? You can choose from a variety of shades of red and crimson, or pick a completely different colour, like green, yellow or even black!
Cost: ₹80 per sq ft
Pros: Lustrous finish, easy to maintain
Cons: Laying floors requires skilled labour, can develop cracks due to extreme weather
Not recommended for: Bathroom and balcony
Want to redo your flooring designs without ripping apart the existing ones? Check out Get a Luxurious New Floor Without Breaking Down the Old One.
Send in your thoughts and suggestions to editor@livspace.com.