Terrazzo flooring may have fallen out of favour a few years ago, but it's swiftly making its comeback as the flooring of choice for homeowners. From public office floors to residential terrazzo flooring and everywhere in between, the terrazzo tiles trend hasn't gone unnoticed by designers and homeowners. Given the hold it has on design, it's worth taking a look at what terrazzo floor tiles are and why it is re-entering into the limelight.
Here's a quick introduction to terrazzo floor tiles as well as estimated terrazzo flooring cost in India:
What Is the Terrazzo Texture All About?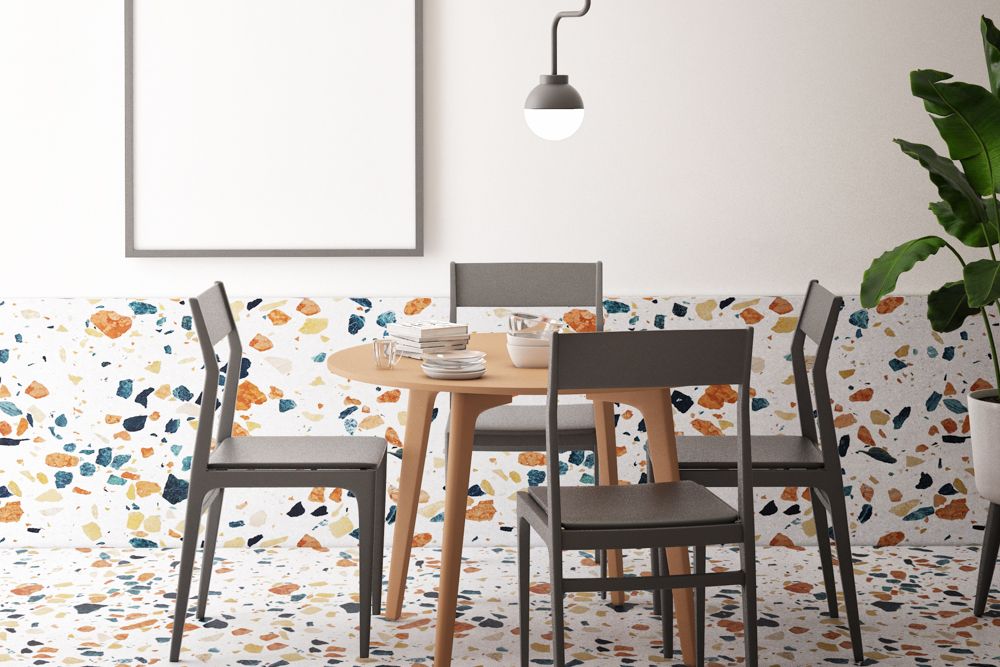 The term 'terrazzo' refers to a style of flooring where marble chips have been laid in concrete. The word itself means 'terrace'. Its origins date back to Italy, when craftspeople realised that marble chips laid in concrete become extremely durable and resilient as flooring.
Modern-day renditions of the terrazzo floor include a host of colours and patterns typical of mid-century modern interiors. This is partly why terrazzo tiles are racking up a huge following over wood and carpeting, too!
Traditionally, terrazzo flooring was made up of marble chips and concrete. Today, it sees combinations of marble or stone chips with concrete or epoxy-resin. Depending on the use and the surface area to be covered, you can use terrazzo tiles or pour in situ. The latter allows custom surfaces like stairs, countertops, walkways, and even furniture to be covered in terrazzo.
Advantages of Terrazzo Flooring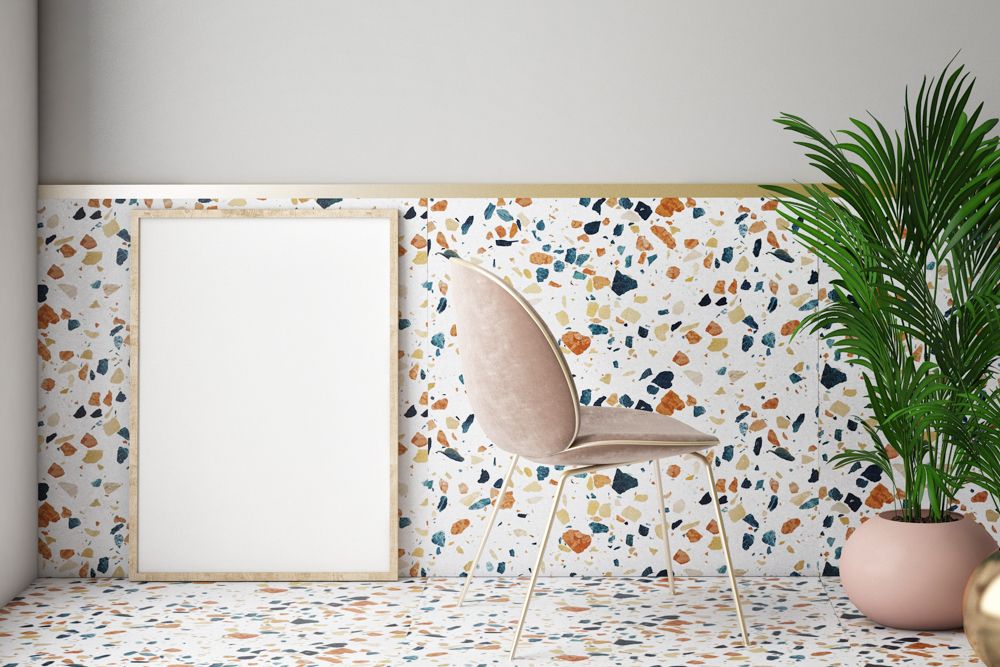 Terrazzo floor tiles are relatively flexible and can be used in a variety of places in your home. From terrazzo kitchen floor tiles to bathroom tiles, the opportunities for infusion are endless when it comes to terrazzo. Here are a few reasons why the terrazzo texture has retained its popularity over the years:
1. Terrazzo Tiles Are Highly Customisable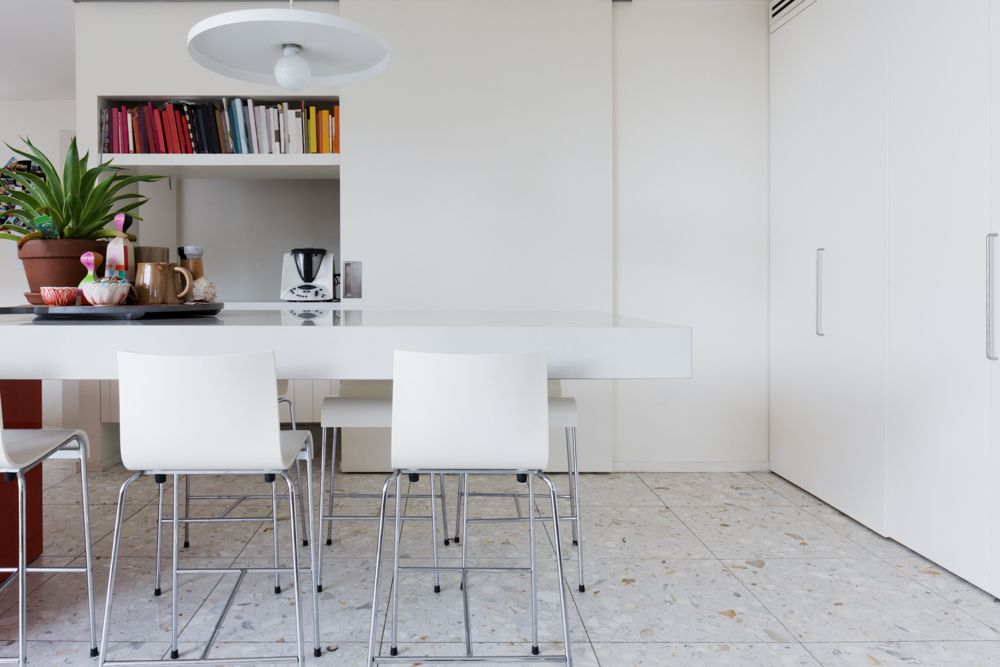 A terrazzo floor can pack all the colours you want with chips of any size you prefer. This makes it an extremely versatile option when you're looking to create drama and interest with their flooring alone. A terrazzo floor can be laid in tile or poured on site, depending on the installation arrangements made. This makes it easier to have smooth flooring without joints or the need to break tiles.
Also Read: 12 Types of Flooring – Which is the Best Option for you?
2. Terrazzo Tiles Are Known for Their Durability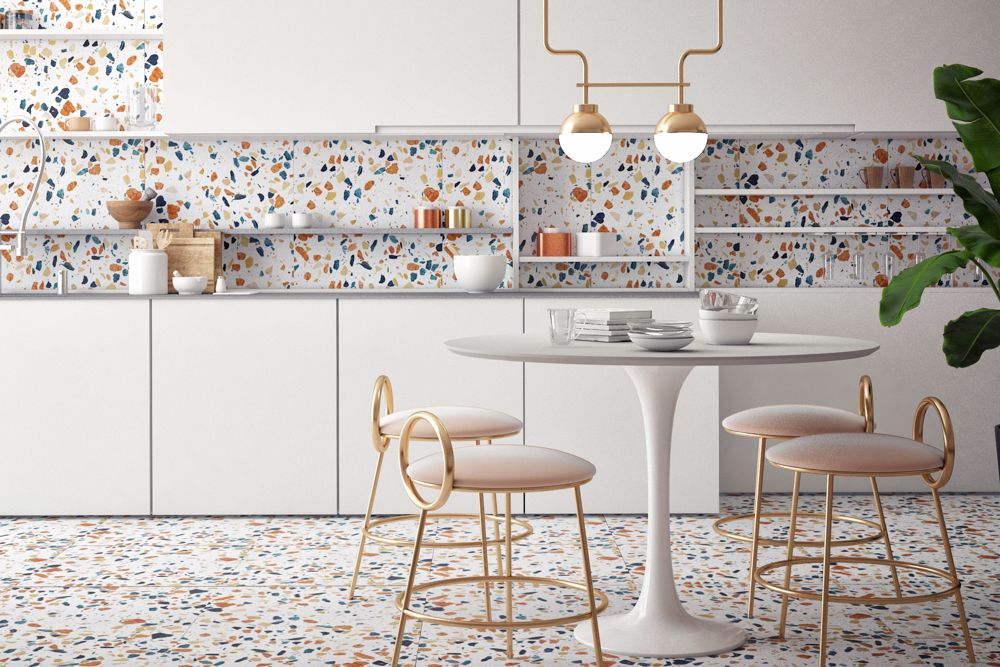 Durability is the main reason behind installing a terrazzo floor in high-footfall areas. It stands the test of time and holds up to wear and tear. It doesn't need frequent replacing or polishing (if installed correctly, that is).
3. Terrazzo Tiles Are Eco-Friendly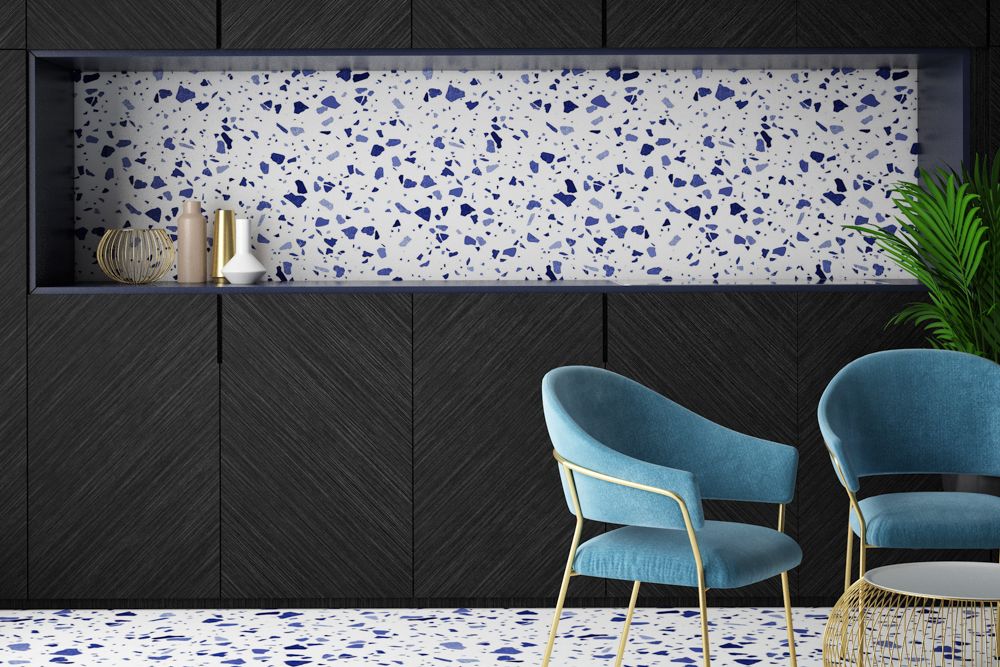 The way a terrazzo floor is made allows it to accommodate recycled or waste materials like recycled porcelain and broken glass. This makes it an environmentally conscious flooring choice, which works well for sustainable homes.
4. Terrazzo Tiles Are Also Low-Maintenance
Terrazzo flooring doesn't need a lot of shining or polishing; a quick sweep-and-mop will do just fine. This makes it a worthwhile investment because it doesn't need a structured maintenance routine.
Pro-tip: If you choose to install a terrazzo floor in your home, make sure you contact the right team. It is most certainly not a DIY project. Furthermore, the way you install it goes a long way in ensuring that it doesn't crack or wear out quickly.
Terrazzo Flooring Cost in India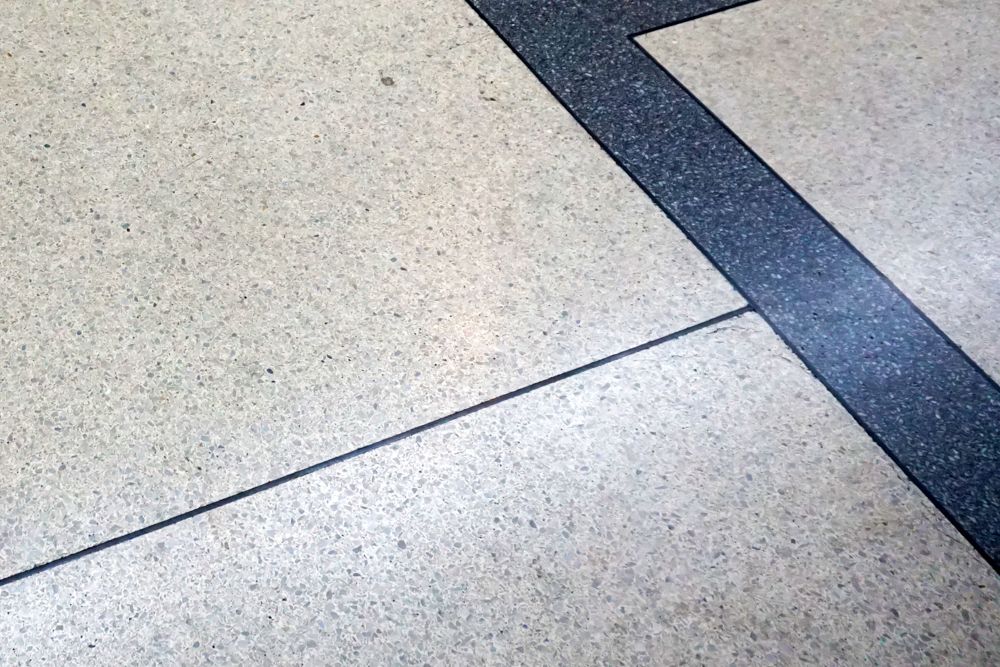 Though terrazzo packs a punch when it comes to design and benefits, it can be equally heavy on the pocket. Typically, the terrazzo flooring cost per square foot in India averages at about ₹250. However, the terrazzo stone price can differ depending on the quality, tile size/thickness, seller and type of terrazzo you choose to go for.
Similarly, a terrazzo floor could set you back a fair bit, especially when compared to ceramic or vitrified tiles. If you're keen on going for a material that lasts in the long run, the overall terrazzo cost you splurge on will be worth it. As terrazzo flooring is durable, easy to clean and attention-grabbing, it becomes a relatively worthwhile investment for your home. 
Additionally, you can also lower the cost by swapping out marble chips for stone and in situ settings for terrazzo tile. To know more about what kind of tiles to go for based on affordability, check out Affordable Designer Flooring Options. 
Also Read: Get a Luxurious New Floor Without Breaking Down the Old One
How to Use the Terrazzo Texture at Home?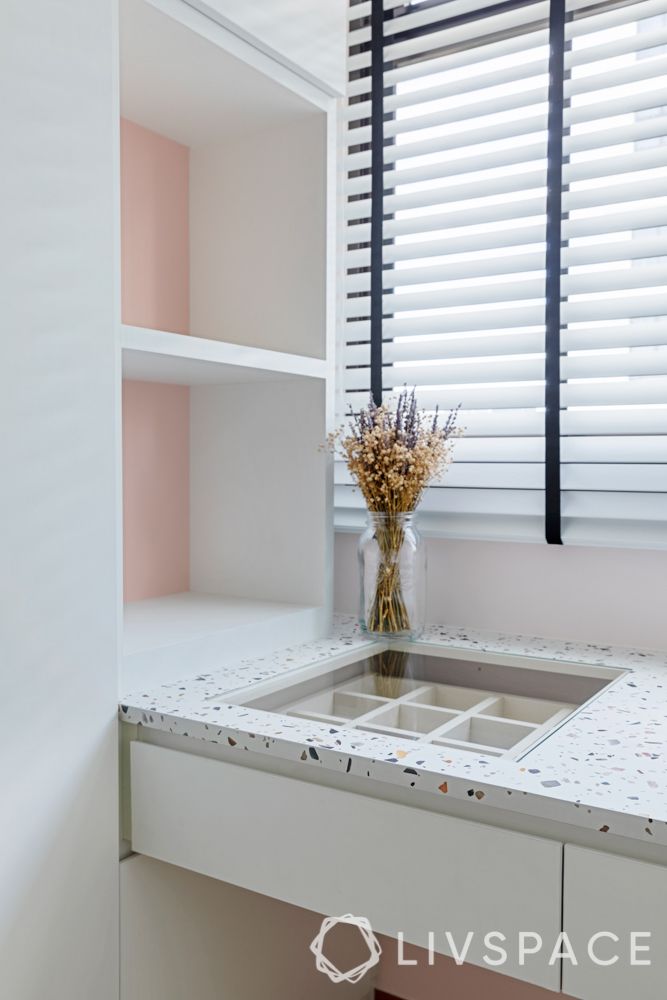 Our interior designers tell us to take terrazzo out of just the floor and merge them into the interiors of your home as well. So, think of pouffes, headboards, lampshades, or even vanity worktops!
Similarly, you can also use them in your kitchen backsplash for a touch of retro design. Alternatively, use a small pattern on your floor to inculcate different colours and patterns. It's a no-fuss, effortless way to spice up your home interiors! 
Types of Terrazzo Floor Tiles
A terrazzo floor is a statement on its own. This, combined with its many perks, makes it a popular and bang-on-trend flooring option. Here are the different types of terrazzo flooring available in the market:
Sand Cushion-Terrazzo – Typically used in areas that receive a lot of friction or foot traffic.
Epoxy Terrazzo – Topped with epoxy resin, this type of terrazzo flooring has non-slip properties in addition to chemical resistance. Given these properties, they can be useful to have in bathrooms.
Bonded Terrazzo – Suitable for use in interiors and exteriors of the home.
Rustic Terrazzo – Has non-slip properties that give it good traction, making it suitable for outdoor areas.
Monolithic Terrazzo – These are one of the more budget-friendly types of terrazzo floor tiles that allow for relatively quicker installation.
How Can Livspace Help You?
We hope you found our ideas useful! If you enjoyed reading about terrazzo flooring, also check out Move Past the Mundane: Offbeat Tile Designs for Your Home. 
Want beautiful interiors for your home too? Look no further. Book an online consultation with Livspace today. If you have any thoughts and suggestions you'd like to share with us, we're all ears! Drop us a line at editor@livspace.com.