Marble is a striking natural material with great versatility. It's easy to clean, long-lasting and offers timeless beauty, especially when used as flooring. When it comes to marble flooring design ideas, you've a lot of options to choose from.
Given this multitude of choice, more often than not, people are confused about how to adorn their homes with marble flooring design. Our hand-picked collection will help you through:
Beautiful Bordered Marble Flooring Designs
1. A Classic White Marble Flooring Design With Black Boundary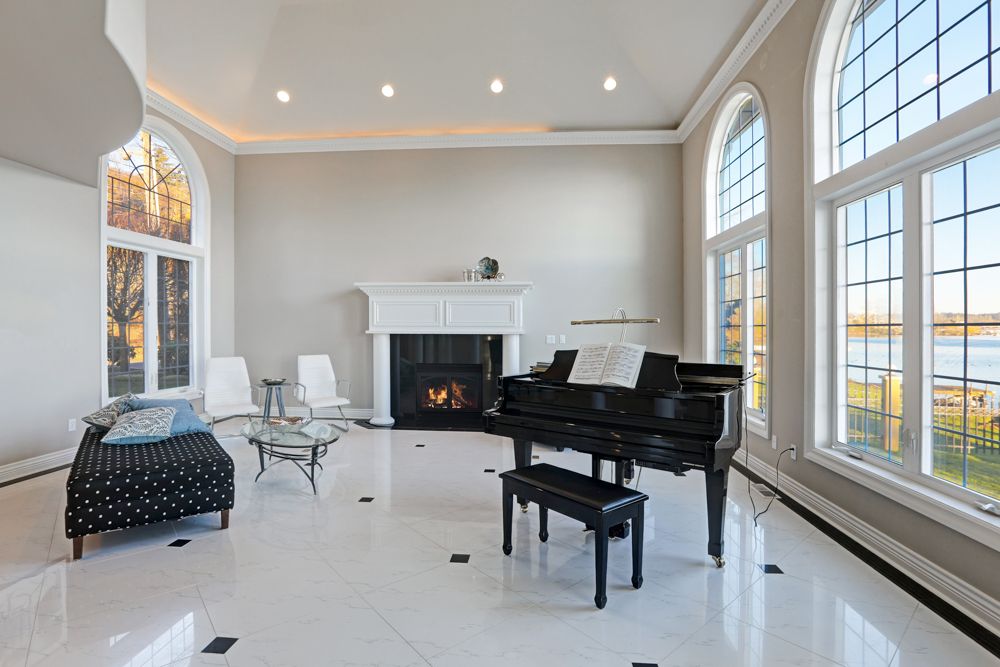 The marble flooring design for this living room creates a subtle yet plush vibe with its black borders around the white marble tiles.
Consequently, this marble design in hall interiors, with its deep borders, sets off the furniture that is of similar colour tones.
2. Marble Design in Hall to Separate the Dining Area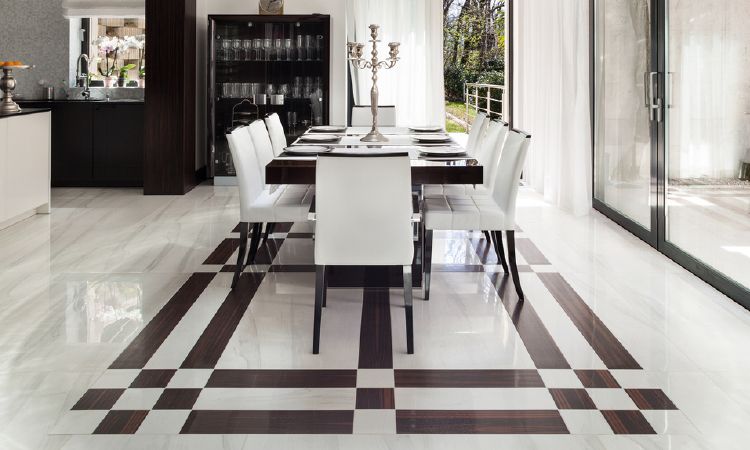 Image Courtesy: Jennifer Bevan
In this open-concept home, the dining chairs and table are framed beautifully by this latest marble flooring design to set them apart from the rest of the house. This versatile marble floor border design is easy to pair with transitional and modern dining sets.
3. A Raised Marble Floor Border Design
This is one of the latest marble flooring design ideas that can be raised to form a ledge, which is the perfect place to sit and read or hurdle together and relax.
4. The Coordinated Marble Design in Room Flooring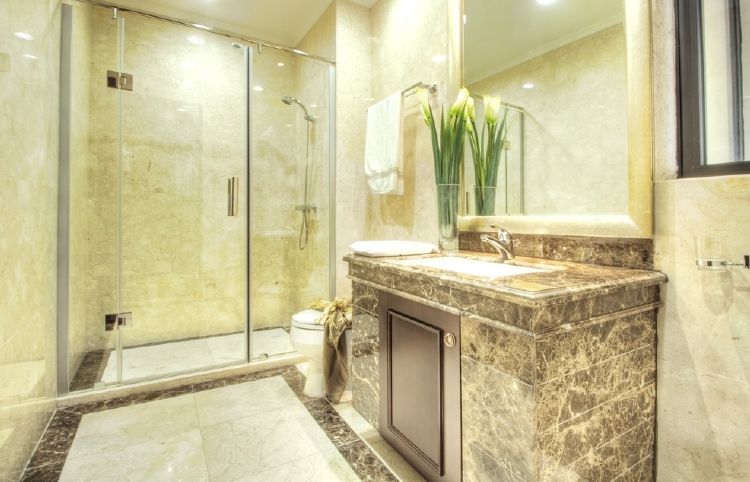 Borders define the wet and dry areas of this bathroom. The same hue and texture from the marble border floor design are used in the vanity sink, giving the bathroom a cohesive look.
Marble Flooring Design With Intricate Motifs
1. Marble Design With Rich and Colourful Embellishments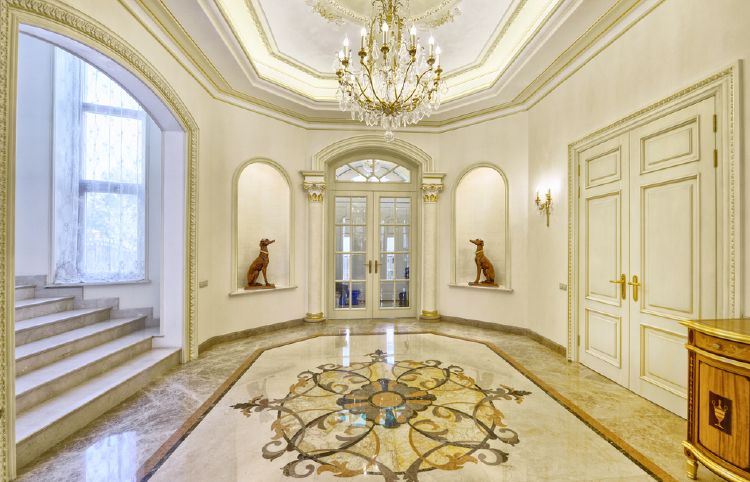 Such intricate marble flooring designs borrow hues from its surroundings and work as enchanting focal points for entryways. Essentially, areas that do not have a lot of furniture such as the lobby or the entrance hall will be better for these marble flooring designs.
2. Marble Flooring Designs with Symmetry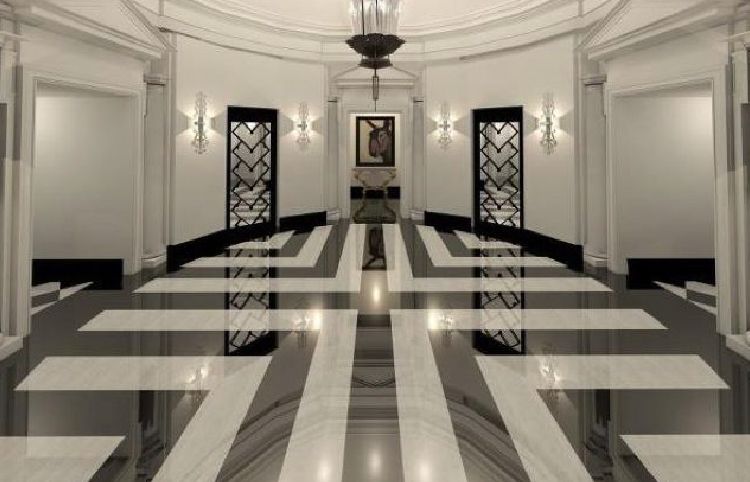 Image Courtesy: Fine Art Marble Floors
If the idea of a single motif doesn't seem appealing, then go for an expansive marble flooring design like this that draws the eyes to the centre of the room using lines or striations. Moreover, you can also emphasise the marble design by adding a chandelier or a pedestal table at the centre.
Statement Textures in Marble Flooring Designs
1. The Veined Marble Flooring Design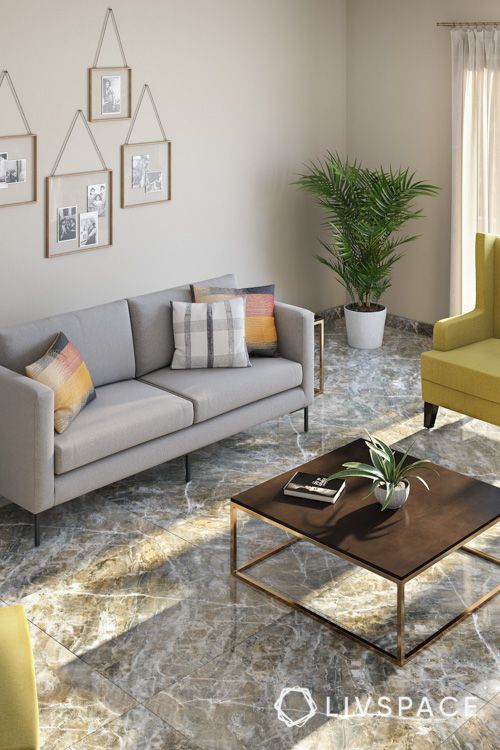 This is one of the latest marble flooring design ideas in India. Straight-lay marble tiles boasting veined patterns add drama and visual interest to the crisp drawing room. Hence, they lend it a flowy yet edgy feel.
2. The Classic White Marble Tiles Lightly Veined in Black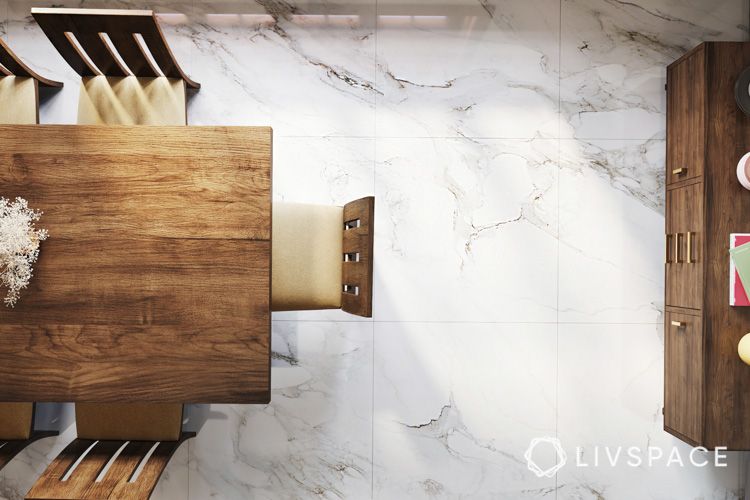 The white marble flooring design ideas with traces of black in it never really go out of fashion.
3. The Dynamic Marble Design With Stripes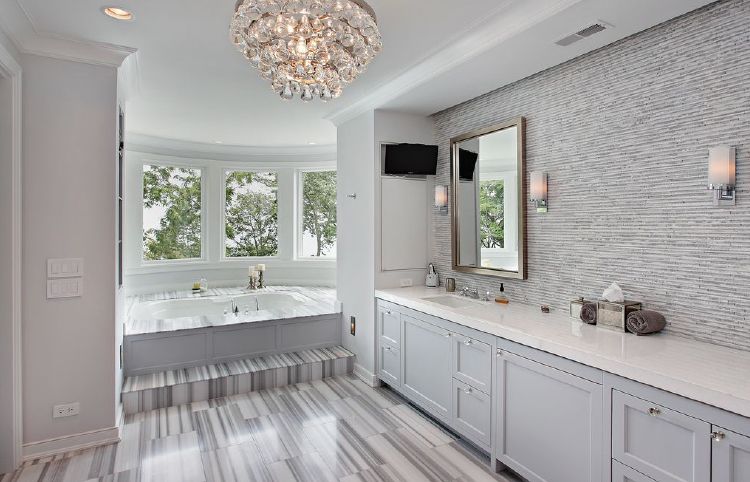 Image courtesy: Zillow
Striped marbles used around the tub and floor add a dynamic dimension to this modern bathroom. Such herringbone patterns in striped marble design are also gaining popularity.
The Timeless, Chequered Marble Flooring Designs
1. The Distressed Marble Design Look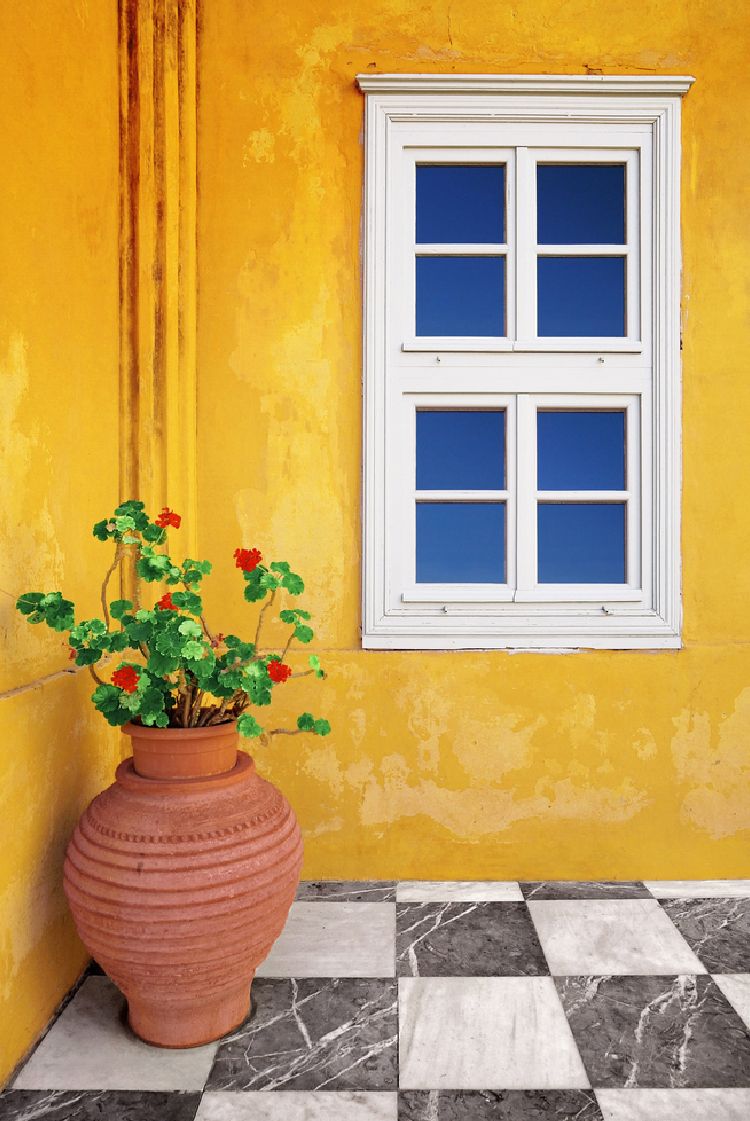 With its stylish weather-worn look, this chequered marble flooring design made of alternating black-and-white tiles, delivers understated classic elegance to the patio.
2. The Old-World Charm Marble Design
It's bold, it's bright and full of old-world charm. Consequently, the classic chequered marble design can bring a touch of monochrome magic to your home.
3. The Glossy Marble Flooring for Living Room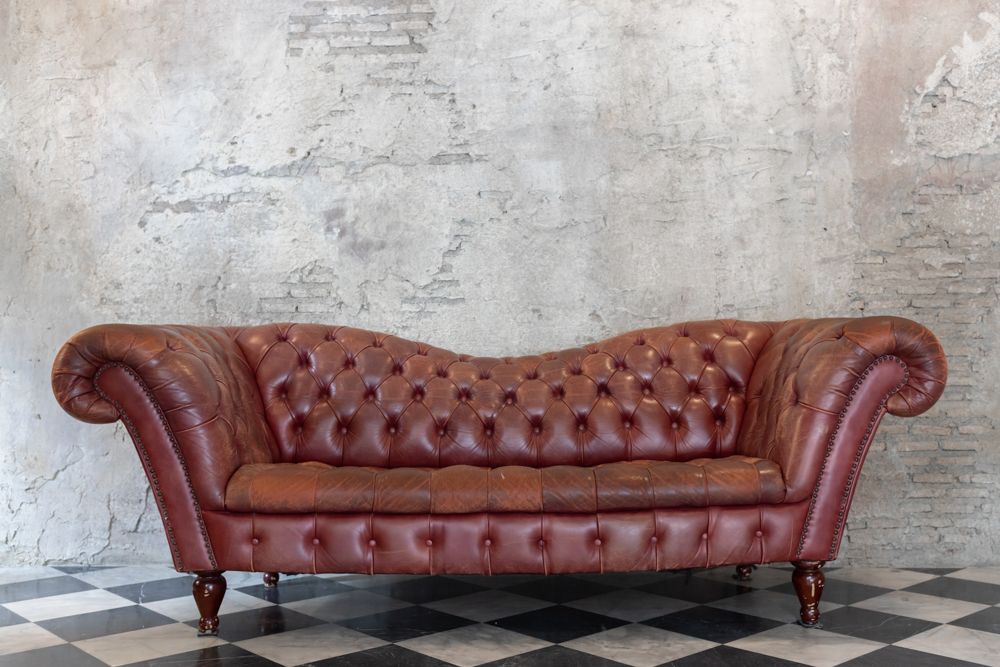 This glossy marble design look is a classic and can be used in any room of your home. Not just that, it acts as the perfect backdrop for a multitude of colours.
Pattern Play in Marble Flooring Designs
1. The Marble Design With Diamond Motifs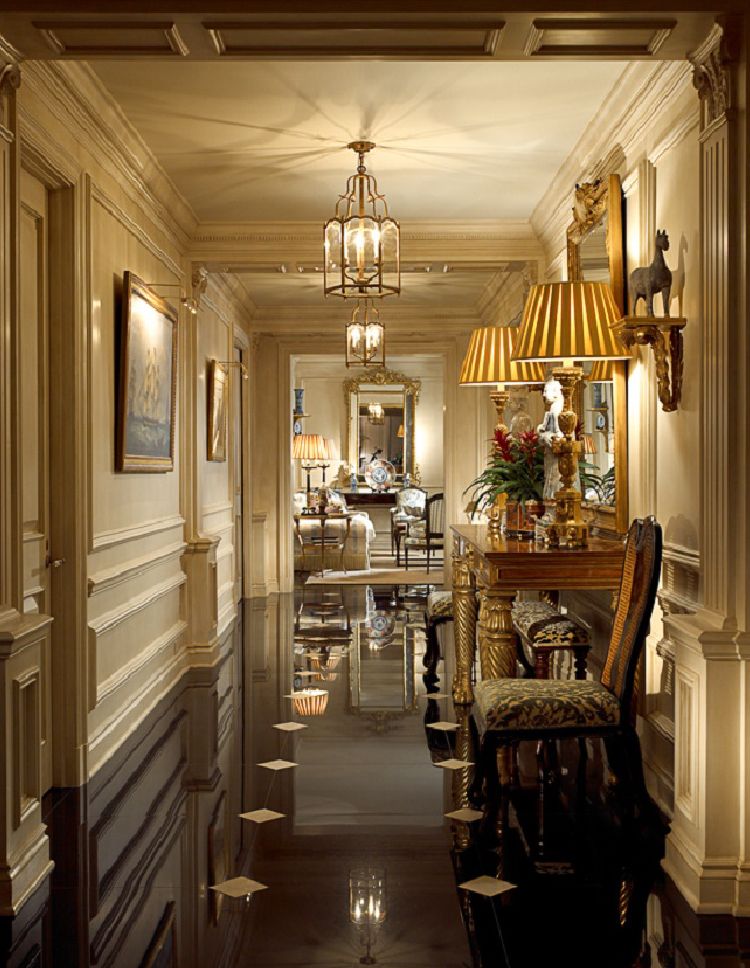 Image Courtesy: William E Eubanks
Glossy black marble tiles interspersed with diamond accent tiles adds a sleek touch to this hallway. Subsequently, if you are looking for other simple variations like this marble design in hall, try pinwheel and basketweave marble floor patterns.
2. An Uber Chic Marble Design For Home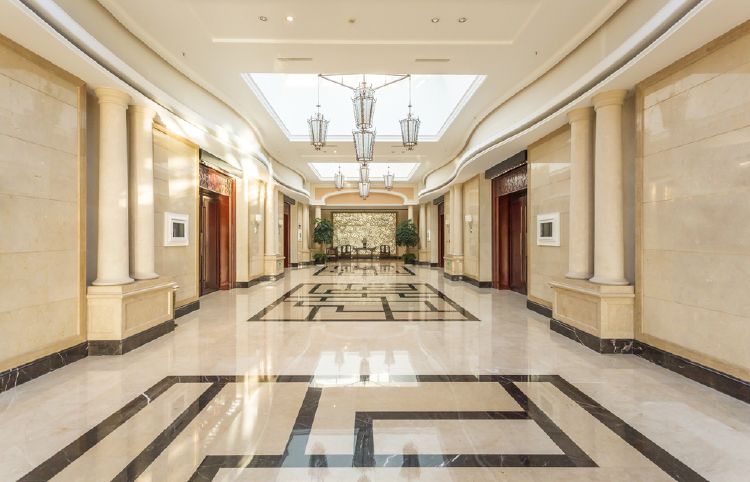 Size need not restrict the scope of motifs. You can create larger motifs with a combination of marble tiles like this.
---
Furthermore, the diverse types of marble flooring designs can be used to adorn any part of a house. With these designs, we hope you can come to a better decision on how you want to style your home. If you are confused, then consult the expert designers at Livspace. Book an online consultation now!
Enjoyed reading this article about marble flooring design? Check out 8 Gorgeous Ideas to Use Marble.
How Can Livspace Help You?
If you want beautiful interiors for your home, book an online consultation with Livspace today. Send in your comments and suggestions to editor@livspace.com