What's the best way to add a little oomph to your interiors? If you ask an interior designer, the secret lies in one word: textures. Texture interior design can really elevate the look of your space. While influencing the overall appearance of your home, it also helps to set an ambience, maybe even offer guests a peek into your personality. But what exactly is texture? And how can you play around with it? Here's the lowdown on any designer's favourite arsenal.
#1. How Texture Influences Interior Design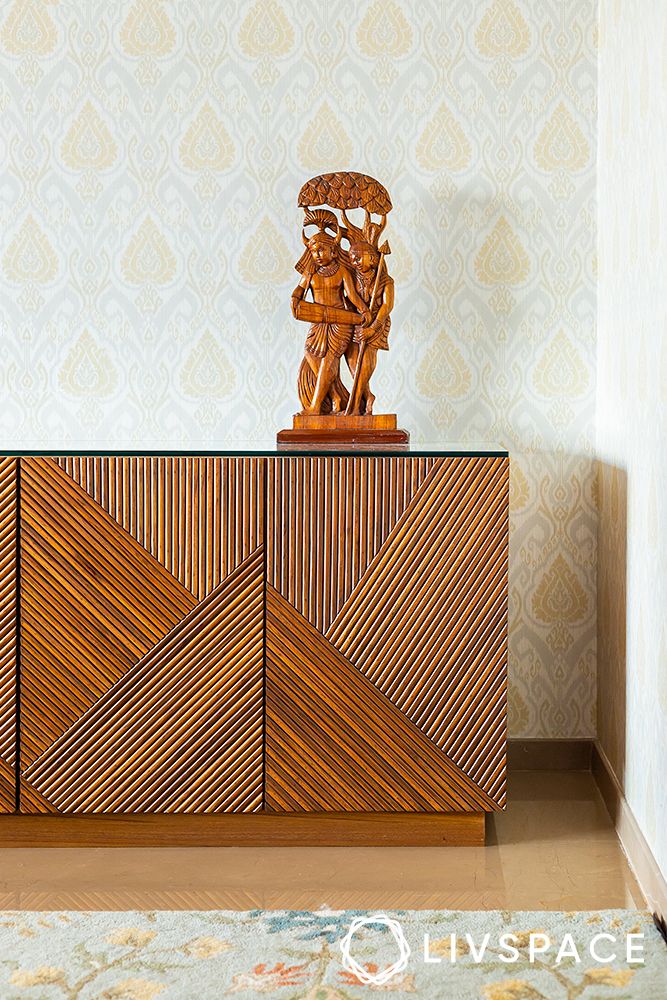 Texture is anything that is tactile or brings visual depth to your interiors to make your space beautiful. Of course, there are a lot of elements that elevate the beauty of your home: colours, symmetry and the shape of things but interior texture design is an additional element in your interiors. The general rule is if a design looks flat, spruce it with the help of texture. While everything has a texture, when it comes to interior design, here are the things you need to know:
Physical Texture: Just like the name suggests, these give you a sense of touch. Think wood, faux fur or textured wall paint
Visual Texture: Visual texture in interior design is perceived to have a sense of touch even when the material in question is smooth. Think patterns of a marble top or wallpaper
Textures influence the tone of your home: Light reflection is uber important when it comes to the tone and ambience of your house. If you want to create a cosy home, you need to pile on physical textures. This creates 'visual weight' and you can feel warm and snug at home because these textures reflect less light. However, if you want a cool-toned and light home, use smooth or shiny visual textures, which reflect a lot more light
You could use texture interior design on a large scale (brick exposed walls) or on a small scale (throw pillows).
Also Read: 10 Brilliant Interior Design Ideas for Small Houses from This Dreamy 3BHK
#2: Importance of Texture in Interior Design
There is more to interior texture than just aesthetics. The importance of texture in interior design is evident in the following ways:
Texture adds visual weight to a room and determines how you feel on seeing it
In a monochromatic theme, texture lends balance
It can play up the look of a room without going over the top
#3: Different Types of Textures in Interior Design
Before we get into using texture interior design in different rooms, let's first look at the different types of textures in interior design.
Tactile Texture: This refers to the physical surface texture. In other words, whether a surface feels rough, smooth, grainy etc.
Visual Texture: This is also called illusionary or simulated texture, this type of texture interior design is produced by colour or pattern
#4: Where Can Texture Be Placed in Interior Design?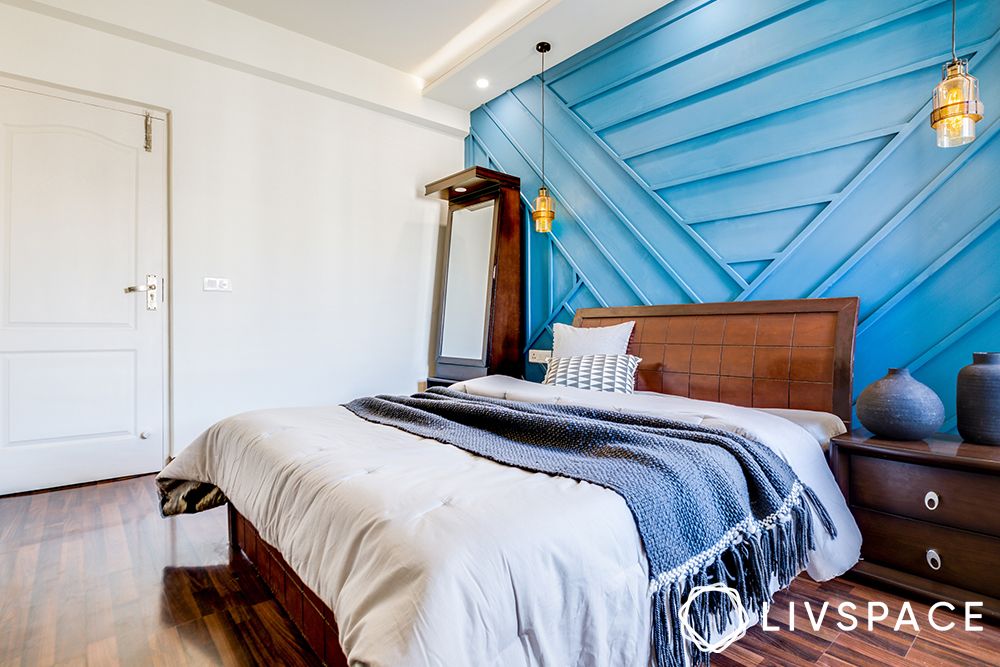 When we talk about texture, most people think of interior wall texture design. While your walls are one of the main areas where you can add texture, you can also opt for textured furniture, furnishings, fabrics etc.
#5: How to Use Texture in Interior Design?
#5.1: Texture Interior Design in the Living Room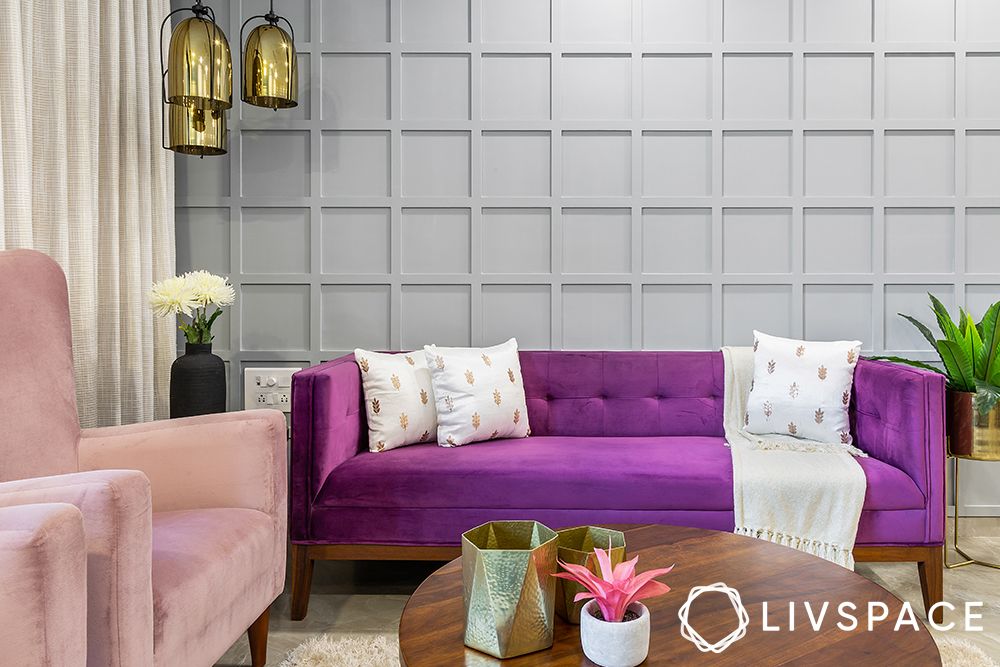 This living room features a gorgeous interior wall texture design. A geometric-looking panelling, this type of wall texture is known as board and batten. The vivid sofas and metallic lighting fixtures complete the look.
#5.2: Interior Texture Design in the Dining Room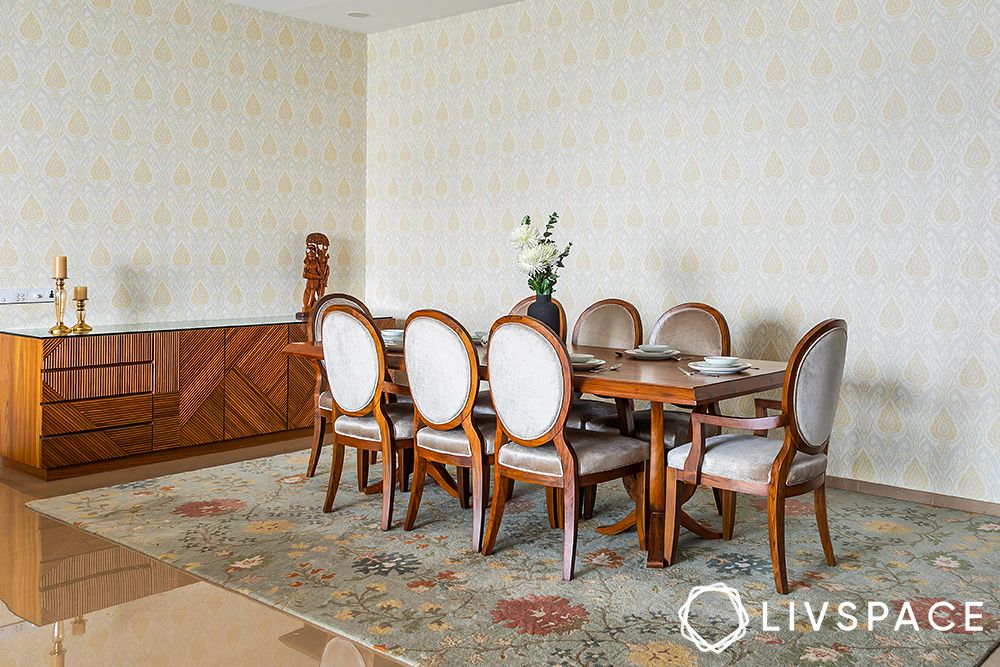 If you ever needed a stand-out dining space, this room is sure to give you serious goals. We love how different types of interior textures, like that of the panelled storage unit, glossy flooring, textured carpet and minimal wallpaper create a luxurious vibe. Keeping all the elements simple and minimal ensures that the look ties up together seamlessly.
#5.3: Texture Interior Design for the Staircase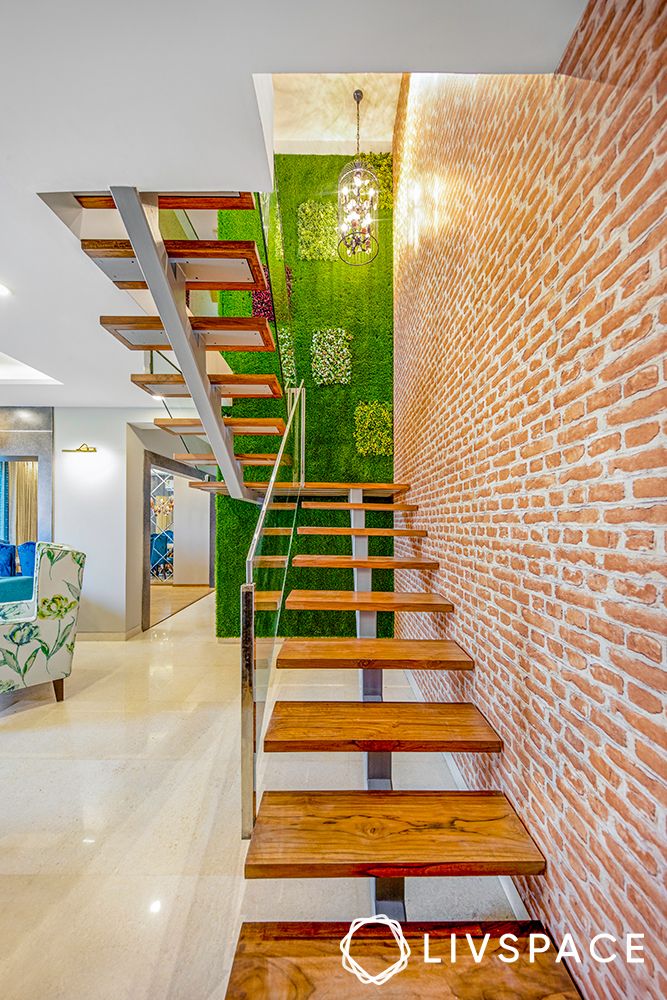 If you're willing to use textures on a large scale, an exposed brick wall is your best bet. Or the next best thing, a wallpaper that mimics it! Our designer maximised the potential of this home's staircase by using a brick textured wallpaper, faux vertical garden wall with patchwork, and wooden flooring. Doesn't the patchwork enhance the illusion of an effortless vertical garden? The look is complete with a birdcage chandelier that adds a bit of sparkle to the space.
#5.4: Interior Texture Design in a Vanity Room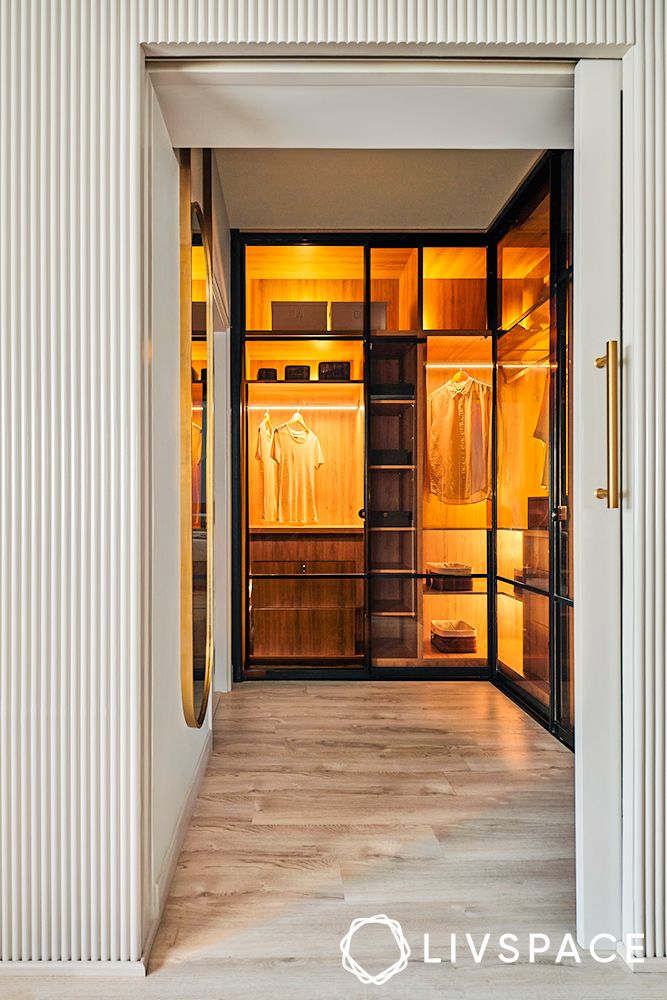 This walk-in closet sure looks dreamy. Our designer Payal Bagzai struck the right balance between textures by coupling a reeded entry with lighting and a minimal design. Combined with light wooden flooring, this vanity room is glam yet understated.
#5.5: Texture Interior Design in a Cosy Bedroom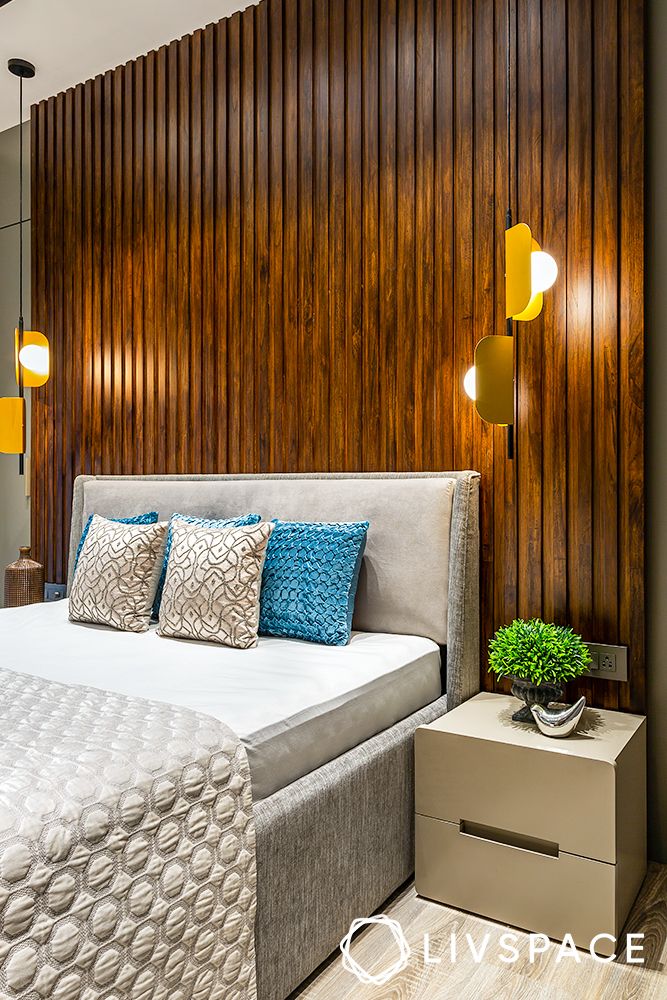 Remember how we were talking about piling on physical interior texture to create a cosy space? This method is known as layering and it's an important aspect of playing with textures. Take a look at the above bedroom. Whether it's the light wooden flooring, the side lights or the wooden headboard wall, the room is beautifully layered with textures.
#5.6: Interior Texture Design for a Minimal Bedroom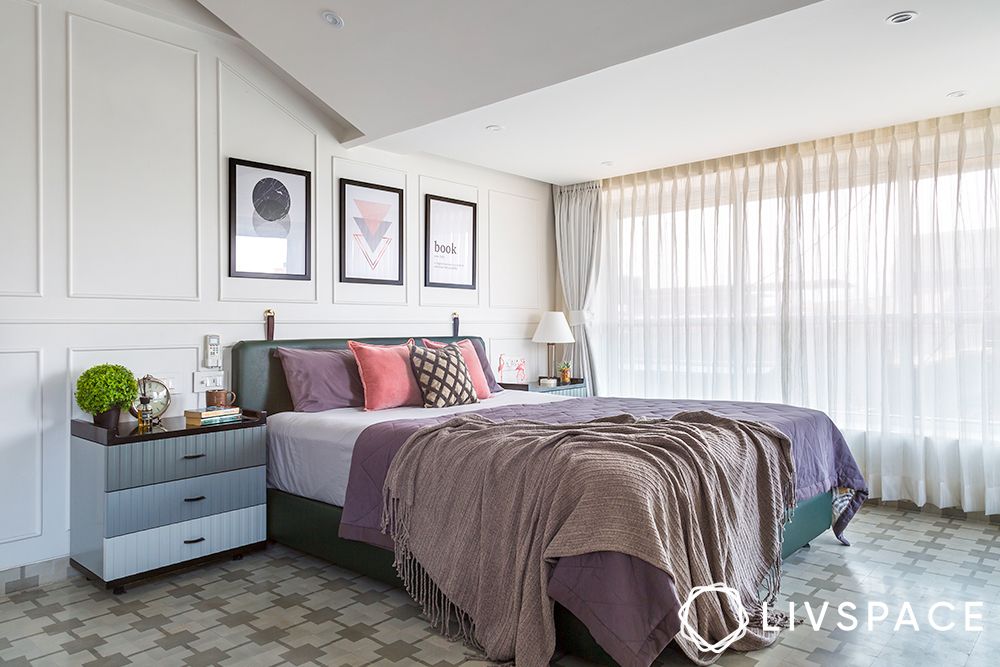 We are pretty sure the wall trims are the first thing that caught your eye. Notice how powerful texture can be? This bedroom design is an excellent way to keep things subtle, stylish and intriguing. You can count on trims to complement minimal interiors. We also love the patterned linoleum flooring.
#5.7: Texture Interior Design for a Traditional Bedroom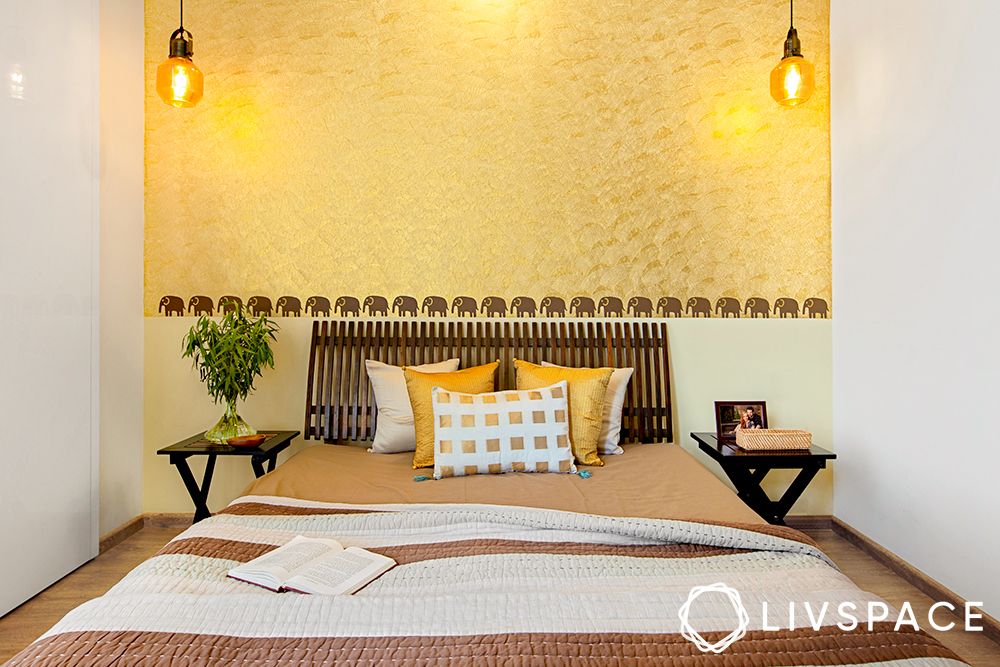 Our designers recommend using textures on the wall for an easy pop of design. This room features a metallic accent wall with texture paint. Also, take a moment to notice the elephant block prints that line the centre of the wall. The side tables are crafted in wood for a touch of traditional charm. Tour the rest of the home here.
Now that you are equipped with what is texture, you can easily play with your interiors and see what works for you. Remember, don't overdo it and risk overwhelming your surroundings.
If you enjoyed reading about textures, here's a list of Carpets to Make Your Home Insta-Worthy.
Also Read: 10 Secret Interior Decoration Tips That Nobody Tells You
Send in your comments and suggestions at editor@livspace.com