What's the best way to add a little oomph to your interiors? If you ask an interior designer, the secret lies in one word: textures. These can really elevate the look of your space. While influencing the overall appearance of your home, it also helps to set an ambience, maybe even offer guests a peek into your personality. But what exactly is texture? And how can you play around with it? Here's the lowdown on any designer's favourite arsenal.
What is Texture in Interior Design?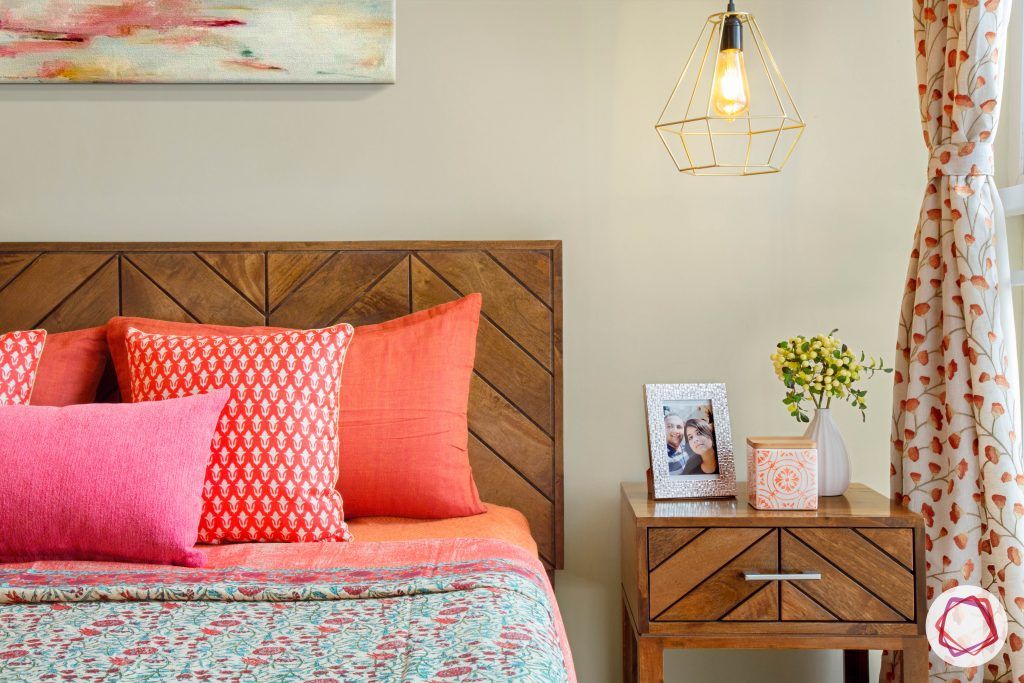 Texture is anything that invokes a sense of touch or brings visual depth to your interiors to make your space beautiful. Of course, there are a lot of elements that elevate the beauty of your home: colours, symmetry, shape of things but textures act like a pop in your interiors. The general rule is if a design looks flat, spruce it with the help of texture. While everything has a texture, when it comes to interior design, here are the things you need to know:
Physical Texture: Just like the name suggests, these give you a sense of touch. Think wood, faux fur, or textured wall paint.
Visual Texture: These are perceived to have a sense of touch even when they are smooth. Think patterns of a marble top or wallpaper.
Textures influence the tone of your home: Light reflection is uber important when it comes to the tone and ambience. If you want to create a cosy home, you need to pile on physical textures. This creates 'visual weight' and you can feel warm and snug at home. Because these reflect less light. However, if you want a cool-toned and light home, use smooth or shiny visual textures, because these reflect a lot more light.
You could use them on a large scale (brick exposed walls) or on a small scale (throw pillows). It's no wonder that it's part of 2019s interior trends! Now, let's dive right into how our designers have been using textures for Livspace homes.
What is Texture #1: For Living Room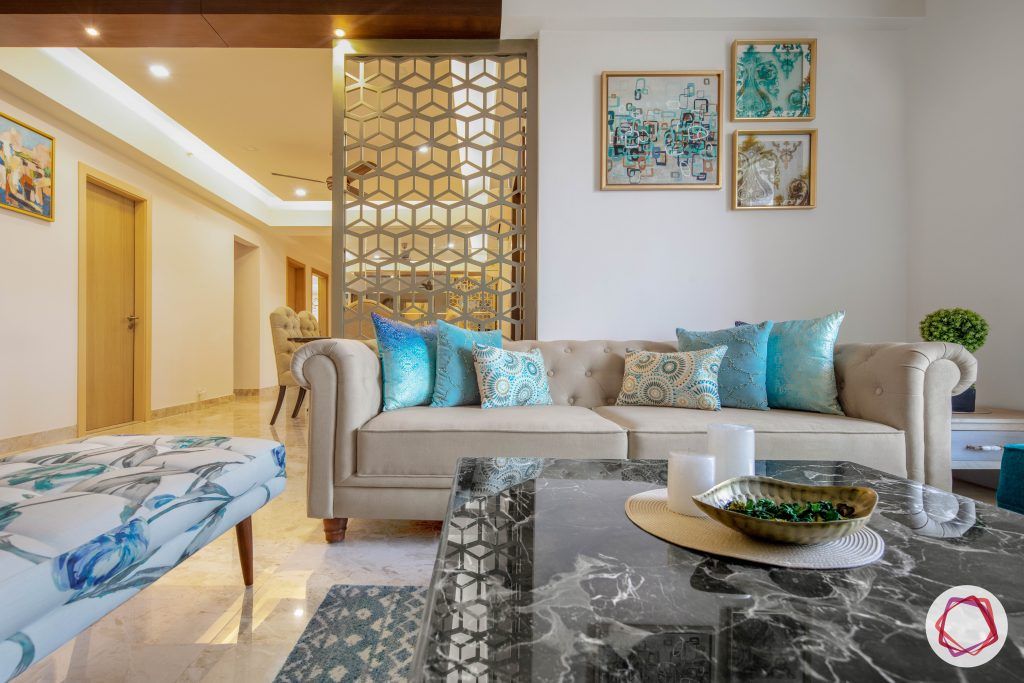 This living room is an ode to shades of the sea. The smooth surface of the granite table top and light blue cushions in silk offer a cool-toned ambience to the space. The suede sofa perfectly pairs with its surroundings. You can tour the rest of this home here.
What is Texture #2: For Dining Room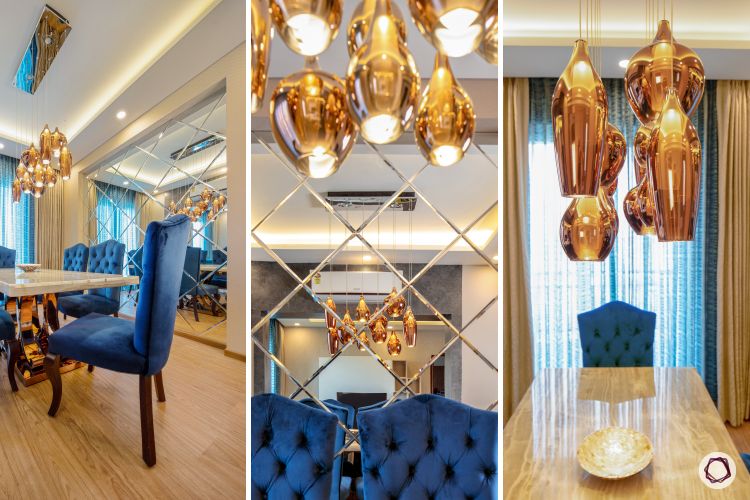 If you ever needed a stand out dining space, this room is sure to give you serious goals. We love how textures like the blue upholstered chairs and the marble table creates a luxurious vibe. The statement wine glass-inspired lights score brownie points for visual depth. All this sits on wooden flooring to make for elegant dining.
What is Texture #3: For Corridor or Staircase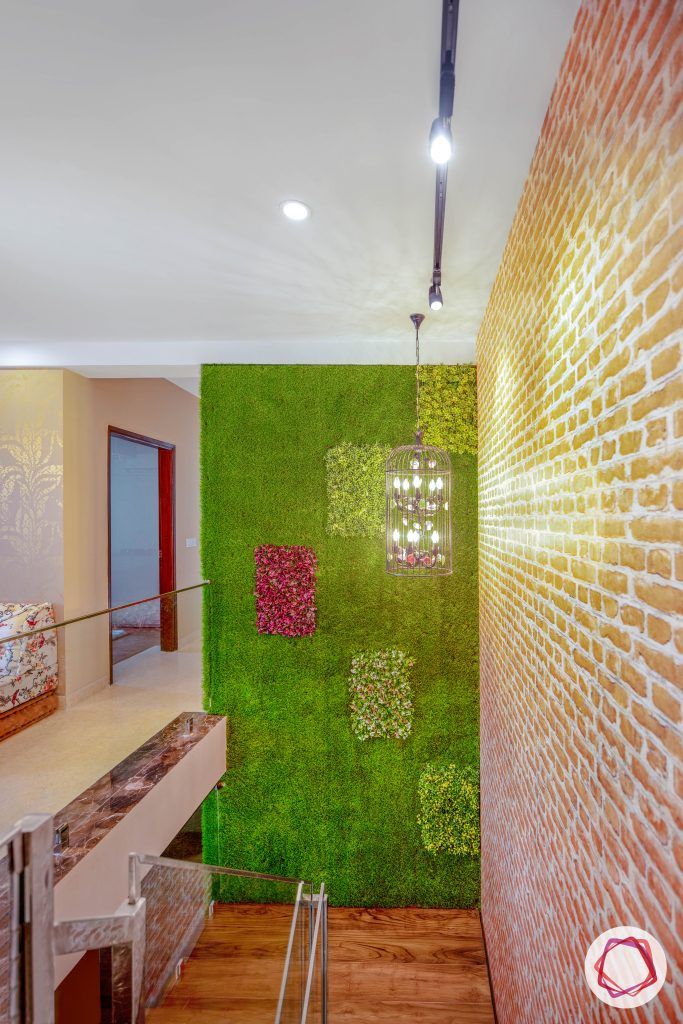 If you're willing to use textures on a large scale, an exposed brick wall is your best bet. Or the next best thing, a wallpaper that mimics it! Our designer maximised the potential of this home's staircase by using a brick textured wallpaper, faux grass wall with patch work, and wooden flooring. Doesn't the patch work enhance the illusion of an effortless vertical garden? The look is complete with a birdcage chandelier that adds a bit of sparkle to the space.
What is Texture #4: For a Vanity Room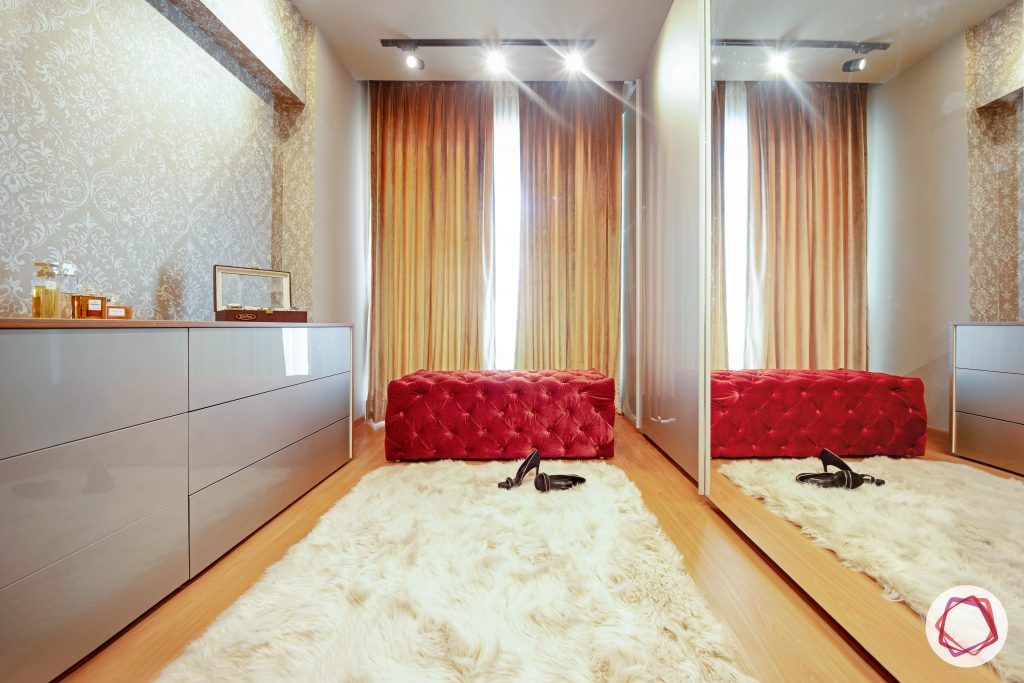 This walk-in closet sure looks dreamy. Our designer Harshpreet Kaur struck the right balance between textures by coupling a red velvet chaise with a white faux rug. Pair these against a smooth and glossy wide chest of drawers with light wooden flooring and you've got yourself a glamorous vanity nook.
What is Texture #5: For Cosy Bedroom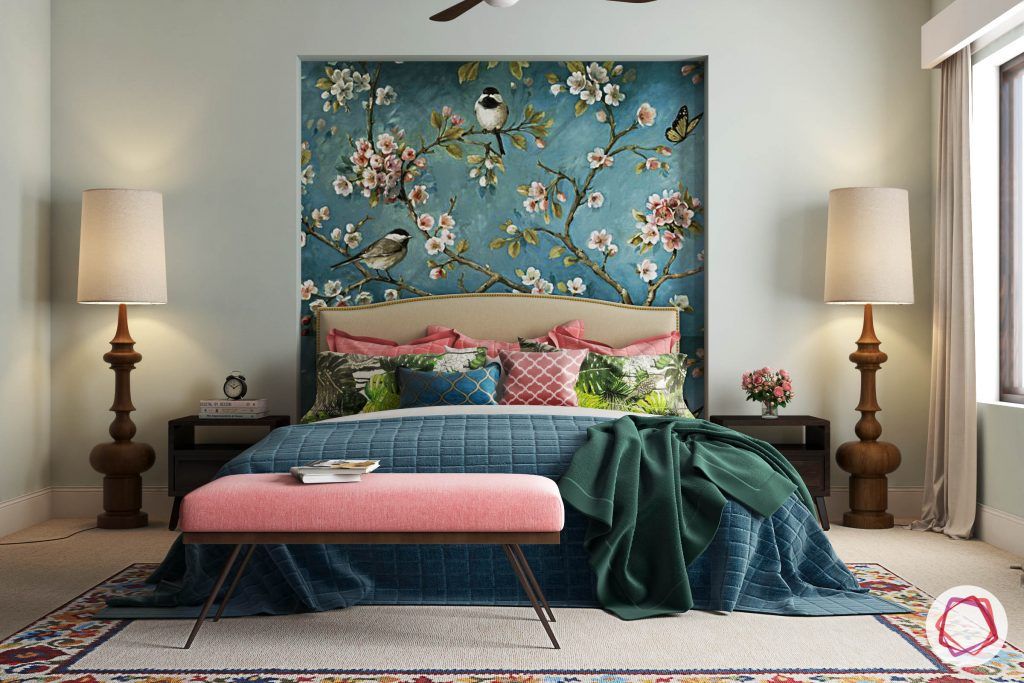 Remember how we were talking about piling on physical textures to create a cosy space? This is method is known as layering and it's an important aspect of playing with textures. Take a look at the above bedroom. Whether it's the floral rug, the heavy throw, patterned pillows or fabric headboard, the room is beautifully layered with textures. The wooden lampstands on either side of the bed adds a touch of warmth to the space.
What is Texture #6: For Minimal Bedroom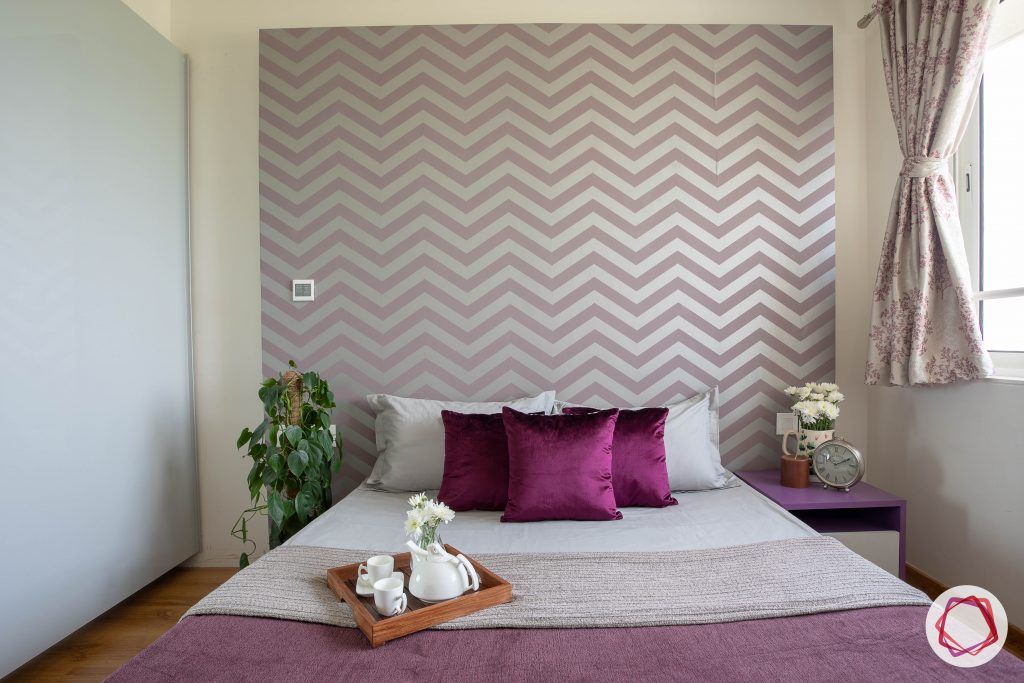 We are pretty sure the patterned wallpaper is the first thing that caught your eye. Notice how powerful texture can be? This bedroom design is an excellent way to keep things subtle, stylish and intriguing. You can count on patterned wallpapers to complement minimal interiors. We also love the pop of purple from the silk pillows. Check the rest of this Mumbai home here.
What is Texture #7: For Traditional Bedroom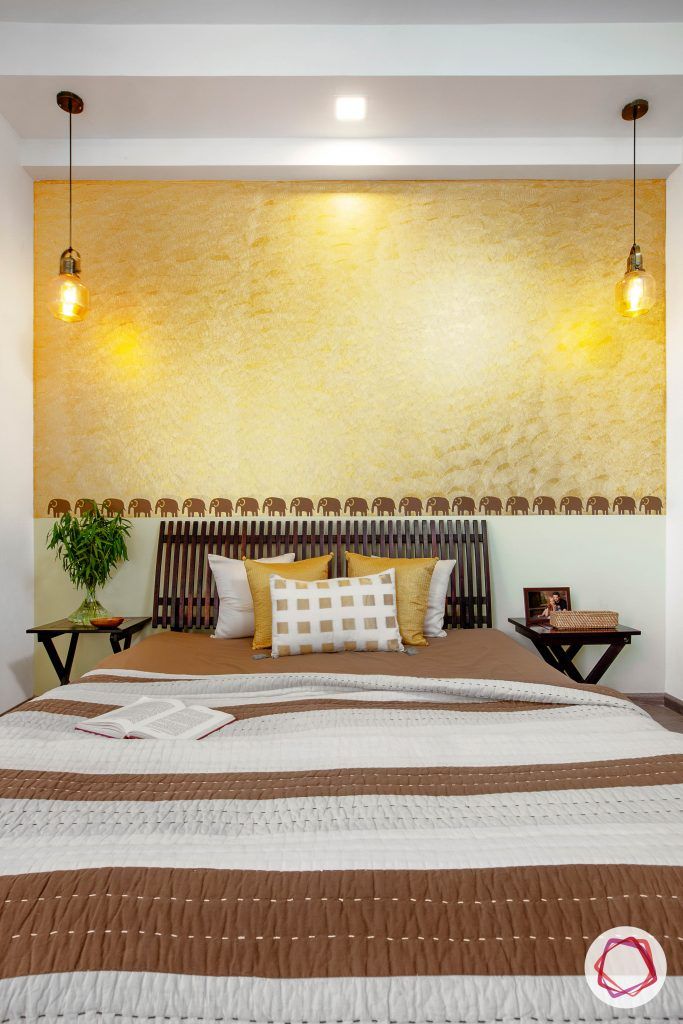 Our designers recommend using textures on the wall for an easy peasy pop of design. This room features a metallic accent wall with texture paint. Also, take a moment to notice the elephant block prints that line the centre of the wall. The side tables are crafted in wood for a touch of traditional charm. Tour the rest of the home here.
Now that you are equipped with what is texture, you can easily play with your interiors and see what works for you. Remember, don't overdo it and risk overwhelming your surroundings.
If you enjoyed reading about textures, here's a list of Carpets to Make Your Home Insta-Worthy.
Send in your comments and suggestions.