We've searched high and low to bring you the best of what lies ahead. So if you're looking to shape up your home this year, you cannot go wrong with our interior trends forecast 2018. From prints to colours, texture to finishes and the mood, we've got you covered! Read on and jump on the trend bandwagon now.
Interior Trends Forecast 2018 #1: Bold Colours Rule
This year, it's all about violets, deep purples, olive greens, blues and tone-on-tone shades. Combine softer tones with darker hues to create visual intrigue in your interiors this year. Bold-coloured accents, paired with deep blues and greens can add character to your home. It's time to embrace the richer hues this time around! Take a look…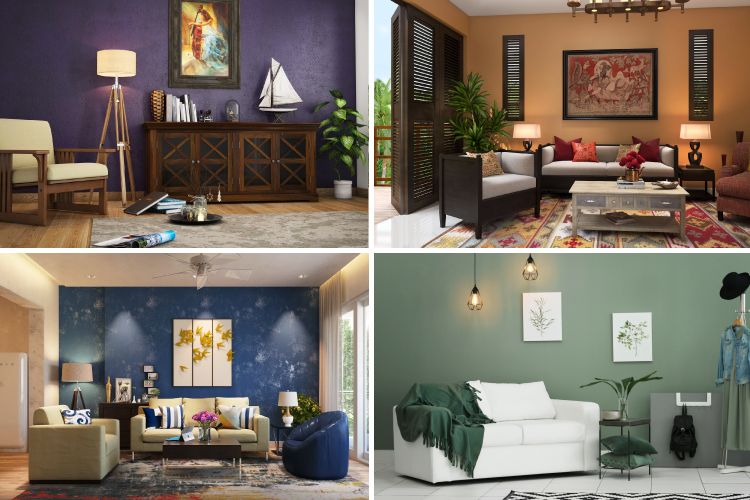 Welcome Pantone's Colour of the Year Ultraviolet into your interiors, with tone-on-tone tangerines to add warmth. If you want to explore the Pantone shade for your home interiors, we have a variety of options for you right here!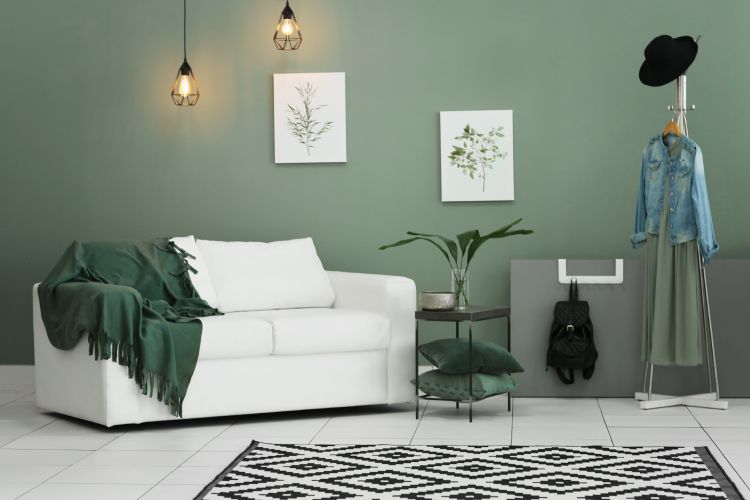 Olive green is going to be all the rage this year. Paint your walls with this delicious colour, pair it with whites, abstract prints and some velvety cushions to feel the magic!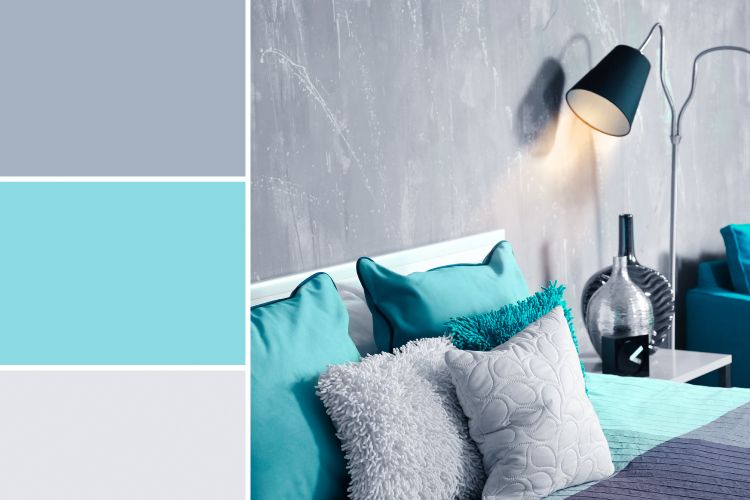 To work wonders with the concept of tone-on tone, check out this palette and play dress up at home!
Interior Trends Forecast 2018 #2: Prints and Textures do the Talking
Introduce some geometricity in your interiors with groovy patterned wallpapers, cushion covers, rugs and so on. This year is also going to see more of terrazzo tiles in homes, with abstract florals adding a touch of colour to them. Check it out below: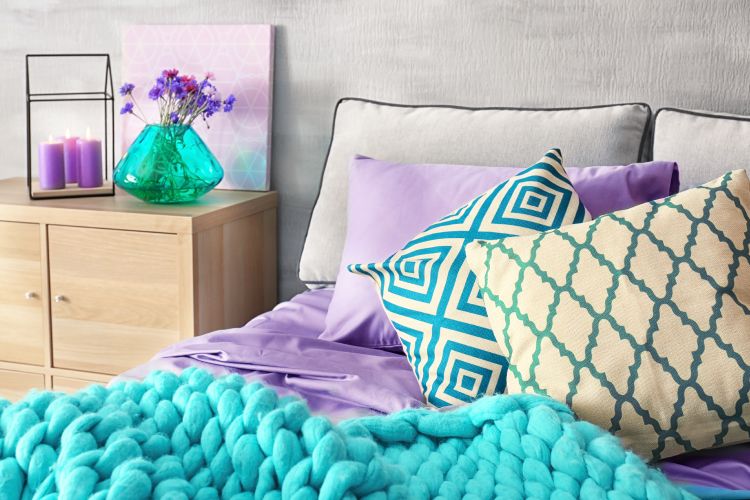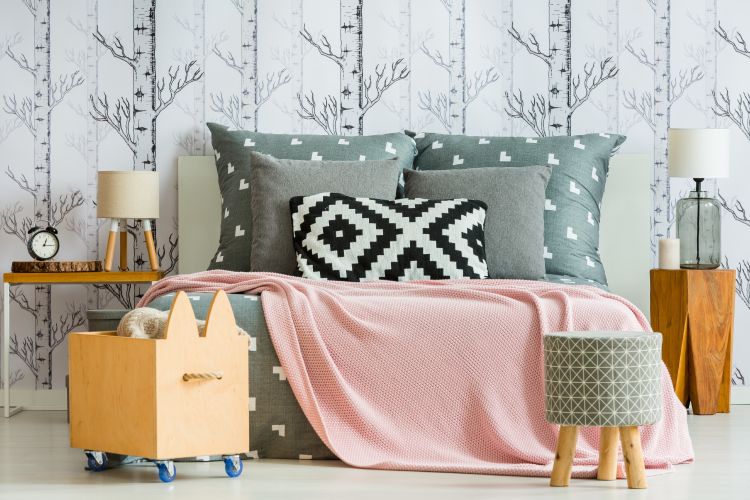 Geometric pattern on cushion covers and rugs are going to be big. It's so much fun and fits any personality. See for yourself how this print adds character to interiors instantly!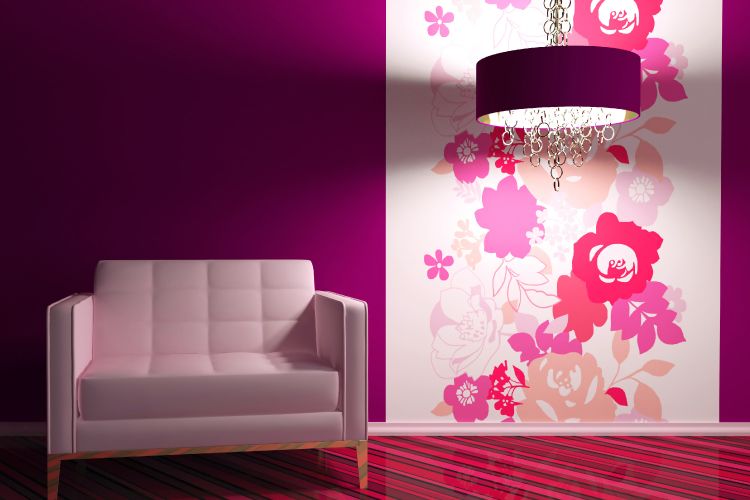 This season it's all about abstract florals on walls. Smatter them with this amazing print and feel the difference!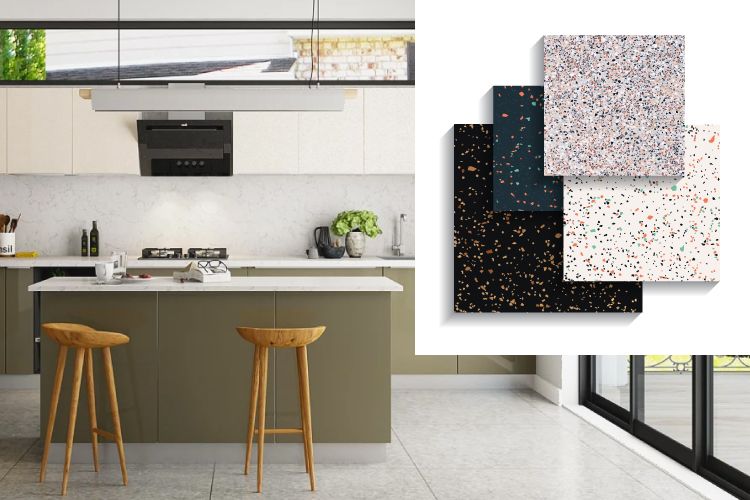 Terrazzo tiles are so versatile that they merge with any style of interior design. These tiles are huge this year!
Interior Trends Forecast 2018 #3: Lush and Royal Feel
Luxurious is the word this season for interiors! Earthy tones are your best bet to set a warm mood overall. Natural materials like wood and stone are going to rank high in designers' picks. Speck your homes with velvet and leather this year to give it a royal, yet classy look. A rich velvet accent chair, a chic leather sofa or dining chairs is all you need to perk up your interiors.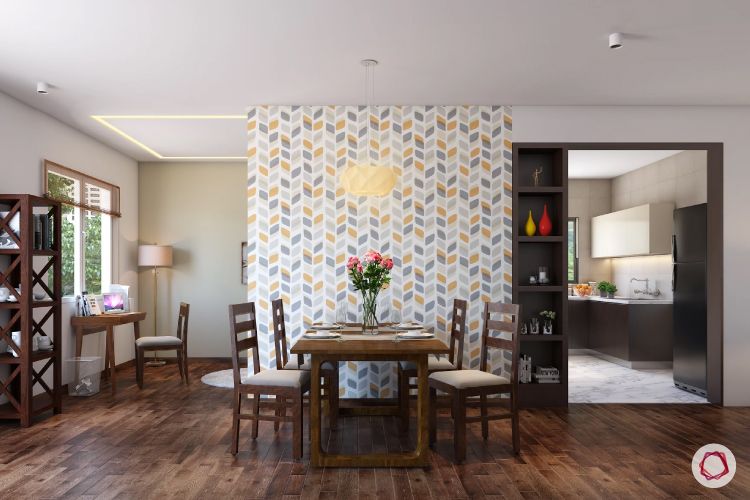 Warm woods are going to continue ruling the interior design industry this year as well. Go all out on this material!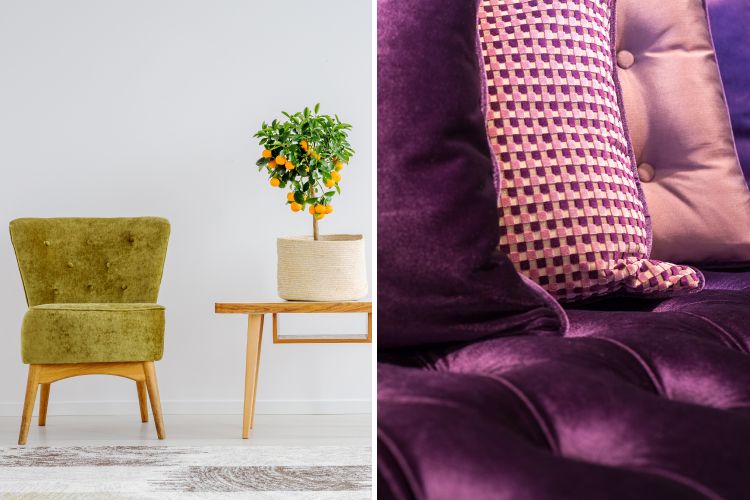 Velvet is heating things up, not only on the ramp, but also at home! This season, jazz up your interiors with this eye-catchy material on accent pieces.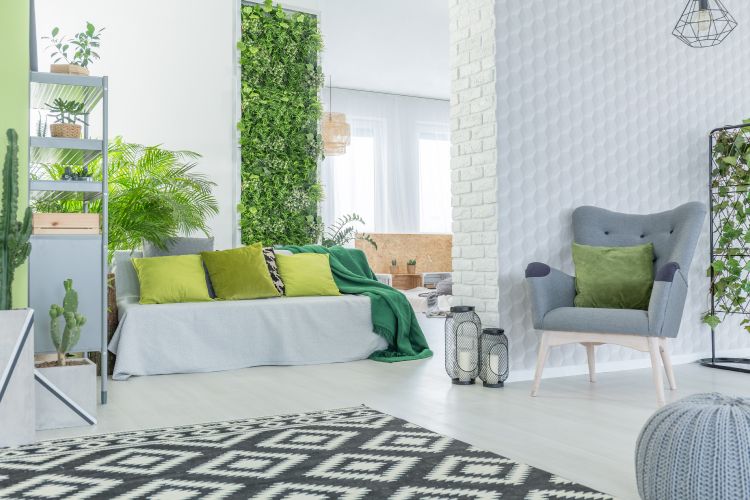 Greenery continues to add flavour to interiors. Allow some flora inside your homes and breathe in some fresh air.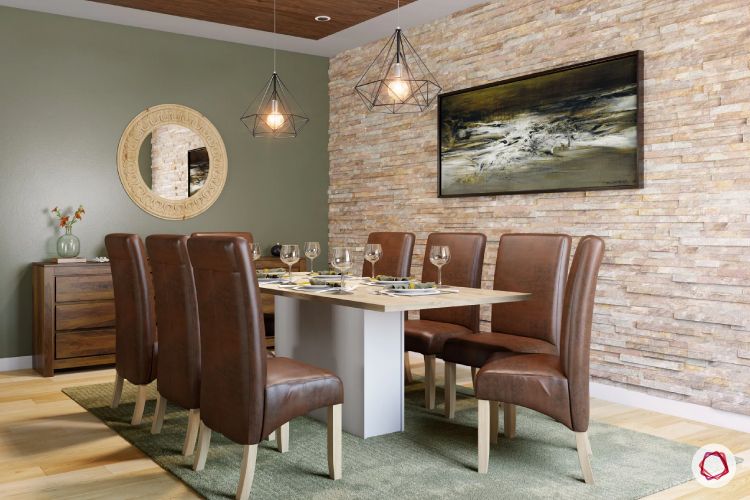 Leather looks plush and makes a statement wherever it is used. Get those leather sofas and chairs out in the open!
Interior Trends Forecast 2018 #4: Curves are In!
It's time to let go of the straight lines in furniture and opt for sassy curves. From poofs to nested swings, everything with wavy outlines work well this year. So if you have an old Victorian chair, then you better hold on to it as it might be the trendsetter at your home. A combination of trending prints in the upholstery is an added bonus.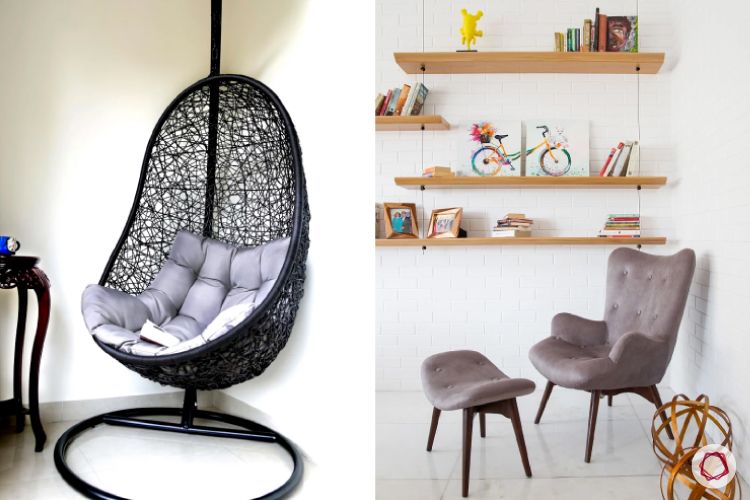 Smooth edges enhance the comfort quotient, making these modern furniture designs let you lounge and relax in style.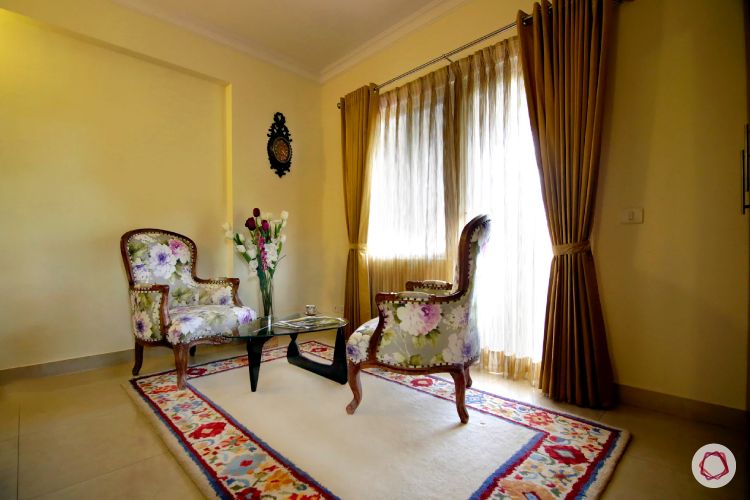 A combination of abstract florals fused with curvy furniture is not just pretty but sends an inviting appeal to your guests.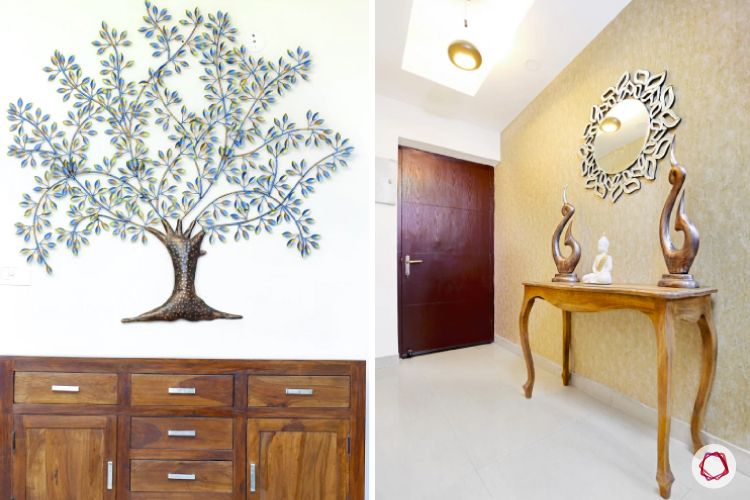 Metal and wood finishes bring out a plush feel indoors.
Interior Trends Forecast 2018 #5: Fun with Metallic Finishes
A rich look at home with wooden finishes and exuberant feel with metallic finishes is what you can look forward to this year. Add warmth to your home with the sturdy textures of wood. Bronze, gold and black metal are going to be doing their rounds in the market. So pick the best designs for your home that will accentuate your themed spaces.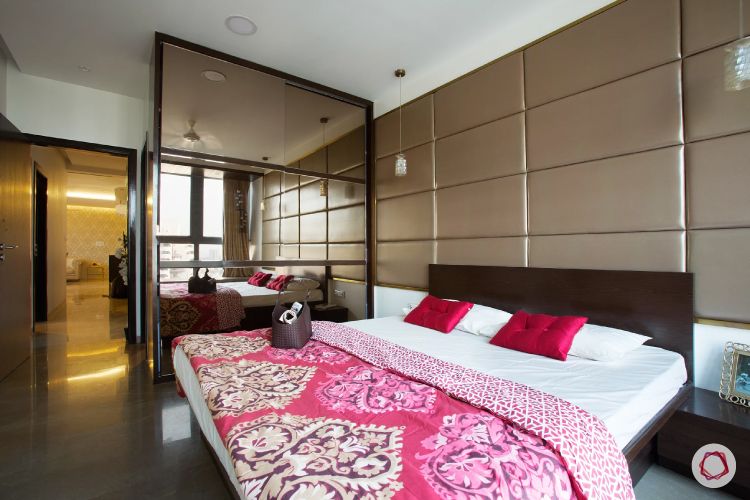 A champagne touch to the accent wall and bronze back painted mirror add glamour to the room.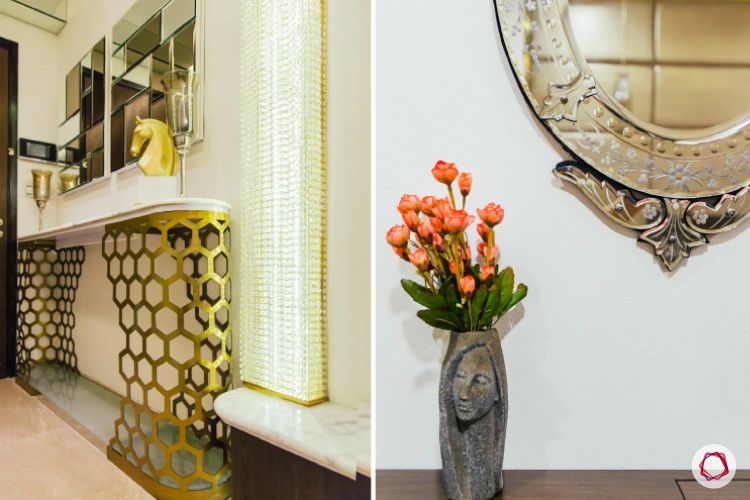 A classy exhibit that will have guests ogling can pick up any unused wall or corner. Give it a try!
Interior Trends Forecast 2018 #6: Lighting and Accessories
Go back in time and bring out those Edison bulbs to beautify your home. While vintage lighting has caused a furore over among the designers, hanging lights with distressed finishes are not too far behind. Use accessories that match trending prints like geometric and abstract florals to make most of what is available.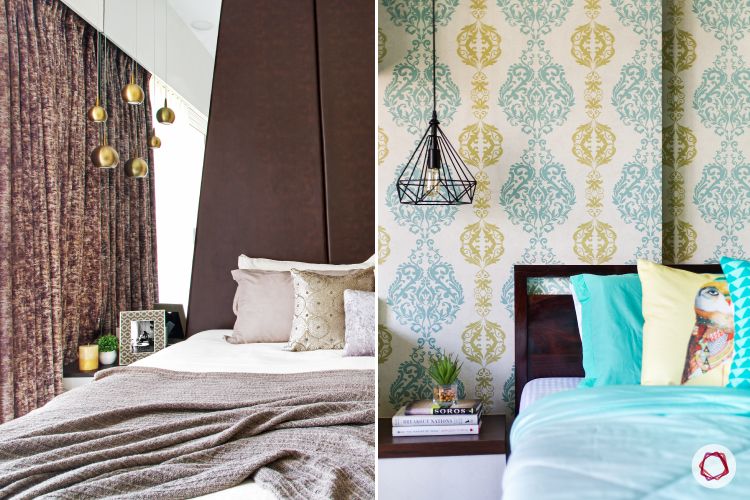 Metallic finishes in lighting add an element of luxury and old world charm to the ambience.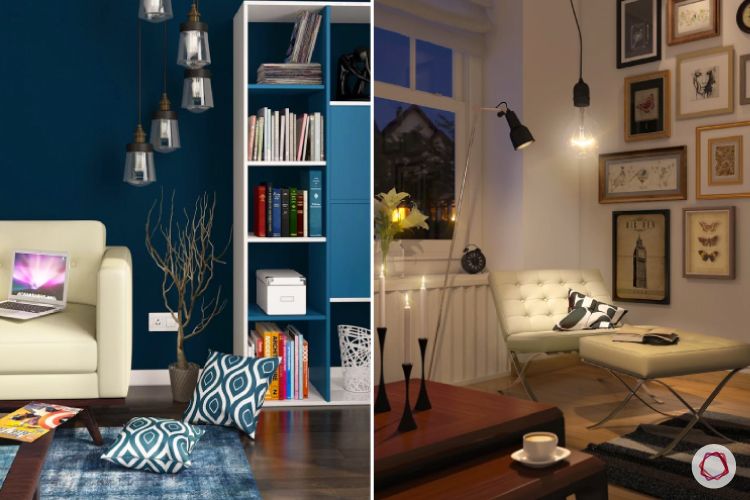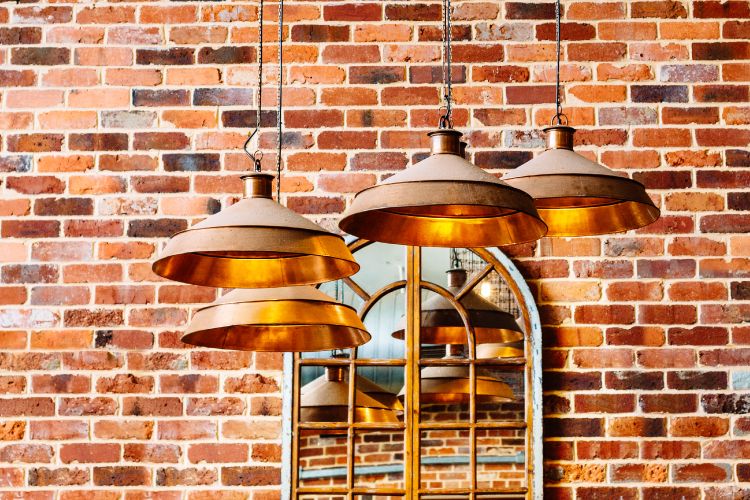 Choose a statement piece from a large collection available in the market. Copper hanging lights will stand out in any room.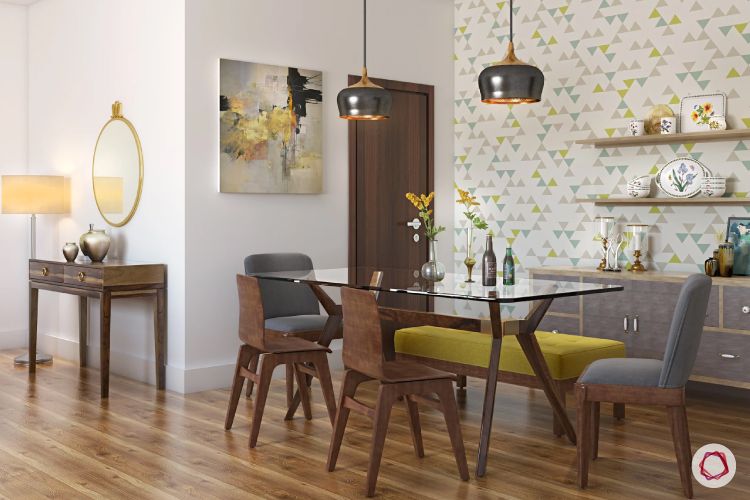 Black pendant lights over a dining space or in your kitchen also has the ability to steal the show.