The kitchen is the most frequented and accident-prone space in any Indian home, especially when it has not been designed well. To ensure this space stays safe and functional, you need the right kind of kitchen flooring for it. However, choosing functional yet aesthetic kitchen floor tiles can be a challenge. You need to select the right types of flooring in the kitchen that can withstand dropped objects and accidental spills. Among the different types of flooring for the kitchen, there are 10 you should be aware of if you want durable interiors.
Curious to know which is the best flooring for a kitchen in India? Here is our list of durable kitchen flooring options you need to consider:
#1: Ceramic Kitchen Floor Tiles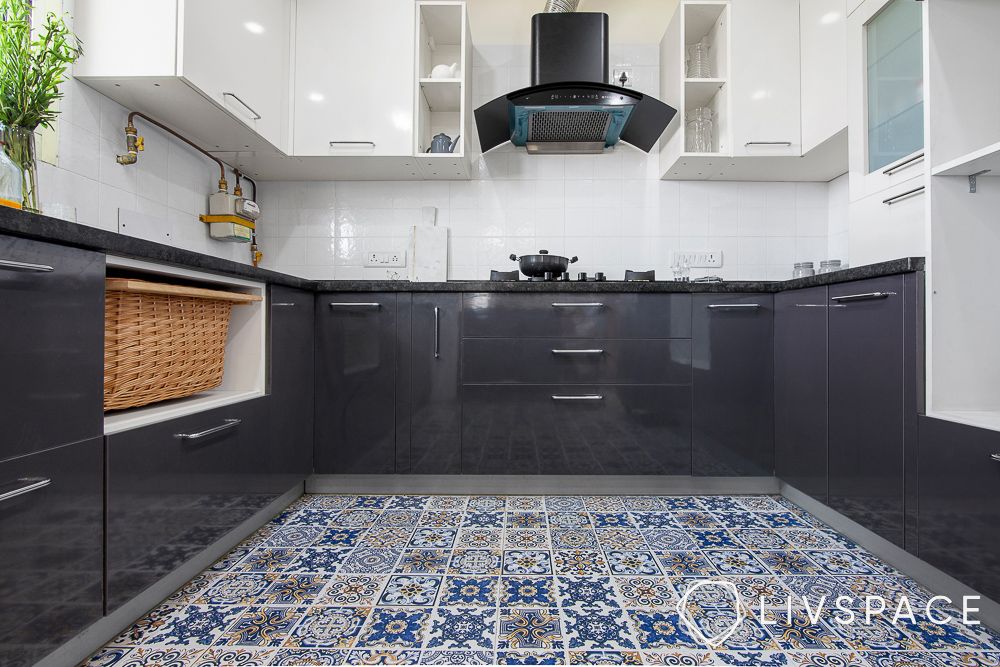 Porcelain and ceramic tiles are the most common kitchen floor tiles in Indian homes. Both are hard, water-resistant and easy to clean, making them ideal kitchen flooring options. They also come in an assortment of colours and styles that can suit any aesthetic.
A couple of things to look out for is that these kitchen floor tiles may crack if glassware is dropped on them. Similarly, the grout lines between the tiles might collect dust and grime over time if not maintained well.
#2: Wooden Flooring for the Kitchen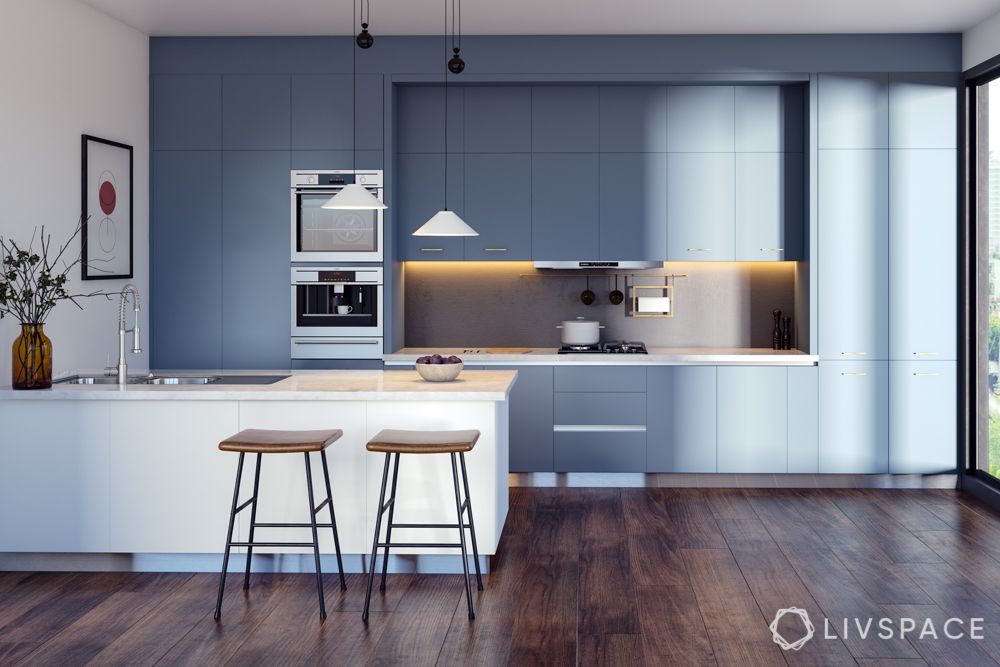 Solid hardwood kitchen tiles are highly durable and add an instant classic appeal to your space. However, if you are living in highly humid or coastal regions, your wooden flooring for the kitchen might warp over time. Additionally, wooden flooring for kitchen interiors are prone to scratches and stains, requiring periodic refinishing.
#3: Kitchen Flooring Options With Laminate Wood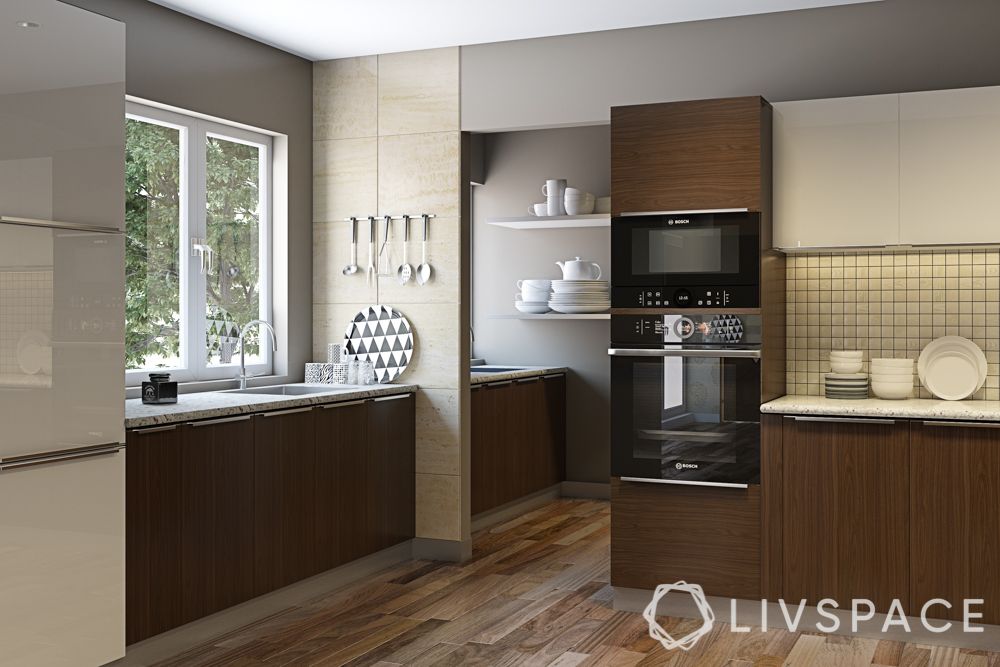 Laminate wood adds a soft, modern touch to the space, and is a highly affordable option for kitchen floor tiles. It is easy to install or replace, and the top layer can also withstand heavy wear and tear.
However, unlike hardwood, kitchen flooring featuring laminates cannot be refinished. Since it can be slippery, avoid using this type of flooring if you have children or elderly in your home. To make laminate kitchen flooring in Indian homes safe for all age groups, consider using an anti-skid layer.
#4: Vinyl Flooring for Kitchen Interiors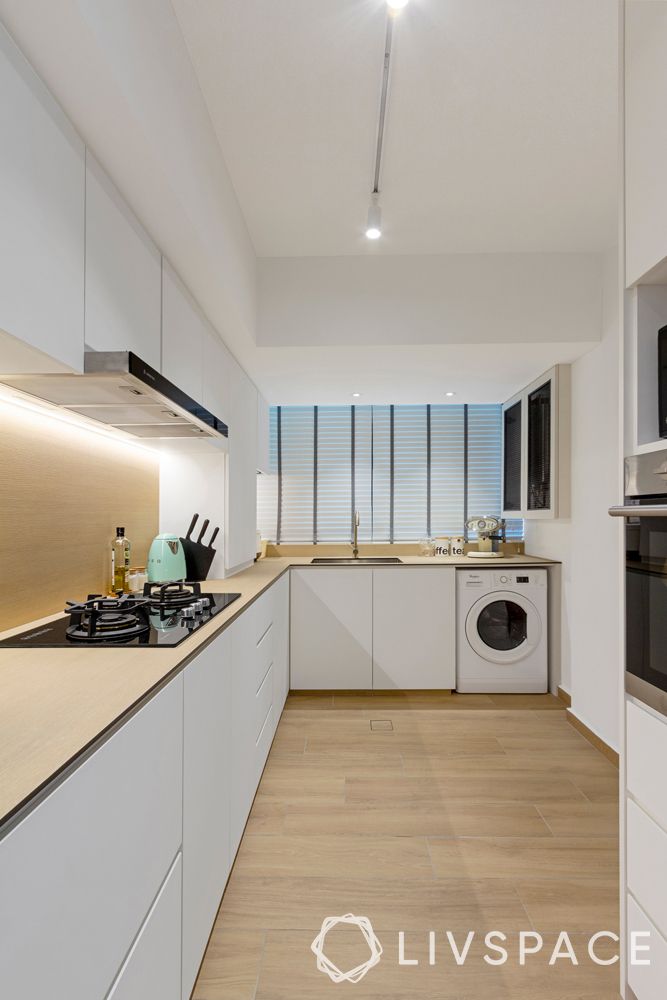 Vinyl comes with textures that mimic wood grains, and is a budget-friendly, water-resistant, quick-to-install alternative to wooden floorboards. Vinyl needs a flawless subfloor to be installed perfectly. 
However, it's also important to note that vinyl can emit certain toxins in the air, depending on its quality and build. Always check the certifications of your vinyl flooring for kitchen interiors before you purchase it, to ensure they are safe to use at home.
#5: Bamboo as a Kitchen Flooring Option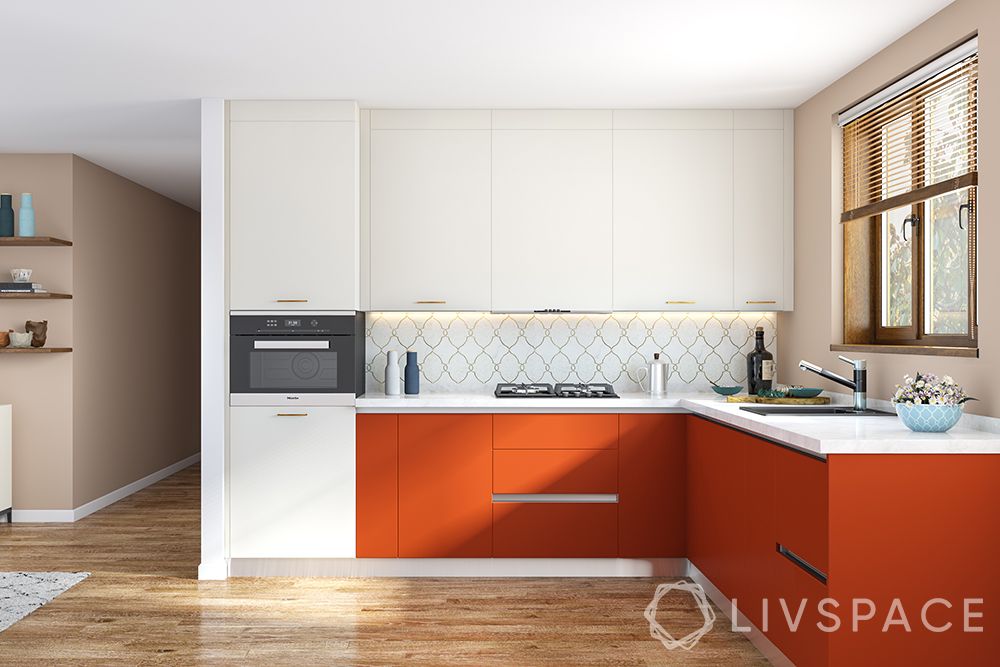 If you're wondering which flooring is best if you want sustainably built kitchen interiors, bamboo is the choice for you. Bamboo is the best flooring for kitchen interiors when it comes to sustainability, as it is an eco-friendly alternative to regular kitchen floor tiles.
Since these trees mature within five years, this type of flooring is a sustainable alternative to regular timber. This beautifully grained wood is also one of the strongest natural materials in today's market. However, substandard bamboo wood is easily susceptible to water damage and prone to staining, so choose carefully.
#6: Marble Flooring for the Kitchen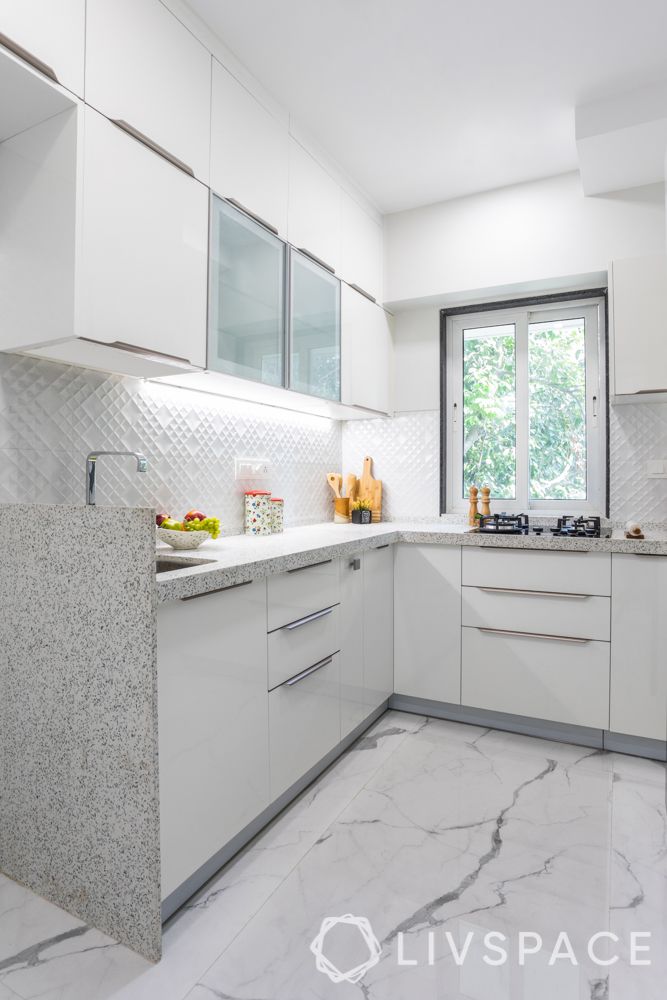 Aside from wood, marble kitchen floor tiles are equally desired as they lend a sense of sophistication to the space. The colours and variations in the stone give your marble flooring for kitchen interiors an organic and elegant look.
Since it is an inherently cold material, you may want to consider adding floor heating in colder regions. However, do note that some types of marble are easy to scratch and stain, so it requires routine sealing. The same way, marble flooring for kitchen interiors can be relatively high maintenance as well.
Also Read: Marble vs Vitrified: Which is the Best Flooring for Your Home?
#7: Granite Kitchen Floor Tiles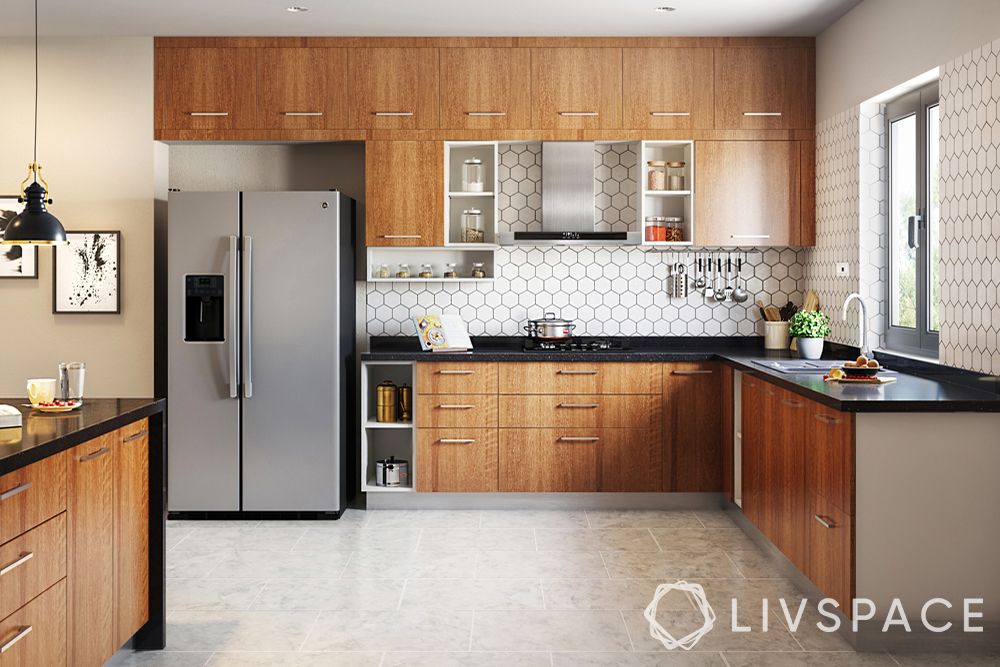 Granite kitchen floor tiles are an amazing hypoallergenic flooring option for your interiors. Good-quality granite also adds to the value of the property as it is exceptionally durable.
However, being a heavy material, granite is harder to install compared to other kitchen flooring options. So, ensure your floor can support its weight before investing in this material.
Also Read: How To Maintain Granite Countertops at Home?
#8: Concrete Flooring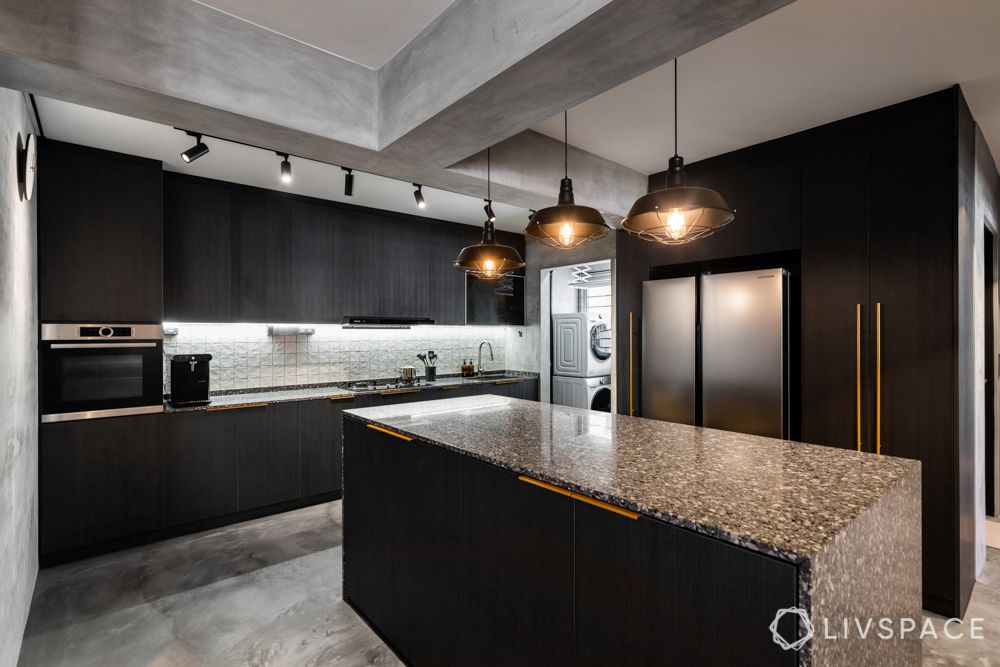 Concrete flooring is popular in many of the busiest kitchens in the country. They instantly give your space an almost industrial look. Just like marble, concrete is also a naturally cold material so it is perfect for the tropical parts of India.
Also note that it is a hard material and can be uncomfortable to stand on for long periods of time, so a few well-placed bamboo runners might be a helpful addition.
#9: Linoleum for Kitchen Floors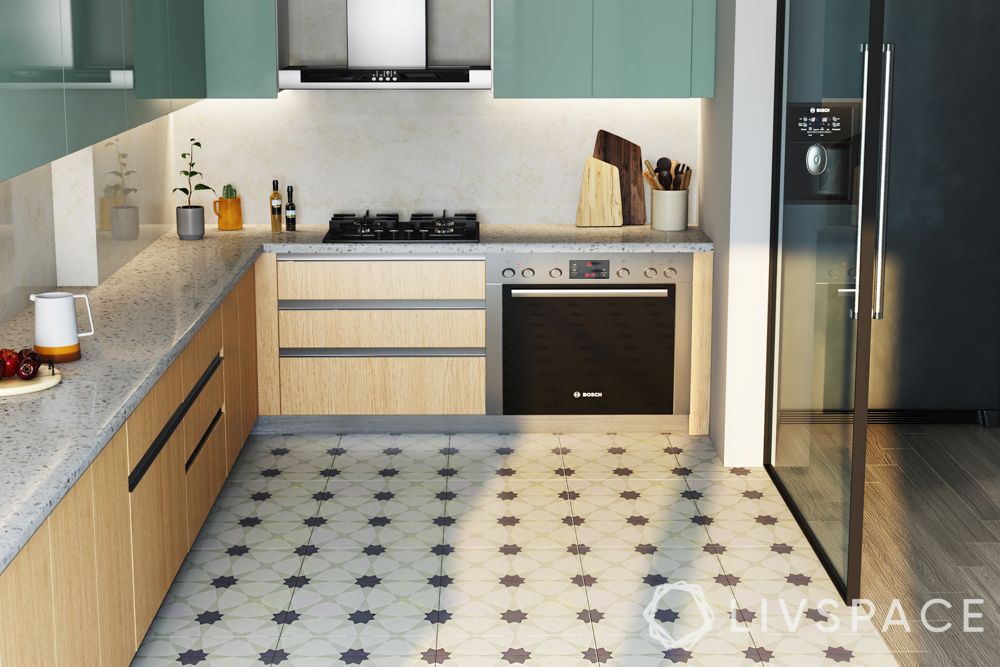 Linoleum is one material that witnessed its time in the sun during the 1960s. Its fun and funky design styles are reminiscent of all things retro, giving these kitchen floor tiles nostalgic appeal.
What's more, these kitchen floor tiles are also made from natural ingredients, making them less polluting than other options. However, it's also important to know that prolonged exposure to the sun can cause discolouration. Similarly, they are not entirely water-resistant either, which can pose maintenance problems.
#10: Vitrified Tiles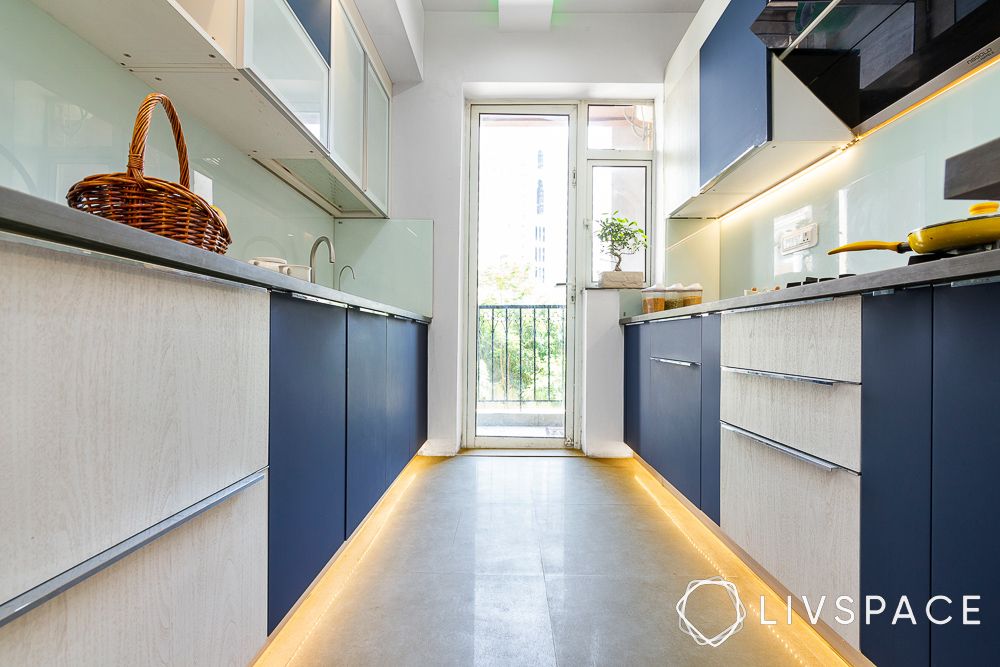 If you have your heart set on granite and marble flooring, but your budget will not allow it, vitrified tiles are the next best option. Due to their non-porous properties, they can also resist staining and waterlogging, making them ideal for kitchen flooring.
If you're confused about whether to go for ceramic tiles or vitrified tiles, this guide can help you: Ceramic vs Vitrified Tiles — What's the Main Difference between Ceramic and Vitrified Tiles?
How Can Livspace Help You? 
We hope you found our ideas useful! If you liked reading this, also take a look at Types of Flooring to Choose from in India.
In search of beautiful interiors for your home? Look no further. Book an online consultation with Livspace today for more details. Similarly, if you have any thoughts or suggestions you'd like to share with us, we're all ears! Drop us a line at editor@livspace.com.