We often spend a lot of time deciding the interiors of our home and the colours of our walls. But which is that one element that can make a huge impact on the way our home looks? Yes, you guessed it. It is the flooring at home that can really change the overall look of the space. The quote above holds true for flooring and if you get the right one for your home, then it is going to be there for you, forever. But choosing the best flooring for house in India can be a daunting and an expensive task, so before you delve deeper, let us give you a complete lodown on everything flooring related!
Types of best flooring for house in India
Material-wise
Since the material of your flooring is the most essential part of making the decision, let's start with it. We have broken down every possible material we could think of, for you.
1. Marble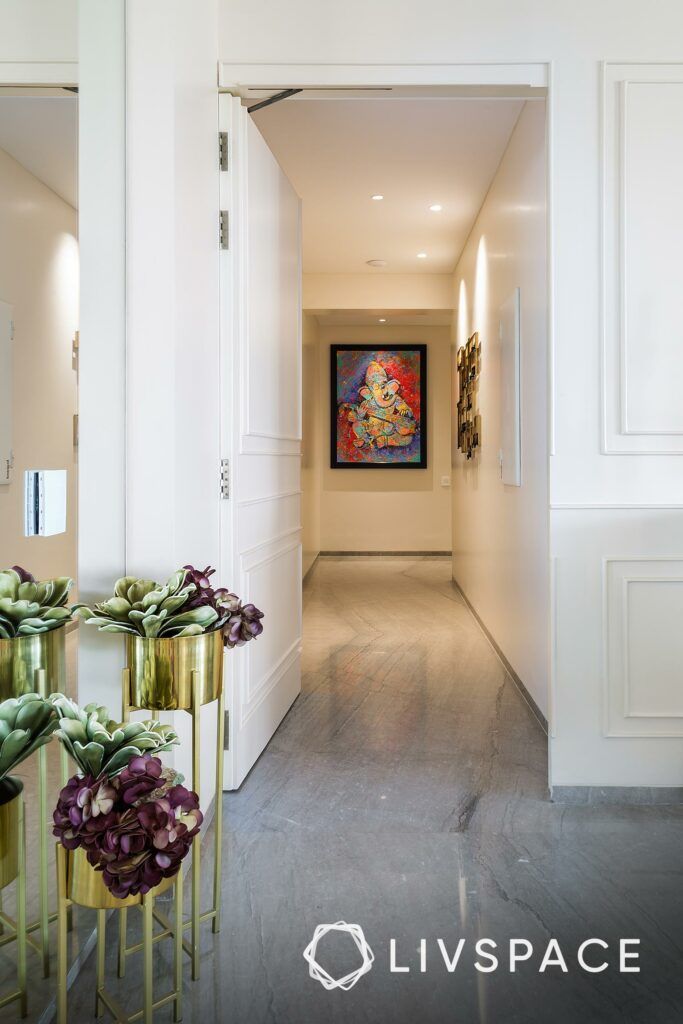 This is definitely the most sought after materials for flooring in Indian homes. It is something to marvel at. It's easy to clean, long lasting and offers timeless beauty, especially when used as flooring. Moreover, exquisite marble floor designs are available in different patterns and finishes. Go here for more information: 14 Elegant Marble Floor Designs
2. Vitrified tiles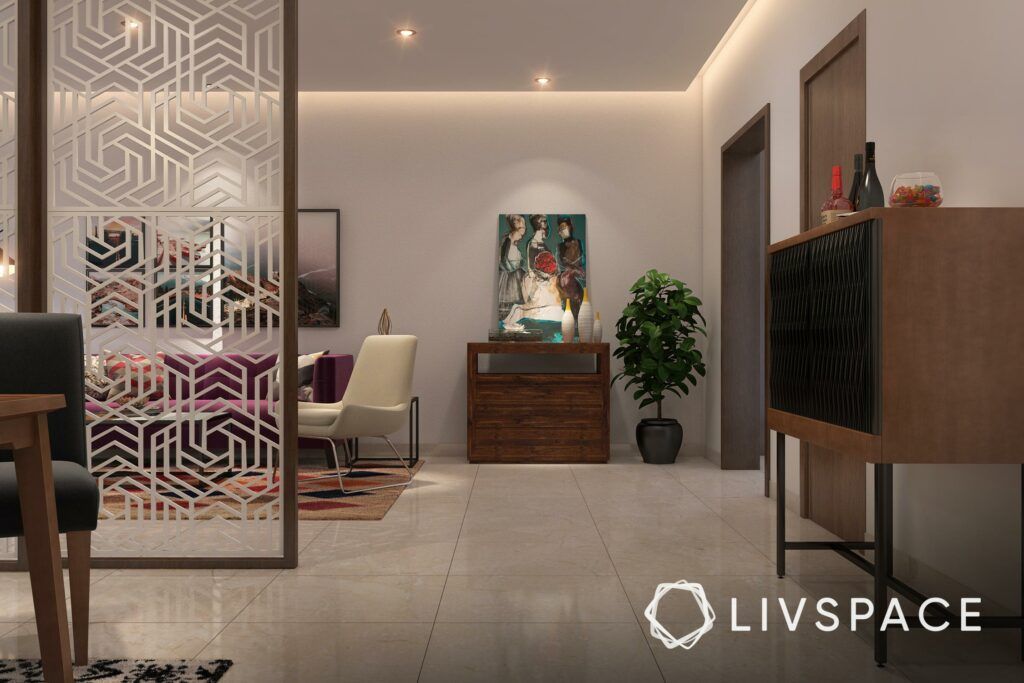 These tiles are similar to traditional ceramic tiles, but include silica and clay in the mix. They are easy to procure and lay. These tiles come in a variety of styles, patterns and colours, making them a viable alternative to marble or granite. However, due to the addition of silica and clay and the vitrification process, these tiles cost a little more than ceramic ones. To know more about the uses of these tiles, read this: What are Vitrified Tiles?
3. Vinyl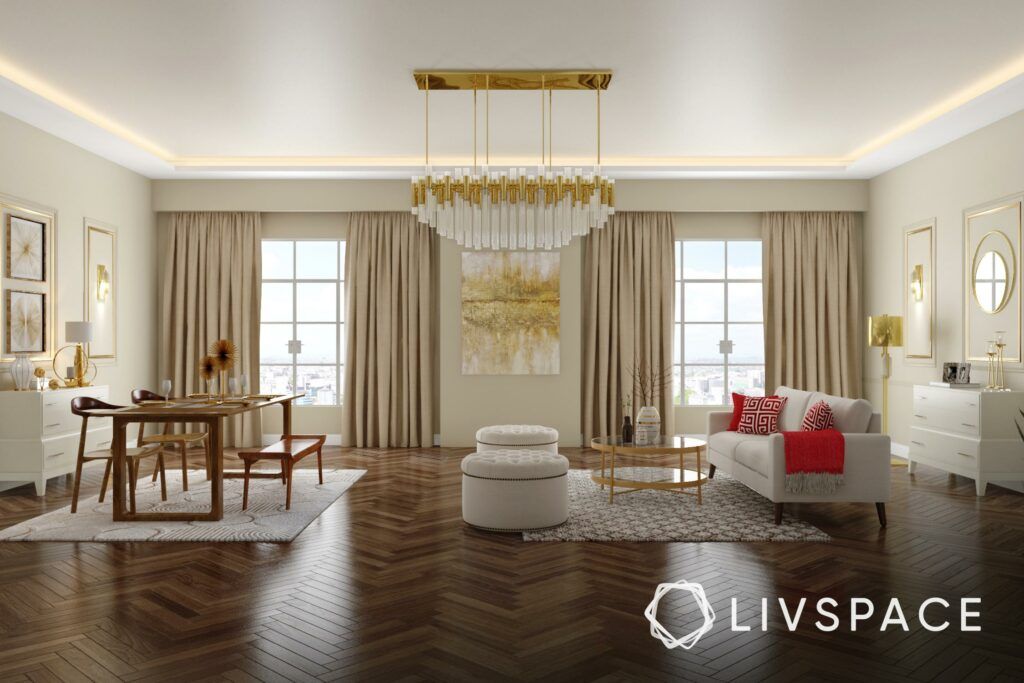 Regardless of how often it's passed up for other options, vinyl makes for pet-friendly flooring. It provides great traction so your pet's joints aren't affected over time. It's an affordable option that can be used in any part of the house and is pretty sound-absorbent, too. People looking for a warm material which replicates the appearance of cold flooring materials like hardwood and stone find this to be the ideal choice. Want to know what are the other pet-friendly flooring options? Read this: Which Flooring is Ideal for Pets?
4. Hardwood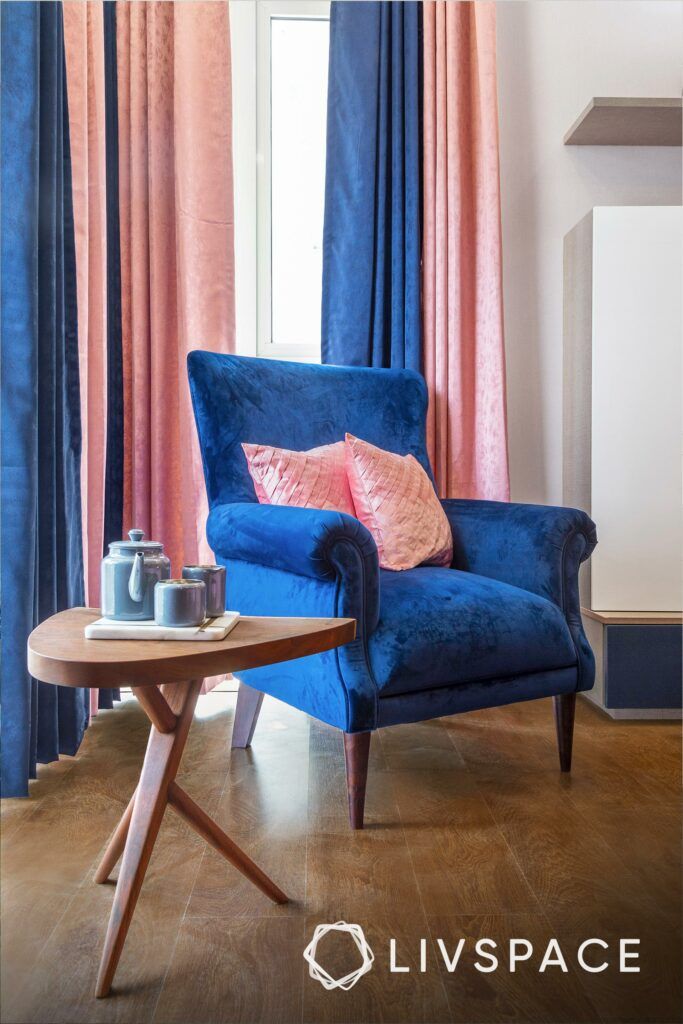 If you are going with neutrals, hardwood flooring is your best bet. As we can see here, the demure brown shade of the flooring complements the neutrals in the rest of the room. This kind of flooring works best with solid wood furniture in classic dark shades. Humidity is a factor that must be taken into consideration while opting for this type of floor design. To know more about the best flooring for your home, check this out: Which Flooring is the Best?
5. Indian Patent Stone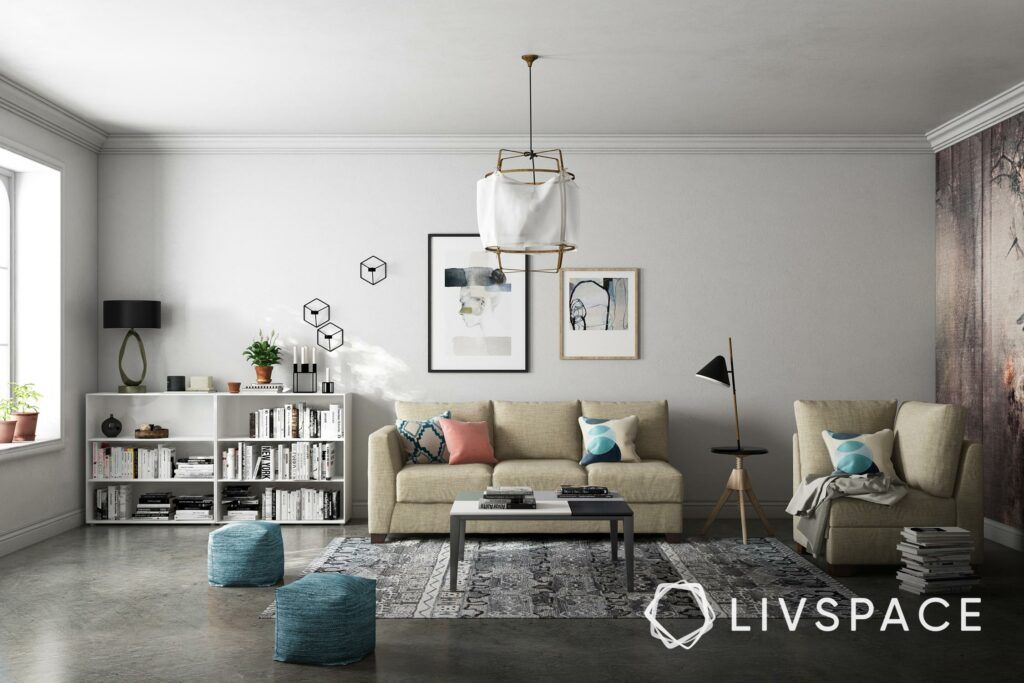 Indian Patent Stone (IPS) is a basic option that uses a concrete mix and gives a rustic and rough finish. A tough material, this is relatively easy on the pocket and durable as well. With a wax coat or a sealer, the colour can be preserved for a long time and prevent stains as well. Go here to know more about affordable flooring options: Affordable Designer Flooring Options
6. Laminate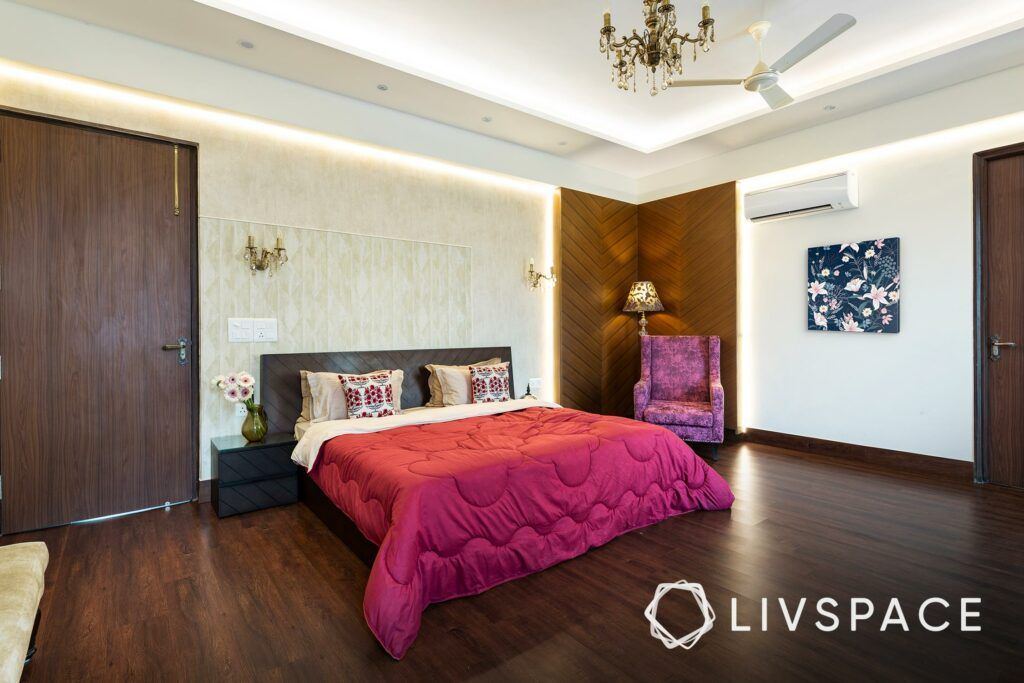 You must have wondered if hardwood works for tropical climates or is laminate flooring in India a better choice? Laminate is basically wood effect tiles that look similar to wood but have different properties. Here is a breakdown of everything you need to know about laminate flooring to make an informed choice: Does Laminate Flooring Work for Indian Homes?
Pattern-wise
1. Hexagon
The now-trending hexagon tile was also the star of the show in vintage interior design. This duality makes it a perfect tile option for renovating old homes or starting afresh in a new one. In essence, a hexagon tile is one that has six edges and is usually cut from ceramic, natural stone or porcelain. They are durable and resistant to wear and tear despite a delicate appearance. Here's a quick guide on choosing the ideal hexagon tile style and use it creatively: 5 Ways to Use Hexagonal Tiles at Home
2. Moroccan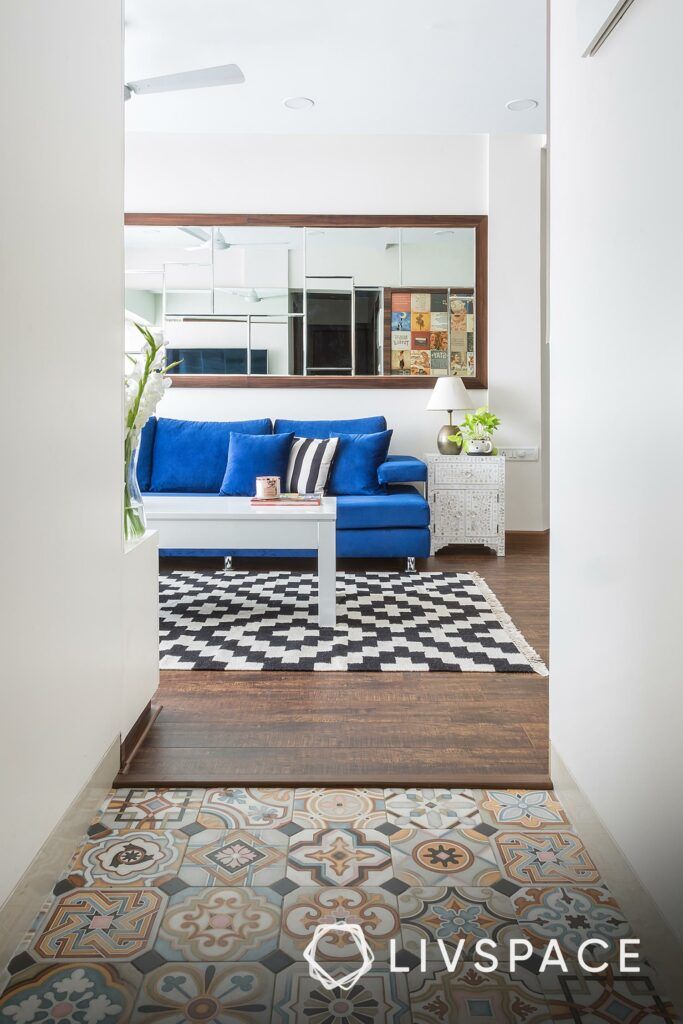 There's something about Moroccan tiles and the alluring patterns that add a touch of energy to your home. It's probably why the use of these tiles have surged over the years, with their colour palette expanding from blues and whites, and recently spilling into Indian homes as well. Here are a few places you can decorate in your home with Moroccan tiles: 8 Places to Use Moroccan Tiles in Your Home
Comparison between the best flooring for house in India
1. Engineered hardwood vs laminate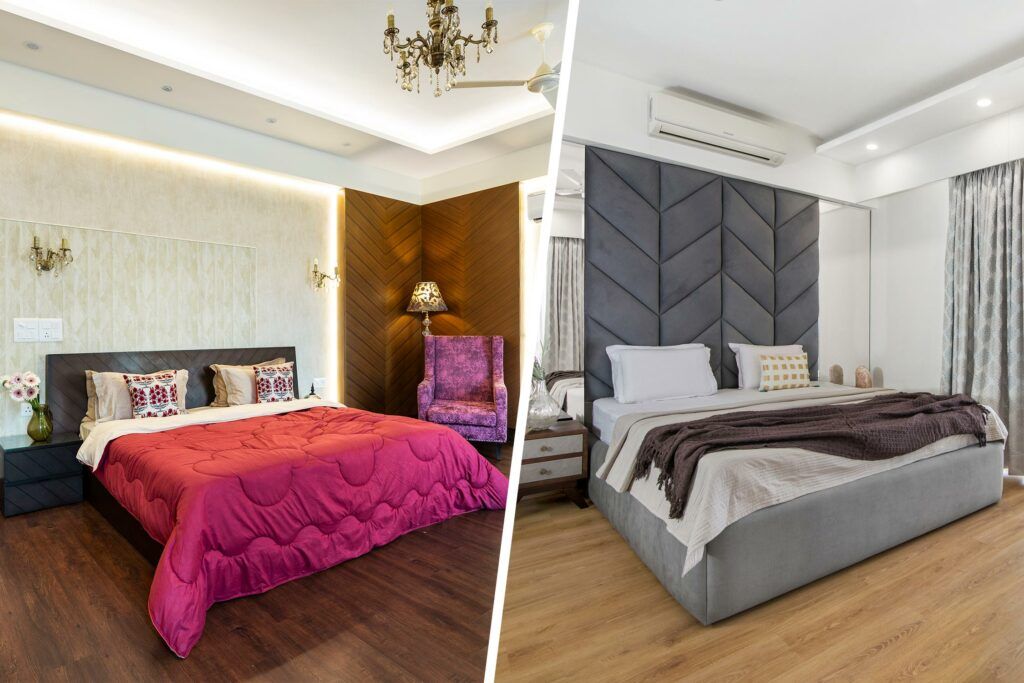 Of all the wood flooring options available in the market today, engineered wood and laminate are the more popular ones. They're versatile, economical and long-lasting. However, many homeowners miss the differences between engineered wood and laminate. Let us help you. Read this to know more: The Battle of Costs and Durability for Flooring
2. Granite vs vitrified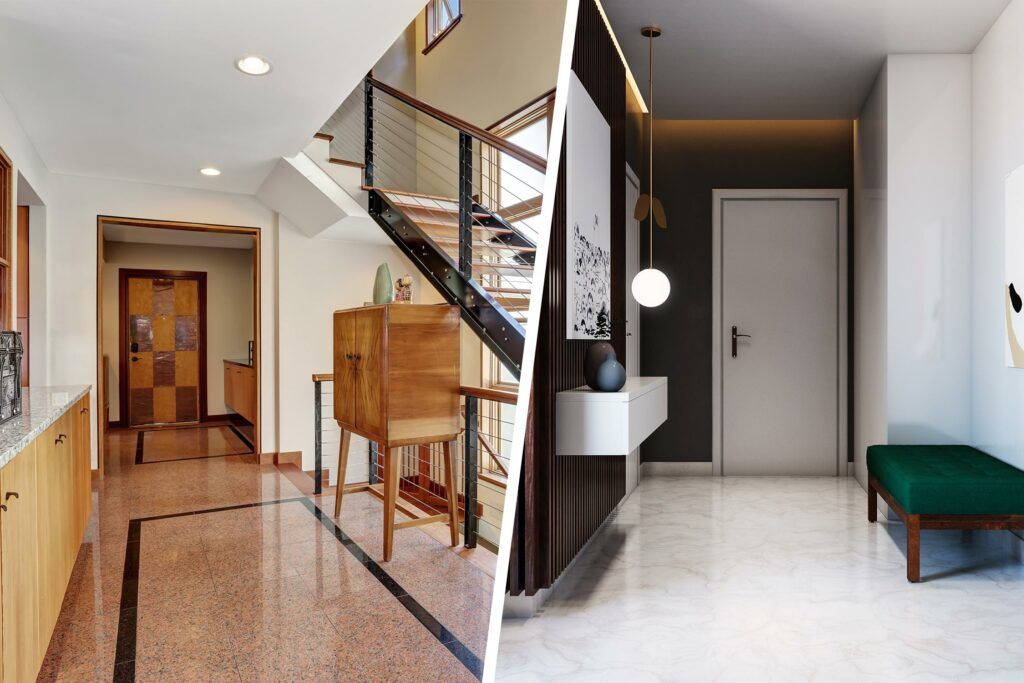 Thoughtfully choosing the right flooring for your home can help achieve the style you're going for and increase its overall value. Vitrified tiles vs granite get pitted against each other due to their popularity. Go here for a rundown of how the two flooring choices fare in categories such as durability, cost and style: Which Flooring do You Choose?
3. Vitrified vs marble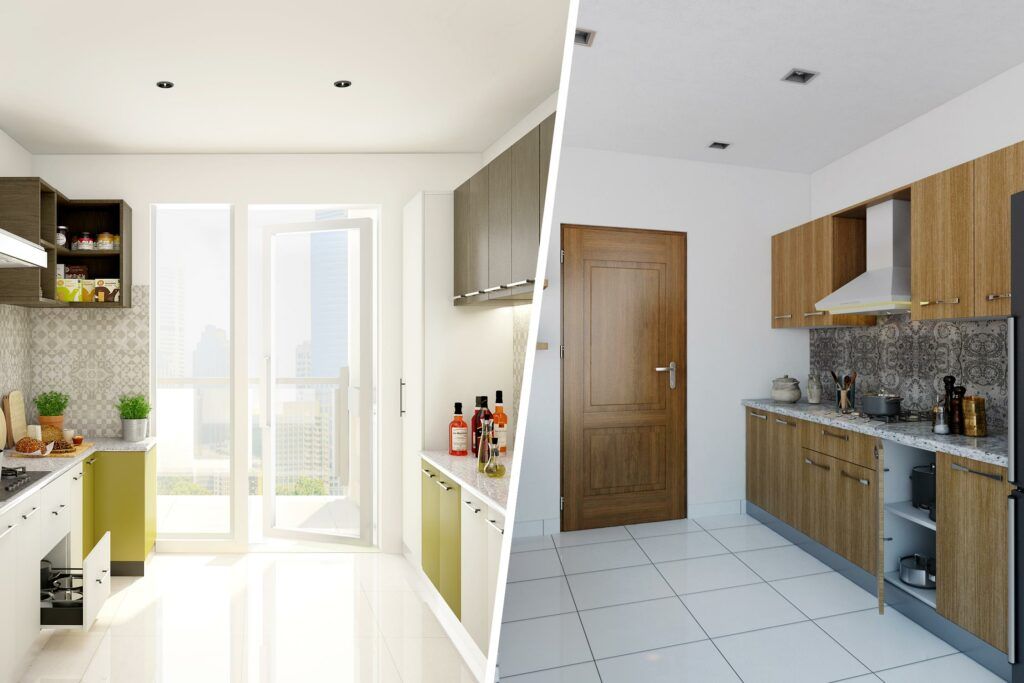 Suitable for both interior and exterior use, vitrified tiles are available in glossy, matte and anti-skid finishes. Commonly found in shades of white, black, green, brown, grey and other natural hues, different grades of marbles will absorb water differently. Vitrified tiles are relatively easy to clean and maintain. Whereas, you must clean any spills on marble flooring immediately to prevent permanent marks. Check this out for more details: Vitrified Tiles vs Marble: Which is Better?
4. Ceramic vs vitrified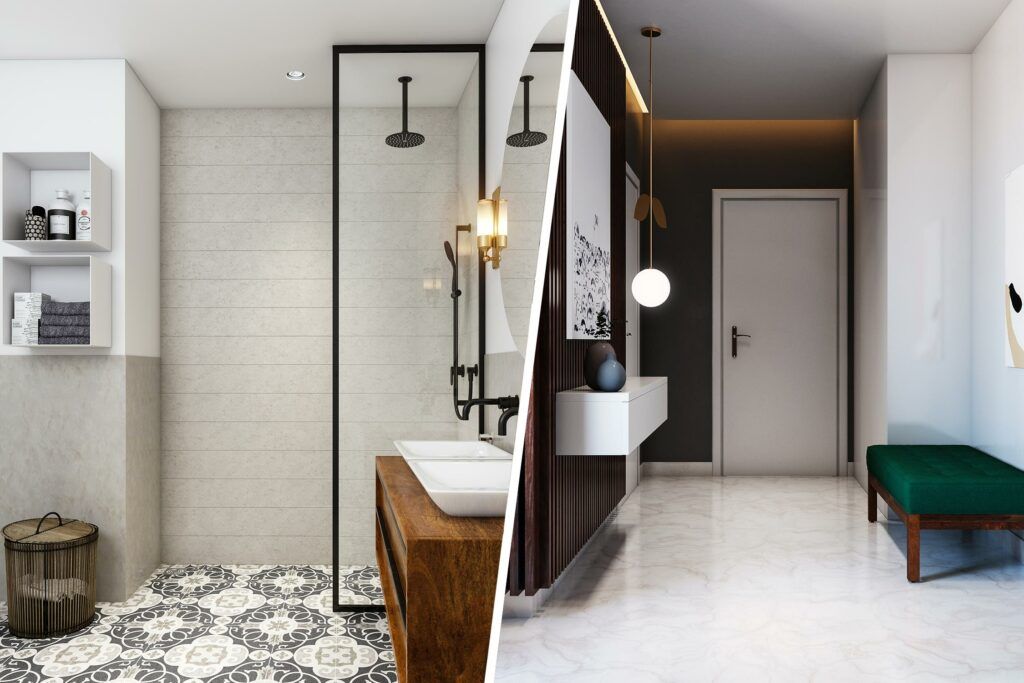 The growing number of flooring options can leave frazzled homeowners confused, often pushing them to make the wrong choice. We have a guide that breaks down the difference between ceramic and vitrified tiles and how the two very popular flooring options compare against each other. You will find everything here: Home Flooring Options to Explore
5. Wooden vs tile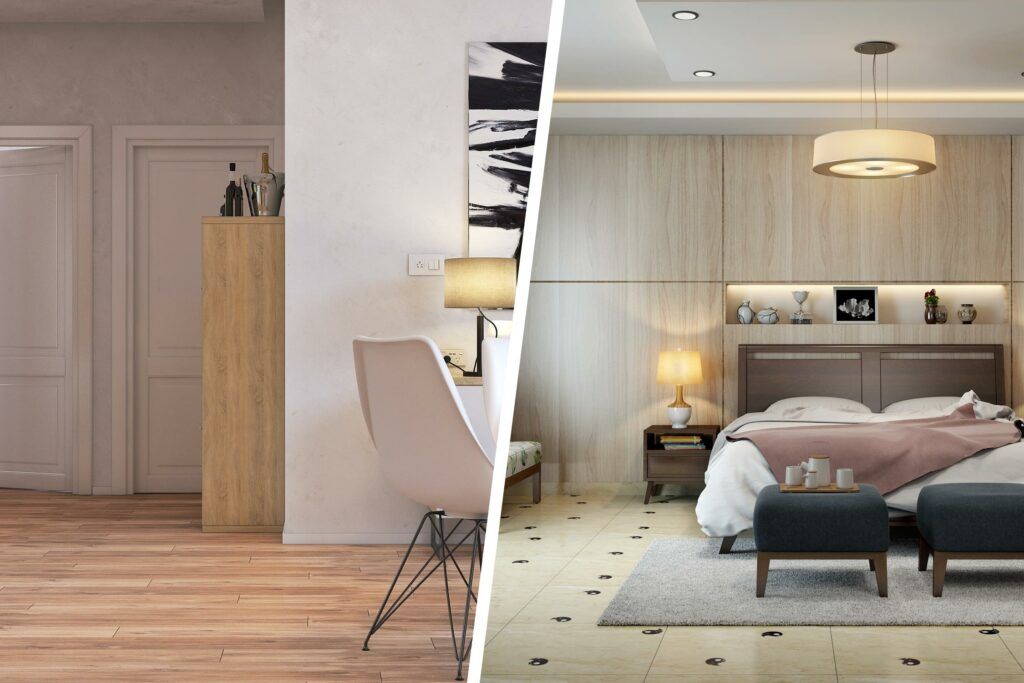 Unlike the popular belief, it does matter what type of flooring you have to get a beautiful home. Yet, we find ourselves at crossroads while deciding between tiles and wooden flooring. It is not just about aesthetics but the functionality and feasibility that affects this decision. Read this to know the difference between these two: Wooden vs Tile Flooring: What's Actually Better?
6. Indian vs Italian marble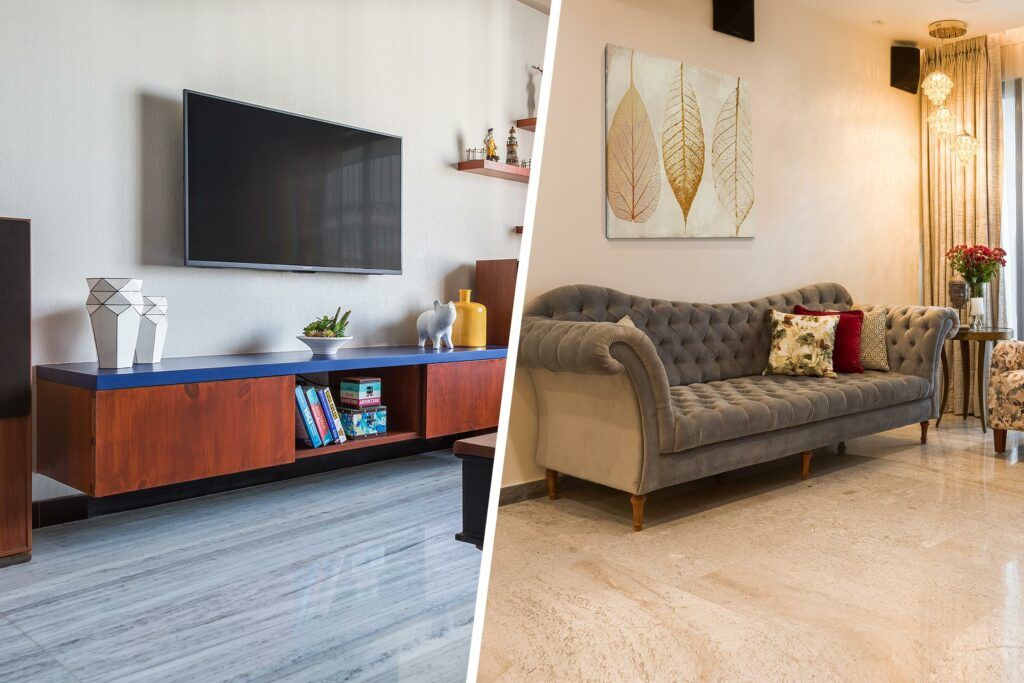 When it comes to marble, you have two options that are immensely popular in Indian homes. Both Indian marble and Italian marble are amazing choices for your flooring or surface top needs. But how do you pick the right marble that's perfect for your home and budget? We'll help you. Read this: Indian vs Italian Marble: What Works Best For Your Home?
Room-wise options for the best flooring for house in India
Kitchen
The kitchen is the most frequented and accident-prone space in any Indian home. Choosing functional yet aesthetic kitchen tiles is a challenge, and you need types of flooring that can withstand dropped objects and accidental spills. But if you are willing to pick up the gauntlet, here are a few types of flooring we think are best suited in a kitchen floor: 8 Kinds of Kitchen Flooring for Any Home
Bathroom
The right kind of bathroom flooring can easily enhance the look and feel of your space. But the multitude of options out there makes it difficult to make an informed decision on what's best for your bathroom. To know your best options, read this: Best Bathroom Flooring Options For Indian Homes
What is trending?
1. Terrazzo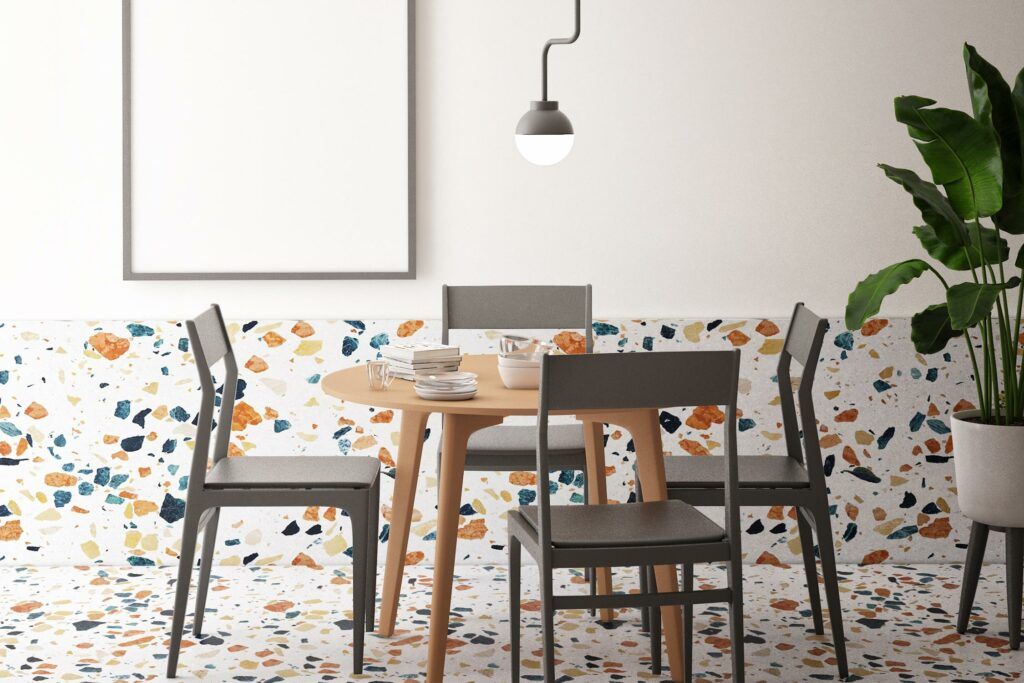 A terrazzo floor can pack all the colours you want or chips of any size you prefer. This makes it an extremely versatile option for homeowners looking to create drama and interest with their flooring alone. Durability is the main reason behind installing a terrazzo floor in high-footfall areas. It stands the test of time and holds up to wear and tear. Check out more about terrazzo flooring here: Variety, Cost, Durability: Just a Few Reasons to Choose Terrazzo
Red Oxide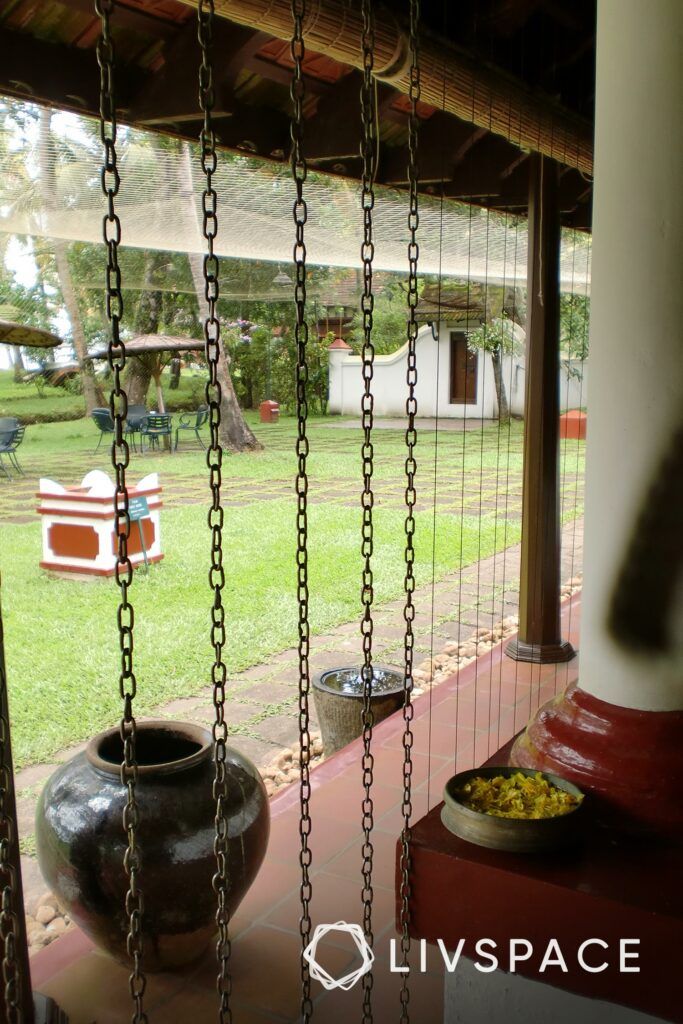 Red oxide tends to take us back to a bygone era, but the flooring is back with a bang! For the uninitiated, this flooring is actually cement oxide flooring that is red in colour. While extremely popular once upon a time, this kind of flooring took a hiatus for sometime with the advent of fancy tiles. But several interior designers are turning to this traditional style of flooring now. It is both cost and eco friendly. Know more about this here: What's New in Red Oxide Flooring?
Maintenance of best flooring for house in India
Hardwood, undoubtedly looks gorgeous and holds aesthetic appeal. However, many homeowners have reservations about this choice of flooring, since it requires a specific type of cleaning to ensure durability. Read this to know how to maintain hardwood flooring: How To Clean Hardwood Flooring
Available in a variety of colors and finishes, laminates are inexpensive, durable and also more resistant to heat, impact and stains when compared to more expensive materials. However, like any other material, laminate surfaces are prone to wear and tear due to constant use. Here are some pointers to help you maintain them: How to Clean & Maintain Laminate Surfaces
How to upgrade the best flooring for house in India?
Tired of looking at your worn-out, ancient mosaic tiles? Given the amount of wear and tear your flooring sees every day, it may need replacing from time to time. Re-flooring is also a great opportunity to change up the look of your rooms. Here's a handy checklist on flooring replacement tips: Tired of the Same Old Boring Floors?
Our favourites
We've compiled a list of factors that form an essential part of flooring trends 2020 to tell you what's in! From colours and finishes to the evergreen choices, here's all the information you need about the latest floor design ideas! Check it out here: What Flooring is in Vogue This Year?
We hope you now have all answers to every question related to flooring. Now you are ready to make an informed choice!
Send in your comments and suggestions.