You might think your walls and furniture are the main things to focus on while doing up your home. But apart from these, there's one element that can make a huge impact on how your space looks. Yes, you guessed it. It's none other than your flooring! If you do your research right and find the best flooring for your home, you don't have to worry about changing it every few years. Unless, of course, you want to. However, choosing the best flooring for houses in India can be a daunting and an expensive task.
So, before you delve deeper, let's give you a lowdown on everything flooring related in this immersive guide.
1. Which Flooring Is Best for Houses in India?
Whether you've finalised your flooring options or are still on the lookout, there's a lot to know about what's available. Let's take a look at what your options are with respect to materials and patterns in the market:
Materials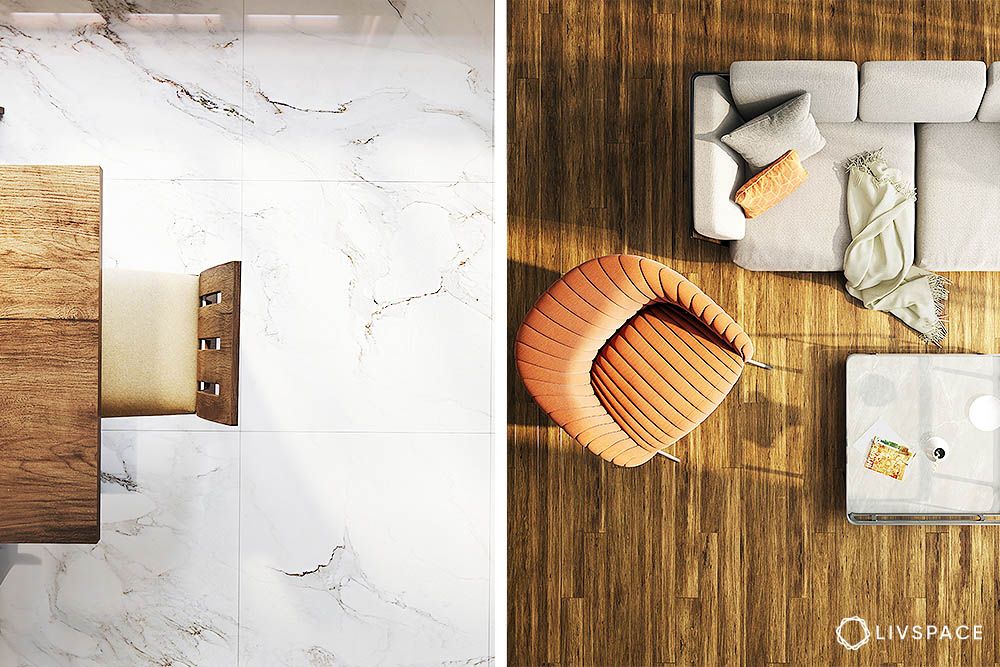 1. Marble
As a material, marble is definitely one of the most sought-after types of flooring in Indian homes. When used in areas that don't observe a lot of foot traffic, this flooring option can be a stylish and long-lasting addition to your home.
2. Vitrified Tiles
These floor tiles are similar to traditional ceramic tiles, but include silica and clay in the mix. If you're looking for tiles that are easy to procure and lay, vitrified tiles can be a good flooring idea for your home.
They come in a variety of styles, patterns, and colours, thereby being a viable alternative to marble or granite. However, due to the addition of silica and clay and the vitrification process, these tiles may cost a little more than ceramic ones.
3. Vinyl
Regardless of how often it's passed up for other options, vinyl makes for a pet-friendly flooring option. It provides great traction, so your pet's joints aren't negatively affected over time.
What's more, it's an affordable option that can be used in any part of the house and is pretty sound-absorbent, too. If you're looking for a warm material that replicates the appearance of hardwood, you might find vinyl to be the best flooring option for your house.
4. Hardwood
Wooden flooring is not only durable, but also amps up the resale value of your home. This versatile material is a great addition to homes that needs floors to match all the intricacies of their interiors. This is because wooden floors are like the neutrals of the flooring world: they go with everything.
However, humidity is an important factor to consider while opting for this type of flooring, as your floors can swell or warp. You will also need to consider sealing your wooden floors to keep them in good condition.
5. Indian Patent Stone
Indian Patent Stone (IPS) is a basic flooring option that uses a concrete mix, giving it a rustic and rough finish. A tough material, IPS is relatively easy on the pocket and durable.
With a wax coat or a sealer, the colour can be preserved for a long time and prevent stains as well. Go for this type of flooring if you're keen on industrial style interiors.
6. Laminate
Being a hardy flooring option, laminates can withstand heavy-duty use and are great for areas that receive high foot traffic. The benefits don't end here either, this versatile material is also comparatively more affordable and easy to maintain.
Patterns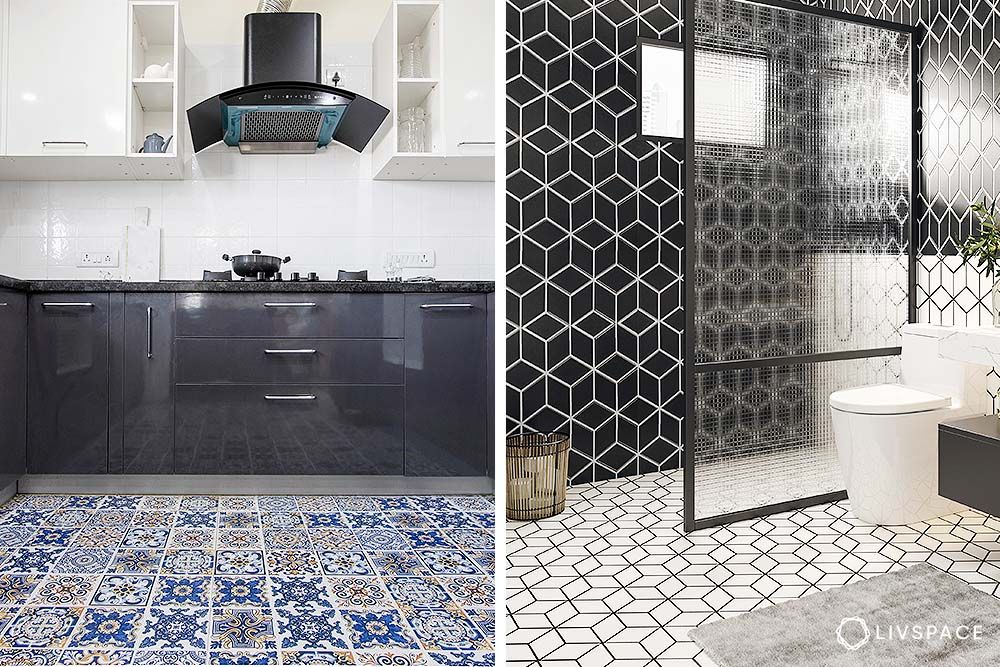 1. Hexagon
Ever wondered which flooring is best for vintage homes? Consider charming hexagonal tiles. In simple terms, a hexagonal tile has six edges and is typically cut from ceramic, natural stone, or porcelain.
It is relatively durable and resistant to wear and tear, despite having a delicate appearance. Depending on your requirements, you can use these tiles either on your floors or walls.
2. Moroccan
There's something about Moroccan floor tile design and its alluring patterns that add a touch of energy to your home. It's probably why the use of these tiles have surged over the years, with their colour palette expanding from blues and whites, to more vibrant colours.
They're the perfect contrast to your kitchen floor or wall, especially if the rest of your space is relatively plain in design.
Also Read: Did You Know the Perfect Flooring Also Depends on Where You Live?
2. Here's a Comparison Between the Contenders for Best Flooring for Houses
| | |
| --- | --- |
| Material | Comparison |
| Engineered Hardwood vs Laminate | Both engineered wood and laminate flooring are cost-effective and durable, with laminate being comparatively more affordable. However, engineered wood can be more long-lasting, with a lifespan of up to 50 years. |
| Granite vs Vitrified | Vitrified tiles are homogeneous in appearance as they're artificially constructed. They're also available in a range of options. Granite is formed in nature and has unique gradations in colour and pattern. Vitrified tiles are typically water-resistant, but granite requires a sealant to guard against moisture. |
| Marble vs Vitrified | Vitrified tiles are suitable for both interior and exterior use, whereas marble flooring is better suited for interiors. Different grades of marble absorb water differently and will require a sealant to prevent staining and water damage. Vitrified floor tiles are relatively easy to clean and maintain, while marble is long-lasting. |
| Ceramic vs Vitrified | Ceramic tiles can be used as flooring, wall tiles, countertops, and backsplashes. Vitrified tiles are typically used as flooring due to their large sizes, reducing the issue of visible grout joints. Between the two, vitrified tiles are more durable. |
| Wooden vs Tile | Wooden floors are easy to install and can help improve your home's resale value if you use hardwood. Tiles, on the other hand, are available in a range of varieties that offer stain- and water-resistance, unlike all wooden materials. Tiles are also easier to maintain than wooden floors. |
| Indian Marble vs Italian Marble | Indian marble can be both polished and unpolished, whereas Italian marble only has one side polished. In terms of lustre, Indian marble is moderately lustrous, while Italian marble is higher up the scale. Between Indian and Italian marble, Italian marble can be a great option for luxury interiors. |
3. The Best Flooring for Houses in India Based on Each Room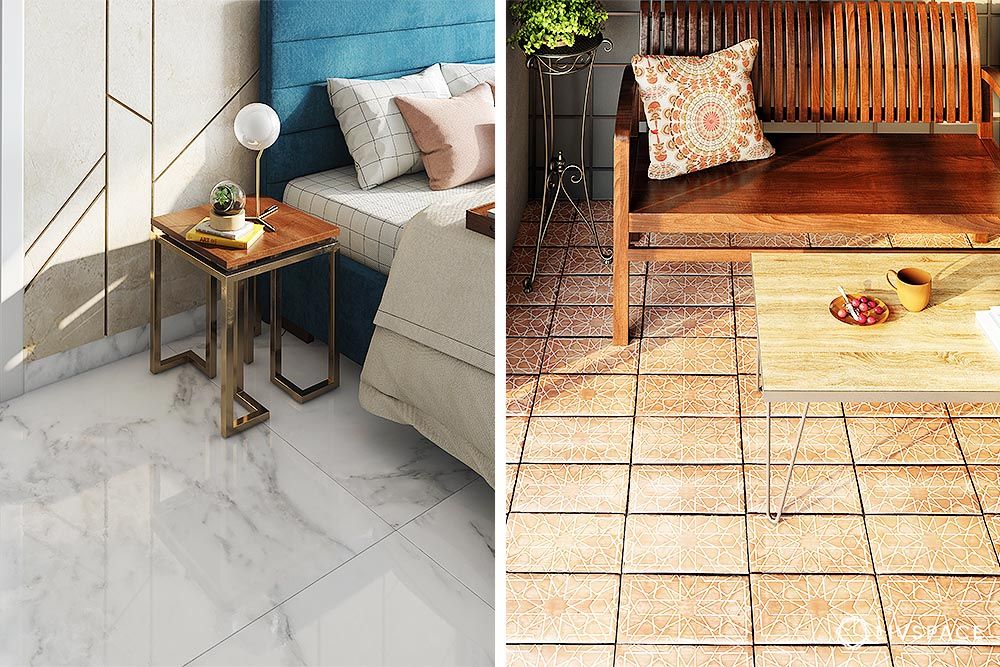 Kitchen: Vitrified tiles can be one of the best flooring materials to consider for this space.
Bathroom: Anti-skid vitrified tiles can be the best flooring for houses in India. You can also use vitrified tiles for your bathroom walls.
Bedroom: Consider using wooden flooring for your bedroom as it can bring in a warm, rustic touch to the space.
Living Room: To create a classy, luxe ambience, you can use either vitrified tiles or marble for your living room flooring.
Dining Room: As most homes follow an open layout, you can retain continuity in design by using vitrified or marble tiles in this space, from your living room.
Balcony/Outdoor: Anti-skid vitrified tiles are ideal for balcony or outdoor areas as they can prevent accidental falls. They are also durable and resistant to wear and tear, making them perfect for outdoor use.
4. Which Flooring Materials Are Trending?
1. SPC Flooring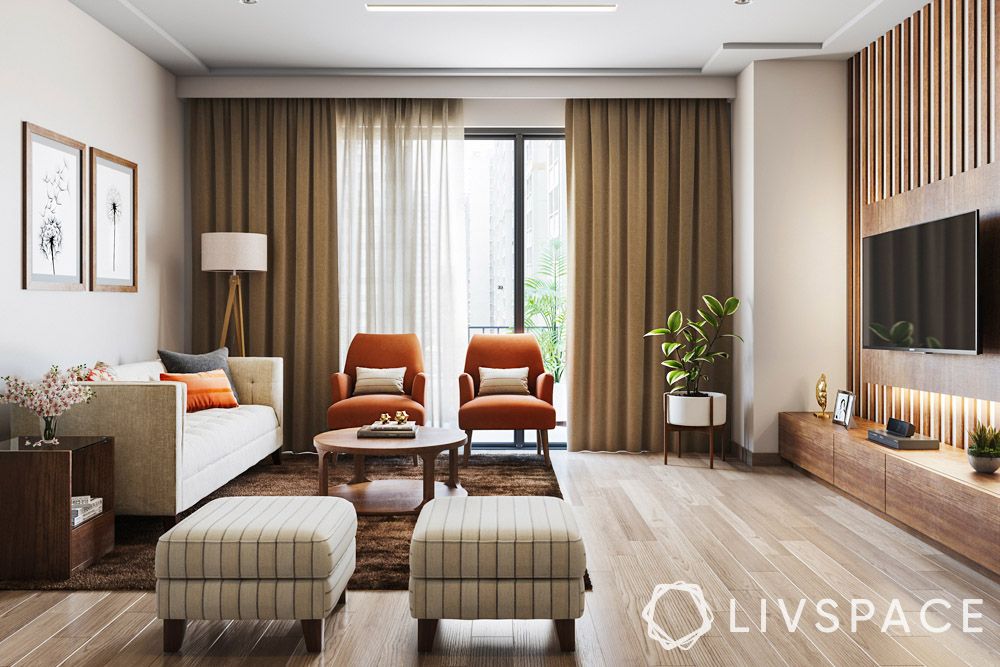 SPC, or Stone Plastic Composite, is a type of vinyl flooring that offers the best water-resistance when compared to other vinyl grades. In addition to this, SPC flooring is also dent- and scratch-resistant. So, if you've got kids and pets at home, or if you simply love rearranging furniture often, SPC floors can be a good investment.
What's more, this type of vinyl flooring can also be used in humid areas owing to its water-resistant qualities. This makes it a handy addition to homes that want the look of wood at a more affordable price.
2. Rectified Flooring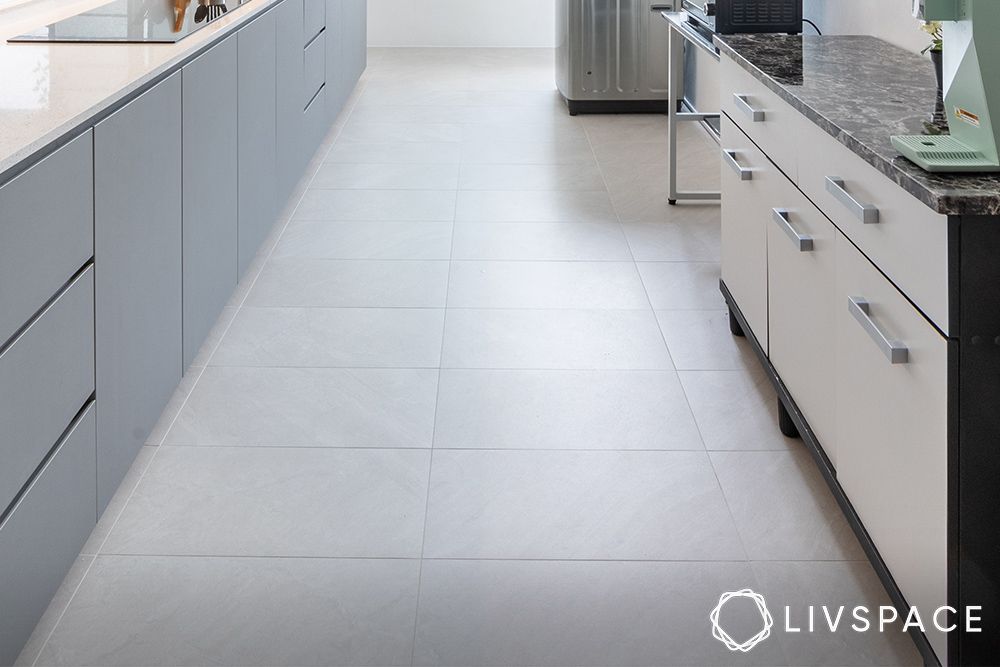 Tiles are great to use at home, but some of them come with the inconvenience of visible grout joints that can be hard to clean. If this is something that bothers you, you might want to consider using rectified tiles. These tiles are typically finished in a way that keeps all sides of the tile uniform.
But, what does this have to do with grout joints? Well, due to the precision of its finish, these tiles can be placed very close together, leading to minimal grout lines. This can be a great flooring type to have in homes that prefer a clean and seamless look.
5. How Do You Maintain These Materials Listed Under the Best Flooring for Houses in India?
Depending on the material, the level of maintenance and care can vary. Hardwood floors, though classic, may not hold well in humid or moist areas. To ensure they stay long-lasting and durable, you'll need to consider sealing them regularly. Similarly, materials like marble also require frequent sealing to prevent erosion due to moisture.
In the event of spills or high heat exposure, both hardwood and marble floors can risk getting damaged. While sealed materials can be cleaned with a light mop, be sure to avoid using harsh chemicals on your flooring.
For best results, be sure to regularly sweep or wipe down your flooring with gentle cleaners or a dry mop. In the case of spills, try to wipe it away as soon as possible to avoid staining.
Also Read: Affordable Designer Flooring Options
6. How to Upgrade the Best Flooring for Houses in India?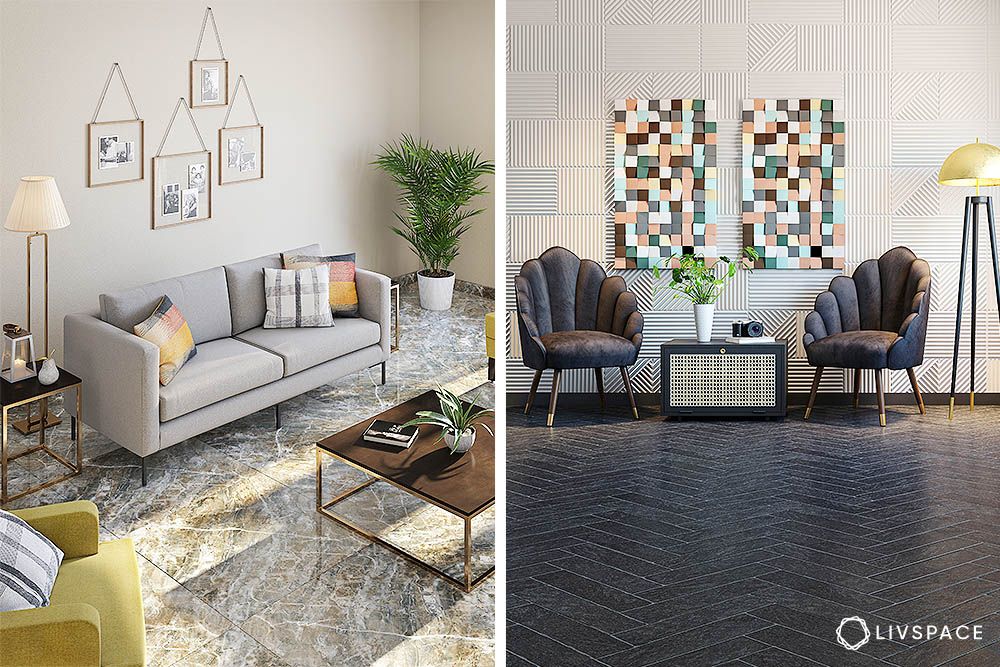 Tired of looking at your worn-out, ancient mosaic tiles? Given the amount of wear and tear your flooring sees every day, it may need replacing from time to time.
Re-flooring is also a great opportunity to change up the look of your rooms. Consult a designer today for more details on how you can upgrade your flooring with the best material for your home.
How Can Livspace Help You?
We hope this guide helped you find the best flooring for your house! Also, if you want durable floors for your home, then look no further. Book an online consultation with Livspace today.
Have any thoughts or suggestions you'd like to share with us? We're all ears! Drop us a line at editor@livspace.com.
Disclaimer: All contents of the story are specific to the time of publication. Mentions of costs, budget, materials, finishes, and products from the Livspace catalogue can vary with reference to current rates. Talk to our designer for more details on pricing and availability.